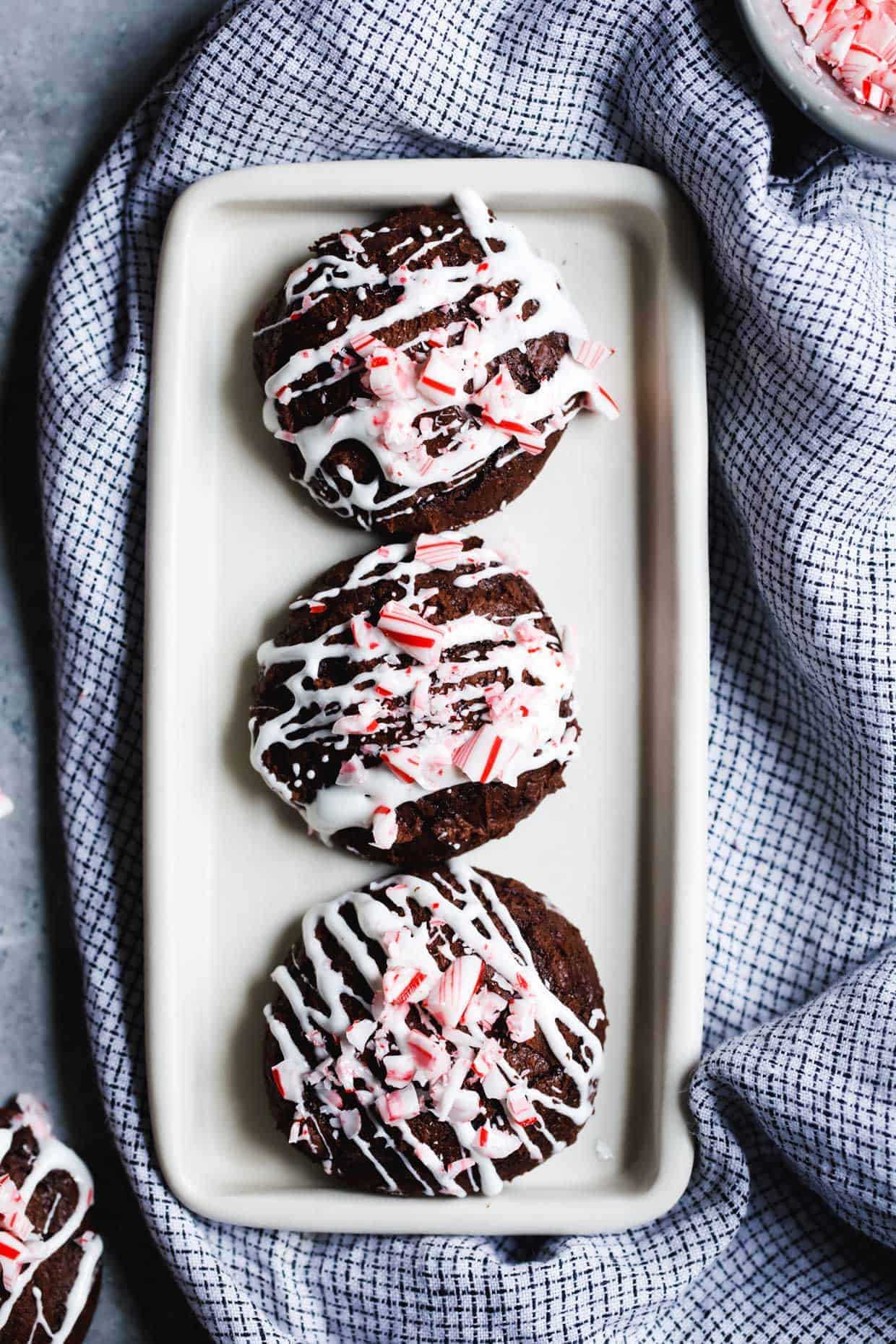 Do you ever completely brush off very obvious warning signs for trouble, insisting "it'll be fine" but then it's definitely not fine? We've all ignored the weather channel's rain prediction, leaving the umbrella and sensible shoes behind because it looked SO IMPOSSIBLY SUNNY, right?
Halfway through making a test batch of these peppermint chocolate marshmallow cookies, I did just that. It was past midnight (when one does test baking, obviously) and I was spent. I carelessly dumped the powdered sugar into the mixer only to watch the whipped egg whites deflate. Their airy structure collapsed on itself and ignored it. Convinced it wouldn't really matter (but mostly lacking the patience to re-whip egg whites) I charged ahead defiantly.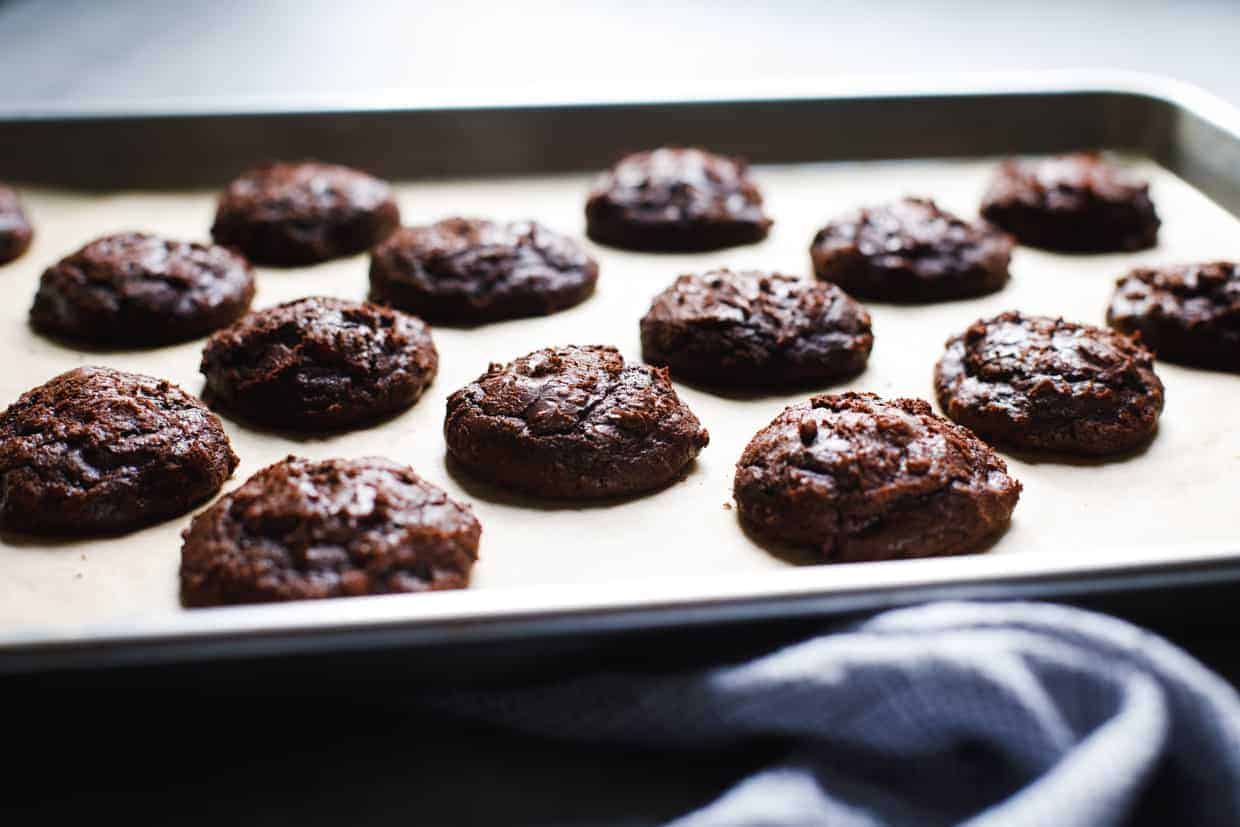 But it did matter.
My pillowy soft cookies with their delicate cracked crisp exterior baked up instead as gobs of dense cakey chocolate. I'm convinced that even with the exact same mass of ingredients, those lumps actually weighed more than my do-over cookies the next day (according to my unofficial human hand scale metric).
Notes to future self:
Have patience and trust your gut, especially when there's nearly 6 ounces of invaluable bittersweet Guittard chocolate involved.
Heads up, marshmallow fingerprints attract ants en masse.
Also, maybe don't bake cookies after midnight.
Scratch that, don't be ridiculous. Midnight cookies are always a good idea.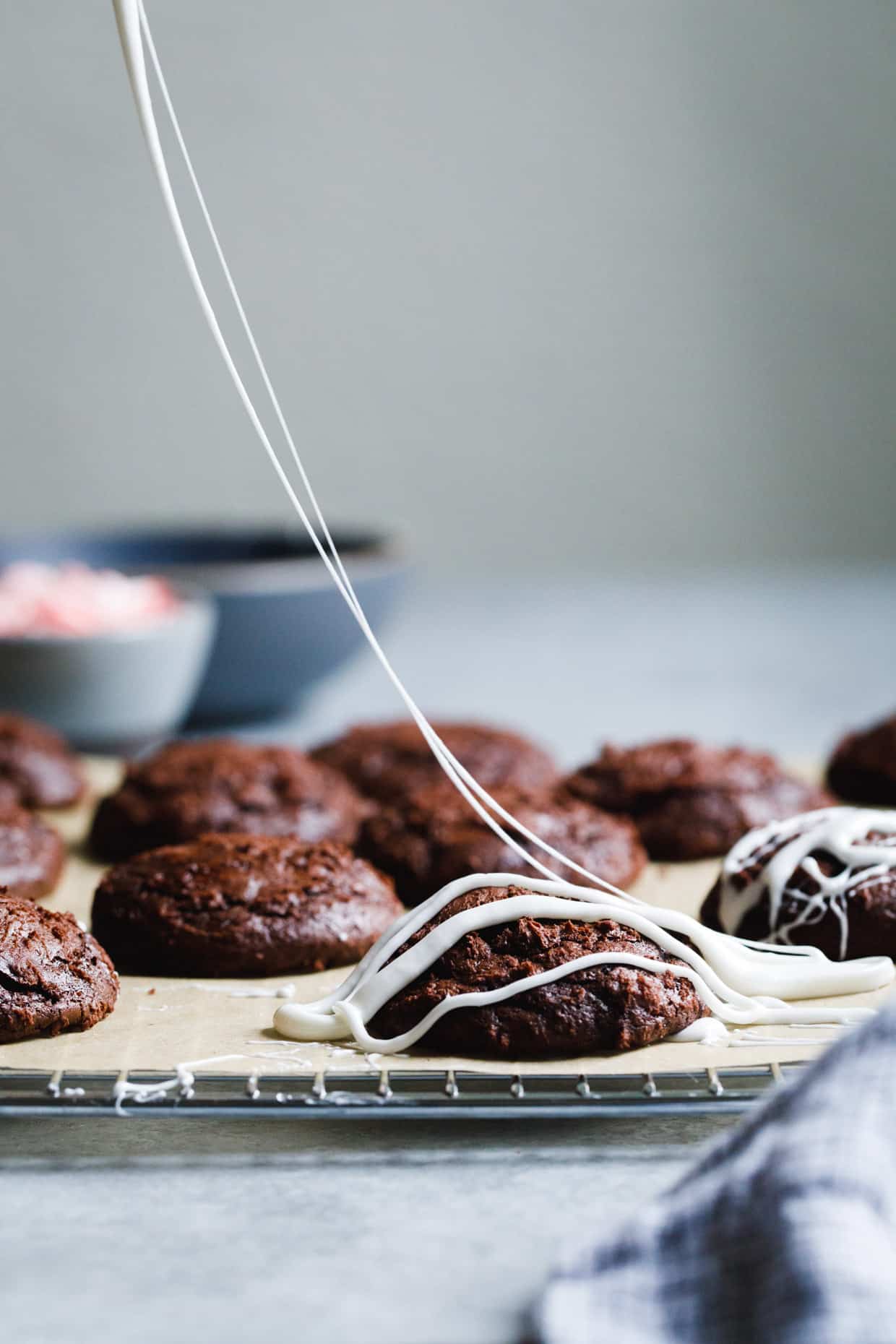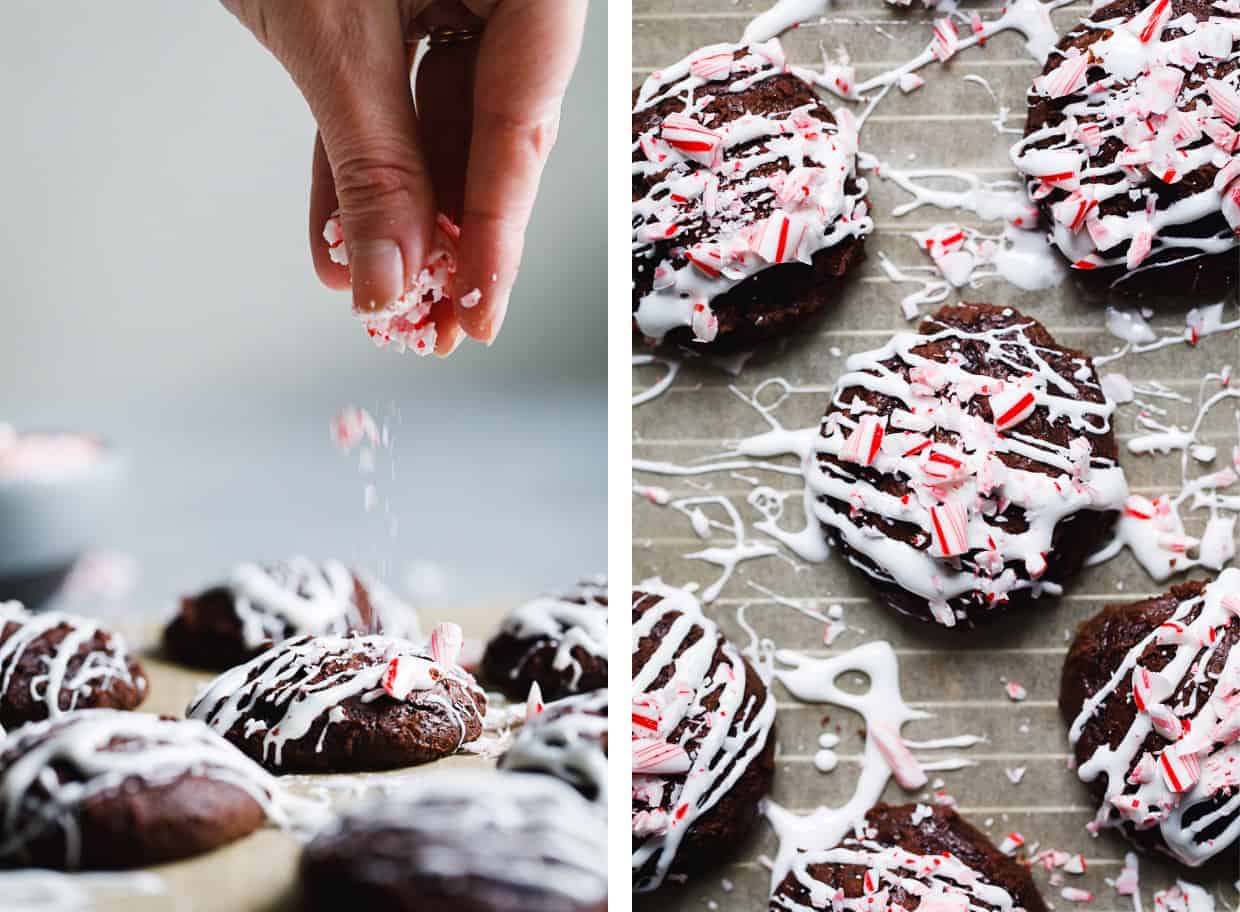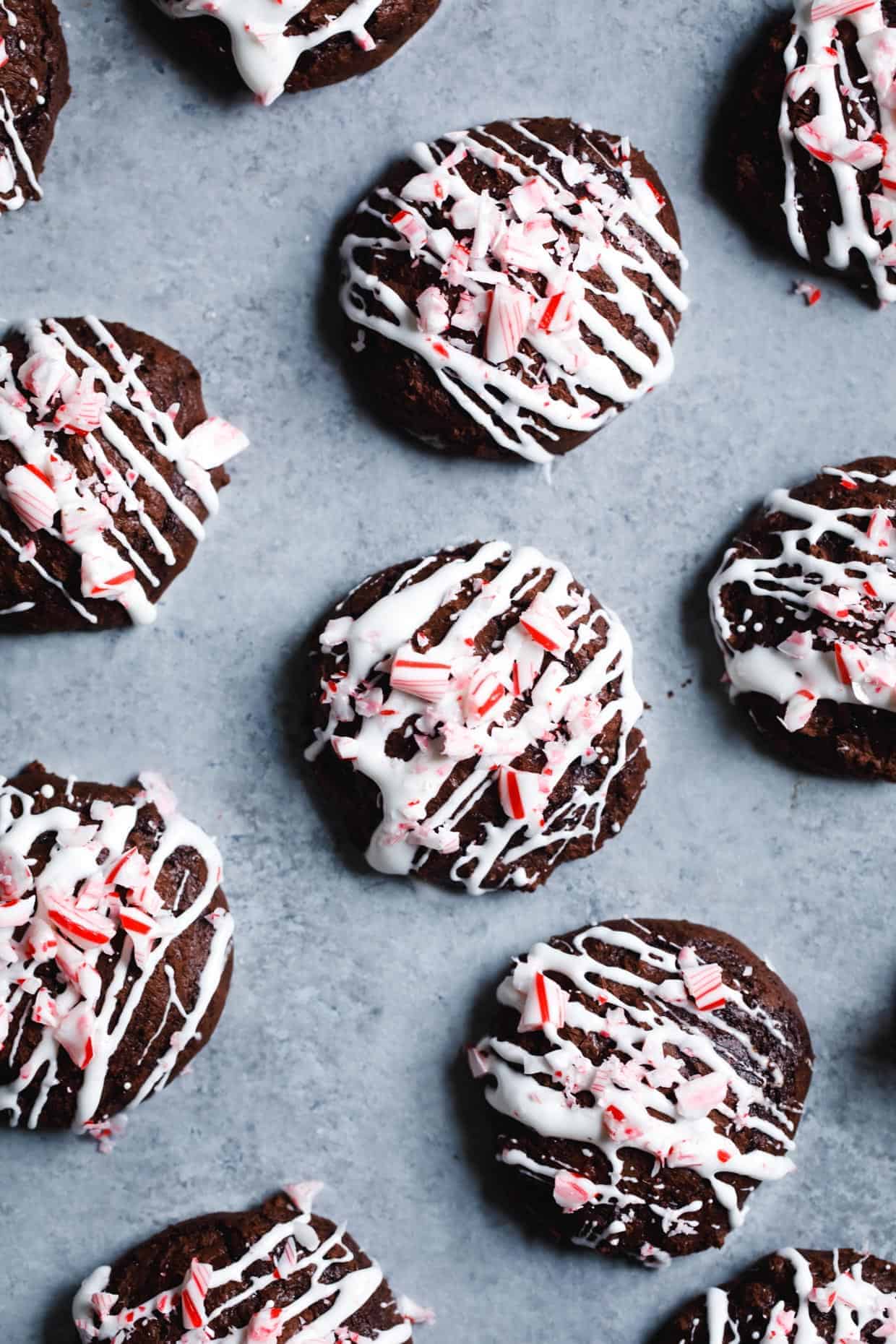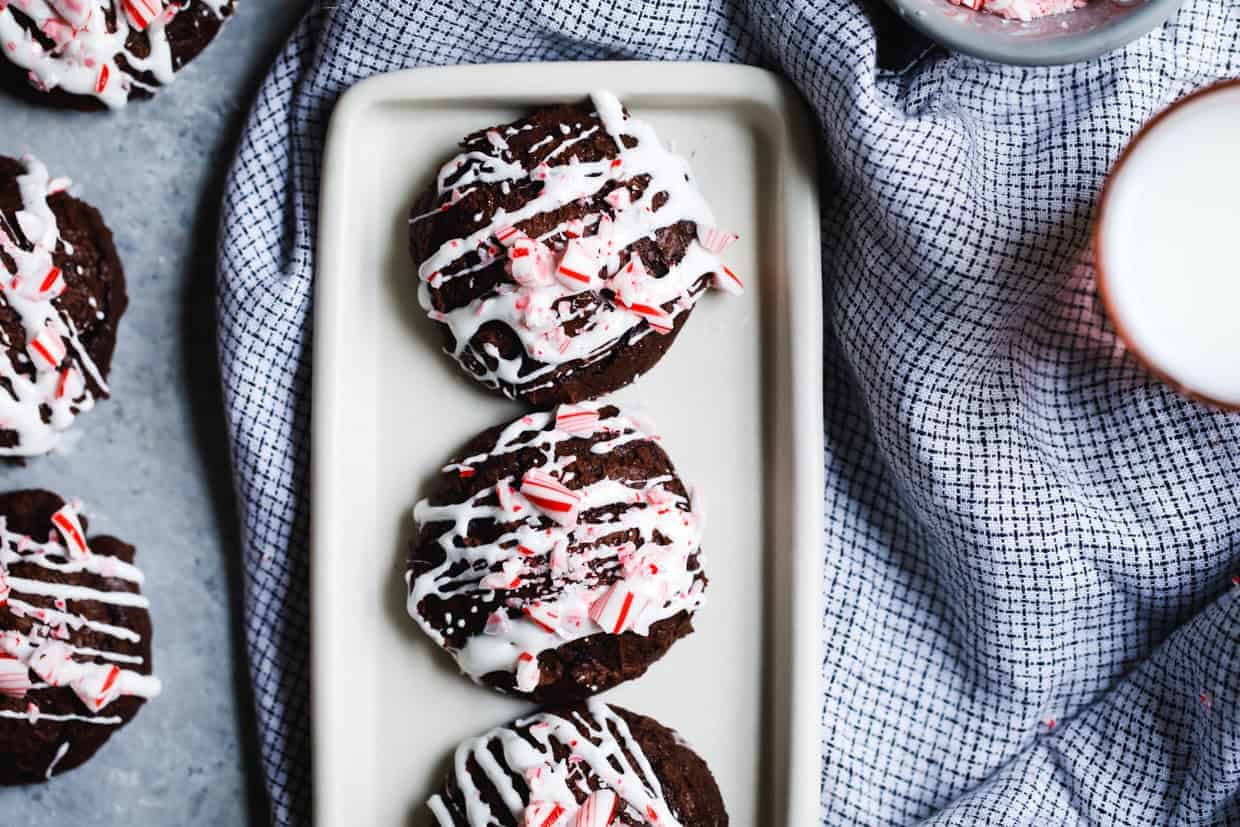 These peppermint chocolate marshmallow cookies are my latest wintery midnight jam. There's nearly a tablespoon of chocolate in each cookie (that's not even counting the deep dark dutch-processed cocoa powder), but bake up like soft chewy clouds with a flakey slightly crispy shell and a hint of holiday (aka peppermint). The sticky marshmallow topping uses a technique I picked up from Maryanne where you beat whole marshmallows in a stand mixer until they melt from the friction. Top the peppermint chocolate morsels with that melty marshmallow drizzle and crushed candy canes and it just got vvvvery festive in here. Cue the holiday music.
Cookie month is in full swing and Holly & Natalie from The Modern Proper are bringing folks together to share their favorite cookies - head over to their post for a full list of cookie inspiration or browse (and drool over) #calmandbrightcookienight!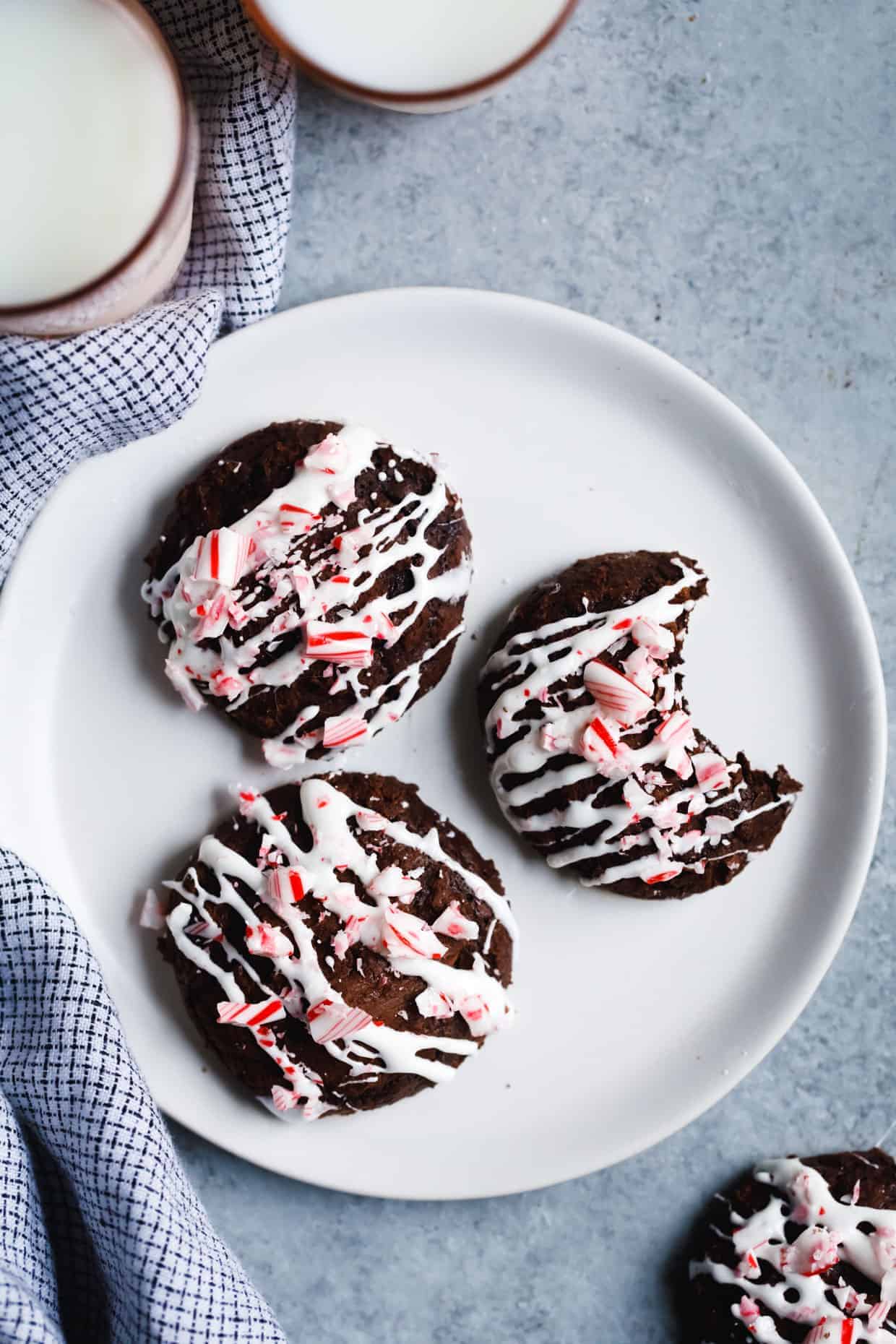 Pinhole Press Holiday Bake-Off
Head over to the blog post on Pinhole Press to read the complete rules for participating in their Holiday Bake-Off to win prizes for baking cookies! Did you make this cookie? Then you've already done the first step to enter!
Thanks for reading Snixy Kitchen! To stay up on what's coming out of my kitchen, follow me on Facebook, Instagram, Twitter, Bloglovin', or Pinterest, or subscribe via e-mail to get new recipes right to your inbox.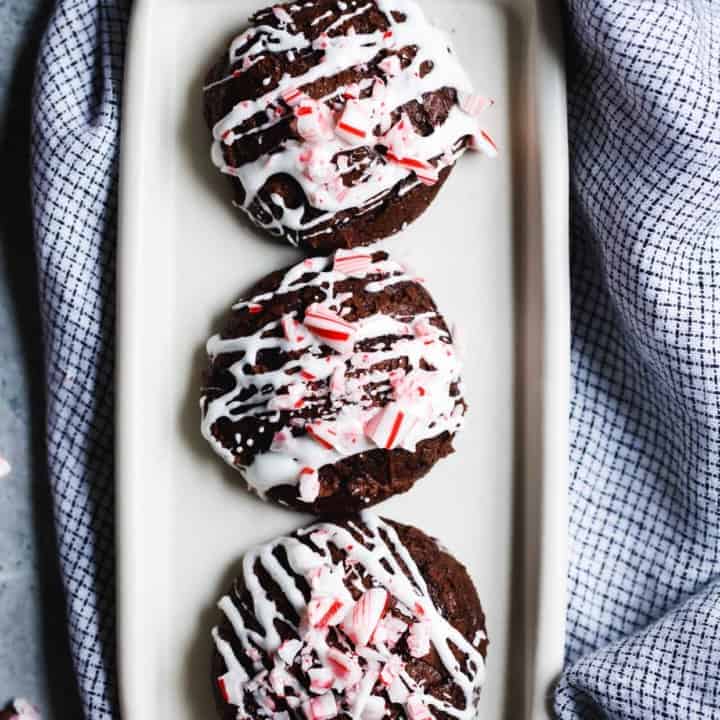 Peppermint Chocolate Marshmallow Cookies
Ingredients
5.5 ounces (1 cup) chopped bittersweet chocolate chunks, divided into ⅔ cup for melting and ⅓ cup for mixing in whole (alternatively, use 1 cup dark chocolate chips).
¾ tsp peppermint extract
2 large egg whites
1-⅓ cups (176g) powdered sugar, divided into ½ cup (67g) for mixing with the egg whites and ½ + ⅓ cup (111g) for mixing with the dry ingredients
⅓ cup (31g) good quality unsweetened dutch-processed cocoa powder
2 teaspoons cornstarch
¼ teaspoon kosher salt
2-3 crushed candy canes
15 marshmallows
Instructions
Preheat the oven to 400°F and line a large baking sheet with parchment paper.
Melt ⅔ cup (~3.7ounces) of the chopped chocolate in a bowl set over a pot of boiling water or a double boiler, stirring constantly. Mix in peppermint extract and stir to combine. Remove from heat and let cool a bit while you prepare the rest.
With a stand mixer fitted with the whisk attachment or a hand mixer, beat the egg whites over medium speed until soft peaks form.
With the beaters going, slowly mix in ½ cup of the powdered sugar, one tablespoon at a time. Beating until the mixture resembles fluffy marshmallow creme, about 2 minutes.
In a separate bowl, mix together rest of the powdered sugar (½ + ⅓ cup), cocoa powder, cornstarch, and kosher salt. With the mixer on low speed, slowly fold the dry ingredients into the egg white mixture, 1 tablespoon at a time.
With the mixer on low, slowly stir in the melted chocolate and the remaining ⅓ cup of chocolate chunks until combined.
Use a spoon or a cookie scoop to drop a tablespoon balls of dough about 1.5-2-inches apart on the prepared baking sheet.
Bake until puffed up and beginning to crack, 10-11 minutes.
Let them cool 1-2 minutes on the pan before transferring to a wire rack to cool completely.
Meanwhile, clean the bowl of the stand mixer and whisk.
When the cookies are completely cool, place the marshmallows in the clean bowl and with the wire whisk, beat on high speed until the marshmallows begin to break down and turn to (really sticky) marshmallow cream.
Use two forks to pull up the marshmallow cream into strands and decorate the cookies with messy stripes or zig zags of marshmallow cream. Top with crushed candy canes.