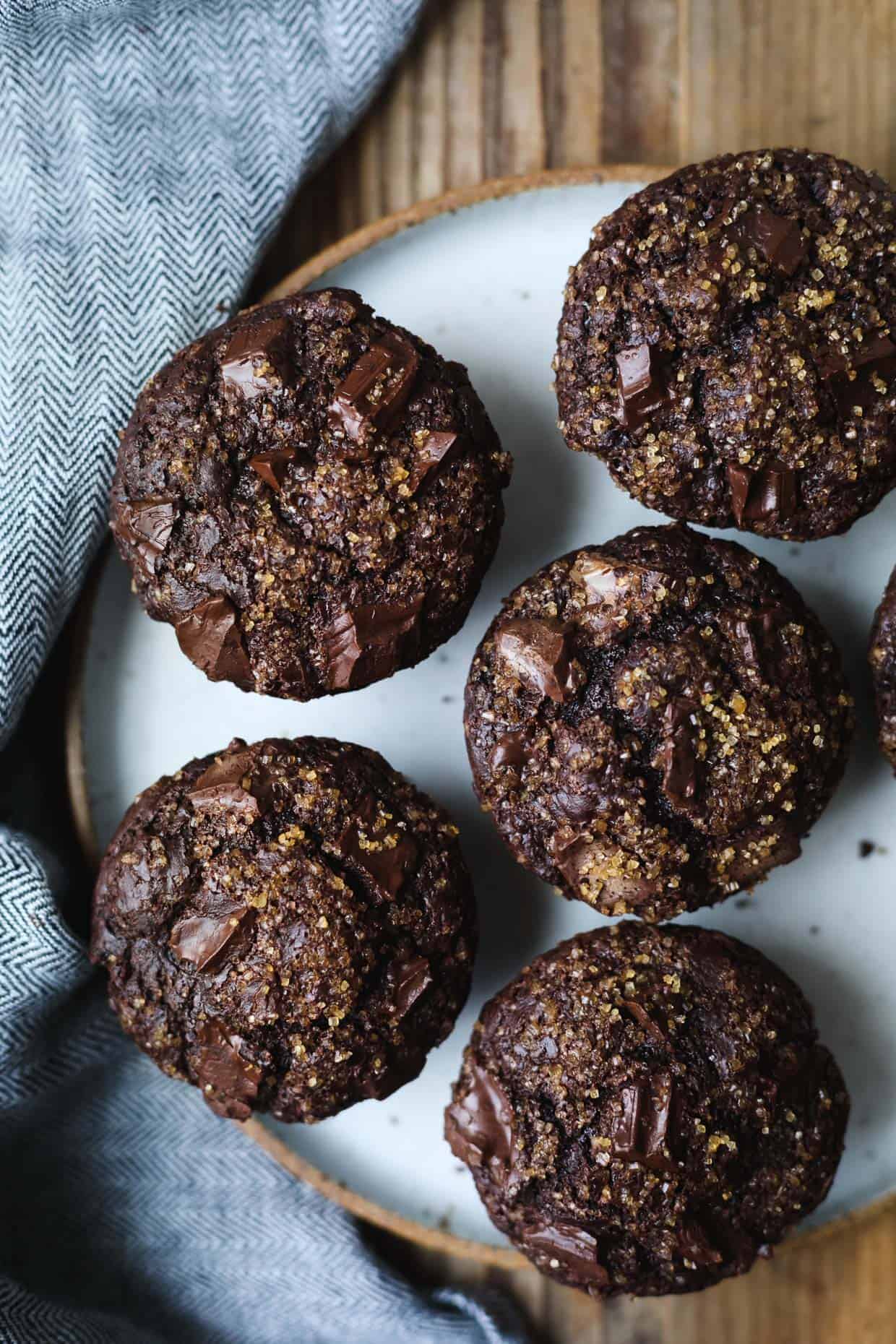 I nailed this recipe on the first try. The crumb was moist and chewy with just the right balance of sweetness to rich dark cocoa. But then I mom-brained and didn't write it down (kinda like when I didn't write the bin number on my bag of sliced almonds tonight because I planned to repeat it over and over again so I wouldn't forget and then I totally forgot by the time I checked out). It took 5 more batches to recreate that same glorious muffin again. Fortunately, Lucas burned 3000 calories on Sunday training for his marathon and was more than happy to eat them.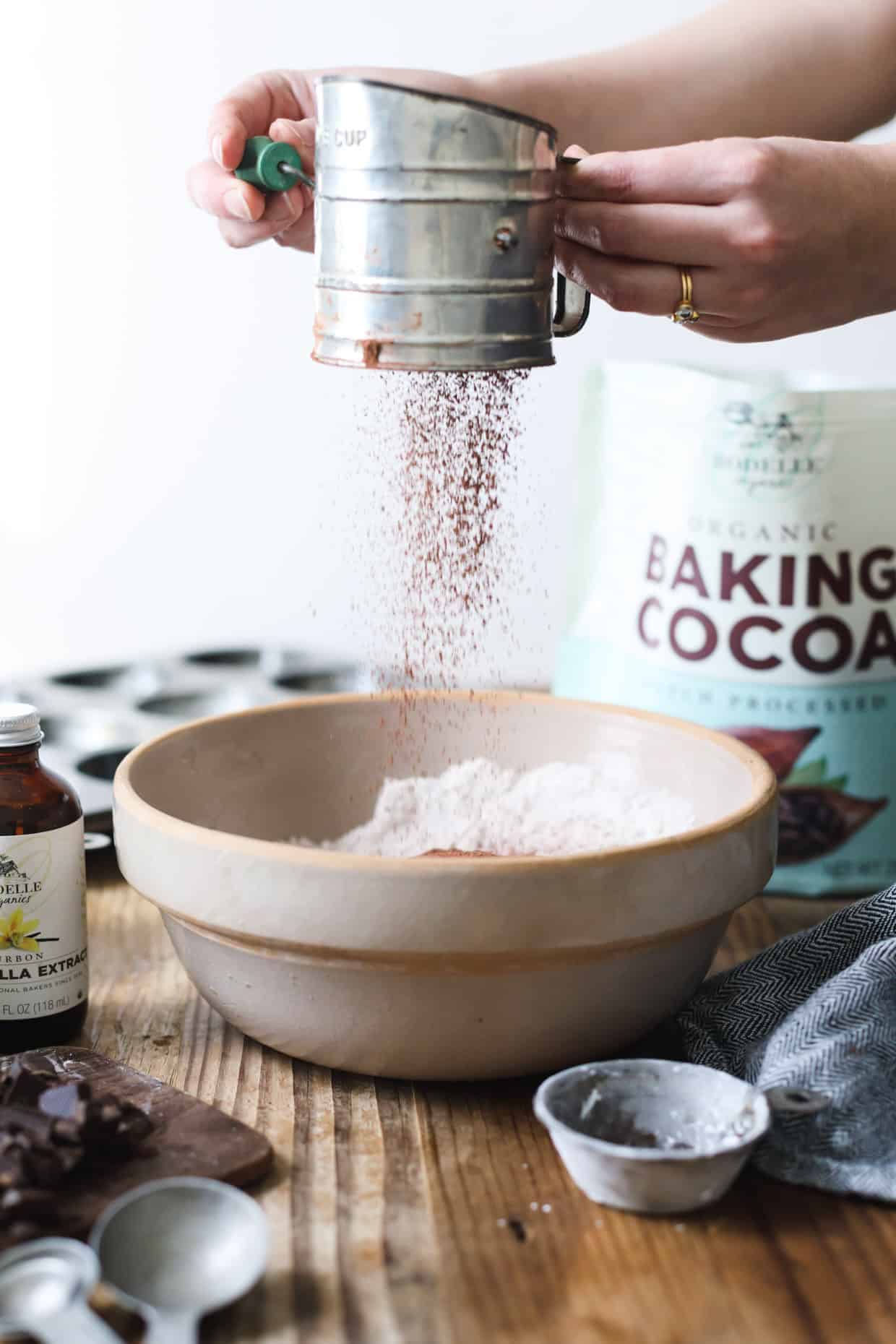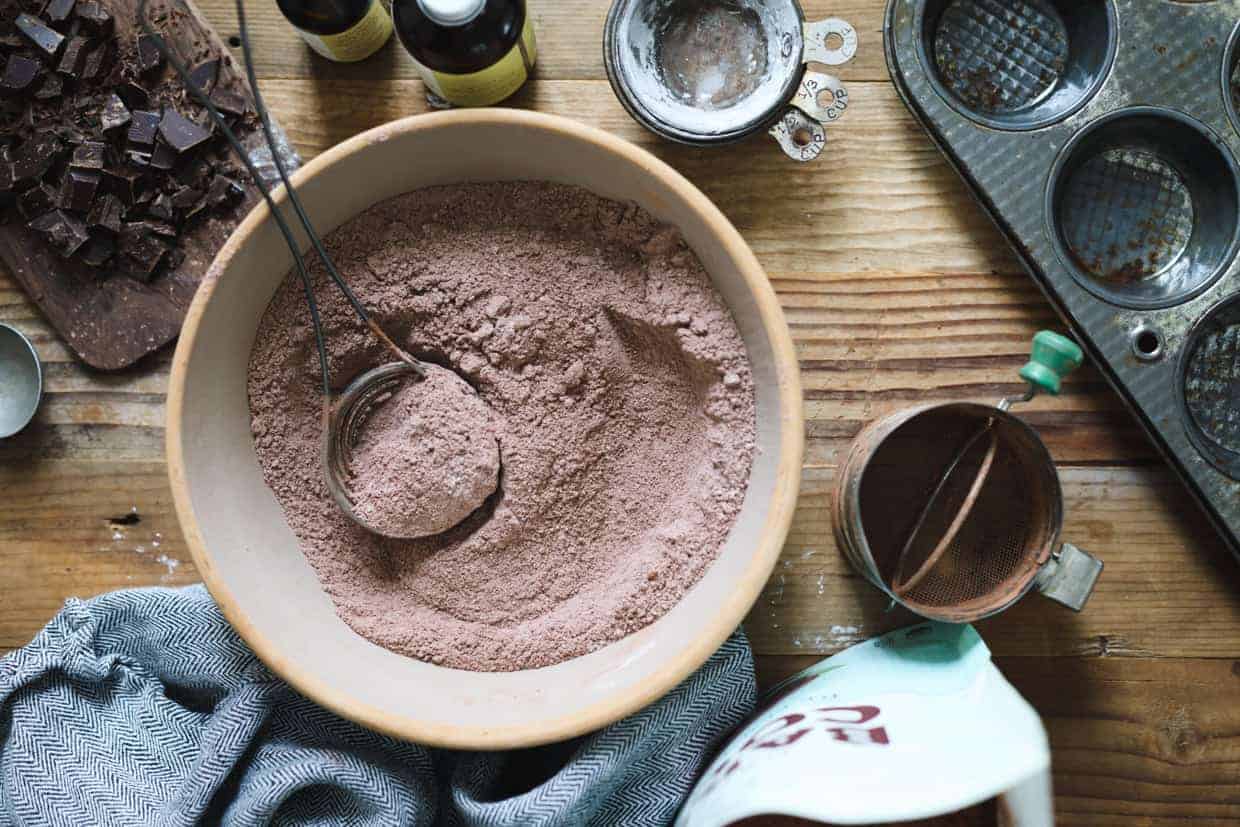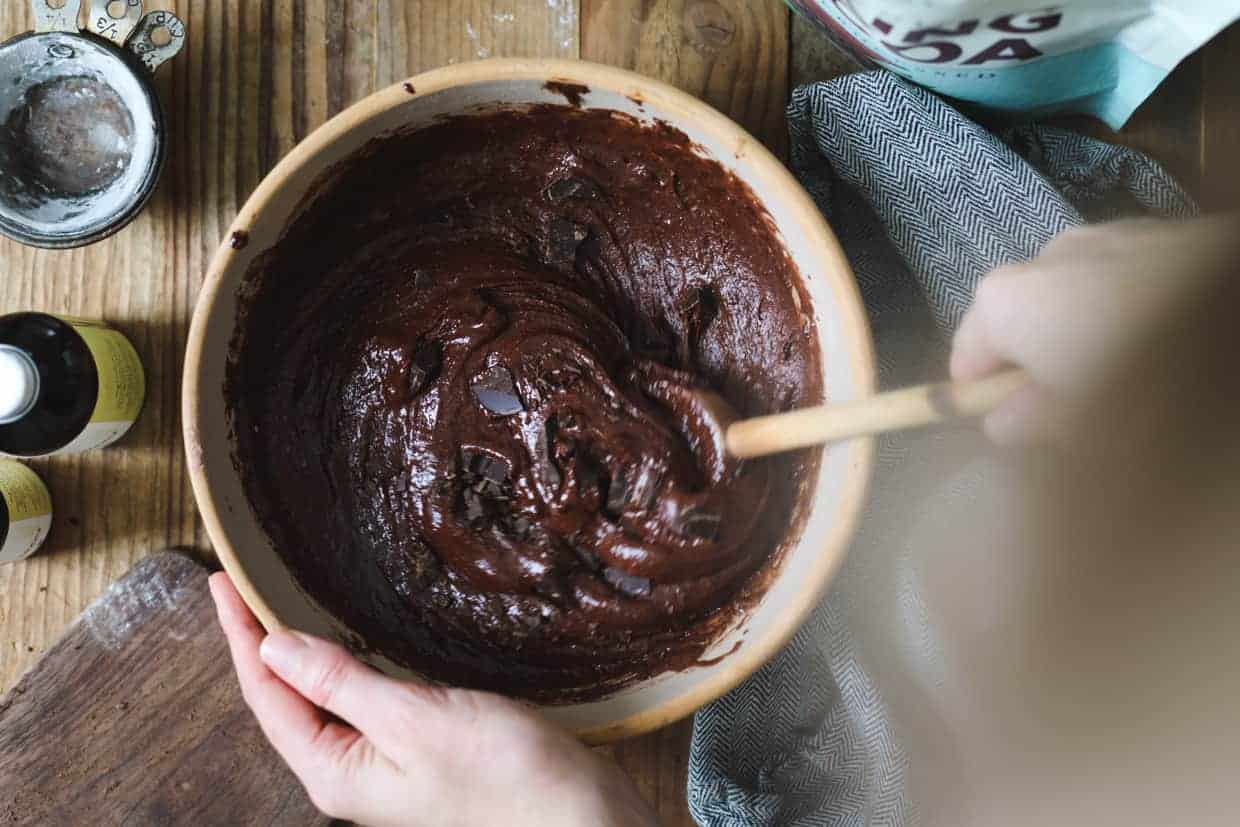 Speaking of Lucas, I have the best husband.
Rodelle's baking cocoa is one of the few products I have a strong brand loyalty to. Due to the European Dutch-processing, it turns baked goods a deep dark brown and makes them extra rich without being bitter. Over the holidays last year, I ran out of cocoa powder just as I set out to make a few dozen chocolate cupcakes. Without hesitation (probably because he wanted cupcakes), Lucas ran to the store for a baking cocoa emergency.
They, too, were out. (Insert dramatic sound effect).
Instead of subbing in a different baking cocoa when he couldn't find Rodelle, he went all around town at midnight just to find my beloved baking cocoa (without my asking). Like I said: he's the best husband. He's also very specific, if you couldn't tell - guess how long it takes him to follow a recipe that should take 30 minutes?
Not sure. He's not finished yet. (Just teasing, honey).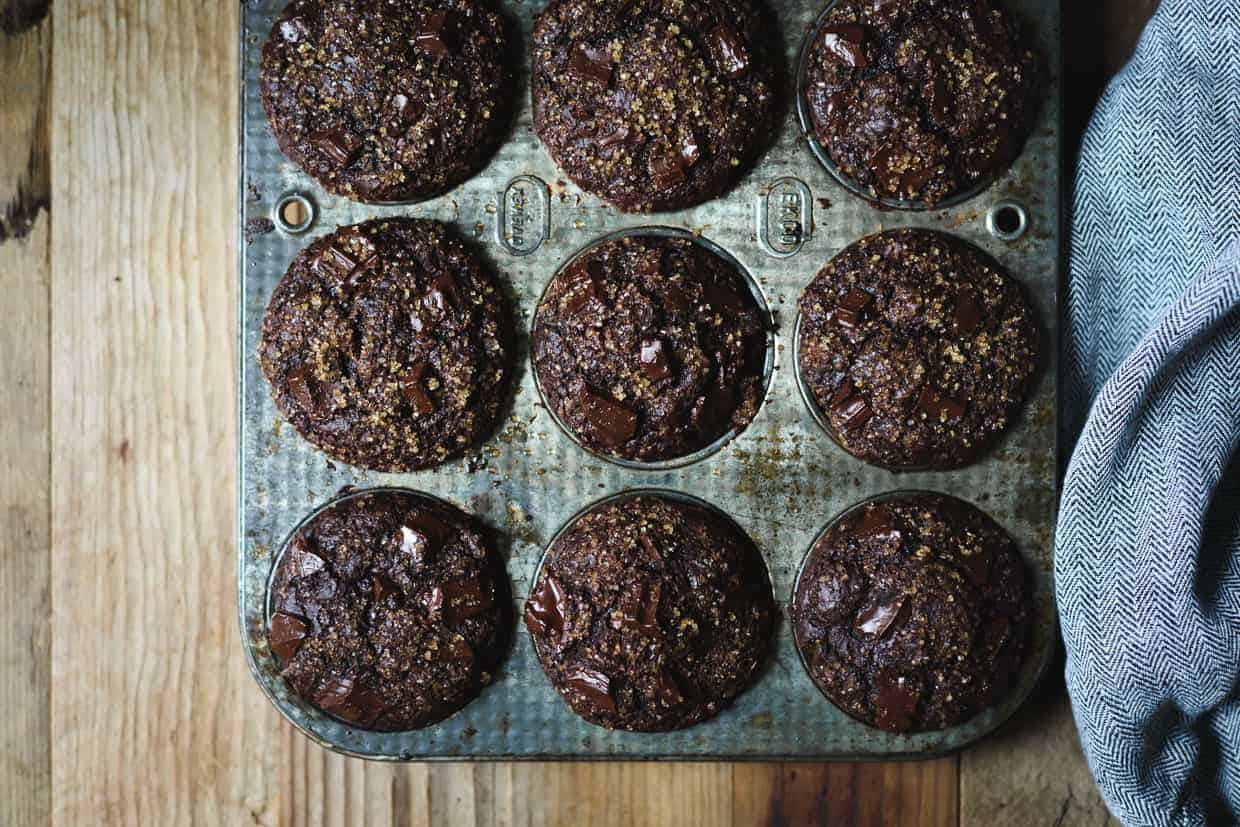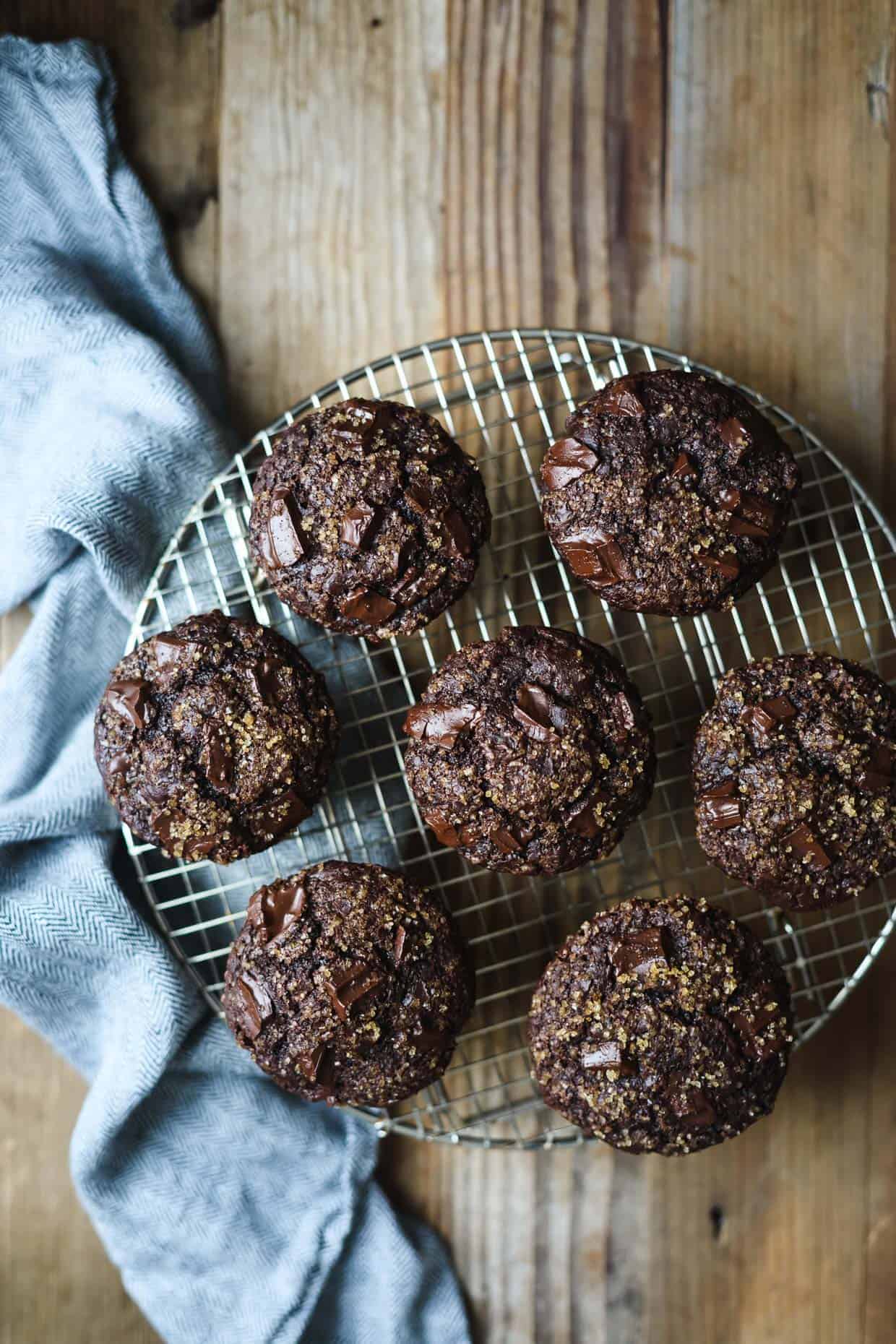 He wants it to be known that he also went to the store at 2am last week for more sugar when I was testing batches 5 and 6 of these muffins. He either really loves muffins or really loves me. Jury's still out. JK, everyone knows I'm spoiled and he's well-fed.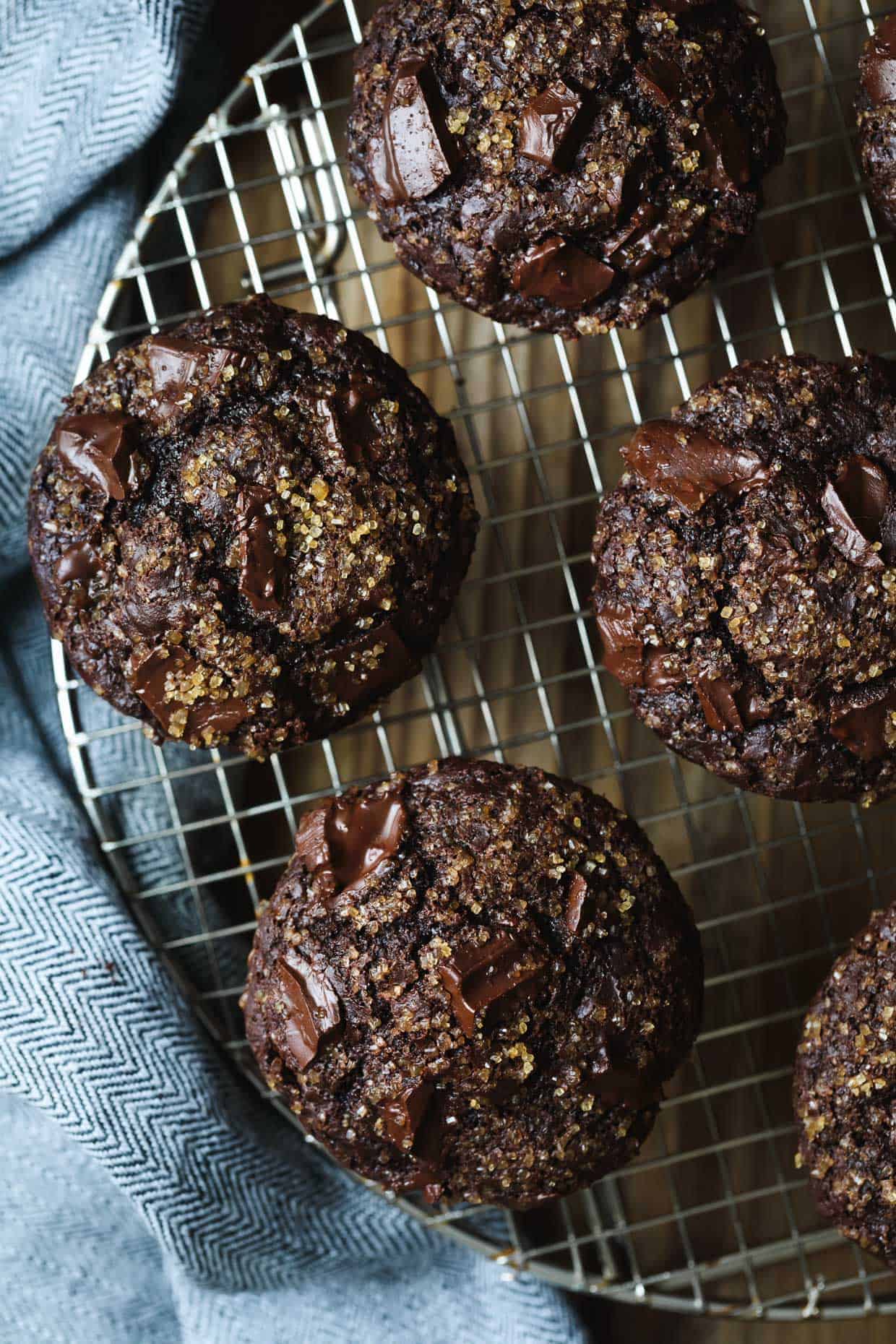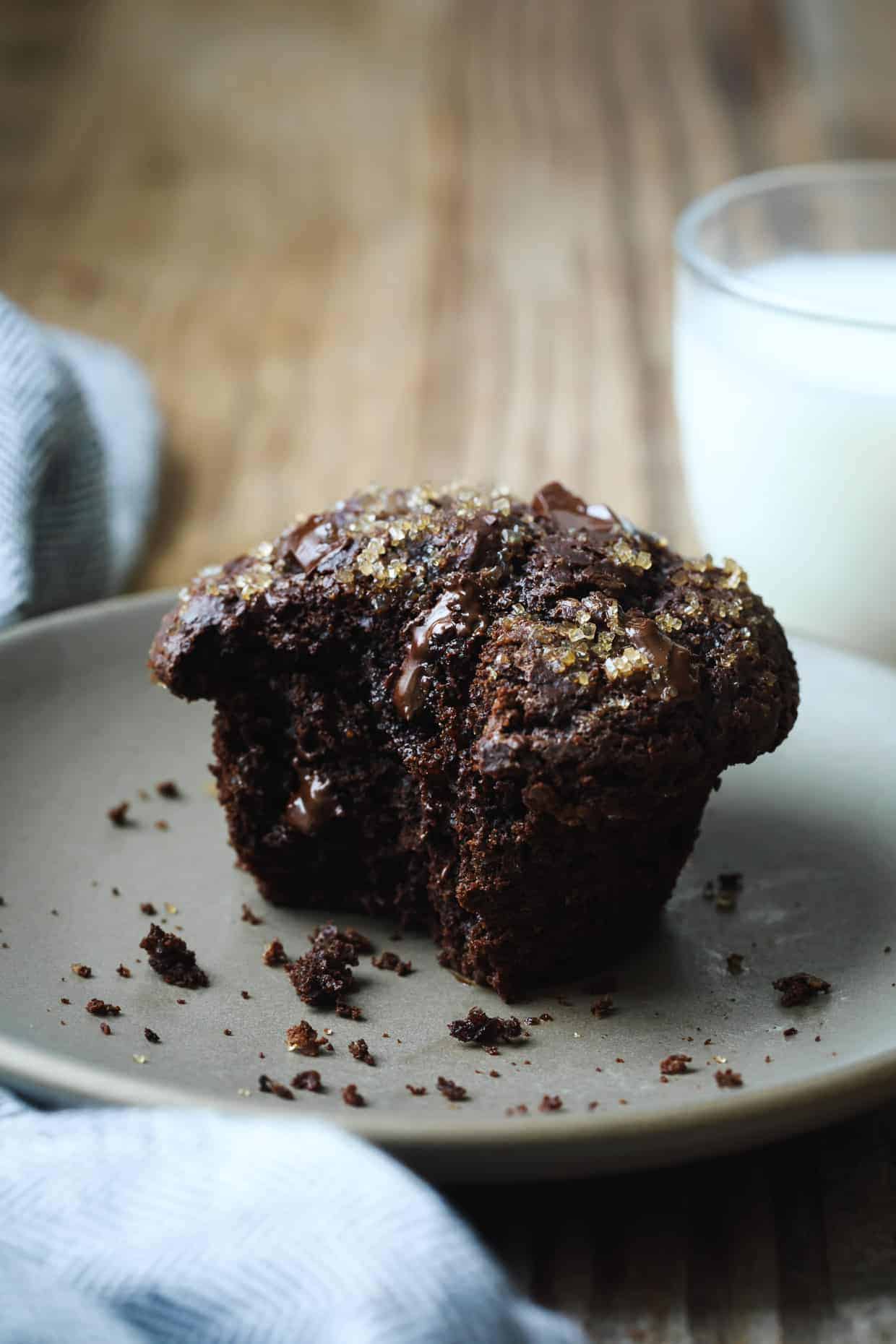 These Mexican chocolate muffins were my inaugural recipe using Rodelle's new organic baking cocoa and their inspiration came from this Sunday vibes instagram post from my girl Renee a few months back. Buckwheat and cocoa were meant for each other - the chocolate notes in buckwheat enhance the cocoa's richness tenfold. I'm dying to try the buckwheat bergamot double chocolate cookies from Alanna's Alternative Baker cookbook now that I'm a buckwheat chocolate junkie (it might be one of the few recipes I didn't get to taste test!).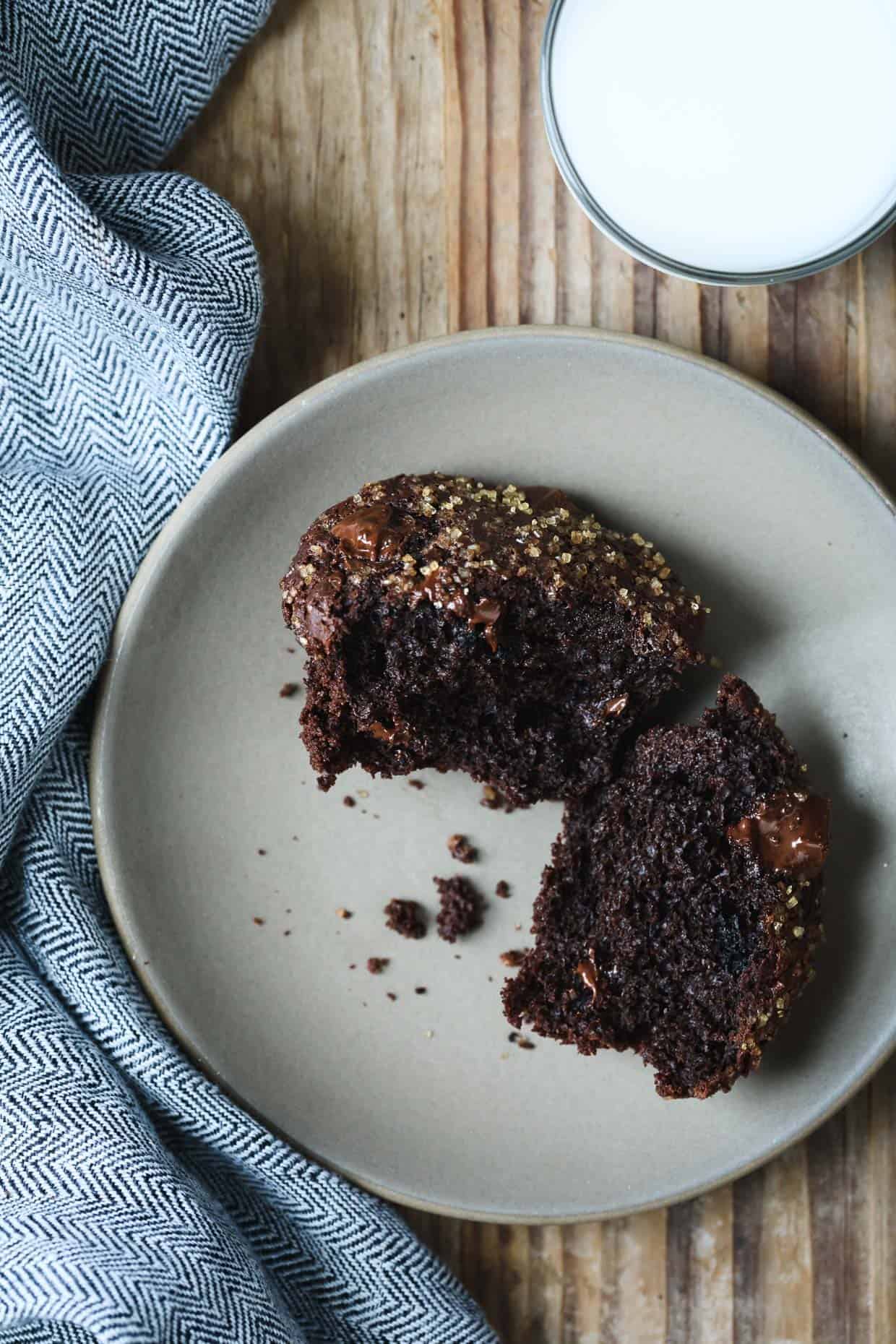 Pairing whole grain buckwheat flour with deep spices like cinnamon and cayenne creates a muffin that's warm and spicy with a moist crumb. Just a little hint of sugar balances out the cocoa and heat, leaving it tasting rich and earthy. There's no mistaking these morsels for cupcakes. These small-batch Mexican chocolate buckwheat muffins are the perfect pre-holiday breakfast - just bake them up the night before and pop them in the microwave for a few seconds to melt up the chocolate chunks before serving.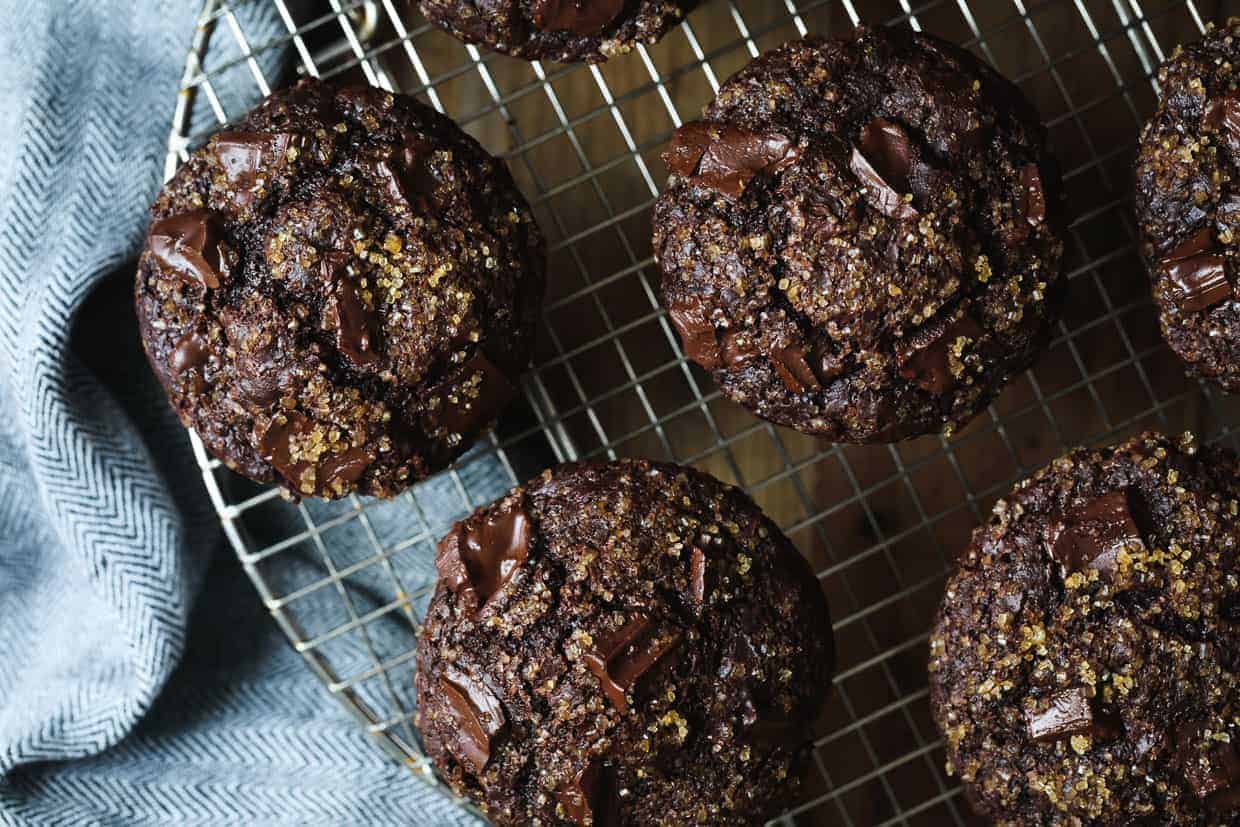 Thanks for reading Snixy Kitchen! To stay up on what's coming out of my kitchen, follow me on Facebook, Instagram, Twitter, Bloglovin', Pinterest, or subscribe via e-mail to get new recipes right to your inbox.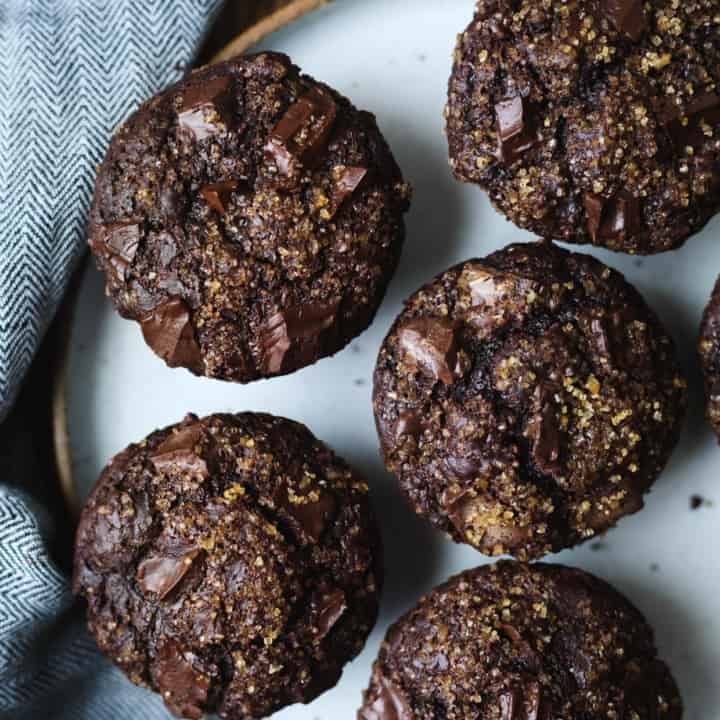 Gluten-Free Mexican Chocolate Buckwheat Muffins
Ingredients
1 teaspoon cinnamon
¼ teaspoon cayenne
½ teaspoon espresso powder
¼ teaspoon baking soda
¾ teaspoons baking powder
¼ teaspoon salt
¼ cup + 1 tablespoons granulated sugar
⅓ cup + 1 tablespoons buttermilk
3 tablespoons safflower oil (or other neutral vegetable oil)
1 large egg, room temperature
2 ounces good-quality dark chocolate, chopped & divided
Optional: 1-2 tablespoons coarse sugar like turbinado for sprinkling on top
Instructions
Preheat oven to 375°F and generously grease a muffin tin with safflower oil (or other neutral vegetable oil).
In a large bowl, whisk together the buckwheat flour, sweet rice flour, and tapioca starch. Add the cinnamon, cayenne, espresso powder, baking soda, baking powder, and salt and whisk to combine. Sift in the cocoa powder and whisk to combine.
Add the sugar to the dry ingredients and whisk to combine.
In a separate bowl, whisk together the buttermilk, oil, egg, and extracts.
Pour the liquid ingredients into the dry ingredients and, using a large wooden spoon, stir to completely combine.
Fold in approximately ⅔ of the chopped chocolate.
Divide the batter among your 5 greased muffin cups (about ¼-1/3 cup per muffin).
Sprinkle the top with remaining chopped chocolate and coarse sugar.
Bake for 10 minutes, then reduce the heat to 350°F for 7 minutes.
Let cool for 5-10 minutes in the muffin tray until they're easy enough to handle. Remove from muffin tin and let cool on a wire rack (or eat!). Muffins will keep for 2-3 days, but are best eaten shortly after they're baked. If you keep some for the next day, just zap it in the microwave for 12-15 seconds to melt the chocolate again!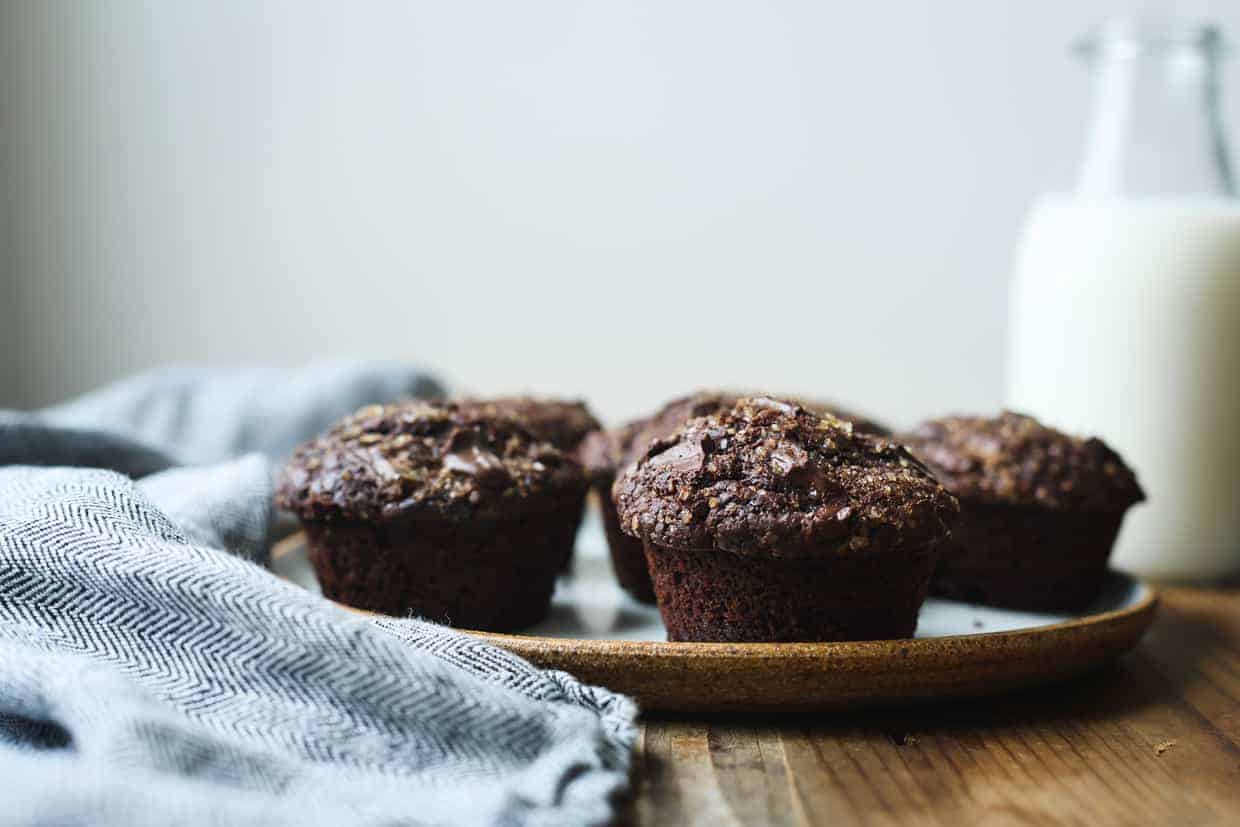 Disclosure: Special thanks to Rodelle for sponsoring this post! Find more Rodelle inspiration on Facebook, Instagram, or Pinterest. And thanks to you for supporting the brands that keep Snixy Kitchen cooking!