Layers of pillowy mint chocolate mousse, crunchy salted almonds and chocolate chunks, and a smooth toasted matcha meringue. Dessert heaven. A simple-to-make, but impressive and luxurious dessert slightly adapted from Pretty Simple Cooking.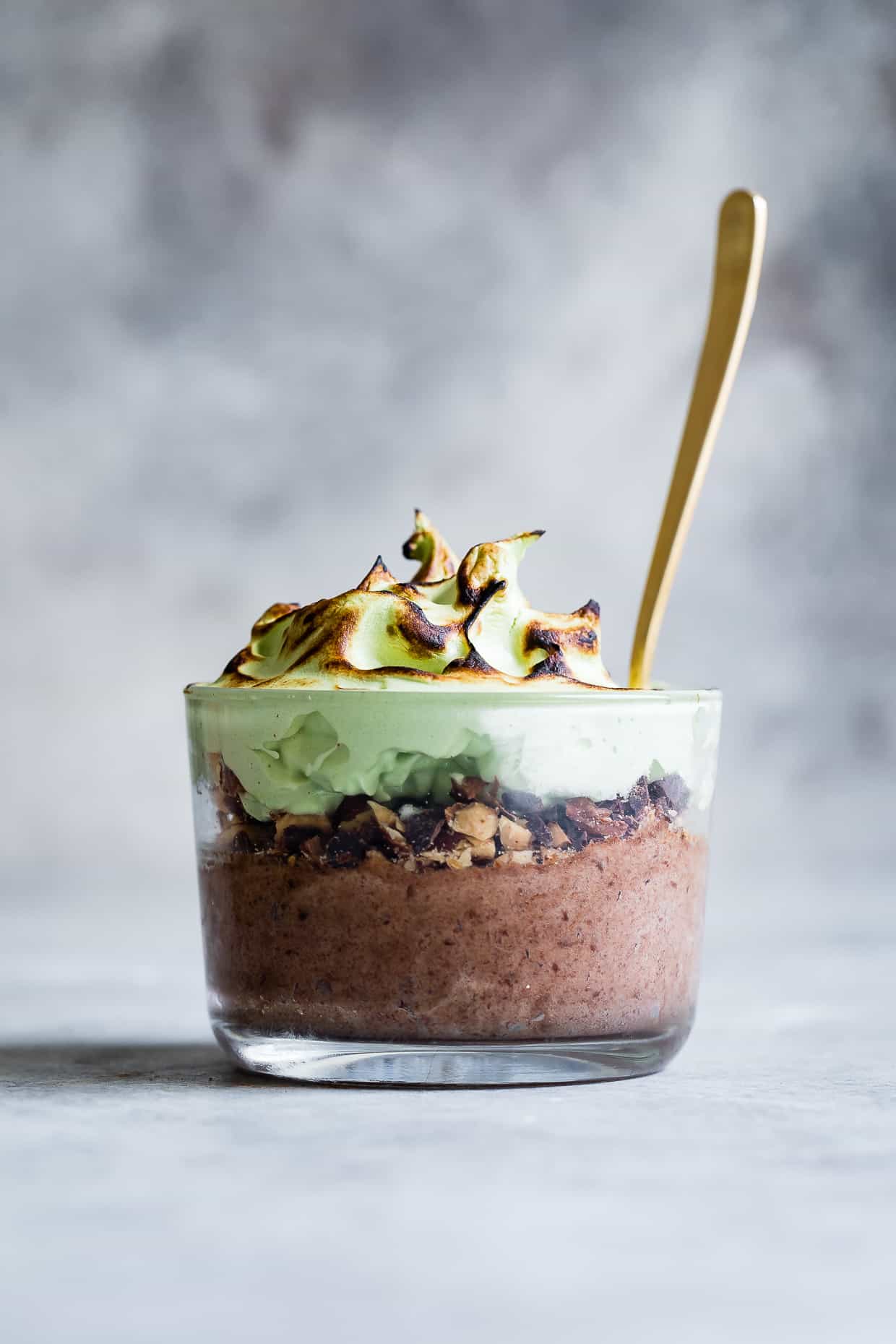 With this mint chocolate mousse with toasted matcha meringue, I'm kicking of Matcha March 2018 - aka the month where I post (mostly) all matcha recipes to celebrate St. Patrick's Day and also mostly my birthday. Matcha is one of my top favorite flavors of all time so it gets a special feature for my birthday. If you're new here, check out my Ultimate Guide to Matcha to learn everything you need to know about buying, drinking, and cooking with matcha. Today's recipe is a pretty simple dessert very slightly adapted from the new cookbook Pretty Simple Cooking by my friends Sonja & Alex Overhiser, the duo behind the blog A Couple Cooks. Also, it's Alex's birthday today, so heyyy double birthday dessert! Happy birthday! Let's play with fire.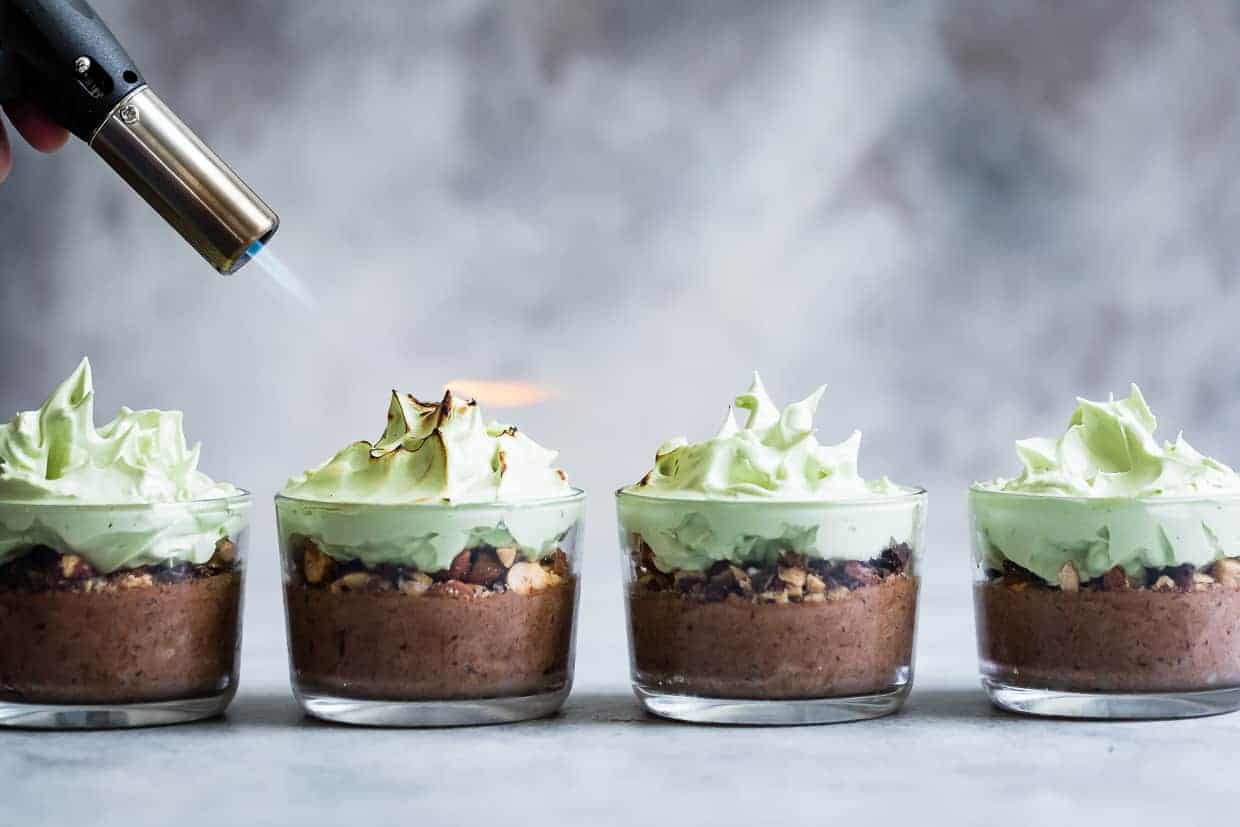 Sonja & Alex write that recipes are ideas - like a chart for a jazz musician that can be modified by what ingredients inspire you. As such, I put my own spin on their spiced version by cold-infusing the cream with fresh mint overnight and folding matcha into the meringue.
Back when Alanna and I collaborated to make fresh mint hot cocoa with matcha marshmallows, we torched a few marshmallows to see how it'd look in photos. It looked meh, but that spiraled our brainstorm toasting a matcha meringue. As soon as I opened the page to Sonja & Alex's chocolate mousse with toasted meringue, I knew it was the perfect excuse to toast matcha meringue (and I then begged Alanna to let me riff on that idea for this post - thank you!).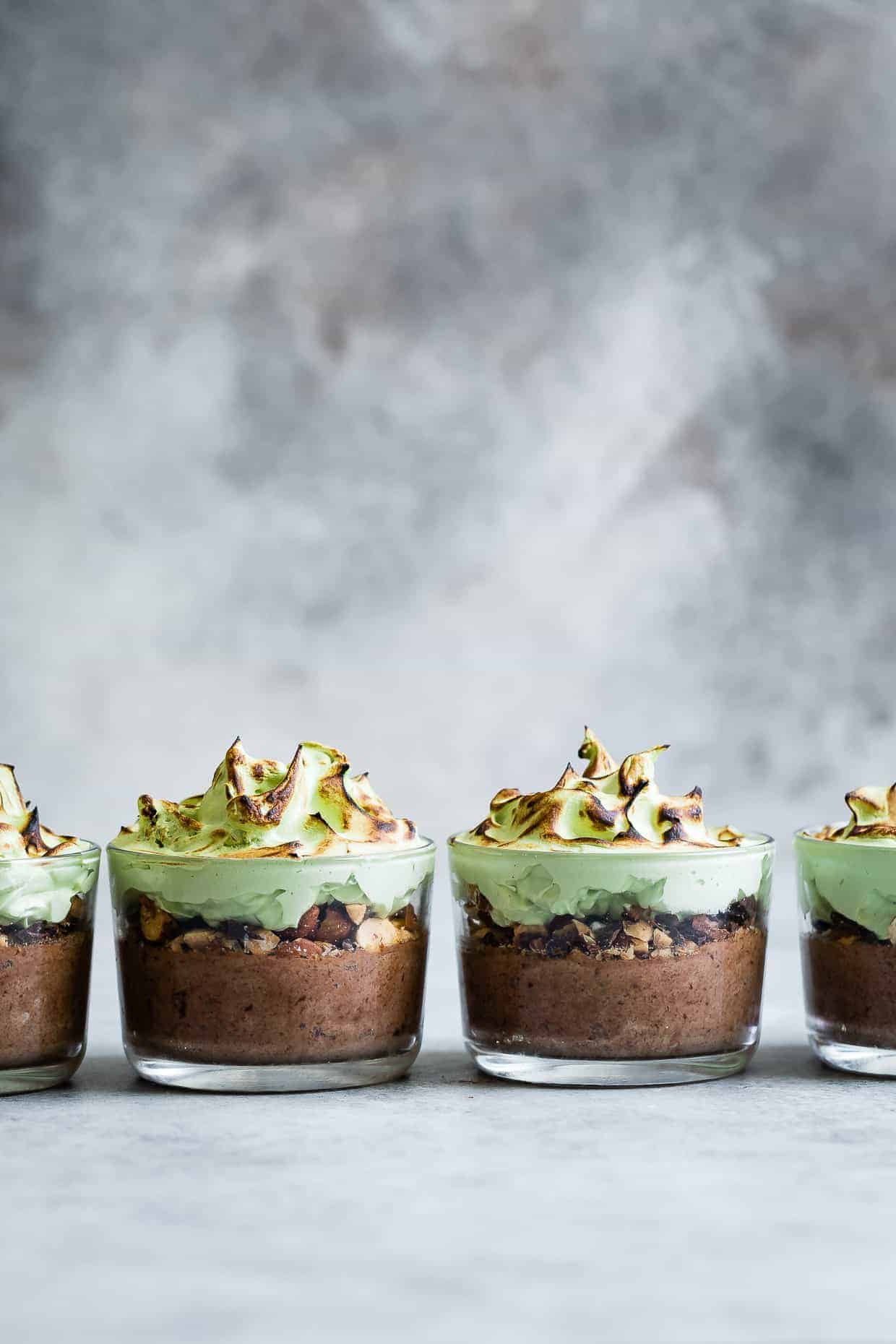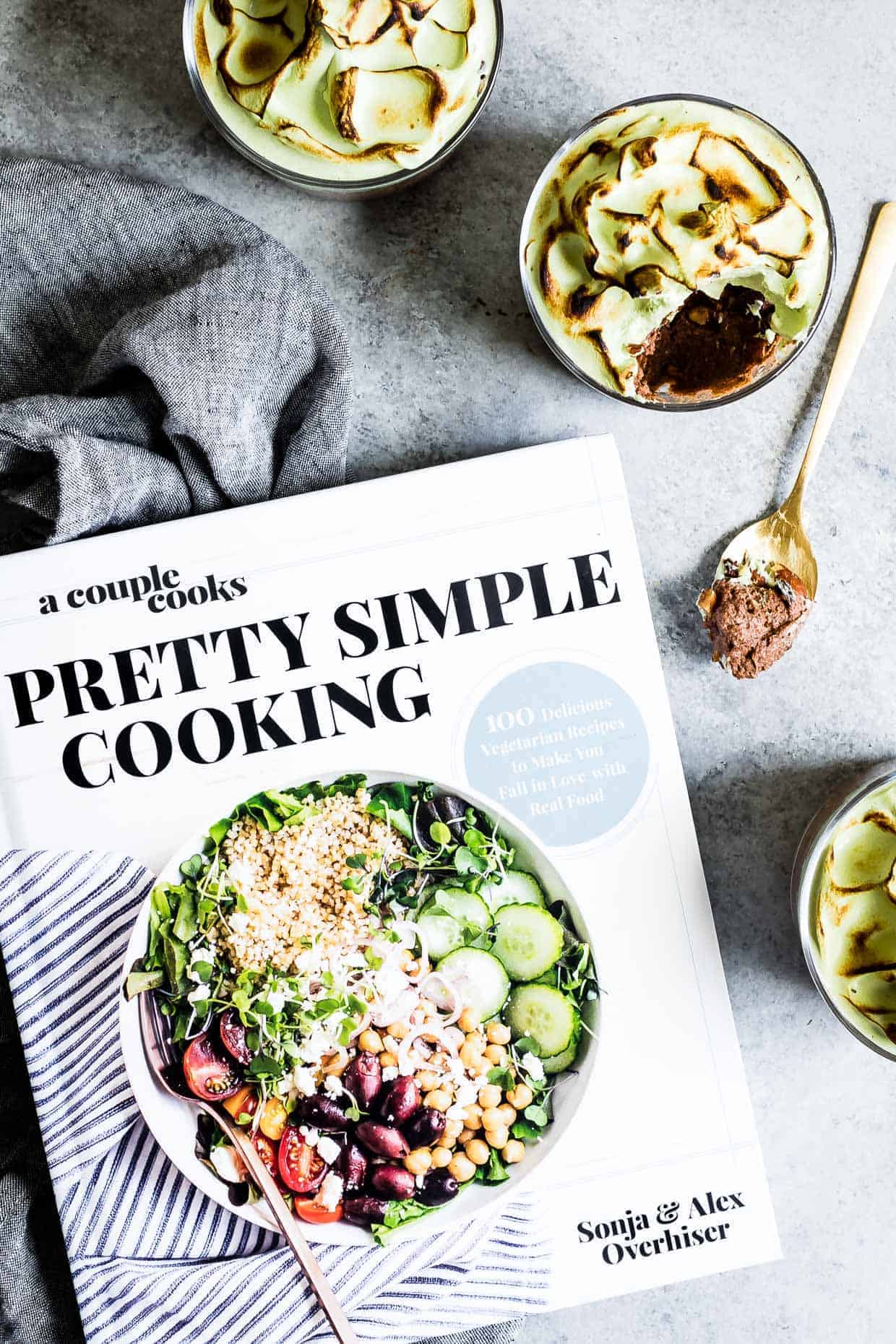 Sonja and I met through our blogs and struck up long e-mail conversations about appliances, travel, babies, and this cookbook baby. We've chatted on the phone for the past couple years through naps, baby coos, and toddler tantrums - all while the cookbook grew from concept to the actual physical beauty that sits on my bookshelf. This book truly is a labor of love and a resource I'll turn to over and over again for inspiration on vegetables into our kitchen. But first, leave it to me to head straight for dessert.
For how fancy a mint chocolate mousse with toasted meringue sounds, this recipe is really pretty simple, while at the same time luxurious and impressive (hello blow torch!). That's how I'd describe most of the recipes in Pretty Simple Cooking. Sonja & Alex have created a book to help people fall in love with cooking with real ingredients, with life tips for healthy cooking and eating scattered throughout. It's packed with 100 flavorful vegetarian recipes that approachable and doable, but still delicious and exciting enough to serve at a dinner party to impress your guests.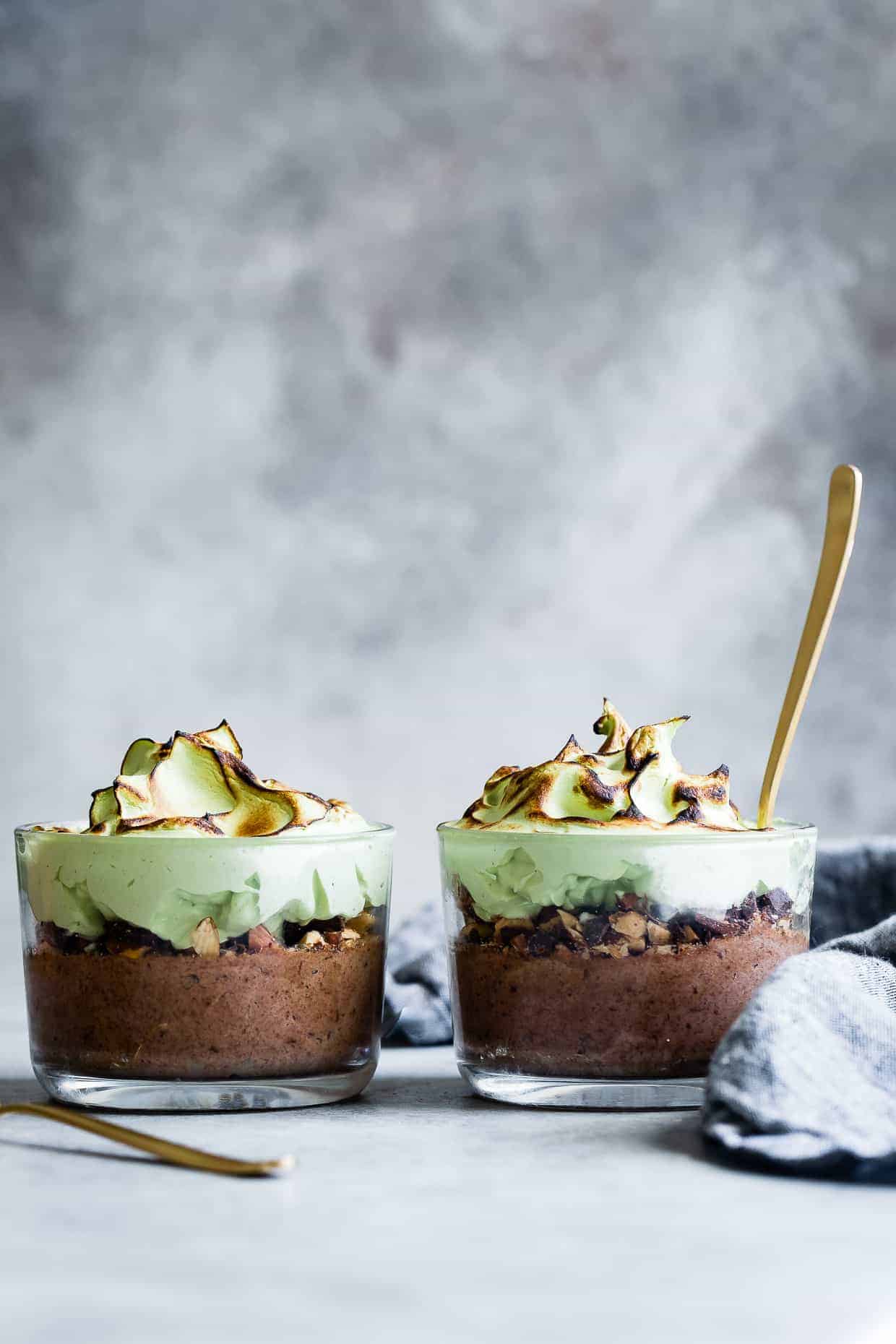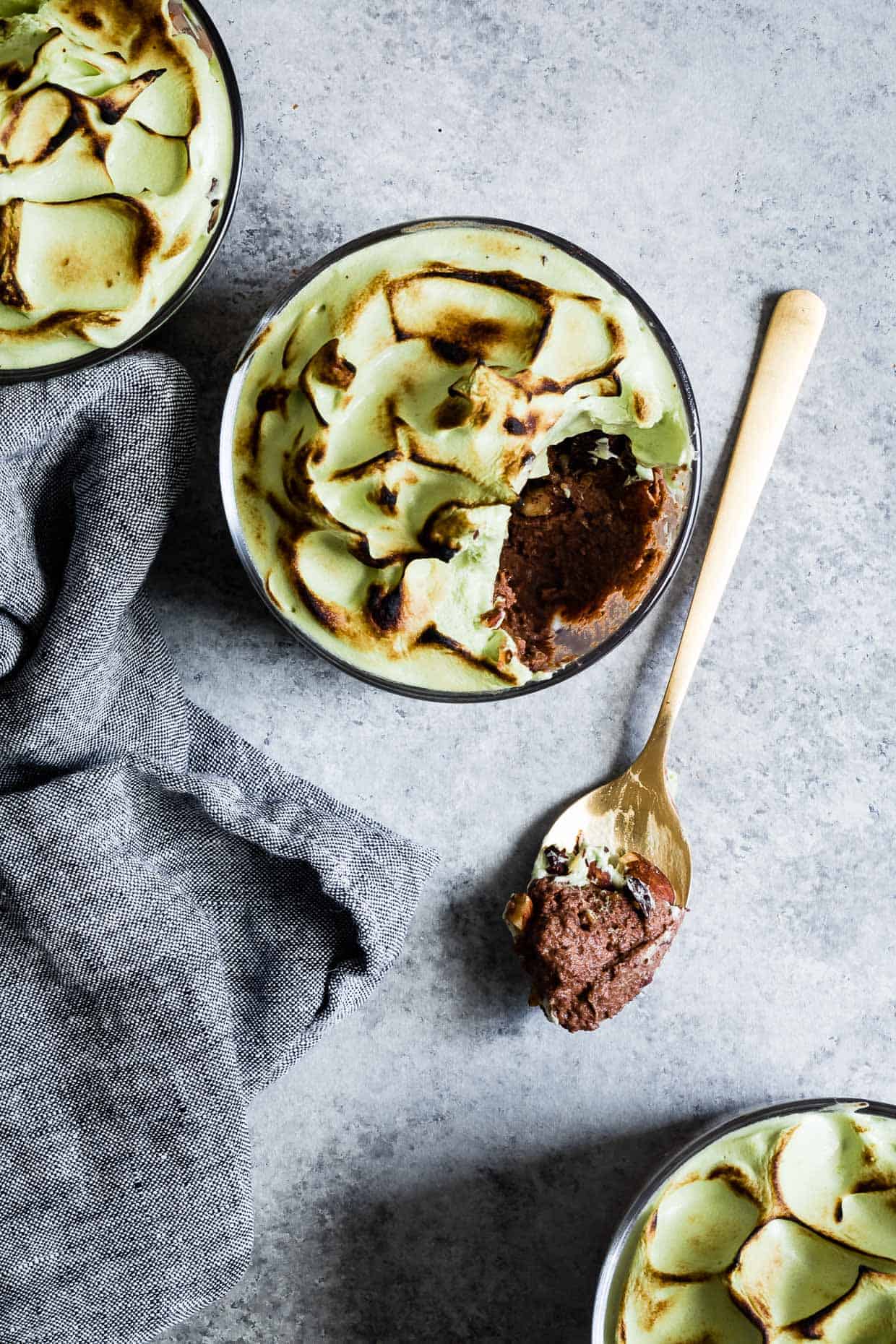 Next up on my list of recipes to make from their book: artichoke hummus, grilled portobello fajitas, and white cheddar leek & greens bake. Find the book here!
Here's their recipe with notes on my mint matcha rendition.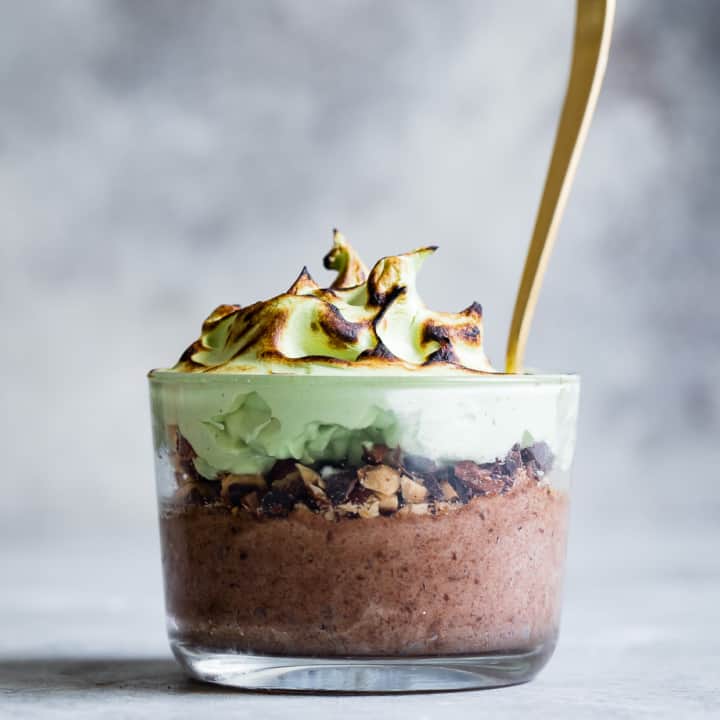 Mint Chocolate Mousse with Toasted Matcha Meringue
Ingredients
1 cup heavy whipping cream
¼ cup fresh mint leaves, packed
1 cup semisweet or bittersweet chocolate chips (I used 1 cup chopped bittersweet chocolate)
½ cup dry roasted almonds, chopped (They use salted roasted almonds, but I couldn't find these so I used dry roasted but added flakey salt to the recipe below)
¼ teaspoon flakey salt
2 egg whites
⅛ teaspoon cream of tartar
¼ cup cane sugar
Instructions
In a glass jar, muddle the mint leaves into the heavy cream. Chill, covered overnight or up to 24 hours.
Up to a day in advance, make the chocolate mousse. Place ¾ cup of the chocolate chunks in a glass measuring cup. Fill a large skillet halfway with water and heat to a low simmer. When the water is simmering, turn off the heat and place the measuring cup in the water. Stir the chocolate with a rubber spatula until just melted. Remove from heat.
Use a fine-mesh sieve to strain the infused heavy cream into the the bowl of a stand mixer with the whisk attachment (or a large bowl with a hand mixer). Press to get as much cream out of the mint as possible. Beat the cream on high for about 1 minute, until soft peaks form. Pour in the melted chocolate and continue beating for several seconds until pillowy and fully combined.
Divide the mousse into 4-6 small glasses or bowls and chill in the refrigerator for about an hour. Wash the stand mixer and whisk attachment well.
Make the meringue. As close as possible to serving time, return the skillet of water to just barely a simmer. In the bowl of the stand mixer (or a heatproof bowl if using a hand mixer), combine the egg white, cream of tartar, and sugar. Hold the bowl just touching the warm water and stir with a wooden spoon until the sugar is dissolved and the mixture is fully combined and no longer gritty, about 2 minutes (be careful not to cook the eggs!).
Move the mixing bowl to the stand mixer with the whisk attachment. Beat the mixture on high for about 4 minutes, then sift in the matcha. Beat for another minute until it is bright green and glossy with stiff peaks.
Assemble the parfaits. Top each glass of mousse with a handful of almonds and a pinch of flakey salt, then divide the remaining ¼ cup chocolate chunks between the glasses. Use a small spatula to top each jar with meringue and form it into fun peaks.
Use a kitchen torch to brown the outside of each meringue for a few seconds and serve immediately.
Notes
I only had larger dessert cups, so I made four servings. It's such a rich dessert that I think 6 servings is perfect if you've got the right cups!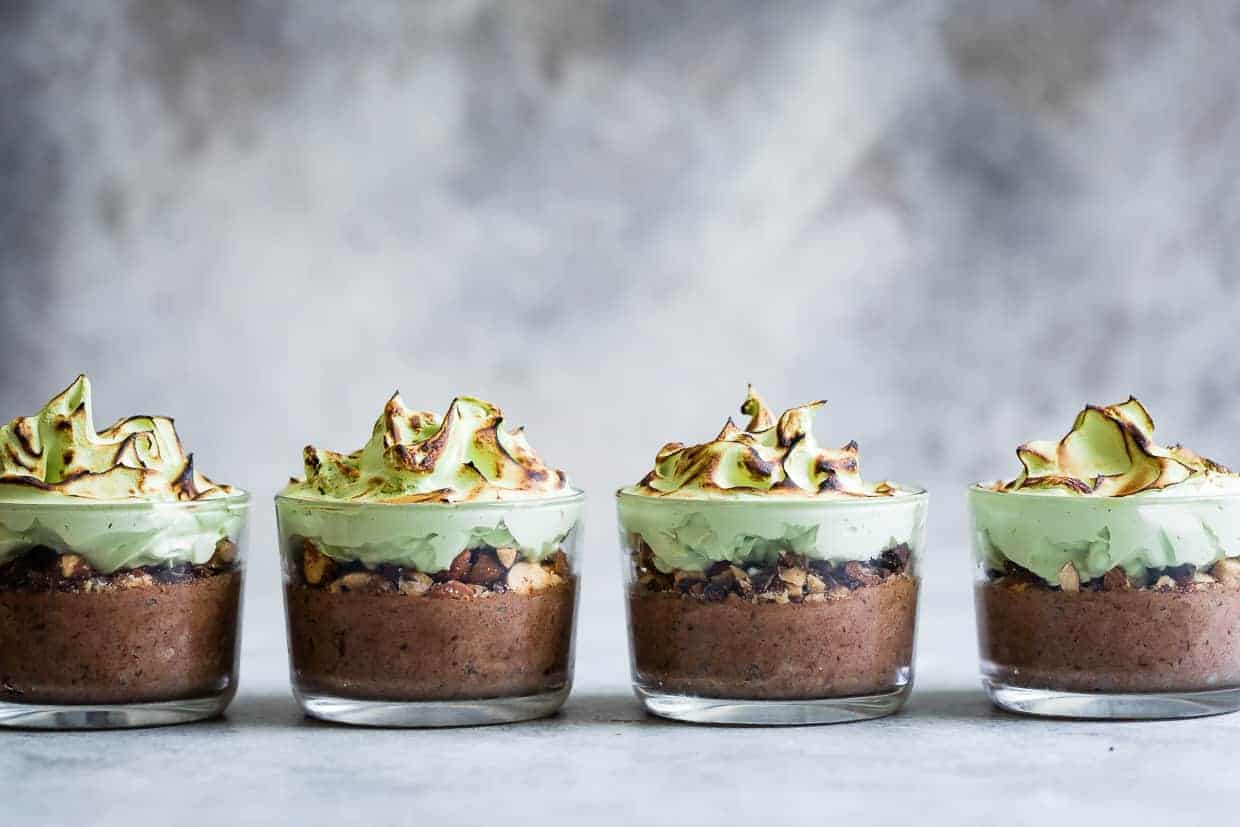 Thanks for reading Snixy Kitchen! To stay up on what's coming out of my kitchen, follow me on Facebook, Instagram, Twitter, Bloglovin', or Pinterest, or subscribe via e-mail to get new recipes right to your inbox.