Light and fluffy chocolate gluten-free swiss roll cake filled with whipped cream cheese frosting rolled up in a moist chocolate sponge cake. This impressive cake only takes 16 minutes to bake!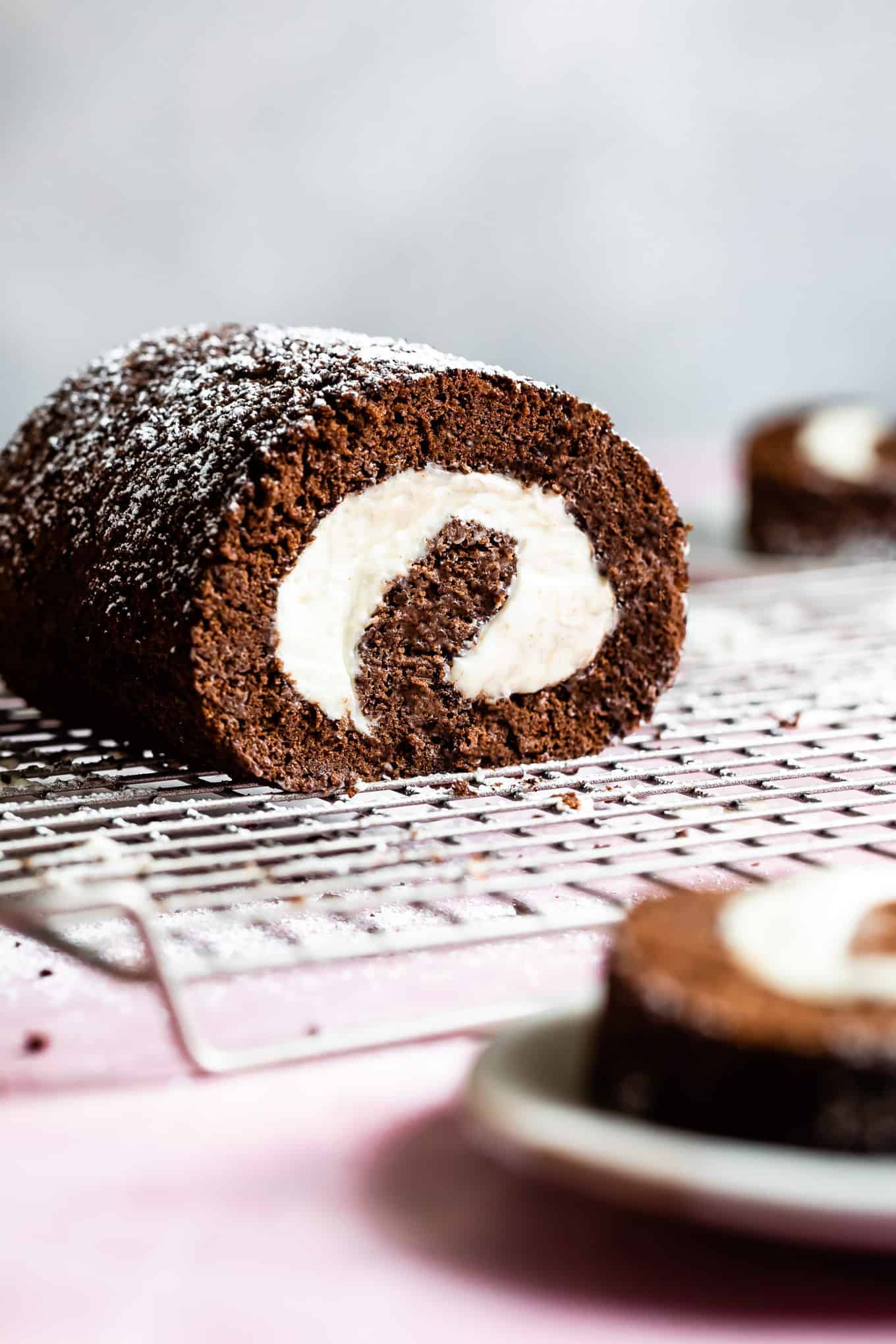 One of the primary reasons I started this recipe blog (8 years ago on New Year's Day) was to document my attempts at trying new things in the kitchen. My tagline back then was "culinary stunts in a pint-sized kitchen." I set out to master new cooking skills in rapid succession: homemade pasta, pizza dough, stuffing sausages. When I became gluten-free a year and a half later, it opened up a whole new set of baking skills to try out. I wanted to inspire people to try complicated, seemingly unapproachable recipes at home - to want to learn new cooking skills right along with me.
At some point along the way, I got pretty confident and comfortable in the kitchen. Now, when people ask me where I learned to cook & bake, I really don't have an answer beyond:
I ruined a lot of cake along the way.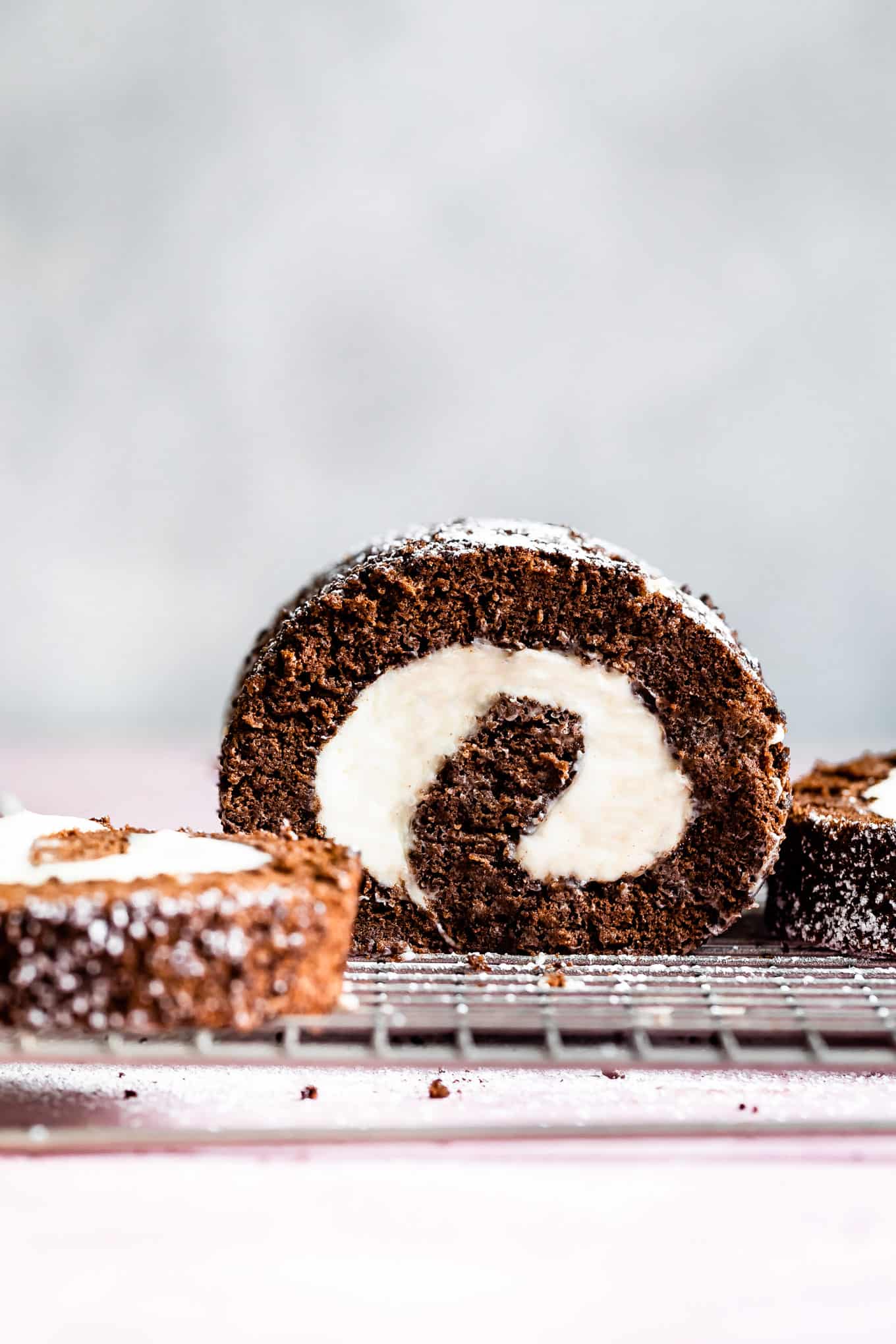 Gluten-Free Chocolate Cake Roll
When OXO challenged me to try mastering a difficult cooking skill this month, I chose a gluten-free chocolate cake roll. I mean, it just looks impressive. But what if it cracks or breaks and I ruin an entire cake?!
It did. I baked this cake 8 times to get it just right. Except now I know there's no such thing as ruined cake - just an opportunity for cake trifles and cake pops.
This final version is light and fluffy and filled with a tangy whipped cream cheese frosting that tastes like clouds. With an oil-based sponge cake recipe, it's still moist and tender even after chilling in the fridge to set.
I developed this chocolate gluten-free swiss roll cake as part of my ongoing collaboration with OXO to show off the tools I regularly use in my gluten-free baking and cooking. Head over to check all my posts featuring my favorite OXO kitchen tools from the past few years.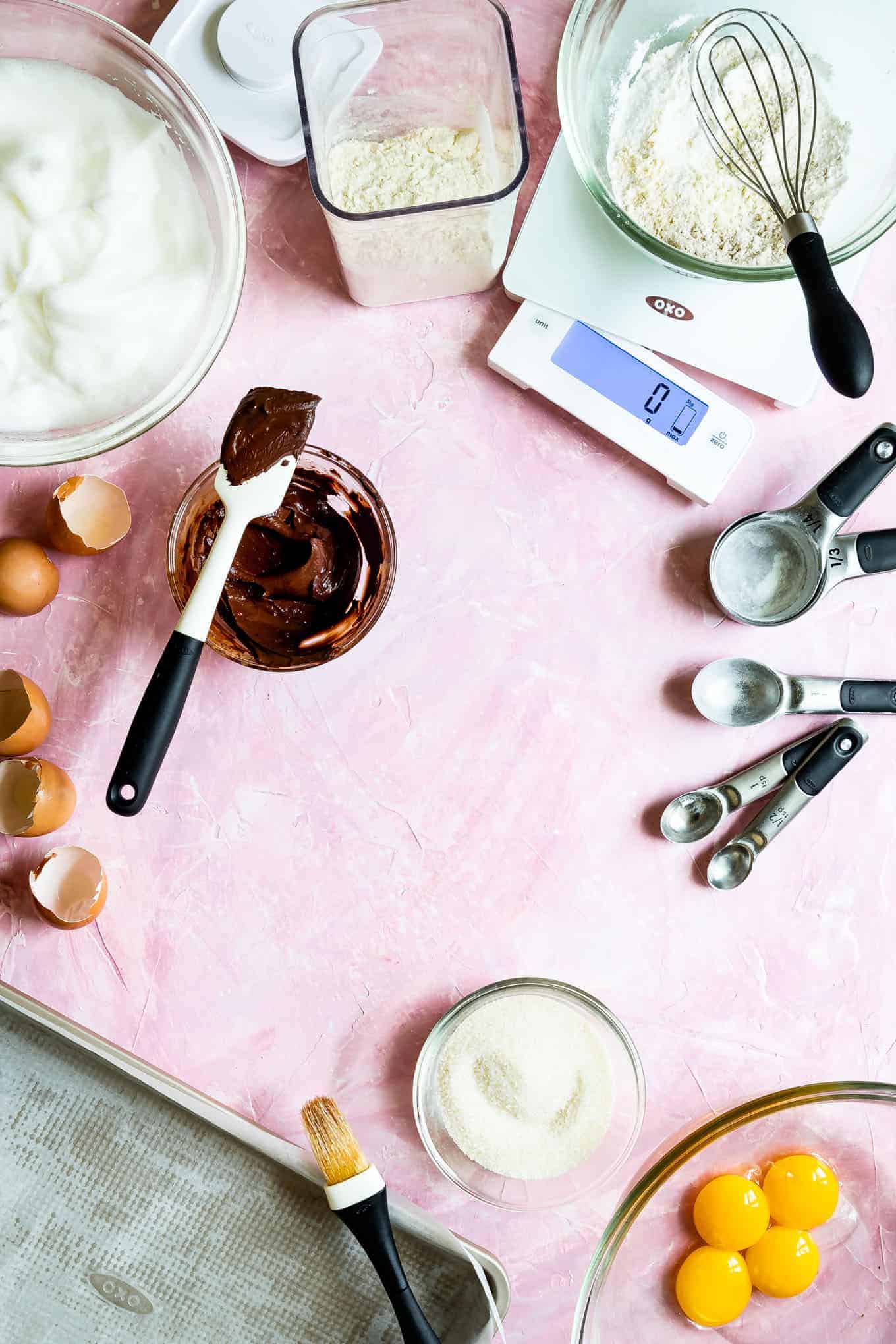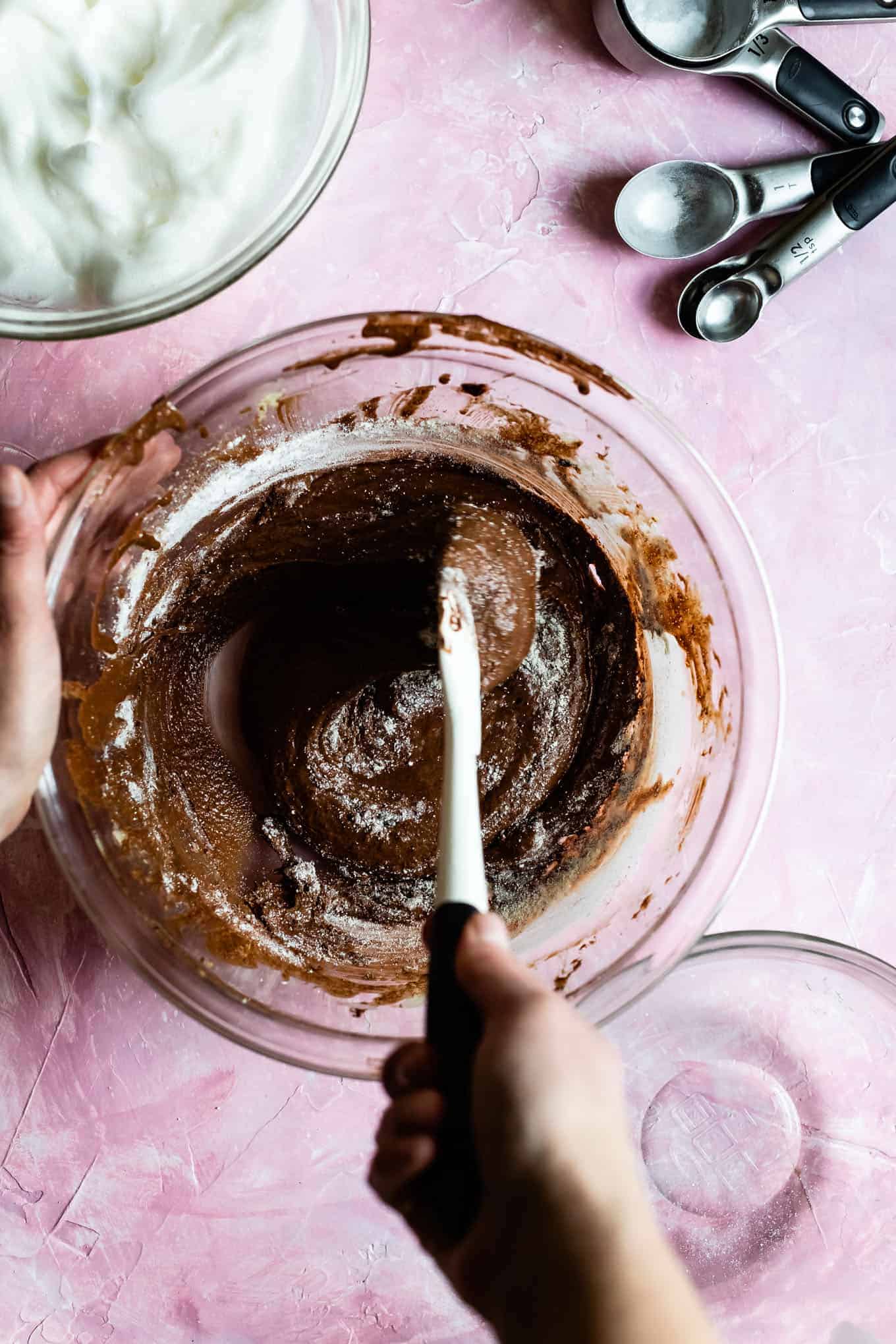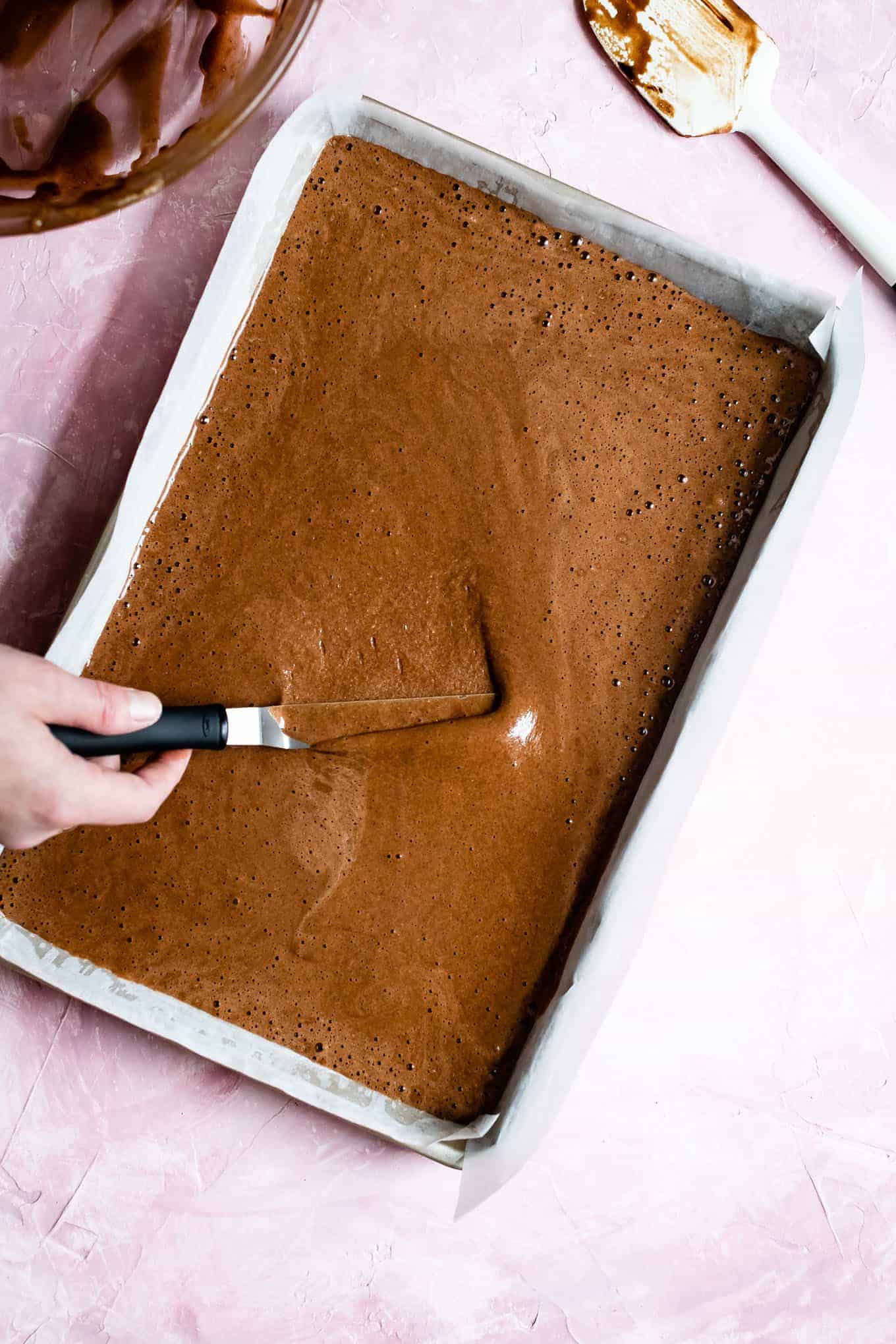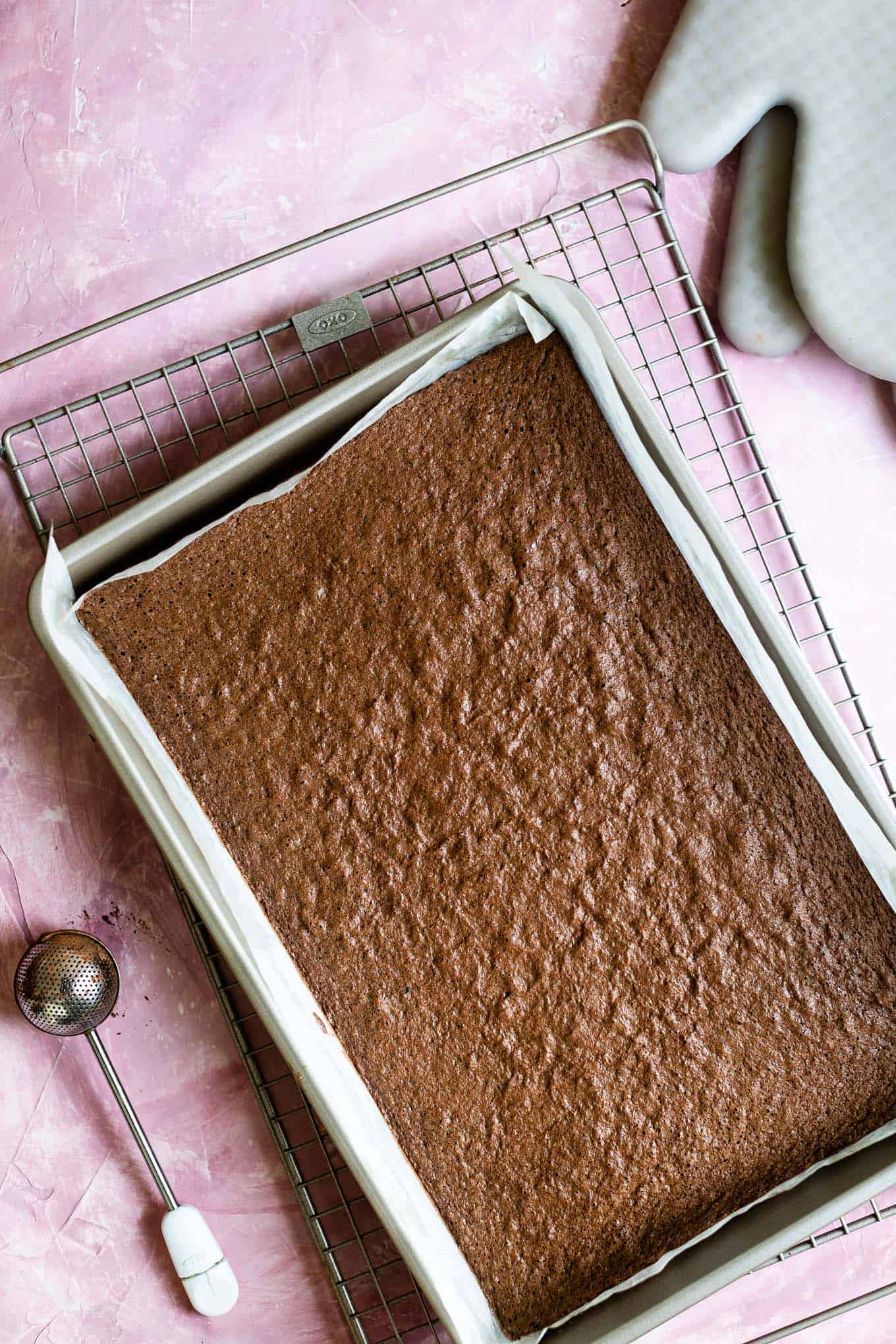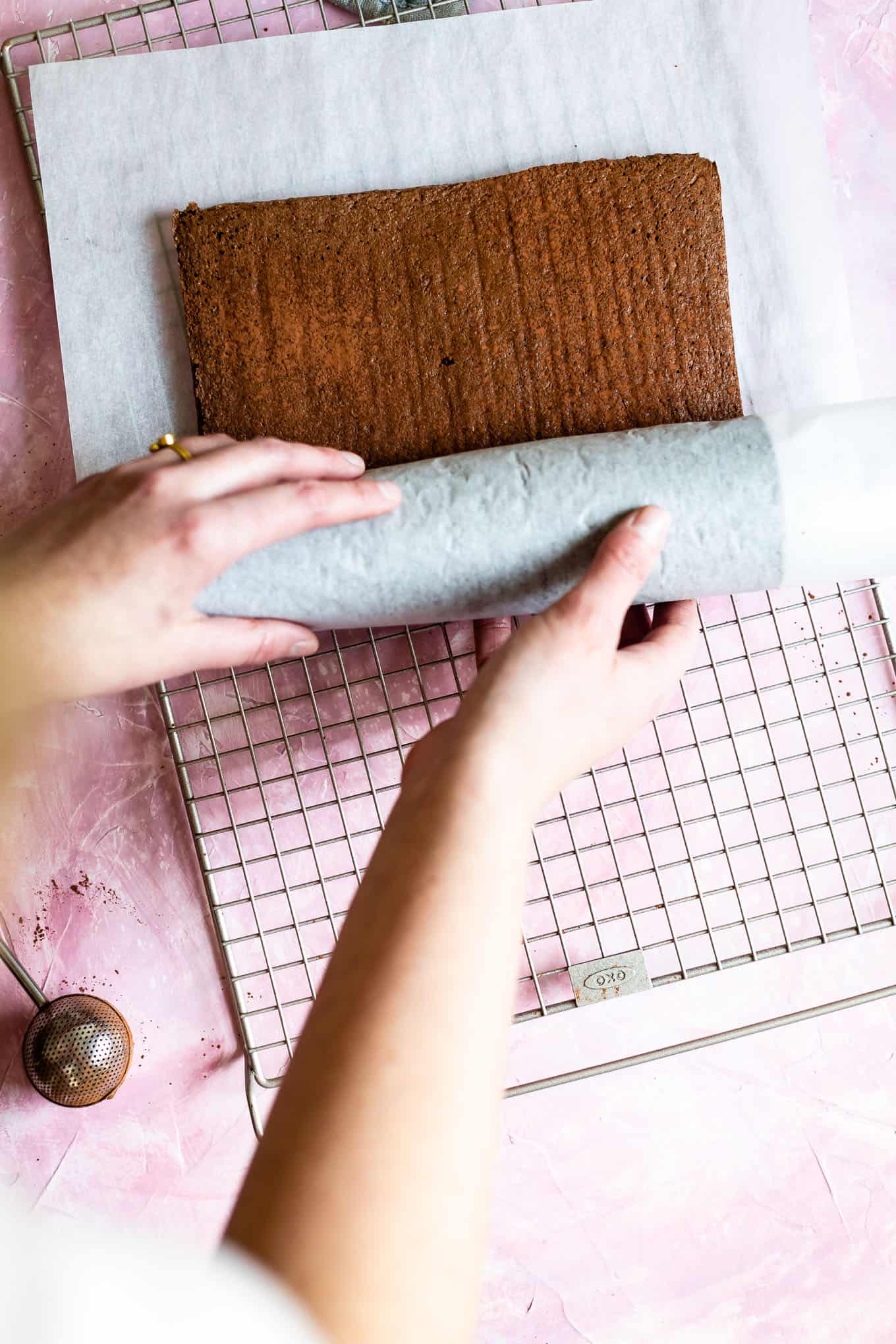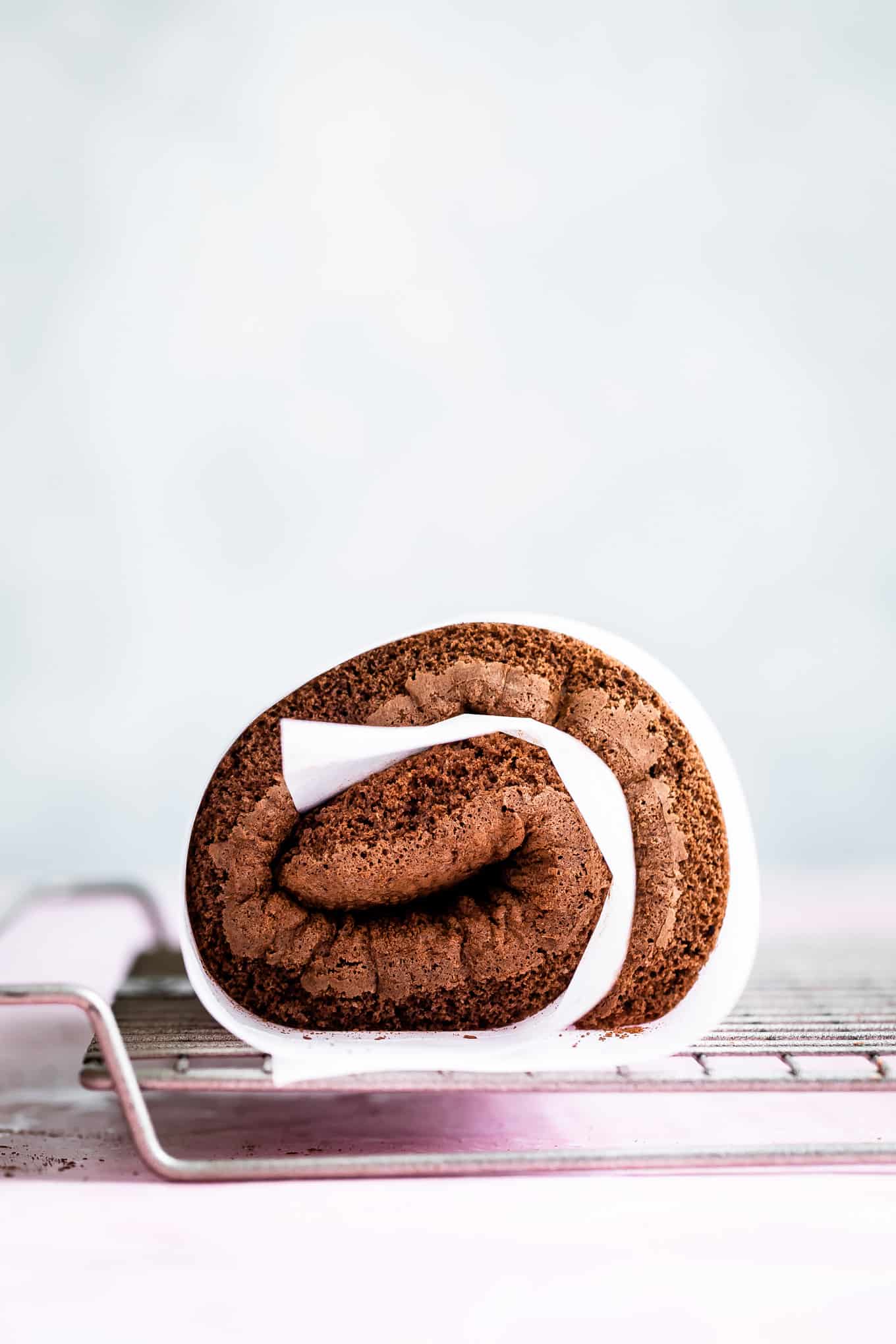 What is a Jelly Roll Cake?
Whether you call it a jelly roll cake, cake roll, roulade cake, swiss roll cake, or cream roll, it's still usually a sponge cake rolled up with some sort of cream or fruit filling. You can dust it in powdered sugar or cover it in ganache.
What kind of cake to use for a swiss roll?
Traditionally a sponge cake is used for these roll cakes because of their airy texture and pliability. They're much more willing to roll up without breaking.
You can opt for a thinner cake that rolls up tighter or a loftier fluffier cake, as shown here for a bigger cake roll. I found I much preferred the texture of a soft and fluffy cake against the light whipped cream cheese.
For an ultra light and airy sponge cake, whip air into your egg whites and yolks separately. For this cake, I find it's super helpful to use OXO's glass mixing bowl set to prep all the elements of the cake before folding them together. These mixing bowls are tall and deep, so you're less likely to splatter when using an electric mixer.
What kind of pan do you use for a swiss roll?
To make a swiss roll cake, you need a jelly roll pan that will release the cake easily. For that, OXO's non-stick 10 x 15 jelly roll pan is the perfect pan for the job because the cake releases from the pan with hardly any effort.
While you certainly could get away with not lining this non-stick baking sheet with parchment paper, it's important that not even a tiny bit of the cake stays behind so to be extra certain, I line the pan with lightly-oiled parchment paper. This also makes it easier to release the cake from the pan.
When you pour the batter into the pan, be sure to use an offset spatula to evenly spread the cake around the pan so it's an even thickness all the way around.
The textured bottom of the OXO non-stick jelly roll pan ensures the thin cake will bake up evenly.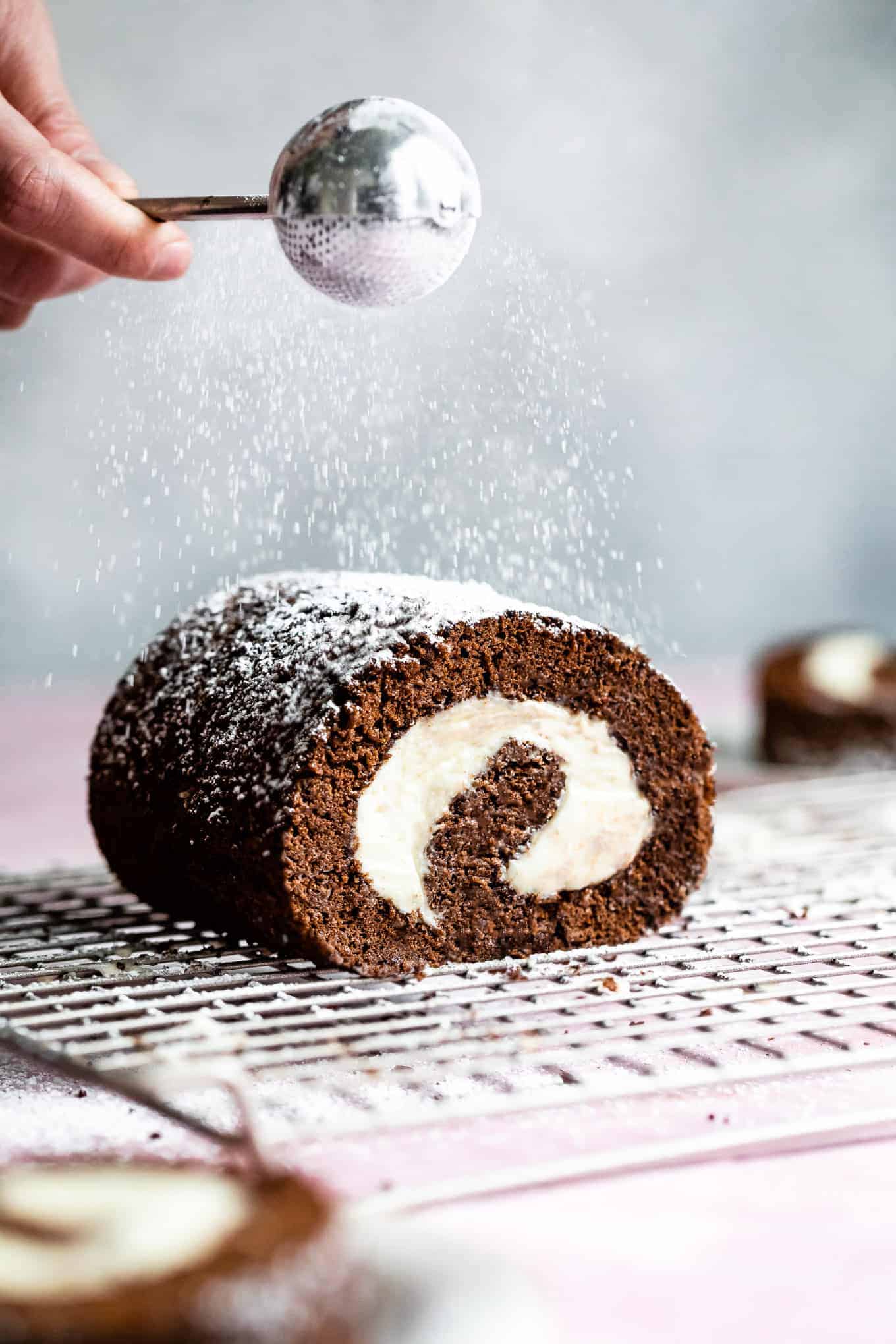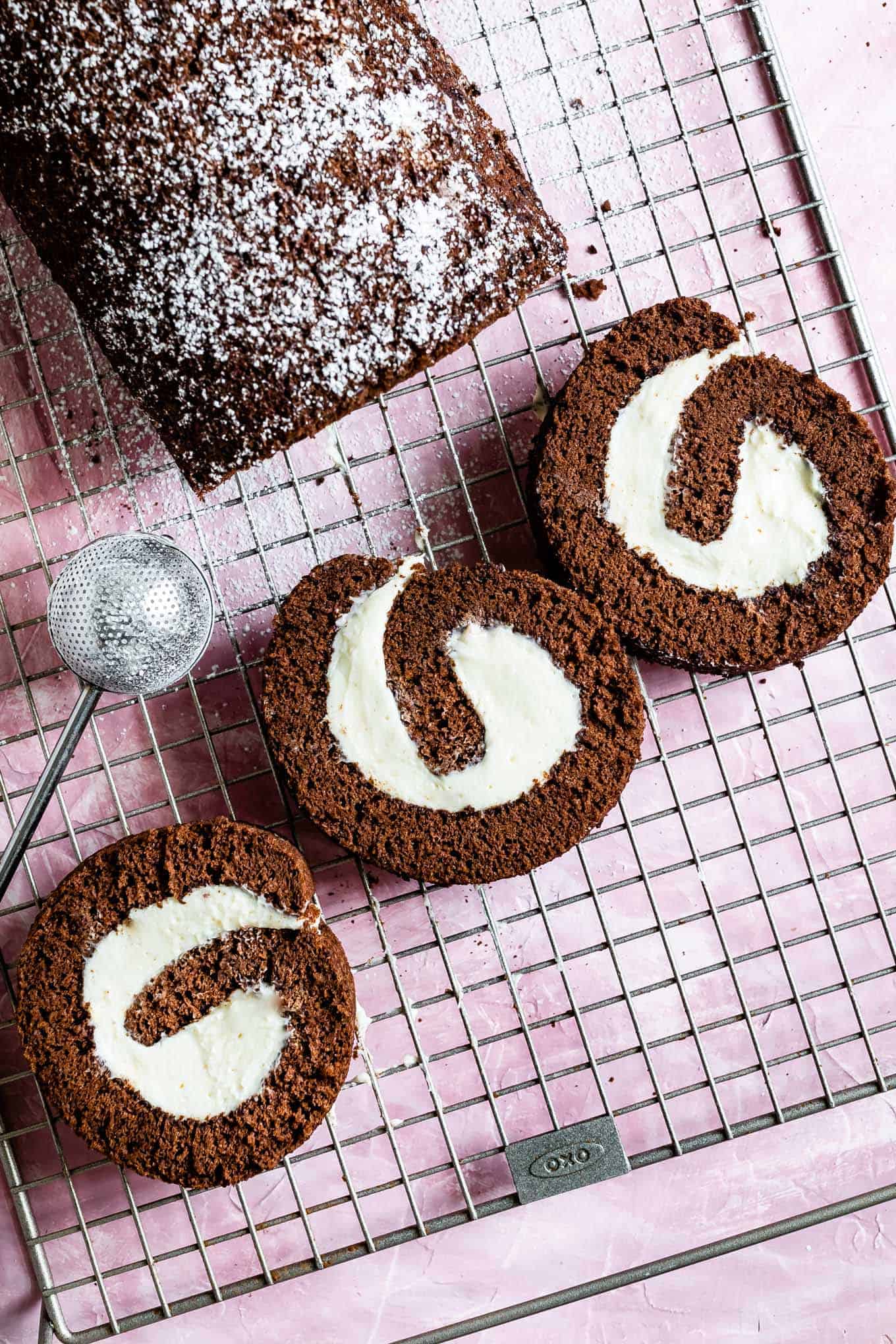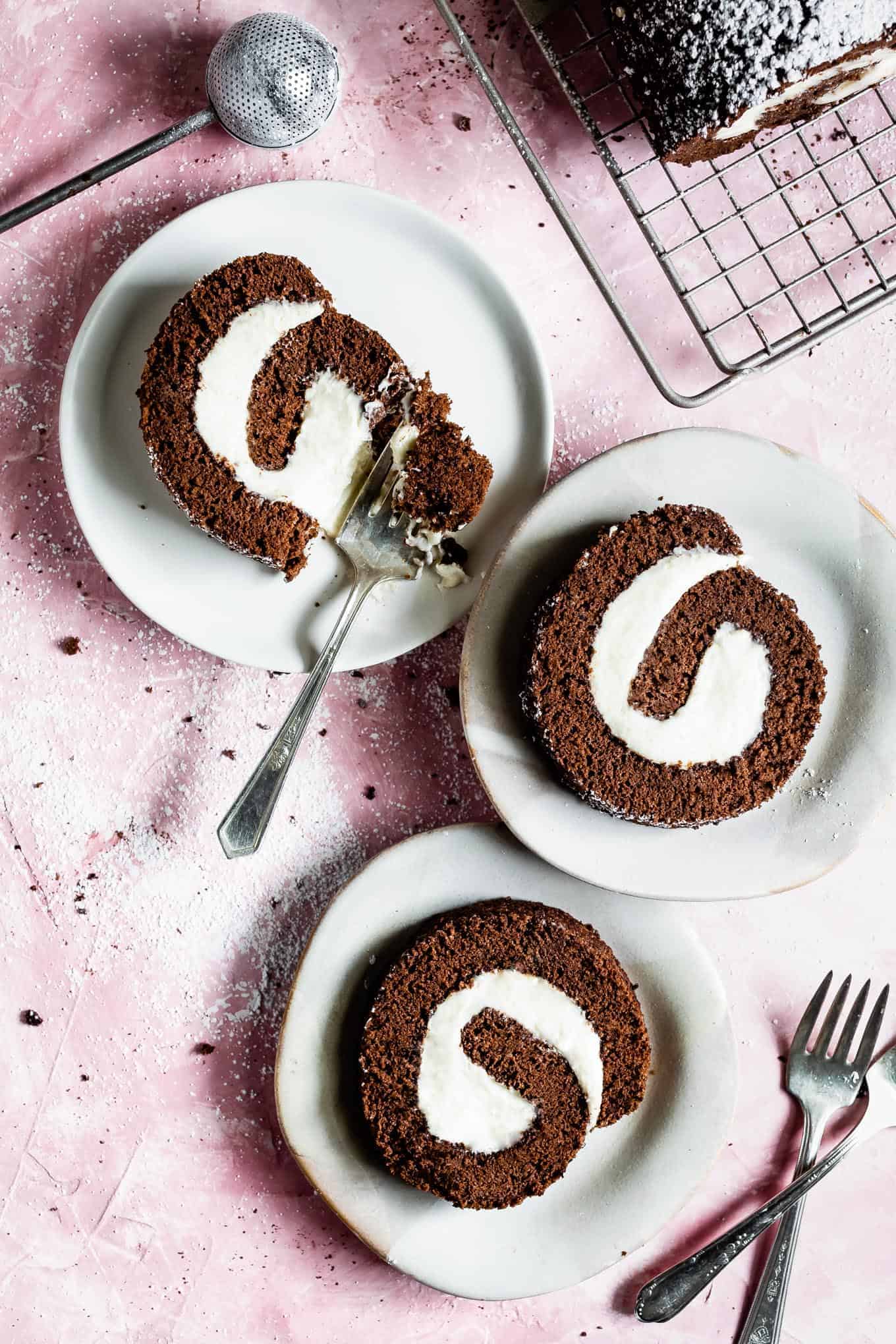 Tips for a Gluten-Free Swiss Roll Cake
A gluten-free swiss roll cake is a bit more challenging than a traditional one because gluten-free cakes tend to be a bit more delicate. Here are some tips and troubleshooting tricks to ensure you have success!
Don't overmix your egg whites. While it's important to whip air into the egg whites, if you overmix them into stiff peaks, your cake is more likely to break when you roll it up.
When in doubt, add a teaspoon of xanthan gum. This cake you see here does not have xanthan gum, so rest assured, it's not necessary. That being said, without gums, the cake is much more delicate and I had to be extra careful not to pull on the cake too much or it would break when rolling and unrolling. Adding a teaspoon of xanthan gum can add structure to your cake that allows it to roll with ease.
Be careful not to overbake the cake. A dry cake is more likely to break. Invest in an OXO oven thermometer to ensure proper temperature.
For this lofty cake, don't roll it too tight, keep the roll nice and loose. If you try to roll a thick cake too tight, it will break. Be slow and gentle with the cake both when you roll it up and when you unroll it to add frosting.

When you get to the middle, don't unroll it all the way.

HELP! My cake cracked! If your cake cracks a tiny bit while you roll it or unroll it, don't stress, you can patch it up with frosting. If it breaks entirely through, likely the cake was overbaked. Salvage it by making trifles with layers of whipped cream cheese (and dare I say: roasted strawberries?!).
What is in a Swiss roll?
Fill a swiss roll with frosting, jam or icing. Just like a certain chocolate snack cake of your childhood, a chocolate swiss roll cake is often filled with sweetened whipped cream. Here I've made a whipped cream cheese filling that's a bit sturdier and easier to spread and roll up in a cake. In my opinion, it's more flavorful too.
Don't let tradition limit you - fill it with anything you want! Chocolate hazelnut spread, ganache, mascarpone?
Whether you want to impress a special someone for Valentine's Day or make something chocolatey for entertaining company, now's the time to dive into mastering a swiss roll cake.
More Gluten-Free Chocolate Cake Recipes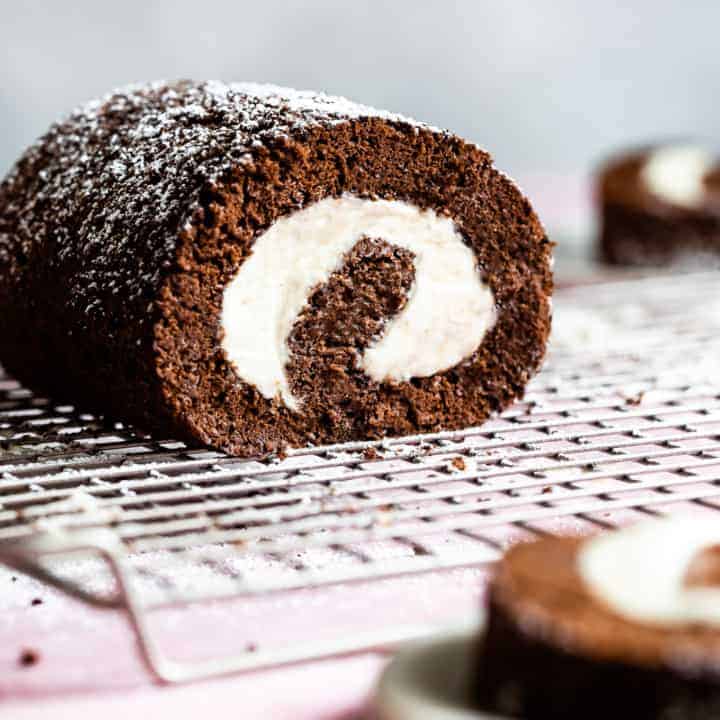 Chocolate Gluten-Free Swiss Roll Cake
Yield:
1 10-inch Cake Roll (10 servings)
Soft and fluffy gluten-free chocolate swiss roll cake swirled with whipped cream cheese frosting. Impress your friends with this showstopper cake!
Ingredients
⅓ cup (33g) dutch-processed cocoa powder, plus more for dusting
½ teaspoon instant espresso powder
¼ cup hot water
¼ cup (42g) sweet rice flour (such as mochiko - different from "white rice flour" or "brown rice flour")
3 tablespoons (21g) gluten-free oat flour
2 tablespoons (17g) millet flour
1 teaspoon baking powder
Optional: 1 teaspoon xanthan gum
½ teaspoon kosher salt
4 large eggs, room temperature
¼ teaspoon cream of tartar
⅔ cup granulated sugar
2 tablespoons neutral vegetable oil
1 teaspoon pure vanilla extract (or ½ teaspoon each vanilla and chocolate extract)
Whipped Cream Cheese Frosting
6oz cream cheese, room temperature
¾ cup powdered sugar, sifted
1½ teaspoons pure vanilla extract
¾ cup heavy whipping cream
Instructions
Brush a non-stick 10x15 jelly roll pan with oil and line with parchment paper. Brush the parchment paper lightly with oil as well. Preheat oven to 375°F.
In a small heat-proof bowl, sift together cocoa powder and espresso powder. Pour hot water over them and mix with a spoon until completely smooth. Set aside.
Sift together the sweet rice flour, oat flour, millet flour, baking powder, xanthan gum (if using), and salt in a small bowl. Set aside.
Separate the eggs, placing the yolks in a large mixing bowl and the whites in a medium mixing bowl. Add cream of tartar to the egg whites and, using a hand mixer, whisk the egg whites, starting on low speed and increasing to high speed until soft peak form. When the beater is pulled out a peak should rise and the very tip should fall. Set aside.
In the large mixing bowl, begin mixing the egg yolks on slow increasing to medium speed. Slowly pour in the sugar. Increase the speed and beat until pale yellow and forms ribbons. When a beater is lifted, the egg mixture should stay on the top for a few moments before reluctantly incorporating back into the mix.
Add the vanilla extract, vegetable oil, and cocoa powder water mixture to the egg yolks and beat until just combined, scraping down the sides as needed.
With a rubber spatula, fold in the flours until just incorporated, taking care not to overmix. Fold in ⅓ of the whipped egg whites to loosen the batter. Then carefully fold in the remaining whipped egg whites until just combined.
Pour into prepared baking pan and use an offset spatula to evenly spread the batter over the pan. Bake for 15-16 minutes, until it gently springs back when pressed. Take care not to overbake or your cake will break when you try to roll it.
When the cake comes out of the oven, let it cool for 2 minutes in the pan. Dust the top generously with cocoa powder. Place a wire rack over the top and flip the cake out of the pan. Remove the parchment paper and dust again with cocoa powder. Place a clean sheet of parchment paper and the back of a baking pan over the top and turn the baking pan upside down to flip the cake back right side up.
Very carefully, roll the cake up using the parchment paper. If you roll too tight, your cake may break. If that happens, that's okay! Just remove the broken part (safe for mini trifles?) and roll again. Let cool on the wire rack, seam side down, for 45 minutes to an hour while you prepare the frosting.
In a large mixing bowl with a hand mixer or the bowl of a stand mixer, beat the cream cheese until smooth, scraping the sides as needed. Slowly add the powdered sugar and vanilla, mixing until incorporated. Add ¼ cup of the heavy cream at a time, mixing until smooth. Once all the heavy cream has been added, increase the speed to high and beat until stiff peaks form. Chill frosting while the cake roll cools. You can make the frosting up to a few days in advance and store it in the fridge until needed! It will stay soft enough to spread.
When the cake roll is mostly cooled, very carefully and slowly unroll the cake. When you get to the middle, don't unroll it all the way. If the cake cracks a tiny bit while you're unrolling it, don't be too concerned, you can patch it up with frosting! Use an offset spatula to spread the frosting in a ½-inch layer starting in the middle and use the parchment paper to carefully reroll the cake. Keep the parchment paper rolled on the outside and chill for at least 2 hours before slicing and serving.
When ready to serve, remove parchment paper and dust with powdered sugar. Slice into 1-inch thick slices and serve!