Jammy gluten-free thumbprint cookies made with almond flour. Soft chewy butter cookies paired with a moist jam-filled center, these are the perfect classic holiday cookie.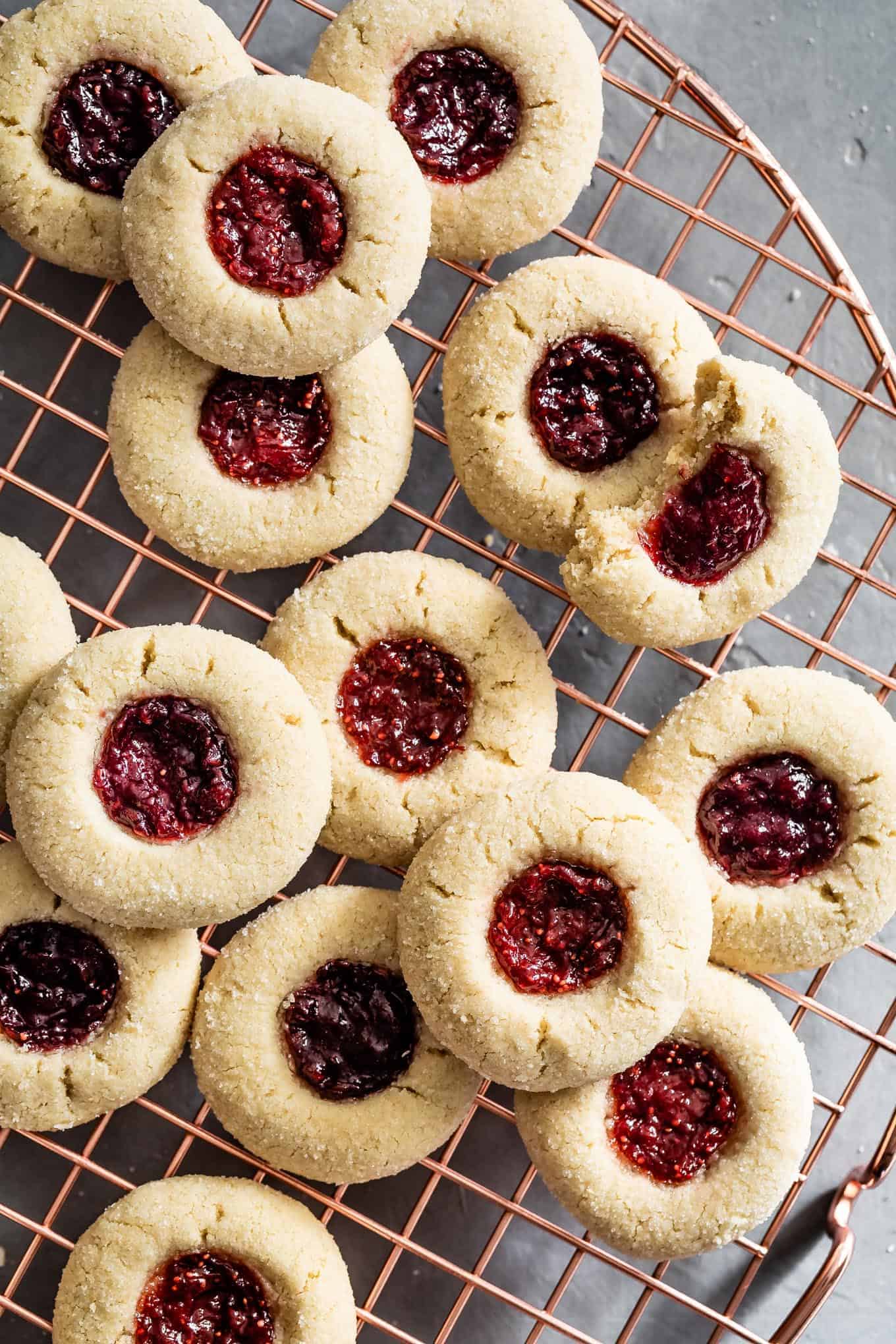 My love language is freshly baked cookies.
It all started with two jars of local organic preserves that arrived in a gift box a few weeks back. I also had a gift box sent to my good friend Amanda and I set out to make a custom recipe just for her. Something that showed off the preserves while also sharing their intensely flavored jams with my friends and neighbors.
That's how I went down the path of nearly 300 thumbprint cookies in 3 days. So, Amanda, this recipe is dedicated to you. Since we had to cancel our California getaway earlier this year and I don't think these cookies would survive the cross-country trip, I've sent you jam and now, this recipe. A connection in this time of isolation.
Gluten-free jam thumbprint cookies
While I'm an all-around holiday cookie lover, jammy gluten-free thumbprint cookies might be one of my all-time favorites. With a soft chewy butter cookie paired with a moist jammy center, it's easy to accidentally eat a dozen of these one-bite cookies.
Mix them up with different flavors and colors of jam for a picture-perfect cookie gift platter or dessert-table centerpiece.

Egg-Free Thumbprint Cookies
Folks are divided on the proper texture of a thumbprint cookie - some like a shortbread while others prefer a soft pillowy cookie and still others like a soft chewy cookie. I'm in this last camp. I want it to be sturdy enough that it doesn't crumble when you take a bite, but soft and slightly chewy.
When I tested a version using egg yolk, I found the texture too soft and not crisp enough on the outside. The great thing about gluten-free baking is you can adjust the flours to adjust the texture, so I'm relying on almond and oat flour for the softness.
Almond Flour thumbprint cookies
Super-fine blanched almond flour is my favorite flour to use for gluten-free cookies because its slightly sweet nuttiness pairs beautifully with buttery cookies. Depending on what flour you pair it with, it can bake up soft and pillowy, crisp and snappy, or crisp and chewy.
These almond flour thumbprint cookies use almond, oat, and tapioca flour. Together these flours produce a cookie that's sturdy, but soft and slightly chewy even without any eggs. Save for the almond extract I added in my final batch, the cookies themselves don't taste like almonds without the extract. Instead, almond flour gives a hint of nuttiness with the warmth and coziness of a freshly baked cookie.
Almond flour also adds moisture and fat to the cookies, which means you need more flour than a traditional cookie recipe to keep them from spreading, but this also allows them to stay thick and moist.



Tips for Gluten-Free Almond Thumbprint Cookies
Mix the dough well. After the flour is incorporated, mix it for 30 seconds longer to moisten the dough until very pliable. This extra beating releases some of the oil from the almond flour, making it easier to roll super smooth balls with fewer cracks.
Roll tight cookie dough balls. Rolling the cookie dough ball up super tight will make it less likely to have large cracks when indenting and baking.
Roll the dough in sugar. Rolling the dough in sugar is optional, but gives them a smoother look when baked up.
Don't use your thumb to make the thumbprint. Your thumbprint isn't round so you'll end up with less-than-perfect indents if you use your thumb (not to mention if you have long nails!). I recommend using a rounded ½-teaspoon measuring spoon to make the indents.
Slowly indent the cookie. If you rush with your indents, you'll end up with cookies that crack under the pressure. Instead, carefully and slowly make your indent, using your thumb to smooth any cracks that start to form.


What Kind of Jam for Gluten-Free Thumbprint Cookies?
You can opt to use fruit jam, preserves, or conserve for thumbprint cookies. Whichever route you go, there are a few things to keep in mind when choosing a jam for your gluten-free thumbprint cookies
Flavor of jam
You can mix these thumbprint cookies up with whatever flavor of fruit jam or preserves you like best. Here they're pictured with a combination of strawberry conserve and tayberry conserve.
I also tested this as a gluten-free raspberry thumbprint cookie that pairs well with the almond cookie base. Use orange marmalade, blueberry jam, or any other fruit preserves of your choice!
The jam should not be runny
With a runny jam, the liquid will seep into the tiny little cracks creating cookies that look like bloodshot eyeballs. That's fine for Halloween, but otherwise, stick to thicker jams or preserves. If using a runny jam, press it through a fine-mesh sieve to get out the very liquidy part and use the rest.
Glossy or rustic
If you're looking for the thumbprint cookies that have that almost jelly-like glossy filling sort of like a stained glass window, use a jelly or jam that's cooked down into a thicker, more gelatinous texture without large bits of fruit. When I make these with St, Dalfour's raspberry fruit spread, the filling bakes up more translucent and thicker. With these thicker fruit spreads, you can also add more jam to the thumbprint without risking it spilling over in the oven.
On the other hand, if you like the darker more rustic look (that's what's pictured here), choose something with thicker chunks of fruit like a preserve or a conserve. Just be careful that it's not too runny (see above note).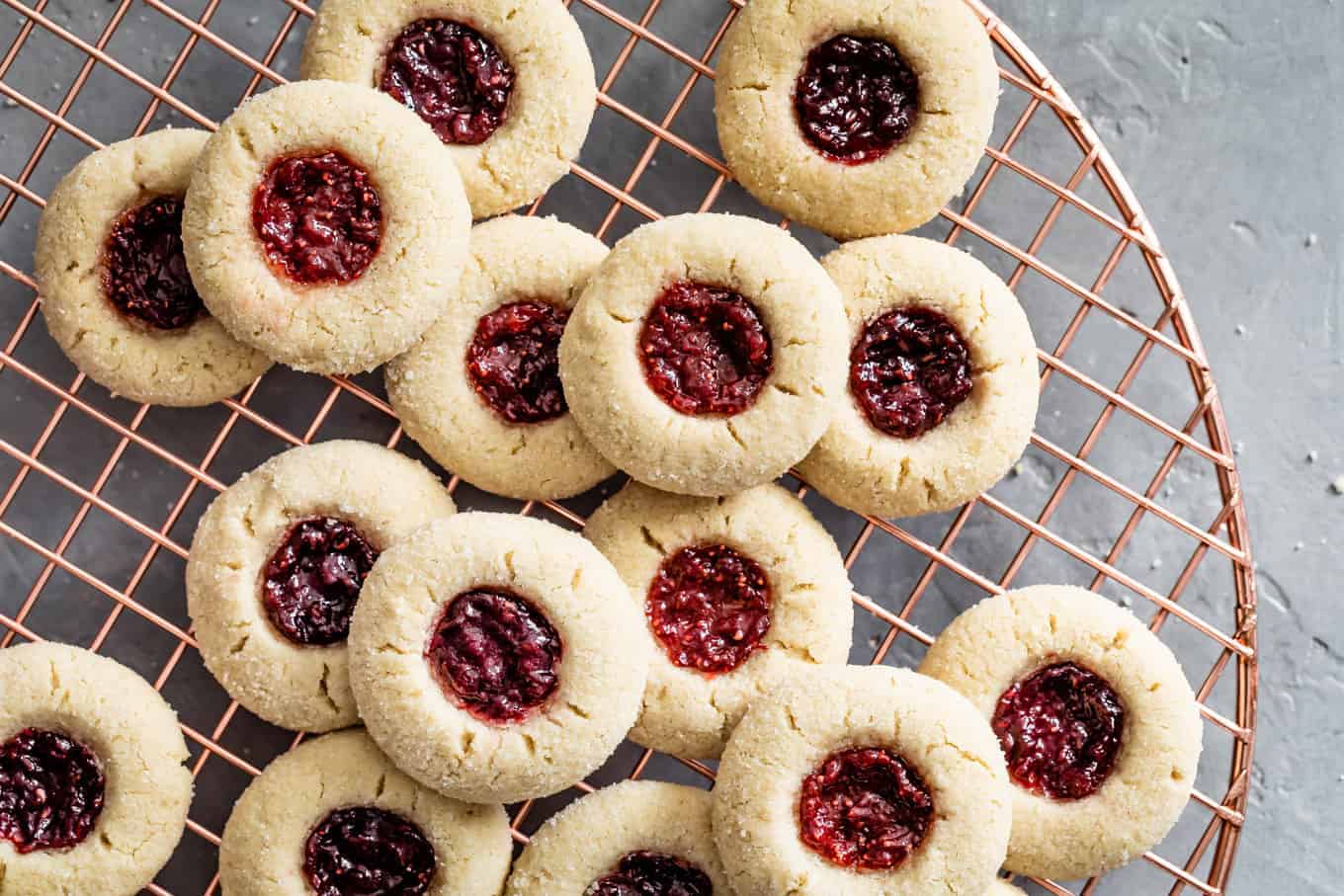 Do thumbprint cookies with jam need to be refrigerated?
Jam thumbprint cookies do not need to be refrigerated. Since they use just ½ teaspoon of jam that gets cooked down, they'll be fine stored in an airtight container at room temperature for several days.
I've also found that, despite the moisture from the jam, these cookies will last for up to a week (!!!) without compromising texture too much.
Can I freeze thumbprint cookies?
Yes! I recommend making the thumbprint cookies all the way up to the point where you add the jam. To save time, I go ahead and add the jam before freezing, but you could also wait until you're ready to bake to add the jam. Freeze them on a baking sheet for a couple of hours. Once frozen you can transfer them to a freezer bag or container to store for longer.
When ready to bake, just pop the frozen cookies on a lined baking sheet (adding the jam if you haven't already) and bake right out of the freezer, adding 1-2 minutes to the baking time.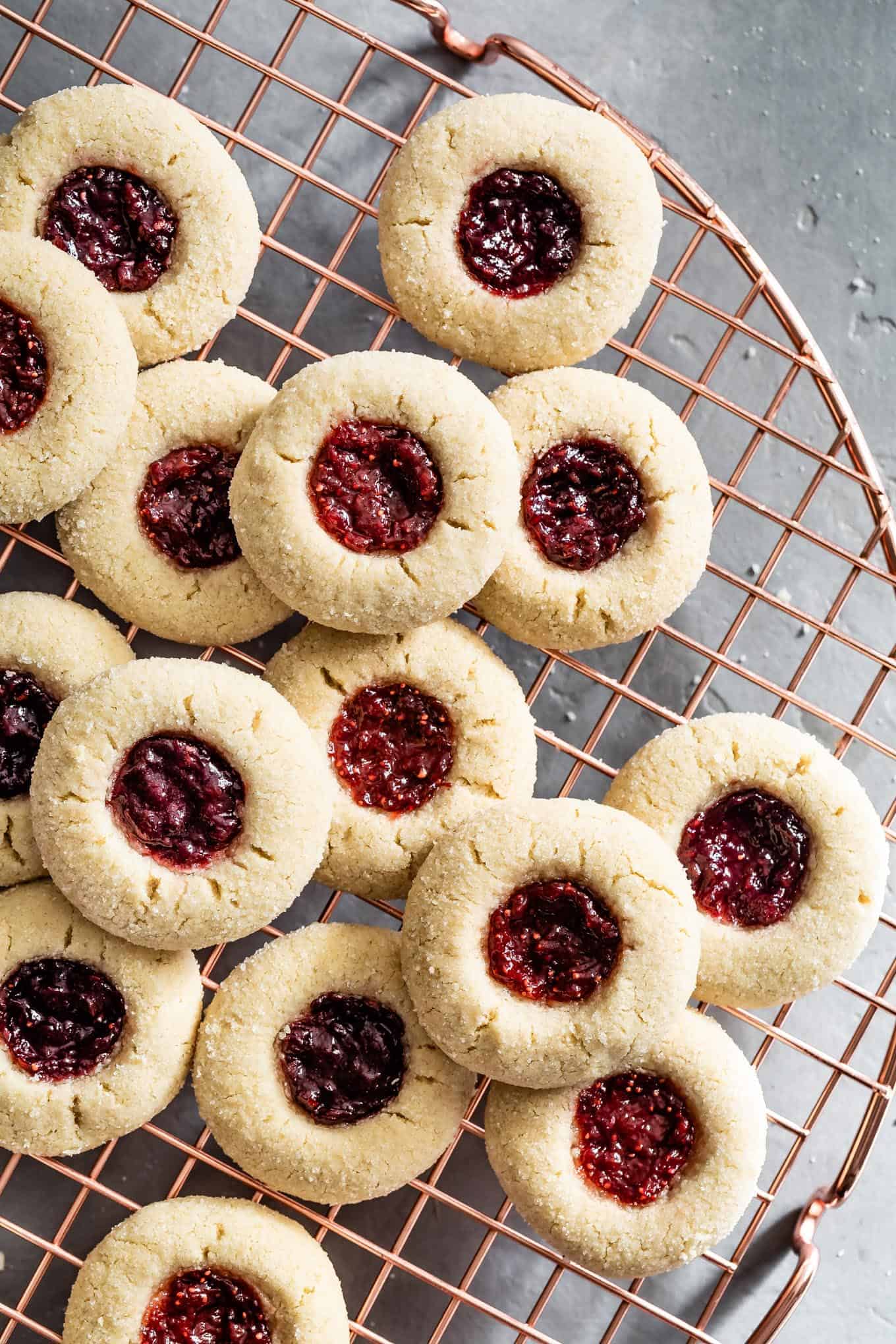 More Gluten-Free Cookie Recipes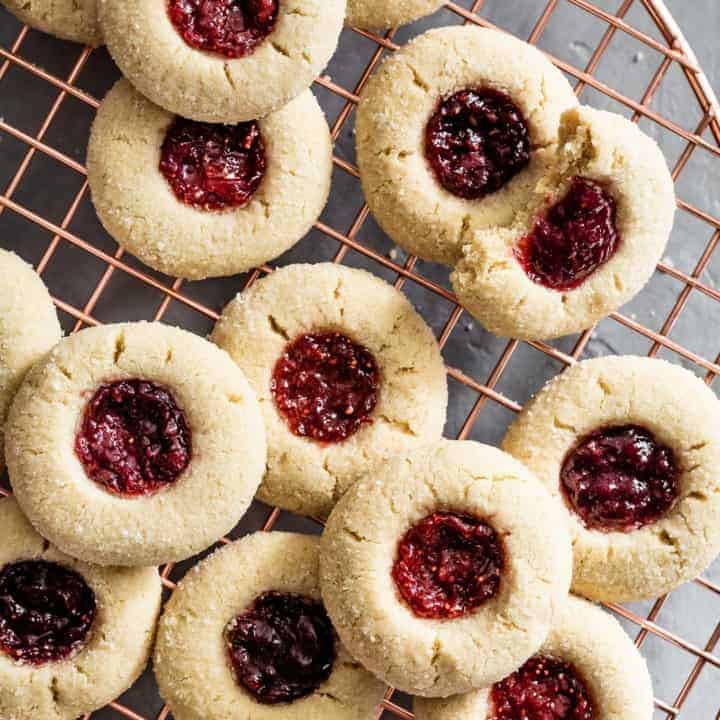 Gluten-Free Thumbprint Cookies
Jammy gluten-free thumbprint cookies made with almond flour and a hint of almond extract. These soft chewy butter cookies have a moist jam-filled center. The perfect classic holiday cookie.
Ingredients
¼ teaspoon kosher salt
½ cup (8 tablespoons) unsalted butter, room temperature
78g (¼ cup + 2 tablespoons) granulated sugar, plus more for rolling
¾ teaspoon pure vanilla extract
¼ teaspoon almond extract
¼ cup fruit preserves/jam (see note)
Instructions
Preheat oven to 350°F and line a large baking sheet with parchment paper. Place a couple of tablespoons of sugar in a small bowl for rolling and set aside.
Sift together almond flour, oat flour, tapioca flour, and salt in a medium bowl. Set aside.
In the bowl of a stand mixer fitted with the paddle attachment or a large mixing bowl with a hand mixer, cream the butter and sugar together until light and fluffy, 3-5 minutes. Add the vanilla and almond extracts and mix to combine.
Slowly add the dry ingredients into the butter and mix until well combined. Mix for 30 seconds longer to moisten the dough until very pliable.
Roll 1 tablespoon of dough into a tight 1-inch circle, smoothing any cracks (the tighter you roll the dough, the less likely it is to crack). Gently flatten into a disc and gently toss the disc in the bowl of sugar to coat. Place 1-inch apart on the baking sheet and carefully and slowly use your thumb or the back of a ½ teaspoon measuring spoon to make a deep indent, smoothing any cracks if desired.
Spoon scant ½ teaspoon of jam into the indent. Repeat with remaining dough.
You can chill or freeze the cookies on the baking sheet or bake it immediately. Bake for 14-15 minutes (adding 1-2 minutes if baking from frozen), until the cookies are set and the bottoms are just barely golden brown. Remove from heat and let cool on the baking sheet for 5 minutes before transferring to a wire rack to cool completely.

Notes
I recommend choosing a jam that is not super runny. If you use a runny one, strain it through a fine mesh sieve first before filling your cookies. See post above for tips on choosing the right jam.
Nutrition Information:
Serving Size:

1
Amount Per Serving:
Calories:

94
Total Fat:

4g
Saturated Fat:

0g
Trans Fat:

0g
Unsaturated Fat:

3g
Cholesterol:

1mg
Sodium:

32mg
Carbohydrates:

13g
Fiber:

1g
Sugar:

3g
Protein:

3g