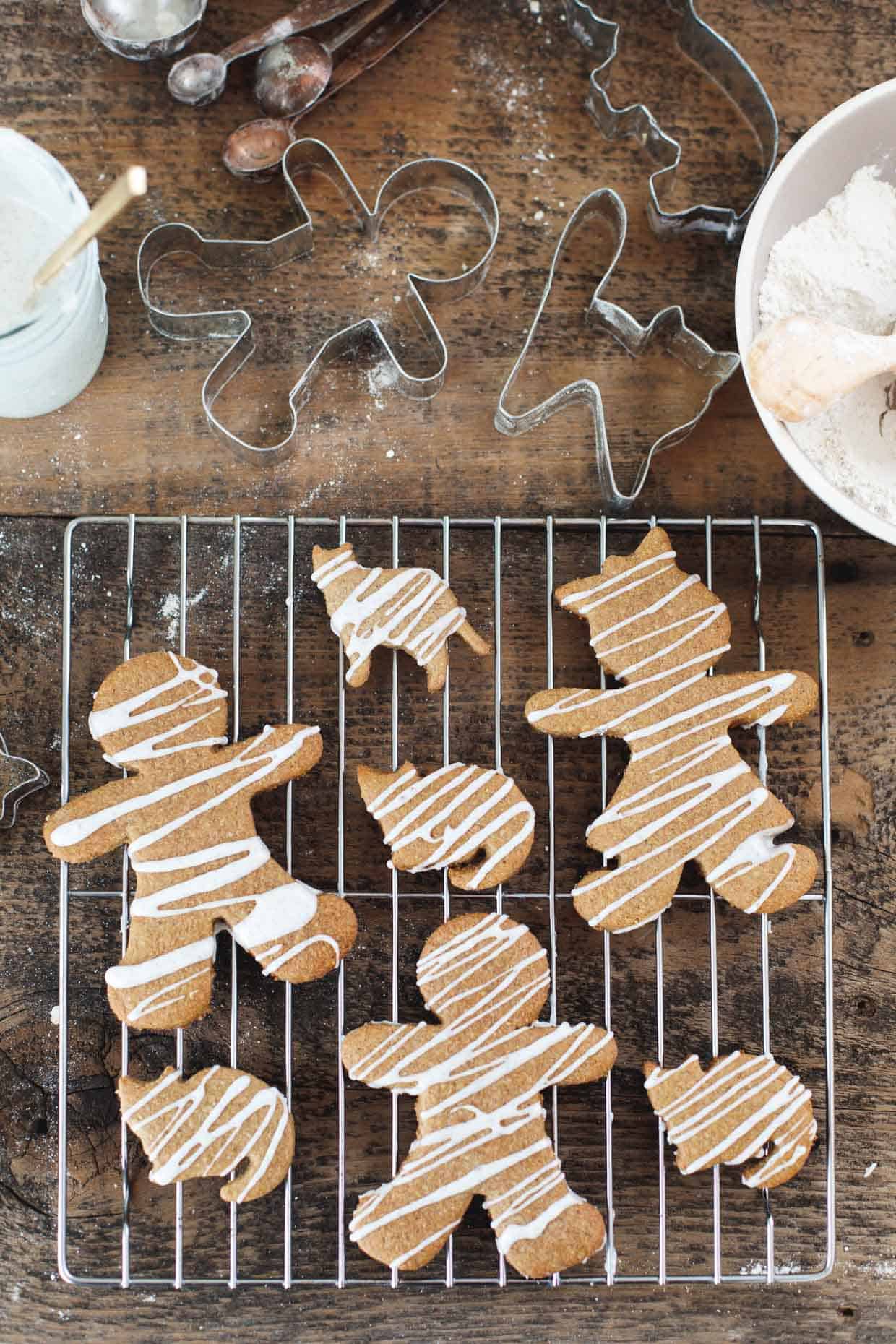 Back in college, I showed up to a holiday party at my then-boyfriend's mom's house with a plate of gingerbread cookies. Except, at the time, I only owned one cookie cutter: a hippo. I showed up with 4 dozen iced gingerbread hippopotamuses. For Christmas that year, his mom and grandma independently mailed me cookie cutters. Apparently they didn't find my gingerbread hippos festive enough (I beg to differ).
I made these Gluten-Free Iced Gingerbread Men for the last day of Rodelle's 10 days of Cookies and for old time's sake, threw in a couple of gingerbread hippos for extra merriment. And then because I couldn't resist using my absurdly large collection of cat cookies cutters, half the batch turned into icing-striped Ginger Cats. Mmmrrooow.
Alternative title: Ginger Cats - An Ode to Arti.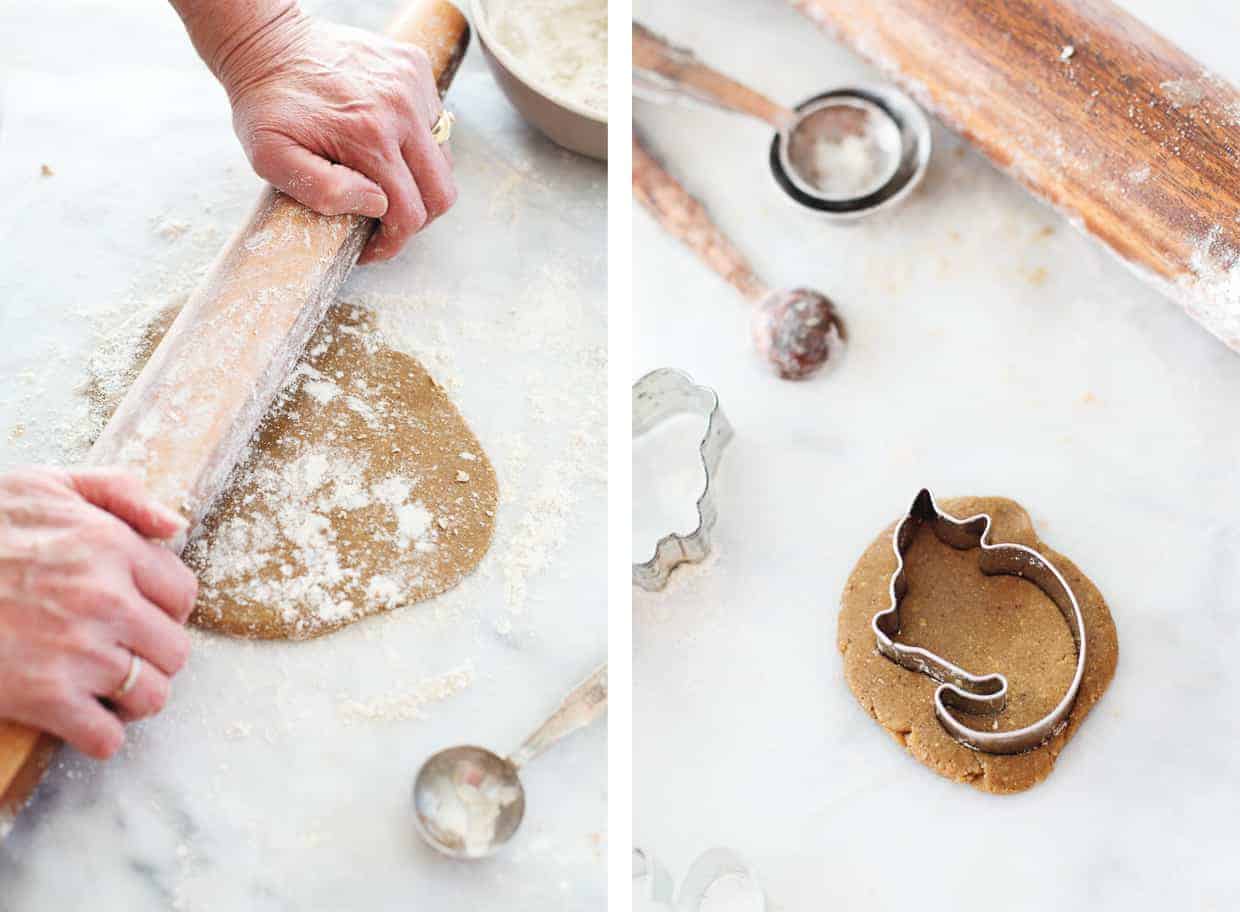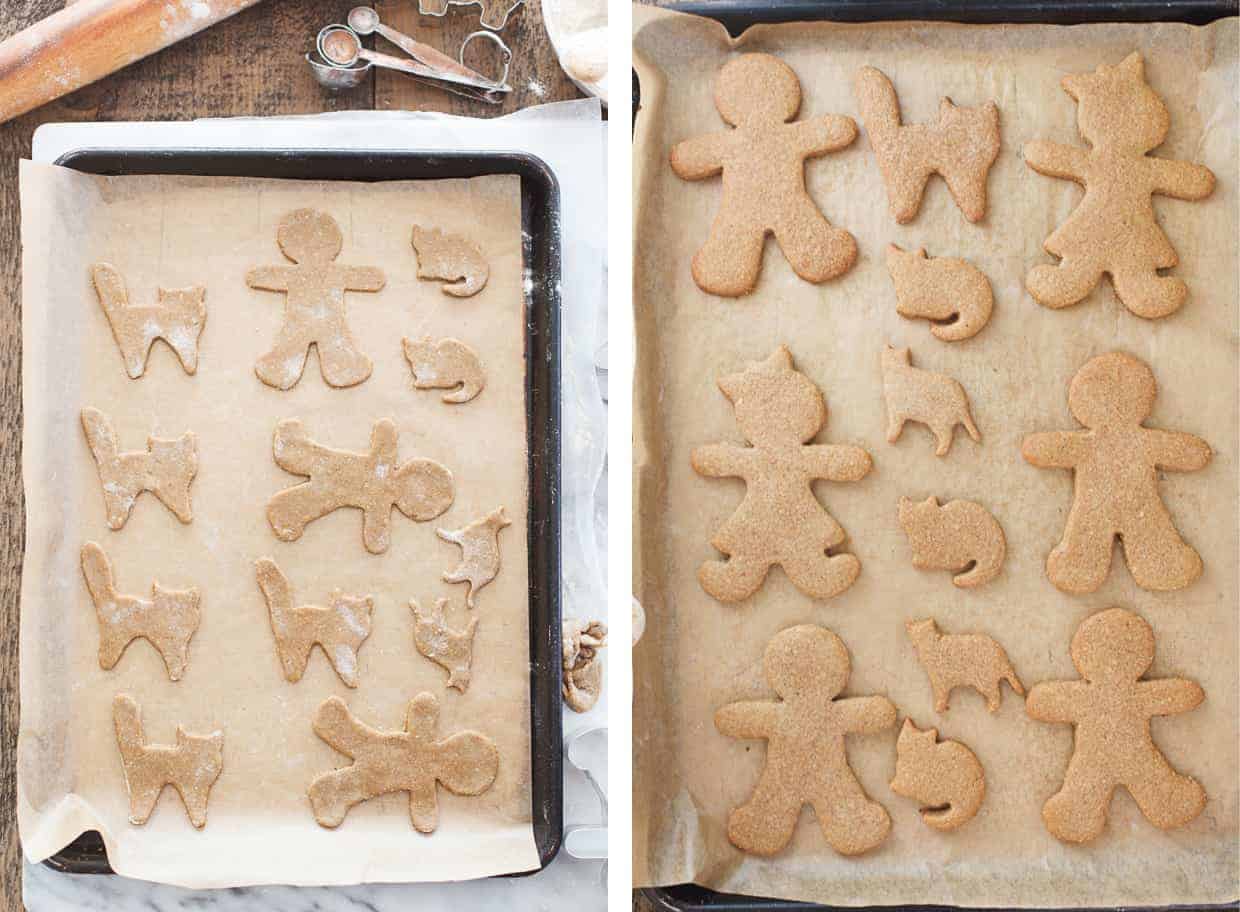 For this recipe, I ground my own cinnamon from Rodelle's whole cinnamon sticks using a coffee grinder, which created an aromatic powder with a more pungent bite than the pre-ground cinnamon in my spice rack. Scents of cinnamon are still wafting through our house.
It's not only from the freshly ground cinnamon baked into these cookies though. Not even primarily, actually. On the contrary, it's more likely the entire jar of cinnamon we've used to fight the ant brigade invading our kitchen and dining room. Whenever we'd plug up one entry-point along a window sill or the actual electrical sockets with a water & cinnamon paste, they'd find another way in, until we'd covered our entire kitchen in wet poop-like cinnamon clumps and all of our food was double-sealed in Ziploc bags.
The ants still found a way in (for some inexplicable reason;  YOU WON'T GET TO MY SUGAR, GUYS). So we built an elaborate cat-proof ant trap, luring and then barricading the colony to a contained area with a ½-inch wide cinnamon barrier on the kitchen floor.
I don't want to jinx it, but our eyesore of a trap seems to be working. On the plus side, it smells like Christmas all the time.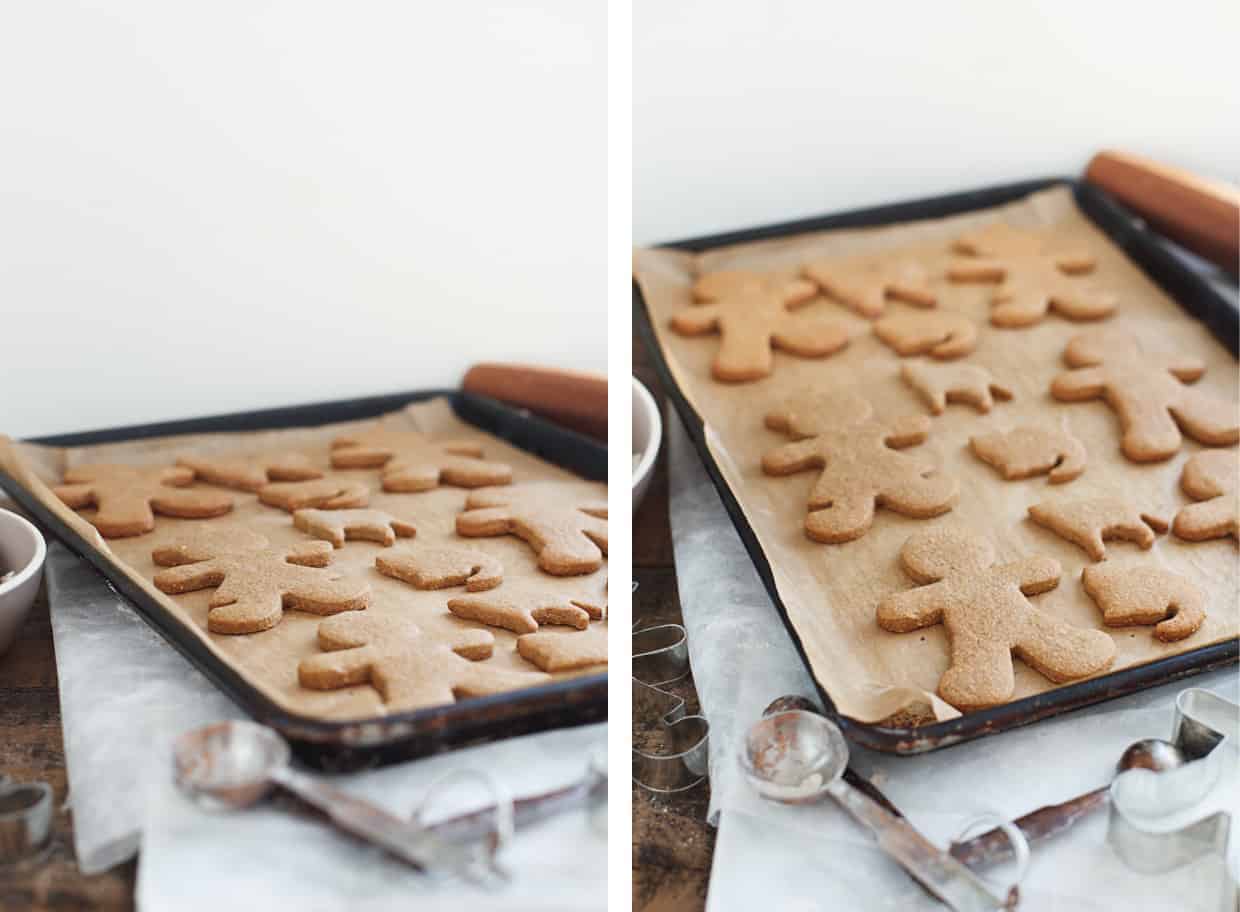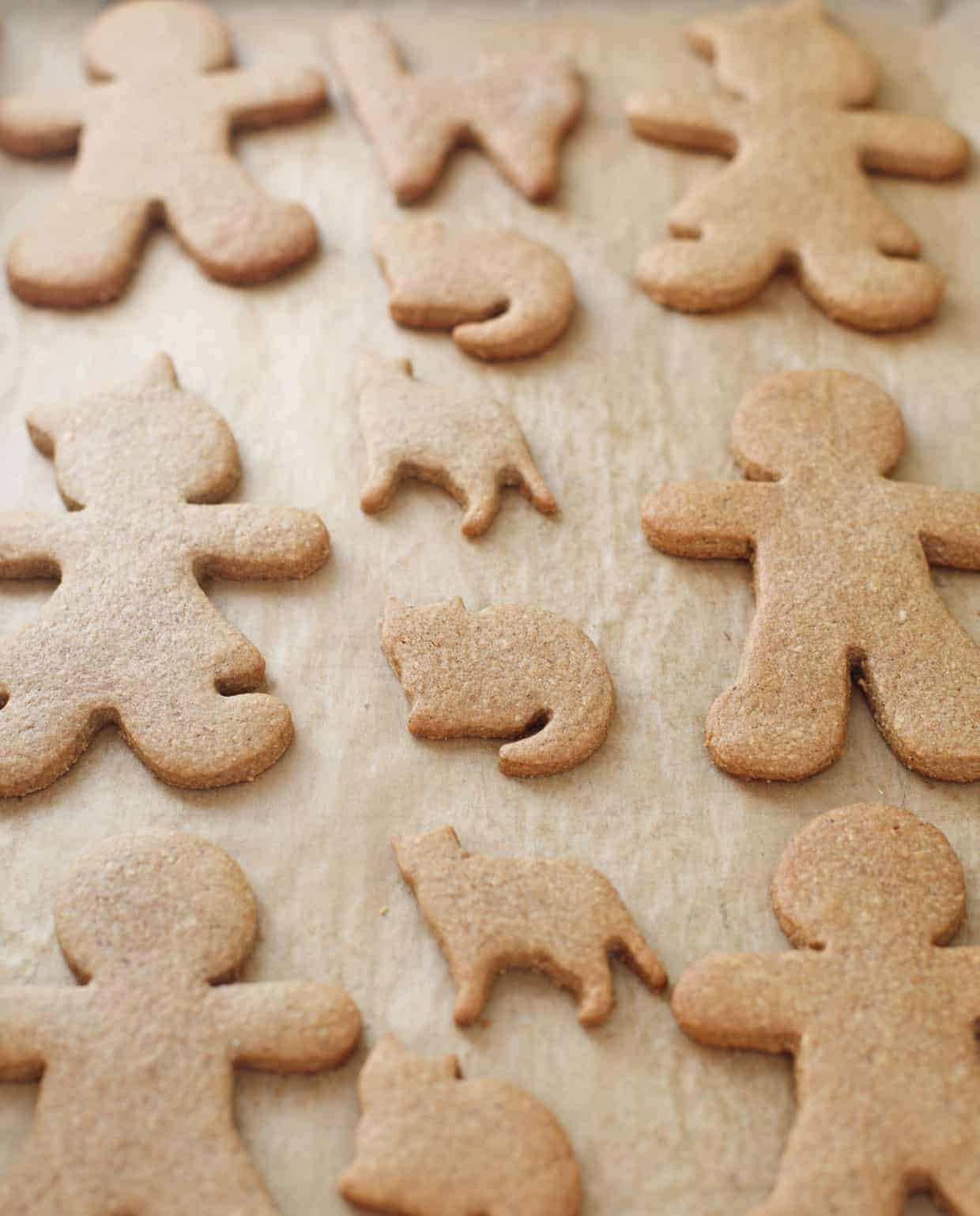 If you want to make your house smell like the holidays without pouring cinnamon all over your kitchen floor, you can, alternatively, bake these gingerbread cookies. This is nearly the same recipe I made into hippos almost 10 years ago and have made many times since, but I tweaked it for a gluten-free cookie. After drooling over Nik from A Brown Table's spiced buckwheat molasses cookies, I was inspired to use buckwheat flour, but, having never working with it before, it took me four tests to get this gluten-free version just right.
The first batch was too sticky to roll out even after overnight refrigeration (imagine trying to roll out brownie batter). I added more buckwheat flour and the second batch turned out soft and cakey, which tasted a tad dry and stale. Even though my mom preferred this soft version, I knew it didn't cut it. The overwhelming vote from Alanna's birthday was that these gingerbread cut cookies needed to be crispy. I agreed. Batch three was still soft, but this time, moist and chewy, which very well might be how some people prefer their gingerbread cookies. I still sought a crunchy cookie.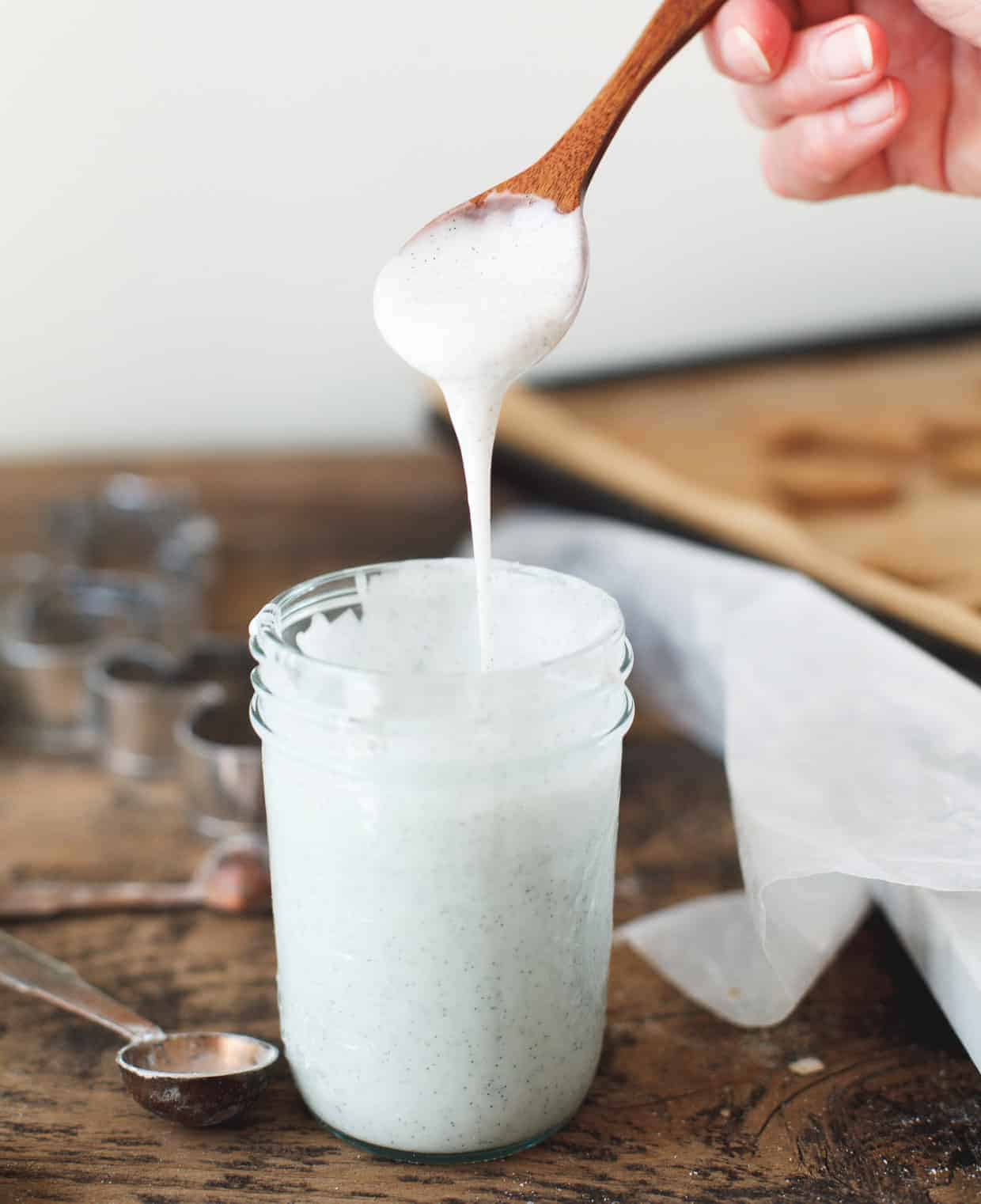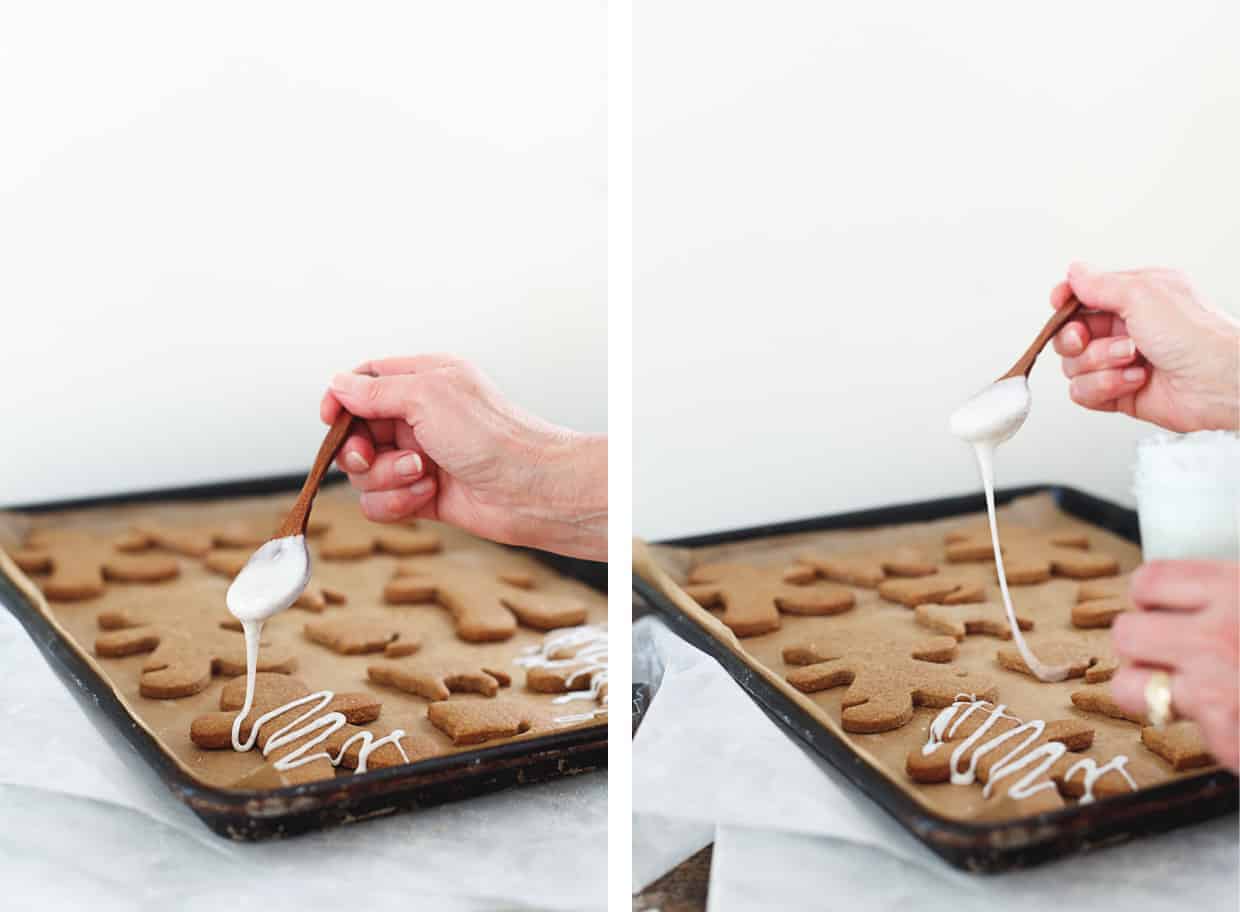 The final batch, and the recipe shared here, was the overwhelming winner in my book - crisp and snappy, just as a gingerbread man should be. With lots of butter, these cookies are crunchy, but still thin and airy in a way that'll make you eat five in one sitting. The holiday spices, combined with dark molasses and robust buckwheat and chestnut flours give these gingerbread cookies depth of flavor.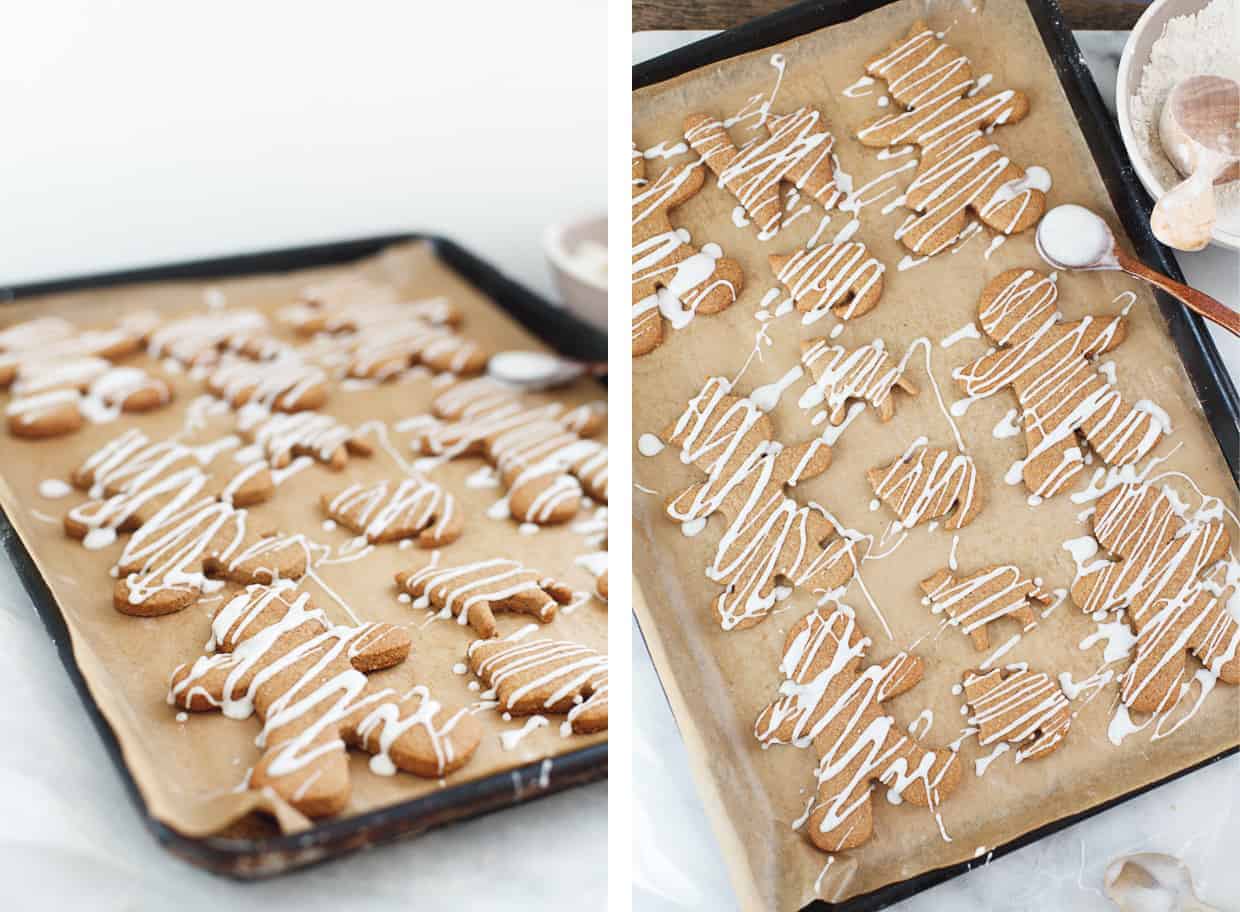 I drizzled half of the gingerbread cookies with a vanilla bean icing and drizzled a tart lemon icing over the rest. Both complement the cookie, with vanilla helping the warm spices shine and lemon providing a tart contrast to the spiced gingerbread. While I like both, I am partial to the lemon.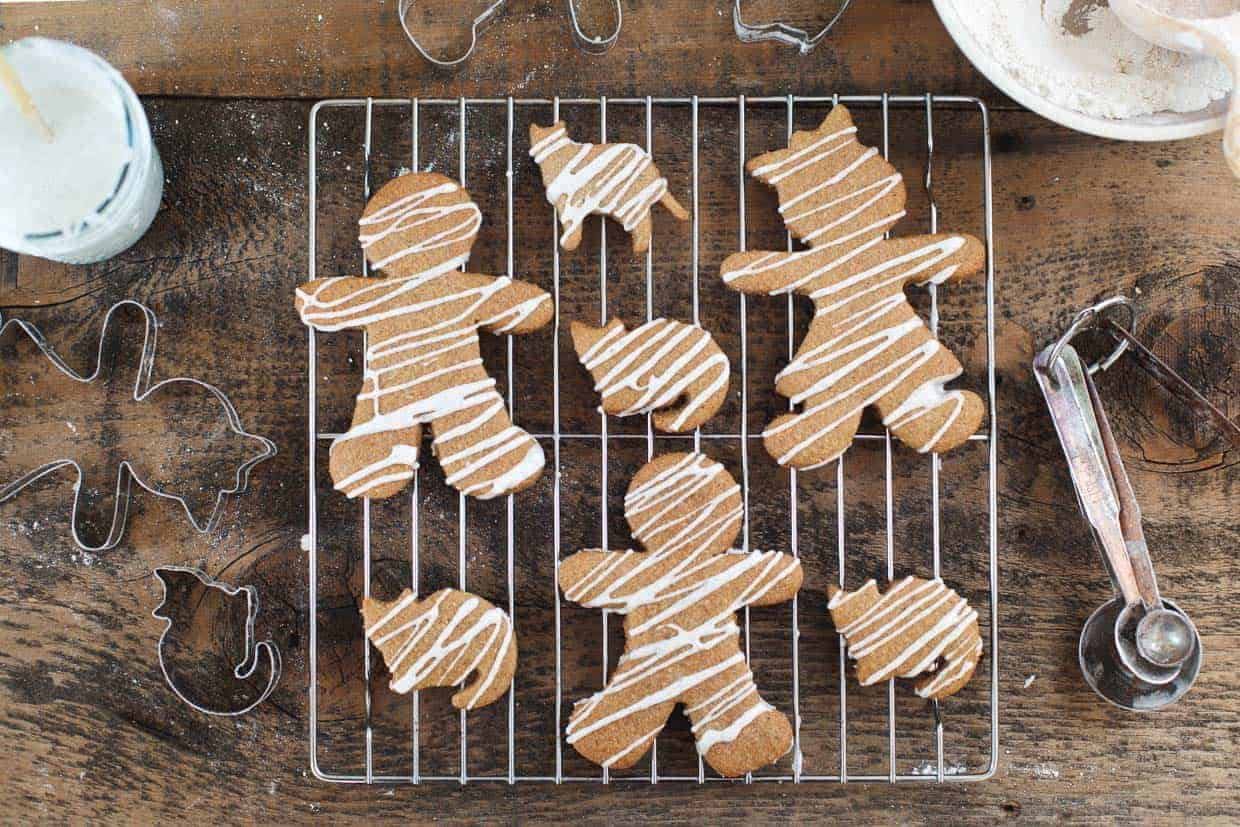 These cookies are the final day of Rodelle's 10 Days of Cookies, which means all nine of the other recipes are already posted! Click the image below to get the cookie recipes from my fellow brand ambassadors.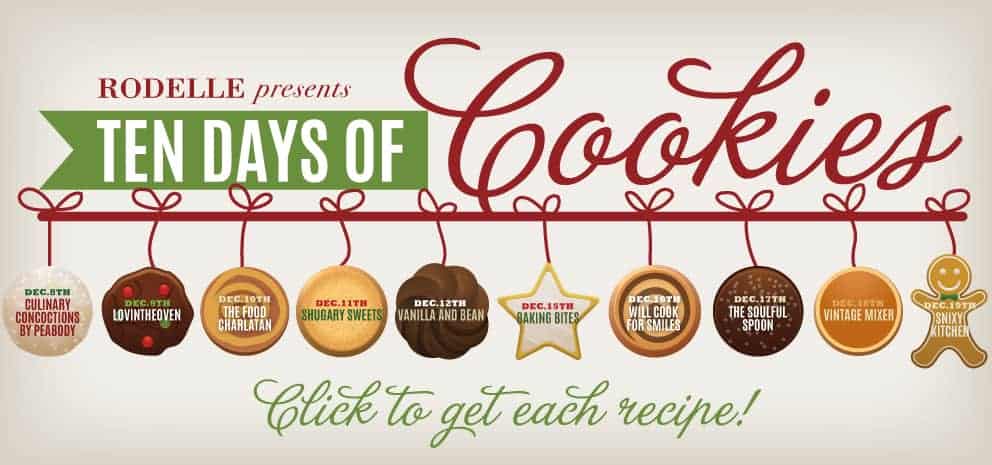 Thanks for reading Snixy Kitchen! To stay up on what's coming out of my kitchen,  follow me on Facebook, Instagram, Twitter, Bloglovin', Pinterest, or subscribe via e-mail to get new recipes right to your inbox.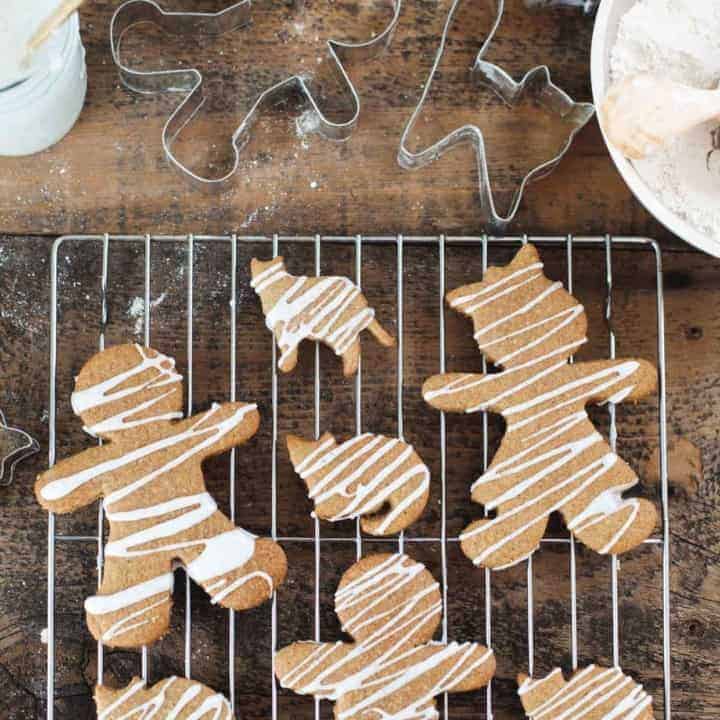 Gluten-free Iced Gingerbread Men (and Ginger Cats)
Yield:
2-2.5 dozen, depending on size
Ingredients
Gingerbread Cookies
¾ cup white rice flour *for a non gluten-free version, see note
¾ cup gluten-free oat flour**
½ cup buckwheat flour, plus more for rolling
1 teaspoon baking soda
1 teaspoon ground ginger
½ teaspoon ground cloves
1 teaspoon salt
1 cup unsalted butter, room temperature***
¾ cup sugar
1 large egg
¼ cup unsulfured molasses
Vanilla Icing
2 cups powdered sugar
3 -4 tablespoons of milk
Lemon Icing
2 cups powdered sugar
¼ cup freshly squeezed lemon juice
Instructions
Gingerbread Cookies
Whisk together the white rice flour, oat flour, buckwheat flour, chestnut flour, tapioca starch, xanthan gum, baking soda, cinnamon, ginger, cloves, and salt in a medium bowl and set aside.
In the bowl of a stand mixer, beat the butter and sugar over medium high speed, until light and creamy.
Add the egg and beat until completely combined, scraping down the sides as needed. Add the molasses and beat just to combine.
With the mixer on low, slowly add the dry ingredients to the wet ingredients, beating until completely combined.
Divide the dough into four equal pieces and wrap in plastic, shaping the dough into disks. Refrigerate for 1-2 hours, or until firm. (You can even refrigerate it overnight)
Preheat the oven to 350°F. Line a baking sheet with parchment paper and set it next to your cutting board.
Remove only one disk of dough from the fridge at a time. Working quickly, roll it out on a parchment-lined surface heavily covered in buckwheat flour. I find it easiest, if I first pat the surface of the firm dough with buckwheat flour before I start rolling it out and then continuously add more underneath it and onto the rolling pin as I go.
Cut out shapes with cookie cutters and immediately transfer them to the parchment-lined baking sheet. I keep a thin metal spatula on hand in case any cookies get stuck.
Refrigerate the cut cookies for 10 minutes before baking (this helps them from spreading out).
Bake for 10-12 minutes, until firm and lightly golden at the edges. Let cool for 5 minutes on the baking sheet before transferring to wire racks to cool. Repeat with remaining cookies, being sure to let the baking sheets cool before placing cut cookie dough on top.
Drizzle with icing (recipe below).
Store in an air-tight container for up to 1 week.
Vanilla Icing
In a small bowl, whisk together the powdered sugar with the vanilla bean seeds and milk. Use a spoon to test whether it's thin enough to drizzle, and if not, add another splash of milk.
Lemon icing
In a small bowl, whisk together the powdered sugar and lemon juice. Use a spoon to test whether it's thin enough to drizzle, and if not, add another splash of lemon juice.
Notes
*For a non gluten-free version replace the white rice flour, oat flour, buckwheat flour, chestnut flour, tapioca starch and xanthan gum with 2-½ cups all-purpose flour
**I make my own oat flour by grinding gluten-free rolled oats in my blender or food processor (and for cut cookies like these, I sift out larger chunks from the flour)
***Make sure your butter isn't too soft when you start or your dough will turn out very sticky and hard to roll out
Disclosure: I am a Brand Ambassador for Rodelle. While Rodelle generously gave me the baking ingredients used in this recipe, I was not compensated to write this post. As always, the opinions expressed here are solely my own.