I began documenting my culinary creations by posting photos on Facebook of the food I whipped up in my kitchen each night. It seems people want to know the recipes I use, adapt, and invent while embarking on my cooking adventures. To begin, I will post my past creations and their accompanying stories and recipes.
I love tradition. And rice pudding has become a tradition in my family. Christmas at Nana and Papa's always involved the suspense-filled distribution of bowls of rice pudding. As Danish tradition holds, one lucky bowl contained an almond (pronounced in almond country as: am-uhnd). The person who felt the crunch of a nut as they devoured their pudding received a nut gift and was also privileged with wearing an elf hat while passing out the rest of the gifts. We haven't spent every Christmas at Nana and Papa's, but I've always loved this tradition. As an added bonus, I have an uncontrollable sweet tooth. Last year, I decided to make rice pudding my NYE tradition, bestowing upon the nut winner some sort of chocolatey prize (despite the fact that I do not enjoy chocolate all that much). My favorite part is having leftovers to feast on for the rest of the week.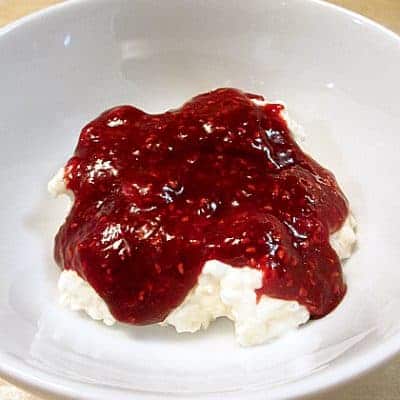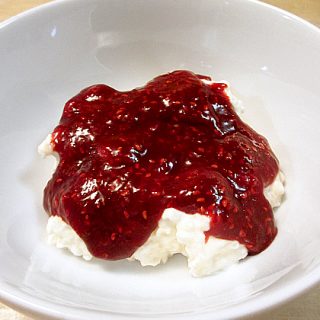 Rice pudding with raspberry sauce
Total Time:
2 hours
12 minutes
This traditional Danish rice pudding is the perfect holiday dessert. Serve chilled with a sweet raspberry sauce on top and hide a nut inside one bowl. In our family, the person who finds the nut gets to wear the Elf hat and pass out gifts!
Ingredients
Rice Pudding
2 cups water
1 cup uncooked white rice (I use short grain, but it also works with medium or long grain rice)
1 quart whole milk
⅛ teaspoon kosher salt
1 ½ teaspoons vanilla extract
2 tablespoons sugar
2 tablespoons sherry
½ cup heavy whipping cream
½ cup powdered sugar, sifted (more or less depending on sweet tooth:)
1 almond
Raspberry Sauce
10 oz. package of frozen red raspberries, sweetened
1½ teaspoons cornstarch
½ cup currant jelly
Instructions
Rice Pudding
Heat water to boiling in medium saucepan. Add rice and cook for 5 minutes. Drain thoroughly.
Bring milk and salt to boil in medium saucepan.
Stir in drained rice and lower heat. Simmer uncovered, stirring constantly for 5 minutes.
Cover. Cook, stirring occasionally, for 45 minutes, or until milk is almost absorbed and rice is tender and creamy. Crack the lid about half way through cooking to let some moisture out - be careful not to scorch bottom of pan.
Stir in sugar, sherry and vanilla. Chill for at least an hour until cold.
Meanwhile prepare the raspberry sauce as below.
Just before serving, prepare the whipped cream. Using an electric mixer or by hand, whip the heavy cream until soft peaks form. About halfway through, add powdered sugar to taste and if desired, an extra dash of vanilla extract. Fold whipped cream into pudding
Hide an almond in one bowl and mix the bowls. Spoon raspberry sauce over the top and have someone else serve.
Raspberry Sauce
Thaw and crush raspberries in blender or food processor.
Add cornstarch and currant jelly.
In medium saucepan, bring to boil.
Cook, stirring constantly, until clear and slightly thickened. Chill until cool.
Serve on top of Rice Pudding.