Creamy vanilla bean Danish rice pudding made with short-grain rice, is the perfect holiday dessert. Served chilled, folded with freshly whipped cream, and topped with sweet raspberry sauce.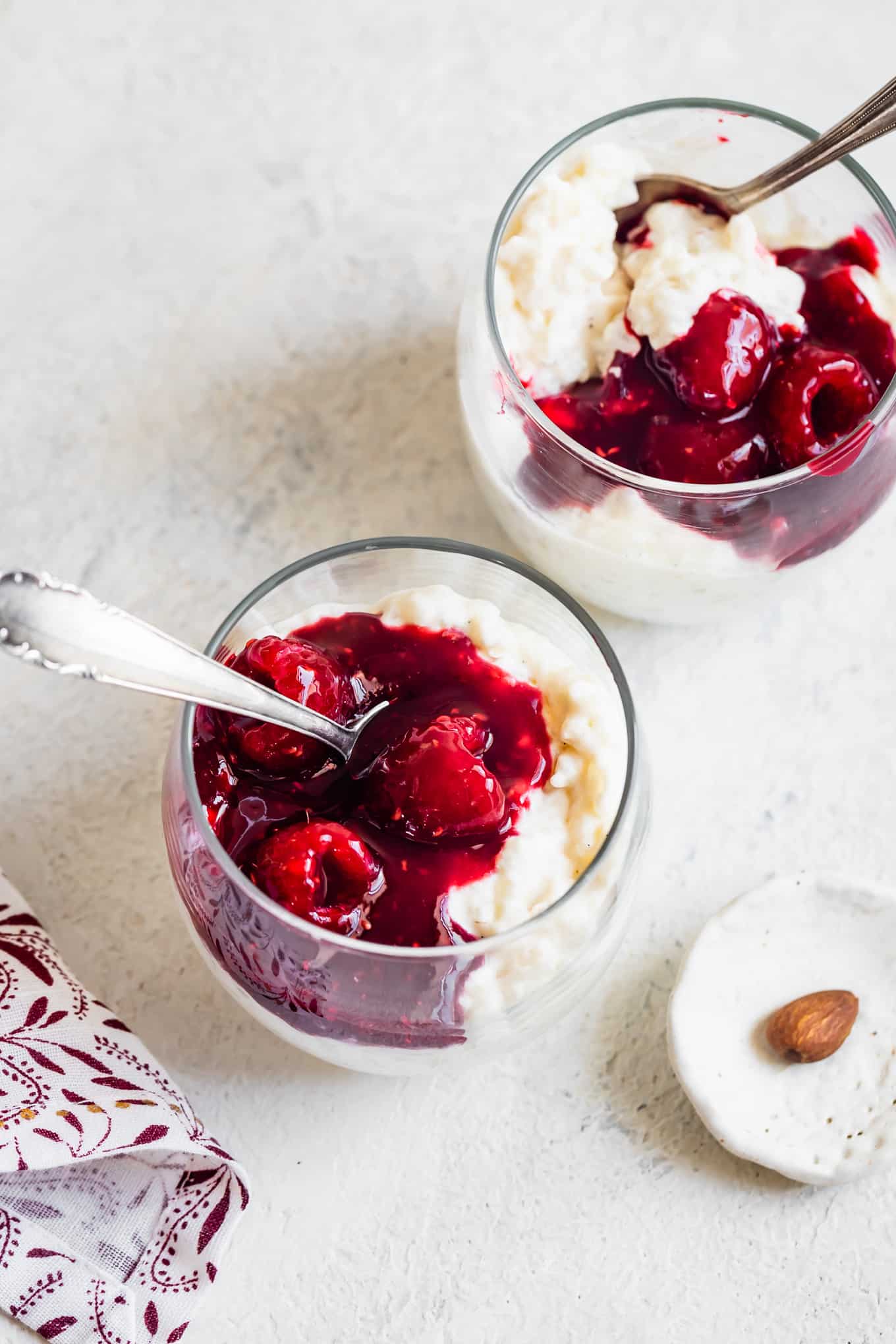 This post was originally published on January 1st, 2012.
This Danish rice pudding is my Nana's recipe and it also is the very first recipe I ever posted on Snixy Kitchen nearly 11 years ago. We recently said goodbye to my Nana this past September, so I wanted to revisit this recipe, giving it new life with fresh photos and copy.
Nana and I were really close and I credit her for much of what I am today. She fostered my love of baking, especially inventing my own recipes. She taught me how to quilt, craft, and use a computer, and she bought me my very first 35mm camera. In reflecting recently on all the ways she inspired and cultivated my creativity, I realize that it is exactly all of these skills I use daily while creating, baking, styling, photographing, editing, and writing new recipes on Snixy Kitchen. In many ways, Nana's legacy and our relationship lives here on Snixy Kitchen.
Risalmande: Danish rice pudding with raspberry sauce
This easy rice pudding with raspberry sauce is the recipe from my childhood for which I have my deepest food memory. Called Risalamande ("rice with almonds"), Nana would make this rice pudding with raspberry sauce every Christmas Eve. As Danish tradition holds, she'd sneak a single almond into one lucky cup. The person who found the nut in their pudding received a nut gift and, in our family, was also privileged with wearing an elf hat while passing out the gifts under the tree.
We didn't spend every Christmas at Nana and Papa's, but I've always loved this tradition. Starting in 2010, I made rice pudding my NYE tradition, bestowing upon the nut winner some sort of chocolatey prize. My favorite part is having leftovers to feast on for the rest of the week.
Last week, my daughter's 1st grade class had a heritage potluck, and she asked me to bring a dish from both sides of her heritage. We made agua fresca and Nana's rice pudding, doubling the recipe to share rice pudding and Nana's story with our neighbors.
I talk a lot about Nana with my kids, and my hope is that they can still feel close to her through her recipes.
Easy Rice Pudding
Served chilled, this vanilla rice pudding is gets folded with whipped cream, creating a thick and creamy pudding with an alluring texture. The pudding itself is only very lightly sweetened, letting the bright raspberry sauce shine on top. You can make both the pudding and the raspberry sauce days in advance, leaving them chilled in the fridge until ready to serve.
How to make rice pudding
Here's how to make this super easy chilled whipped rice pudding:
Boil water and add rice, cooking for 5 minutes, then drain.
Bring milk and salt to a boil then reduce heat and add rice, vanilla bean pod and seeds, and cinnamon sticks. Simmer, stirring, for 5 minutes.
Cover and cook for 45 minutes, stirring occasionally and cracking the lid halfway through.
Stir in sugar, sherry, and vanilla, and chill completely.
Blend up the raspberry sauce ingredients and simmer, stirring, for 10 minutes until it thickens. Chill.
Just before serving, whip cream and powdered sugar together. Fold whipped cream into pudding.
Divide pudding into cups and top with raspberry sauce!
Substitutes for Red currant Jelly
Nana's original recipe calls for red currant jelly, which I've been able to find at major grocery stores. However, if you have trouble finding it, substitute in blackcurrant jelly, cherry jelly, or your favorite jelly, such raspberry, strawberry, grape, or apple! Any of them will work with this recipe.
Can I make vegan rice pudding?
You can easily make this rice pudding vegan! I have a recipe for coconut milk rice pudding that is based on this recipe.
For a vegan coconut milk rice pudding, sub the quart of milk for:
2-⅔ cups canned lite coconut milk (a little less than two 14.5oz cans)
1-⅓ cups coconut water
And, sub the heavy cream for:
½ cup canned coconut cream, chilled for at least 12 hours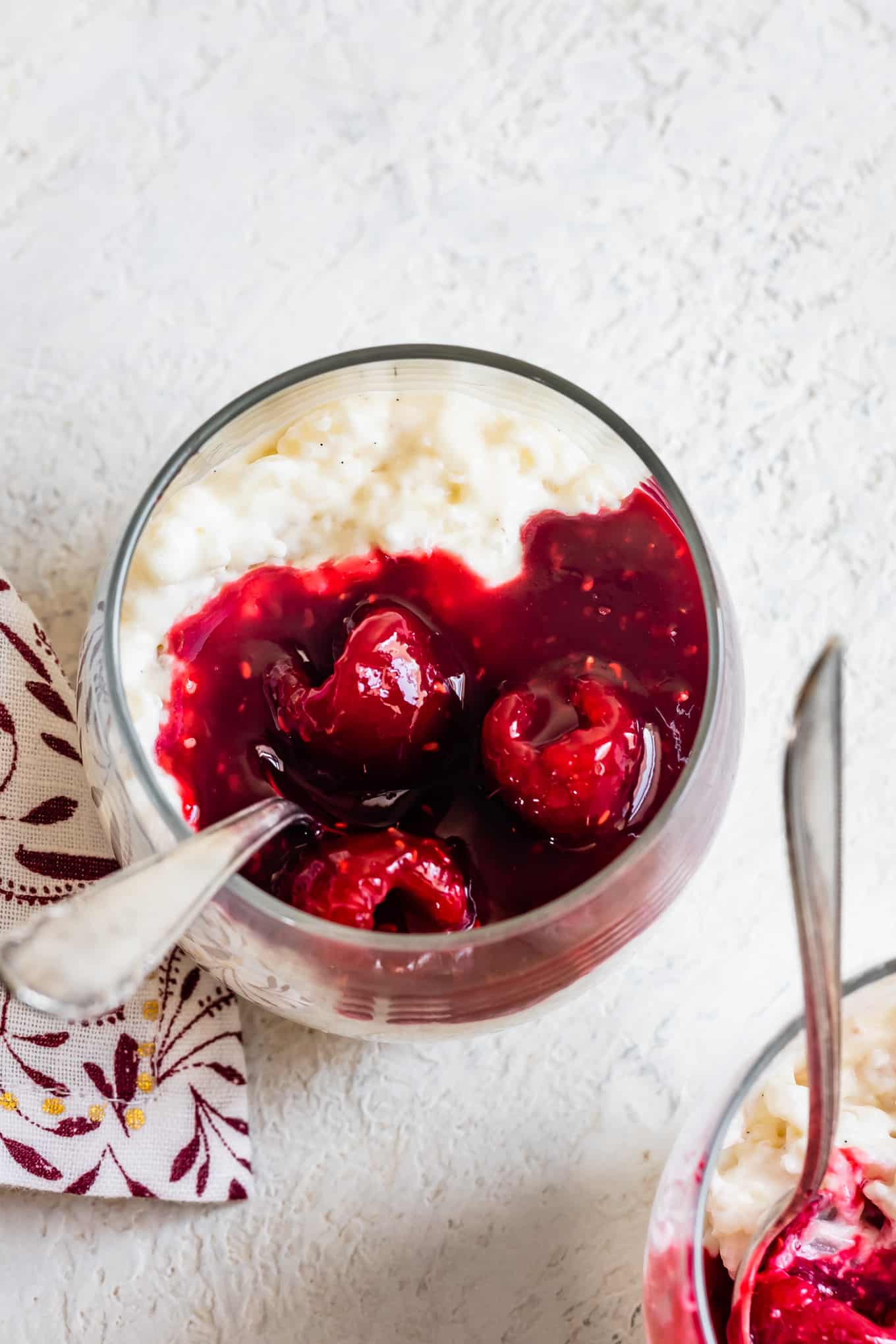 How to store rice pudding
If you're making it in advance, store the pudding before folding in the whipped cream for up to 2 days. You'll need to give it a good stir to loosen before folding in the cream. Once you fold in the cream, it still keeps for up to a week in the fridge.
Any leftover fully made rice pudding and raspberry sauce in separate covered containers or bowls in the fridge for up to a week.
More Gluten-Free Pudding Recipes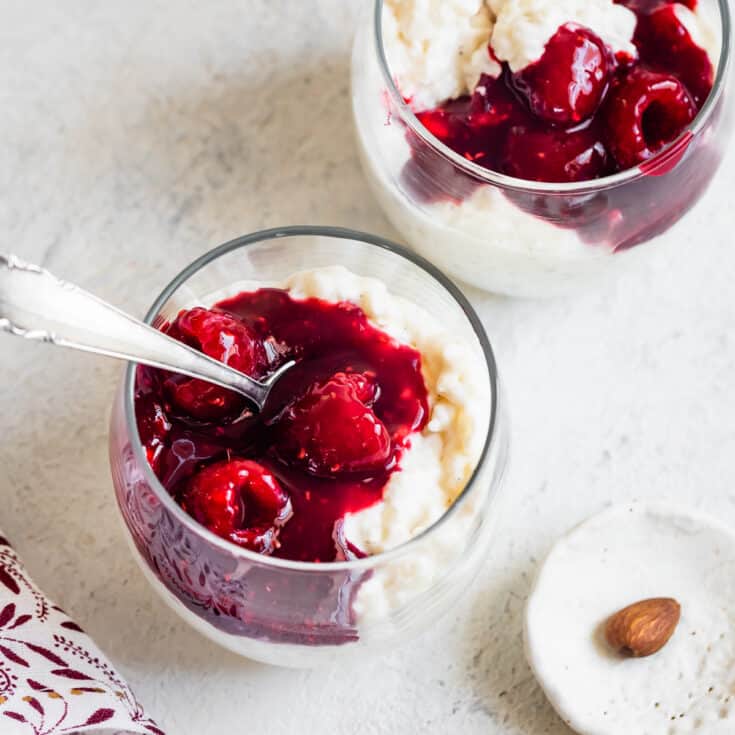 Rice pudding with raspberry sauce
Total Time:
2 hours
12 minutes
This traditional Danish rice pudding is the perfect holiday dessert. Once chilled, fold with whipped cream and serve topped with sweet raspberry sauce.
Ingredients
Rice Pudding
2 cups water
1 cup uncooked short-grain white rice, such as arborio (do not rinse)
1 quart whole milk
⅛ teaspoon kosher salt
Optional: 1 vanilla bean, split and seeds scraped
Optional: 2 cinnamon sticks
1 ½ teaspoons vanilla extract
2 tablespoons sugar
Optional: 2 tablespoons sherry
½ cup heavy whipping cream
½ cup powdered sugar, sifted (more or less depending on sweet tooth:)
Optional: 1 almond
Raspberry Sauce
10 oz. package of frozen red raspberries, unsweetened
½ cup red currant jelly
¼ cup sugar
1½ teaspoons cornstarch
Optional, just for looks: ¼ cup fresh raspberries
Instructions
Rice Pudding
Heat water to boiling over medium-high heat in medium saucepan. Add rice and cook on medium-high heat, undisturbed, for 5 minutes. Drain thoroughly, but do not rinse.
Bring milk and salt to boil in the same medium saucepan, keeping a close eye so it doesn't boil over!
Stir in drained rice and lower heat. If using, stir in vanilla bean pod and seeds and cinnamon sticks. Simmer uncovered, stirring constantly, for 5 minutes.
Cover. Cook, stirring every 5-10 minutes, for 45 minutes, or until milk is almost absorbed and rice is tender and creamy. Crack the lid about halfway through cooking to let some moisture out - be careful not to scorch bottom of pan.
Remove vanilla bean pod and cinnamon sticks. Stir in sugar, sherry, and vanilla. Chill for at least an hour until cold.
Meanwhile, prepare and chill the raspberry sauce as below.
Just before serving, prepare the whipped cream. Using an electric mixer or by hand, whip the heavy cream until soft peaks form. About halfway through, slowly add powdered sugar to taste and, if desired, an extra dash of vanilla extract. Fold whipped cream into pudding
Divide the pudding into dessert cups and spoon raspberry sauce over the top.
For a fun holiday tradition, hide an almond in one bowl and mix the bowls. Have someone else serve the pudding. The person who finds the nut, receives the "nut gift" and gets to act as Santa's elf, passing out gifts.
Raspberry Sauce
Thaw and crush raspberries in blender or food processor.
Add currant jelly, sugar, and cornstarch.
Transfer to a medium saucepan and bring to boil.
Cook, stirring constantly, until clear and slightly thickened, about 10 minutes. If desired, stir in fresh raspberries (for appearances only). Chill thoroughly, for at least an hour.
Serve on top of chilled rice pudding.