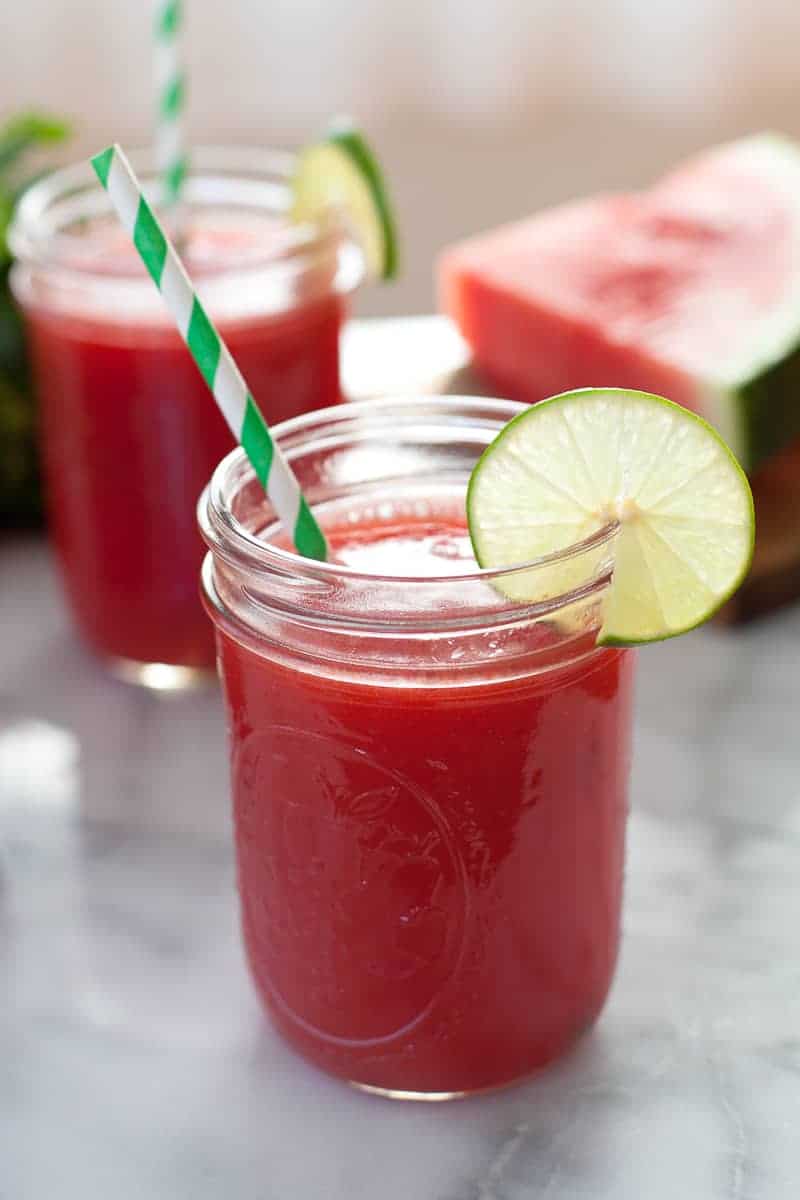 The Bay Area was scorching hot this week. And by scorching hot, I mean it was barely hot at all, but, just as LA is ill-equipped to handle a little drizzle, The Bay Area melts with just a tiny spike above our usual year-round 60-70ºF temperatures. Without AC, the coolest part of our house was 85ºF inside! As a girl who grew up in 100º+ hot hot summers, I feel conflicted about complaining. I mean, we made all of our friends hang out in 110ºF direct sunlight to watch us get married last June for cryin' out loud. But guys, last week was a sauna - my clothes felt like they were melting off of me. All I wanted to do was sprawl out on the cold hardwood floor with the cats who also had the exact same global warming survival plan. I wanted to smear ice cream on my face and jump into a pool filled with this refreshingly chilled watermelon agua fresca. That, or drink it.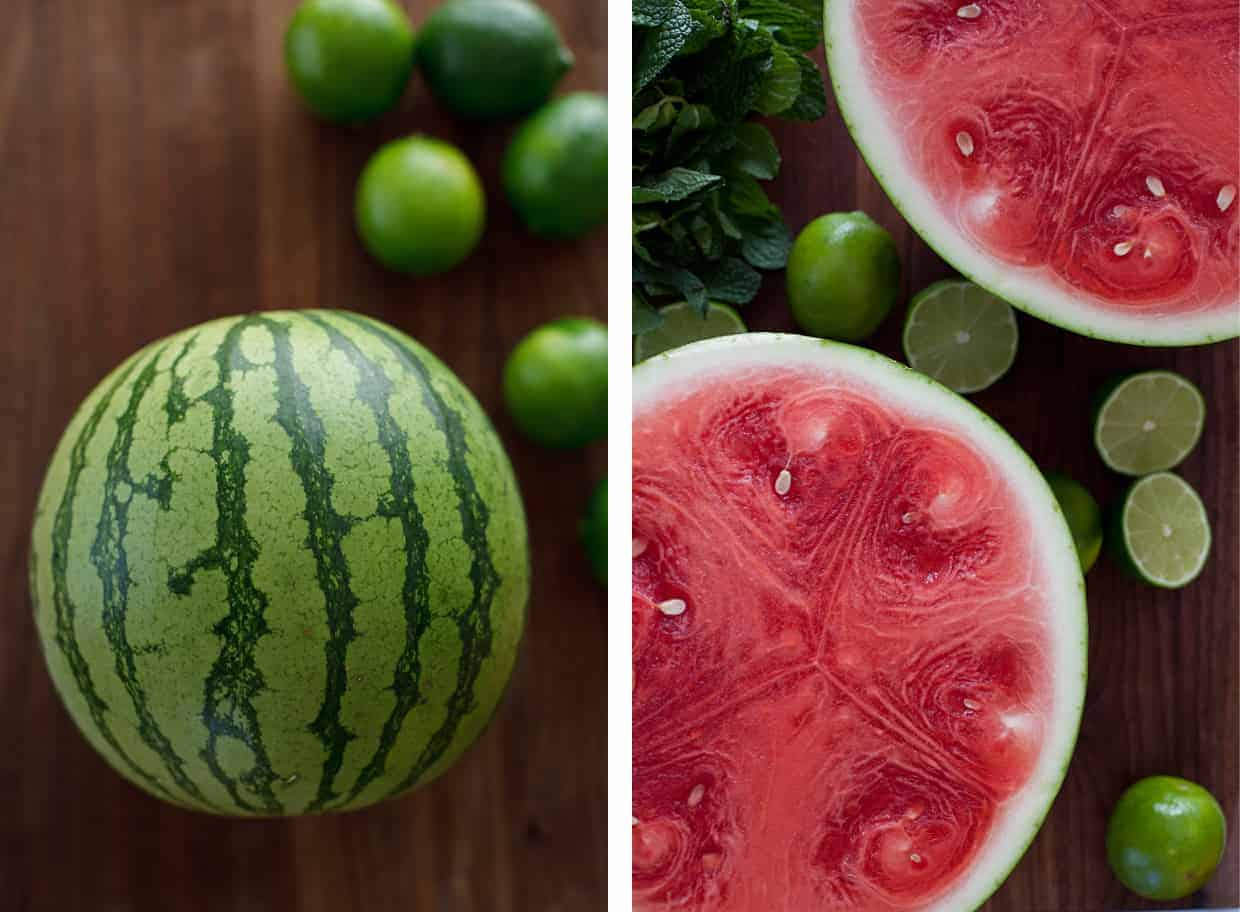 I couldn't carry enough watermelons to fill a pool, so I settled for sipping it while grilling with friends on the back porch. THAT'S the bright side of this heat. Even in the middle of the best summer, 9 times out of 10 it's too cold to hang outside with a cold drink when the sun begins setting here in the Bay. Our spacious deck overlooks our new vegetable garden and we're seriously considered buying one of those standing space heaters so we can pretend we live in a place where summer actually exists. This week, however, even though I melted all day, the evenings were perfect watermelon weather. Just in time for limes to drop back down to normal price so we could whip up a few batches of this mint and lime watermelon agua fresca.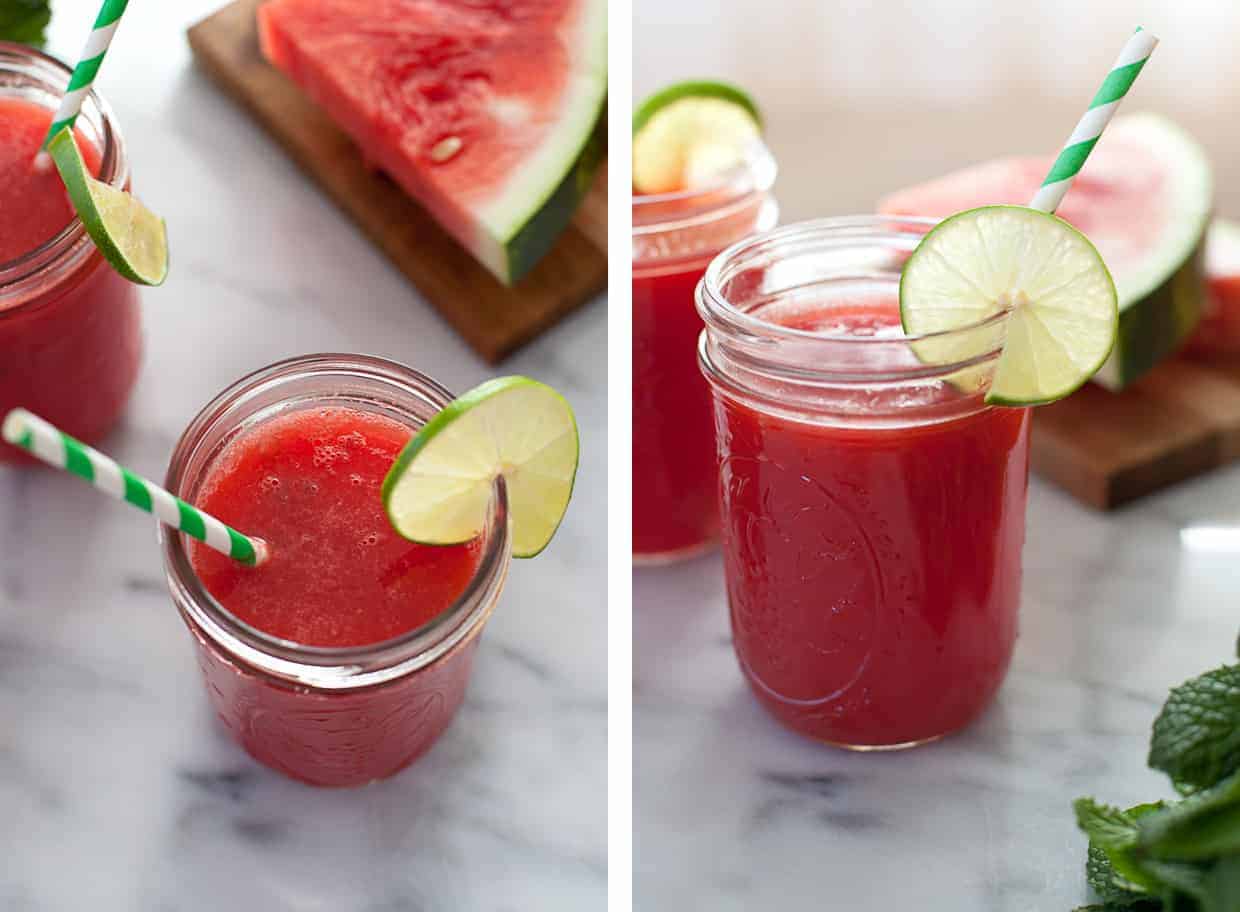 We first tried our hand at this homemade sweet drink for our pre-mother's day brunch when my mom came to town the weekend before. While I juggled two crepe pans at once, Lucas played sous chef and won my mom's heart by blending and straining the homemade agua fresca all by himself. And then, like a fresh batch of cookies, we drank the entire lot in one afternoon. So the moment the temperatures rose this week, we both thirsted for a giant glass of this honey-sweetened minty freshness. This is my 2014 drink of the summer. Cloyingly sweet without puckering your cheeks.
Between rounds 1 and 2, we upgraded to a super fancy pants blender. With the Soda Stream as his first, this is Lucas's second tool in the kitchen - something rough and manly that could handle kale in his morning smoothies;) While we strained out lots of seeds with the pulp in our first batch of agua fresa, in the second batch, our ultra-powerful blender puréed any sneaky seeds right up with the pulp! So if I learned anything from childhood, that means I'm probably most definitely going to grow a watermelon in my belly.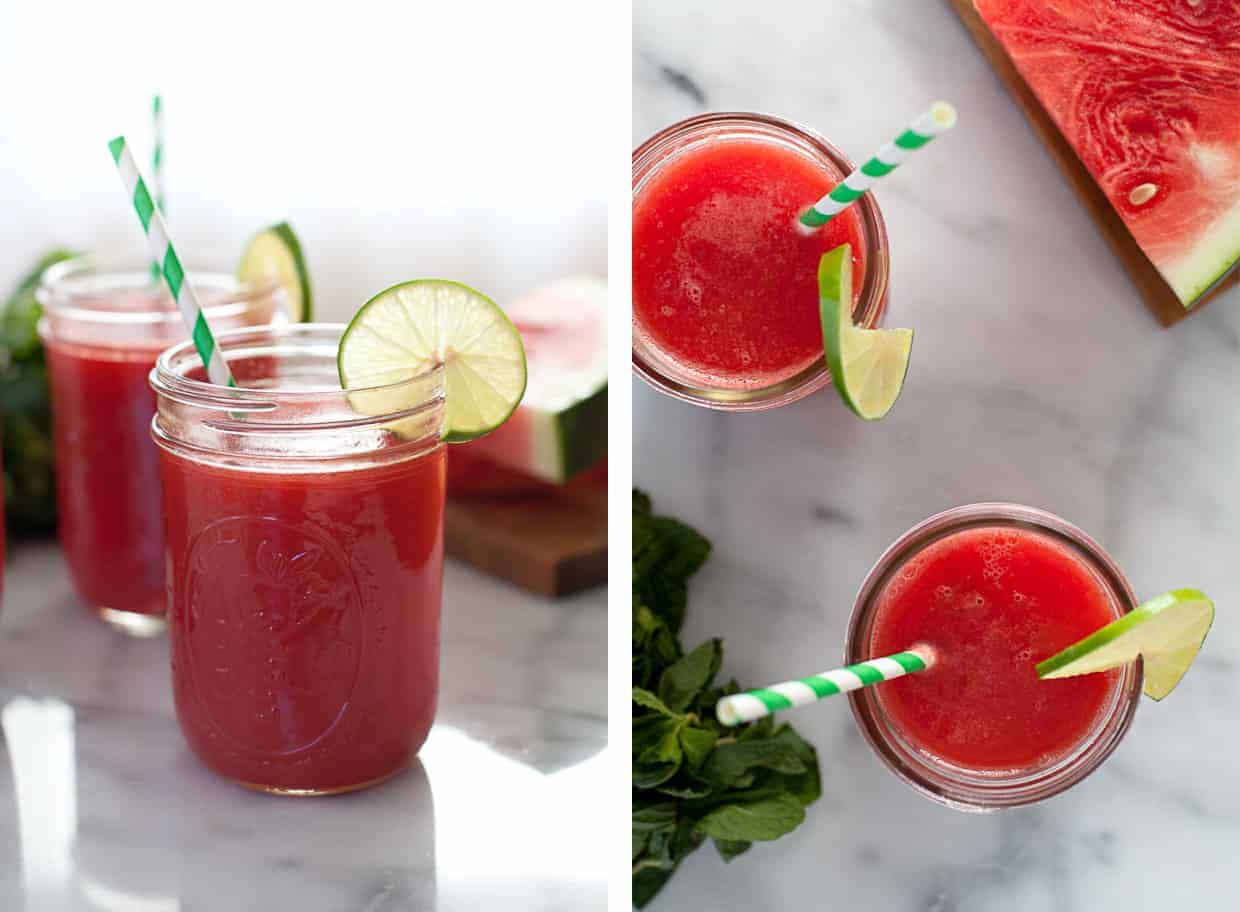 One more thing - this is a drink that 100% depends on the inner beauty of the watermelon you select. If you cut into a light pink unsweetened watermelon, your agua fresca's going to feel it. I'm speaking from the sad experience of cracking open an unripened melon that had the sweetness equivalent to a glass of water. And then having to send her friend Spike back to the market to pick out the world's best watermelon. With a bad watermelon, you'll end up with a honey-sweetened minty water that has just a remote hint of watermelon if you close your eyes and pretend it's there. That's not what you want from this refreshing cooler - you want robust watermelon flavors with a small scent of honey, mint, and lime. Summer. You want to taste summer. Here are some tips to help you pick a perfectly ripe and juicy watermelon.
How to pick a watermelon
Check the weight

You want that sucker to feel like a bowling ball. Pick up several like-sized watermelons and narrow it down to the heaviest of the lot. This step ensures it's packed full of juice. Note: This is also how my family picks puppies.

Look for the yellow field spot

The more saturated the field spot (i.e. the more yellow), the longer it's been sitting on the vine ripening in the bright sun and the sweeter it'll be. If you pick a watermelon that's got a light/white or missing field spot, it means it was picked before it matured to its full potential. My mom read this book to me as a child called The Talking Eggs in which all of the beautiful eggs were filled with horrible scary things like wasps and all of the super dull and ugly looking eggs were filled with lush, rich, beautiful things. If you get greedy and choose only the beautiful-on-the-outside uniform-colored melons, you'll be sad with what's on the inside. Lots of moral lessons go into picking watermelons.

Dull sheen

Speaking of dull eggs holding the best prizes, the same goes for watermelons. You want your watermelon to be dull in appearance rather than shiny. Again, if its skin is perfectly shiny, it hasn't ripened to its full potential in the sunshine. More sun = more sweet. Just like a leathery tan is the sign of a good tan, dull melon skin is the sign of some good sun.

Knock on it

Guys, I have little advice for you here. My mother swears that you want it to sound hollow and not give a dull thud when you knock on it, but I don't have refined enough hearing to tell a difference. So just knock on it if: a) you have a better ear than I do, b) you want to look like you know what you're doing, or c) you need practice your beats.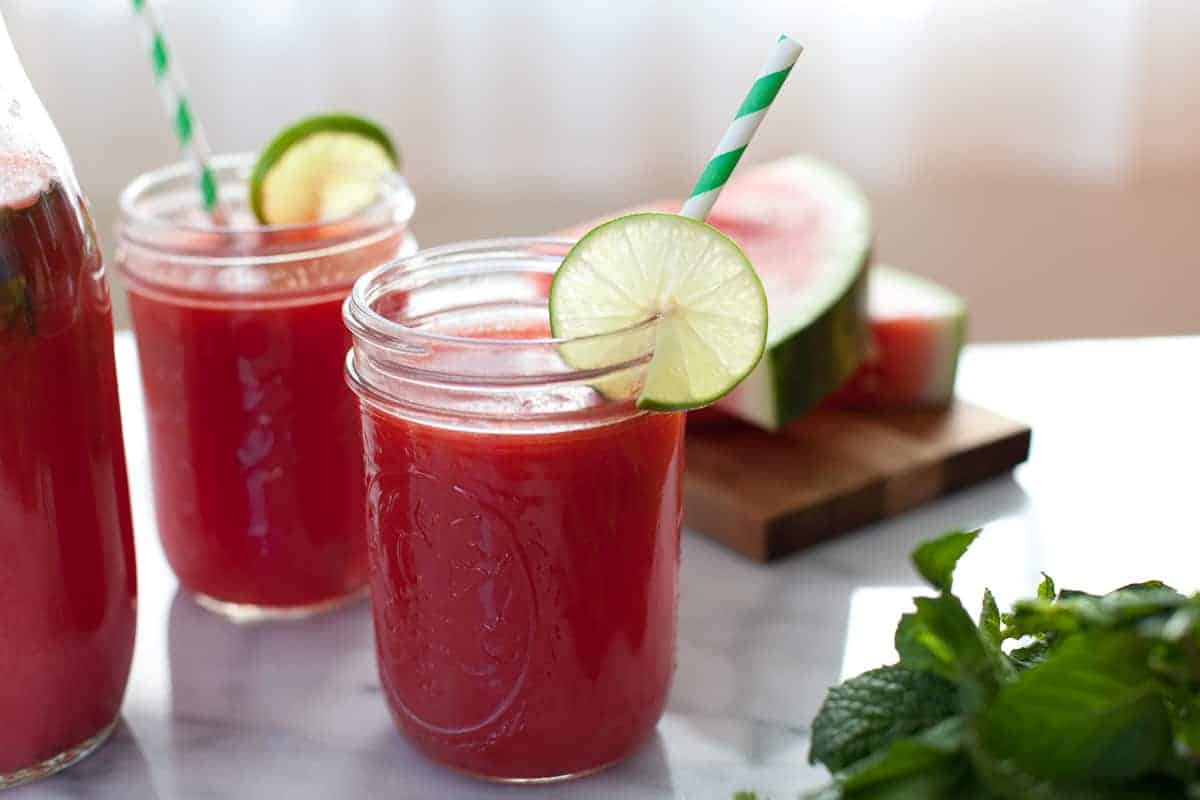 Enjoy the sunshiny weather this weekend, my friends - Cheers!

Watermelon mint agua fresca
Ingredients
One 8-pound ripe seedless watermelon, or about 10 cups (or large handfuls), cubed (see above for picking a ripe watermelon)
5 tablespoons of honey
6 tablespoons of freshly squeezed lime juice (from about 4-5 limes), plus more lime slices for serving.
About 15 mint leaves
Instructions
Combine the watermelon, honey, and lime juice in a blender and pulse until completely smooth.
Strain ¼ of the puréed watermelon into a small bowl. Add the mint leaves and use a pestle to muddle the mint with a few twist. Transfer the muddled mint mixture to a large pitcher.
Strain the rest of the watermelon purée through a fine metal sieve into the pitcher. Stir to combine.
Serve over ice with a few extra slices of lime.