Vanilla-laced whipped ricotta gets swirled on toast and topped with orange slices and a drizzle of honey. This super easy honey orange ricotta toast from The Pretty Dish tastes like a savory sweet creamsicle-like tartine and is here to cure you of all your former breakfast woes.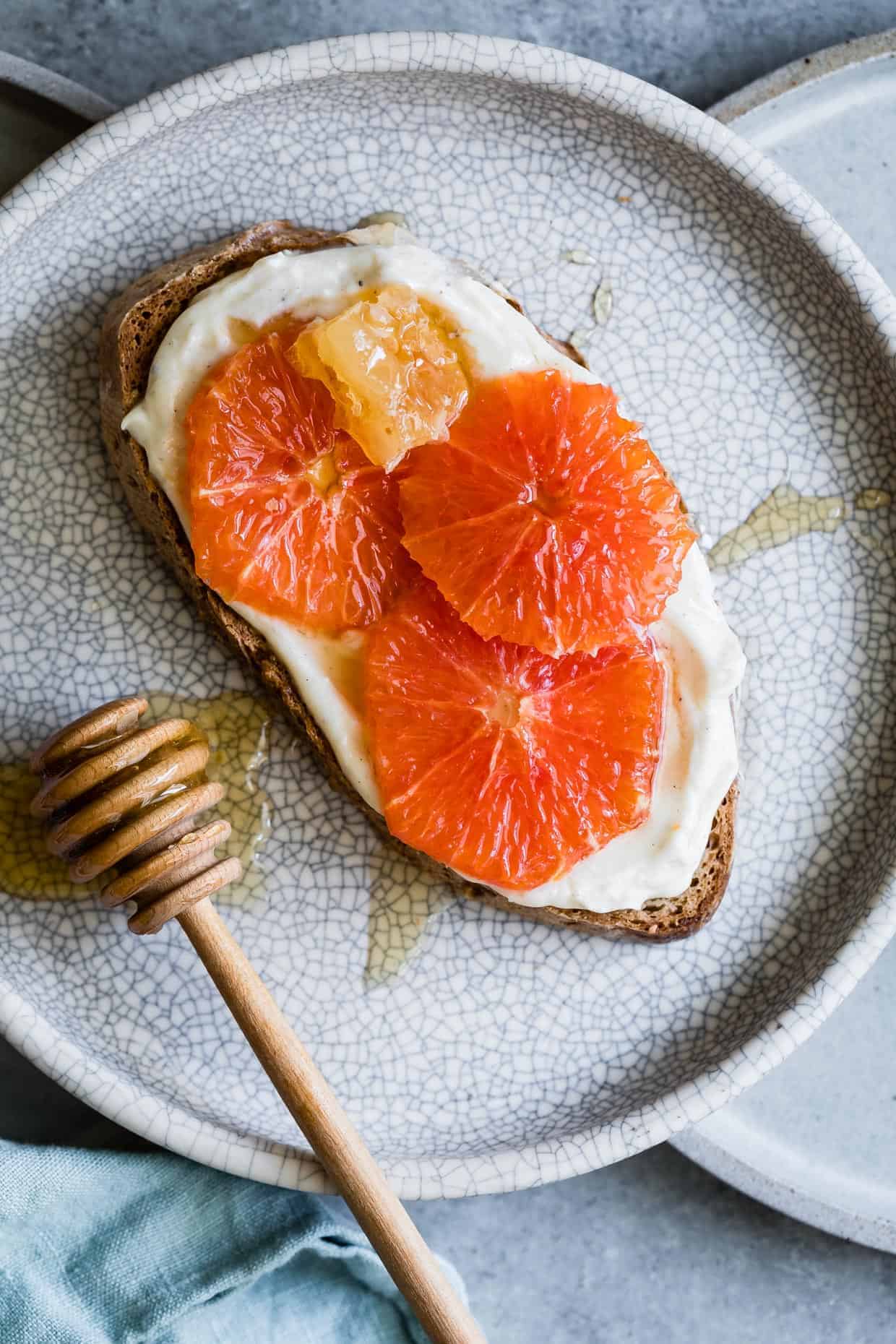 Super easy breakfast toast is here to save you from your morning cereal or avocado toast rut (me = guilty). I'm of the don't-talk-to-me-for-at-least-30-minutes-after-I-wake-up variety, and quick nourishing happy breakfast speed up that process tenfold. That's exactly what I'm serving up this week. This honey orange ricotta toast comes from The Pretty Dish by Jessica Merchant of How Sweet Eats.
Jessica wrote this book while secretly pregnant, so it feels like it was written for me and it's definitely going to be my best friend for the next few months. Plus, almost all of the recipes can be made in under an hour - score! There are approximately 150 recipes in this book that I want to eat (okay, exactly 150 - that's all of them), but I took one look at the creamy ricotta slathered on bread with citrus and my heart was sold on the third recipe in the book.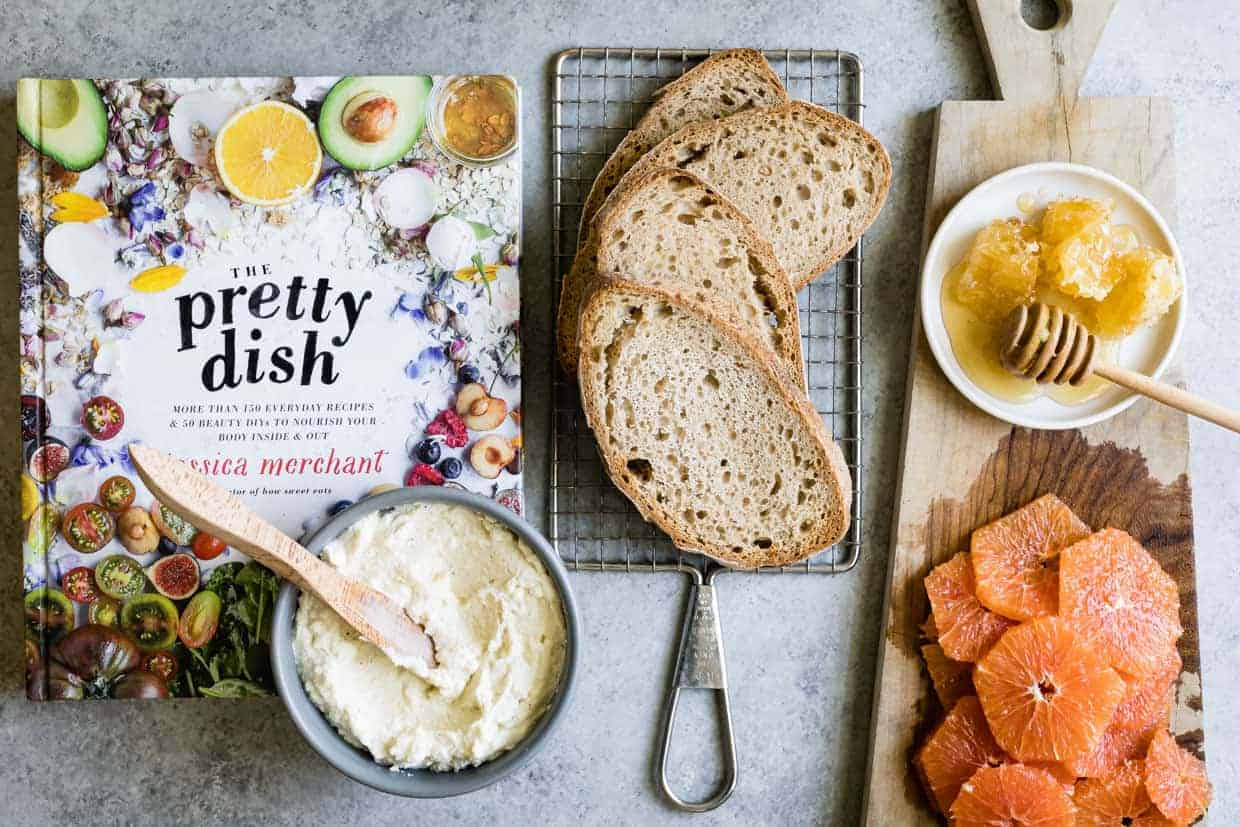 If you're like me and you eat with your eyes first, she's got you covered with a gorgeous photo for every. single. recipe. In addition to traditional food recipes, the book has other little peaks into the life and mind of Jessica with playlists to accompany different food occasions and 50 beauty recipe DIYs. The latter of which she describes she started really getting into when she was first pregnant and, as a beauty and make-up lover, she started researching what beauty products she shouldn't use while pregnant.
Now I'm certain Jessica came to me in book form as a best friend to guide me in all the girly things I need help with in my life. I wish I could say I was also lamenting cutting out faved beauty products while pregnant, but the truth is I barely know how to wear make-up. I still wear bronzer from a compact I bought in 2007. It's since broken so I keep the broken bronzer bits in a resealable plastic sandwich bag and just stick my brush right into that bag. In sum: I need help. I'll get to beauty soon, but first, this ricotta toast.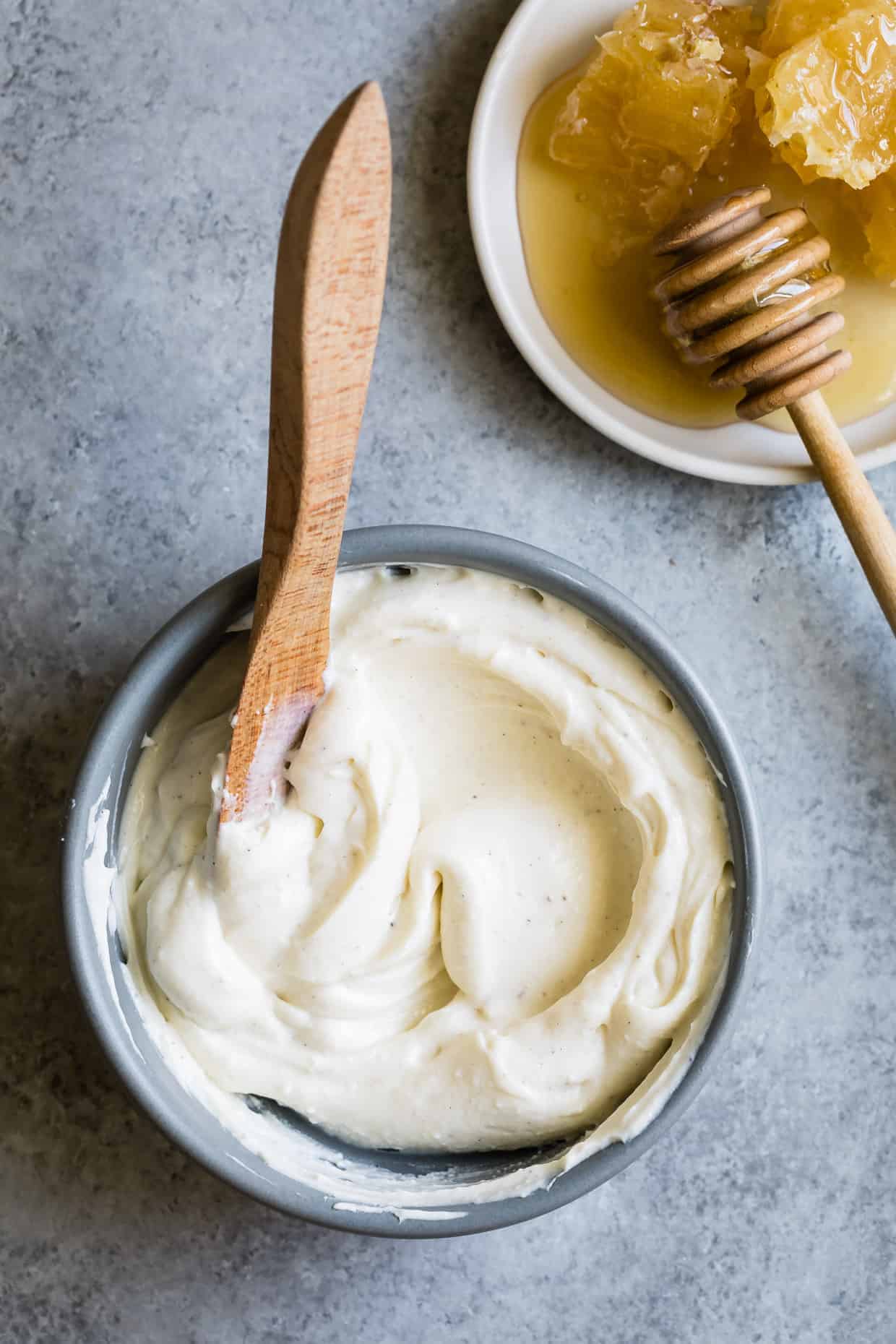 I have a love hate relationship with ricotta. I grew up very adamantly declaring I hated ricotta cheese (you too??). I could not stand that gritty sand texture that bakes up and separates into dry globs popping up just to ruin your lasagna. I thought that's just what ricotta was and left it alone. That is, until I discovered good ricotta, and specifically Bellwether Farms' whole milk basket ricotta. It's smooth and creamy and I'll eat it by the spoonful. Have you had it? It's life-changing (No, this isn't sponsored, I'm just fan-girling about it). That's when I fell in love with ricotta. I've recently turned my mom onto this ricotta, except she can't find it in her town, so she has to stockpile up when she comes to visit. (Relatedly: does anyone have any recommendations for other smooth and creamy ricotta brands I can point her to?)
While I'm in love with the texture of creamy ricotta, there's something even more magical that happens when you puree those curds with vanilla bean paste or extract. It gets even smoother - like a lightened up whipped cream cheese with its own unique flavor profile. You want this on toast for breakfast, trust me.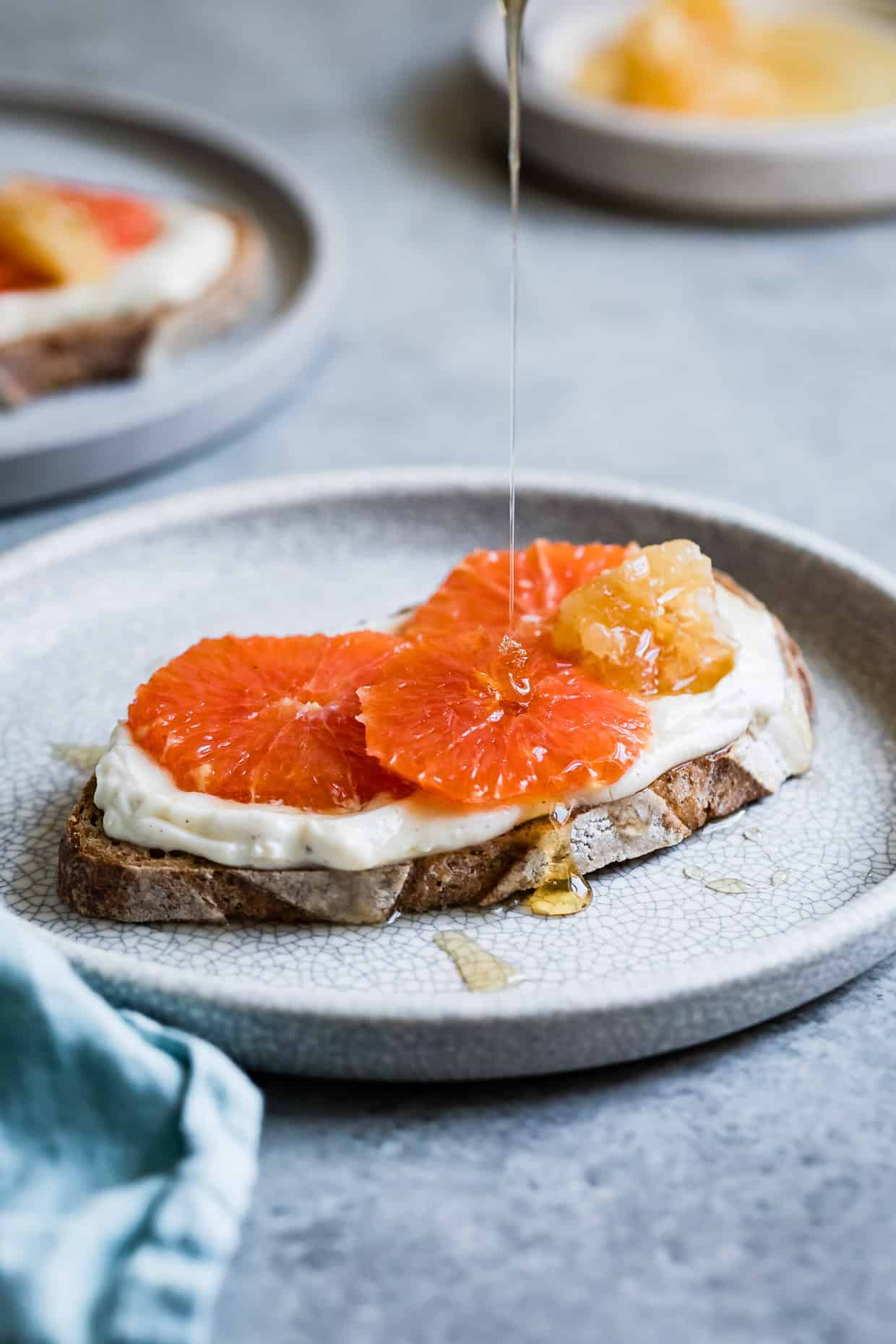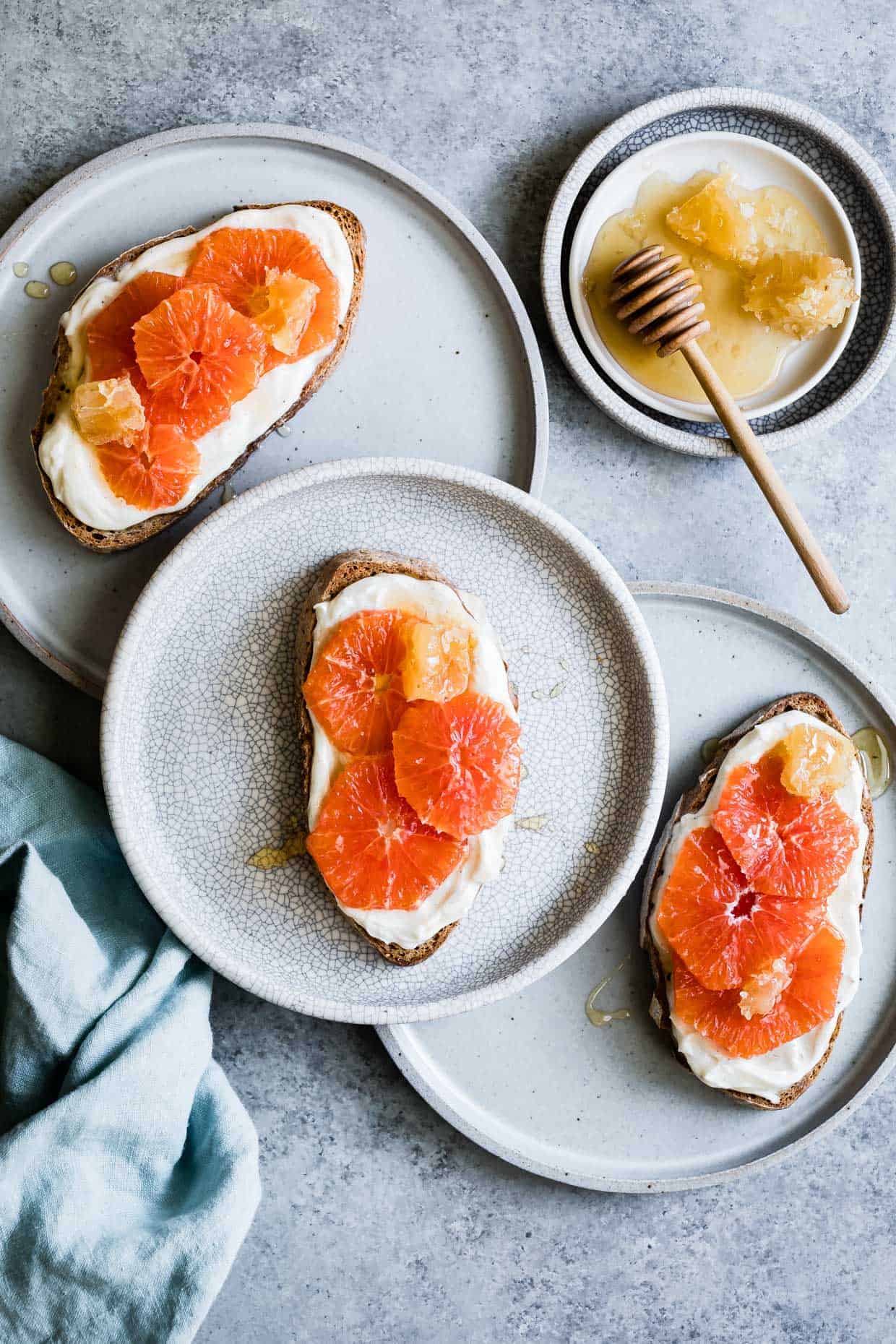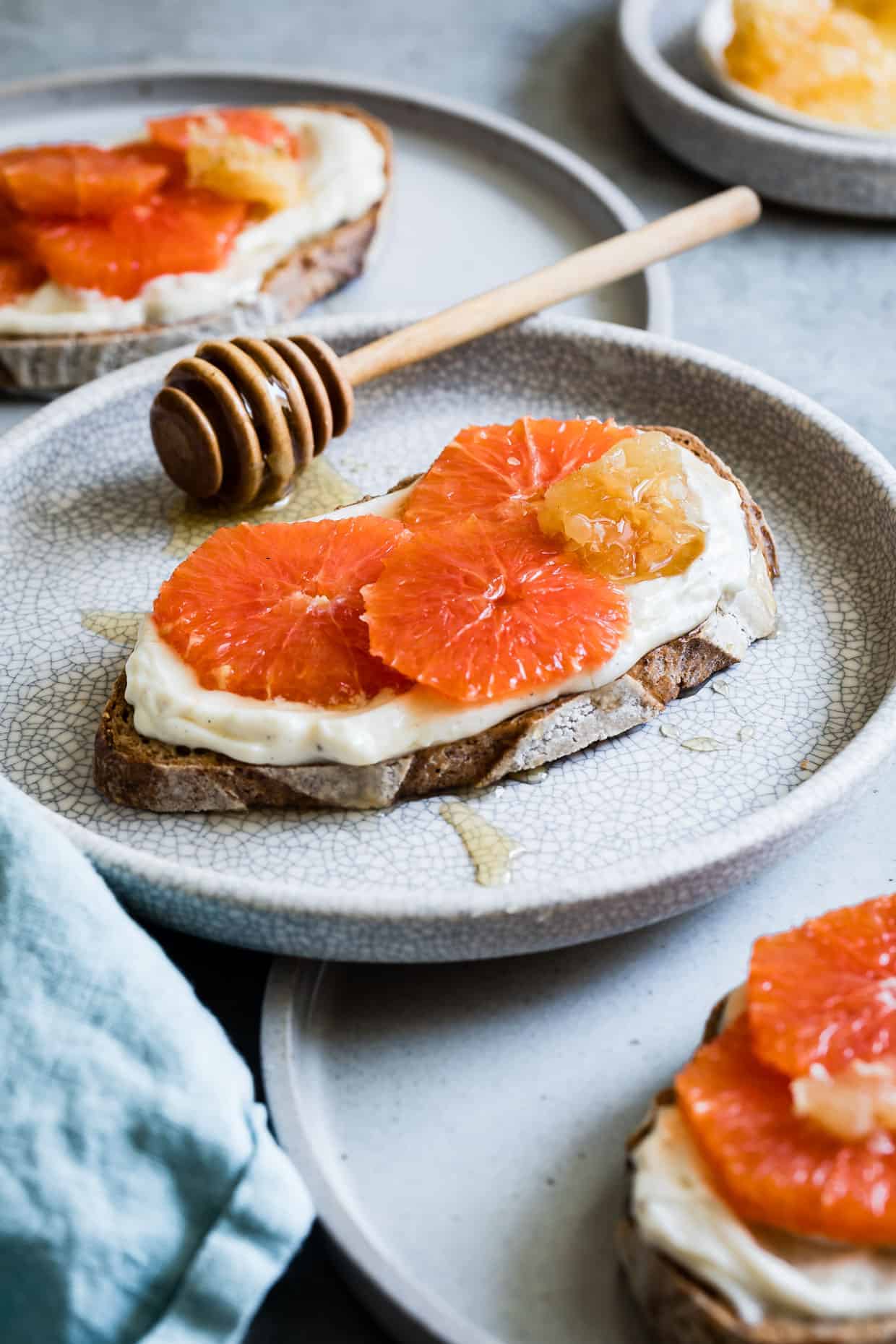 If you can't get your hands on blood oranges, you can take Jessica's suggestion and use strawberries or pineapple. I opted for pink-hued cara cara oranges instead of bright red blood oranges because they're my current early spring citrus obsession (we're talking like 3/day, which is 100x better than the fistfuls of sour peach rings I'm also craving).
So far we've got crusty toast, creamy vanilla-laced ricotta, and sweet oranges. Top it all off with a healthy dose of honey (or honeycomb if you want to pretend to be fancy like I do) and a dash of flakey salt and you've got a savory sweet creamsicle-like toast breakfast.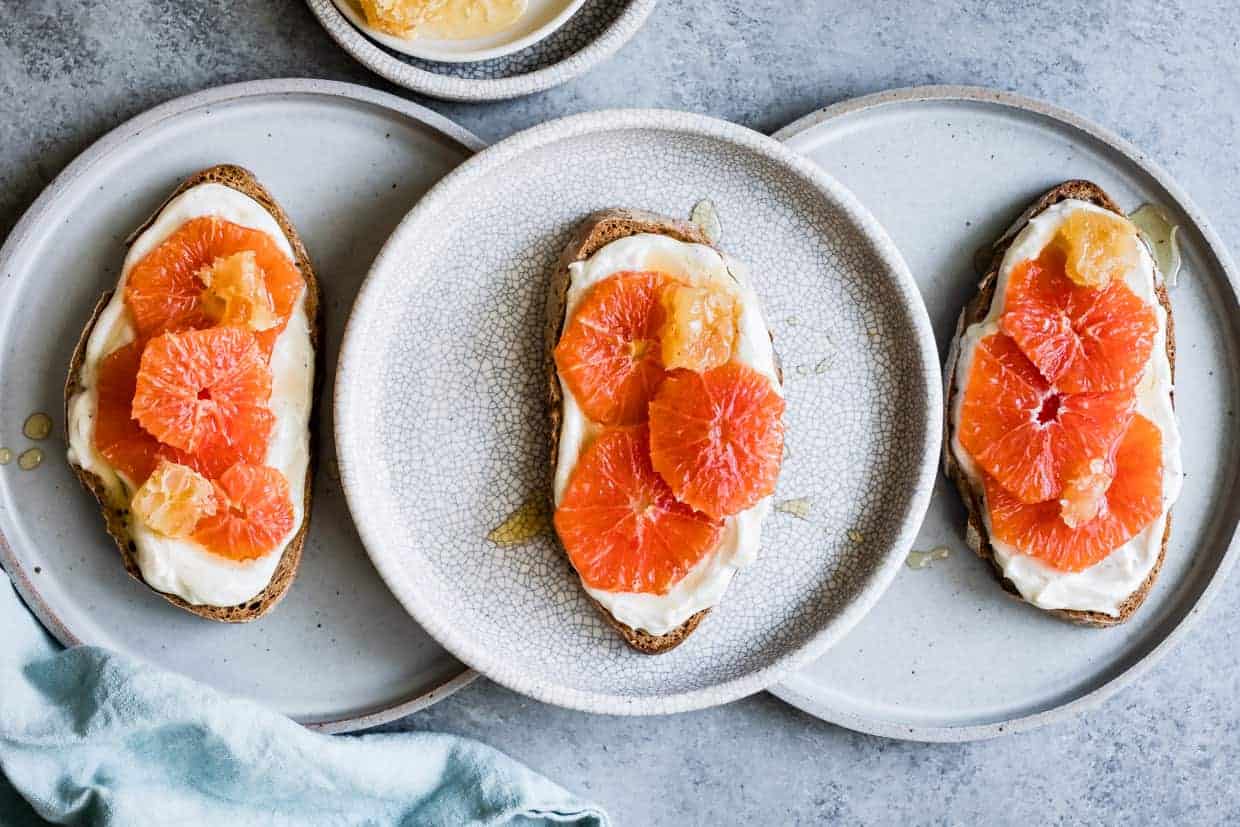 You can get your copy of The Pretty Dish here and you too can lust after: grapefruit rose cake, lobster burrata pasta, chocolate chili cornbread, peach panzanella salad with burrata and bacon, and crispy fish tostadas.
Thanks for reading Snixy Kitchen! To stay up on what's coming out of my kitchen, follow me on Facebook, Instagram, Twitter, Bloglovin', or Pinterest, or subscribe via e-mail to get new recipes right to your inbox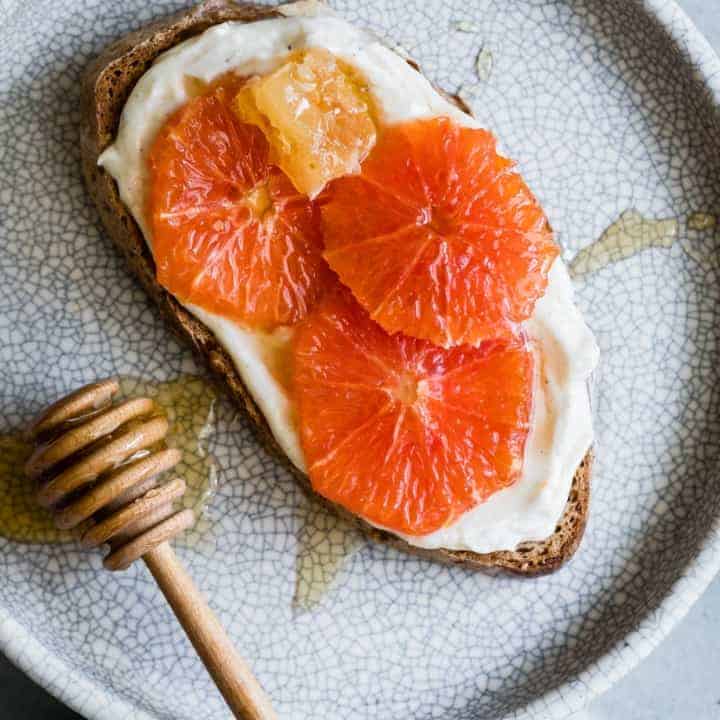 Honey Orange Ricotta Toast
Slightly adapted from The Pretty Dish cookbook, by Jessica Merchant
Ingredients
½ teaspoon vanilla extract or vanilla paste
1 orange, peeled and sliced (Jessica recommends blood oranges, I used pink cara cara oranges because they're my seasonal fav right now)
2 tablespoons honey and/or honeycomb segments
Pinch of flakey salt (Jessica uses sea salt, but I used maldon flakey salt because it's what I had!)
Instructions
In a food processor, combine the ricotta cheese and vanilla. Process until pureed.
Spread the ricotta evenly over the toast.
Add the orange slices. Drizzle on the honey and/or honeycomb segments. Hit the whole thing with flakey salt and serve.