A fizzy sweet sugar snap pea mojito mocktail makes a refreshing drink for spring entertaining! Slightly sweet with bright herbaceous earthy notes. Add a little rum for grown ups!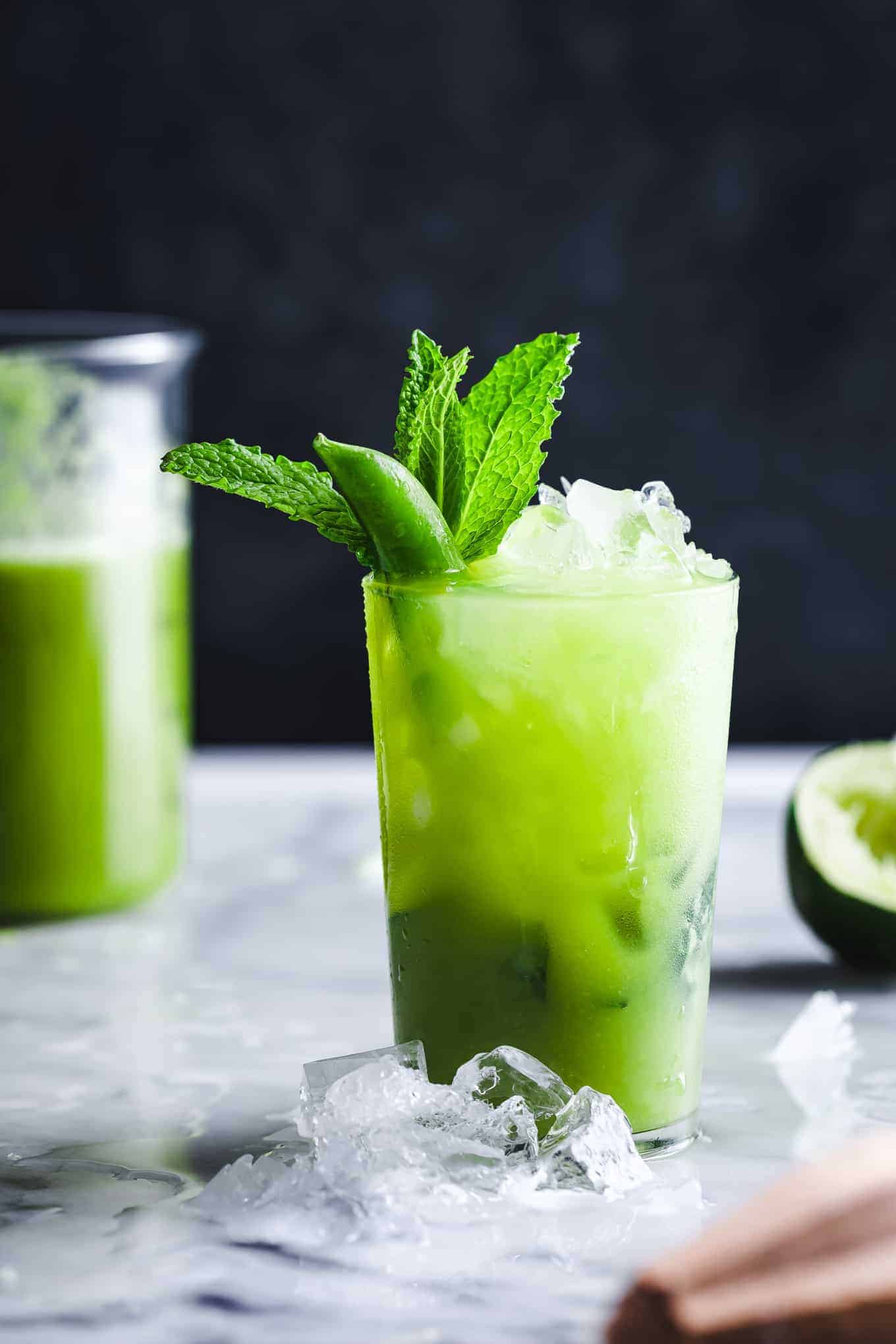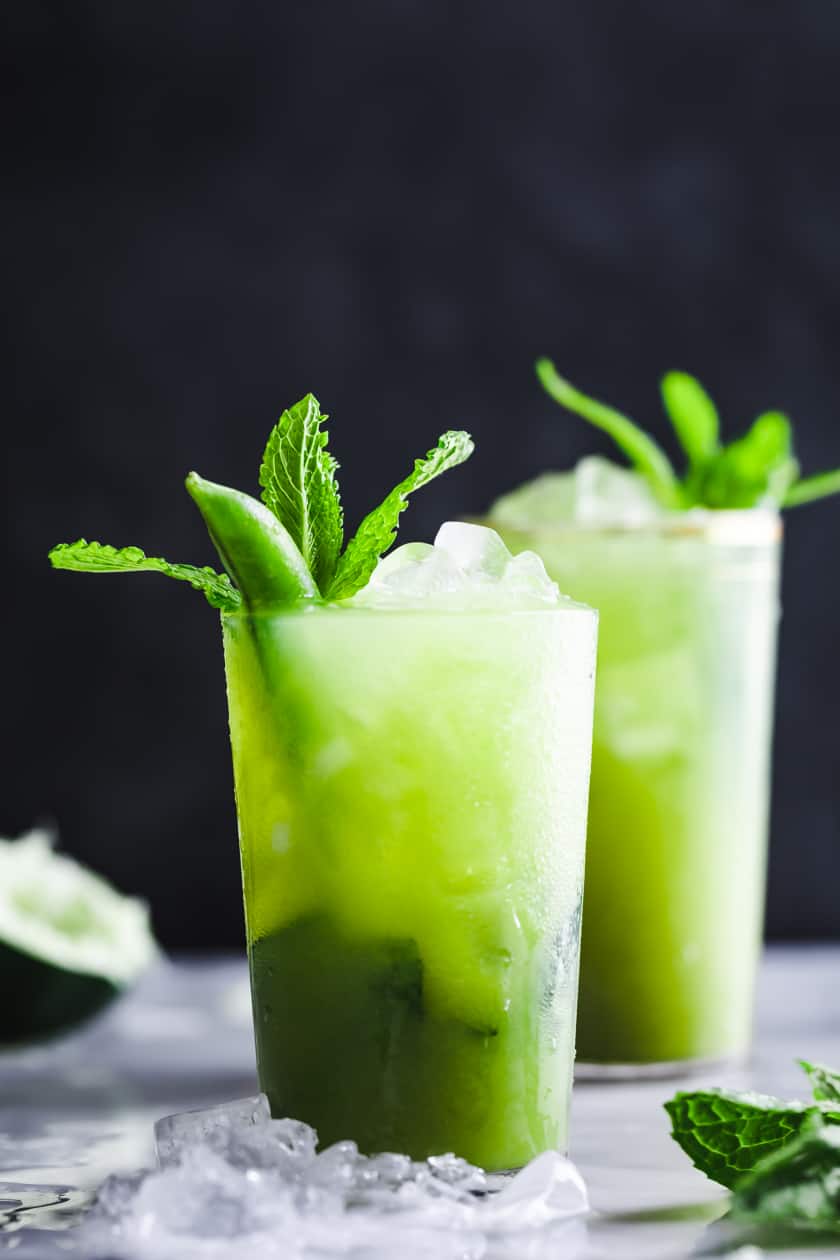 Sugar Snap Pea Mocktail Inspiration
This sugar snap pea mocktail is three years in the making. On a 2016 blogger retreat to Minneapolis organized by my good friends Amanda and Sherrie, we escaped the heatwave for a private cocktail tasting with Easy and Company. Our mixologist Erik stirred up a bright cocktail with homemade pea-infused liquor. He described how he soaked the peas in liquor for quite awhile to extract the flavor.
Thus began my obsession with making a pea mocktail. When I got back to California, I tried both warm infusing and cold infusing simple syrup with peas, neither of which turned out as bright as his liquor version.
Then last year at a dinner at Rich Table with Diamond Nuts, the pea-infused drink inspiration struck again. The chef paired each dish with a cocktail, and since I was pregnant, made a completely separate menu with custom homemade mocktails just for me (!!). The first glass was a bright green "Swee'Pea Mocktail" that I've been thinking about almost every day since.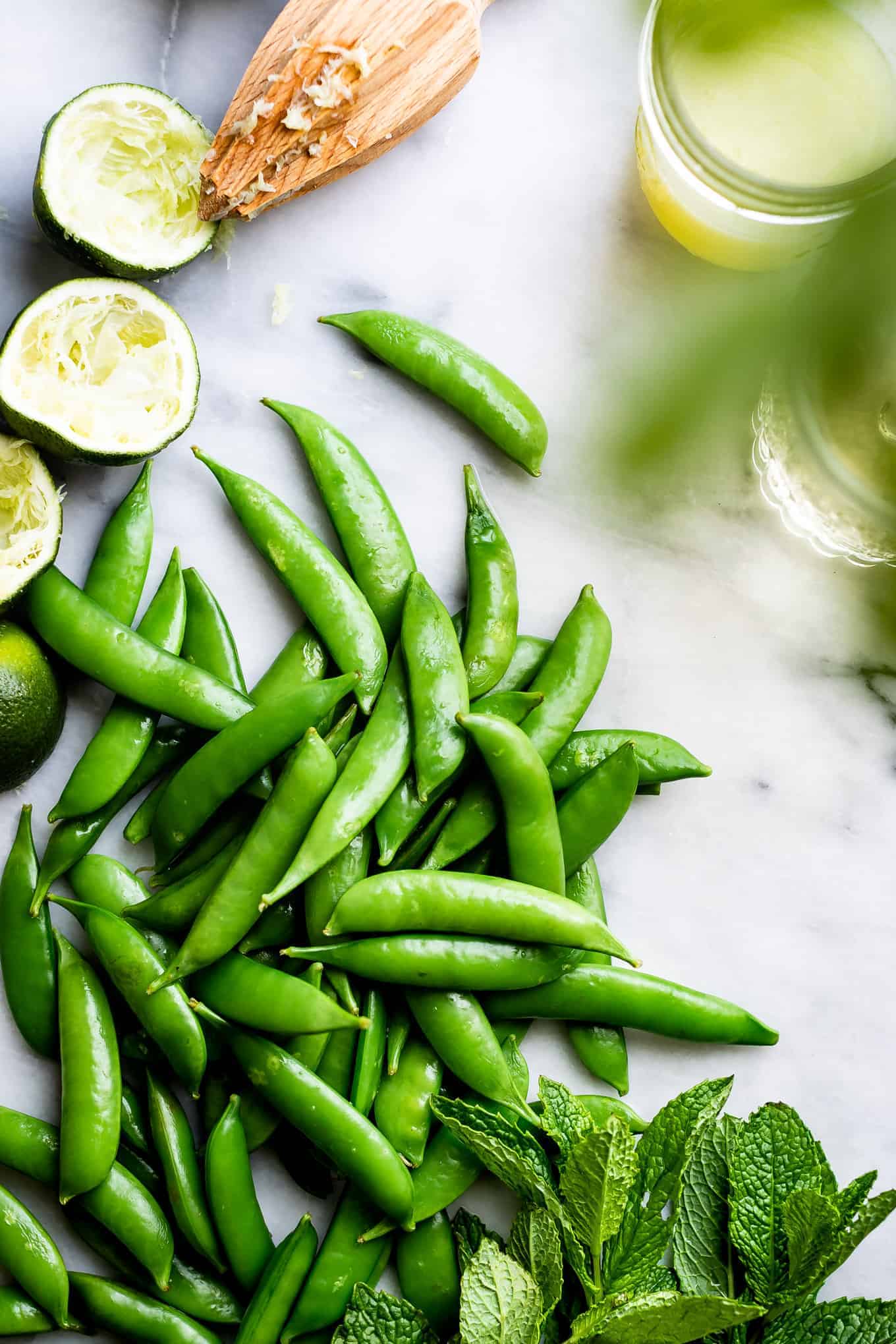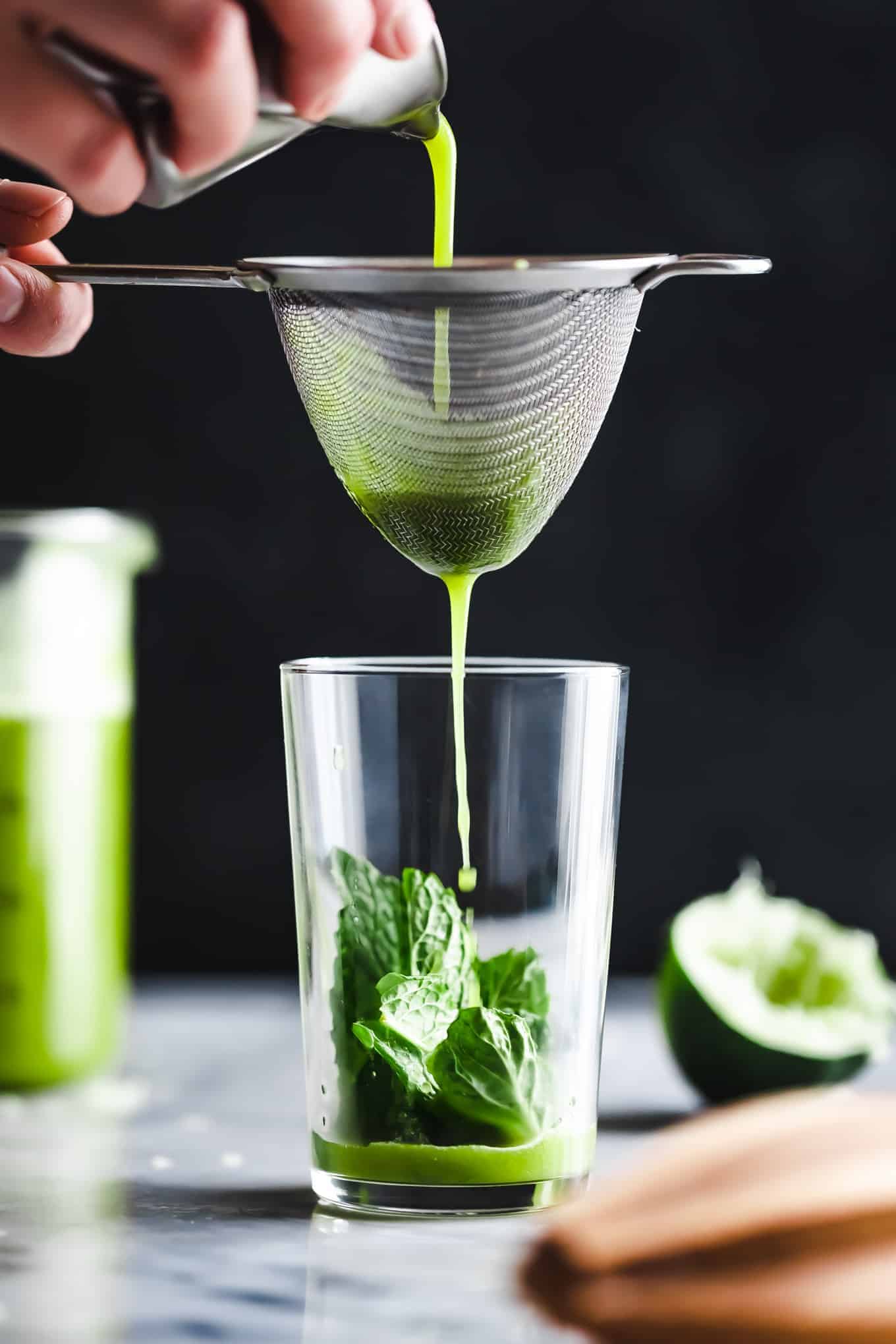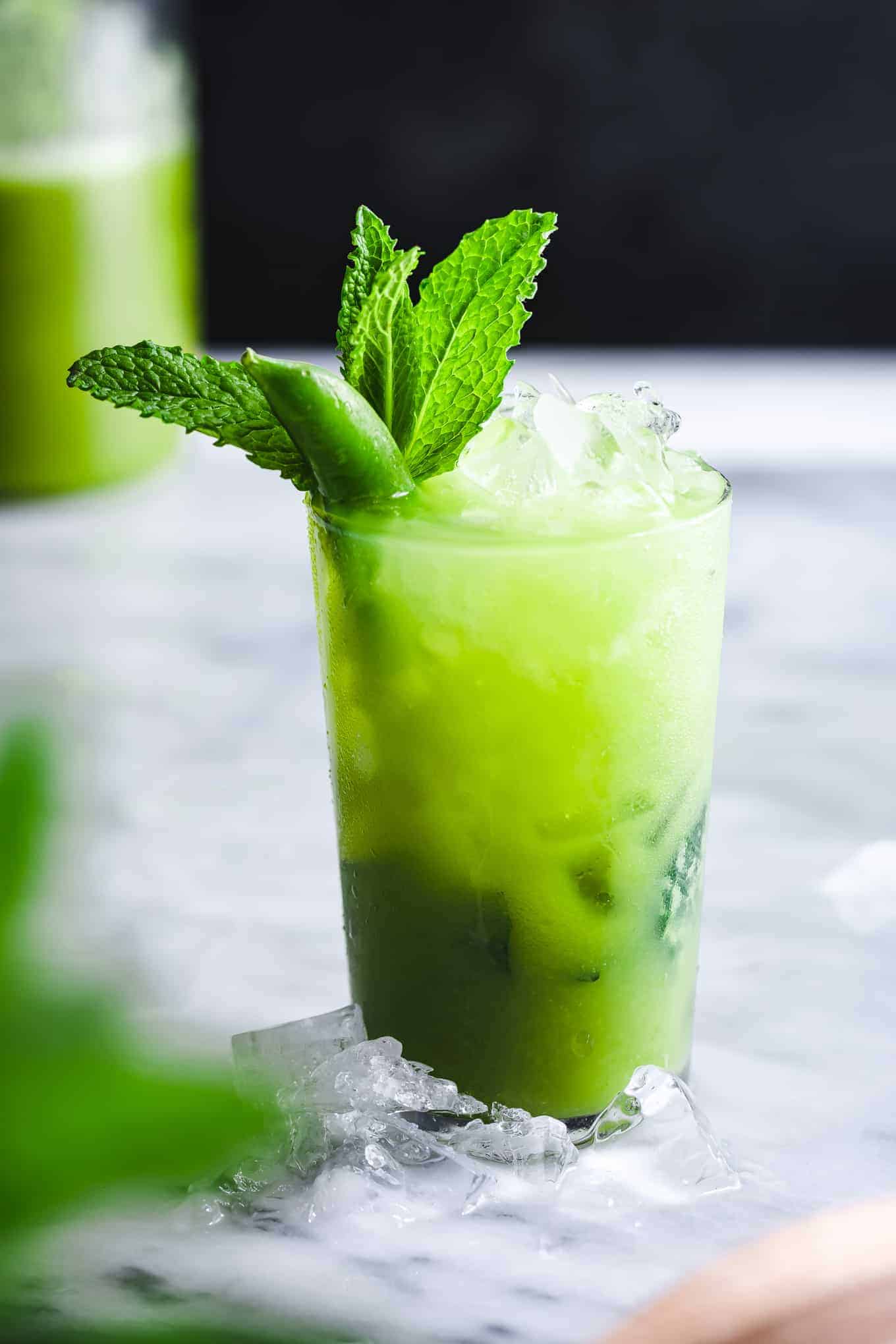 How to make a green mint mocktail
That's when it struck me to try blending up bright blanched sugar snap peas with simple syrup then straining it smooth. Almost like a DIY juicing without an actual juicer.
If you've got a blender, you can make this mocktail. No special juicer required. This method pulls out the vibrancy of their flavor so it's strong enough to carry through in the mocktail.
Sugar snap peas don't need to be cooked, and actually shine in flavor when fresh and crisp. For this mocktail, I blanched and shocked them very briefly for two reasons: first, to pull out the bright green color and second to soften them ever so slightly so I could blend them up smooth with the simple syrup.
Muddled up with mint, the sugar snap pea syrup makes a refreshgin springy mojito mocktail perfect for the season!
Sugar Snap Pea Virgin Mojito Recipe
The essence of this mocktail is a virgin mojito: mint, lime, simple syrup, sparkling water. A sugar snap pea simple syrup brightens the drink up for spring, making a unique and seasonal mocktail.
Sugar snap peas are all at once earthy with a bright naturally sweetness that perfectly balances out in a minty virgin mojito.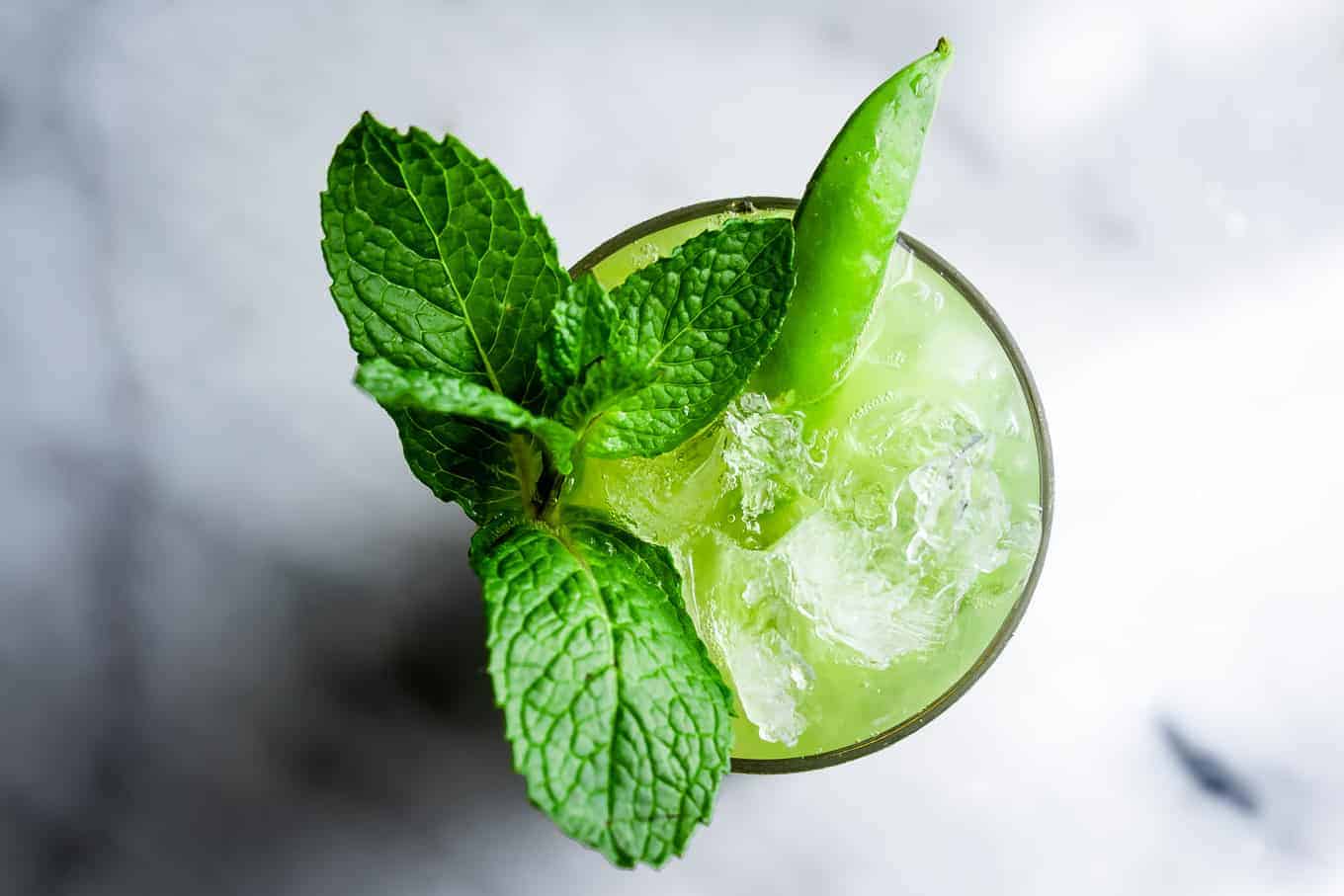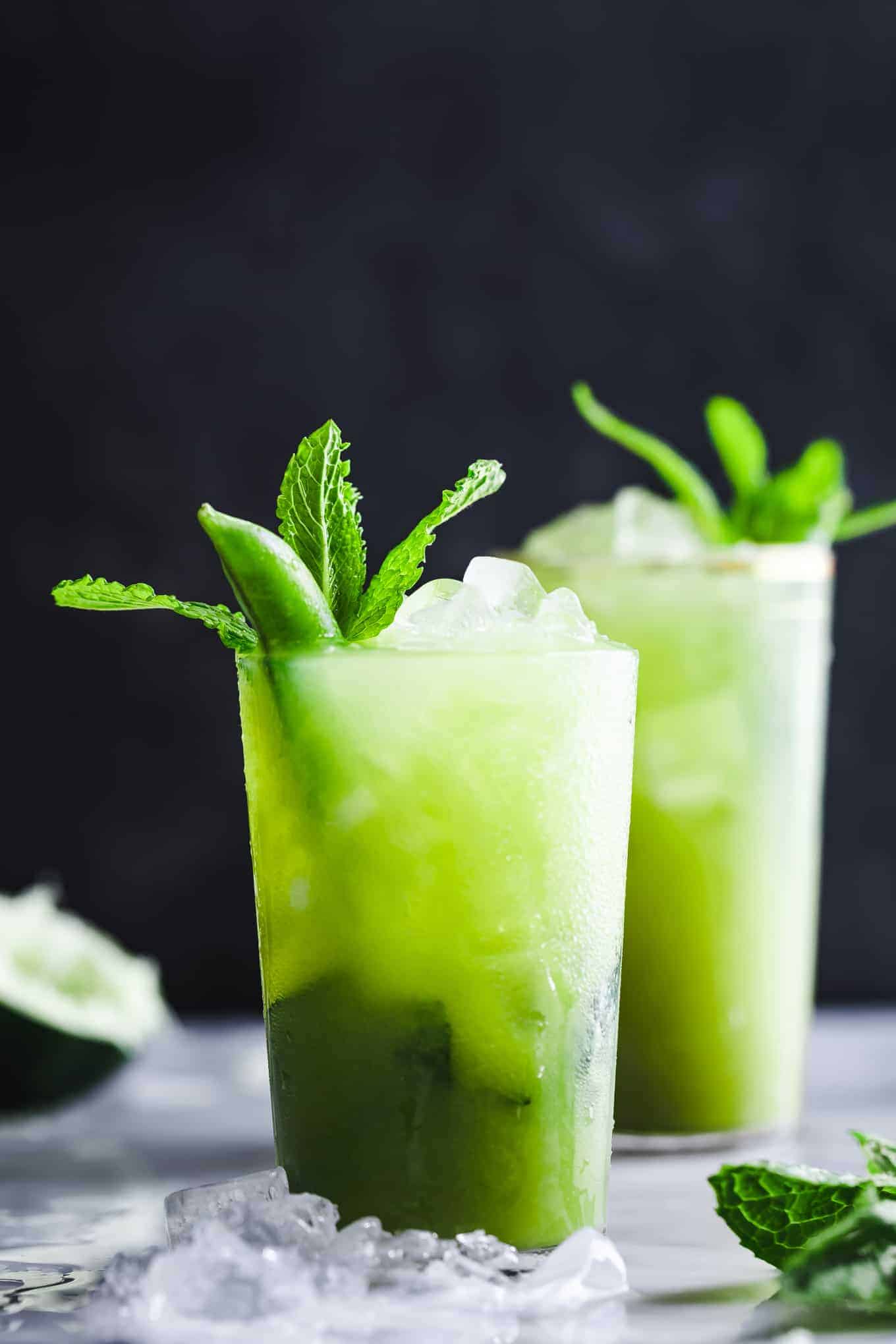 Adding Rum to make it a Mojito Cocktail
If rum is more your style, go ahead and mix in 1-2 ounces of white rum to make this a proper mojito cocktail before topping it off with sparkling water.
More refreshing drinks for spring and summer
Blackberry Hibiscus Spritzer with Tarragon
Lavender Earl Grey Blackberry Ice Cream Float
Hibiscus Ginger Ice Cream Float
Racy Strawberry French 75 Cocktail from Heartbeet Kitchen
Raspberry Chamomile Coconut Cream Soda from With Food + Love
White Nectarine Prosecco Sangria from The Bojon Gourmet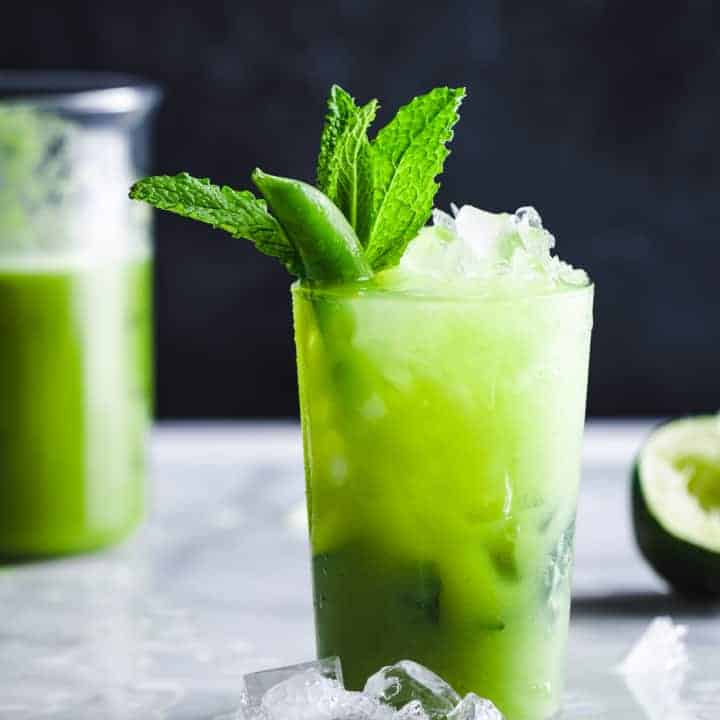 Sugar Snap Pea Mojito Mocktail
A fizzy sweet sugar snap pea mojito mocktail makes a refreshing drink for spring entertaining! Slightly sweet with bright herbaceous earthy notes. Add a little rum for grown ups!
Ingredients
Sugar Snap Pea Syrup
¾ cup water
¾ cup sugar
10oz sugar snap peas
½ cup fresh lime juice
Additional ingredients
A large bundle of fresh mint
1½ cups sparkling water
Ice
Each Drink
3 tablespoons sugar snap pea syrup
6 mint leaves
¼ cup sparkling water
Ice
Instructions
Make a quick simple syrup. Heat sugar and water in a small pot on the stove until the edges just begin to bubble and the sugar has completely dissolved. Remove from heat and transfer to a jar and chill completely. (Tip: Speed this up in a wide bowl in the freezer!)
Meanwhile, bring a large pot of water to boil. Prepare a medium bowl with an ice water bath and set near the stove. When the water is boiling, drop in the peas and blanch them for 1.5 to 2 minutes. Use a fine mesh sieve to quickly transfer the peas to the ice bath to shock them and cool completely.
Add the blanched and shocked peas to a high-powered blender or food processor along with the chilled simple syrup and lime juice. Blend until completely smooth. Press the puree through a fine mesh sieve and chill until ready to use.
To make each mocktail, muddle 6 mint leaves with a tablespoon of sugar snap pea syrup. Add remaining 2 tablespoons of syrup and fill the glass with ice. Top with ¼ cup sparkling water.
Notes
*To turn it into an acoholic mojito cocktail, add 1-2 ounces of white rum before topping it off with sparkling water.