Lusciously smooth jasmine pudding topped with a dollop of whipped cream and crunchy honeyed buckwheat. It tastes like a cup of jasmine milk tea with the subtle notes of jasmine pearls bursting through in a not-so-subtle way.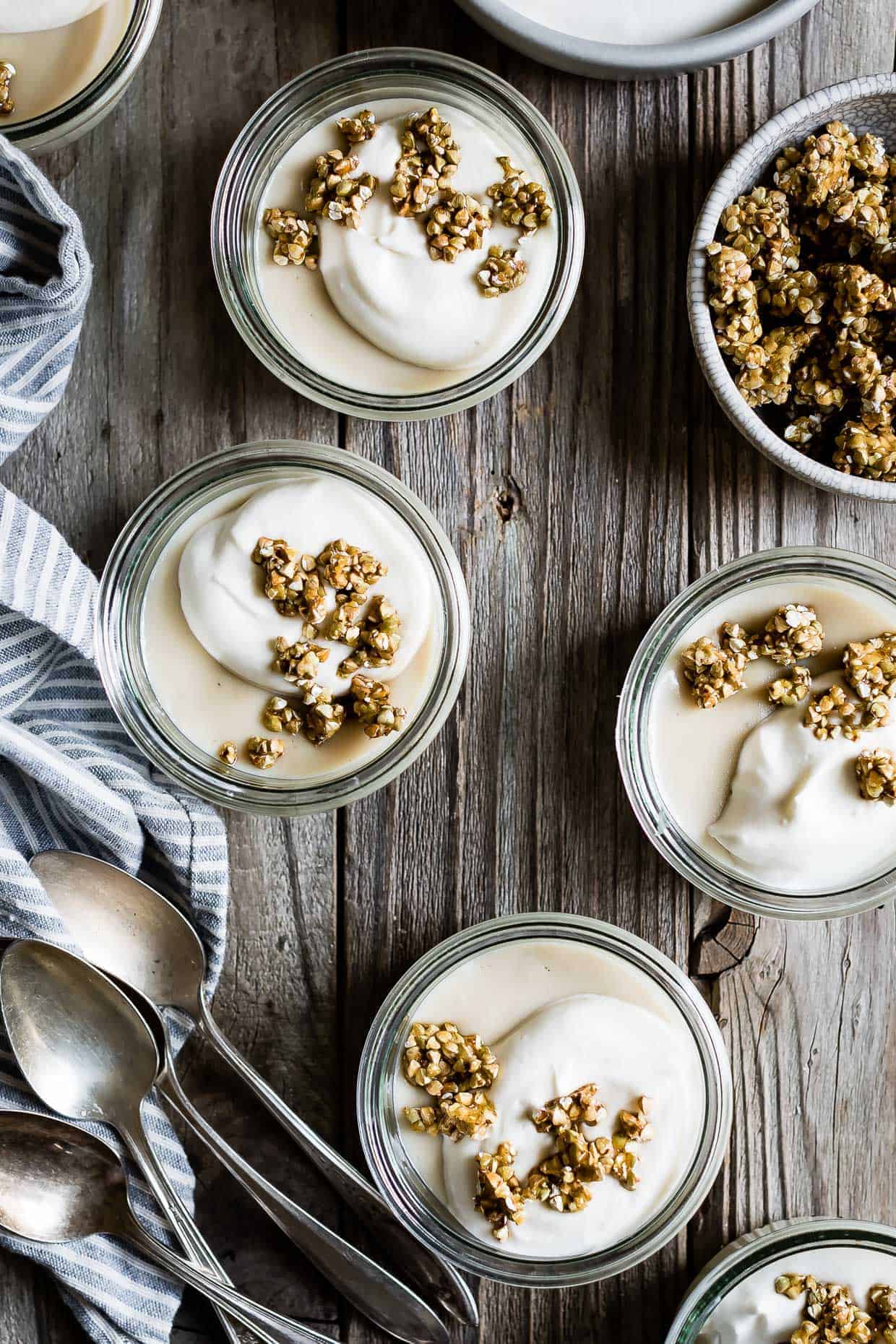 I had plans of getting this recipe up the day after Christmas. I also had planned for my kid to spend Christmas Eve with the extended family and open her gifts on Christmas morning, neither of which happened either. It all got wiped out with a nasty virus that we passed around the family with fevers, chills, coughs, and congestion for FIVE DAYS. The most miserable of us, though, was our almost two-year-old who just couldn't understand why this was happening to her or why we were in prompt care on Christmas Eve instead of sitting on Santa's lap as promised. Good thing she won't remember this Christmas and its ensuing ear infection.
So it's Saturday night and I'm finally sharing this jasmine pudding with honeyed buckwheat with you just in the nick of time for your NYE celebrations. It tastes just like jasmine milk tea and it's the most comforting luscious dessert I can think of right now.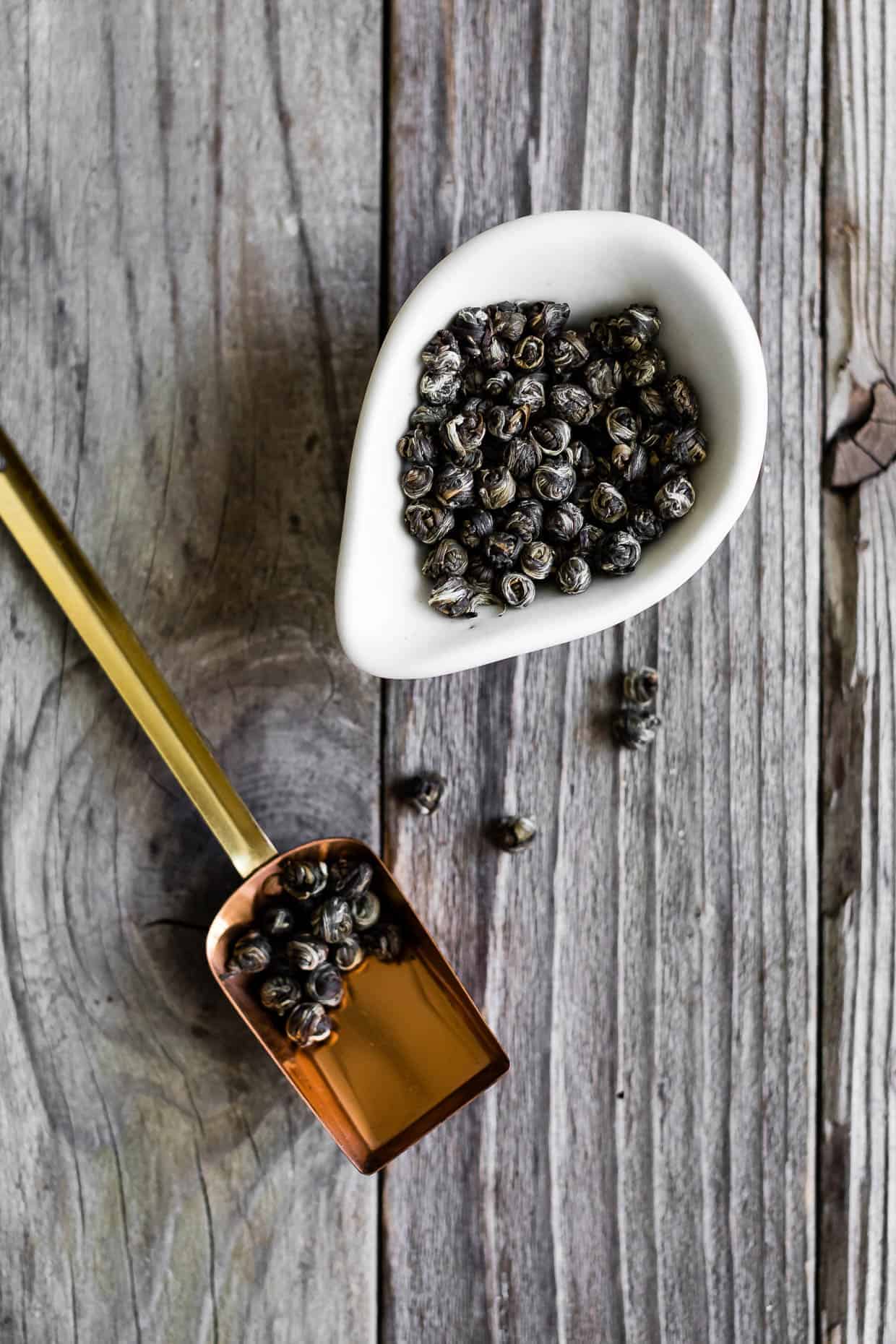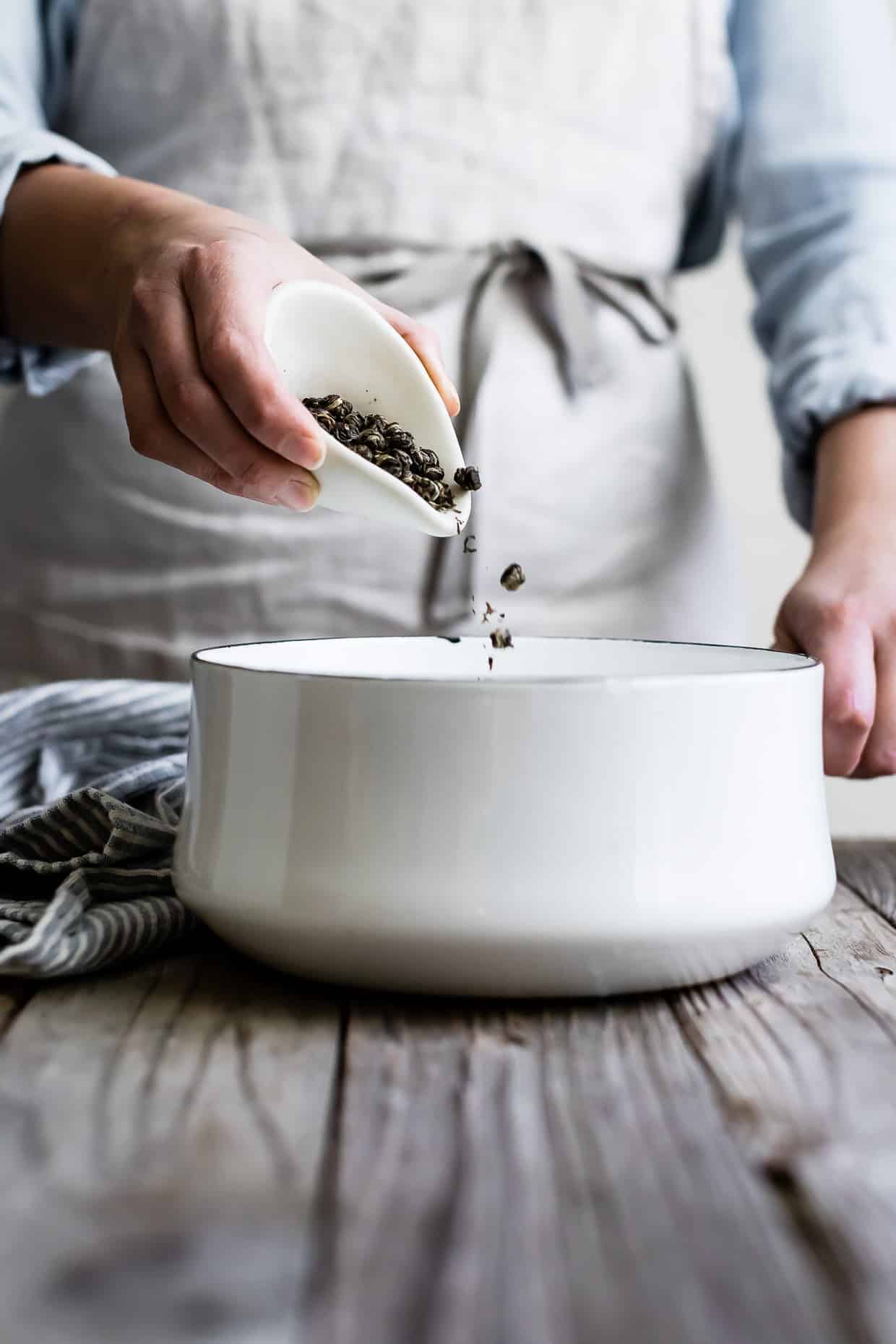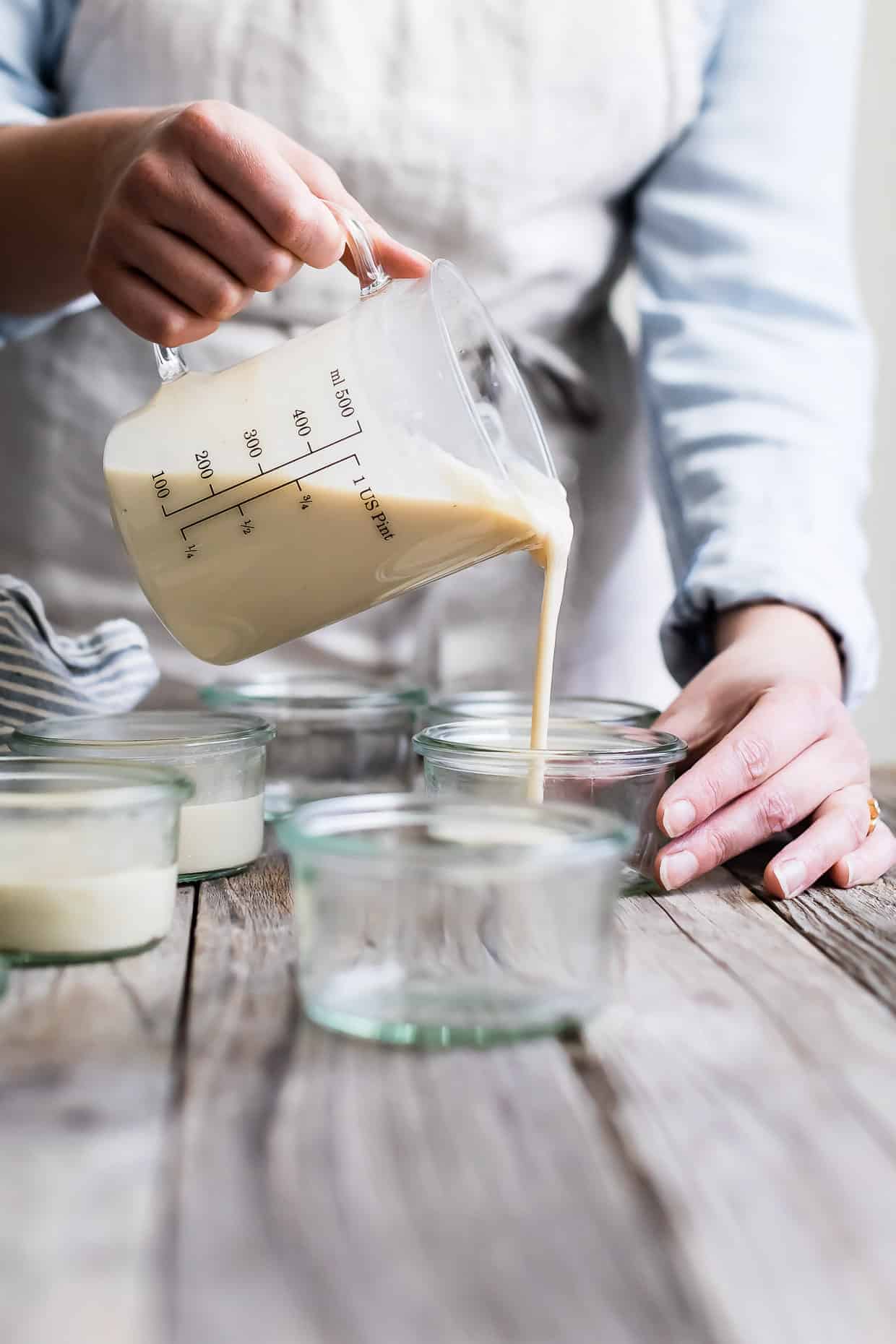 I've got another batch steeping on the stove toinght, ready for a low-key NYE game night with our neighbors. I would have also served it on Christmas, if my mom hadn't insisted no one likes pudding (she later back-pedaled on the dramatization of her statement, but, still, no pudding for her). She's wrong, though, right? Pudding rules, Mom.
I'm pretty confident there's no way anyone could not like this pudding (follow that double negative?). The texture of homemade pudding is so alluring and it's one of the easiest desserts you can make. Here I've infused the milk with jasmine tea pearls - and lots of them to let the subtlety of jasmine's notes shine through, which creates a pudding that's not subtle in flavor after all. Little honeyed bits of toasted buckwheat break things up with crunchy intrigue, but the topping's optional and pudding delicious with or without.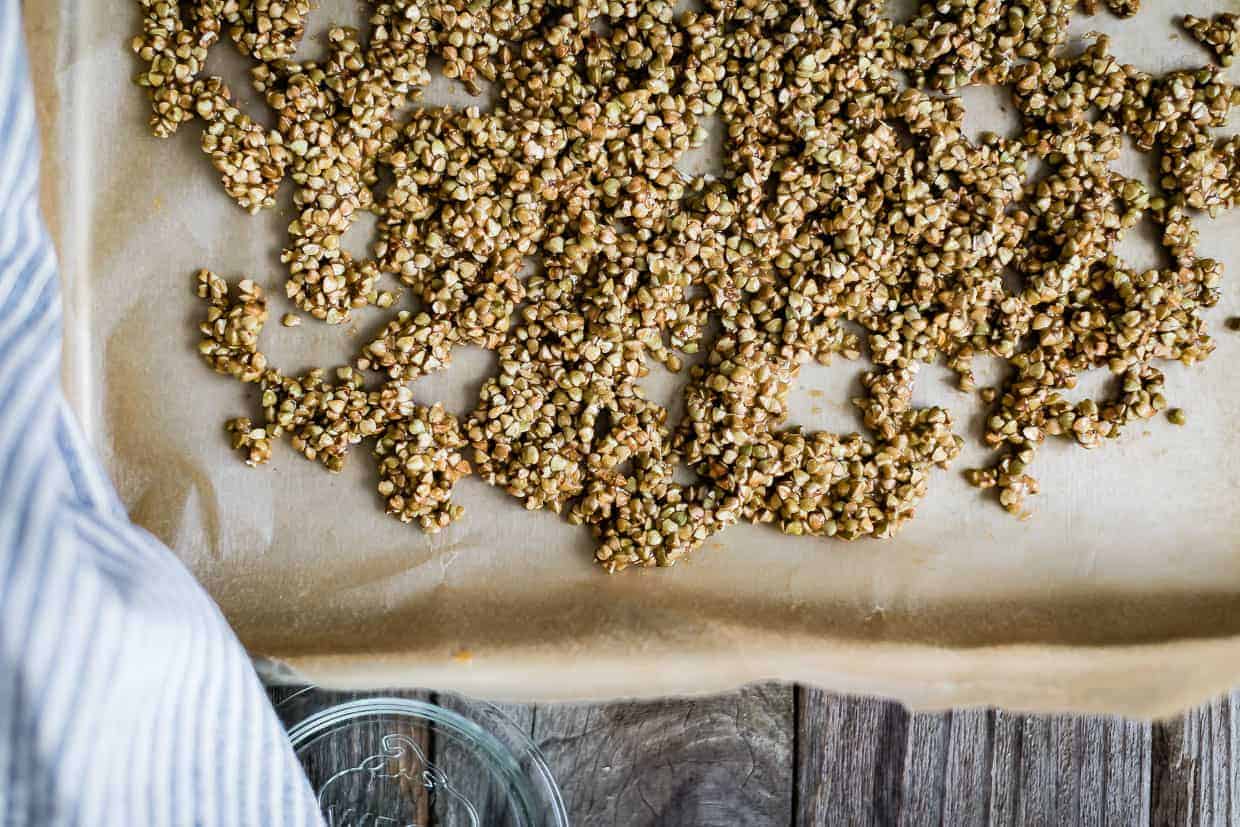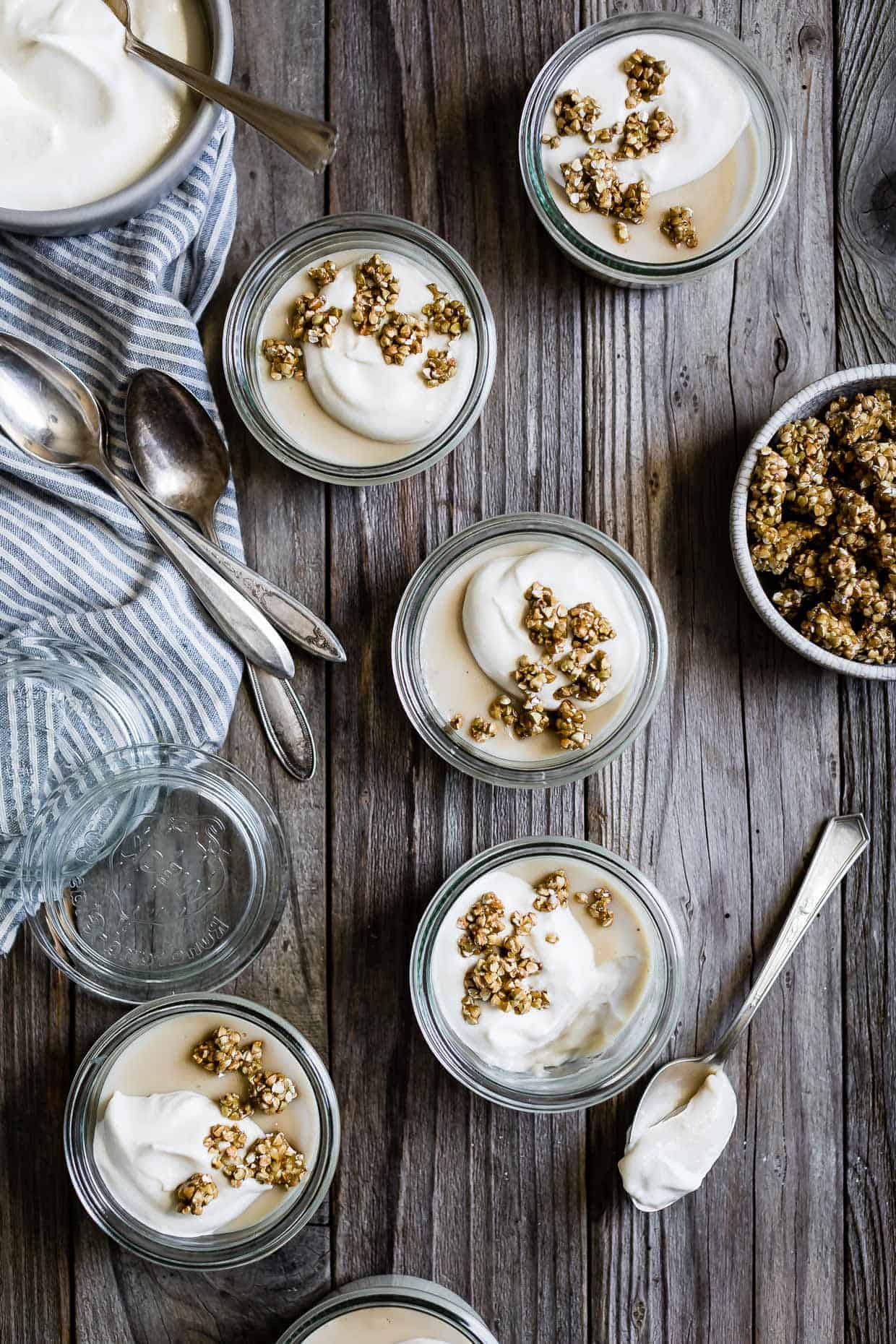 My girlfriend Carla turned me onto jasmine milk tea - her regular order when we get together for weekly boba...delivery (we have issues). So I turned it into this jasmine pudding in her honor to make up for her delivery order going south the last time we got boba delivery at my place.
You see, we've got a large full-length front porch window that our couch butts up against. It's great for observing the comings and goings, but it also has major down sides. Like when I'm laying under a blanket on my couch without pants on and someone rings the doorbell. There's no way for me to get up without whoever seeing I'm not wearing pants but there's also no way for me to ignore the doorbell because they can see me laying on the couch. What do you do??
It's similarly awkward when Carla and I are chatting on the couch and inadvertently see the Postmates delivery gal drop our order SPLAT in the middle of my walkway about 5 feet from the front window. What do you do?! Look, but don't look? Ignore? Open the door only to unintentionally make her feel embarrassed? There's no right answer here, except, maybe, make Carla answer the door because she's much better in those kinds of situations.
And then make up for it with jasmine pudding! Hope your NYE celebrations are as delicious as fancy pudding!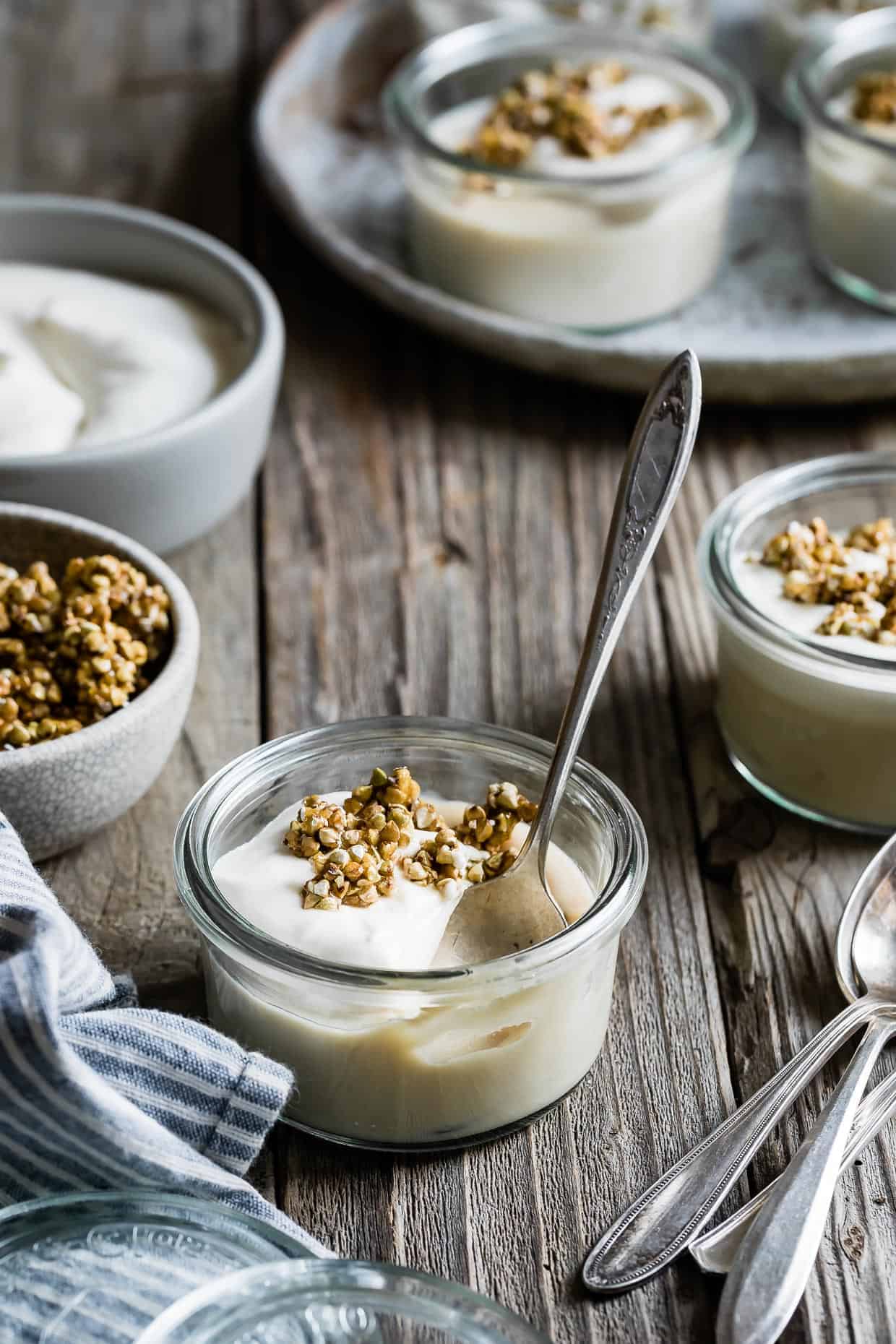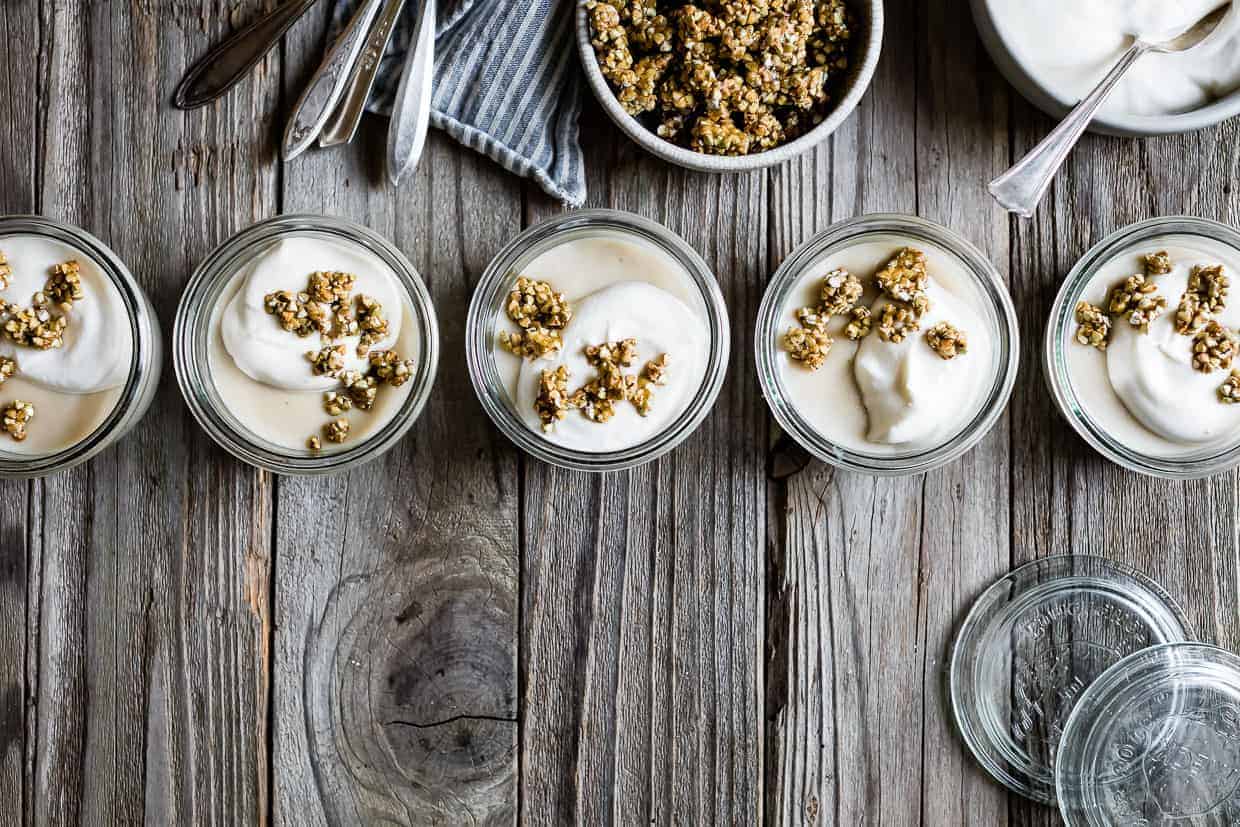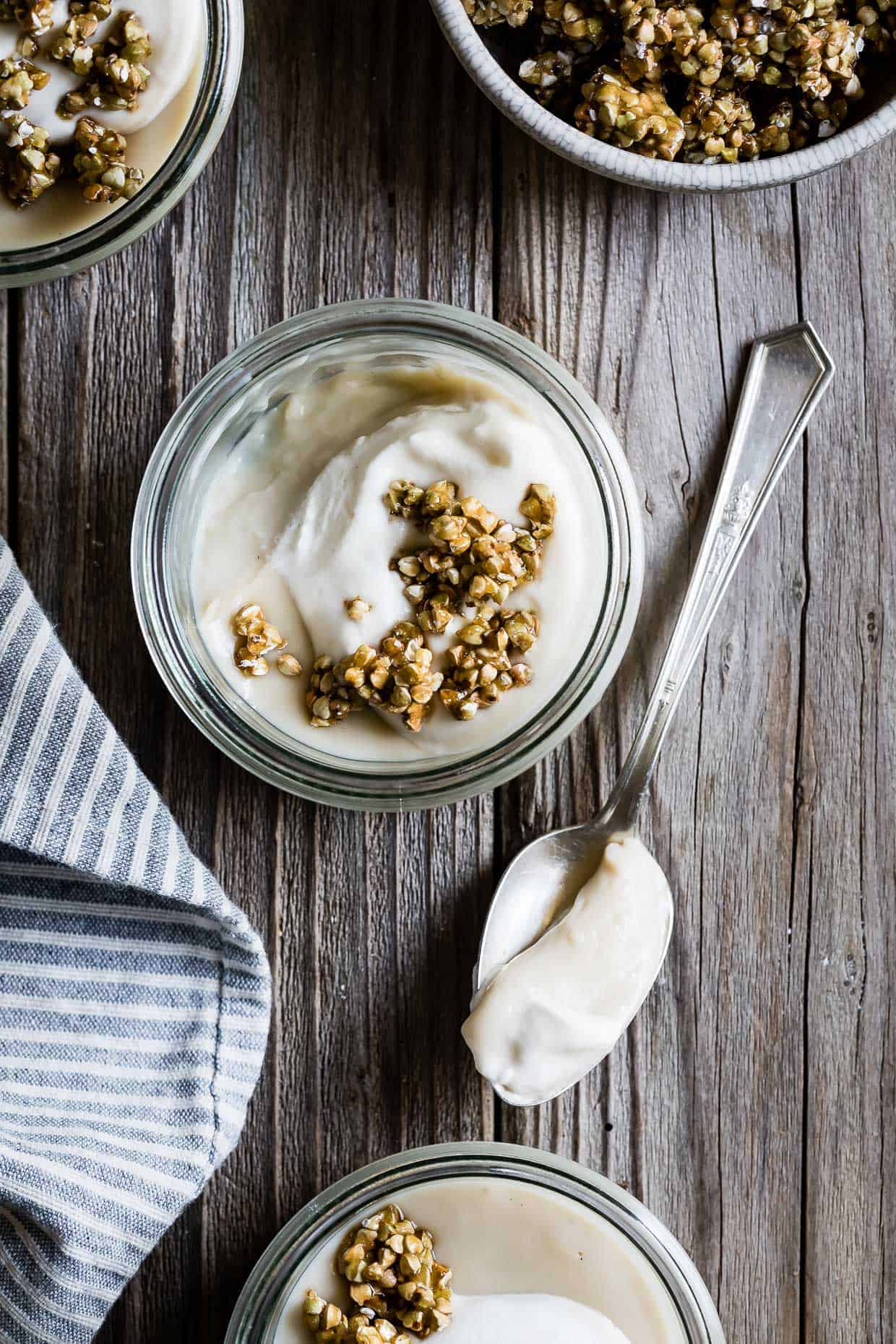 Thanks for reading Snixy Kitchen! To stay up on what's coming out of my kitchen,  follow me on Facebook, Instagram, Twitter, Bloglovin', or Pinterest, or subscribe via e-mail to get new recipes right to your inbox.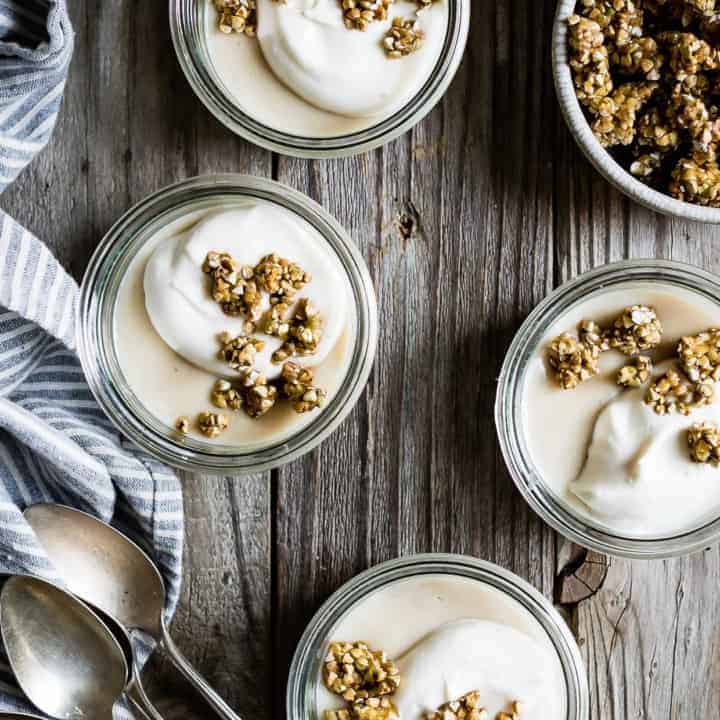 Jasmine Pudding with Honeyed Buckwheat
Ingredients
Jasmine Pudding
2½ cups whole milk
3 tablespoons loose-leaf jasmine pearls (or tea from jasmine tea bags)
¼ cup + 2 tablespoons heavy whipping cream, plus more for serving
2½ tablespoons corn starch
½ cup cane sugar
1 tablespoon honey
¼ teaspoon kosher salt
Optional: ¼ cup powdered sugar, for whipped cream topping
Honeyed Buckwheat
2 tablespoons brown sugar
2½ tablespoons honey
Pinch kosher salt
Pinch baking soda
Instructions
Jasmine Pudding
Set out 6 small 4 to 6-ounce ramekins, jars, or bowls.
In a medium pot over medium-low heat, warm the milk and jasmine pearls until hot and just beginning to simmer, but not boil. Remove from heat, cover, and let steep for 20 minutes.
Meanwhile, whisk together the heavy cream and corn starch into a smooth slurry.
When milk has steeped, strain the milk through a fine mesh sieve into a bowl, pressing the leaves to get as much of the liquid out as possible.
Return the milk to the pot and whisk in the cream mixture, sugar, honey, and salt.
Over medium heat, cook, whisking constantly, making sure to scrape the edges and bottom of the pot, until it begins to boil (if you stop whisking for a second, you'll see large bubbles pop up). Continue cooking for 1 minute just to thicken to the texture of a thin yogurt (if you cook it too long, it'll set up very gelatinously). Remove from heat and strain it through a fine mesh sieve into a liquid measuring cup with a spout. Pour the pudding between the pudding cups, cover, and chill for at least 2 hours.
Meanwhile, prepare the honeyed buckwheat. Line a small baking sheet with parchment paper and keep nearby.
In a medium skillet over medium-low heat, toast the buckwheat, stirring constantly, until fragrant and beginning to look toasted, about 4 minutes. Transfer to a heat-proof bowl and set aside.
In a small saucepan, bring brown sugar and honey to boil over medium heat, stirring occasionally. Continue cooking, stirring, for 2-3 minutes until it foams up and subsides into a dark fragrant syrup, but does not burn.
Add the baking soda and salt and add the toasted buckwheat to the pan, stirring quickly to thoroughly coat the buckwheat. Spread the mixture onto the prepared baking sheet to cool completely. Once cool, break into pieces to serve.
If desired, whip up ½ cup heavy whipping cream until soft peaks are starting form. Add sifted powdered sugar and whip just a little longer until the cream holds soft peaks. Chill, covered, until ready to serve.
Serve pudding chilled with a dollop of whipped cream, if desired, and a sprinkle of honeyed buckwheat.