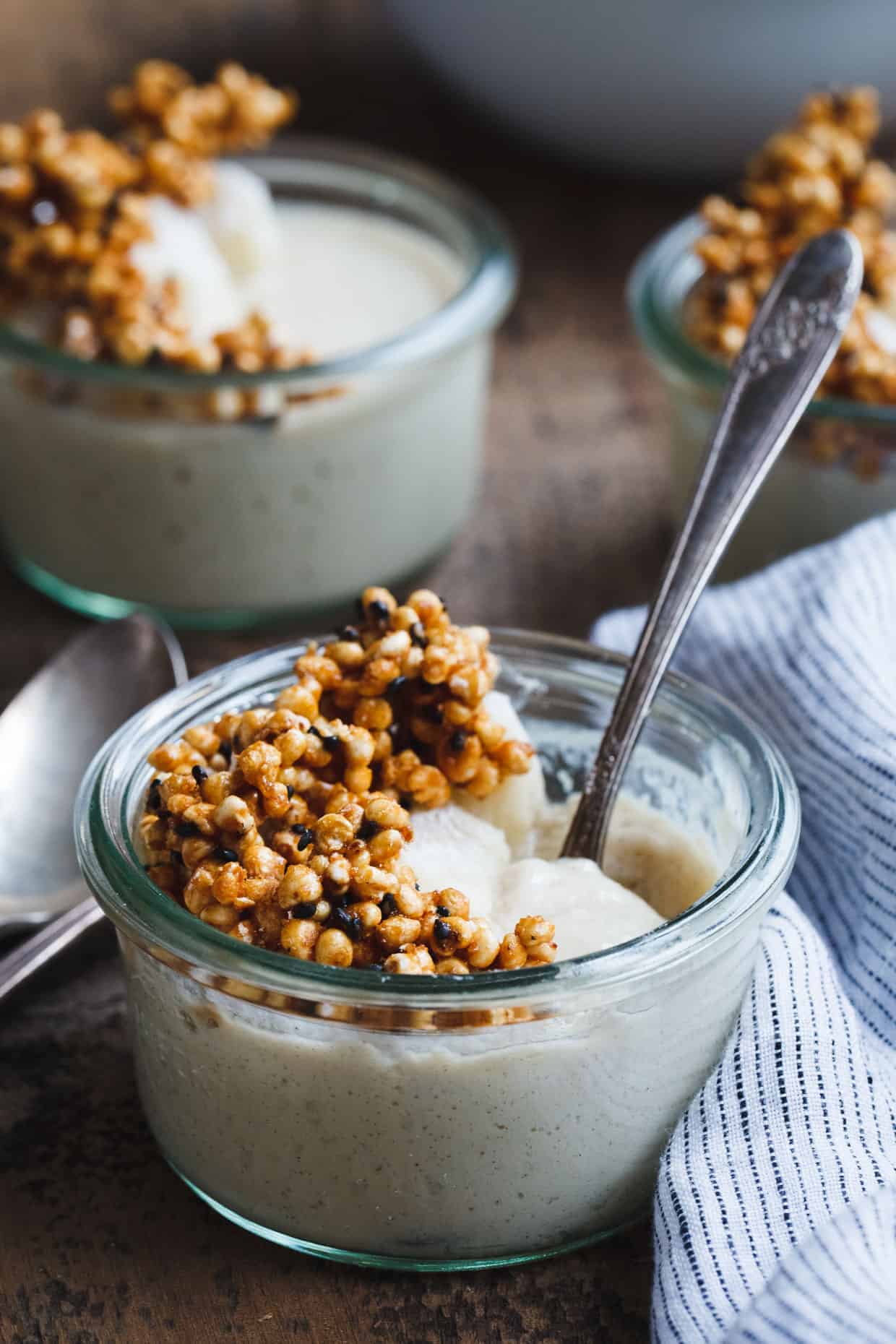 WAIT! Before you snub this RIDICULOUSLY long title, you need to know two things: 1. This pudding is as easy as the title is long (ie. ridiculously easy), and 2. You don't have to make all three parts to have a delicious dessert - each one is a star on its own. Whip up the creamy ginger tofu pudding and shovel it into your mouth...OR make this 3 minute soy milk mochi and chow down...OR bake some kinako black sesame puffed millet crumble and snack on it like caramel corn. Don't have kinako (roasted soy bean flour)? No problem - just leave it out! Can't find puffed millet? Use rice krispies instead!
OR, if you're feeling fancy (or, in my case, if you're trying to win a soy & tofu dessert competition)...make all three!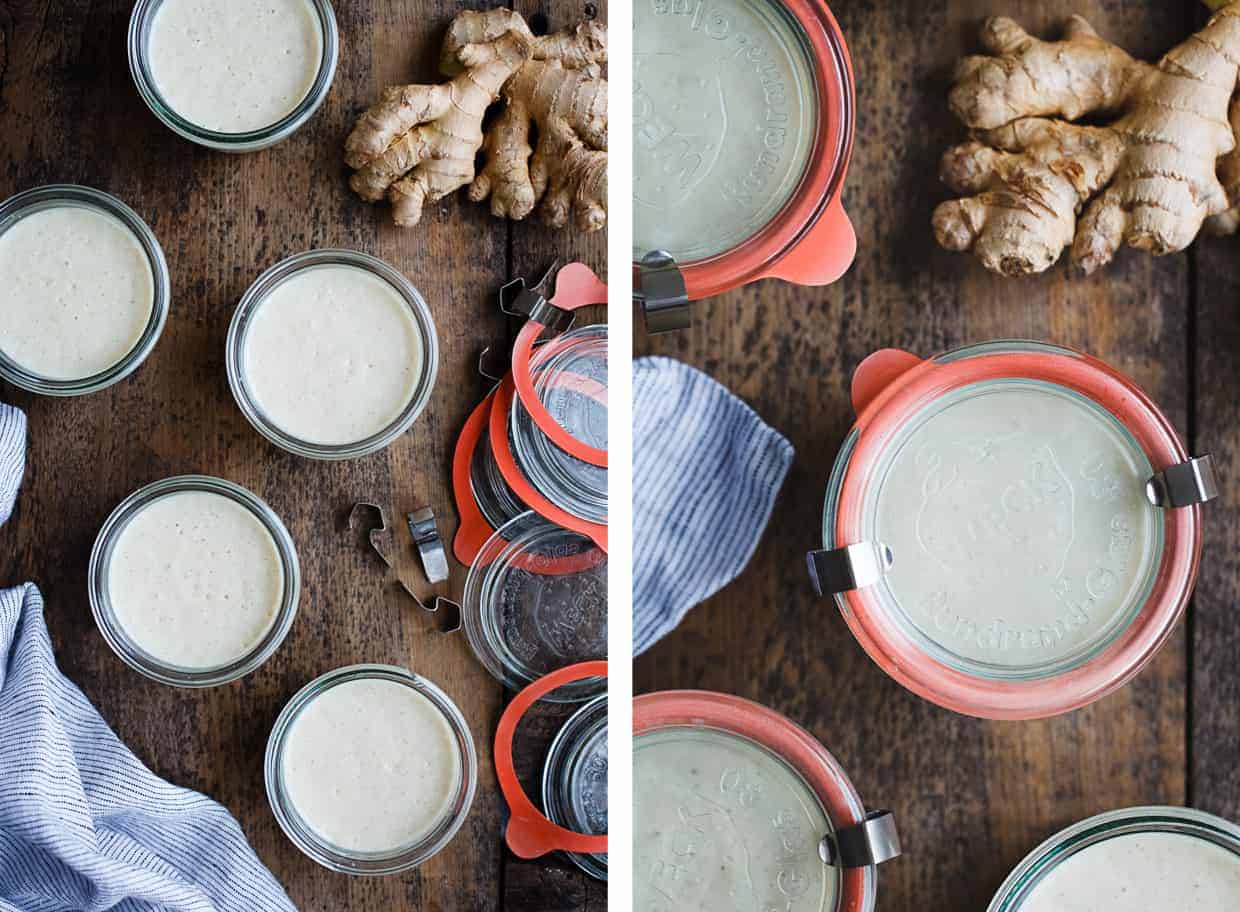 My soy dessert trifecta was a semi-finalist in the 2015 Soy & Tofu Dessert Competition earlier this year (yup - that's an SF Japantown thing). An unfortunately timed bridge closure on the day of the semi-finals meant about half of the judges got stuck in traffic and their judging coins were given to all the kids. Spicy ginger pudding is not a fan-favorite among those under the age of 10 it turns out. GO FIGURE.
For the more refined adult palate, this ginger tofu pudding with soy milk mochi & kinako black sesame puffed millet crumble is a winner.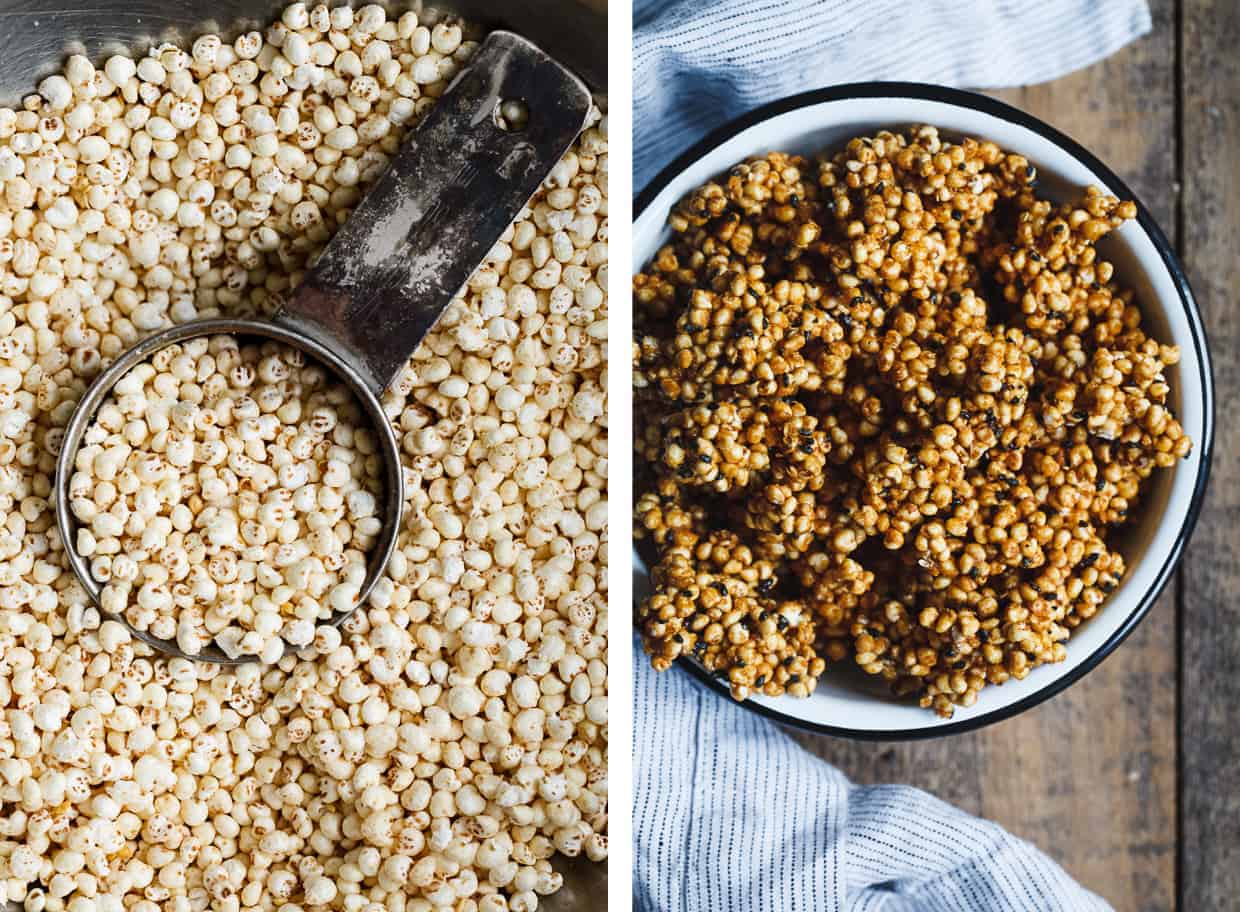 Let's break it down. Kinako is a roasted soybean flour used often as a sprinkling in Japanese desserts, often mochi. It tastes a bit like roasted peanut flour, but sweeter and more complex. Learn more about kinako, how it's used, and where to buy it from Judy Ung on The Spruce Eats.
When we visited Japan, our friends sent us home with a bag of kinako and I fell in love. Here I've added it to a puffed millet crumble along with black sesame, another flavor used in Japanese desserts, and tossed it over mochi and ginger pudding.
I first made this mochi and kinako black sesame puffed millet crumble as the topping for a pine nut pudding at the Alternative Flours Feastly meal Phi and I hosted last February. The combination of creamy pudding, crunchy crumble, and chewy mochi textures tugged at my heartstrings.
Per the diners' requests, we plopped a bowl of the leftover puffed millet crumble in the center of the table and it quickly disappeared.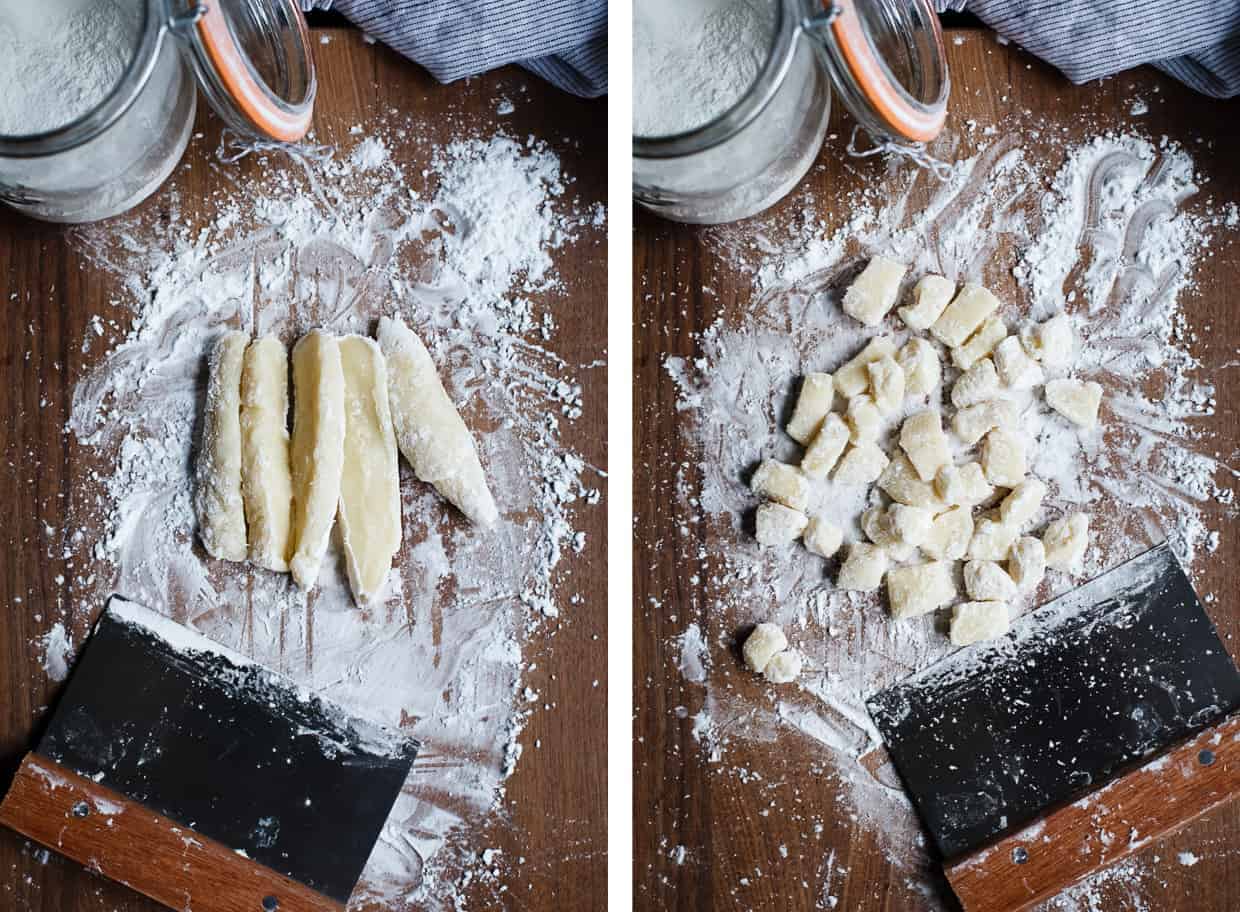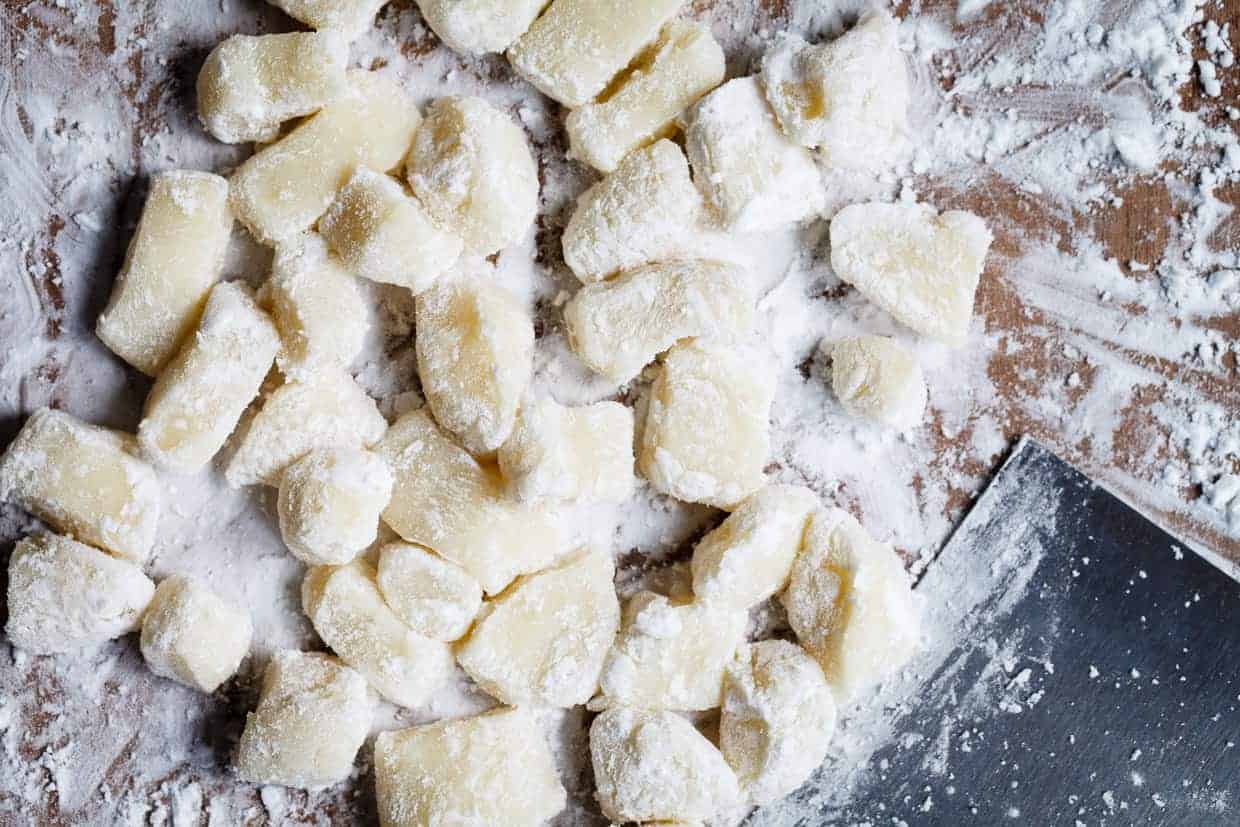 This version is simultaneously vegan, gluten-free, and made with mostly TOFU. Whether you're planning to make it tonight or bookmarking it for later - it's a dessert that's indulgent and fancy enough to ring in the New Year, while still falling nicely within any New Year's healthy-eating resolutions.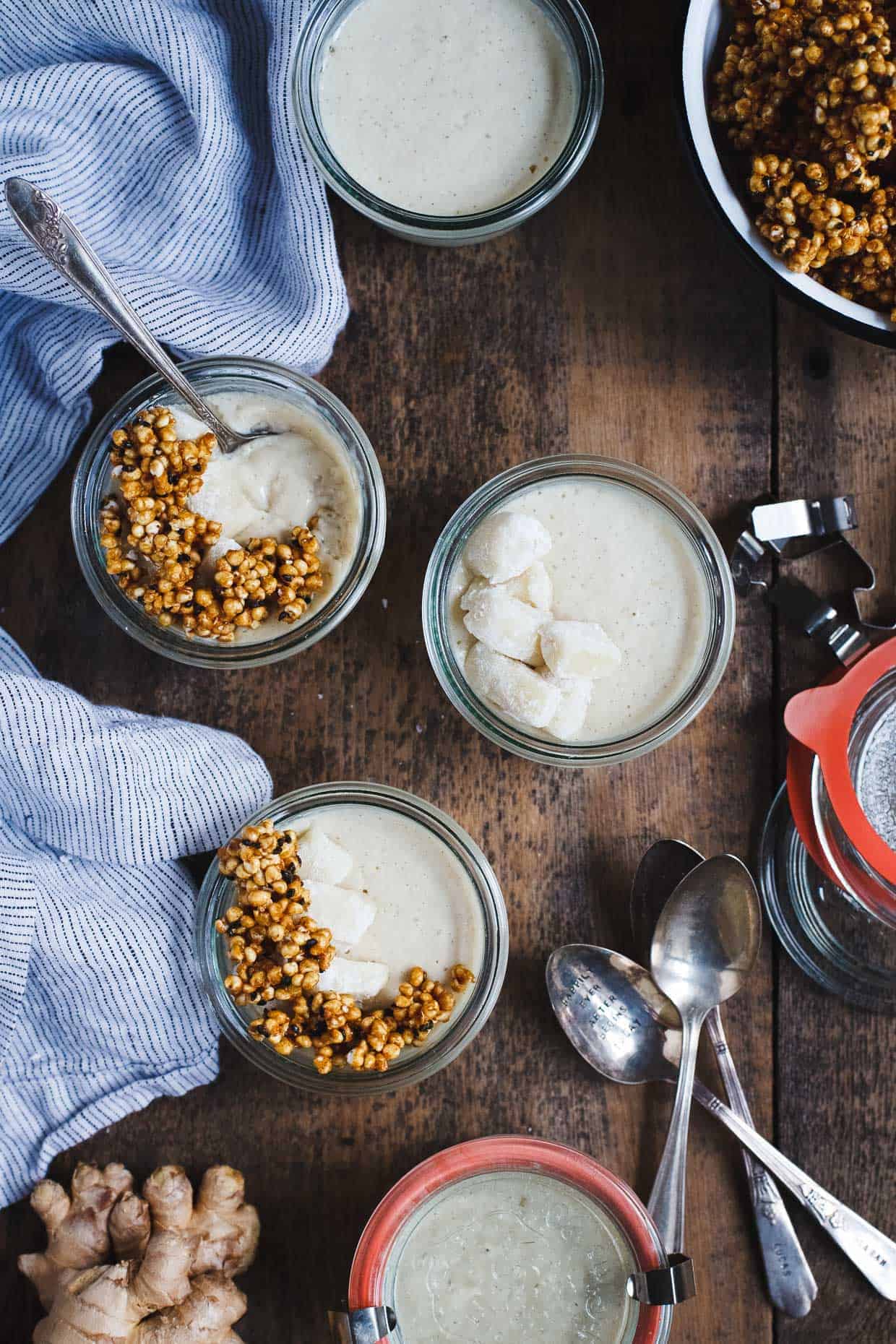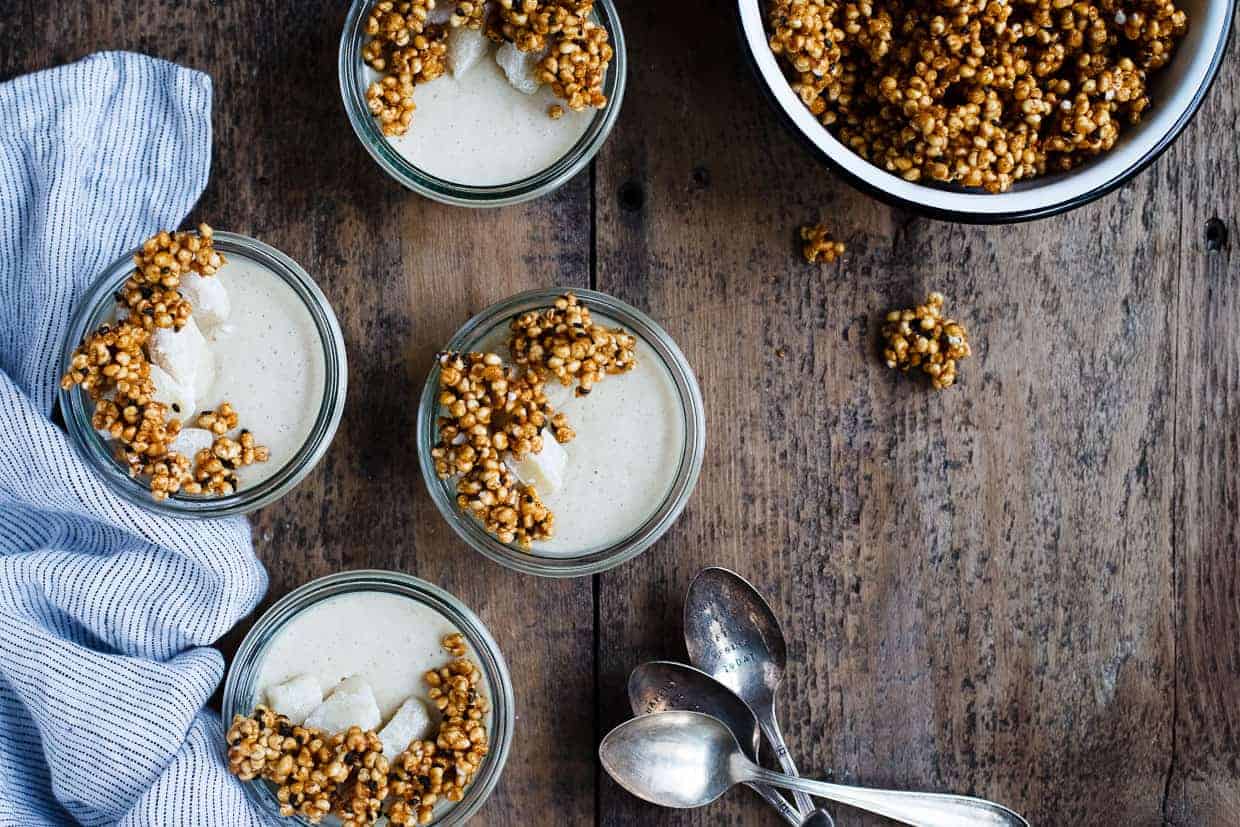 Speaking of the New Year - I want to reflect on this past year. At the end of last year, I predicted (and panicked) that 2015 would bring big changes, but I could not have expected all that came with it!
I filed my dissertation and graduated with my PhD in Math Education (and celebrated with ice cream!).
We got pregnant and found out we're adding a #cheesebabygirl to our little family...in a month OMG.
Lucas started a new job at a design firm in the city (AND got promoted in just 6 months).
I got a job(s?). I still haven't figured out how to define what I do when people ask, but in 2015 I've: worked closely with brands on sponsored blog content; made a small business designing websites, graphics, and media materials for over 25 bloggers; grew a partnership with Alanna doing food styling, photography, videography for different companies and brands; and developed curriculum and training for Education grants and Ed Tech companies. Maybe I should just say: "Chaotic Freelancer."
We bought a frickin' house! (But haven't unpacked yet. Sorry, baby girl, your room is still filled with boxes).
Updates from last year:

My sister-in-law-to-be released her second HarperCollin's young adult fiction novel yesterday: What's Broken Between Us. I plan to finish reading it while nursing the new babe (optimistic?) and you should get a copy too!
I've continued to meet more inspiring folks and learn even more from all the incredible and loving friends I've made online and off through the blogosphere (and who have kept this little space alive, even when I've been too busy or too nauseous/tired or too busy again to fully reciprocate). I thought last year was pretty special, but this year has shown me just how strong a community blogging brings. From the bottom of my sugar-filled heart: THANK YOU!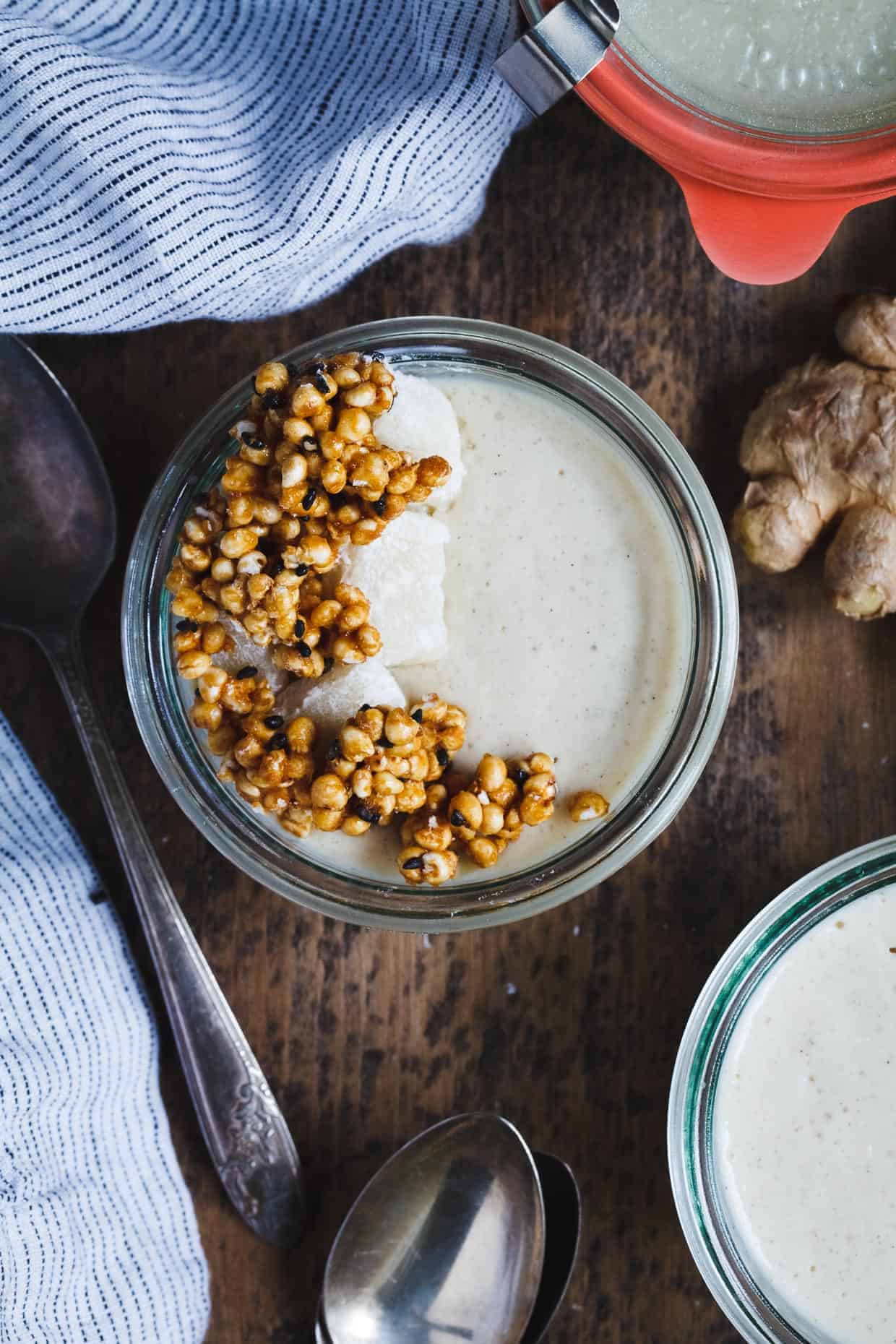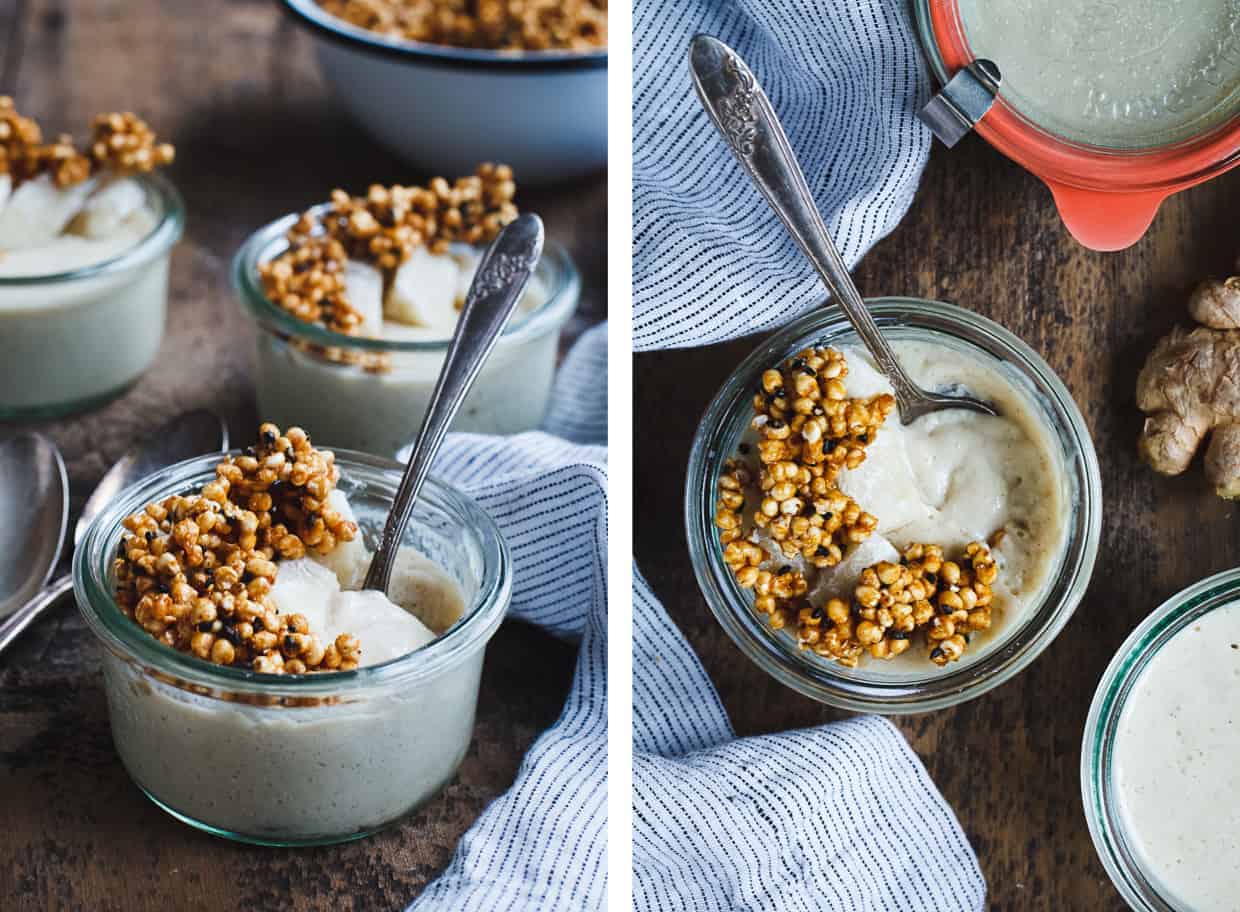 While there's no doubt 2016 will bring even more milestones, I think it's safe to say we became real-life grown-ups in 2015.
Classy grown-ups who love ginger tofu pudding.
Wishing you all a wonderful New Year! Here's to 2016!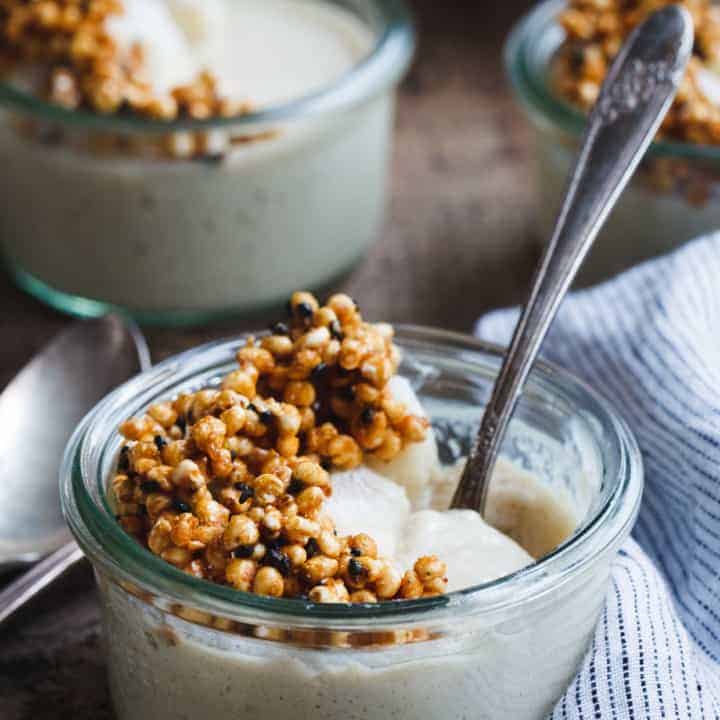 Ginger Tofu Pudding with Soy Milk Mochi & Kinako Black Sesame Puffed Millet Crumble
Ingredients
Ginger tofu pudding
2 tablespoons coconut cream
210ml (¾ cup + 2 tablespoons) water, divided
1⁄2 cup + 2 tablespoons raw turbinado sugar
1½ tablespoons freshly grated peeled ginger
1 vanilla bean, split lengthwise and scraped
14 ounces silken tofu
Optional: Soy Milk mochi (recipe below)
Optional: Kinako black sesame puffed millet crumble (recipe below)
Soy milk mochi
75ml (⅓ cup) unsweetened soy milk
1 tablespoon sugar
2-3 tablespoons potato starch or tapioca starch for rolling out mochi
Kinako black sesame puffed millet crumble
1⁄4 cup packed dark brown sugar
2 tablespoons unsalted butter
1 tablespoon black sesame seeds
1 tablespoon + 1 teaspoon honey
1 pinch baking soda
1 pinch salt
Instructions
Ginger tofu pudding
Add the coconut cream to a high-speed blender.
Mix together 1 tablespoon of agar agar flakes with 60ml (or 1⁄4 cup) of water in a small saucepan over no heat, and let sit for 5 minutes while it softens.
Bring the mixture to boil over medium heat. Reduce heat to low and let simmer, whisking until flakes dissolve and mixture begins to thicken, about 8 minutes. Remove from heat and pour into the blender with the coconut cream, using a spatula to scrape the sides of the saucepan.
Meanwhile, warm sugar, remaining 150ml (or 1⁄2 cup and 2 tablespoons) of water, freshly grated ginger, and vanilla bean scrapings and pod in a medium pot over medium low heat, stirring occasionally, until the sugar dissolves, about 4-5 minutes. Discard the vanilla bean pod. Remove from heat and pour into the blender, using a spatula to scrape the sides of the pot.
Add the tofu and sweet rice flour to the blender and blend on high speed until silky and smooth.
Pour 8 pudding cups into serving cups. Slam cups on the table to remove any air bubbles and refrigerate for at least 2 hours.
When ready to serve, top with freshly made soy milk mochi, and kinako black sesame puffed millet crumble (recipes below).
Soy milk mochi
Prepare a pastry or cutting board by sprinkling potato starch evenly over the top. Set aside.
Combine the sweet rice flour, soy milk, and sugar in a microwave safe glass bowl and mix until it is completely smooth.
Cover the bowl lightly with a microwave safe lid, plastic wrap, or a paper plate. Microwave on high for 1 minute, then use a wet spatula to stir the mochi so it cooks evenly. Replace the plastic wrap and microwave for 30 seconds. Depending on your microwave and the type of bowl you used, you might need to cook for another 30 seconds, until the mochi is cooked through and slightly translucent.
With the wet spatula, scoop the cooked mochi onto the potato starch-lined pastry board. Toss a couple of times with a spatula or pastry cutter to cover the mochi completely in potato starch so it's not too sticky.
Use a knife of pastry cutter to divide the mochi into about 24 teaspoon-sized pieces, tossing them in the potato starch so they don't stick together.
Divide mochi among prepared ginger tofu pudding.
Kinako black sesame puffed millet crumble
Preheat the oven to 250°F. Line a light-colored baking sheet with parchment paper or a silpat mat.
Pour the puffed millet into a large mixing bowl and set aside.
Warm the brown sugar, butter, and honey over medium heat, stirring occasionally, until the sugar melts and comes to a rolling boil, about 3-4 minutes. Remove from heat and stir in the kinako, baking soda, and salt.
Pour the melted sugar over the puffed millet and pour in the black sesame seeds. Use two wooden spoons to toss the puffed millet until the sugar evenly coats the puffed millet
Spread the coated millet over the prepared baking sheet.
Bake the millet for 45 minutes, stirring every 15 minutes, but leaving clumps together.
Remove from heat and let cool for 10-15 minutes.
Serve crumbled on top of prepared ginger tofu pudding and mochi.