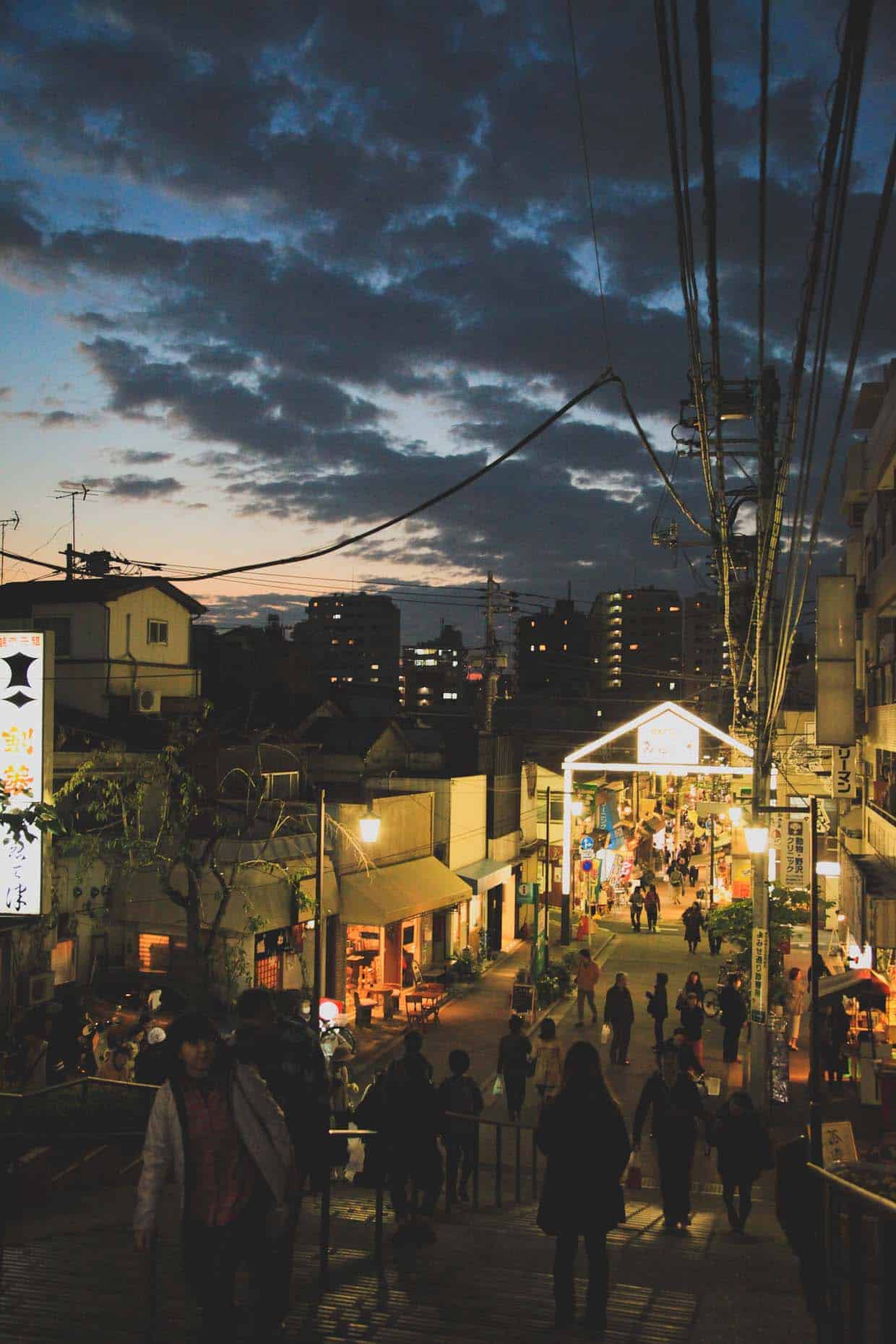 You can order all the comfortable walking shoes you want in preparation for a two-week trek all around Taiwan and Japan, but it won't matter if you don't bring socks. Don't try to fool yourself with those little half sock liners that hide so well under ballet flats - they don't count. Your feet will still have goosebumps all day long in the chilled autumn air. No amount of jackets or gloves will keep you from shivering if your toes are icicles.
In a fit of desperation during the last few days of our honeymoon this past November, I found myself wearing a pair of Lucas's dirty dress socks to the nearest department store to find some new hosiery for my wardrobe. I even tried to convince Lucas into giving me the thumbs up to buy the warmest pair of boots I could find, but he reminded me that I would never wear them once we got back to the even-keeled Bay Area temperatures.
Packing is so stressful for me, but my mom always calmly reminds me that I need not over pack because "they have stores in __(insert destination)__." It's true, they do have stores in Tokyo. Expensive stores with the world's priciest pairs of sensible socks. So I urge you: pack socks.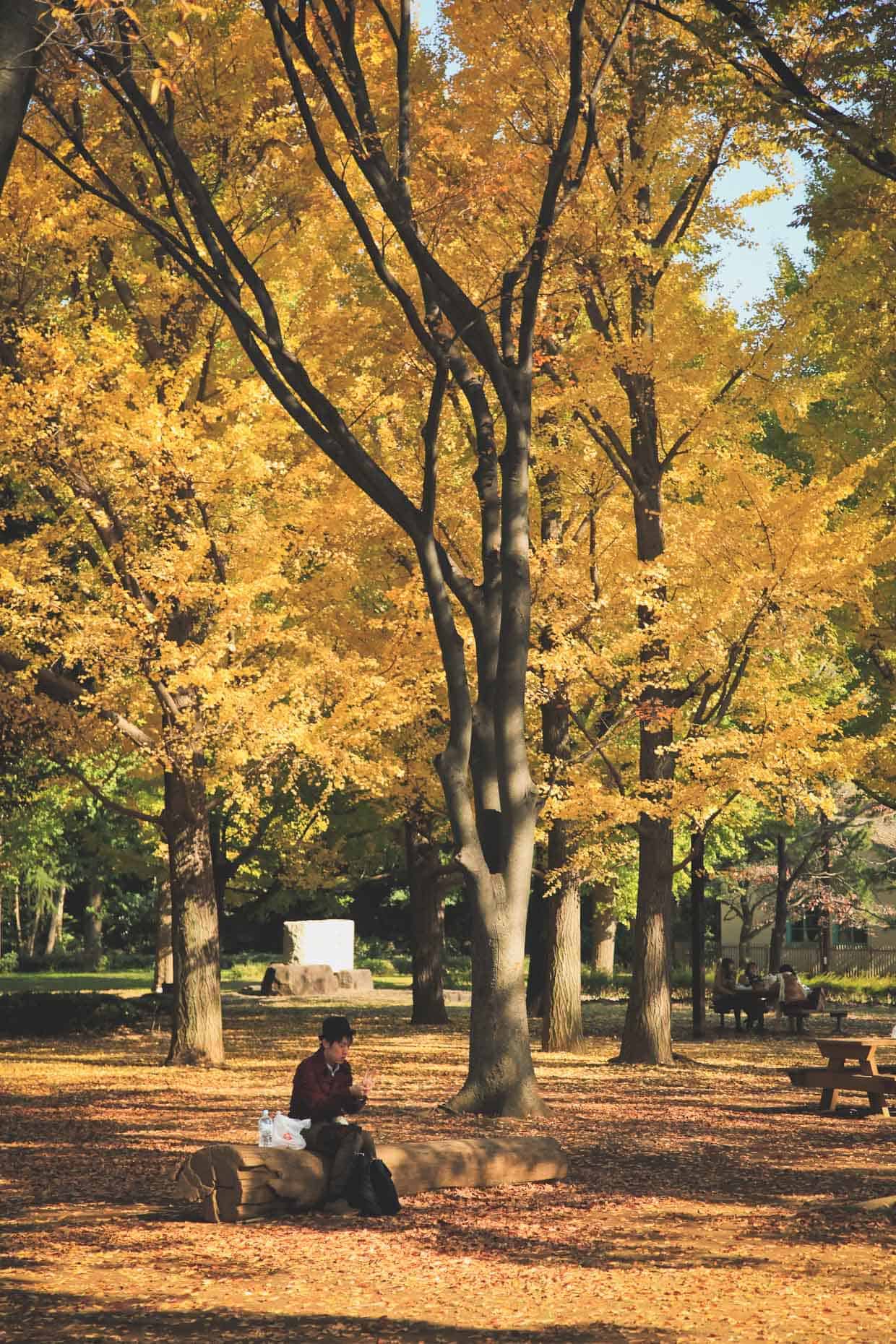 When we shared about the Taipei leg of our trip, we went day by day describing everything we ate and did. This was easy, you see, because I spent months making a 6-tab spreadsheet. Two tabs for each major city we hit up: one to hold a massive collection of all the things we might possibly want to do, eat, or see in that city and another with a daily breakdown where we could fill in an itinerary. Yes, I'm aware of my hyper-organization.
In Taipei and Kyoto, we made restaurant reservations for all of our meals through the concierge ahead of time, which made the rest of the day a matter of figuring out the most scenic route from breakfast to lunch, or lunch to dinner.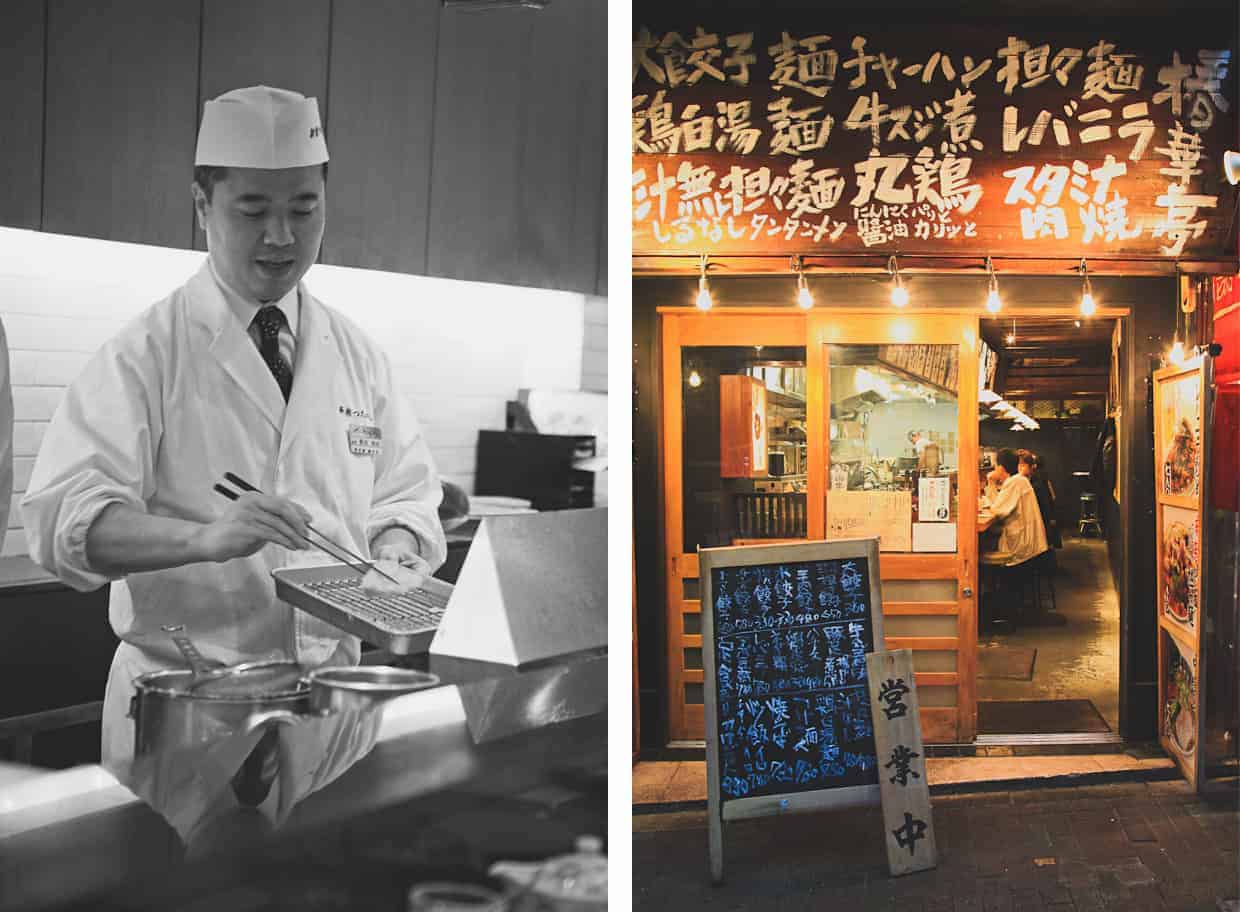 Tokyo was such an enormous beast that we didn't make it to the daily itinerary stage of the planning. Too many choices make decision-making nearly impossible for someone who demands to weigh every option to make sure any decision is the best decision. Instead we did something much less intense (read sarcasm here): we made a color-coded google map that pin-pointed every single store, restaurant, attraction we could possibly want to visit in Tokyo. Duh.
Clicking on any of the dots revealed much of the information I gathered about that place: addresses, hours of operation, tips for what to order, blog posts detailing the local guy selling something delicious in a mysterious alley, etc. With the pocket wi-fi we carried around, this significantly reduced our daily decisions to one: where should we eat?
The rest of the day would then simply be a matter of navigating the brightly hued dots between the ramen house and tempura joint. Our travel style centers around food, if you haven't noticed. Note: Request access to our interactive google map here and request access to our trip planning spreadsheet here. No need to reinvent the wheel.
Here's a description of some of the highlights of our trip. I list all of the places I mention with more details in the guide. Jump to the bottom for our eat, see, do, shop, and stay guide to Tokyo!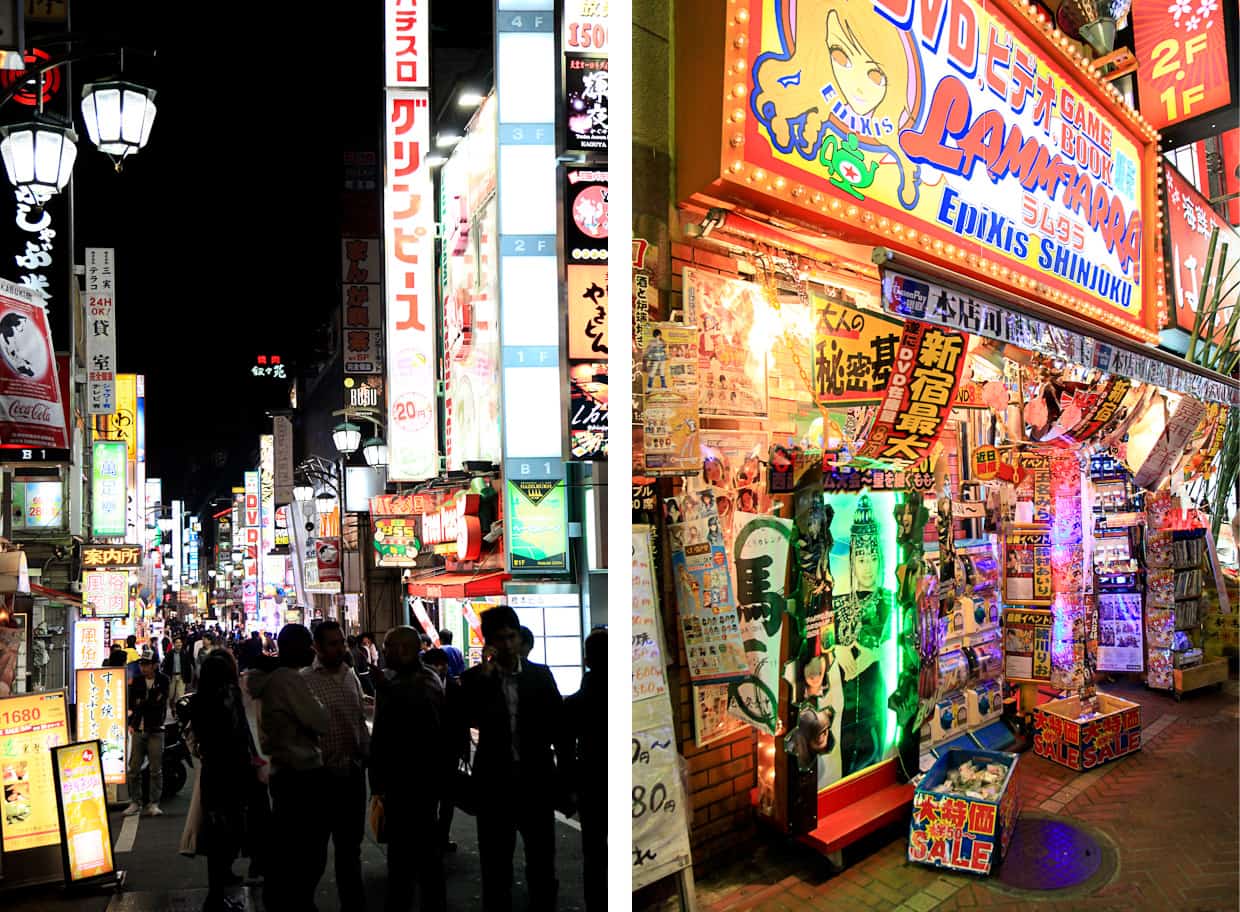 This is how I met Tokyo. My first impression came at 11pm on a Thursday night with way too many flashing neon lights for how tired and hungry I was. Given my propensity for becoming irritably hangry, we're usually pretty diligent about planning for food. On our very first introduction, though, Tokyo put a major dent in our food plans.
Tokyo Travel abroad tip #1
Know your cash and ATM situation. Exhausted, we ventured into the NYC-on-steroids night life for our first bowl of ramen after our flight in from Taipei. Because: priorities. Except we were sorely disappointed when we discovered that despite being a major metropolitan city, Tokyo is still primarily a cash economy, and most ATMs and banks in Japan do not accept debit cards issued outside of the country. About an hour and a half, 6 ATMs, several phone calls to our (obviously closed) bank, and a bit of frenzied internet research later, we were finally able to slurp down soup.
I want you to get to the ramen faster than we did. When we were there, Citibanks and post offices were the only places where we could use our US-issued Mastercard debit cards, but the internet tells me that the 7-Elevens now also accept foreign-issued debit cards (this is huge because 7-Elevens are way more common and convenient than Citibanks).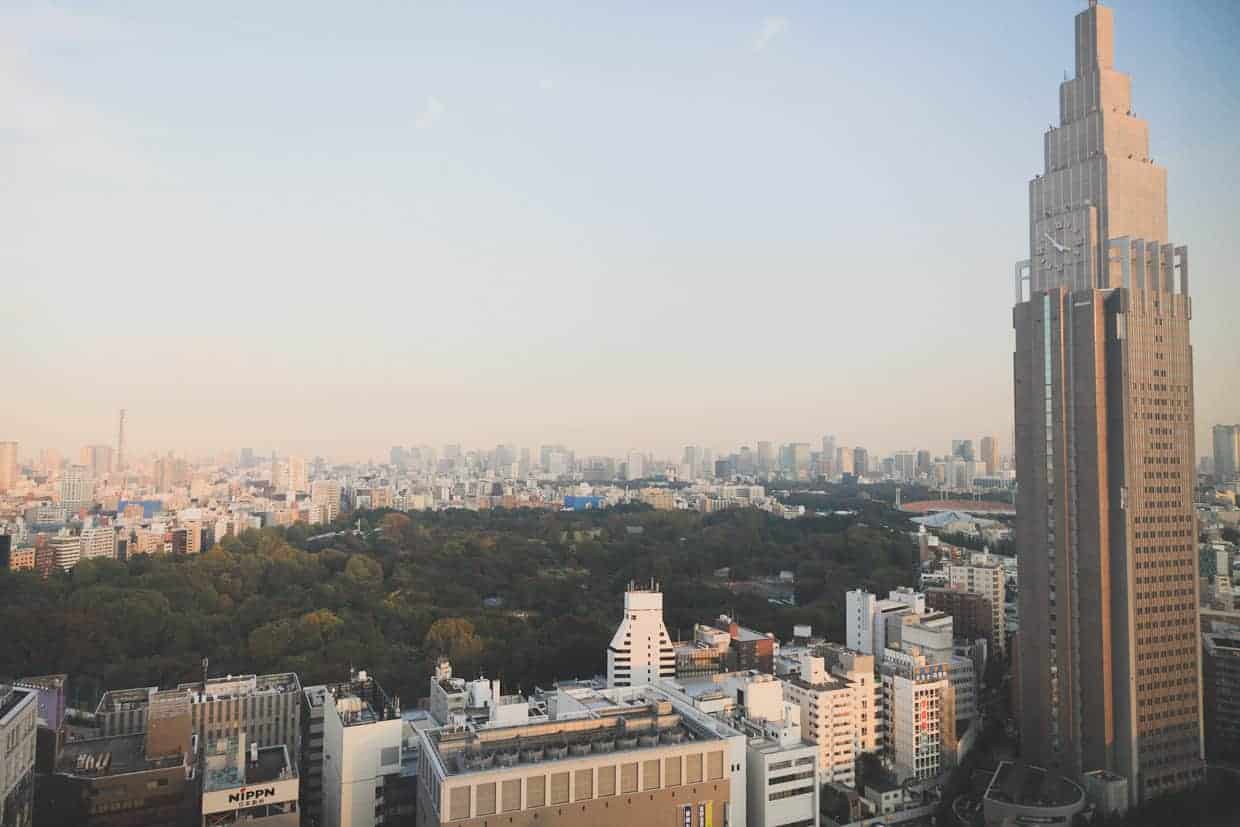 Tokyo had a much better second impression the next morning when it greeted me with this view from the window of our hotel room. Well played, Tokyo. Well played. Observed from the 180º window in the restaurant where with our breakfast buffet, the landscape of Tokyo appears as layers of gray concrete buildings with a few small pockets of parks as far as the eye can see in every direction. I've never seen a metropolis so vertically and horizontally expansive all at once.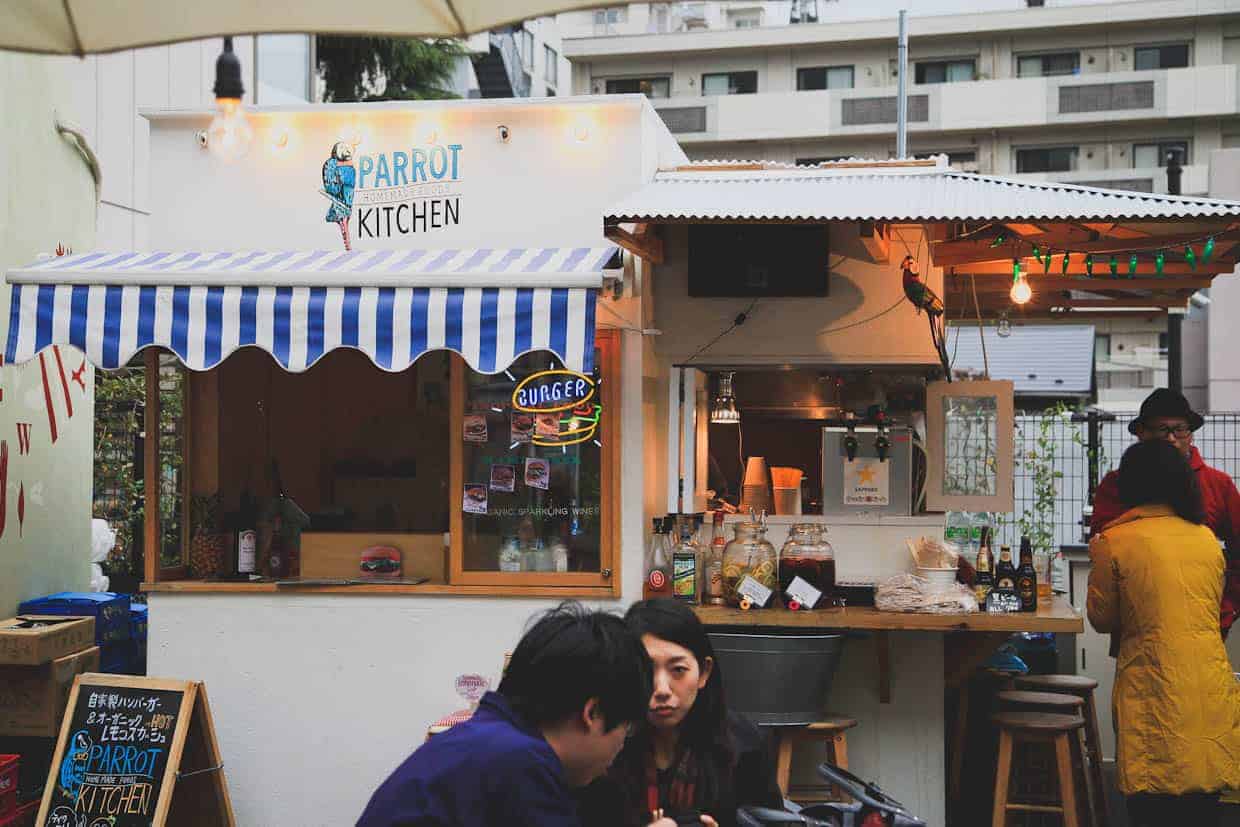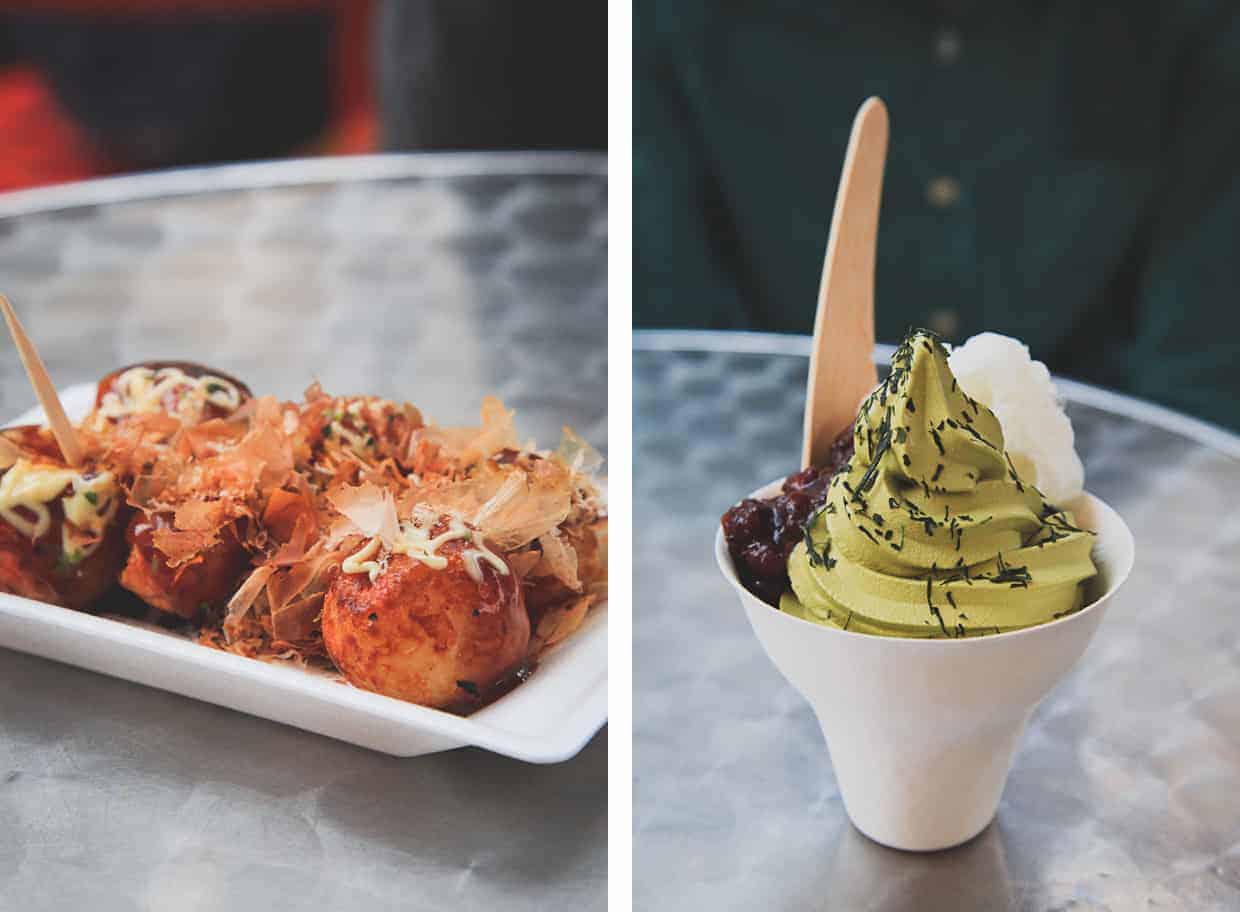 Early in our trip we discovered a hip outdoor mobile trailer food market community called 246 Common. Imagine a design-hub food truck community with space heaters. This Japanese street food with a modestly fancy twist was our first foray into takoyaki. We later learned how to make the diced octopus-filled dough balls during our Nagomi Visit and now I'm in the market for my very own takoyaki pan and a gluten-free recipe (Nagomi Visit is a non-profit where you can join a local family for a Japanese meal at their home - read more our Nagomi visit here).
The other major foodspiration from our trip came from this same food community. See that matcha parfait there? It's got a dollop of sweet red beans and a mochi WAFFLE. You read that right. A mochi waffle. The day I figure out how to make this will go down in history. First step: a waffle iron. Anyone who shows up with a waffle iron will get to eat this mochi waffle and all the attempts it'll take me to get it just right.
The sad news is that I just went on and on about this food market community and it turns out it's closed now! Cue the violins and the tears. Hints from my best attempt to translate the webpage suggests you should keep your eye out for the community to pop up elsewhere soon.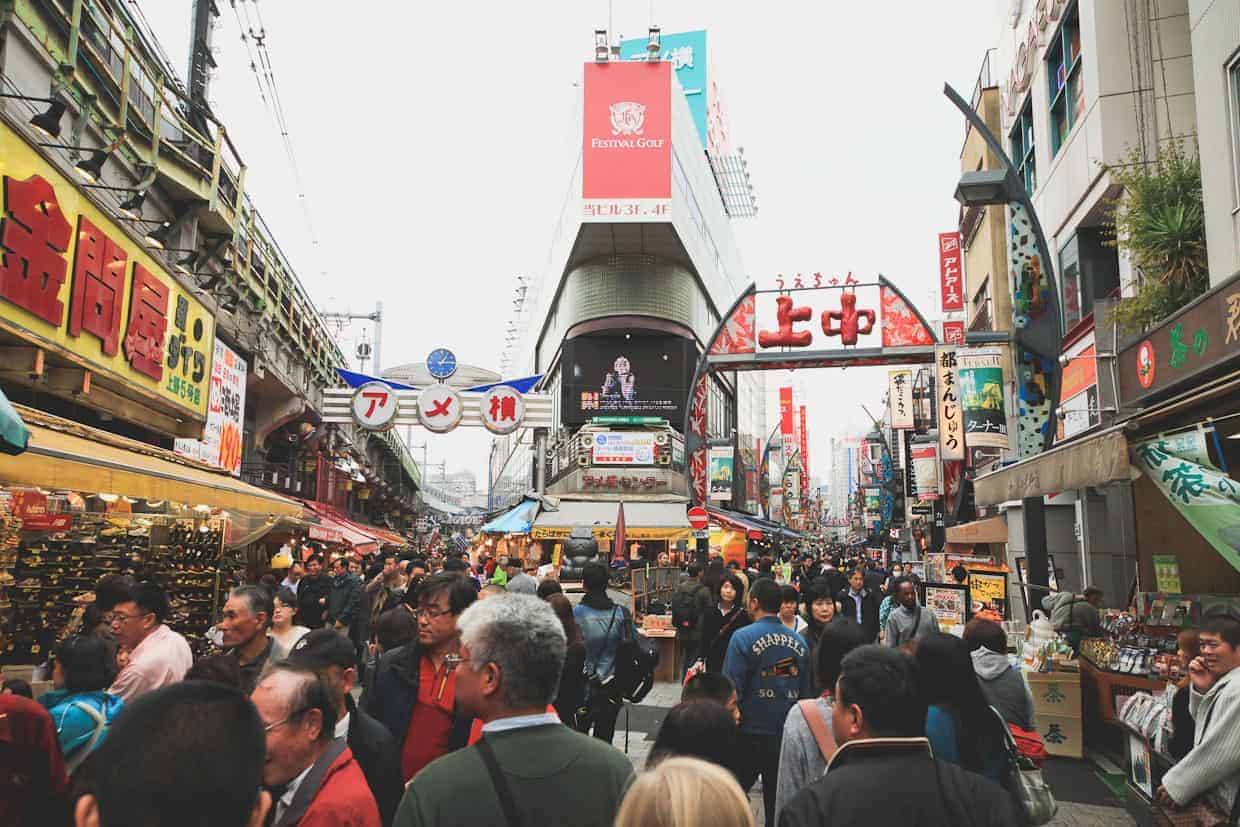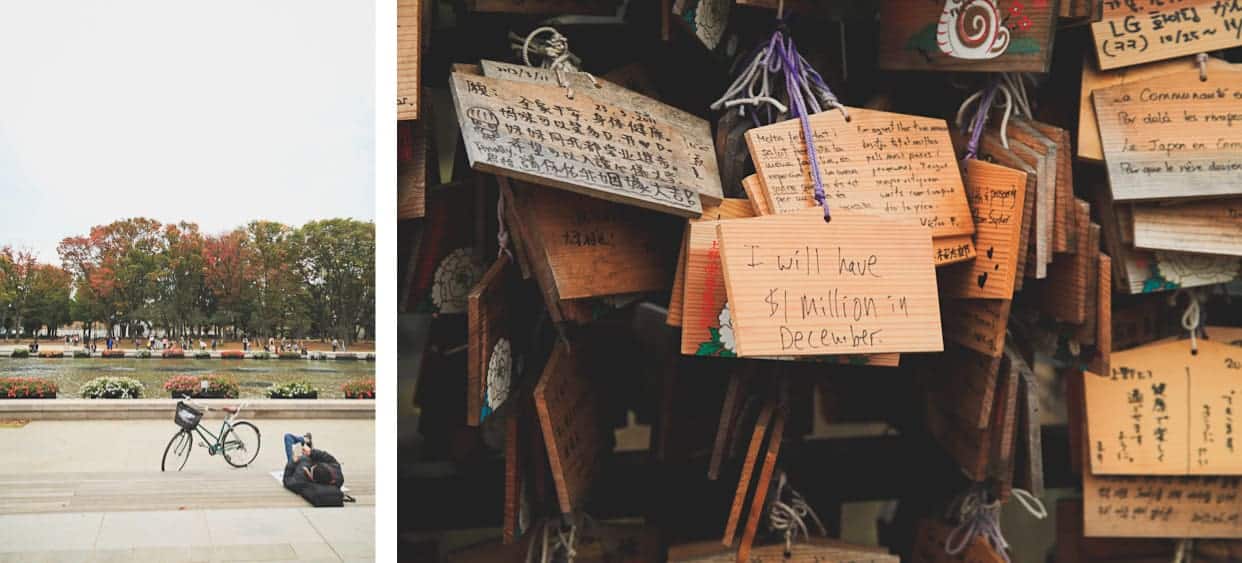 While we didn't spend too much time in Tokyo visiting temples (we reserved most of that for Kyoto), we did see a few small ones around Ueno Park. All of the temples we visited in Japan sell wooden tokens/cards where people can write their wishes to hang outside the temple. Certain temples are said to be better for health, others for love, and some for prosperity. Americans really know how to make the best of their wishes.


A short stroll through the residential blocks led us to a third-generation traditional wagashi shop called Kikuzuki. We ate a lot of dessert on our trip (so much mochi!) and this was our favorite by a landslide. The shopkeeper doesn't speak any English, so we picked the treats with our most used Japanese phrase, "osusume." Only once on our trip did our ask for a recommendation lead us astray to a fried mashed potato ball filled with mayonnaise.
At the wagashi shop though, we hit the jackpot with the shopkeeper's choice. Each treat and box wrapped with so much care just to be unwrapped and devoured on the street bench steps from the shop. Their speciality yuzu mochi - shown in the top right - ignited Lucas's current yuzu obsession. On our last day, we traveled 30 minutes out of our way to return to the quaint shop to pick up some of these pillowy Japanese confectionaries to take home with us. This is the stuff of dreams.
On this second trip to the shop, we hadn't made any plans for the day besides stocking up on treats. These are usually the days with the best adventures. Meandering through the crooked neighborhoods, we stumbled upon Yanaka Ginza, a locals-only not at all touristy market with lots of stray cats (shown in the first picture at the top of this post).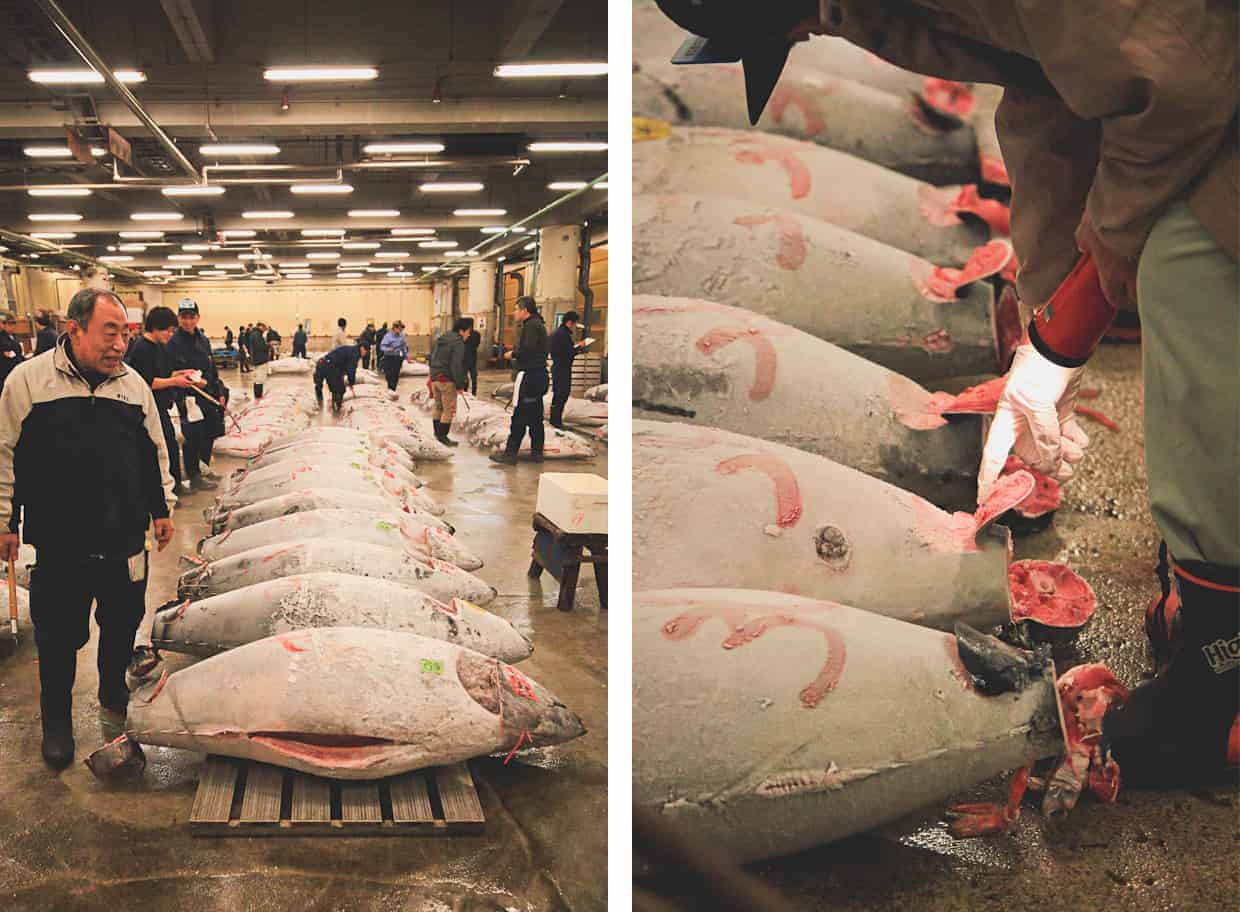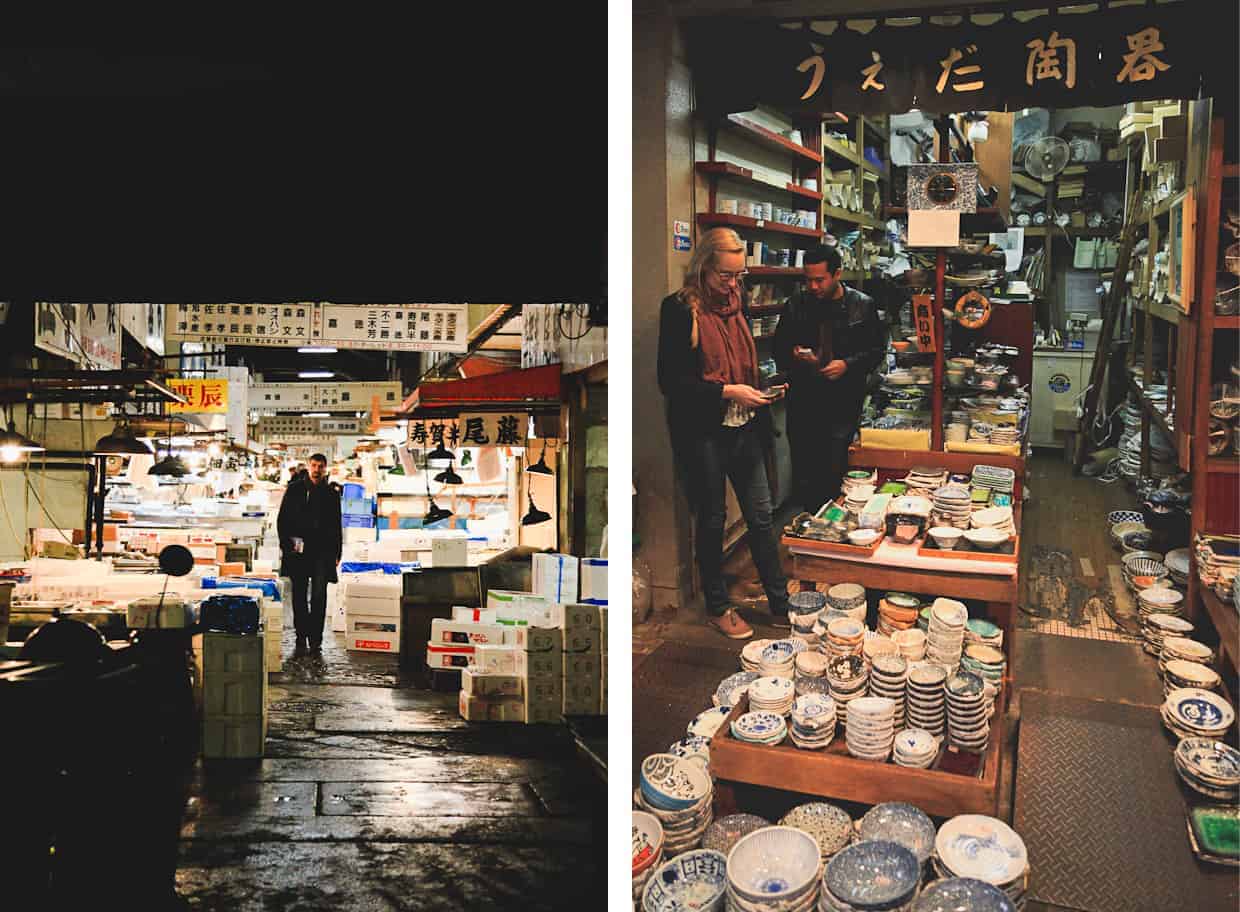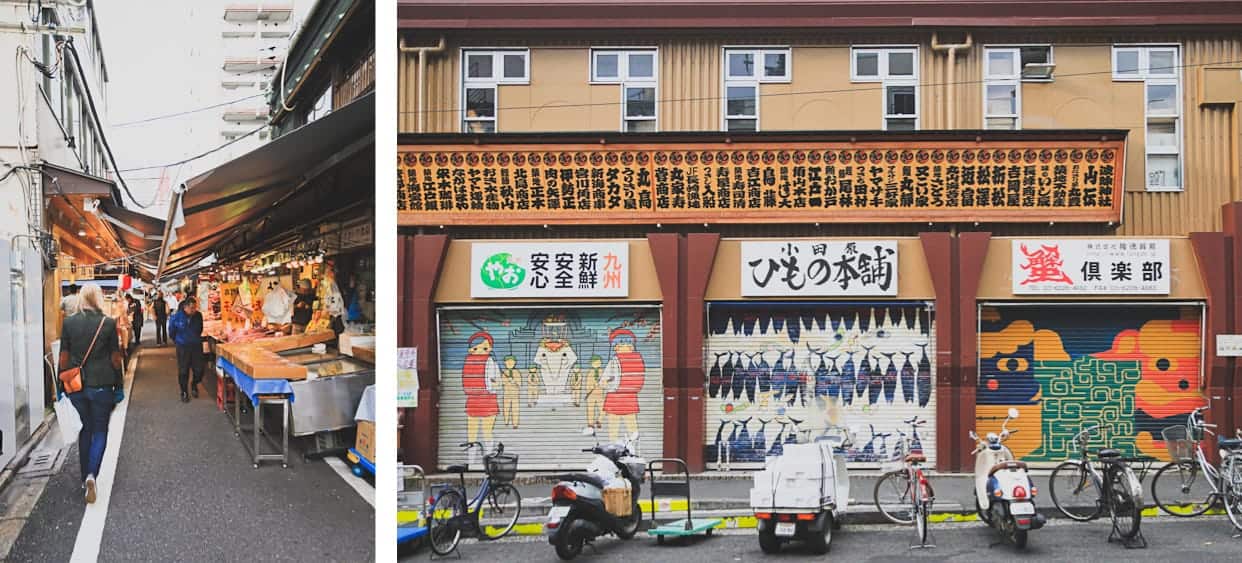 We woke up at 3:30am one morning to be first in line to observe the Tuna Auction at Tsukiji Fish Market. While waiting to be shuffled in, we met some Australians who laughed about their culture shock when they discovered sushi restaurants in Japan didn't serve the cooked sushi rolls they were accustomed to at home. They packed us in like sardines to watch the auction; For how technologically advanced Tokyo is, it's simultaneously surprising and refreshing to see the AM tuna auction is steeped in the selling traditions of another era.
After the auction, we teamed up with a New Yorker we'd also just met, to fill up on a 6am sushi breakfast at Daiwa-zushi. Sushi Dai is the most popular place in the Tsujiki Fish Market, but by the time we got out of the auction, the line was already 2 hours long. Daiwa-zushi was just a couple of stalls down and at that hour, had only a 15 minute wait that quickly increased for others as the line grew exponentially behind us. After picking up a few new food photography prop dishes in the outer market, we took a nap before breakfast #2, as if the morning never happened.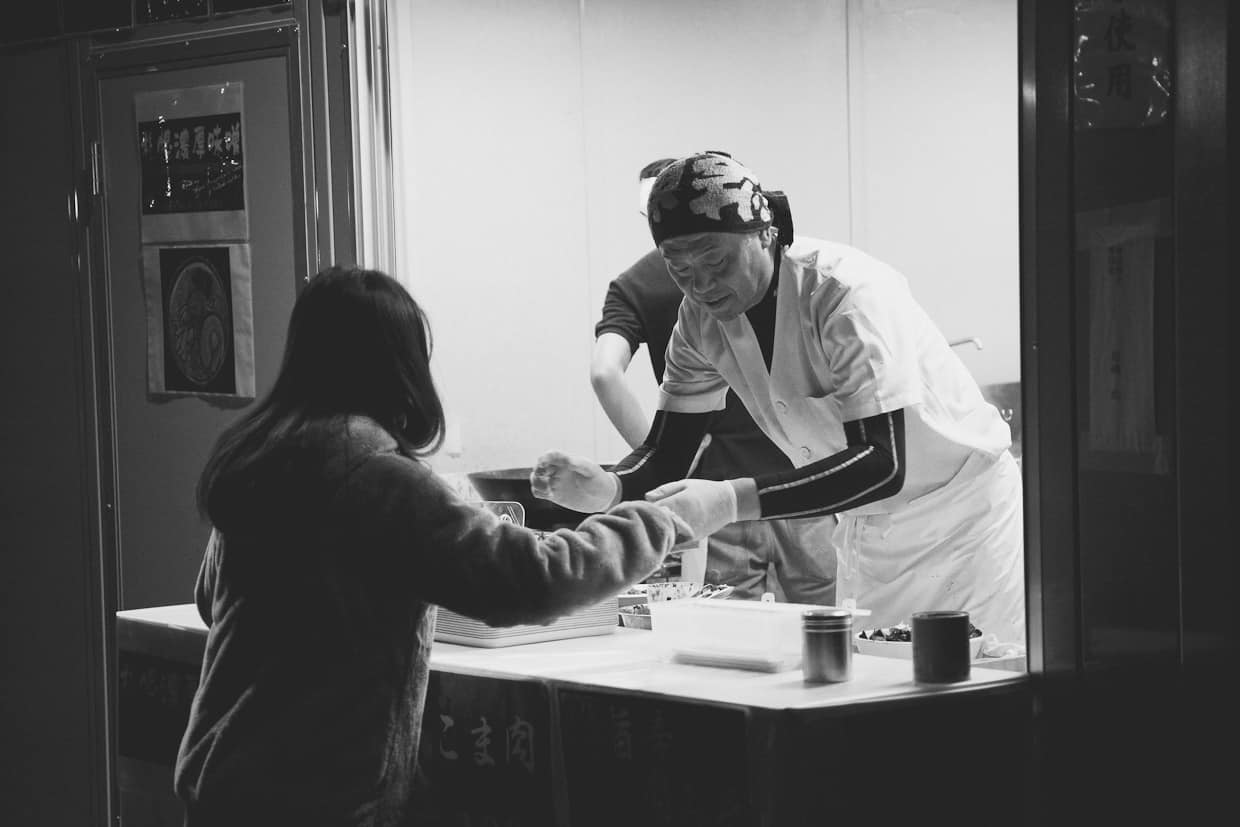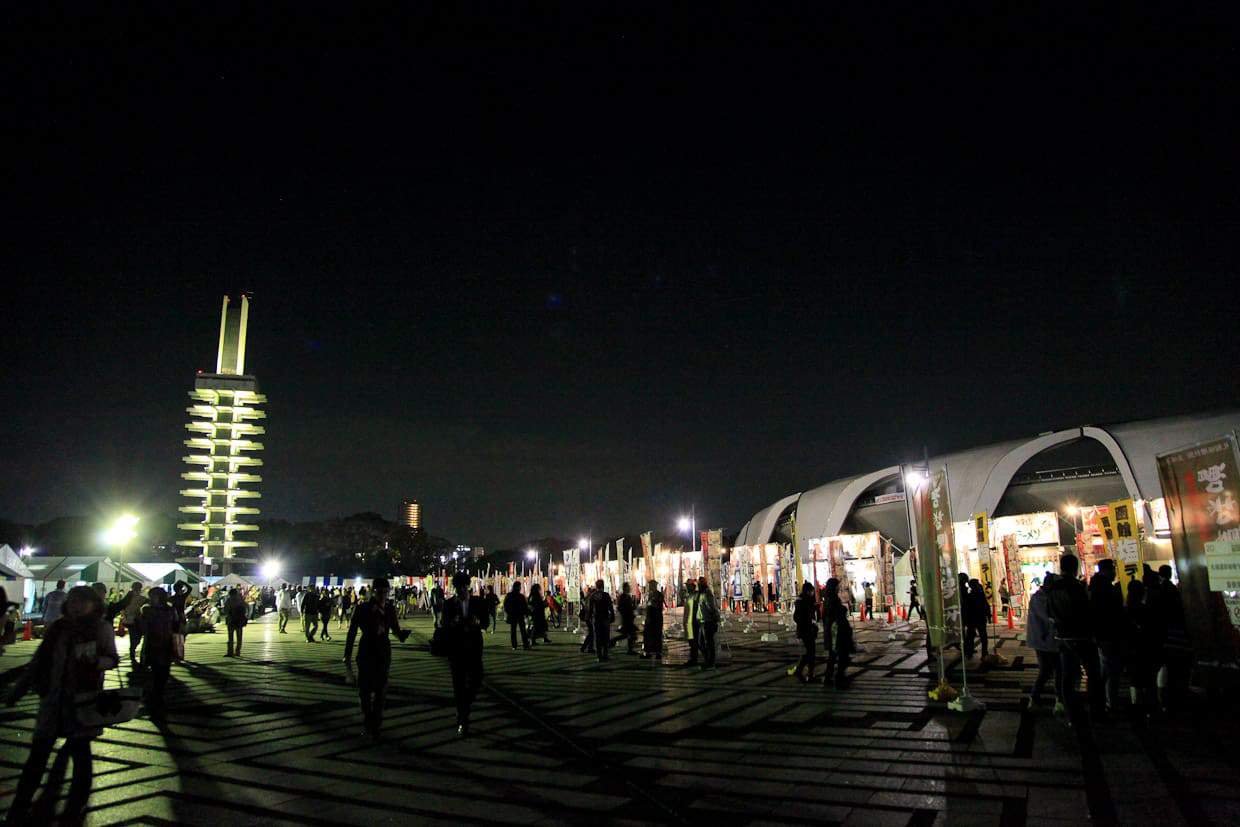 On our last night in Tokyo, we took the train down to Komazawa Olympic Park for the Tokyo Ramen Show. Seriously, could we have timed this trip any better? My vote is for the Kyoto-style miso ramen with a bit of pork and a soft-boiled egg plopped right on top.
It's fortunate that we live down the street from a Tokyo Fish Market in Berkeley because I crave the flavors from our trip nearly every meal. We've struck a deal that when I finish my dissertation, we'll plan a trip back to Japan. For the food, obviously.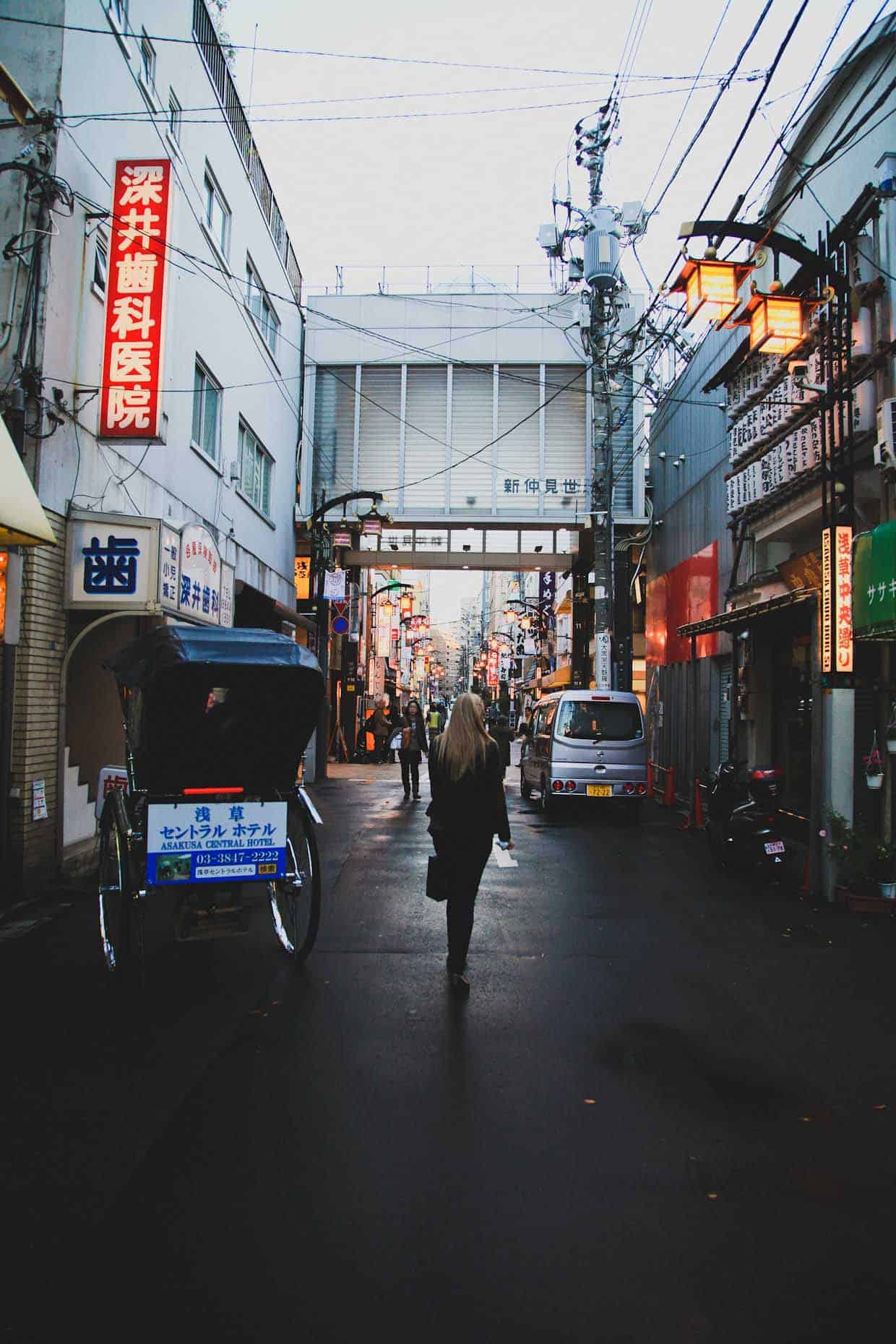 Food lover's guide to Tokyo
Let me be up front - I never did figure out the English to Japanese address system, but I'm hopeful that the information below is complete enough that you'll be able to figure out where each place is on a map. Request access to our interactive google map here and request access to our trip planning spreadsheet here.
Eat
See & Do
Shop
Stay
Century Southern Hotel: A relatively inexpensive, but really nice Western hotel right next to Shinjuku Station. They have a pretty yummy Eastern/Western-style breakfast buffet included in certain room rates. Bonus: you can use United points to book here!
Hyatt Regency Tokyo: Also a nice hotel just a bit further from Shinjuku station. The hotel is still within a 10-15 minute walk of the station, and they constantly run a shuttle between the station and the hotel.
Travel Tips:
Ditch long-distance charges and order a pocket wi-fi so you'll have data wherever you go. You can order a pocket-wifi ahead of time for about $9/day and have it delivered to your hotel so it's there when you check in. If you keep your phone in airplane mode, you can use it as a mini computer anywhere in the country (even using iMessage to text people back home!). When you're ready to leave, you just stick it in the mail at the airport.
Purchase a JR rail pass before your trip. There is an unlimited tourist pass for the major rail system that goes in a giant loop around Tokyo and also to most other cities in Japan. However, it's only available for visitors and it must be purchased before you get to Japan. At $280, it looks like a hefty price, but if you plan to travel to Kyoto or elsewhere, the pass ends up being more than worth the cost (Roundtrip from the airport will run about $30 & roundtrip to Kyoto is about $260). You'll receive an exchange receipt that you'll need to take to the JR office at any major train station once you get to the country to swap out for your pass with your passport in hand.
Don't be afraid of the train system. All of the stations are clearly marked with lots of English signs and the trains are only really packed during rush hour. The cabs in Tokyo are outrageously priced, so unless you're trying to get to the fish market at 3:30am before the train is running, I recommend avoiding taxis. You can also pick up a Suica card at most convenience stores that will hold money so you can quickly take any city train (not just the JR trains above) without having to calculate fares every time.
Carry hand sanitizer and a small pack of tissues. Most of the public restrooms don't have any soap and many of them don't have any toilet paper.
Thanks for reading Snixy Kitchen! To stay up on what's coming out of my kitchen, follow me on Facebook, Instagram, Twitter, Bloglovin', or Pinterest, or subscribe via e-mail to get new posts right to your inbox.
Snixy Kitchen Wedding Posts: