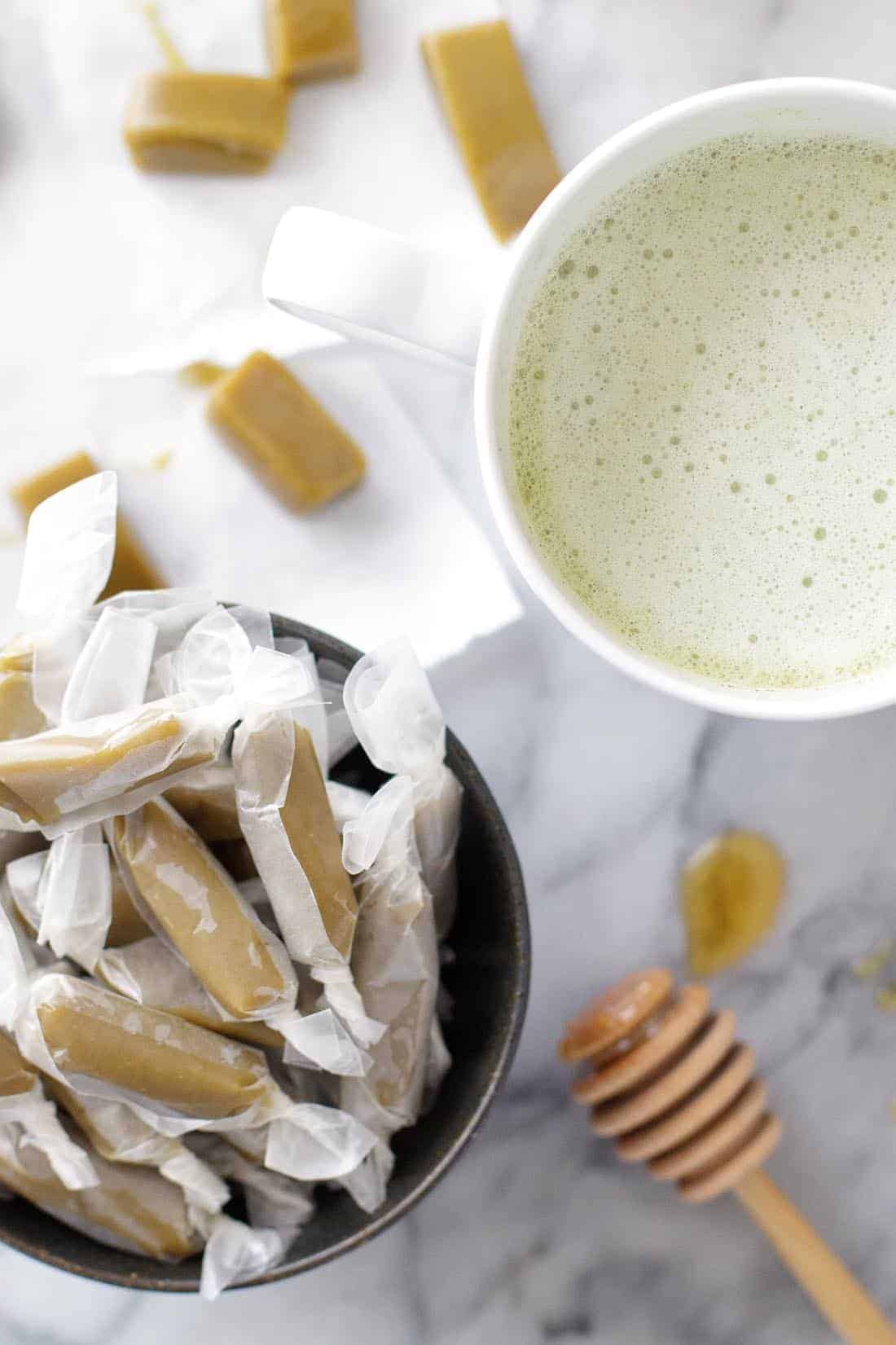 Everyone knows the best way to a person's heart is through their stomach. Or at least that's true for people built like me. Hand me a scoop of ice cream and you'll make me the happiest girl in all the land. Bake me an awesome cookie and we'll be best friends for life. Or in Lucas's case, cook me your mom's passed-down arroz con pollo and let's get married forever and ever. Things escalate quickly when food's involved. For occasions that need just a little note of celebration, edible gifts like these honey matcha green tea caramels are my go-to choice.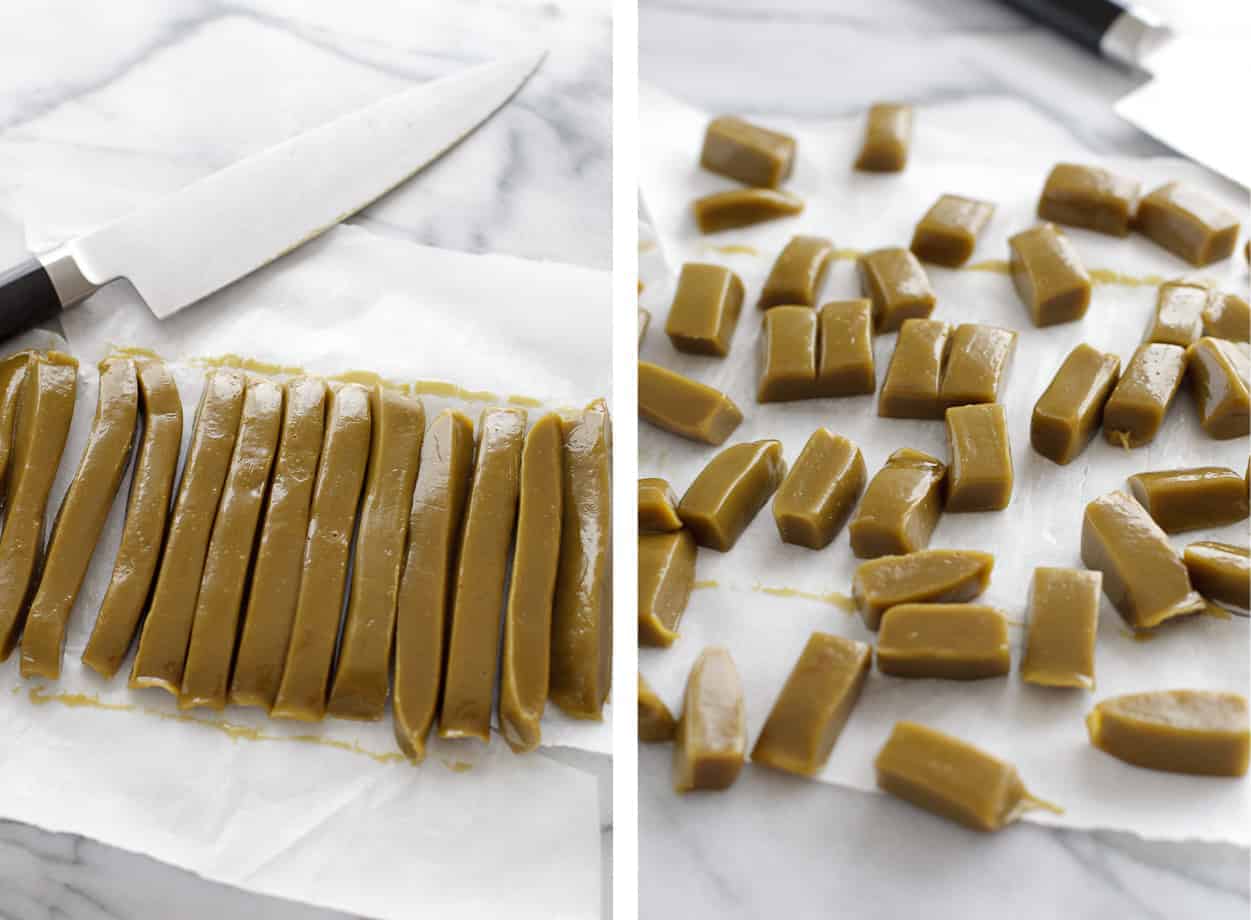 These matcha green tea caramels get their inspiration from the Japan leg of our honeymoon. The trip unleashed the matcha fiend inside of me and when we got back, it was all matcha (and mochi and red bean) all the time. I've reigned it back in a bit, but just last week my friend Arlene posted a Facebook call for Tokyo & Kyoto suggestions for her upcoming trip and a green tea wave came over me again.
After spending about an hour excitedly writing out a nearly nonsensical e-mail with all my "omgawd you have to go here and do this and eat this and have the best time ever!" suggestions for Arlene, I felt invigorated to sift through our photos and write out all my favorite travel suggestions for Taipei, Tokyo, and Kyoto. These travel posts are lining up and coming soon - pinky promise with sugar on top! (Seriously, I'll lure you through them with sugary recipes because: yum).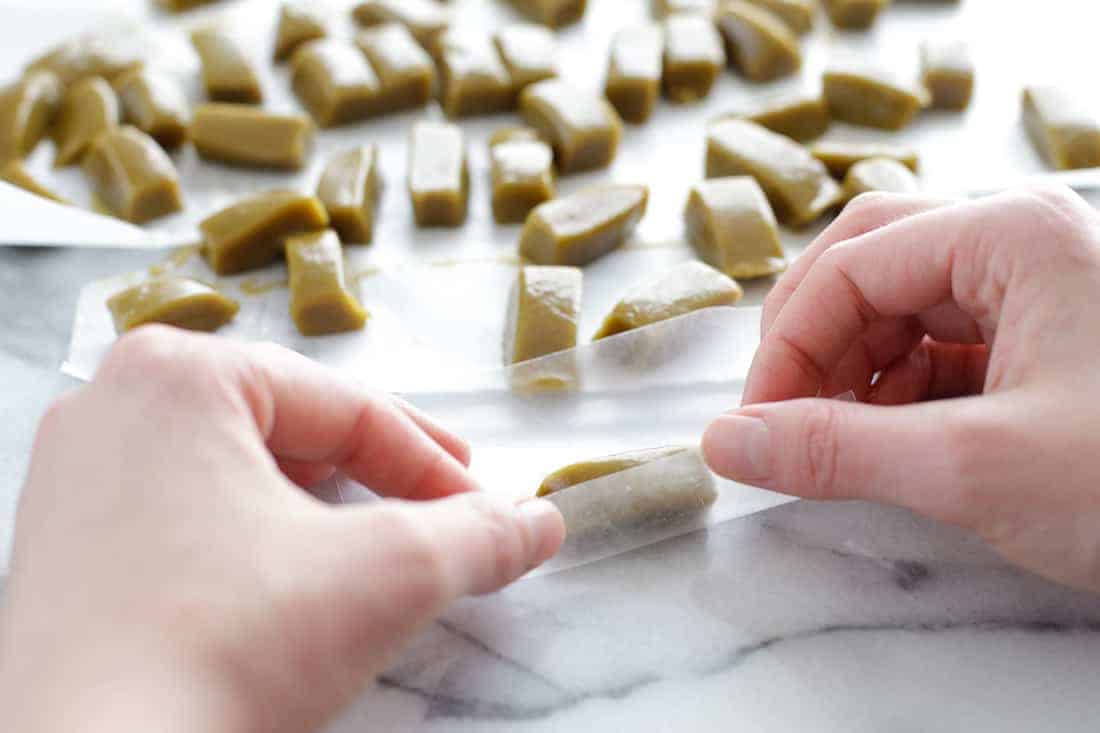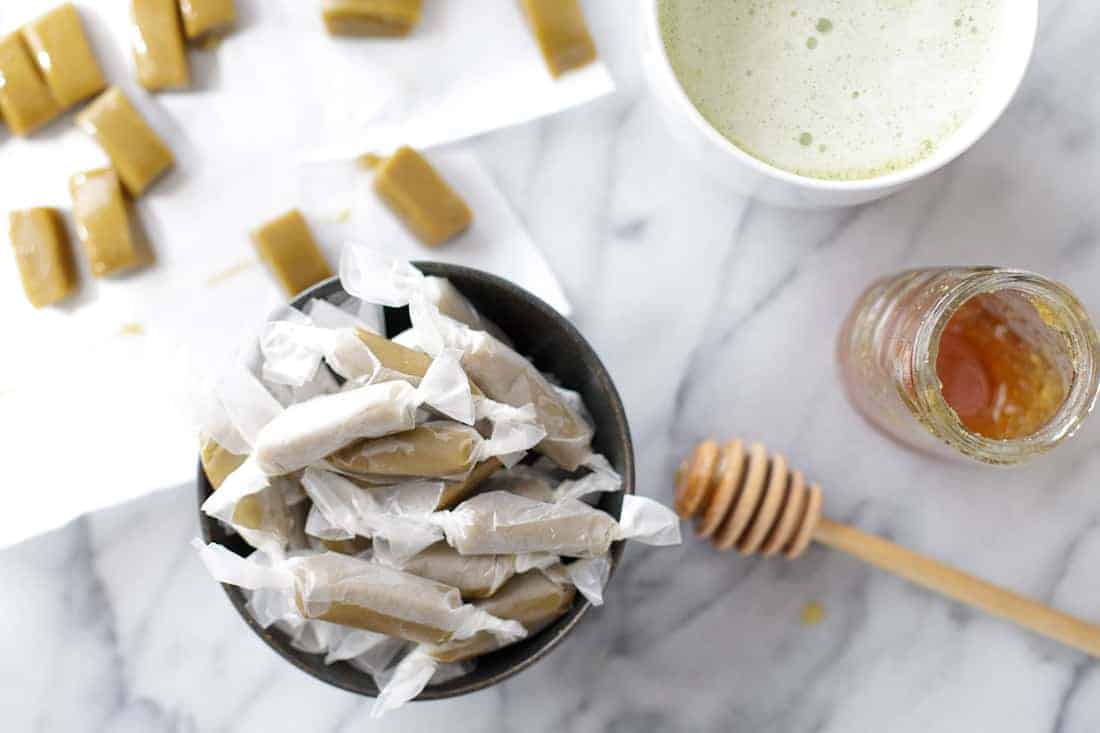 For now, just a snippet. While preparing for the trip to Tokyo, I stumbled upon Nagomi Visit, a non-profit where you can join a local family for a Japanese meal at their home. Sign me up! I have to admit, we considered the possibility that it could end up being super awkward, but decided that either way, we'd have a story to tell. I am so glad we went with our gut, because it ended up being one of the top 5 highlights of our trip.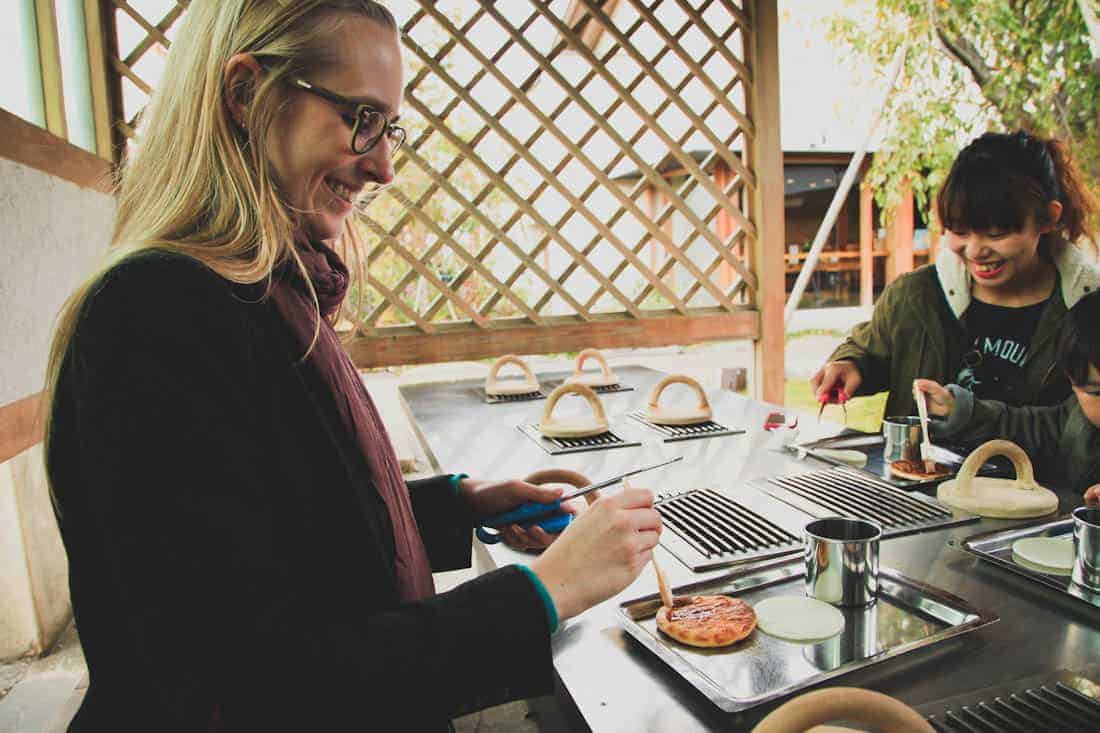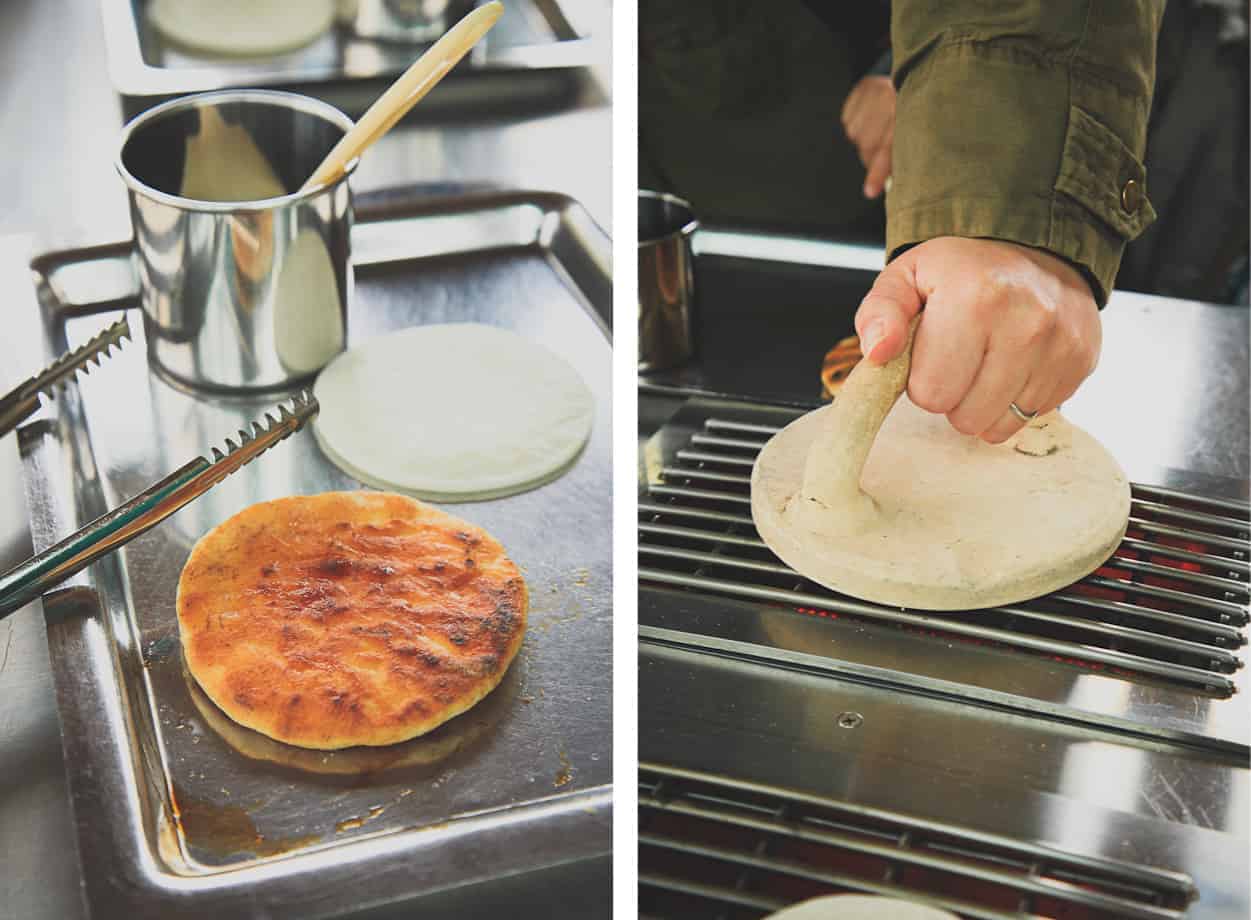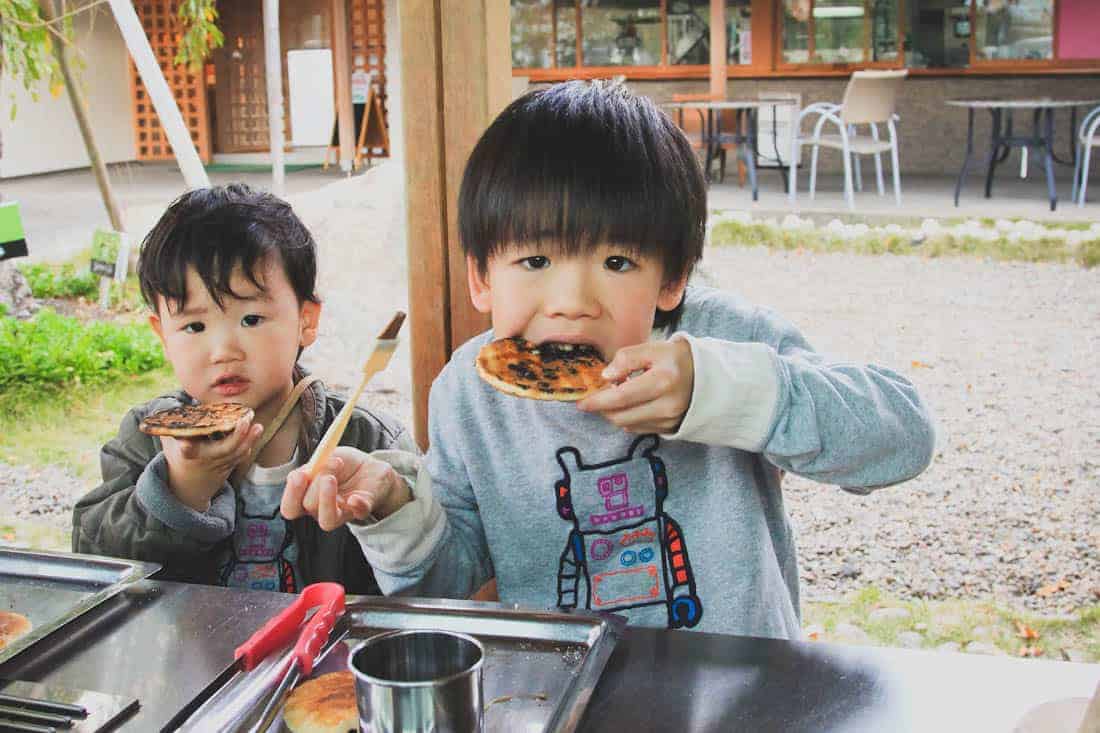 Our host Yuki, picked us up at the train station with her two sons, and the five of us learned how to grill senbei rice crackers. On our way to her house, we stopped by her favorite stationery store where we were gifted two beautiful ornamental origami flowers, and then to the local grocery store to pick up the fixings for dinner. She graciously let me help her prepare dinner, while Lucas made paper airplanes with the boys. Along with the help of her friends, Yuki taught us how to make takoyaki octopus balls and went out of her way to give us a true Japanese family experience.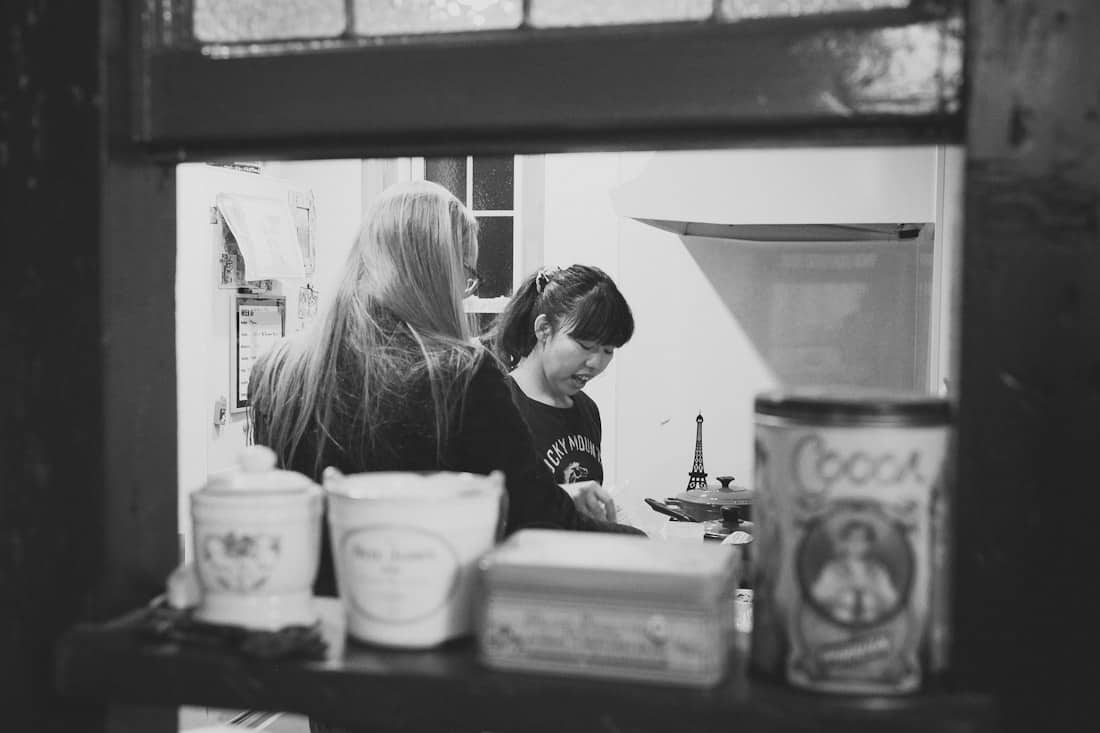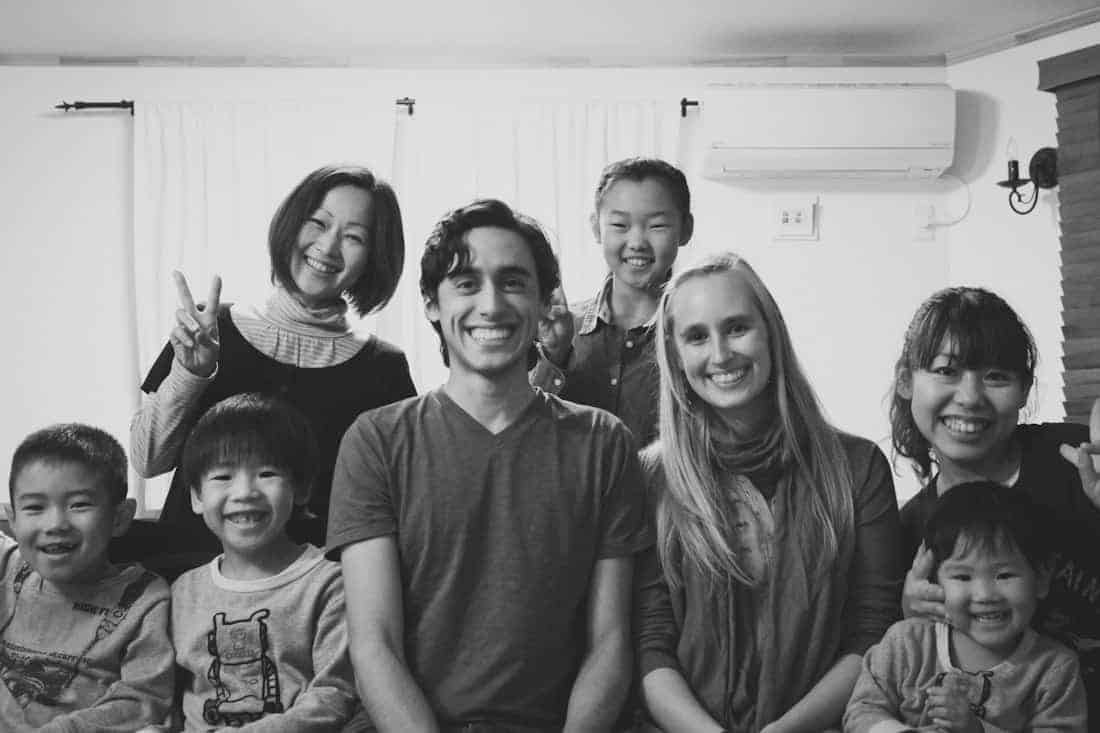 On top of all of this, she met us at the airport on our way home to bring us a homemade recipe book of some of her favorite Japanese recipes and many of the non-perishable ingredients used in the recipes we cooked that night - including a box of matcha green tea latte powder that mysteriously disappeared almost as soon as we got home. About a month later, we mailed off a US care package containing things like sprinkles, bbq spice rub from Texas, Ghirardelli chocolates, and mint wafers from my hometown. 'merica! So when Arlene announced she'd be heading to Japan, I put the two of them in contact and they arranged to spend a day together.
Then I headed to the kitchen to whip up a batch of homemade caramels to send with her. When else will I have a personal courier to hand-deliver caramels across the globe?  To give Yuki a taste of a flavor profile not traditional to Japan, I made her a batch of the salted honey lavender caramels (and then...maybe a batch of matcha green tea caramels for myself;).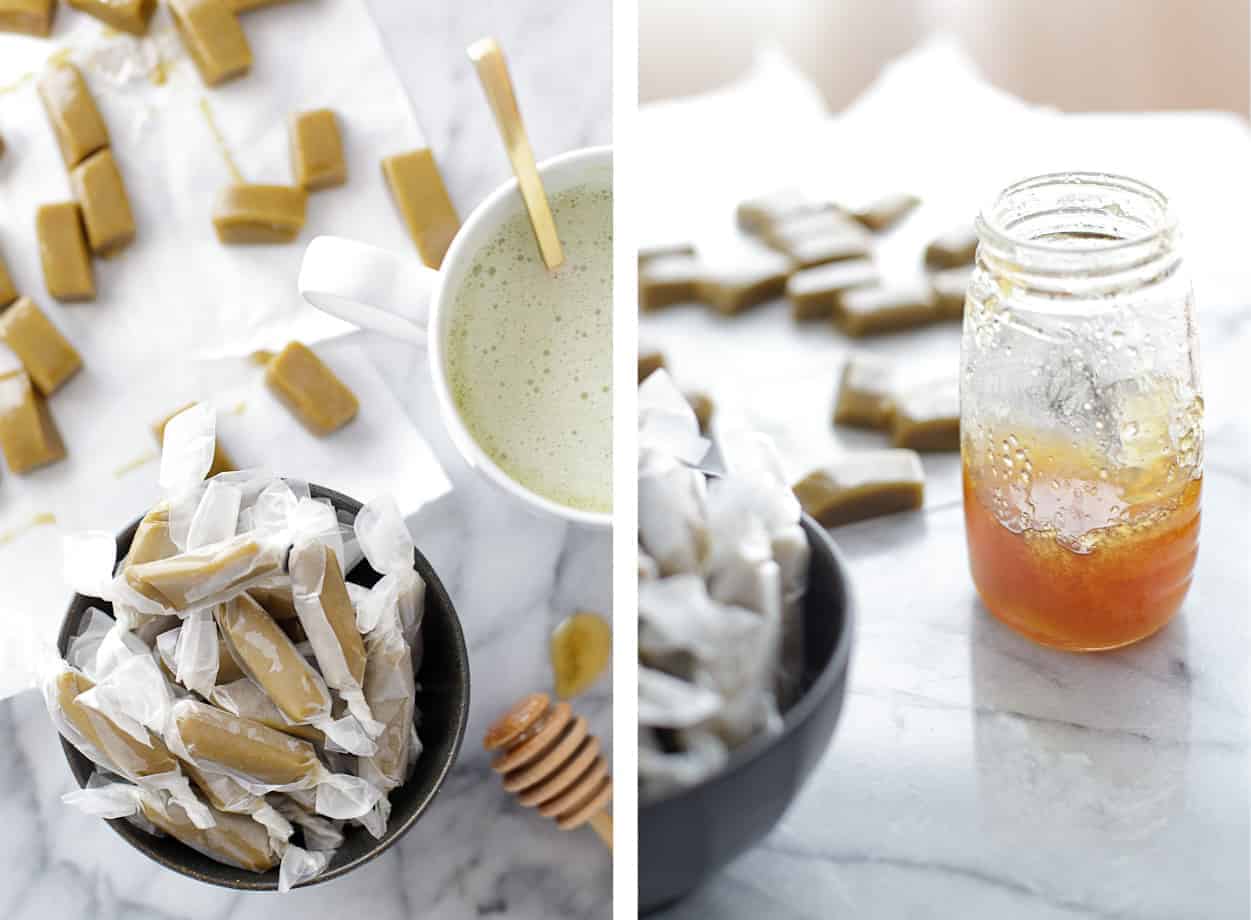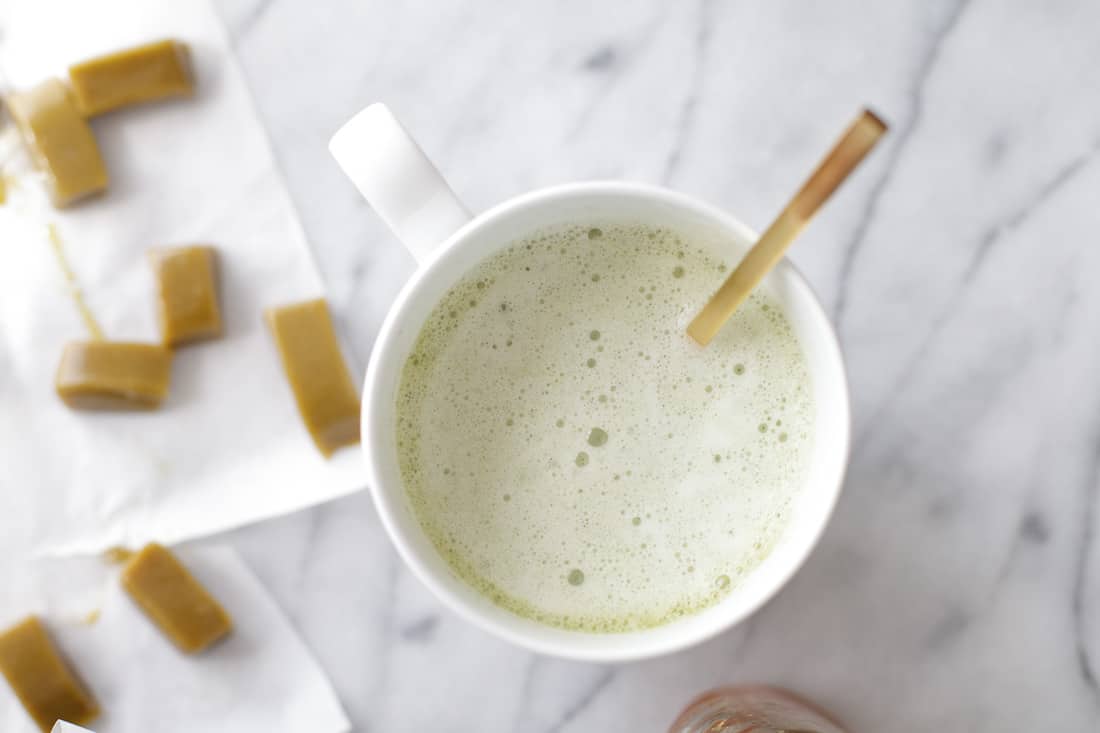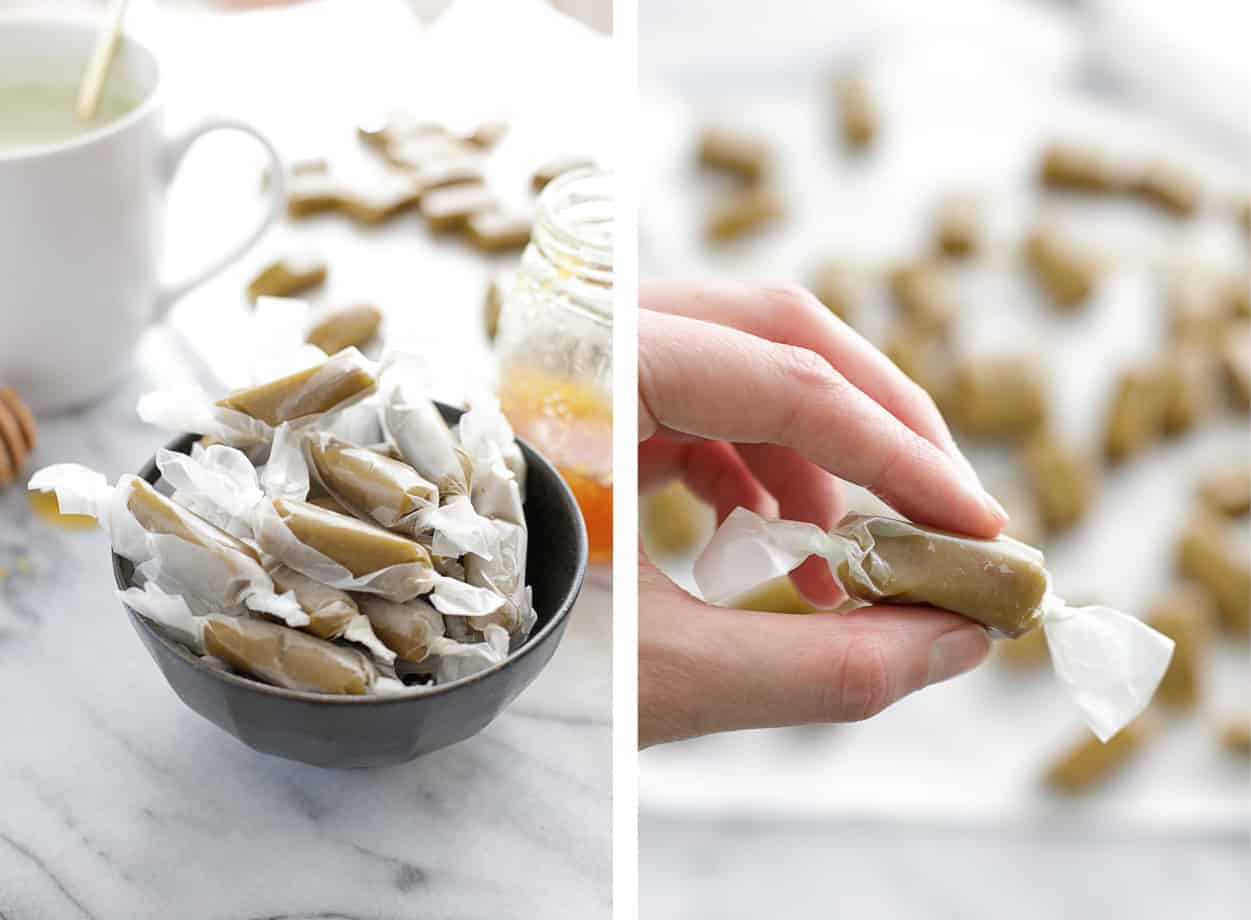 The matcha  flavor came directly from my nostalgia for Japan's sweet treats. The caramels are smooth and velvety, with a subtle hint of matcha and a sweet taste of local honey. Since matcha is made by grinding down high-quality dried green tea leaves into a fine powder, it's packed with loads of antioxidants and has lots of health benefits. That makes these caramels healthier, right? Cancer-fighting, fat-burning caramels. Ha - if only that's how it worked, I'd eat these caramels for every meal.
First it was these salted honey lavender caramels, and now these honey matcha green tea caramels. Heck, this recipe is so versatile, I even tossed in some masala chai tea spices to make a few batches of masala chai spiced caramels. As long as you've got an accurately calibrated candy thermometer, this is a no-fail caramel recipe made for even those afraid they'll burn boiling water in the kitchen.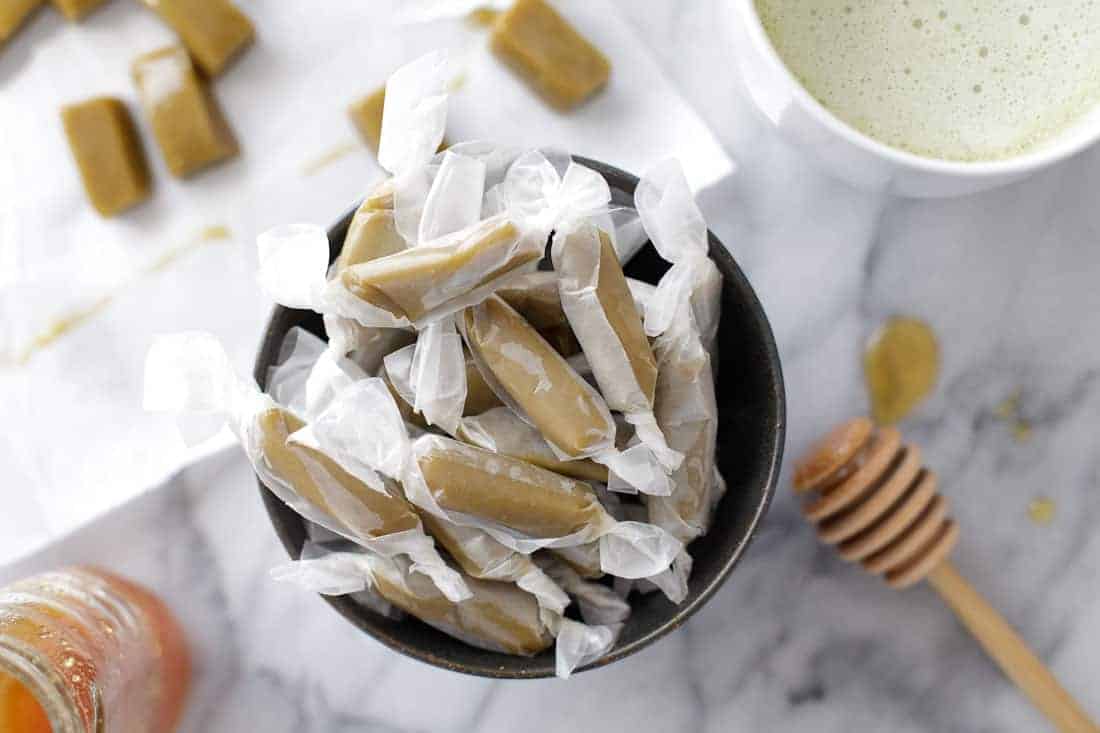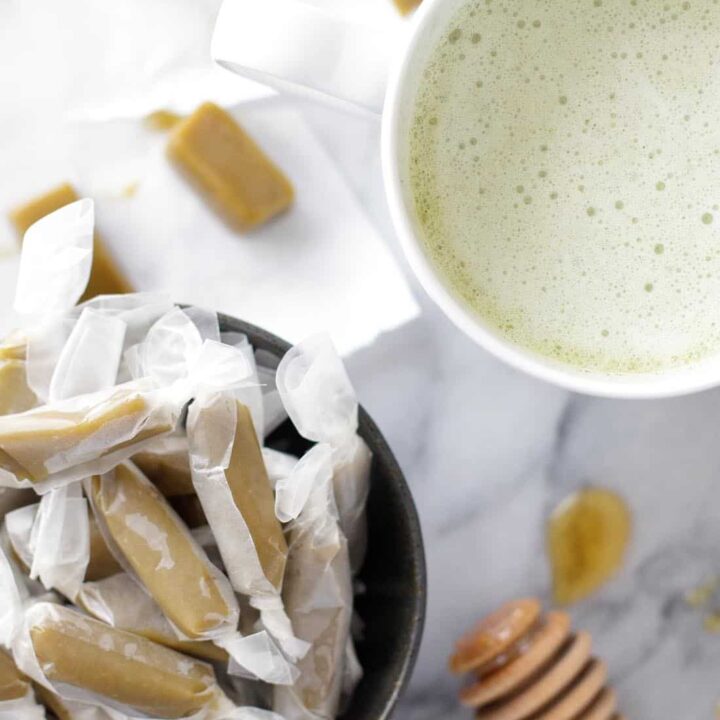 Honey matcha green tea caramels
Ingredients
¾ cups sugar
1½ teaspoons matcha powder
200 ml (⅚ cup) heavy whipping cream
3 tablespoons honey
1½ tablespoons unsalted butter, room temperature (plus more for the pan)
½ teaspoon kosher salt
Instructions
Read all the directions before getting started. Stuff happens so fast and you want to make sure you're prepared for what's coming next. The times in this recipe are estimates and will depend on the side of pot you're using, so use the temperatures as your guide. Also, make sure that you have an accurate candy thermometer - 5 degrees off will drastically change the texture of your caramels from soft and chewy to more like sugar daddies. Here's a handy article on how to calibrate your candy thermometer.
Butter an 8x4-inch baking pan and line the bottom and edges with parchment paper, cutting slits in the corners so it will lay flat. Butter the parchment paper, as well. (I used a glass bread dish for one batch and another smaller baking dish for a second batch. If you only have an 8x8 pan, double the recipe.)
Begin by whisking the matcha powder with ¼ of the heavy whipping cream until smooth.
In a small saucepan, heat the matcha mixtrue, heavy whipping cream, and vanilla over medium heat until it just begins to simmer. Reduce the heat to low to keep it warm while you prepare the rest.
Heat the sugar and honey in a separate small saucepan over medium heat, stirring occasionally with a wooden spoon until the sugar dissolves and it starts to boil, about 4 minutes. (I recommend between a 1.5-quart and 2.5-quart saucepan; any larger and you'll have a hard time using the candy thermometer as it won't full submerge in the caramel).
Stop stirring and clip a candy thermometer to the edge of the pot. Let the sugar boil without stirring at all, until it reaches 302°F, about 3-5 minutes. While it boils, grab a clean wooden spoon or rinse and dry the one you were stirring with before.
Add the butter and kosher salt, and slowly stir in the warm whipping cream. Be careful, as it will react and sizzle quite a bit when you start adding the cream. The temperature will also drop when you add the cream.
Keeping a close eye on the thermometer, continue stirring until the temperature is back up to 248°F. Immediately remove the pan from the heat and pour the hot caramel into the prepared pan. DO NOT scrape the pot or you'll end up with crispy bits in your caramels.
Set the pan on a wire rack to cool until fully set, at least 5 hours (I kept mine overnight).
Use the parchment paper to pull the caramel sheet out of the pan and place it on a pastry board or cutting board. Peel the parchment paper down from the edges. With a large sharp knife, cut the caramels into bite-sized squares (I cut 13 rows of 4) and wrap them tightly in wax paper or parchment paper squares. The caramels will keep wrapped for up to one month.