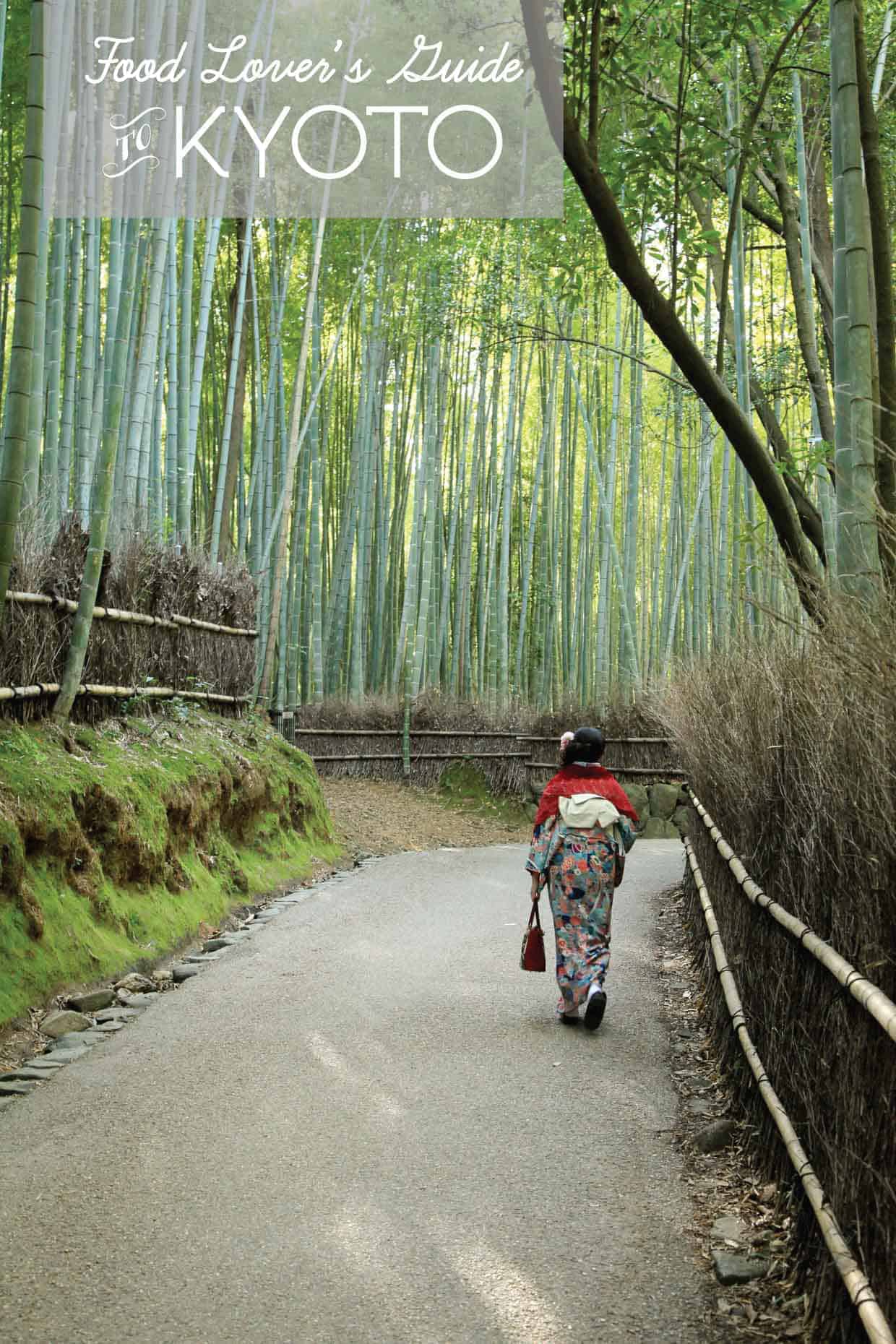 Let's look past the fact that I've been sitting on this Kyoto jewel for exactly a year. I will flash Kyoto's beauty to distract you from my tardiness. The fact of the matter is that Kyoto was so incredible that it took me this much time to take our photos from a bazillion to a shareable set. We spent three and a half days of our honeymoon last November taking in Kyoto's treasures and I've spent the past year thinking about how to describe all of it to you beyond "it was our favorite" over and over again.
Because that's exactly what it was. Our favorite.
Just like we did in Taipei, we planned our days around getting from one restaurant to another, but what happened in between was nothing short of magic. November in Kyoto is the peak of autumn's fall colors - that, combined with thousand-year-old temples makes it all so majestic.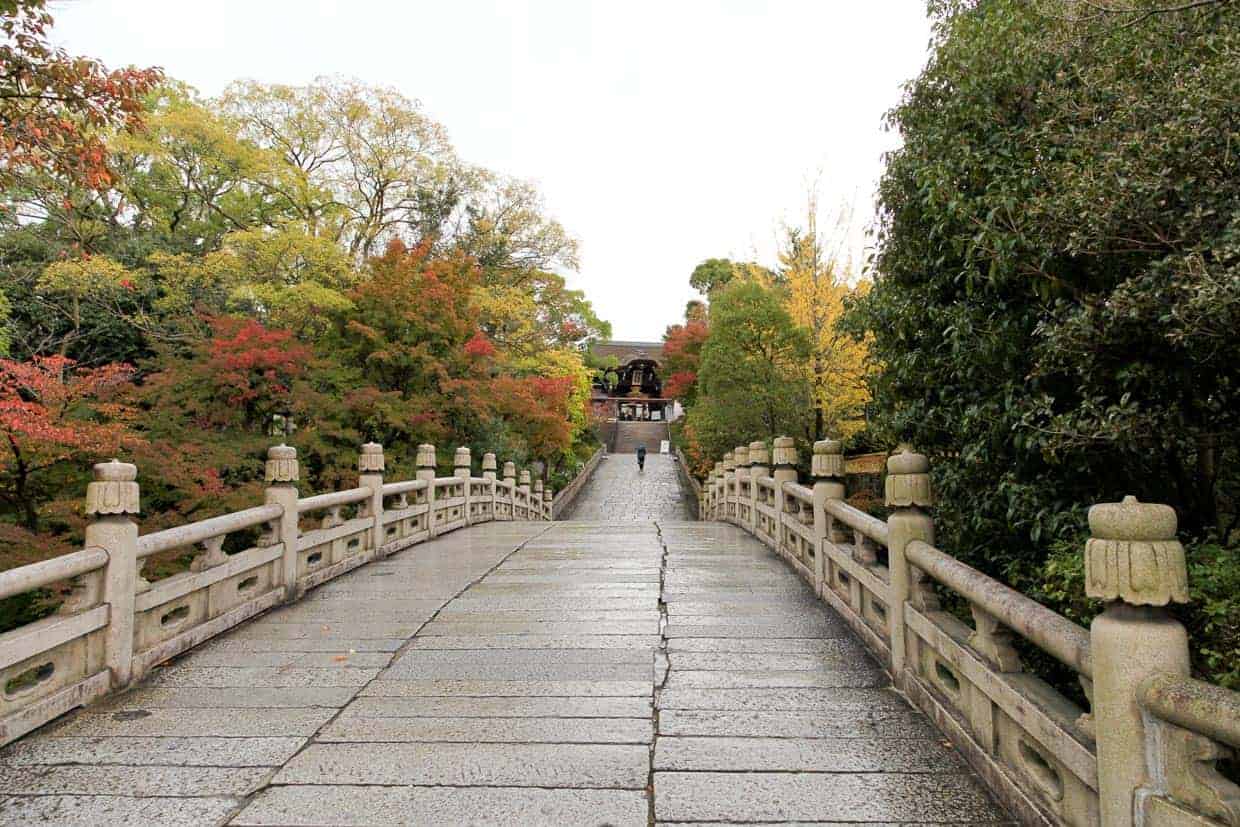 Here's a breakdown of our trip. Jump to the bottom for our eat, see, do, shop, and stay Food Lover's Guide to Kyoto! Note: Request access to our interactive google map here and request access to our trip planning spreadsheet here. No need to reinvent the wheel.
Day 1:
We touched down in Kyoto early Tuesday afternoon and immediately caught the bus to Kiyomizudera Temple to take in 180° views of the fall colors. Here's where our Google Map adventures began; I'm crediting some creative soul at Google with the serene off-the-beaten-paths our pocket-wifi-enabled Google Map took us on.
"Oh, you want to go to this super popular temple? Let me guide you up this empty cobblestone hill, where you'll see views of the entire city, walk past historic graveyards, and feel like you've been transported to another era when the city wasn't so densely populated." - Google Maps
We thought maybe November in Kyoto was off-season and we'd be temple-hopping all alone. That is until we reached the top of the hill and discovered an entire middle school lining up in uniform in front of the temple for class photos.
1 point for Google Maps!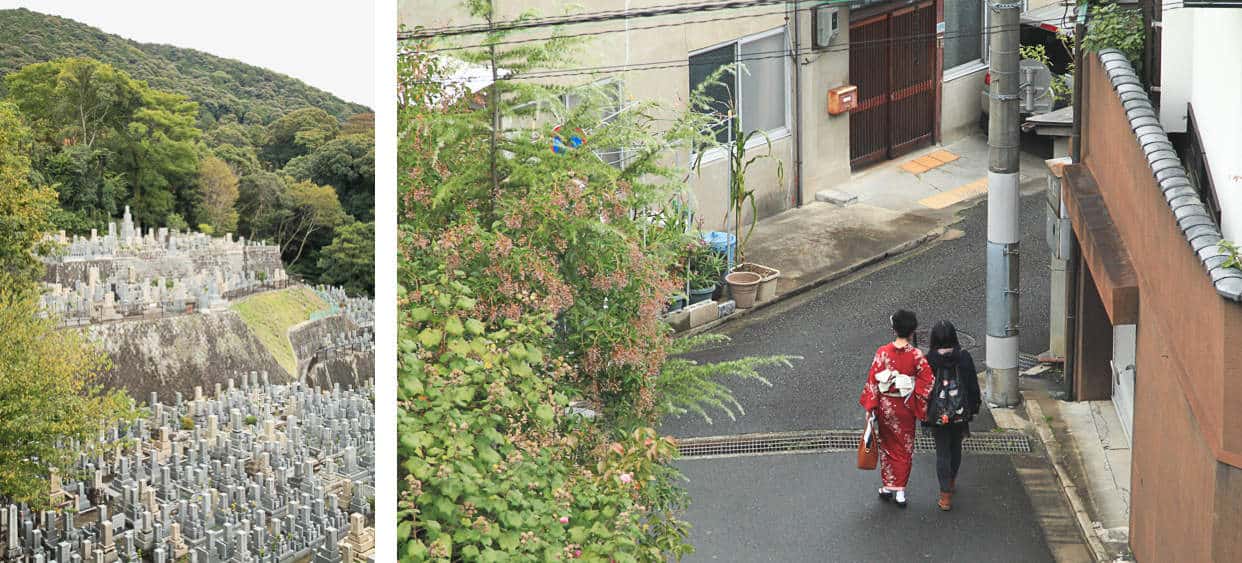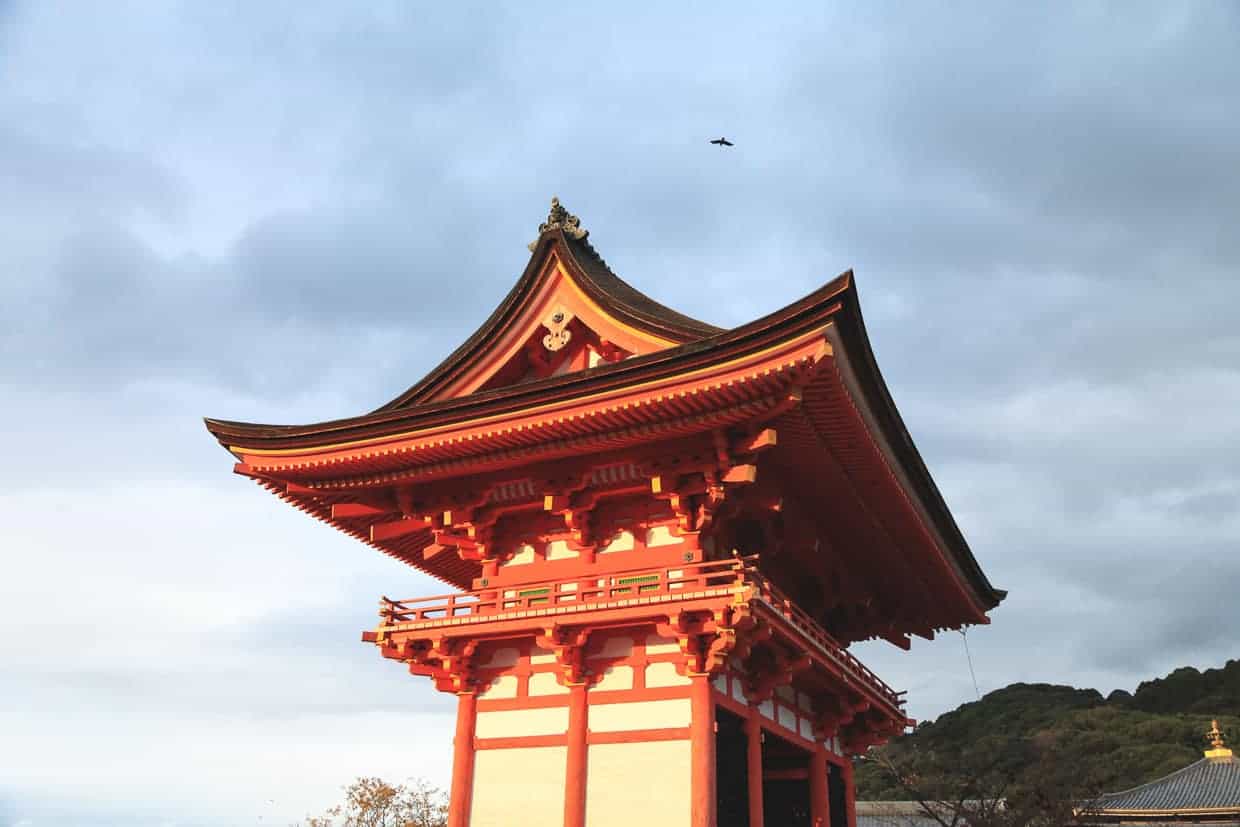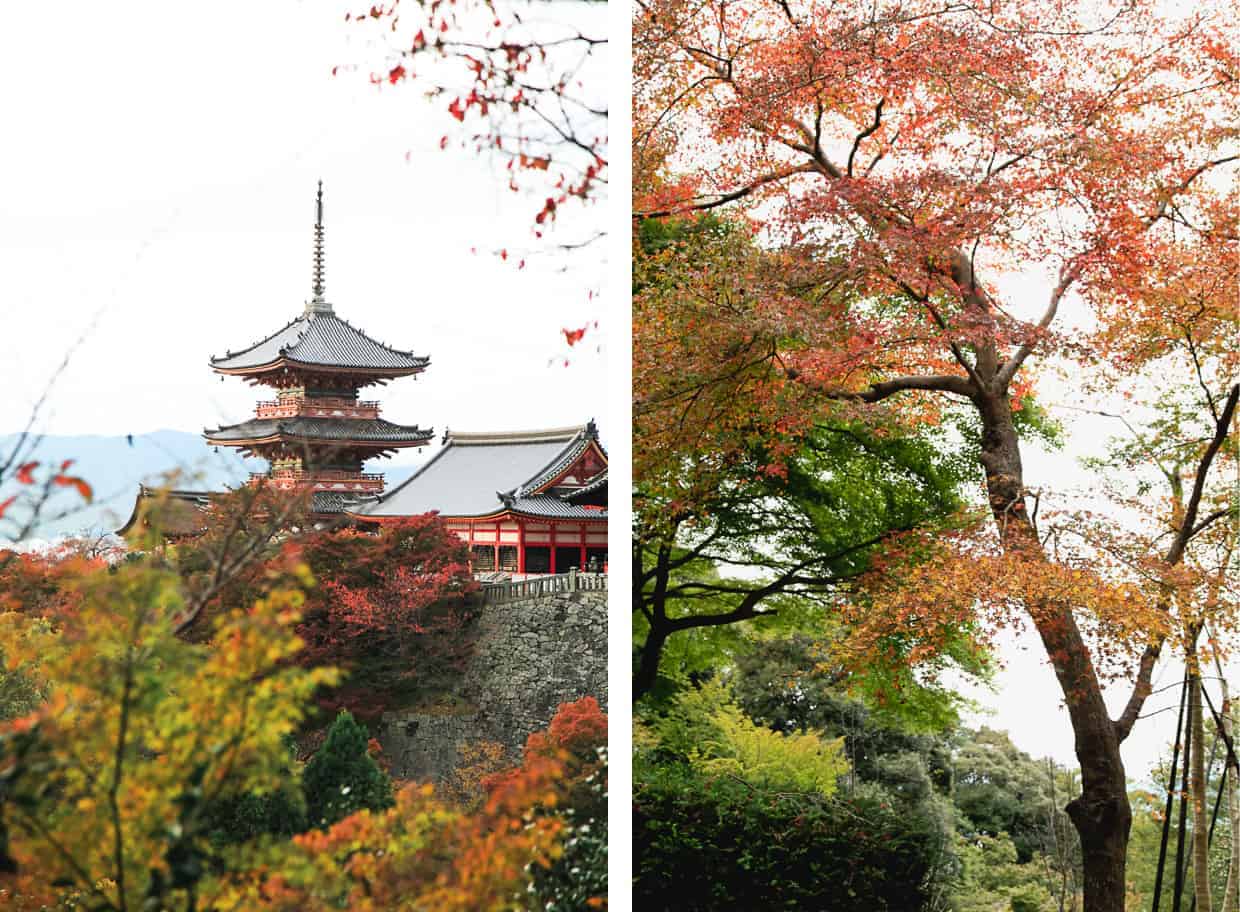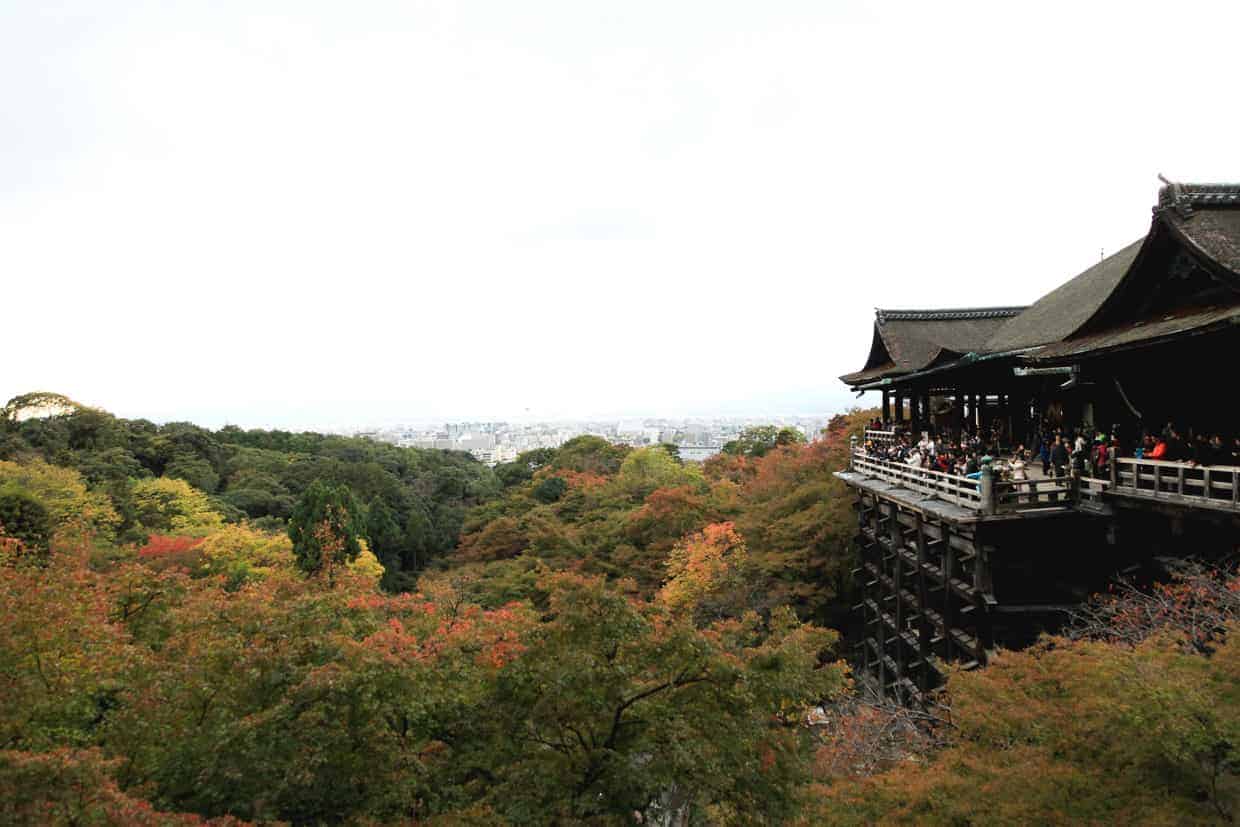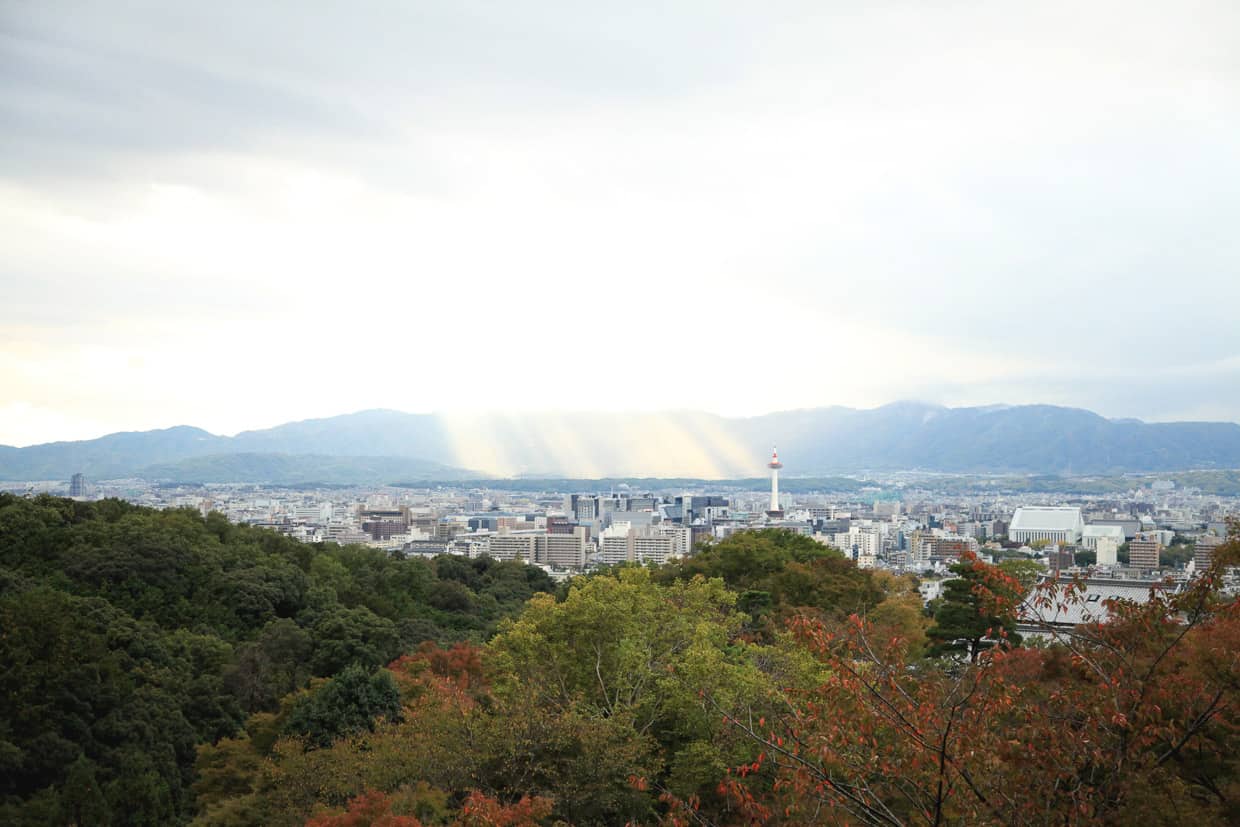 That's real. That stream of light is the sky giving us a warm welcome hug after a short rain.
As if the season's changing colors weren't stunning enough, many of the temples open up their doors after sun fall in November for an illumination of the autumn hues. Don't even try to bring a tripod - they're the only thing explicitly prohibited.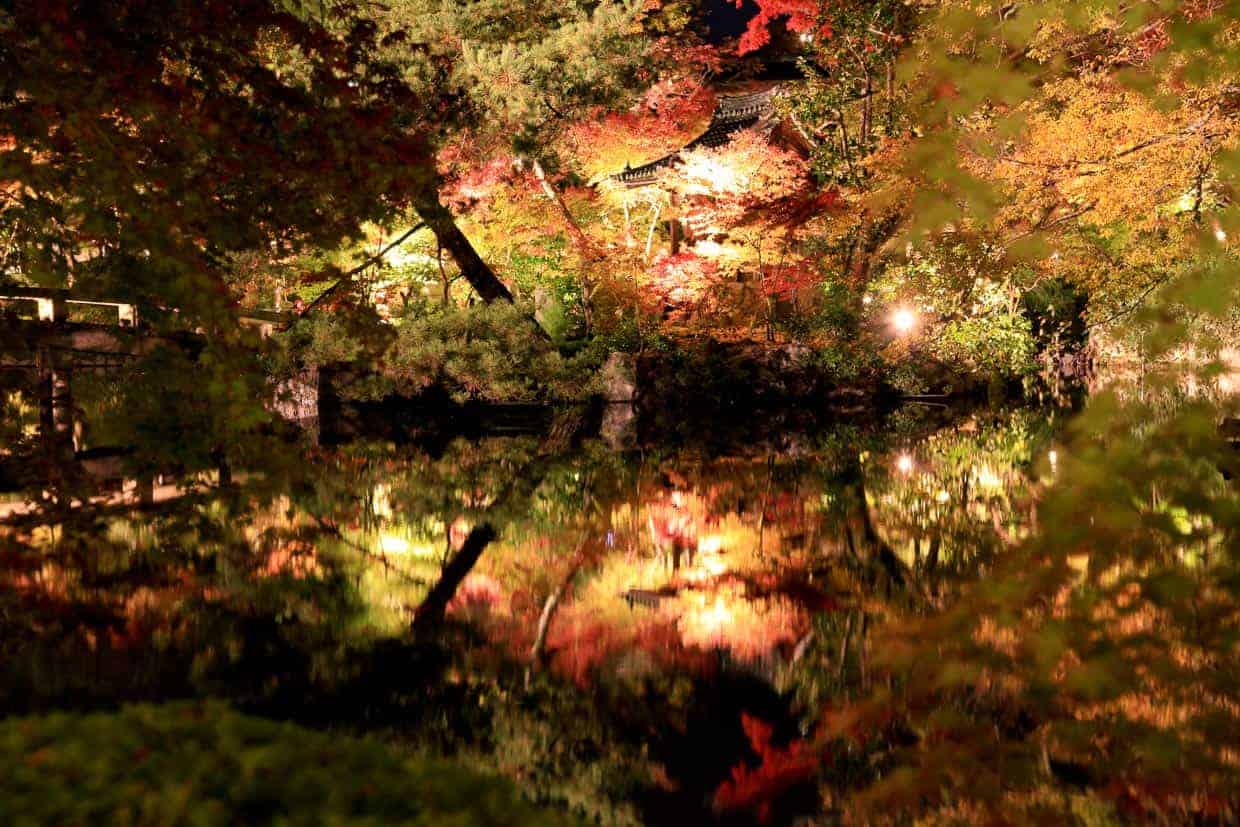 Upon recommendation from Love and Lemons, we had our hotel concierge book a reservation at Gion Nanba, a small Michelin-rated traditional kaiseki restaurant serving ten seasonal courses all prepared by two chefs in a pint-sized kitchen the length of the bar. We knew the restaurant was down an alley, but once we got there, all the signs were in Japanese and every sliding door looked a bit like you might accidentally walk into someone's private home. Thanks to a traveler who wrote "it's the first set of lanterns on the right," we found the hidden eatery.
Beyond artfully crafting multiple courses in concert without talking, the two chefs also washed all the dishes while they cooked, stacking them in a tiny cupboard that couldn't even hold my bowl collection. At the end of our meal, the head chef even found time to sneak into the alley to shake our hands goodbye and waved as we disappeared around the corner. The epitome of Japanese hospitality.
Our first dish of the night, pictured below, came to us with the description "fish eggs." Assuming that orange-colored stuff on top was a bit of roe, we dug into the best dish of the night. Hands down. I'm big on textures and this one was smooth and custard-like with a small bite from the mushrooms.
When we got back from our trip, a friend posted a picture on instagram with the hashtag #codsperm. And that's when it hit me. Fish eggs were not EGGS at all.
Sperm! I'd eaten fish sperm. And you know what? I loved it. (Put that on a bumper sticker).
A few months later, our fish market had a little bowl labeled shirako (the Japanese word for cod sperm or cod milt). A little old lady walked in and politely asked what it was. I inappropriately snickered as the fish monger squirmed, trying to find just the right words to tell grandma that she could eat sperm if she wanted.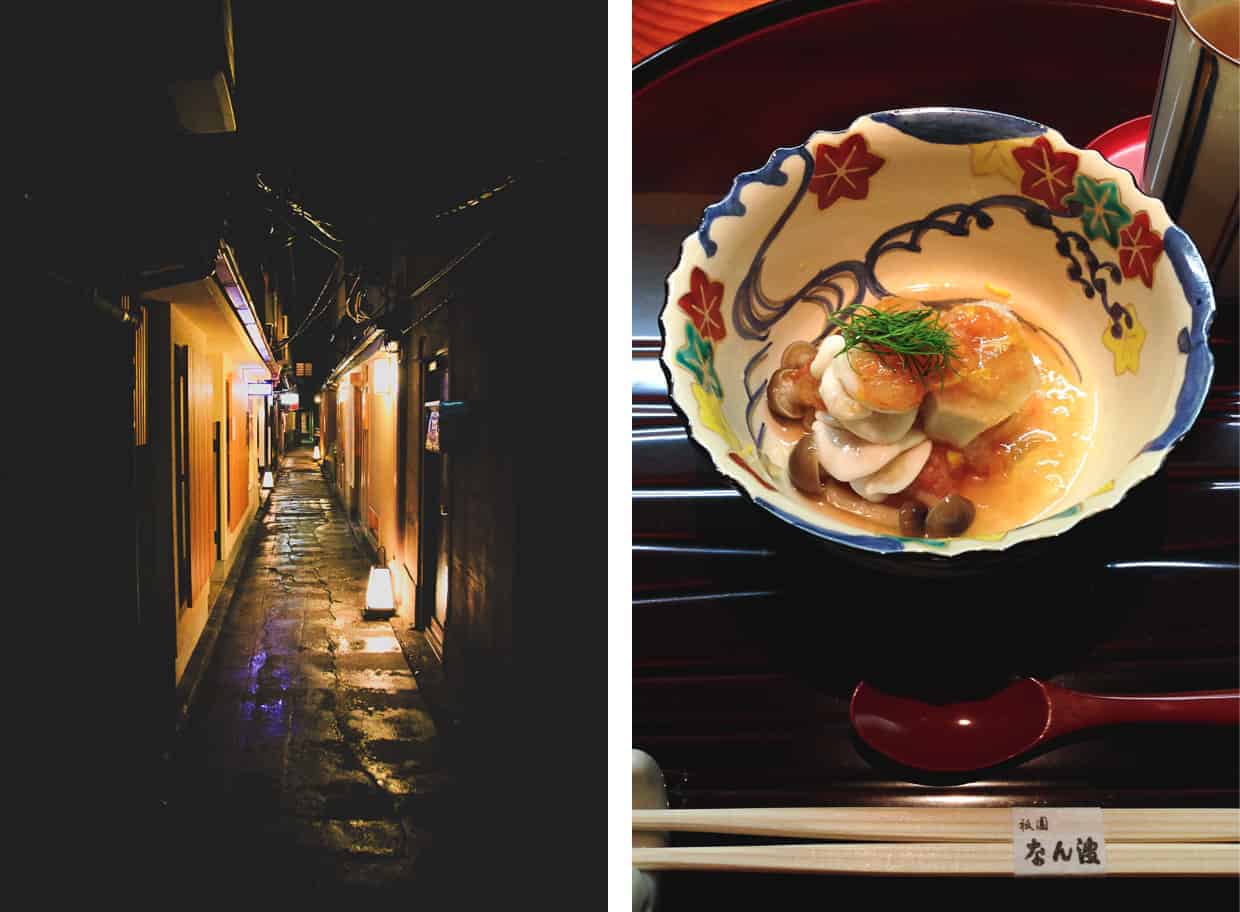 Day 2:
With only a few days in Kyoto, we got up early to hit up the iconic Fushimi Inari Shrine with orange gates straddling a pathway up the mountain. This shrine for the patron of prosperity in business dons statues of foxes, the symbol of merchants, all around the grounds.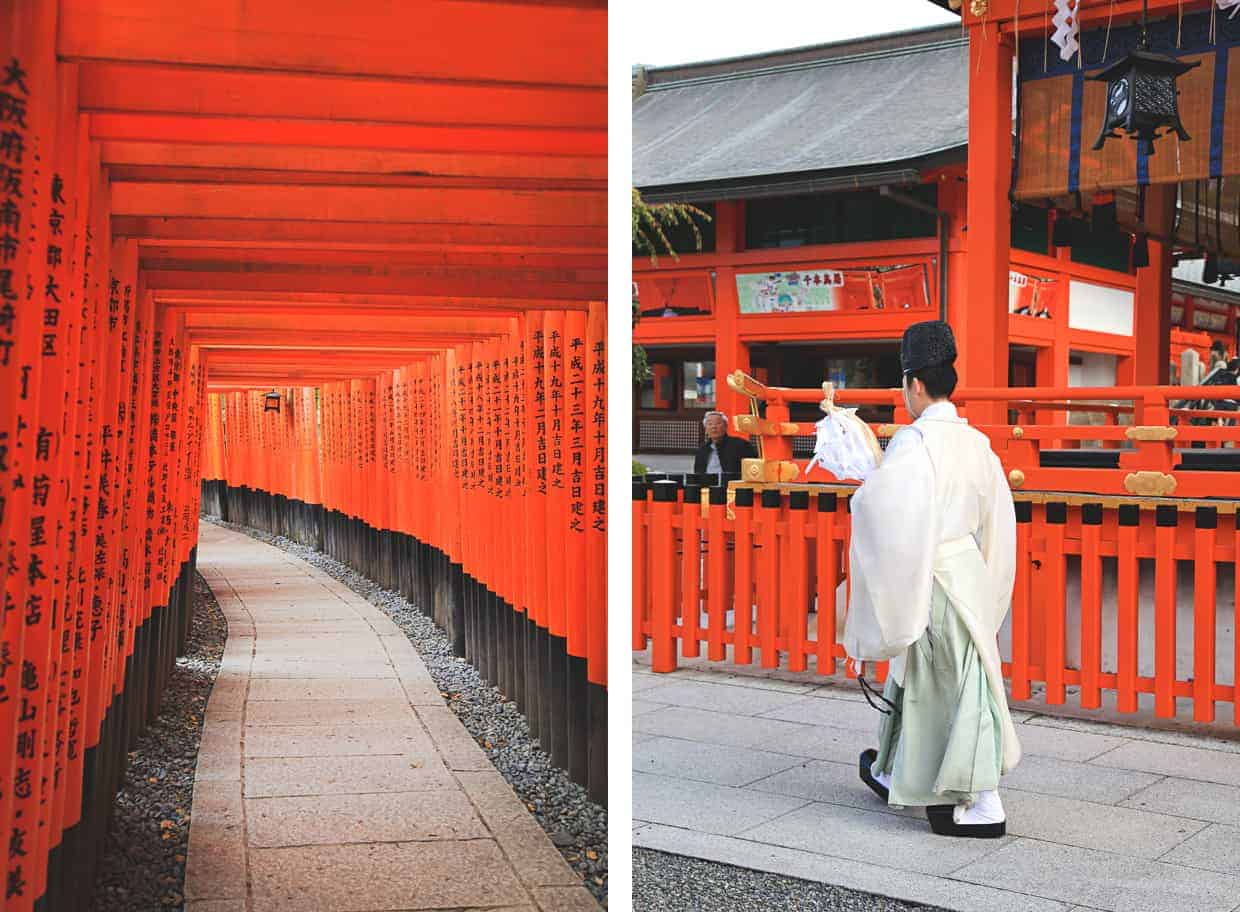 These are thousands of paper cranes about the size of a thimble stacked into strands and hung outside the shrine for good fortune.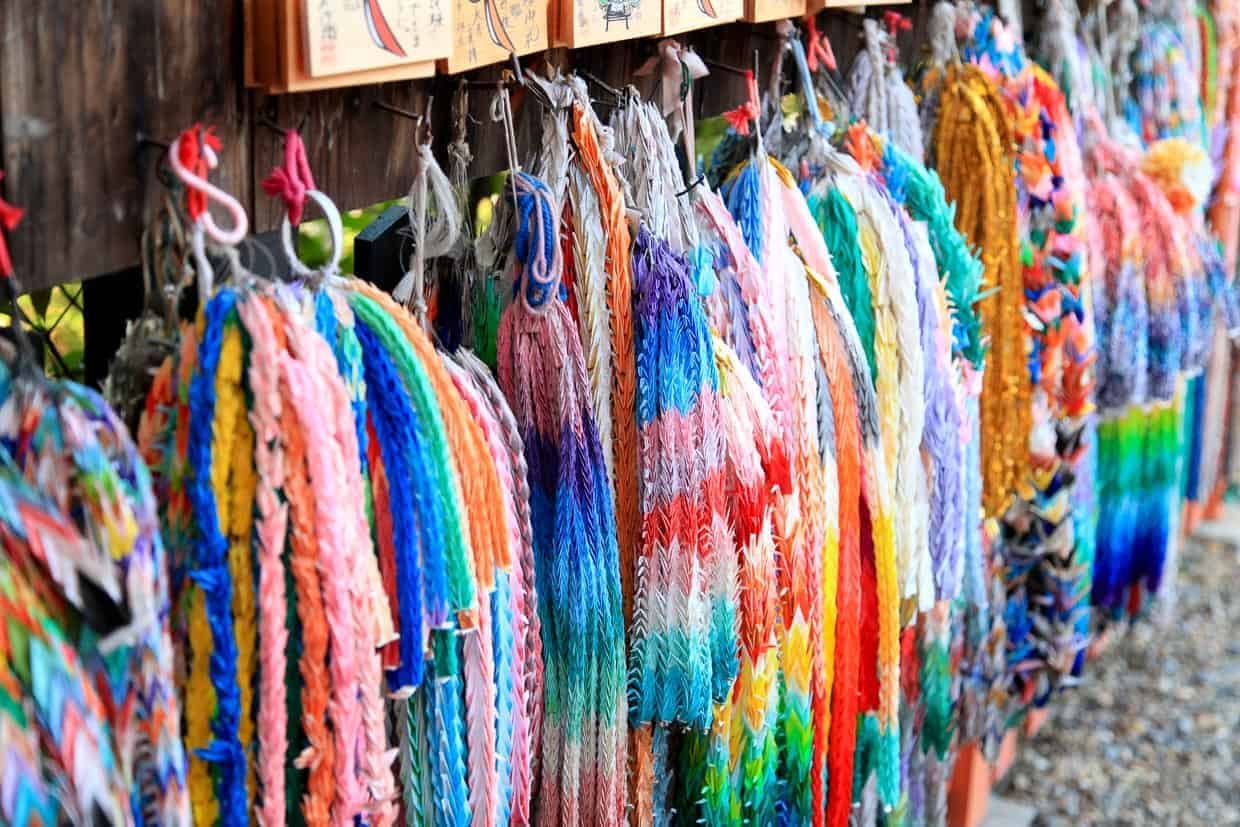 Before our trip, my acupuncturist told me about a moss garden that another patient of hers had recently gone to in Kyoto that was apparently a must-see. Upon looking into it, I discovered they required reservations and to do so, you must send a snail mail letter to Saihō-ji Temple requesting the date you'd like to go, with a blank self-addressed stamped return postcard to where they can mail your ticket. And all of this must happen at least two weeks before you want to go. To complicate things, it turns out you can no longer buy an international stamp from Japan to the US in the US.
On a whim, I e-mailed our hotel concierge to see if they could book the reservation for me. They wrote back almost instantly confirming they'd sent off our request and would have our ticket waiting when we checked in. This is the moment that I realized that hotel concierges are your best friend when planning international travel.
Google Maps took us on a train ride that dropped off about a mile from the temple, with a stroll past a bamboo forest through a residential neighborhood where persimmons hung from all the trees.
2 points for Google Maps.
Our hotel had told us our reservation was about an hour long. Otherwise, we had no idea what to expect other than a breathtaking moss garden. When we arrived, we exchanged our shoes for slippers and were quietly shuffled into the inner temple where we sat cross-legged in front of a 2-foot wide desk on the floor. Someone handed us a two-page sheet of tracing paper with hundreds of Japanese characters, a calligraphy brush, and an ink stone with the verbal instruction "copy."
Taking a cue from the people sitting next to us, we sat and traced the sutra with the low hum of the sutras chanted in the background for an hour. Lucas took up more than his fair share of space trying to figure out how everyone else was flexible enough to comfortably sit cross-legged. About halfway through, he started grumbling complaints, "Do we have to copy this whole thing?! Are they going to check? How long do we have to do this?" I had no answers, but it was clear he was super anxious we wouldn't have any time in our allotted hour to see the garden with how long it was taking him. We had no idea what we signed up for.
One by one, others would take their painstakingly calligraphied sutras to the altar as an offering, bow, and exit out to the gardens. You heard that right - we didn't even get to keep all that hard work we'd just done.
Once we stepped into the moss garden, we completely forgot the pain our legs and back endured for the past hour. Anything up to this point was worth it for this. The reservation process and higher admission fee mean this temple is less-populated. With only a few others in sight, you're instantly whisked away into a magical land you've only imagined in dreams.
This is my happy place. You can find me here in my daydreams, okay?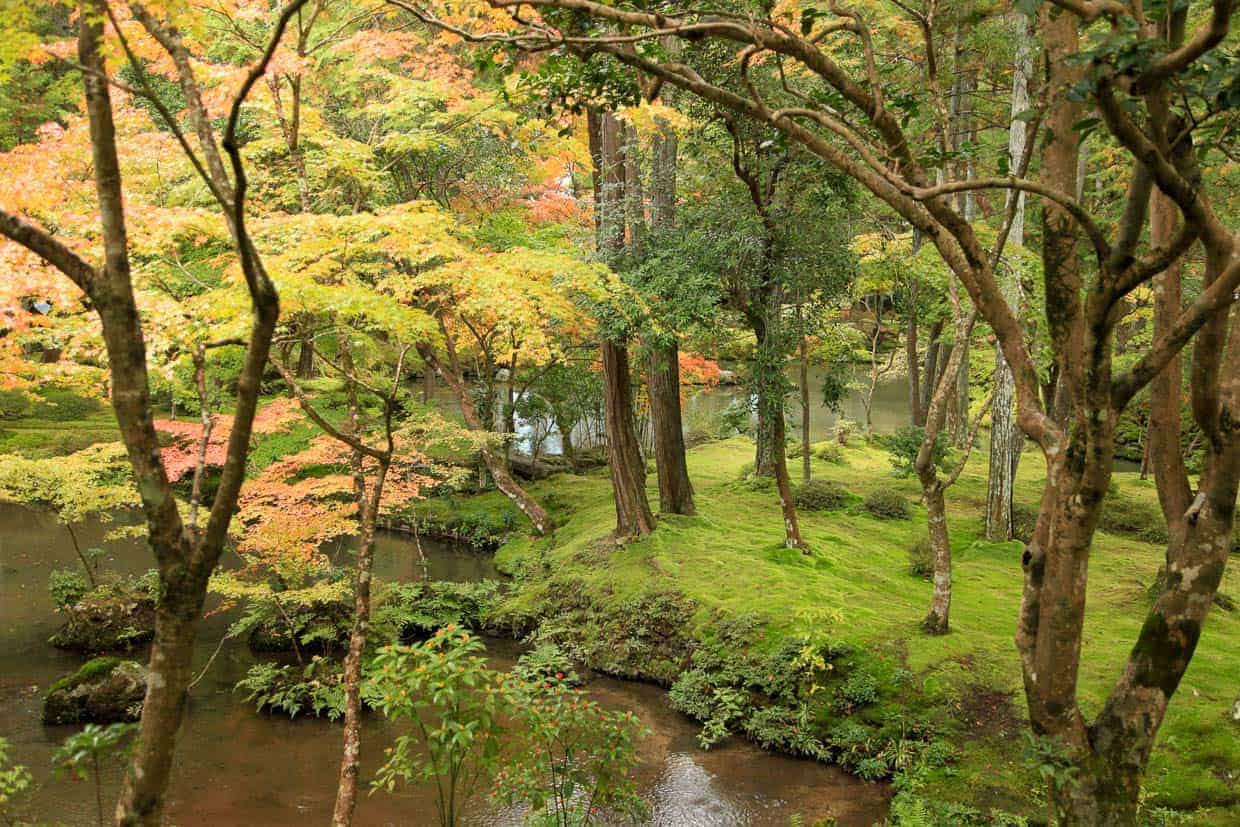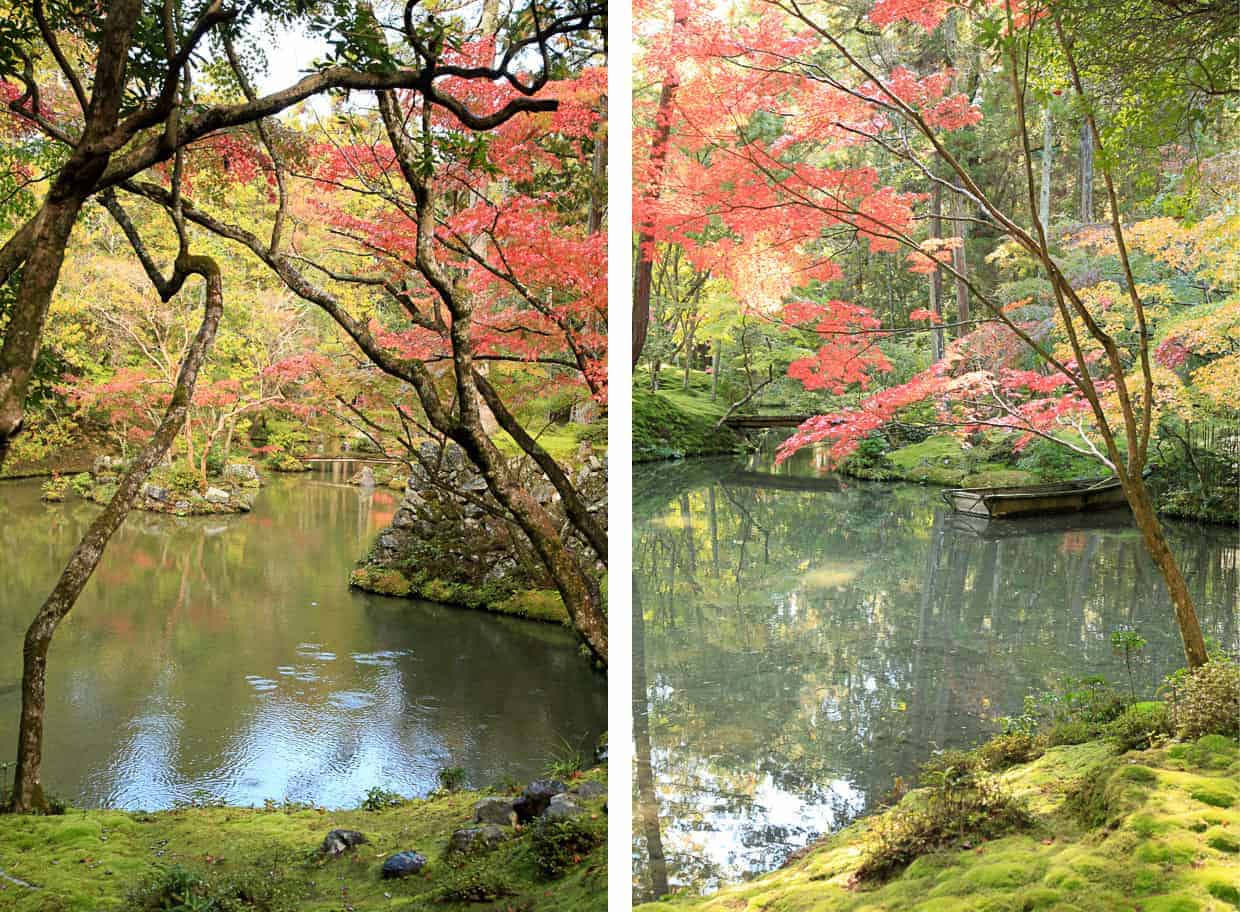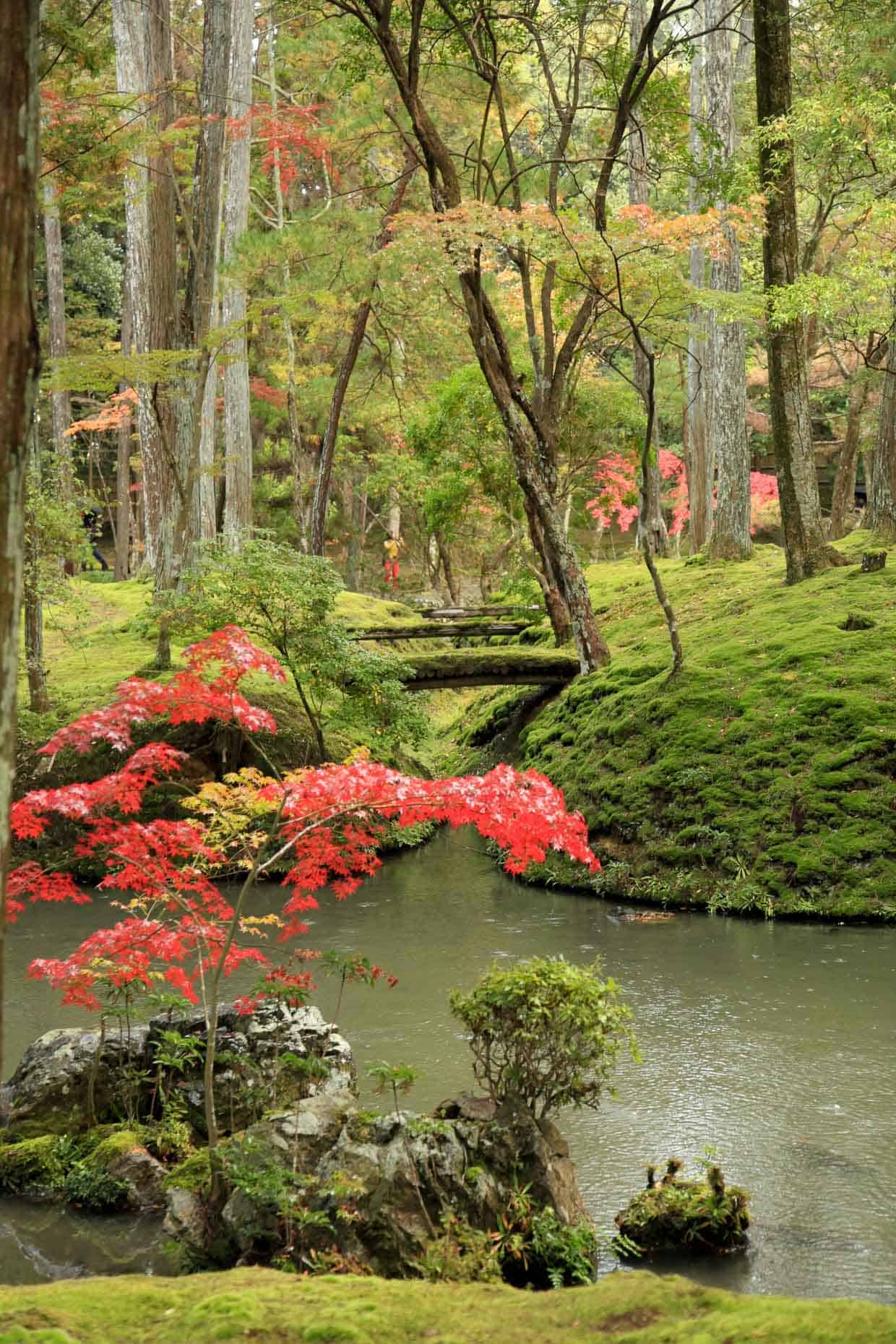 Day 3:
The top two stories of the Golden Pavilion are covered in gold leaf. Its history includes burning to the ground in 1950 and being rebuilt. I can't even imagine the price tag on that restoration.
As the only blonde in sight, a gaggle of middle schoolers on a field trip flocked around me to practice their English, interviewing me about where I was from and what I'd seen in Japan.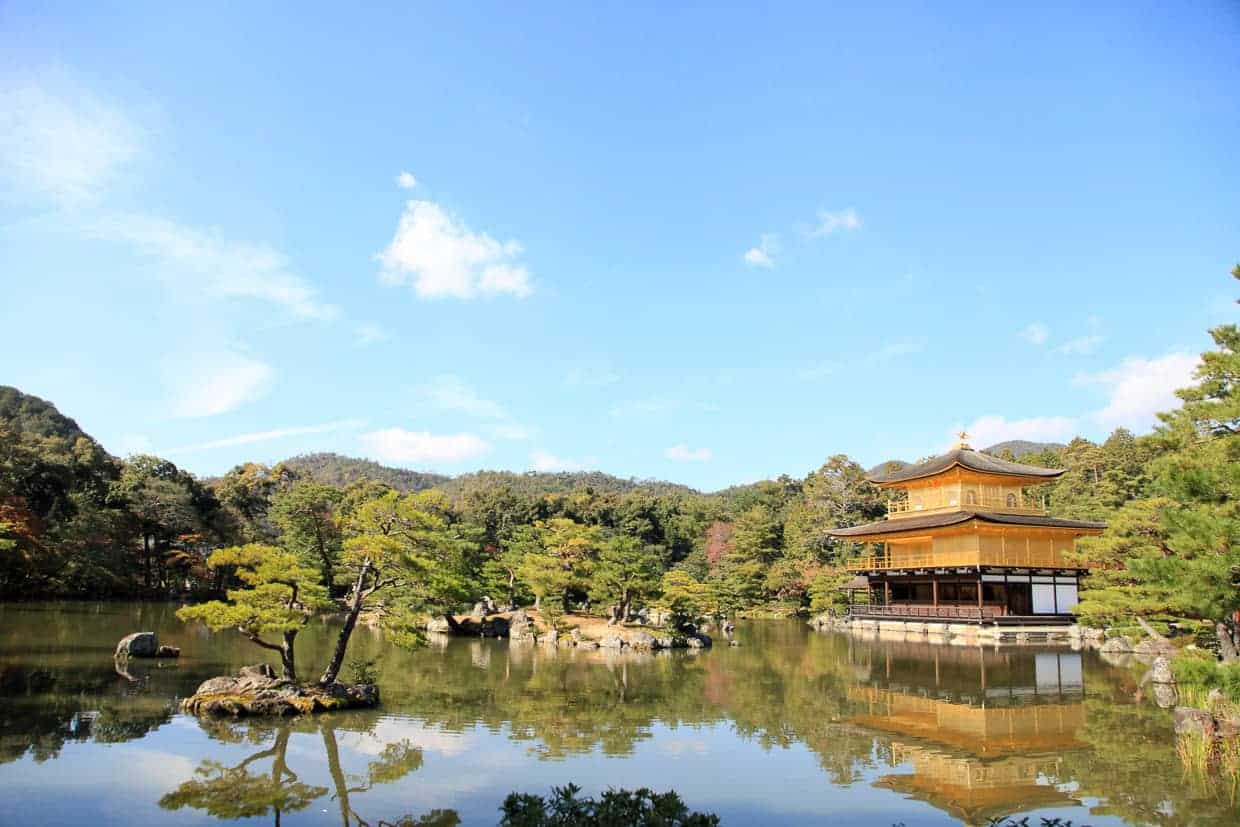 Kyoto is known for its tofu, so we had our hotel book us a reservation at Shoraian, an artisan tofu restaurant overlooking the banks of a river. When we got off the train in Arashiyama, Google Maps led us to lunch.
Through the famous Arashiyama bamboo grove and down a cobblestone path along a mountain ridge, where it popped us out in front of this glowing teal river. The restaurant was just a few steps along the river and back up another set of cobblestone stairs up the mountain. I wouldn't mind if this were my commute every day.
You win, Google Maps. (You like how Google Maps inadvertently became our private tour guide?)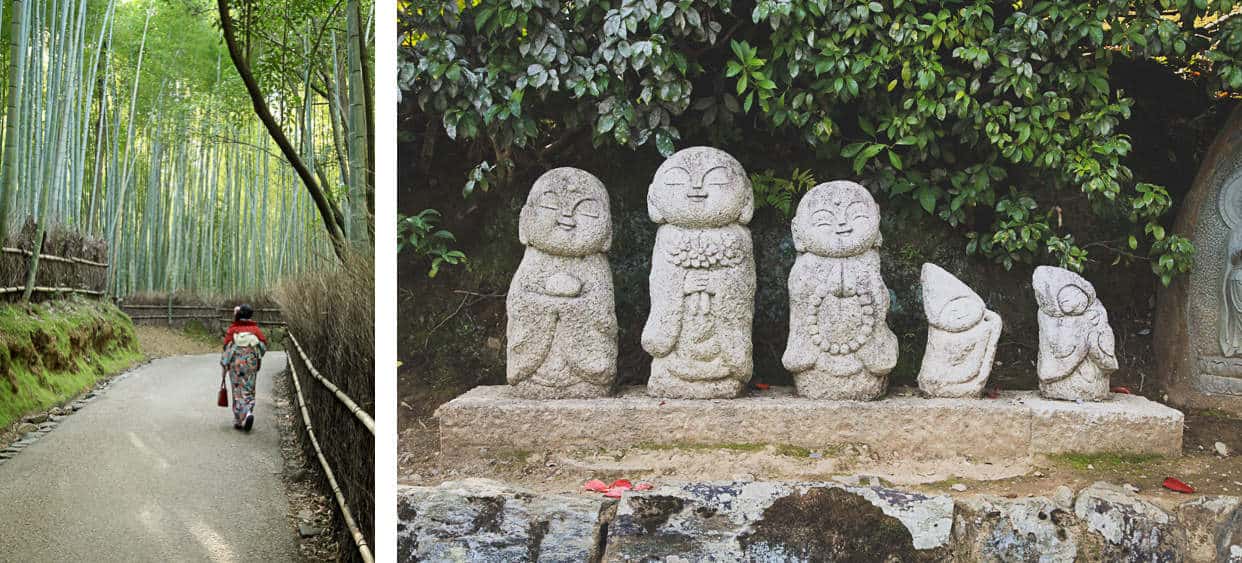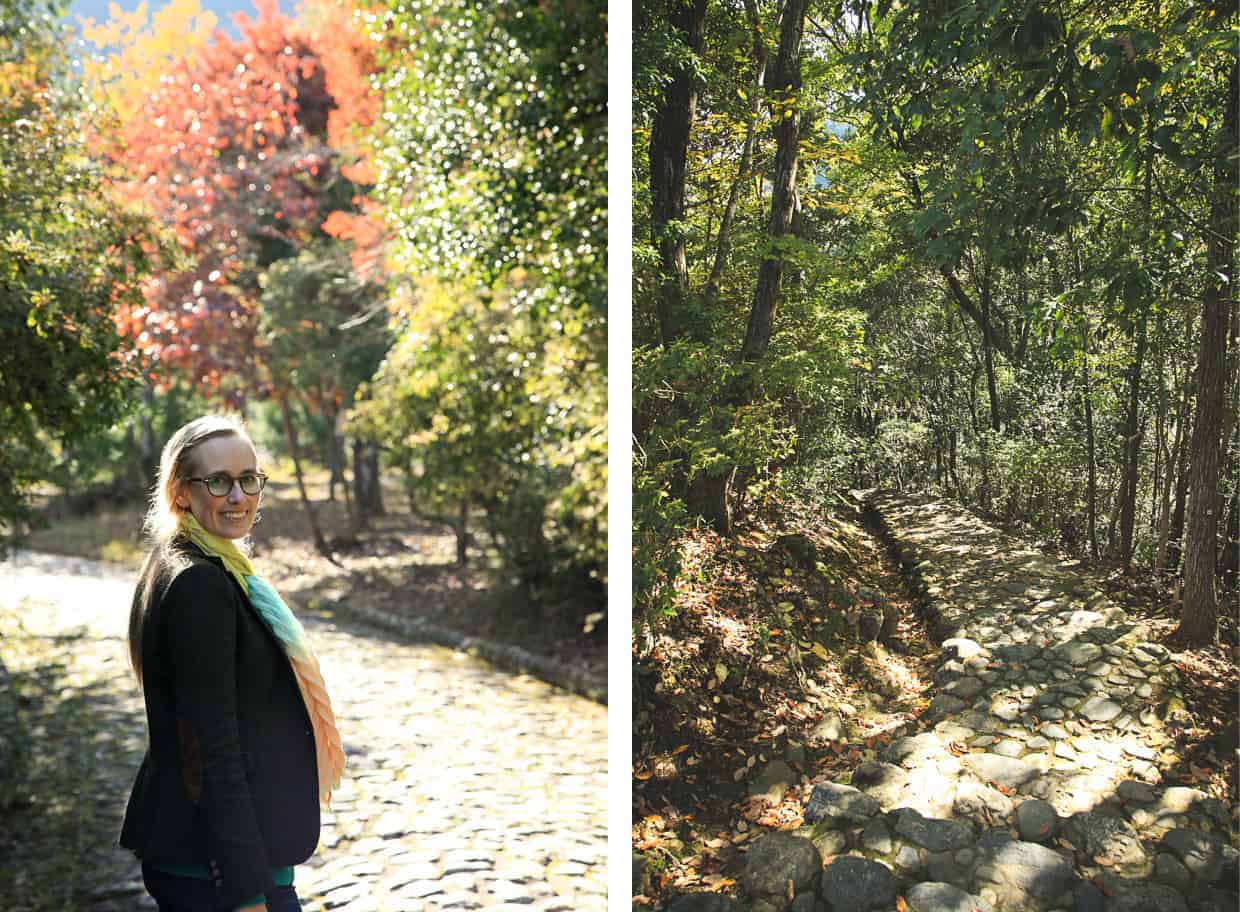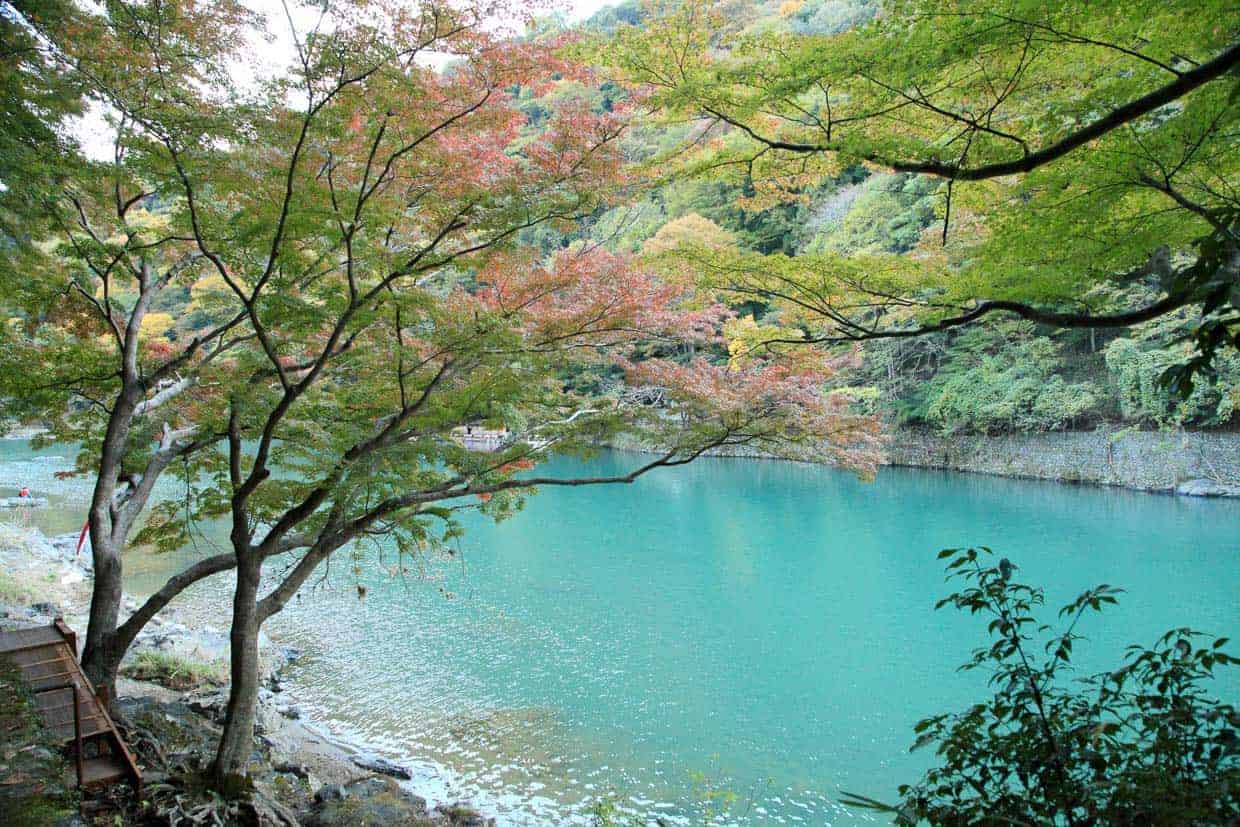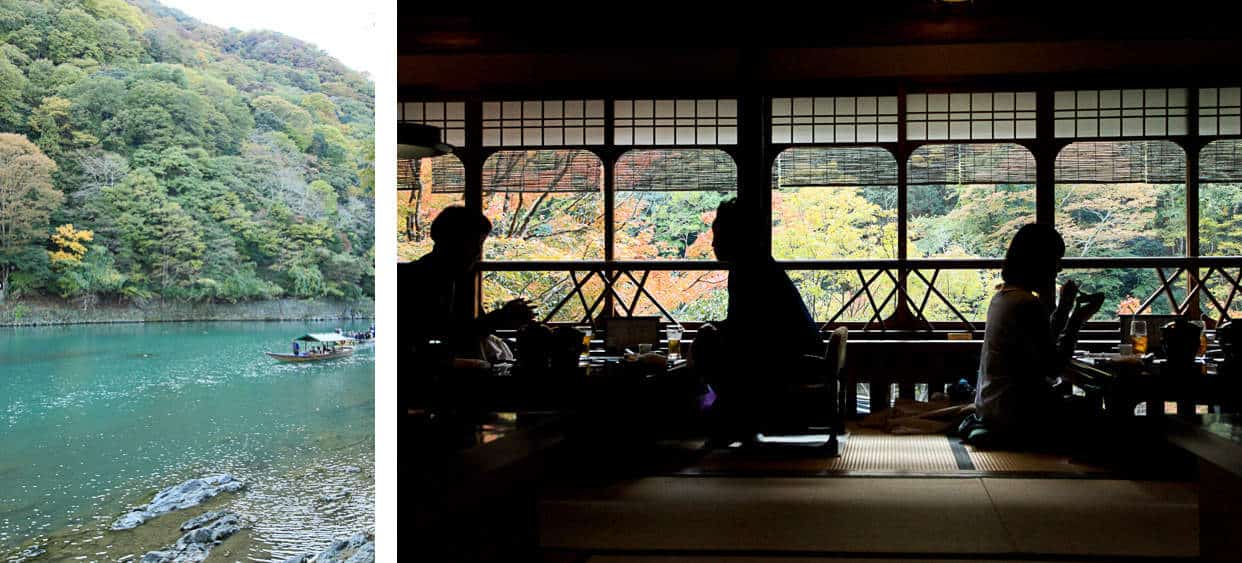 I couldn't tell you what any of the tofu preparations were or how they made them, but I can tell you I'd travel back to Kyoto just to eat at this restaurant again.
After lunch, we followed Google Maps across the Togetsukyo Bridge to find the Monkey Park. Google Maps tried to lead us up the side of the mountain through a narrow pathway between two yards with a chain link fence on one side. As in, "just walk along through this neighborhood...andddd NOW - turn right through this unmarked path. Do it, trust me. You wore your hiking boots, right?" - Google Maps
About 5 minutes up, we got into a heated debate about whether this was the right way to the monkeys. Lucas was in the trust Google Maps camp, and I was in the "I need to get to the monkeys before the park closes in an hour" camp. I won, and it's a good thing too, because on further inspection Google Maps wanted us to hike up and over a hill, and then up another hill, where we'd have to illegally scale a barbed-wire fence along the way.
Minus 1 point for Google Maps.
After a deceitfully long hike up, we finally got to the top where dozens of monkeys were just straight chillin'.
They told us to stay 3 meters away from the monkeys, never looking them directly in the eye. They apparently forgot to give the same instructions to the monkeys.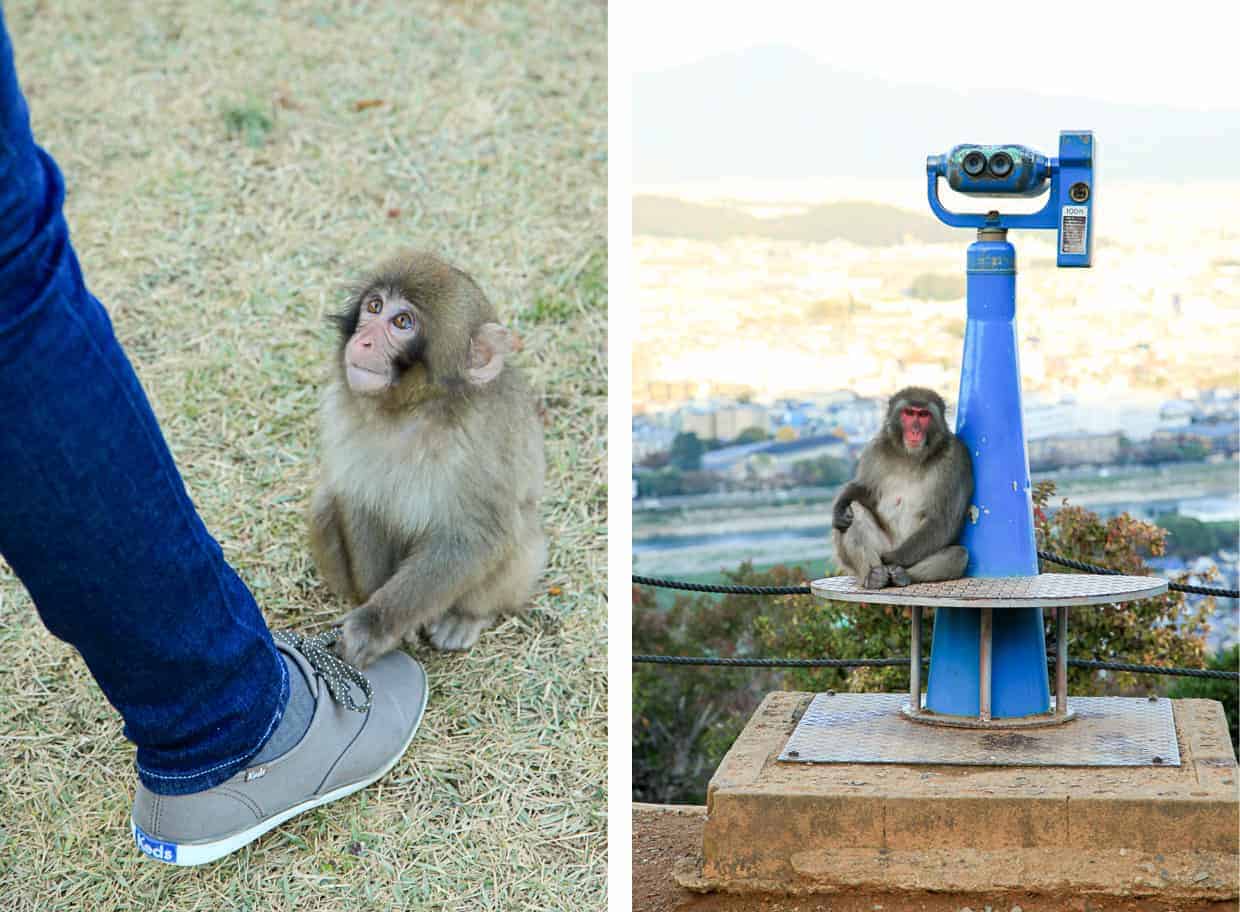 Don't even try to use one of those coin-operated binoculars - they're strictly monkey jungle gyms.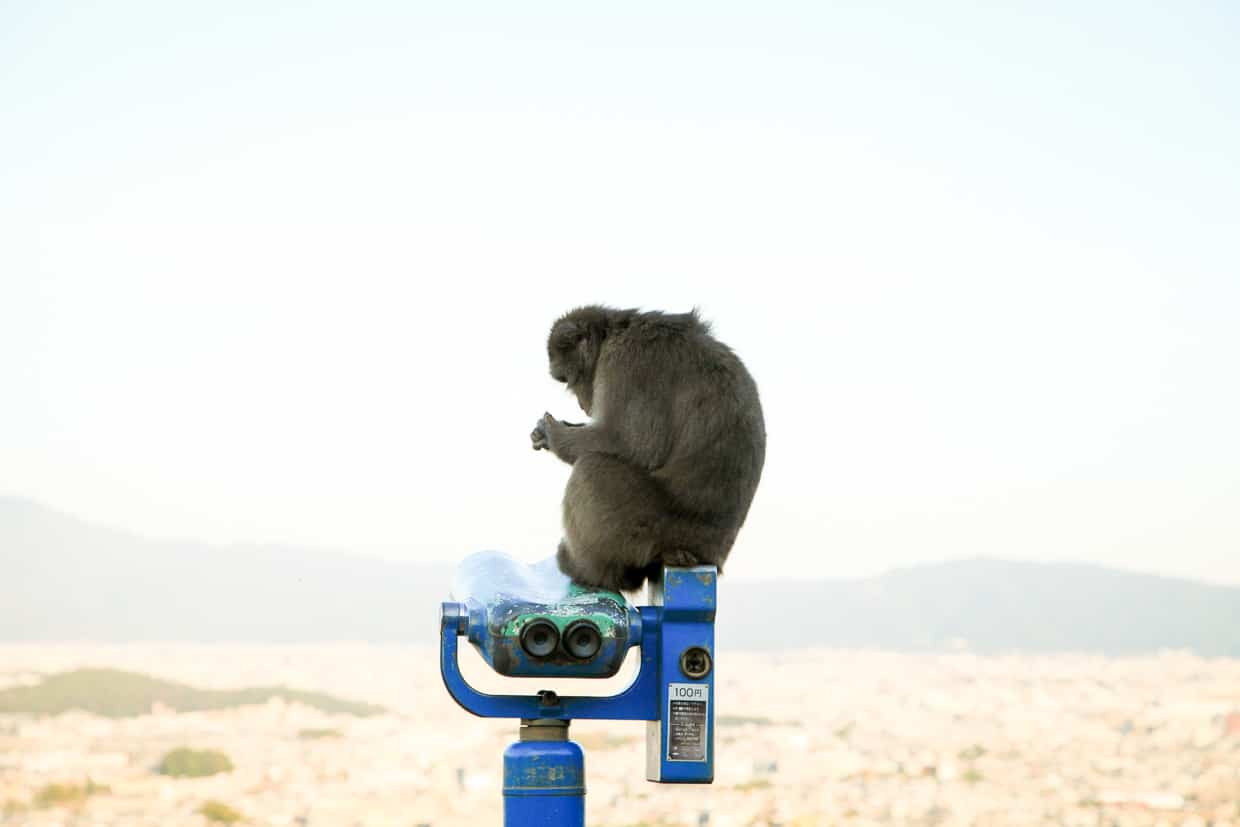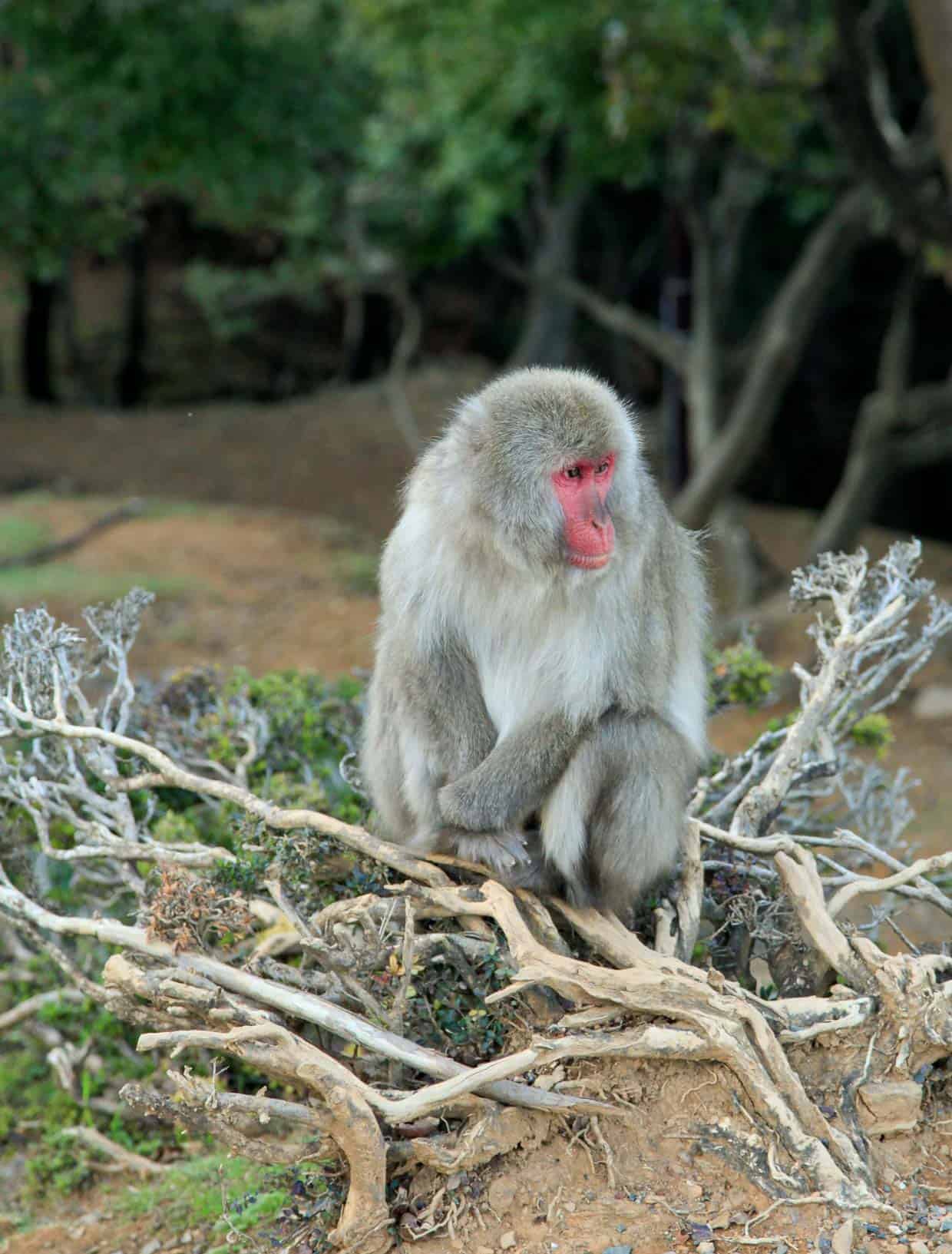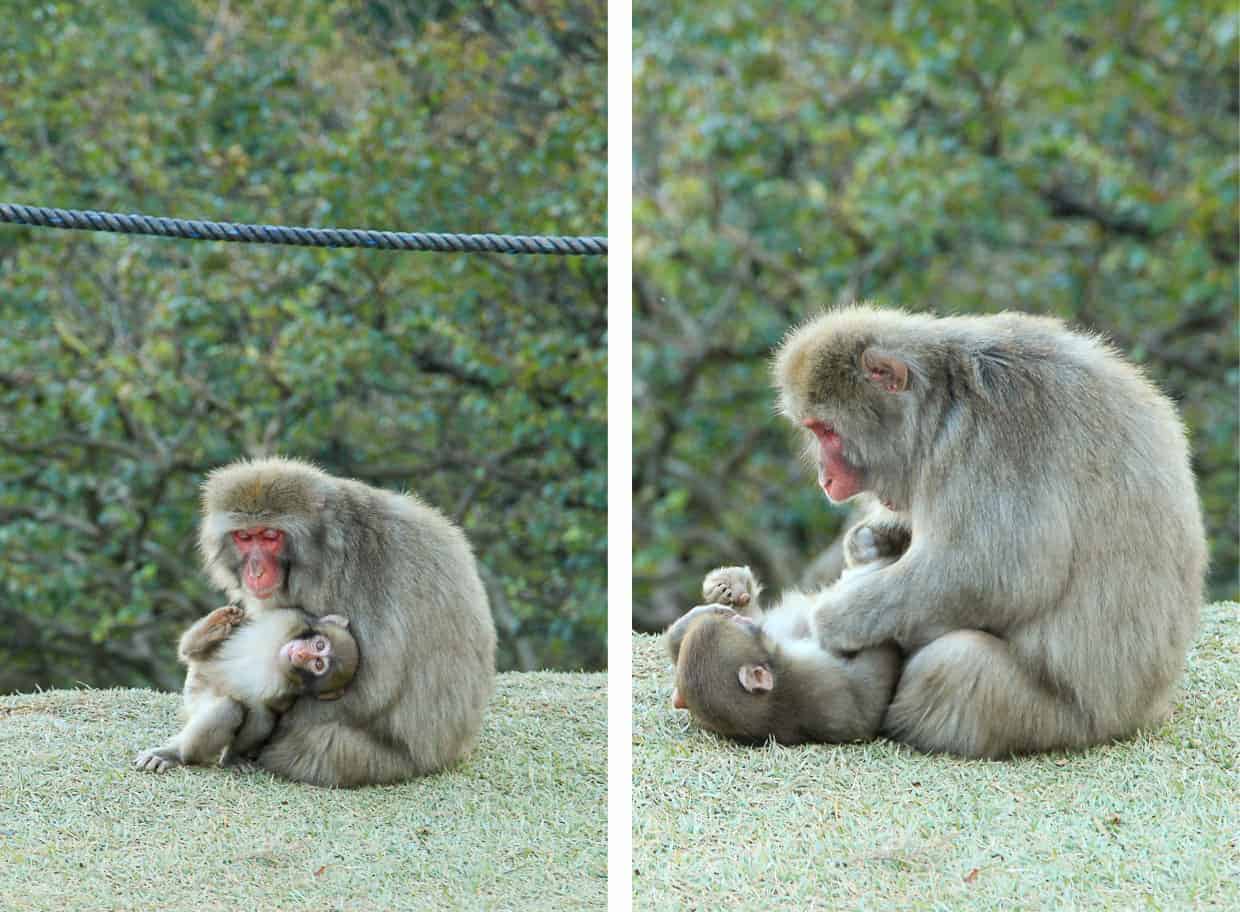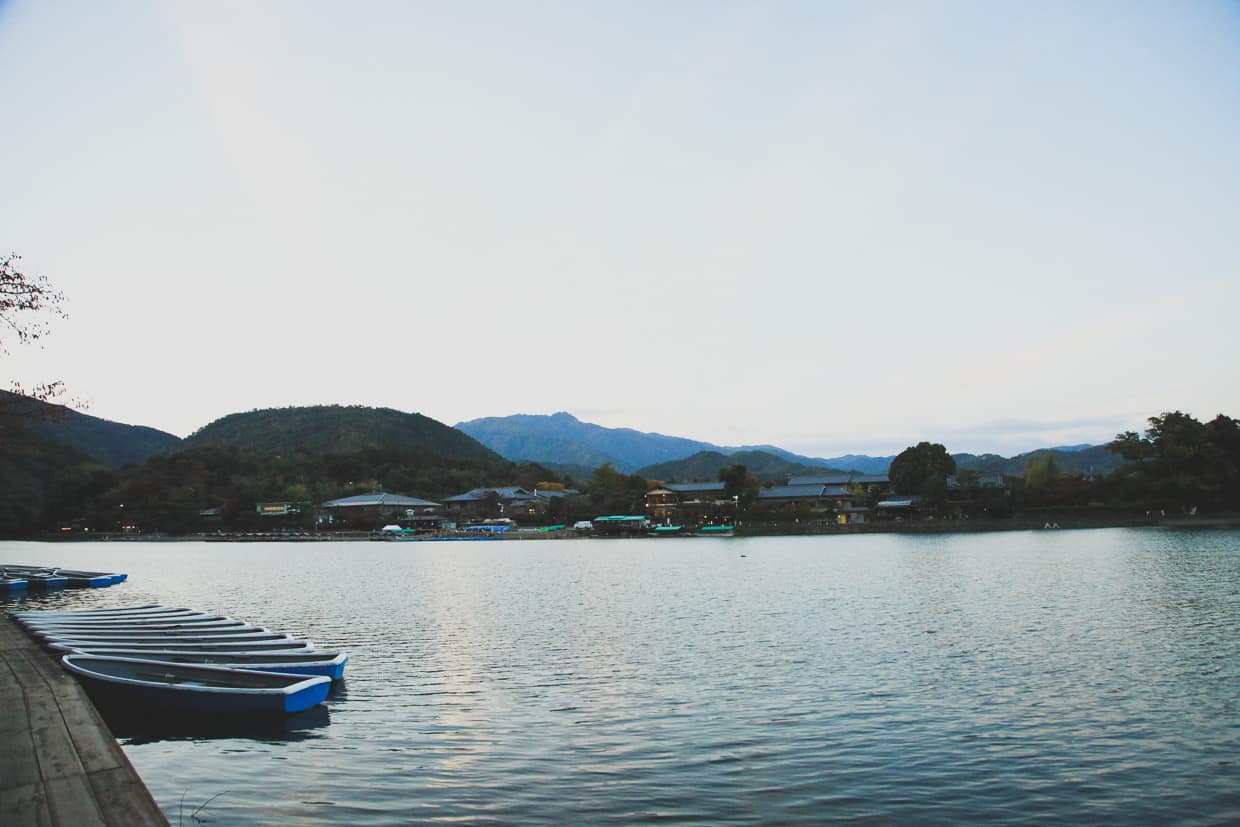 The next morning, we hit up a local handicraft flea market outside of a temple that didn't even need to apologize for setting up camp in the mud while it was raining. Kyoto stole my heart. We'll be back soon, and not just because we got to fly home on the Hello Kitty airplane that branded everything from my fish cake to my toilet paper with Hello Kitty's face.
Until we meet again, Kyoto.
Food lover's guide to Kyoto
Eat
Gion Nanba: This traditional kaiseki restaurant in the Geisha district holds one Michelin star. With 10 exquisitely prepared courses, this was one of the best meals of my life. It's in a small alley across the street from the Starbucks. Once you get into the alley, the restaurant is the first set of lights on the right. Click here for a helpful map. Address: 4-jo Hanamikoji Higashiiru, Higashiyama-ku, Kyoto, Kyoto Prefecture 605-0073, Japan (Reservations needed).
Shoraian: Tofu is one of the Kyoto's specialities. This restaurant prepares a set menu with multiple tofu preparations that will blow your mind. Shoraian is nestled in a mountain just outside the Arashiyama Bamboo Grove, overlooking the teal blue Oi River. This restaurant is one of our favorites from the trip - a must-eat. Address:

Kanyuchinai, Sagakamenoocho, Ukyo-ku

,

Kyoto, Kyoto Prefecture 616-8386

,

Japan (Reservations needed).

Giro Giro: This modern kaiseki restaurant provides a nice complement the traditional Gion Nanba. Address: 420-7 Nambacho Nishikiyamachidori Matsubara Sagaru, Shimogyo-ku, Kyoto, Kyoto Prefecture 600-8027, Japan
See & Do
Shop
Handicraft Market at Chion-ji Temple: On the 15th of every month. Imagine an enormous flea market of handmade Japanese goods. This was the best shopping we did on our trip and it didn't even matter that a) it was lightly raining and b) our shoes were covered in mud.
Arashiyama: There are a few small shops along the Tenryuji Tsukurimichi-cho from the train station to the Togetsukyo Bridge. In particular, we enjoyed the small home goods shop, Platz.
Stay
Hyatt Regency Kyoto: The Hyatt in Kyoto is very nice and moderately prices. We contacted the concierge a month before our trip to make reservations my mail at Saiho-ji Temple and also dinner reservations at Gion Nanba, Giro Giro, and Shoraian, and they were very responsive and took care of it all for us. It's also conveniently located right near a bus stop and a 10 minute talk to the train.
Travel Tips:
See additional Japan travel tips on my Food Lover's Guide to Tokyo, including ordering a pocket wi-fi, purchasing a JR rail pass before your trip, carrying hand sanitizer, and always knowing your cash and ATM situation.
E-mail the concierge of your hotel ahead of time to ask them to book restaurant reservations or even to book reservations for seeing particular sites, like the Saihō-ji Temple. Customer service in Japan is top-notch and they'll make sure every detail is taken care of for you, including things like pre-ordering which set menu price you'd like at the restaurant, as many of the small restaurants don't have English options.
Snixy Kitchen Wedding Posts:
Stay tuned for pictures of our wedding and honeymoon photobooks!