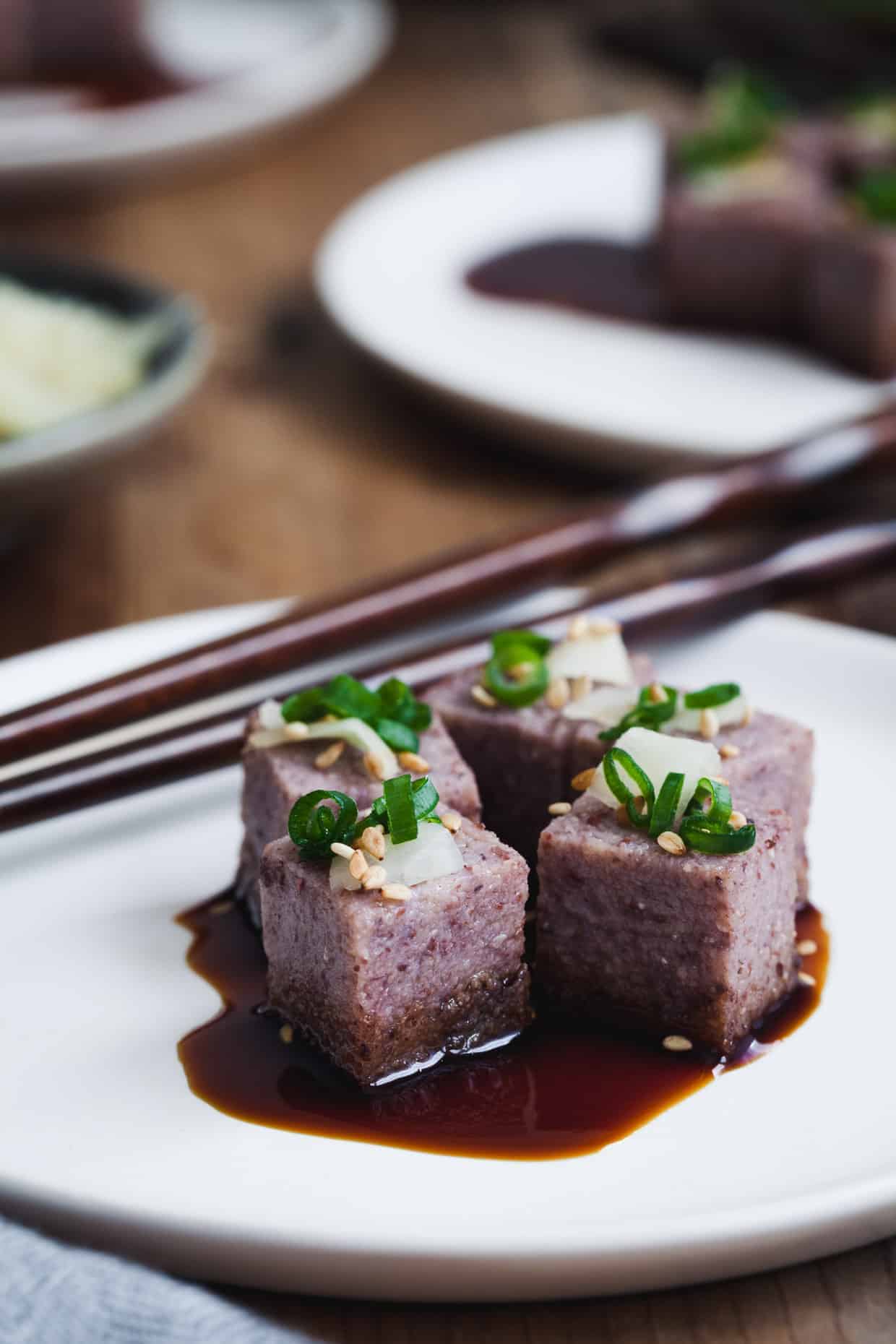 This adzuki bean tofu hails from the Japanese-inspired Alternative Flours Feastly dinner Phi and I hosted in February 2015. While I still not-so-fondly recall the insane amount of work this 6-course plated meal for 14 people took to put on the table, it also forced out some pretty badass recipes (chestnut flour pasta, black sesame and wild rice crackers, and kinako black sesame millet crumble). This adzuki bean tofu is no exception. Why I've been hanging onto this particular recipe for well over a year kind of makes me a jerk.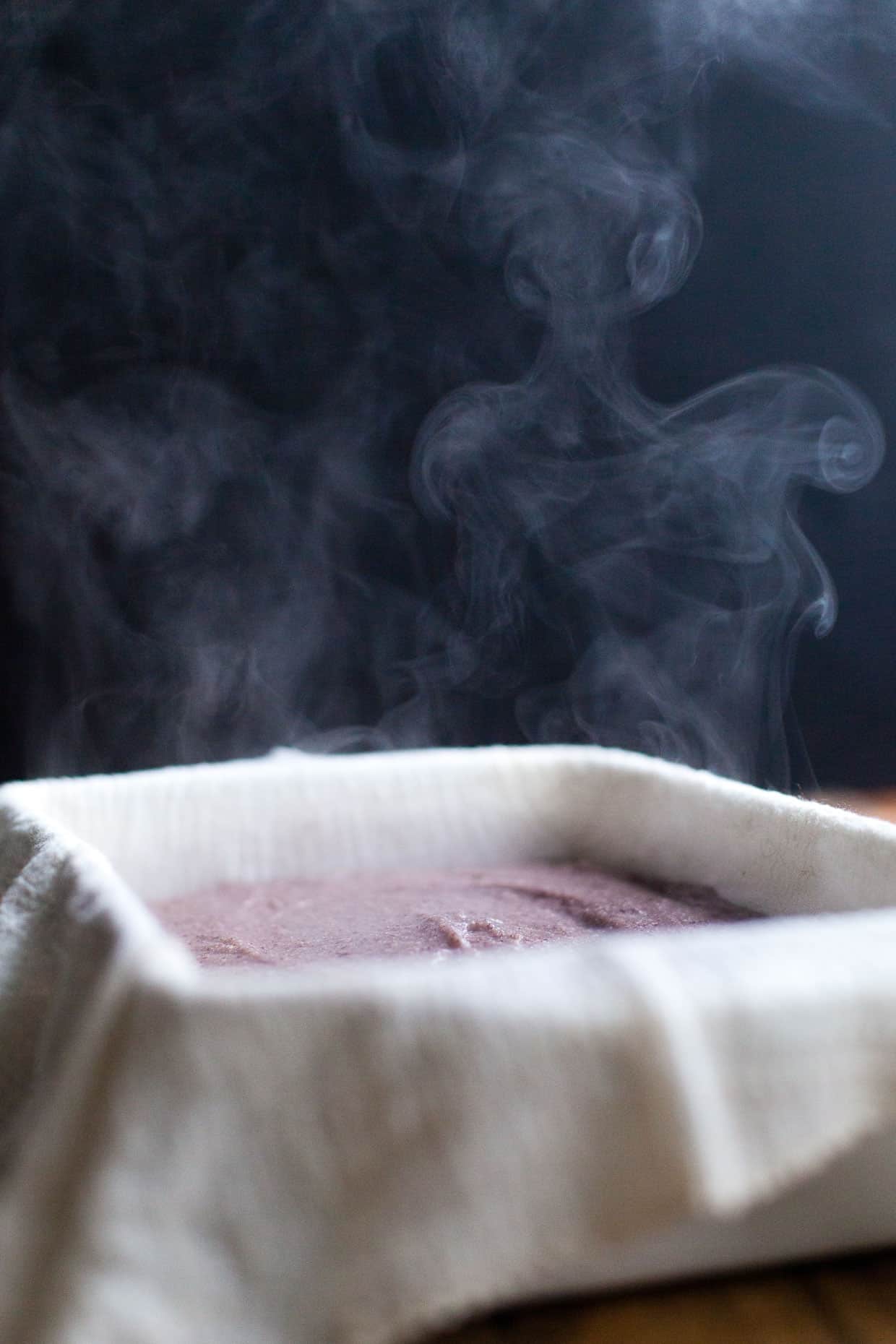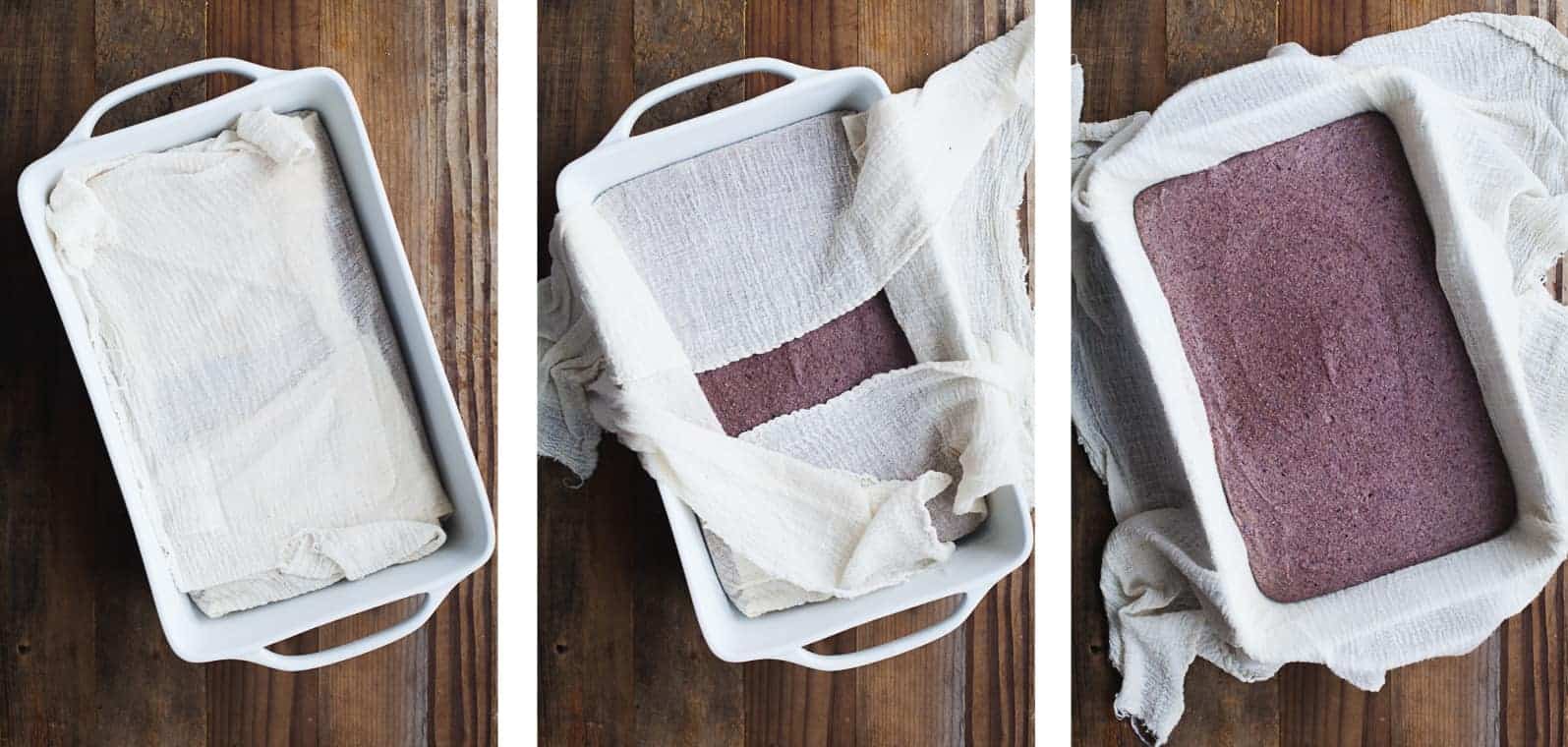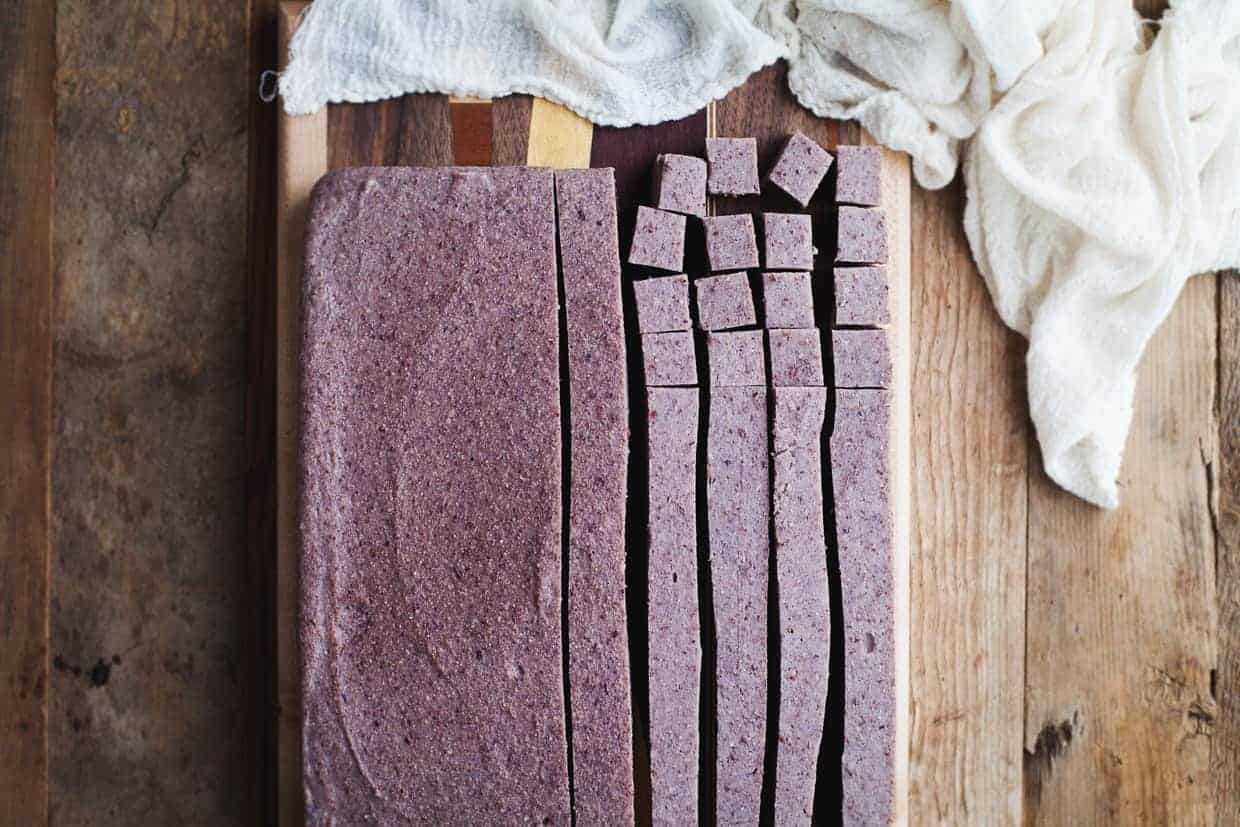 Back then, I naively thought that day's 12+ hours on my feet was the worst pain they'd ever feel. Then came 30 extra pounds of pregnancy weight and 8+ hours on my feet 3 days in a row. (Can you tell I'm ready for #cheesebabygirl to vacate my belly?)
After two full days cooking and styling for the NYT with Alanna, Lucas and I threw one last housewarming dessert party shindig two weekends ago to see all our local friends before we inevitably disappear for at least a month while we figure out what to do with all the baby poop (real talk). In true Sarah style, I planned an extensive dessert menu (mochi cake, chocolate cupcakes, rice crispy treats, oatmeal cookies, a rosemary apple galette, and salted caramel fondue with dipping apples) with mulled hot apple cider brewing on the stove. And I also planned to make it all the day of, obviously.
Meanwhile my parents were in town - mom for grandparenting class (and then allofthedishes - thank god) while we wrangled my retired-contractor dad into helping Lucas run plumbing and electrical to move our washer and dryer from inside the house to the garage to make space for a home office. In heavy rainy mud. The day of the party. NO BIG DEAL.
But now I've got a custom-built desk in our tiny house(!!). That conveniently still has cold and hot water spigots attached to the wall next to my desk chair. You know, in case I suddenly get...thirsty?
By party-o-clock, my ankles had swollen to the size of grapefruits, but we pulled it off (hats off to party guests like Karen who offer to sweep my floor and slice apples). I plan to stay off my feet until I'm at least 15lbs lighter (aside from 20 jumping jacks a night between now and labor - that will work, right?). In all seriousness - I complain now, but when all is said and done we get a soft snuggly baby that smells so good. So worth it.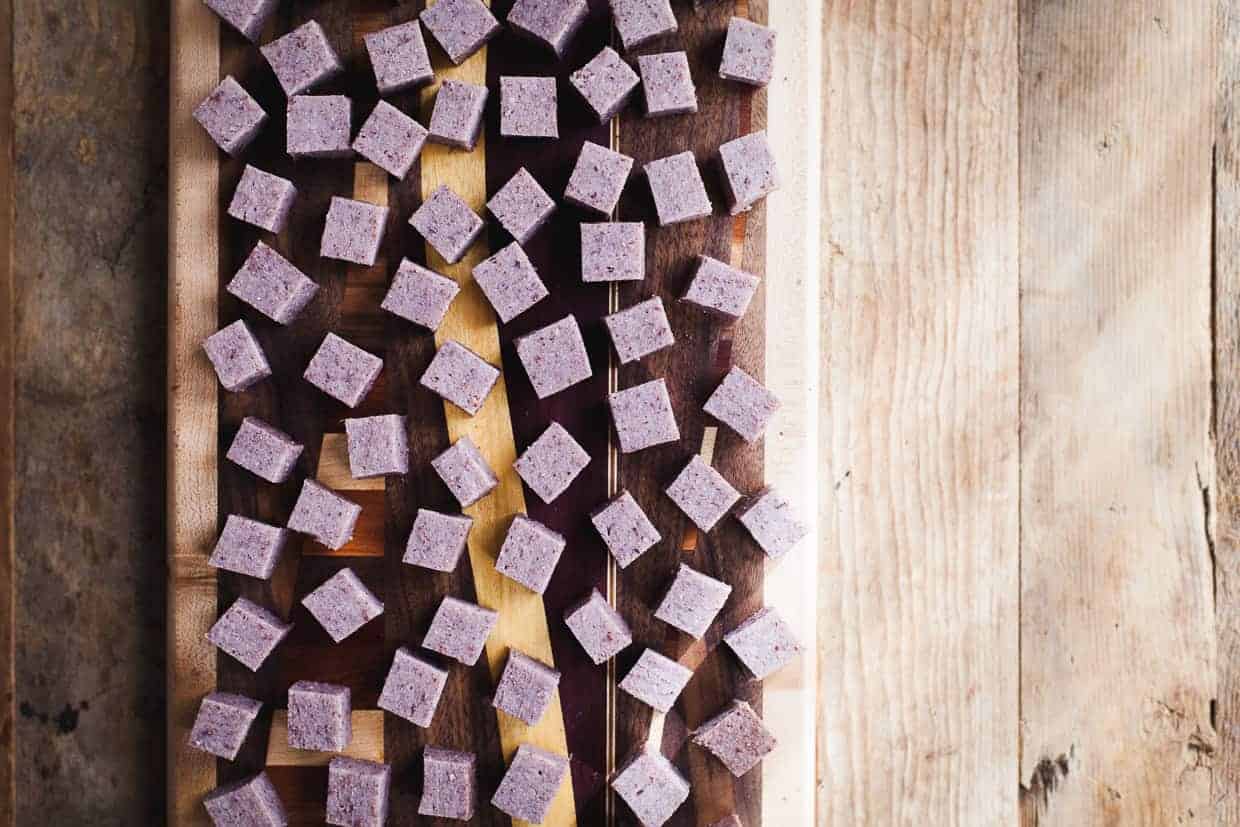 Back to this soyless "tofu." The idea for adzuki bean tofu came when I stumbled across Sarah's genius chickpea tofu from My New Roots while holding onto a bag of adzuki beans I'd planned to mill into flour. I figured beans were beans and, using her same method, I swapped out the chickpea flour and turmeric/garlic seasoning for home-milled adzuki bean flour with sesame oil and ginger.
The texture of this "tofu" is heavenly - incredibly creamy and tender, while still holding together when gently fried.
Adzuki beans are grown throughout East Asia and the Himalayas. Often, they're served in Japanese desserts in sweet red bean paste form (anko). The toasty nuttiness of adzuki beans also makes for a flavorful vegetarian protein in savory dishes. The simplicity of flavors in this bean tofu gives it versatility - serve it as an appetizer lightly seared topped with tamari sauce, scallions, pickled ginger, and toasted sesame seeds as I've done here, toss it over salad with sesame vinaigrette, or fry up thin slices for the top of a veggie stir-fry.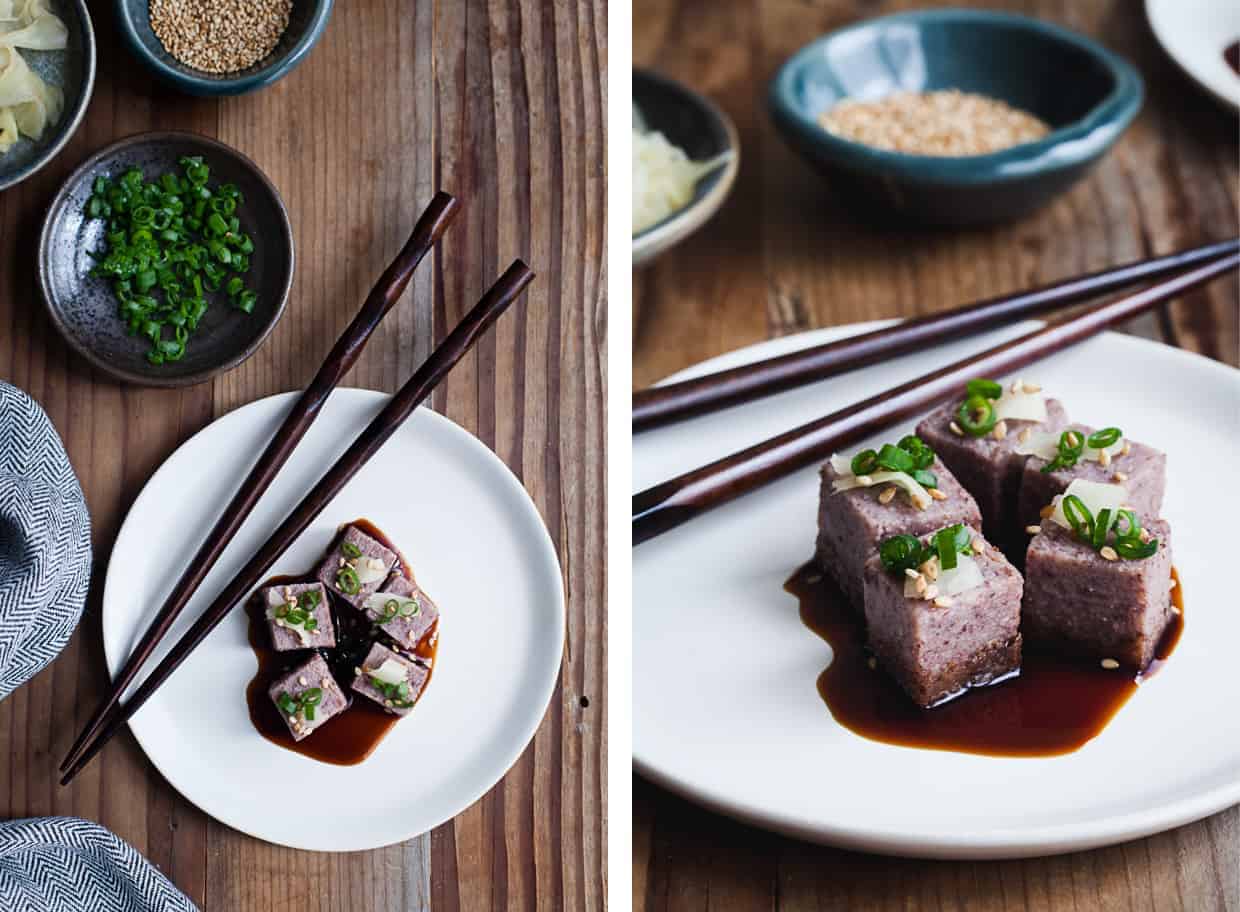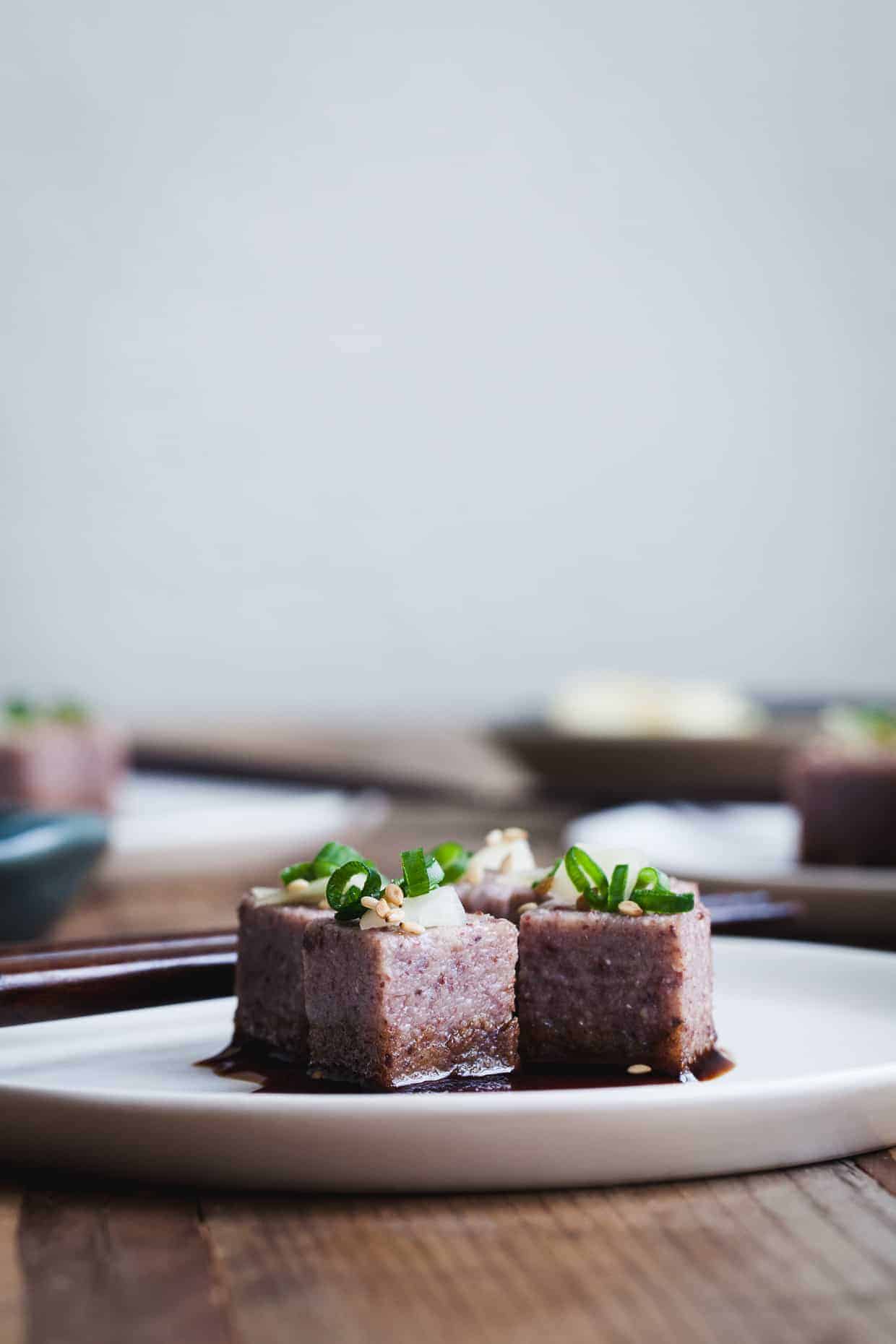 Used in traditional Chinese medicine, adzuki beans are said to strengthen kidney and bladder function, and support reproductive health. A magical bean! But not that kind - they're considered the one of the most easy to digest legumes, so they won't give you gas. Plus adzuki beans are low in calories and fat but high in nutrition to fill you up quickly with less caloric intake.
With all that combined with its vibrant purple hue, you should probably make adzuki tofu for your Valentine and follow it up with this strawberry red bean mochi for dessert.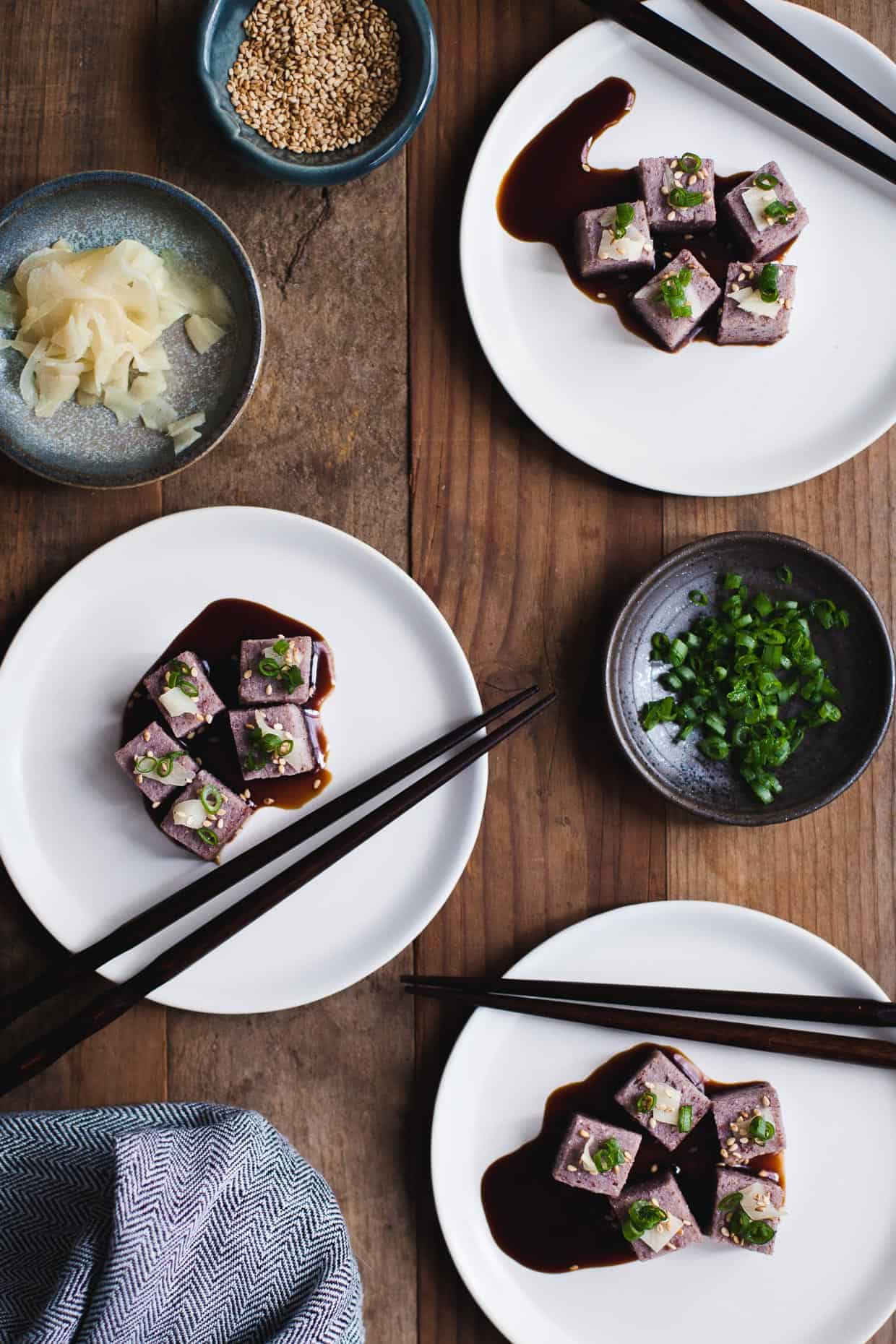 The process involved in making this recipe is pretty foolproof and hands off - the most high-maintenance part of making adzuki tofu is turning your beans into flour. I ran mine through my KitchenAid grain mill, but even if you don't have an electric grain mill, you've got options (high-speed blender, hand mill, or coffee grinder).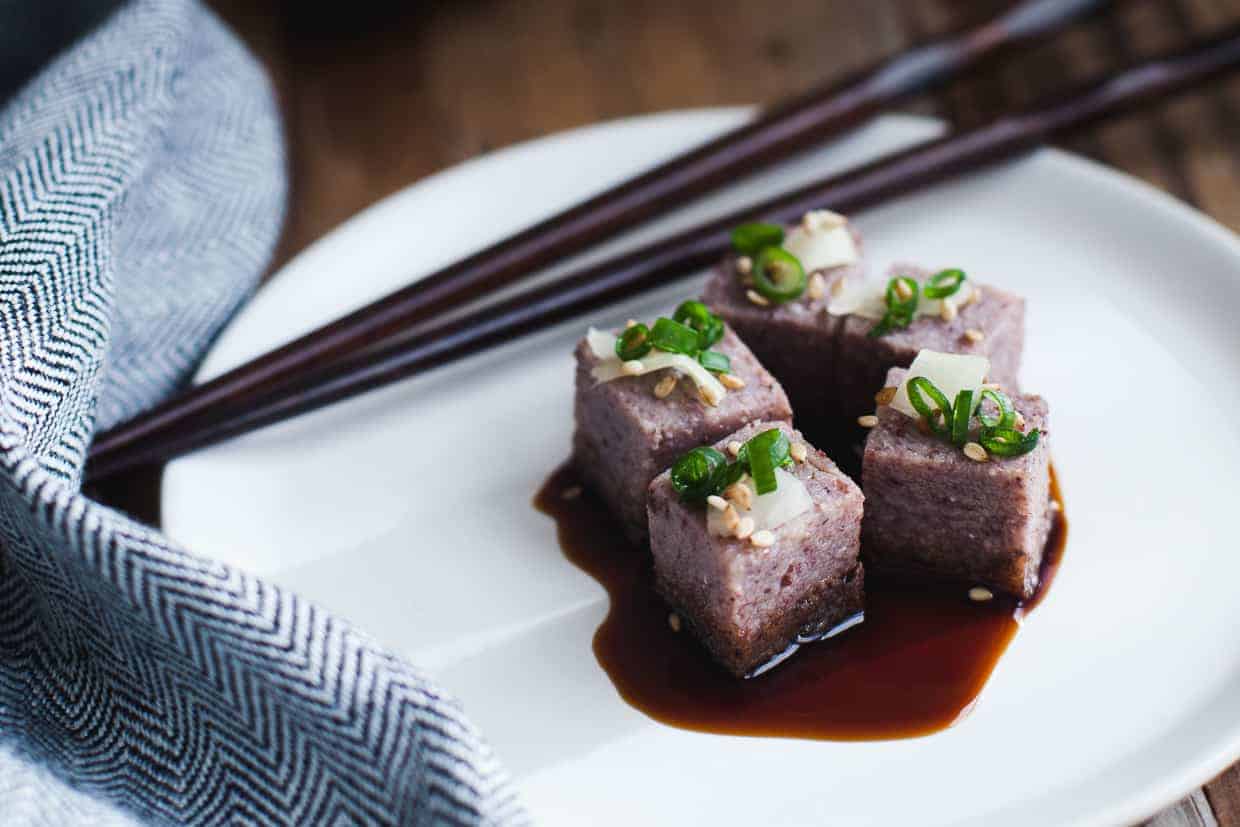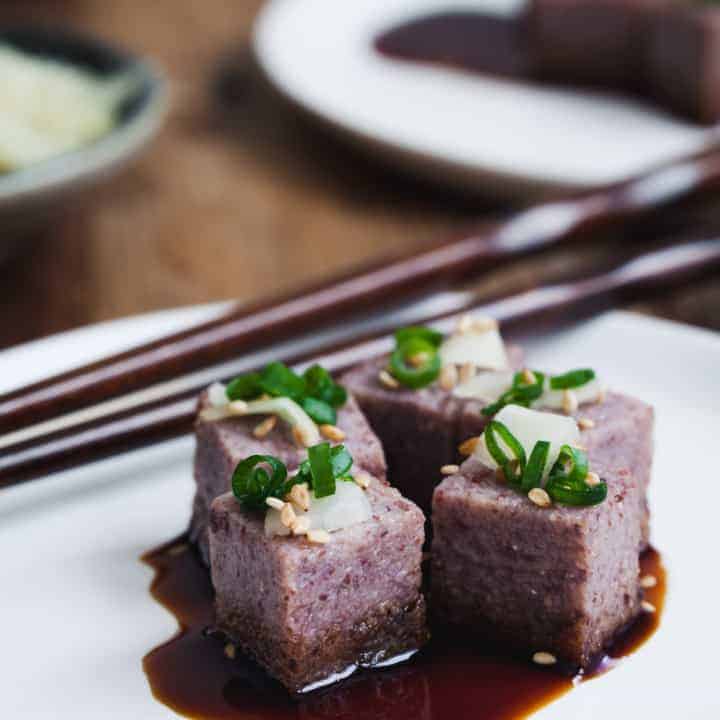 Adzuki Bean Tofu
Ingredients
3 cups (450g) adzuki bean flour (ground dried adzuki beans)
15 cups water
1 tablespoon sesame oil, plus more for frying
1 tablespoon minced fresh ginger
2½ teaspoons kosher salt
(Optional) For serving: thinly sliced scallions, pickled ginger, toasted sesame seeds, and tamari sauce
Instructions
In a large stock pot or bowl, stir together the adzuki flour and water. Cover the pot and let it sit over night for about 12 hours.
In the morning, without disturbing the pot, carefully ladle and discard 6 cups of water off the top.
Line a 9x12 baking dish with a tea towel or cheese cloth.
In another large pot, heat the sesame oil over medium heat. Add the ginger and cook until fragrant, about 3-4 minutes.
Without disturbing the sludge at the bottom too much, gently pour the remaining water off the top of the the large stockpot over the fragrant ginger. Add salt and cook, stirring frequently, for 20-25 minutes, until it simmers and begins to thicken.
Slowly add the adzuki bean sludge into the simmering water. It will almost immediately thicken. Cook, stirring vigorously to avoid burning the bottom of the pot, for 10 minutes until the mixture thickens almost to the consistency of thin mashed potatoes or polenta.
Pour the thickened mixture into the prepared pan and smooth out the top. Fold the edges of the cloth over and let sit at room temperature for 8 hours. Slice and eat immediately or store in the refrigerator for up to one week (or share half with your friends...).
My favorite way to serve the tofu is to fry up cubes in a thin layer of sesame oil over medium heat for 1 minute and serve over a few drops of tamari sauce topped with scallions, pickled ginger, and toasted sesame seeds. It also goes well in salads or seared and thrown over stir fry.