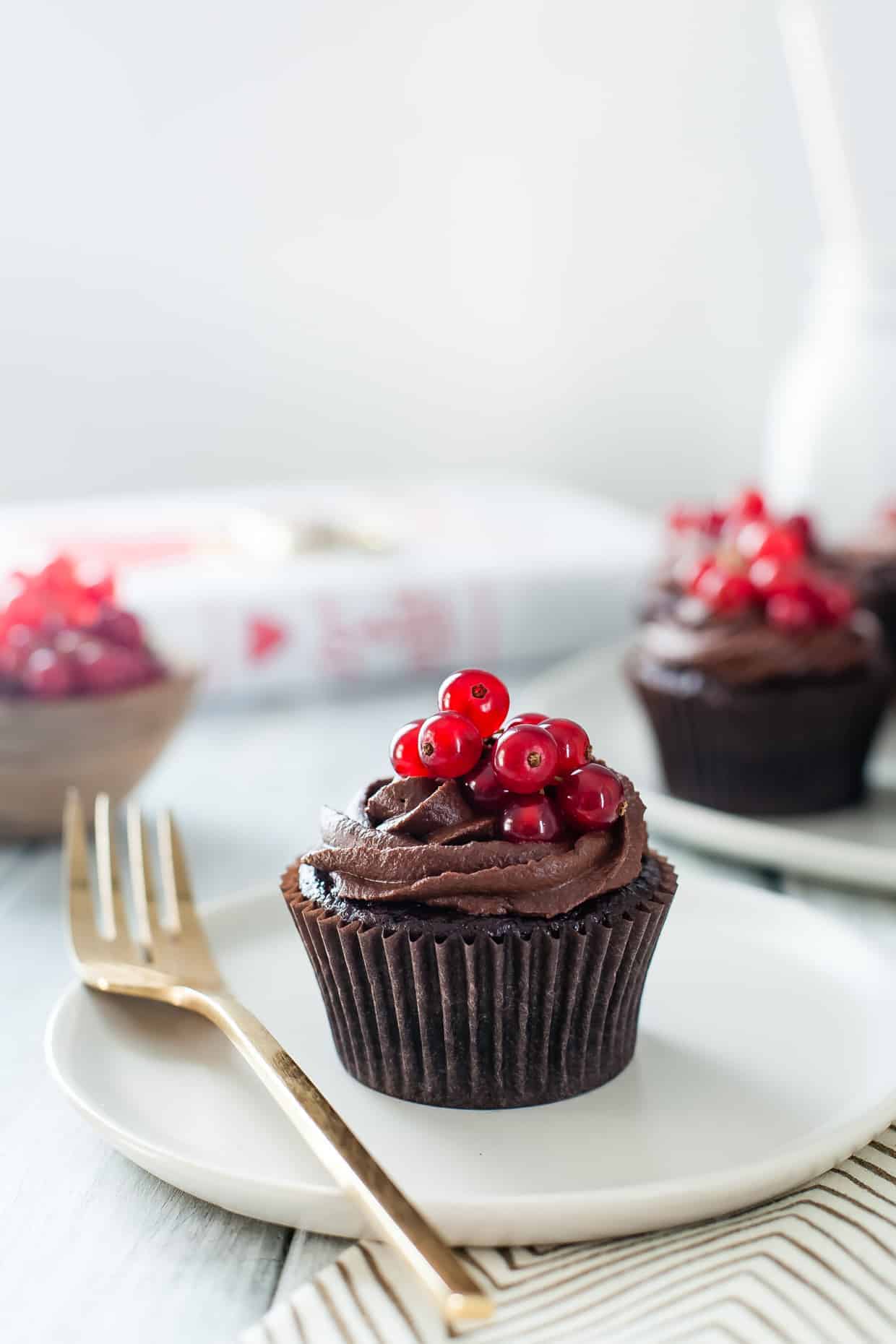 This post is basically a one-stop shop to finding a sweet Valentine for that special someone. Since google analytics tells me y'all are about 88% women, by special someone I mean: you. Treat yo' self! With a gluten-free double chocolate cupcake with raspberry red currant filling, a hand-forged bracelet, and a book about love. (For the other 12% of you, take notes.)
If I could mail the dark chocolate cupcakes to you without them turning to cake mush, I would (mostly because I'm finding it hard to resist eating one for dessert after every meal). But unfortunately I can barely get from the kitchen to the table without spreading frosting on the wall.
You know how you find sand everywhere after the beach? That's me with chocolate frosting. Note: this is also how you get ants.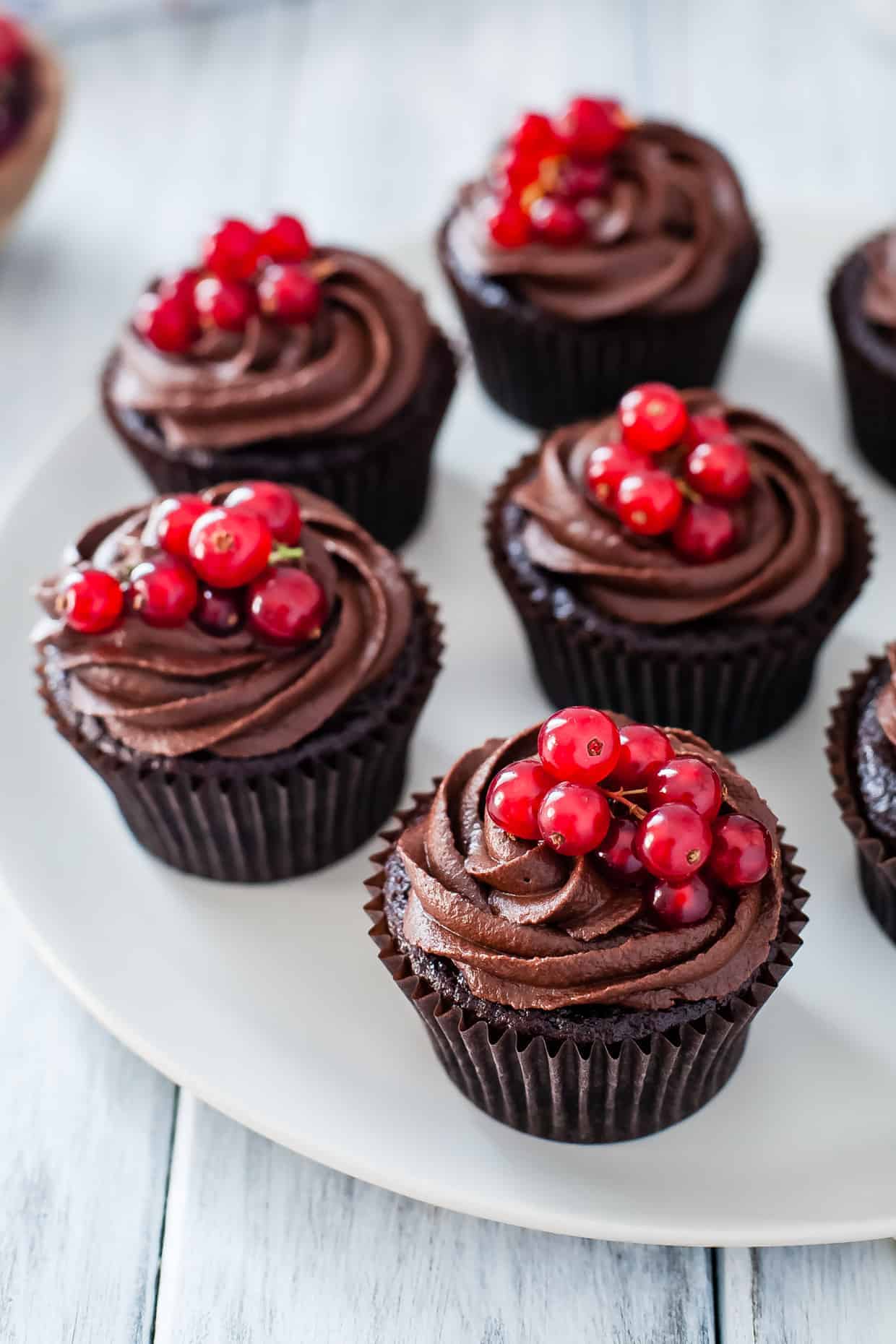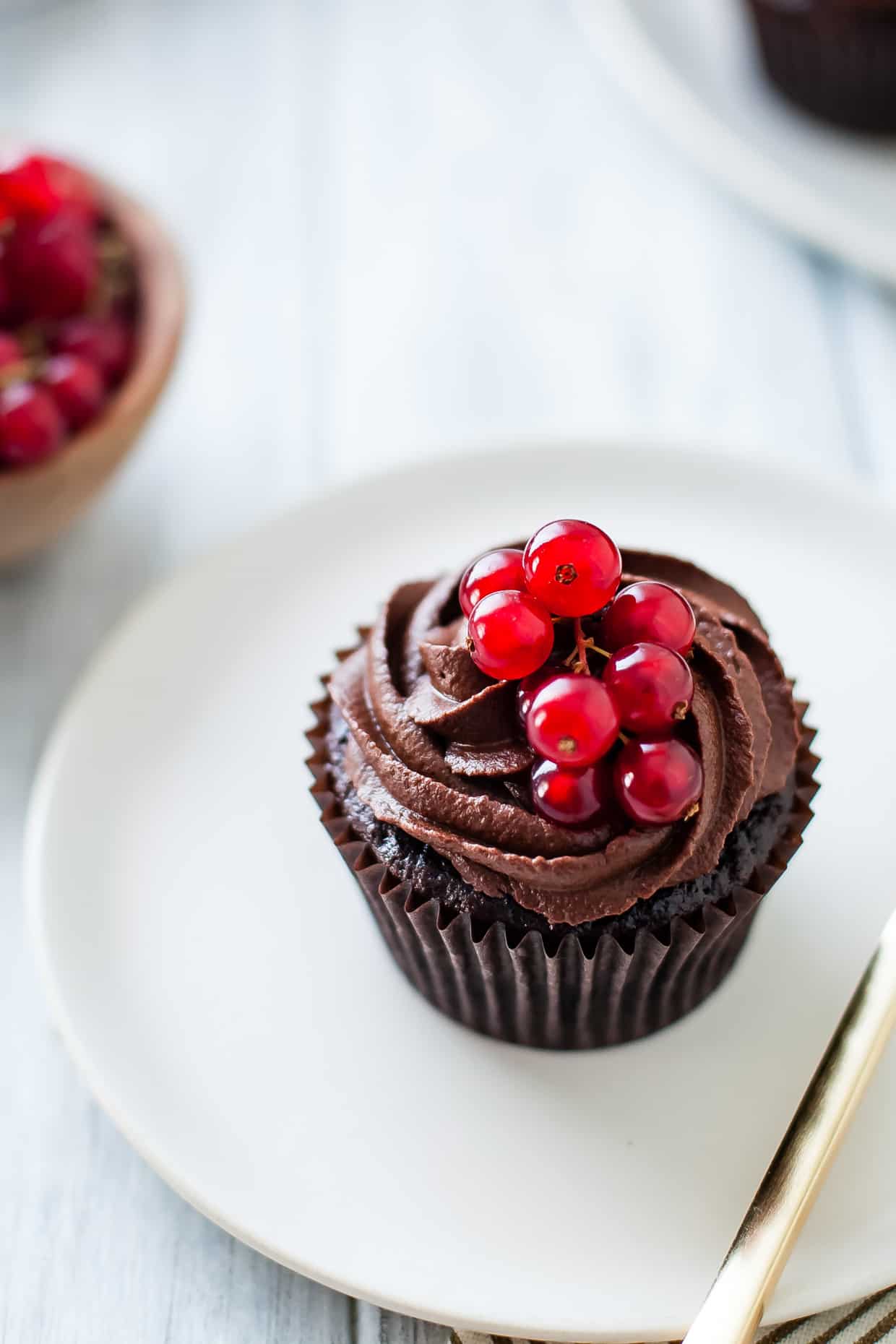 So instead, I'm tickled pink to be sharing this love-filled collaboration with two locals from my hometown.
The first is my future sister-in-law Alexis whose debut novel Love & Other Theories just hit the shelves on NYE. (See how I lied in the sidebar ---> and called her my sister-in-law? Future-sister-in-law just doesn't have the same ring). The book is a young adult fiction about a group of girls who have developed theories for avoiding heartbreak by following the wisdom of Marilyn Monroe: "A wise girl kisses but doesn't love, listens but doesn't believe, and leaves before she is left," until it all falls apart their senior year.
Even though Alexis spent several family vacations tucked behind her laptop writing the book, she didn't let us read it until she had an advanced reader copy in hand. No one could put it down. We passed it around the family so ferociously that by the time it got to me, the pages were warped and earmarked, showing our love through its wear.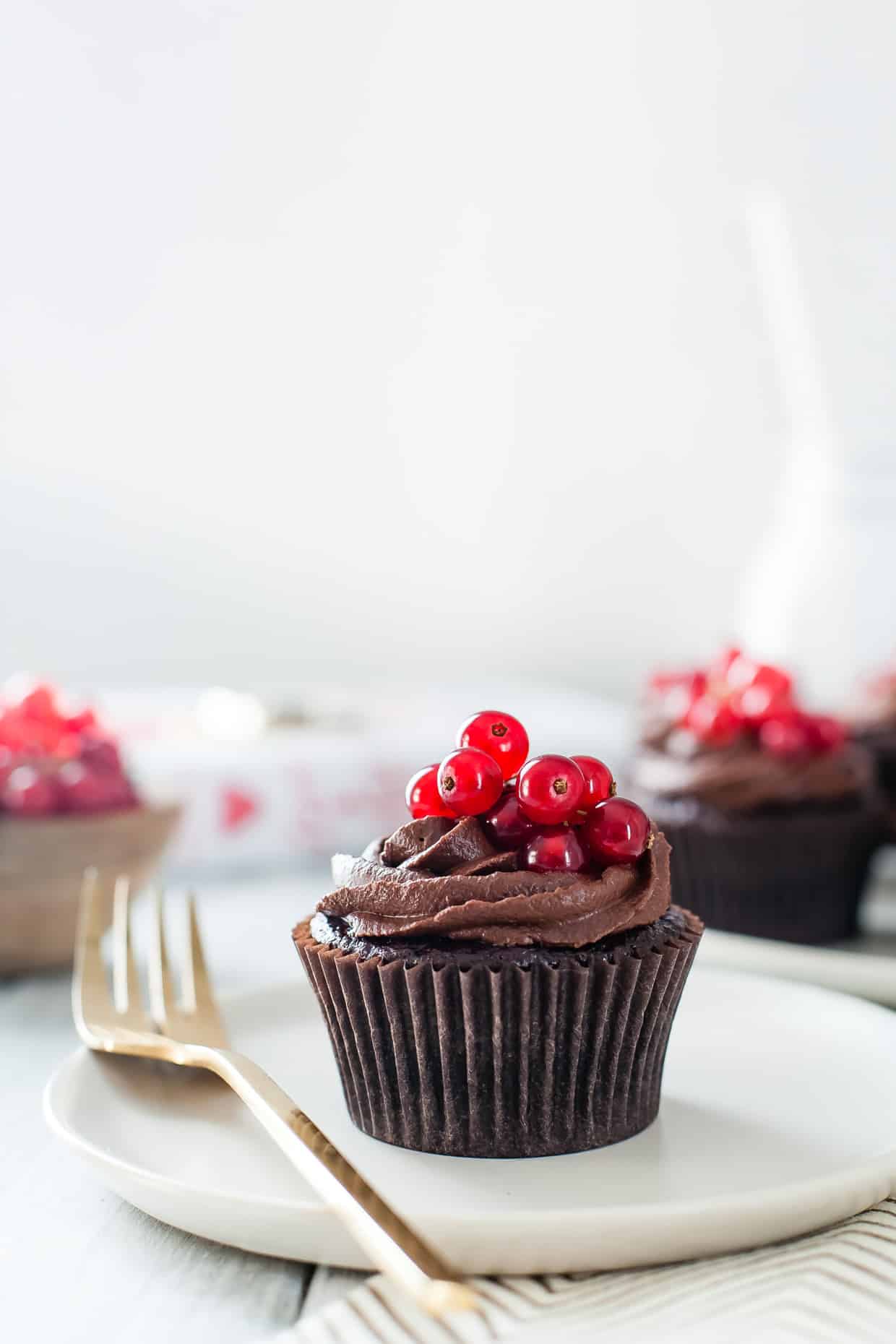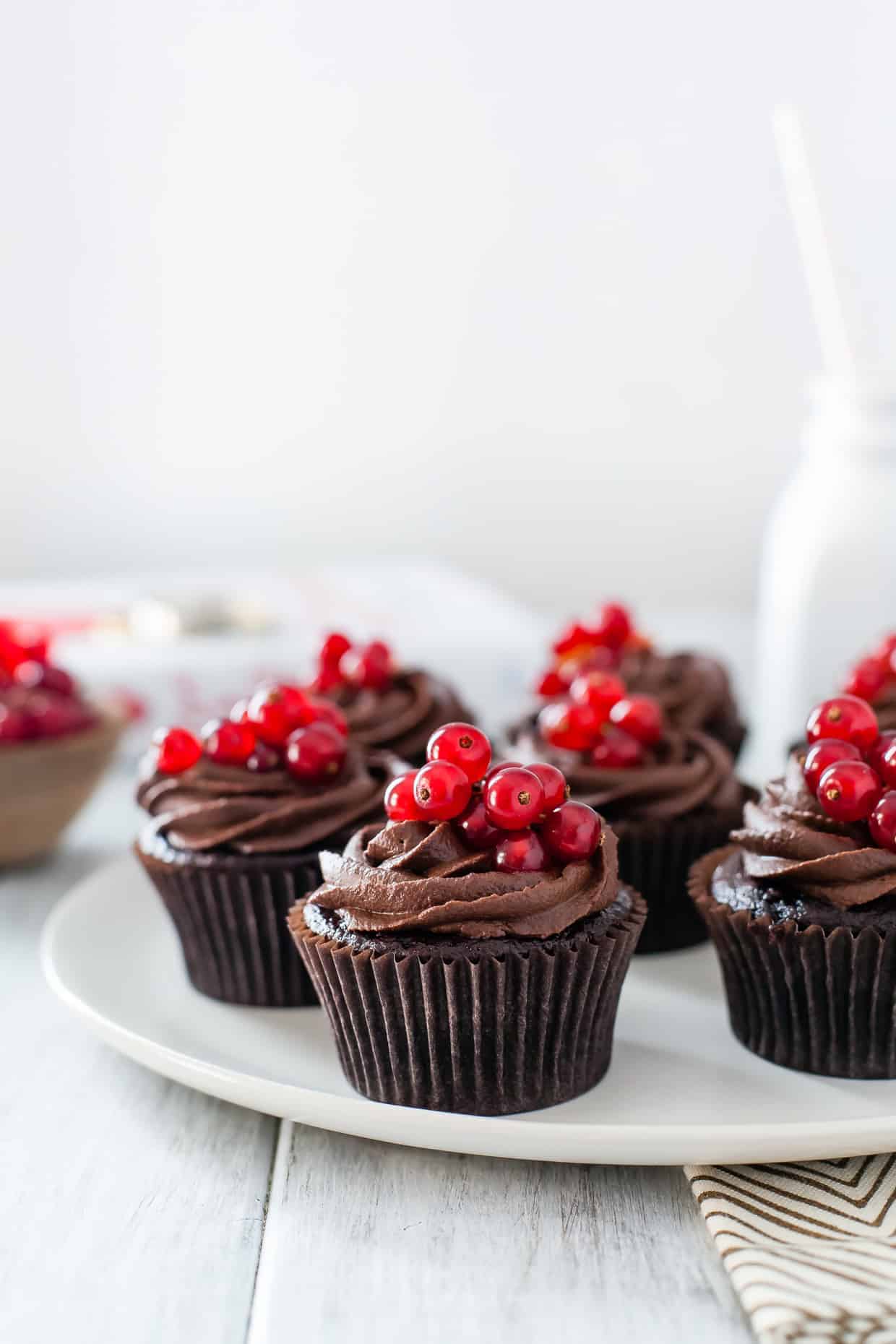 I invited Alexis over here for a quick interview to learn about the theories, characters, and the witty girl behind them. So here goes:
How did you come up with the theories and did they change as you wrote the book? Have you ever tested any of the theories?
The theories evolved after the characters. In earlier drafts of the book, they were just implied. As the story developed and it became clearer what these characters believed, and the creed they were living by when it came to boys and dating, then I was able to spell out the theories.
I never went by these theories when I was growing up, though my friends and I did have one rule about dating that we took very serious. It was: always order penne pasta on the first date. (Fitting for this blog!) It's the easiest dish to eat and you don't have to worry about being messy—the last thing you want to think about on a first date, right? Funnily enough, on my first date with my fiancé I ordered fish tacos. Possibly the messiest thing on the menu! Like most dating theories/rules, the penne pasta rule was meant to be broken. 
Are there parts of any characters you see in yourself? While you were writing, did you ever think of yourself as one of the characters?
I didn't think of myself as one of the characters. When I write, the characters are so distinctly individual to me, so I never feel as though there's too much of me reflected in them. Now that the story is done though, I can see different things about the characters that I can relate too. Melissa's motto: Better paranoid than sorry. The way Aubrey tries hard to balance studying and partying. Danica's laid back attitude.
There's a quiz that tells you your dating style in relation to the characters of Love and Other Theories—if you're curious!
How did you get into writing? What were some of the first things you ever wrote?
I've loved writing since I was very young. My first writing partner lived across the street—we were in elementary school. We wrote and illustrated our own picture books, then sold them to our parents. In middle school it was pure luck that I met someone who not only liked writing as much as I did, but also liked Jurassic Park as much as I did. We wrote several versions of what would probably be referred to today as Jurassic Park fanfiction. And, of course, our Jurassic Park stories always starred Leonardo DiCaprio. I also rewrote Cruel Intentions at age thirteen, adding several words of conversation between Annette and Sebastian because as it was written, I wasn't convinced they were really in love.
Who is your TV character spirit animal and why?
Definitely Rachel Green from Friends. Growing up I always copied her hair. She loves fashion and if I had to do something other than writing, my dream job would be to work as a buyer, like she did. I also always, always, always wanted to date a paleontologist. My dinosaur fascination stretched beyond Jurassic Park, though I never wanted to take any of the science courses required to be a paleontologist, I just wanted someone to tell me the inside scoop on the latest dinosaur discoveries.
Here's where I'll butt in to say that my brother - not a paleontologist - works for Sierra Nevada and learned everything he knows about dinosaurs from the Flintstones. BUT he did take Alexis to a dinosaur exhibit once, and when they first started dating, he even tagged along to paleontologist lectures (scoping out his competition?).
While I don't live by a set of theories about love, this hand-forged cuff from Amy Waltz Designs has my life motto spelled out inside: "EAT CUPCAKES." Words to live by, guys.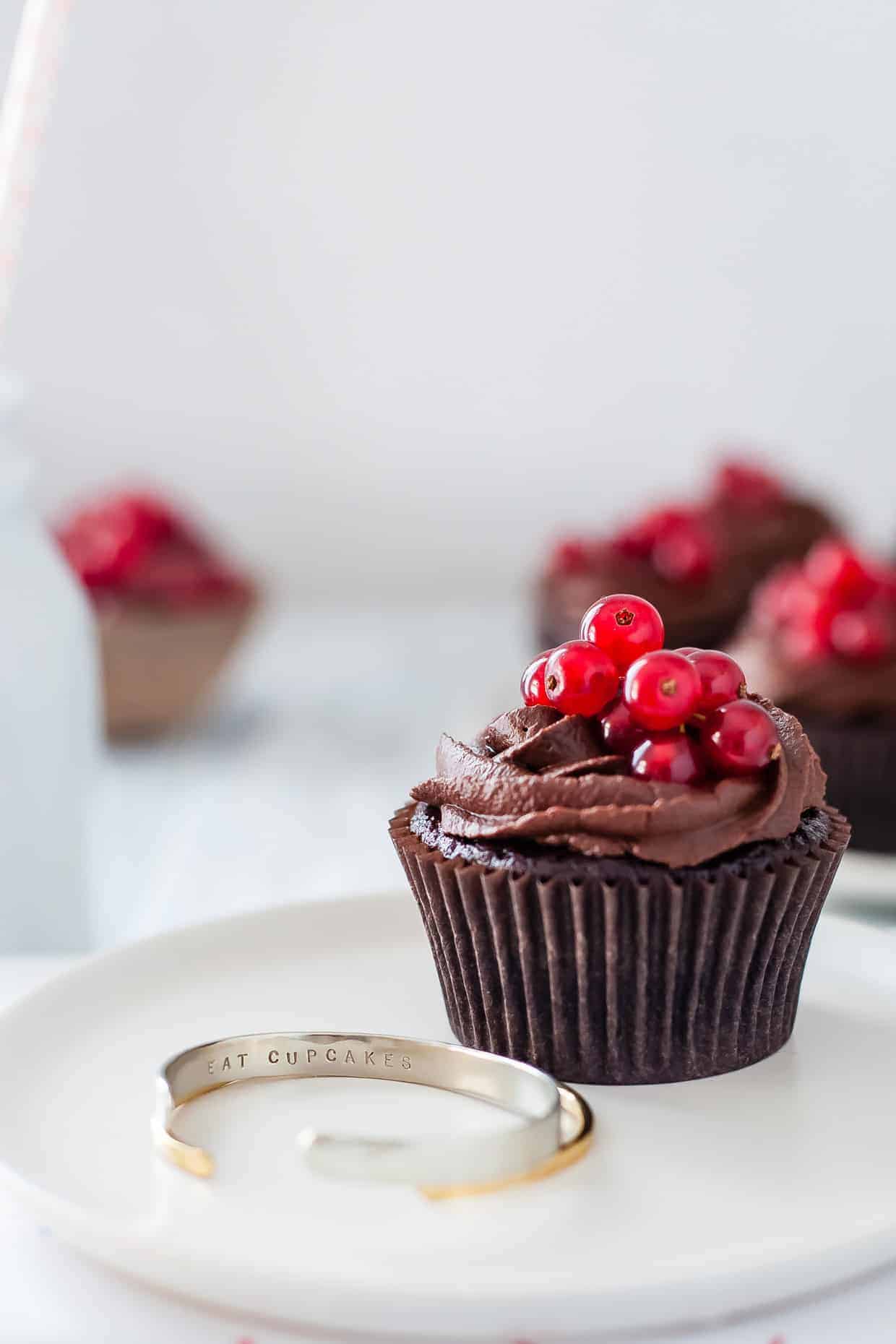 Especially when cupcakes taste as rich, tender, and moist as these. Wearing it around my wrist reminds me that one of these cupcakes after dance class "replenishes your chocolectrolytes," as Alanna puts it.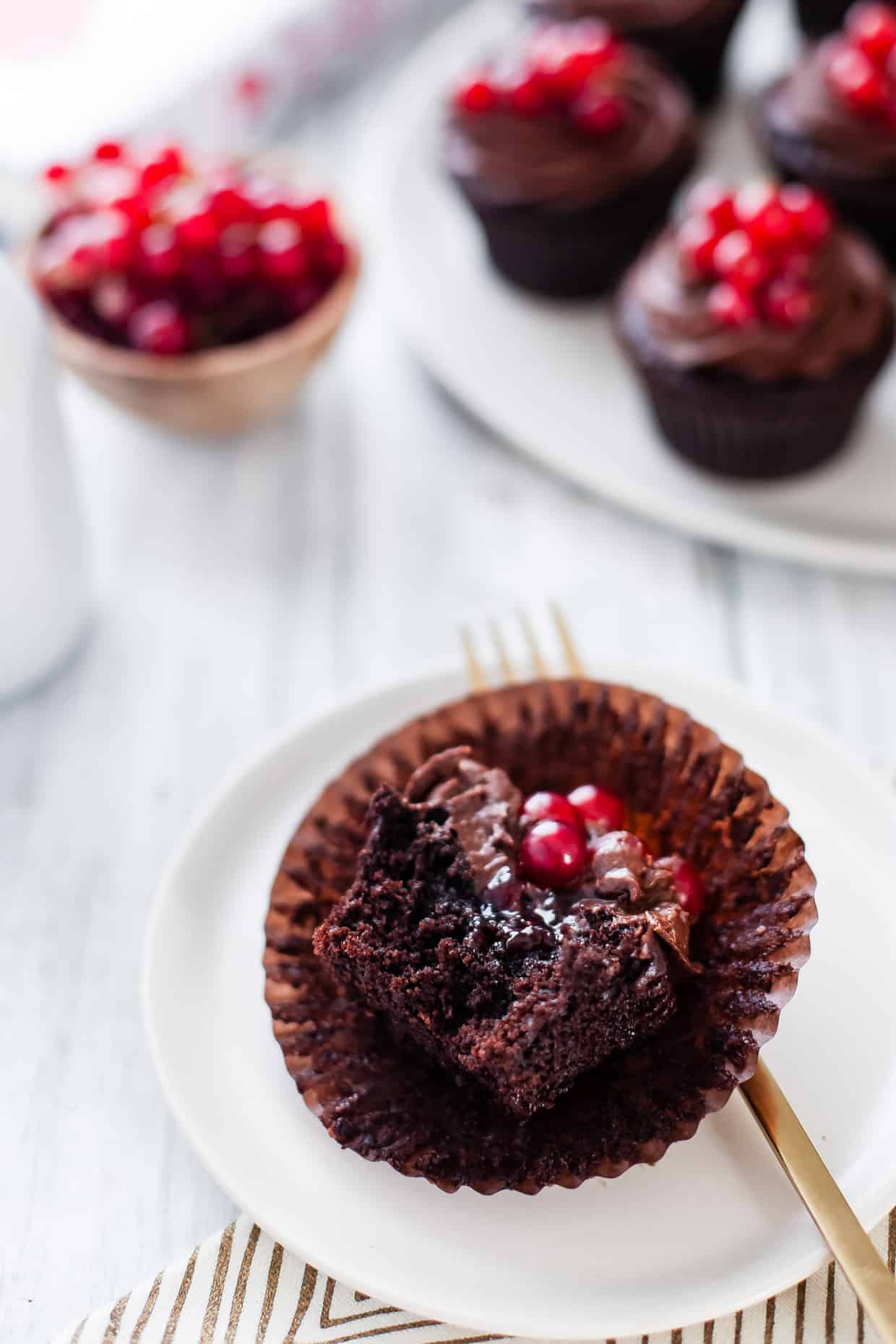 Anyone else think frosting is often a way to mask a boring dry cupcake? Usually, enjoying a cupcake is almost as much about the frosting as it is the cake. These cupcakes are not that. We've got frosting on them because that's what makes cupcakes pretty, and a fruit-filled cupcake would look silly without some buttercream to cover up the berry pit, but these cupcakes are strong enough to stand on their own.
I know because that's how I've been eating the leftover cupcakes all week. The cake is light and fluffy, but rich and moist, and it bites down with the same soft tenderness of a traditional bakery cupcake. To make the cupcakes extra special, the raspberry red currant filling gives a sweet tart surprise, but feel free to fill with any jam you want, or to leave them without if you prefer. Topped with chocolate buttercream, these double chocolate cupcakes are a lesson in indulgence indeed.
Alexis's book is described as "equal parts bite and romance," so I think this indulgent chocolate cupcake with a berry filling fits the bill. Plus, chocolate is her weak spot.

Valentine's Day Book & Bracelet Giveaway
This giveaway is now closed.
Disclosure: I was not compensated to write this post. Amy Waltz Designs has generously given me the bracelet pictured here and are providing the bracelet for one reader. As always, the opinions expressed here are solely my own.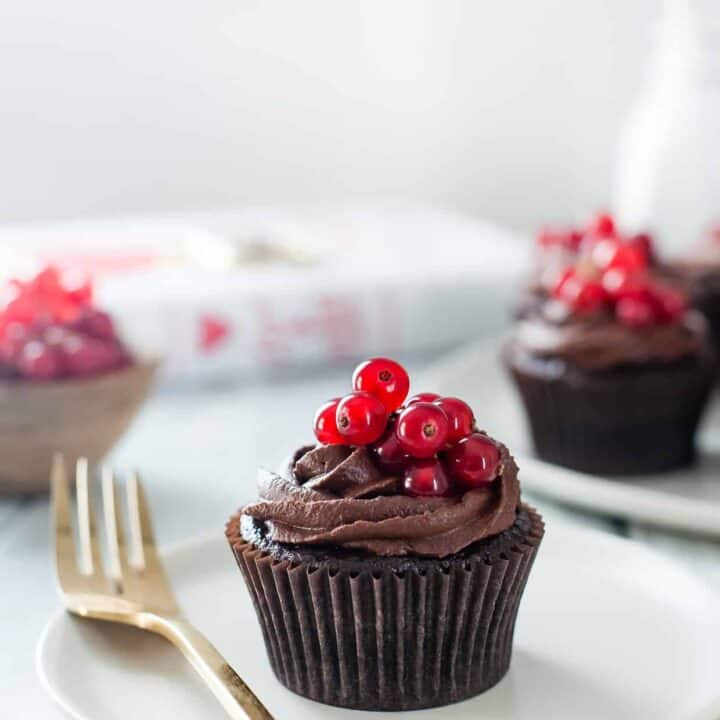 Double Chocolate Cupcakes with Raspberry Red Currant Filling
Ingredients
3 tablespoons oat flour* (**for non-gluten-free version, see note)
3 tablespoons millet flour
2 tablespoons brown rice flour
6 tablespoons unsweetened cocoa powder (dutch-processed)
¾ cup sugar
¼ teaspoons baking soda
¾ teaspoon baking powder
½ teaspoon salt
⅓ cup buttermilk or (Scant ⅓ cup milk + ½ tablespoon white vinegar)
1 large egg, room temperature
1½ tablespoons safflower oil (or vegetable oil)
⅓ cup hot water
Raspberry Currant Filling
¼ cup raspberry jam
¼ cup currant jelly
Chocolate Buttercream
6 tablespoons unsalted butter, room temperature
½ cup cocoa powder (unsweetened non dutch-processed)
2½ cups powdered sugar
⅓ cup milk
½ teaspoon pure vanilla extract
½ teaspoon pure chocolate extract (optional)
Instructions
Preheat the oven to 350°F. Line a muffin tin (or two) with 12 liners.
Whisk the oat flour, millet flour, brown rice flour, sweet rice flour, tapioca starch, xanthan gum, cocoa powder, sugar, baking soda, baking powder, and salt together in a medium bowl.
In a separate bowl, whisk the buttermilk, egg, oil, vanilla extract, and chocolate extract together until smooth. Pour this mixture into the dry ingredients and stir lightly.
Pour the hot water into the dry ingredients and mix until completely smooth, scraping up the sides and bottom to completely incorporate.
Use an ice cream scoop to divide the batter among the 12 lined cupcake cups, filling no more than half full (these cupcakes rise quite a bit)
Bake for about 22 minutes, or until a toothpick inserted in the center comes out clean or with just a few moist crumbs.
While the cupcakes bake, prepare the filling and frosting.
Transfer the cupcakes to a wire rack to cool.
Once the cupcakes are cool, use a small round cutter or the back of a pastry tip to punch out a hole in the center of each cupcake and fill with jam.
Pipe chocolate buttercream over the top and serve. (Optional: garnish with currants)
Raspberry Currant Filling
In a small bowl, mix the raspberry jam and currant jelly together until smooth.
Chocolate Buttercream
Sift the cocoa powder and powdered sugar together and set aside.
In the bowl of a stand mixer, beat the butter until light and fluffy.
Add the cocoa/sugar mixture to the butter, alternating with the milk and beating until smooth.
Add the extract and mix until light and fluffy. If the buttercream is too soft, you can either add a tablespoon of more sugar, or continue beating while holding an ice pack against the bowl to chill it a bit.
Notes
*I grind my own oat flour by pulsing gluten-free oats in the blender or food processor until fine, then sifting out any large pieces.
**For non-gluten-free version, replace the oat flour, millet flour, brown rice flour, sweet rice flour, tapioca starch, and xanthan gum with ¾ cups all-purpose flour
Thanks for reading Snixy Kitchen! To stay up on what's coming out of my kitchen, follow me on Facebook, Instagram, Twitter, Bloglovin', Pinterest, or subscribe via e-mail to get new recipes right to your inbox.