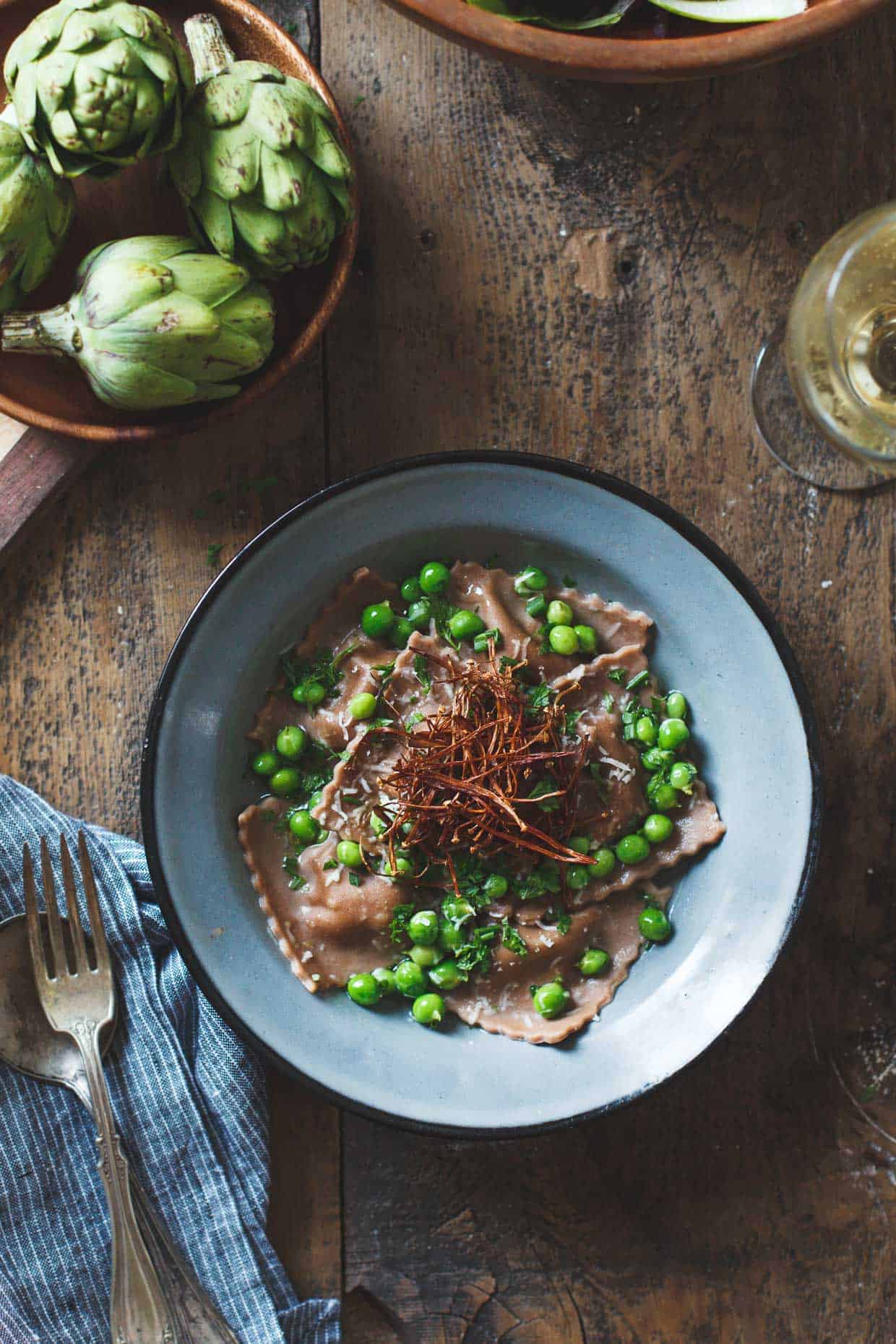 I'm notorious for using every square inch of surface area within reach while I'm cooking. Including the couch. Nothing is off-limits when good food is involved. When I first started making ravioli from scratch (pre gluten-free days), counter space in our 26-square foot kitchen was limited. Finished baking sheets of fresh ravioli spread out all across the living room as I rolled out the dough (by hand) on the coffee table.
Also spread out all across our living room? A thin dusting of flour.
Even with a much larger kitchen, I still managed to toss flour around the dining room while making today's gluten-free chestnut flour pasta ravioli. Pro tip: when you drop an egg into a well of flour from a couple of feet above, the light delicate flour will puff all over you. At least now the chestnut flour leaves a sweet toasty scent behind as it cloaks the room.
Gluten-Free Ravioli
For this ravioli recipe, Alanna from The Bojon Gourmet and I teamed up to dabble in food video again to show off the sexy curves of fresh sheets of pasta. Here's our second video: How to Ravioli.
(To see our first video collaboration, check out our How to Sushi video here!)
Don't think for one second that I'm as graceful as I appear while making ravioli. With an eye for beautiful shadows, Alanna suggested we make the pasta dough by dropping the eggs into a well in the middle of a sifted flour dome. Rustic, right? Probably what the pros do.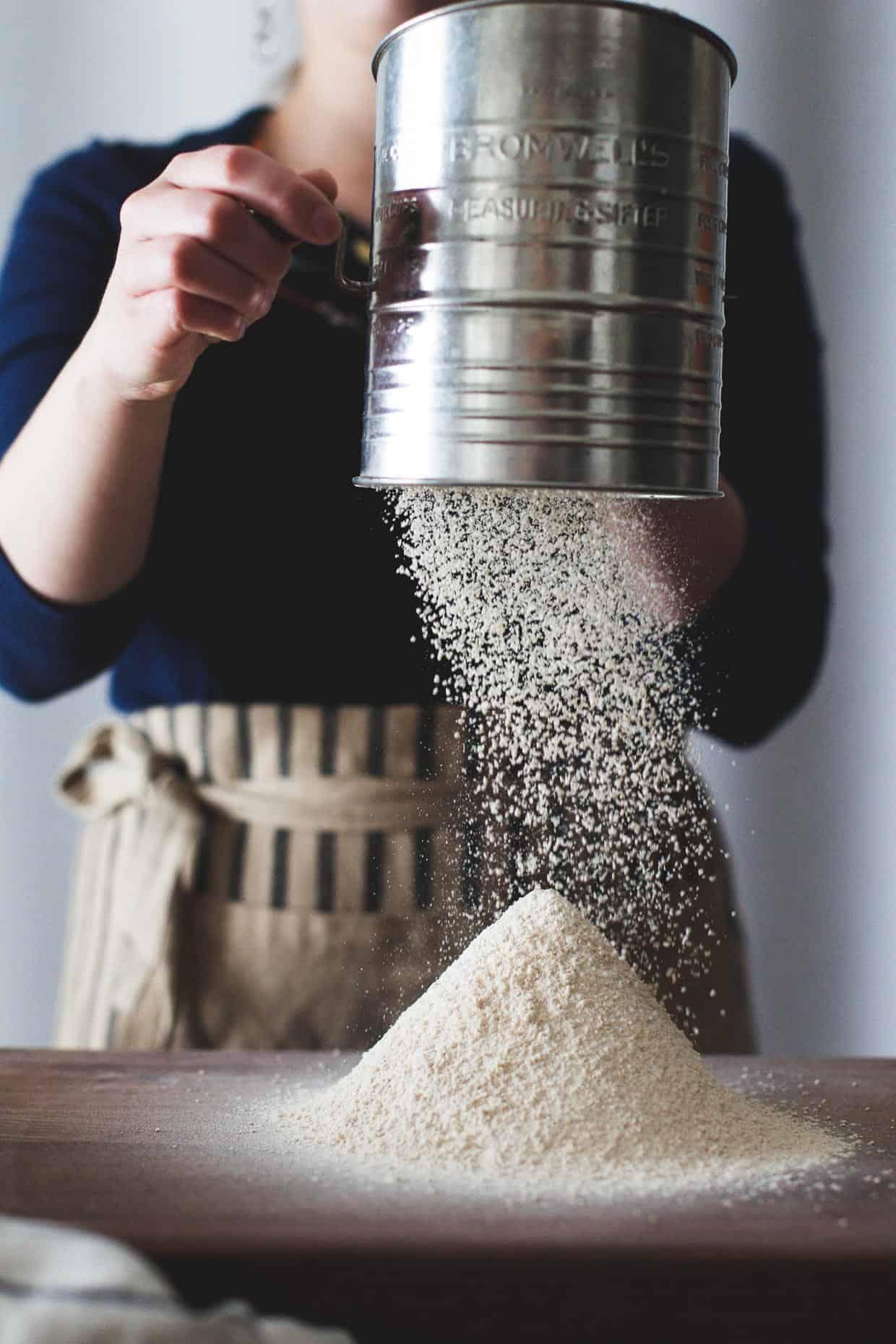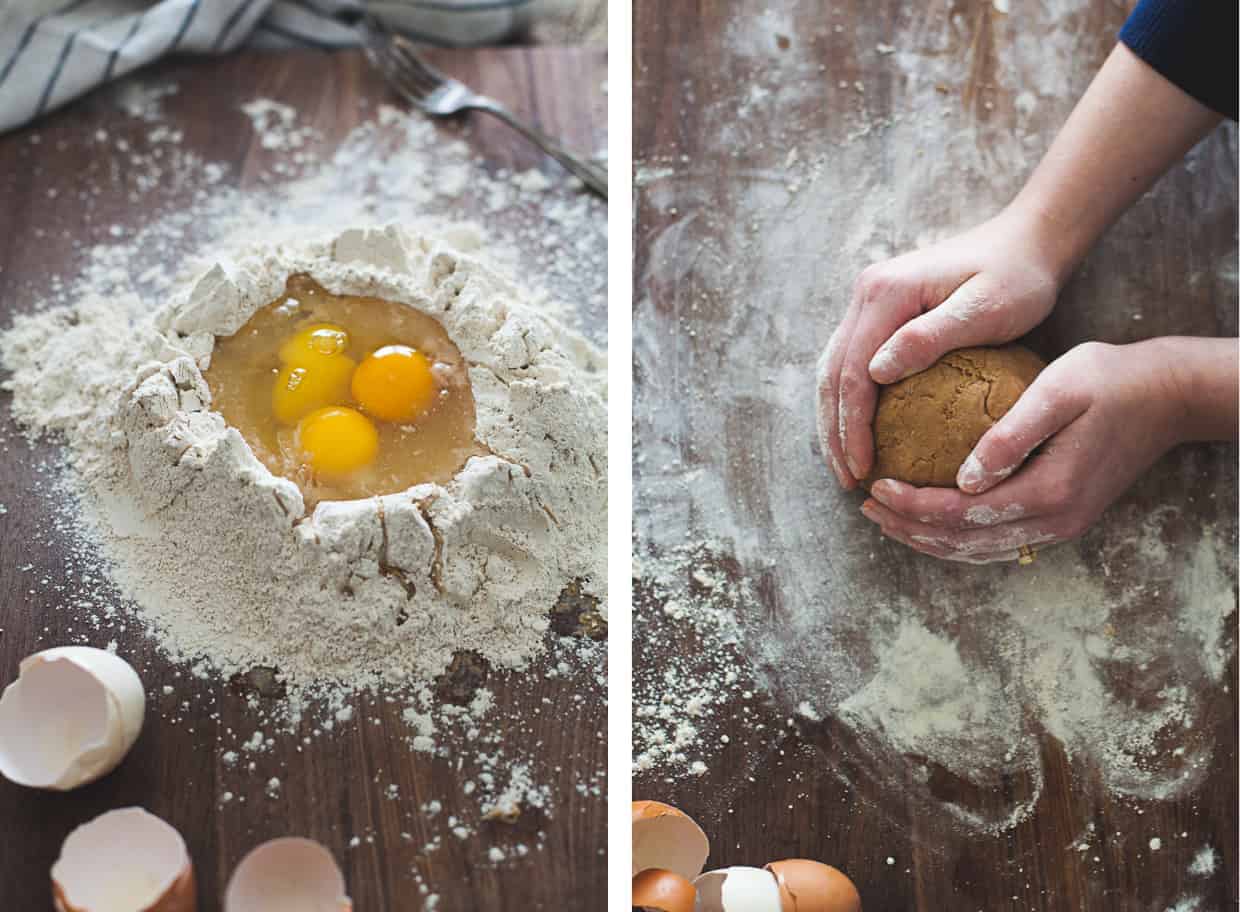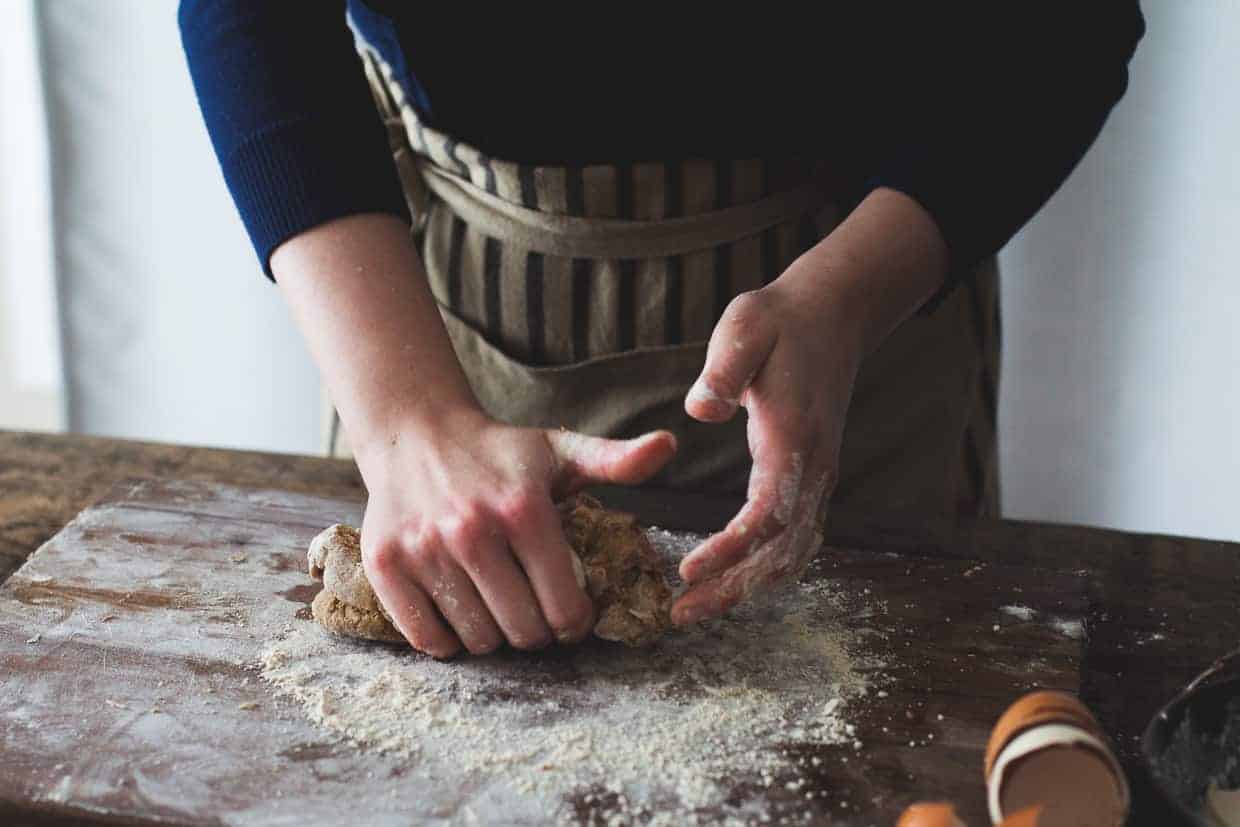 What you don't see is the moment I forgot about basic fluid dynamics and I pressed down one side of the dome with a fork, creating an eggy volcanic eruption - an eggsplosion. Whisked egg flooded the table and floor as I desperately tried to dam it up with my hands. That doesn't work, guys. The egg just seeps right through your fingers.
If you're more dexterous than I am, then by all means, try your hand at the flour dome, but if you're prone to flour in your hair, I recommend a bowl to keep that egg in check.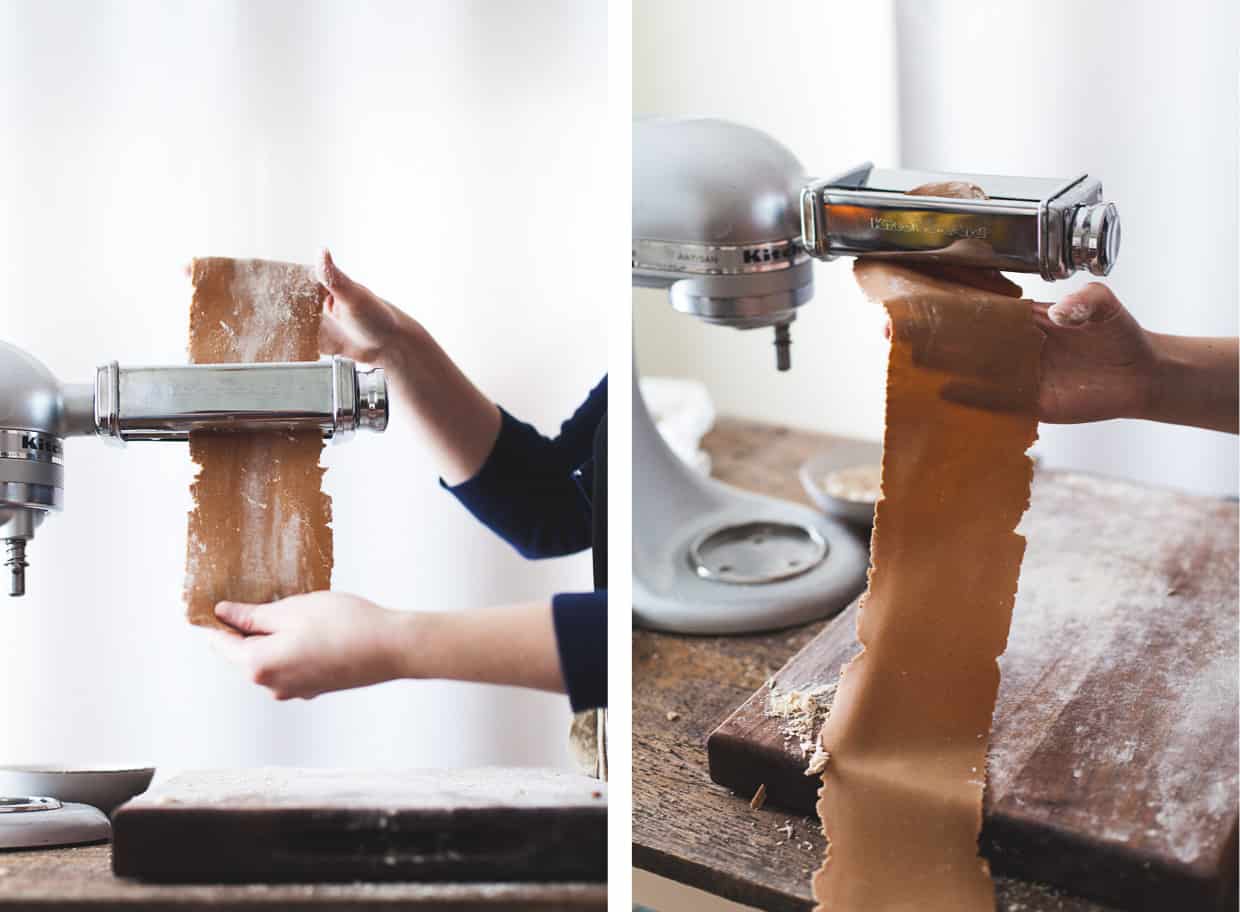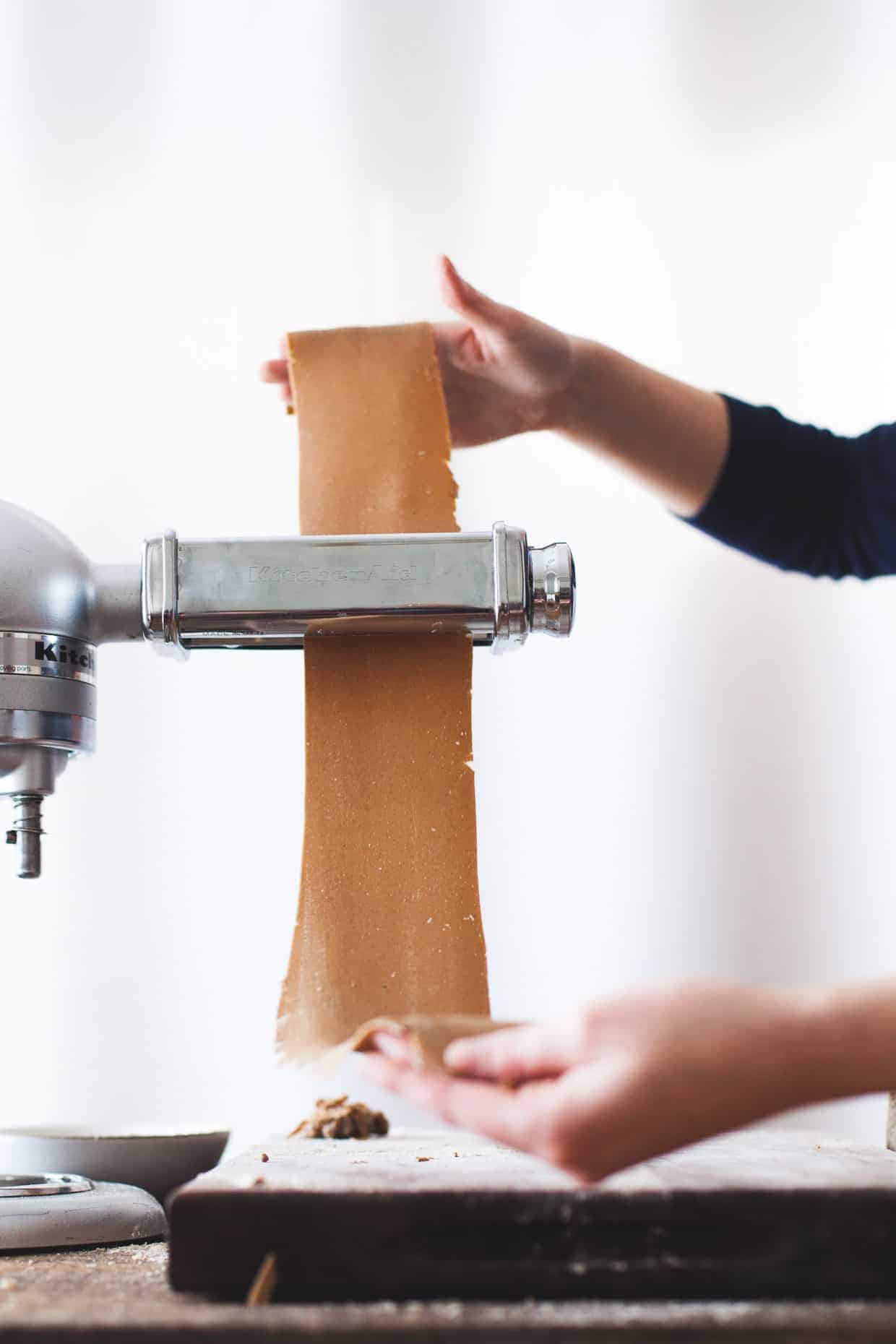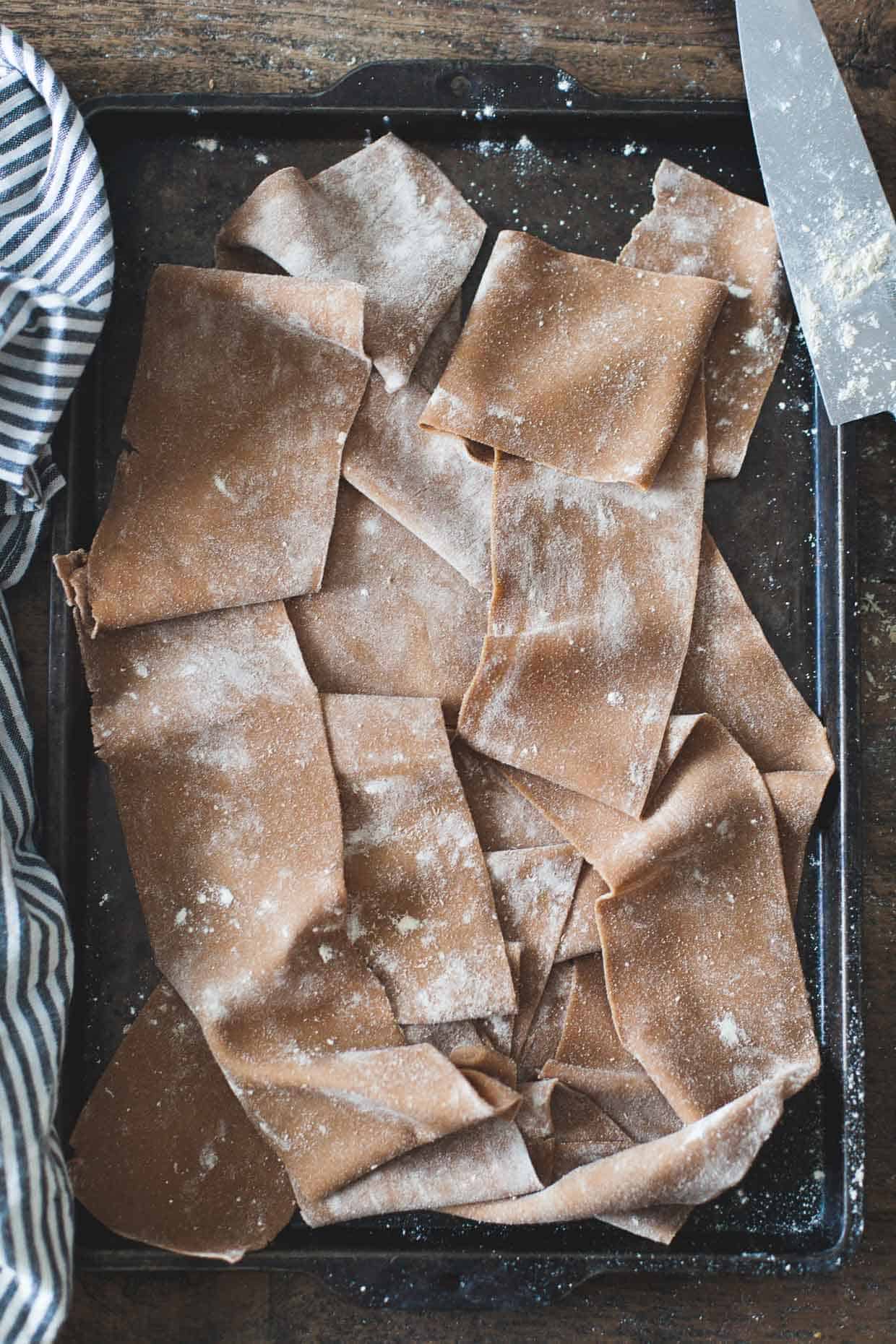 This recipe for chestnut flour pasta comes from the Alternative Flours Feastly meal Phi and I dished up last month. With Phi's plating wizardry, we fed 14 people - including ourselves - six plated dishes, and I now have mad respect for chefs because hot damn! - I could barely stand up by the end of the night.
Next up, Phi and I will share the recipe for wild rice and black sesame crackers along with Jessica's pictures of our day-of dinner prep. But first, I'll whet your appetite with the gorgeous shots Alanna took during the meal (like seriously - who knew someone could make food look so good at night with overhead lights and a strobe?). Click the slide show to scroll through each dish from our menu.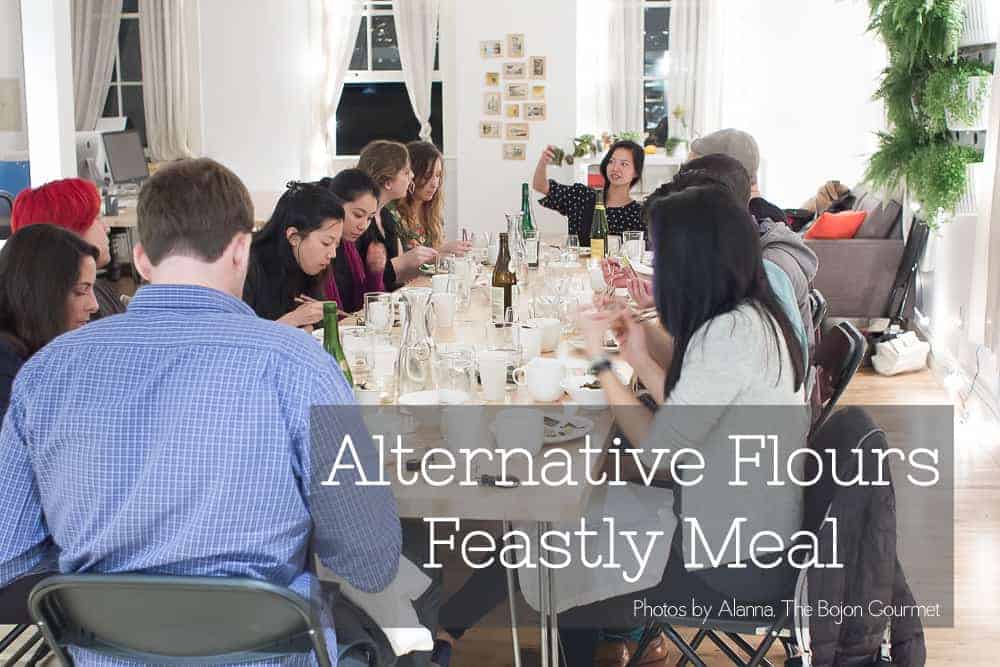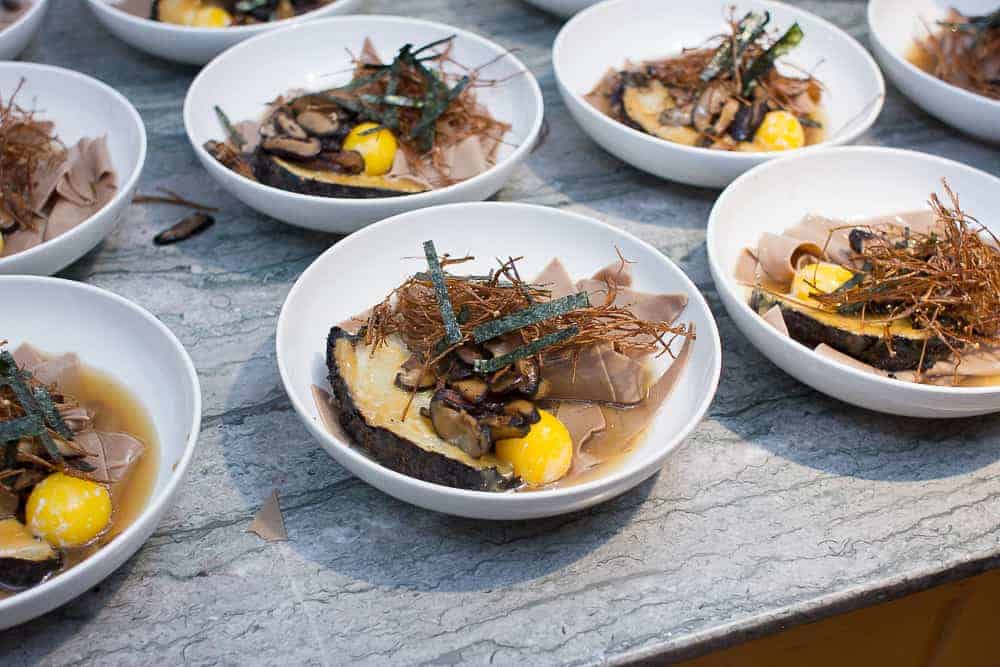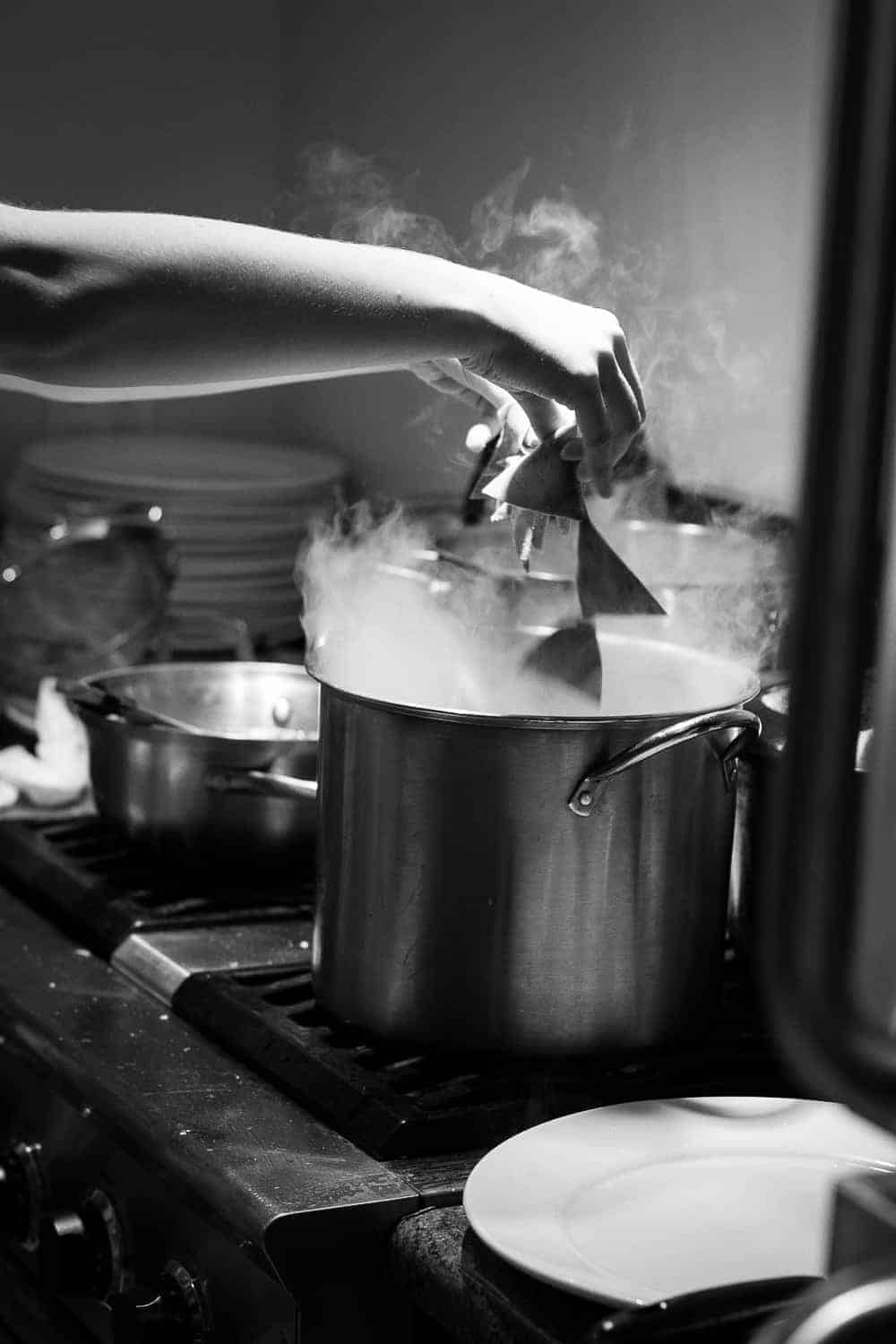 The meal brought a medley of folks from all parts of our lives around one table to share a feast - not much tops that.
Except maybe this chestnut flour pasta. (Just don't try to drop 14 servings of hand-cut pasta triangles into a pot of boiling water at one time, or you'll end up with way too many uncooked stuck-together pasta stacks. Not that I would know or anything...).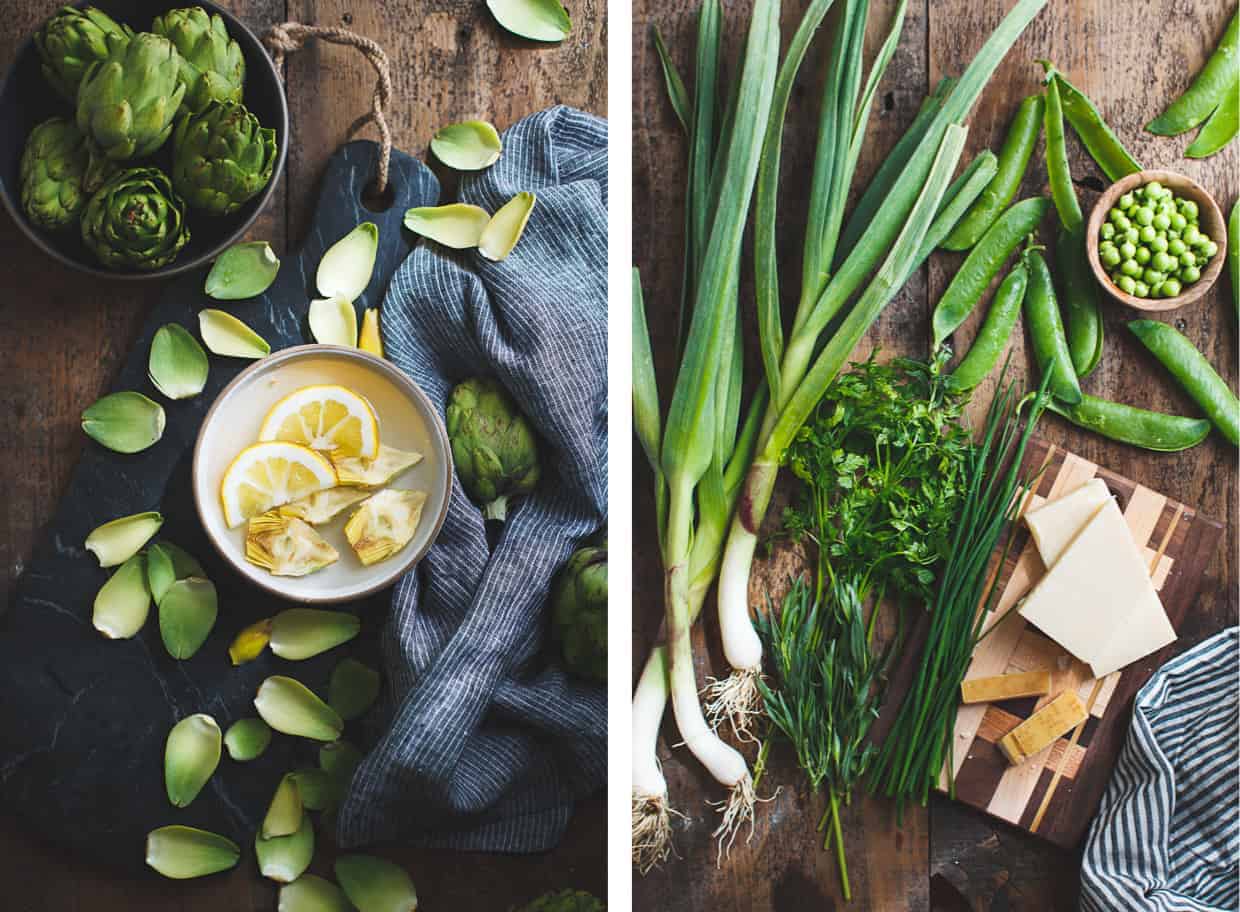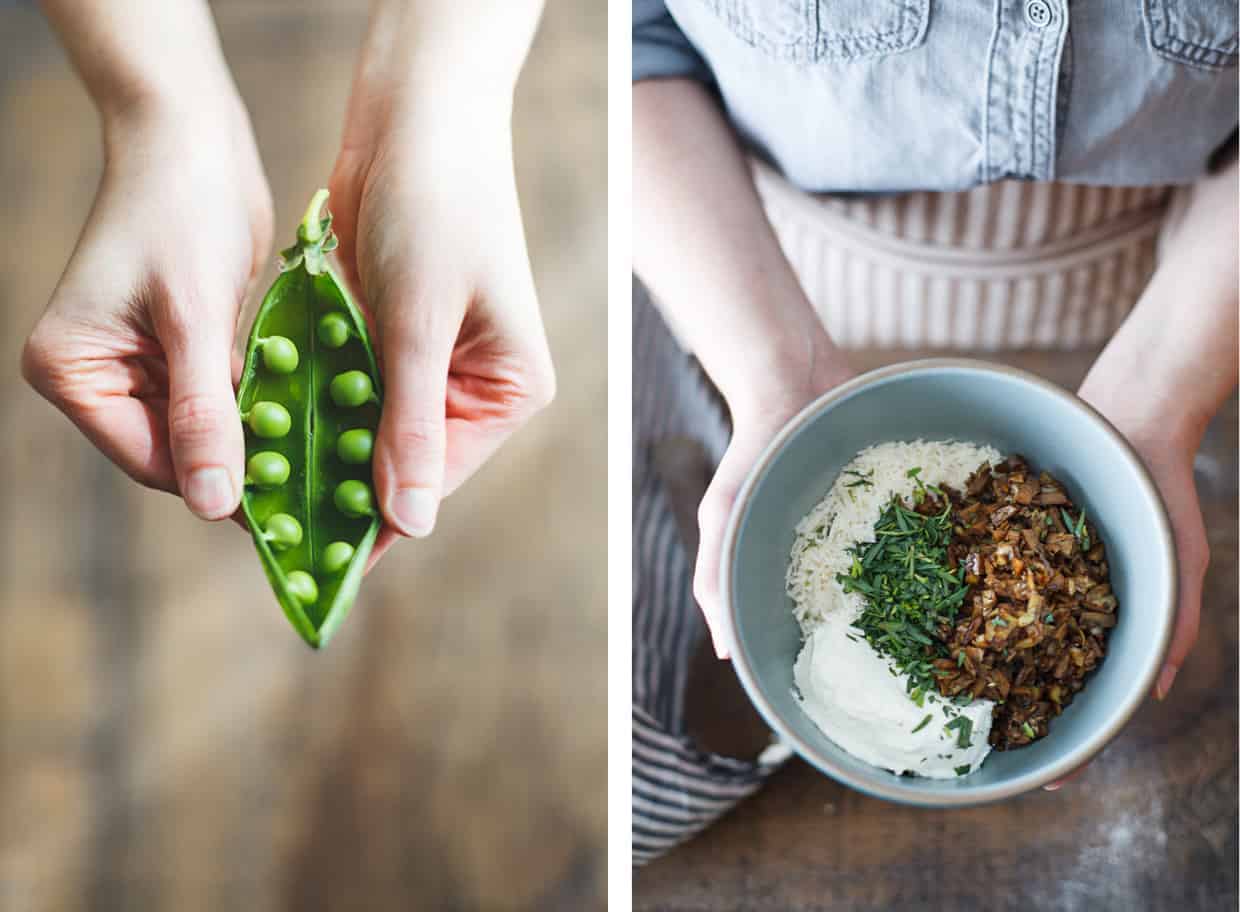 The texture of chestnut flour pasta is as pliable and sturdy as traditional pasta, but with so much more flavor. The pasta cooks up silky and smooth with a sweet nuttiness that makes it pair best with a savory or salty topping or filling to balance it out.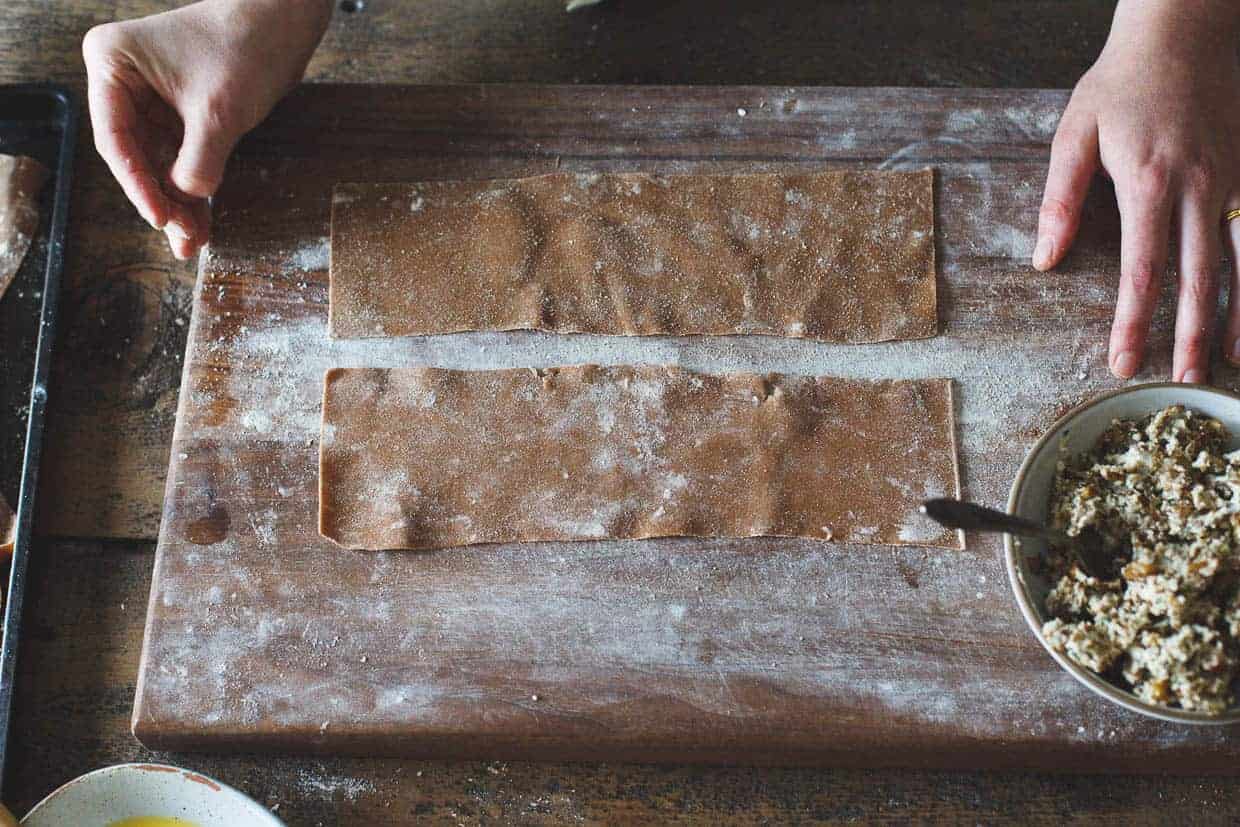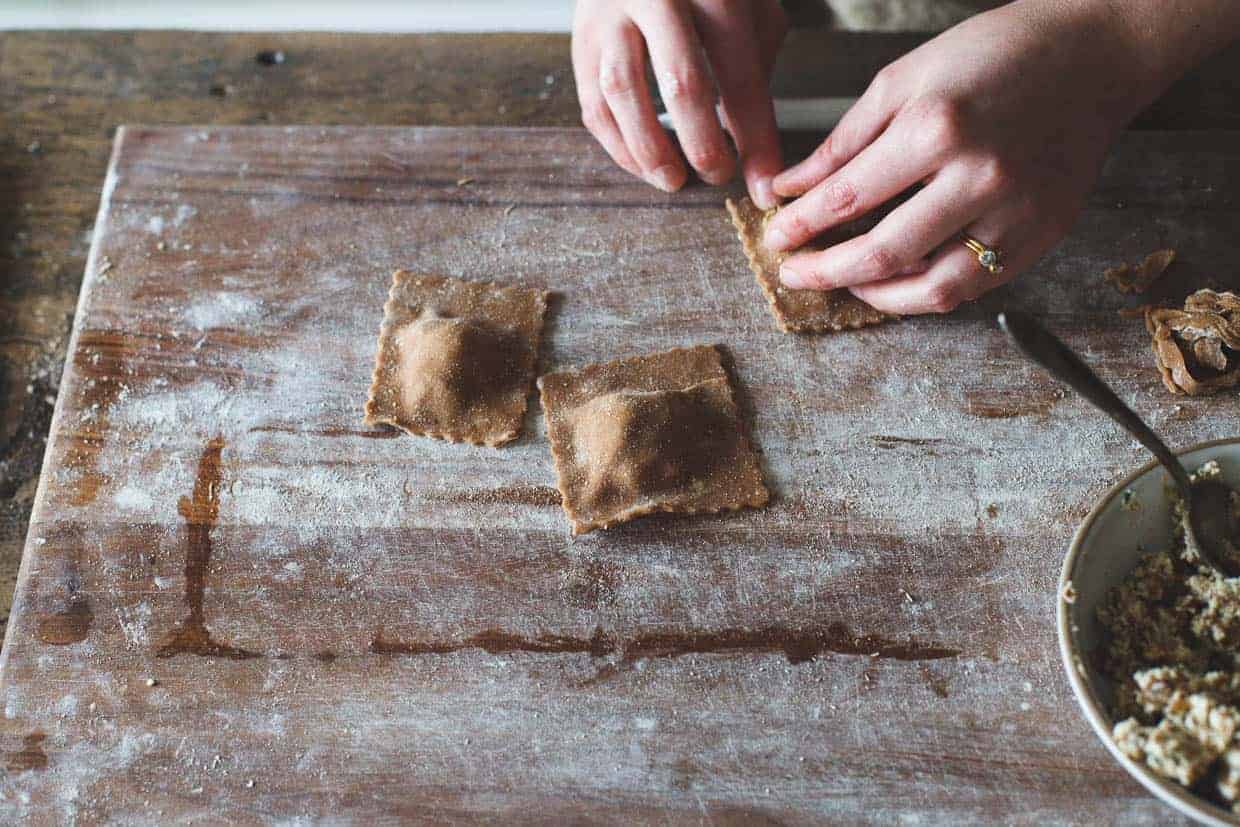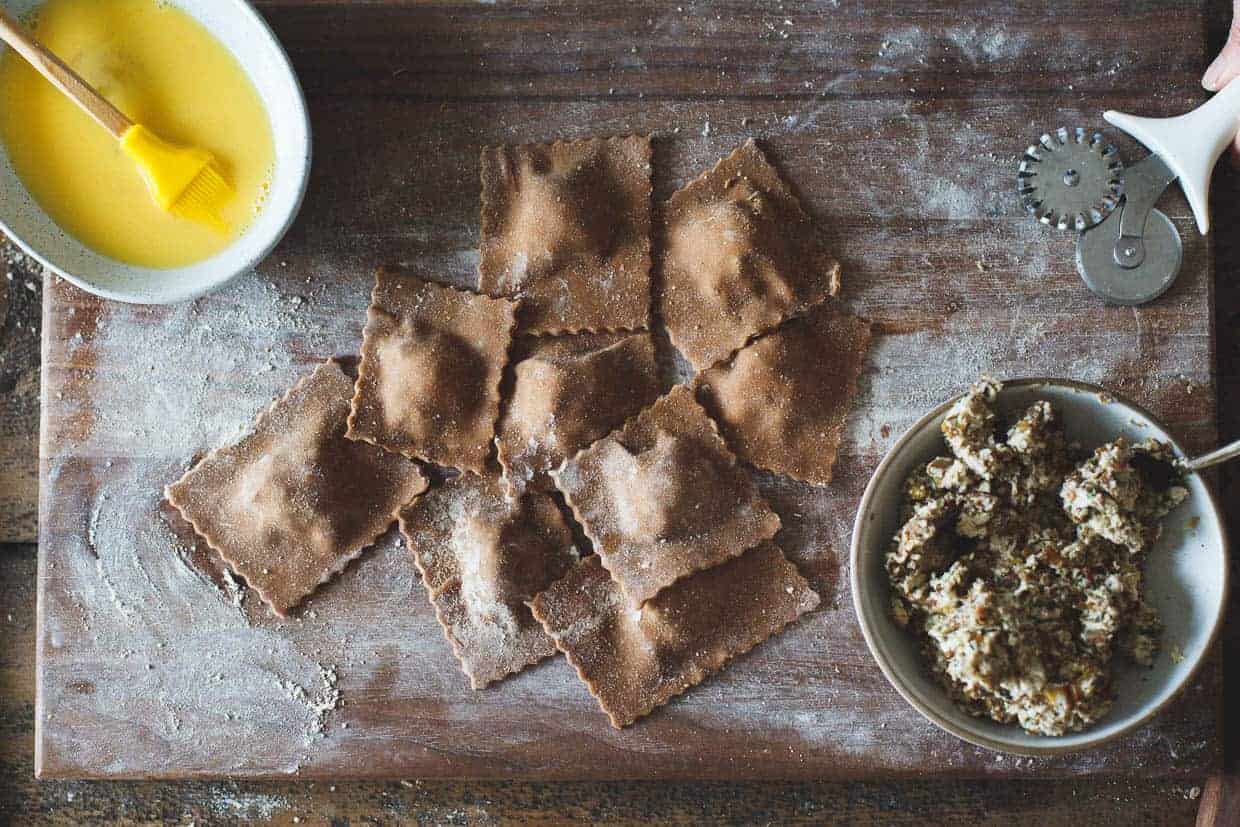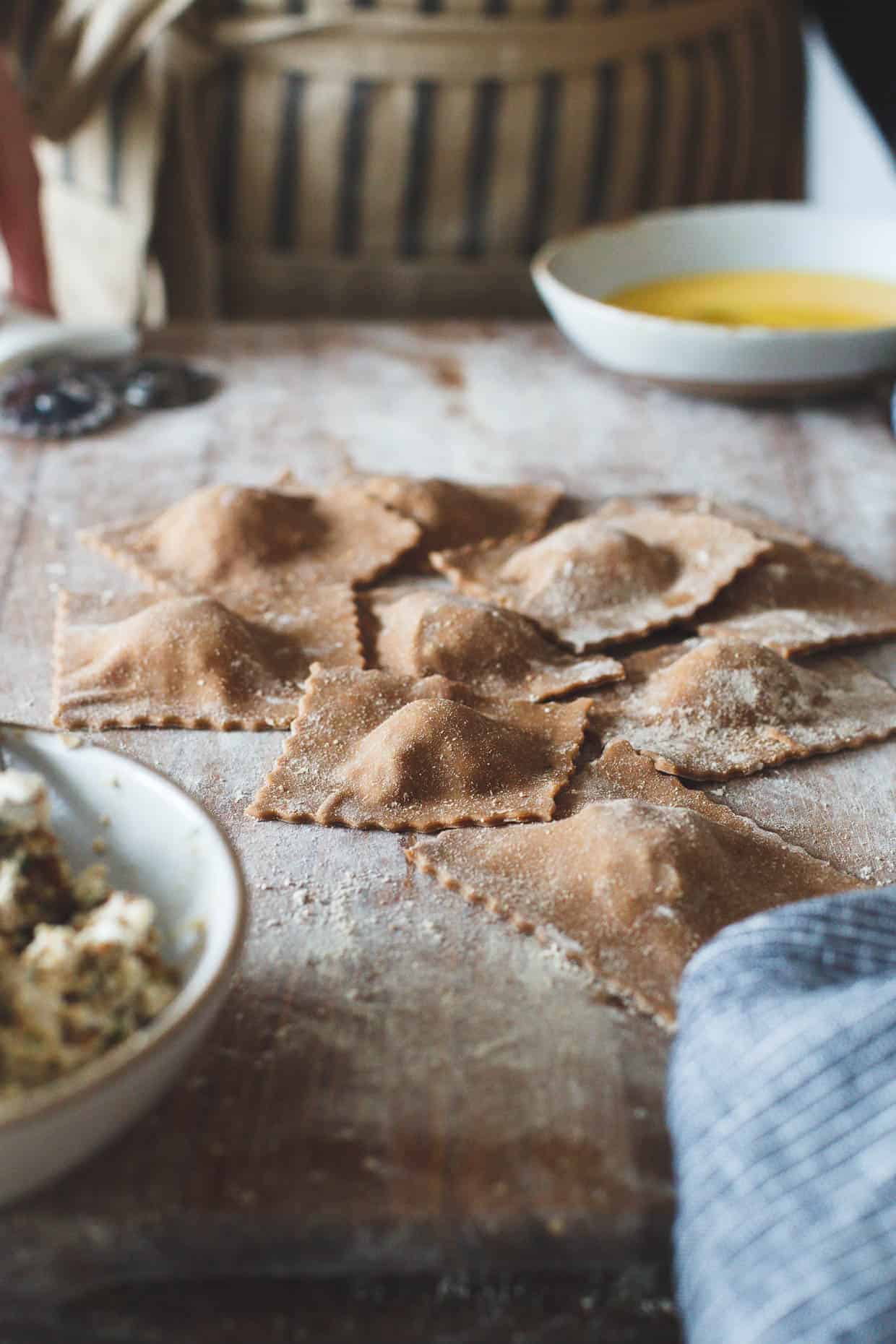 For the Alternative Flours meal, we served up the hand-cut pasta triangles with braised shiitake mushrooms, deep-fried celery root, a truffle salted sous-vide egg yolk and crispy enoki straws. This time around we took inspiration from the spring vegetables barreling into the market. Silky fresh chestnut flour ravioli filled with pockets of baby artichoke hearts, green garlic, goat cheese, parmesan, and a bit of tarragon, all sitting in a pea shoot vegetable broth with fresh peas, and garnished with fresh herbs, parmesan, and crispy enoki mushroom straws. Whew!
I thought about making that the title of this post because each ingredient deserves a diva moment - Go PEAS, it's your birthday!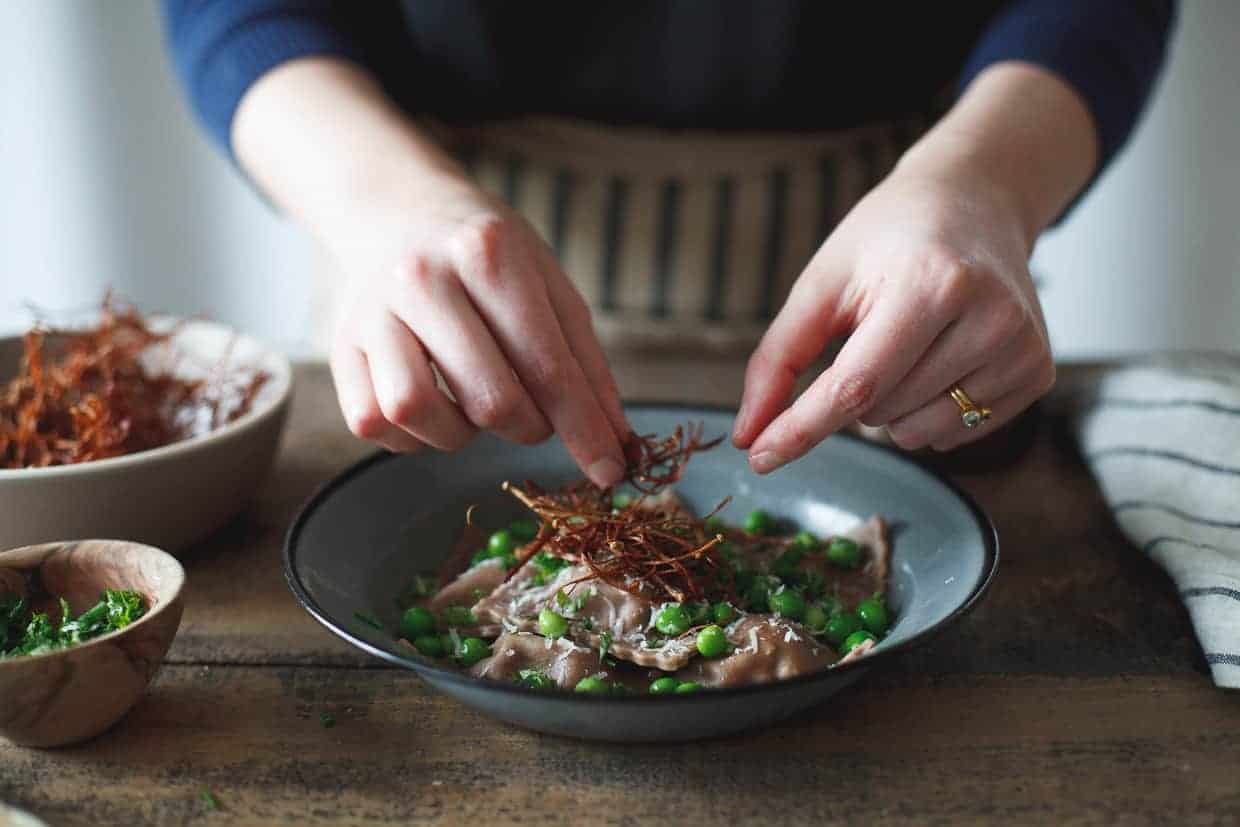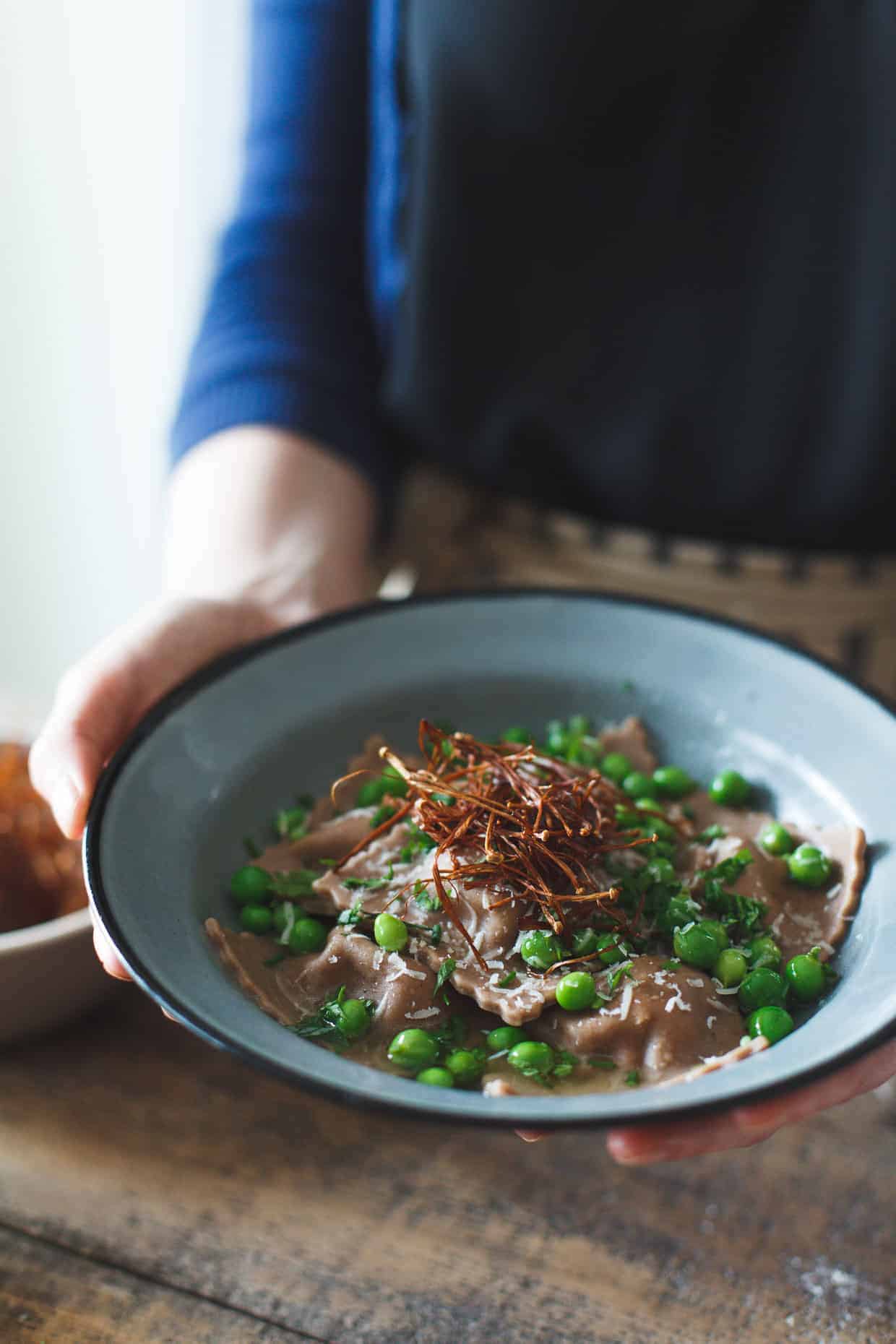 If simplicity is more your thing, you can swap out the filling for whatever you want (did somebody say cheese??) or turn this chestnut flour pasta into fettuccine. While the video may seem like fresh pasta ravioli is quite the process, I assure you that Lucas and I used to make fresh pasta on weeknights back when I barely knew how to cook.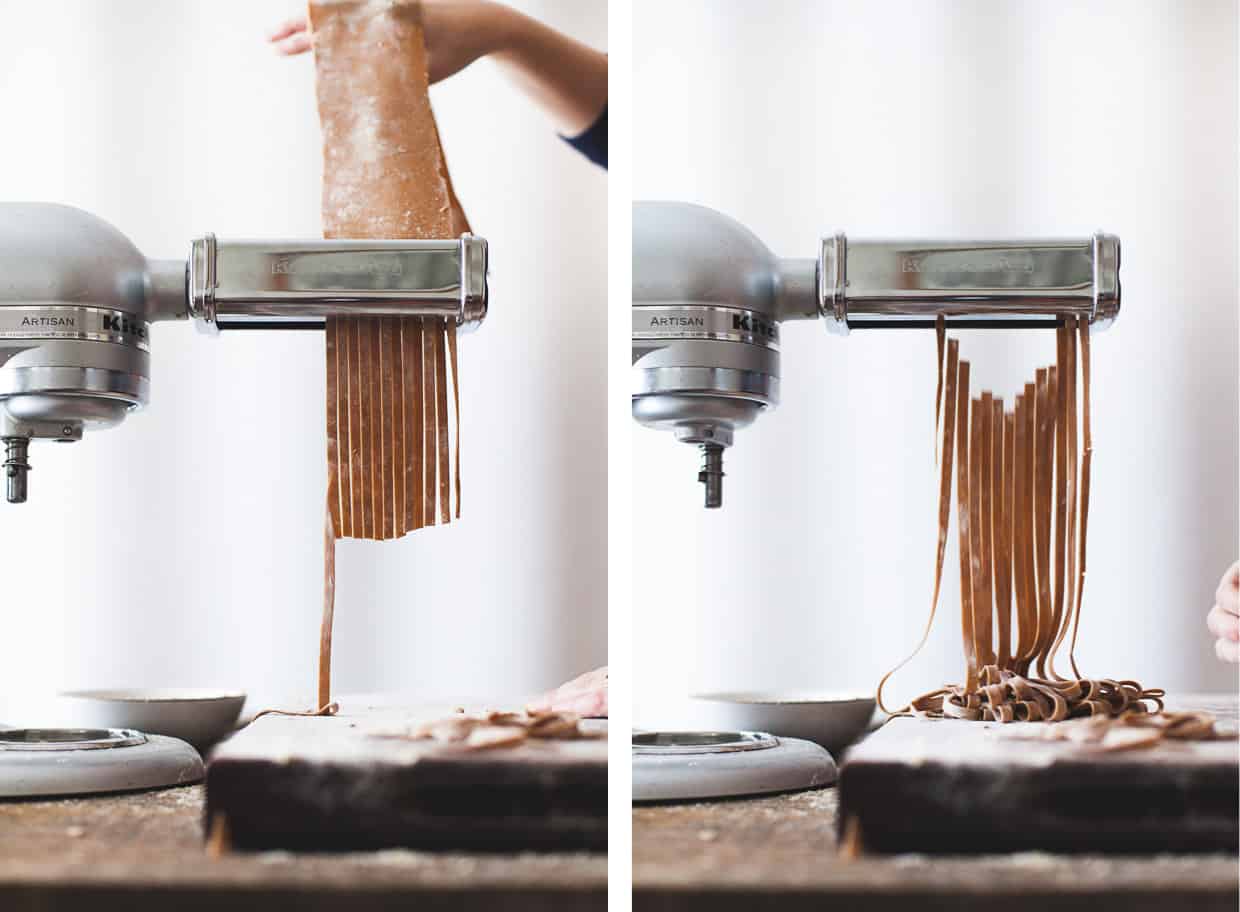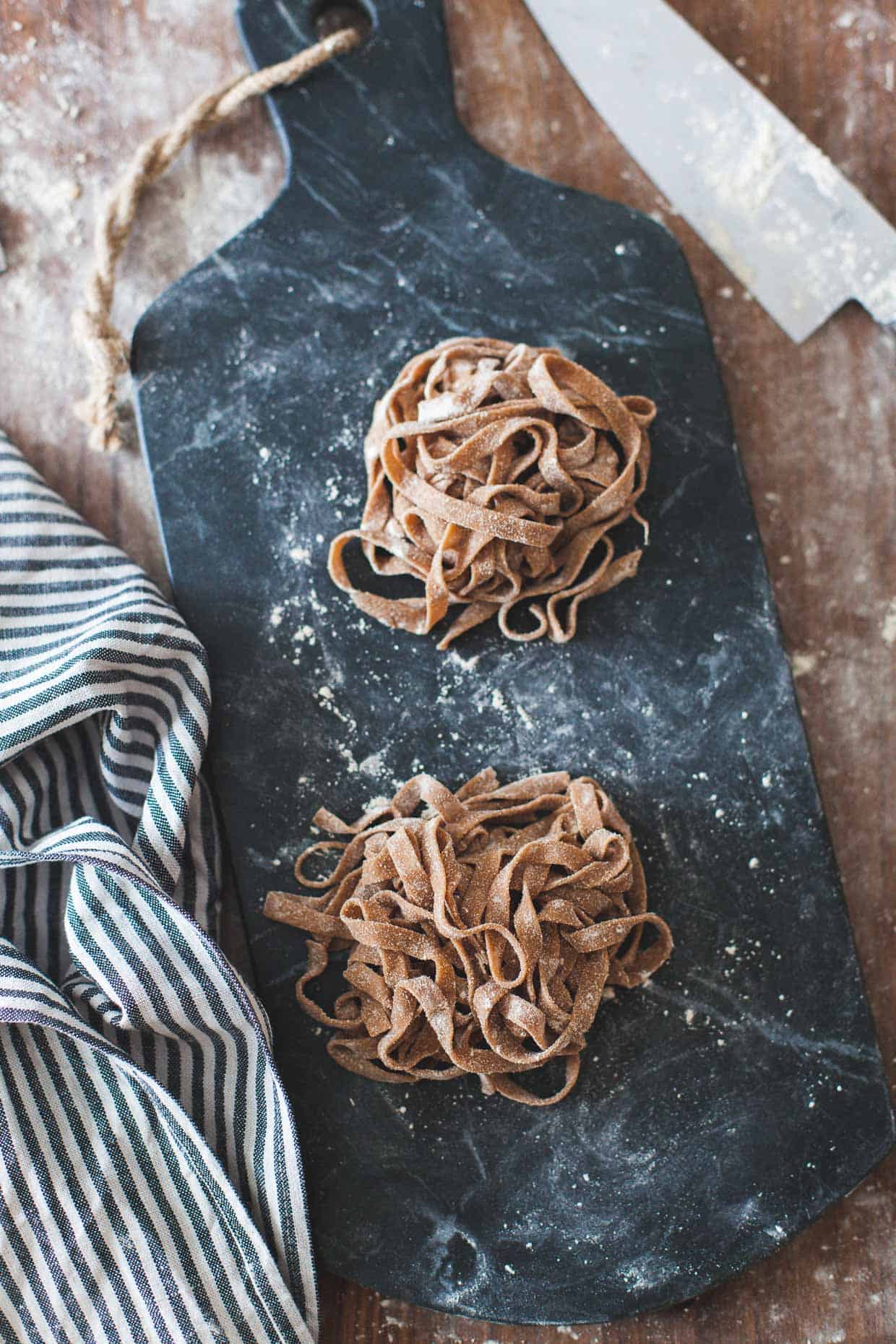 The recipe for the chestnut flour pasta sheets and ravioli technique is below, and you can find the recipe for the filling and broth along with Alanna's take on the day over at The Bojon Gourmet!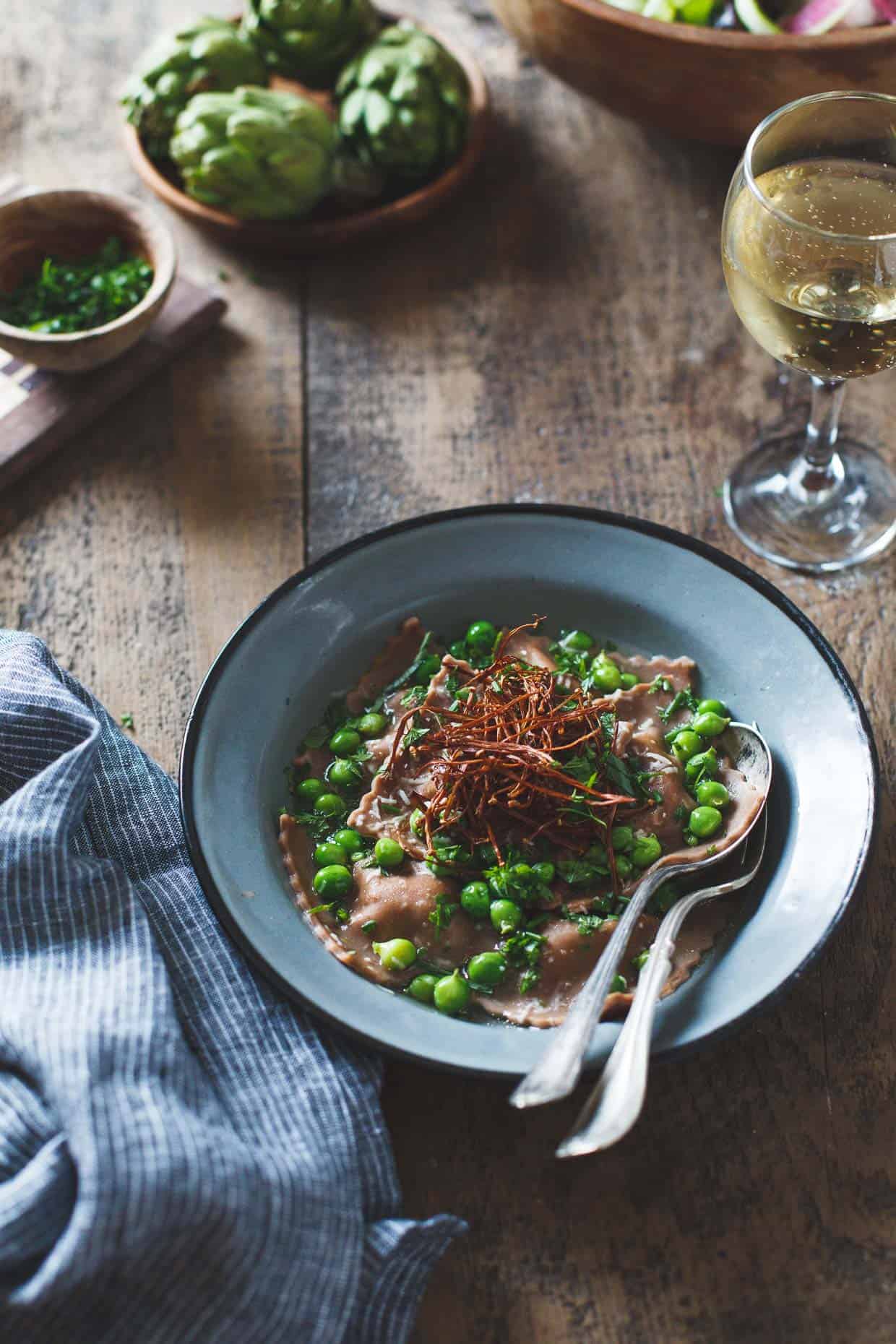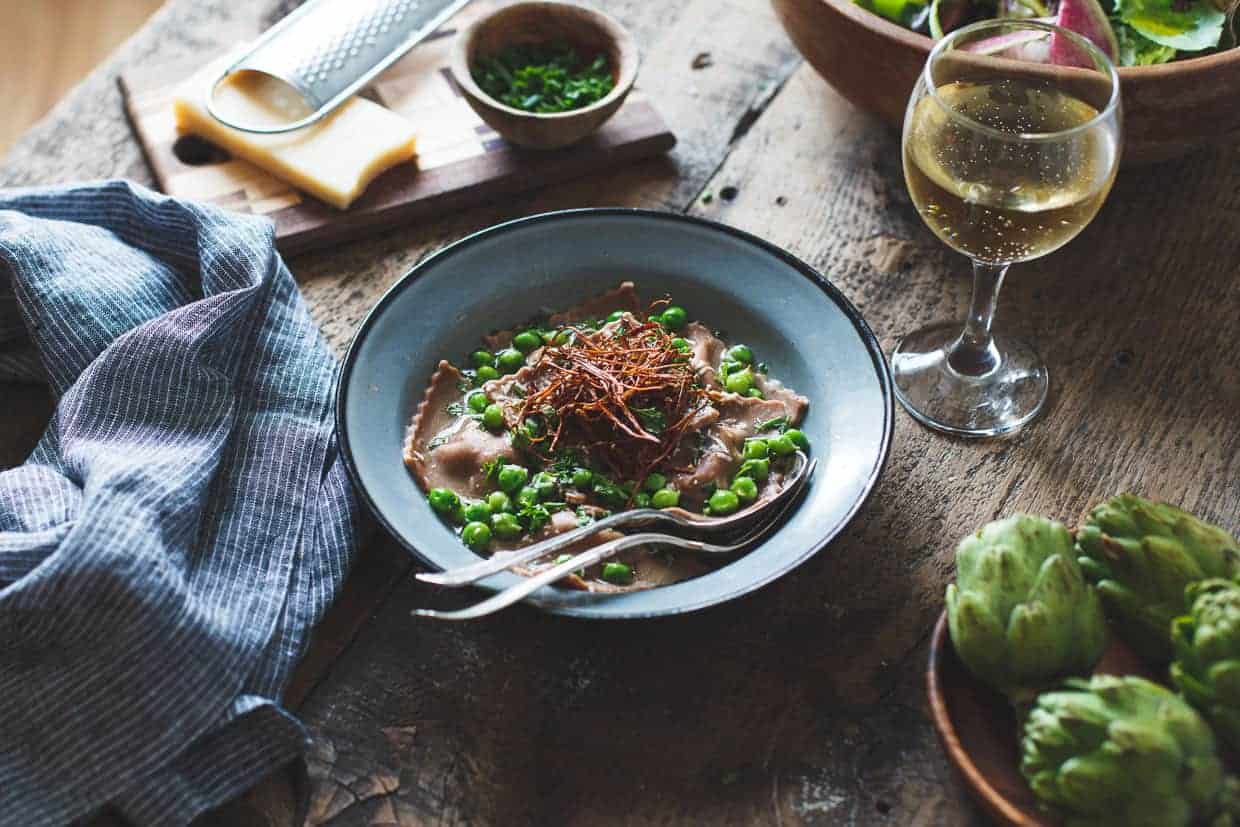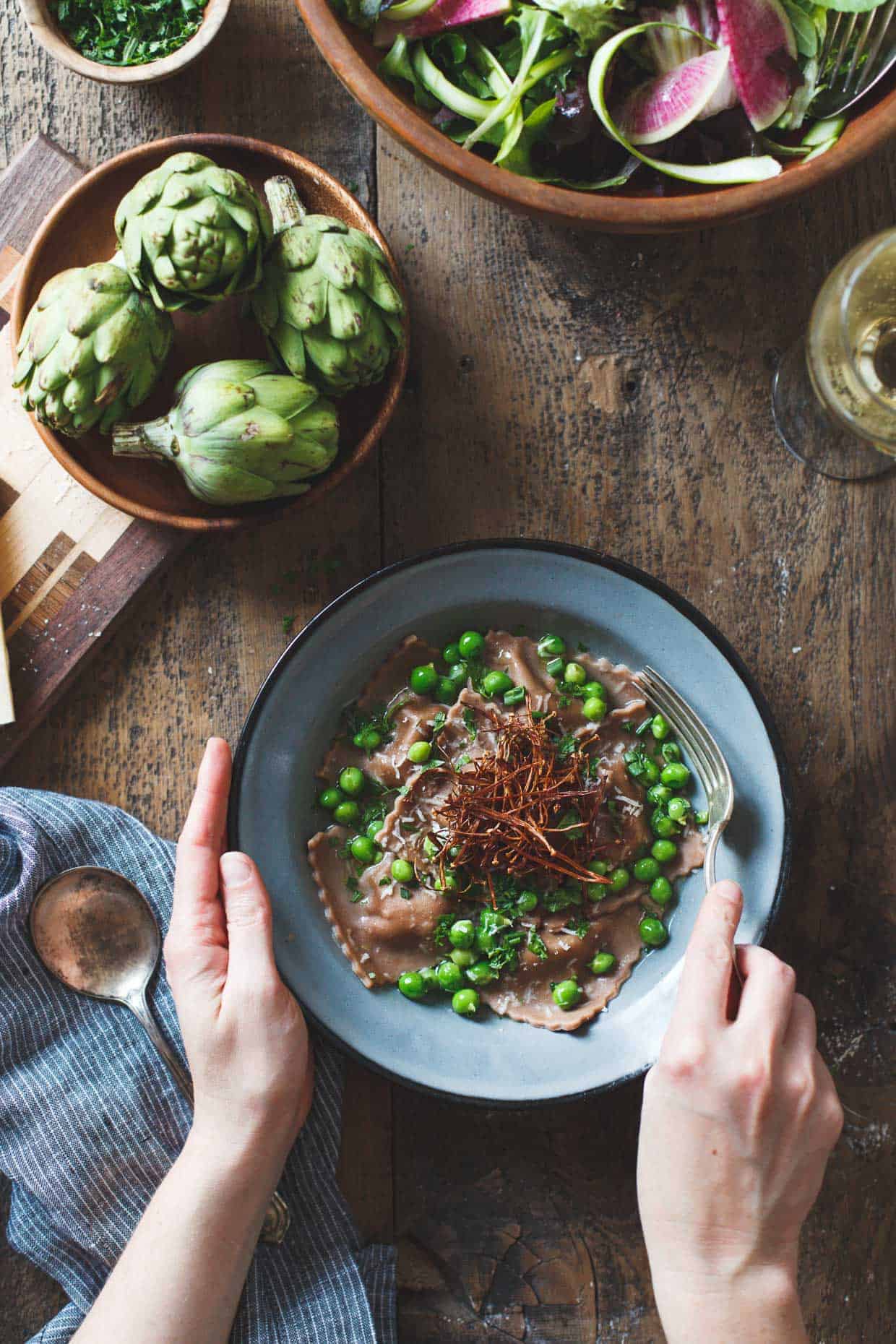 *All photos and video were styled and shot in collaboration with Alanna.
For more gluten-free pasta inspiration, check out our Gluten-free Chickpea Pasta Pappardelle collaboration!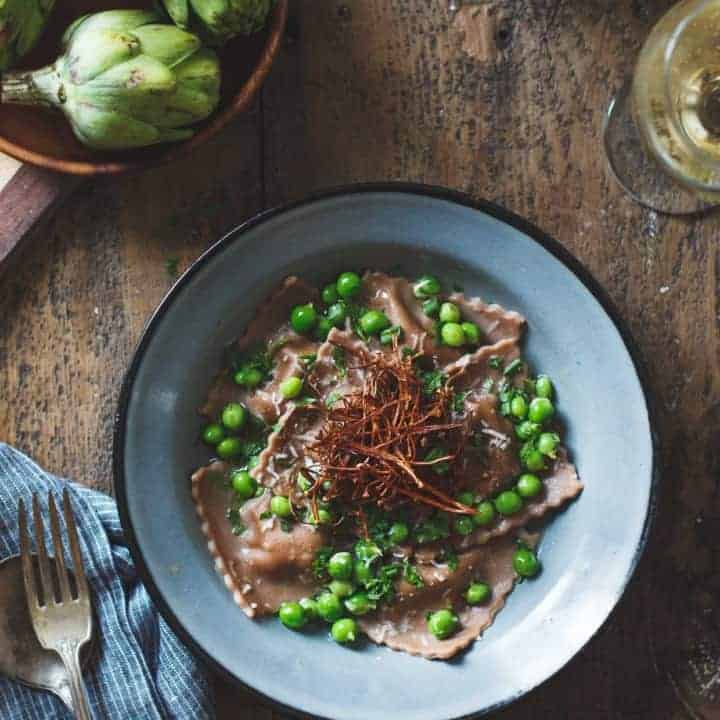 Gluten-free Chestnut Flour Pasta Ravioli
Make gluten-free ravioli at home using chestnut flour. Fill with your favorite filling. Make a big batch and freeze some for later!
Ingredients
3 large eggs + 1 large egg for egg wash
1 tablespoon olive oil
Scant ½ teaspoon salt
Water, as needed
Instructions
Gluten-free Chestnut Flour Pasta
Whisk the chestnut flour, tapioca starch, sweet rice flour, and xanthan gum into a large bowl.
Create a well in the middle of the flour and crack three eggs into the well. Add the olive oil and salt.
Use a fork to lightly whisk the eggs together in the middle of the well, then begin mixing it all together with the flour.
Once it's well mixed, use your hands to knead until it forms a dough. If the the mixture feels too dry, add ½ teaspoon of water at a time while kneading. Knead until dough is smooth and elastic, but not very sticky. If you find it too sticky, add another teaspoon of chestnut flour until it reaches the desired texture.
Roll the dough into a ball, wrap it in plastic, and let it rest for 30 minutes.
Meanwhile prepare your filling and sauce. Find the recipe for the Goat Cheese and Spring Vegetable Ravioli shown in the pictures above at The Bojon Gourmet.
Bring 4-quarts of water to boil in a large pot with a teaspoon of salt and a splash of olive oil.
After letting the dough rest, cut dough into 6 equal pieces.
Use your hands to press one piece at a time on a chestnut-floured surface until it is about ¼-inch thick, reserving the other pieces in plastic wrap under a towel.
With a pasta roller or rolling pin, roll out each piece into a thin sheet, lightly dusting both sides with chestnut flour as you go. If using the KitchenAid pasta roller attachment, send the dough through setting 1, fold it in half, then send it again. Repeat until it feeds through smooth, then reduce the thickness one stop at a time, dusting the pasta sheet lightly with chestnut flour, until you get to a 4, which is the setting before the pasta begins to get paper thin.
Use a knife or the smooth edge of a pastry wheel to trim the edges of the pasta sheet so they are smooth and the sheet is an even width all the way down, 3-4 inches. Dust both sides lightly with chestnut flour and set aside, while you repeat with the remaining dough.Roll the trimmed edges up with the next piece of dough.
Cut into strips for fettuccine or pappardelle, or read below on how to make hand-cut ravioli.
Ravioli
Cut the pasta sheet in half cross-wise so you have two wide sheets that are the same length.
Whisk the remaining egg with 1 tablespoon of water.
Lay two sheets of the same length down on your floured surface. Spoon 2 teaspoons of filling at a time onto one sheet, leaving 1-2 inches between each ball of filling. Lightly brush the edges of this pasta sheet with the egg wash. Lightly brush the egg wash between each filling mound.
Lay the second sheet of pasta over the top and gently press down to cover the filling. Press out all of the air and gently press the edges and around each mound to secure the sheets together. Use a ravioli stamp, a pastry wheel, or a knife to cut the strip into ravioli squares. Repeat with the remaining pasta sheets.
Drop the ravioli into the boiling water and cook for 5 minutes, stirring occasionally. Gently scoop out the ravioli with a slotted spoon.
Top with pea broth, herbs, parmesan, and enoki straws and serve. Get the recipe for the filling and broth pictured above from The Bojon Gourmet.