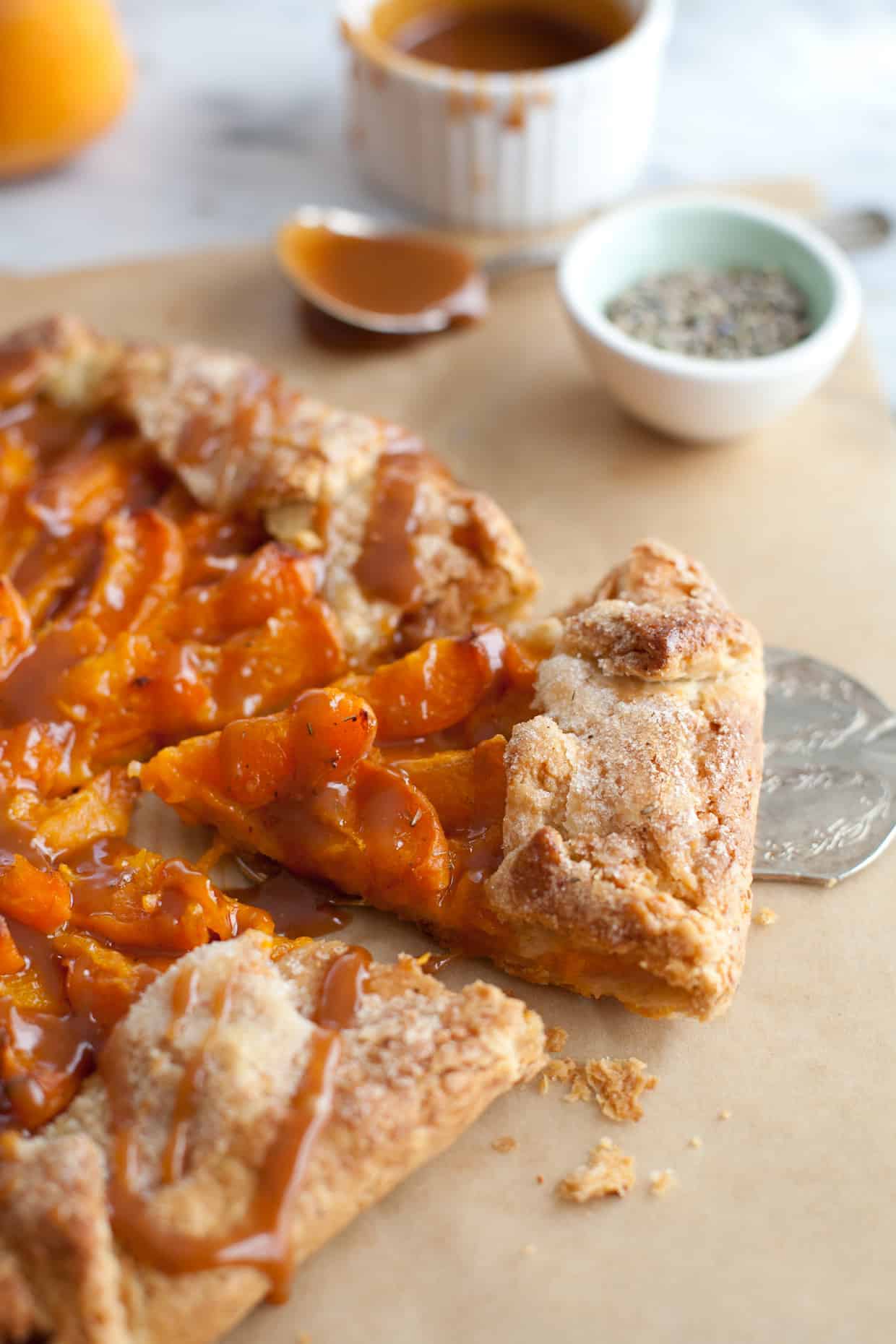 Welcome to the new and improved Snixy Kitchen! If you've been here before, you'll notice things look quite a bit different. About a week ago, I spilled the beans about the redesign and today I'm finally rolling it out for y'all! And we're celebrating with a slice or two or three of this decadent gluten-free apricot galette with lavender caramel sauce drizzled on top. I can't stop, I won't stop with the caramel or the lavender.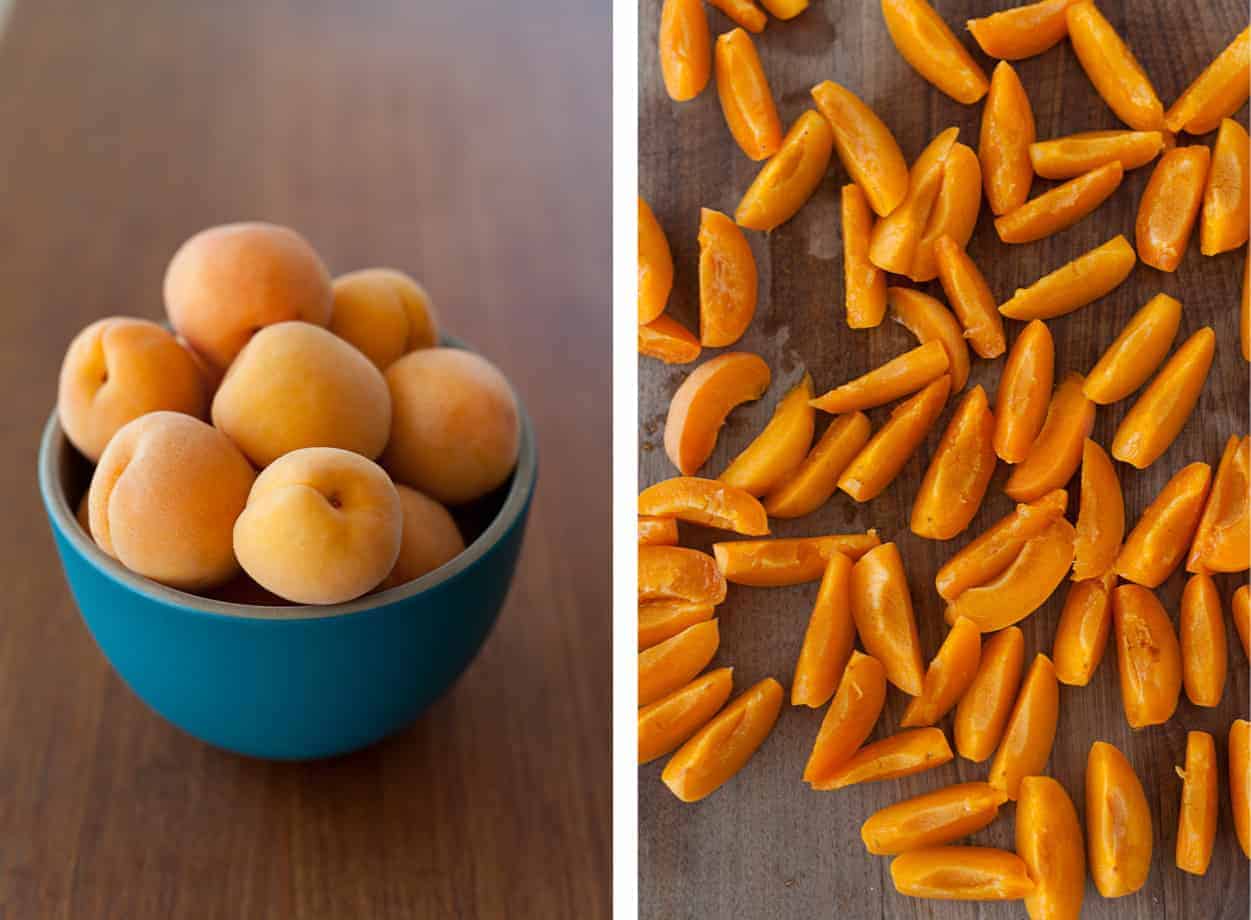 I am stoked (and nervous) to share my labor of love with you! As I mentioned before, I designed and built this all by myself. Without any background knowledge, training, or experience with web development. If you look up "newb developer" in the dictionary, you'll find a picture of me (why are you looking that up, you weirdo!). So if something breaks or looks wonky on your screen, please please please use the contact form to let me know! I'm doing this all by trial-and-error and clearly don't have the skills yet to anticipate every scenario.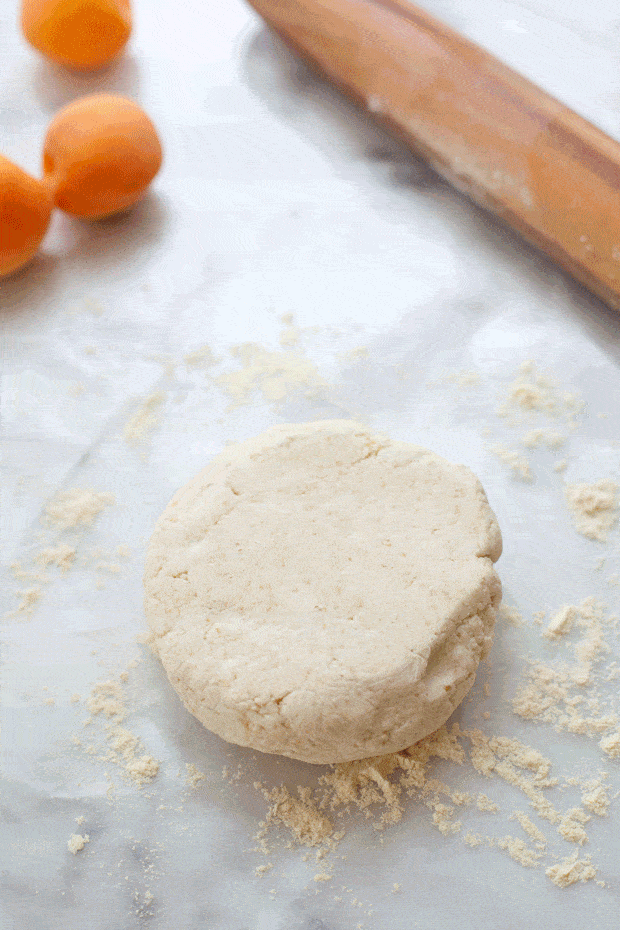 There's research about expert versus novice performance in chess players that's been studied and generalized to basic problem-solving and definitely applies here (My advisor would be so proud that I'm citing him here! Schoenfeld, 1985). The basic idea is that expert problem solvers, like expert chess players, are able to recognize particular situations (ex. chess board configurations) as being of a specific type that allow them rapid access to the appropriate solution techniques. In the early studies on chess players, novices and experts were shown typical midgame chess board positions, and when later asked to reproduce them on nearby chess boards, the experts were far more successful than the novices. In a second study, they were shown random nonstandard chess-board configurations (ie. illegal positions), and the experts didn't perform any better than the novices. In a world of web development where I don't have schema for any of the "typical types of problems," I'm definitely a novice. Practice, baby, practice.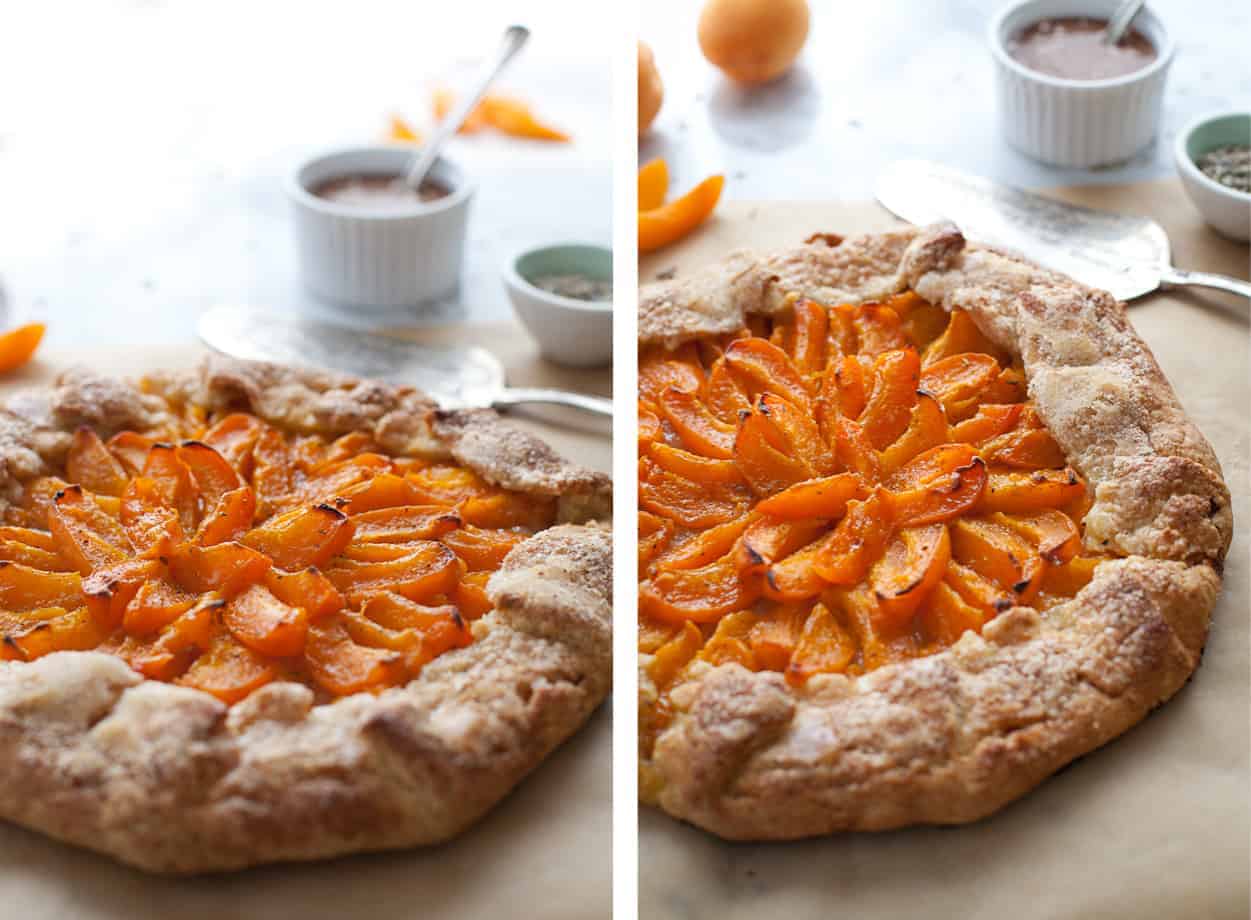 You might notice a few formatting changes over the next couple of weeks, as I bring all my old posts up to snuff - please bear with me! For the record, I couldn't have done it without the help of a few key players who answered way too many questions for me when I got stuck and frustrated (and I'm not pleasant when I'm frustrated) - Thanks Mikey, J, and Dane! I'm going to bake you a galette soon, promise.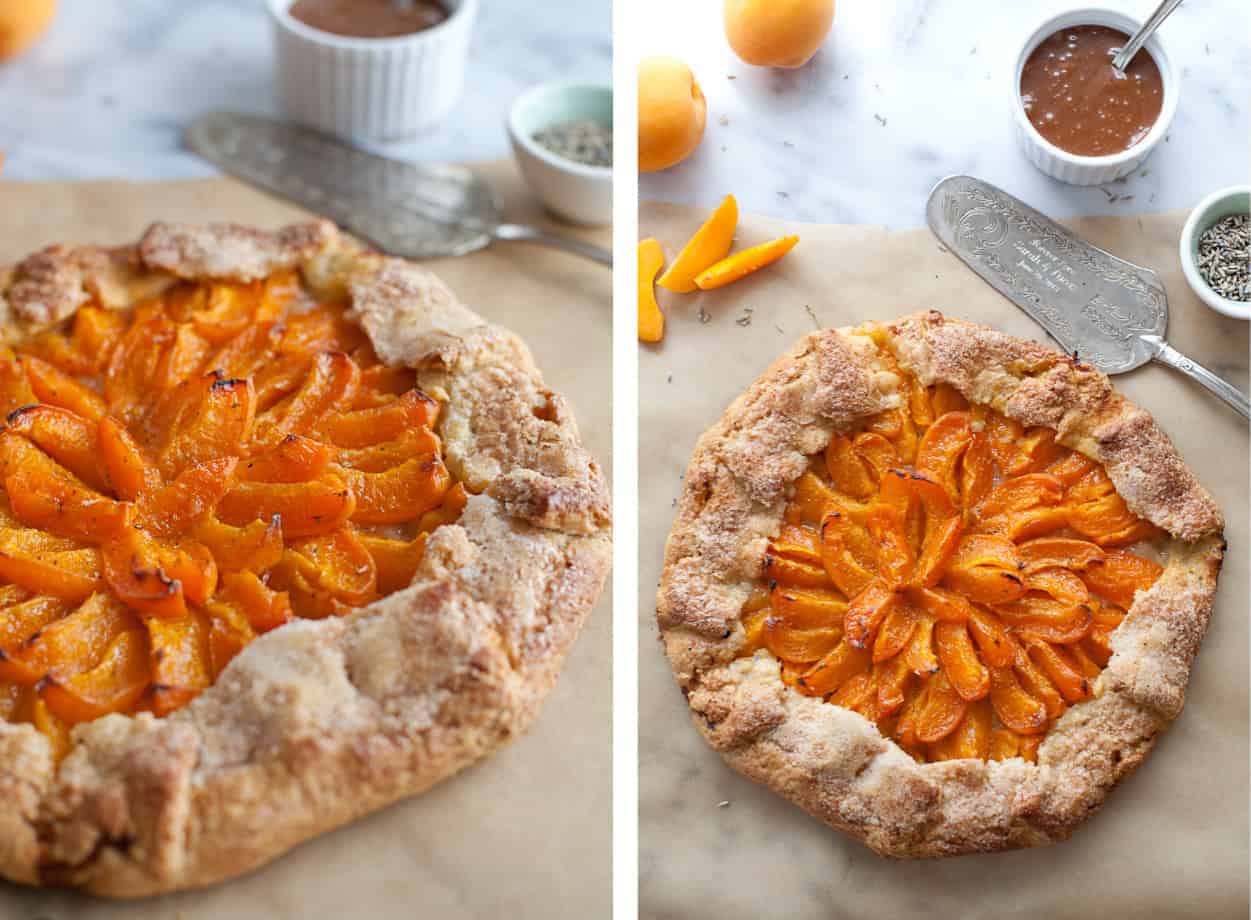 Today's actually a momentous day for celebrating; I ran my first 5k this morning! Lucas says Angi and I crushed it in our race; if the definition of "crushed it" is "finished in under 40 minutes without walking not even one second," then yes, we crushed it. And then celebrated with a sweaty champagne toast over the finish line. Next stop: 10k. Angi and I set the long-term goal of running the Nike Women's Half Marathon so we can get a Tiffany's necklace over the finish line. Priorities. Emphasis on long-term - we've got a ways to go.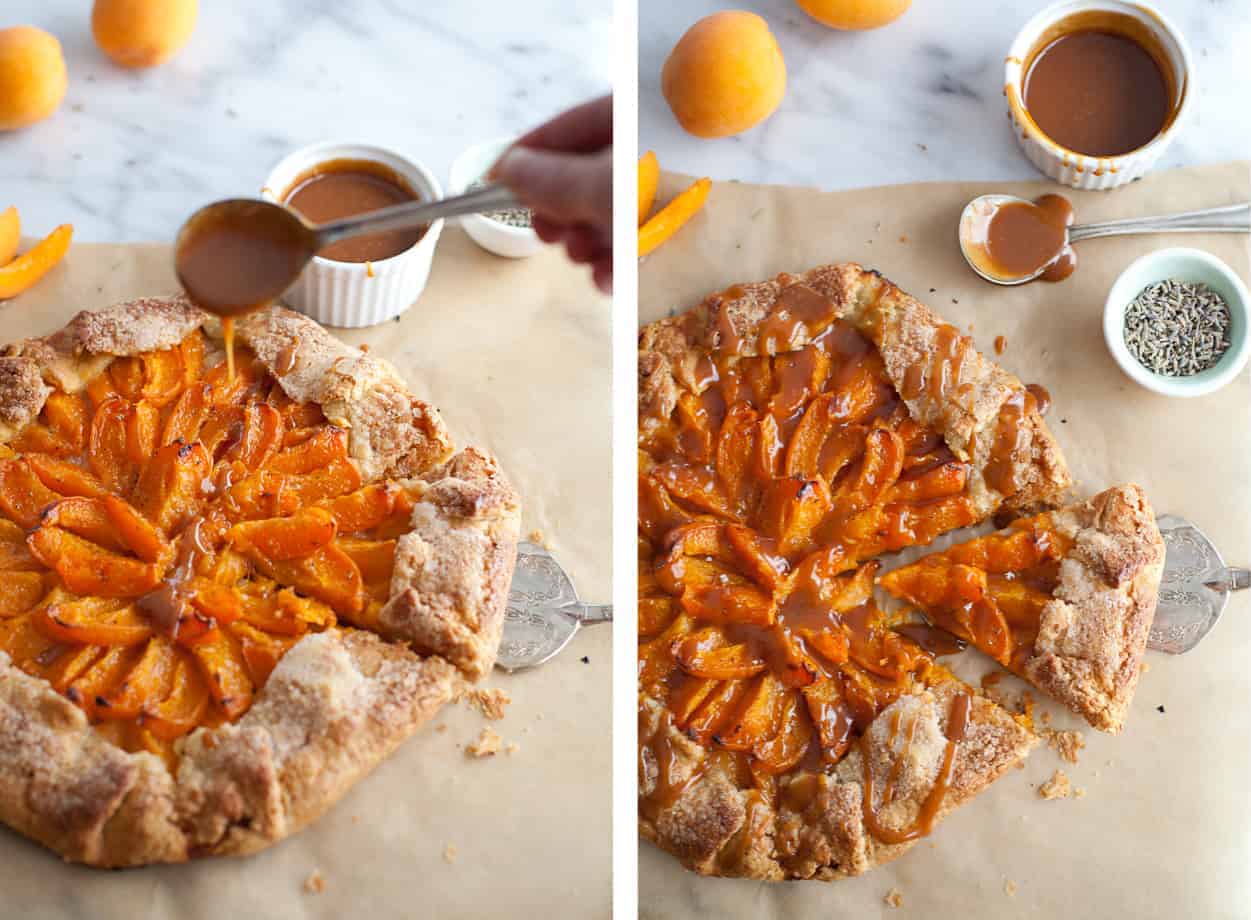 Two weeks ago, my dad brought down a flat of ripe apricots from their backyard tree. I can't figure out why we don't get apricots that plump and flavorful down here in the Bay; Our produce market is lined with bin after bin of juicy sweet stone fruit, but the apricots just don't hold a candle to the ones from Chico. Just like my late grandma, apricots are my favorite stone fruit; I ate that entire flat in 48 hours. So when my mom came down three days later, I placed a second order and turned them into this gluten-free apricot galette to send with her for my dad as a Father's day treat. This galette serves 6-8 slices (if you're like me, you'll randomly cut it into 7 slices, because...why not?), but according to my dad, it serves 4. Four massive slices that only someone with a bottomless pit as a dessert stomach could handle. I know where I get my sweet tooth from.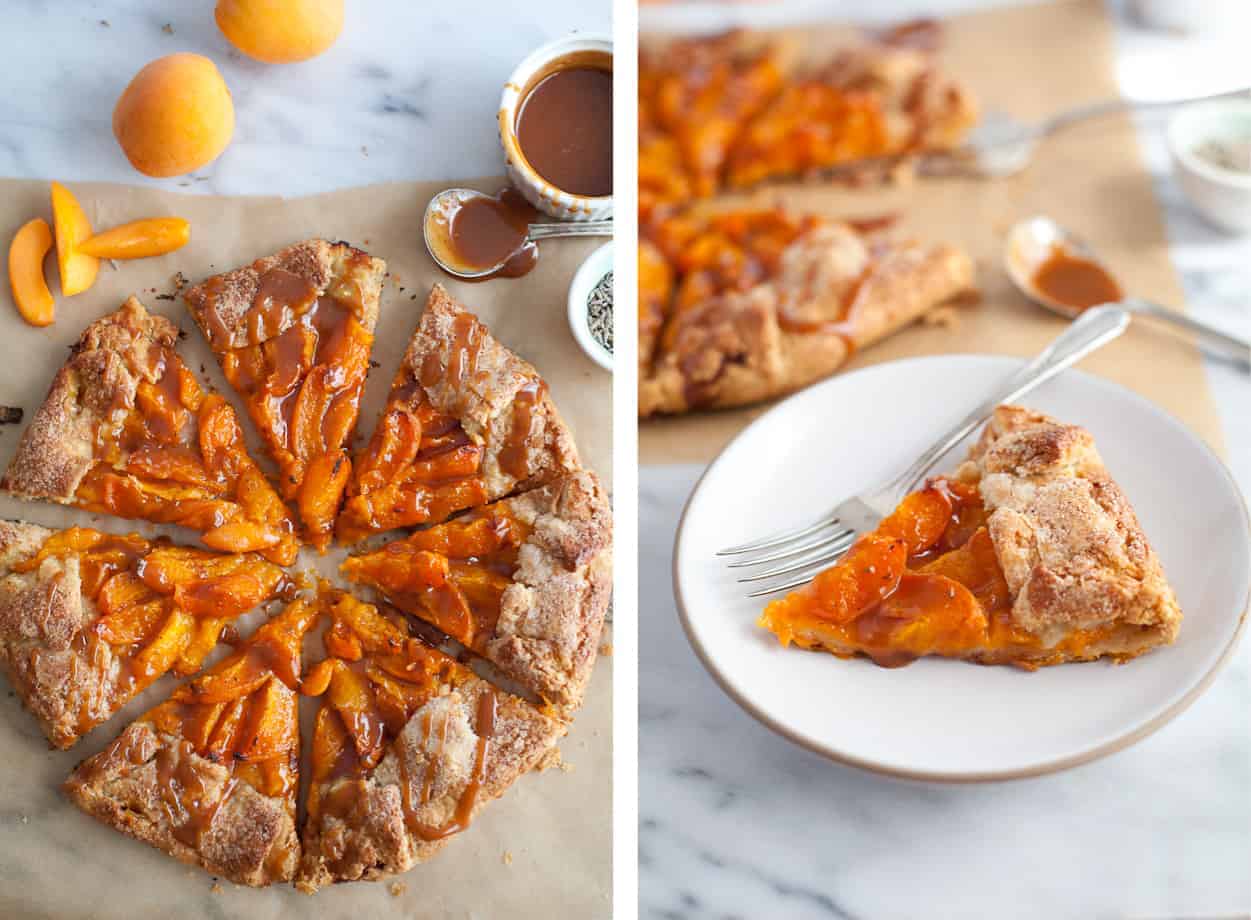 This gluten-free apricot galette is hands-down the best galette I've ever eaten. The crust is all at once crispy, moist, flakey, and sugary. Spoon some warm lavender caramel sauce on top and you've got a sweet combination that's to die for. In the past two weeks, I've made two more of this exact galette because when you find something this good, you just can't help yourself. Scoop ice cream on top and go to town.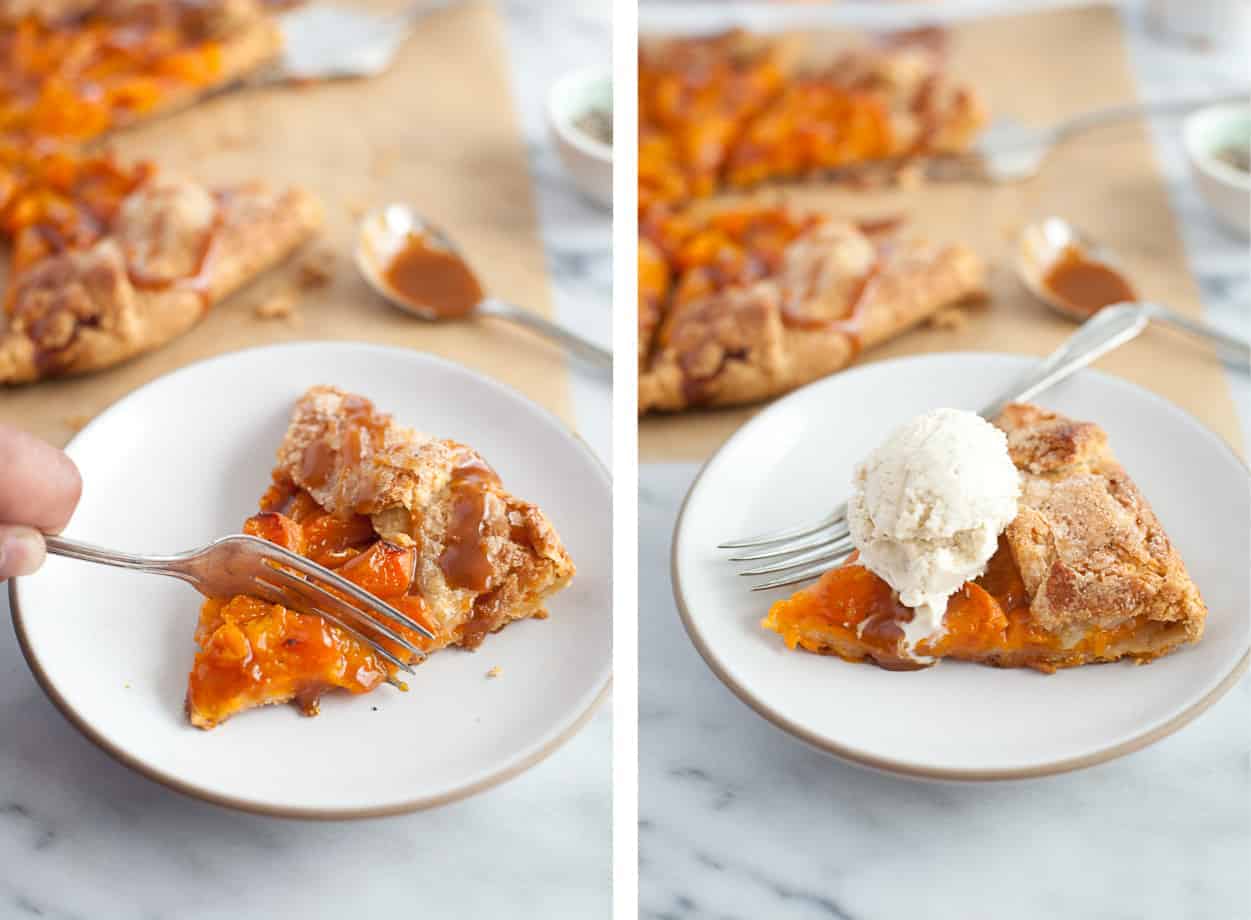 Here's the one thing I've learned: this galette is best when stored in an air-tight container and eaten within 24 hours of being baked, while saving the caramel drizzle for right before serving. If left with the caramel on top for more than a couple of hours, your perfect crust will get soggy and oh, what a shame that would be! For the crispy leftovers, just heat them at 400°F for 10 minutes, then under the broiler for 2-3 minutes. The idea that there will be leftovers though is completely preposterous.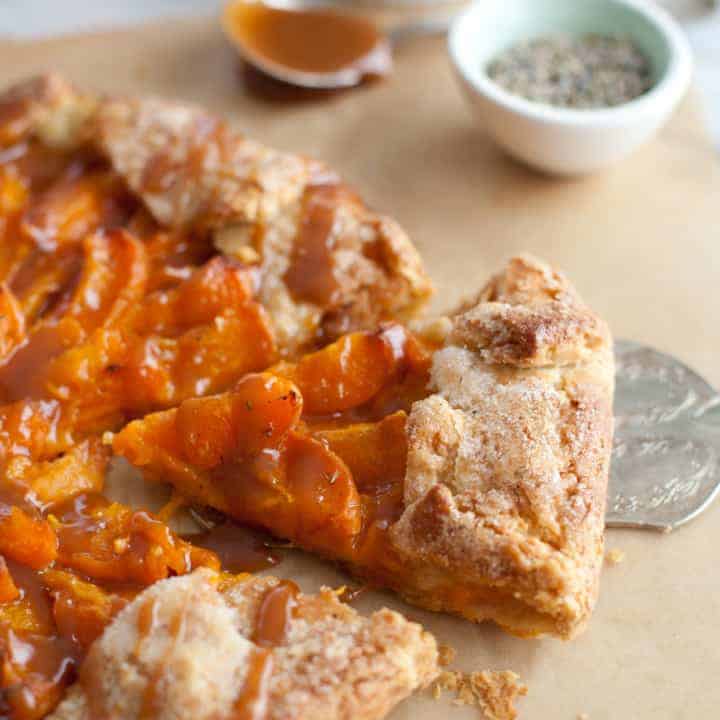 Gluten-free apricot galette
Ingredients
Dough
½ cup sweet rice flour
¼ cup millet flour
⅓ cup oat flour
3 tablespoons tapioca starch
1 teaspoon sugar
½ teaspoon xanthan gum
¼ teaspoon fleur de sel (sea salt)
8 tablespoons cold, unsalted butter, cut into tablespoon sized pieces
6-8 tablespoons ice water
Galette
10 ripe, but not mushy apricots, sliced into eighths
6 tablespoons sugar
½ teaspoon dried lavender
2 tablespoons of milk
1 gluten-free galette dough (recipe below)
Lavender caramel sauce (recipe below; make while the galette is baking)
Instructions
Dough
Whisk together the sweet rice flour, millet flour, oat flour, tapioca starch, sugar, xanthan gum, and salt in a large bowl.
Add the butter and mix with your hands, breaking up the butter until the largest pieces are about the size of a pea.
One tablespoon at a time, dribble in the ice water, combining each time, until the dough holds together when pinched with your fingers.
Roll the dough in a ball and flatten into a disc. Wrap with plastic and refrigerate for 30 minutes.
Preheat the oven to 400ºF.
Sprinkle some millet flour over wax or parchment paper, and roll out the dough over the paper until it's about 12-14 inches in diameter. Optional: cut any jagged edges off for a smoother look.
Place the rolled-out disc of dough on a parchment-lined baking sheet.
Galette
Pulse the sugar and dried lavender in a food processor until the lavender is finely ground.
Arrange the sliced apricots on top of the rolled-out crust, leaving a 2-inch border around the outside.
Sprinkle 4 tablespoons of the lavender sugar over the apricots.
Gently fold the dough on the edges back over the apricots, pleating the edges as you go, leaving the center exposed. Use any dough you cut off to patch any holes.
Brush the edges lightly with milk and sprinkle the remaining sugar over the crust. Make sure you don't have any sugar on the pan surrounding the galette or it'll end up burning up (a little burnt sugar is totally normal, you'll be able to break it off and it won't impact your final flavor).
Bake until the apricots are bubbling, about 45 minutes. Turn the broiler on and bake for another 3 minutes, until the crust browns nicely (watch carefully so it doesn't burn!).
Prepare the lavender caramel sauce.
Right before serving, drizzle caramel sauce over the top. Slice and serve warm or room-temperature. With or without a giant scoop of vanilla ice cream:)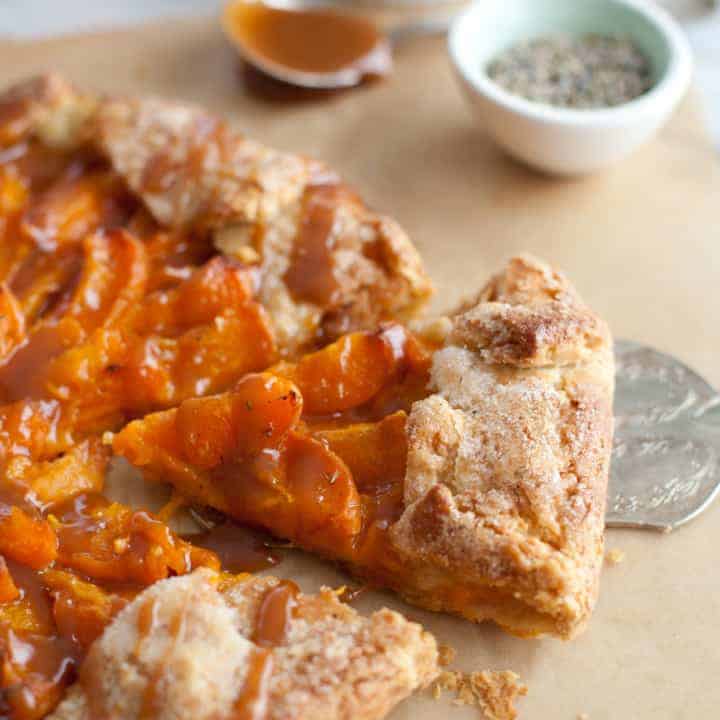 Honey lavender caramel sauce
Ingredients
¾ cups sugar
1 teaspoon dried lavender
200 ml (⅚ cup) heavy whipping cream
3 tablespoons honey
1½ tablespoons unsalted butter, room temperature
½ teaspoon kosher salt
¼ teaspoon fleur de sel
Instructions
Read all the directions before getting started. Stuff happens so fast so you want to make sure you're prepared for what's coming next. The times in this recipe are estimates and will depend on the side of pot you're using, so use the temperatures as your guide. Also, make sure that you have an accurate candy thermometer – 5 degrees off will drastically change the texture of your caramels from soft and chewy to more like sugar daddies. Here's a handy article on how to calibrate your candy thermometer.
Begin by making lavender sugar. Pulse the sugar and lavender in a food processor until the lavender is finely ground.
In a small saucepan, heat the heavy whipping cream and vanilla over medium heat until it just begins to simmer. Reduce the heat to low to keep it warm while you prepare the rest.
Heat the sugar and honey in a separate small saucepan over medium heat, stirring occasionally with a wooden spoon until the sugar dissolves and it starts to boil, about 4 minutes. (I recommend between a 1.5-quart and 2.5-quart saucepan; any larger and you'll have a hard time using the candy thermometer as it won't full submerge in the caramel).
Stop stirring and clip a candy thermometer to the edge of the pot. Let the sugar boil without stirring at all, until it reaches 305°F, about 3-5 minutes. While it boils, grab a clean wooden spoon or rinse and dry the one you were stirring with before.
Add the butter and kosher salt and fleur de sel, and slowly stir in the warm whipping cream. Be careful, as it will react and sizzle quite a bit when you start adding the cream. The temperature will also drop when you add the cream.
When the sizzling calms down, return to medium low heat and cook, stirring constantly, for 3 minutes.
Immediately transfer to a heat-proof bowl. If the caramel solidifies at all while you wait to serve, don't worry, you can just pop it in the microwave for 15-20 seconds and it'll soften up again.
Notes
This recipe makes more than you'll need, but you won't be able to completely submerge the thermometer if you reduce the recipe, so keep any leftovers in a air-tight container in the fridge to serve over ice cream. Just remove from the fridge and microwave for 15-20 seconds to soften up before drizzling.