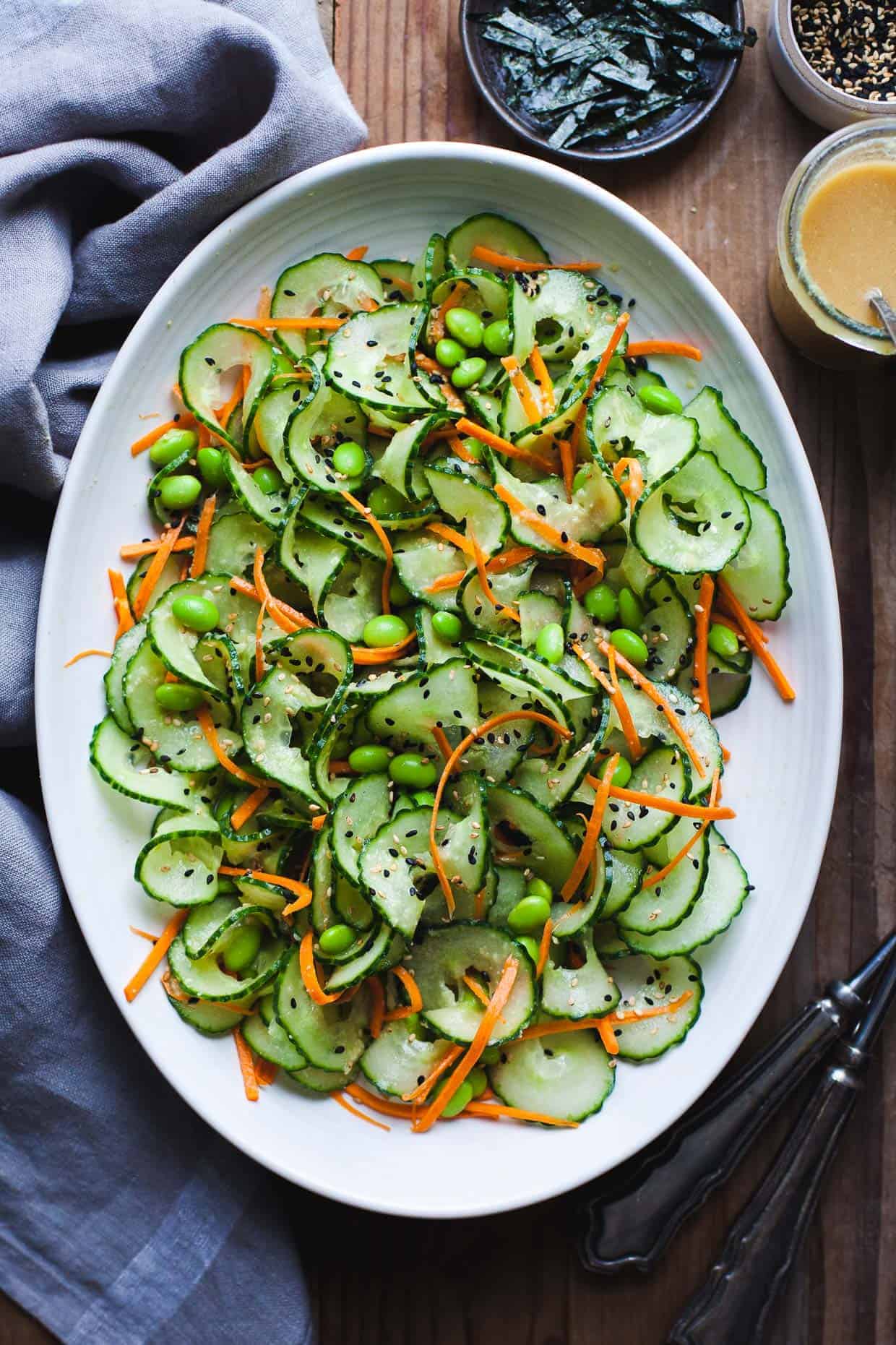 Remember that time we ate salad and I promised you more salads this year? Yeah, me neither. We've had five desserts since the last time we chomped down a salad together, but since every good summer BBQ should be made up of equal parts vegetables and ice cream, I'm sharing this super simple sesame ginger miso cucumber salad as we head into cook-out season.
(And if you haven't figured out which flavors of ice cream you're making for the weekend shindig, might I recommend coconut vanilla bean, chamomile honeycomb, or strawberry chocolate chip? Probably you'll need all three.)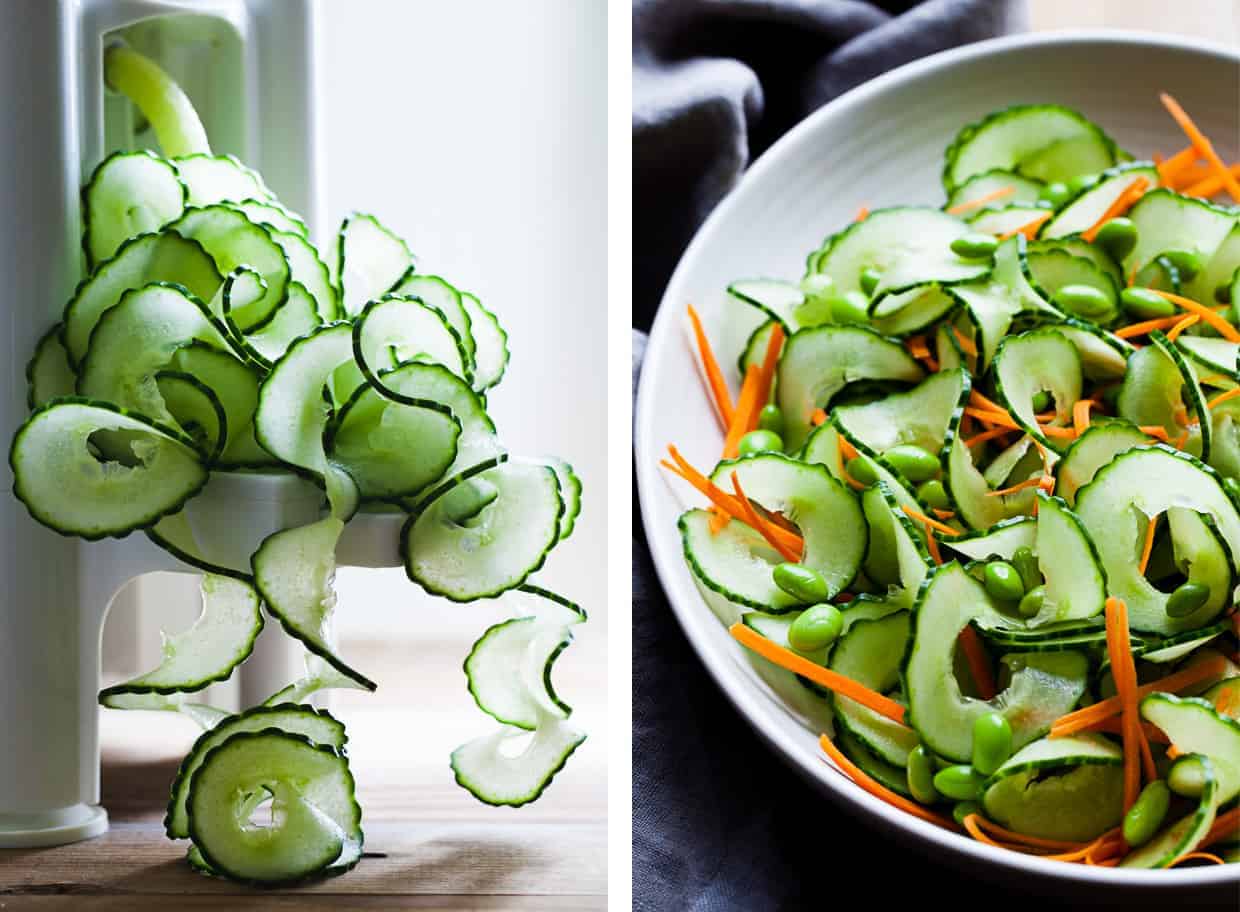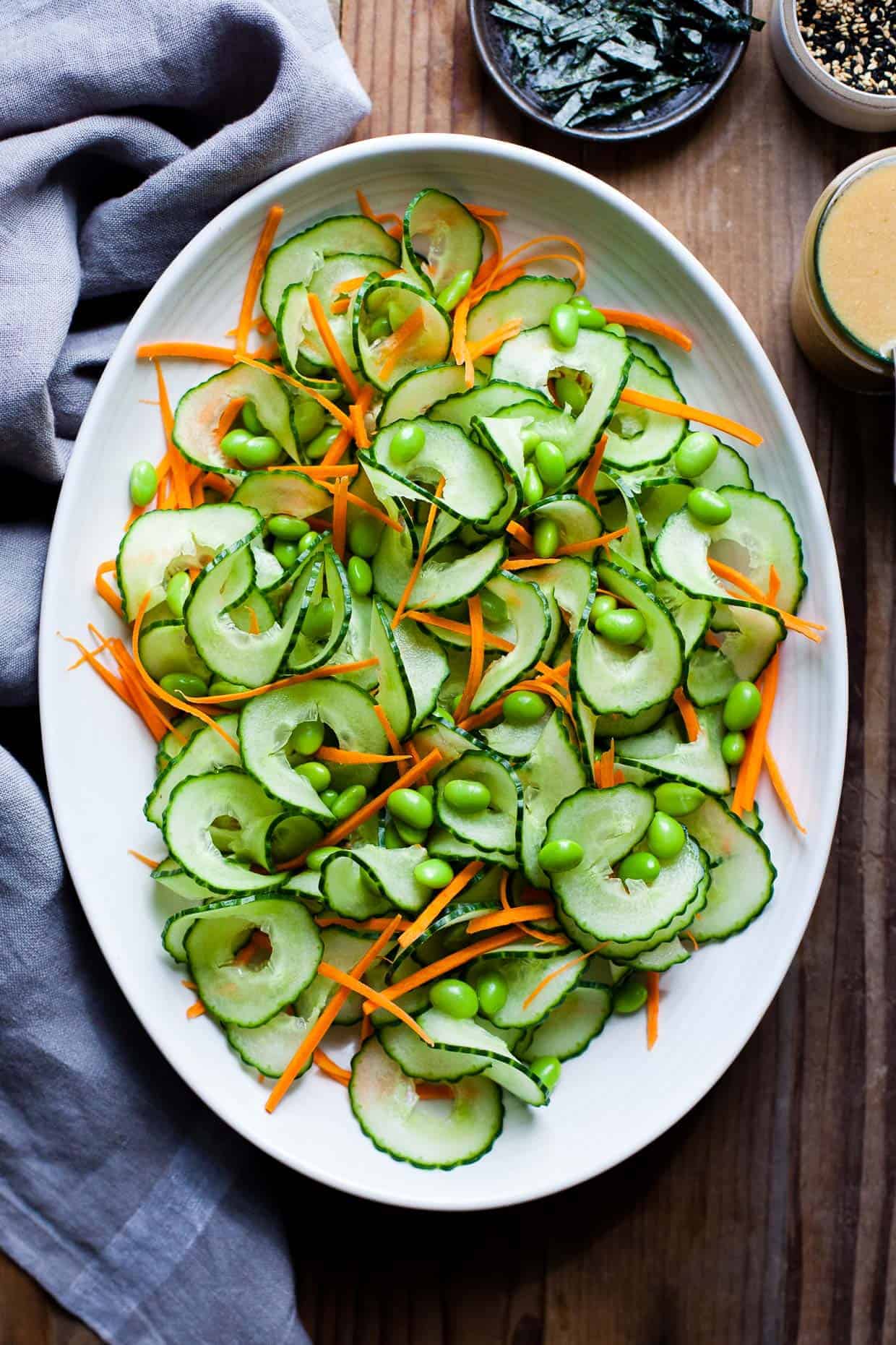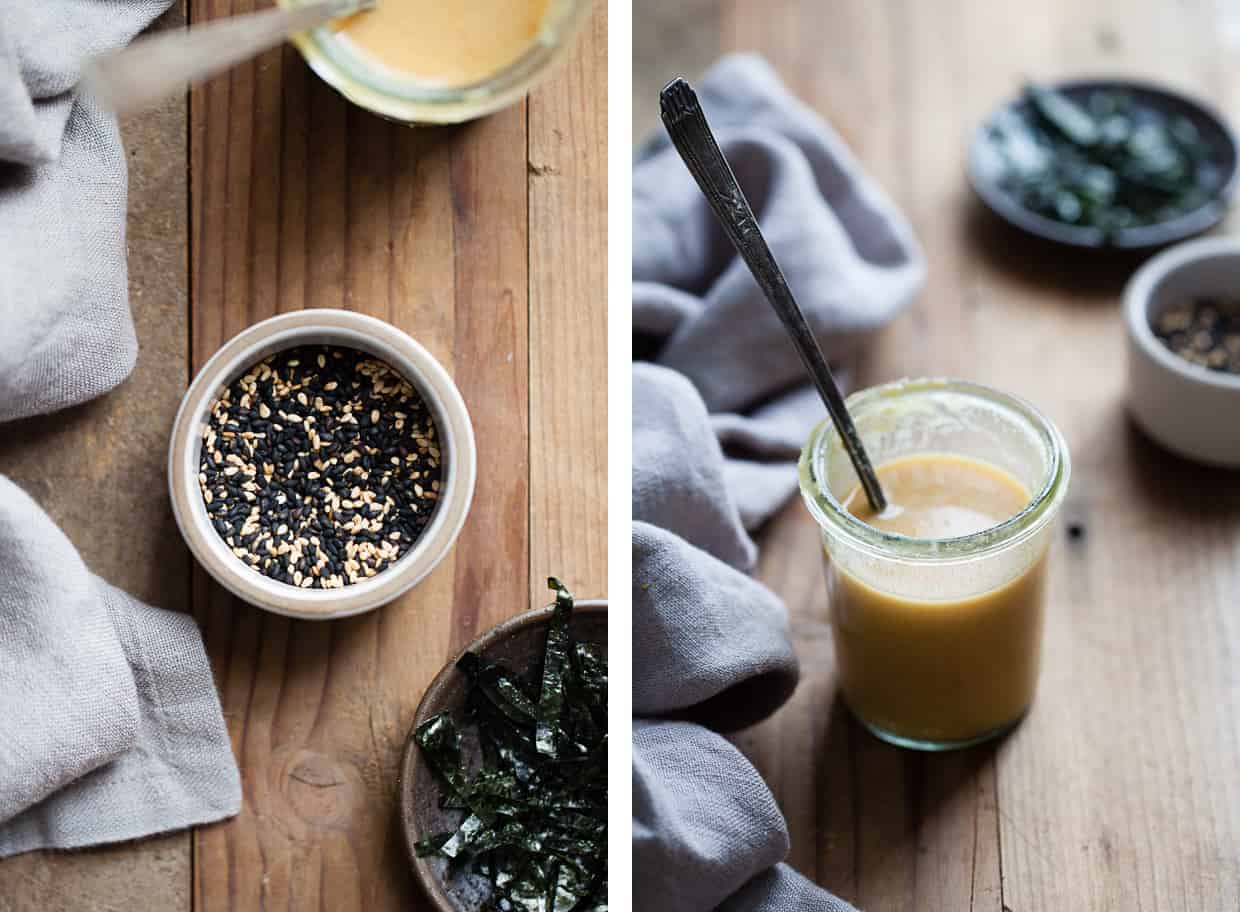 Keep this cucumber salad tucked away for when you're recovering from your National Donut Day hangover.
(Pause - did you eat donuts yesterday? Like these or these or these or these?)
For my 30th birthday this year, we had some friends over for an epic dessert potluck - the birthday party of my childhood dreams. Who doesn't love a room full of dessert? Among the spread, Karen brought these mint marshmallow brownies, Alanna showed up with mini lemon tarts similar to this, and Phi picked up on my offhand plea for smoked chocolate and turned it into a rich smoked chocolate tart. My contribution was three dozen chocolate cupcakes with matcha frosting.
And it was epic. I skipped dinner and stuffed sweets in my face until I couldn't fit another cookie. Unlike a sugar-high kid, you'd think an adult has the capacity to know her limit, but in this dessert heaven, I lost all control and woke up the next day with a massive sugar hangover. Apparently that's a thing that can happen.
I regret nothing.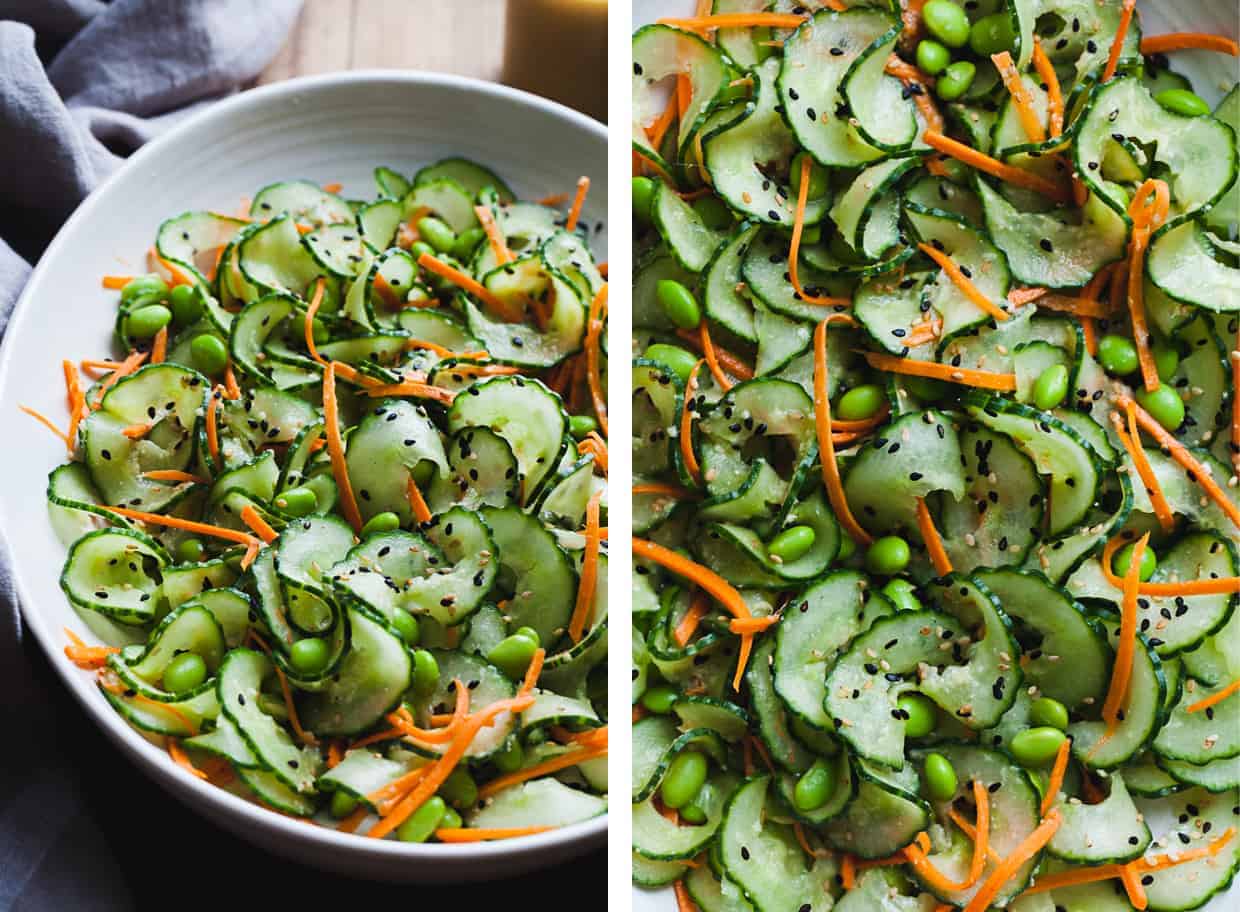 If you treated National Donut Day like my dessert spree, you're probably aching for something green. Like this salad - even if carrots are the only actual vegetables in it. Since cucumbers and edamame are technically fruits, I suppose we should call this a fruit salad. The line between vegetables, fruits, and legumes is all too blurry for me though.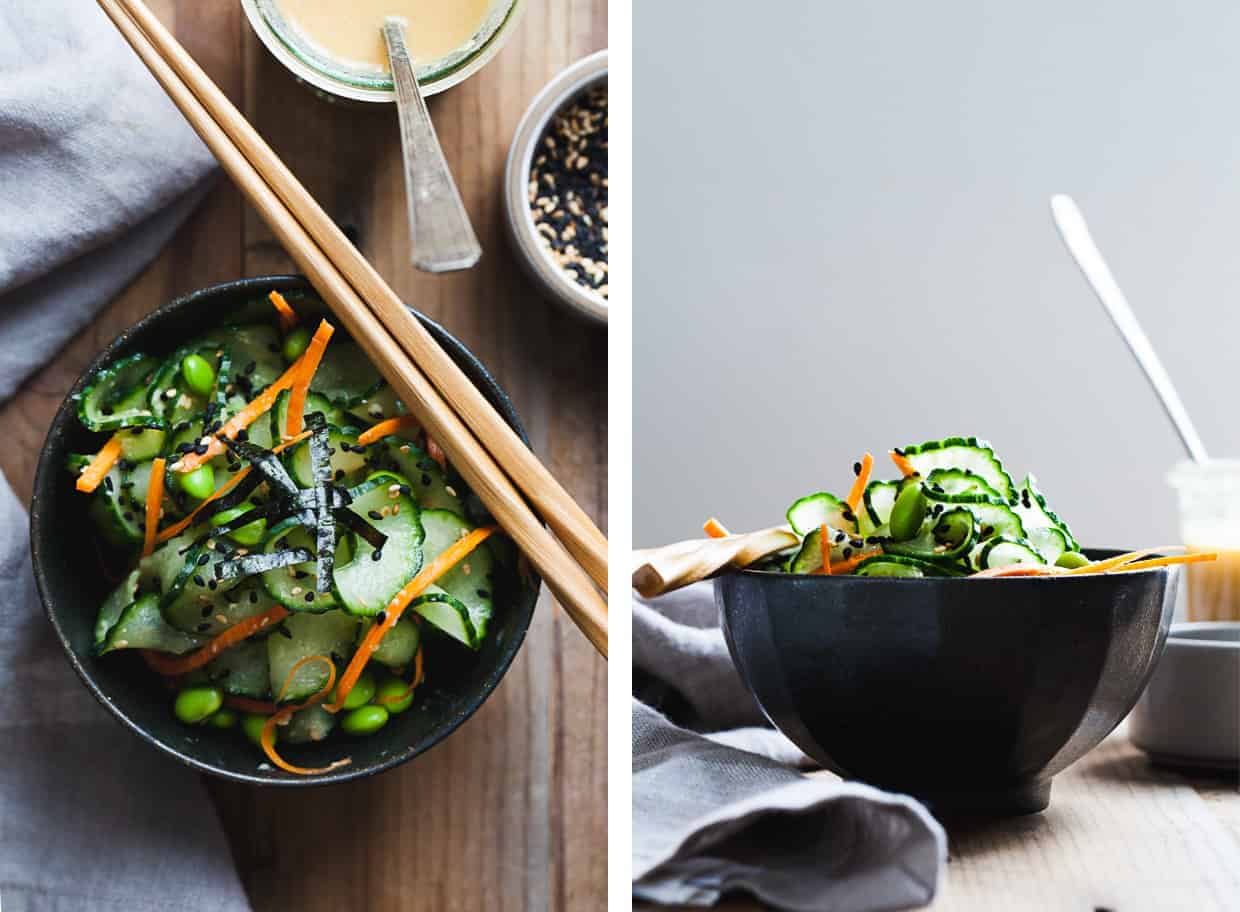 Here I've spent an entire post about salad talking about ice cream, donuts, and other indulgent sweets. This cucumber salad deserves a moment. The whole thing comes together super quickly, but tastes much more delicious than your average cook-out salad. Topped with toasted sesame seeds, this salad is slightly nutty and a tad spicy wrapped up with delicate white miso. If you're not familiar with miso, a staple in Japanese cuisine, it's a paste made with fermented soybeans, a grain, salt, and fungus. There are many different kinds of miso you can purchase and you can even make it yourself (see Chopstick Chronicles for a recipe)! White miso, used here, tends to be more mild and less salty, making it perfect for salad dressings.
Whisked up and drizzled over cool fresh cucumbers, it's sure to disappear quickly.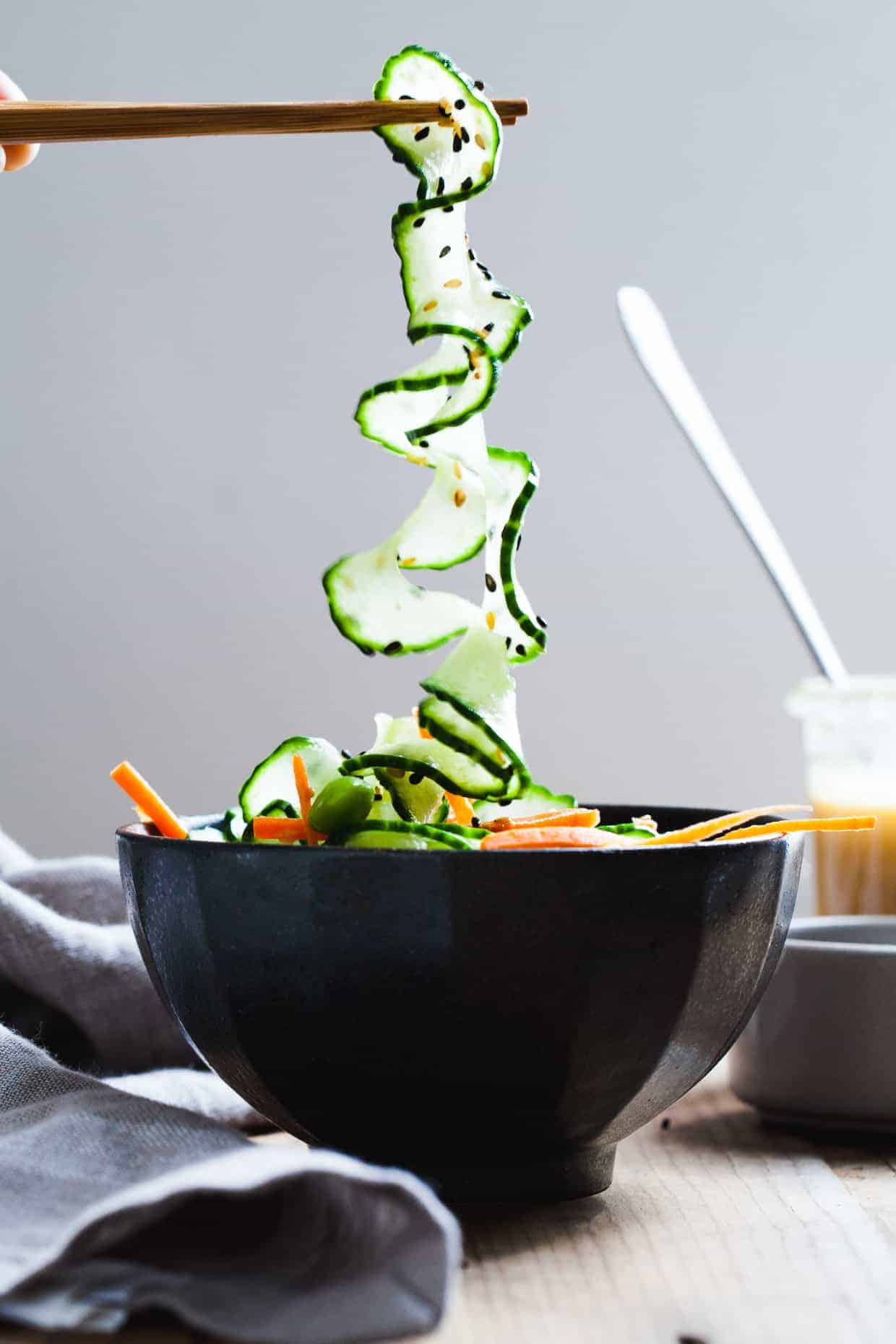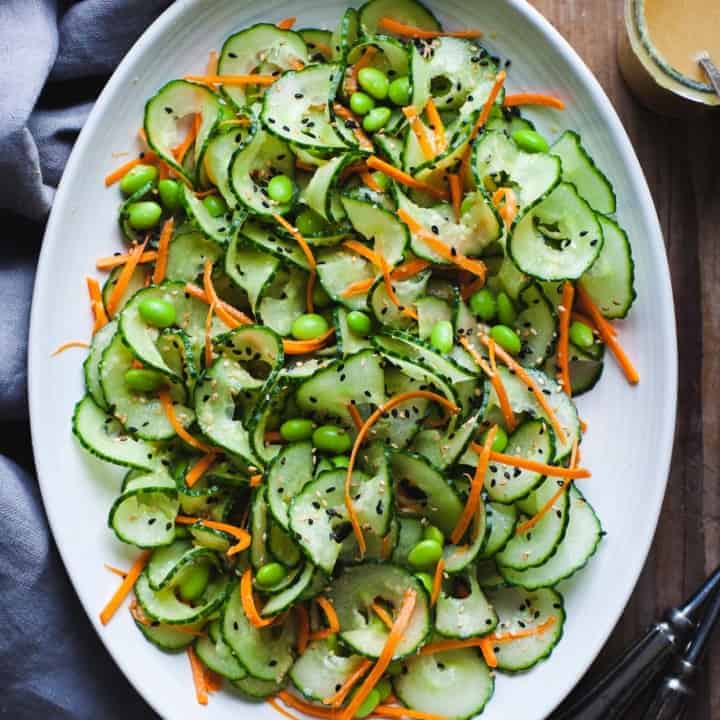 Sesame Ginger Miso Cucumber Salad
Ingredients
Salad
2 large english cucumbers
1½ cups frozen shelled edamame, defrosted
2 medium carrots, julienned
1 tablespoon toasted white and black sesame seeds (you can also just use one kind if you want!)
Optional: 1 sheet of nori, cut into small 1-inch long ⅛-inch wide strips.
Sesame Ginger Miso Dressing
2½ tablespoons white miso
1½ tablespoons hot or warm water
2 tablespoons rice vinegar
1 tablespoon + 1 teaspoon finely grated ginger, peeled
1 tablespoon honey or maple syrup
1 tablespoon + 1 teaspoon sesame oil
2 teaspoons lemon juice (from 1 lemon)
½ teaspoon tamari sauce (or soy sauce)
Instructions
Prepare the cucumber noodles: slice off the very top and bottom of the cucumber and then slice it in half cross-wise (so you have two short cylindrical pieces. Run the cucumber through the spiralizer with the wide ribbon blade, cutting the noodles every 12-15 inches. If you don't have a spiralizer, you can cut the cucumber in half lengthwise, scrape out the seeds, and thinly slice the cucumber into half-rounds.
Toss the cucumber ribbons or slices with the edamame and carrots.
In a small bowl whisk together the miso and water until completely smooth. Add the rest of the dressing ingredients and whisk to combine. Taste and adjust to your liking (some like it sweeter, some like it saltier).
Toss the dressing with the vegetables. (Pour as much of the dressing over the salad as you'd like. I used all of the dressing, but this might vary depending on the size of your cucumbers. Taste and add more dressing, if needed.)
Sprinkle sesame seeds on top and if desired, serve with slices of nori on top.