Last updated on March 20th, 2014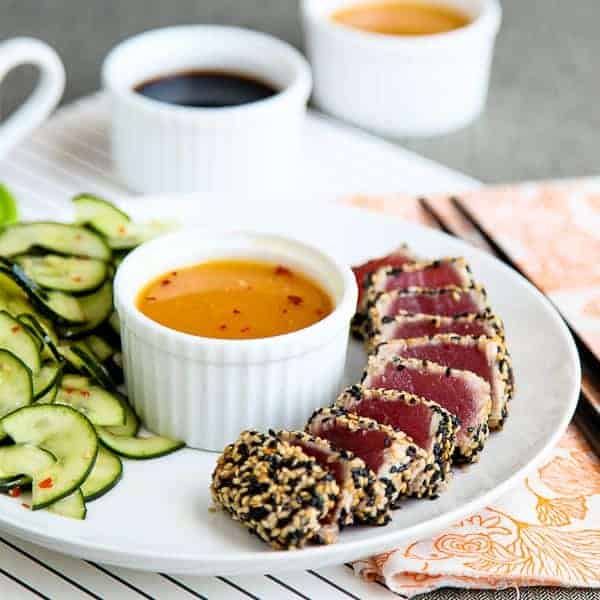 When I plan our meals, I prefer recipes that serve four. The leftovers get thrown in tupperware to make lunch the next day a breeze. When making seafood, though, I only cook for two. Mostly because fresh local fish is too expensive to be eaten as a weekday lunch, but also because it doesn't keep very well. So a sushi-grade tuna steak is a special treat reserved for nights when Lucas doesn't need lunch the next day (or doesn't mind a frozen burrito). Catching a red-eye to Taiwan Monday night qualifies as one of those occasions. Note: Lucas was in Taiwan last week. Yes, I'm over a week behind with posting, but I'll catch up soon since I survived on only leftover stuffed peppers and Skinny Cow ice cream bars while he was gone.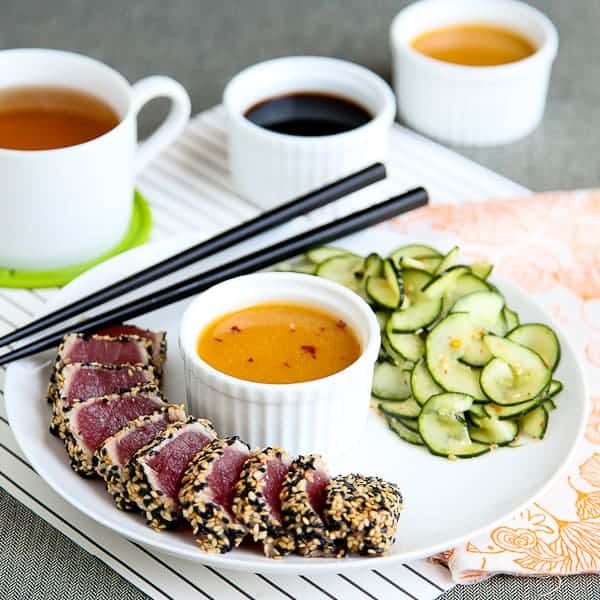 With summer bringing sunlight and (occasional) warmth until 8pm, light refreshing dishes are in order. Unlike a comforting pot roast or stew, a slightly seared slice of tuna dipped in citrus soy sauce screams summertime. I didn't always agree with that sentiment though; until heading off to the big city for college, I'd never had raw fish or even almost raw fish as the case may be. The thought of it creeped me out – nothing refreshing about it. And even if I wanted to try it, I wasn't about to be the only fool eating sushi with a fork. I was so stubborn that I just sipped my soda and watched as the other three people on my double date racked up a $300 sushi bill on Sunset Blvd. during my freshman year. I'm not sure when I finally came around, but I most definitely practiced using chopsticks in my dorm room before making my debut. Now, I can't imagine a life without sushi, and I try relentlessly to get my parents, devout sushi haters, to love it too. Someday…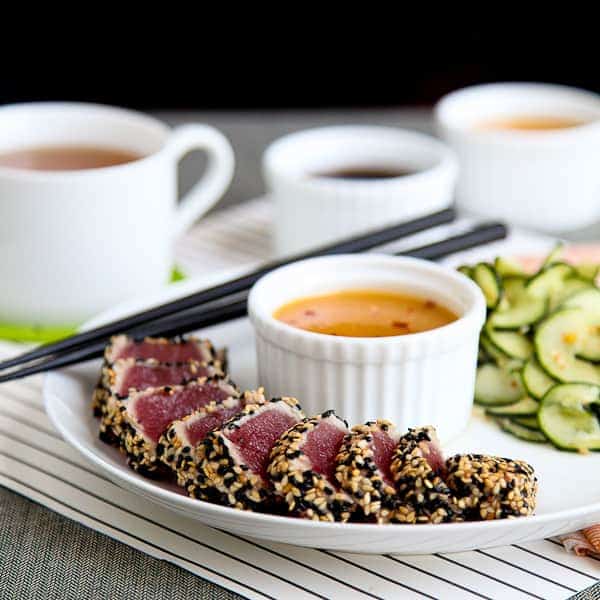 While not exactly sushi, this slightly seared tuna satisfies similar cravings. Come to think of it, the outer sear might be enough to make this tuna the perfect hybrid to convince my parents to eat and love raw fish as much as my brother and I do. With a light chill from the fish and a tang from the orange, each bite bursts of freshness. A little crunch from the sesame seed crust compliments the texture of the soft interior, adding complexity to an already outstanding piece of meat. If it didn't break the bank, we'd eat this dish at least once a week and life would be grand.
Seared sesame crusted tuna with orange ginger soy sauce (Adapted from Martha Stewart)
Serves 2-3
Orange ginger soy sauce
2 tablespoons mirin
2 teaspoons white miso
3 teaspoons grated fresh ginger
1/3 cup plus 2 tablespoons fresh orange juice
1 tablespoon low-sodium soy sauce
1 tablespoon plus 2 teaspoons rice wine vinegar
1/8 teaspoon red-pepper flakes
¼ teaspoon sesame oil
Combine all of the ingredients together in a bowl.
Whisk until the miso dissolves. Serve with seared tuna.
Seared sesame crusted tuna
¾ to 1 lb sushi grade yellowfin tuna
3 tablespoons sesame seeds
2 tablespoons black sesame seeds
1 tablespoon canola oil
Cut the tuna into 2-3 rectangular pieces.
Mix the sesame seeds together on a plate.
Press the tuna into the sesame seeds on all sides.
Heat canola oil in a medium skillet over medium high heat.
Sear the tuna for 20 seconds on each side, then transfer to a paper towel to drain. Let rest a couple of minutes.
Slice  into ¼-thick pieces and serve with orange ginger dipping sauce.