Ultra high gloss three-ingredient black sesame brittle. It's crunchy and sweet with a deep roasted nutty flavor, and makes a great edible gift or sweet snack (like folded into coconut matcha ice cream, for example)!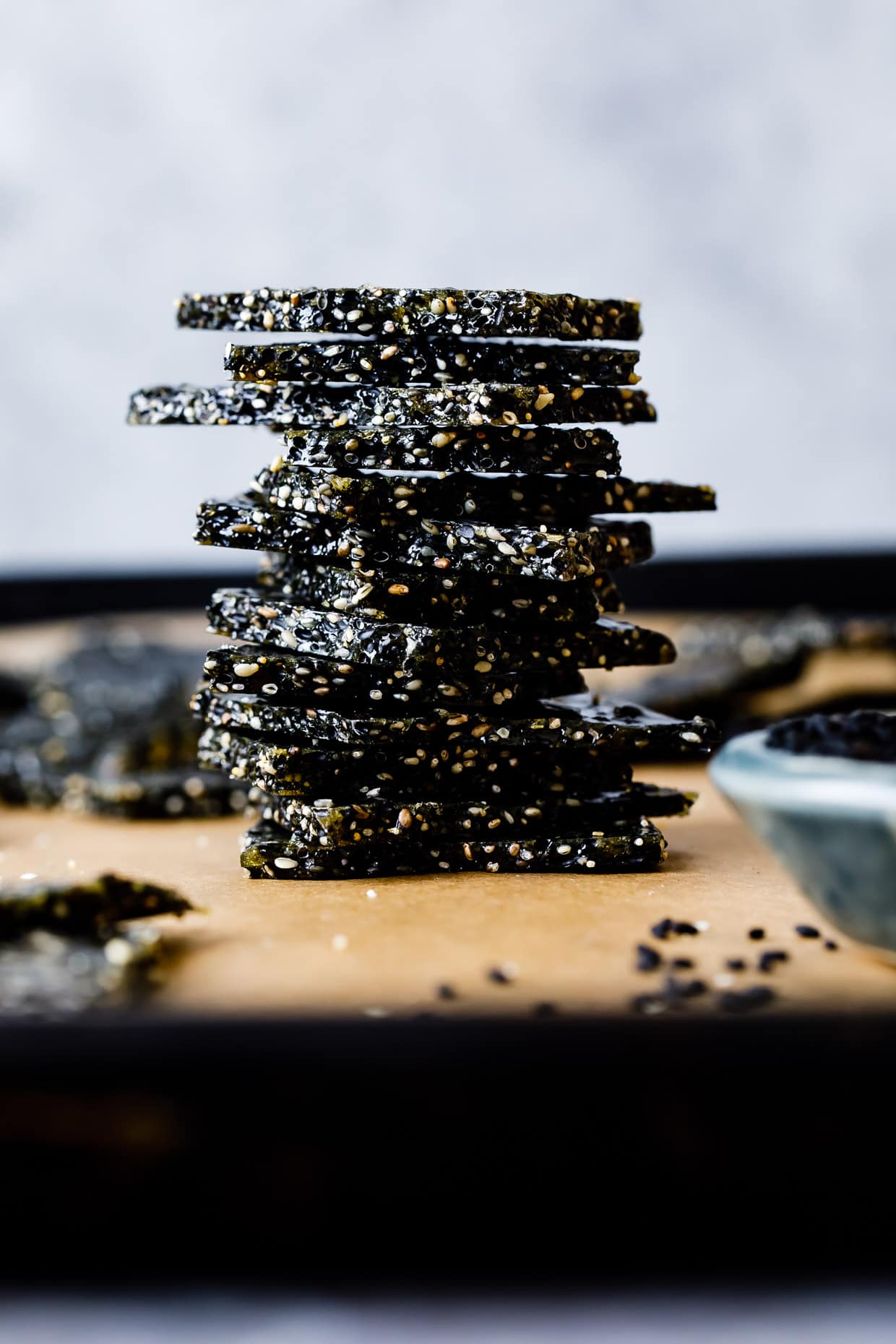 I'm taking a break from my regularly scheduled Matcha March programming for this black sesame brittle. If you've been following along this month, don't worry (lol), we're gonna crush up this brittle and fold it into coconut matcha ice cream later in the week. But first, this black sesame brittle is so downright addicting on its own that it deserves a moment.
While we agree on most flavors, Lucas loathes black sesame (I will never understand). But it isn't his birthday this weekend, it's mine. And I can think of no other dessert flavor combo I'd rather eat to celebrate than coconut, matcha, and black sesame. I also plan to make another batch of this brittle to cover in dark chocolate because WHY NOT?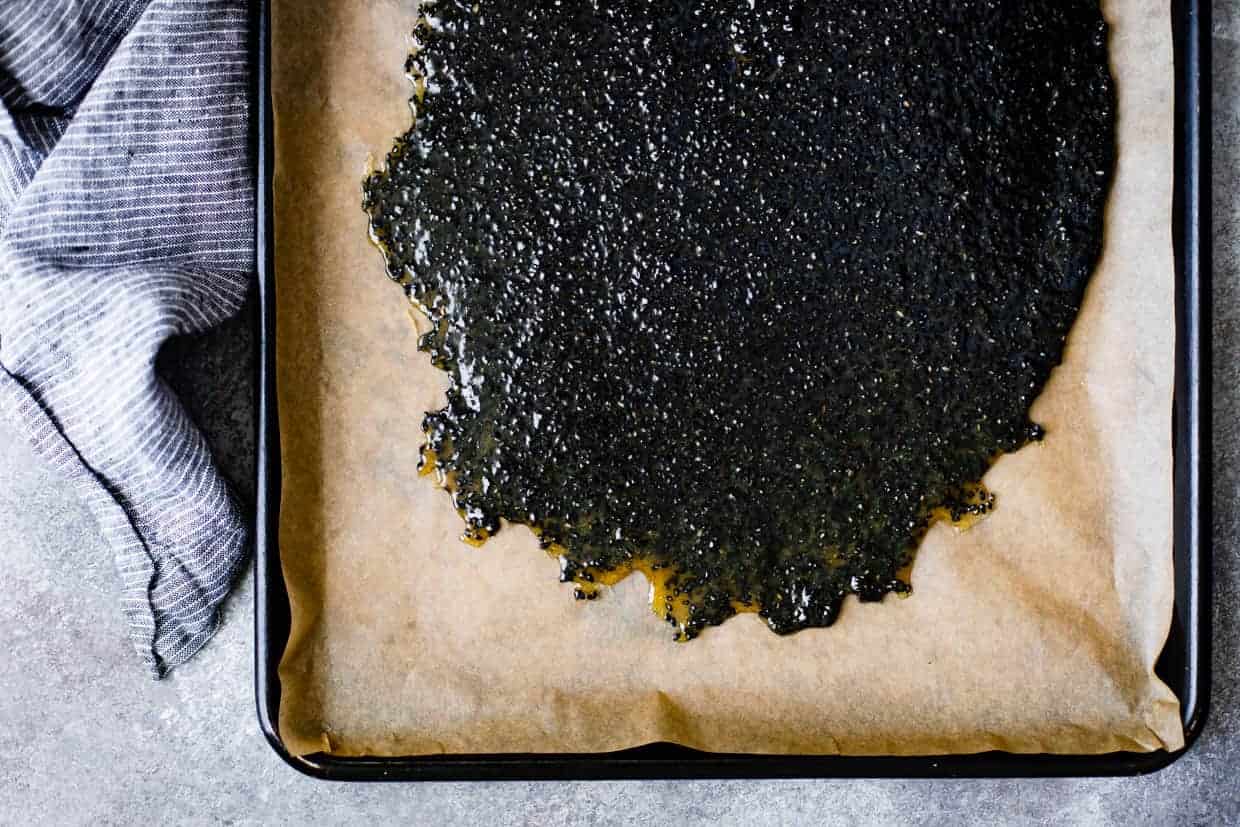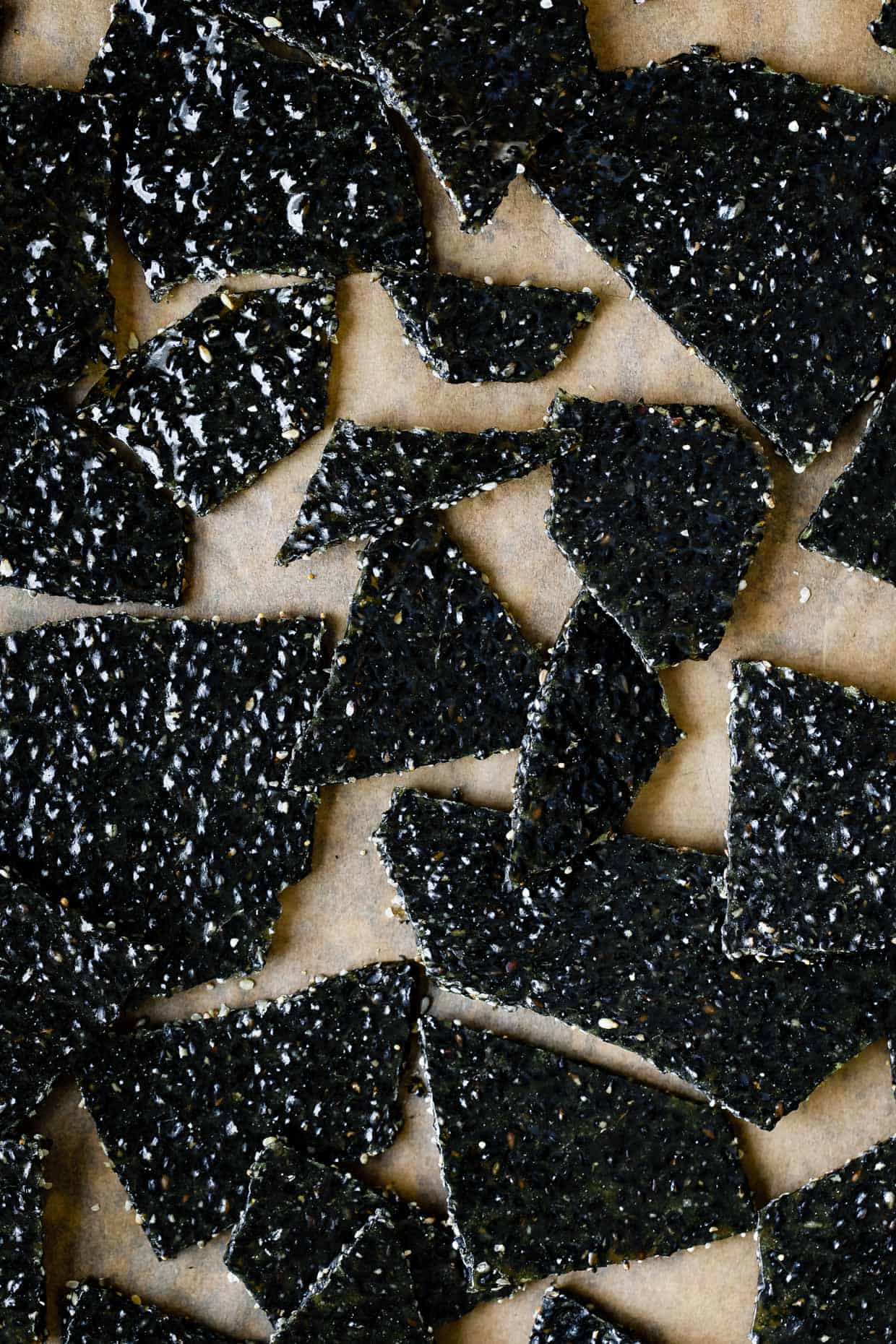 I'd like to say I'm looking forward to my birthday - we're going to the Cat Town Cafe, after all, but the truth is, I'm struggling. At the moment I sat down to write this post, my baby (pre-toddler?) woke up from her much-too-short nap, crying out for me. I'm so exhausted from trying to accomplish too many things that I've reached my current limit on being needed. I've got a sinkful of dishes, work to be done, dinner to be made, laundry to be washed. And she needs me.
My girl friend is here this week to hang out with Zo in between her two naps so I can work for a few hours (from home), but as soon as Zo sees me she wants only me. I irrationally resent her for wanting me and then feel immensely guilty for resenting her because it's my job as her mama to be there for her. I'm a mama - this is what I signed up for - but that's not all I am and I'm trying to find that piece for myself. She's awake for 12.5 hours a day and for all but one of those hours, everything defaults to me. Right now it feels like there isn't time for me. And I'm struggling.
Then the cat meows at me to pet him and I lose it.
Note: I'm not sharing this for sympathies, but just in hopes that opening up about it helps to overcome it and to perhaps connect with others feeling the same. Hopefully with daycare starting next month, I'll begin to feel like a thinking, creative human again. A human who has room for that and being needed.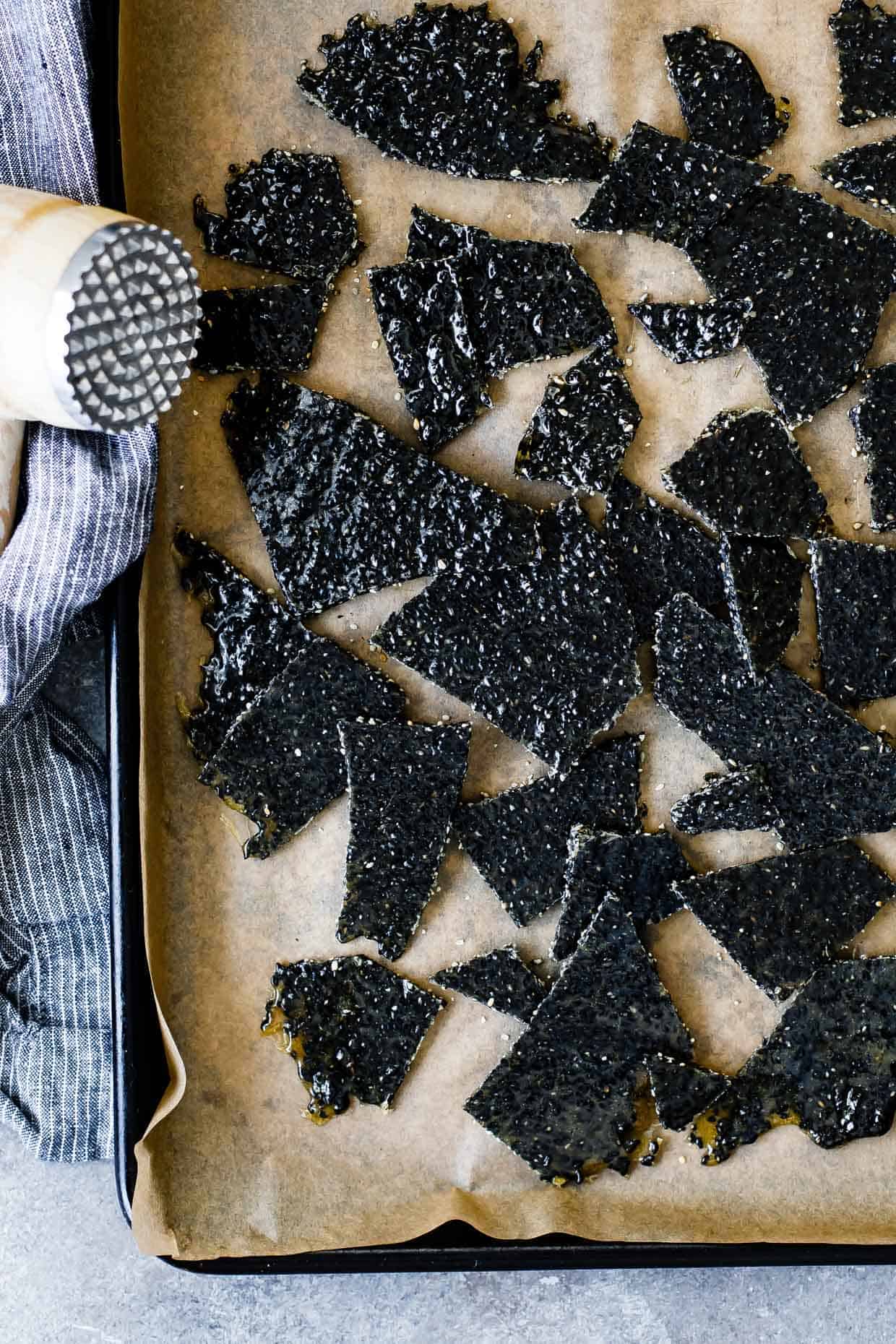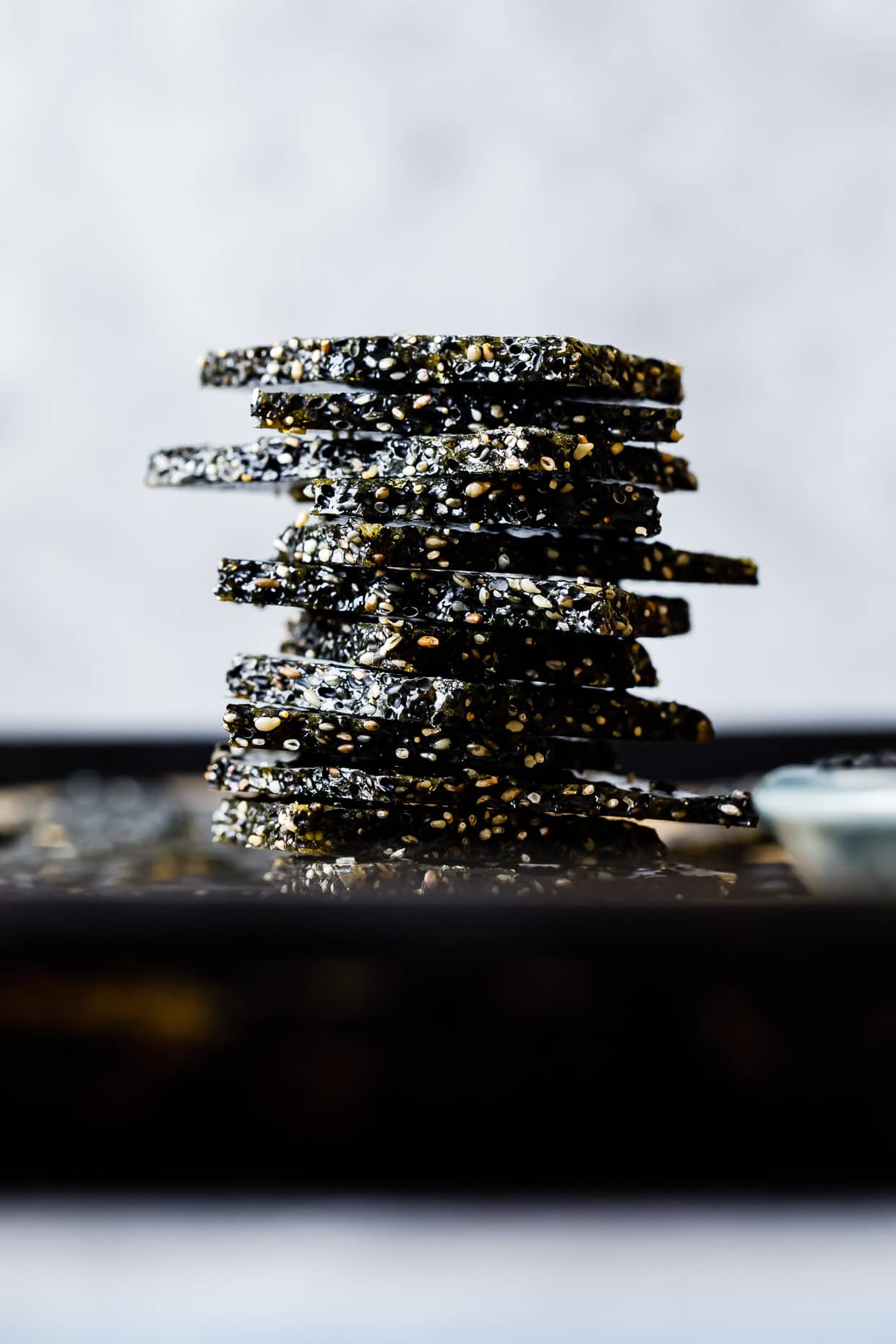 For now I'll eat my feelings. I'll eat them every time I walk by the bowl of brittle bits in the kitchen. I'm a sucker for those honey sesame crunch bites - I've got the bulk bin number memorized. This black sesame version similarly fulfills that craving - it's crunchy and sweet with a deep roasted nutty flavor.
Get the recipe for the black sesame brittle studded coconut matcha ice cream here!
Update: My friend Lily has a black sesame maple brittle studded ice cream in her upcoming cookbook - I can't wait to make her lemongrass basil coconut version as soon as I get my hands on that baby. Did you pre-order yet??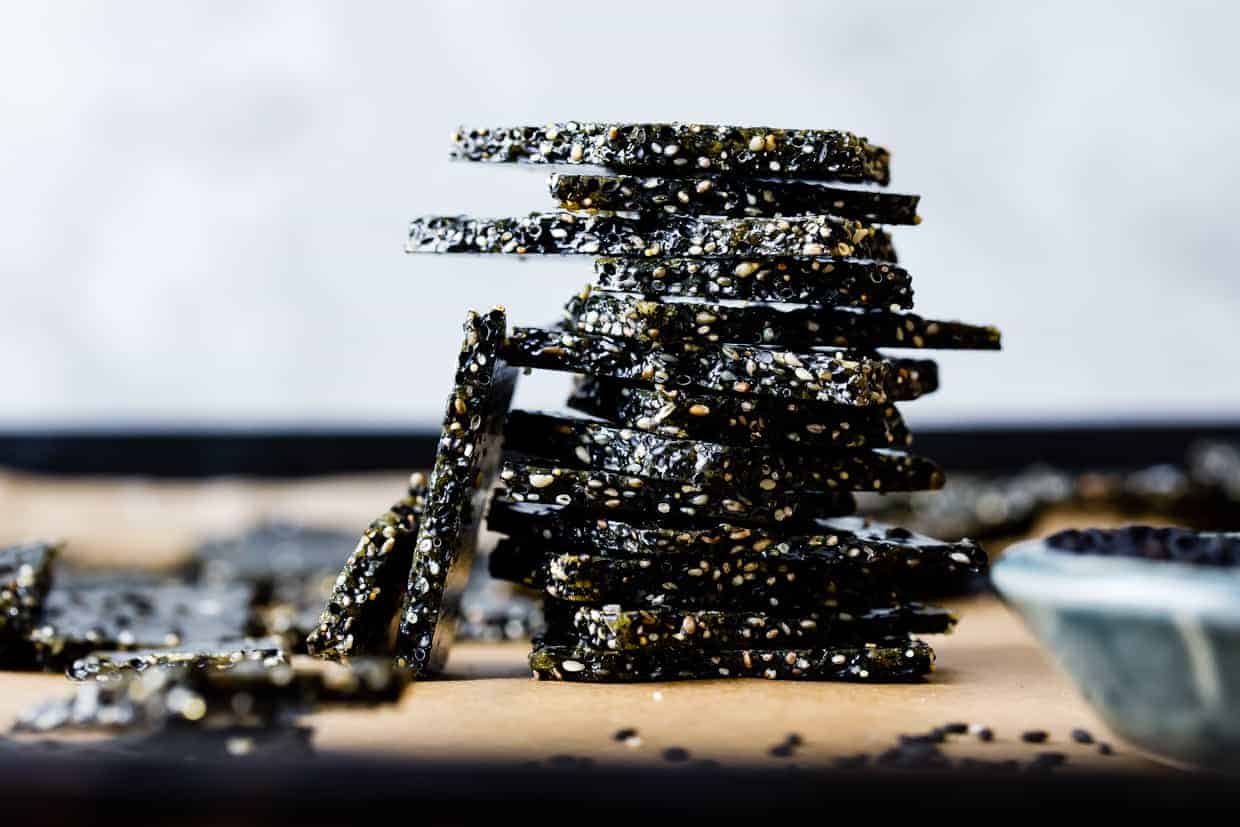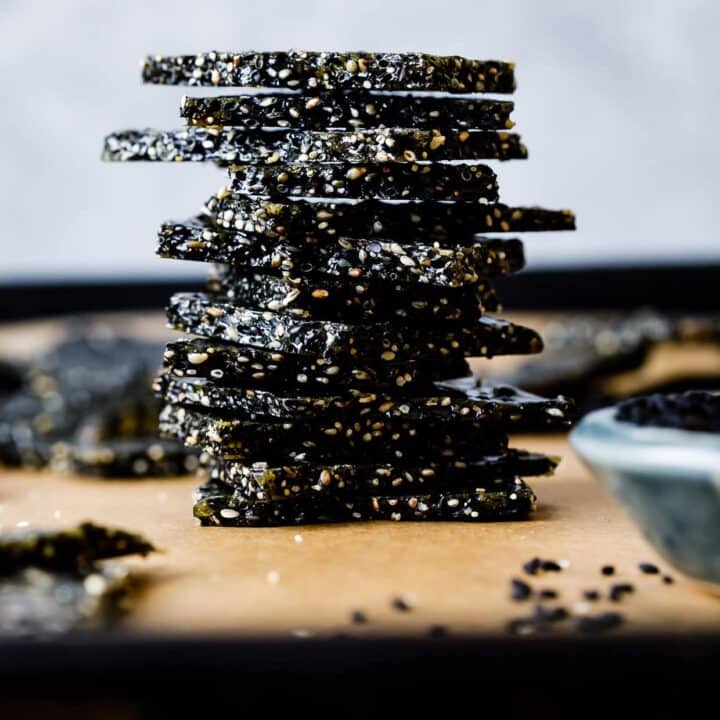 Black Sesame Brittle
Ingredients
1½ cups granulated sugar
2 tablespoons water
½ cup + 3 tablespoons roasted black sesame seeds
Pinch salt
Instructions
Line a large baking sheet with parchment paper or a silpat mat.
Combine sugar and water in a small saucepan over medium heat. Stir until uniformly mixed. Then cook, undisturbed, until mixture bubbles steadily. It will first look like there is crystallized sugar on top and like it won't get smooth, but give it time. Cook until it turns dark golden brown (at least 305°F on a candy thermometer) and, this is important, there are absolutely no crystallized white spots left (at this point it's okay to use a clean wooden spoon to stir to break any up - but make sure your spoon is completely clean and you aren't putting any unmelted sugar from the sides of the pan back into the melted sugar).
Working quickly, stir in salt and the black sesame seeds, ¼ cup at a time.
Pour onto the prepared baking sheet and spread out into a thin even layer, about ⅛-inch to ¼-inch thick. Cool for about 15-30 minutes. Tap gently with a mallet or knife to break it into pieces.
Store in an airtight container for up to two weeks. (Or fold it into ice cream)