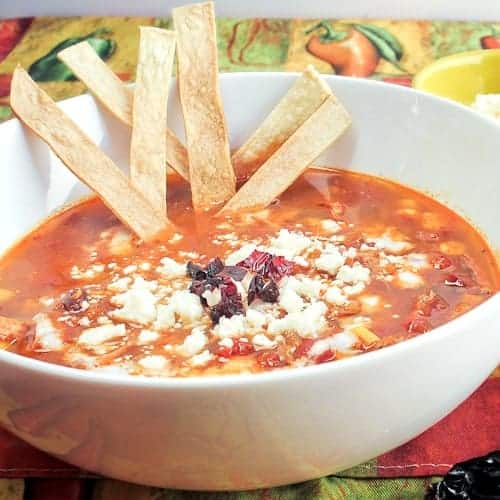 As a serious cilantrophobe, I've never been a fan of tortilla soup. Actually, to be fair, I'd only ever tried it once when my friends took me to "tortilla soup Tuesdays" at Houston's Restaurant, but when the bowl came served with a heaping glob of that detestable herb, I'd seen enough. Or so I thought. Two Christmases ago, my Nana gave me a box of local tortilla soup mix from my hometown. After whipping it up one night (and adding my own vegetable touches), I was persuaded to give tortilla soup a second chance - as long as cilantro was nowhere to be found. We've been unable to find the same soup mix since, so for Valentine's day last year, I modified a recipe that would satisfy my sweetie's zest for spicy soup (and my aversion to cilantro soapy food). I can't believe it's been almost a year since we've made this soup because, honestly, it was the talk of the table for quite some time (Seriously - I know the exact date I made it because I e-mailed the recipe to anyone who'd listen).
I should note: I am a total wimp with spicy food. The first time Lana (the pal who introduced me to buttermilk biscuits) cooked me dinner in college she phoned me to ask, "do you want spicy or non-spicy curry?" I specified non-spicy, but wound up with tears streaming down my face from the kick. I can't even imagine what would have happened if I had pretended to be more brave and asked for spicy! My tolerance has definitely fortified since then as I've dabbled with more flavors, but it's still nowhere near Lucas's. This tortilla soup packs a punch, even for Lucas. For the more timid taste buds like mine, I left off the extra crumble of chili garnish. Adjusting this topping to taste makes the soup just the right amount of spicy for every ability level.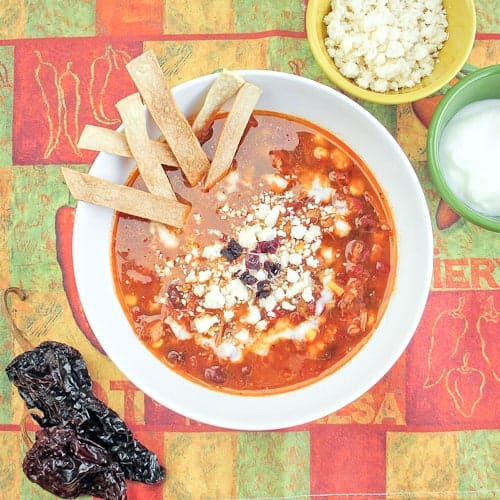 Tonight is part FOUR of the whole roasted chicken chronicles (who knew that one chicken could spread so far?). I prefer my soups to have a fair amount of substance, so I added shredded chicken breast, fresh corn, and black beans to the recipe's base. To make the dish even healthier, I baked (not fried) my tortilla strips, and drizzled the soup with nonfat plain yogurt instead of sour cream (but I kept the cheese, of course).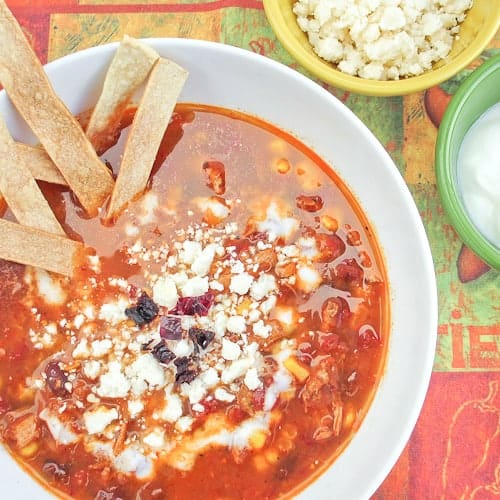 And, because I used my pre-roasted chicken, the prep (and dishes) was very simple; it only took about 30 minutes of hands-on time. I suppose you could add cilantro (if you're crazy) to the soup, but the fiery chili flavors are superb without, making it perfect for fellow anti-cilantro folk. And, soup freezes really well also making it a perfect meal-for-one kind of recipe.
Our friend Spike shared in our spicy supper tonight and brought a scrumptious strawberries and cream pie that he made using a recipe from our friend's blog Just Putzing Around the Kitchen. We ate half of it among the three of us - don't judge.
Chicken tortilla soup (Adapted from Gourmet)
Serves 4 to 6
4 dried pasilla chiles, wiped clean, stemmed, and seeded
2 dried chiles de árbol, stemmed
½ pound (about 2-3) roma tomatoes, quartered
1 large white onion, coarsely chopped
2 large garlic cloves, chopped
5 cups reduced-sodium chicken broth diluted with 3 cups water
2 tablespoons vegetable oil
1 teaspoon dried oregano
1 teaspoon salt
2 ears of corn, steamed and cut off the cob
½ can of black beans, strained
1 cooked chicken breast, shredded
½ cup cotija cheese, crumbled (last time I made the soup, I used shredded cheddar cheese and it was just as delicious)
Small plain nonfat yogurt, diluted with 2 parts yogurt to 1 part water.
6 corn tortillas
Cooking spray
Toast chiles in a cast-iron skillet over medium-high heat, turning with tongs, until pliable and slightly changed in color, about 30 seconds to a minute. Coarsely crumble/chop 1 pasilla chile and set aside.
Add tomatoes, onion, garlic, chiles de árbol (including seeds), remaining 3 pasilla chiles, ½ cup broth to a food processor and purée until smooth (this might take a few minutes, but hang in there- those darn chiles are tough).
Heat vegetable oil in a heavy pot (at least 3.5 quarts) over medium heat until it simmers. Add purée and cook stirring frequently, until reduced by half, 15 to 20 minutes.
Add remaining 7 ½ cups broth, oregano, salt, corn, black beans, and chicken, then simmer, uncovered, 45 minutes.
Meanwhile, preheat oven to 400ºF.
Spray both sides of tortillas lightly with cooking spray. Slice into strips (or triangles) and lay flat on a cookie sheet (do not overlap or they won't cook properly). Bake for 5-8 minutes until curled up and lightly browned, watching carefully after 5 minutes, as tortillas burn quickly.
Serve in soup bowls. Sprinkle with cheese, drizzle with yogurt, and top with crumbled chile (to taste) and tortilla crisps.