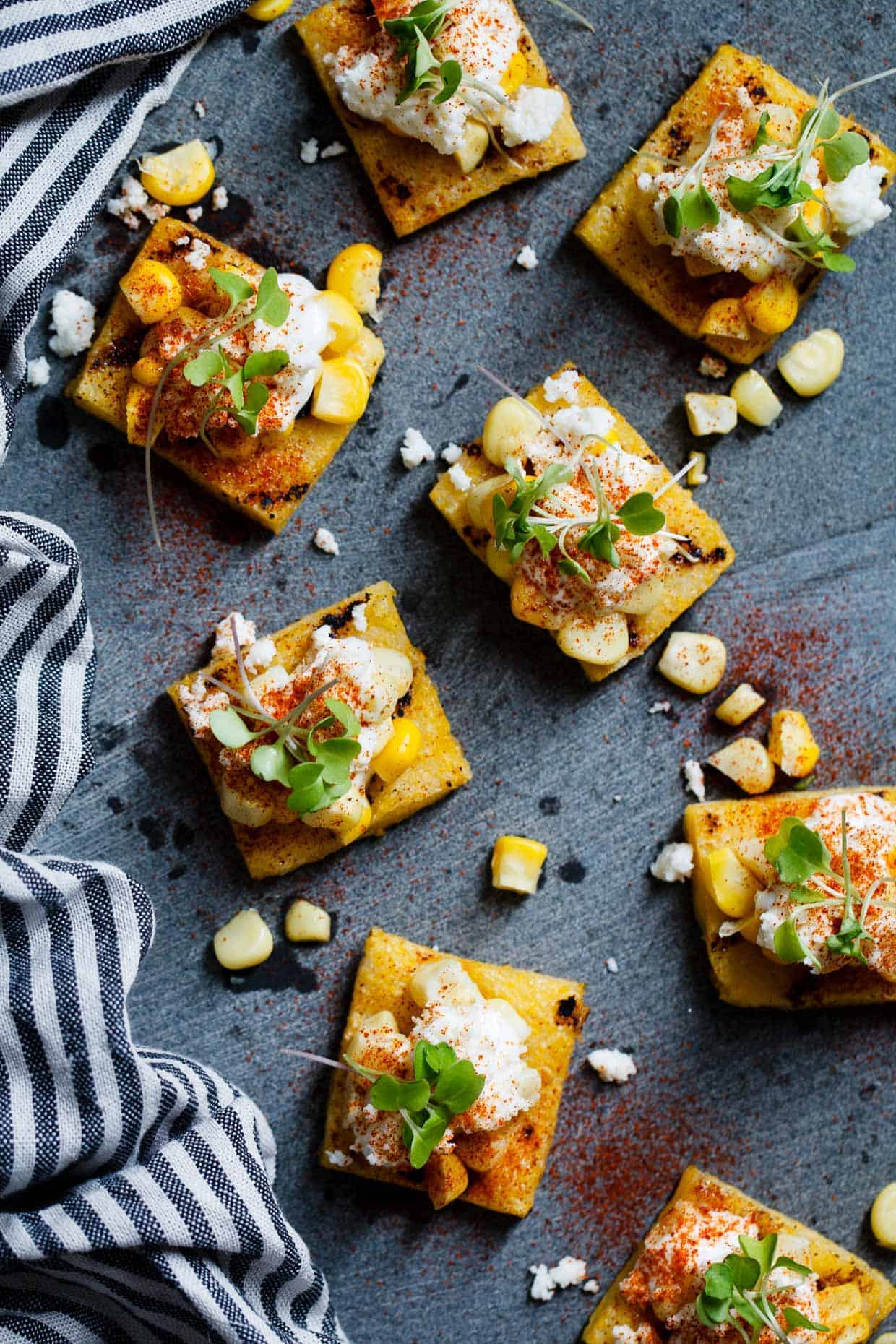 Last Saturday was one long celebration of Lucas's birthday (though his actual birthday is today!). We meant to get up early to spend the full day at food festivals, but in true Sarah-Lucas form, we slept in (shocker). We're the kind of people who set three alarms - 7:00, 7:12, 7:20. And still press snooze. (Also, who are we kidding? The first alarm is definitely after 8am *cough9amcough*). We moseyed our way to Bite, where we met up with Carla to stuff our faces with food from some of the best chefs in the country doing awesome things like 3D printing sugar cubes and making street tacos on solar-powered stoves.
These Mexican street corn grilled polenta bites are a riff on those tacos. Only they can be eaten in one bite - great for your summer cookout. Plus, I teamed up with Pacific Foods to use their new organic polenta line, making this appetizer come together in a jiffy. Cute factor + easy prep? Win-win.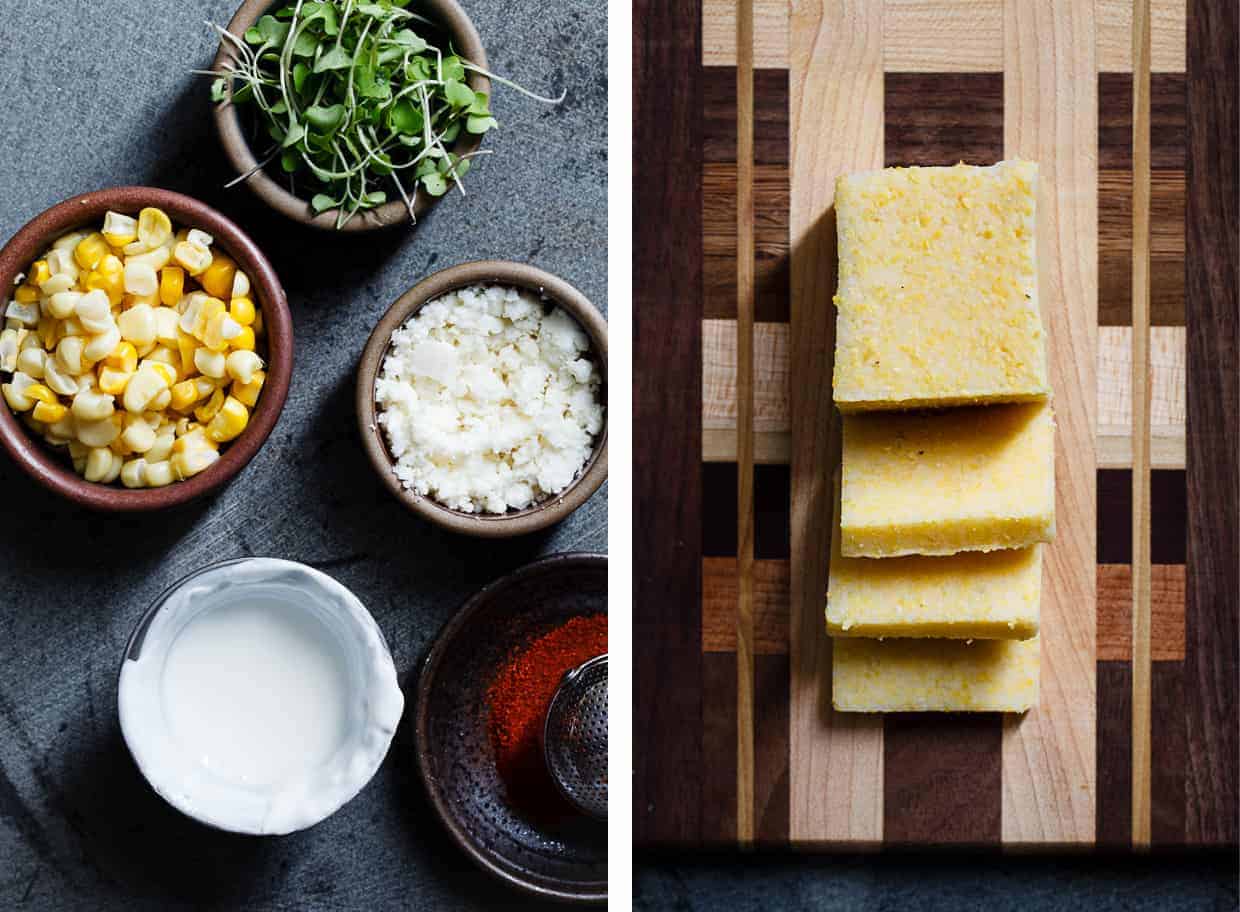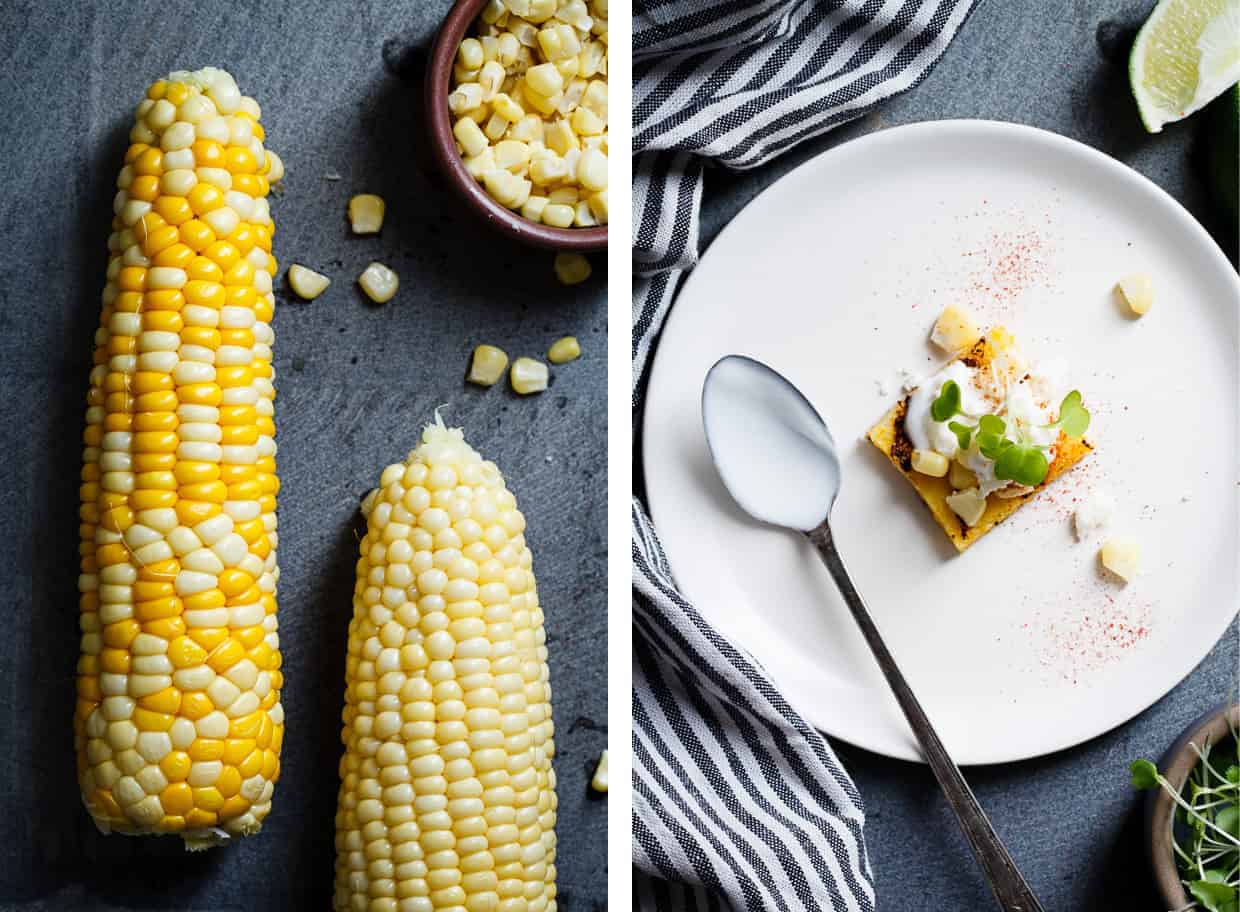 Having eaten enough at the festival to hibernate for a month, we went straight to a Sufjan Stevens concert without dinner. Have you been to a Sufjan Stevens concert? It's like 2 parts concert, 1 part comedy show, 1 part weird acid trip, and 5 parts weed. The funky skunk smell was so pervasive that it stopped phasing us (aka we stopped snickering about it) 15 minutes in - and it was indoors at the Fox Theatre!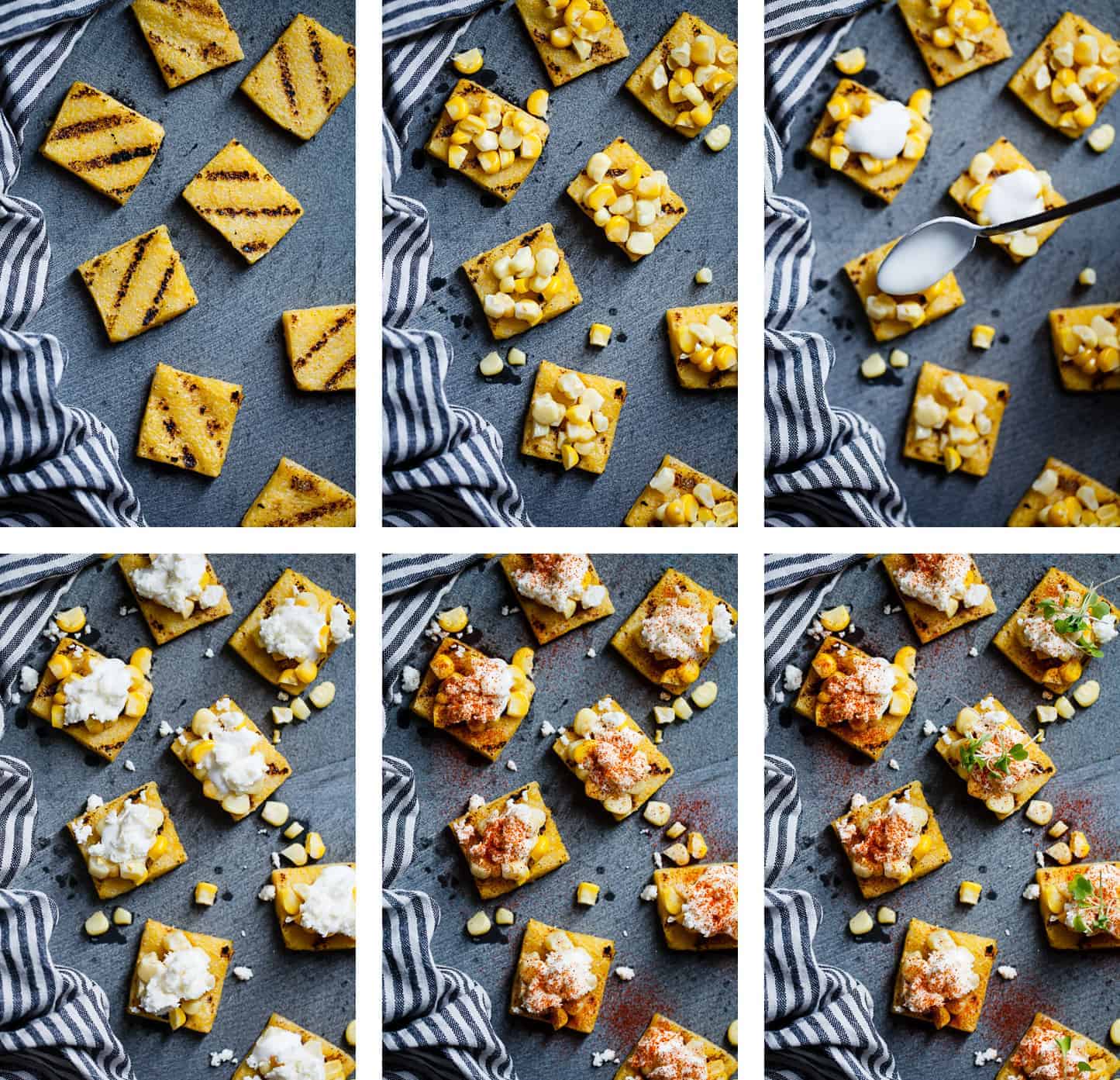 He started the first half of the show without saying a word, letting the meditative music do the talking. He transitioned to the softest saddest banjo you ever heard, telling half-truth stories about his childhood. Then at one point I'm pretty sure the band decided to ditch the idea of music altogether in an attempt to rattle the room/building/block as loud as possible. As if all the pots and pans fell from the top shelf of your cabinets onto the cement floor. All at once.
But for 5 minutes straight.
I could feel my stomach vibrate.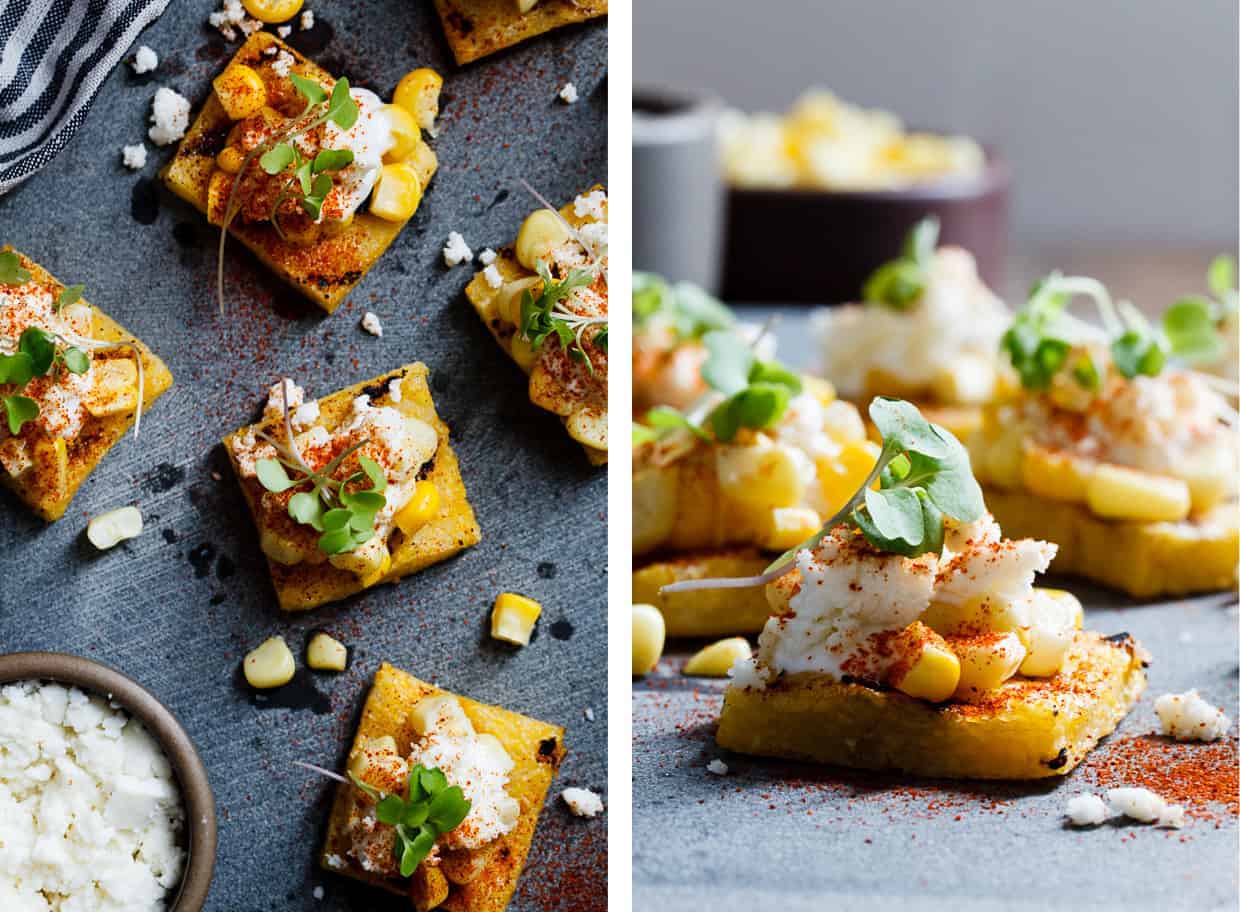 So anyway - how about these polenta bites? They're killer. Pulling flavor inspiration from Mexican street corn (elotes), they've got buttery corn polenta cakes topped with sweet corn. Dollop some tangy creamy sauce over top, add a bit of heat, and sprinkle on some queso fresco for good measure.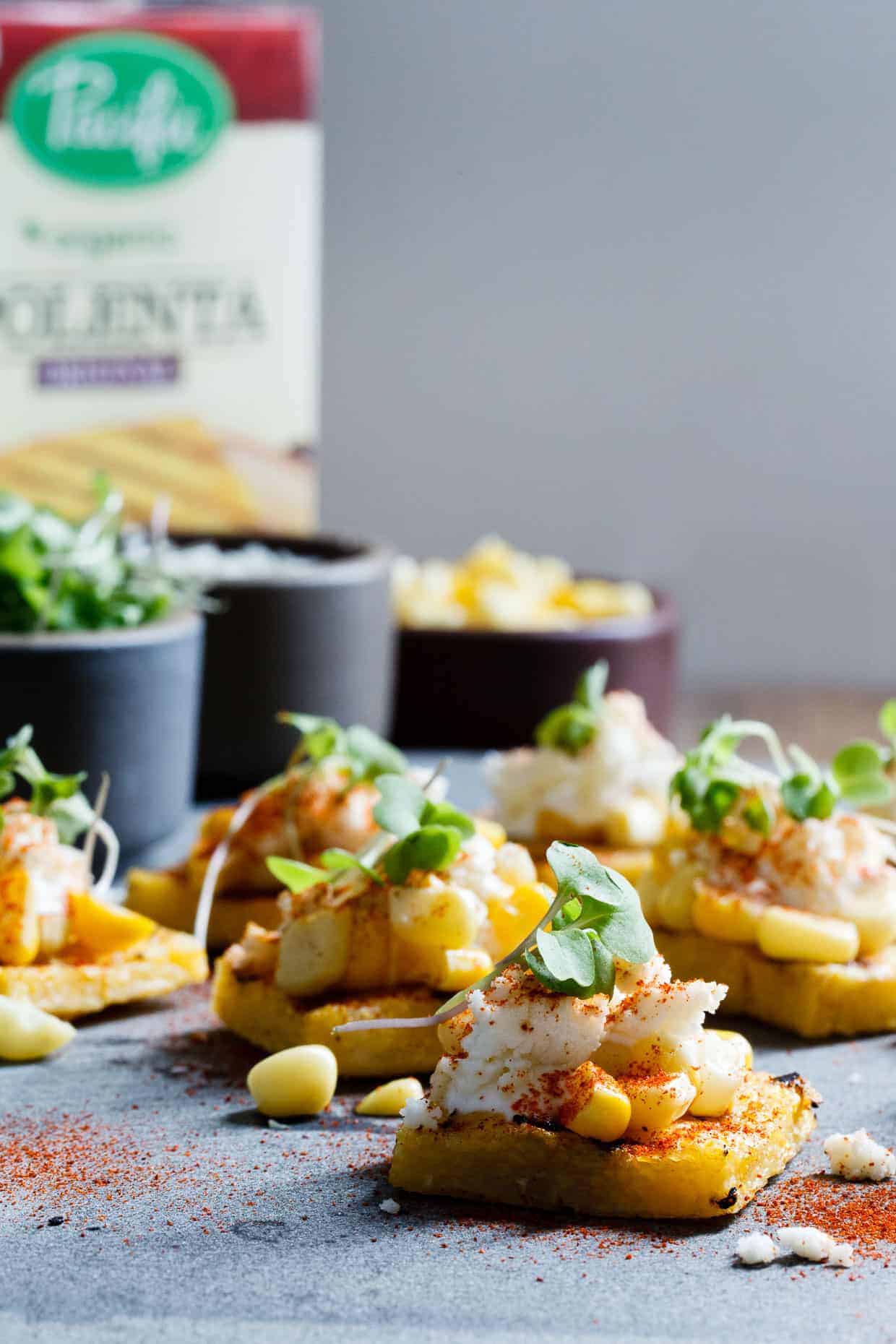 Pacific Food's pre-cooked organic polenta (now available at Whole Foods nationwide) makes the perfect party-bite canvas - just slice, grill, and they're ready to go. If you're feeling feisty, try the jalapeno cheddar polenta as the base for these Mexican street corn grilled polenta bites. Or try topping them with this Roasted Red Pepper, Feta, and Thyme Spread. Whatever you do, invite me to the barbecue.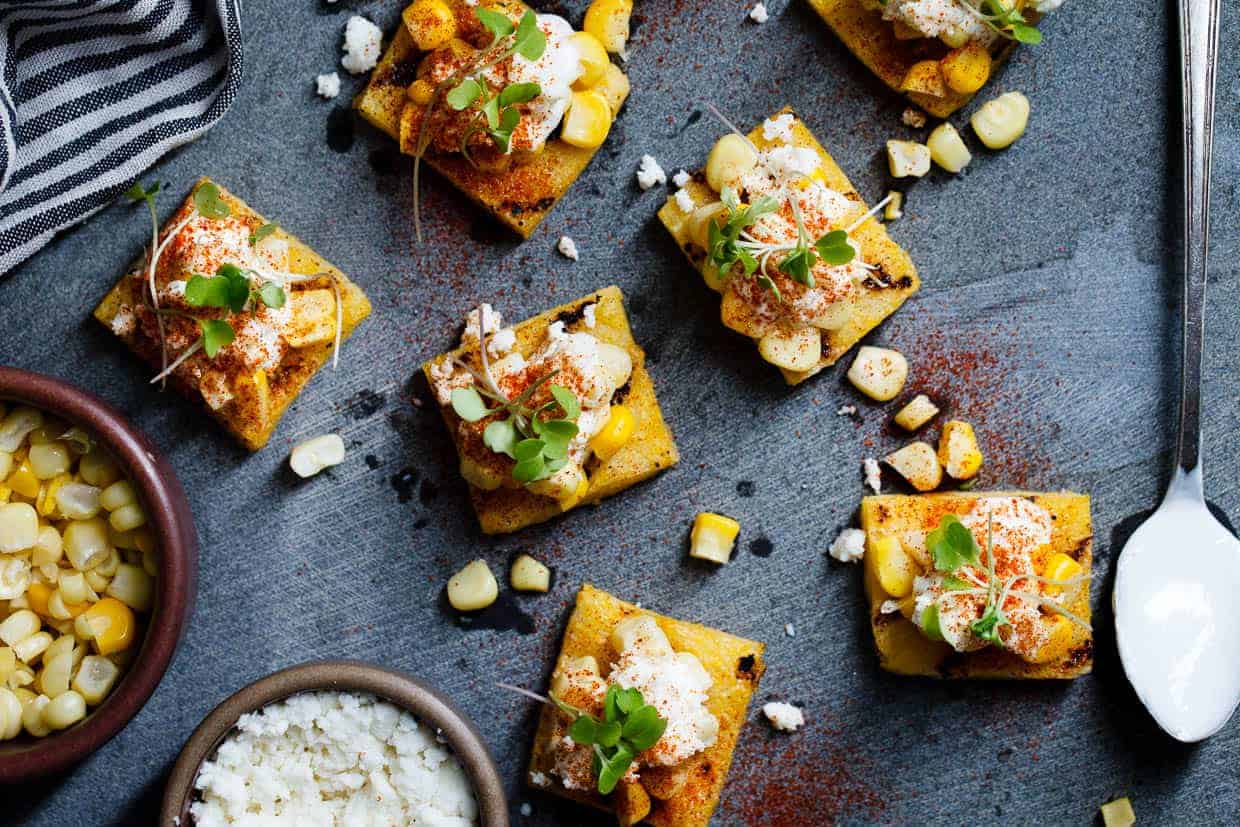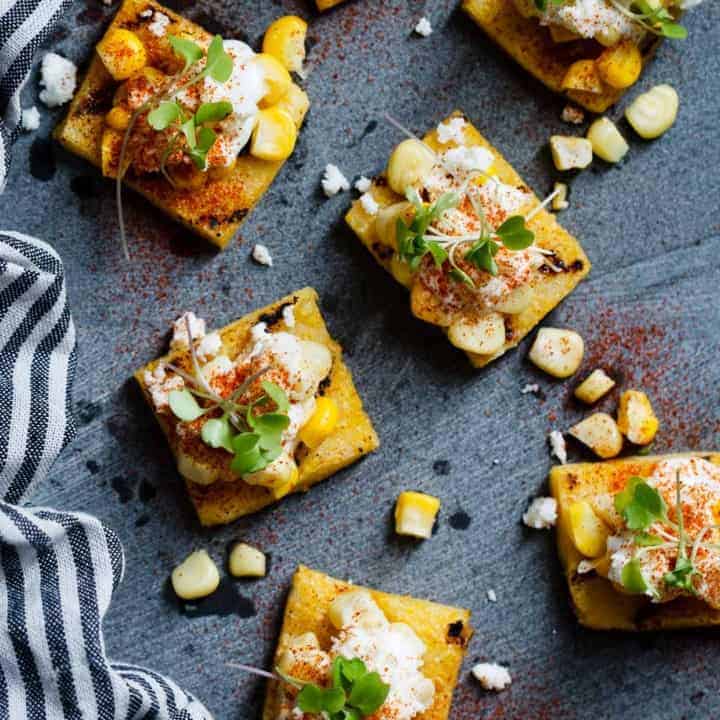 Mexican Street Corn Grilled Polenta Bites
Ingredients
2 ears sweet corn, shucked
¼ cup + 2 tablespoons greek yogurt
1½ tablespoons lime juice (from 1-2 limes)
1½ tablespoons water
1 17-ounce box Pacific Foods Organic pre-cooked Polenta (original), sliced into ¼-inch thick ½-inch squares
1 cup queso fresco
½ teaspoon cayenne
½ teaspoon smoked paprika
¾ cup micro greens
Instructions
Preheat the grill or grill pan over medium-high heat.
Bring a large pot of water to boil. Add the corn and bring the water back to a boil, about 3-4 minutes. Remove the corn from the water and let cool. When cool enough to handle, cut the corn off the cob.
In a small bowl, whisk the greek yogurt, lime juice, and water together until smooth.
Brush the grill or grill pan with canola oil and grill each polenta square about 2-3 minutes on each side, or just until grill marks appear. As they're finish, transfer the polenta squares to a serving platter.
Top each grilled polenta square with a small spoonful of corn, a dollop of lime yogurt, a few crumbles of queso fresco, a light dusting of cayenne and smoked paprika, and a pinch of micro greens.
Disclosure: Thanks to Pacific Foods for sponsoring this post! Please rest assured that all opinions expressed here are 100% my own. Thank you for supporting the brands that keep me in the kitchen.