Quick and simple sunflower seed gouda pesto with toasty seeds and mild and mellow sweetness from shredded gouda for a summer condiment you'll want to eat by the spoonful or on top of eggs, veggie bowls, pasta, sandwiches, and more.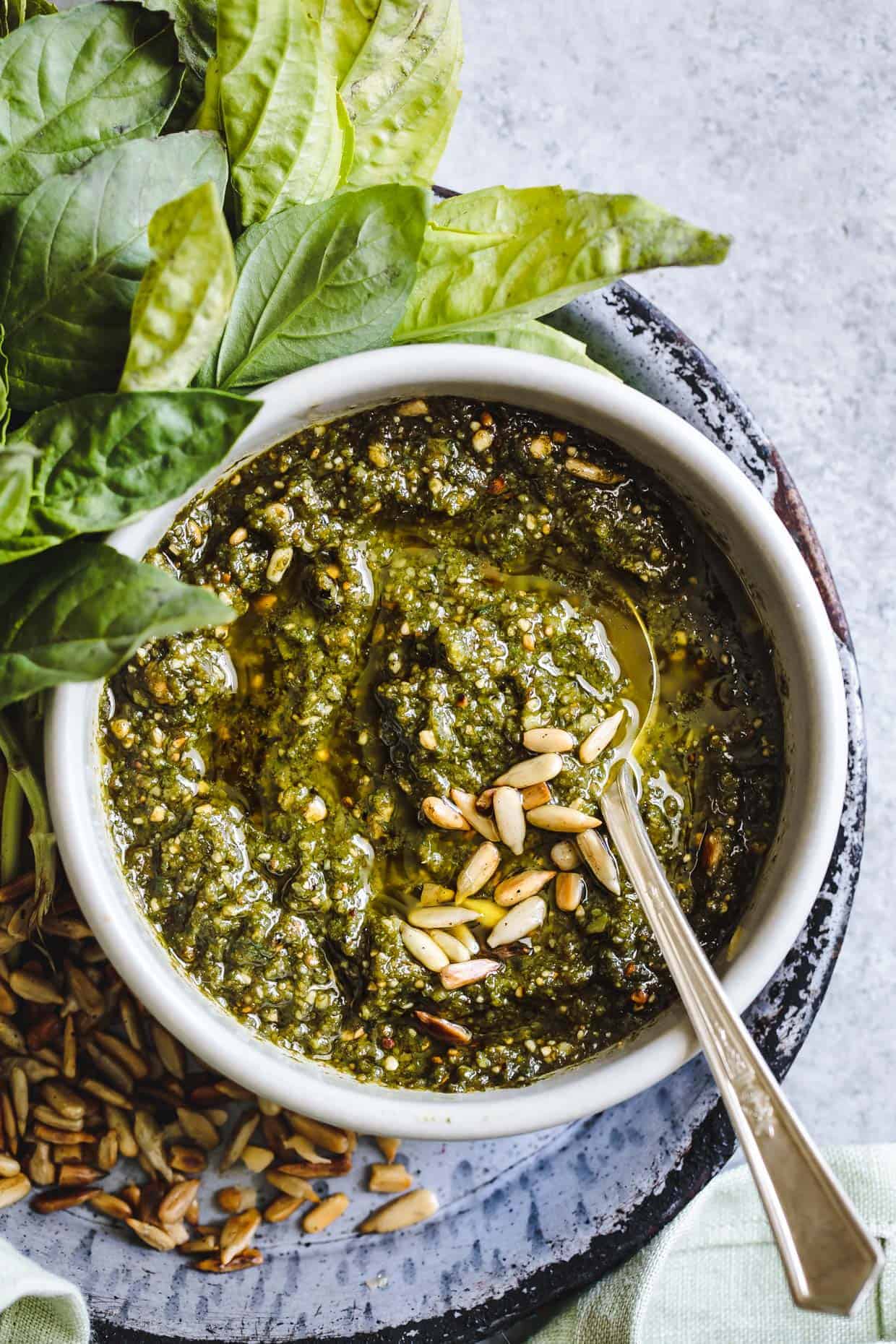 I've got approximately 7lbs of cheese in my fridge right now and I'm 100% confident we'll finish it off in the next two weeks. Scratch that: Zoella still only wants to eat cheese for every meal so I give it one week.
I've partnered up with Roth Cheese for a summer menu video series. Throughout the summer, we'll build a full menu with breakfast, lunch, appetizer, and dinner recipes filled with Wisconsin cheese. First up is a simple and quick condiment that can transform any dish with just a spoonful. We've been dolloping this sunflower seed gouda pesto on just about everything from eggs to veggie bowls to pasta to grilled cheese sandwiches. There's something magical about the toasted sunflower seed and Van Gogh gouda combo that I can't stop snacking on. And blended up with basil, it's my new favorite summer topping.
We'll chat more about pesto and the cheese and the cheesy pesto, but first: the weather. We drove through inland California on Saturday, we felt the heat. It hit 100°F outside and we joked that it was much too hot for our AC to work properly. It took about 20 minutes of blazing hot air blowing in our faces to realize that, in fact, our AC stopped cooling all together. It was as if it hit 100°F outside and said, "nope! I'm out." So we melted.
Then came home to a 90°F inside our house and promptly purchased an AC unit. Even after running it all day, our house only cooled down to a breezy 85°F and as soon as we shut it off, it rose 3 degrees in about 10 minutes. So we're still melting. And I guess looking for insulation installation. Or a pool. You tell me: what is the better investment?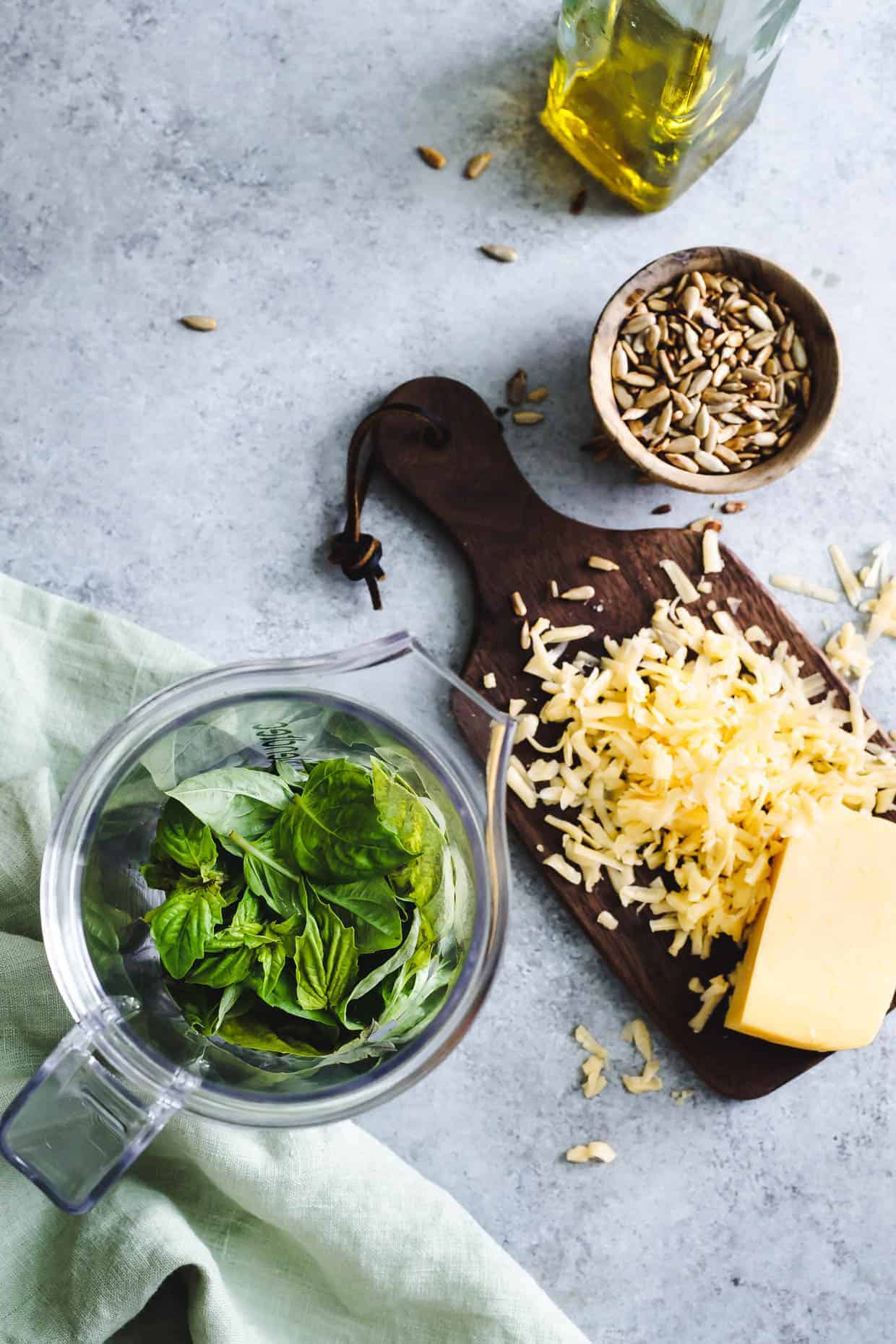 As soon as the heat rolls in and with it, ripe tomatoes, caprese salads make a regular appearance at the dinner table (because you better believe I'm not turning on the oven). Even still, I can't seem to get through all the basil fast enough (why do they come in such big bunches??). Consequently, there's also a lot of basil-preserving pesto happening in our kitchen. But not just any ol' pesto - we like to mix things up with new nuts and seeds, new cheeses.
That's the birth story of this sunflower seed gouda pesto. Adding Roth's Van Gogh Gouda to pesto adds a mellow and mild sweetness that pairs with the creamy toasted sunflower seeds for a pesto that's worthy of eating right off the spoon (just ask my daughter). I leave my pesto a little chunky, but if you keep blending - adding a splash of water as needed - the sunflower seeds and gouda will break down, turning into an ultra creamy sauce. For my next batch, I'll add some of their aged gouda with nutty caramel notes that I think would also pair nicely with the seeds and basil.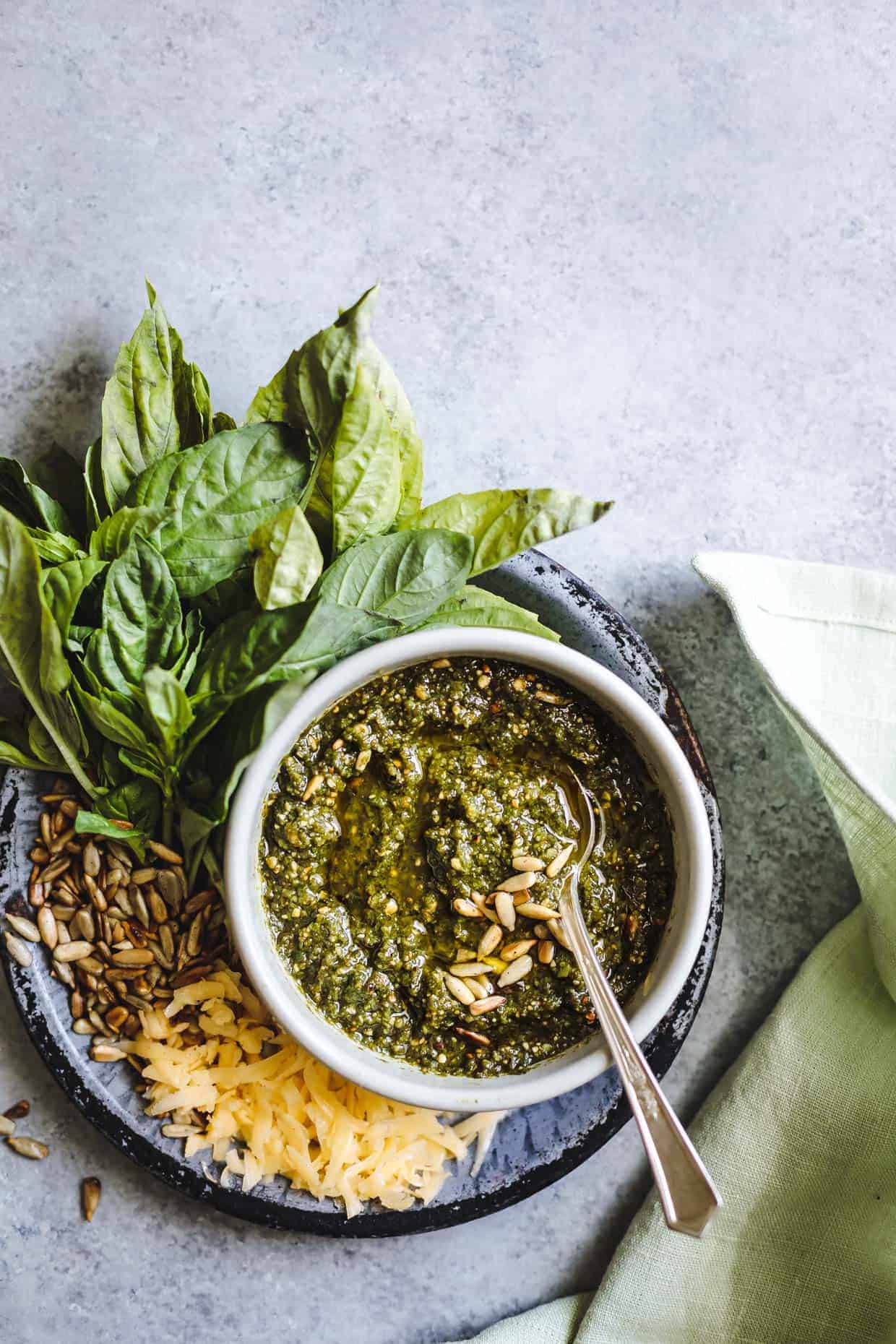 You may recall that on our wedding RSVPs, we asked folks to share their family recipes. This pesto tip from my cousin is one of my favorites: store extra pesto in ice cube trays in the freezer to pop out for single servings or quickly defrost a few cubes, as needed!
Stay tuned for a cheesy brunch recipe topped with a spoonful of this gouda pesto next week!
Disclosure: Special thanks to Roth Cheese for sponsoring this post! And thanks to you for supporting the companies that keep Snixy Kitchen cooking!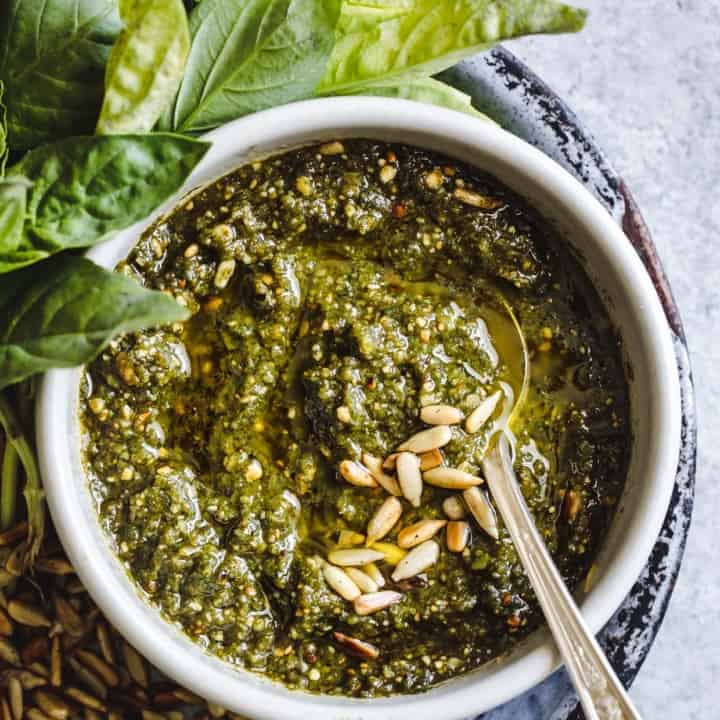 Sunflower Seed Gouda Pesto
Yield:
About 2 cups pesto
Ingredients
½ cup packed fresh basil
½ cup sunflower seeds
¼ teaspoon + a pinch kosher salt, divided
½ cup + 2 tablespoons extra virgin olive oil, plus dash for roasting seeds
½ cup shredded Roth Van Gogh Original Gouda Cheese
1 large clove garlic, smashed
¼ teaspoon pepper
Instructions
Heat ⅛ teaspoon olive oil over medium heat in a small skillet. Add the sunflower seeds and a pinch of salt. Cook, stirring constantly, until the seeds turn golden brown, about 2-4 minutes. Transfer to a bowl to stop them from browning.
Add the basil and olive oil to a blender and pulse until the basil is finely chopped.
Add the gouda and pulse until the cheese is finely chopped
Add the toasted sunflower seeds and smashed garlic and pulse until finely chopped to desired texture (I like mine a bit chunky, but if you keep pulsing it'll get smooth and creamy).
Add ¼ teaspoon each salt and pepper and stir to combine. Taste and adjust seasoning. Store in an airtight jar in the fridge with a bit of olive oil drizzled over the top to keep it from oxidizing and turning brown for about a week or in the freezer for 6 months.