There was a period of time in my life when I carried around a trunk full of hula hoops, balloon animals, and rainbow parachutes. You need to tie something down? Let me pull out my tug-of-war rope. And just in case you're ever in a pinch, a parachute will also work to strap something to the roof of your car. When I'd open my trunk in public, passersby would always question the 10+ stack of hula hoops that came tumbling out. I like carrying around a suitcase full of fun as much as the next person, but these toys were all work related. While some people waited tables, my college job was as a children's entertainer in the greater Los Angeles area. These strawberry fairy cakes with blueberry cream cheese frosting are a nod to my most enchanting job to date.
Each weekend, I'd toss on a fairy princess costume and navigate the LA traffic to join a lucky birthday girl or boy's party. Then with a quick costume change, I'd be off to someone else's pool party as a new persona. Or sometimes I'd magically reappear with a new wig as a different princess at the same party. It's fortunate that kids have great imaginations and never noticed that Tinker Bell looked and sounded a lot like Cinderella. Identical in fact.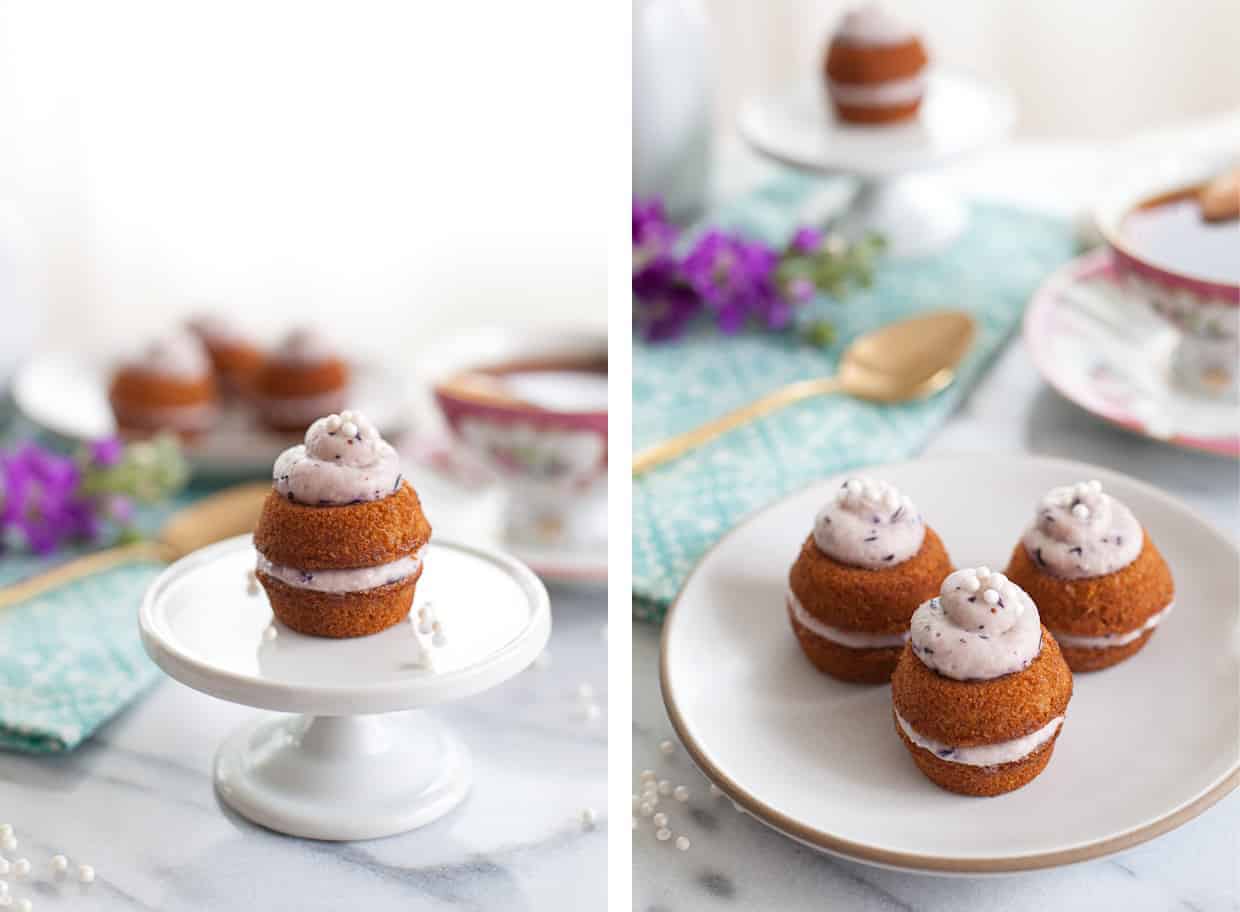 If you ever saw a winged fairy driving up the 101 - that was probably me. And if you ever saw the pink Power Ranger wearing a red yarn wig while morphing to Strawberry Shortcake while stuck in traffic on the 405, that was also most definitely me. Can I just take a moment to point out that all of this happened with printed out turn-by-turn directions long before iPhones?
We would toss the parachute in the air and as we trapped ourselves in a tent underneath, we'd make-believe we were hiding in a rainbow cave from a scary monster. Then I'd smear paint and glitter across every child's face – most often in the design of Spiderman or a jeweled princess crown – and sculpt pirate swords, magic wands, and unidentifiable four-legged creatures out of balloons. A cat, a dog, a mouse, and a horse are all same basic twists with different tail lengths. Note: I still own multiple balloon pumps if you want a balloon animal specialist at your next dinner party.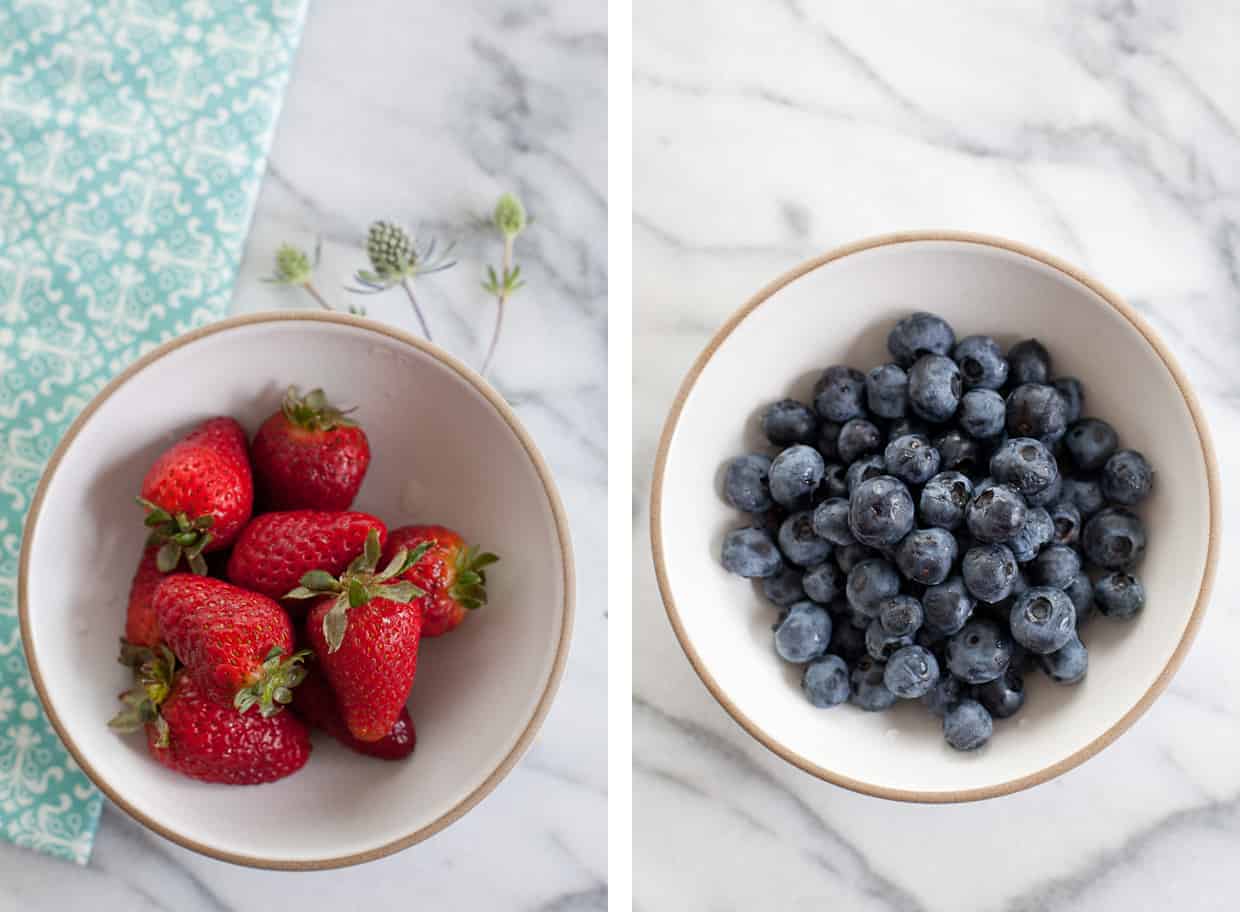 For my grand finale, I'd perform an interactive comedy magic show that was really only magical to kids ages 8 and under. It came with a necessary disclaimer for any older siblings: "If you think you know how to do the trick, make sure you don't tell anyone else. Just smile because you're a magician too!" The guest of honor would join me at the front as my assistant, which only once resulted in the birthday girl literally peeing her pants from fear.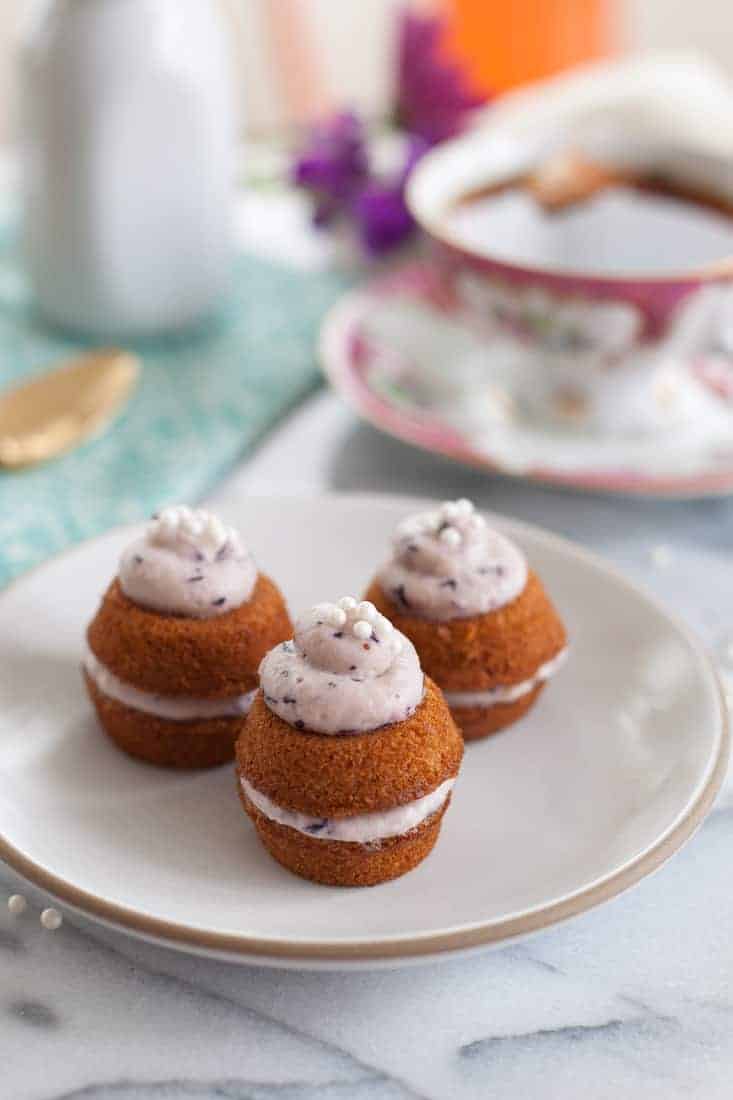 As I ate a box of crayons and blew the colors out over their heads, a captive audience would turn on their imagination hats and reach up high to grab all of their favorite colors. They'd draw their favorite circus animal in the air, and toss it with an invisible tennis racket into my previously empty coloring book. When colorful images appeared on my second flip through the book, they'd all claim ownership over the circus tent, lion tamer, or other fantastical picture. Creative artistes.
On a good day, the birthday girl would beg her favorite fairy princess to stay for cake. In remembrance of my days wearing wings on weekends, I whipped up my version of a fairy cake. Because: yum. Teeny tiny strawberry fairy cakes with blueberry cream cheese frosting. Served with tea, of course, because fairies are dainty like that. These little cakes are moist, muffin-like, and filled to the brim with fresh strawberry sweetness. They're also gluten-free. The blueberry cream cheese frosting turns them from mini muffin to mini fairy cakes (and gives them their pretty purpley-pink hue).
If you're more into in the cake than the fairy cuteness, feel free bake them in wrappers for mini cupcakes (I've only tested this recipe in mini cupcake form, so I can't attest to how it would bake as large cupcakes).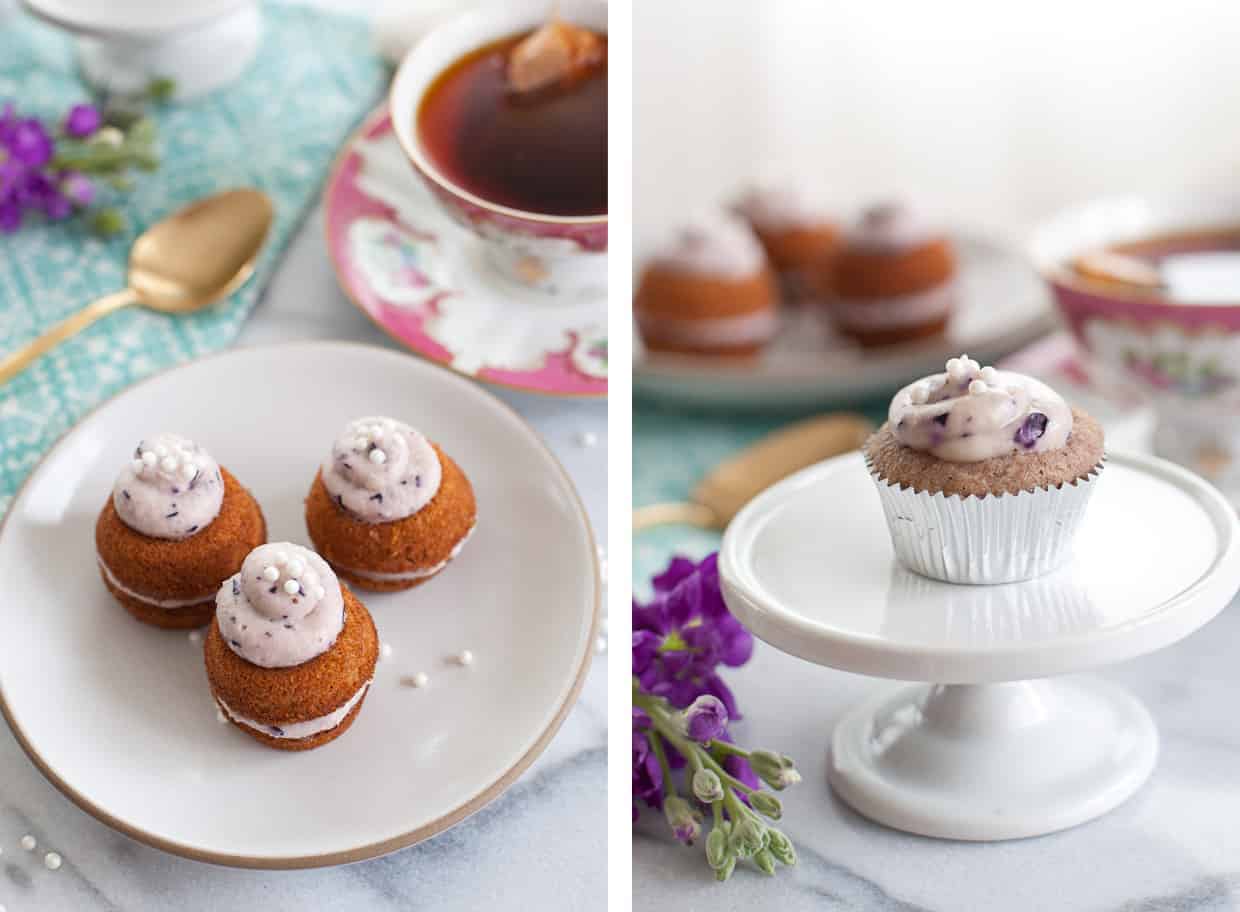 Love Blueberries? Here are more Blueberry Recipes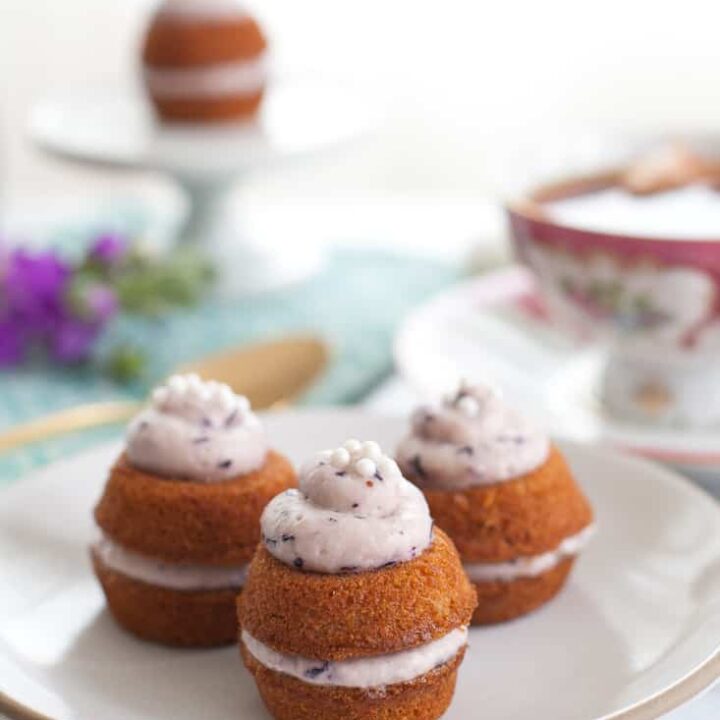 Strawberry fairy cakes
Yield:
4 dozen mini cupcakes or 2 dozen fairy cakes
Ingredients
¾ cup oat flour (To make oat flour, I pulse gluten-free oats in the food processor until it becomes a fine flour)
1 cup sweet rice flour
3 tablespoons chestnut flour
½ teaspoon baking powder
½ teaspoon baking soda
½ teaspoon salt
½ cup unsalted butter, room temperature (or softened slightly in the microwave for 10 seconds)
1 cup sugar
1 large egg, room temperature
1 large egg white
½ cup non-fat milk, room temperature
½ cup fresh strawberry purée (About 10 large strawberries puréed in a food processor or blender)
Blueberry cream cheese frosting (recipe below)
Instructions
Preheat the oven to 350ºF. For mini cupcakes: line a mini muffin tin with cupcake liners. For fairy cakes, lightly grease a non-stock mini muffin tin.
In a medium bowl, whisk together the oat flour, sweet rice flour, chestnut flour, baking powder, baking soda, and salt. Set aside.
In the bowl of a stand mixer or in a large mixing bowl, cream together the butter and sugar until it becomes smooth and fluffy, about 2 minutes.
Add the egg and egg white and mix just until combined.
Add the milk and vanilla and mix until just combined.
Slowly add the dry ingredients to the wet ingredients mixing on low speed until just incorporated.
Carefully fold in the strawberry purée.
Use a small spoon to scoop the batter into the muffin tin, filling each one about ¾ full.
Bake for 15-18 minutes, until a toothpick comes out clean or with just a few crumbs and a light tap with your finger on top of the cupcakes bounces back.
Transfer to a wire rack to cool completely before frosting.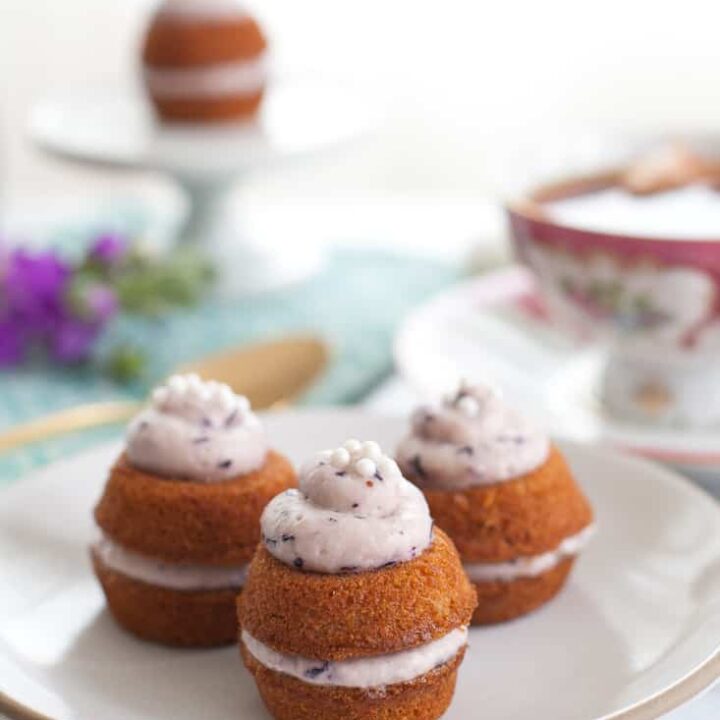 Blueberry cream cheese frosting
Ingredients
8 ounce block of cream cheese, room temperature
½ cup unsalted butter, room temperature
1½ cups powdered sugar, sifted
½ teaspoon vanilla extract
4 tablespoons blueberry purée (about ½ cup of fresh blueberries puréed in a blender or food processor)
Instructions
In the bowl of a stand mixer, cream the butter over medium speed, until light and fluffy.
Add the cream cheese and whip until combined, about 3 minutes.
Add the powdered sugar, in thirds, mixing on slow speed until combined.
Add the vanilla and blueberry purée and beat on medium speed until smooth.
Transfer to a piping bag fitted with a round tip and swirl frosting onto cooled cupcakes. For fairy cakes, add a layer of frosting between to mini cupcakes stacked face to face then a swirl of frosting on top.