These blueberry london fog popsicles combine vanilla bean earl grey tea latte with sweet honey blueberry compote into a dreamy creamy popsicle vibrant in color and flavor.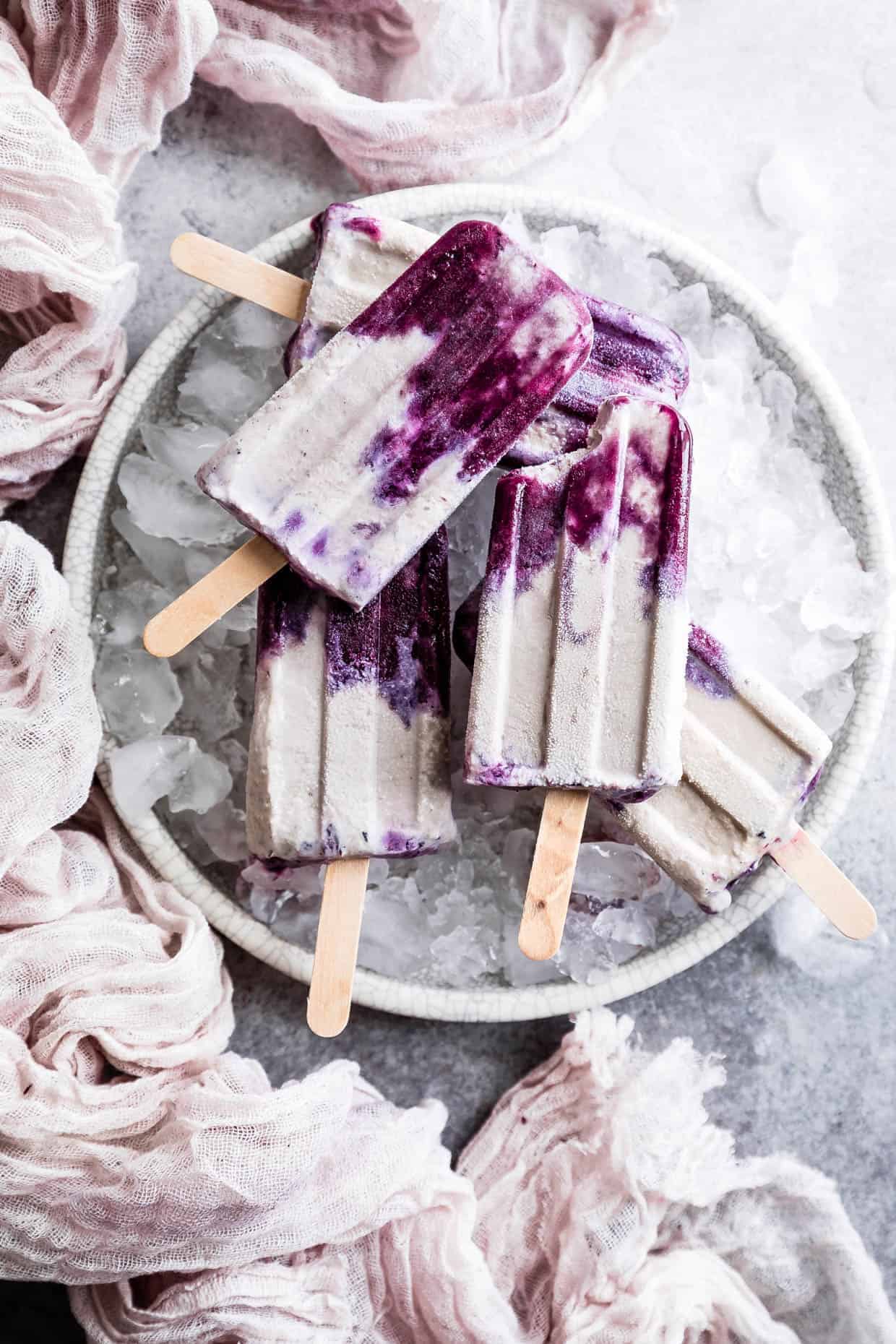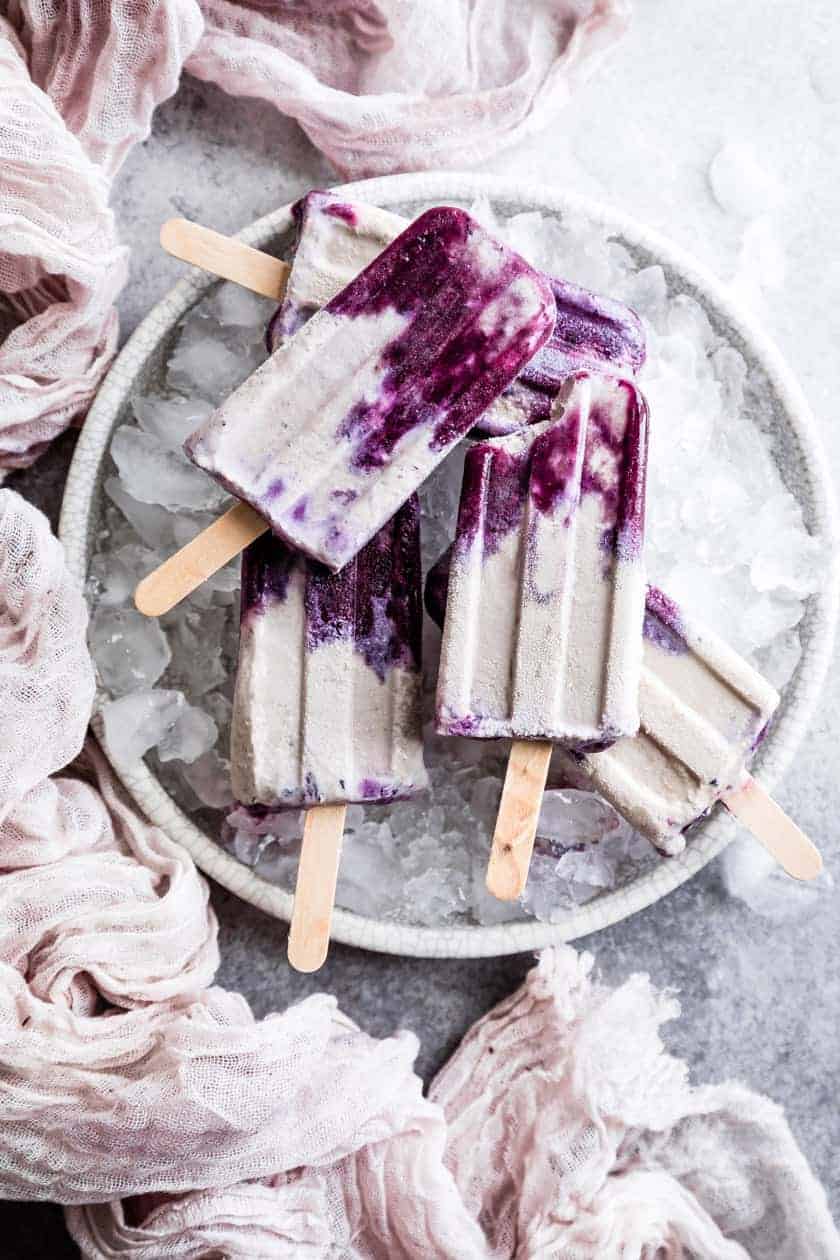 The closer I get to my due date, the clumsier I become in the kitchen. A day doesn't go by when I don't splatter a vibrantly colored sauce or compote across the room or drop toast in the counter gap next to the fridge. These blueberry london fog popsicles nearly dyed my curtains. I write this as I notice the sun shining through a splash of egg yolk I apparently forgot to clean off the windows two days ago. Blame it on my balance. This round belly interfering with all things cooking related (and photography/tripod related too, for that matter).
Possibly also my impatience. The scramble to finish it all before baby comes. That's the true story of the great blueberry compote sprinkler. I just posted strawberry rhubarb pie a la mode popsicles, which also begins with a berry compote that gets cooled before puréeing. I knew better, but in my rush to get off my feet as quickly as possible, I ignored what experience told me. "Why did I waste time cooling the compote? That seems unnecessary." I said aloud to Lucas.
Famous last words.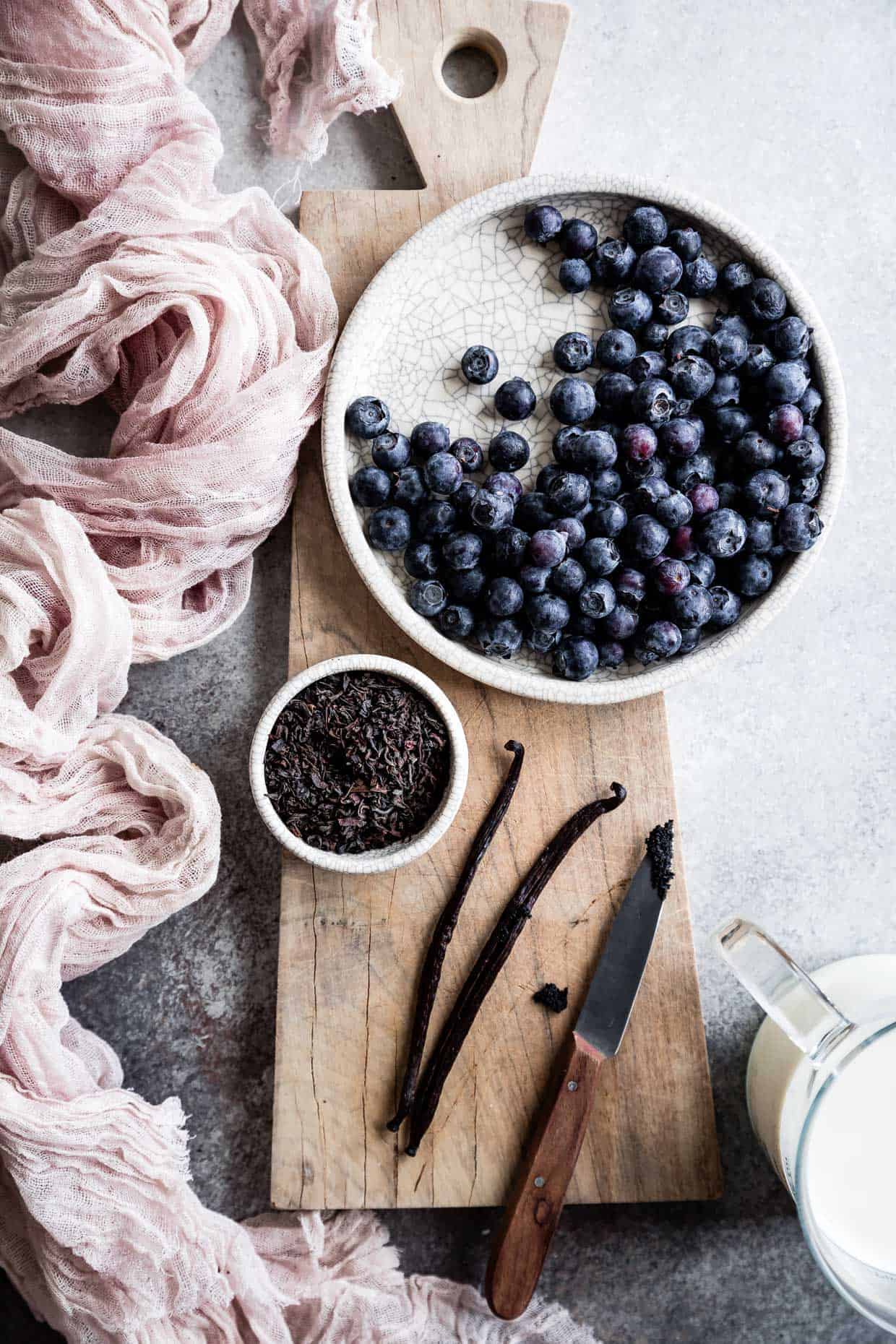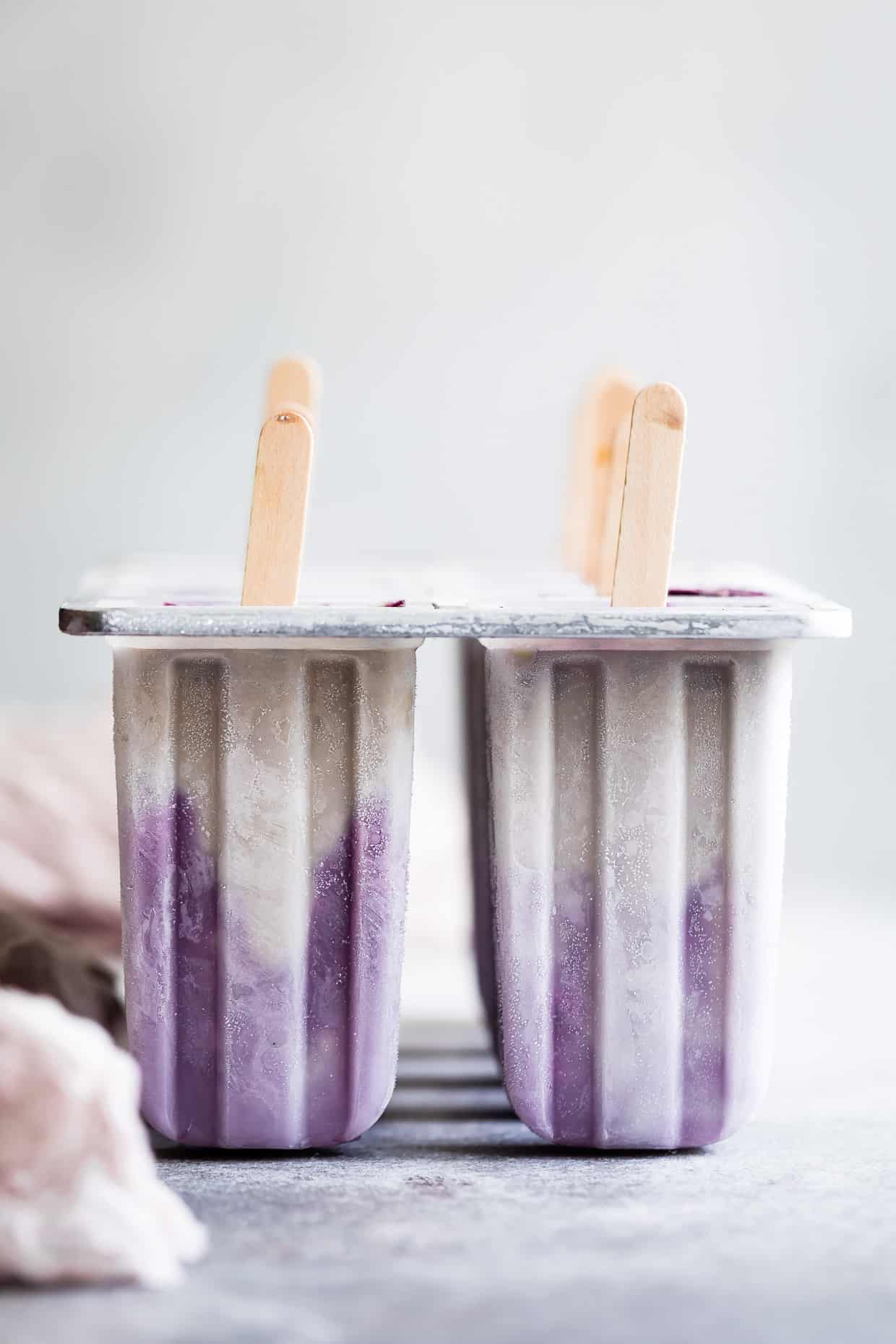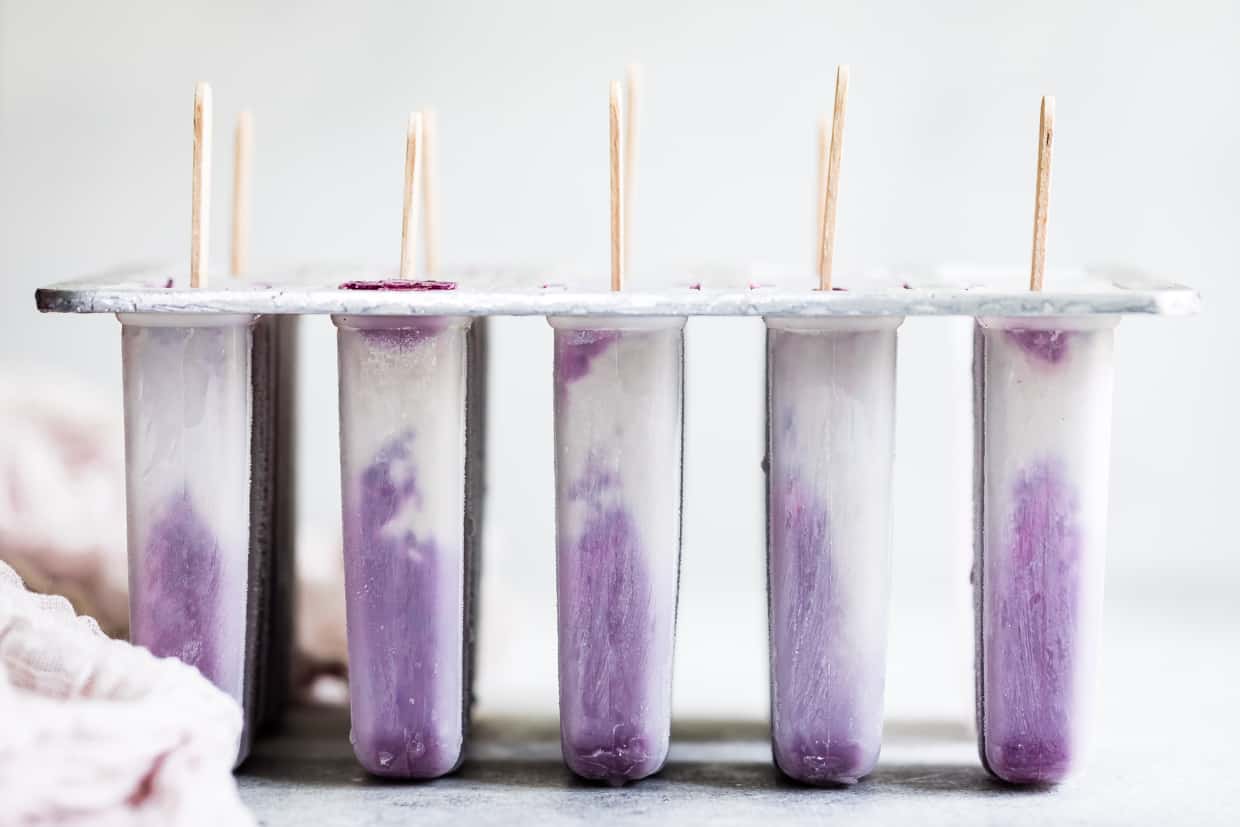 Just as soon as I flipped on the blender, the lid popped off and steaming hot compote sprayed everywhere. All over my hands, all over my dress, all over the appliances, and all over our sheer white curtains. Which, you know what? Was actually kind of appropriate, since I made this blueberry london fog popsicle recipe to pair with this dreamy naturally blueberry-dyed linen.
Maggie Pate's new book - The Natural Colors Cookbook - was just released and this linen comes straight from the author. In her book, Maggie teaches you how to dye gorgeous textiles using food products and food waste. Food meets slow craft. For this soft pale purpley pink linen, she uses those disappointing blueberries that don't have the sweetness you hoped for when you grabbed the pint. Waste not!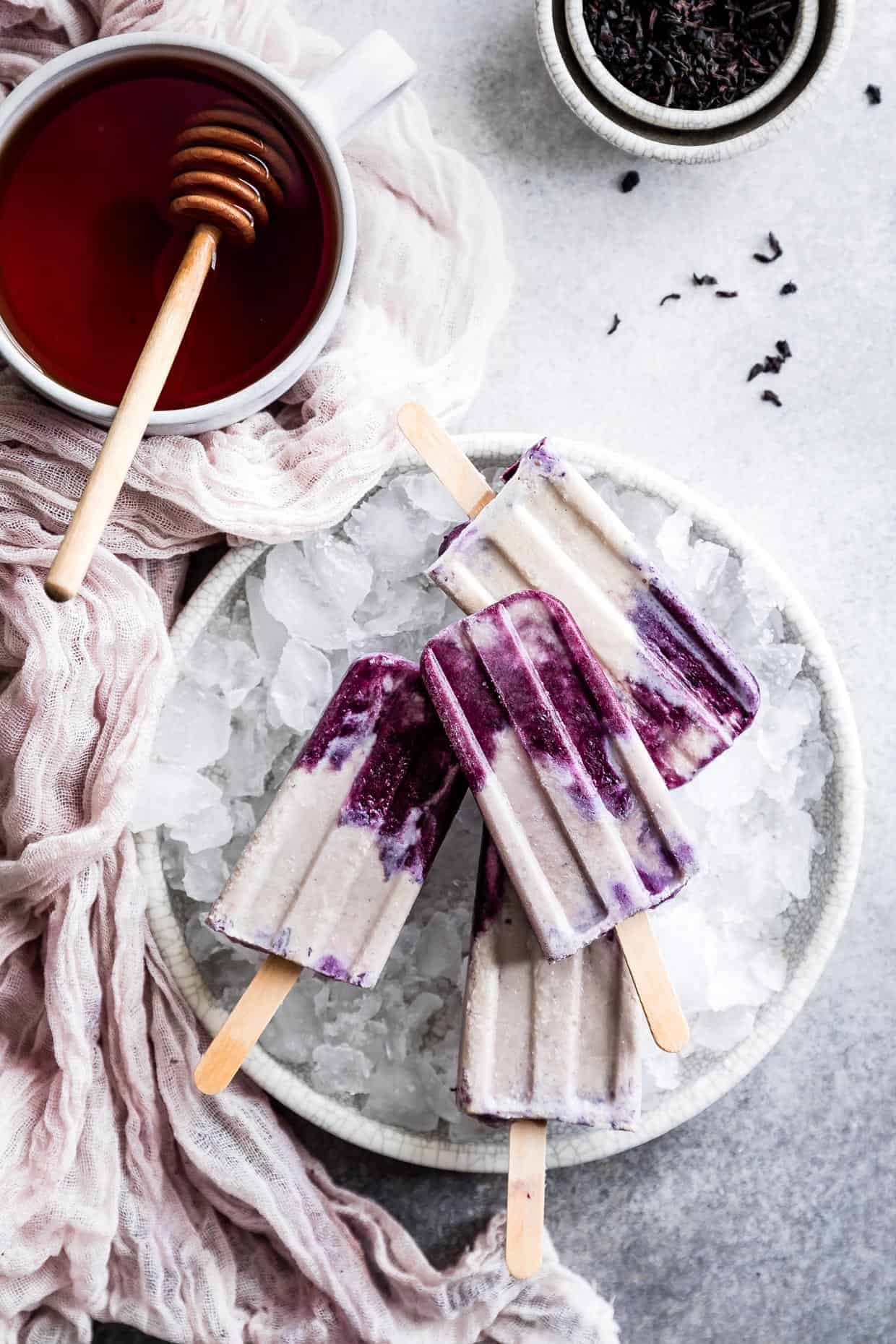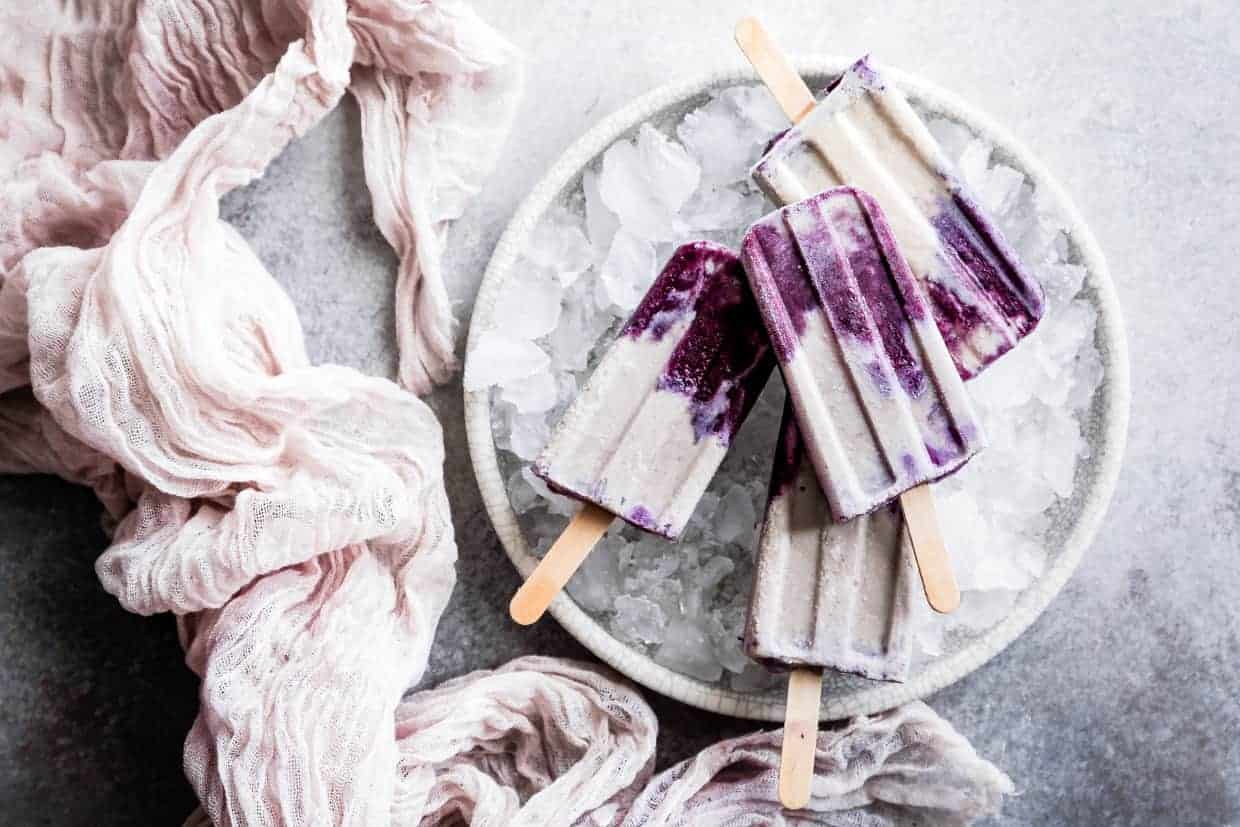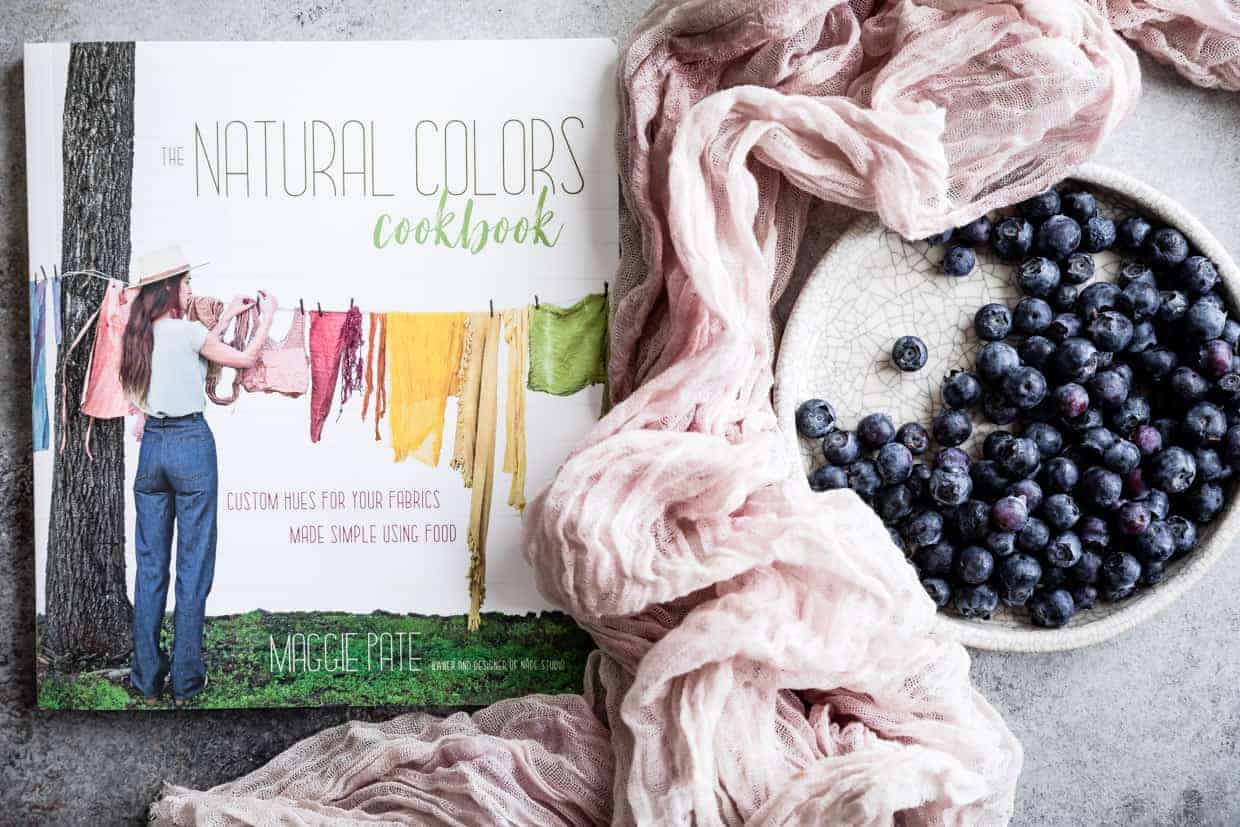 As a food stylist, photographer, and blogger, you should see the size of my daily compost bowl - especially when Alanna and I are on set styling five recipes a day for the NYT. We try our best to use up all the leftover food, but sometimes we just can't. And for those times, Alanna and I came up with a phrase several years ago: "Don't tell Jay." Translation: add it to the compost - but DON'T TELL JAY. Her guy Jay is known to rescue every last bit of food scrap before it goes to waste (he once made cheese rind quesadillas...), and, so the expression was born.
Now, though, we've got reason to use the catchphrase a bit less. Maggie's book shows us how to use all that food waste to create vibrant colors: avocado pits for deep burgundy, carrot tops for lime green, red onion skins for olive green, pomegranate rinds for mustard yellow, and black beans for ashy blue tones.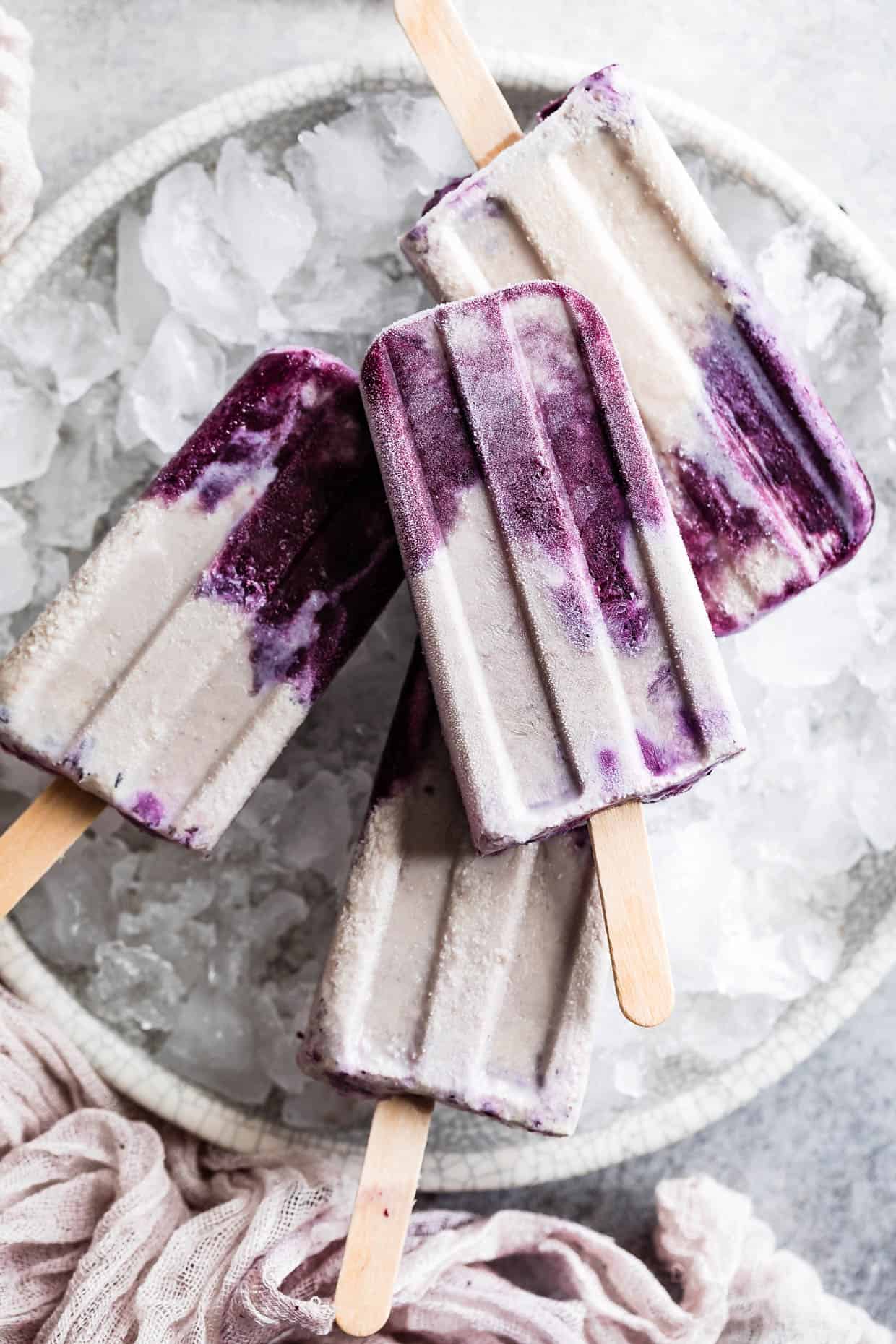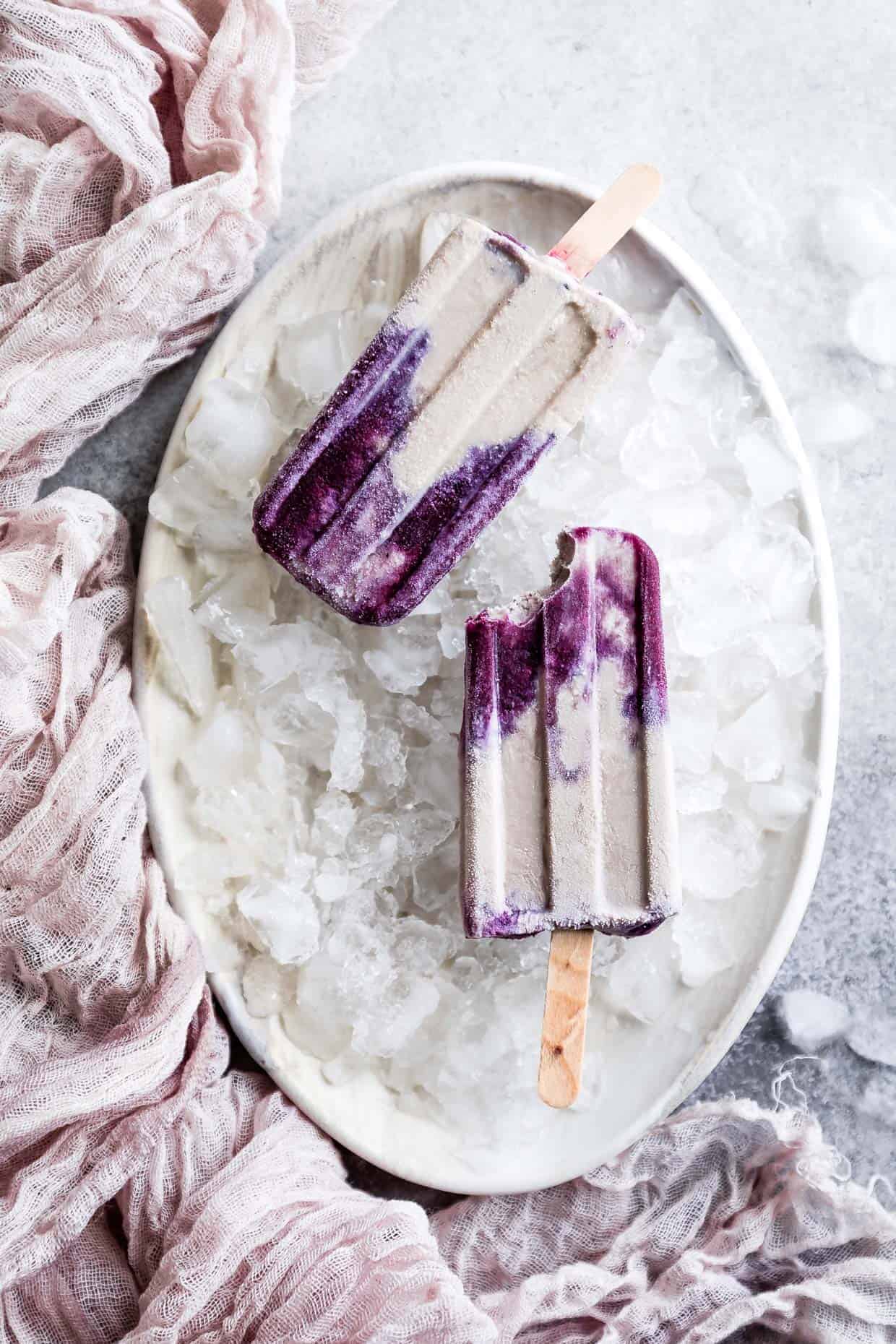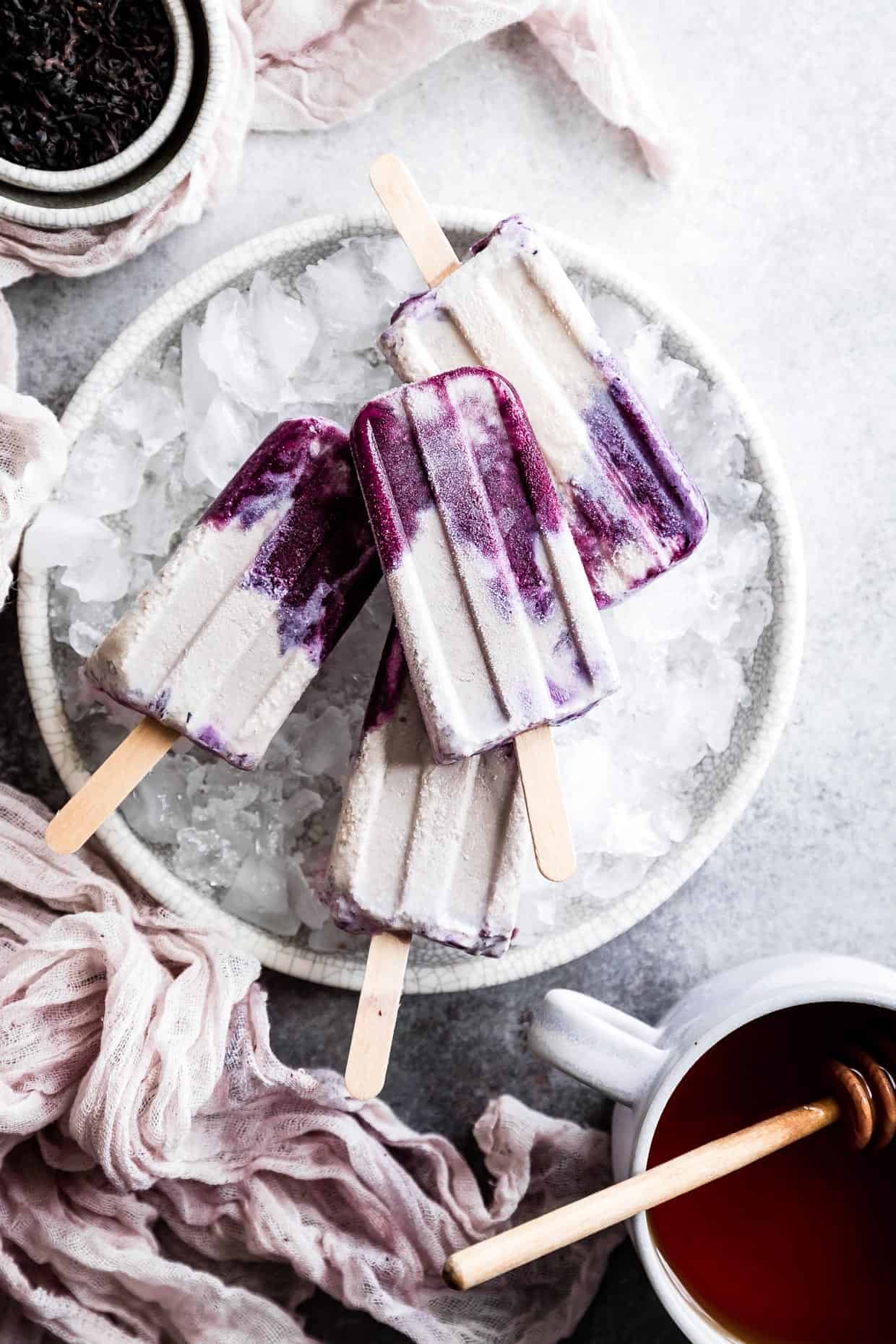 These blueberry london fog popsicles are meant to be as dreamy of a recipe as this blueberry-dyed linen. They look like clouds swirled with vibrant purple. With flavors of morning vanilla bean earl grey latte tinged with honeyed berry compote. Both part creamy and part fruity.
I plan to keep popsicles in my freezer for the rest of summer with these in regular rotation!
In the mood for blueberries? More blueberry recipes!
Thanks for reading Snixy Kitchen! To stay up on what's coming out of my kitchen, follow me on Facebook, Instagram, Twitter, Bloglovin', or Pinterest, or subscribe via e-mail to get new recipes right to your inbox!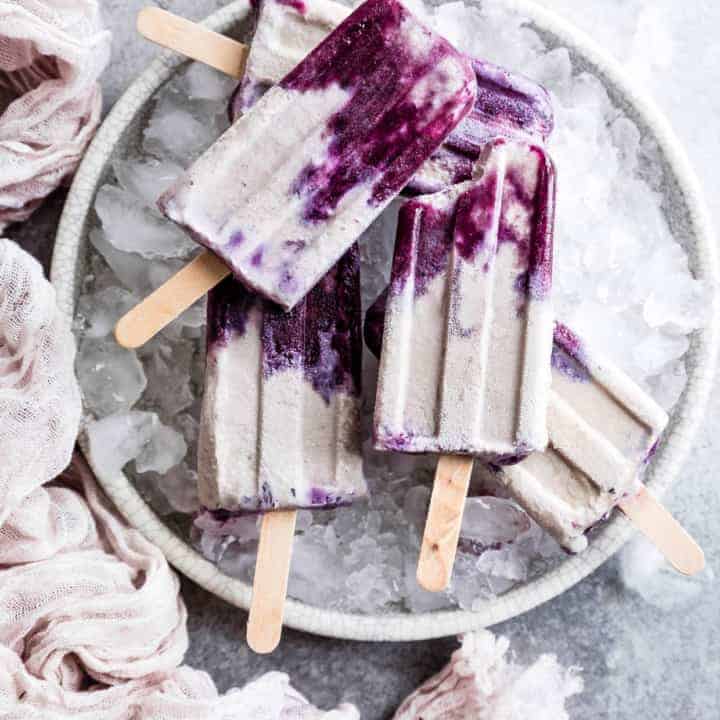 Blueberry London Fog Popsicles
These blueberry london fog popsicles combine vanilla bean earl grey tea latte with sweet honey blueberry compote into a dreamy creamy popsicle vibrant in color and flavor.
Ingredients
London Fog Cream Layer
1½ cups heavy cream
1½ whole milk
¾ cup granulated sugar
1½ tablespoons (6g) loose-leaf earl grey tea
2 vanilla beans, split and scraped
Honey Blueberry Layer
1½ cups blueberries
¼ cup honey
⅔ cup water
Instructions
First, prepare the london fog cream. Combine the cream, milk, sugar, tea, and vanilla bean seeds and pod in a small saucepan. Bring to a simmer over medium-low heat. Just before it boils, remove from heat and steep, covered, for 20 minutes. When done steeping, strain the cream through a fine mesh sieve into a liquid measuring cup with a spout.
While the london fog cream steeps, prepare the honey blueberry layer. Combine the blueberries, honey, and water in a small saucepan and bring to a boil over medium heat. Boil, stirring, until the blueberries break down and the sauce as thickened to coat the back of a spoon. Transfer to a boil and chill until cool enough to touch (I put mine in the freezer and stir every few minutes).
Once cool enough to touch, puree the blueberry compote in a blender until smooth. Transfer to a liquid measuring cup with a spout.
Divide the blueberry puree among 10 popsicle molds. Pour the london fog layer over top until the molds are just about full. Your mixtures should swirl automatically, but if your blueberry compote is a little thicker, you can also add swirls by inserting a chopstick or skewer along the outside edges of the mold.
Freeze until solid, 12 hours or overnight. To remove: Running the popsicle mold under warm water for a few seconds will help you remove the frozen popsicles from the mold.