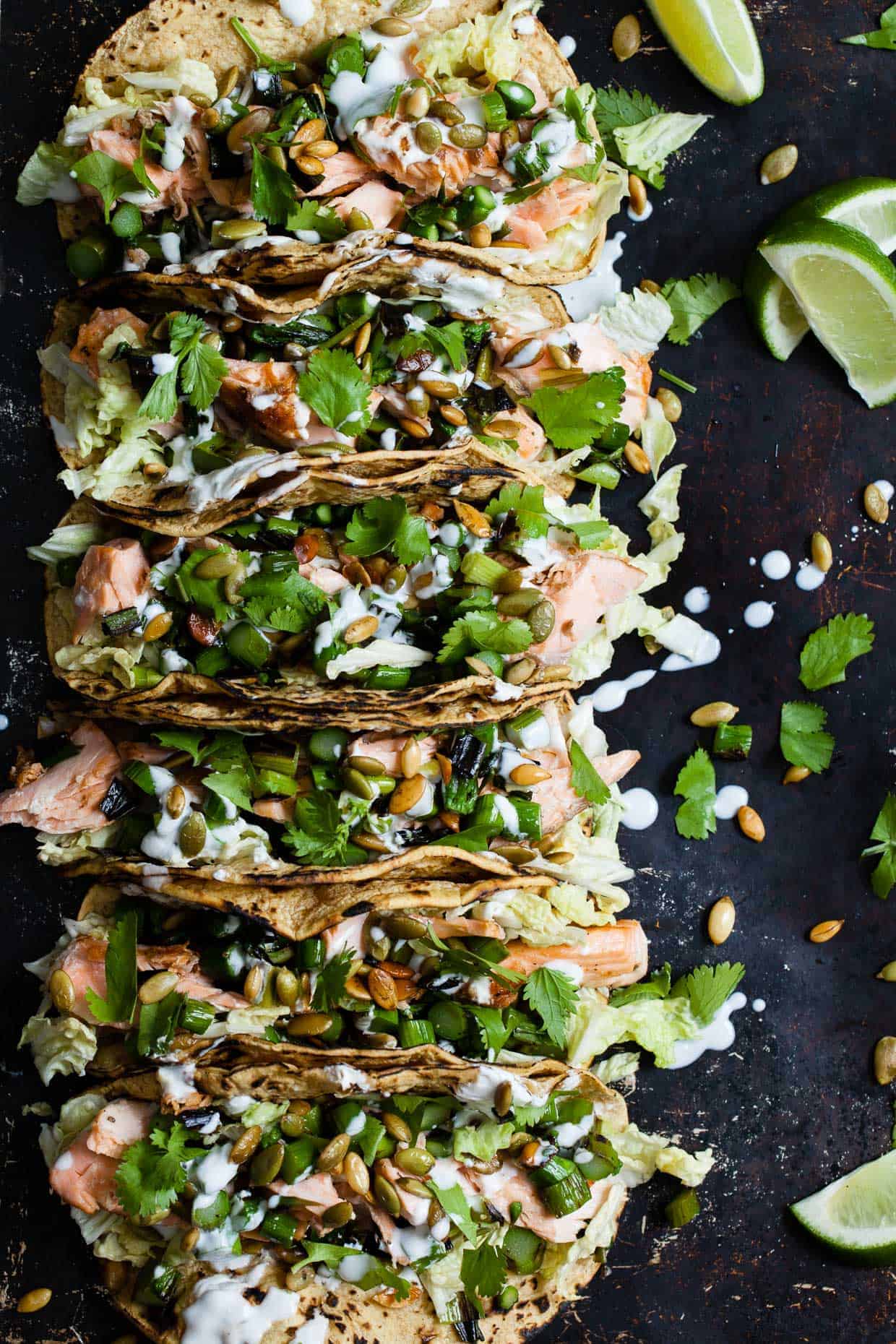 Raise your hand if you've ever had popcorn and ice cream for dinner because the thought of figuring out what to eat, going to the store, and coming back to cook it was enough to make you need a nap. Real talk. That's basically mealtime with a new baby in a nutshell. (Also: when can I get that nap?). What if I told you someone would do the recipe planning and shopping part for you and you'd spend only 30 minutes in the kitchen before chowing down on these healthy salmon tacos?
You'd probably get that nap. That's what.
Today I'm stoked to share about my collaboration with Sun Basket - what kept us nourished for the month after Zoella was born and brought these salmon tacos into my life. But first: let me paint the scene in our house.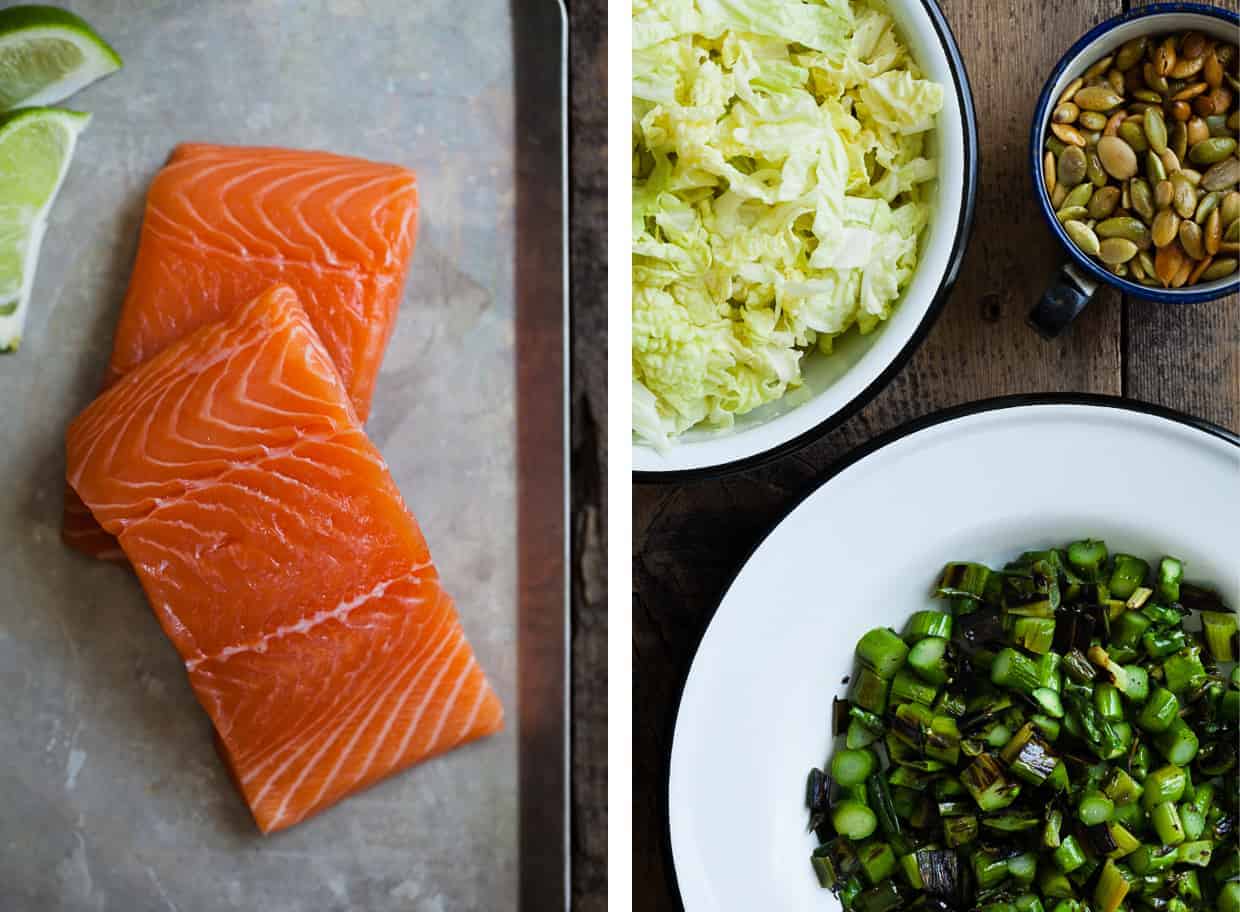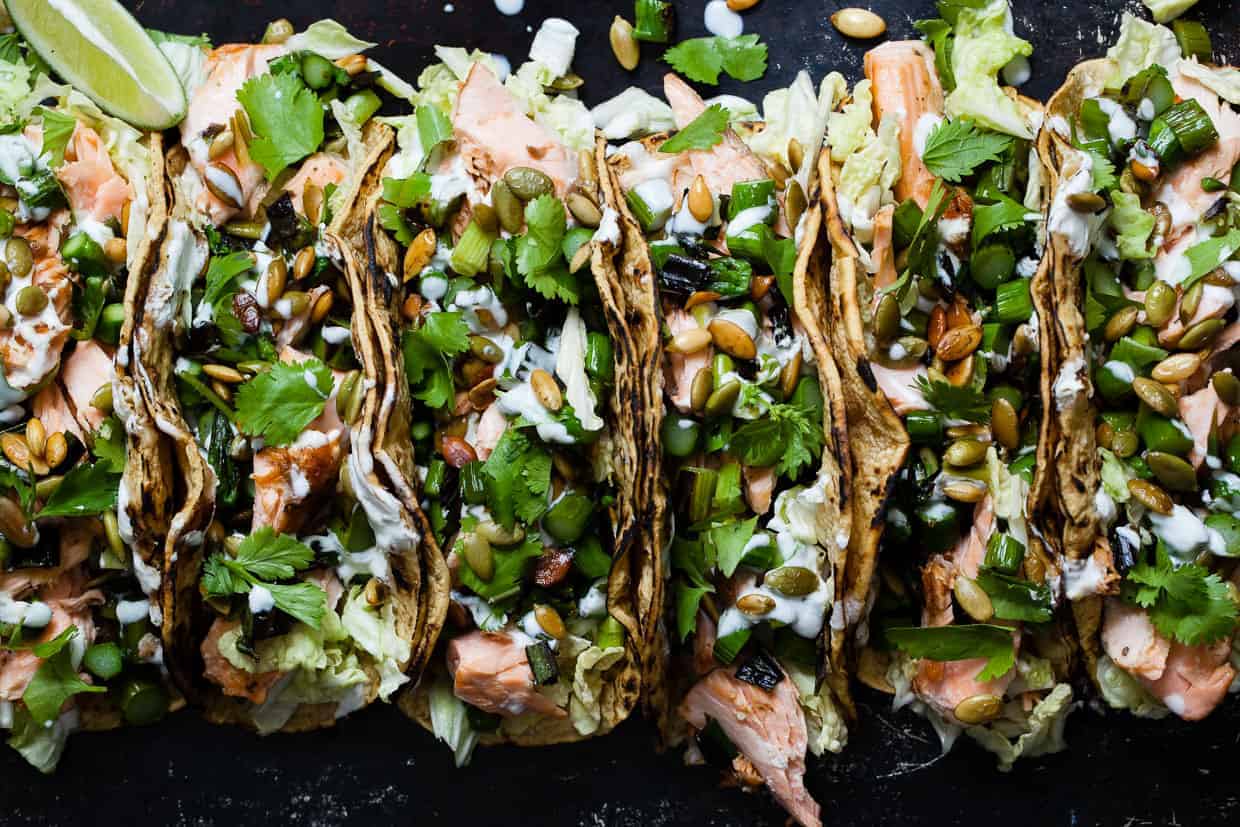 The cats have been acting up since the baby came along. I mean, I get it - you used to be our furry children with all of our attention (and your own Christmas stockings) and now you're lucky if you snag a snuggle between late night feedings. I keep reassuring them, "trust me, you're going to looooove this little cuddle monster soon."
Only they can't hear me because I've accidentally locked them in the baby room. Again. The rascals keep sneaking into the the nursery where they aren't allowed, so with a baby in one arm, I close the door with, "well fine, if you want to be in there so bad, you can stay in there and see how much you like it!" Fully planning to release them in ten minutes when they're scratching at the door. Kitty time out.
Except I completely forget for many many hours. And they aren't complaining to remind me. Poor forgotten first children. (Fortunately I think they actually appreciate the peace and quiet because I found Aioli perfectly content and curled up on the baby's rocking chair after a several hour time out last week).
They tell you it's hard work having a baby, but there's a part of you that doesn't really believe them or that doesn't understand what that means exactly. I'm over here like "why didn't anyone tell me?! I'm not prepared!" but they did tell me and I forgot. Like the cats.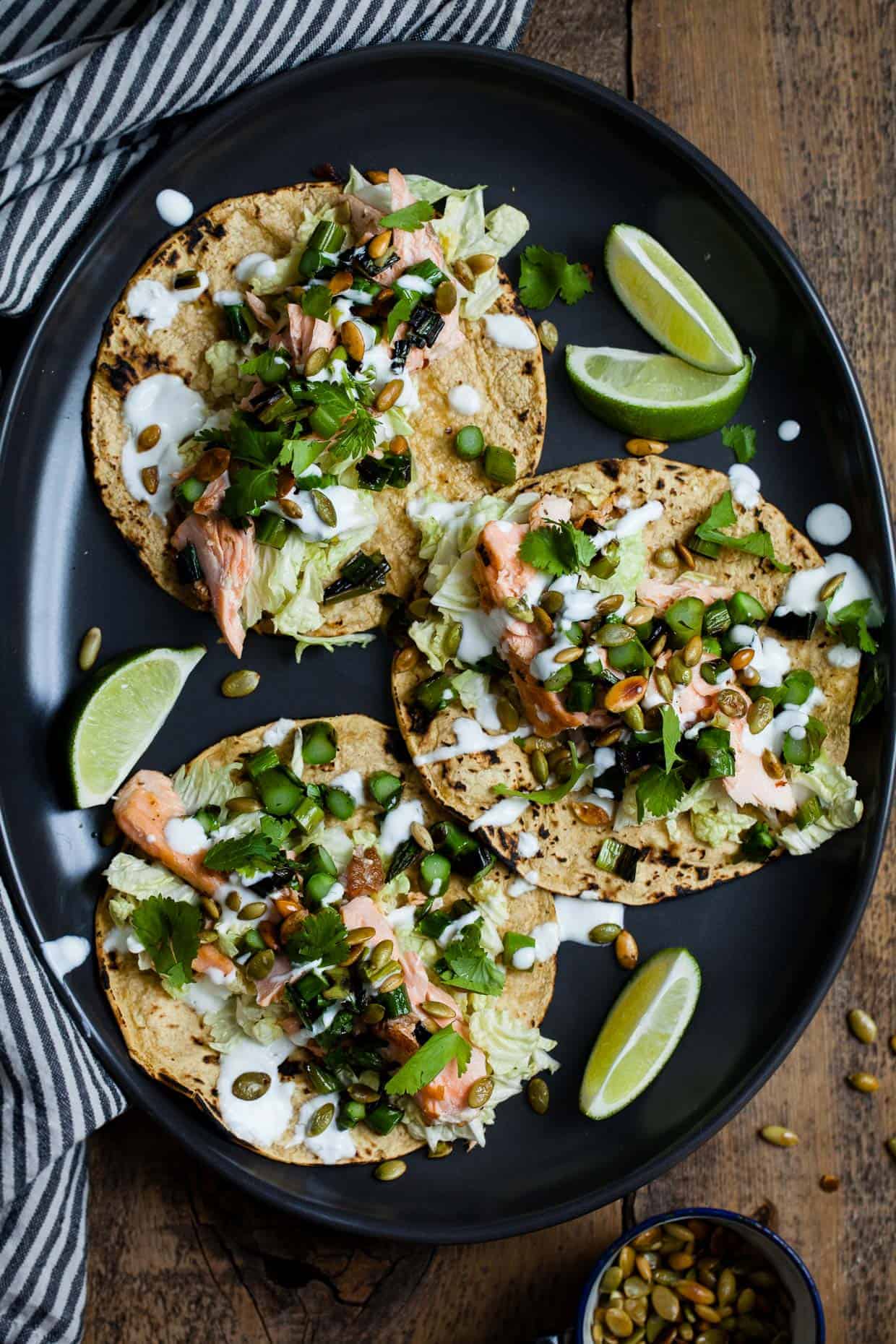 So when Sun Basket reached out to partner last month, flashing their delicious salmon tacos in my face, I basically shouted "SIGN ME UP!" - very poorly masking my desperation for healthy home-cooked food.
Sun Basket is a meal kit service that takes care of coming up with unique, healthy, and easy-to-make recipes (with paleo, gluten-free, and vegetarian options), and sources sustainable organic ingredients from the best West Coast farms that they then deliver to you each week. You're only in charge of picking from the options and cooking what's delivered. Modern-day delivery.
You guys: If you're ever needing a unique baby shower gift idea, this is it. As new parents, our month of Sun Basket meal kits saved us from eating take-out (again). Having a nourishing home-cooked meal after holding a screaming baby all day is EVERYTHING. Heck, it would make unique gift idea for any occasion or a solution for when life's just super busy (when is it not?). These aren't just plain boring recipes either - they're developed by a top SF Chef so each dish is nutritious and creative.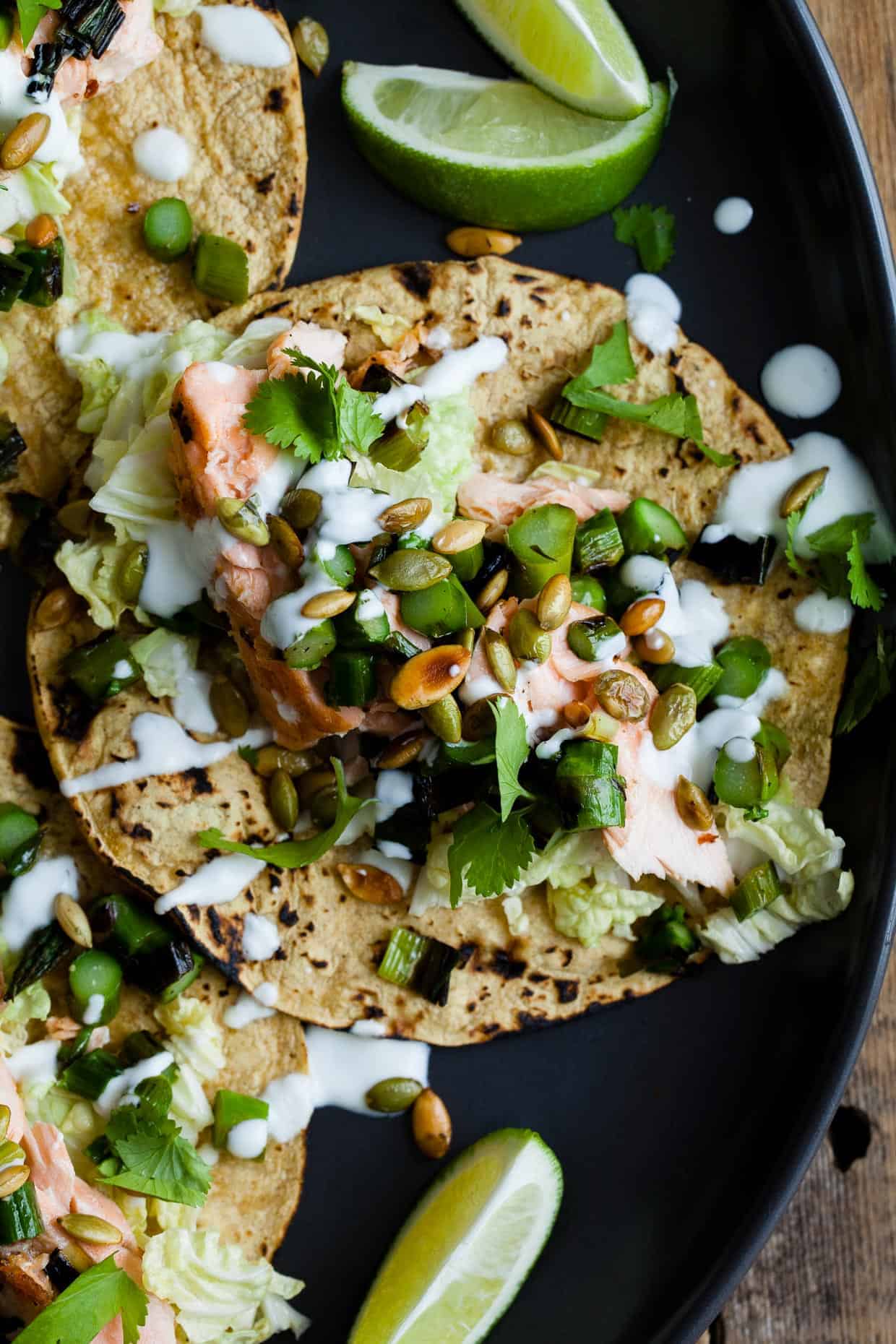 Starting with these salmon tacos with green onion & asparagus salsa (yeah - we're finally going to talk about these tacos). Layered inside the tortilla: quick-pickled chopped cabbage, flakey seared salmon, charred asparagus and scallion salsa, lime greek yogurt "crema", and toasted pepitas for some crunch. These tacos scream springtime.
For the recipe below (shared with permission from Sun Basket), I slightly modified the original for my own tastes - namely making the cilantro optional and adding a bit of salt to the pepitas. Lucas gladly picked all the cilantro off my tacos and added it to his. The beauty of cooking it yourself is that you can do whatever you want!
Major perk: If you sign up to try it using any of the Sun Basket links in this post, you'll get three meals free on your first order.
And a nap.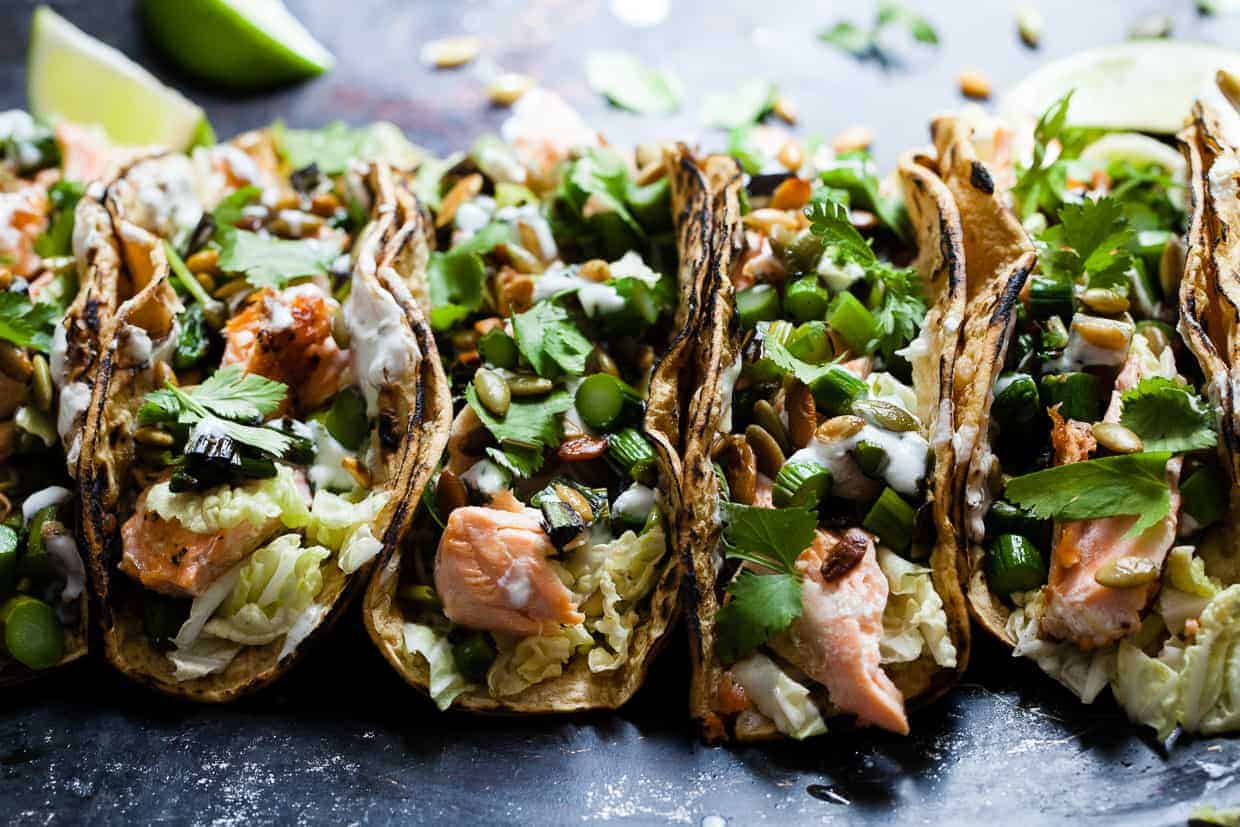 Thanks for reading Snixy Kitchen! To stay up on what's coming out of my kitchen, follow me on Facebook, Instagram, Twitter, Bloglovin', Pinterest, or subscribe via e-mail to get new recipes right to your inbox.
PS. Shout-out to Gerry for inspiring the heck out of me with his taco photos - droool.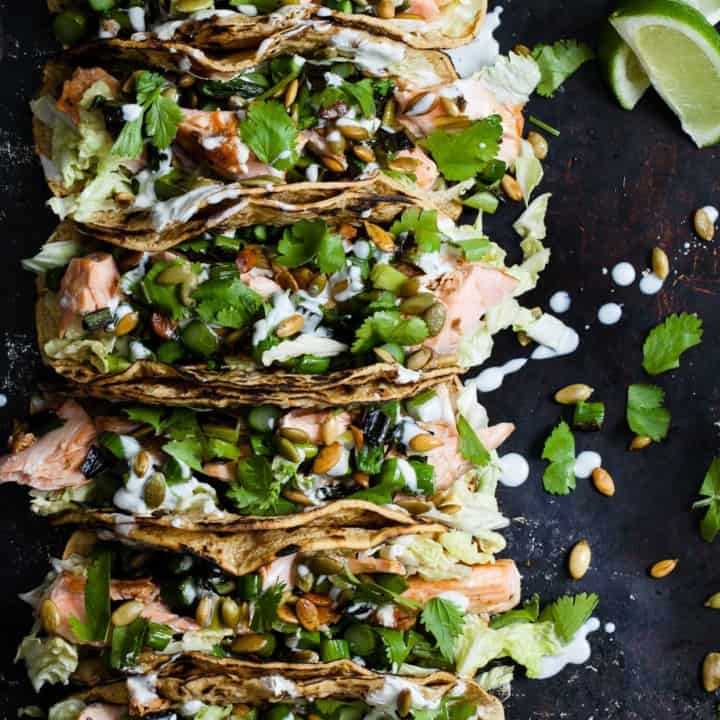 Salmon Tacos with Green Onion & Asparagus Salsa
Yield:
6 tacos (2 servings)
Ingredients
1 small head Napa cabbage, core discarded and leaves thinly sliced (about 6 ounces)
3 tablespoons rice vinegar
1 tablespoon maple syrup
3 tablespoons pepitas
3 teaspoons olive oil, divided
3 green onions, root ends discarded
3 ounces asparagus spears, bottoms trimmed
Two 6-ounce wild Alaskan salmon fillets
1 lime
¼ cup Greek yogurt
6 corn tortillas
Salt & pepper, to taste
Optional: 2 tablespoons fresh cilantro, chopped
Instructions
In a medium mixing bowl, toss the cabbage with rice vinegar, maple syrup, and a pinch of salt and pepper until well combined. Let stand while you make the tacos.
In a medium or large pan over medium heat, warm one teaspoon olive oil oil until hot but not smoking. Add the pepitas and toast, stirring occasionally, until lightly toasted, 2 to 3 minutes. Carefully transfer the pepitas to a paper-towel lined plate to drain and toss with a pinch of salt.
In the same pan used to toast the seeds, add the green onions, asparagus and cook over medium heat, turning once, until tender and lightly charred, 4 minutes on each side. Transfer to a plate and allow to cool for a few minutes.
Cut asparagus and green onions crosswise into ¼ -inch pieces, then toss with 1 teaspoon olive oil, and salt and pepper, to taste.
Season the salmon with salt and pepper.
In the same pan used to cook the vegetables, warm 1 teaspoon olive oil over medium heat until hot but not smoking. Add the salmon; and cook until opaque, 2 to 5 minutes on each side, depending on thickness. Transfer to a plate, let cool slightly and break into bite-size pieces.
Cut the lime in half; juice one half and cut the other half into wedges.
In a small bowl, combine the yogurt with the lime juice and season with salt, to taste.
Lightly char the tortillas directly over a medium-low flame, flipping once or warm each tortilla in a dry pan until just pliable, about one minute on each side.
Transfer the tortillas to individual plates, fill with the pickled cabbage, salmon pieces, onion and asparagus mixture. Top with the lime-yogurt sauce and pepitas, and serve with lime wedges on the side.
Disclosure: Special thanks to Sun Basket for sponsoring this post! And thanks to you for supporting the brands that keep Snixy Kitchen cooking!