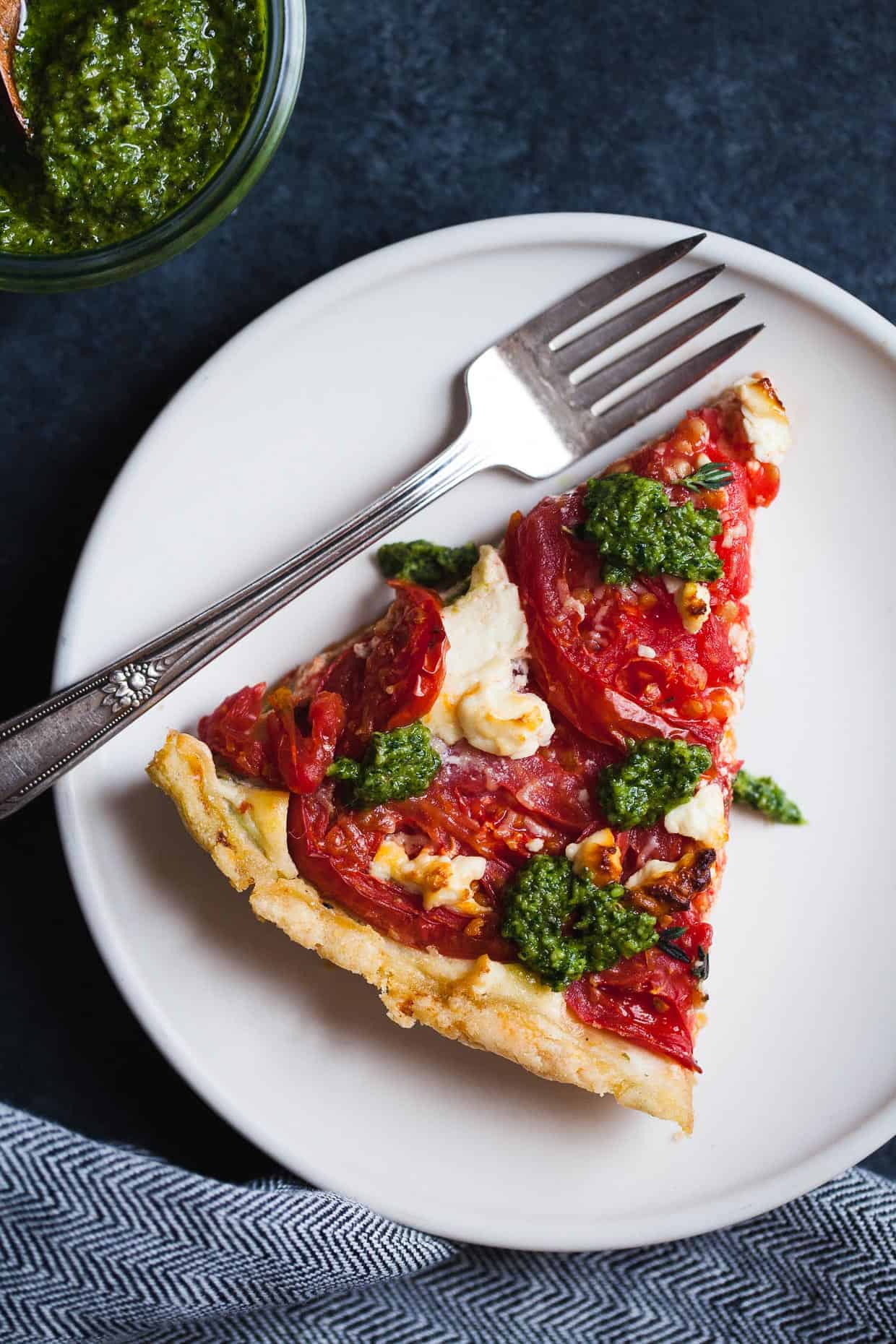 Does anyone else get severe produce anxiety? As much as I like the idea of a CSA, it hardcore stresses me out. Suddenly a crate full of arugula and what if I don't have time to eat the arugula before the edges wilt and the whole bag gets slimy? What happens if the tomatoes turn to rotten mush before I can use them all?! That sheer panic at the sight of a huge box of my mom's homegrown tomatoes led to this ricotta tomato tart.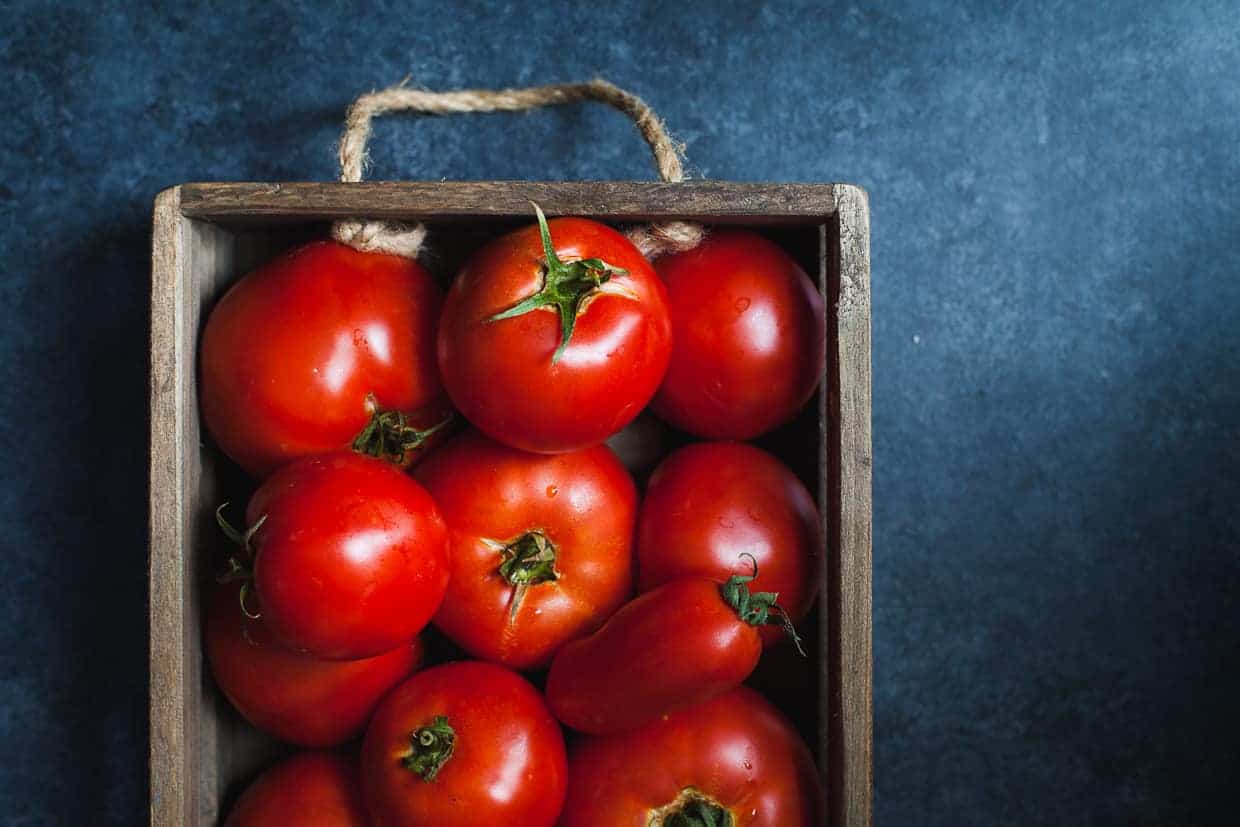 Confession: my extreme procrastination let a few tomatoes spoil and I feel really guilty about it and needed to get that off my chest because the homegrown tomato shame is intense when they come from your mom's garden.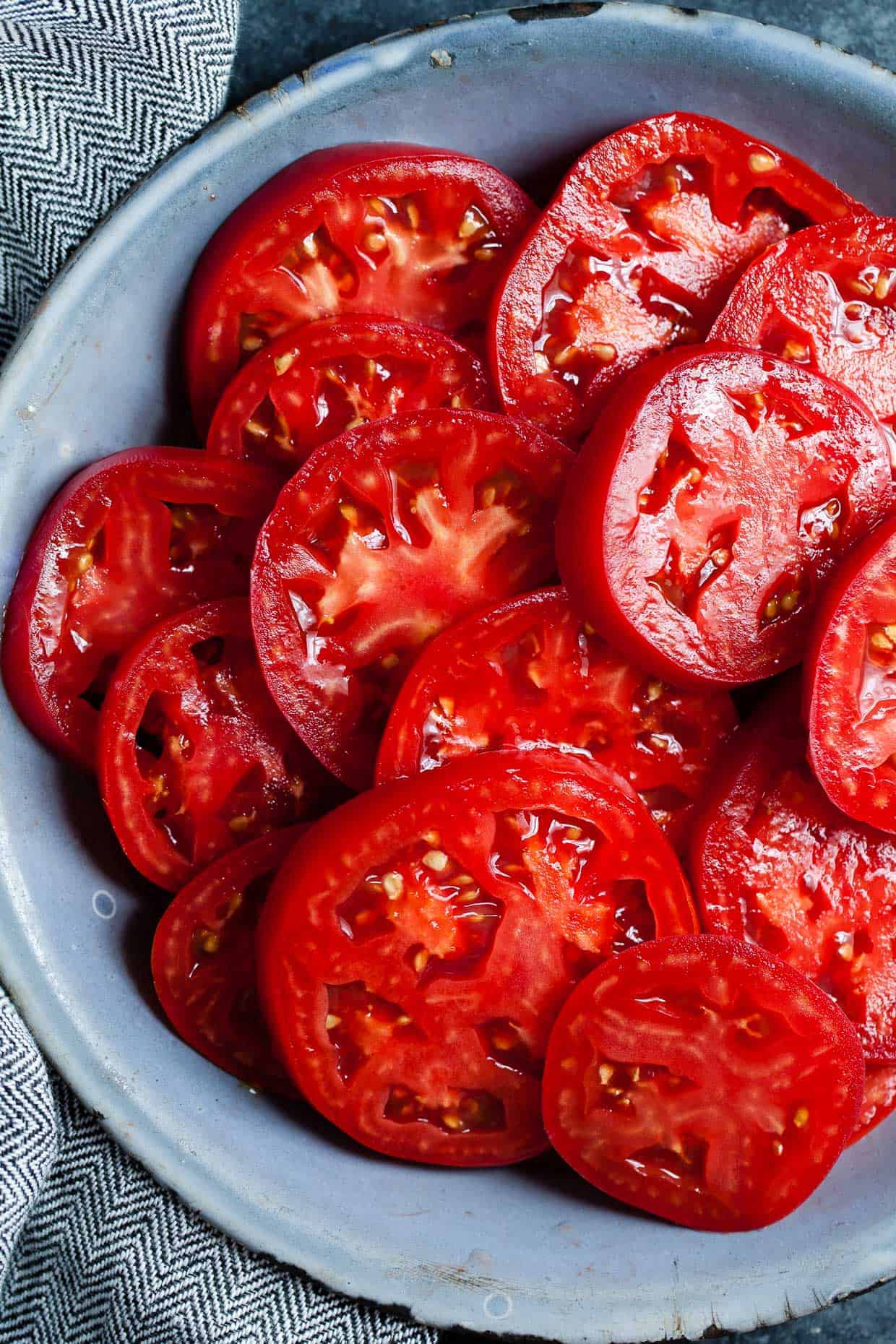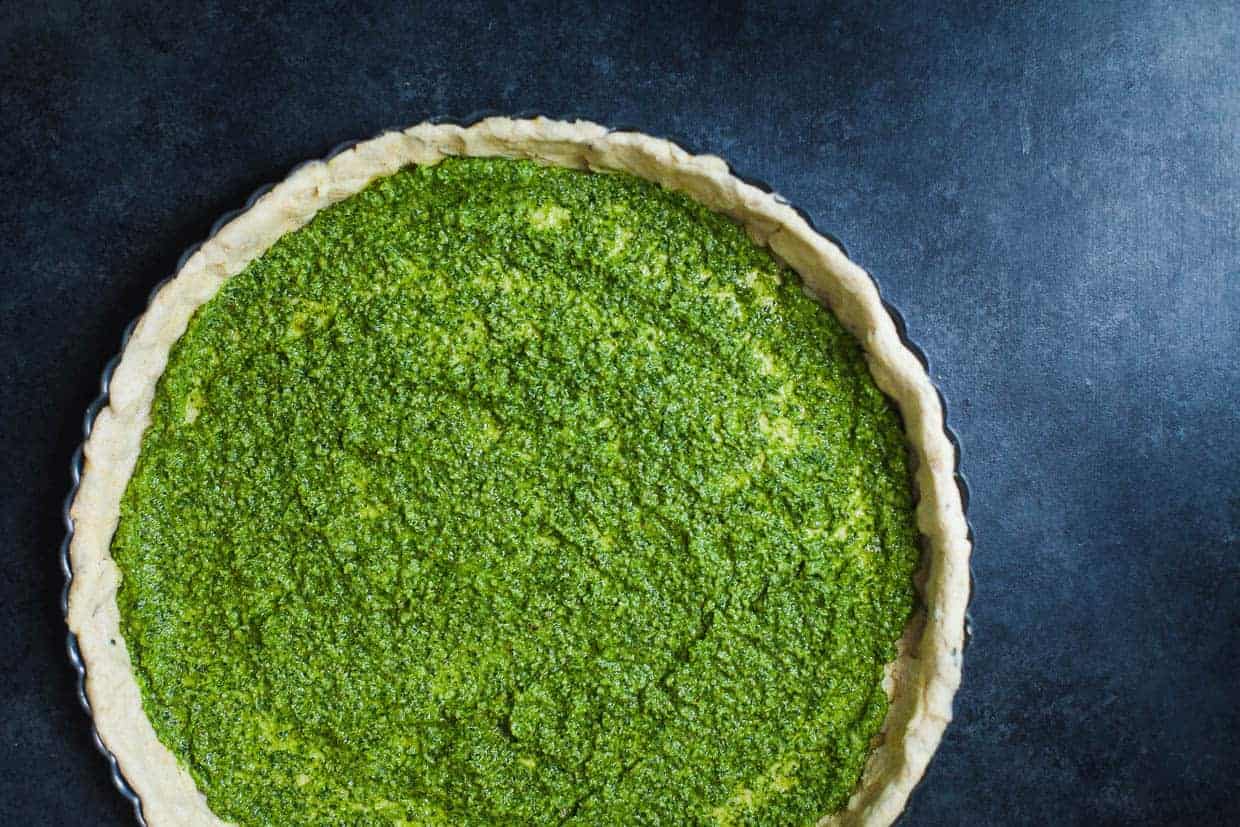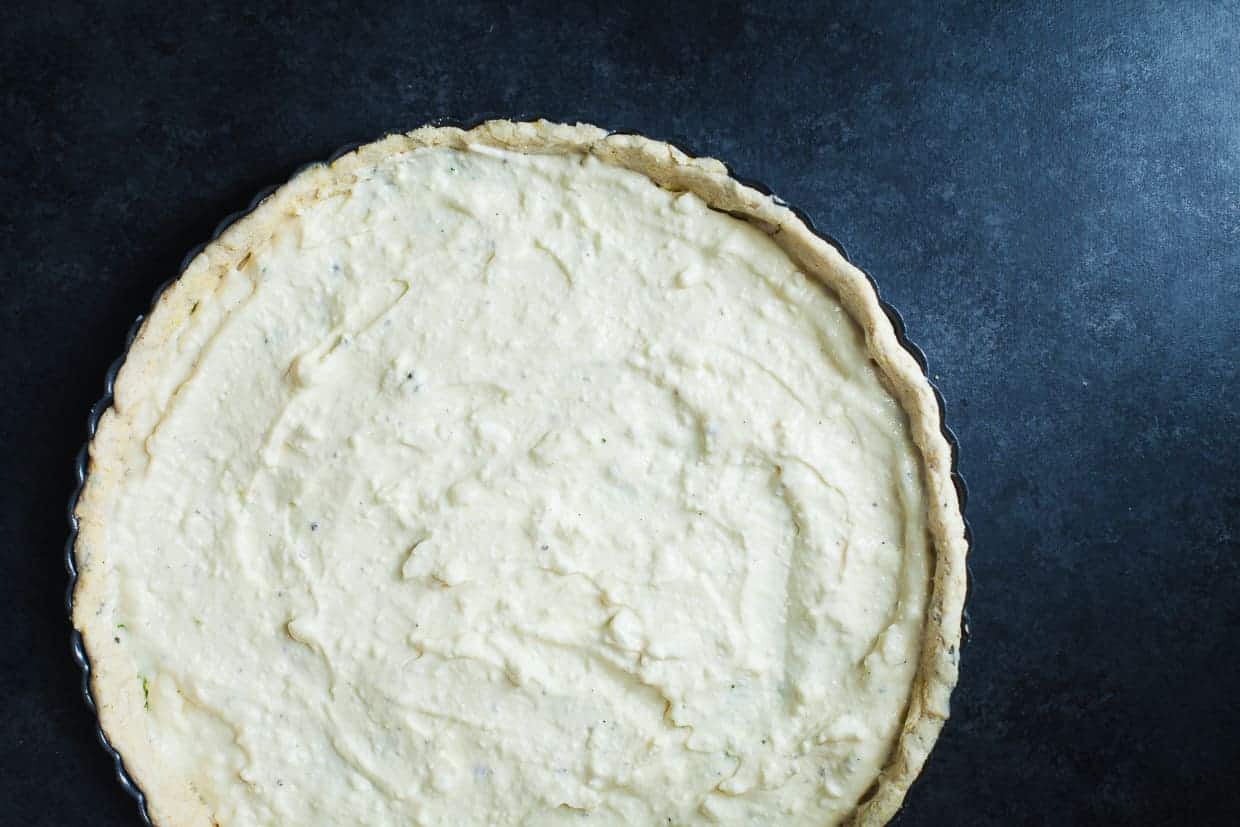 There's no match for my mom's tomatoes. I tried to grow my own two summers ago. We covered up our pig roast pit and decided to take advantage of the overturned dirt by planting a garden. Turns out vegetables don't like our clay. Zucchini and tomatoes were the only things that took - with the tomatoes going from zero to "OMGAWWW I'M A TOMATO PLANT RAWRRRR!!!" like a giant inflatable dancing tube man in about a week all over the garden.
Sadly, we didn't get to eat the tomatoes. You know the "if I lick it, then it's mine" rule? Well raccoons seem to have a similar rule: "If I bite it, then it's mine." The sneaky bandits went through my garden and took exactly ONE bite out of each tomato, leaving them hanging on the vine as insult, "your tomatoes aren't up to snuff."
I wouldn't know, I didn't get to taste them.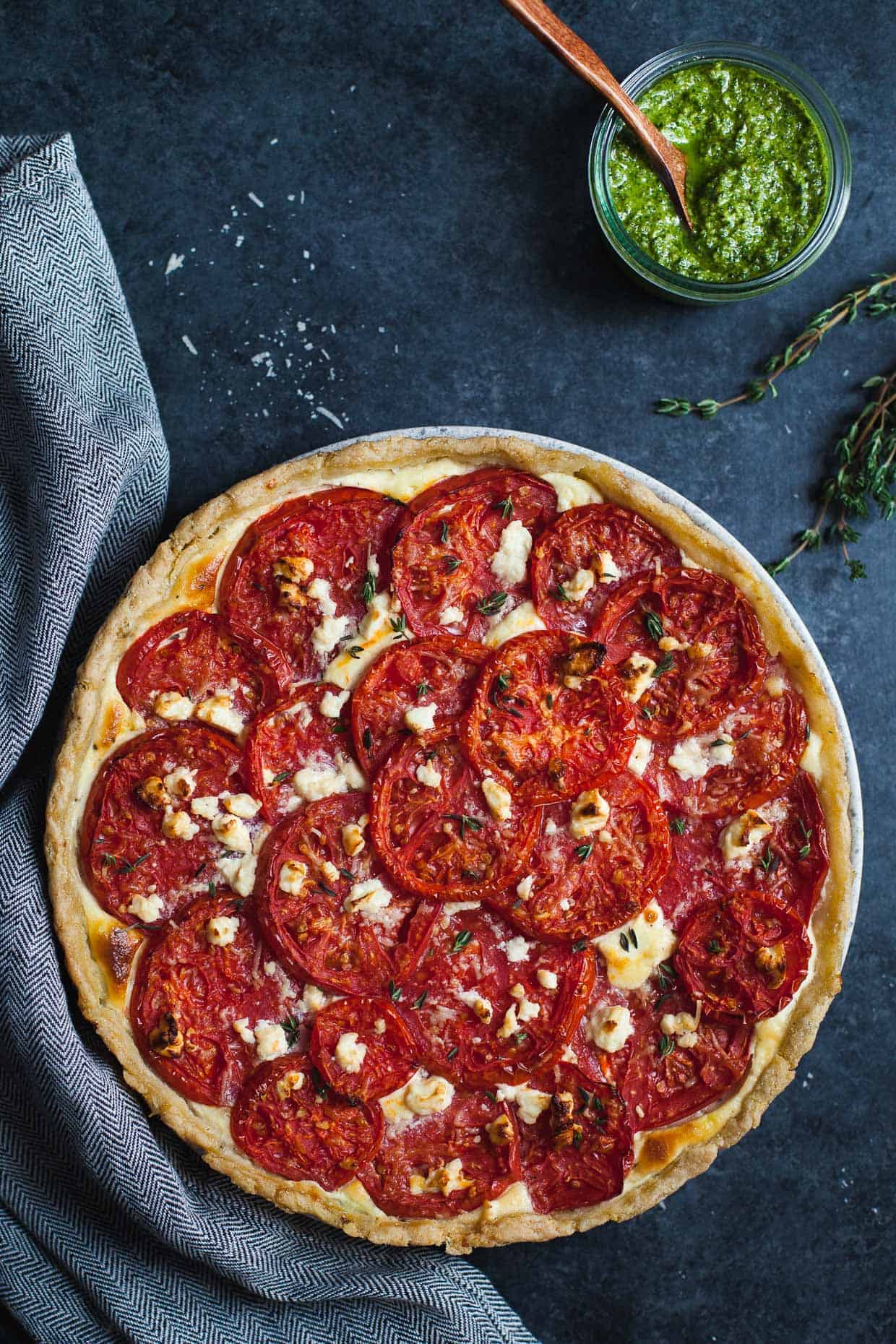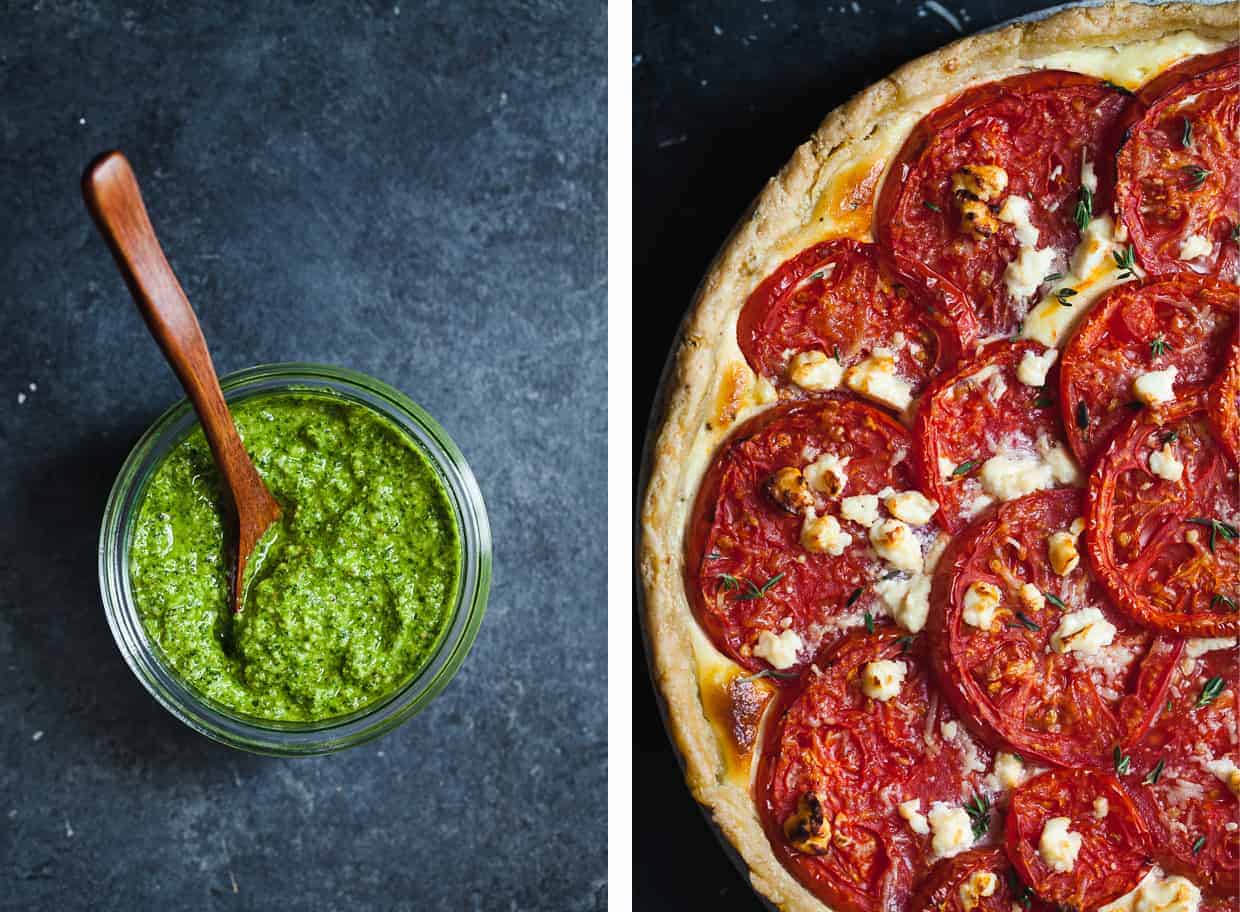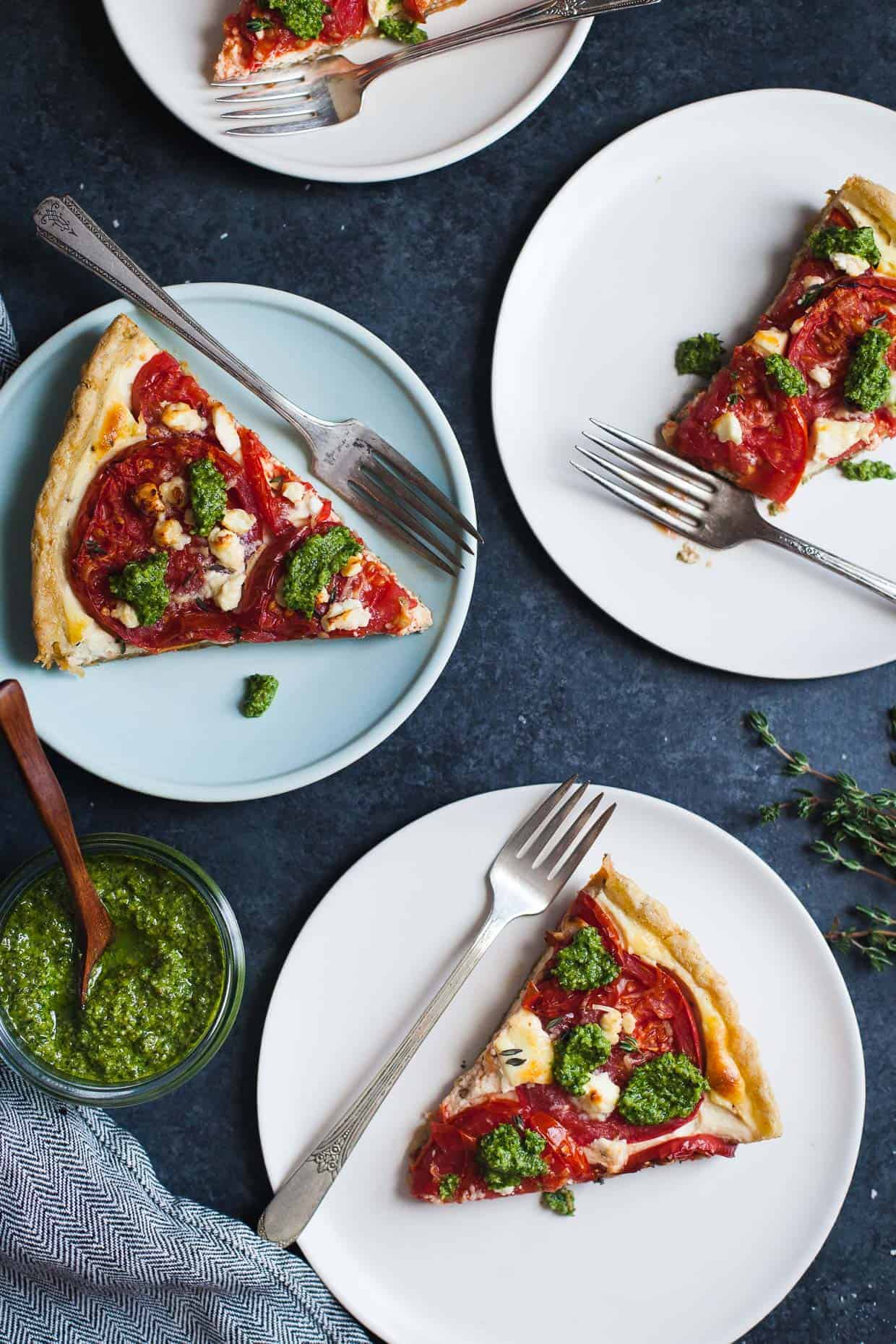 This ricotta tomato tart is the perfect platter for showcasing my mama's vibrantly red juicy tomatoes. Creamy feta & ricotta custard (barely adapted from Alanna's ricotta & roasted beet tart) and a thin layer of arugula walnut pesto (inspired by the near end-of-life arugula in my fridge) are snuggled up in a flakey gluten-free cornmeal crust and then topped with juicy sliced tomatoes and a few crumbles of feta and parmesan. Baked until golden brown and topped with dollops of pesto, this tart tastes (and smells) like an upscale deep dish pizza except without all the grease and mess.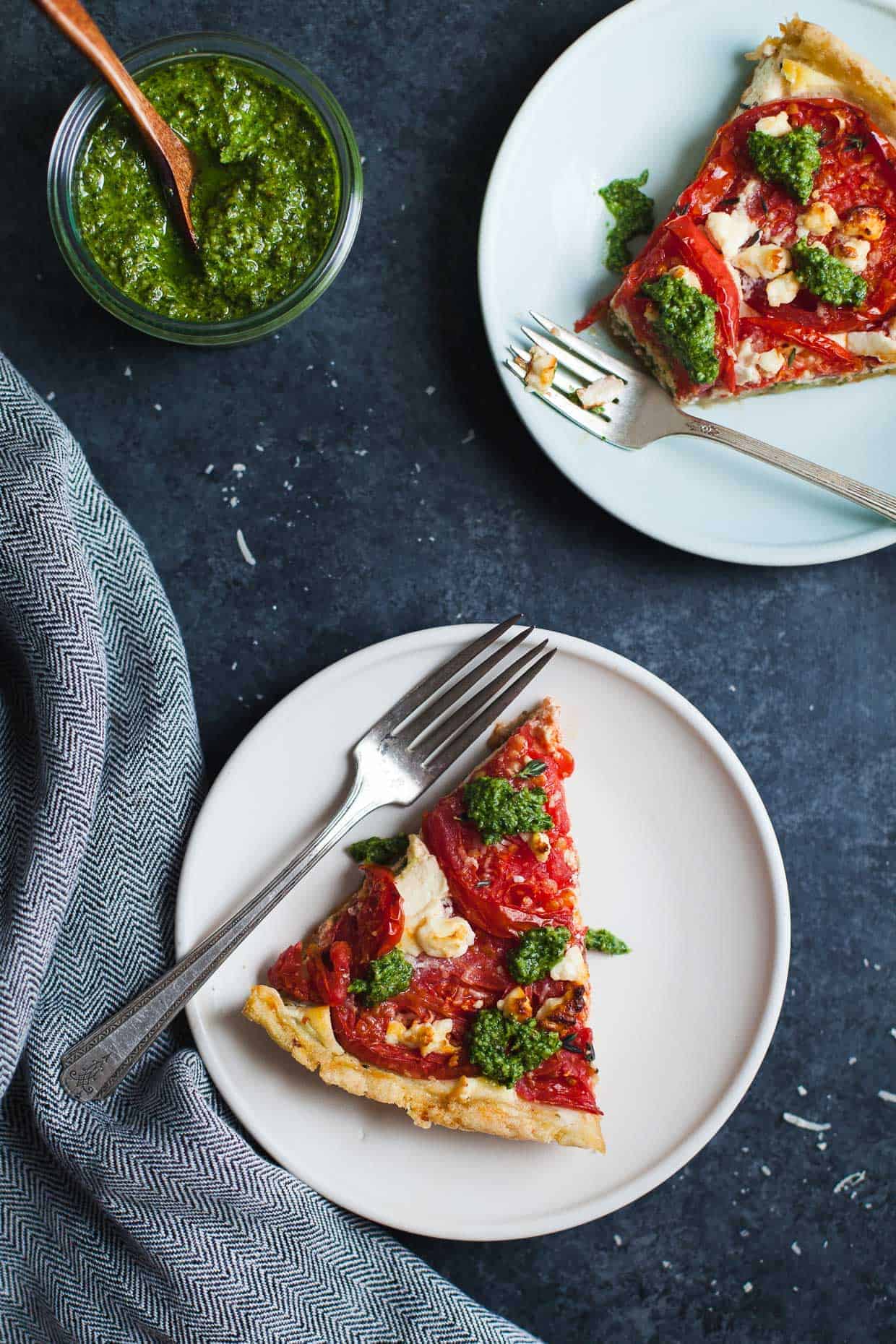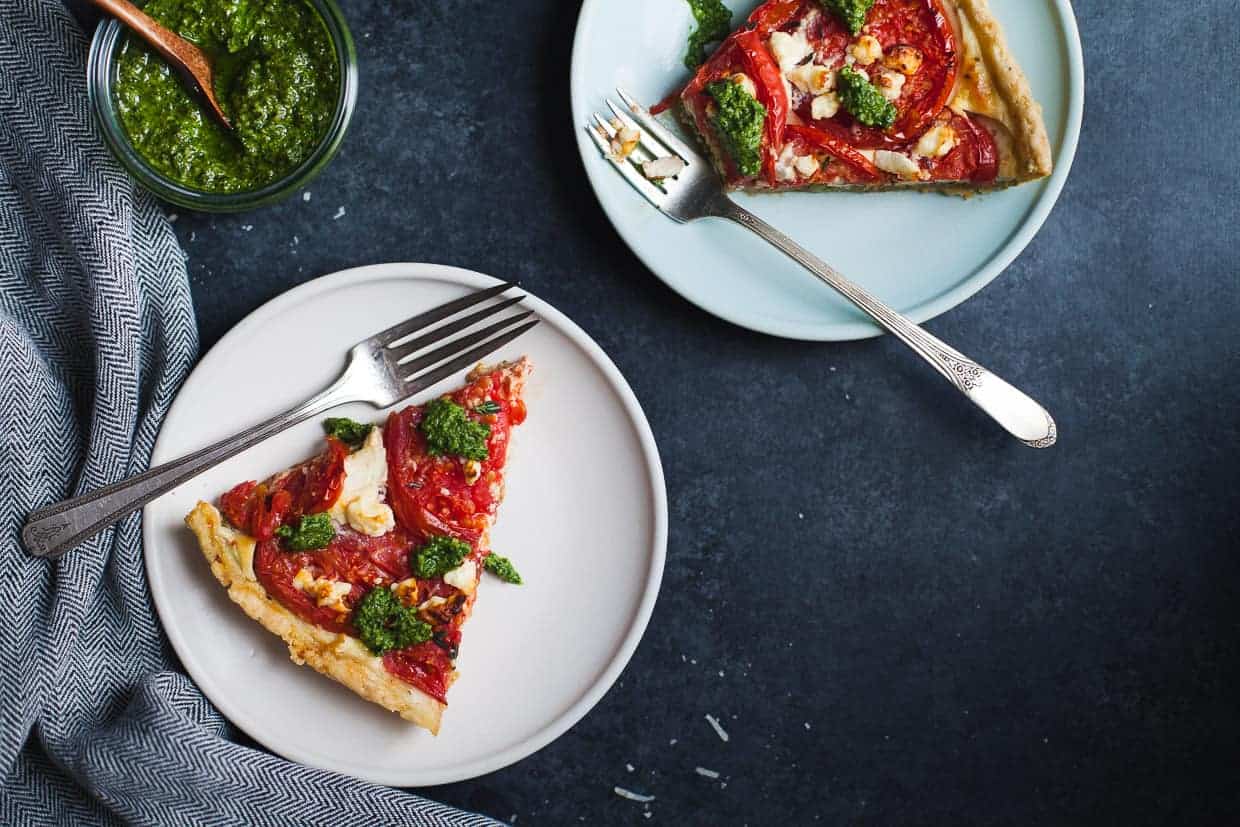 'Tis the season of tomato tarts apparently. I'll take a slice of each of these please: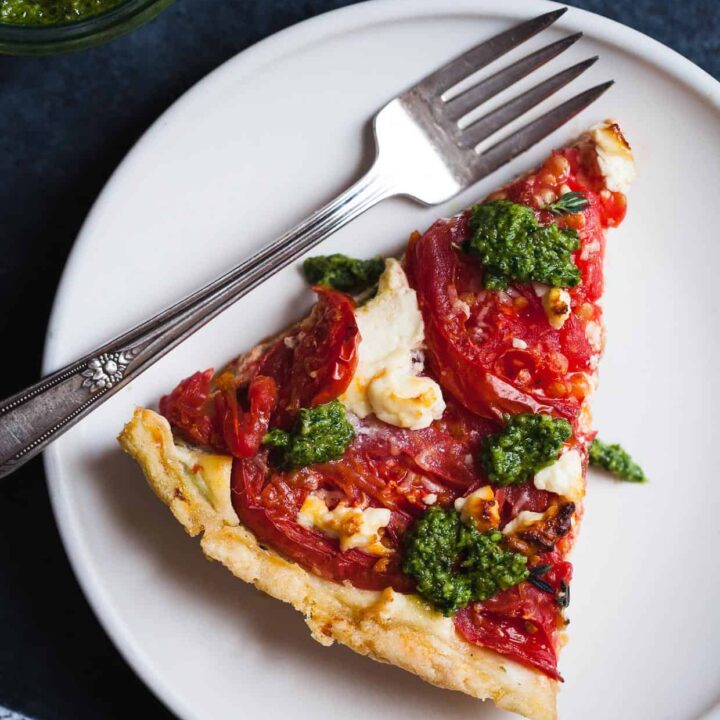 Ricotta Tomato Tart with Gluten-free Cornmeal Crust & Arugula Walnut Pesto
Ingredients
Gluten-free Cornmeal Crust
½ cup finely ground cornmeal
⅓ cup sweet rice flour (different from "white rice flour" or "brown rice flour")
¼ cup oat flour*
¼ cup tapioca starch
½ teaspoon xanthan
¼ teaspoon sea salt
1 teaspoon fresh thyme leaves
8 tablespoons cold, unsalted butter, cut into ½-inch cubes
6-8 tablespoons ice water
Ricotta Tomato Tart
5 medium-large ripe tomatoes (or 8-10 small tomatoes), sliced
1¼ teaspoon kosher salt, divided
12 ounces (1 ½ cups) whole-milk ricotta
4 ounces fresh French feta, crumbled & divided
1 large egg
1 tablespoon fresh thyme leaves, chopped, plus more for garnish
¼ teaspoon freshly ground black pepper
¼ cup freshly grated parmesan cheese
Arugula Walnut Pesto (or use ½ cup store-bought pesto)
1¾ cups baby arugula
½ cup extra-virgin olive oil
¼ cups packed fresh basil
⅓ cup chopped walnuts
¼ cup grated parmesan cheese
2 cloves garlic
¼ teaspoon salt
Instructions
Gluten-free Cornmeal Crust
Pulse together the cornmeal, sweet rice flour, oat flour, tapioca starch, xanthan gum, and salt in the bowl of a food processor. (If you don't have a food processor, you can whisk by hand).
Add the thyme and cold butter, but don't pulse. One tablespoon at a time, dribble ice water into the food processor, pulsing after each addition, until the dough holds together when pinched with your fingers. Add water until it just holds together, but is not sticky. If you need more water, add a teaspoon at a time. (If working by hand, mix the butter into the flour with your hands, breaking up the butter until the largest pieces are about the size of a pea. Mix in ice water, one tablespoon at a time, until the dough just holds together).
Form the dough into a flat disc and wrap in plastic. Refrigerate for 30 minutes to an hour.
Meanwhile, prepare the filling as directed below.
Lightly flour a piece of parchment paper with cornmeal and place the dough on top. With a second piece of parchment paper on top, roll the rough into a 13-inch round that will fit in your tart pan (If you don't have a tart pan, you can do it free form by folding the edges up over the filling like a galette). Remove the top piece of parchment paper and flip the round over into the tart pan, pressing down on the bottom and sides. Carefully peel back the second piece of parchment paper and trim/press the edges. Chill for 10 minutes.
Ricotta Tomato Tart
Preheat the oven to at 400ºF.
Spread the tomato slices out on a paper-towel lined baking sheet and sprinkle ½ teaspoon of salt over the top. Flip the tomatoes and sprinkle the other side with another ½ teaspoon of salt. Let sit for at least 15 minutes, but as long as an hour. Pat dry.
Mix the ricotta, 3 ounces of the feta, egg, thyme, ¼ teaspoon salt, and pepper until smooth (it's okay if the feta is a little clumpy). Chill while you prepare the pesto (below).
Spread ⅓ cup of the arugula walnut pesto into a thin even layer on top of the chilled tart crust.
Spread the chilled ricotta over the pesto and smooth out with a spatula.
Layer the sliced tomatoes over the ricotta filling.
Crumble the remaining feta over the tomatoes and sprinkle parmesan over the top.
Bake the tart until the crust and cheese are golden, about 50 minutes. Top with fresh thyme leaves and serve with dollops of pesto
Arugula Walnut Pesto
Place all of the ingredients together in a food processor and purée until smooth.
Taste and adjust salt, if needed.
Notes
**I make my own oat flour by grinding gluten-free oats in a blender or food processor and sifting out the large pieces
Thanks for reading Snixy Kitchen! To stay up on what's coming out of my kitchen, follow me on Facebook, Instagram, Twitter, Bloglovin', Pinterest, or subscribe via e-mail to get new recipes right to your inbox.