Maple sweetened puffed quinoa crumble studded with roasted macadamia nuts and candied ginger adds a spicy sweet tropical twist to your favorite tart & sweet yogurt bowl with blood orange supremes. Toss is over ice cream, pudding, or eat it by the handful as an addicting quick snack!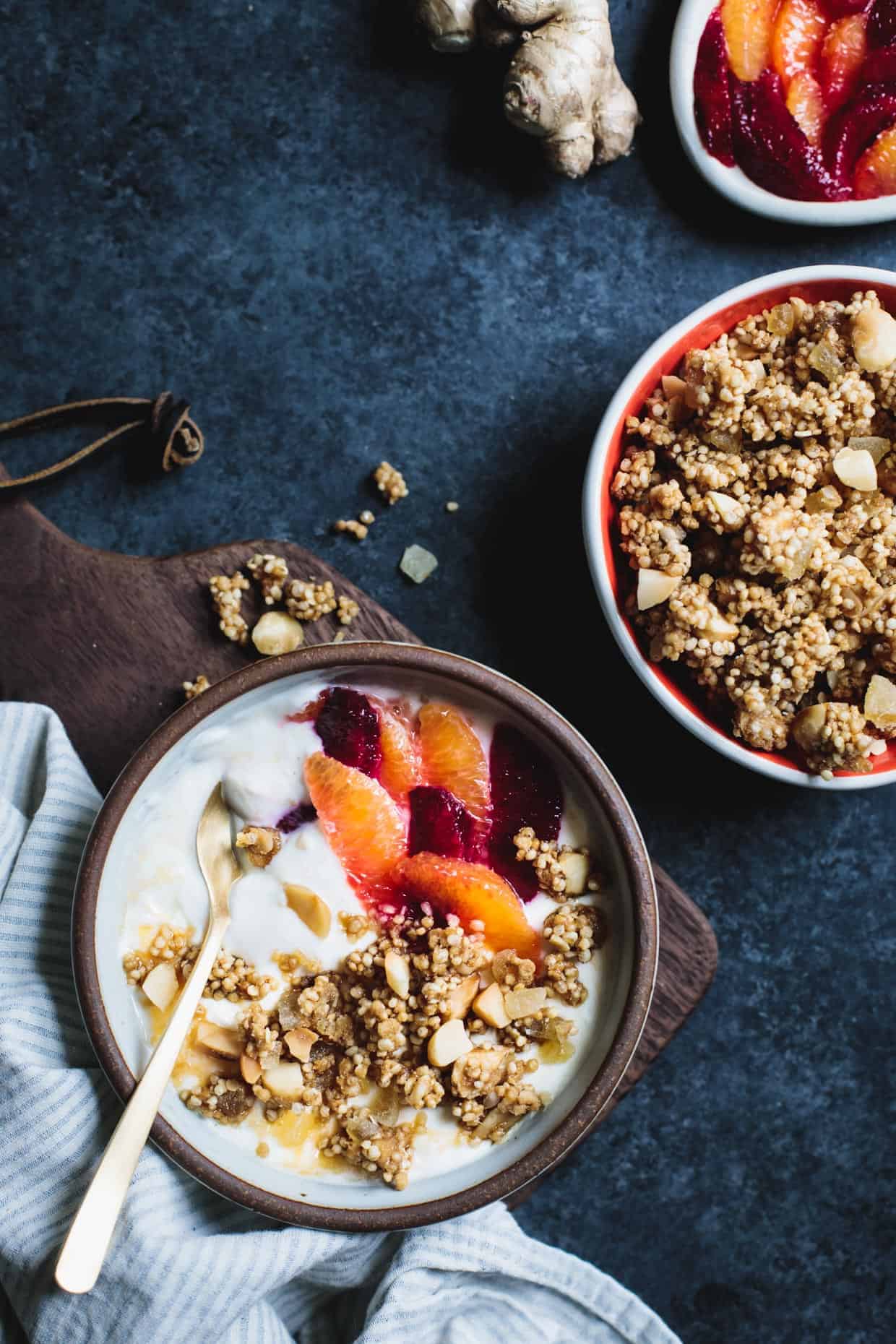 My tiny baby is turning one tomorrow, which I think officially expires the "I just had a baby" excuse from the arsenal of reasons why it took me a week to respond to your e-mail. While I still stink at e-mails, my goal of breakfast prep is alive and well. So when noosa reached out to try their new tart & sweet flavors, I wanted to create the perfect crunch to toss on top. I've been throwing homemade cardamom granola over yogurt bowls all January, but this puffed quinoa crumble filled with macadamia nuts and candied ginger is my latest yogurt topping anthem.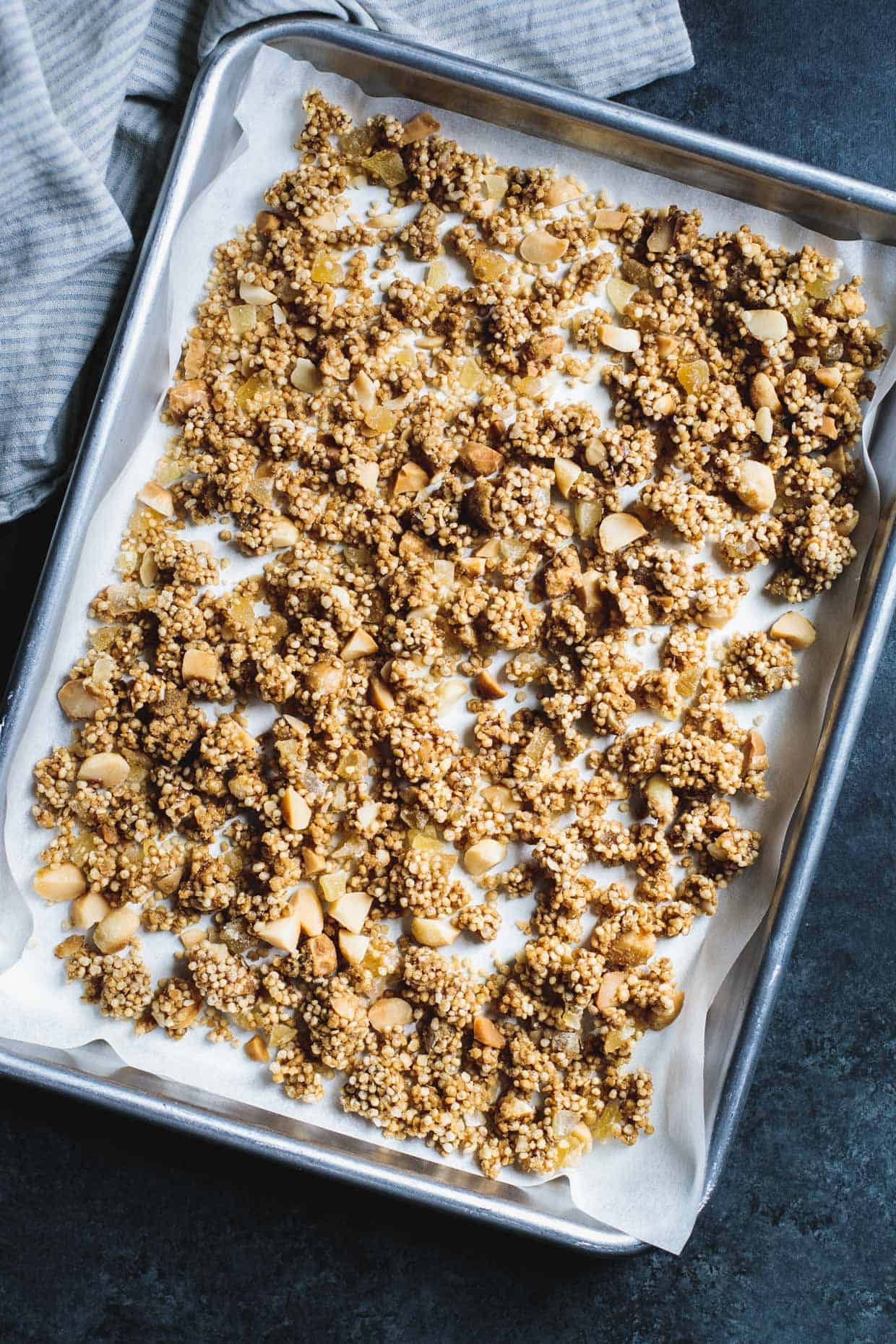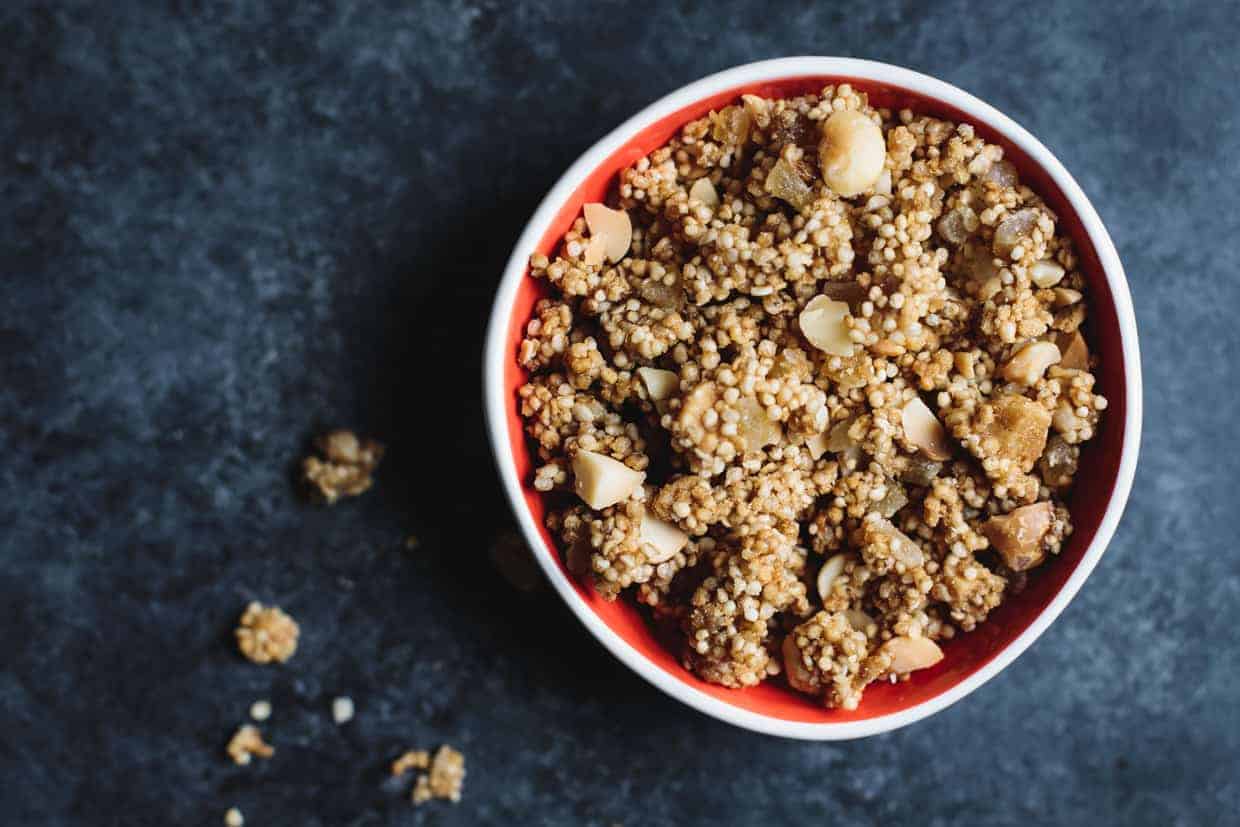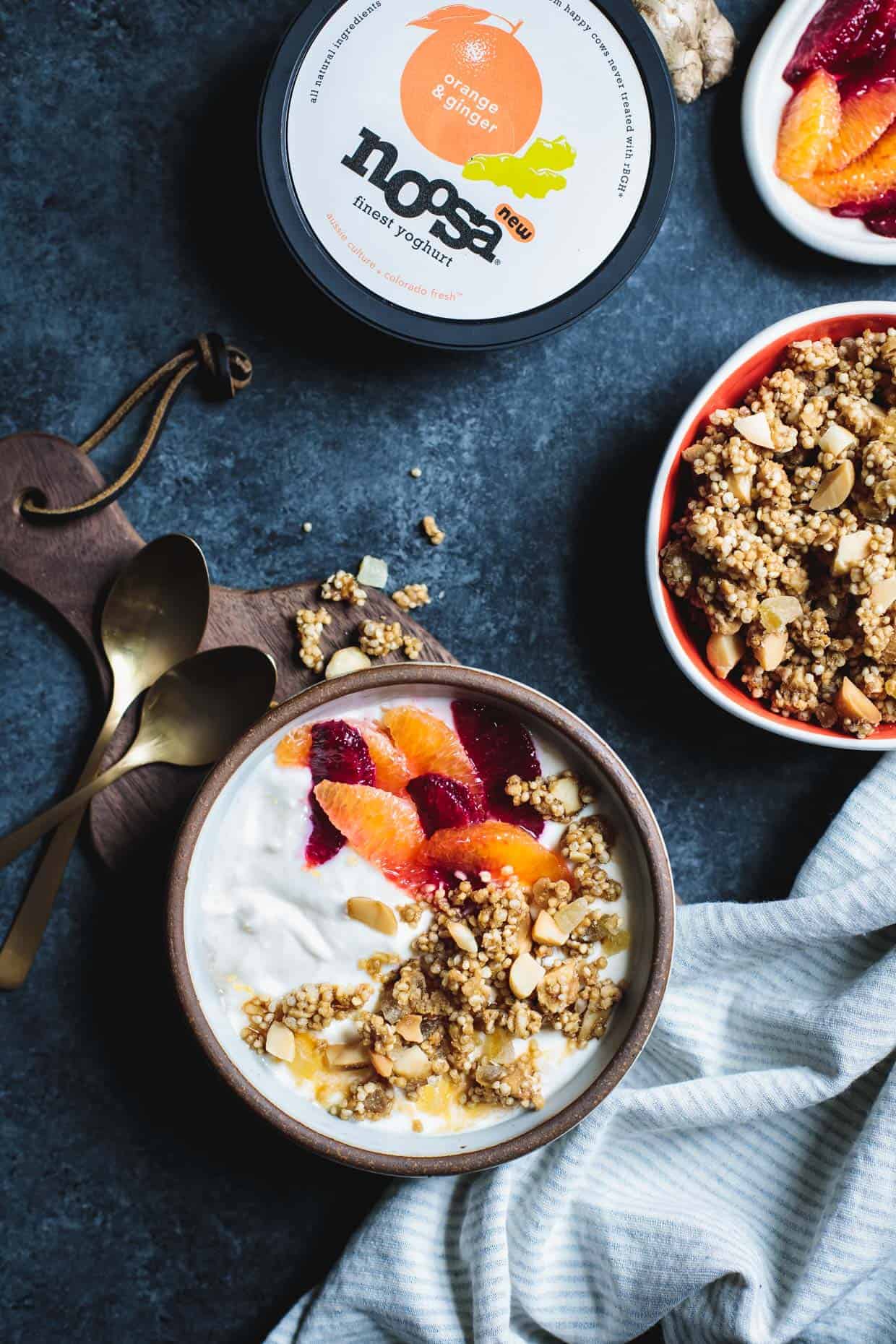 The maple sweetened crunch has creamy roasted macadamia nuts studded throughout with a spicy chewy ginger kick. Full disclosure, I'm also eating this stuff by the handful as a midday snack. As a topping for noosa yoghurt though, the tropical nuttiness of macadamia nuts pairs beautifully with the velvety tart plain yoghurt swirled with sweet oranges and minced ginger. The puffed quinoa crumble takes about 5 minutes to come together, so I anticipate many more batches, with variations to serve over their new strawberry & hibiscus and pear & cardamom flavors.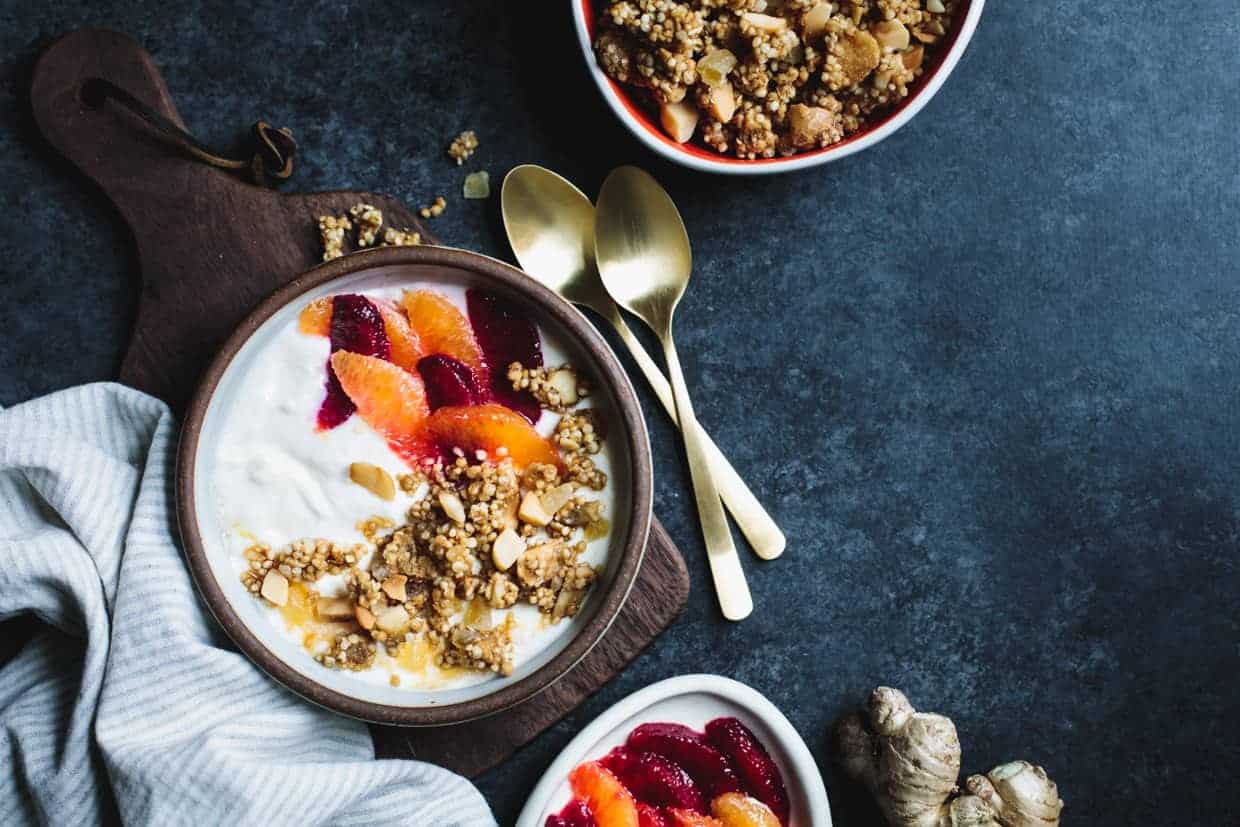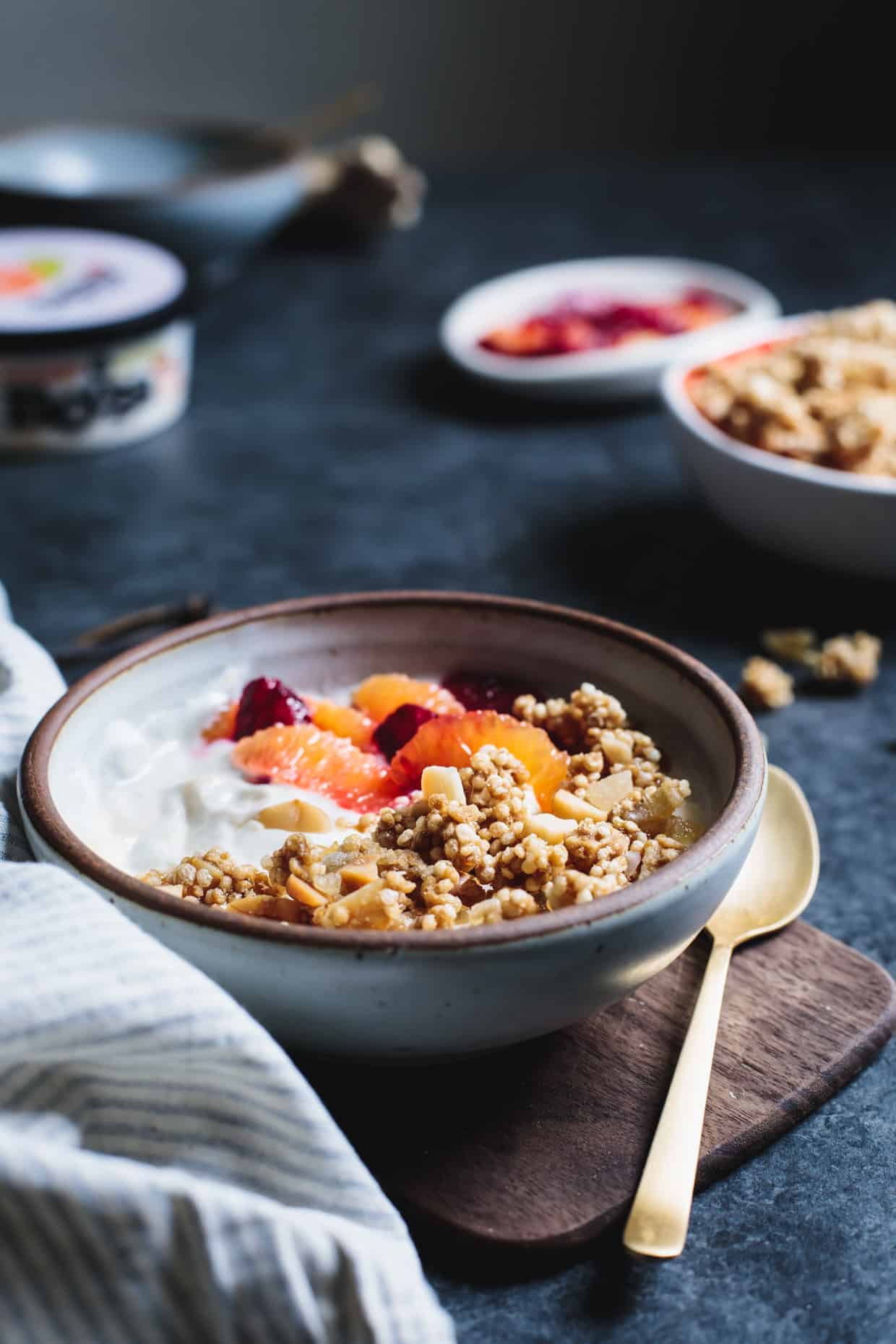 Mornings with this puffed quinoa crumble sprinkled over a bowl of orange & ginger yoghurt with fresh blood orange supremes are pretty great, save for the new phase of sassiness Zoella has entered. At just one year old, she's discovered that she can ruffle my feathers by tossing her yogurt on the floor, repeatedly, while staring me straight in eye AND SMILING as I sternly scold "no. don't do that."
The problem with her logic, though, is that she LOVES yogurt, so joke's on her*.
*I just have to calmly remind my grumpy self of this fact at 8am when I'm texting Lucas, "I'M LOSING IT ALREADY."
My parents are laughing right now. My dad's favorite story to tell is from my middle school years when both my mom and I would angrily call him at the same time, "Sarah/Mom is crazy - you have to do something about your daughter/wife!" The parallels are not lost on me and surely I deserve yogurt on the floor every morning as some kind of cosmic retribution. We are peas in a pod, so I'm anticipating approximately 17 more years of yogurt-covered floors.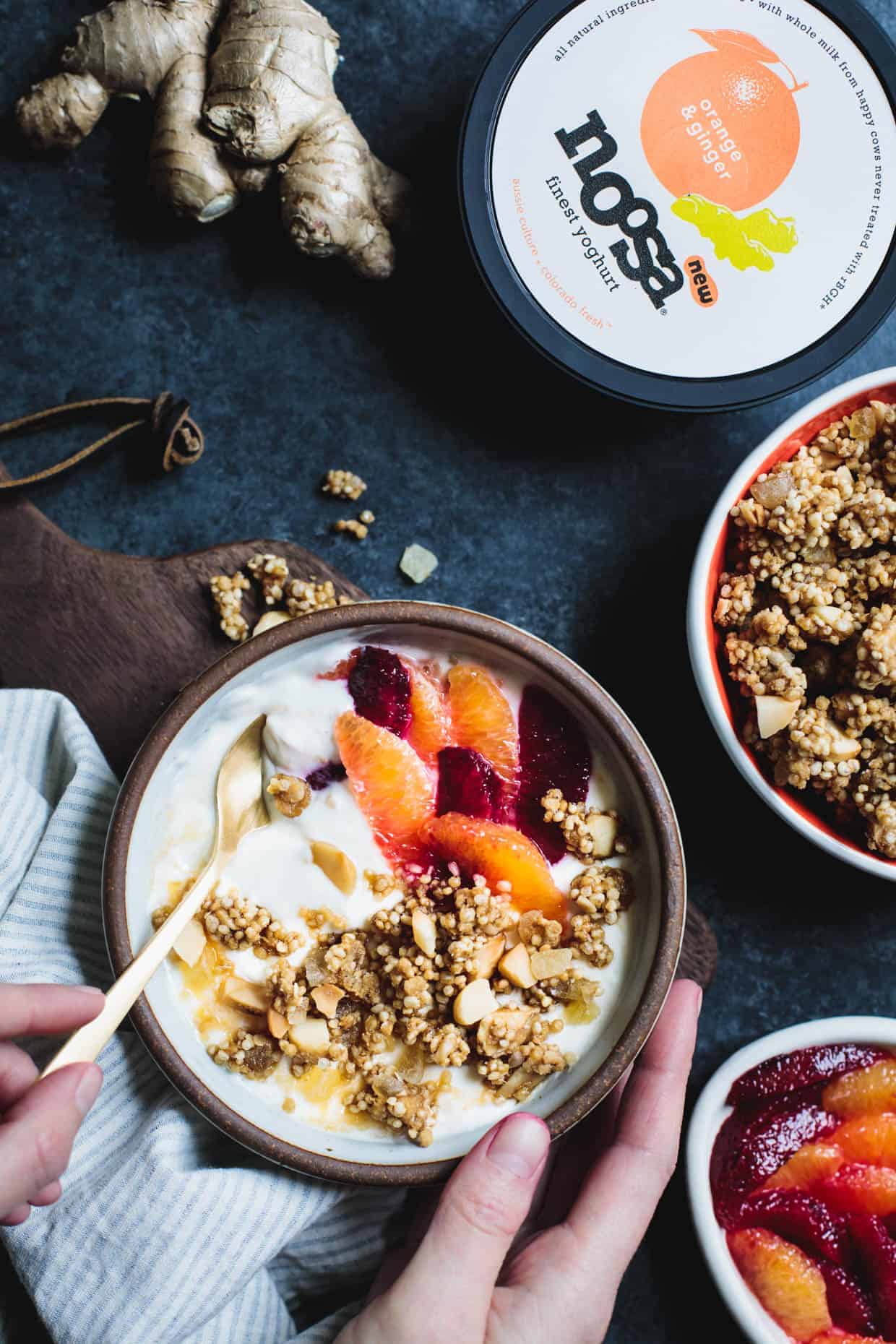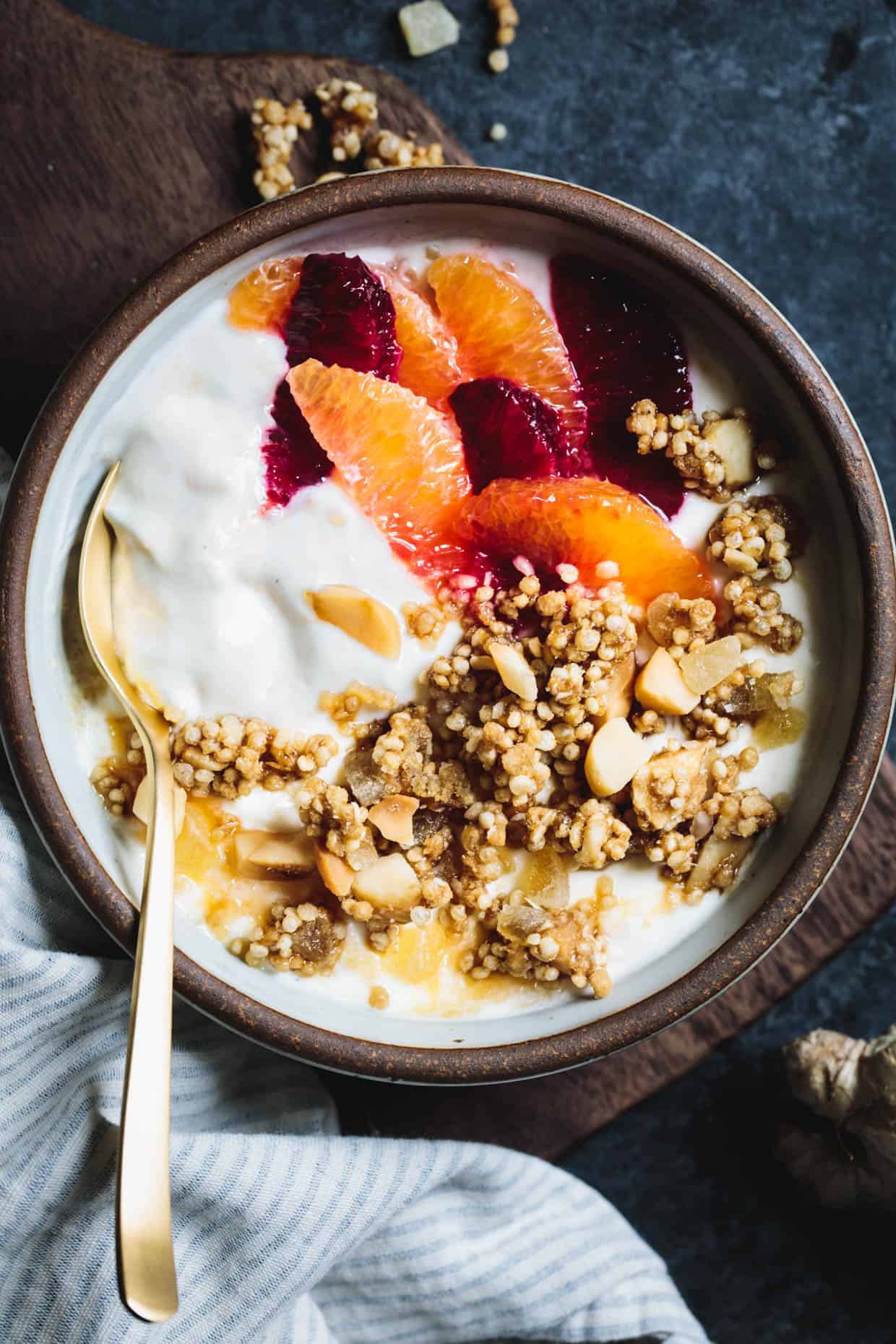 In the meantime, you can find me practicing my do-not-react calming techniques over my own bowl of noosa topped with puffed quinoa crumble.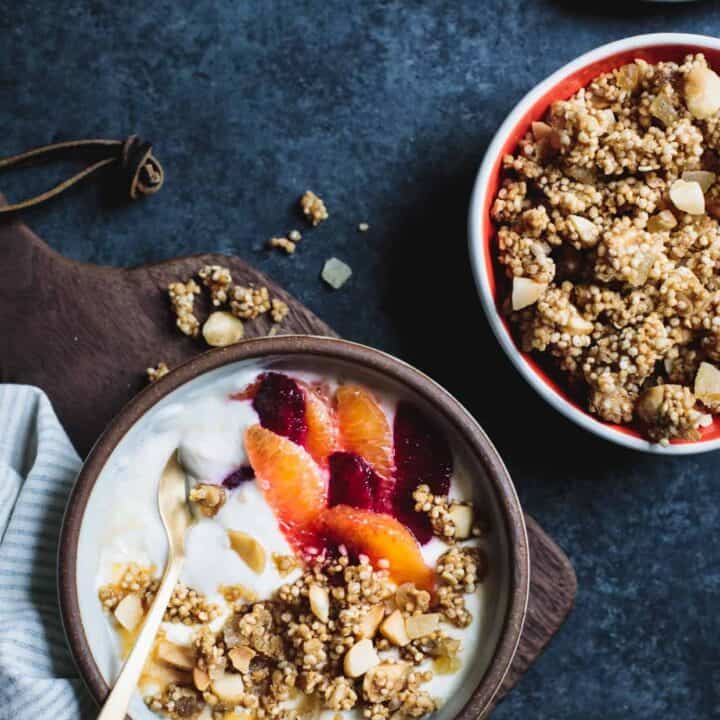 Puffed Quinoa Crumble with Macadamia and Candied Ginger
Ingredients
¼ cup chopped candied ginger (into ⅛-1/4 inch cubes)
½ cup macadamia nuts (if roasted, skip the roasting step below)
¼ cup pure maple syrup
2 tablespoons dark brown sugar
1 pinch baking soda
1 pinch salt
Optional, for serving:
Instructions
Preheat oven to 375°F.
Place the puffed quinoa and candied ginger in a medium bowl and set aside.
On a baking sheet, roast whole macadamia nuts until golden and fragrant, about 8-10 minutes. Coarsely chop.
Add the macadamia nuts to the bowl with the quinoa and ginger. Toss and keep nearby.
Line a large baking sheet with parchment paper or a silpat mat. Keep nearby.
In a small saucepan, bring maple and brown sugar to boil over medium heat, stirring occasionally. Continue cooking, stirring, for 2-3 minutes until it foams up, gets dark and smells fragrant, but does not burn.
Add the baking soda and salt and pour into the puffed quinoa bowl, tossing quickly to thoroughly coat the cereal. Spread the mixture onto the prepared baking sheet to cool completely. It should get crispy once it cools, but if it's not crispy enough for your taste, pop it in the oven at 375 for 5-10 minutes and let cool again!
Serve over a bowl of yoghurt with blood orange supremes.
Disclosure: Special thanks to noosa for sponsoring this post! And thanks to you for supporting the companies that keep Snixy Kitchen cooking!