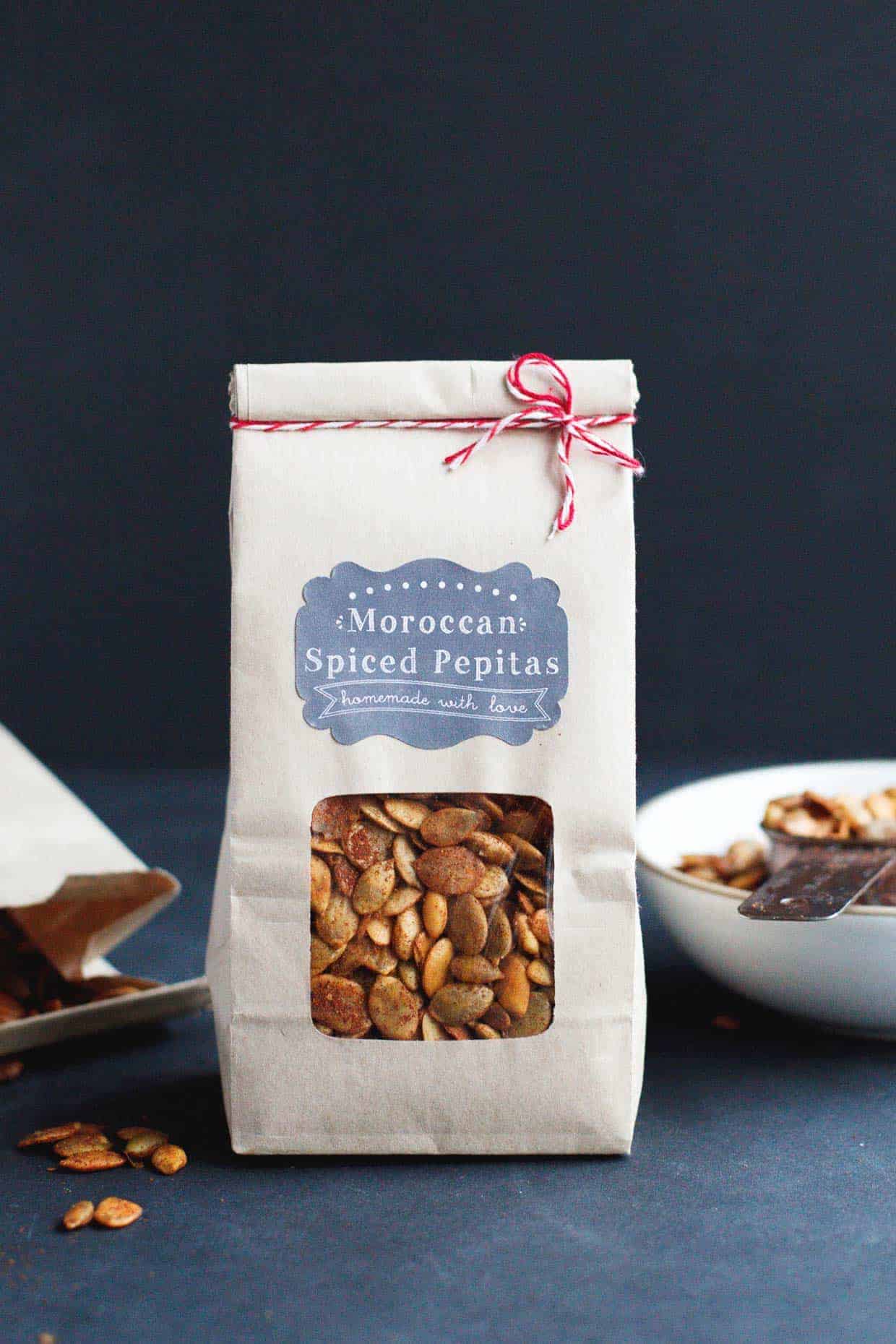 My mom texted me last week to brag that she Santa's got all of his stocking stuffers wrapped. Tonight she posted pictures of homemade sugar cookies with neon icing on Facebook. Overachiever.
Even though I've been daydreaming with The Kitchen Lover's Gift Guide I posted earlier this week, in reality I've done no holiday shopping yet this year. And absolutely no baking since Thanksgiving - unless you count these healthy nutella truffles, which you shouldn't because they don't actually require an oven. I have about a week left to get my butt in gear or else...can I bring a bag of these Moroccan spiced pepitas to our annual family white elephant gift exchange? Someone brought homemade peach moonshine last year, so I think it's probably a safe choice.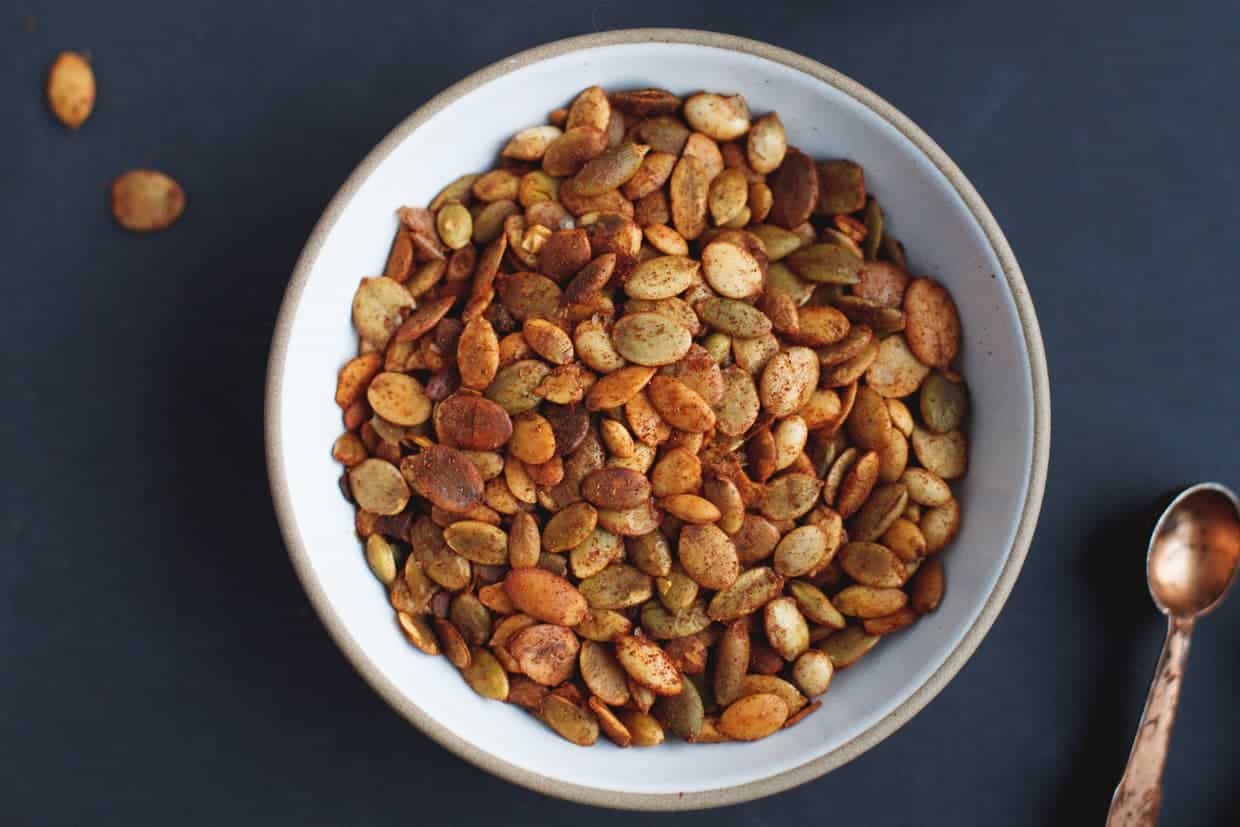 Alright, so maybe I am more prepared than I let on. With a jar of this walnut cocoa brownie mix and a bag of these Moroccan spiced pepitas labeled and ready to go, I've got two people crossed off my gift list. Not to spoil the surprise, I'll keep you guessing who these spiced pepitas are heading off to (could it be you?).
There's a wide variety of spices used throughout Morocco, and using many different spices to create a flavorful dish is common, according to Christine Benlafquih. The spices used on these pepitas are pulled from many of the common ground spices used in ras el hanout in Moroccan cooking. Feel free to add different spices - look to Christine Benlafquif for inspiration on common spices used in Moroccan cuisine!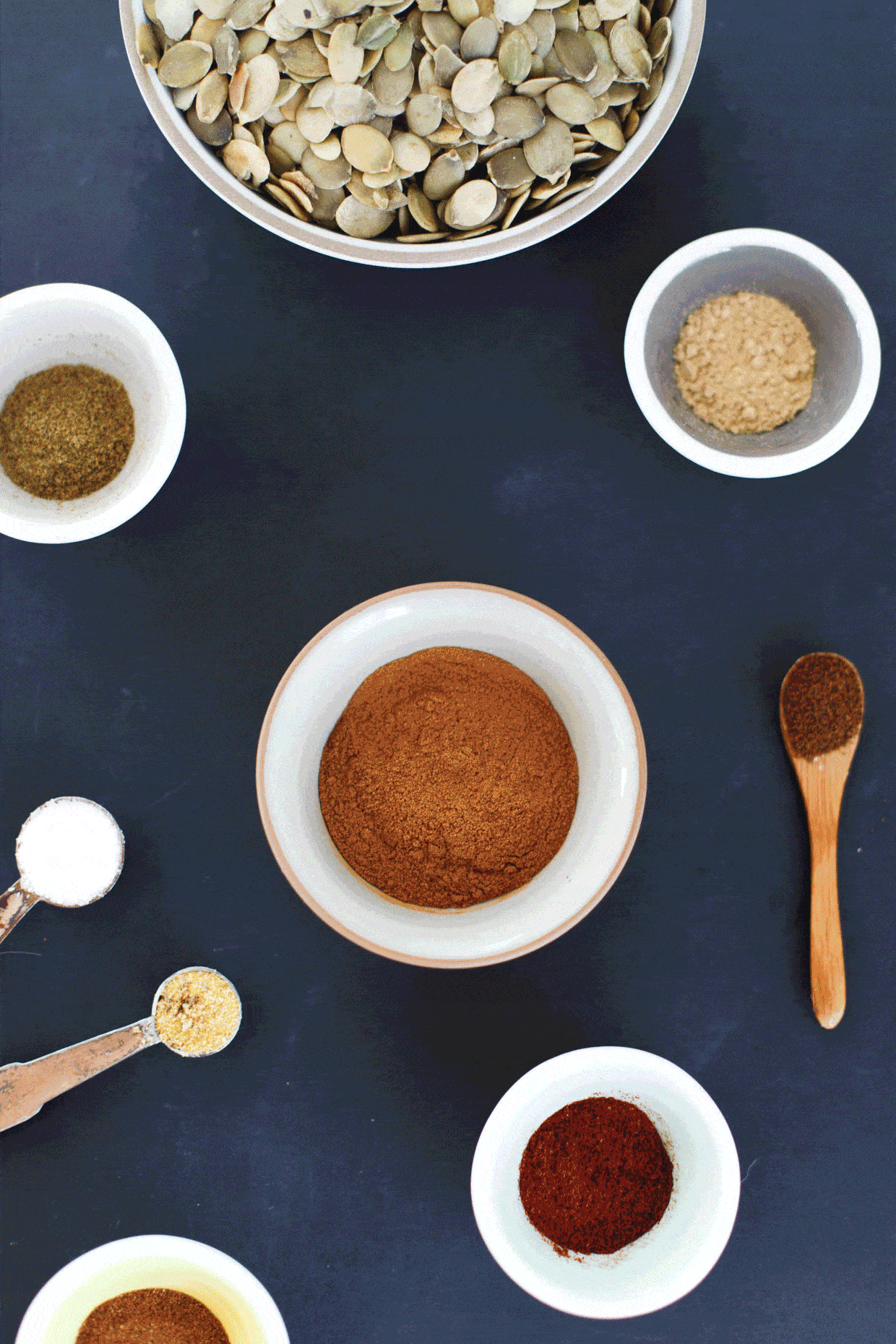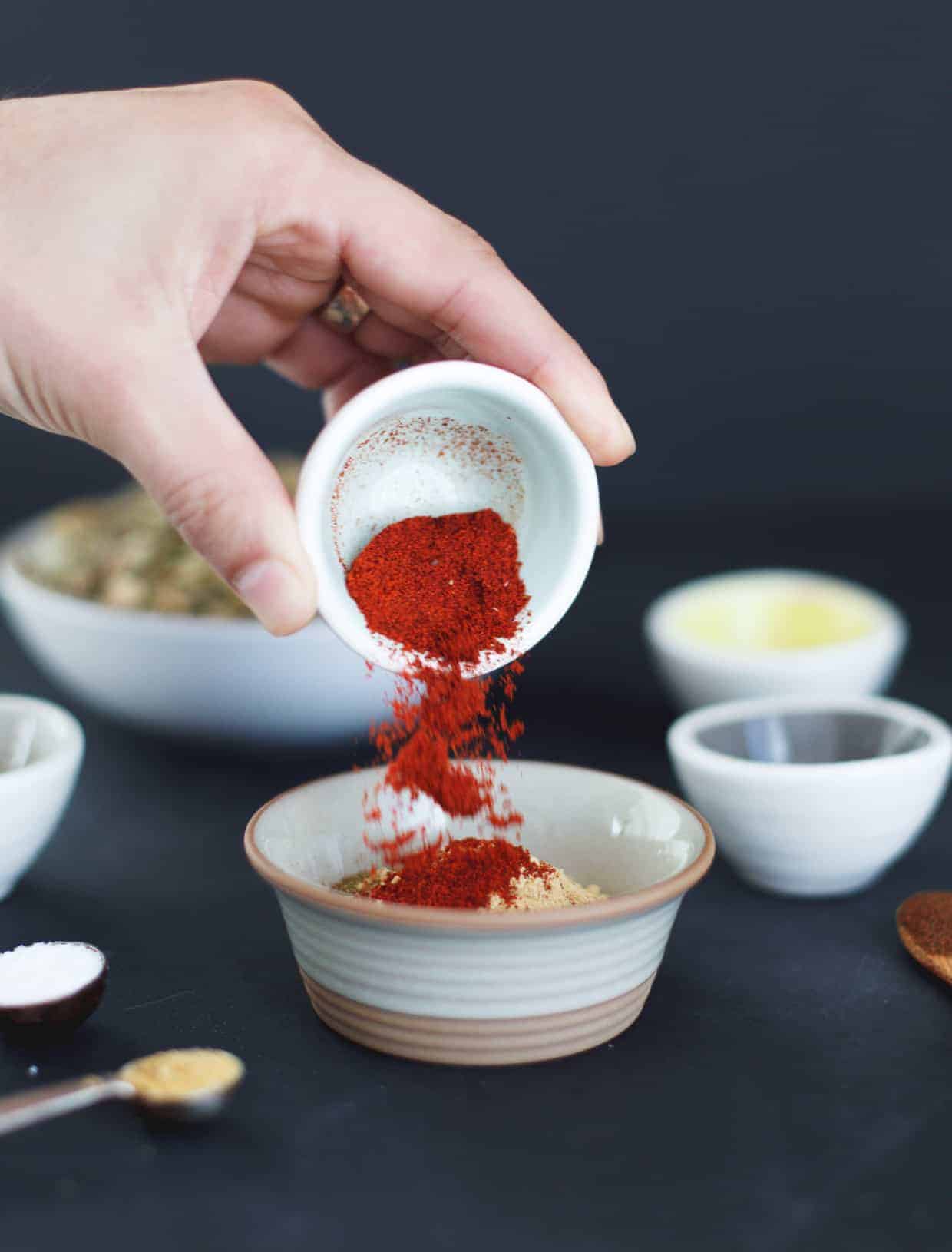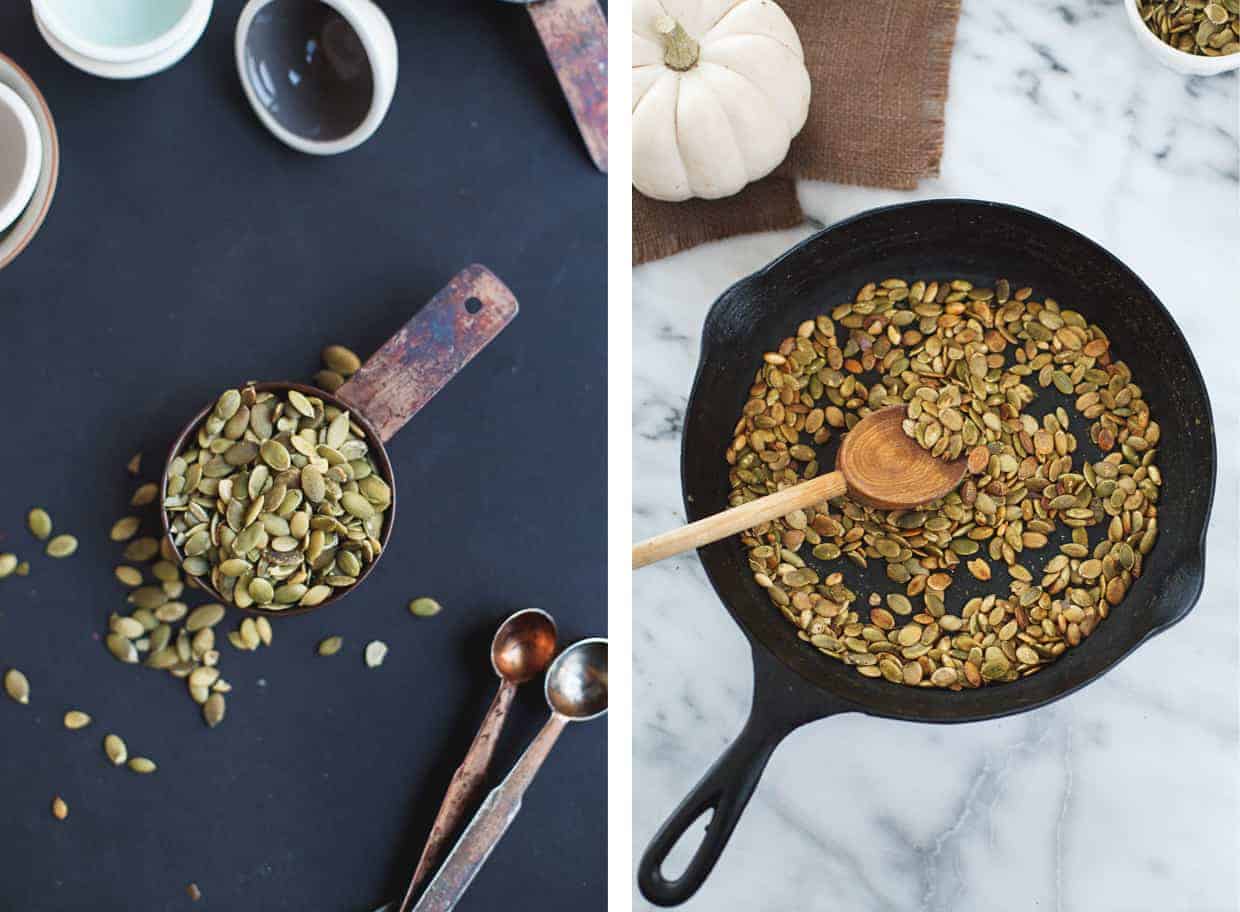 Back when Phi and Alanna came over to grind everything in sight into flour, we served up a mixed green and persimmon salad on the side of our homemade chickpea ravioli. Phi sprinkled a few spiced pepitas on top that she whipped up so quickly we didn't even see what went into the pan, except I overheard her mutter "lemon pepper" under her breath. The pepitas were the star of the salad.
For pasta night take two, Alanna brought over some fresh market greens and another sweet fuyu persimmon. She toasted a pan of pepitas, guessing at what spices might have gone into Phi's rendition. Unfortunately for her, our DIY spice rack still uses a super-effective 3-year-old post-it note labeling system, and she mistook the cayenne for paprika, adding a heaping fiery spoonful to the bowl.
Her seeds could make a strong man sweat, but don't think for one second that stopped us from scattering them over our salad.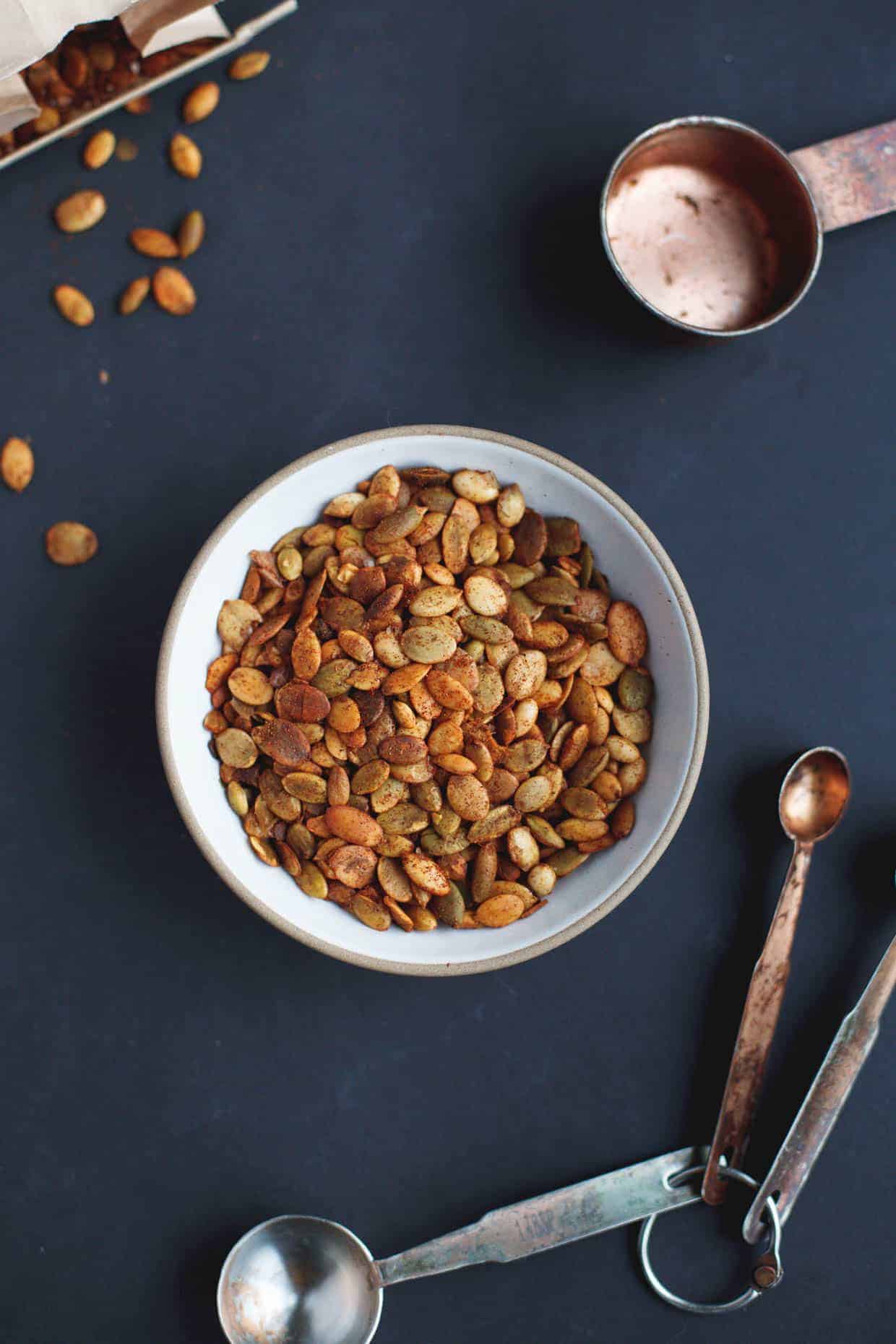 The recipe here pulls inspiration from Moroccan cuisine, known for its rich uses of spices. Pulling from that for inspiration, I mixed in holiday-inspired cinnamon, nutmeg, and ginger with more savory cumin and paprika, for a simple snack with layers of spices. While we've been nibbling on handfuls and tossing them on all of our salads of late, they pair most beautifully with the subtle sweetness of a crisp fuyu persimmon and a tart dab of goat cheese over a bed of balsamic-kissed greens.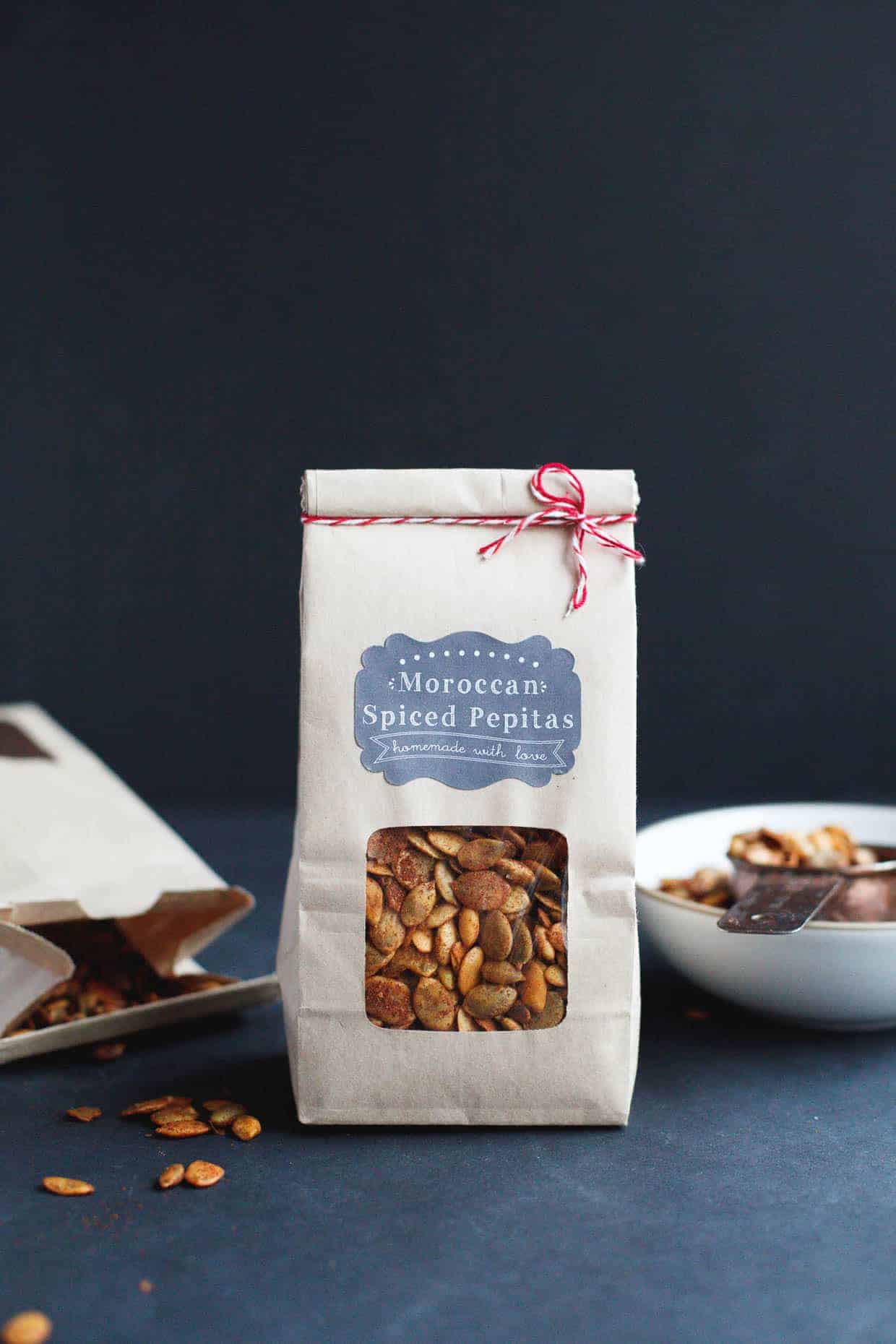 For a super quick and easy holiday gift, bag them up and slap one of these printable labels on the front.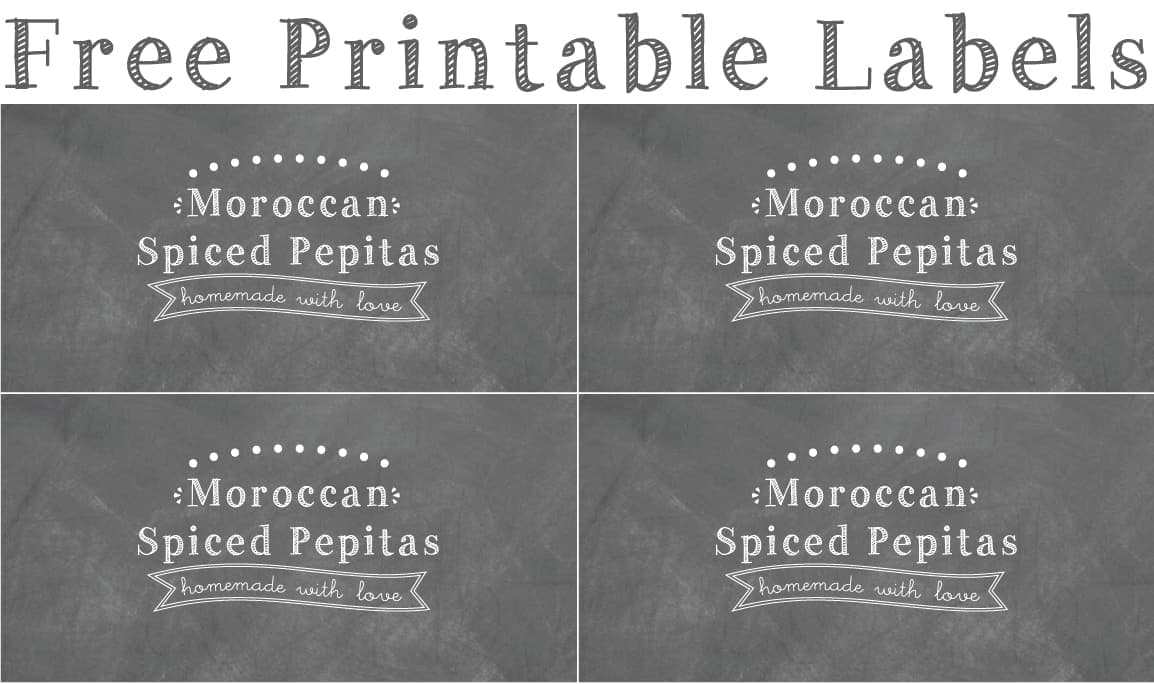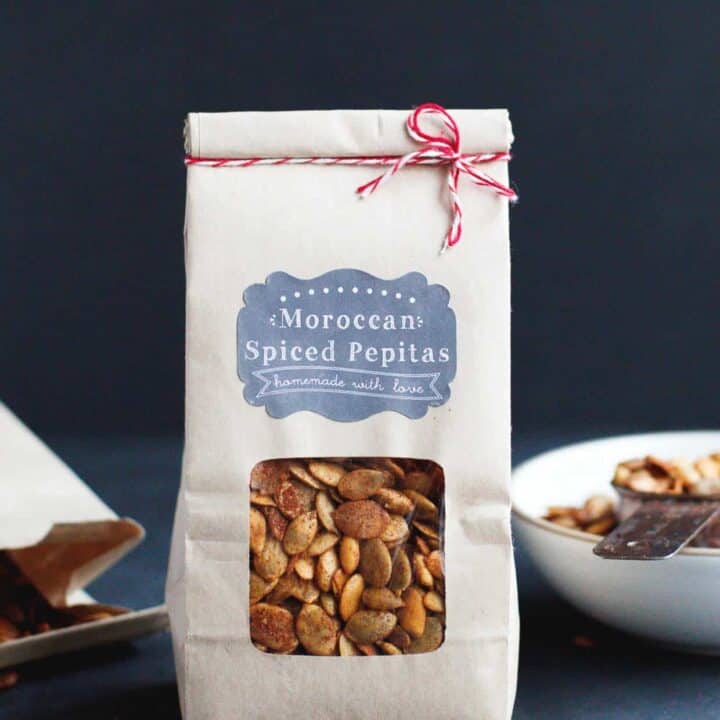 Moroccan Spiced Pepitas
Yield:
2 cups (1 medium gift bag)
Ingredients
1 teaspoon olive oil
1 tablespoon cinnamon
1½ teaspoons ground nutmeg
1 teaspoon paprika
1 teaspoon cumin
1 teaspoon dried ginger
¼ teaspoon cloves
¼ teaspoon lemon pepper
½ - 1 teaspoon kosher salt
Instructions
Mix all of the spices together in a medium bowl.
Toast the pepitas in a cast-iron skillet, stirring constantly, until lightly browned, about 5-8 minutes.
In a medium bowl, toss the warm toasted pepitas with 1 teaspoon of olive oil.
Add the spices and toss to coat. Let rest until cooled completely.
Transfer to paper bags to store for up to a month.
Serving suggestions: Eat them by the handful (yum), or toss on top of a salad with mixed greens, fuyu persimmons, goat or feta cheese, and a splash of balsamic.