These healthy tahini gluten-free banana muffins with chocolate chips are naturally sweetened and packed with protein. They're tender and moist with a chewy crumb and just the right amount of chocolate. Unlike those cakes masquerading as muffins, these nut-free, refined sugar-free, and gluten-free banana muffins are the perfect morning bite.

Do you ever feel like you're so behind on absolutely everything that there's just no way you can ever catch up?
I remember this notion so distinctly in college. There literally weren't enough hours in the day to do all the assigned reading, and I just accepted that as a fact of college. I'd think, "As soon as I graduate, I'll feel a huge weight lifted off my shoulders. Just get through this."
That was a pipe dream. Each phase of life makes way for a new stage, each with its own overwhelming sense of never-ending to-do-lists. Over and over again, I promise myself that there's an end in sight. Now that I'm a grown-up with kids and bills, though, I'm realizing that's just life. Last month, I vowed to be a new person as soon as our home remodel construction was over. And I am, but that milestone passed with a different phase of busy taking its place. And so it goes.
Tahini Gluten-Free Banana Muffins with Chocolate Chips
These banana tahini muffins seem like just the breakfast recipe to mark the transition between phases. Just as construction wrapped up, these muffins were the last recipe I shot and shared with the contractors and painters. And with the remodel (nearly) finished, I've been sitting on this tahini chocolate chunk muffin recipe for a month. There still aren't enough hours in the day.
A batch of make-ahead grab-n-go healthy breakfast muffins is giving me life right now.



What makes these banana chocolate chip healthy muffins?
These gluten-free banana muffins really are the ideal healthy breakfast muffin. They're rich in nutrients, whole grains, and protein.
Let's be honest. Most of the time, muffins are really just an excuse to eat cake for breakfast. If you compare recipes between most bakery muffins and cupcakes, the sugar amount between the two is not significantly different, save for the frosting. (Though, mom-tip: top these muffins with a maple-sweetened cream cheese frosting or this refined sugar-free chocolate buttercream and call them cupcakes!).
For these muffins, I wanted a recipe I could confidently serve my kids for breakfast, knowing it wouldn't give them a sugar high followed by sugar crash an hour later. And yet, they're still indulgent and rich in flavor. Mom-tip #2, I leave the chocolate out when I'm baking these to bring for preschool snack.
Banana Bread Choc Chip Muffins
For these banana bread style muffins, I used chocolate chunks because I like how melty and gooey the chocolate gets when the muffins are warm. That being said, I've also made them using dark or semisweet chocolate chips with equal success! Use what you've got on hand.
Just remember, if you're aiming for the muffins to be entirely refined-sugar free, look for a chocolate bar or chocolate chips sweetened with coconut sugar or other refined sugar-free sweeteners. Or leave the chocolate out entirely!
And if bananas aren't your thing?
I've tested these healthy banana chocolate chip muffins with date paste in place of the banana puree. It's equally delicious, though ever-so-slightly more moist/dense, with the tahini taking a starring role.



Gluten-Free Coconut Flour Banana Muffins
Thanks to coconut flour and oat flour, these muffins are rich in fiber and whole grains. Coconut flour makes a great pairing for banana and maple-sweetened desserts because of its hygroscopic nature - it absorbs the extra liquid, keeping the muffins from becoming too dense from moisture.
Paired with oat flour for cakiness and sweet rice flour for chew, these three flours create a muffin that's simultaneously moist, soft, cakey, and chewy.
Banana Protein Muffins with Tahini
Adding nut butter to muffins is a great way to pack in extra protein, but when you need a nut-free school-safe alternative, tahini swoops right in. Its toastiness adds a subtle nutty note that's warm and comforting, especially when paired with dark chocolate. The protein boost is just a bonus.
Think peanut butter and banana toast drizzled with chocolate, but a thousand times more sophisticated. And good for you to boot!

More Chocolate Tahini Desserts
More Banana Desserts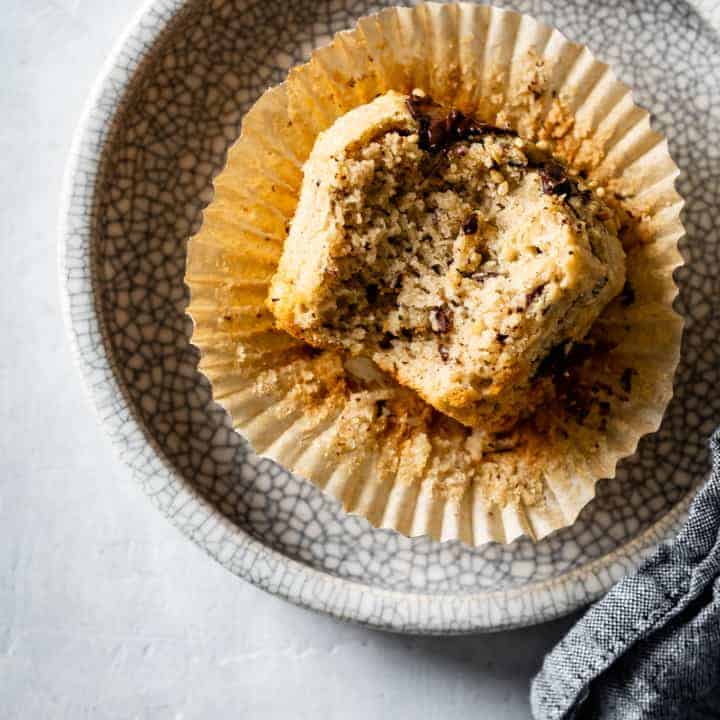 Tahini Gluten-Free Banana Muffins with Chocolate Chips
Packed with protein, these gluten-free tahini banana muffins with chocolate chips are made with tahini. Sweetened only with bananas and maple syrup, these are muffins made to start your day.
Instructions
Preheat oven to 350°F and line a muffin tray with 11 liners.
In a glass mixing cup, mix together milk and vinegar and set aside.
In a medium mixing bowl, whisk together coconut flour, sweet rice flour, oat flour, baking powder, baking soda, and salt.
In the bowl of a stand mixer fitted with the paddle attachment, or a large mixing bowl with a hand mixer, mix together tahini, oil, banana, maple syrup, and vanilla until smooth. Add eggs and mix until just combined.
With the mixer on low speed, add the dry ingredients in 2 parts, alternating with the milk. Fold in the chocolate chunks, reserving a few large chunks to put on top.
Divide the batter evenly among 11 muffin cups. Press a few chunks into the top of each muffin and sprinkle with sesame seeds.
Bake for 24-26 minutes, until lightly golden brown and a toothpick inserted into the center comes out clean. Let cool for a few minutes in the pan before carefully transferring to a wire rack to cool until ready to serve.
Serve warm or store in an airtight container for up to 3 days.
Notes
*Alternatively, if you don't love bananas, you can sub out the banana puree for date paste (how to make date paste here!). The muffins will be slightly more dense/moist, but very subtly so!