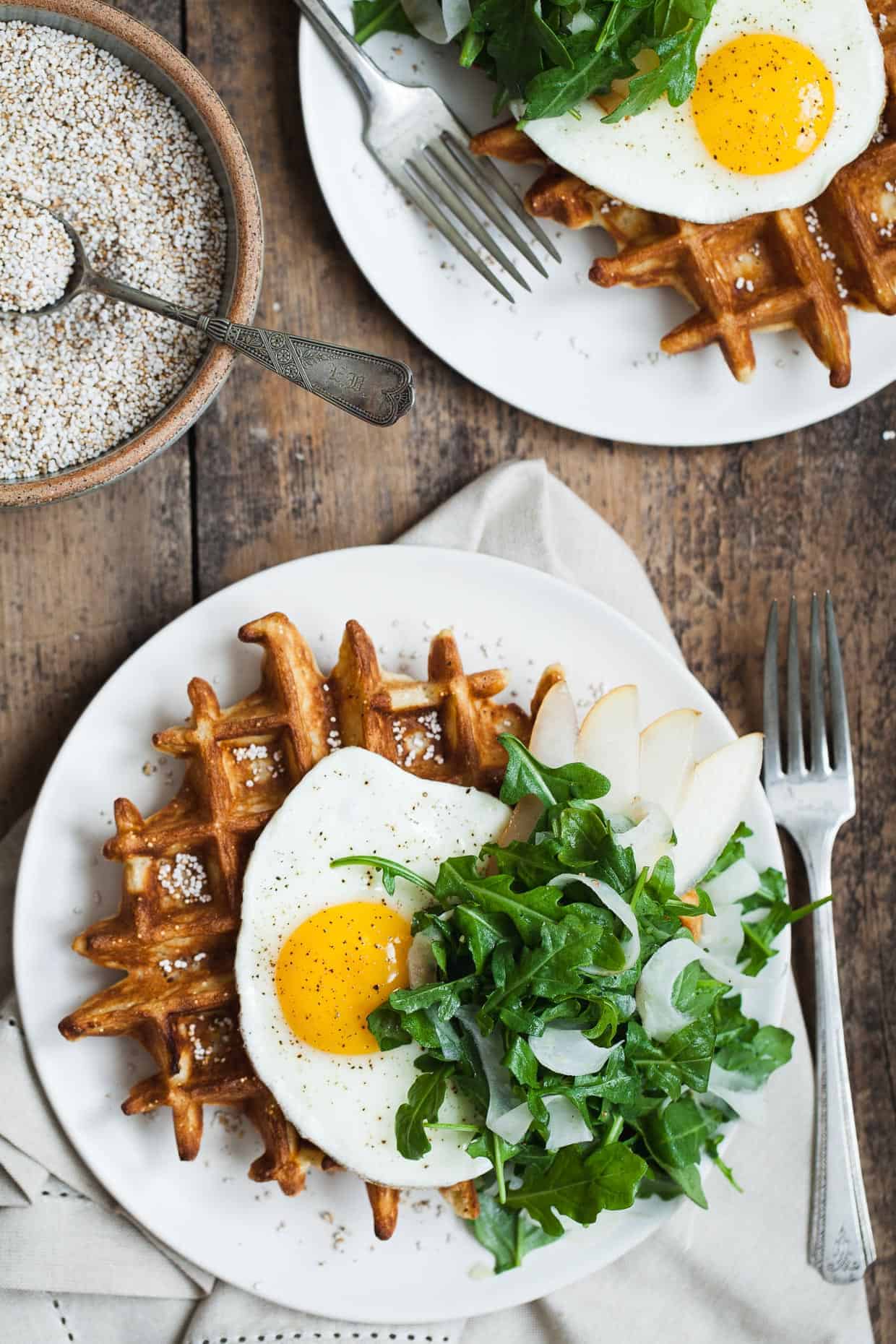 I wanted to wax poetic about these gluten-free savory amaranth waffles because they deserve a sonnet, but then I sliced open the tip of my index finger on the blade of the food processor today, which is proving challenging for typing. These waffles though.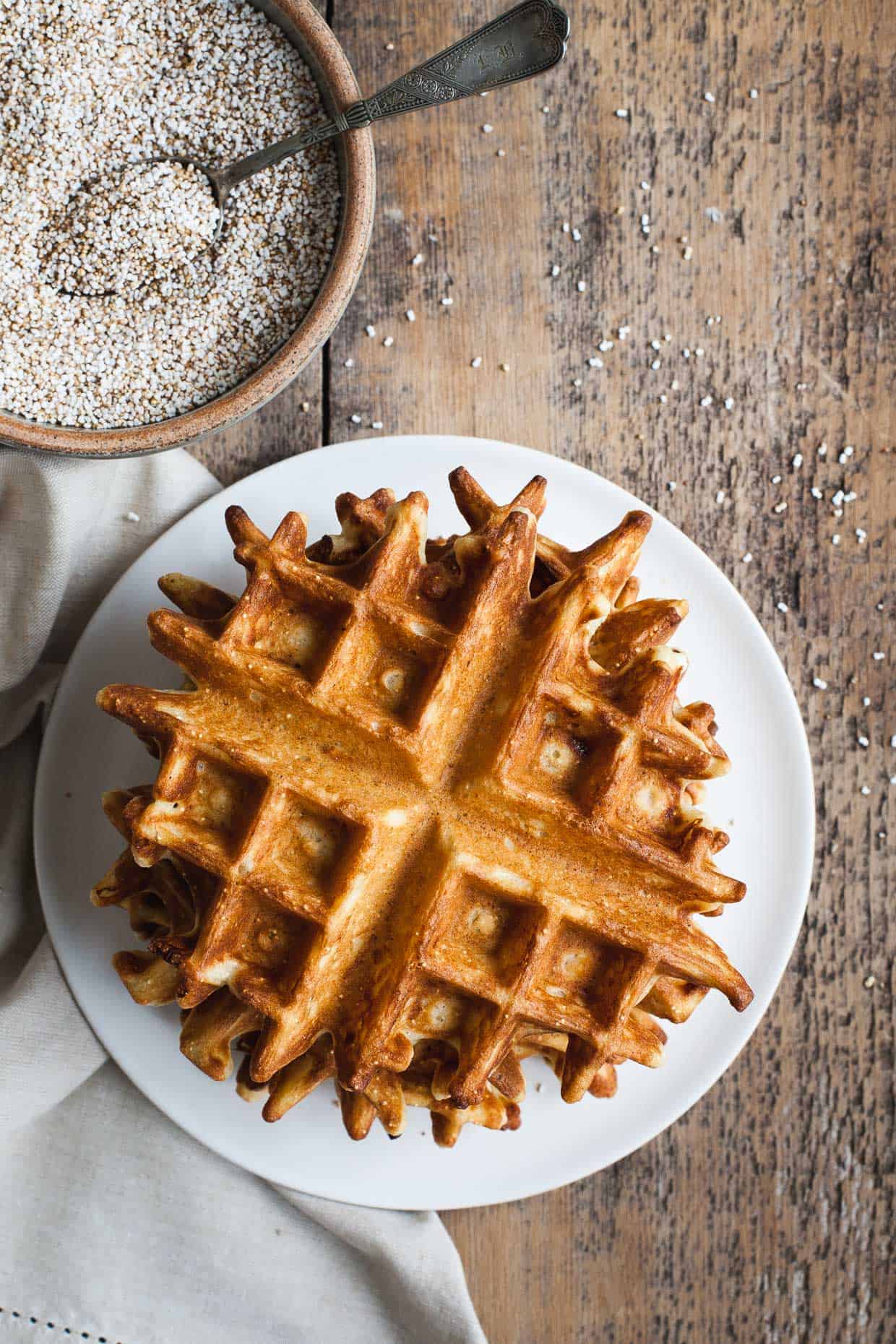 I've been hatching this savory waffle recipe ever since this epic waffle from Birchwood Cafe on our trip to Minneapolis earlier this summer. That gluten-free waffle was made of quinoa with each quarter donning distinct toppings: runny egg, chive butter with greens, bacon with syrup, and a sweet chutney with powdered sugar.
While quinoa tried to lure me in, Alanna's new cookbook Alternative Baker told me that amaranth is more exciting and complex. Move over, quinoa, there's a slimmer sexier whole grain in town.
Meet my new cooking date: amaranth.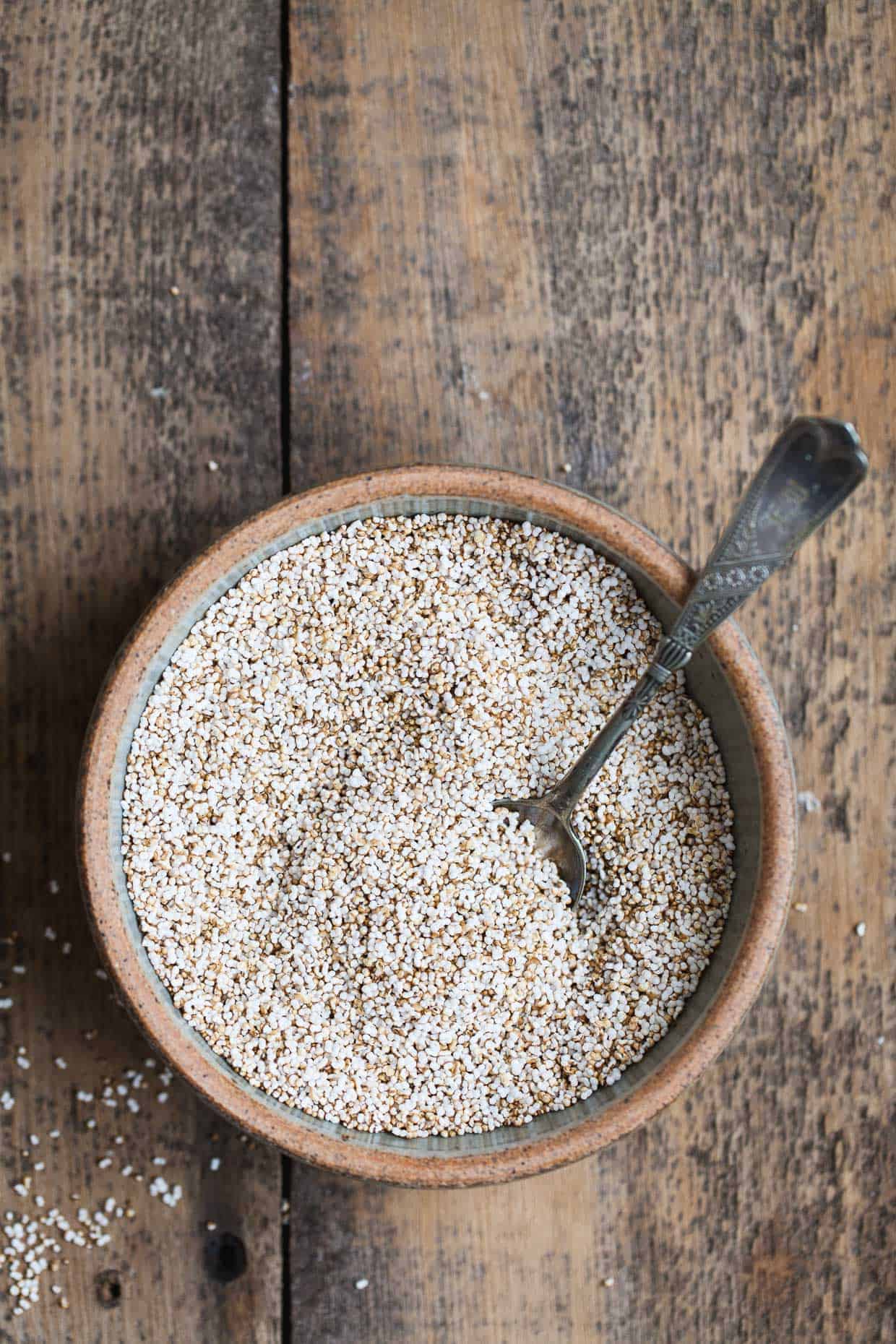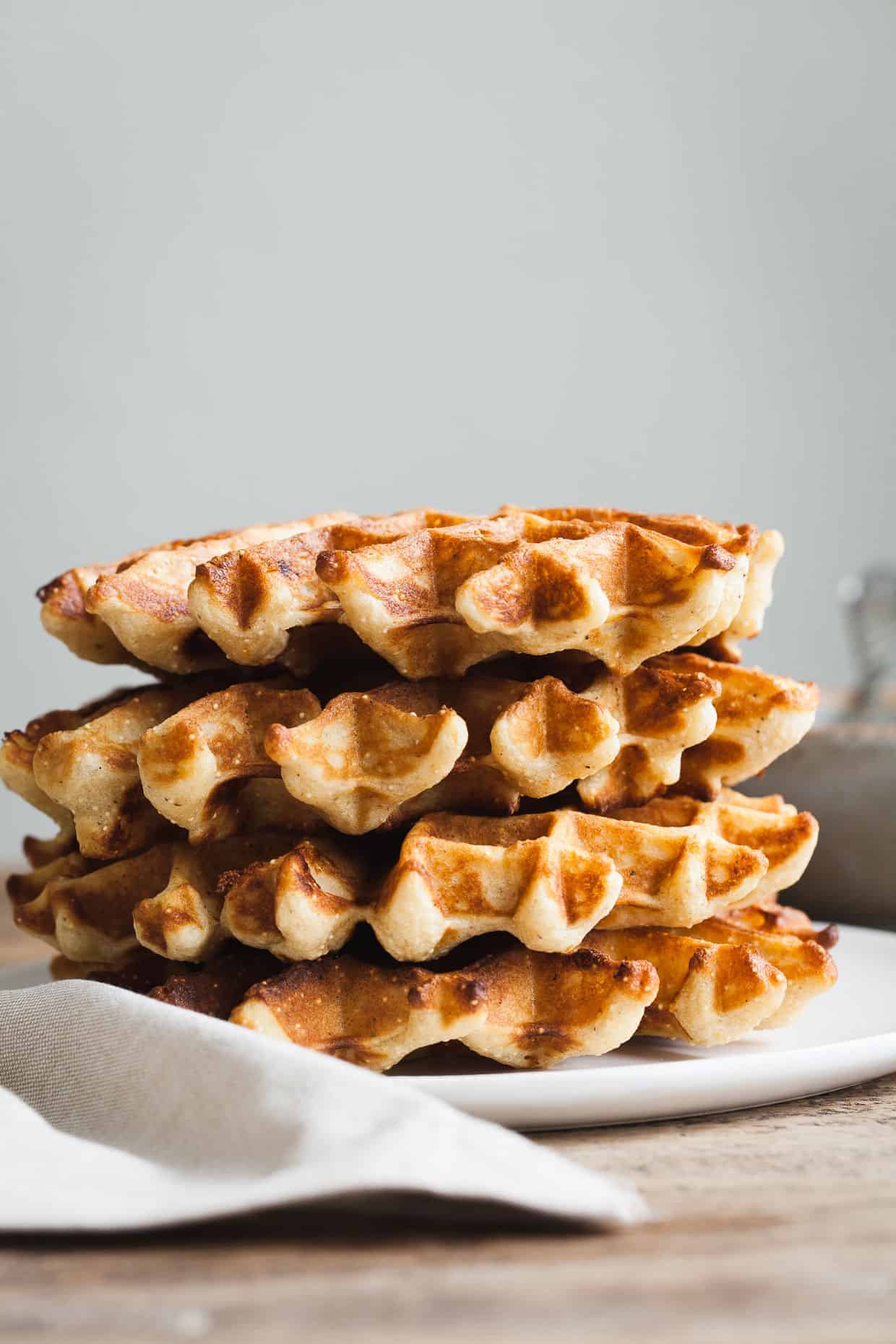 This itty-bitty ancient grain is a powerhouse for nutrition. It contains complete protein - more than almost any other grain - and is high in fiber and iron. Like quinoa, amaranth is praised as a superfood. These waffles are a nutritional beast!
Amaranth flour adds an earthy nutty flavor that pairs perfectly with this savory waffle rendition. The waffles are crispy on the outside, fluffy inside, and have whole grain amaranth and crumbled feta folded into the batter to add surprising crunchy bits and pockets of creamy tang!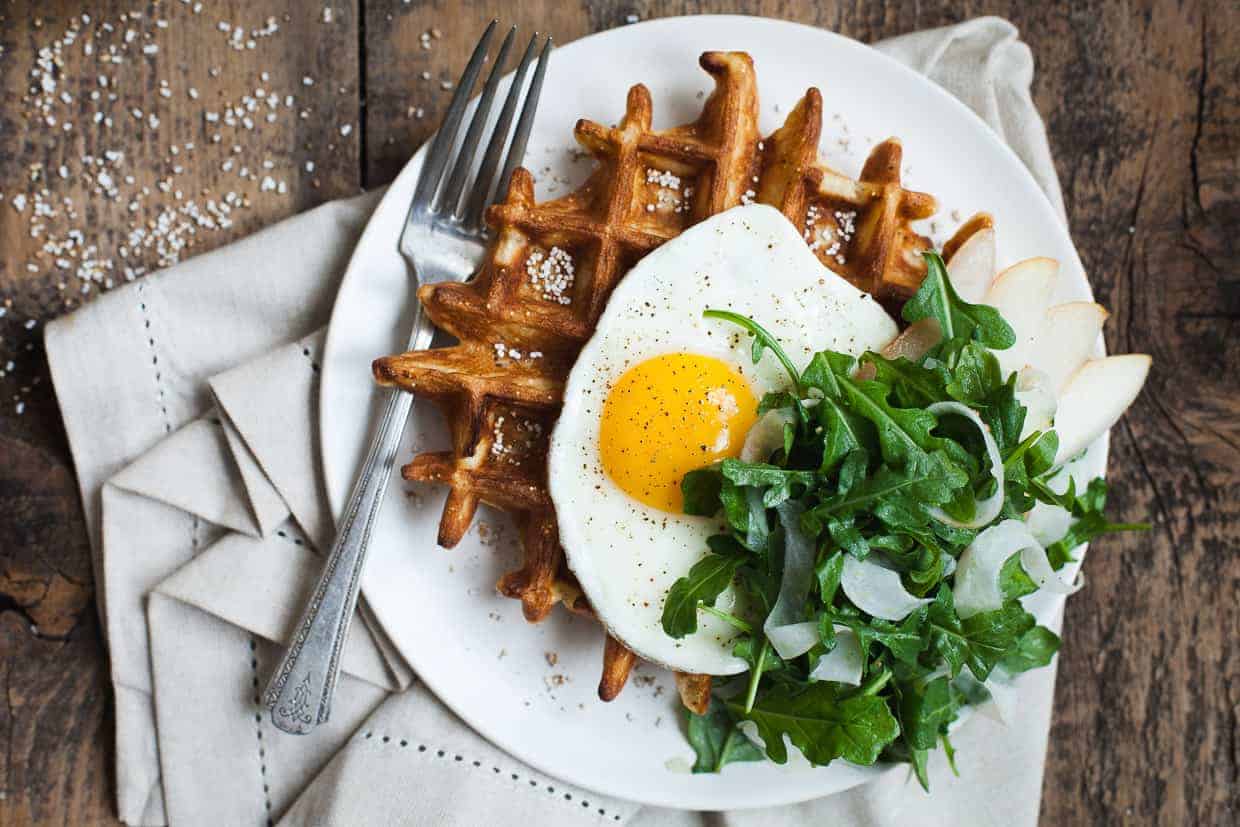 In the spirit of Birchwood's around the world waffle toppings, I'm going to share these amaranth waffles two ways: one savory and one sweet. First up is this savory version with a sunny-side up egg, popped amaranth for crunch (and because it's so darn cute), and a big handful of pear, arugula, & fennel salad. Stay tuned for its sweet counterpart next week!
Back to my finger for a second. My career as a hand model ended abruptly mid video shoot today with just the slip of a finger off the sponge. So Alanna put on my clothes and stood in as my body double. That's true friendship right there. (She also squeamishly handed me the bandages while covering her eyes). Don't worry though, these savory waffles are good enough to make me forget about the pain.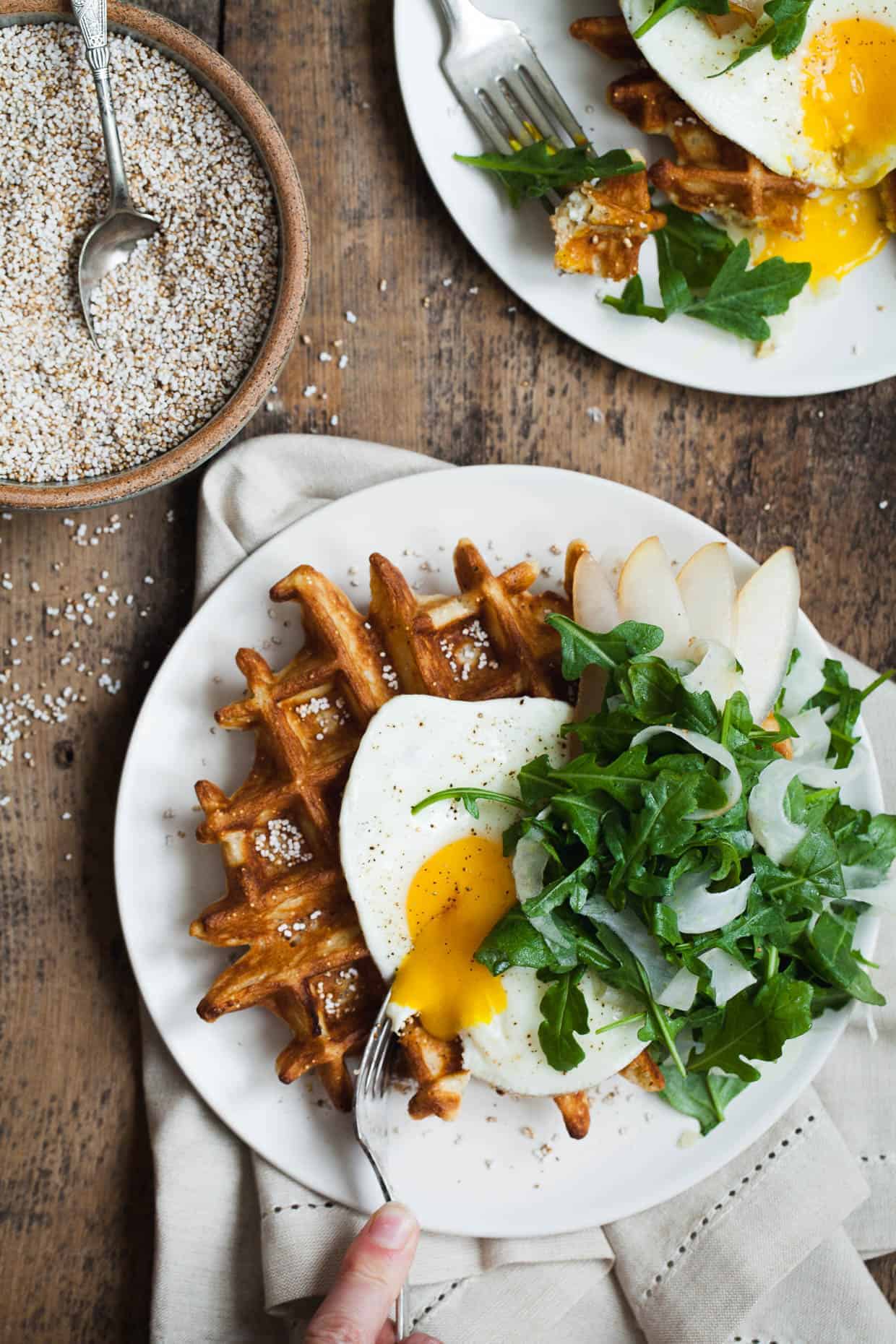 What kind of waffler are you? Are you more of a sweet or savory waffle kind of person? I love both, but I reserve the sweet ones for dessert only. And, truth be told, we ate these savory ones for dinner both times I've made them. So I guess that means I don't eat waffles for breakfast...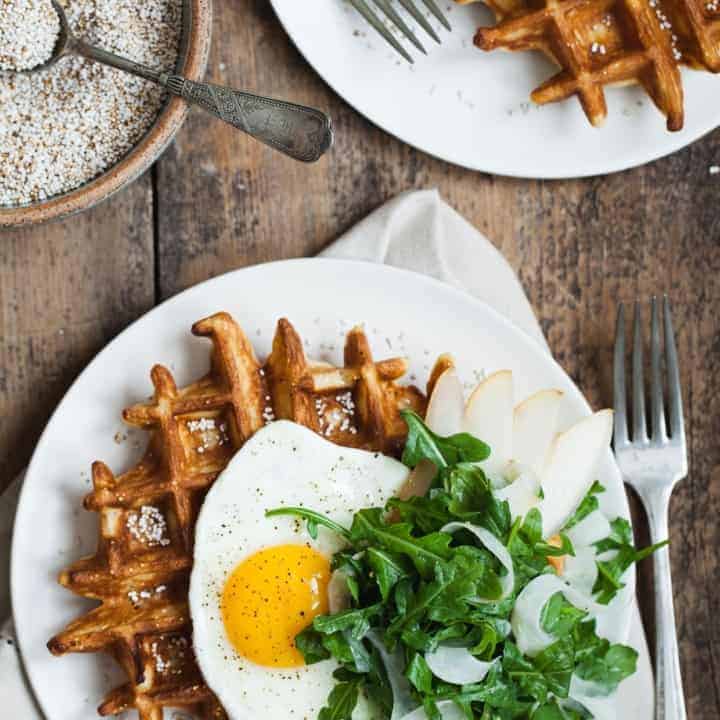 Gluten-free Savory Amaranth Waffles
Yield:
4 waffles/servings
Ingredients
Gluten-Free Savory Amaranth Waffles
2 teaspoons baking powder
½ teaspoon salt
¼ teaspoon pepper
½ cup + 3 tablespoons whole milk
2 eggs, separated
3 tablespoons melted butter
1 tablespoon sugar
2 tablespoons French feta, crumbled (optional)
Popped Amaranth & Fried Eggs
Pear Fennel Salad
1 bartlett pear, cored and thinly sliced
4 cups arugula
½ small head fennel, shaved or thinly sliced
½ tablespoon olive oil
Juice of 1 lemon
Salt and pepper, to taste
Instructions
Gluten-Free Savory Amaranth Waffles
In a medium bowl, sift the amaranth flour, oat flour, sweet rice flour, tapioca starch, baking powder, salt, and pepper. Set aside.
Whisk together the milk, egg yolks, and melted butter in a small bowl. Set aside.
Using a stand mixer or an electric mixer, beat the egg whites until they become thick and foamy, about 2 minutes. With the mixer still running, slowly pour in the sugar and beat until stiff shiny peaks form, about 1-2 minutes longer.
Add the milk mixture to the dry ingredients and whisk until thoroughly combined. Fold in the feta cheese and whole grain amaranth, if using. Gently fold the whipped egg whites into the batter until just combined - do not over mix.
If using an electric waffle iron, cook waffles according to manufacturer directions, lightly spraying the iron with canola oil. If using a stovetop waffle iron, be sure to heat up both sides for at least 3 minutes on medium heat. Lightly spray the top and the bottom of the waffle iron with canola oil. Pour ¾-1 cup of batter into the middle of the waffle iron and cook for 60-90 seconds. Flip the waffle iron and cook for another 60-90 seconds. Gently open the waffle iron to check the waffle and, if needed, continue cooking until both sides are crispy. (Every stove is slightly different, but mine is ready after 90 seconds on both sides). Transfer to a plate and repeat with remaining batter.
Divide among 4 plates and serve topped with popped amaranth and pear fennel salad (recipes below)
Popped Amaranth
Heat a large deep skillet or saucepan over high heat for at least 3 minutes. Have a bowl nearby to pour the popped amaranth into.
Put the whole grain amaranth into the pan and watch it pop! It should start popping in about 10-20 seconds. Keep cooking, stirring, until it's completely popped a few seconds longer, being careful not to burn it. When it's finished popping, pour the popped amaranth into a bowl to cool. Sprinkle a spoonful of popped amaranth on top of each waffle.
Fried Eggs (Method from How Sweet It Is - hint: she's got pictures)
Heat a dry non-stick skillet over low heat.
Crack an egg into a small bowl.
When the skillet is pre-heated, gently pour the egg into the pan and let it cook, slowly until the whites set, about 3-4 minutes. Use a spatula to transfer the egg on top of a waffle. Repeat with the remaining eggs/waffles.Top each egg with a bit of freshly ground pepper.
Pear Fennel Salad
Neatly arrange the pear slices on top of each of the four waffles.
Toss the arugula and shaved fennel in olive oil and lemon juice, and toss with a few pinches of salt and pepper. Plop a scoop of salad on top of each waffle and serve!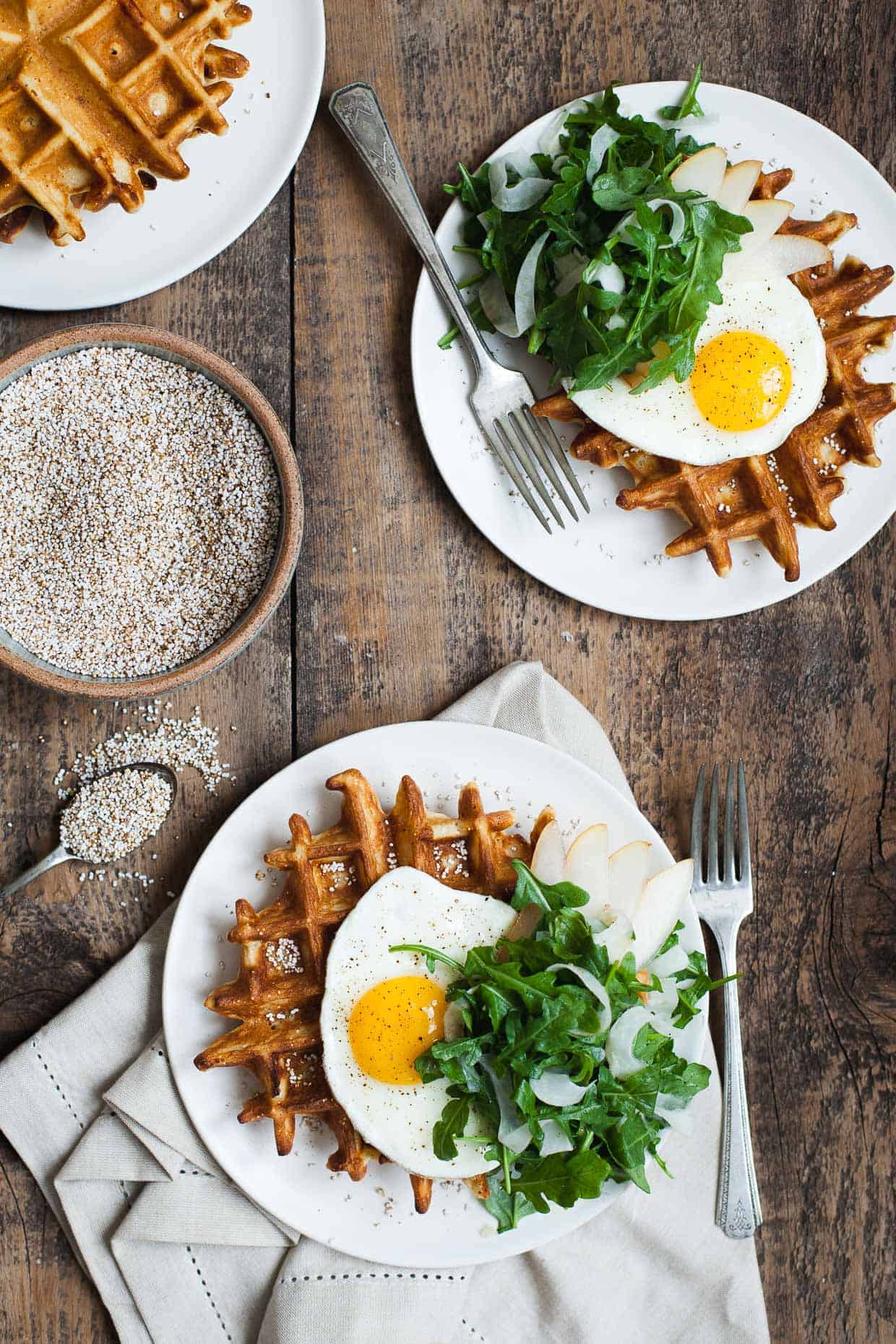 Thanks for reading Snixy Kitchen! To stay up on what's coming out of my kitchen,  follow me on Facebook, Instagram, Twitter, Bloglovin', Pinterest, or subscribe via e-mail to get new recipes right to your inbox.