Fluffy and crispy chamomile waffles made gluten-free with oat, sweet rice, and tapioca flours. Drizzled with hot pink blood orange glaze and topped with festive orange supremes and whipped cream, these sweet floral waffles are perfect for Valentine's Day, Mother's Day, or any Sunday brunch!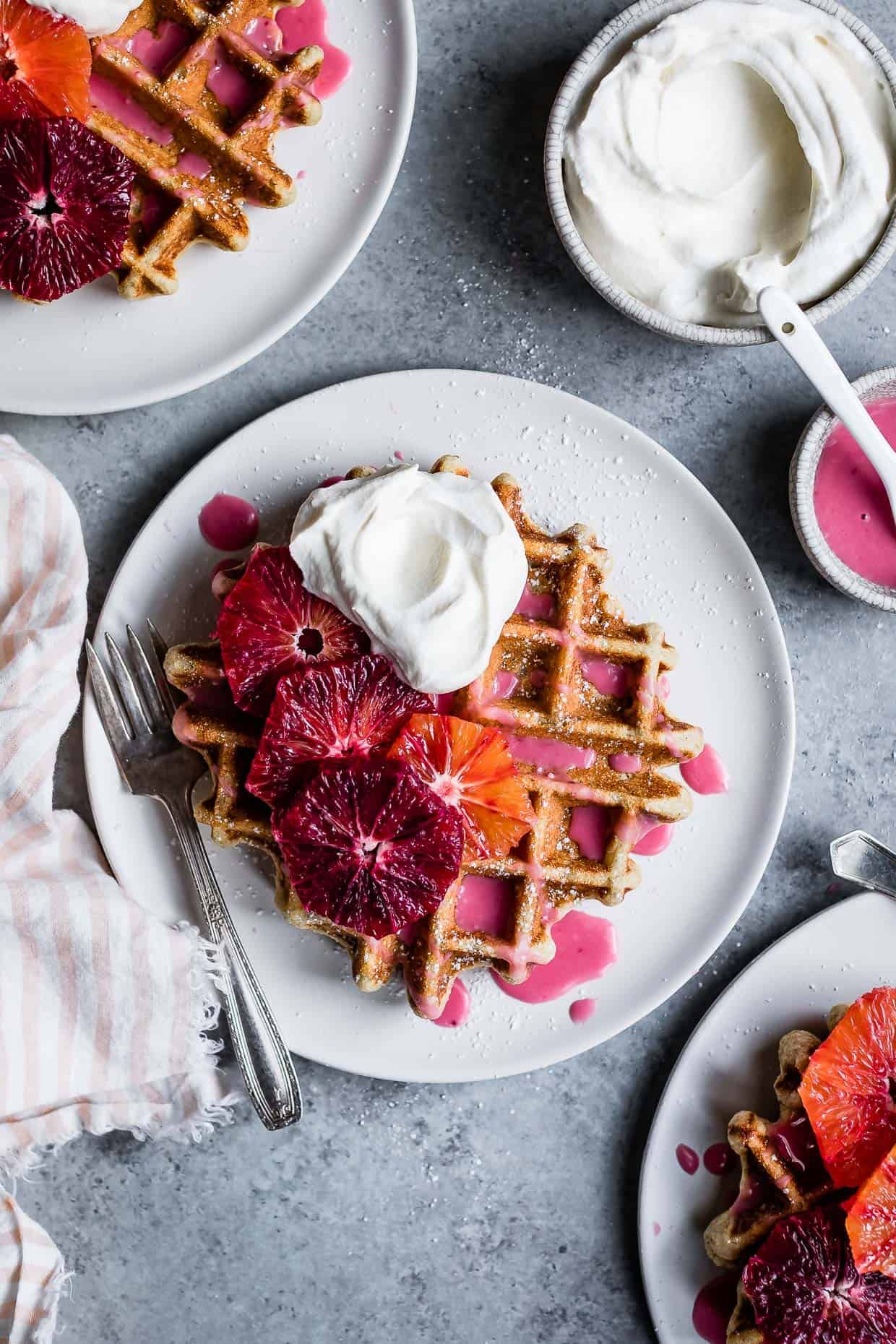 If you've been around here awhile, you know that I've been a vocal critic of breakfast pastries - it's just dessert parading as breakfast that's not nearly as delicious as actual dessert. Waffles are my exception, though. They're equally as delicious as any traditional dessert and their fluffy & crispy texture knows no match. Also - are waffles really even a pastry? The internet is inconclusive. For Valentine's Day, I've whipped up these floral chamomile waffles topped with a hot pink blood orange glaze and a few festive supremes. I also threw a dollop of whipped cream on top because waffles are the perfect excuse to go all out with dessert before 10am.
Made gluten-free with oat flour, sweet rice flour, and tapioca flour, these waffles are the first recipe in my year-long partnership with Bob's Red Mill. As a gluten-free baker, I have an entire 3-foot wide shelf in my kitchen cabinet dedicated just to a whole host of Bob's Red Mill flours. Needless to say, I could not be more thrilled to be joining forces to show off just what their flours can do.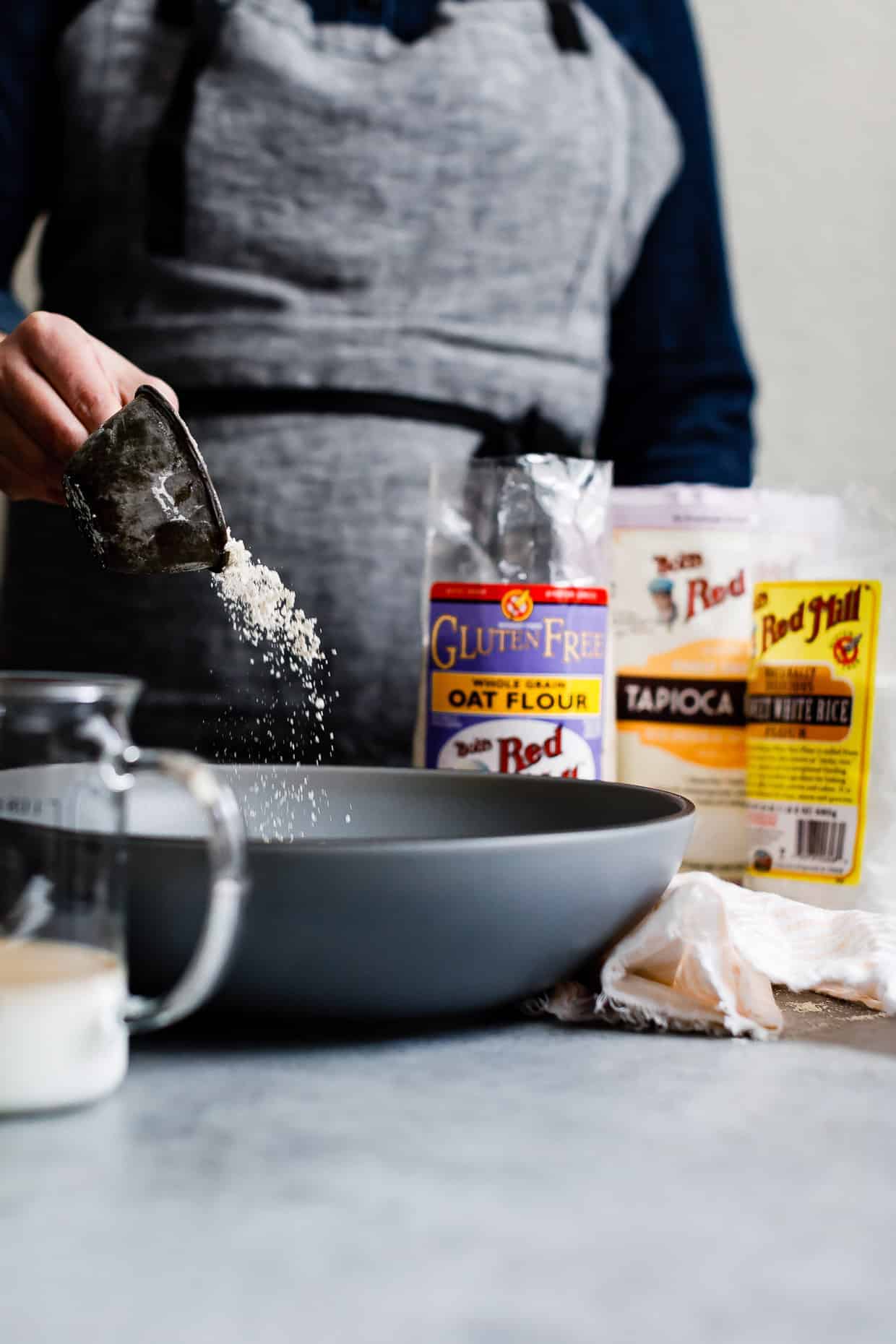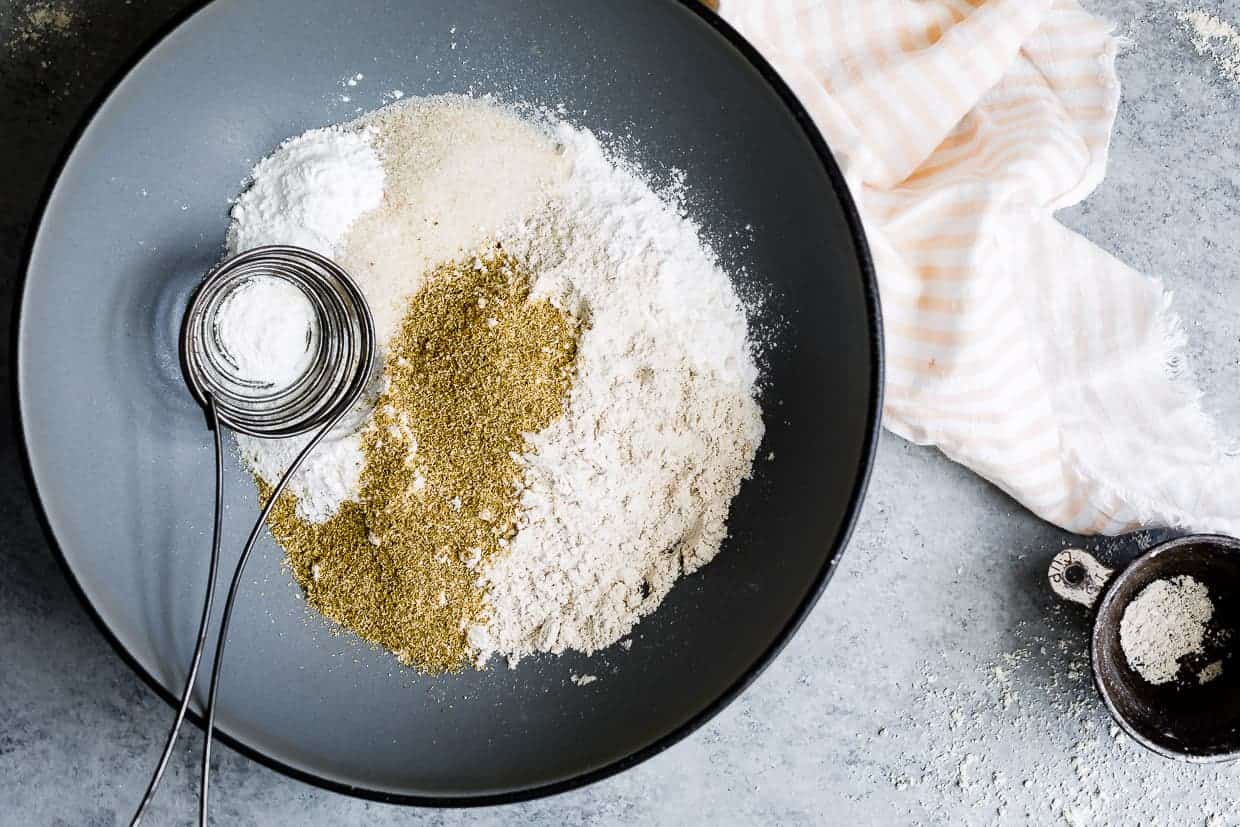 Last week, a girlfriend messaged me wondering what flour(s) she should use to make something gluten-free. This turned into a lot of back and forth about what she was making before I could recommend. What texture was she looking for? What was in it? How much flour?
When I first started baking gluten-free about 5 years ago, I didn't really know much about how different gluten-free flours contributed to the final outcome. I'd done some research, but I hadn't yet tasted the grittiness of something made with just white rice flour. I started by haphazardly making blends with 6 or 7 different flours and things generally turned out okay because there was some characteristic of each of them that helped the overall blend mimic all-purpose flour.
But 6 or 7 is a tad overkill and absolutely unnecessary. While I'm still learning about their properties each time I bake, I now I choose gluten-free flours for the texture and flavor characteristics they'll lend to a baked good. And with that, I can rely on only 2-4 flours for each recipe.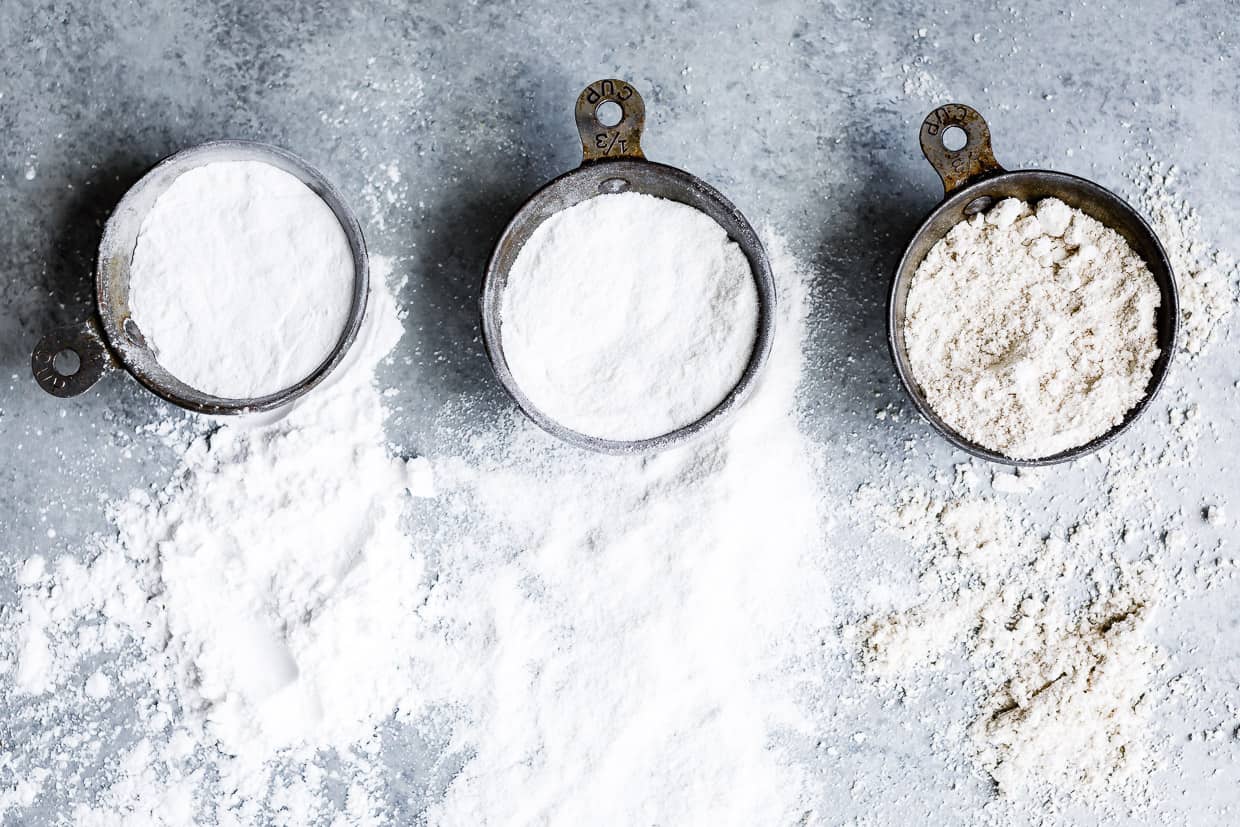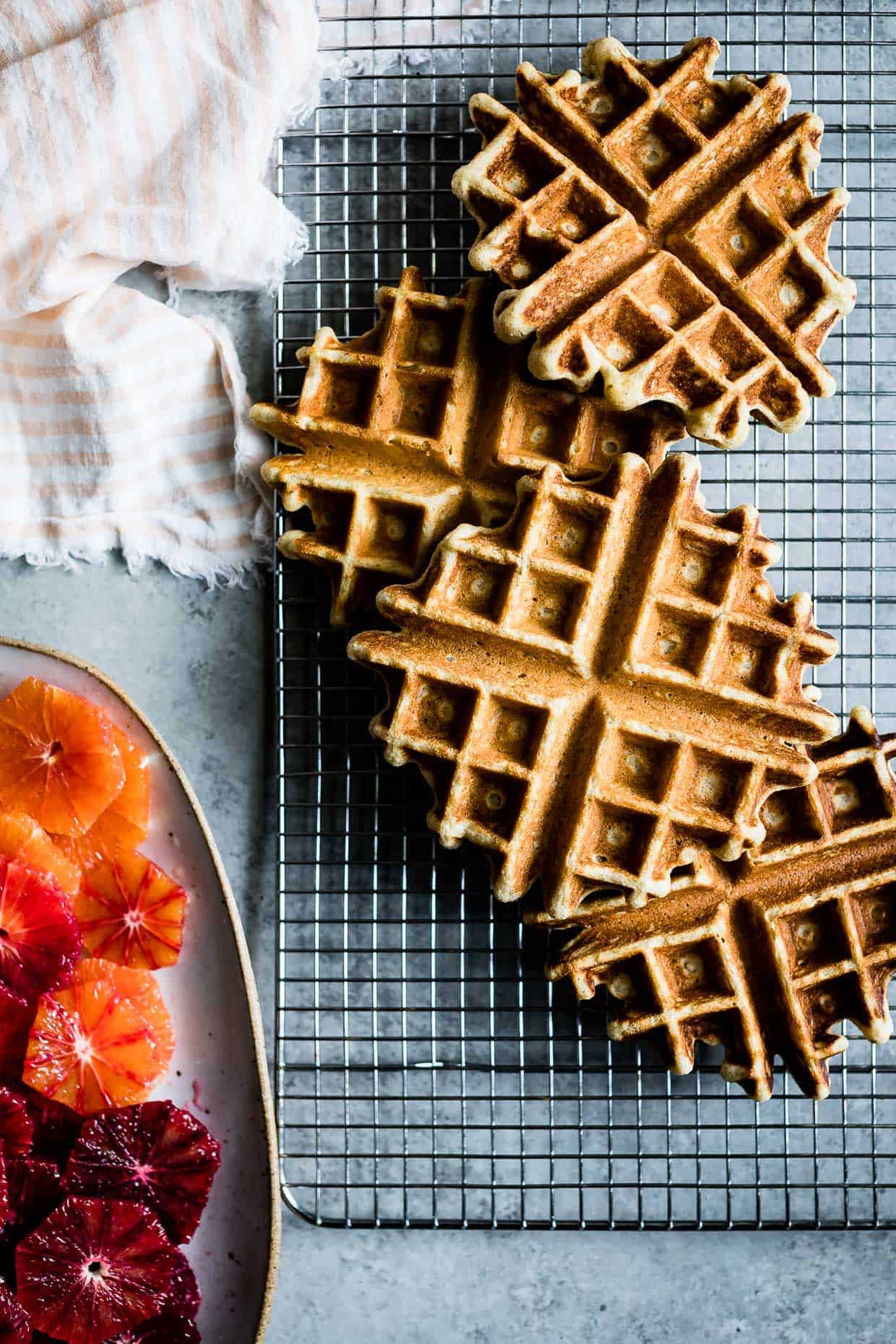 For everyday waffles, this is my standard blend: oat, sweet rice, and tapioca. Oat flour gives a subtle whole grain flavor that adds a soft cakiness to the waffle. Next I add sweet rice flour, which is the same flour used to make mochi, and, as such, it adds the sticking power to the waffles, giving them classic chew you get from the gluten in all purpose flour. Finally, tapioca flour to help with the chewy binding and browning, and to contribute to the classic crispy outside of perfectly-cooked waffles. Together, these three make-up a mild-tasting flour blend that allow the subtle floral chamomile notes in these waffles to pop through.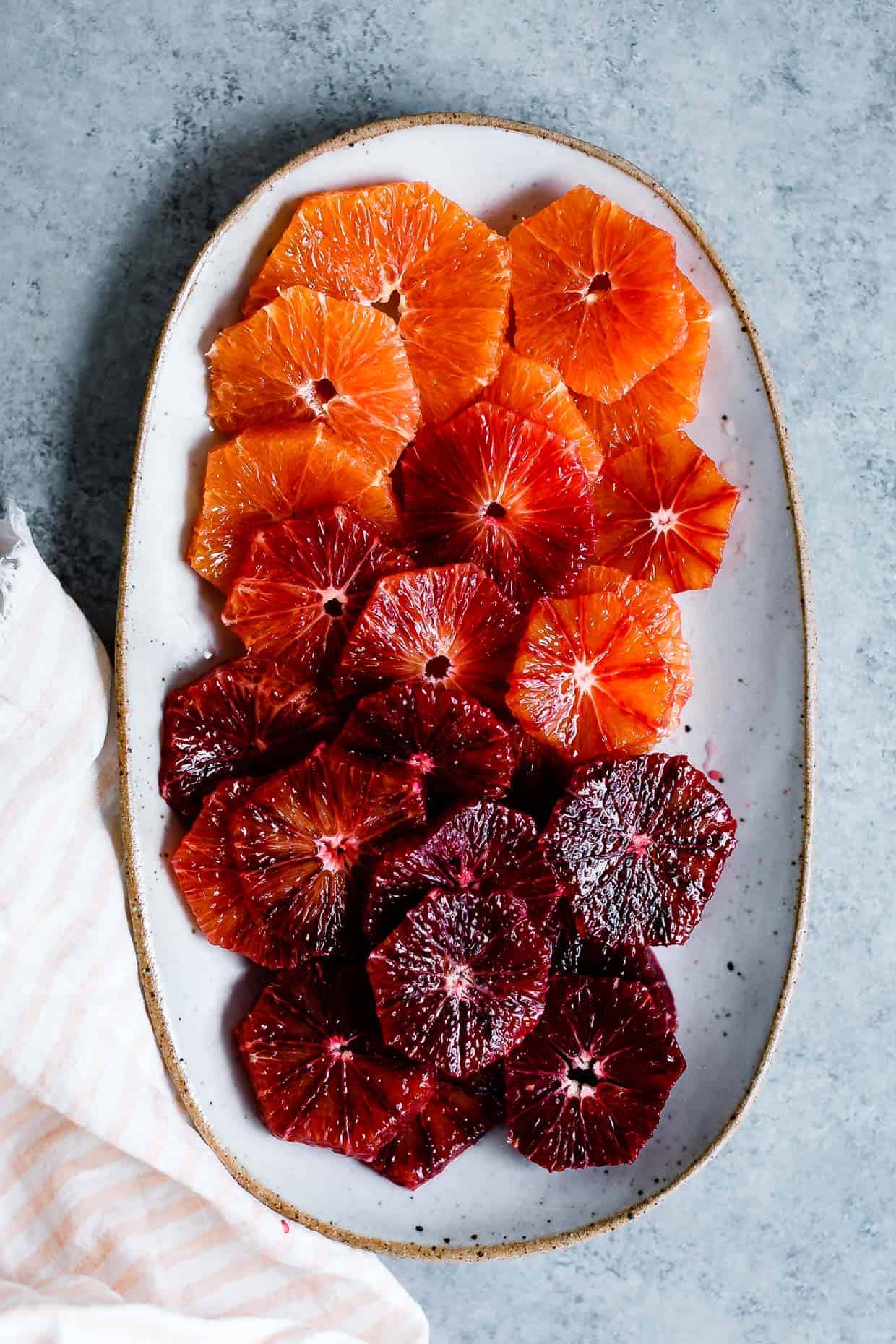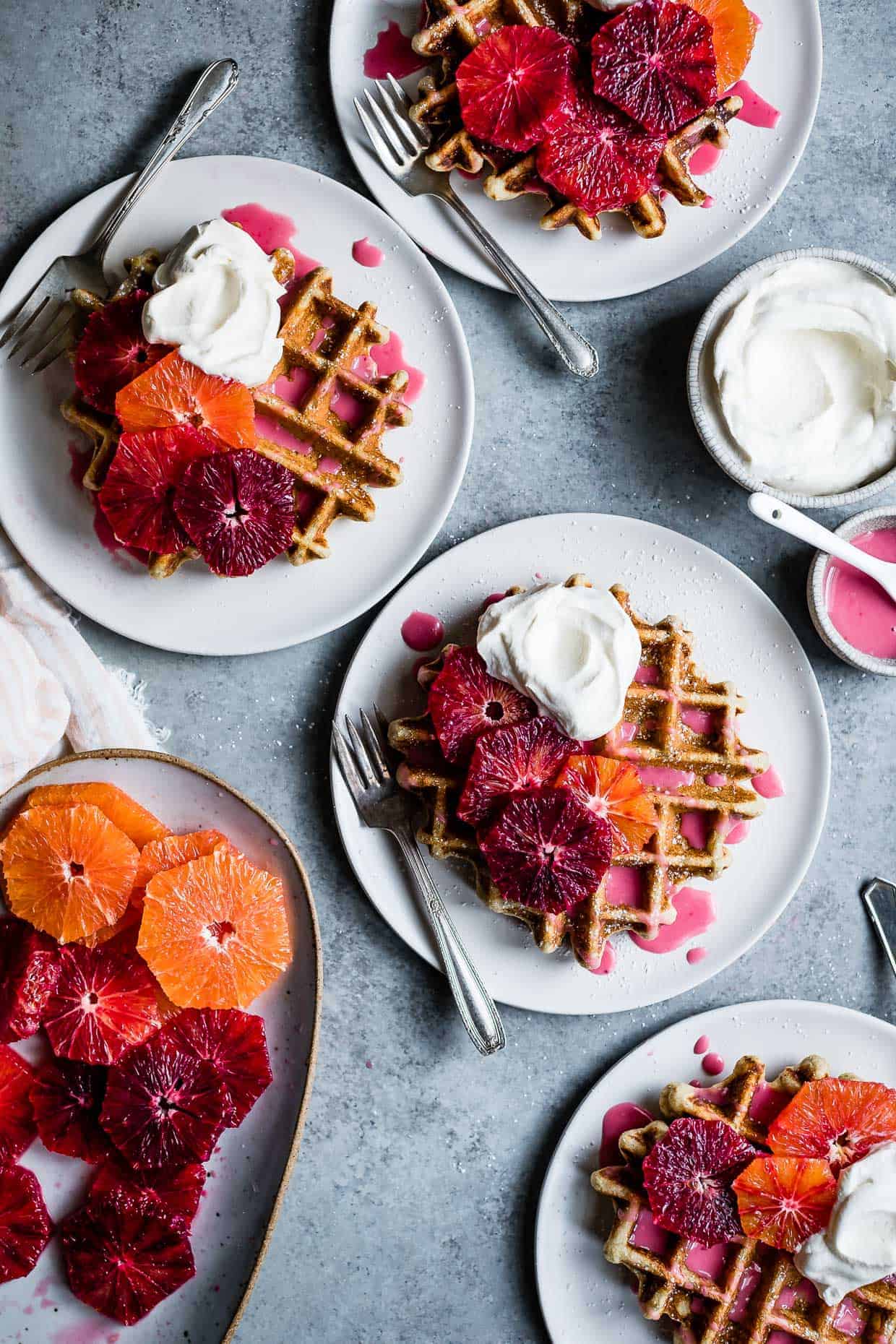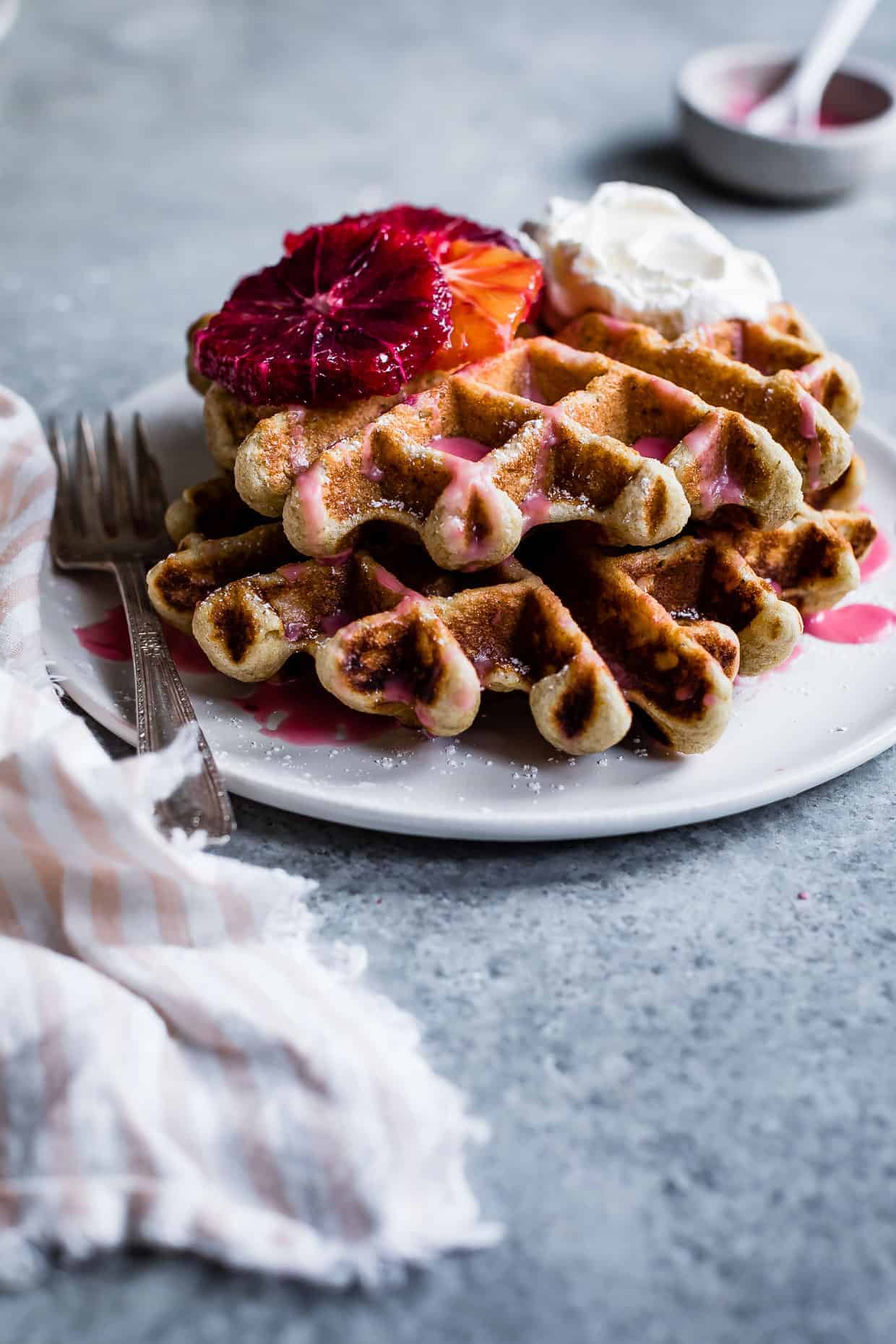 When it comes to gluten-free oat flour, you've got two choices. The easiest is to buy and use Bob's Red Mill's gluten-free oat flour. But if your store is like mine and for some odd reason doesn't carry the gluten-free oat flour, you can do what I normally do. I grind my own oat flour by blending Bob's Red Mill's gluten-free old-fashioned rolled oats a blender or food processor until smooth. If you've got a high-powered blender, you shouldn't need to sift, but if not, a quick sift will give you a more finely ground oat flour.
These pink splattered chamomile waffles are the perfect morning (or dessert) treat for Valentine's Day. The juicy tart pink citrus notes complement the floral sweetness of the chamomile waffle base with pillow-y whipped cream to soften and sweeten up each bite.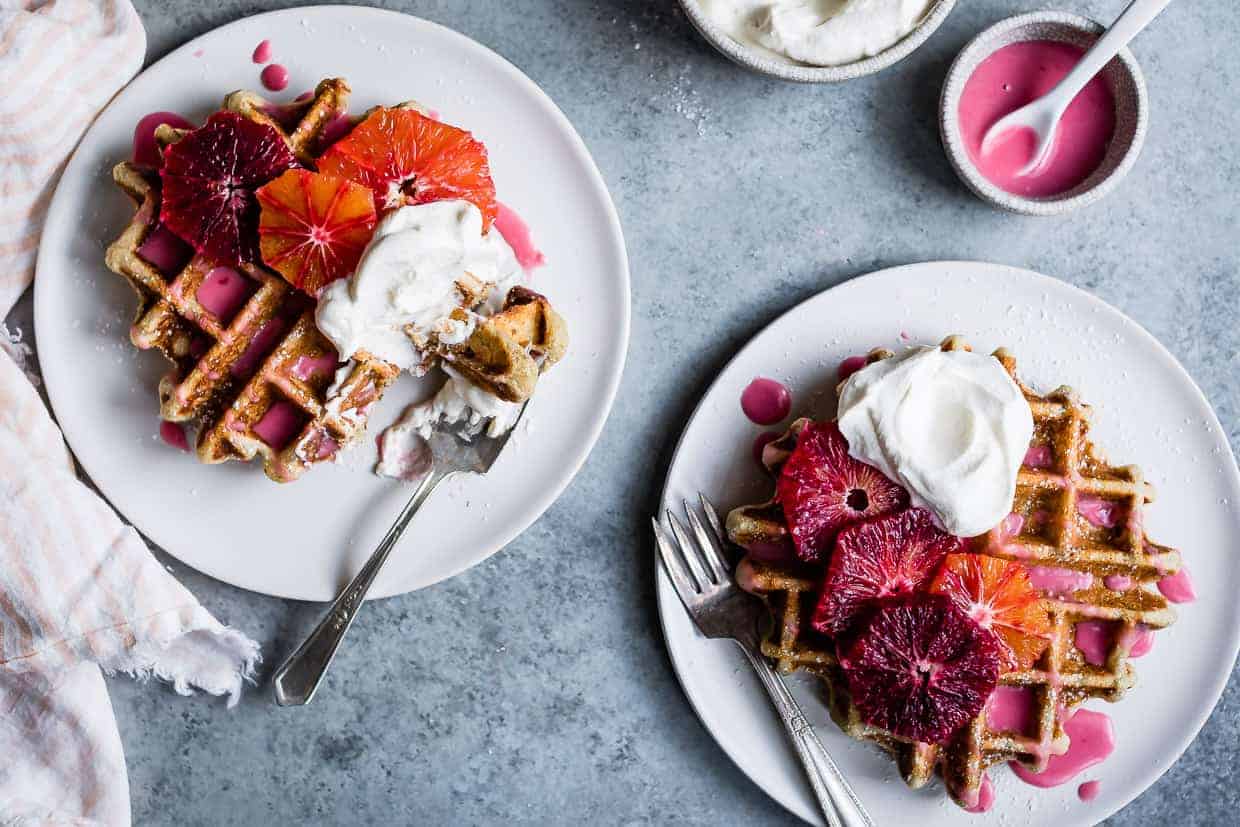 Disclosure: Special thanks to Bob's Red Mill for providing the flours shown above and sponsoring this post! And thanks to you for supporting the companies that keep Snixy Kitchen cooking!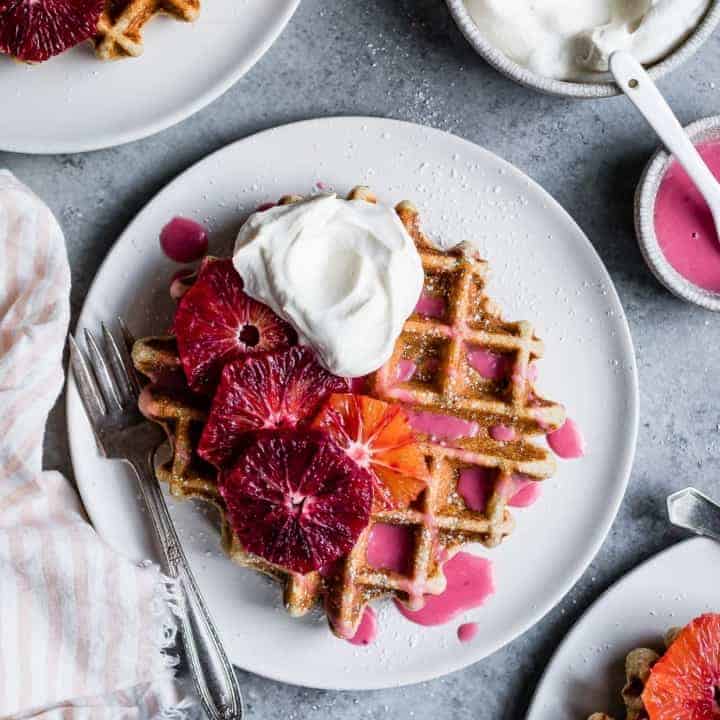 Oat Chamomile Waffles with Blood Orange Glaze
Ingredients
Toppings
5 ripe blood oranges, divided
½ cup + 2 tablespoons powdered sugar, divided
½ cup heavy whipping cream
¼ teaspoon vanilla extract
Oat Chamomile Waffles
Instructions
Toppings
Juice one blood orange and set the juice aside. Gently cut ¼-inch off the ends of each of the remaining blood oranges. Next, carefully cut the peel off following the curve of the orange. Slice the blood oranges into ¼-inch rounds. Set aside.
Whisk ½ cup powdered sugar with 2 tablespoons blood orange juice until completely smooth.
In the bowl of a stand mixer or with a hand mixer, beat the whipped cream on medium-high until the cream holds soft peaks. Add powdered sugar and vanilla and beat just to combine. Set aside.
Oat Chamomile Waffles
In a medium bowl, sift together oat flour, sweet rice flour, tapioca starch, sugar, ground chamomile, baking powder, and salt. Set aside.
Whisk together the milk, egg yolks, melted butter, and vanilla extract in a small bowl. Set aside.
Using a stand mixer or an electric mixer, beat the egg whites on medium-high speed until stiff peaks form, about 2-3 minutes. Set aside.
Add the milk mixture to the dry ingredients and whisk until thoroughly combined. Gently fold the whipped egg whites into the batter until just combined, being careful not to over-mix.
If using an electric waffle iron, cook waffles according to manufacturer directions, lightly spraying the iron with canola oil. If using a stovetop waffle iron, be sure to heat up both sides for at least 3 minutes on medium heat. Lightly spray the top and the bottom of the waffle iron with canola oil. Pour ¾-1 cup of batter into the middle of the waffle iron and cook for 60-90 seconds. Flip the waffle iron and cook for another 60-90 seconds. Gently open the waffle iron to check the waffle and, if needed, continue cooking until both sides are crispy. (Every stove is slightly different, but mine is ready after 90 seconds on both sides). Transfer to a plate and repeat with remaining batter.
Serve each waffle drizzled with blood orange glaze, blood orange supremes, and a dollop of whipped cream.
Notes
*You can also make your own oat flour by grinding gluten-free oats in a food processor or blender until completely smooth.
**The key to these super fluffy Belgian-style waffles is to separate whip the egg whites. I swear by this technique, but if you'd rather not, your waffles will still turn out, just a bit more dense.