These charred watermelon wedges topped with melted cheese, roasted almonds, and fresh mint make the perfect summer entertaining appetizer!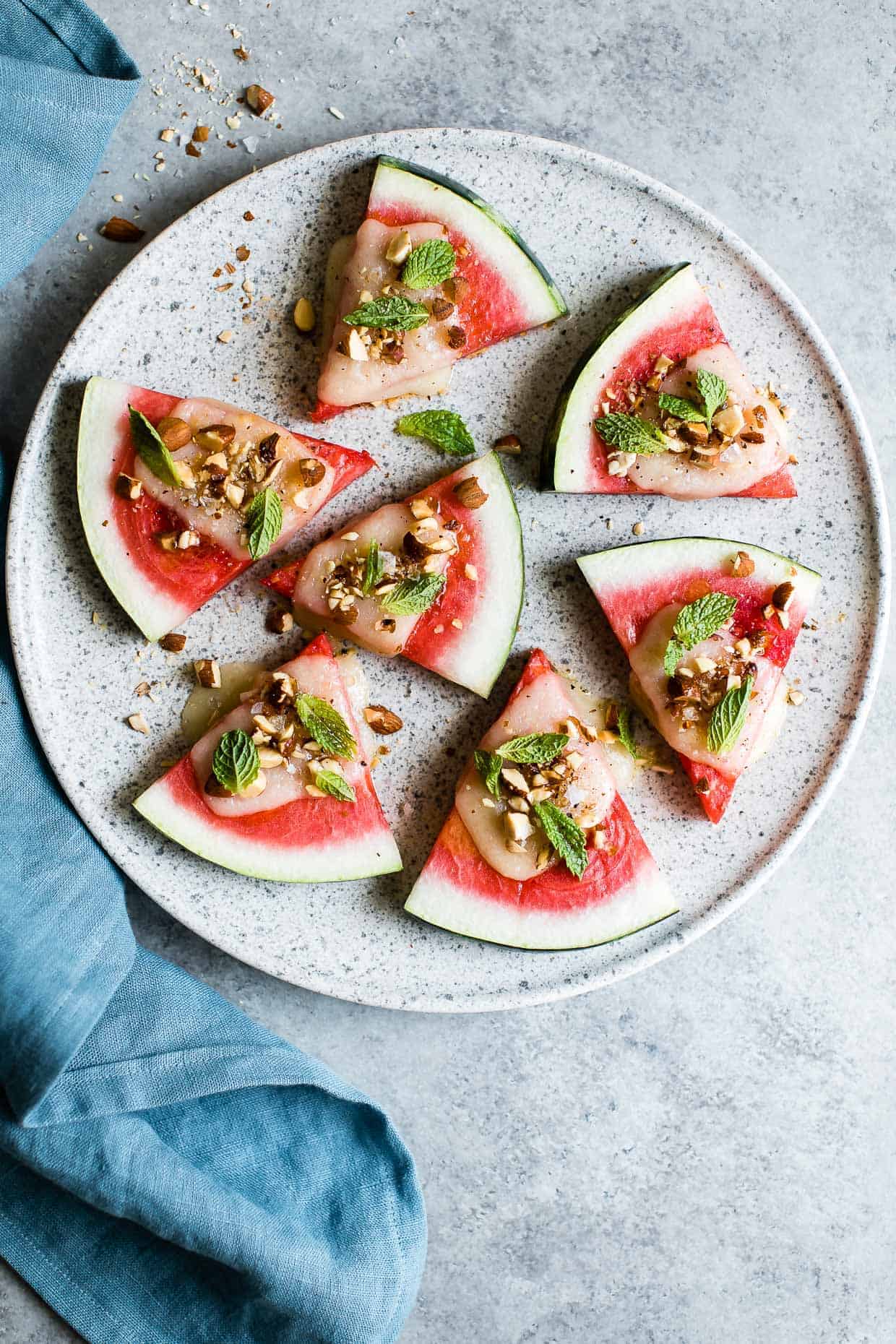 With the neighborhood schools back in session today, I'm reminded that the season is fleeting. Fortunately produce is still on summer break and I'll be over here with watermelon dripping down my arms for at least another two weeks.
This bright summery charred watermelon cheese wedge appetizer is the fourth dish in my summer menu video series partnership with Roth Cheese. First I made a sunflower seed gouda pesto condiment. Then we ate a breakfast of cheesy savory oatmeal bowls. For lunch there were avocado green goddess sandwiches sandwiches with havarti. And now we're partying with a watermelon appetizer perfect for your backyard Labor Day barbecues. Scroll to the bottom for the video & recipe!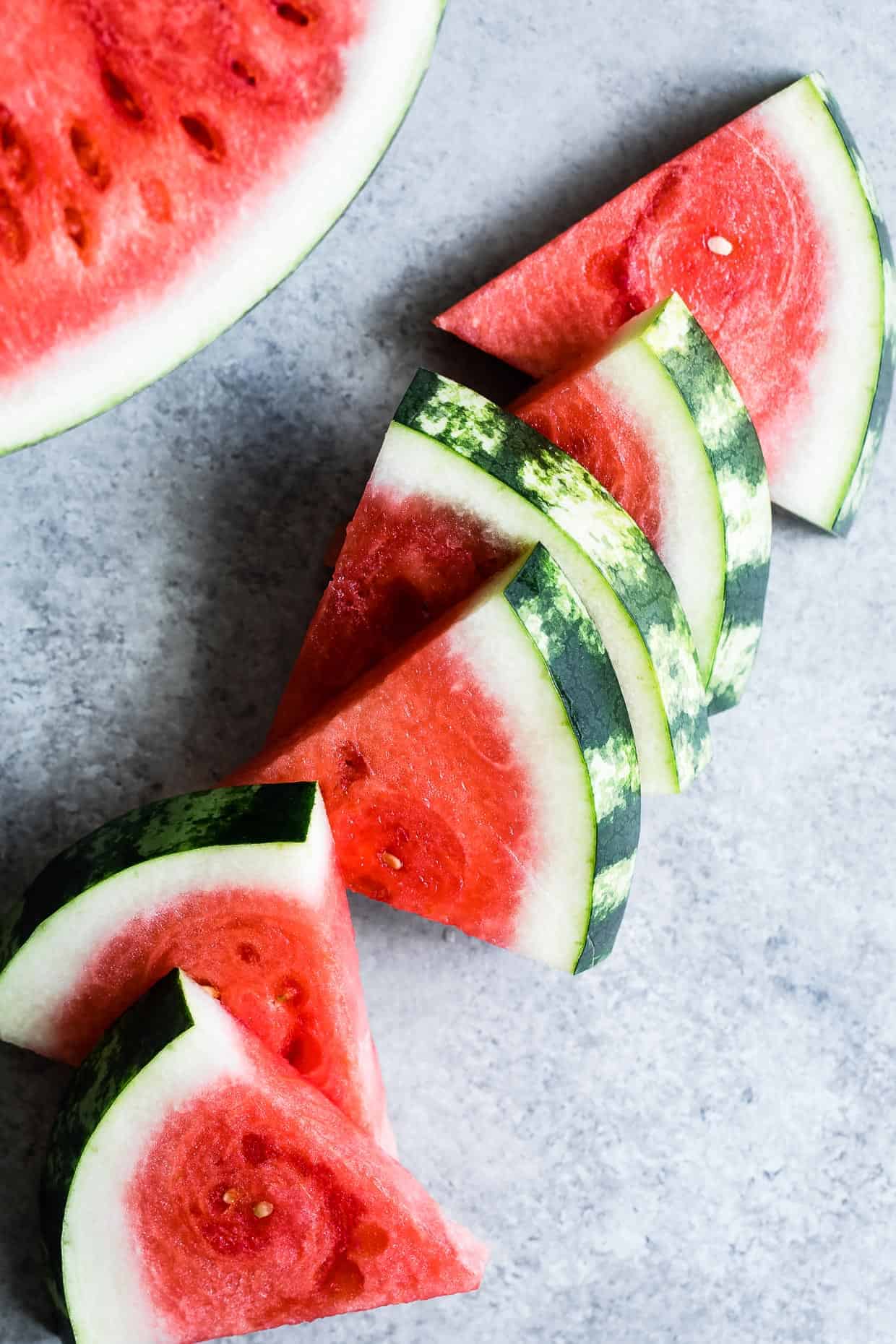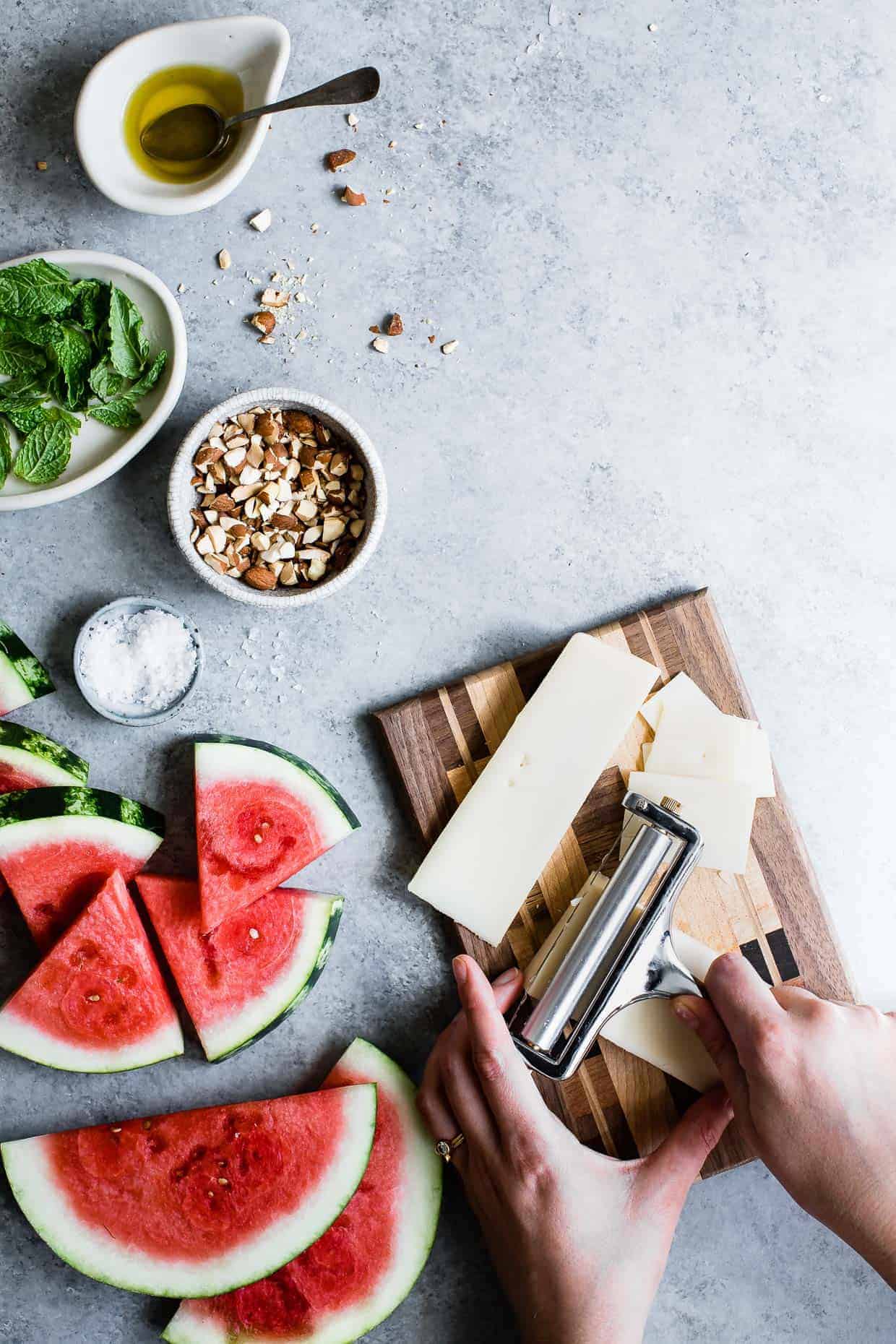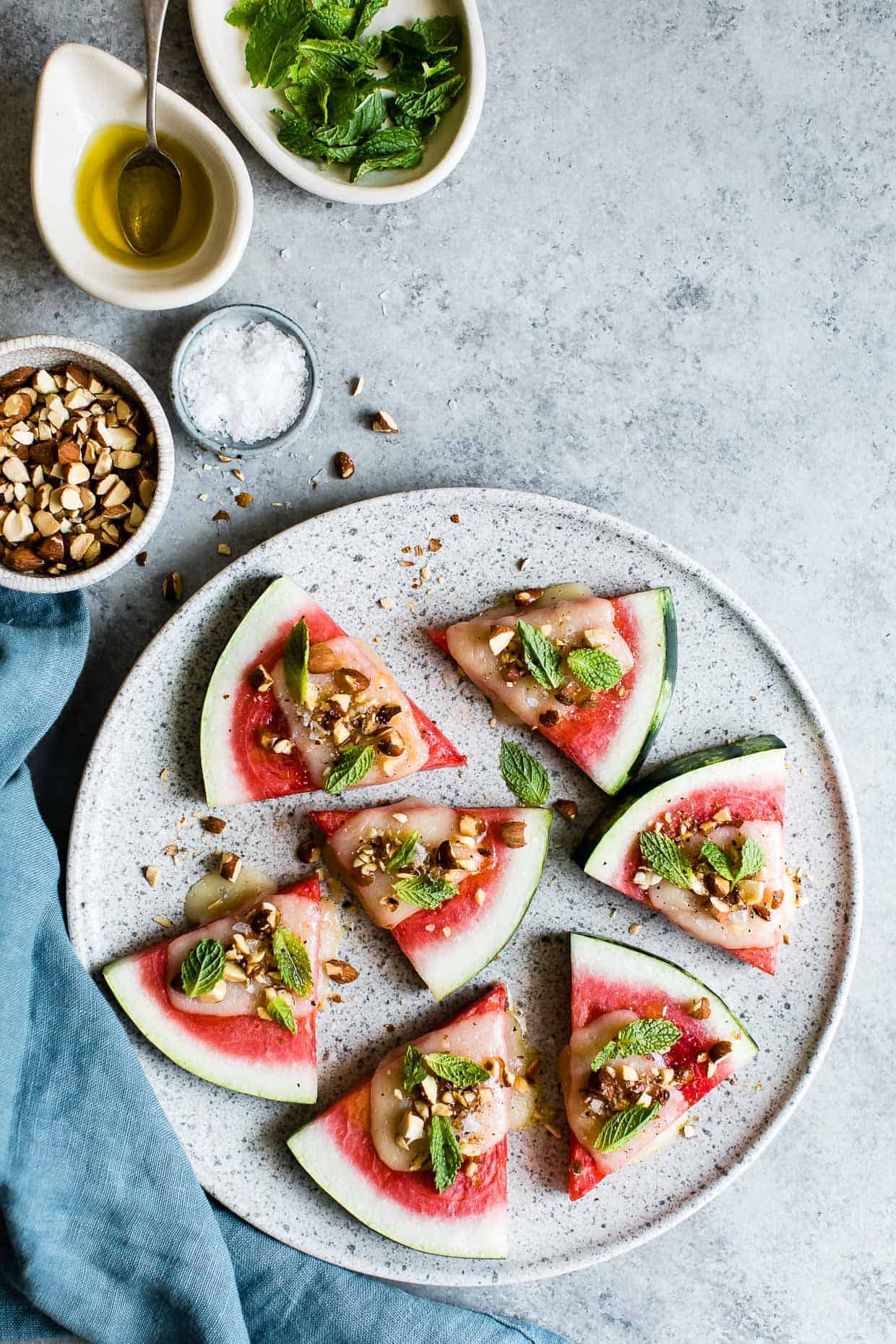 Watermelon makes me pine for an outdoor space for summer entertaining. Maybe a vegetable garden and a tree house so I can throw the toddler "ousside" any time she asks (all. day. long.). We've got the space, but the weathered giant concrete slab landing strip and foundational remnants of some ancient structure in the middle of the yard has put a wrench in our motivation.
It's like the one BIG OVERWHELMING thing I don't even know where to start...so I don't. Do you know what I'm talking about?
So instead we bought a meyer lemon tree for the backyard to celebrate our 4th wedding anniversary - an easy step. Only when went to plant our happy tree, we discovered an additional cement curb buried under 2 inches of dirt running around the perimeter of our yard with a row of hedge stumps lining it.
And the big thing got bigger.
We promptly turned right around and went inside for iced tea and charred watermelon cheese wedges while dreaming about summer entertaining.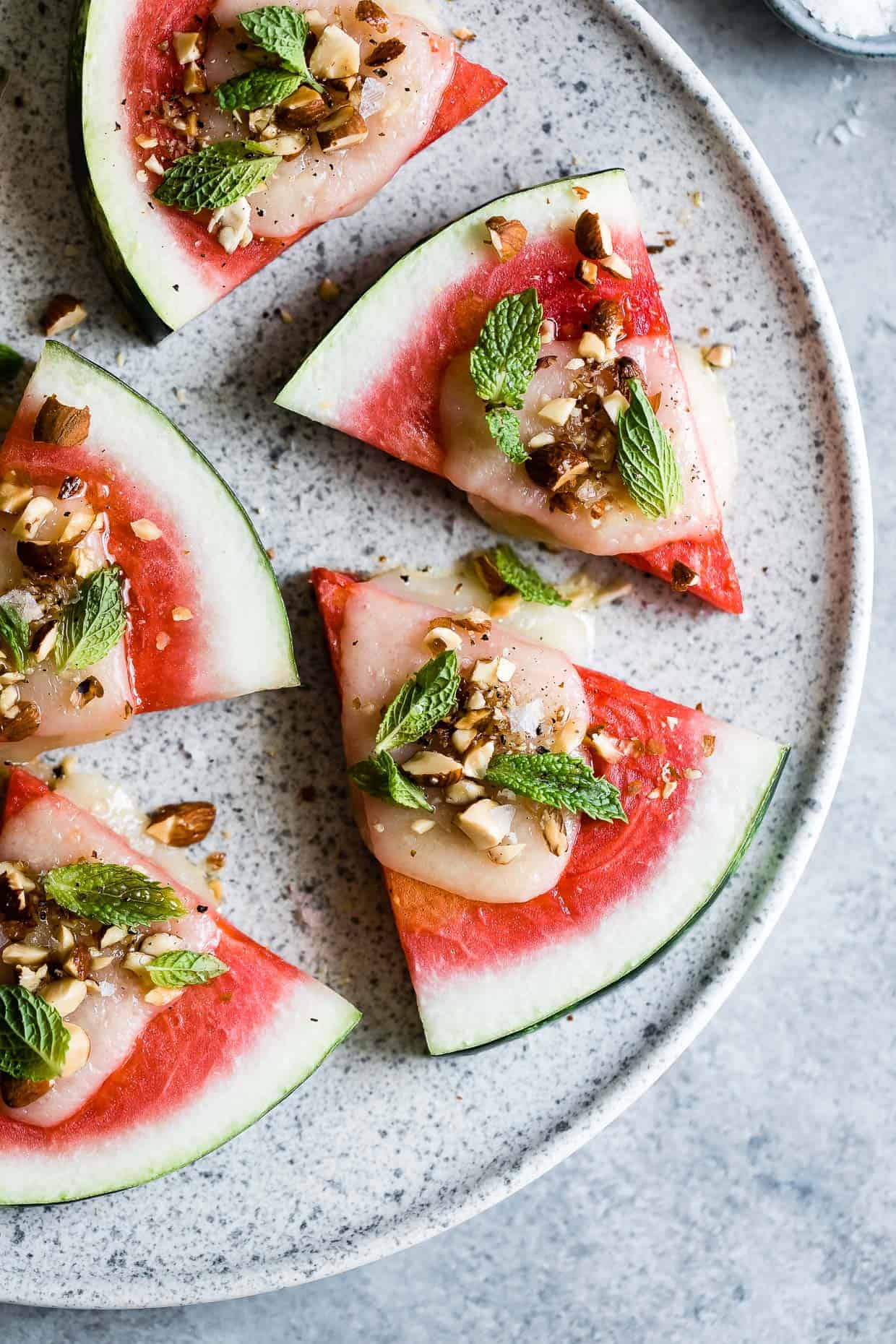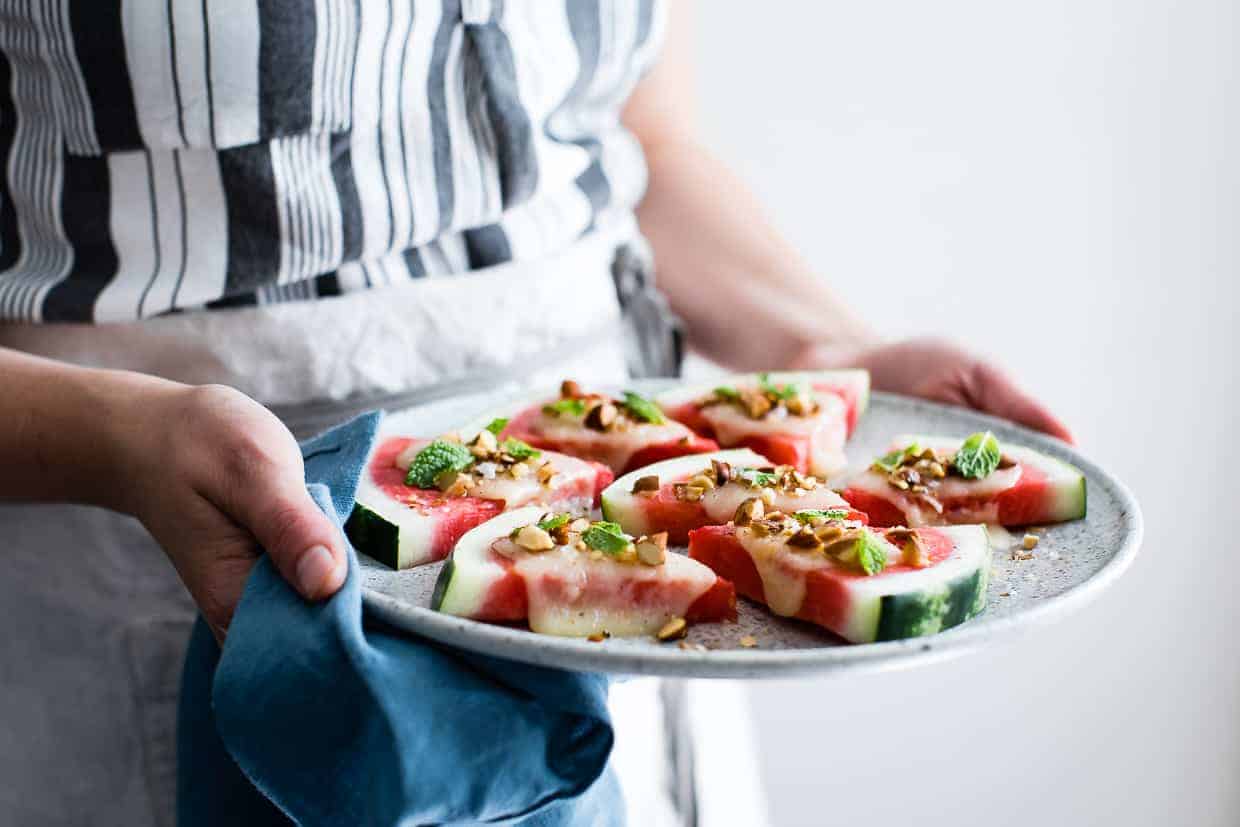 It's possible you're over there thinking I'm crazy. When I pitched this recipe idea to my husband, he crinkled his nose, adamant watermelon wasn't meant for melty cheese. But then he just as quickly changed his tune when the sweet watermelon melted cheese combo hit is mouth. Charring the watermelon under the broiler brings out the sweetness with a deeper flavor than fresh off the rind - a similar effect to grilling watermelon wedges.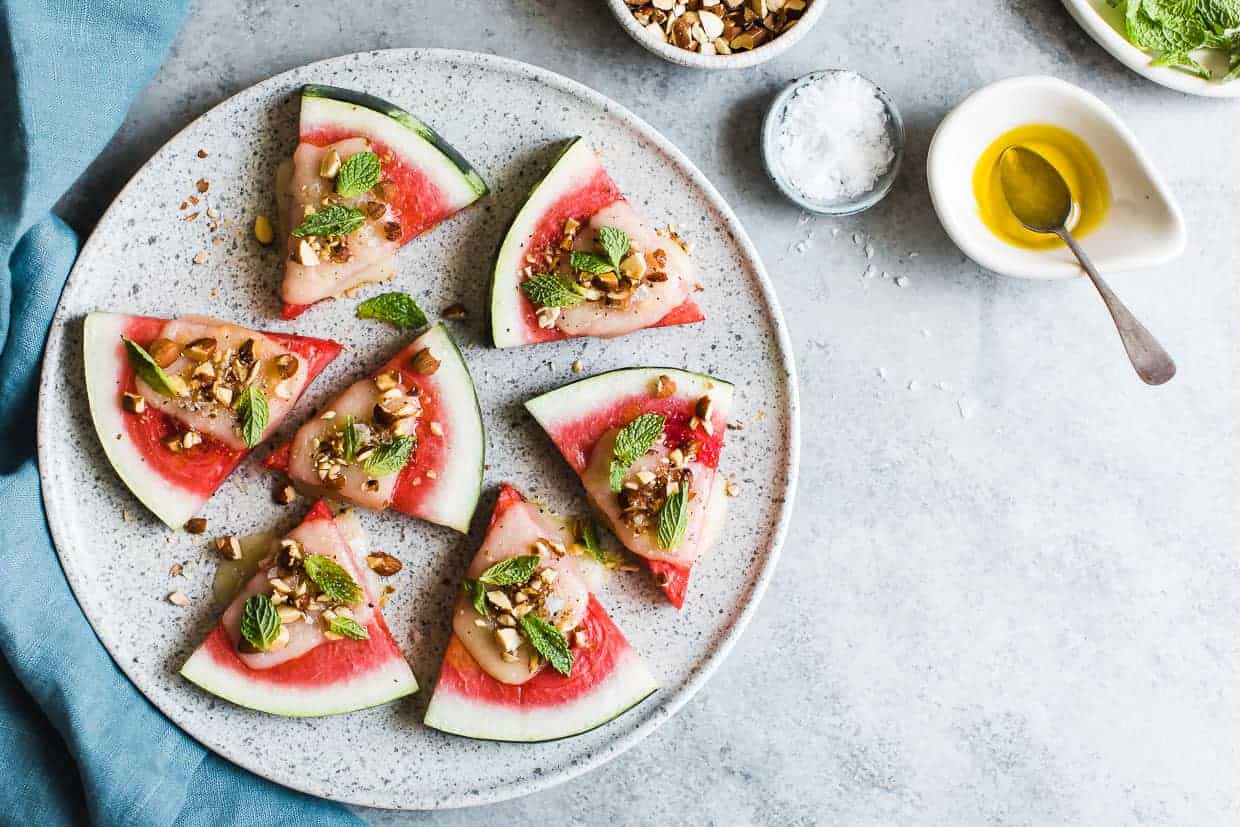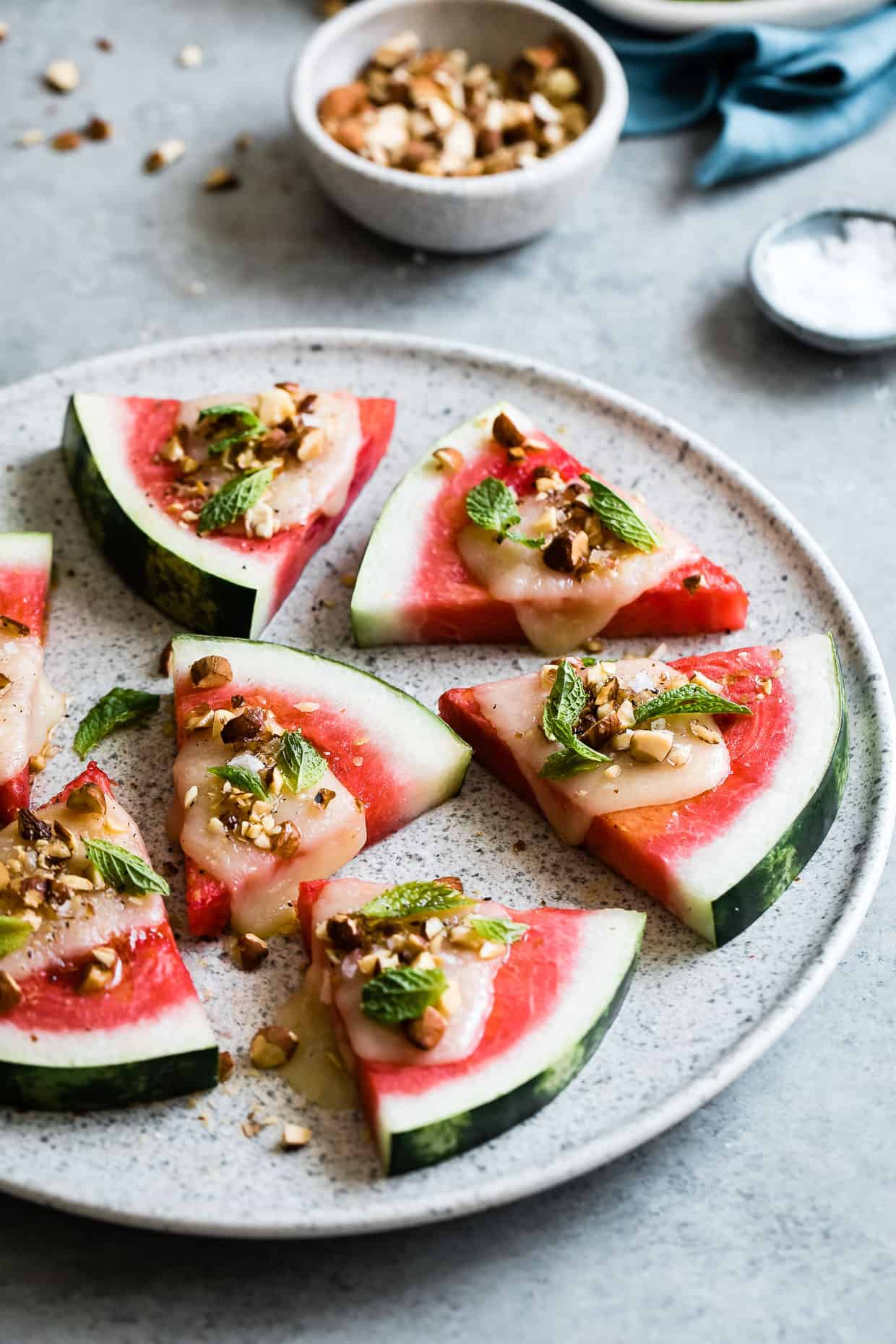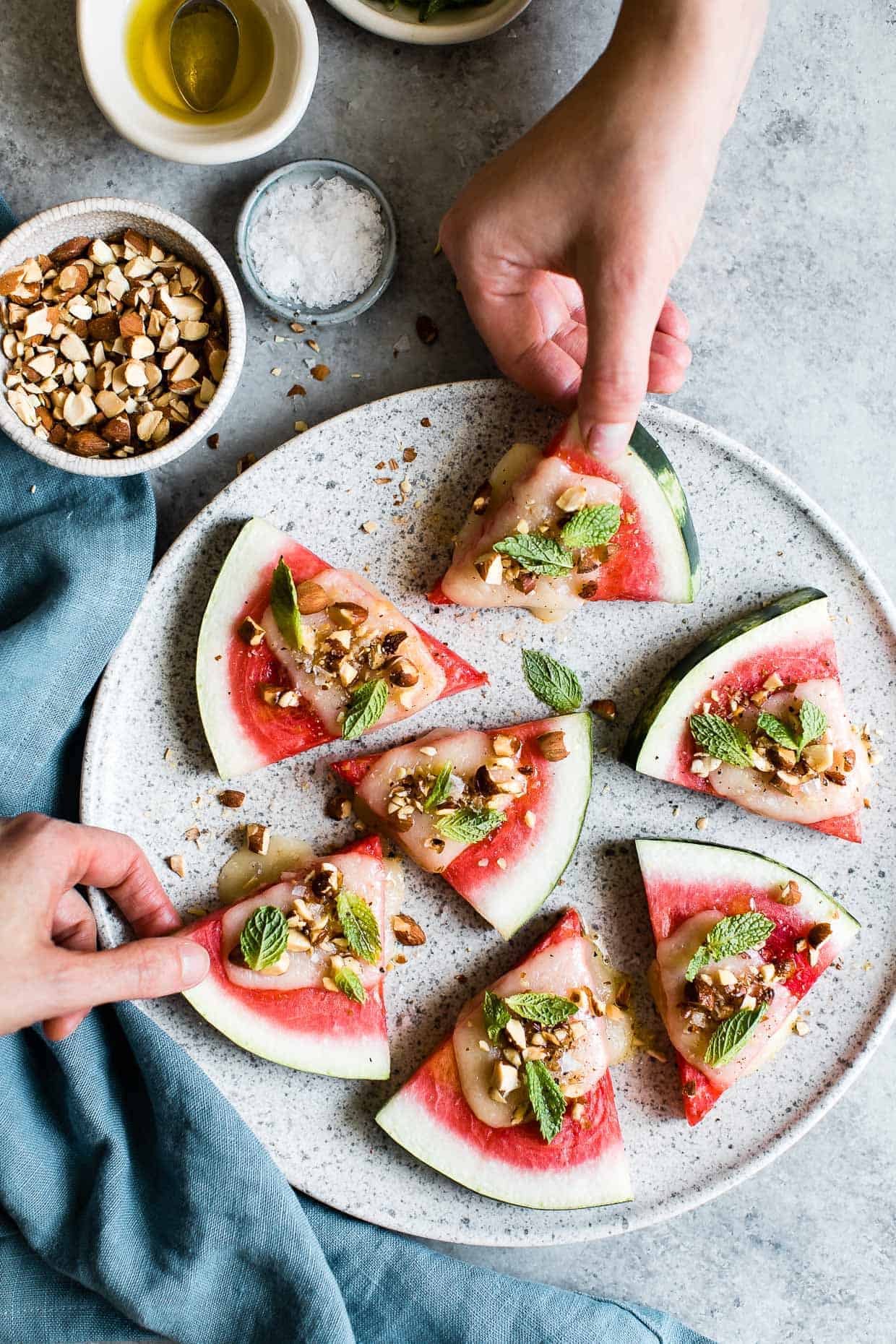 Roth's award-winning Grand Cru is similar in flavor/style to a gruyère. You can use that in a pinch, but I highly recommend seeking out the real stuff. (If you're in the Bay Area, it's available on Good Eggs!). It's robust with fruity caramel notes and nutty undertones, which all pairs beautifully when melted over charred ripe juicy watermelon wedges.
The melted cheese and crunchy roasted almonds are the addicting notes, with olive oil, flakey salt, and pepper bringing the savory side, and fresh mint adding balance with something bright.
This is summer and it feels so good.
Disclosure: Special thanks to Roth Cheese for sponsoring this post! And thanks to you for supporting the companies that keep Snixy Kitchen cooking!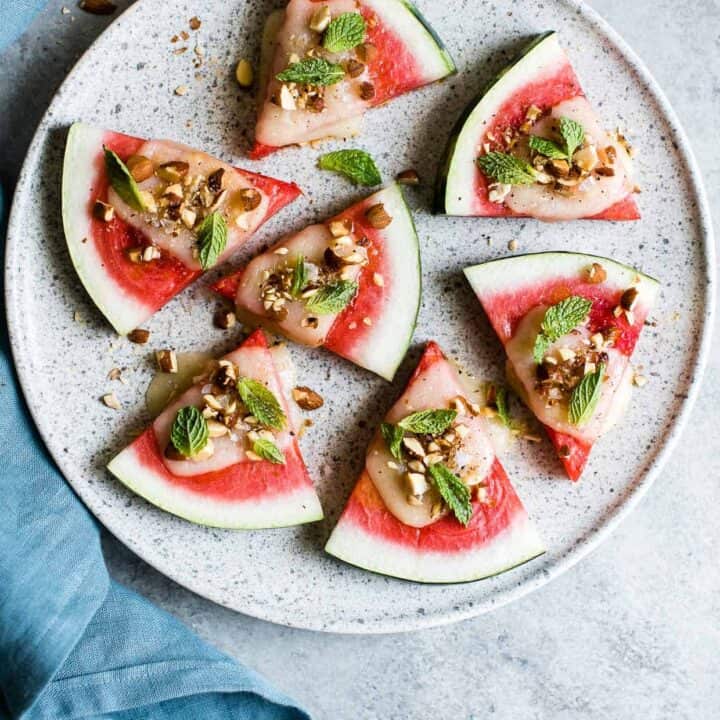 Charred Watermelon Cheese Wedges with Mint
Yield:
20-30 appetizer wedges
Ingredients
½ small watermelon sliced ½-inch thick, and cut into triangular wedges
1 6-ounce wedge of Roth Grand Cru cheese (or if you can't find it, you can use Roth aged gouda or gruyère) sliced into thin 1-½-inch squares
⅓ cup chopped dry roasted almonds
30-40 small mint leaves (or larger leaves, torn into small pieces)
1 tablespoon good-quality extra virgin olive oil
1-½ teaspoons flakey salt, such as maldon
Instructions
Preheat the broiler to 500°F and place a rack in the top third of the oven, about 8-10 inches away from the broiler.
Place watermelon wedges in a single row on a parchment-lined baking sheet.
Top each wedge with a square of cheese.
Place the baking sheet under the broiler just until the cheese melts and gets lightly tinged with golden brown, about 2-5 minutes. Watch carefully and rotate the pan if you notice a hot spot.
With a spatula, transfer the wedges to a serving platter and sprinkle with roasted almonds, place 2-3 mint leaves on each wedge, spoon a ⅛-1/4 teaspoon of olive oil over the top, and toss a pinch of flakey salt to finish.
Serve warm. This appetizer still tastes delicious when it cools off, so don't stress if it doesn't stay warm!
Thanks for reading Snixy Kitchen! To stay up on what's coming out of my kitchen, follow me on Facebook, Instagram, Twitter, Bloglovin', or Pinterest, or subscribe via e-mail to get new recipes right to your inbox.