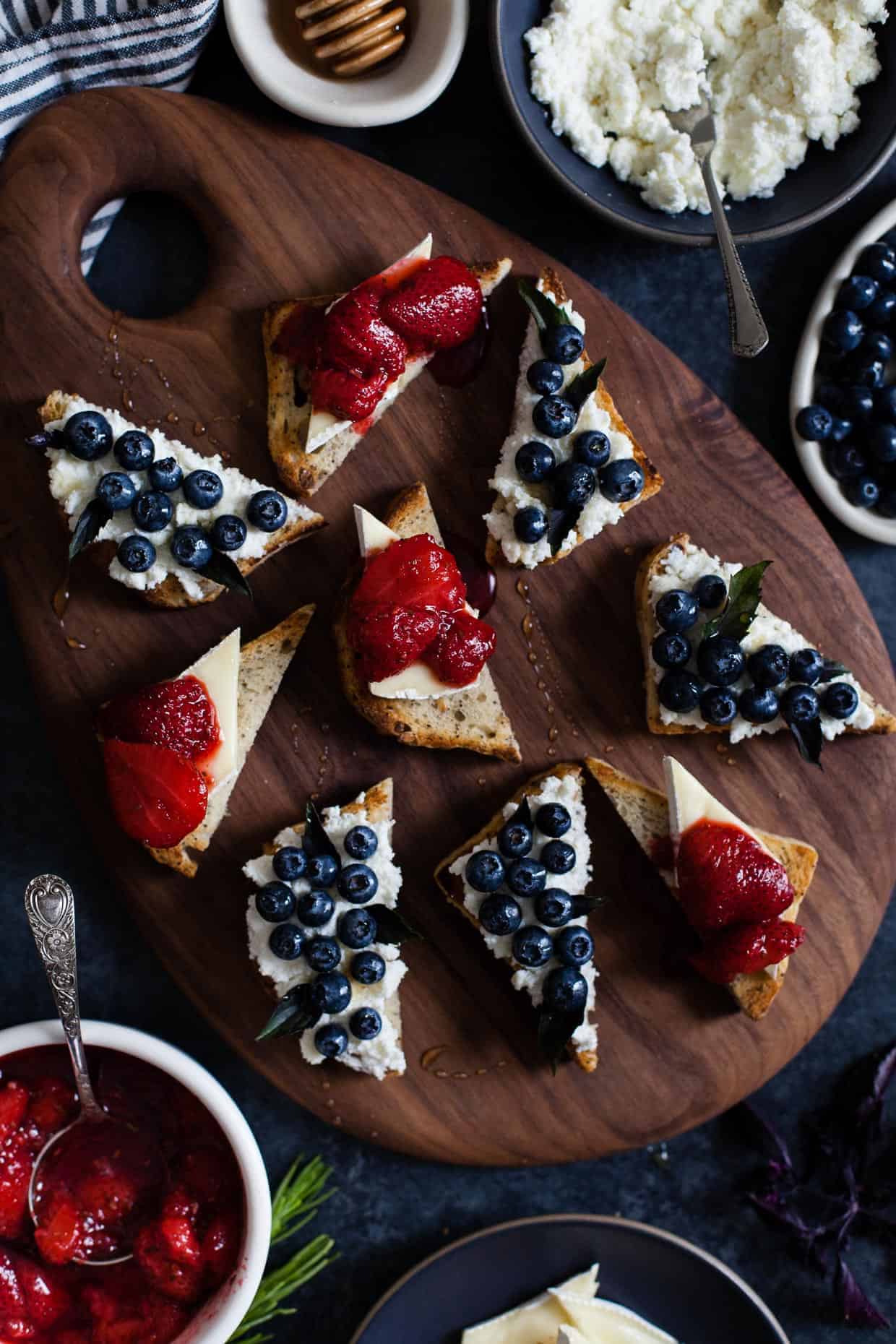 On Zo's first playdate with the neighbor baby, he pulled her hair so hard she cried. I told her it means he likes her (or else is jealous of her 3-month-old floppy mop of locks). I think she understood because on their next playdate, she stuck his hand in her mouth. Assertive and knows what she wants. Licking something to claim it as your own is a valuable life skill. Take these berry, herb, and cheese toast bites, for example. I licked them all. They're mine.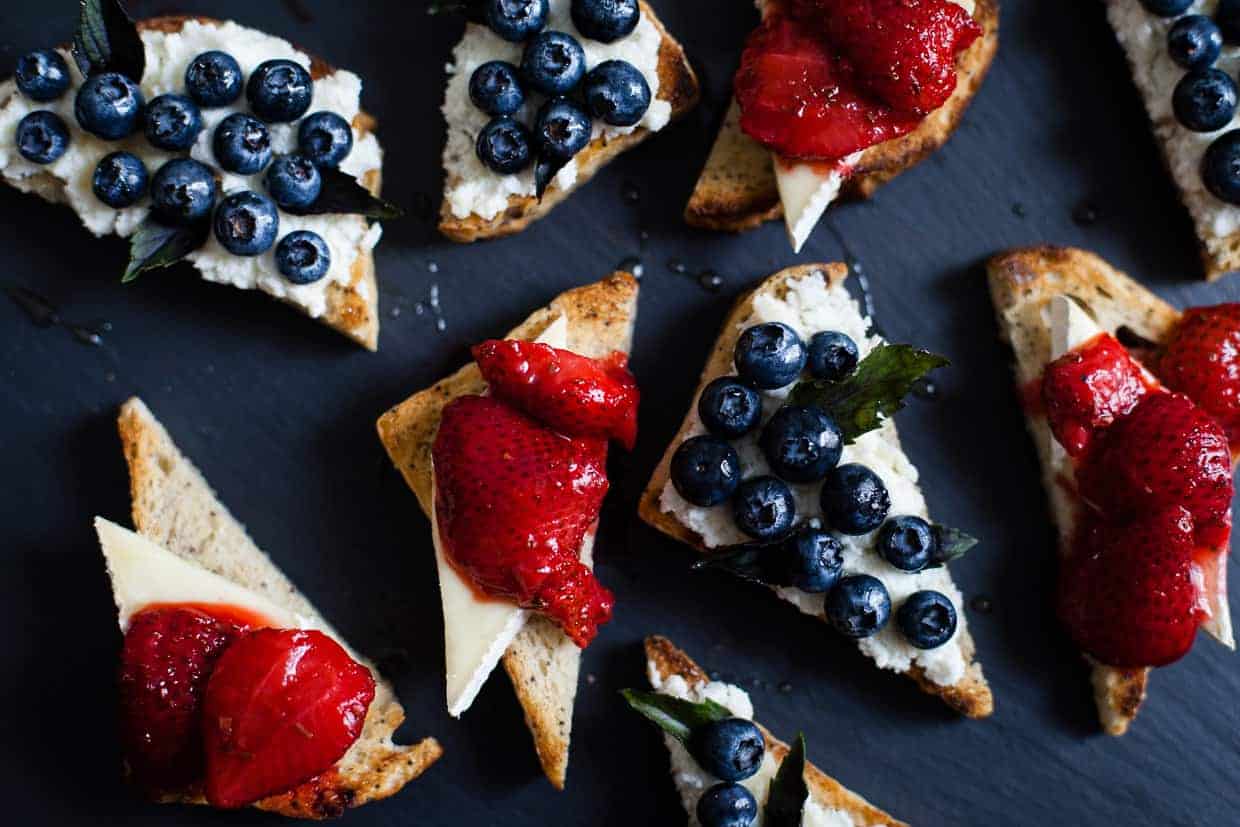 We're going to fancy up your 4th of July party with fruit, herb, & cheese pairings on top of toast plates for a quick but festive party app. Mostly I just wanted an excuse to turn an entire loaf of Bread SRSLY's sourdough into toast using my new KitchenAid Pro Line Series Automatic Toaster - it's like an exclusive penthouse-access elevator for toast. The slot senses when you drop bread in and automatically lowers to toast. A light ding lets you know the toast elevator is rising with perfectly golden toast. A high-end toast tanning bed with a button that reads - I kid you not - "A little longer." If the toast is not removed after 45 seconds, the lift lowers to keep it warm. TOAST SNOOZE BUTTON.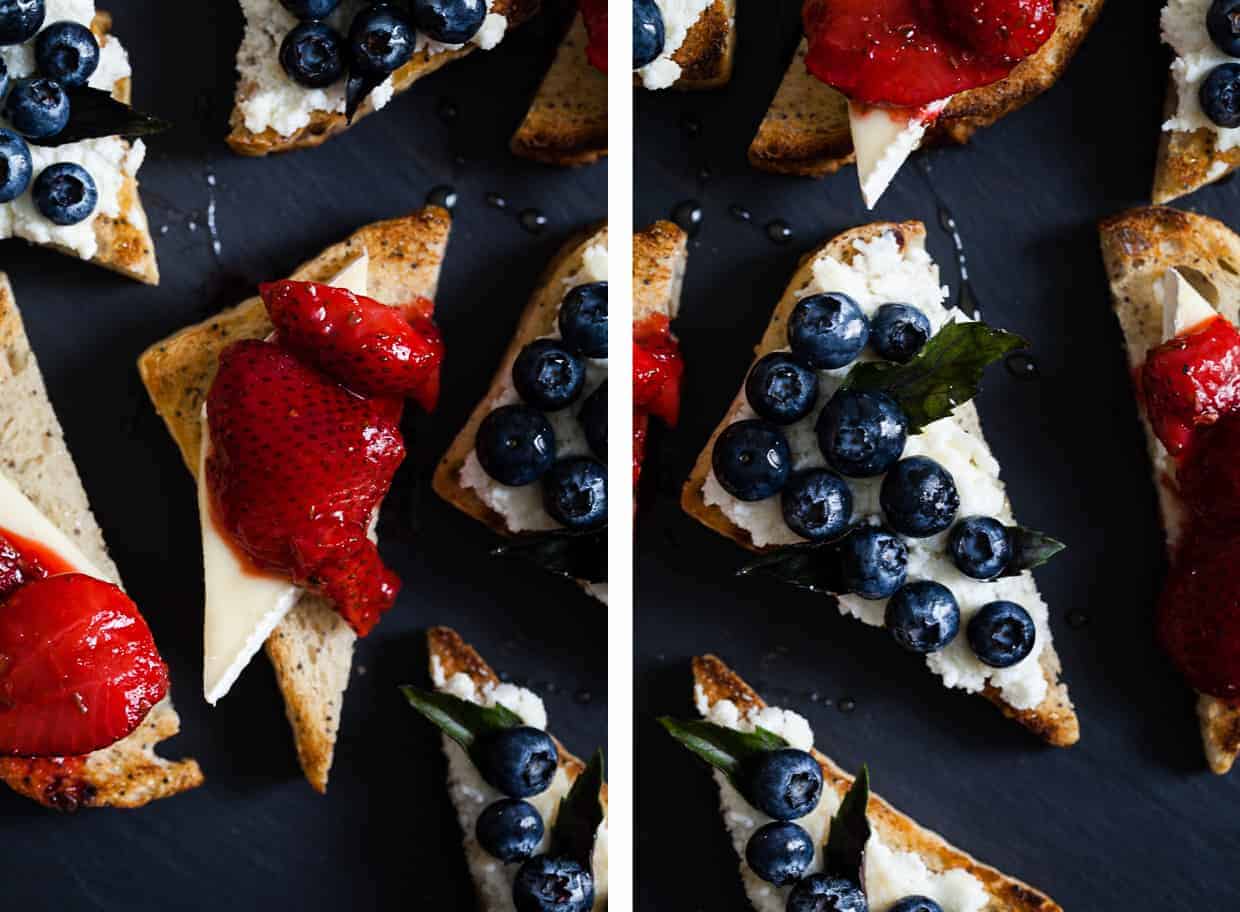 My red, white, and blue toasts are just two topping mash-ups - basil / blueberry / honeyed ricotta & rosemary / strawberry / brie - but toast knows no bounds. Go wild with your own berry / herb / cheese combos! For inspiration, try bringing the herbs to the fruit for a sniff pairing test at the market (totally normal, guys).
Here I've topped a mild honeyed ricotta with blueberries, whose subtle bright sweetness might get overpowered by a more assertive cheese. And a few sprigs of purple 'wild magic' basil from my neighbor's Zo's boyfriend's garden add a touch of spicy sweet freshness.
Next, summer's sweetest candy – s-s-s-s-strawberry - gets cozy with winter's woody rosemary in this luscious piney compote that's spooned atop a creamy buttery brie. Strawberries and cream, anyone?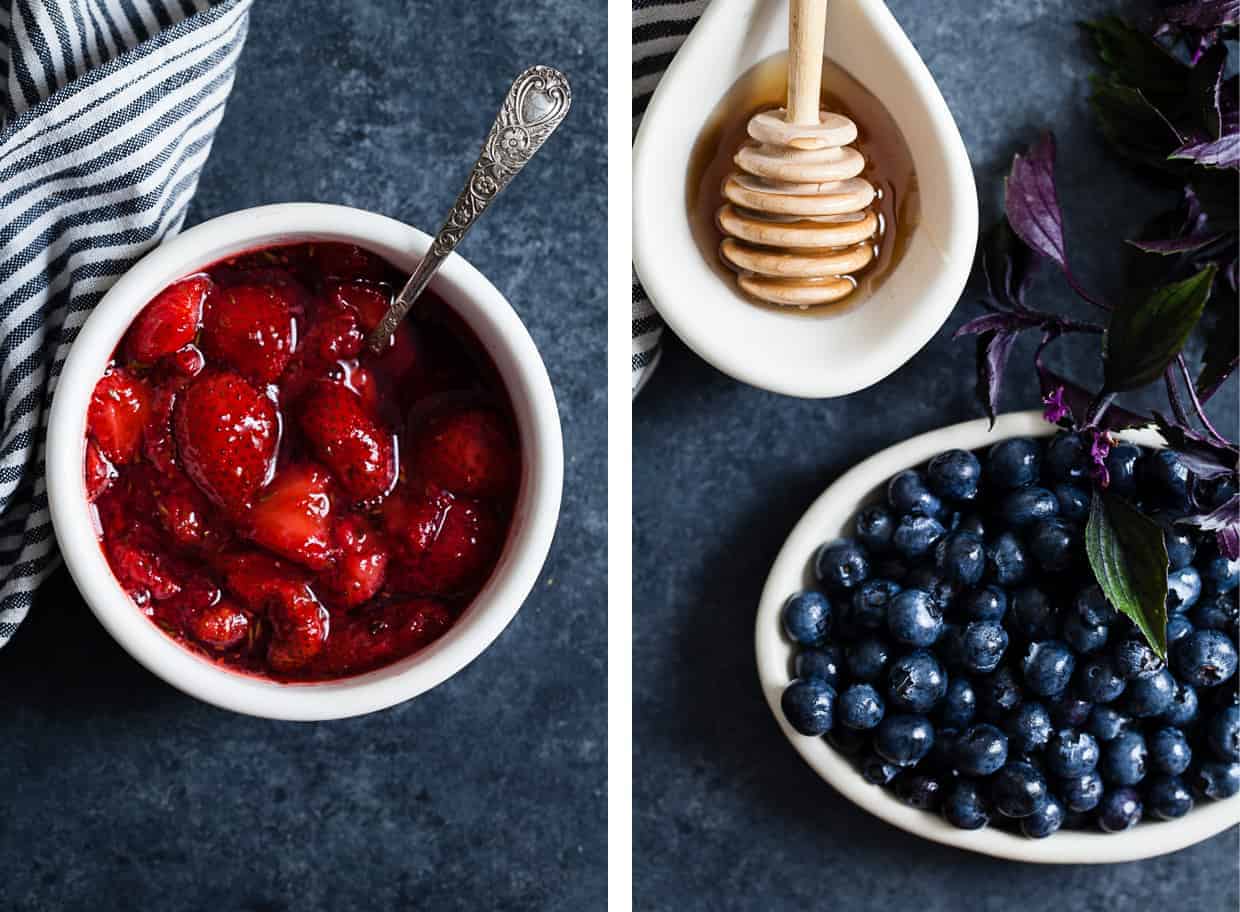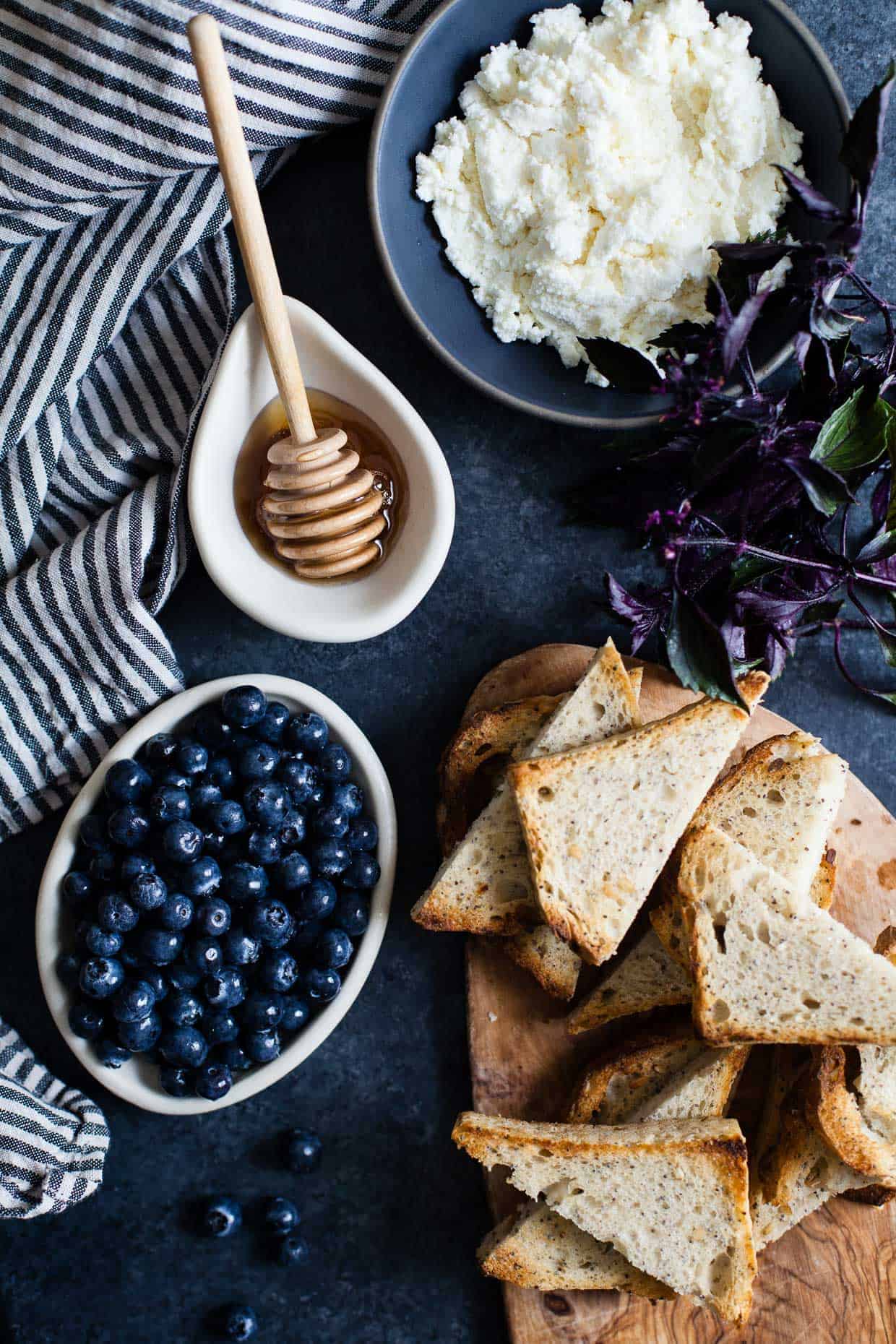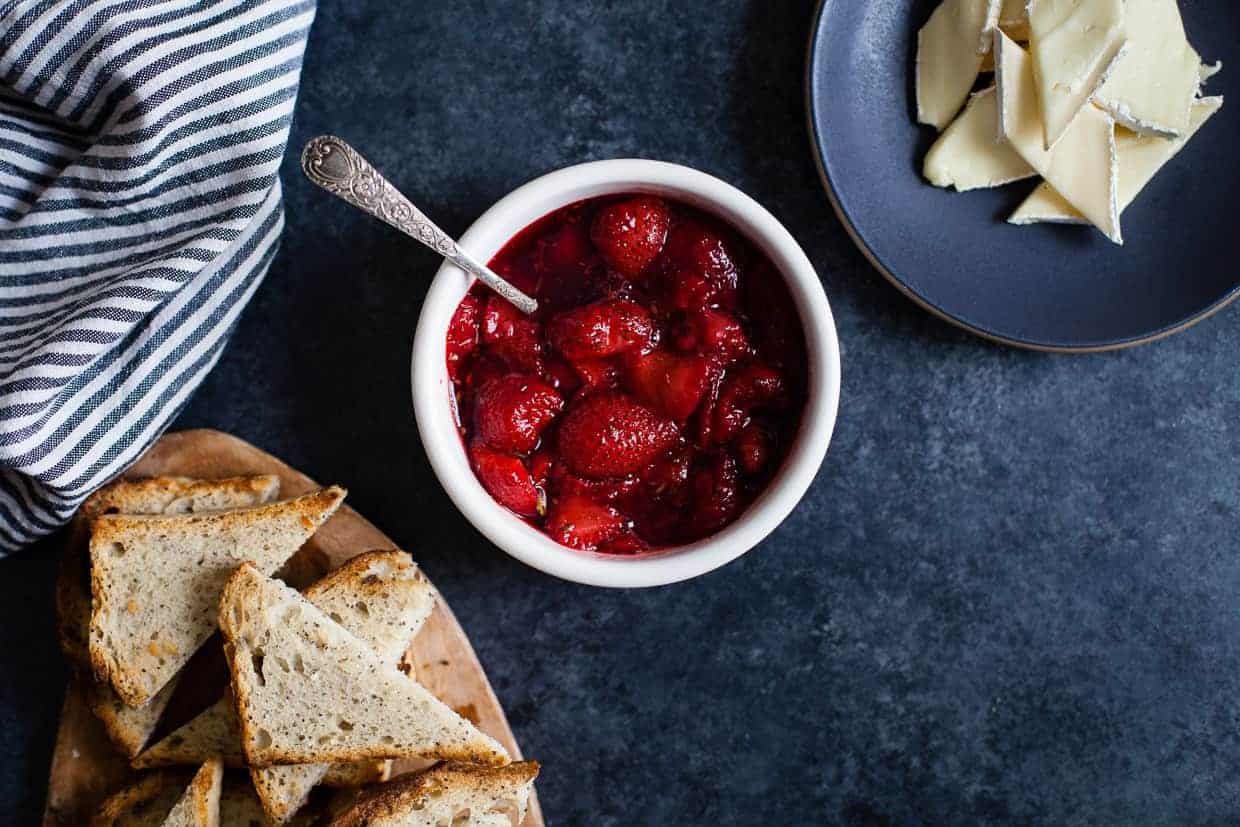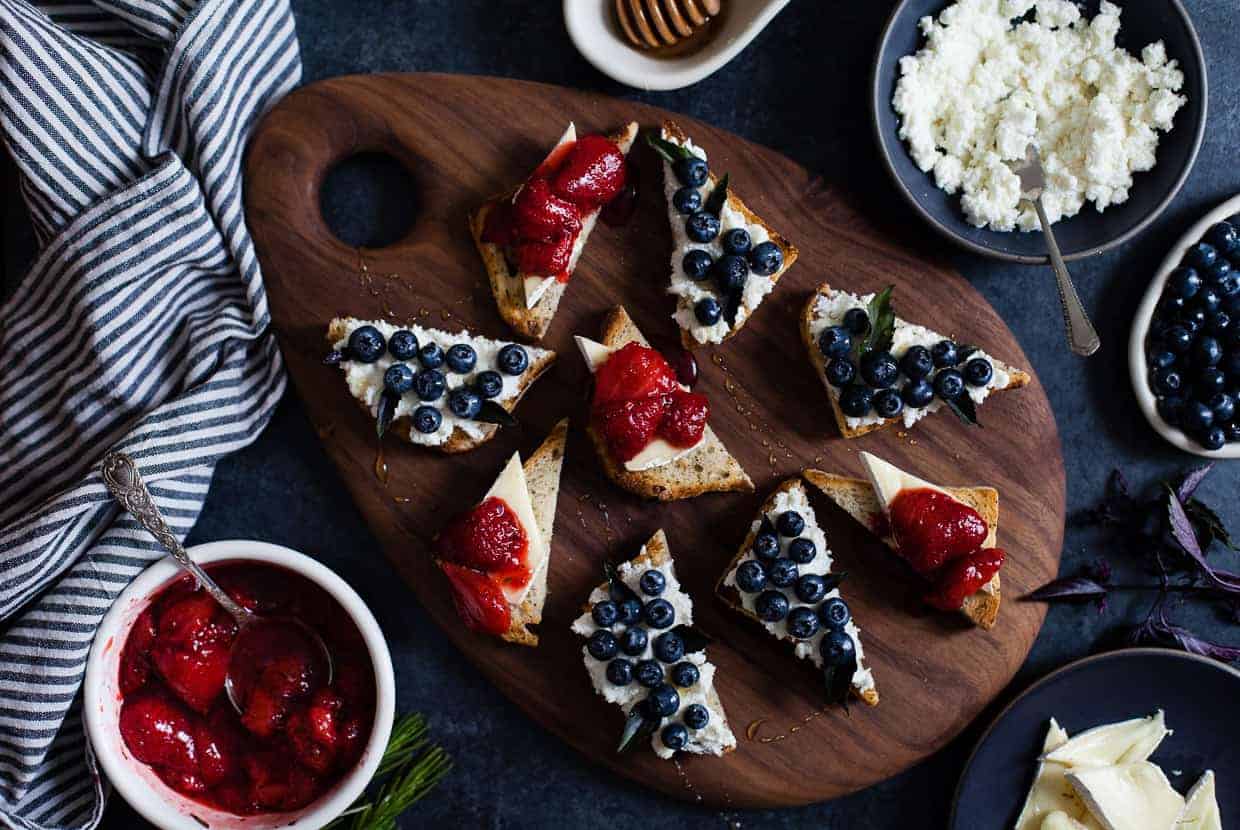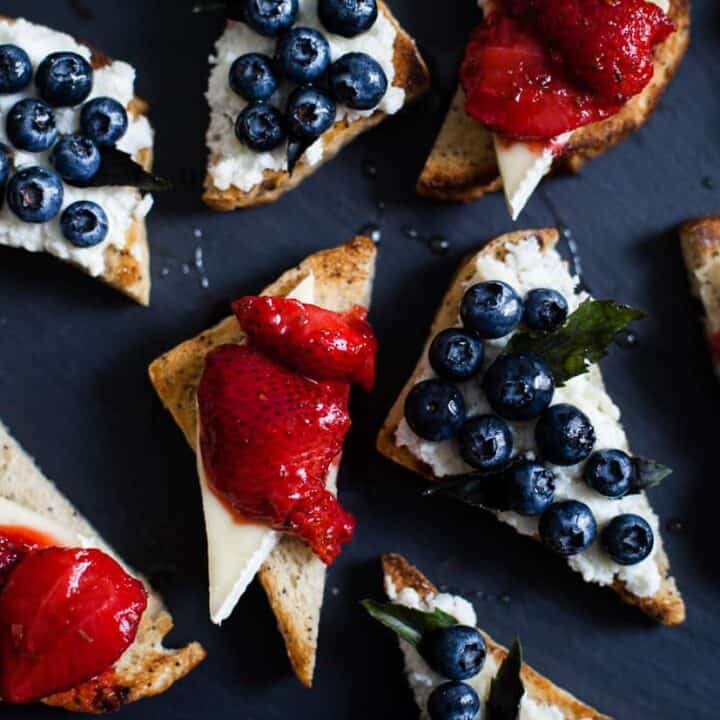 Berry, Herb, & Cheese Toast Bites – Two Ways
These red, white, and blue toasts show off just two combinations I'm digging right now – basil /blueberry / honeyed ricotta & rosemary / strawberry / brie – but the
possibilities are endless! These toasts are festive, impressive enough to
bring to a 4th of July BBQ or potluck, and best of all, come
together lickety-split.
Ingredients
Basil Blueberry Ricotta Toast
½ cup blueberries
1 tablespoon honey, divided
¼ cup + 2 teaspoons fresh ricotta cheese
2 tablespoons mascarpone
⅛ teaspoon salt
6 slices of thick bread, toasted and cut diagonally in half
10 large basil leaves ripped into pieces or 36 small leaves
Rosemary Strawberry Brie Toast
1½ cups strawberries, hulled and cut in half or thirds
3 tablespoons water
2 tablespoons sugar
1 teaspoon minced rosemary from 1-2 sprigs
Zest of half a lemon
6 slices of thick bread, toasted and cut diagonally in half
4 ounces triple cream brie, sliced into 1-inch long and ⅛-inch thick pieces
Instructions
Basil Blueberry Ricotta Toast
Toss the blueberries in ½ teaspoon of honey and set aside.
Prepare the cheese. Mix the ricotta cheese, mascarpone, 1 teaspoon of honey, and salt in a small bowl until well combined.
Spread the cheese over the toast triangles.
Place 3 small basil leaves or pieces on top of the cheese and top with blueberries.
Drizzle the remaining honey over the top of the toast and serve.
Rosemary Strawberry Brie Toast
Add the strawberries, water, sugar, minced rosemary, and lemon zest
to a small saucepan over medium heat. Cook until the sugar dissolves, about 1-2
minutes, then reduce heat to medium-low and simmer until the strawberries break
down and the compote thickens, about 5 minutes. Remove from heat and set aside.
Place one piece of brie on each toast triangle and spoon strawberry
compote over the top. Serve immediately.