When I first went off to college, I'd regularly call my mom from the grocery store to ask, "in what part of the store would I find _____ ?" Anything from salsa to olives to pizza sauce. For me, this was the adult manifestation of watching my parents drive from one place to the next without a map; how on earth did my mom have such an accurate road map of the grocery aisles on the top of her head?!
Compare this to the current me who maximizes my time by writing my shopping list in order of each item's shelf location. Back then though, I could barely find everything on my shopping list. It was in my days of not knowing my way around a grocery store that I failed my mission to find what my friend's mom told me was, "special corn flour for arepas." I needed to satisfy a serious craving for her Venezuelan arepas, but now I lived 500 miles away from her. Just imagine: if I had succeeded in finding what I thought was the unicorn of flours, I may have been able to make these crispy zucchini corn cakes much sooner in life.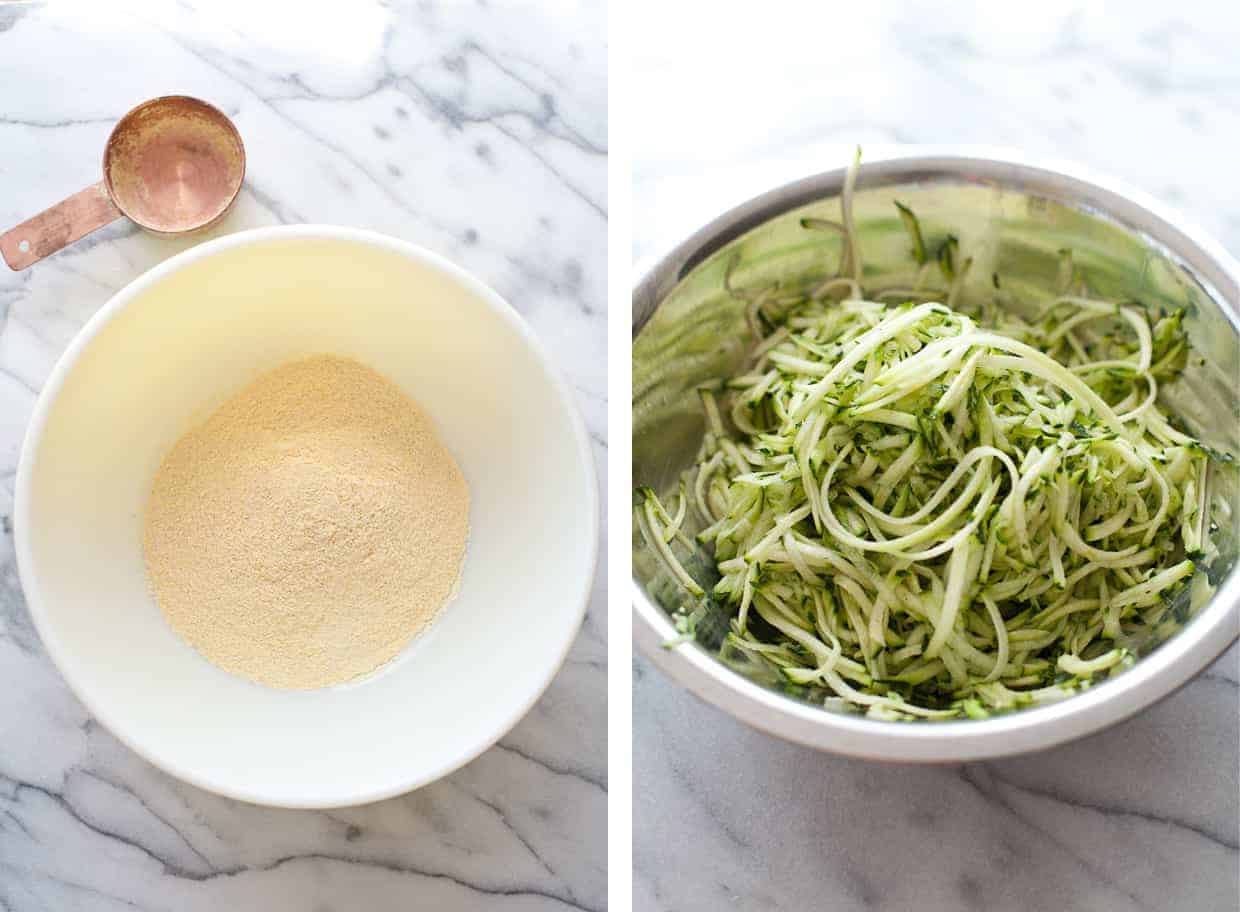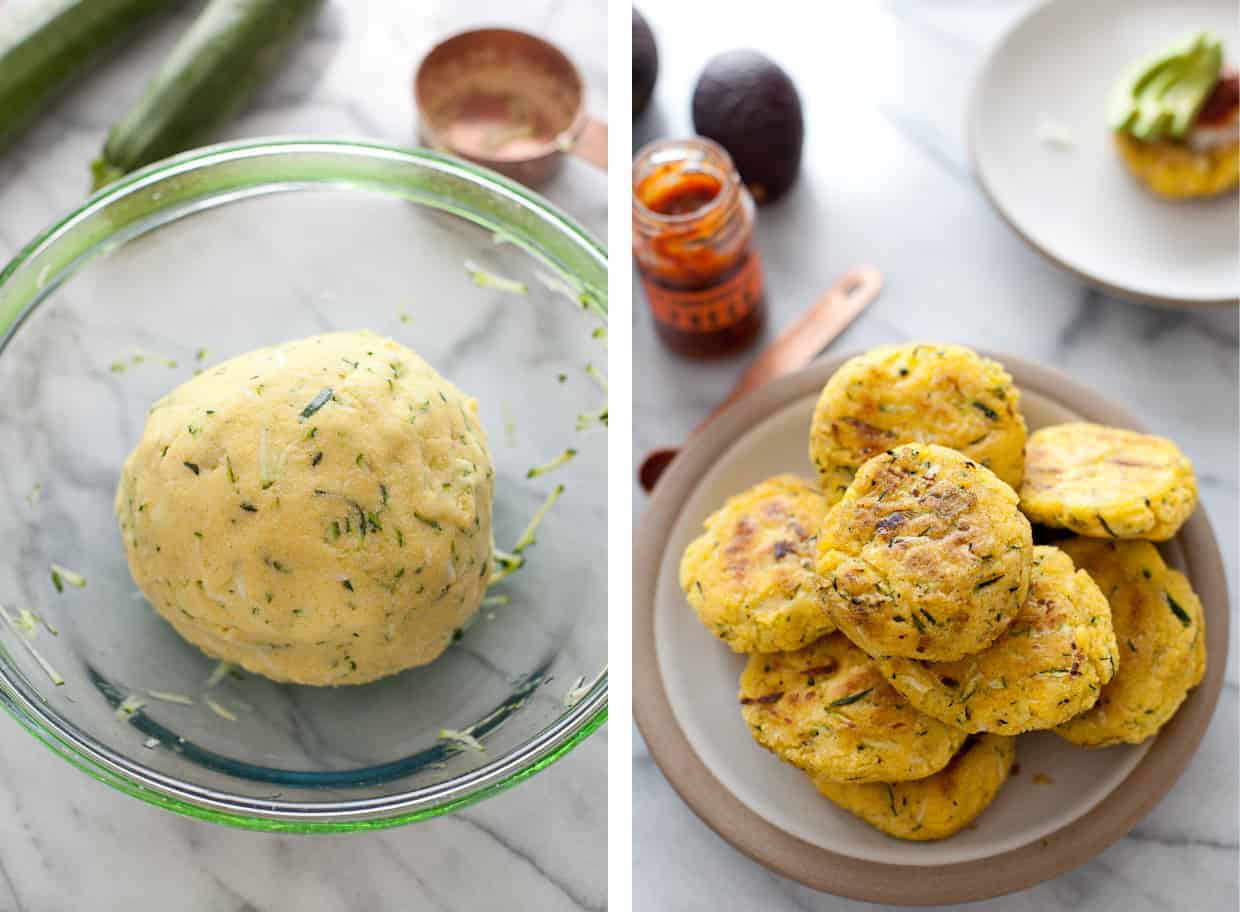 Let me paint the picture - I was a hungry college kid in desperate need of corn flour for arepas - masarepa. Only at the time, I didn't know the word for it because apparently searching the web hadn't occurred to me. I swore I looked everywhere, even popping into some of the Hispanic markets, and came up empty-handed every single time. If you can't find masarepa, an ingredient used extensively in Columbian and Venezuelan cooking, in the heart of Downtown Los Angeles, it either doesn't exist or you're a really terrible shopper. It was the latter.
Now, a well-seasoning shopper ten years later, I found the ingredient in about 2 minutes on my first hunt. (Note: I got it at the Mexican grocery in Berkeley). This proves that a) I used to suck at grocery shopping and b) maybe there's hope that in another ten years I'll be able to grow a garden without killing all the green bean plants before they even get in the ground.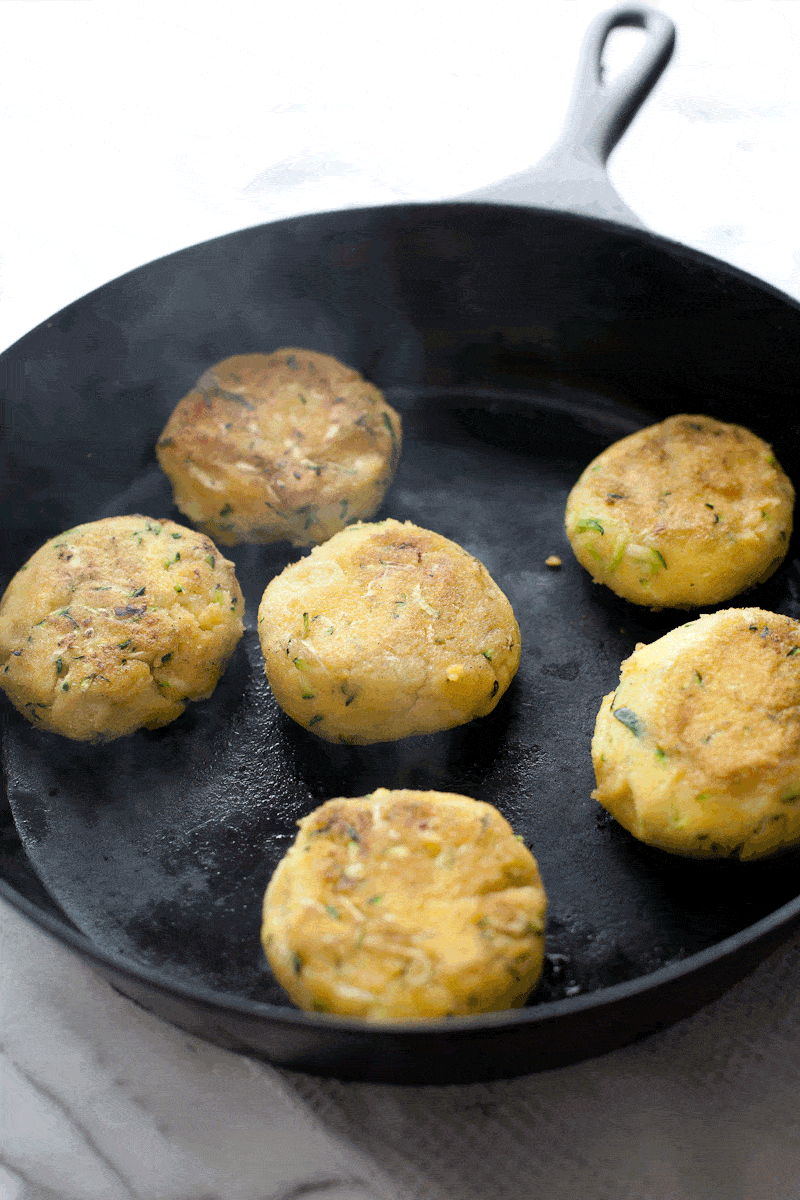 I also got a little jar of La Fundidora's Feugo salsa and in her company profile, the salsa-maker recommended serving the salsa with something other than chips. With this challenge in mind, I wanted to create a dish that featured the salsa's chile profile as a foundation for a hearty meal.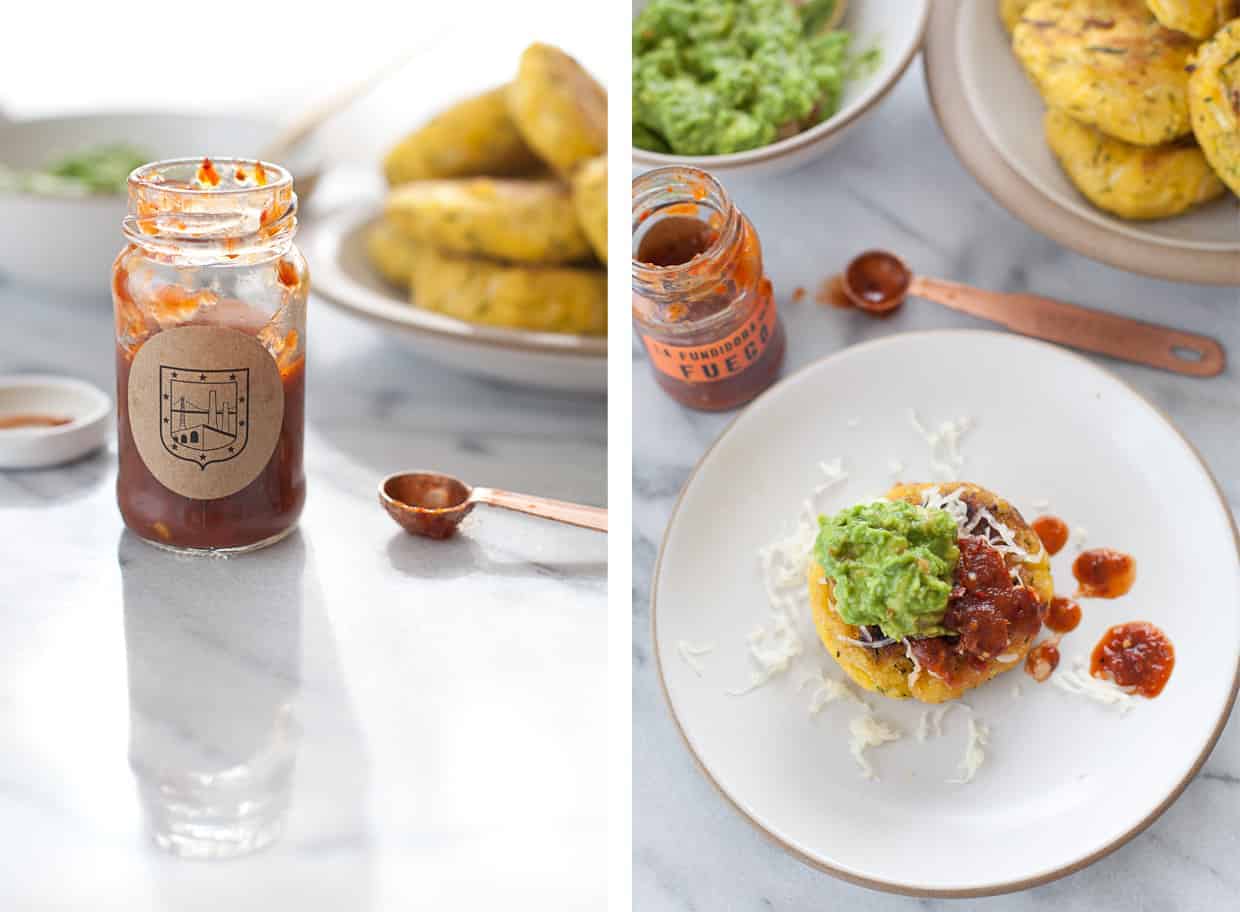 And with that, my craving for the Venezuelan arepas from my high school years came flooding back. Besides making them twice now, I've only eaten arepas when my friend's mother makes them. Sitting at the dining table while her mom pulled them from the oven and offered that I crack one open. While it's a staple Venezuelan and Columbian bread made from masa, it was unlike any flavor or texture I'd ever eaten and I wanted more. 12 years after moving away from my hometown, I'm still thinking about them. Her mom made them with white corn flour, but when faced with the choice between white or yellow corn flour, I chose the yellow for no other reason than the vibrant color.
Learn more about the history of arepas from My Columbian Recipes along with a long list of authentic arepas recipes!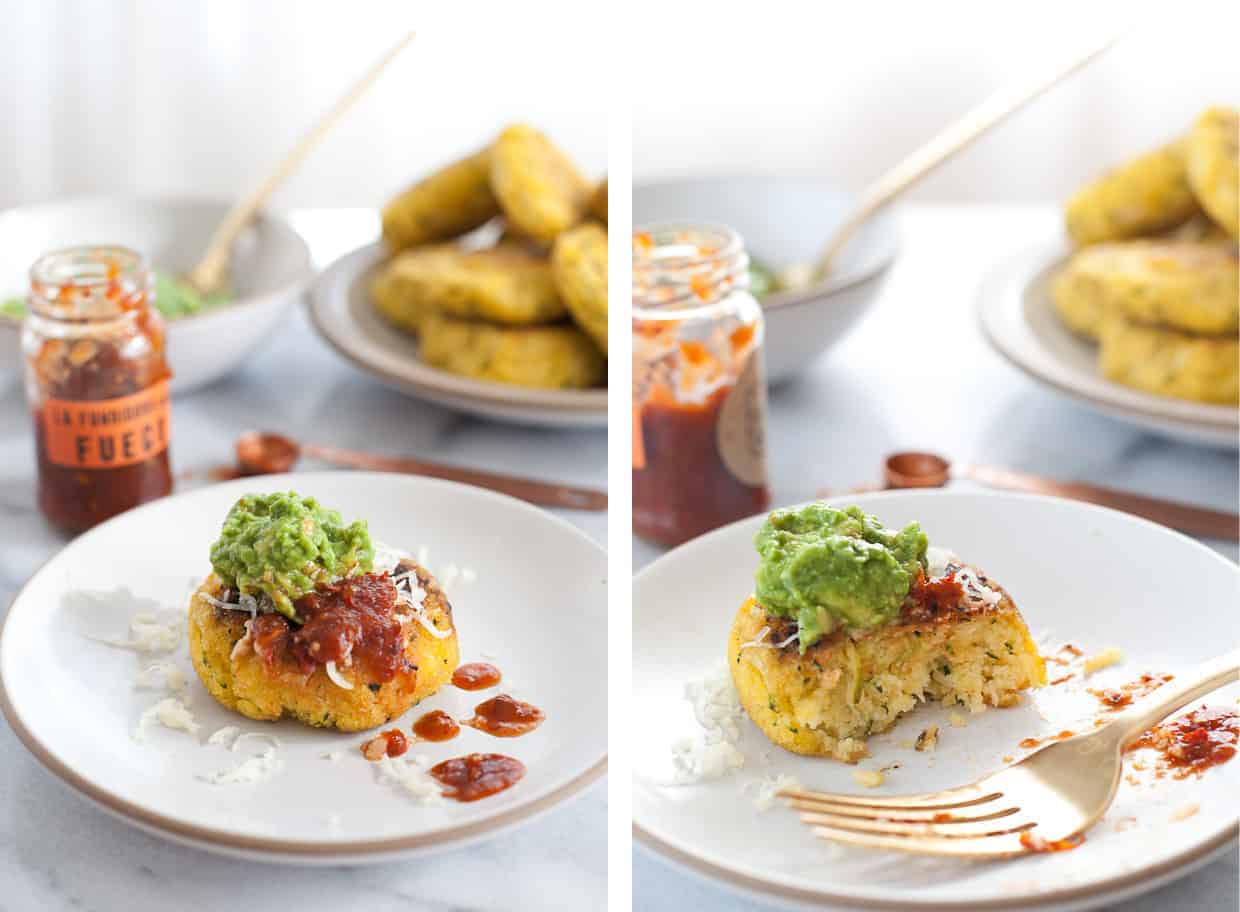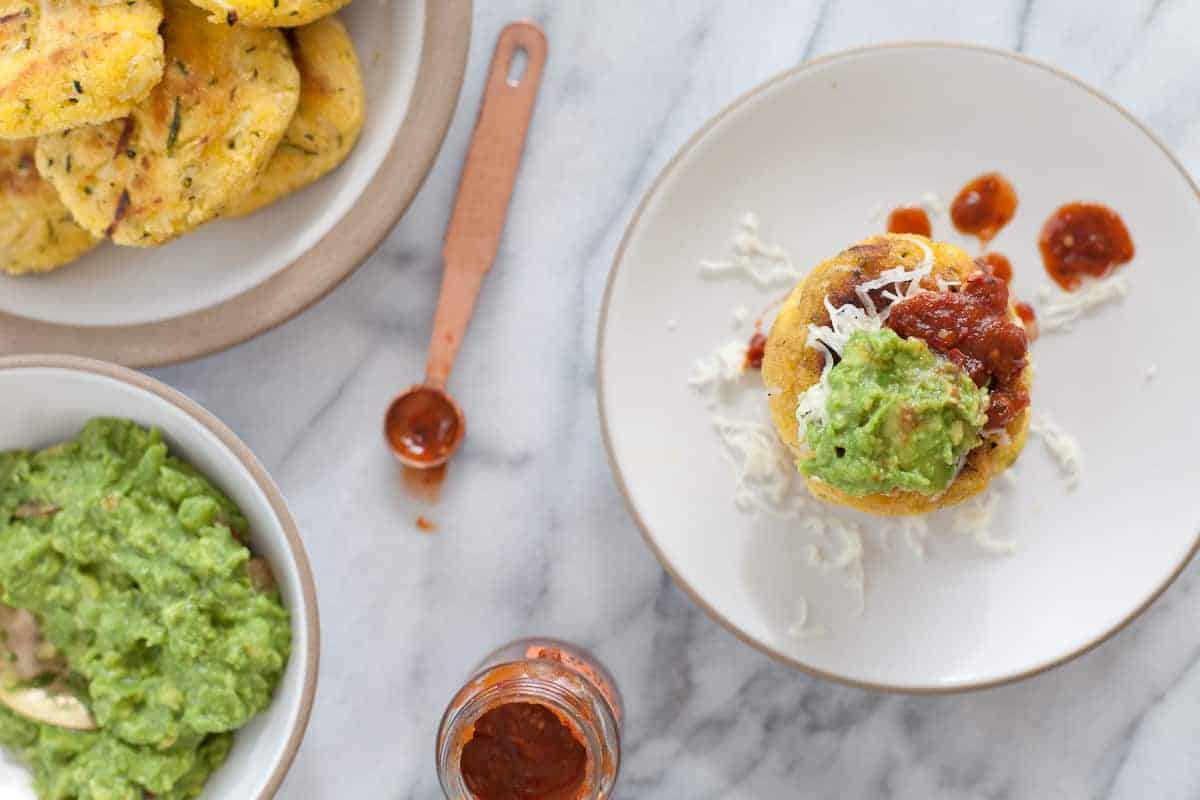 This take here is anything but authentic, but an interpretation based on the recipe my friend's mother shared with me. With zucchini mixed into the dough. With melted cheese, salsa, and guacamole on top, you can't resist going back for seconds. They've got a crispy shelled exterior and a light and fluffy corn cake center. They make the perfect naturally gluten-free flatbread for soaking up the flavors of whatever you're topping or filling them with - your favorite salsa, pulled pork, or whatever your heart desires.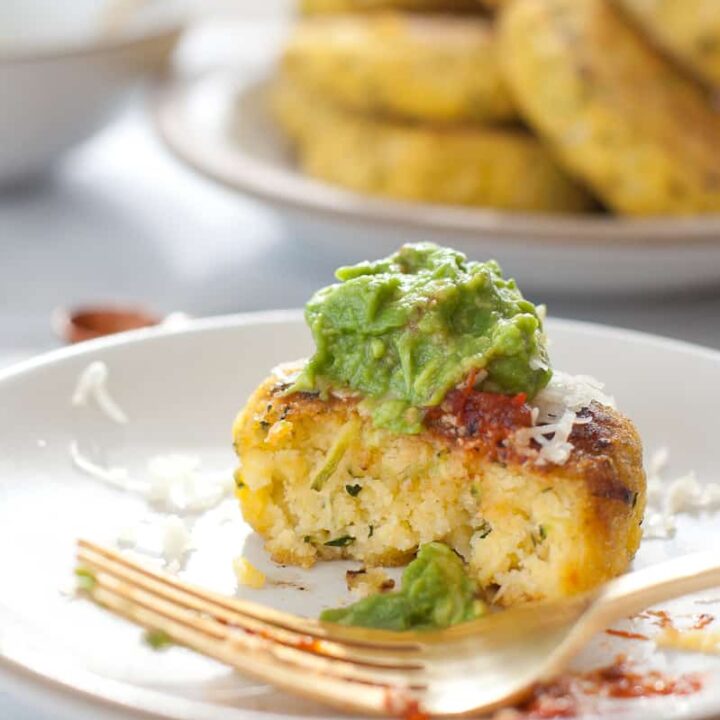 Zucchini arepas: zucchini corn cakes with cheese, salsa, and guacamole
Instructions
Preheat the oven to 350ºF.
In a large bowl, pour the warm water over the shredded zucchini. Add the olive oil and the salt and gently mix.
Add the masarepa. Mix well and roll the dough into a ball and let rest for 5 minutes.
Shape the dough into small disks, about 2-3 inches wide.
Heat a small dab of the butter in a large cast-iron skillet over medium-high heat. Working in batches, cook the arepas for 3-4 minutes per side, until crispy and golden brown, adding more butter to the pan after each batch. Transfer to a cookie sheet while you cook all the arepas.
Bake for 10 minutes to finish cooking.
Top immediately with shredded monterey jack cheese and serve with salsa, guacamole, and/or sour cream (or whatever other toppings you prefer!)