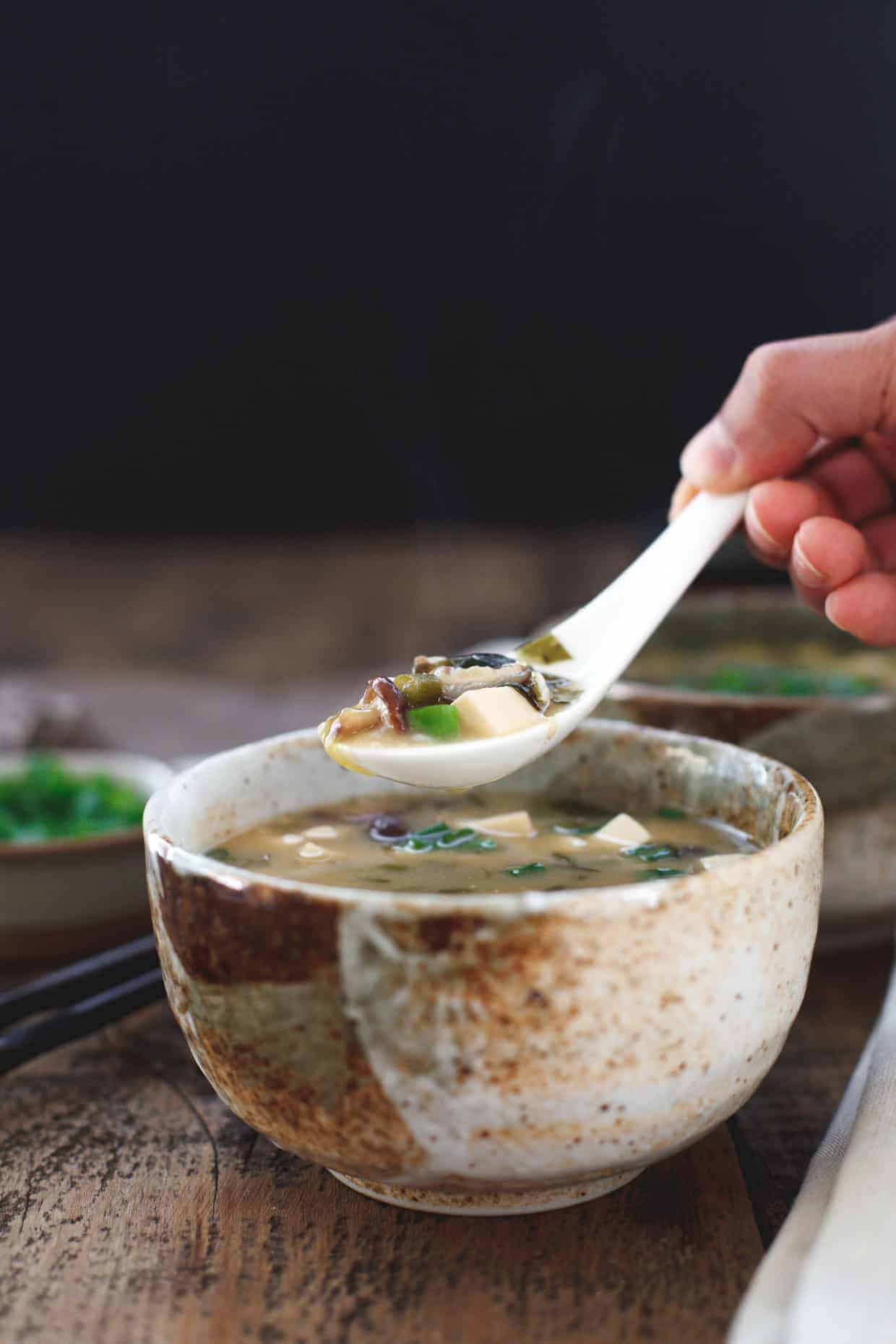 I have a habit of inviting people over for dinner, but then making them wait over an hour to eat while I prepare it. I'm imagining all of my hungry friends shaking their heads yes in unison. One day I'll get the timing right (as in, I'll stop waiting until my friends arrive to begin making the soup broth), but for now I'm just happy enough that I'm at a place in my life where I've got a full set of matching dishes to serve a table of four.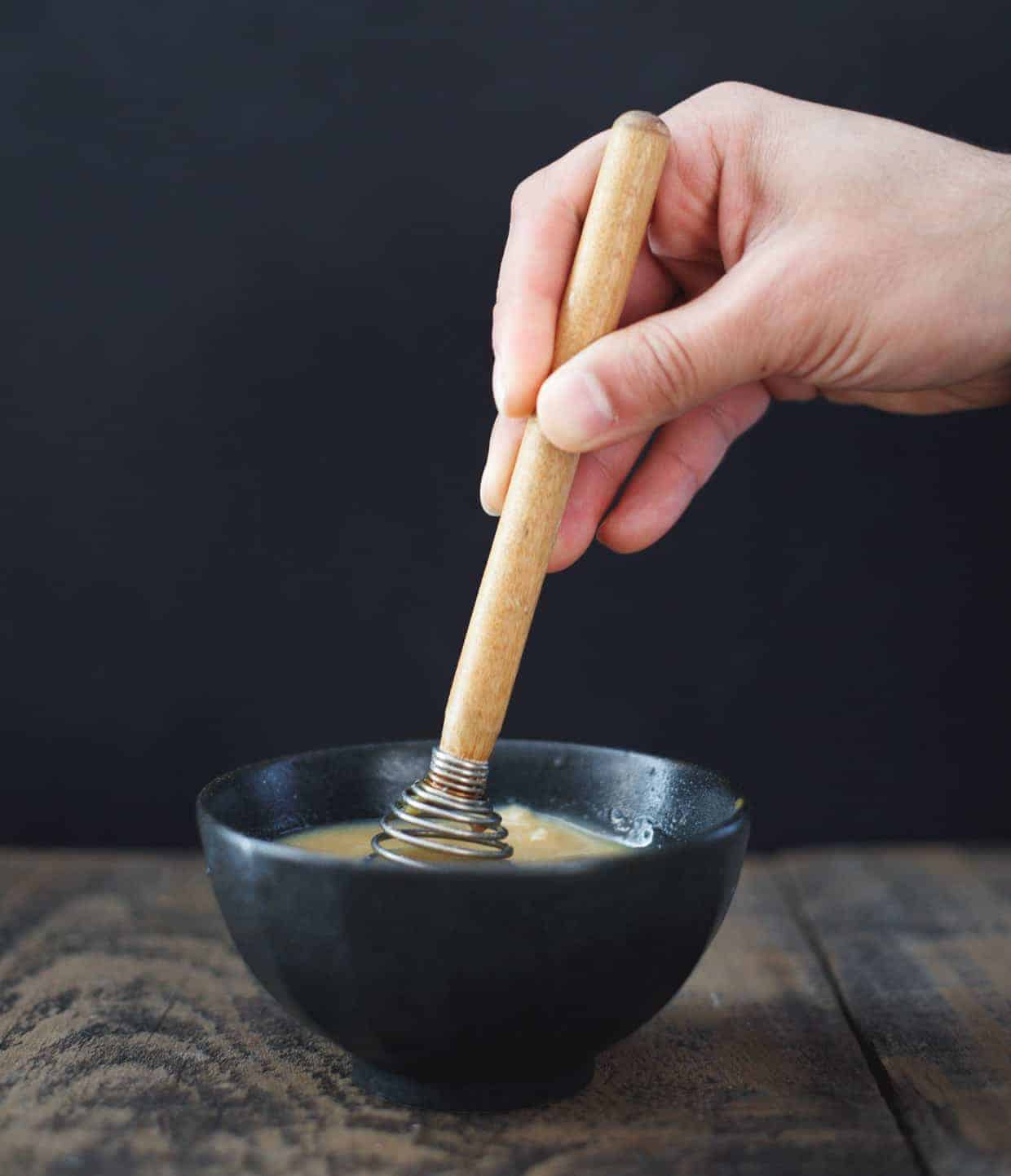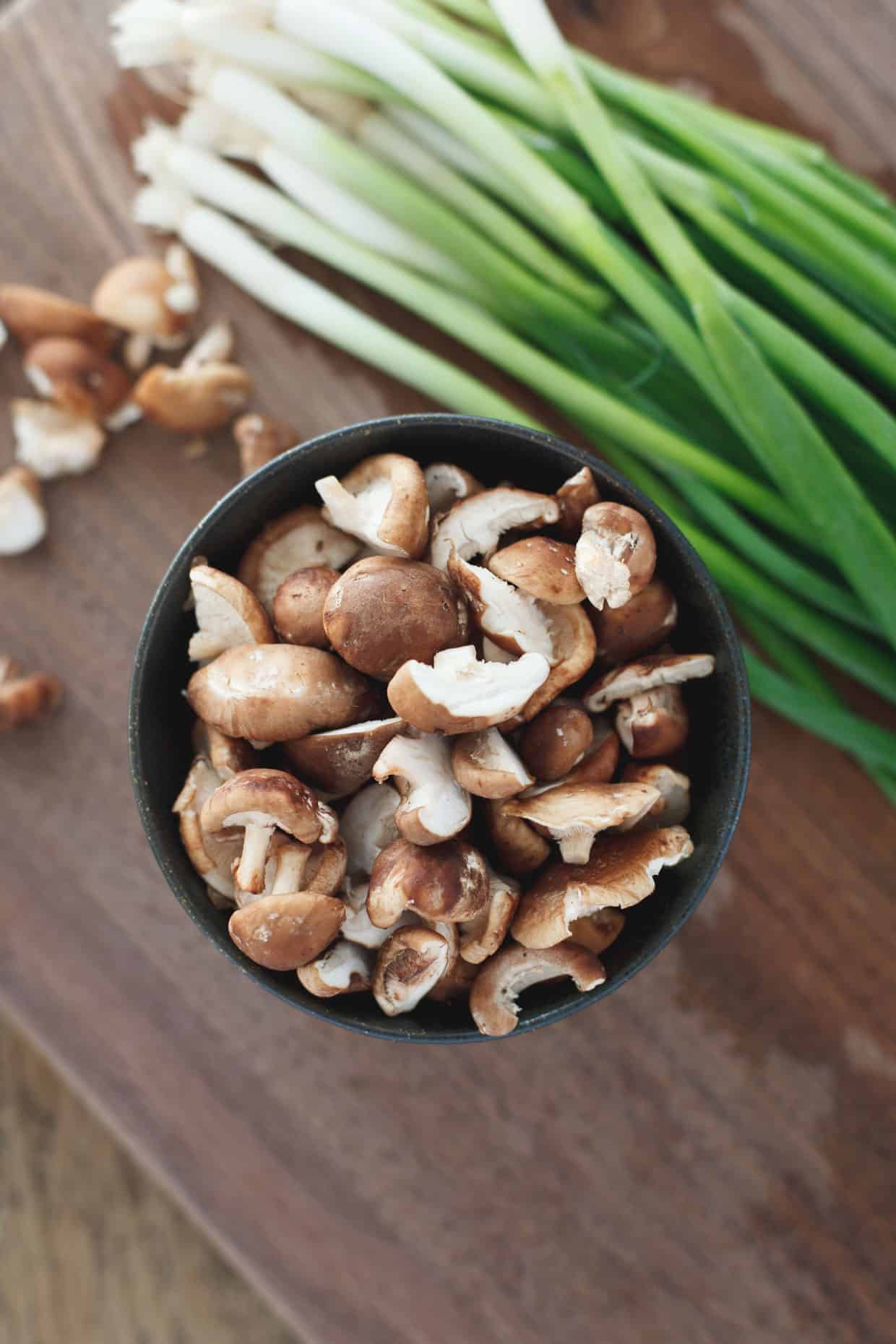 This miso soup comes together in about 20 minutes of inactive time (less if you opt for instant dashi), which makes it one of my go-to dishes to serve company. It's so quick that I prepare the mushrooms and scallions, then go back to watching TV in my yoga pants...until the doorbell rings and Lucas answers while I scramble to find normal pants. This is real life.
The problem is that I always put miso soup on the menu whenever I've also decided to make at least 2 of the following: sushi rolls, oboro tofu, scallion pancakes, smoked salmon soba bowl, or strawberry mochi with red beans. So you can basically add an hour+ to whatever time I've told you to arrive and that's when you can expect to eat.
Snack accordingly. You're lucky I didn't make you prepare the meal yourself - ahem.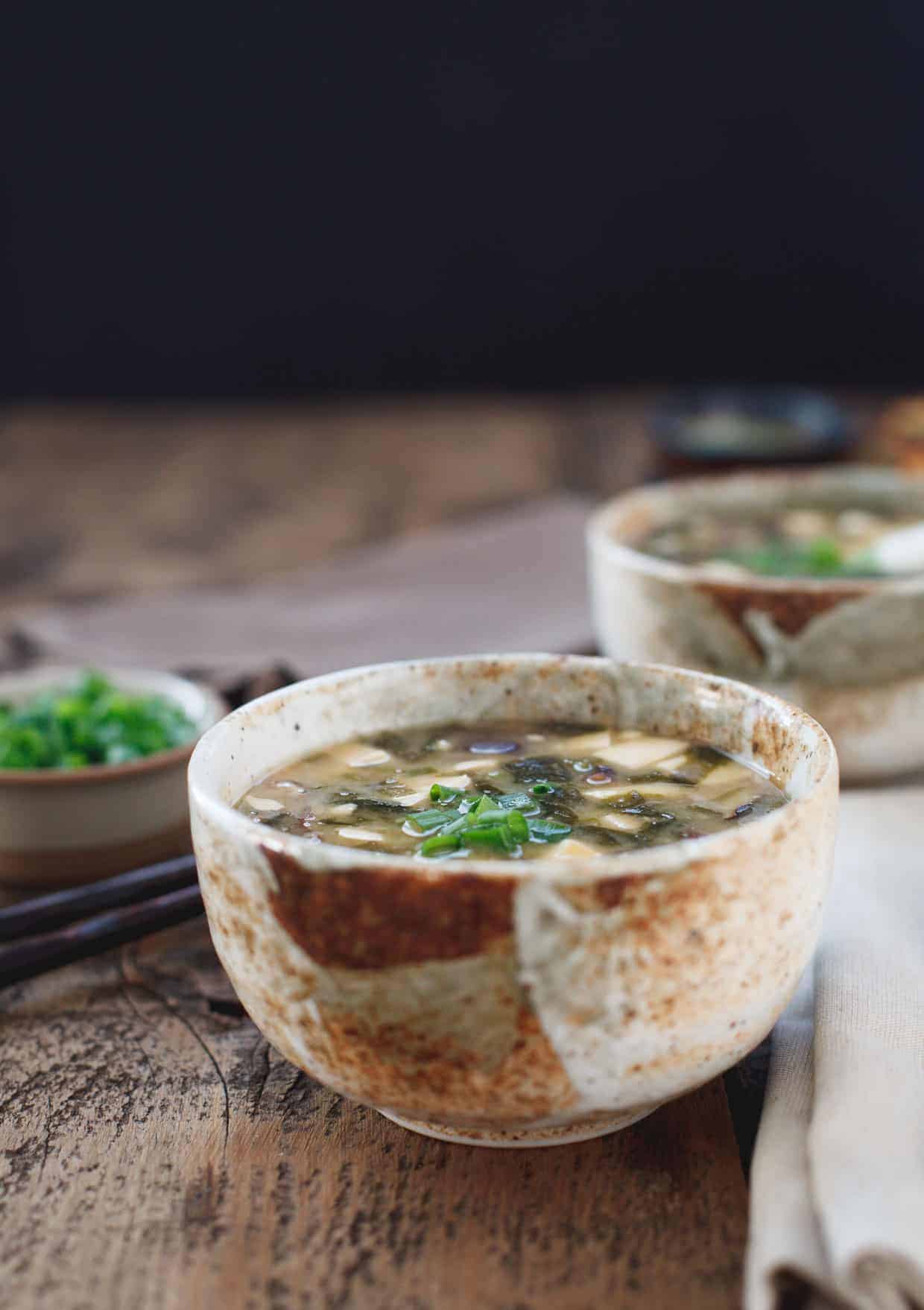 Fortunately we have stools and enough space in the kitchen for four people, two cats, and a dog to hang out while I cook. We tested the limits when our friends Greg and Ashley came over with their black lab on Friday and I finally dished up miso soup, oboro tofu, and scallion pancakes after approximately 1 hour and 30 "sorry it's not ready yet"s.
The same thing happened last night when I didn't start steaming the rice for homemade sushi until after Angi arrived for her birthday dinner. Actually, when she rang the doorbell (a few minutes late even), we were just lucky the dishes were done and the dining table wasn't still renting out the living room after Alanna and I spent a full day destroying the kitchen and performing acrobatic tripod balancing acts.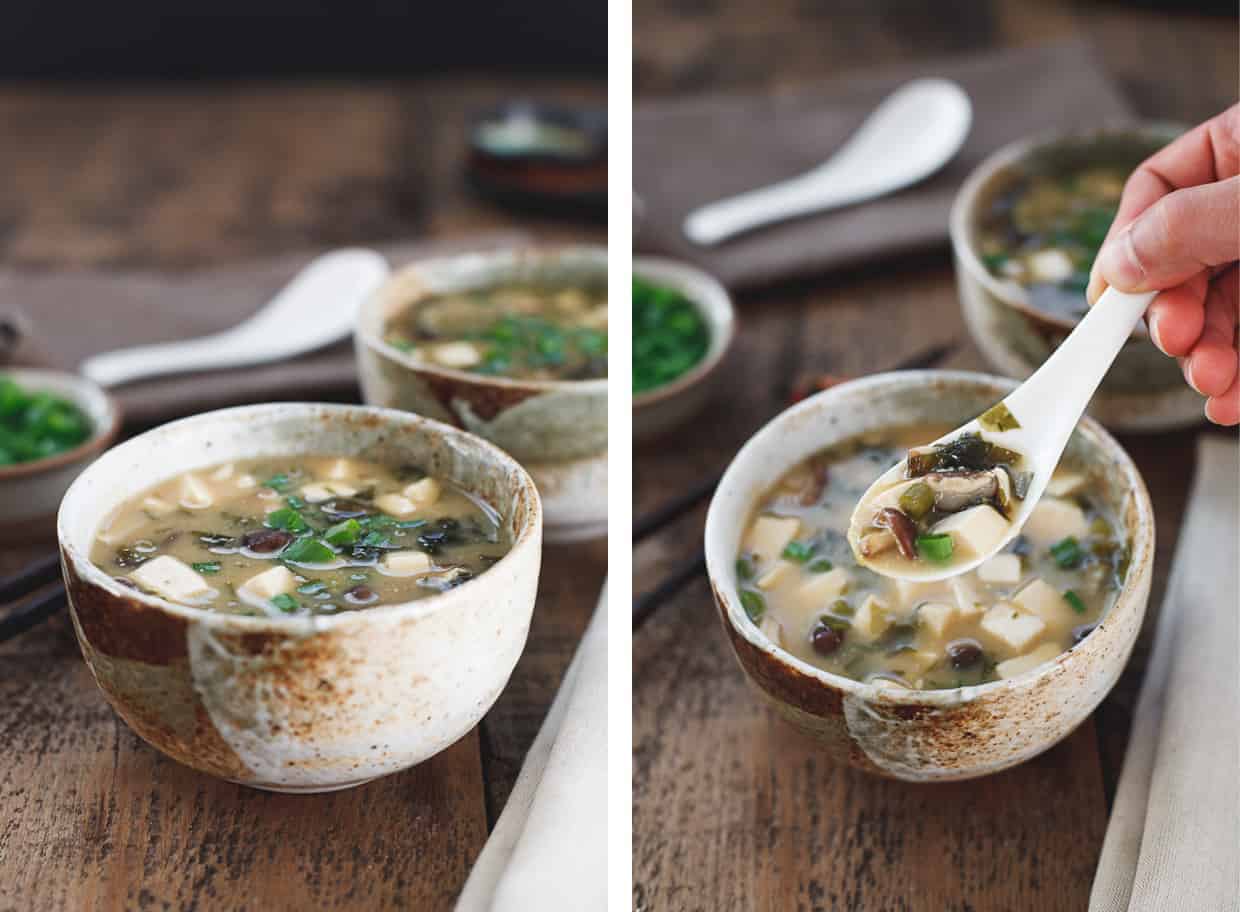 But this soup. It makes up 1,000 apologies. The broth has a strong umami flavor with a touch of sweet miso and a hint of salty that gives a simple soup lots of oomph. The homemade dashi lends enough flavor to the base of the soup that there's no need to season the broth, except with a quick drizzle of tamari depending on the saltiness of your miso.
While it makes a great side - a small bowl to warm you up for the main event - the loads of fresh shiitakes and cubes of silken tofu make it hearty enough to serve as a main course. And when we're feeling fancy, we throw in a handful of seaweed brown rice noodles to make it even more filling.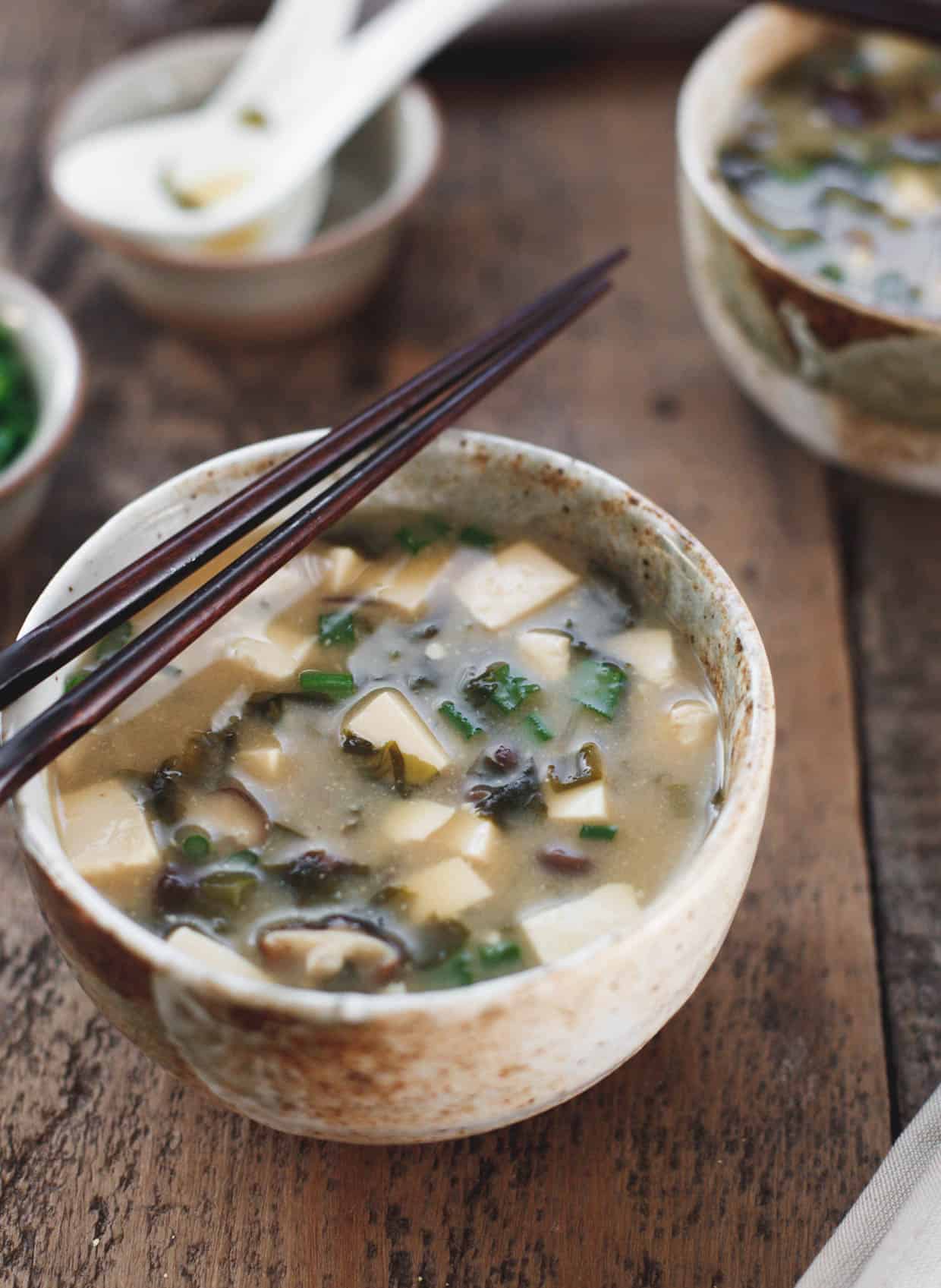 Thanks for reading Snixy Kitchen! To stay up on what's coming out of my kitchen, follow me on Facebook, Instagram, Twitter, Bloglovin', Pinterest, or subscribe via e-mail to get new recipes right to your inbox.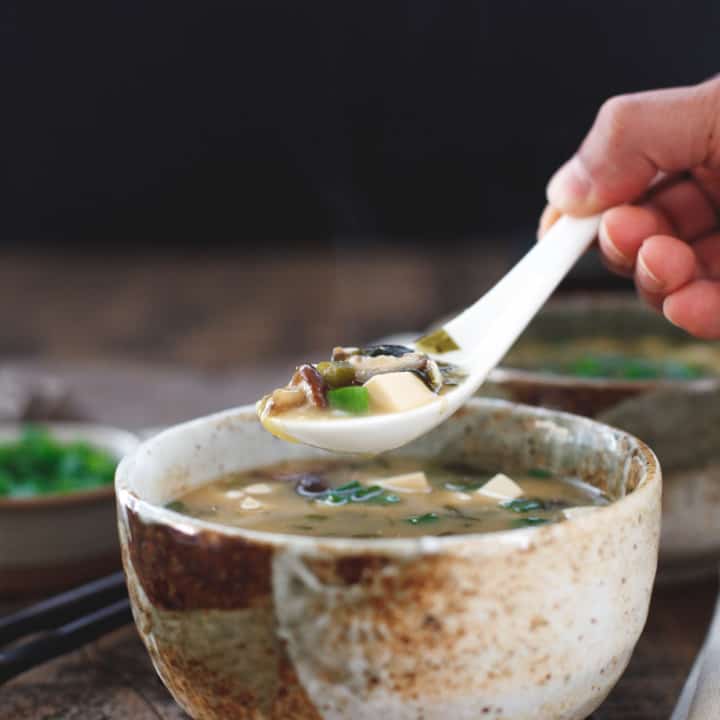 Shiitake Miso Soup with Silken Tofu
Ingredients
4 cups dashi stock (See recipe below or see note for instant dashi*)
2 cups sliced shiitake mushrooms
1 tablespoon dried cut wakame (dried seaweed**)
6 ounces silken tofu, cut into ½-inch cubes
1 cup thinly sliced scallions
2 tablespoons red miso paste
2 tablespoons mellow white miso paste***
Optional: soy or tamari sauce, to taste
Instructions
In a large pot, bring the dashi stock to boil over medium-high heat.
Reduce heat to medium and add the shiitake mushrooms and ¾ cup of the chopped scallions. Cook for about 10 minutes, until the mushrooms and scallions soften..
Add the dried wakame and silken tofu. Cook, stirring occasionally, for another 5 minutes to heat thoroughly. Reduce heat to low.
Carefully scoop out about a cup of the boiling broth and whisk it in a separate bowl with the miso paste until smooth. Pour the miso into the soup and stir to combine. Cook for an additional 3-4 minutes over low heat.
Taste the broth to determine if it needs a touch of salt. If so, add up to 2 teaspoons of soy or tamari sauce to taste. Ladle into bowls and serve with a sprinkling of fresh scallions.
Notes
*If you have access to a Japanese market, you can easily make your own dashi from scratch. Or for a quick and easy miso, you can use 4 cups of water mixed with 2 teaspoons dashi stock powder that you can pick up at most Asian supermarkets or online. Keep in mind that the dashi stock powders often contain MSG (many studies have shown that MSG isn't actually bad for you)
**I also buy the dried wakame at the Japanese market, but you can also buy it online (here or here)
***The white miso paste is more mild than the red miso. You can also just use 4 tablespoons of medium yellow miso or even just all red miso or all white miso if you prefer. I prefer the combination of the two.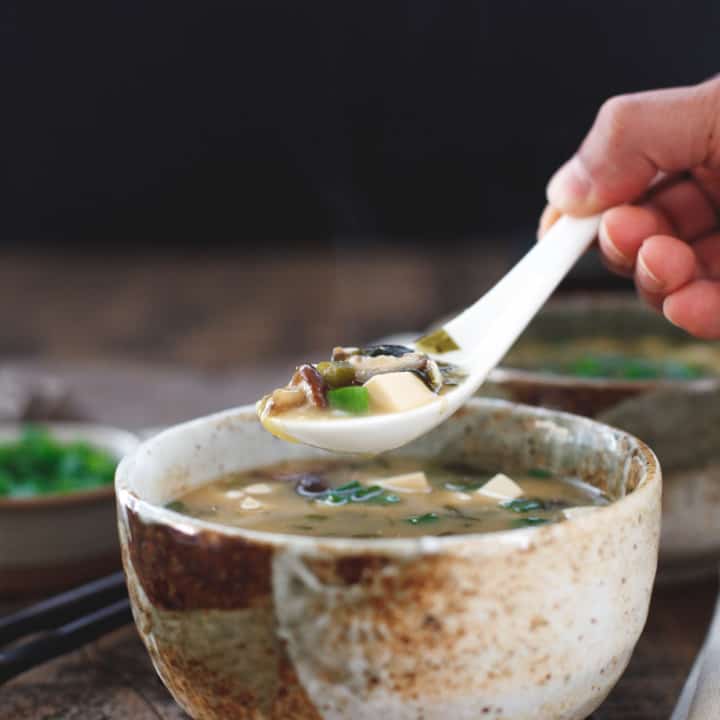 Quick and Easy Dashi Broth
Yield:
4 cups dashi broth
Ingredients
2 strips of kombu edible kelp, about 4 inches long, 2 inches wide*
3½ cups of dried bonito flakes*
5 cups of water
Instructions
Gently wipe the kelp with a damp towel to clean it. Cut two 1-inch long snips along the long edge of the kelp.
Add the kelp to a pot filled with cold water and begin to heat over medium high heat. When the water just lightly begins to bubble, right before it boils, remove the kelp.
Add the dried bonito flakes and bring to a rolling. Cook for 30 more seconds then turn off the heat and let it soak for about 10 minutes.
Pour the broth into a bowl through a fine mesh sieve lined with a thin cloth or a paper towel. Wring the cloth to get as much of the liquid into the bowl as possible.
Pour the broth back into the pot to finish up the miso soup!