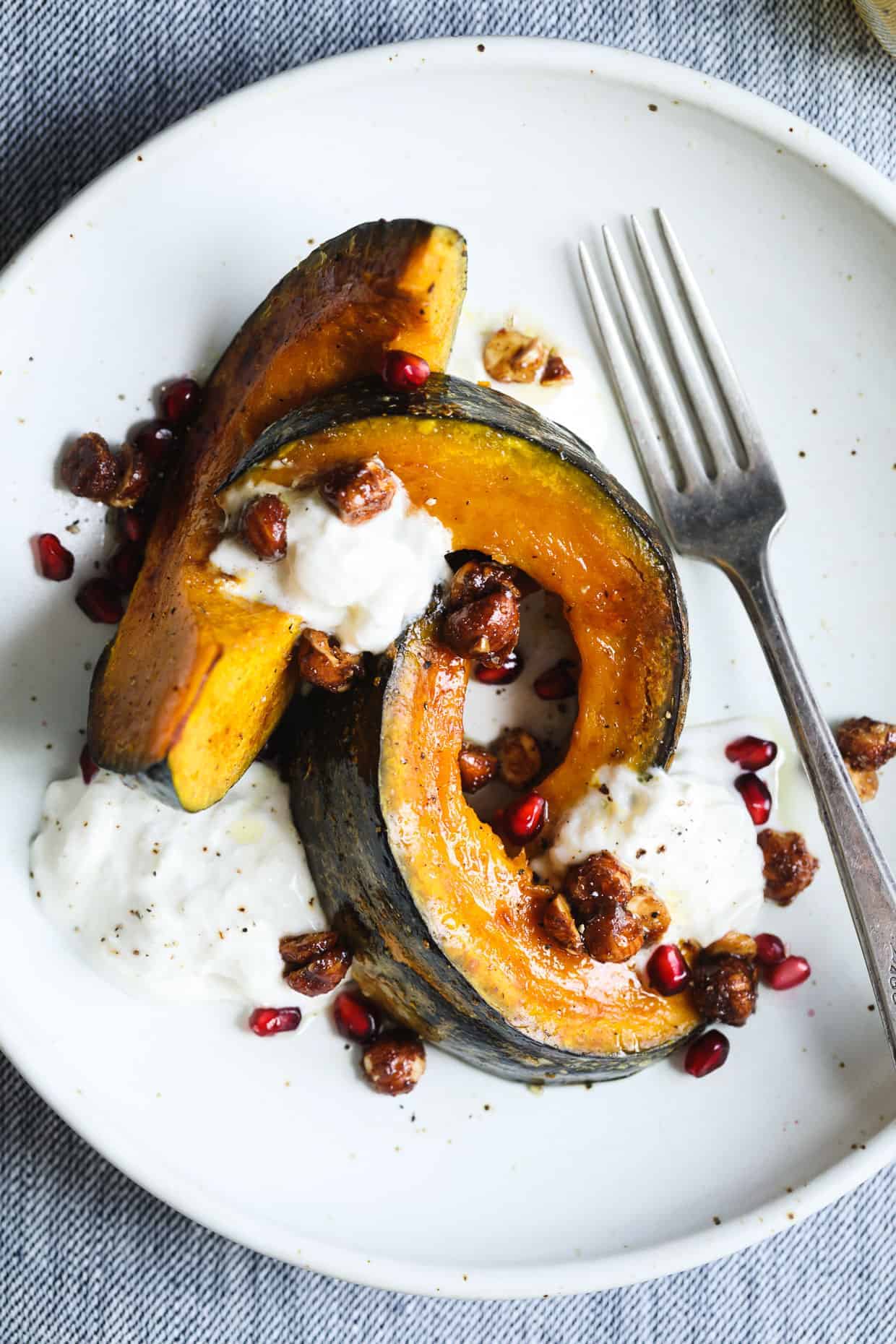 We usually have our Thanksgiving menu planned weeks in advance, but this year we're heading to my folks' house and they've been in New Zealand for the past three weeks. In other words, my mom hasn't been thinking about meal planning at all. By default that puts me in charge, but it didn't even occur to me that I should probably order a turkey until yesterday (thankfully not too late!). If you're looking for a last-minute quick side dish for your Thanksgiving table, this roasted squash with burrata fits the bill. Topped with spicy maple hazelnuts, pomegranate arils, and maple vinaigrette, the dish dresses to impress, but really only takes a tiny bit of hands-on time (that can be done in advance).
I know because I slapped it together from my fridge a few weeks ago in just a few minutes for guests. Lucas brought some friends by after a run to visit the baby while I was shooting these apple cheddar galettes, and I insisted they stay for lunch. My promise that it'd just be a few more minutes until the galettes were ready was a complete lie, so I dug through my fridge for an appetizer and found burrata that I hungry impulse-bought and roasted squash. I tossed it on a plate with some toasted hazelnuts and served it up. We then ate that combo every night for a week straight. It's a good thing we had burrata and hazelnuts or this squash might have been topped with leftover anchovies and cornichons.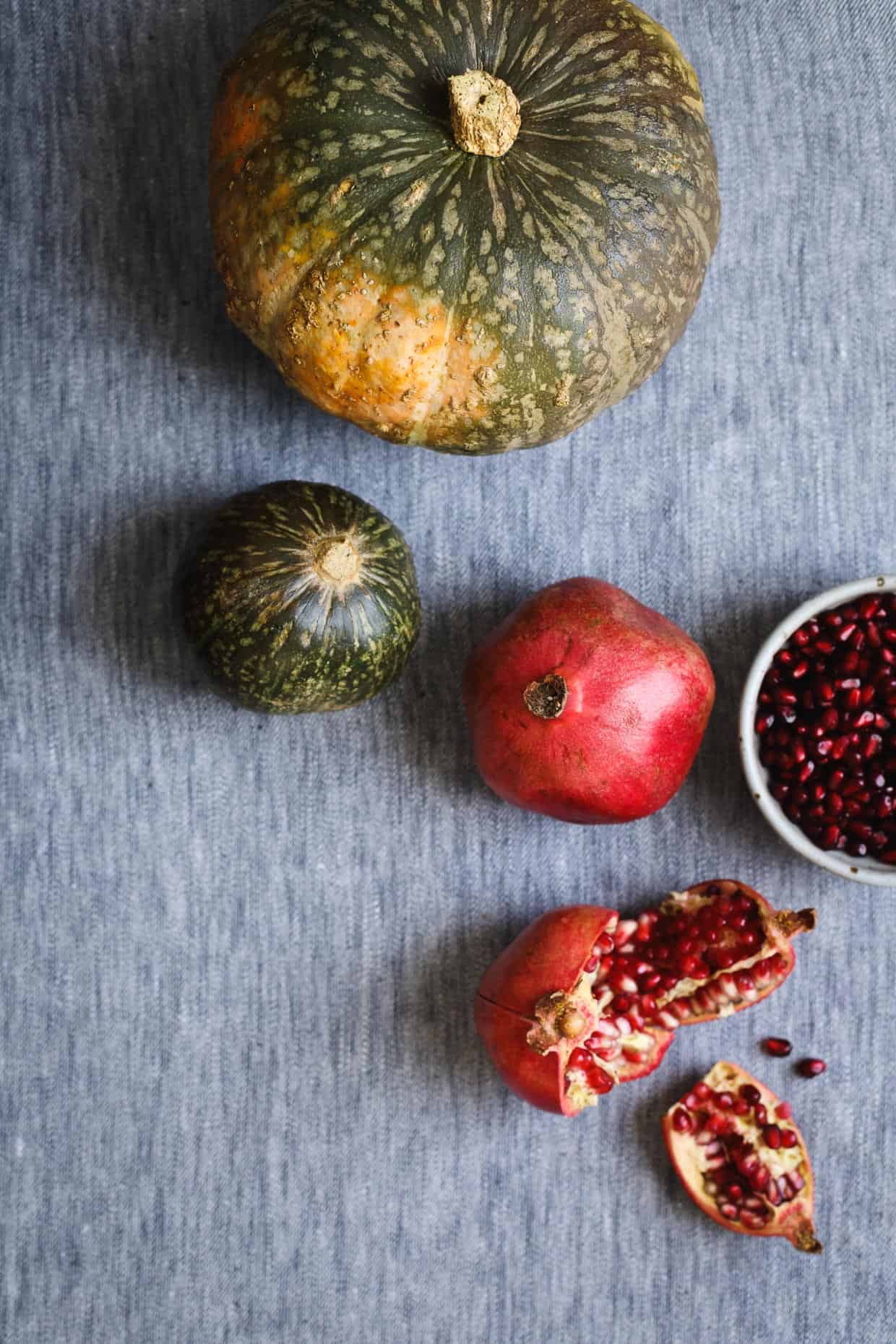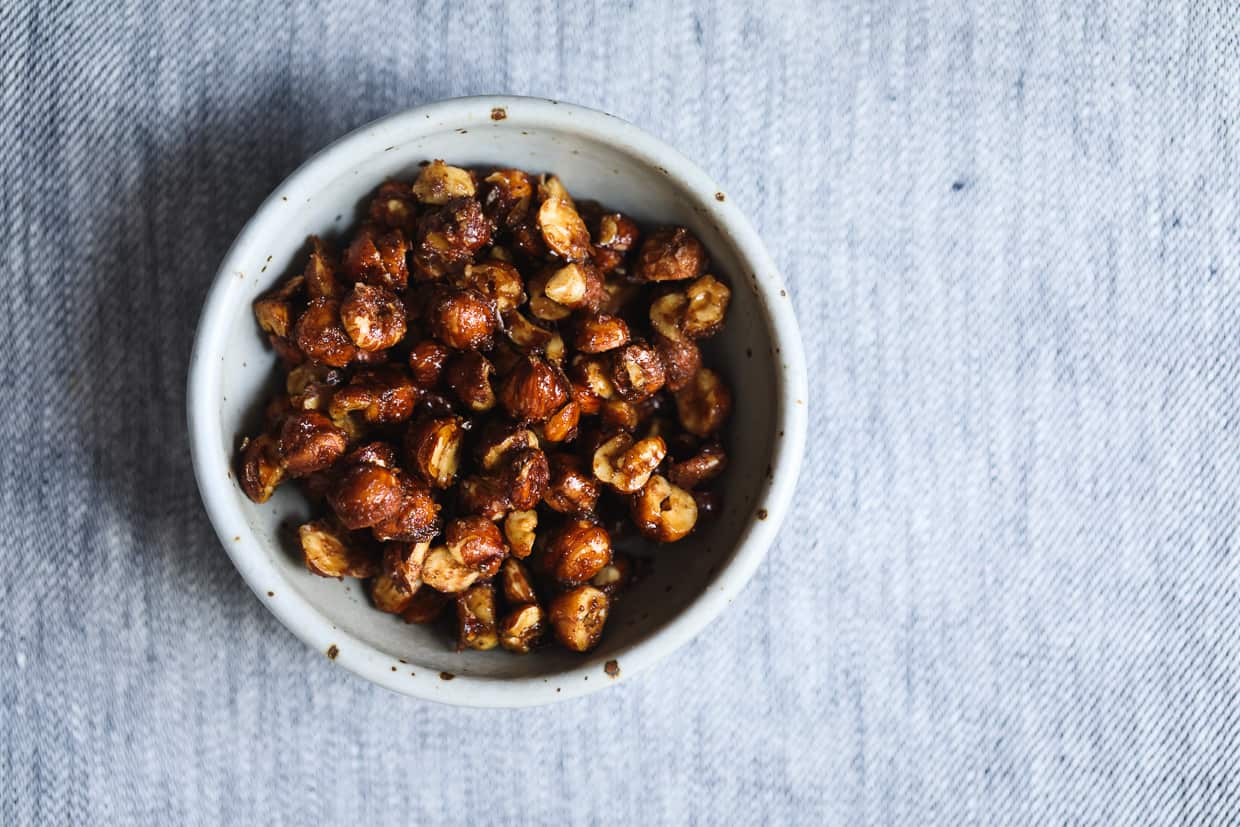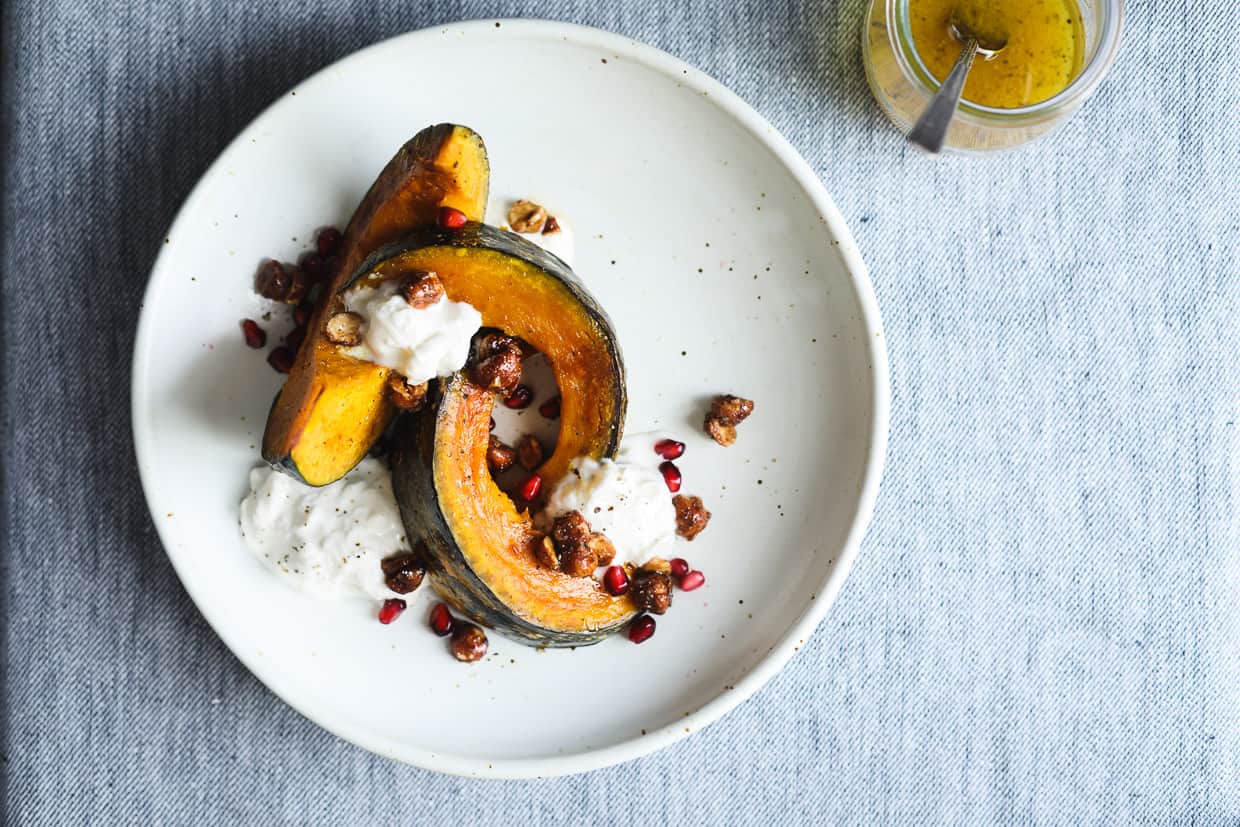 Burrata and hazelnuts complement the sweet fluffy roasted kabocha squash beautifully, adding creaminess and nutty notes. This week I gussied it up with some pomegranate arils, spicy maple hazelnuts, and a maple vinaigrette to make it feel more like a proper side dish for the holidays. I used kabocha squash (pumpkin's sweeter cousin) which saves prep time because the skin roasts up soft and completely edible, though feel free to sub in your favorite squash - I've made it with delicata and peeled butternut. You can even roast the squash and the spicy maple hazelnuts a day or two in advance to preserve that precious oven space for the big day.
Here I've served the squash on individual plates, but it'd work equally as well on a large serving platter for the table. You could even cut the squash into smaller or larger wedges and adjust the bake-time accordingly.
Embarrassing fact: I can't say "kabocha" without accidentally calling it "kombucha" first. Every. Single. Time.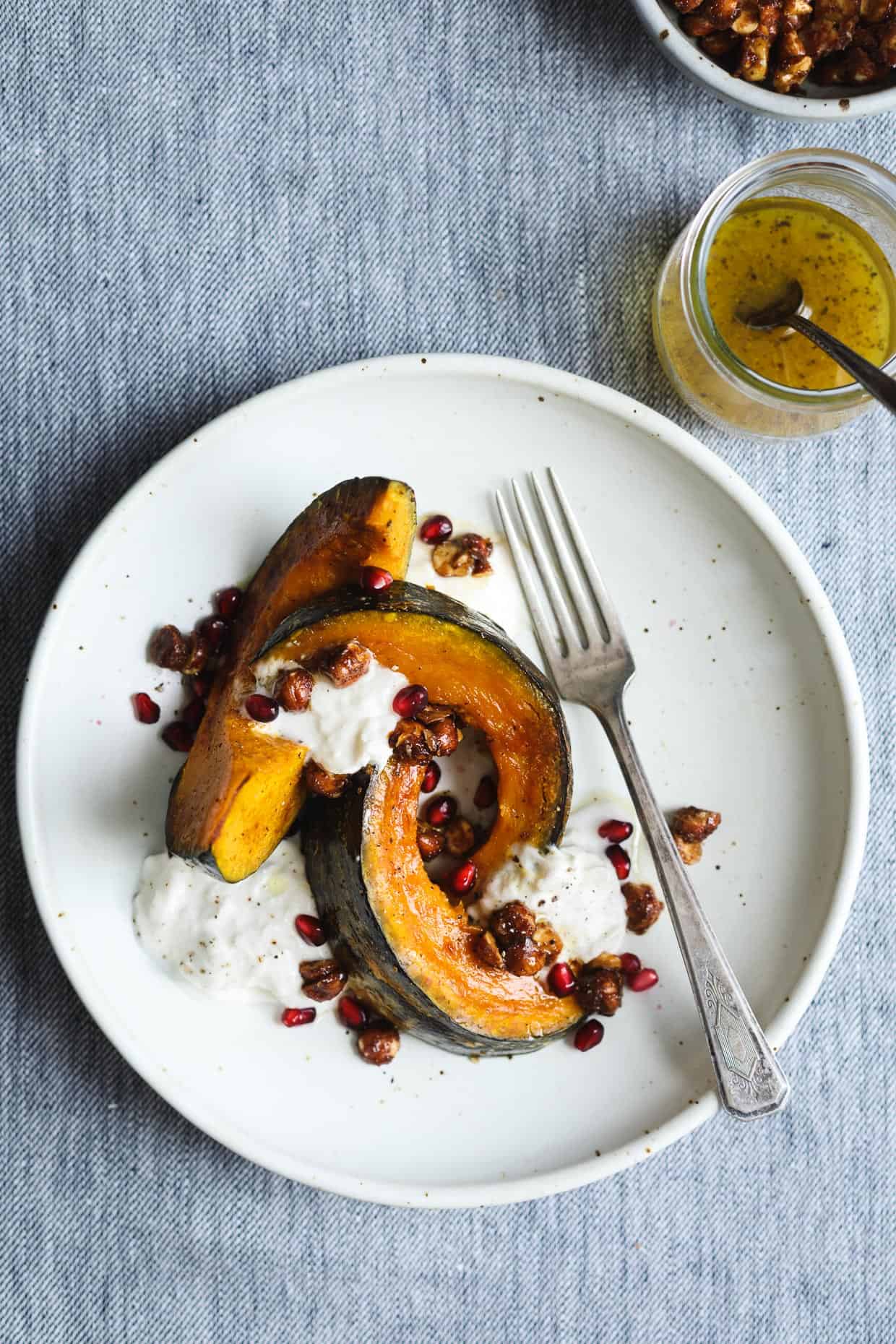 Just by happenstance, my friend Betty had been working on a squash burrata medley too! It's an unlikely flavor pairing that's got us both swooning. Check out her stunning bowl of caramelized squash, scallion oil and balsamic vinaigrette, and burrata on her blog today too.
Thanks for reading Snixy Kitchen! To stay up on what's coming out of my kitchen,  follow me on Facebook, Instagram, Twitter, Bloglovin', or Pinterest, or subscribe via e-mail to get new recipes right to your inbox.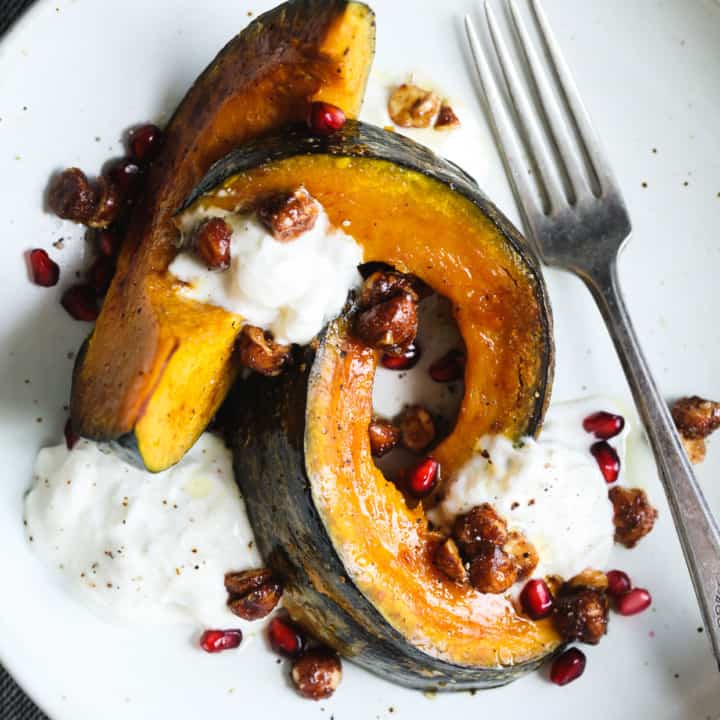 Roasted Squash with Burrata, Spicy Hazelnuts, and Maple Vinaigrette
Ingredients
Spicy Maple Hazelnuts
½ cup raw or roasted hazelnuts, coarsely chopped
1 tablespoon dark brown sugar
1 tablespoon pure maple syrup
¼ teaspoon cinnamon
¼ teaspoon salt
¼ teaspoon cayenne
⅛ teaspoon ground cloves
Roasted Squash and toppings
1 2lb kabocha squash, seeds removed & sliced into 1-1½ inch wedges (or your favorite squash - Delicata or peeled butternut squash work well too!)
1 tablespoon olive oil
¼ teaspoon each salt and pepper, plus more to taste
8-16 ounces fresh burrata (to taste)
Seeds from 1 pomegranate, about ½-1 cup
Maple Vinaigrette
2½ tablespoons extra virgin olive oil
1½ tablespoons apple cider vinegar
1 tablespoons maple syrup
½ tablespoon fresh lemon juice
½ teaspoon dijon mustard
⅛ teaspoon each salt and pepper
Instructions
Preheat oven to 425°F.
Toss the hazelnuts with sugar, maple syrup, and spices and spread them out on a small parchment-lined baking sheet. Bake for 8-9 minutes, tossing the nuts with a wooden spoon every 2-3 minutes (tossing is important or you'll end up with nuts that are burned on one side!). Remove from oven and let cool completely. When cool, break apart. (This can be done up to 3 days in advance).
Meanwhile, line two more baking sheets with parchment paper (I used one large and one small).
Lay the squash wedges on the two baking sheets, drizzle with olive oil and sprinkle with salt and pepper (feel free to add more salt and pepper to your preference!). Roast the squash for about 20 minutes on two separate racks, rotating the pans front to back and top to bottom halfway through, until it's tender but not mushy when pierced with a fork. (This can be done up to 3 days in advance).
While the squash is roasting, make the maple vinaigrette by whisking all the ingredients together in a small bowl.
Either on individual plates or a large serving platter, serve squash slices warm or room temperature with a dollop or two of burrata, a sprinkling of pomegranate seeds and spicy maple hazelnuts, a small drizzle of maple vinaigrette, and salt & pepper to taste.