With homemade cornbread, sausage, and apples, this gluten-free cornbread stuffing is the only stuffing recipe you'll need. It's loaded with fresh herbs and packed with flavor. Plus you can make it in advance!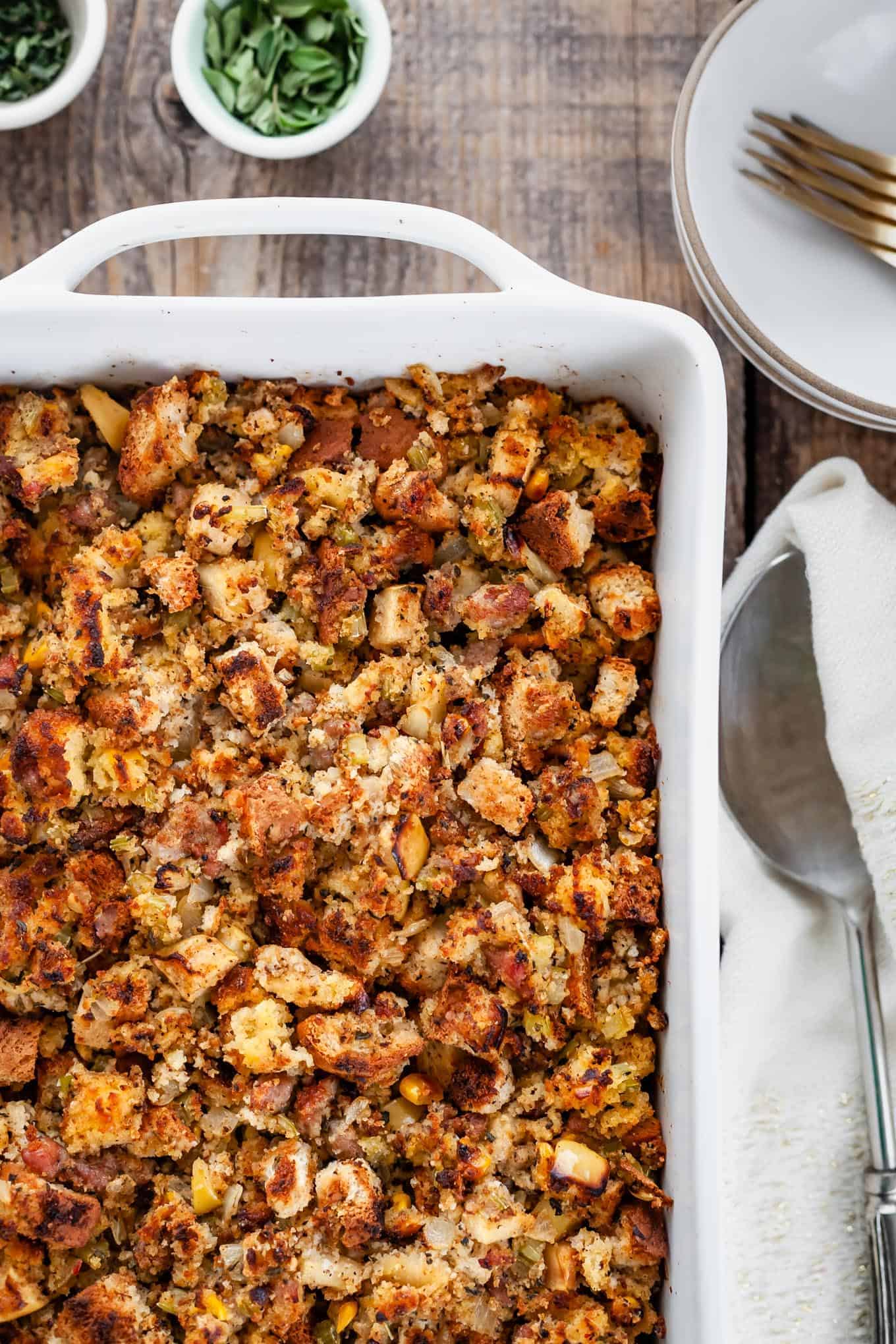 This recipe was originally posted November 17th, 2014 and has since been updated.
There are things you take for granted when you live with your parents that slap you in the face as soon as you're on your own. Subtle but more vital things than laundry or dishes.
Things like changing the oil in your car, for example. How are you supposed to know that your dad's been changing your oil all these years? Hopefully not by your car overheating and your radiator cracking during your first year in college like me.
Or things like how much liquid to put into homemade gluten-free cornbread stuffing.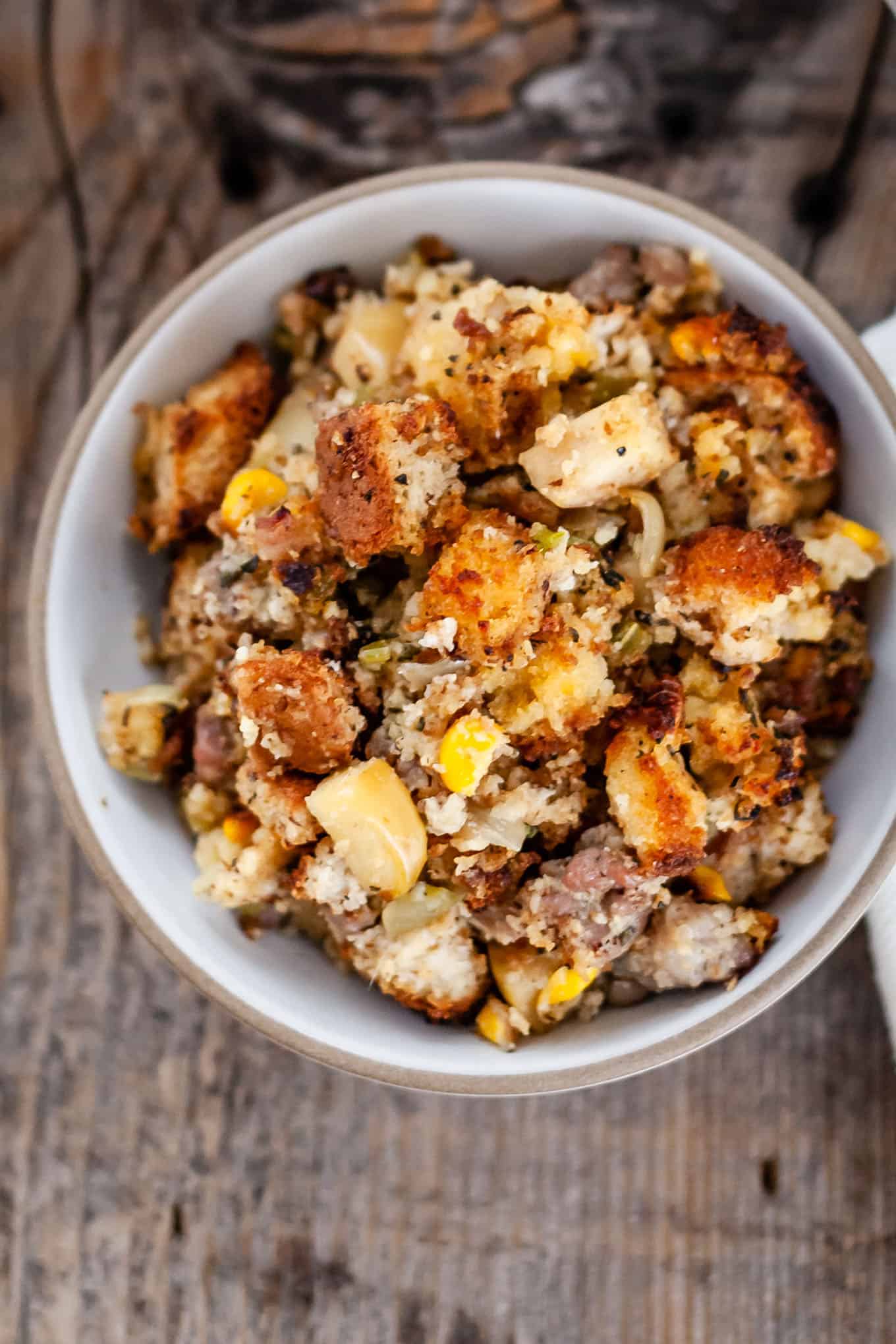 Homemade Gluten-Free Cornbread Stuffing
Even though I've made this exact stuffing for the past five Thanksgivings, I still had to call my mom today. I took for granted the opportunity to ask her "is this stuffing too dry?" until she wasn't by my side making mashed potatoes.
This is the only stuffing recipe I'll ever need, yet somehow this is the first time I've written it down in its entirety.
Without fail, every Thanksgiving, I have to search through my inbox to find the 5-year-old e-mail to mom with my Thanksgiving shopping list just to recall what I put in my stuffing. Not this Thanksgiving though. This year, I'm writing it down for posterity!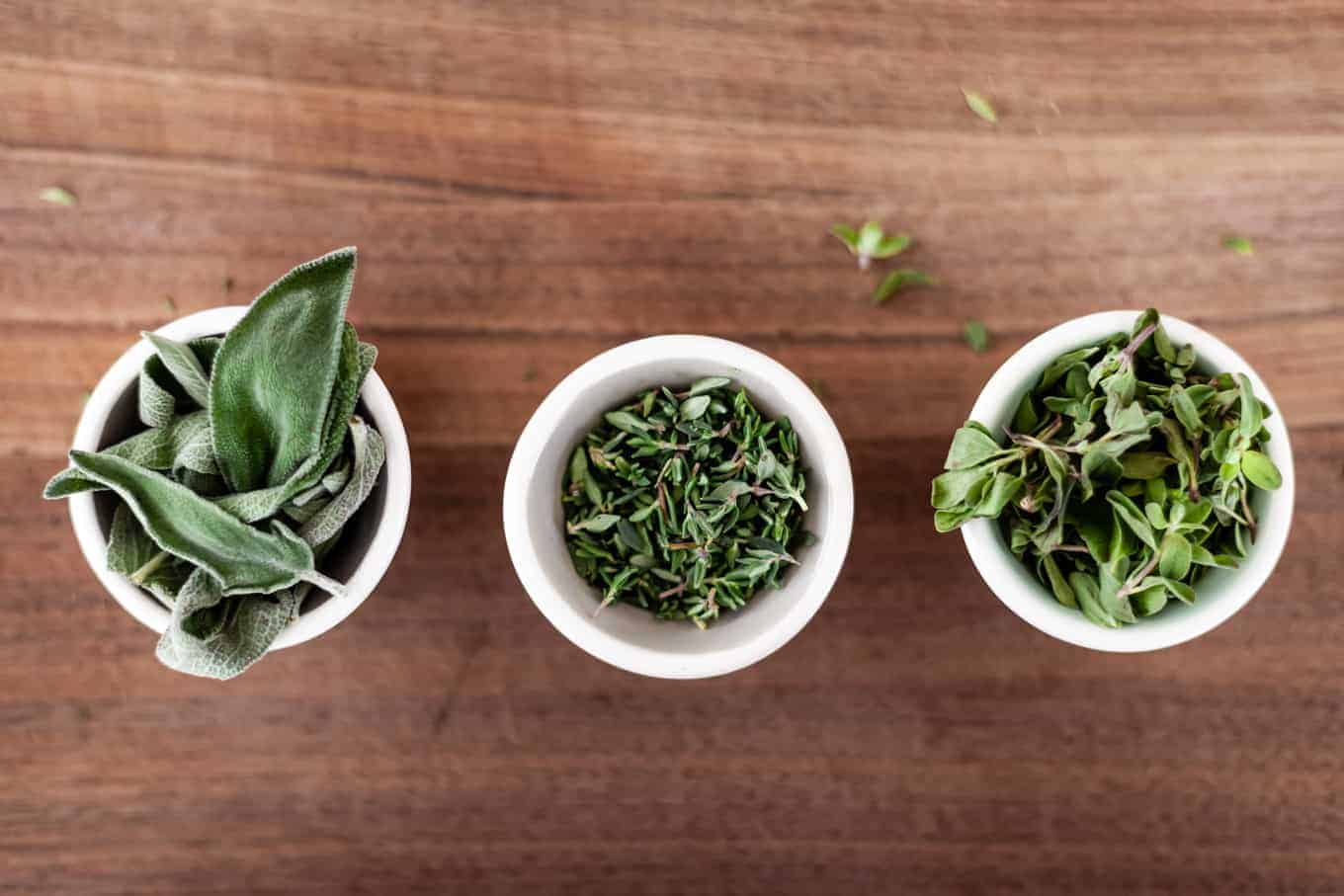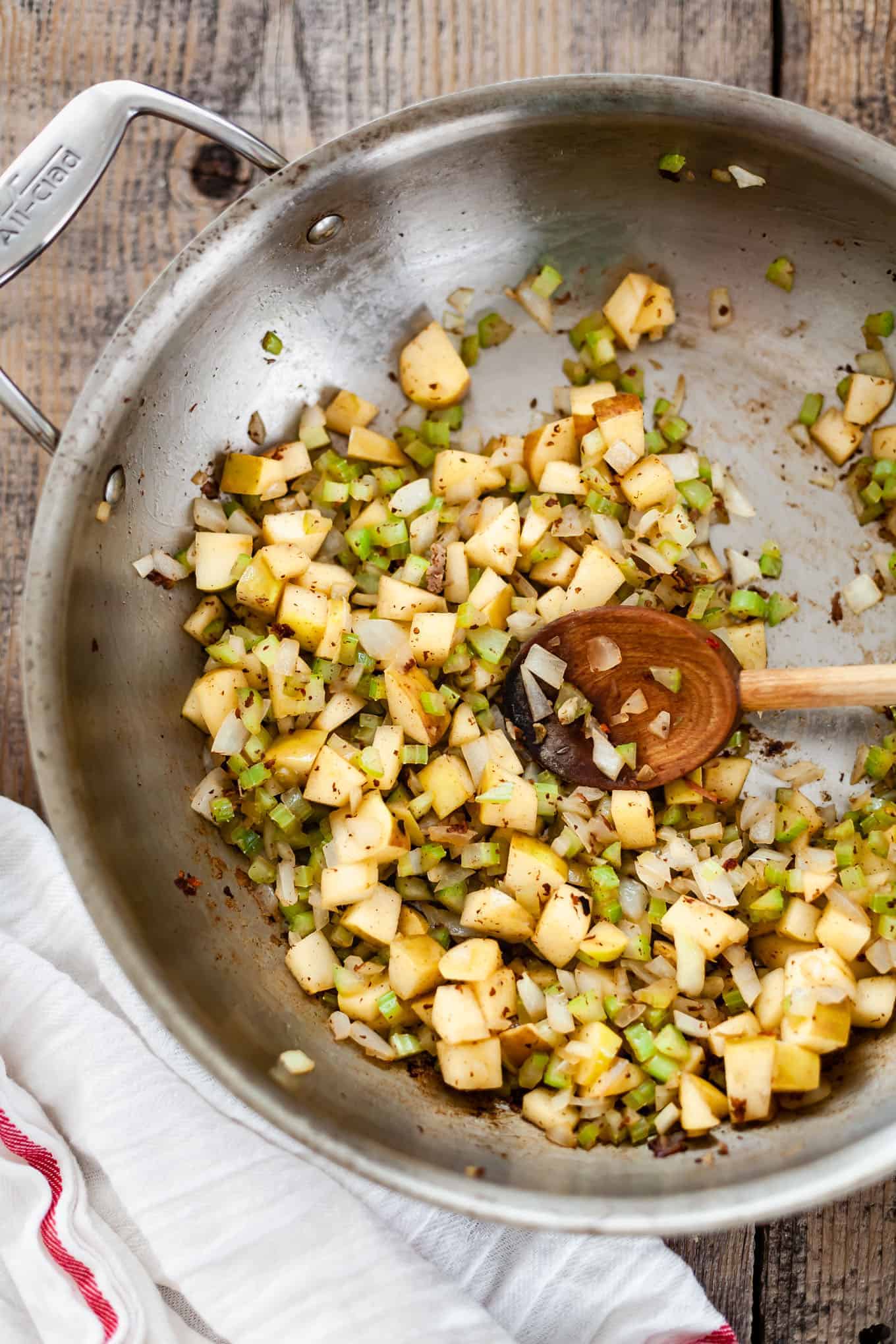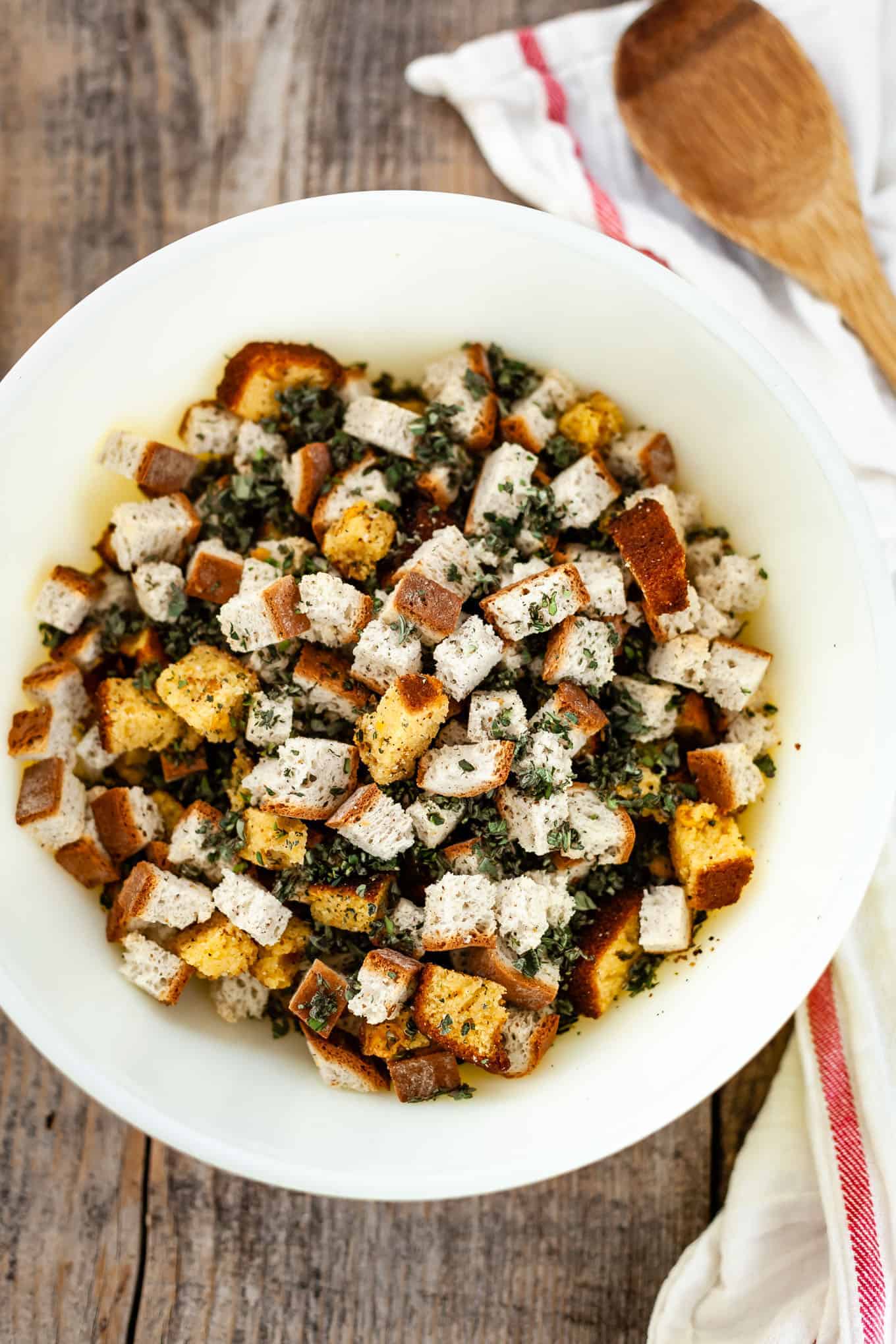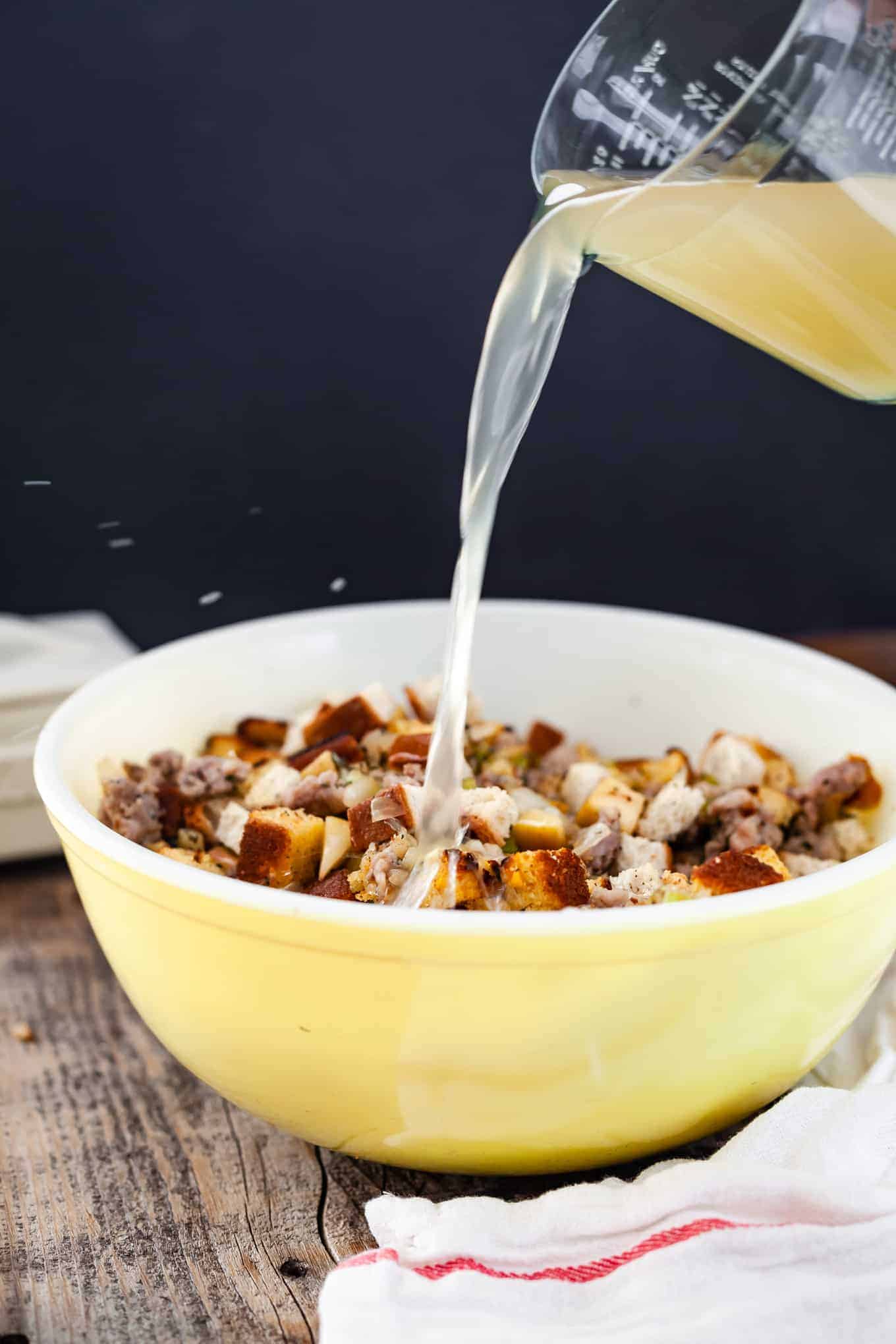 Gluten-Free Stuffing Recipe
Over the years, this stuffing has gone through many iterations that started with a seasoned cornbread stuffing box mix. The first version didn't have onions, and a couple of years my mom snuck water chestnuts in (I've since vetoed them - it's a texture thing).
With homemade cornbread and fresh herbs, this version is absolute perfection.
How to make Gluten-Free Cornbread stuffing
This stuffing is made gluten-free with homemade cornbread.
Mixing homemade cornbread with toasted whole-grain gluten-free bread ensures a sturdy texture that won't fall apart when tossed with liquid and vegetables.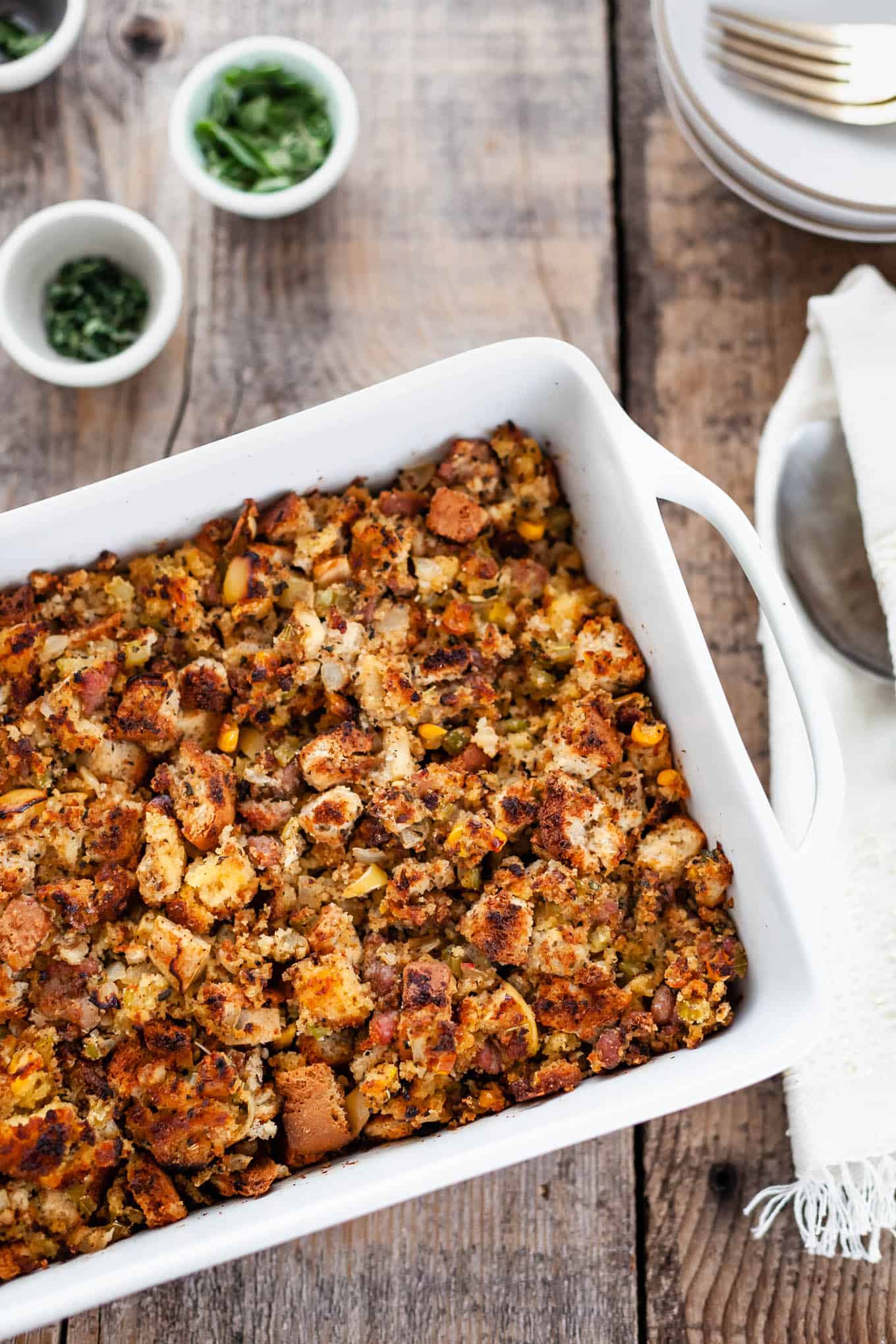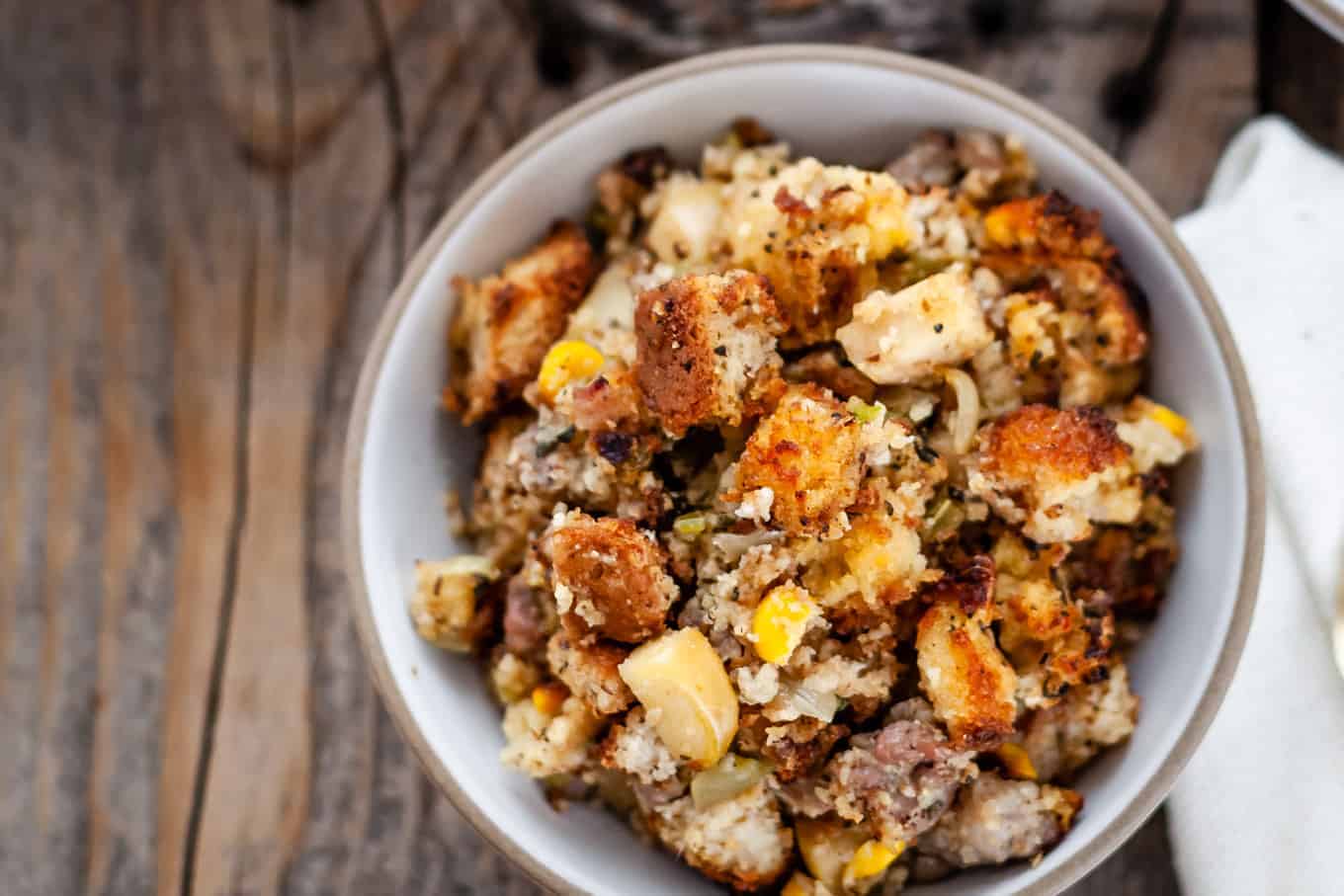 Best Gluten-Free Stuffing
The flavor key to this stuffing is adding sausage. Don't skip it! The spice from the sausage contrasts the sweet apples and corn.
If there's one Thanksgiving leftover that people fight over in our house, it's this apple and sausage cornbread stuffing.
Can you Make Gluten-Free Stuffing in Advance?
Save time by making this gluten-free stuffing a day or two in advance. Bake it all the way through skipping the broiler step, let it cool, then store it wrapped well in plastic in the fridge. Pull it out the morning of to let the dish come to room temperature, then ready, roast it, covered with foil, for 15-20 minutes at 350°F just to heat it through. Remove the foil and broil for 2-3 minutes to make the top crispy again!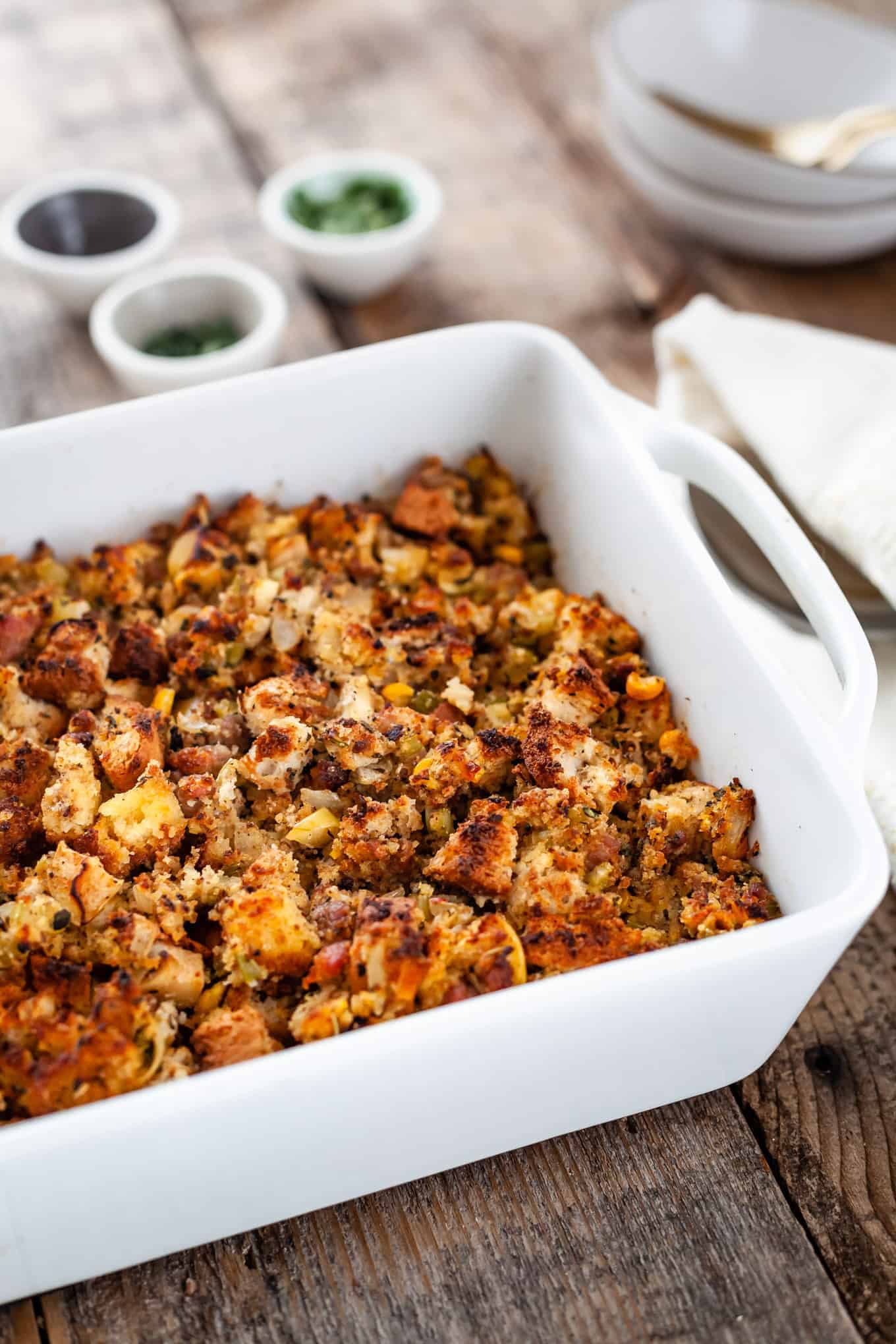 More Gluten-Free Stuffing Recipes
If you're looking for something vegan, I've since developed this gluten-free vegan stuffing as well!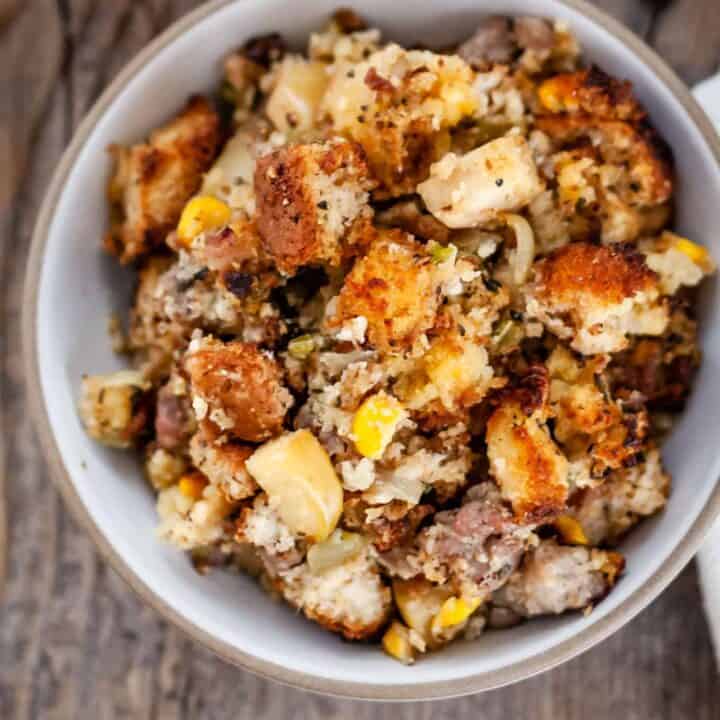 Gluten-Free Cornbread Stuffing
With homemade cornbread and fresh herbs, this gluten-free cornbread stuffing with sausage and apples is the only stuffing recipe you'll ever need!
Ingredients
8 slices gluten-free whole grain or white bread, cut into 1-inch cubes
1 pound pork sausage
3 tablespoons unsalted butter
1 small yellow onion, diced
4 celery ribs, diced
2 fuji or honeycrisp apples, core removed and chopped
2 teaspoons fresh marjoram, minced (or ¾ teaspoon dried marjoram)
2 teaspoons fresh thyme leaves, minced (or ¾ teaspoon dried thyme)
2 tablespoons fresh sage leaves, minced (or 2 teaspoons dried sage)
¼ teaspoon dried rosemary
Pinch dried nutmeg
3 to 3½ cups low-sodium chicken broth
½ teaspoon kosher salt, plus more to taste
¼ teaspoon freshly ground pepper, plus more to taste
Instructions
Preheat the oven to 300°F.
Spread the cornbread and chopped white bread evenly over 2 baking sheets and toast for 10-15 minutes, or until crispy and lightly browned, tossing every 5 minutes (if using a dark coated baking sheet, toasting time will be only around 5 minutes). When the bread is toasted, remove it from the oven and increase the temperature to 375°F.
In a large skillet over medium-high heat, brown the sausage, breaking it into bite-sized pieces with a wooden spoon as it cooks. Transfer to a large mixing bowl.
In the same pan, melt the butter (if you have a lot of sausage grease, you might not need butter - I had almost none). Add the onions and celery and cook until the onions begin to sweat, about 4 minutes. Add the apples and cook for another 2 minutes. Transfer to the same mixing bowl with the sausage.
Toss the sausage and vegetables with the marjoram, thyme, sage, rosemary, nutmeg, and toasted cornbread and bread.
Pour in 3 cups of the chicken broth and toss to coat. Let it sit for 2-3 minutes and toss again. If it's still dry, add up to ½ cup more chicken broth, slowly. You want it to be moist, but not soggy.
Season with salt and pepper to taste.
Transfer to a large baking dish (usually I bake mine in two 9x13 glass baking dishes). Bake at 375°F for 20-30 minutes, until the top begins to get crispy and brown. For a bit of extra crisp, put it under the broiler for 3 minutes.
Notes
This makes a big batch of stuffing since we usually have the whole family together for Thanksgiving. It's our favorite dish and it keeps well as leftovers, so even when it's just a few of us, we always want the leftovers!