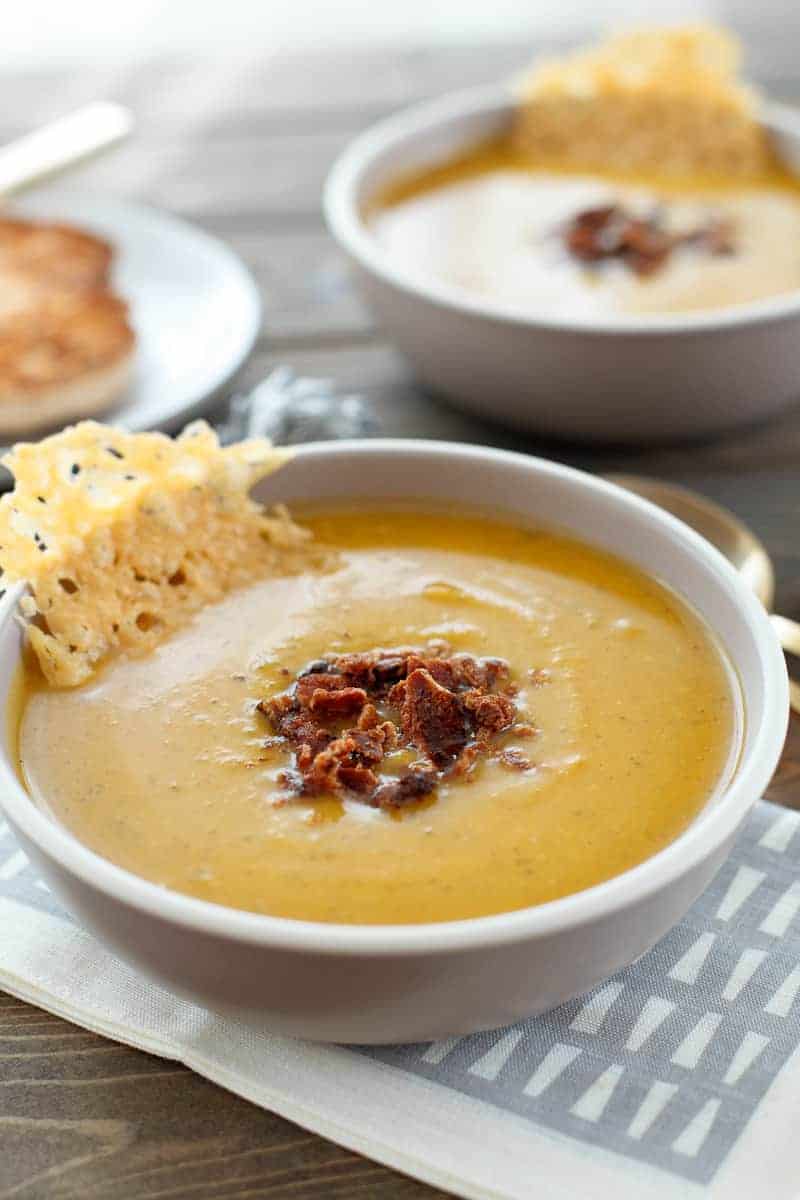 Recipe Rewind March 25, 2014: As my regular readers know, during the week I shop and plan meals as though the two of us were a family of four. With this strategy, we can have piping hot leftovers for lunch the next day without any extra cooking effort. This butternut squash soup seems to fit this bill because it easily makes large batches that serve many. Perfect. Except for the fact that Lucas complains about bringing soup for lunch; not that he has a thing against soup - I'm pretty confident he's a big soup fan - he just prefers to toss his lunch tupperware in his backpack and not worry about the damage a 1½ hour commute will do to it. I realize we could pack the soup in a vacuum-insulated container, but I don't have one large enough to hold the amount of soup this marathon-training boy consumes. Stop giving me that look. Ironically, now that Lucas has joined a start-up in the to-go lunch container industry, he's working from home most days of the week, which means he can easily heat up a bowl of butternut squash soup without worrying about it spilling all over important crumpled up papers in the bottom of his backpack.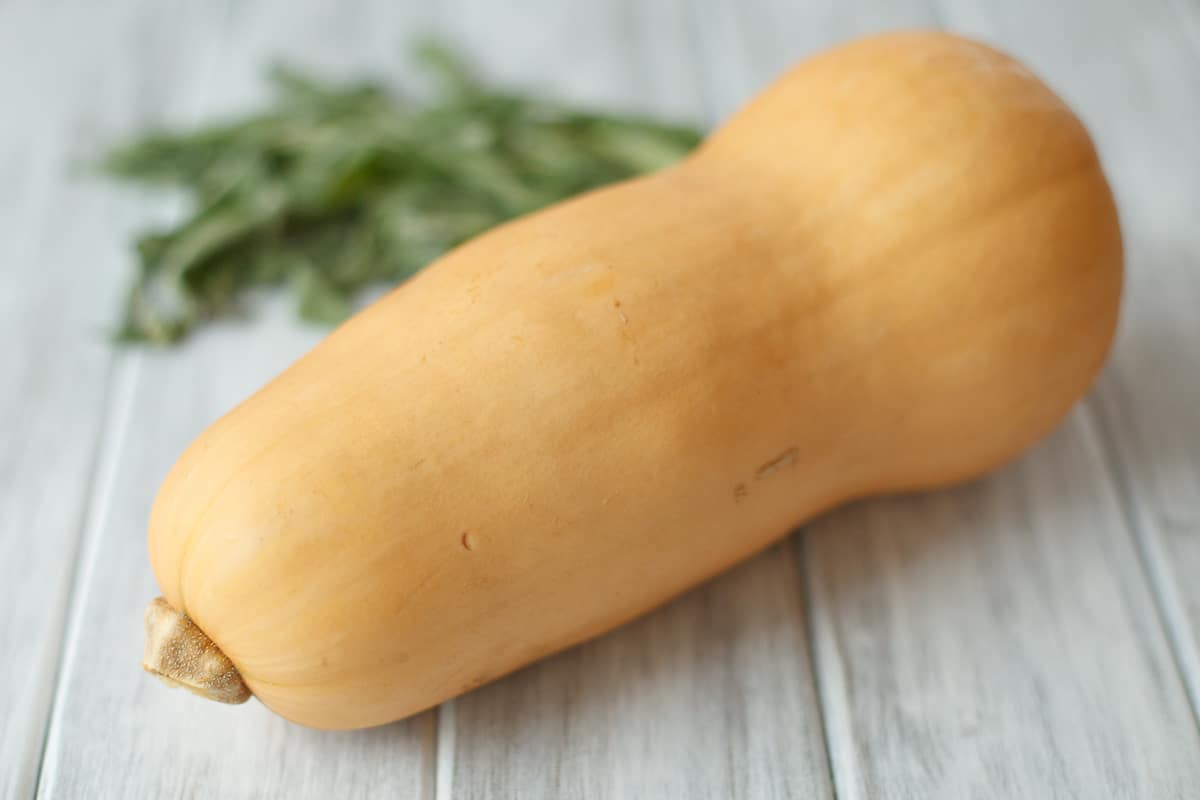 In walks an old favorite, but forgotten-in-the-archives recipe: butternut squash soup with parmesan crisps. After revisiting Dad's simple spicy green beans and Shrimp tacos with spicy cabbage slaw, our next revisit on the Snixy Kitchen Recipe Rewind is this butternut squash soup topped with parmesan crisps and....(wait for it)....bacon...if you're into that sort of thing. This time around, I healthified the recipe by swapping out the heavy cream for coconut milk. The switcheroo brings in some essential vitamins and minerals (including iron) and a subtle hint of coconut layered between sweet butternut squash and pockets of fresh sage.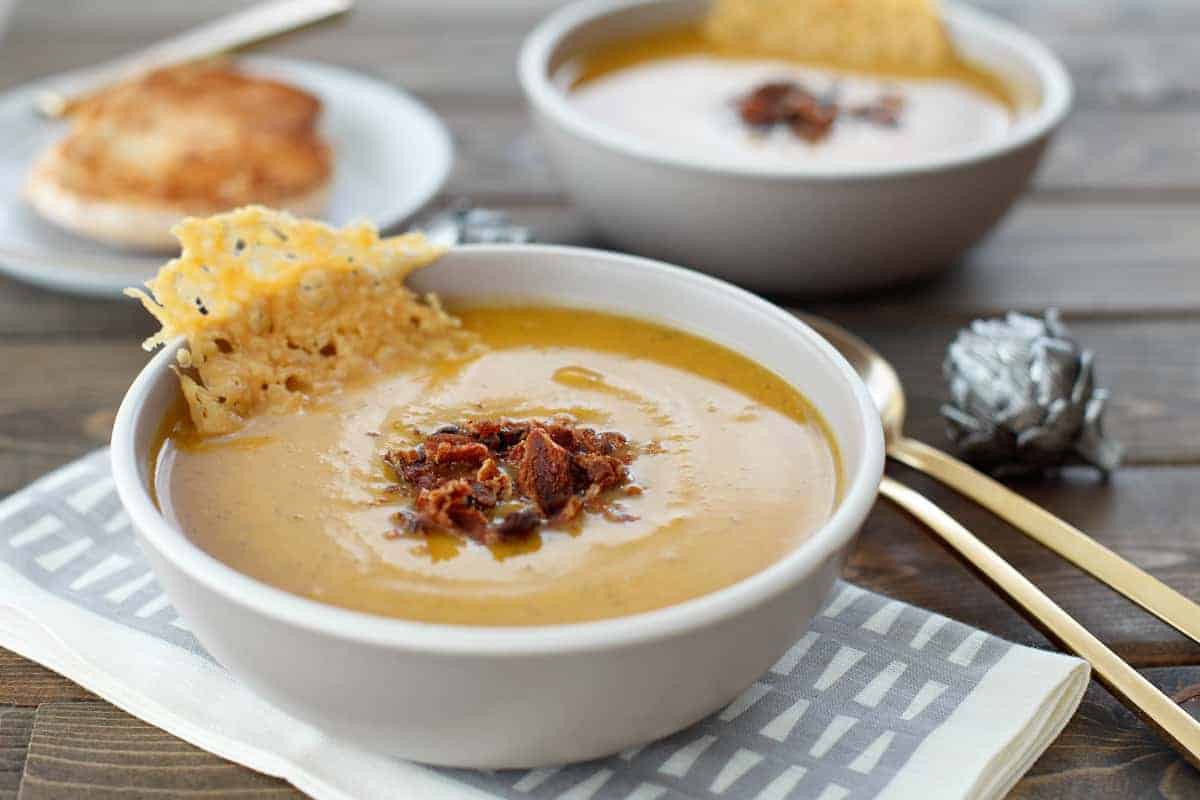 This smooth soup is a great chilly rainy day grub. All of last week, I kept only the front screen closed as the springtime sunshine knocked at the door. The cats sat, tails swishing, in front of the screen in awe of the flirtatious fluttering birds. Until Arti had enough and sprung up, catching his back paws on the 3-foot high window ledge of the bottom half of the screen door and sprawled out with his claws latched to top of the screen. We've got ourselves a spring-time loving stunt kitty. Just to get a good laugh in, mother nature made it rain here today. So, pull up a bowl of butternut squash soup and get cozy, folks. And if the weather changes its mind tomorrow, these parmesan crisps are so addicting they'll fit right in with any meal - breakfast, lunch, dinner, or dessert. I promise.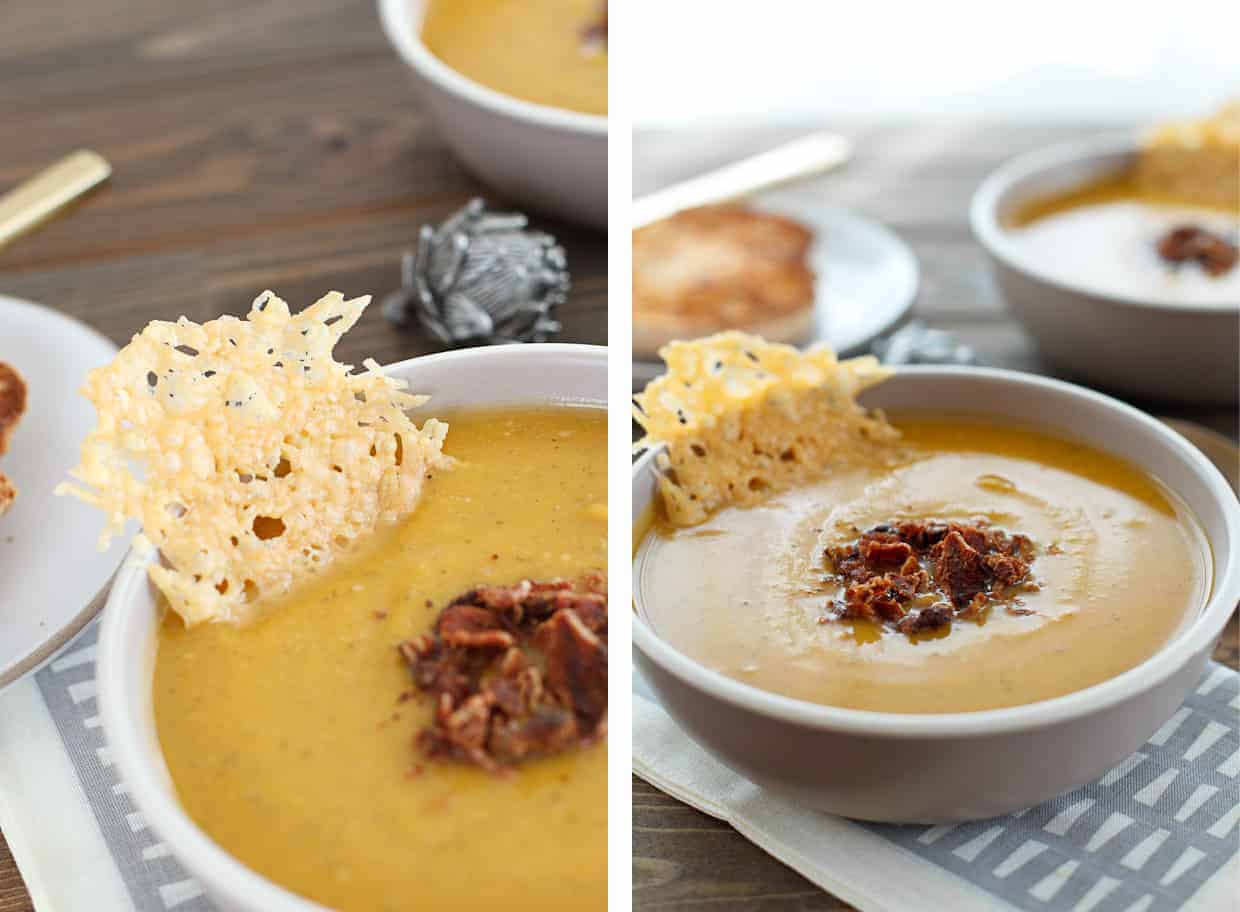 Original post from January 23, 2012: Tonight's meal began with two jumbo artichokes I impulse bought for 98 cents yesterday (you can't pass that up); I had to find something that complemented this find. And as someone with a ridiculous sweet tooth, it's no surprise that I love butternut squash. I'm a big fan of Trader Joe's butternut squash soup as a quick lunch on a cold day, but there's something about the aroma of home-cooked soup simmering on the stove that screams "comfort food." And tonight, I needed comfort food. It was a long day, and after finding my tire deflated on my way to run errands this evening, I had irrationally resorted to not eating dinner. Luckily, AAA came to my rescue and changed my flat in less than ten minutes, saving the soup from its near fate.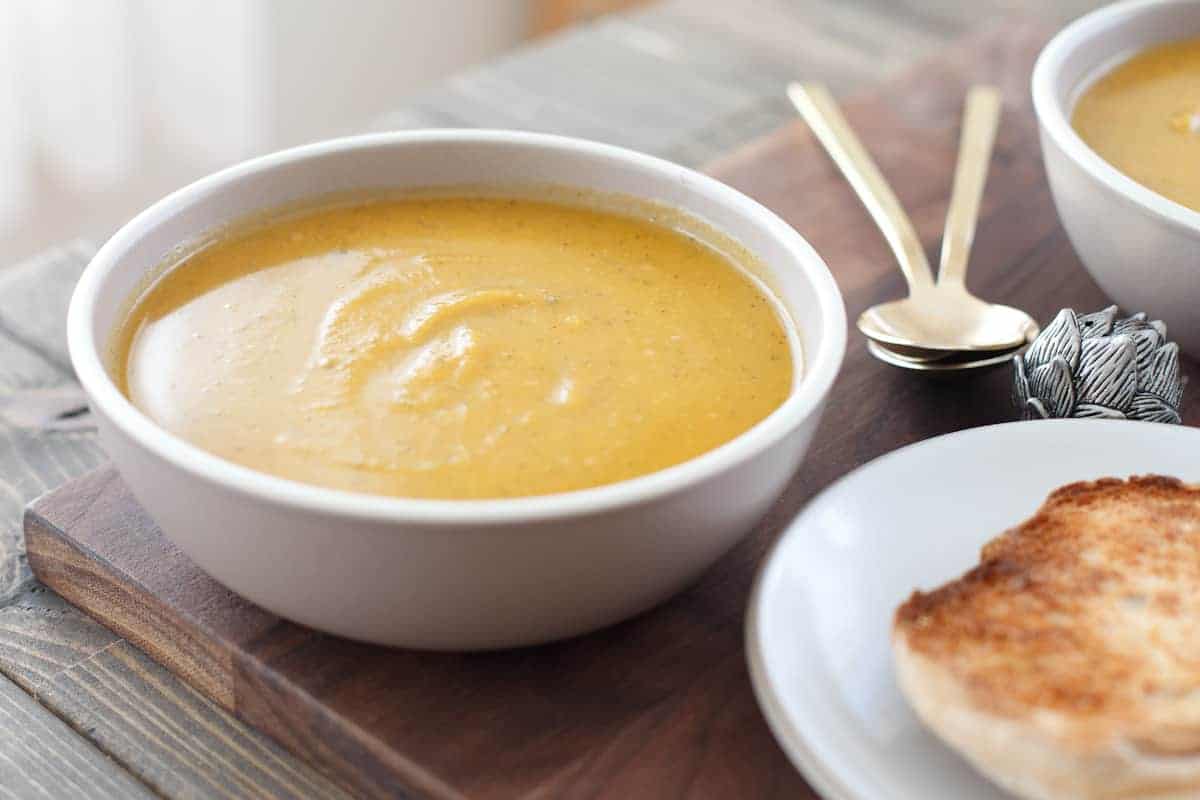 I've always struggled with incorporating winter vegetables into my meals; I'm still learning how to use them. Squash, still in high abundance at the produce market, is one winter vegetable my mom has inspired me to use more often. One of the best parts about squash is how easy it is to prepare into a substantive meal, with the added bonus of being a low-carb healthier substitute for pastas or meats. Of course, in this case, it lost a bit of its health appeal when I topped it with pan-fried bacon and a toasty parmesan crisp. But, as you know, everything's better with bacon. This soup is a definite repeater. Photo Comparison: With learning and improvement as the themes for the Recipe Rewind, here's a before and after shot from the original post in January 2012 to today's recipe rewind more than two years later. We shot the original at night with overhead light on our coffee table with a point-and-shoot. I reshot this recipe with a Canon 5d Mark II with a 50mm f/1.4 lens. Natural light is definitely this soup's most flattering outfit.
January 2012 March 2014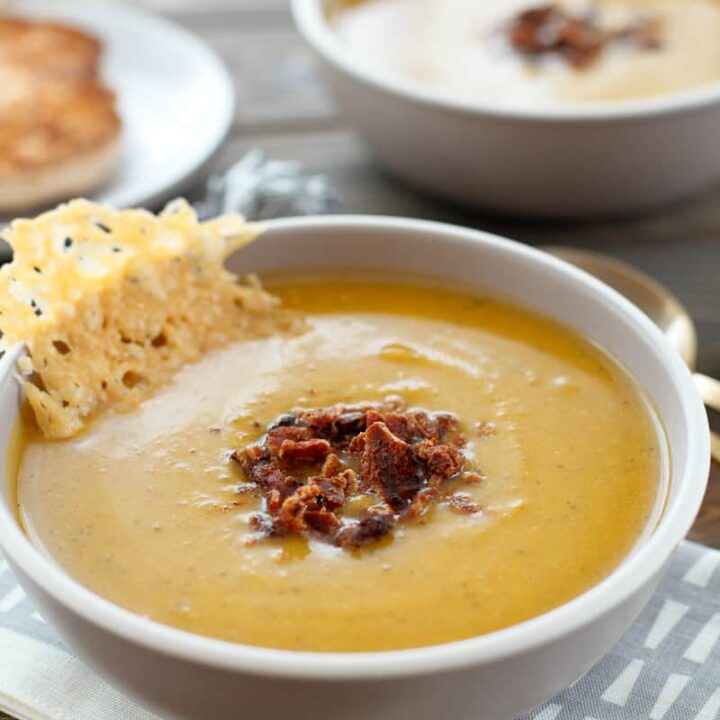 Butternut squash soup
Ingredients
1 tablespoon butter
1 yellow onion, coarsely chopped
1 tablespoon fresh sage, finely chopped
4 ½ cups low-sodium vegetable or chicken broth
3 tablespoons coconut milk
2½ pound butternut squash, peeled, seeded, and chopped into 1-inch cubes
¼ teaspoon nutmeg
¼ teaspoon cinnamon
¼ teaspoon dried thyme
Kosher salt and freshly ground pepper, to taste (I used about ½ teaspoon salt and ¼ teaspoon pepper)
Scant 1 cup freshly grated Parmesan cheese
Optional: 2 strips of bacon, cooked and crumbled
Instructions
Melt the butter in large pot over medium heat.
Add onion and sauté until soft, about 5 minutes. Add sage and stir an additional minute.
Add broth, coconut milk, squash, nutmeg, cinnamon, thyme, salt, and pepper. Bring to boil on high heat.
Reduce heat and simmer until squash is tender, about 20-25 minutes.
Purée soup in batches in a food processor or blender until smooth. Return to the pot and fold in the parmesan cheese.
Optional: Serve soup topped with crumbled bacon and parmesan crisps (recipe below), with plenty of good (gluten-free) bread of sopping up the soup:)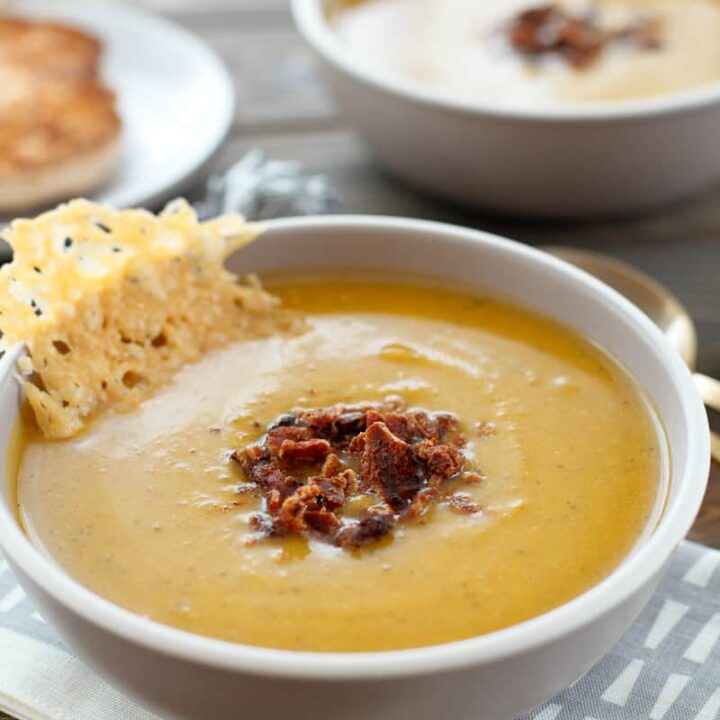 Parmesan crisps
Ingredients
½ cup parmesan cheese, shredded
Instructions
Preheat oven to 400ºF.
Pile a small spoonful of cheese onto parchment-lined baking sheet.
Use fingers to lightly press down. Repeat until you use all cheese, spacing about ½ inch apart.
Bake until slightly golden brown, approximately 3-6 minutes (depending on your oven).
Remove from heat and let cool on baking sheet. Carefully remove with spatula.