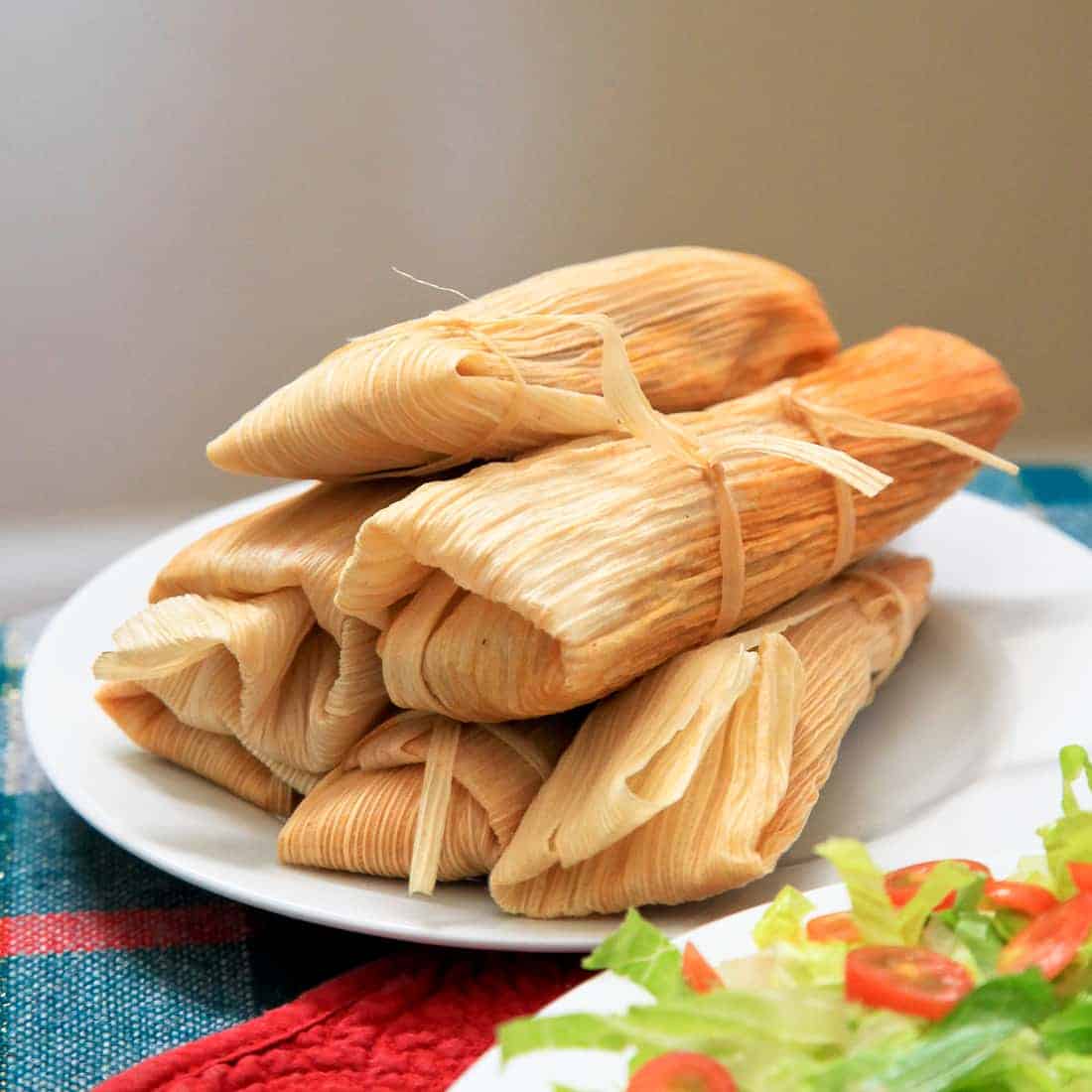 We're a very traditional family when it comes to holiday meals. For Thanksgiving, an enormous roasted bird sits surrounded by cornbread stuffing, mashed potatoes and gravy, cranberry sauce, sweet potato casserole, and green beans. Dessert is always homemade pecan pie and pumpkin pie. Like clockwork, sometime around mid-November you'd find childhood me begging my mom for ham this Thanksgiving, which she in turn would always promise and usually deliver for Christmas. For the December meal, we'd swap out some of the sides for my Aunt's scalloped potatoes and mandarin salad. And if my mom was really feeling adventurous, we'd give pot roast a starring role. This year we went rogue. Mom suggested throwing caution to the wind and trying something new for Christmas; I tossed out the idea of tamales and, like that, it was settled.
We'd wanted to bring in a Mexican tradition in honor of my new husband's family. Lucas was the taste-tester and was quickly put in charge of making sure the recipe actually tasted like the San Antonio tamales he ate growing up.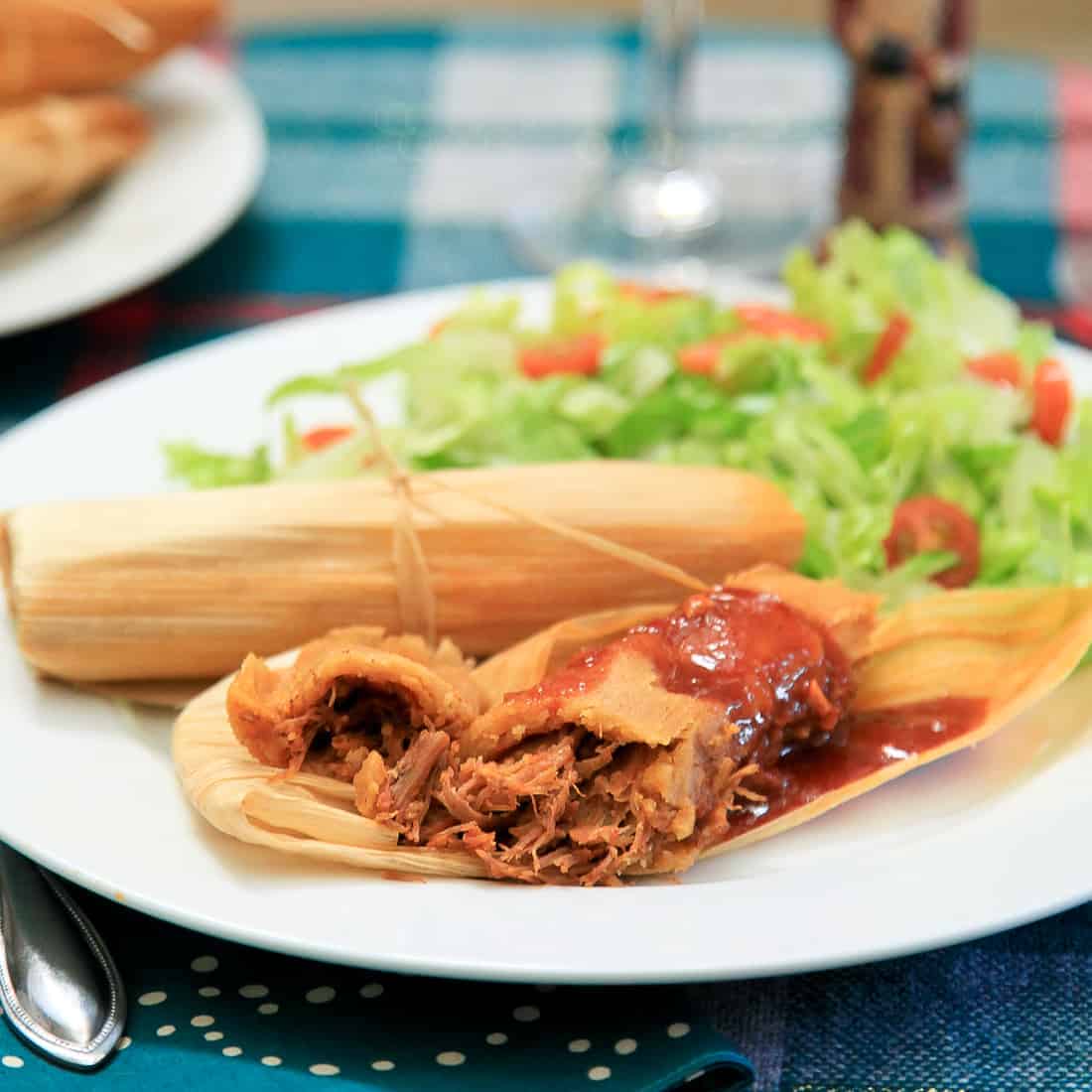 The week before Christmas, my mom came down with a stubborn cold and I was tasked with finding the recipe and making the shopping list. At that time, we weren't sure how many family members to expect - somewhere between 8 and 14 - so I decided a boatload of tamales (translation: 8 dozen) should do the trick.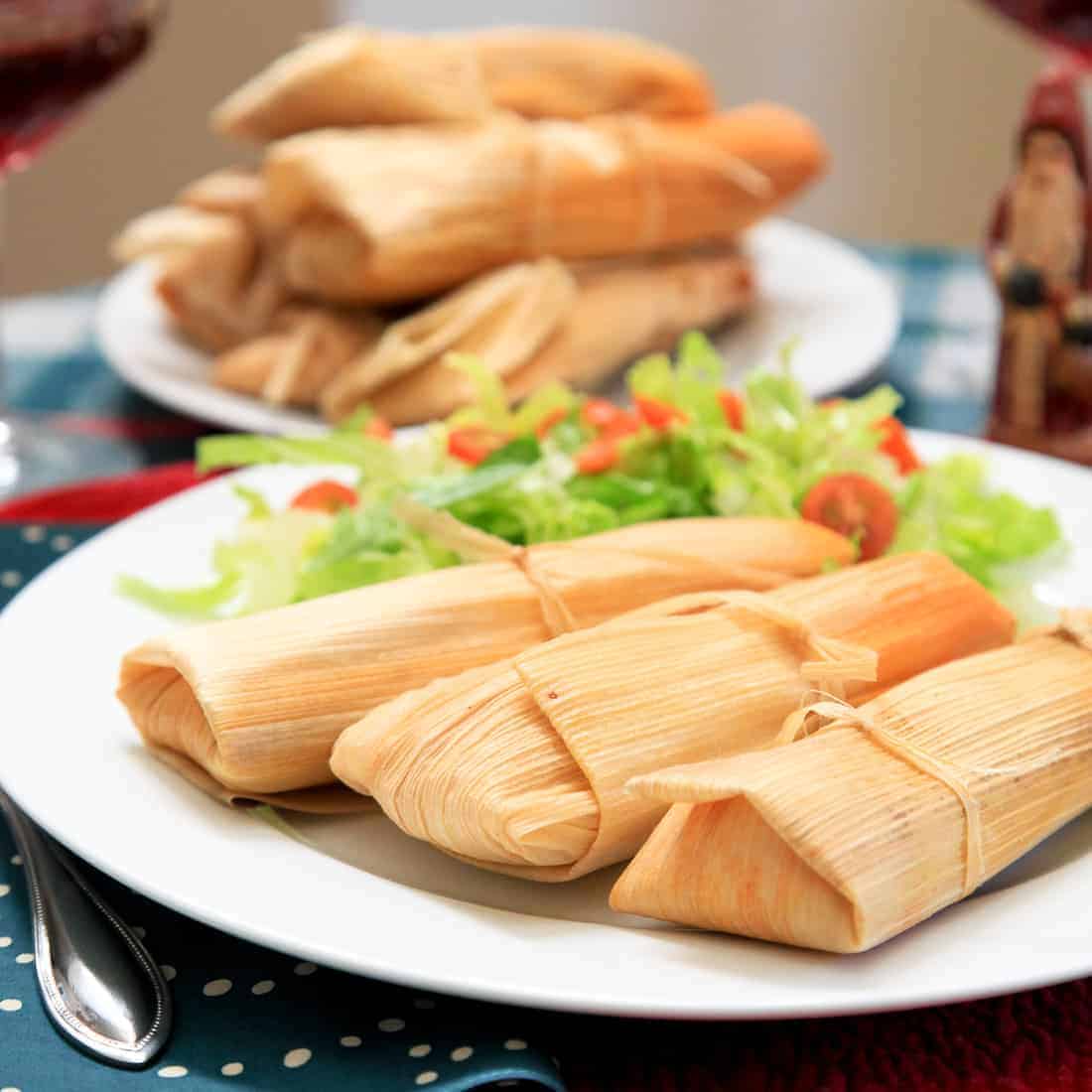 Making tamales, while certainly time-consuming, is not difficult. My mom and I started the filling in two crockpots on Saturday night around 1am. We woke up at 9:30am on Sunday and immediately got to work making the chile colorado sauce, using the broth from the slow cooker. My cousin joined in around noon as I was frustratingly beating the lard (cringe) into submission in my mom's 70s-era stand mixer (when I strike it rich, I'm buying you a KitchenAid stand mixer, mom:). The lard was the only part that almost made me throw in the towel. Mom to the rescue. When the masa was ready, Lucas joined us around the table as the four of us wrapped and tied tamales for the next few hours, finishing up the last one around 3:45pm. We steamed them in several pots later that night and packed them in the fridge until Christmas morning.
For our Christmas dinner, we served up a combination of chicken and pork tamales, but the pork tamales were far more delicious, so that's the version I'm sharing with you. While most people were up early throwing the bird in the oven on Christmas morning, sweating over a hot stove as they prepared a feast, we just popped our tamales on the stove to steam for about 30 minutes and got to enjoy the sunny summery December weather (you heard that right). The result was a moist masa infused with chili and corn, wrapped around a juicy shredded pork filling that fell apart in your mouth, all topped with a chile colorado sauce rich with whole chile spice to round out all the flavors. While surely this recipe is anything but authentic, we ate tamales the whole week after Christmas and no one complained. And working together as a family was the best part.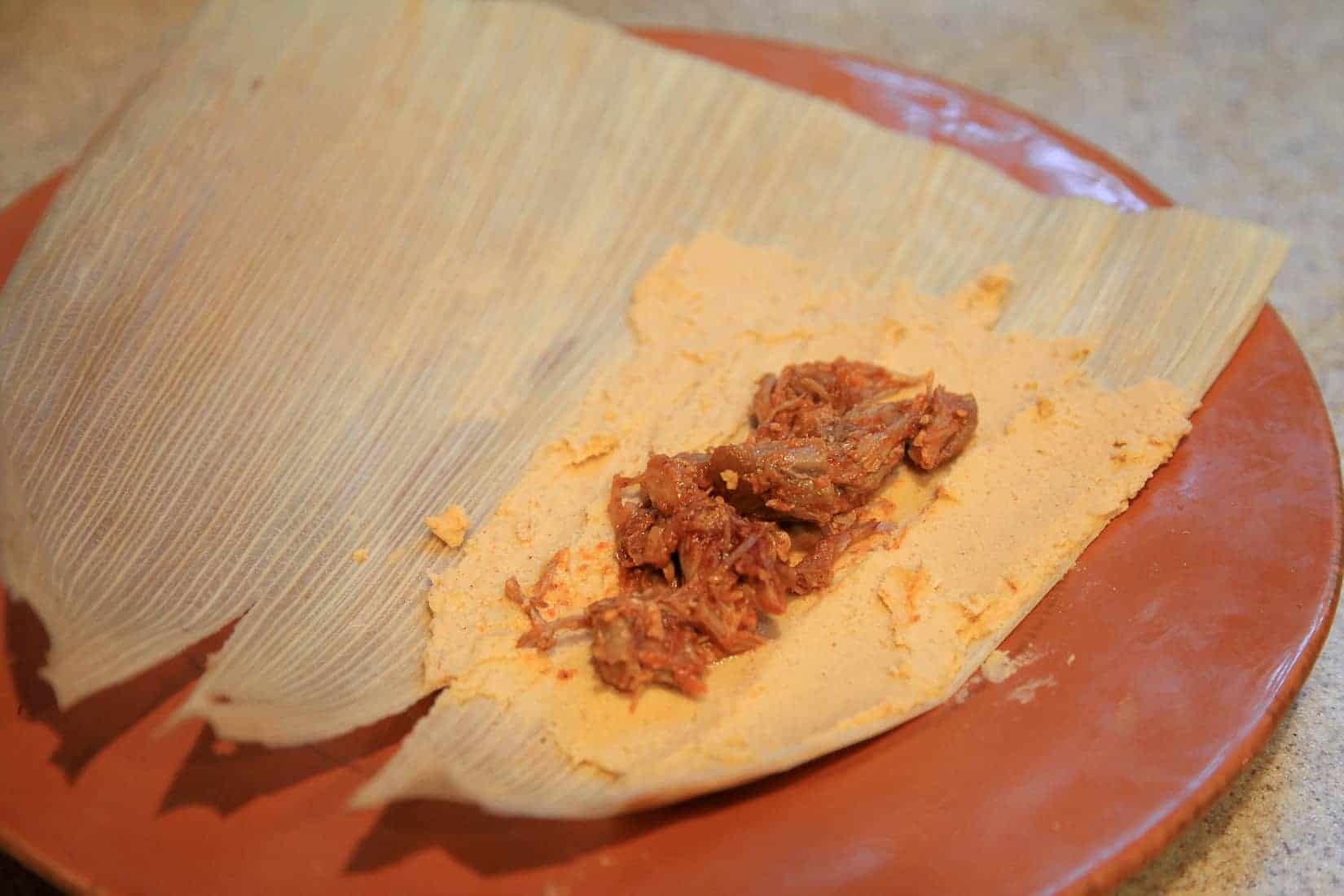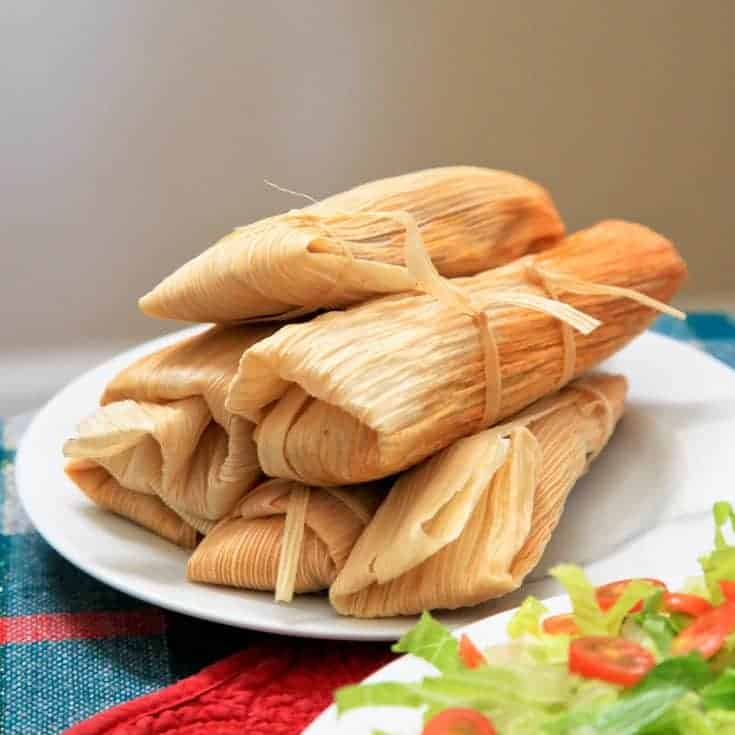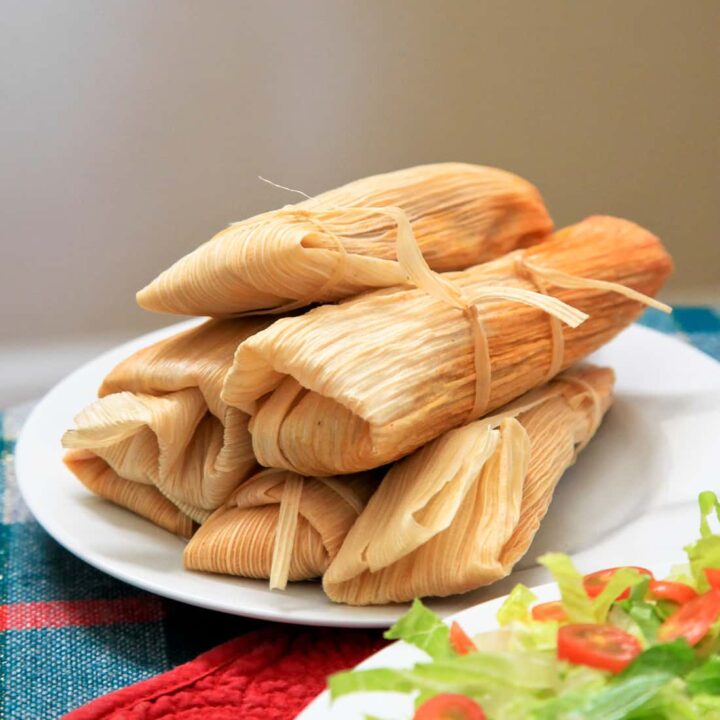 Pork tamales with chile colorado
Ingredients
Pork Tamales
3½ pounds pork butt, cut into 6-8 big chunks
1 onion, chopped
3-4 cloves garlic
9-10 cups water
1½ teaspoons salt
2 teaspoons cumin
2 teaspoons chili powder
1 teaspoon mexican oregano
1-1½ cups chile colorado (recipe below)
Masa (recipe below)
Masa
1½ cups lard
6 cups masa harina, instant corn flour (I used Maseca brand)
1-1½ cups chicken stock
1½ tablespoons chili powder
1½ tablespoons garlic powder
1½ tablespoons paprika
1½ tablespoons salt
1 tablespoon baking powder
Instructions
Pork Tamales
Add the pork, onion, garlic, water, and spices to a slow cooker. Cook on low for 8-9 hours.
When it is done, strain the pork from the stock, reserving the stock, garlic, and onions for the chile colorado.
Shred the pork with two forks and set aside while you make the chile colorado sauce and soak the corn husks.
Once the chile colorado sauce is ready, mix up to 1½ cups of the sauce in with the shredded pork (just enough to make it moist and give it a bit of spice).
Set aside until you're ready to make tamales.
Masa
Beat the lard on medium-high speed with a stand mixer (or electric hand mixer) until it's smooth and light (imagine whipping butter for cookies)
In a separate bowl, mix the masa harina flour with the chili powder, garlic powder, paprika, salt, and baking powder.
Add the whipped lard to the masa harina and knead to combine.
Add chicken stock to the mixture, one cup at a time, using a hand mixer to beat the masa until it is light and fluffy. Repeat with the remaining chicken stock. The masa is ready when it passes the "float test" - take a small piece of masa and place it in a cup of water. If it floats, it's ready. If it sinks, keep beating it and try again.
Assembly
Assembly and cooking:
Soak about 5 dozen corn husks in warm water to soften for about an hour. Pat them dry with a towel.
Rip about 4 dozen thin strips from a few corn husks (¼-inch or less thick)
Spread about 2-3 tablespoons of masa onto the inside of one corn husks on the right edge, leaving about 2 inches on the top and 1 inch on the bottom of the husk and at least 3 inches on the left. This meant about a 5-inch x 4-inch rectangle of masa spread thin on the right edge of the husk (see picture).
Add 2 tablespoons of pork filling into the center.
Roll the tamale so that the right edge of the masa touches the other edge to envelop the filling. Fold the top and bottom over like you're making a burrito, and roll the rest of the tamale. Tie with a strip of corn husk. Repeat until all tamales are assembled.
Place a steamer basket in a large pot filled with a couple of inches of water (so the water is below the basket). This might take 1-2 pots, depending on the size of the pots. Line the basket with a few corn husks. Place the tamales into the pot upright, so the thinnest part of the corn husk is at the bottom. Place a few corn husks on top. Drape a damp kitchen towel over the pot and close the lid. Steam for about 90 minutes, checking to make sure the water in the pot doesn't run dry. To test for doneness, take a sacrificial large tamale from the pot and open it up. The masa should not be sticky and should be cooked evenly. If not, return it to the top and continue steaming.
Steamed keep for 4-5 days in Ziploc bags the refrigerator and 4-5 months in the freezer. To reheat after being refrigerated, just steam in the same manner for 20-30 minutes, until cooked through. To reheat after being frozen, do not defrost, but steam the frozen tamales for 30-40 minutes, until cooked through.
Serve topped with warm chile colorado sauce.
Please ask me questions if you're still confused because this is a super complicated recipe to write and I want your experience to be easy! :)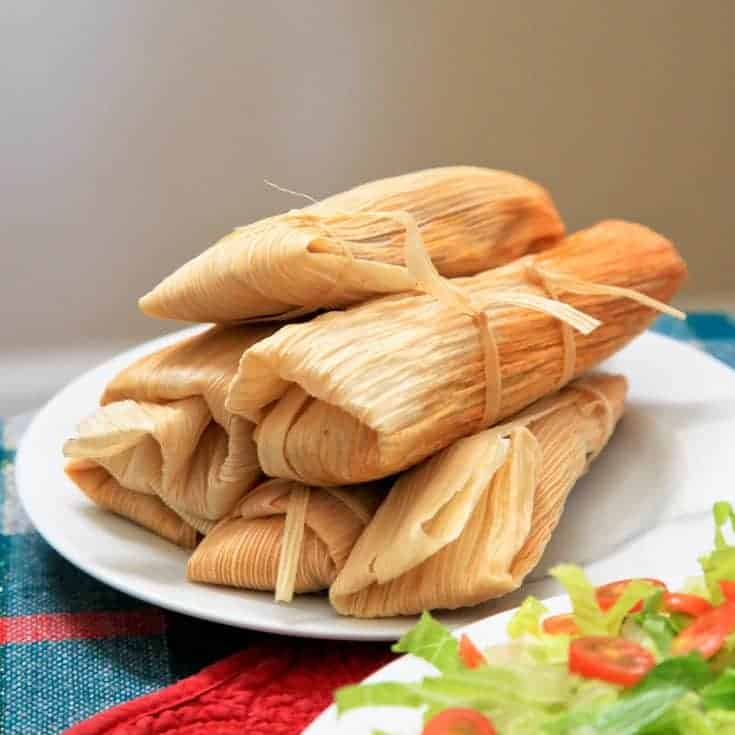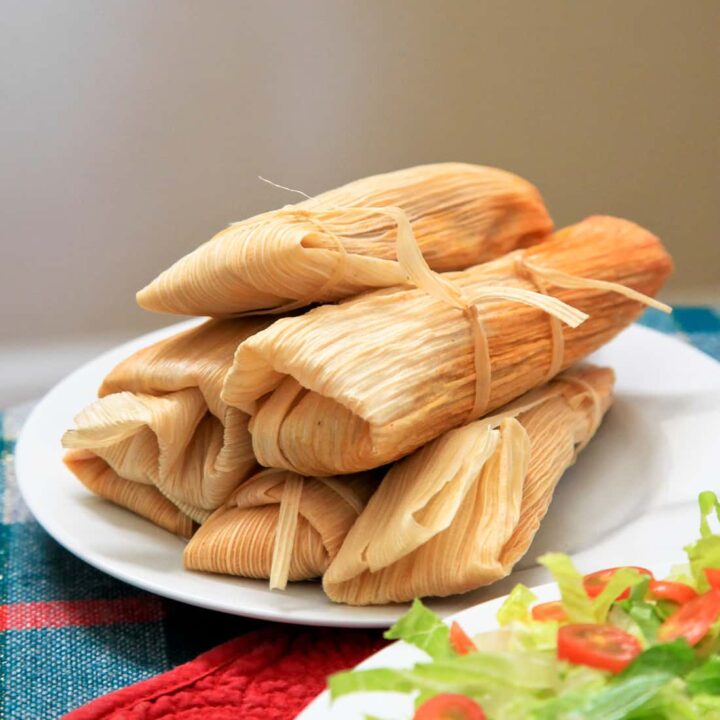 Chile colorado
Ingredients
6 ounces whole dried New Mexico chiles (about 12)
2 ounces whole dried guajillo chiles (about 12)
8 cups pork broth (from the slow cooker - if you don't have enough, supplement with water)
4 garlic cloves, minced
3 teaspoons ground cumin
1 teaspoon mexican oregano
4 tablespoons vegetable oil
3 tablespoons masa harina or corn starch, to thicken
2 tablespoons kosher salt, plus more to taste
4 teaspoons Sherry vinegar
2 teaspoons sugar
Instructions
Rinse chiles and slice them open so they'll lay flat, discarding stems, seeds, and ribs.
Bring the pork broth to boil (reserving the garlic and onions from the broth).
Heat a cast-iron skillet over medium heat, and toast the chiles in batches, skin sides up for about 30 seconds (be careful not to burn them).
Transfer the toasted chiles to a heat proof bowl and pour boiling pork broth over them.
Soak chiles, stirring occasionally, about 15 minutes, or until softened.
In a food processor, purée the chiles with 3 cups of the soaking broth until smooth (reserving the rest of the soaking broth).
Pour the puréed chiles through a sieve into a bowl, pressing on solids, and discard solids.
Stir the reserved soaking broth into chile mixture.
Cook the garlic, cumin, and oregano in oil in a large heavy saucepan over medium low heat, stirring, 2 minutes. Add the reserved onions and garlic from the broth and stir to combine.
Add the masa harina or corn starch and cook, stirring, 2 minutes.
Add the chile mixture, stirring to combine. Simmer, partly covered, stirring occasionally, about 30 minutes.
Season with salt, vinegar, and sugar and stir to combine.
Mix 1-1½ cups of the sauce with the shredded pork. Reserve the rest to serve on top of the tamales.