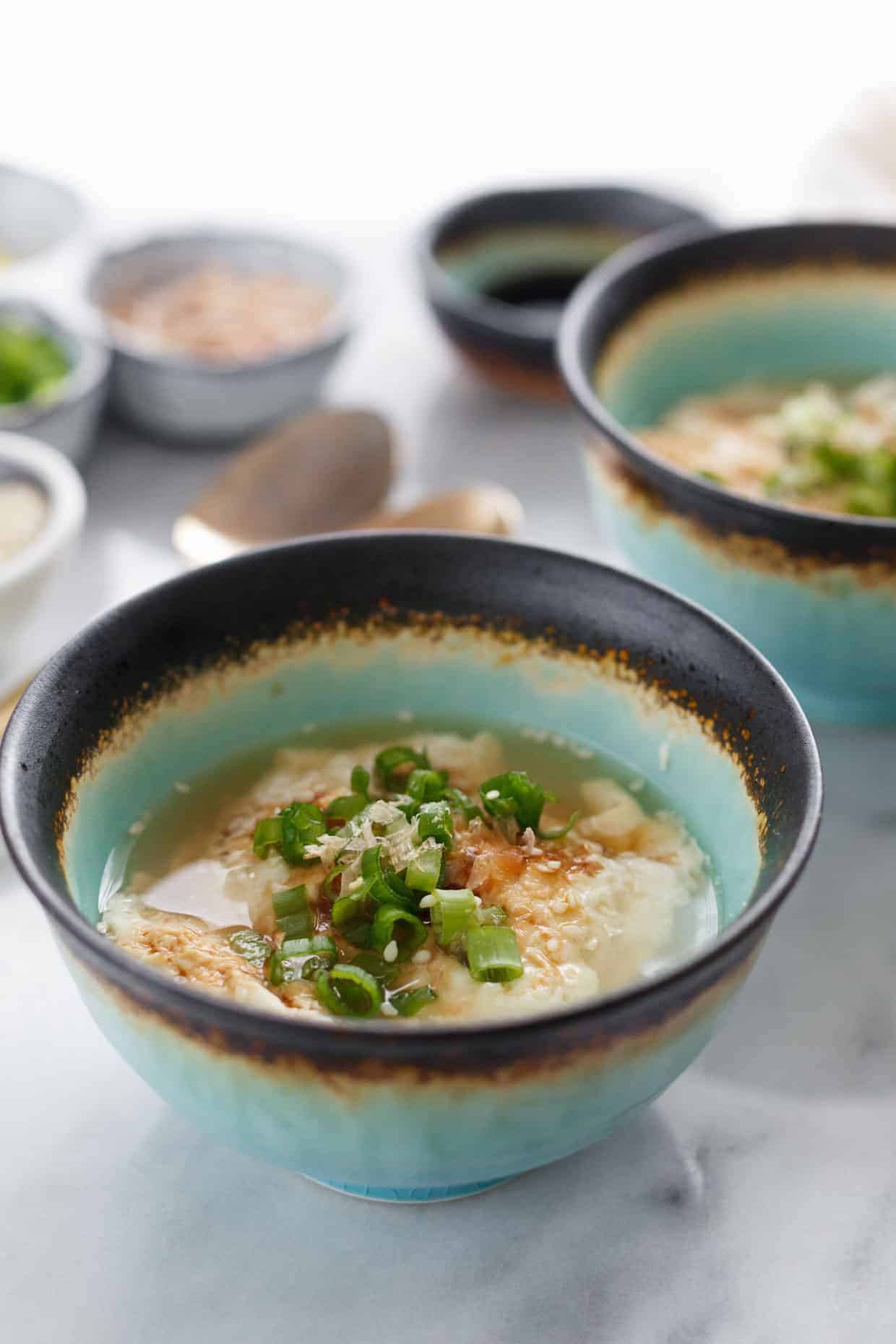 Is there one restaurant dish that you could eat for dinner every night? For me, that's the oboro tofu from Eiji that Angi introduced me to a few months back. Many food-loving folks in SF are probably shaking their heads yup right along with me. It's a dish that comforts with its cloud-like simplicity, and unfortunately for me, it's served at a Japanese restaurant that's located a 36-minute BART ride from my house (flanked by a 15-minute walk on either side).
In other words, much further than I like!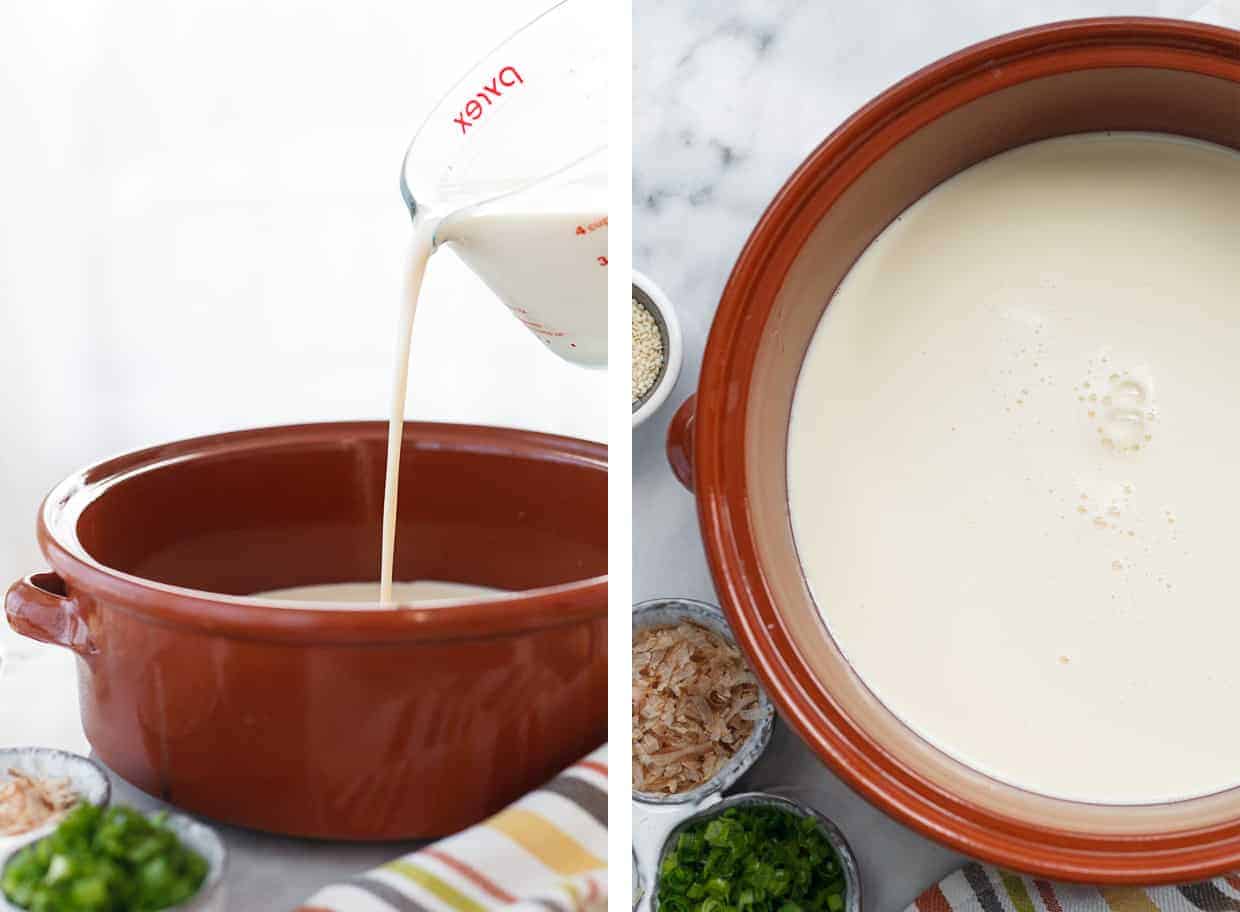 Naturally, when the craving struck hard earlier this summer, I set out to make a pot of silken oboro tofu at home.
I bought a half-gallon of fresh soy milk from Hodo Foods with a plan to somehow turn it into soft silken tofu curds. Remember when I mentioned meeting Princess Tofu at a picnic? Talk about dumb luck! I plopped down next to her, optimistic that the princess of tofu (much like the Wizard of Oz) could give me the key to tofu-making (like, for example, how much coagulant should I put in? And also where can I procure said coagulant in the next few hours?).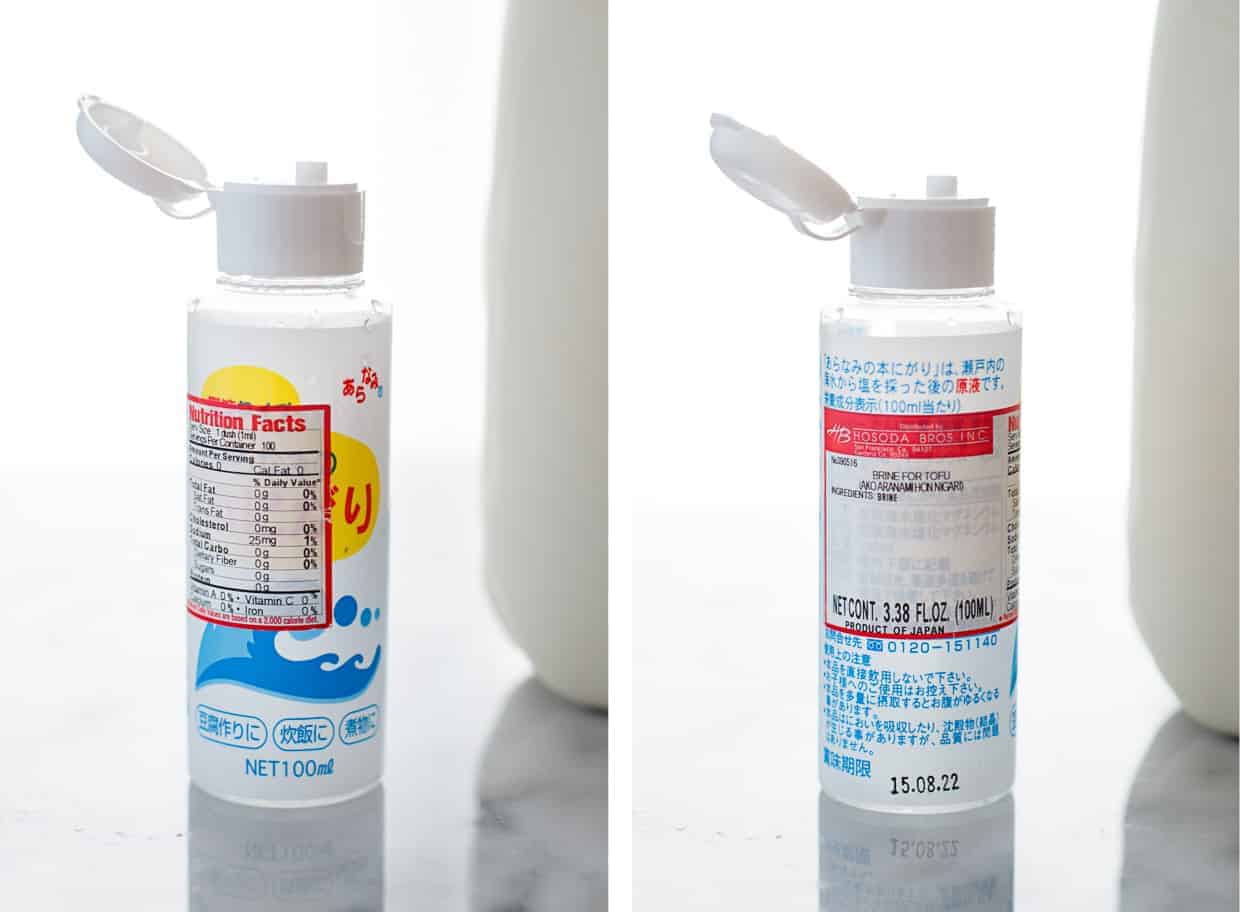 That's when she confessed that she'd never made her own tofu before. Her nom de plume came from a Chinese dish she saw on a menu once - princess tofu.
With some crazy alignment of the stars, though, she led me back to her loft where she pulled out a worn vintage paperback copy of The Book of Tofu and flipped to the page where oboro-dofu was described with detailed steps and a few accompanying black and white sketches of the process. This is a manual of all tofu. And of course she owned it.
The book details the process of going from uncooked soybeans in a 10-hour soaking bath to soy milk to oboro tofu. I had soymilk from Hodo Foods, so I cut out the first step. And then guessed at the proportions as I scaled the recipe down to serve two. I chatted with my friends at Hodo Foods, who gave me more insight on how to make soft tofu at home, even bringing by a little container of their calcium sulfate coagulant!
I've now made it so many times that we've redesignated this red clay pot from paella to "the tofu pot."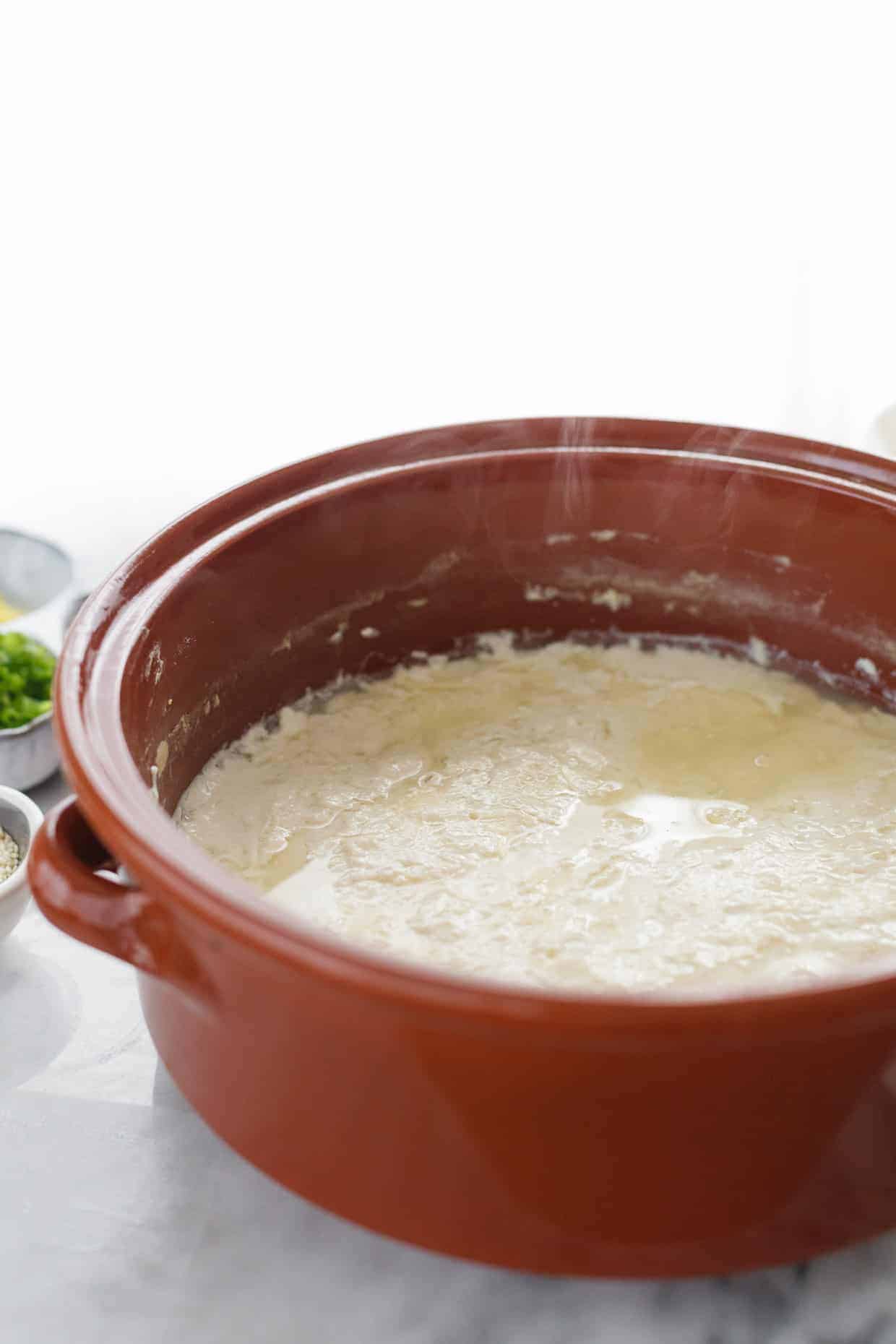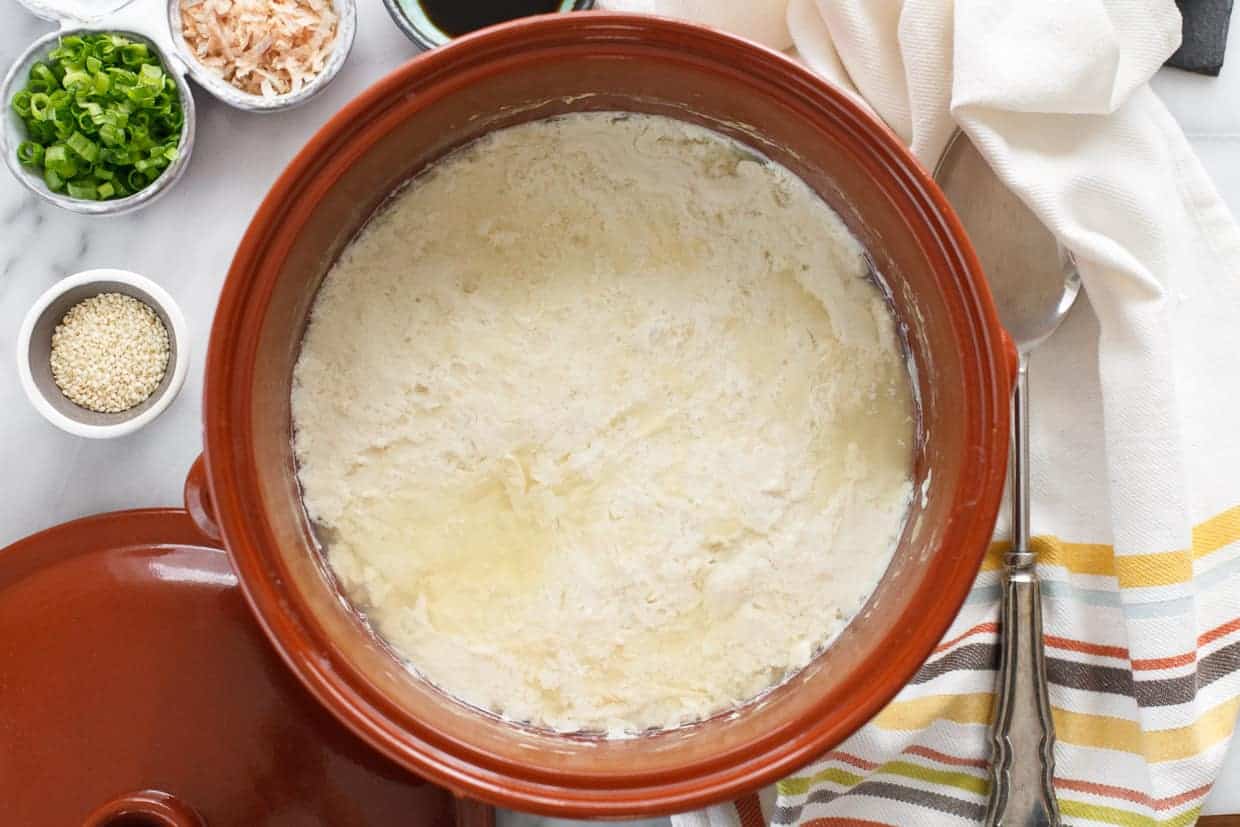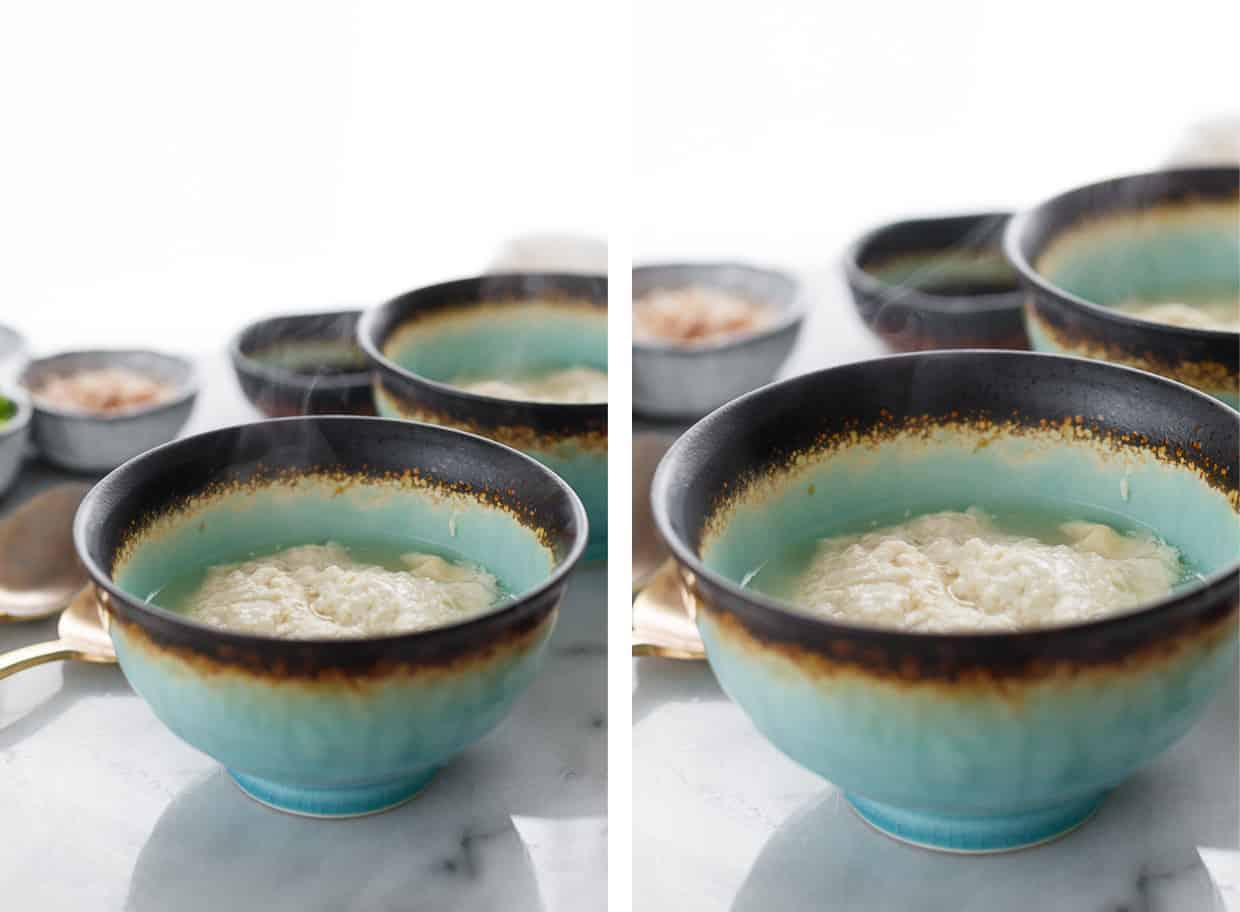 In Japanese, oboro means cloudy or hazy. Accordingly, when soy milk simmers over the stove, it curdles into a soft fluffy cloud-like consistency that's called oboro tofu. The Book of Tofu likens curdling soy milk to "a translucent, amber sky filled with soft white clouds." In short, oboro tofu is simply tofu before being pressed and formed. The tofu curds are ladled out with a slotted spoon and served in bowls with an assortment of toppings as a warm almost custard-like soup.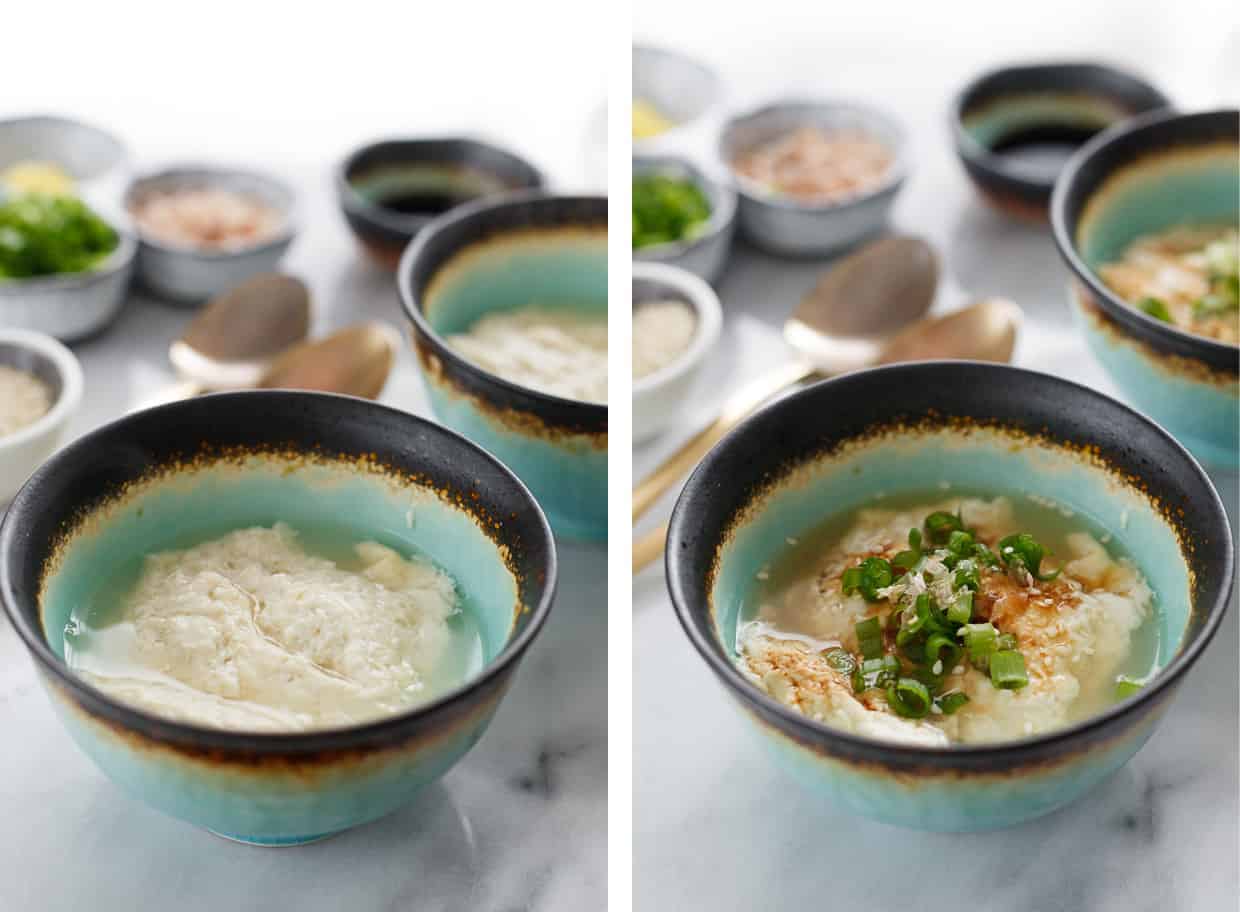 Bon Appetit describes the texture of these smooth tofu curds somewhere along a scale from cottage cheese to burrata to panna cotta.
Oboro tofu has a slight nuttiness from the fresh soy milk with the nigari lending a subtle sweetness. Unlike most store-bought tofu, these homemade curds are flavorful enough to eat with just a splash of tamari and a sprinkling of toasted sesame seeds, scallions, ginger, or bonito flakes. This is tofu in its purest form and it promises to soothe the soul.
Toss it in a bowl of miso soup or your favorite noodle dish if you're so inclined. Go crazy.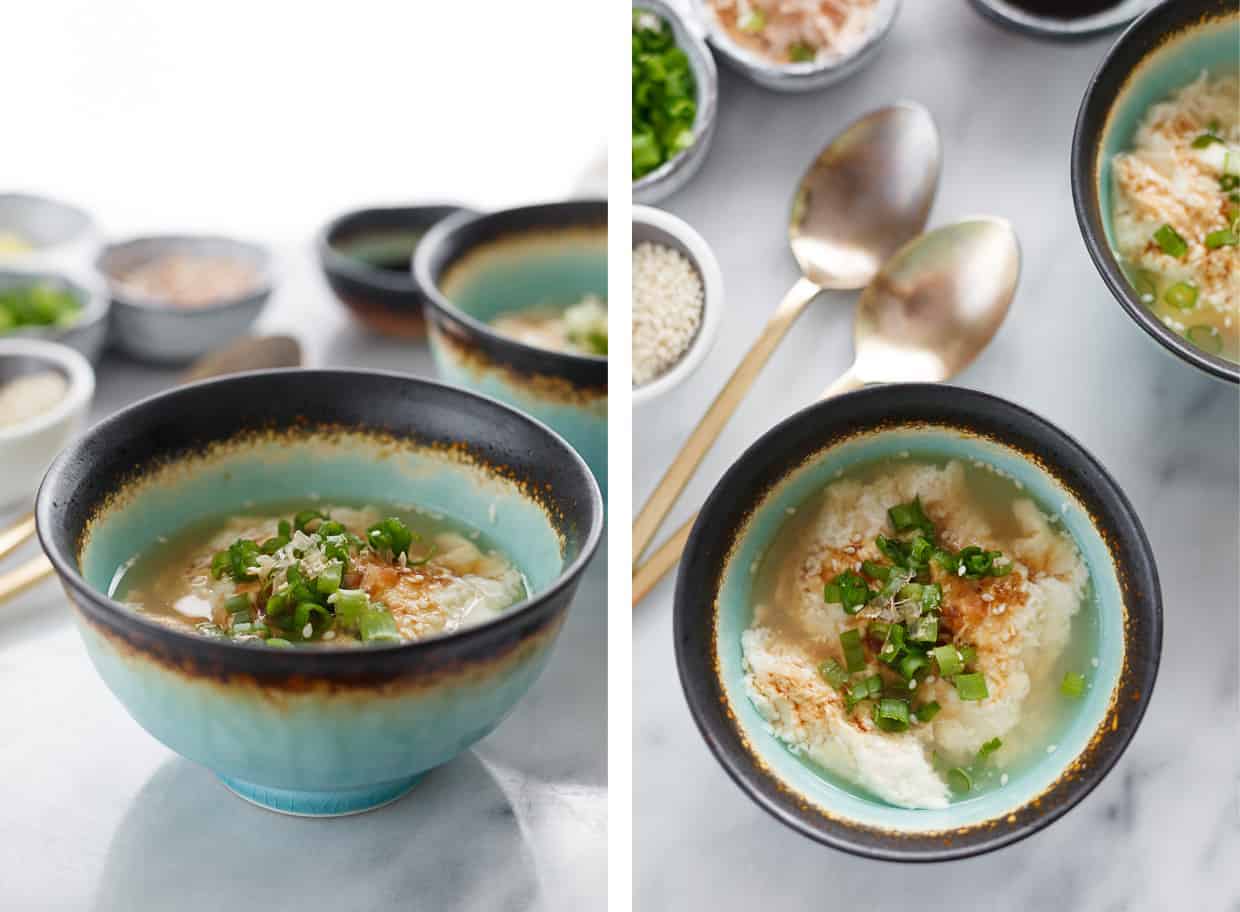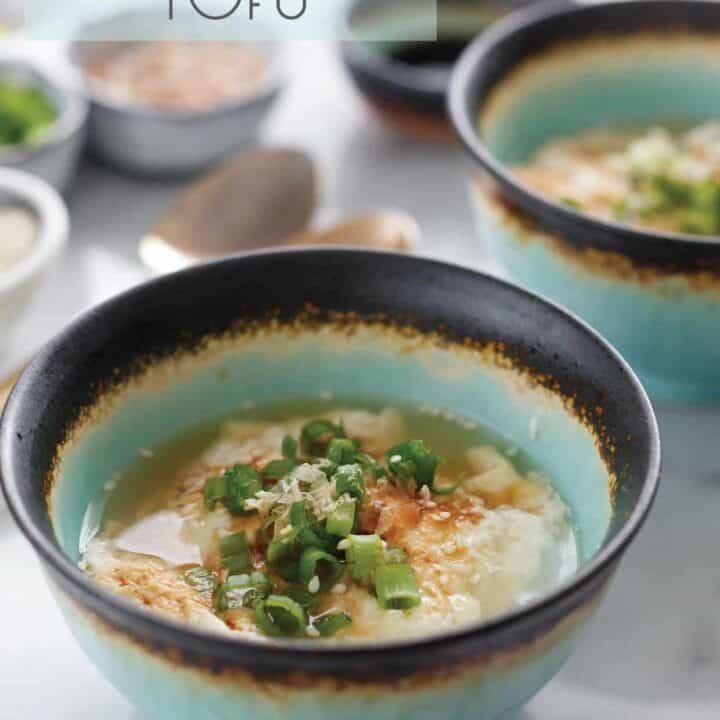 Oboro Tofu: Silken Tofu Curds
Ingredients
4 cups fresh soy milk, unsweetened (*see note)
2 to 2½ teaspoons liquid nigari or calcium sulfate/gypsum (**see note)
½ cup of water
For serving
1 tablespoon toasted sesame seeds
2 tablespoons thinly sliced scallions
2 tablespoons bonito flakes
1 tablespoon grated ginger
Tamari or soy sauce
Instructions
Mix 2 teaspoons of the liquid nigari with the water in a small bowl and set aside.
Bring the soy milk to boil over medium heat in a clay pot, stirring constantly. Boil for 5-7 minutes, continually stirring. Turn off heat.
Stir the soy milk back and forth 5 times, and while stirring, pour in half of the water/nigari solution. Stir 5 times more and remove the spoon. Sprinkle the rest of the water/nigari solution over the top of the soy milk. Cover and let rest for 8-10 minutes.
Lift the lid and with the back of a large spoon, press down to test the firmness of the tofu. When it is ready, any liquid should be a clear yellow, and should no longer be milky. If you still see milky liquid, mix the remaining ½ teaspoon of nigari with 2 tablespoons of water and sprinkle it in the area where the tofu hasn't set. Cover and return to heat for 2 minutes. Remove from heat and let sit covered another 3-4 minutes until set.
Ladle into bowls to serve. Eat it plain, topped with a splash of tamari sauce (gluten-free soy sauce), or sprinkled with any combination of toppings listed above.