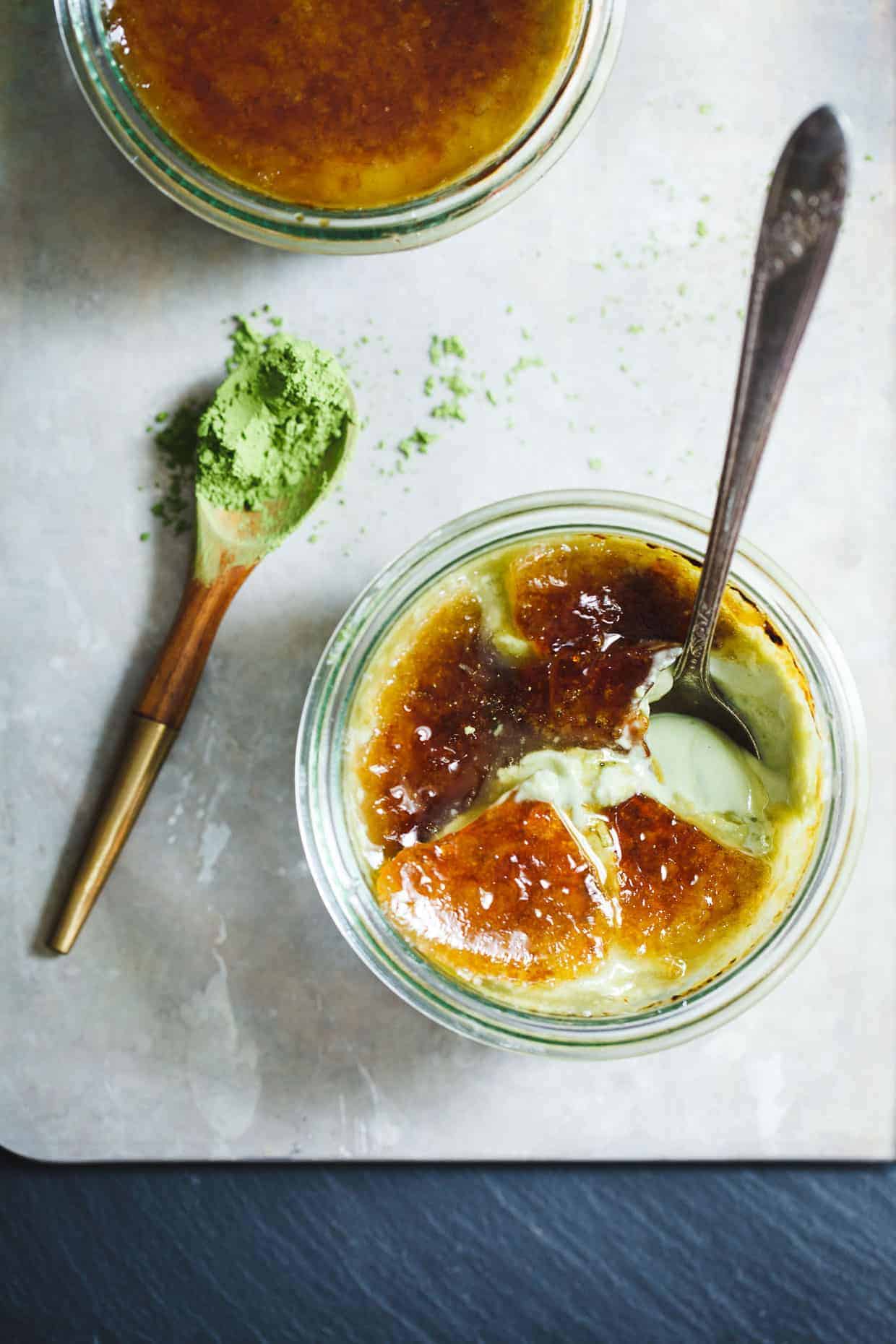 New life skill: doing all the things I used to do...while holding or wearing a 15lb baby. Like brewing a morning matcha latte with a babe on the hip and other very normal things like cutting strawberries (one-handed...machete style) and torching a matcha breakfast brûlée.
CALM DOWN MOM. I promise it's not as dangerous as it sounds - she was kept light years away from the flame and Todd was there to supervise (and document). His little girl is 1.5yrs old now, so he's basically an expert on child safety. Todd also taught me everything he knows about making cinemagraphs so we could all be mesmerized by bubbling sugar. Burn baby burn.
I'M TALKING ABOUT THE SUGAR, GUYS!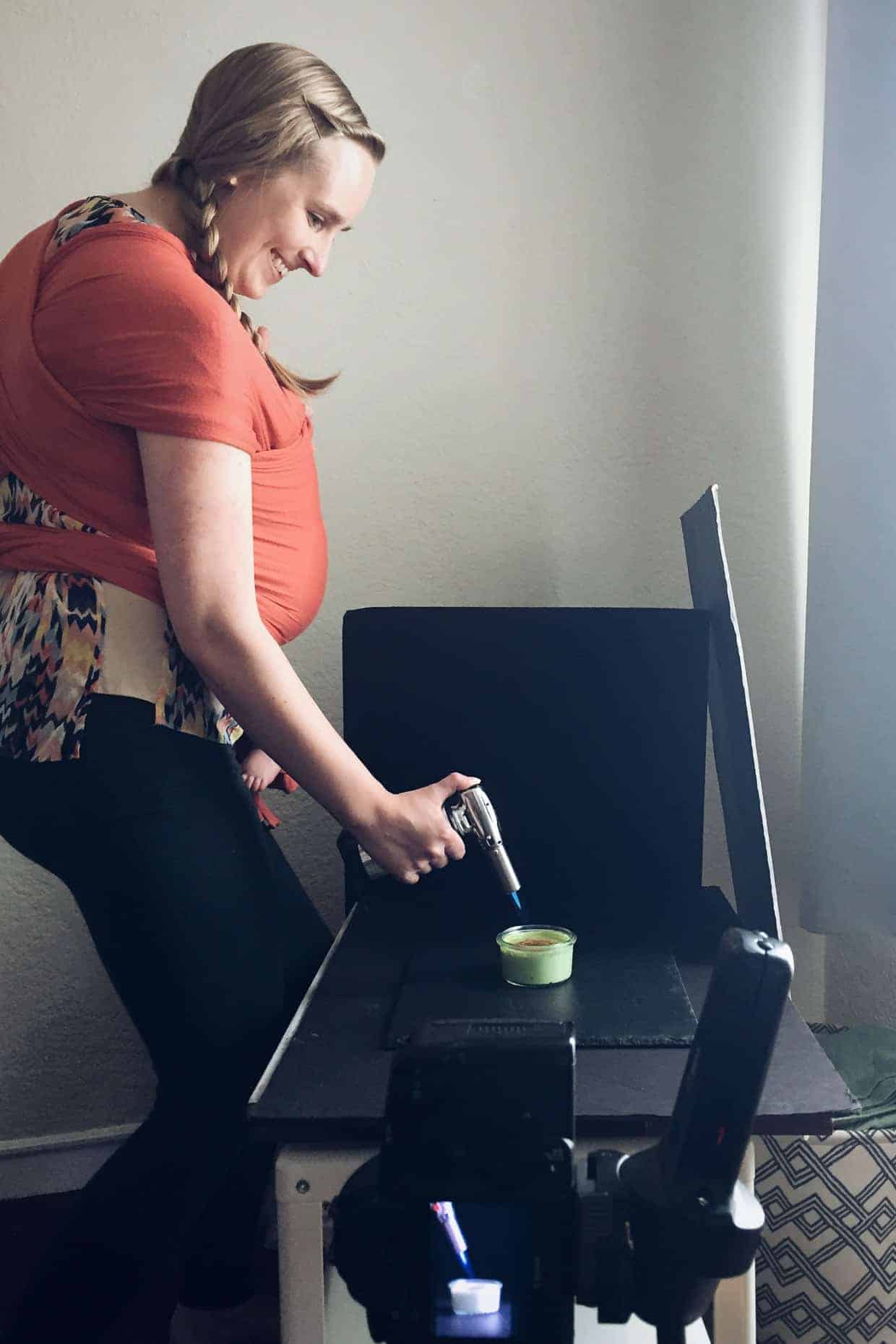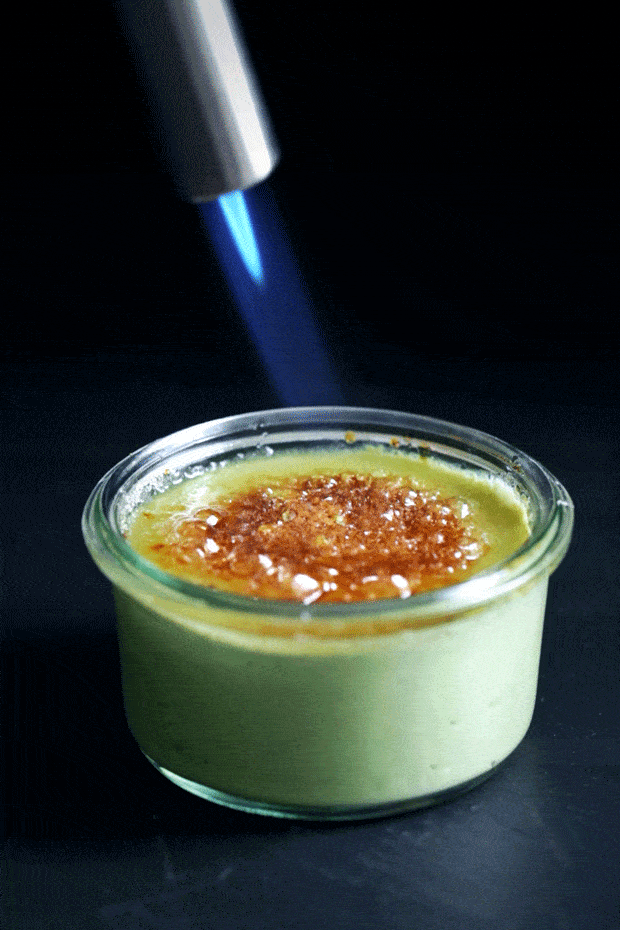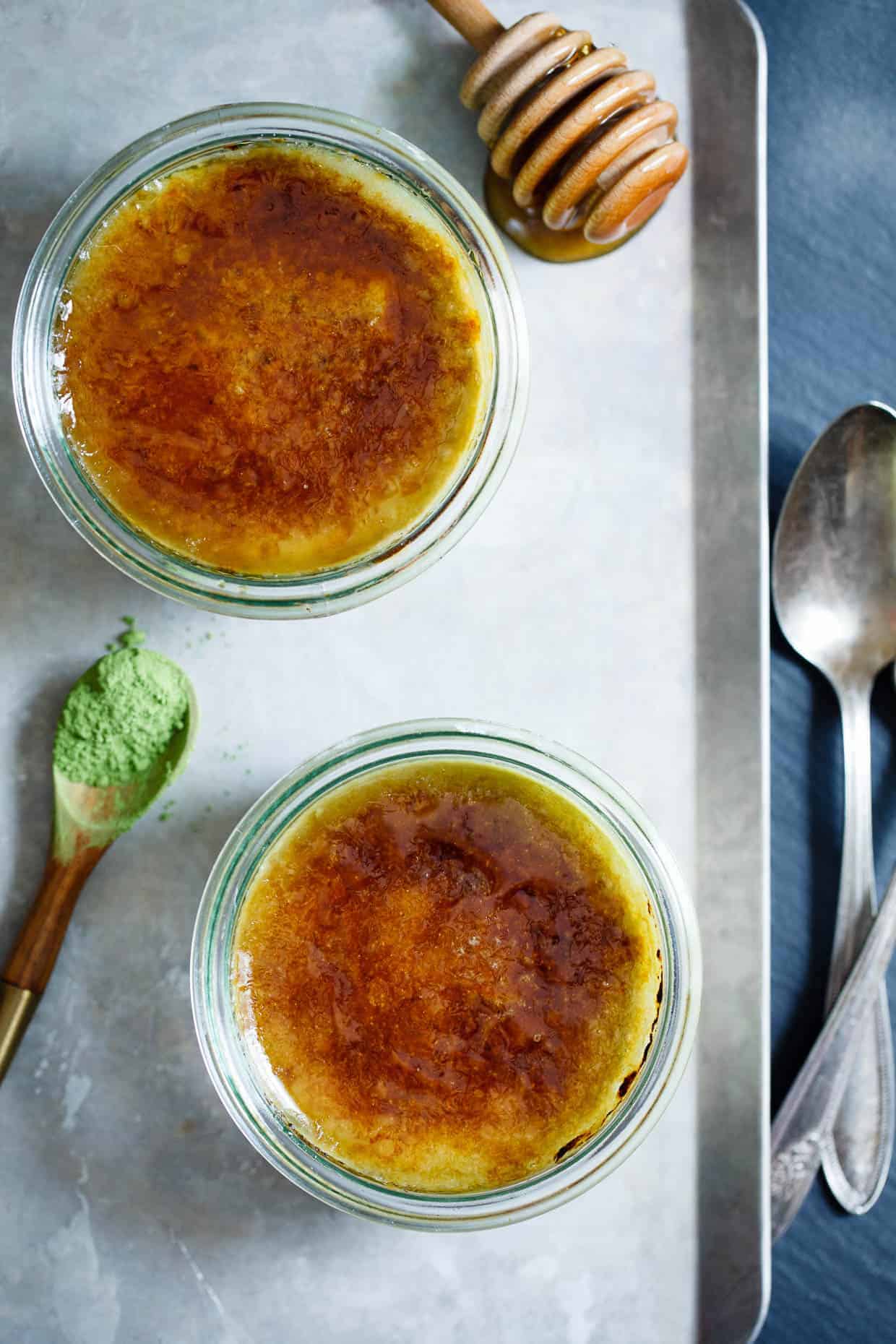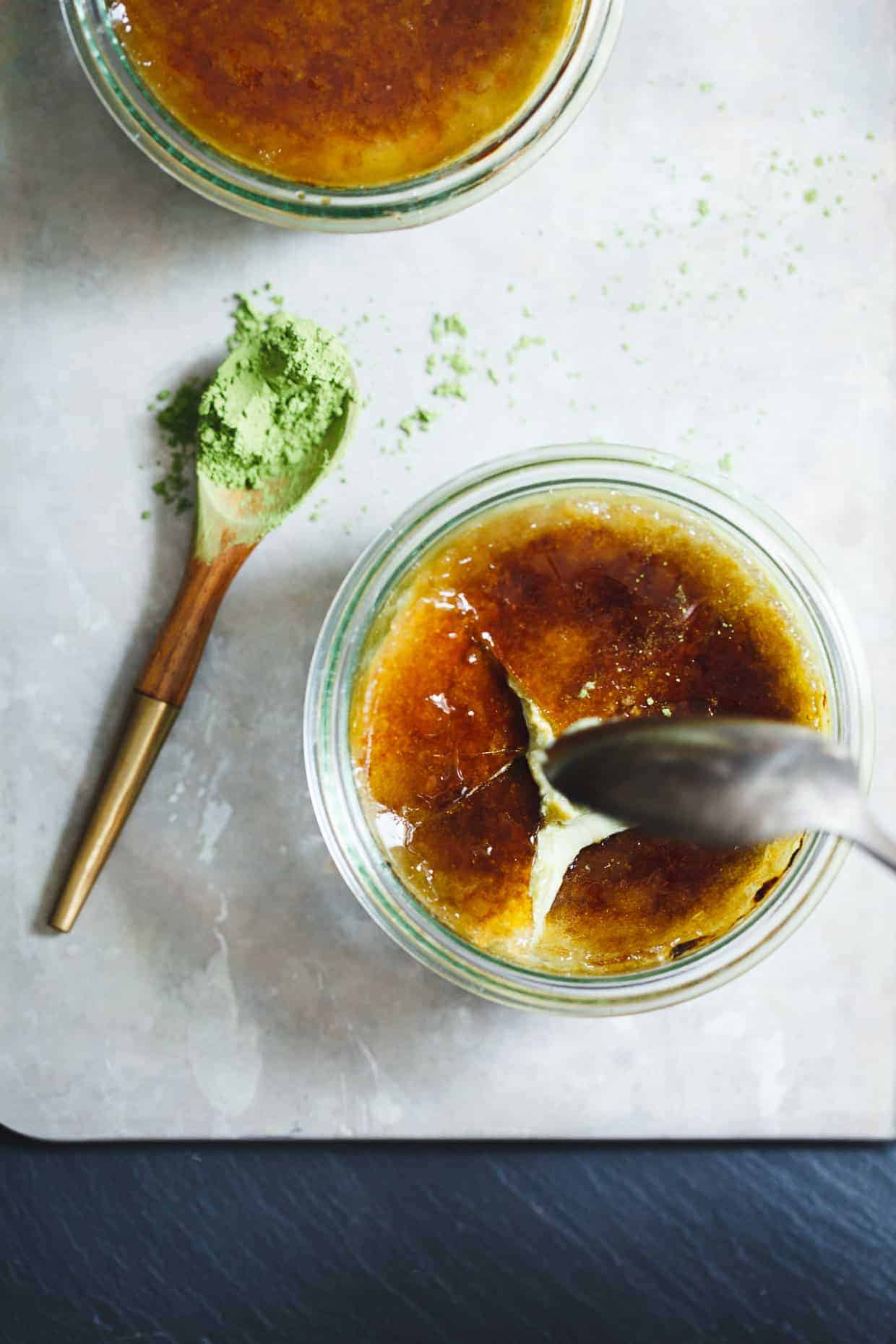 Kitchen stunts aside, my typical day starts when the baby boss demands I get out of bed, followed by a ritual of brewing an Encha matcha latte together. Not a coffee drinker here (I'm a unicorn), but with Zoella dictating my sleep, I need a morning energy boost like woah.
Unlike other green tea, matcha plants are shaded for about 3 weeks before harvest, which fills them with theanine - together with caffeine, this combo triggers a calm alertness without the jolt & crash associated with coffee.
THIS IS EVERYTHING. And its what gets me through a shower (for me), a bath (for baby), at least five books, two diaper changes, tummy time, and a "pull out all the stops to keep baby entertained while I brush my hair" circus show all before 11am without crashing.
If you've been hanging around these parts, you know I'm matcha obsessed. I'm teaming up with Encha Organic Matcha for today's matcha-fest. But before the recipe, I've put my love of Encha to the test with a side-by-side taste test of seven different grades and/or brands and compiled it all into a matcha guide.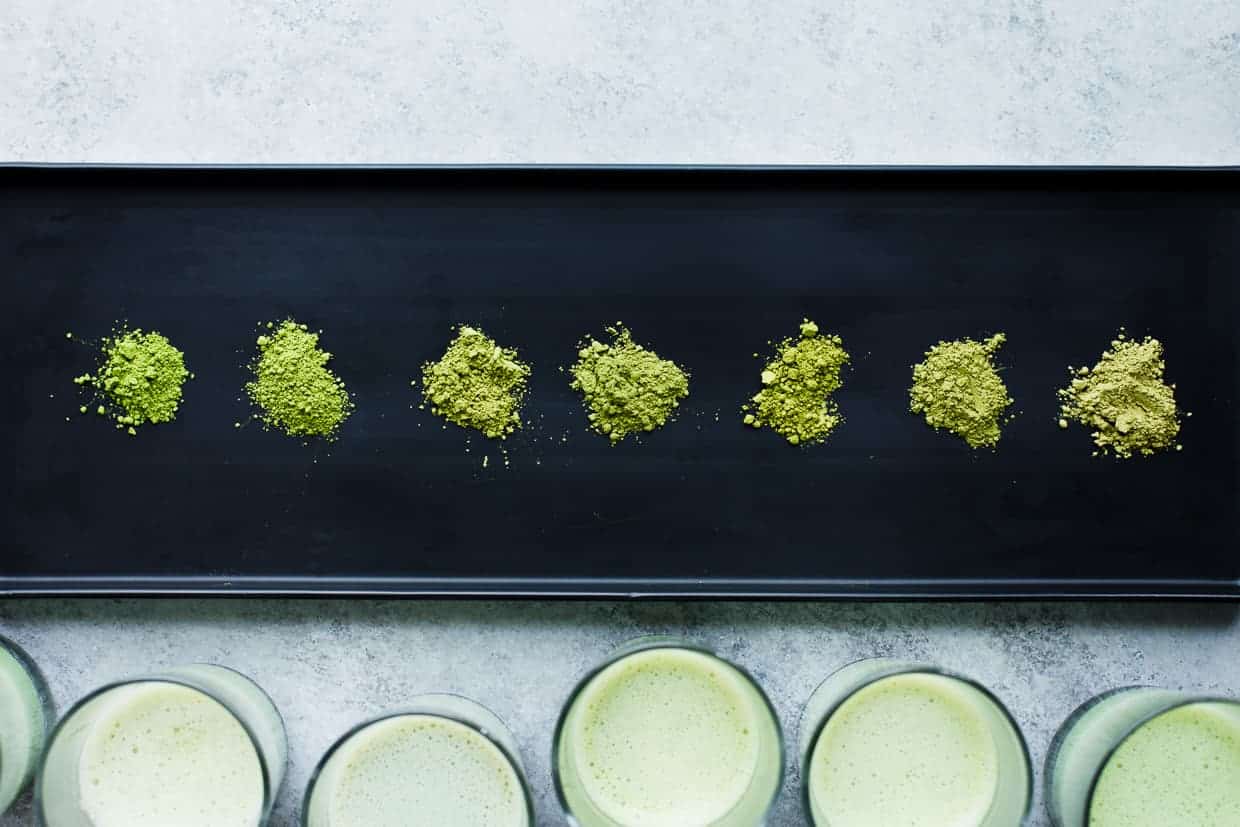 How to Choose Matcha
Vibrant Hue:
Taste aside, for organic matcha, the higher the quality (and/or grade), the more vibrant green the matcha. (Non-organic matcha can use synthetic fertilizers that control for color/taste that can be misleading.) When matcha is exposed to oxygen or water, it oxidizes and turns brown.
In the picture above, Encha's three grades of organic matcha are on the left: ceremonial, latte, & culinary. Encha's ceremonial and latte grade are indisputably more vibrant green than the rest.
Smooth Taste:
I used a matcha latte to compare because that's how I roll in the AM, but you'd probably notice even more subtleties if you drink the matcha straight up with hot water. In the picture above, the matcha is lined up from left to right based on our taste preferences:
On the far left, Encha's latte grade and ceremonial grade were smoother than the rest. They both balanced matcha's vegetal notes and nuttiness without a bitter edge.
Next up, Encha's culinary grade and Harvest Tea's culinary grade compared similarly. They were a little more astringent than the ceremonial and latte, but had a noticeable nuttiness that made them still enjoyable.
The next two matchas in the line-up (The Republic of Tea and a matcha brought back from Japan) were a tad dull and lacked the nuttiness of the others.
The far right matcha pictured (Organic Evolution) was the most brown and oxidized of the bunch and was noticeably bitter to drink.
Okay, but what about the grade?
I just compared ceremonial, latte, and culinary grade matchas (and two that didn't have "grades" listed), but these were are not all created equally.
Ceremonial Grade is meant to be served with just hot water and is the highest grade, made from the finest leaves plucked from the first harvest. It is also the highest price point, so best reserved for special occasions.
Latte Grade, like ceremonial, is made from the first harvest leaves, and is best balanced with milk in a latte. Encha is the only brand I've come across that makes a "latte" grade (premium matcha at a lower price). If I'm making a drink or dessert where I want the vibrant green matcha color and a smooth taste, I use Encha's latte grade (ex. Coconut Matcha Horchata or this matcha breakfast brûlée).
Culinary Grade is meant for baking or smoothies and is generally made from second or third harvest (Encha uses only second harvest). When baking, those subtleties noticed in the ceremonial and latte grades would be indistinguishable and the culinary grade will still produce vegetal and nutty profiles in your baked goods.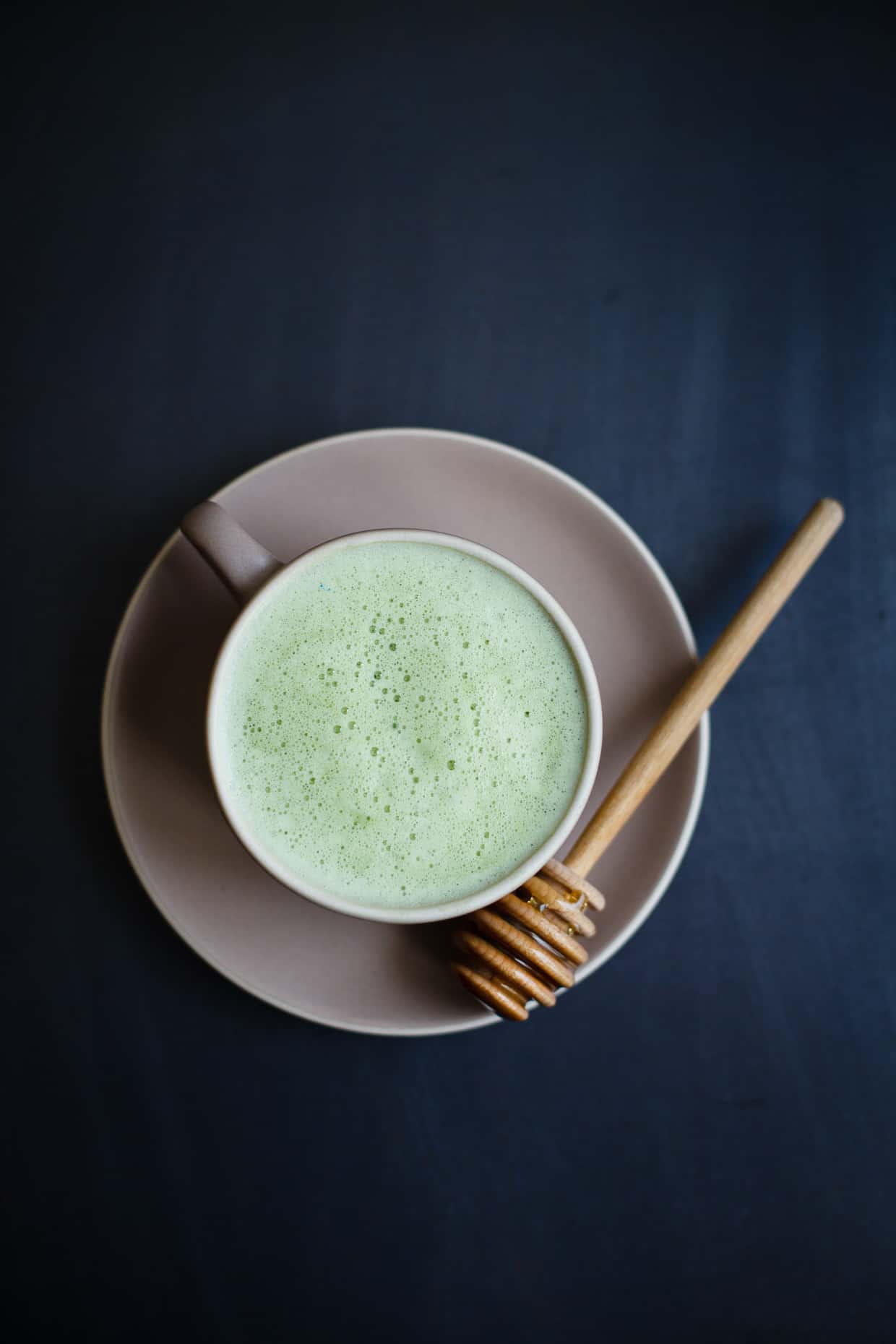 Breakfast brûlée is one of the best inventions yet - indulgent yet about a billion times healthier than its predecessor (that's an accurate measurement). When Kelly first served me a bowl of brûlée-topped greek yogurt, I went on a rampage and burnt a sugary shell on greek yogurt for dessert every night for a month.
This honey matcha breakfast brûlée is the stuff brunch dreams are made of. Matcha's nuttiness counters the tart greek yogurt and the smidgen of honey turns it into a slightly sweetened matcha latte cream. The hard crack shell is the icing on the cake - turning it into a fancy affair. Yogurt that's dressed to impress.
(Also: tap. tap. tap. Can you hear it?)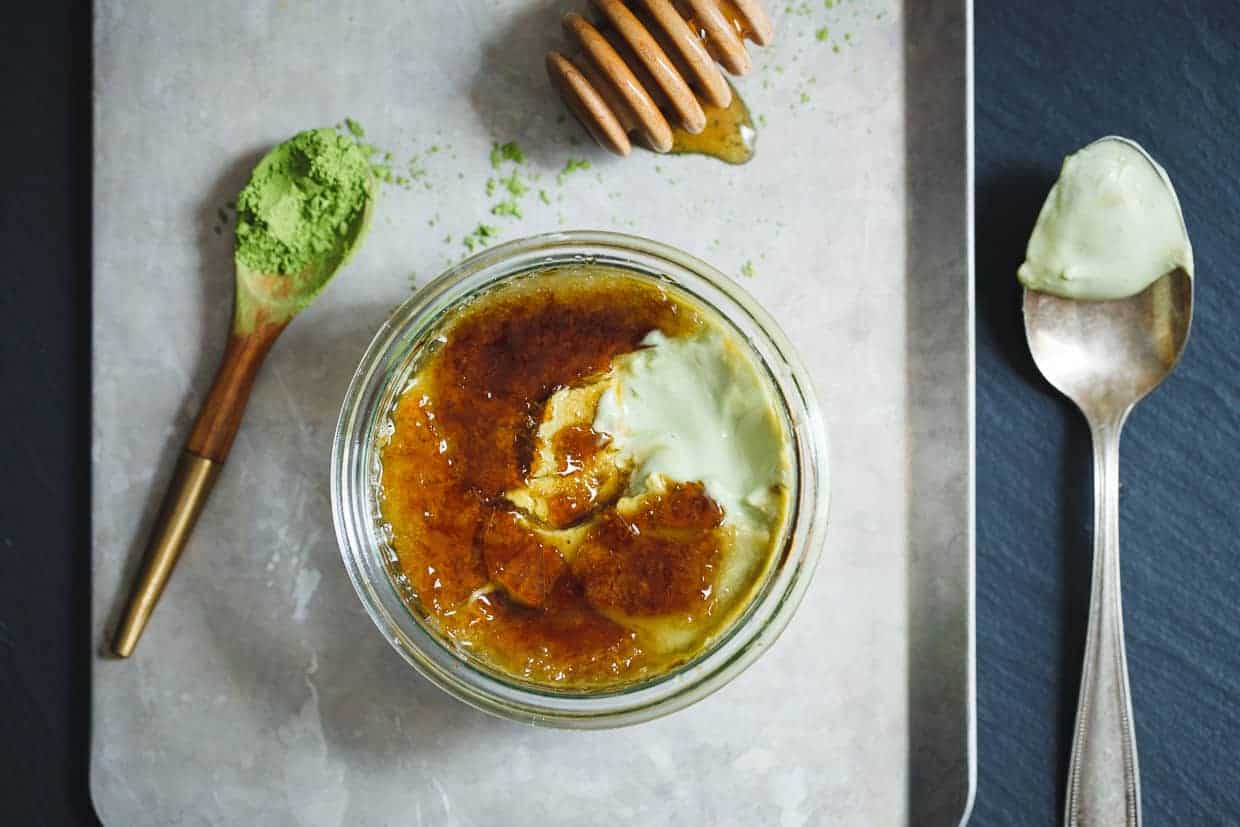 Disclosure: Special thanks to Encha for sponsoring this post! And thanks to you for supporting the brands that keep Snixy Kitchen cooking!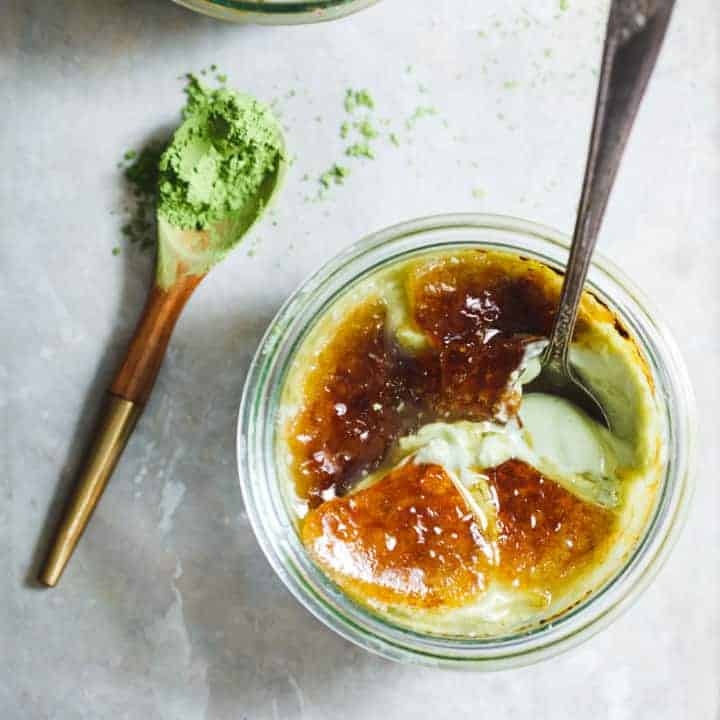 Matcha Breakfast Brûlée
Ingredients
2 cups greek yogurt (or plain vegan yogurt*)
1 teaspoons honey
¼ teaspoon vanilla extract (optional)
4 tablespoons granulated sugar, divided
Instructions
In a large bowl, mix the yogurt, matcha, honey, and vanilla together until completely combined. Divide into 4 small ramekins and chill until ready to serve.
Just before serving, sprinkle the top of a matcha yogurt cup with enough sugar to coat it in a thin, even layer, about 1½ teaspoons.
Using a kitchen torch, caramelize the sugar by holding the torch a few inches away from the top and using a circular motion, until all of the sugar is evenly caramelized. If it starts to blacken, try pulling the torch further away.
Sprinkle another layer of sugar over the first, about 1 teaspoon, and repeat the caramelization process to create a thick lid of sugar.
Repeat for the remaining cups.
Chill for 10 minutes to harden the sugar on top and cool the yogurt down again. Serve immediately.
Notes
*There has been one small study that has suggested that dairy proteins can limit the full absorption of matcha's antioxidants, so for maximum antioxidant absorption, try a vegan yogurt!
Thanks for reading Snixy Kitchen! To stay up on what's coming out of my kitchen, follow me on Facebook, Instagram, Twitter, Bloglovin', Pinterest, or subscribe via e-mail to get new recipes right to your inbox.