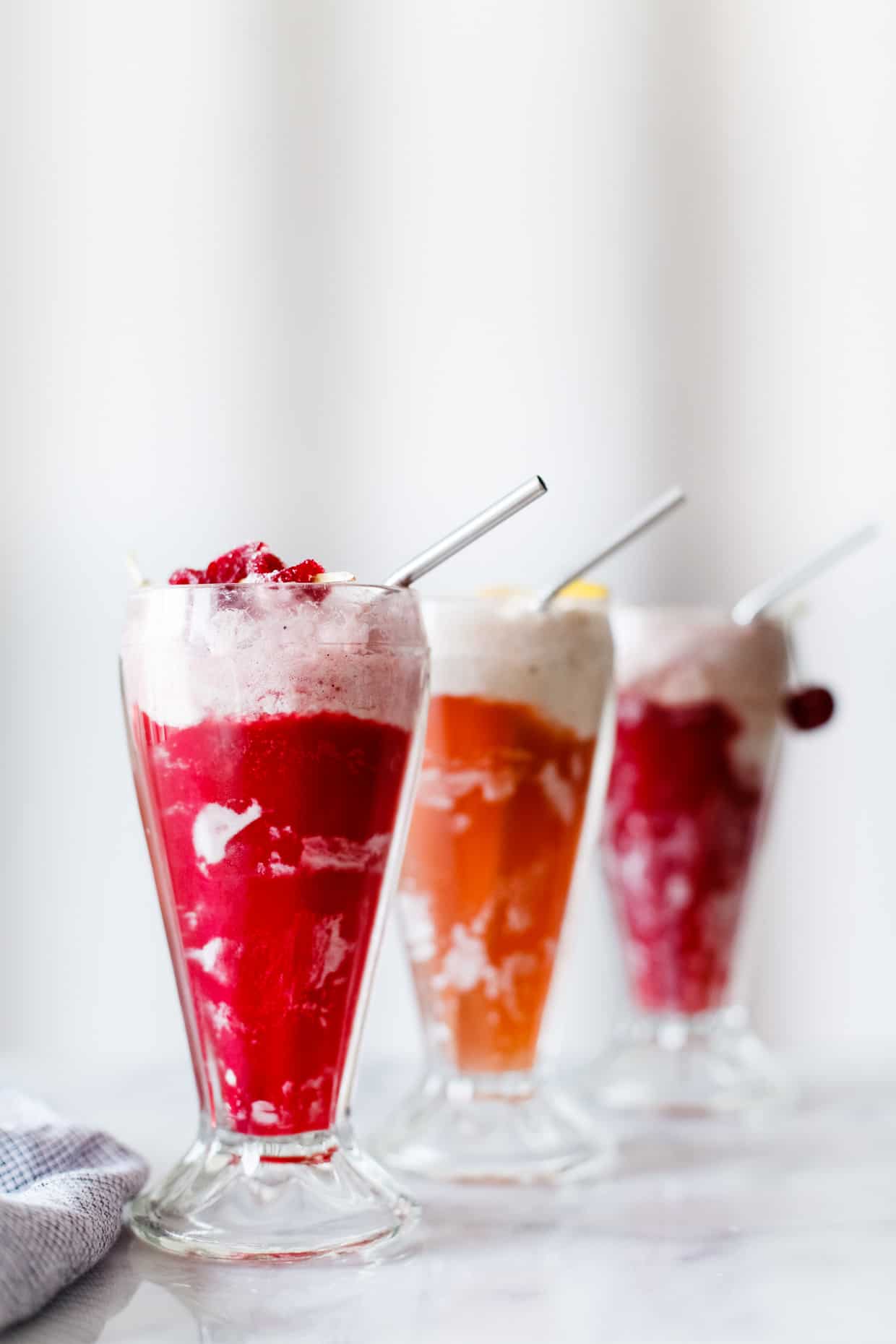 Summer is finally barreling in - and by barreling I mean, it's peaking near 70°F here, which means as long as the sun is out I only need a light cardigan. Like I said: barreling.
Meanwhile, we just bought an outdoor space heater for our back porch so we can actually have barbecues this summer without freezing our bums off. Come on over and we'll watch the sunset as we sip frothy hibiscus ginger ice cream floats on my back porch. Move over lemonade, ice cream floats are the official drink of summer 2015.
Because I just said so.
To celebrate the moderately warmer temps, Alanna and I teamed up with drinkmaster Todd from HonestlyYUM to film ourselves scooping up a trio of ice cream floats. And we turned the footage into another video: Trio of Floats (don't miss the bloopers reel at the end of the video).
(Check out our other video collaborations here!)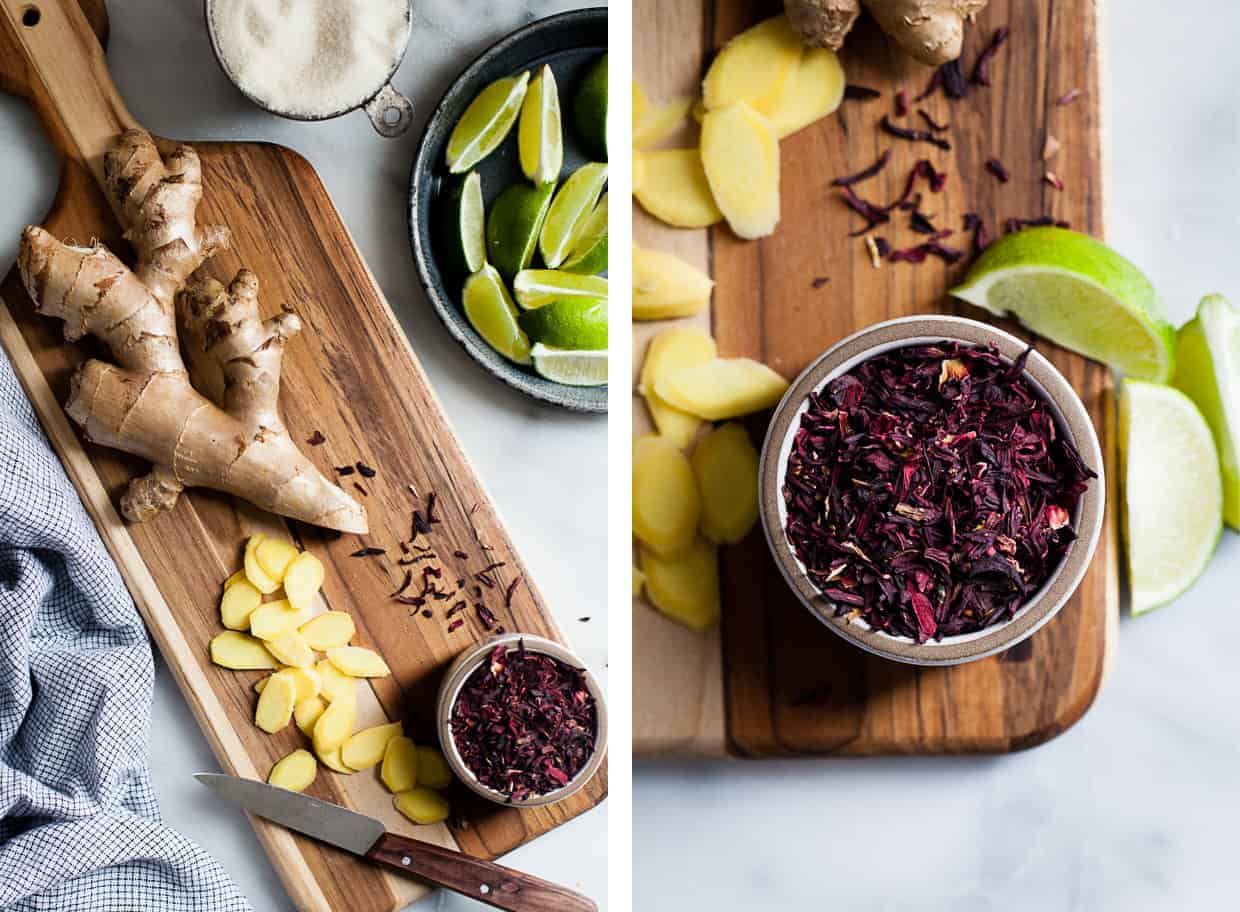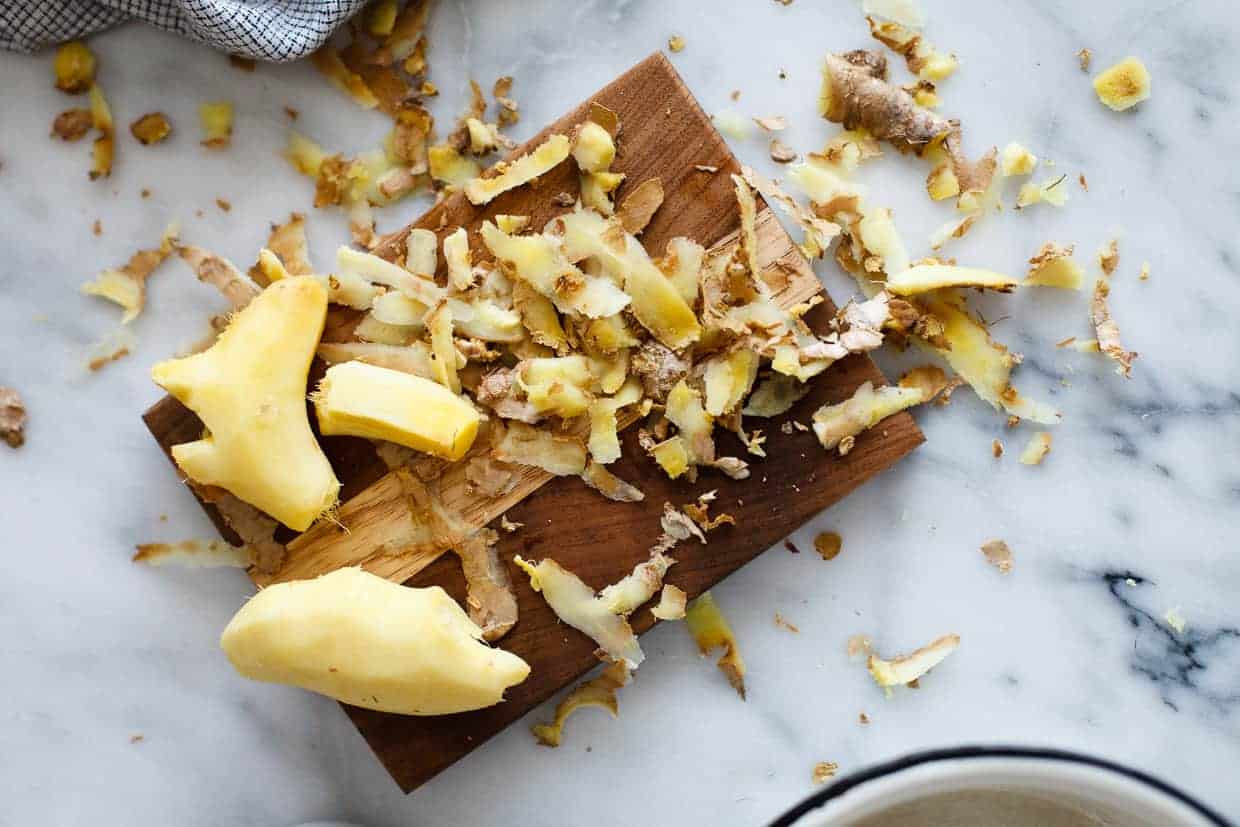 I have two distinct memories about the neighbor boy who lived at the end of the cul-de-sac when I was five. The first was that his dad owned the local Baskin-Robbins (a memory that may or may not be factually accurate), which meant he had chest freezer full of unlimited gallons of ice cream that were turned into infinite rootbeer floats all summer long.
The second was the day he got covered head-to-toe in fire ants while we played in the sandbox and his mom striped him down naked in front of me. I probably just stood by and watched, ice cream float in hand. There's not much an ice cream float can't cure.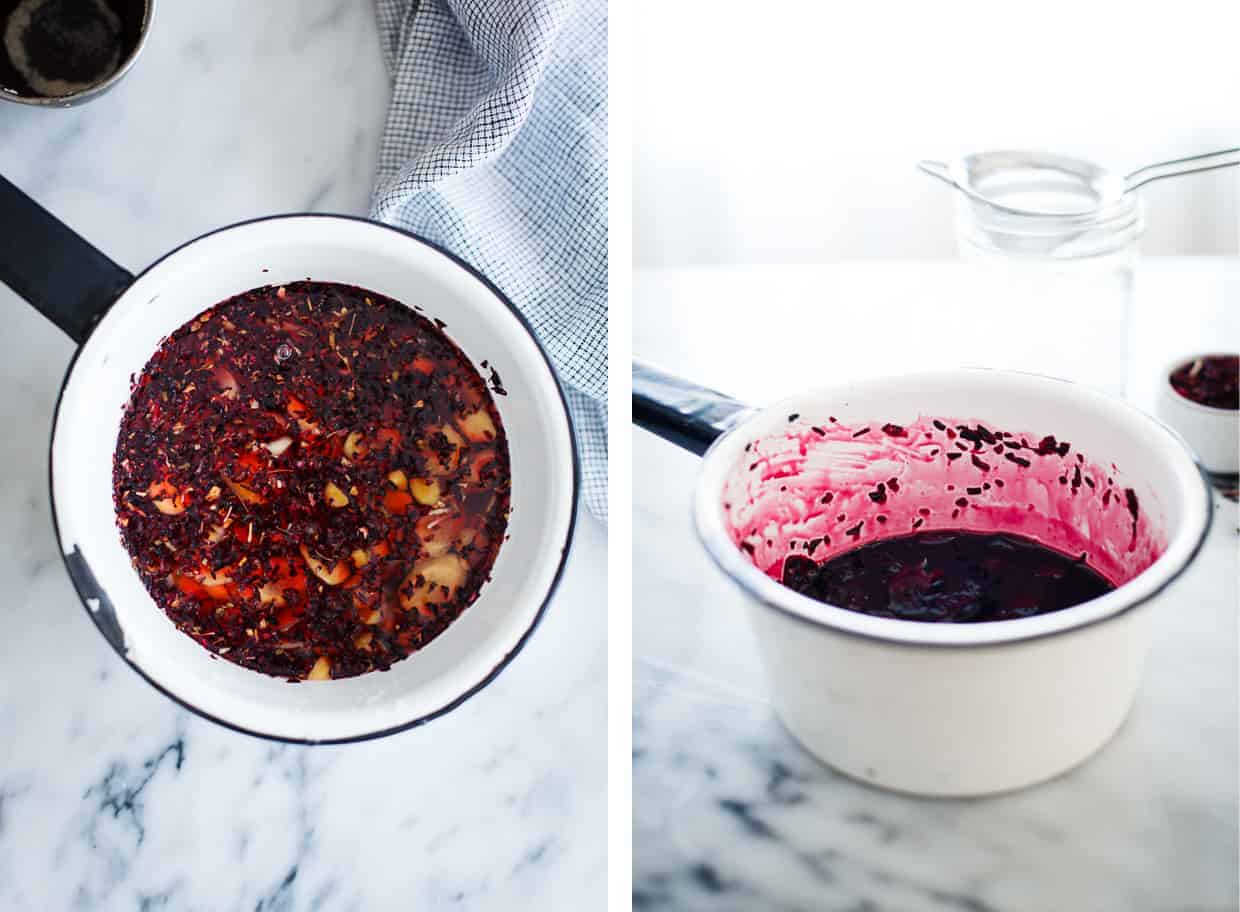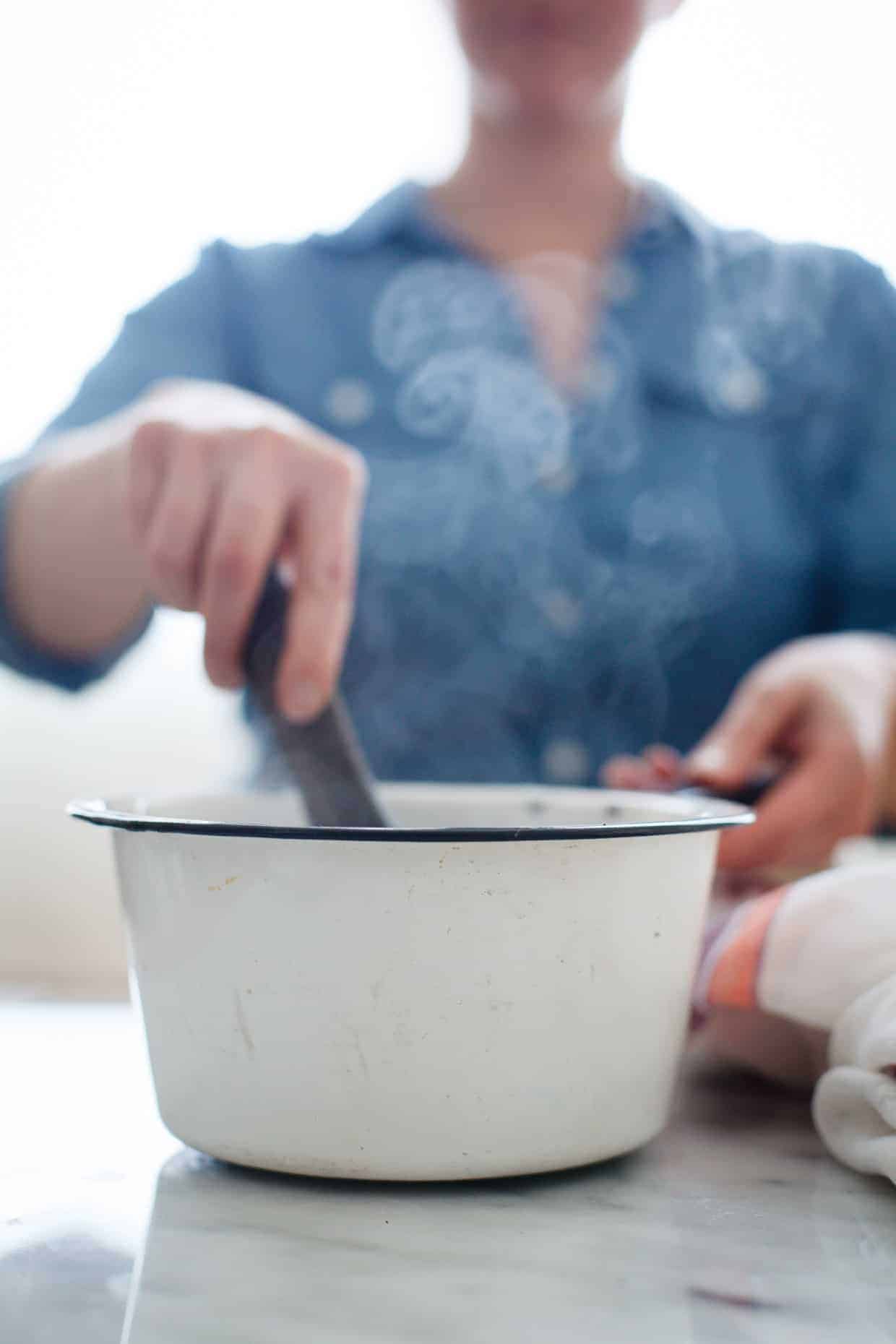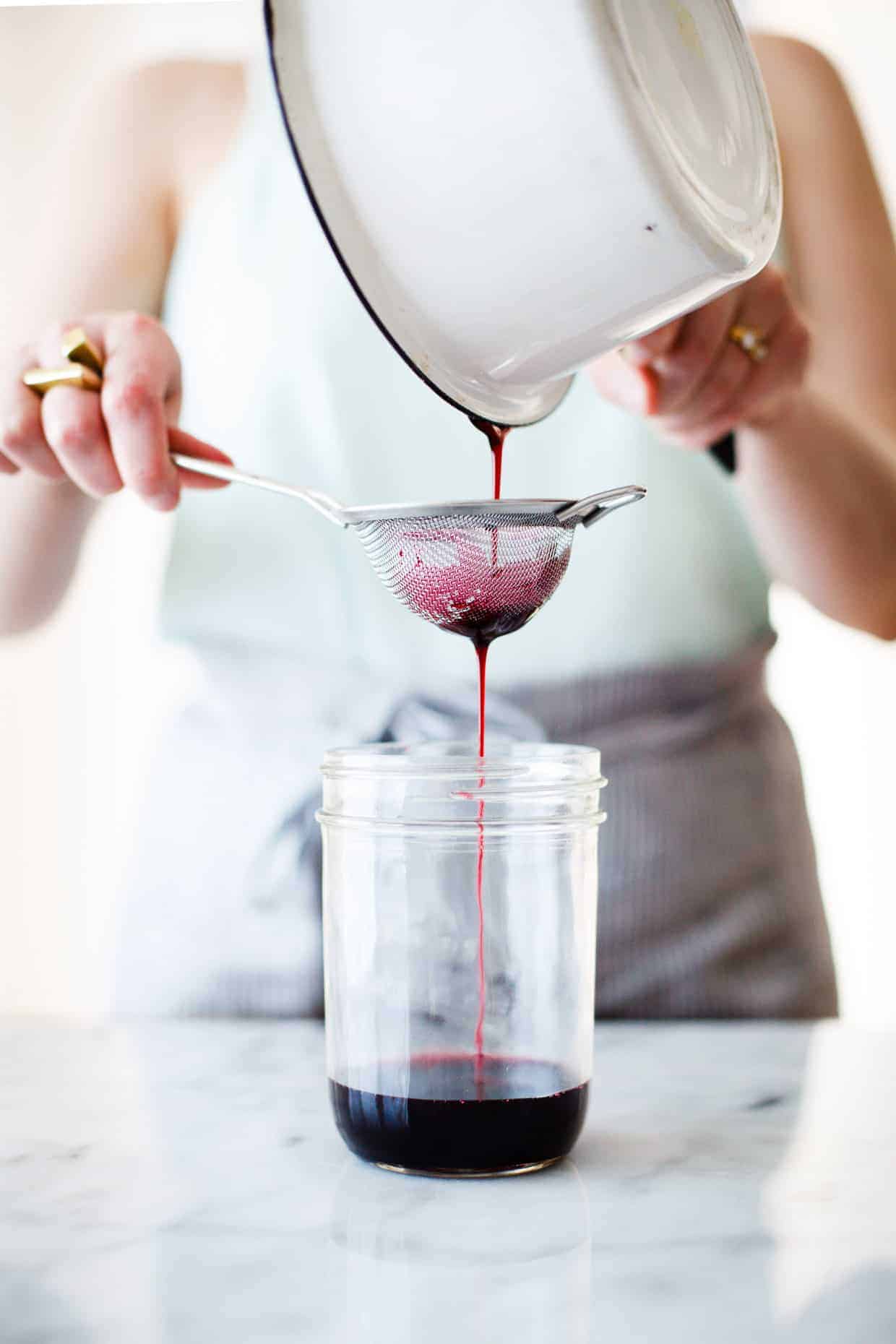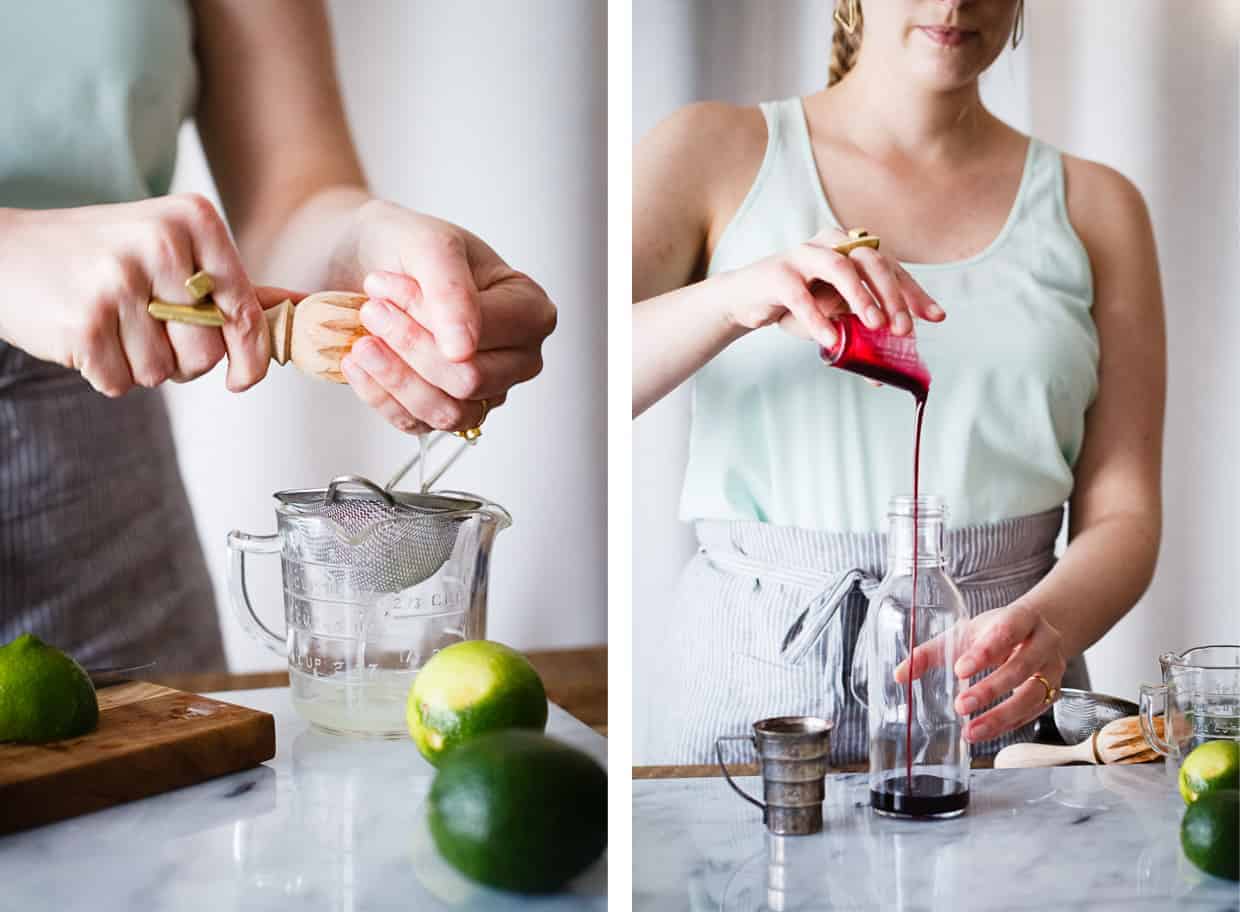 This float collaboration came together over drinks at the Hotsy Totsy Club (aka local dive bar), where I'm certain all good ideas originate. What Todd doesn't know was that it was really just an elaborate trap Alanna and I concocted to get him to show us his mad drink skills.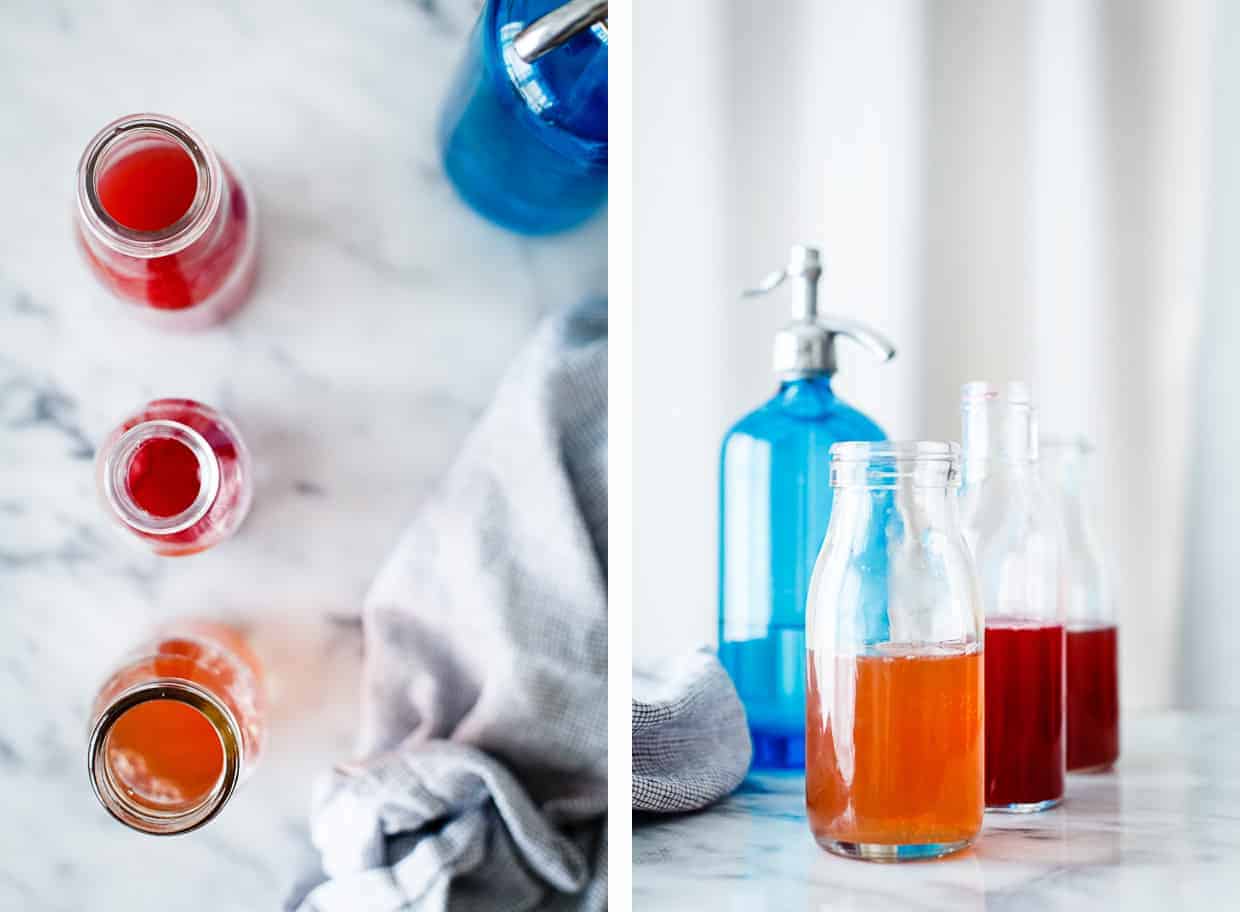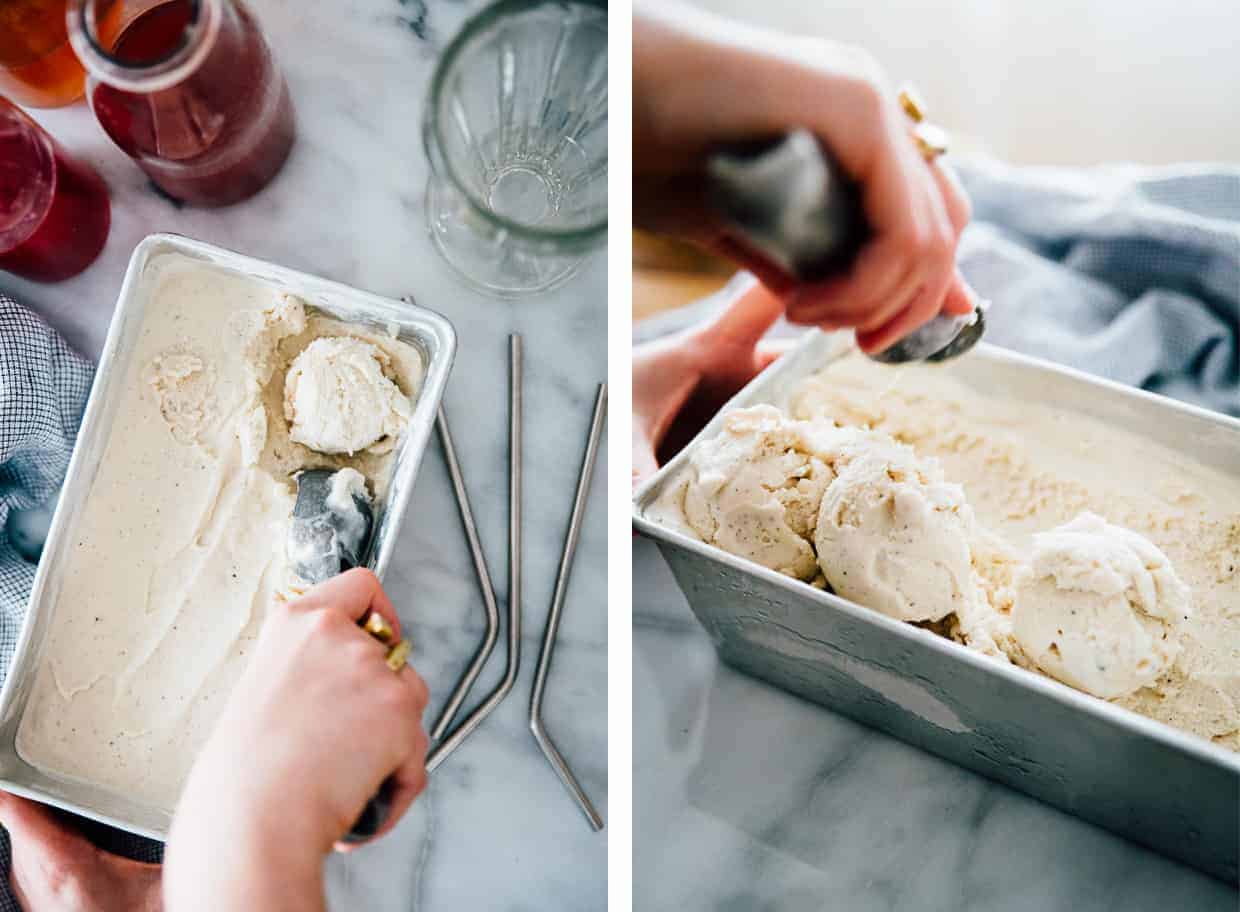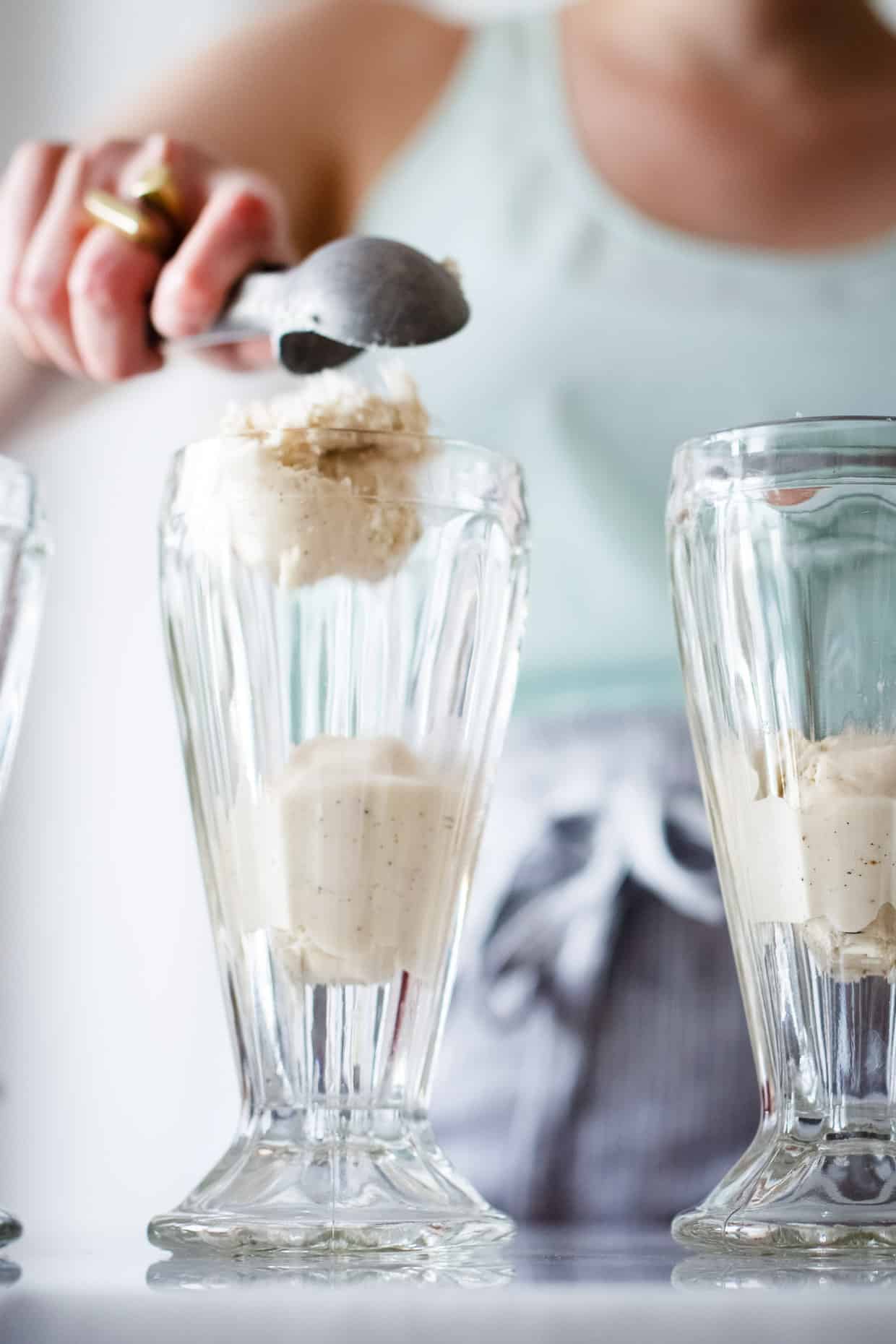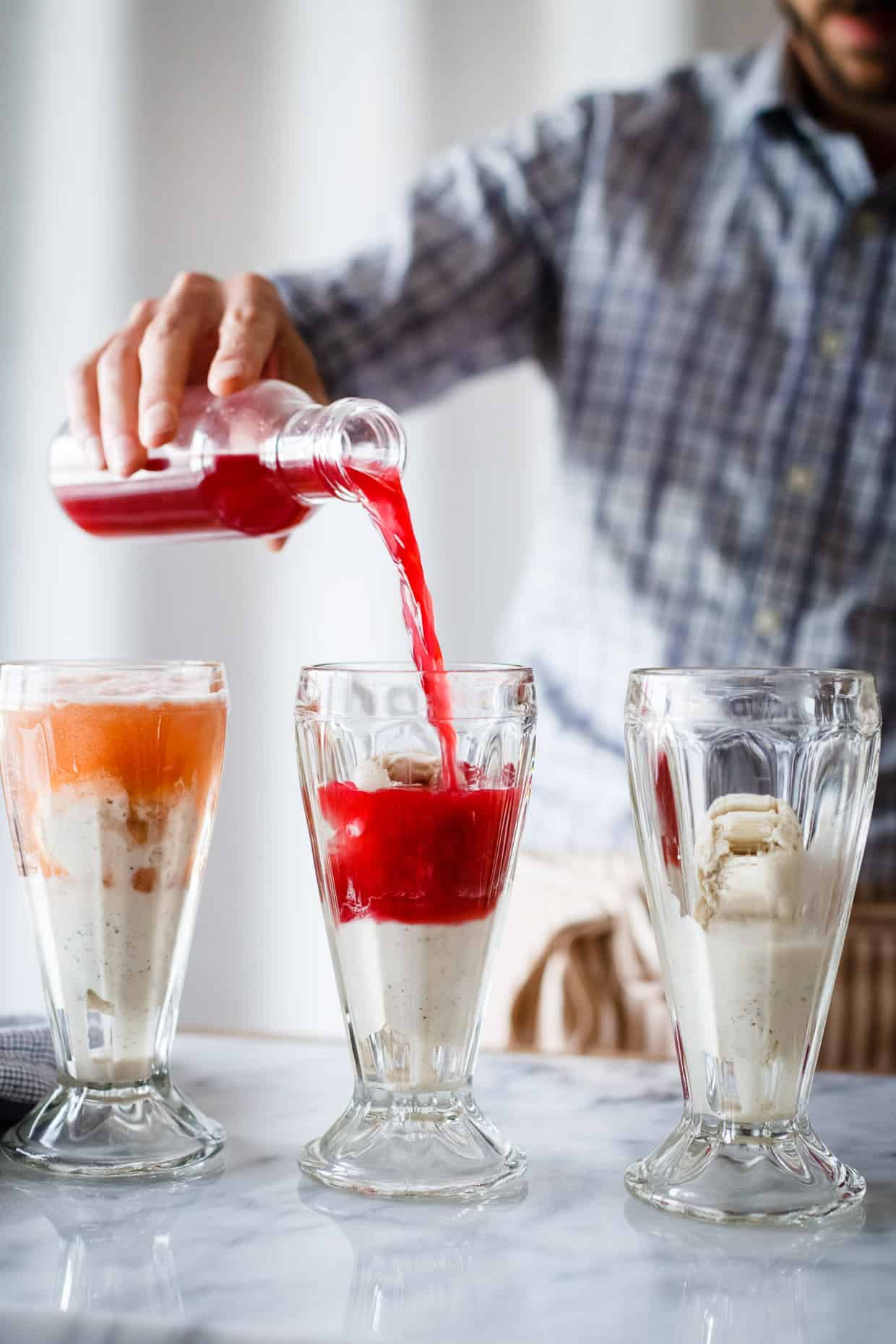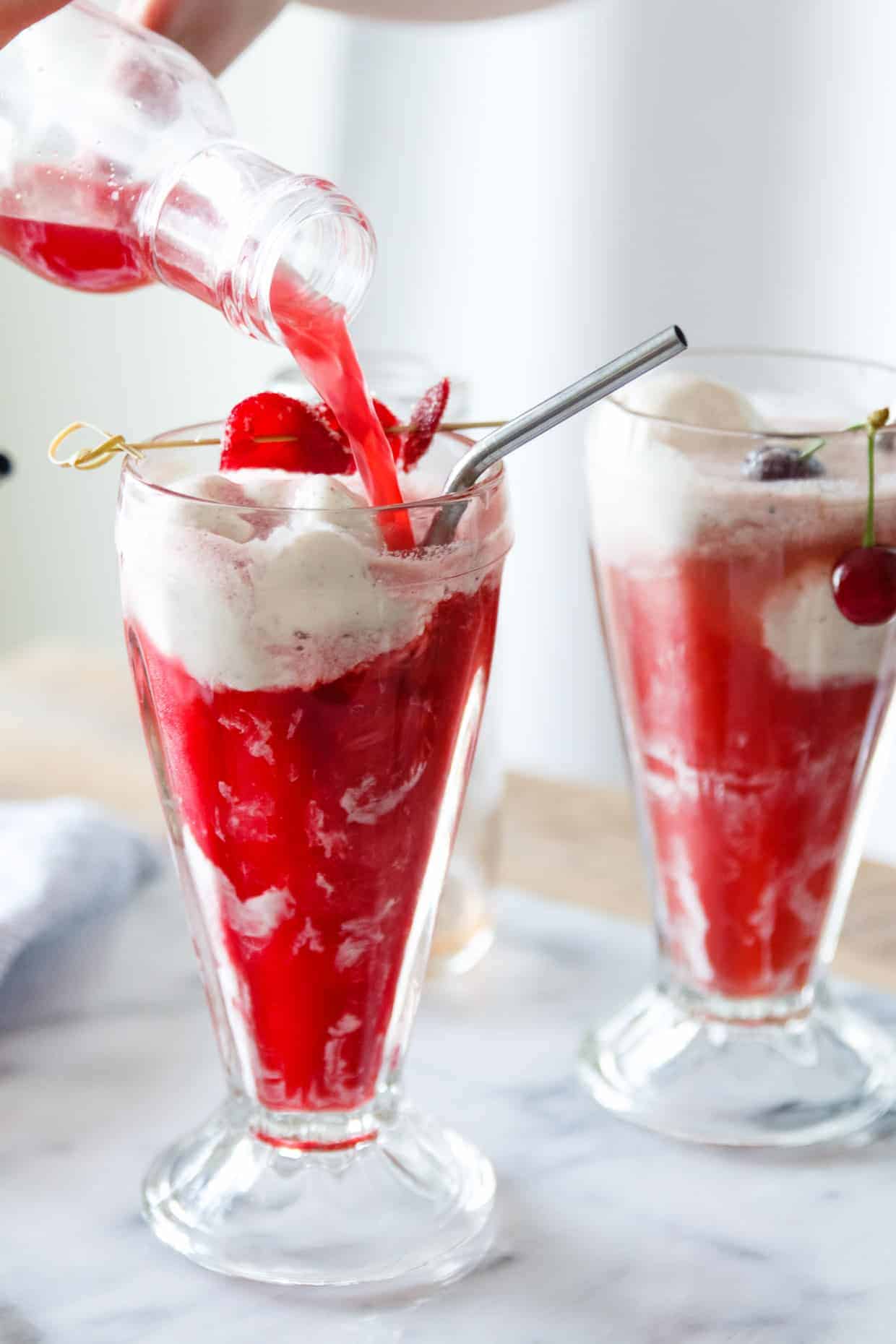 So one Sunday afternoon, we each brought our own sodas, drank way too many ice cream floats (no such thing), took over 500 photos of them (these are the most photographed ice cream floats in all the land), and capped it off by staying up editing way past the point where Todd turns into a pumpkin - or at least starts deliriously bouncing around the room on an exercise ball.
Working with these two was part magic part silly. And as an added bonus I now know enough about Snapchat to send ransom notes for these metal straws. Expect more cat photos coming your way (username: snixykitchen).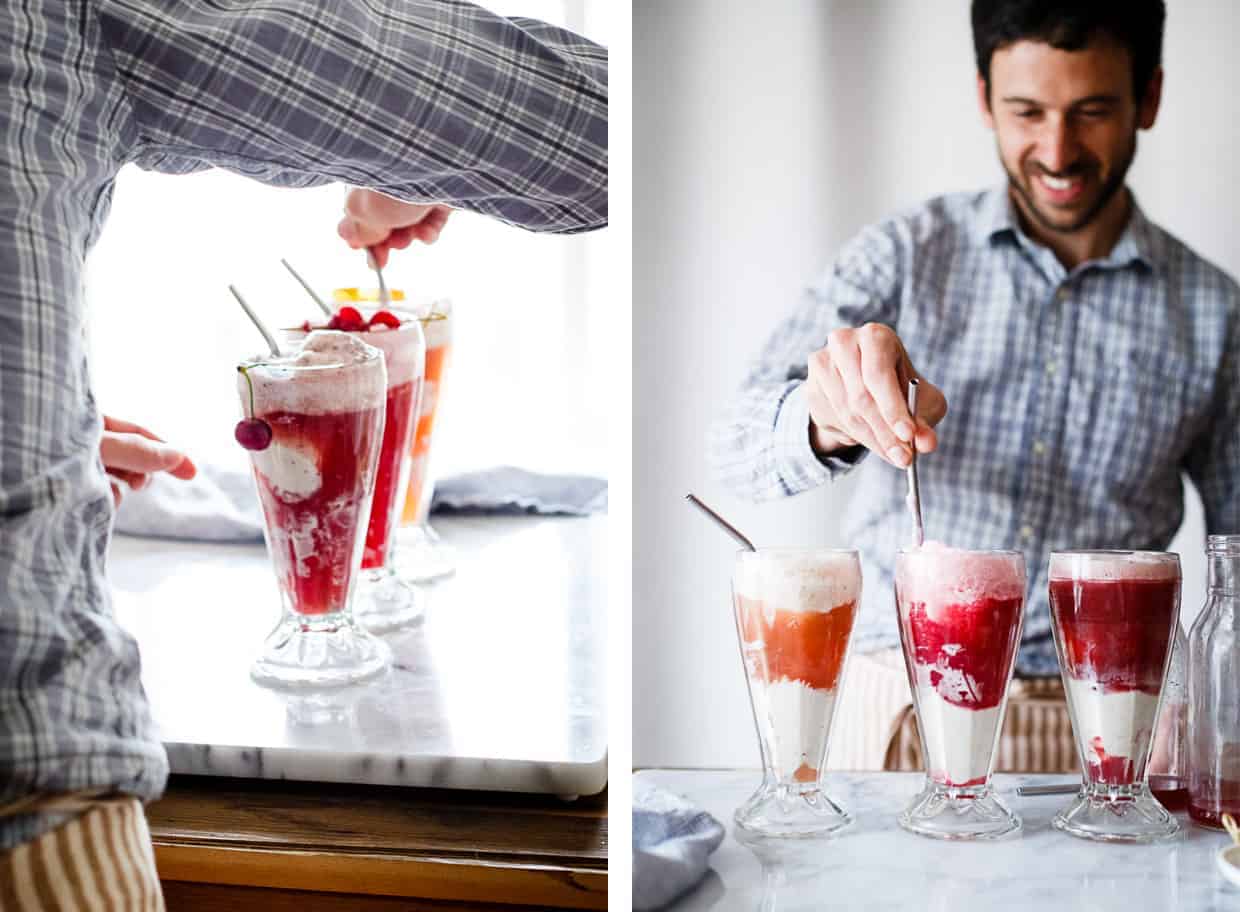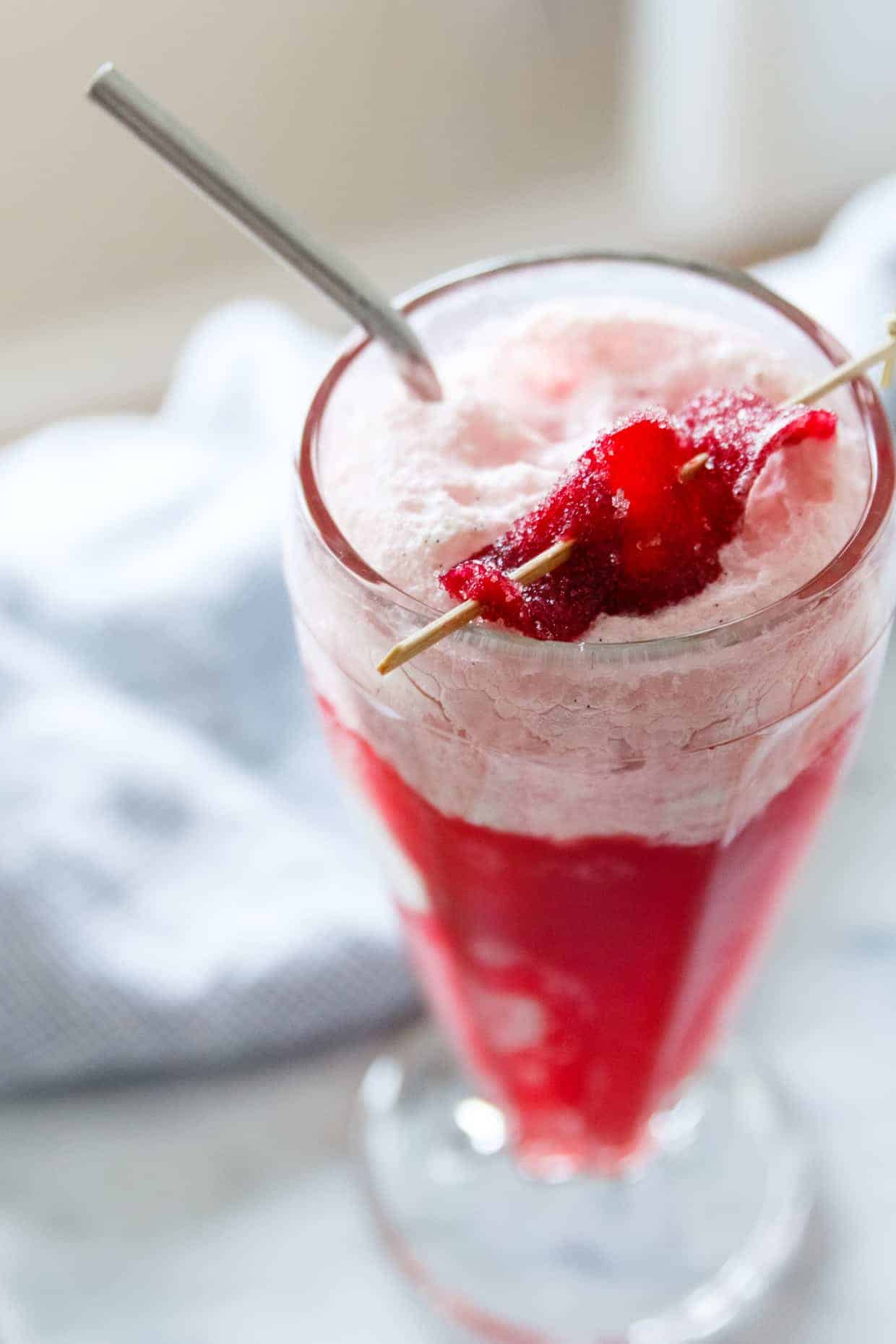 After discovering the effect on these hot pink tarts, I've become obsessed with hibiscus for the natural pink/red/purple hue it generously releases into drinks and desserts. Plus, it doesn't get much better than a vibrantly floral soda stirred up with coconut-y vegan vanilla bean ice cream. This hibiscus ginger syrup is balanced between tart and sweet with a gingery kick and is killer on its own with a pour of seltzer water, but with ice cream? Now you're talkin.
When you pour the deep red soda over the ice cream, it bubbles up into the most delicious sweet vanilla foam. Can someone figure out how to fill up my bathtub with this ice cream float foam for the world's tastiest bubble bath?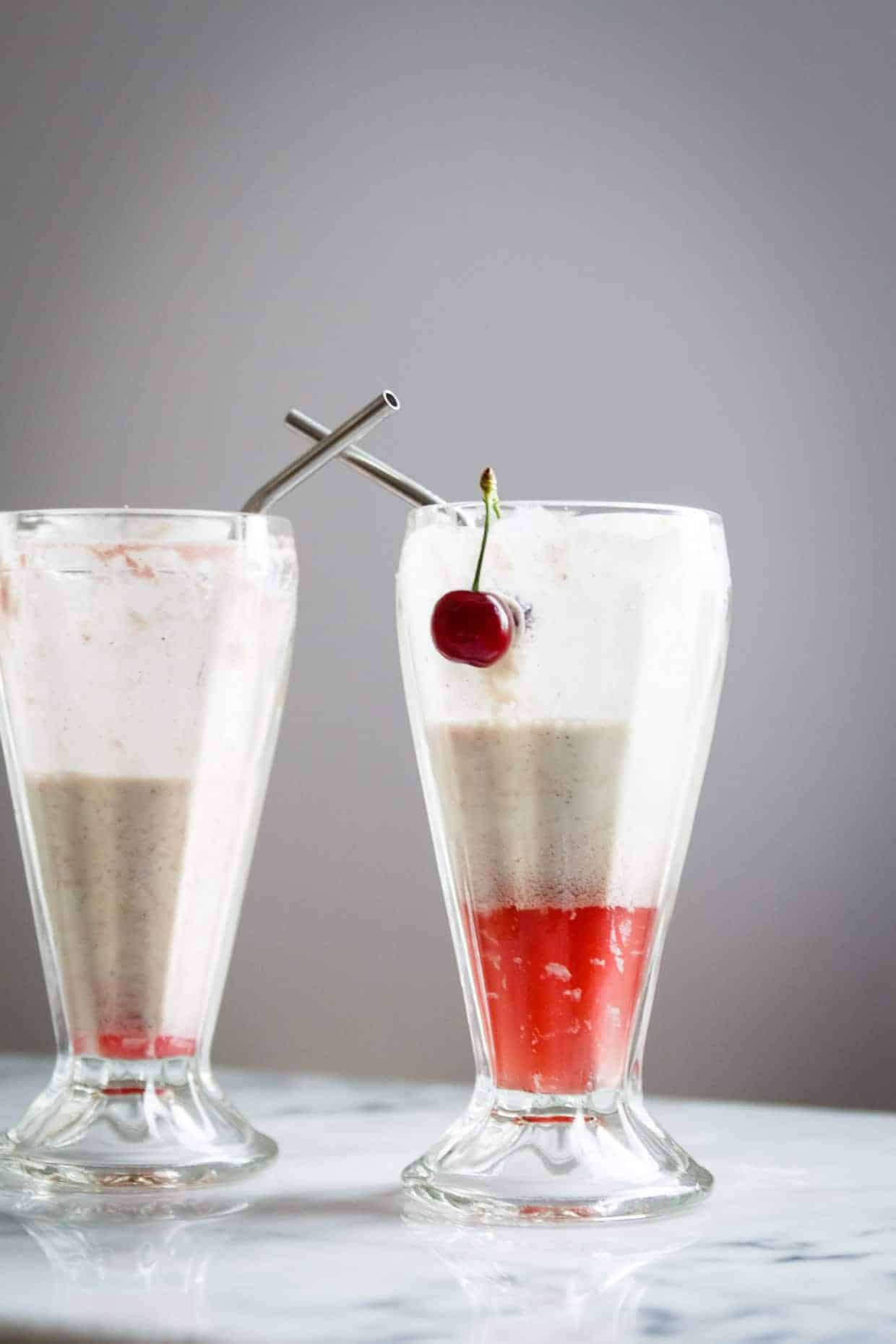 What's better than an ice cream float? Three ice cream floats. Now head on over to The Bojon Gourmet and HonestlyYUM to see their stunning floats!
Cherry Bourbon Cocoa Nib Soda Ice Cream Floats from The Bojon Gourmet
Angostura Phosphate Floats from HonestlyYUM
*All images and video shot in collaboration with Todd and Alanna.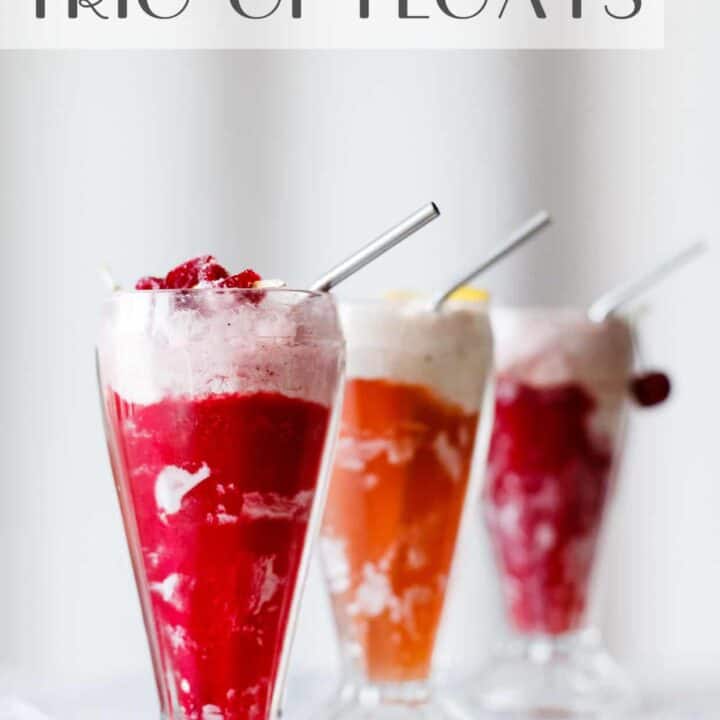 Hibiscus Ginger Ice Cream Floats
Yield:
4 ice cream floats
Ingredients
Hibiscus Ginger Soda Syrup
1 cup peeled and sliced ginger (2.5 ounces)
1 cup cane sugar
1½ cup water
¼ cup freshly squeezed lime juice (2 ounces)
Ice Cream Floats:
Hibiscus Ginger Soda Syrup (above)
2¾ cups seltzer water (22 ounces)
Instructions
Combine the ginger, dried hibiscus, sugar, and water in a small pot over medium heat and bring to a boil. Reduce to a simmer over medium-low and cook, stirring occasionally until reduced to ½ cup, about 20 - 25 minutes.
Strain the syrup into a jar through a fine mesh sieve and set aside until room temperature (or cool it off in the refrigerator).
Add the lime juice to the syrup and stir to combine.
Just before serving, add the seltzer water to the syrup.
Into each of four serving glasses, drop two large scoops of vanilla ice cream.
Pour the hibiscus ginger soda over the ice cream and stir once with a straw. Cheers & enjoy!
I "tested" the recipe one more time (Hi, my name is Sarah and I'm an ice cream addict). Below is an illustration of why you should put the ice cream in your glass
before
pouring in the soda - or at the very least, don't drop the scoop in from six inches above.
I title the gif: How not to make an ice cream float. Alt title: How to dye your kitchen towels red naturally.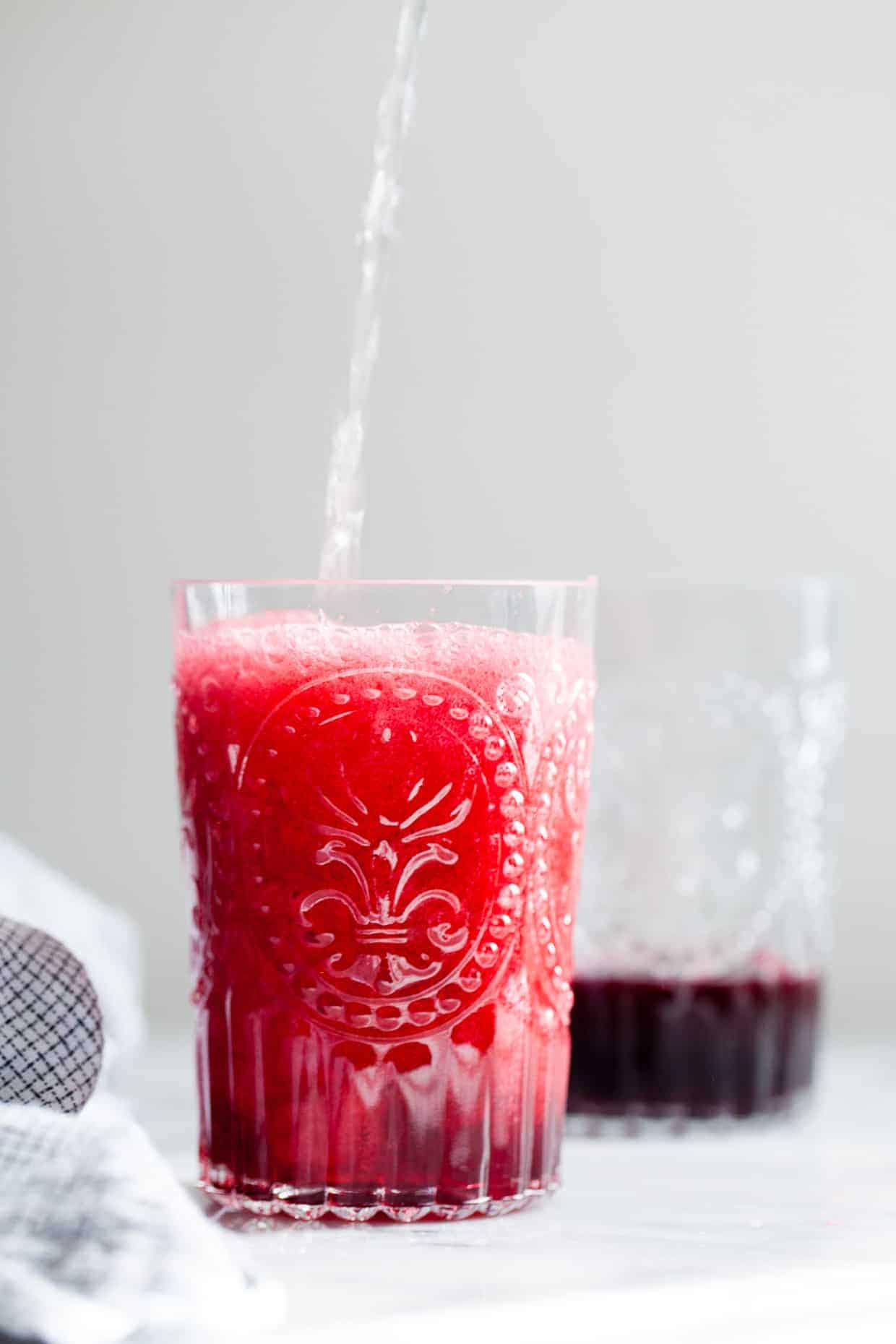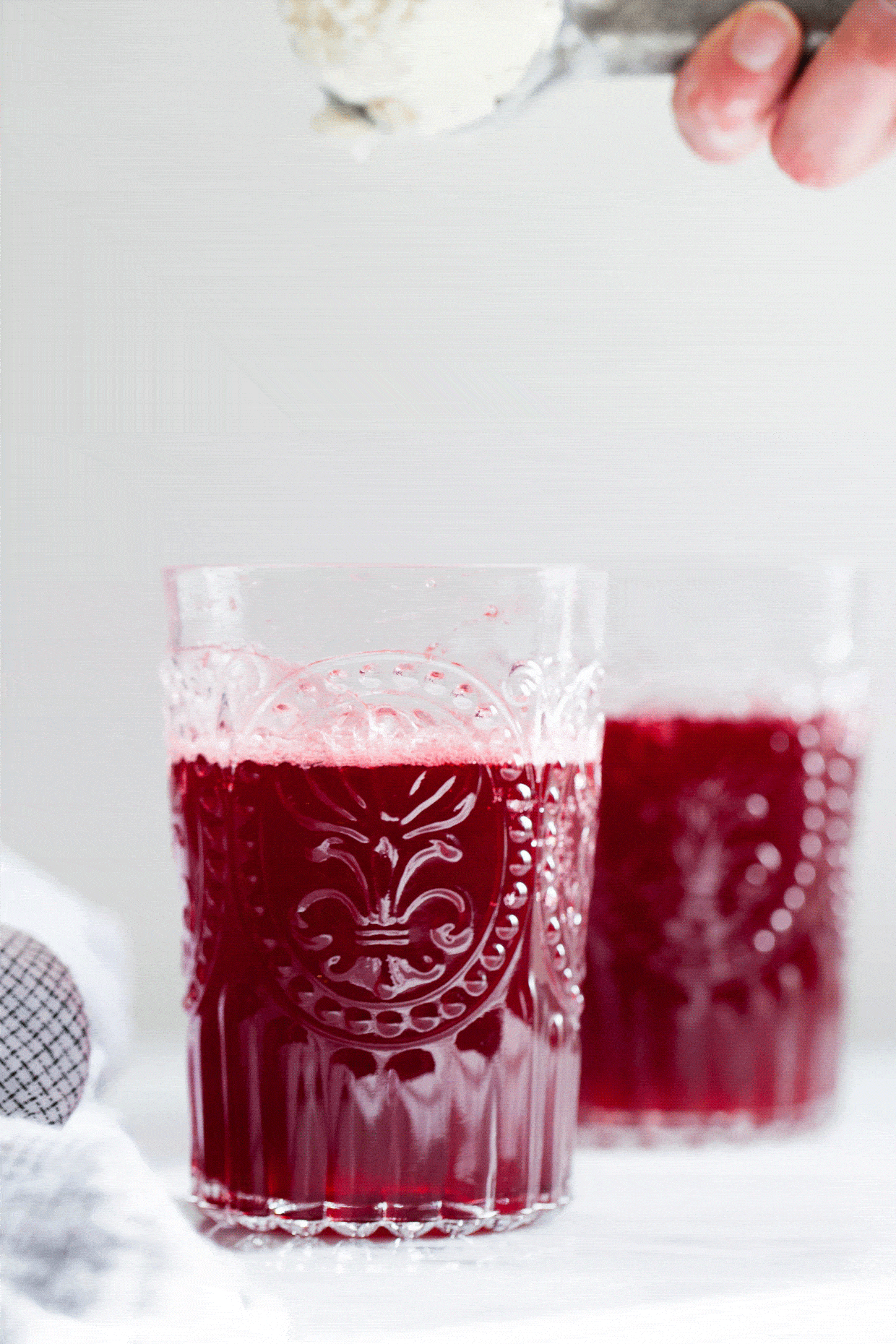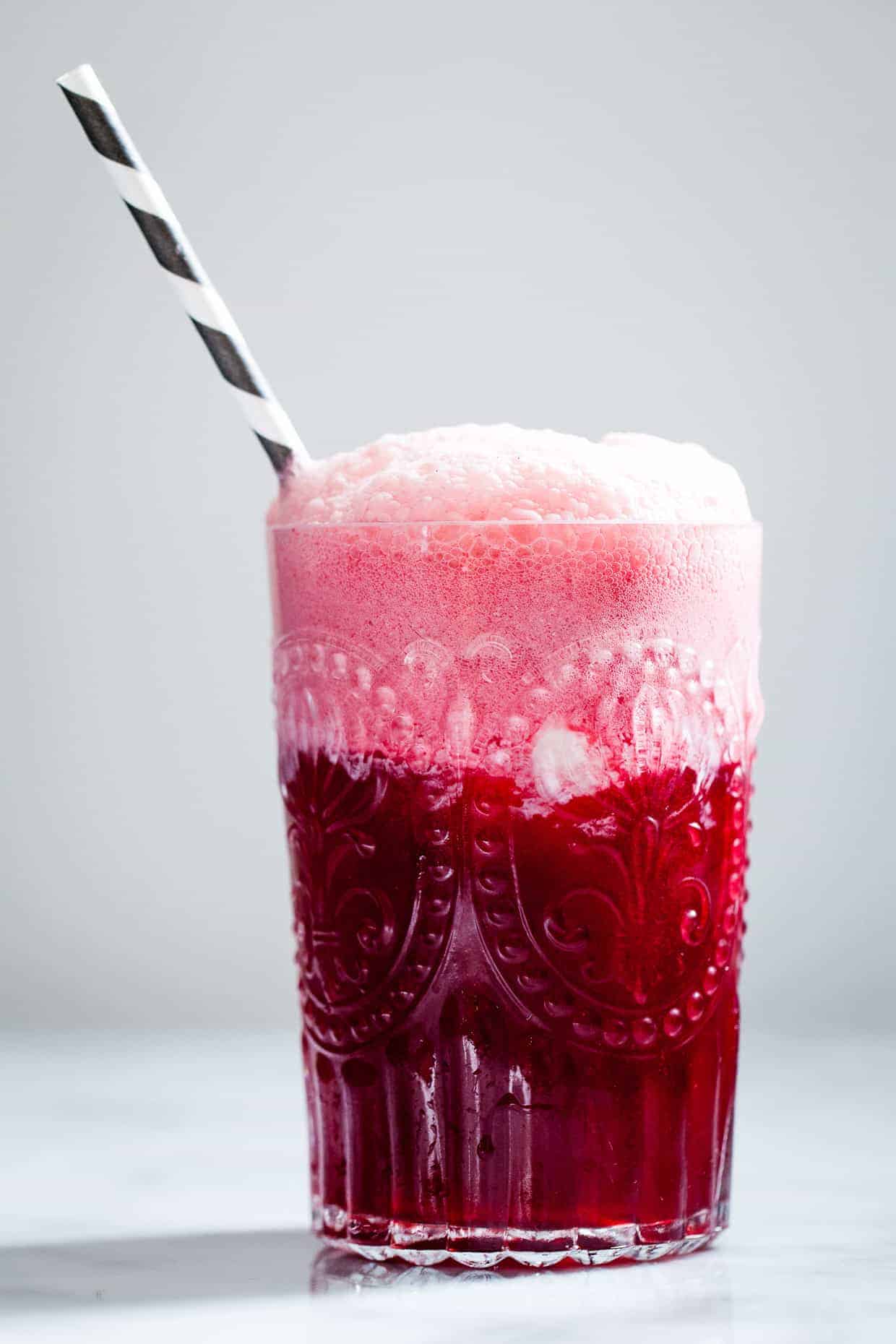 Thanks for reading Snixy Kitchen! To stay up on what's coming out of my kitchen, follow me on Facebook, Instagram, Twitter, Bloglovin', Pinterest, or subscribe via e-mail to get new recipes right to your inbox.