This tahini coconut flour cake is an easy and healthy refined sugar-free and gluten-free snack cake with chocolate buttercream! Sweetened only with coconut sugar and maple syrup, it's the perfect midday snack cake that can easily be dressed up with chocolate coconut sugar buttercream. This buttercream frosting recipe without powdered sugar uses caramelized coconut sugar as sweetener!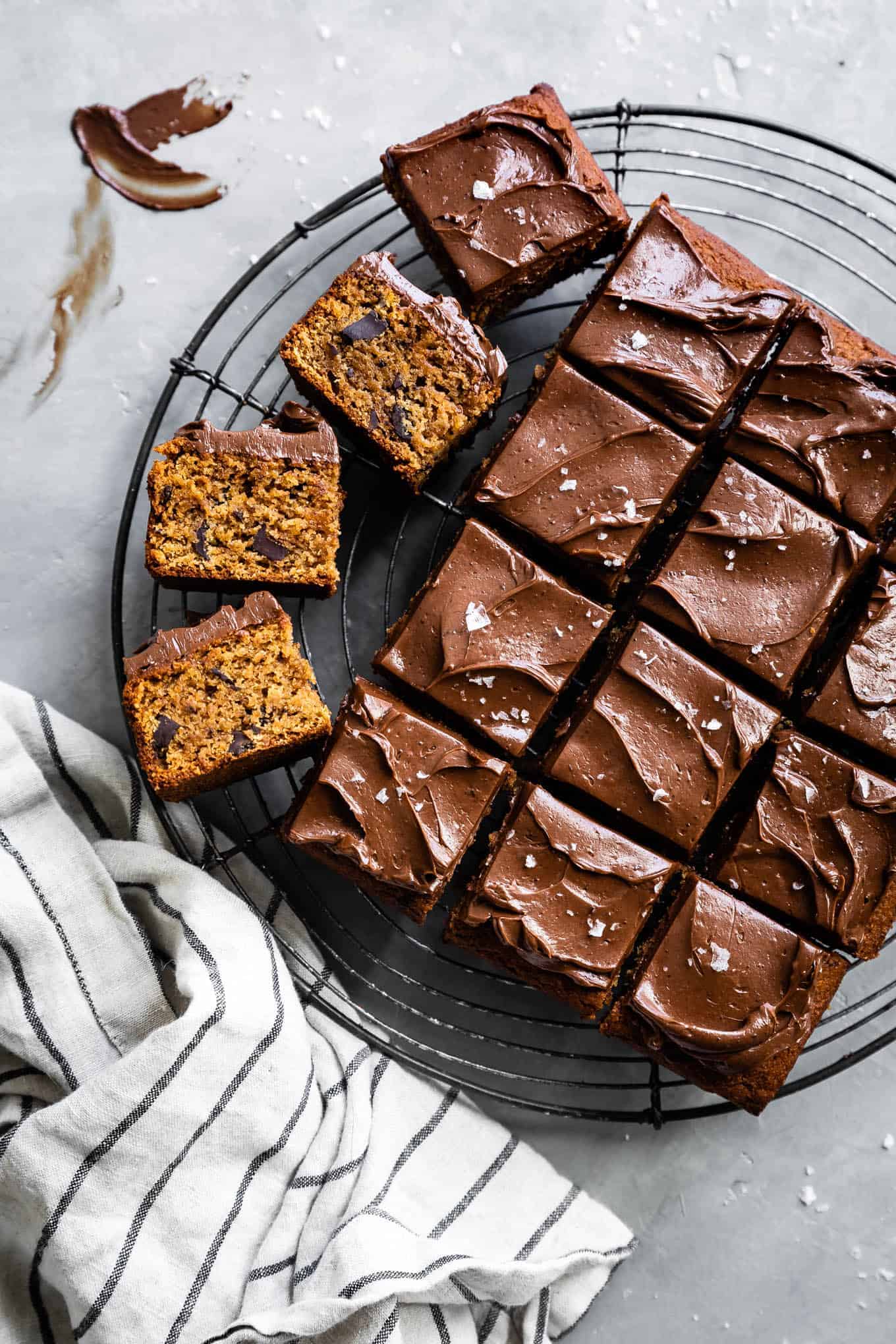 My baby turned ONE on Friday! We aren't technically celebrating until this coming weekend, but we still snuck in a little day-of cake, obviously.
Even though Ira didn't start daycare until the Monday after his birthday, daycare still wanted to celebrate his big day with cake. Lucky for him, he's been coming with me to pick up his sister since he was born, so he's already very well loved. His teacher decorated with streamers, banners, and balloons, while I baked homemade (healthy) mini cupcakes. He'll have his smash cake experience next weekend, but the teeny tiny cupcake was a glimpse into his seeming indifference for sweets.
(Is he even my son?)
He ultimately ate it, but not before offering it to the little girl next to him. Repeatedly.
I also baked an 8-inch round for the grown-ups to eat later that night, using the same spiced banana date cake recipe I developed for Zo's first birthday smash cake. You may recall that she hugged her smash cake, so she's definitely my kid.
This time I topped it with the coconut sugar caramel chocolate buttercream seen here. I would have made this tahini cake for the third time in a week had I not run out of tahini. Just like the banana date cake, this tahini coconut flour cake is gluten-free and refined sugar-free. It's both casual snack-worthy and birthday-worthy.
And it's the perfect cake to bring to my neighbors who just had a baby!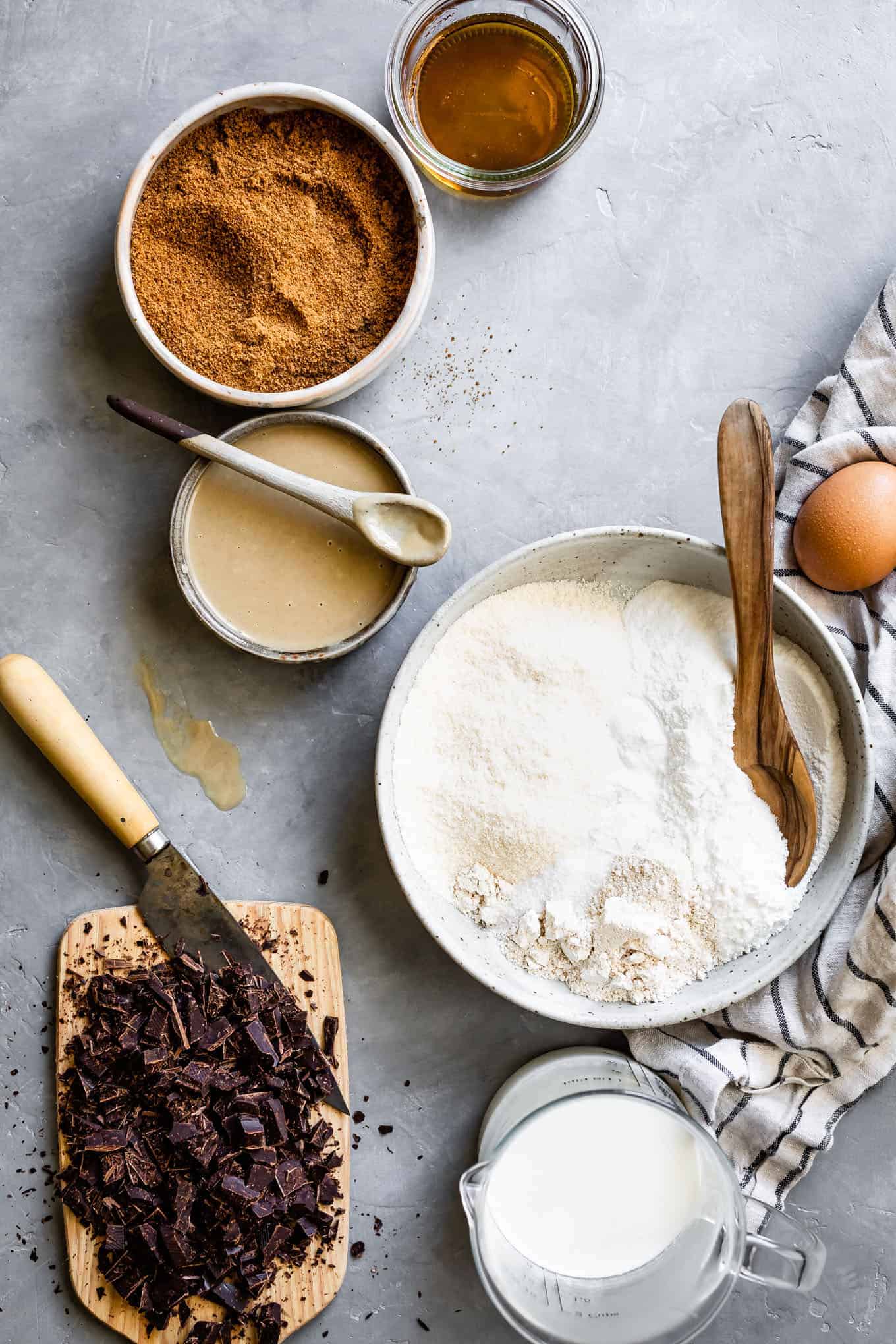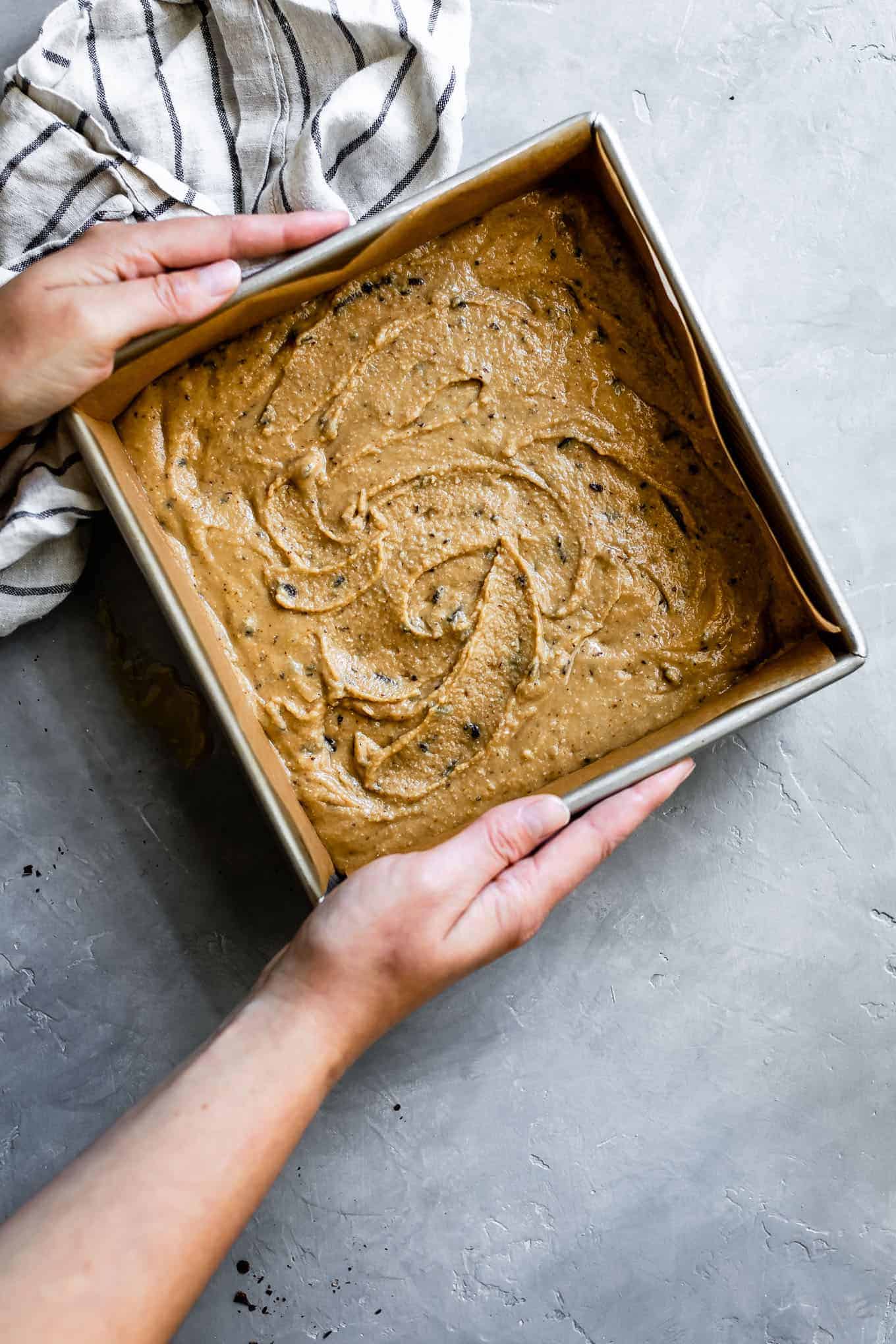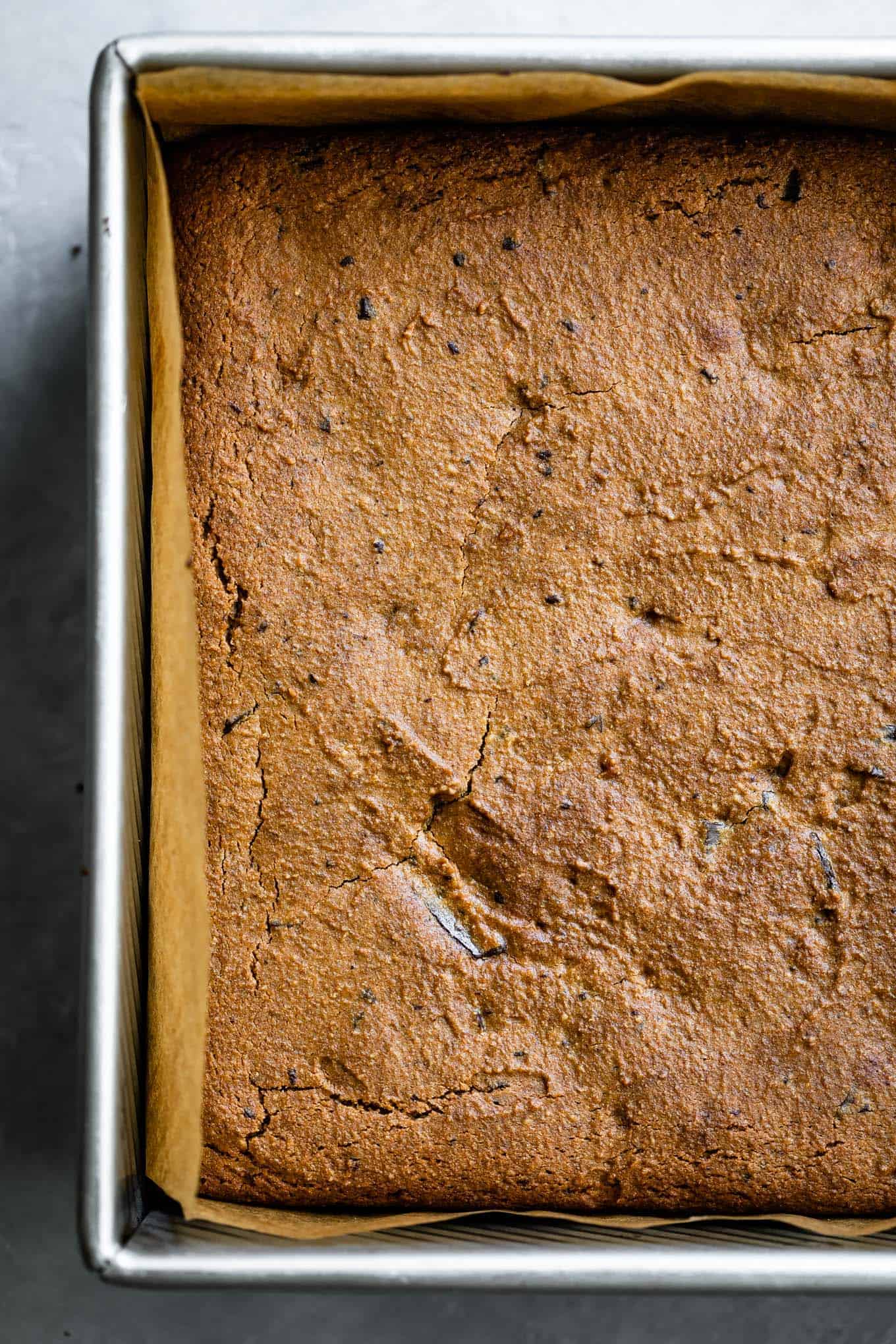 Tahini Cake: Gluten-Free Snack Cake
A more subtle nut-free cousin of peanut butter, tahini is the perfect add-in for desserts. The pairing of tahini and chocolate is a magical match. I fell in love with the duo back when I made banana tahini popsicles with chocolate drizzle. And now I've made this tahini cake with luscious chocolate buttercream.
I first started developing this recipe when I needed a stand-in cake for a video shoot for a side project (details of which are coming soon!). I whipped up a gluten-free adaptation of Molly's tahini sheet cake (the tahini dessert queen) and slathered the pan in chocolate buttercream. The flavor was unreal and the texture of my gluten-free variation almost perfect save for the ever-so-slightly sunken center. The cake is savory sweet and almost muffin-like – a totally snack-worthy middle of the day cake. So good that I had to keep testing til perfect.
Chocolate Tahini Coconut Flour Cake
In the second iteration, I replaced the millet flour with coconut flour for its absorbent qualities to fix the sinking issue. In this remake, I wanted to celebrate the snack cake qualities. I planned to scrap the frosting for chocolate chunks for convenience and subbed in a coconut sugar and maple syrup for the sweetener, making the cake a tad healthier. This version is both gluten-free and refined sugar-free
Hear me out. As someone who buys sugar IN BULK, I've been skeptical of using coconut sugar in baking anything rich. At the Christina and Monica's recommendation, I finally gave coconut sugar a shot, adding just a bit of maple syrup for the richness originally in the dark brown sugar. Coconut sugar and tahini should go steady. Together they're a power duo. Add in chocolate and swooooon.
Turns out, though, I wanted the chocolate buttercream AND chocolate chunks. I've now made the cake several times with and without the frosting and I love it both ways. The naked version is a perfect grab-and-go healthy snack cake. In its humble bare form, it's a muffin alternative great for breakfast or mid-day snacking.
A layer of chocolate buttercream and flaky salt dresses the cake up for potlucks, entertaining, or celebrations. Make it however you like!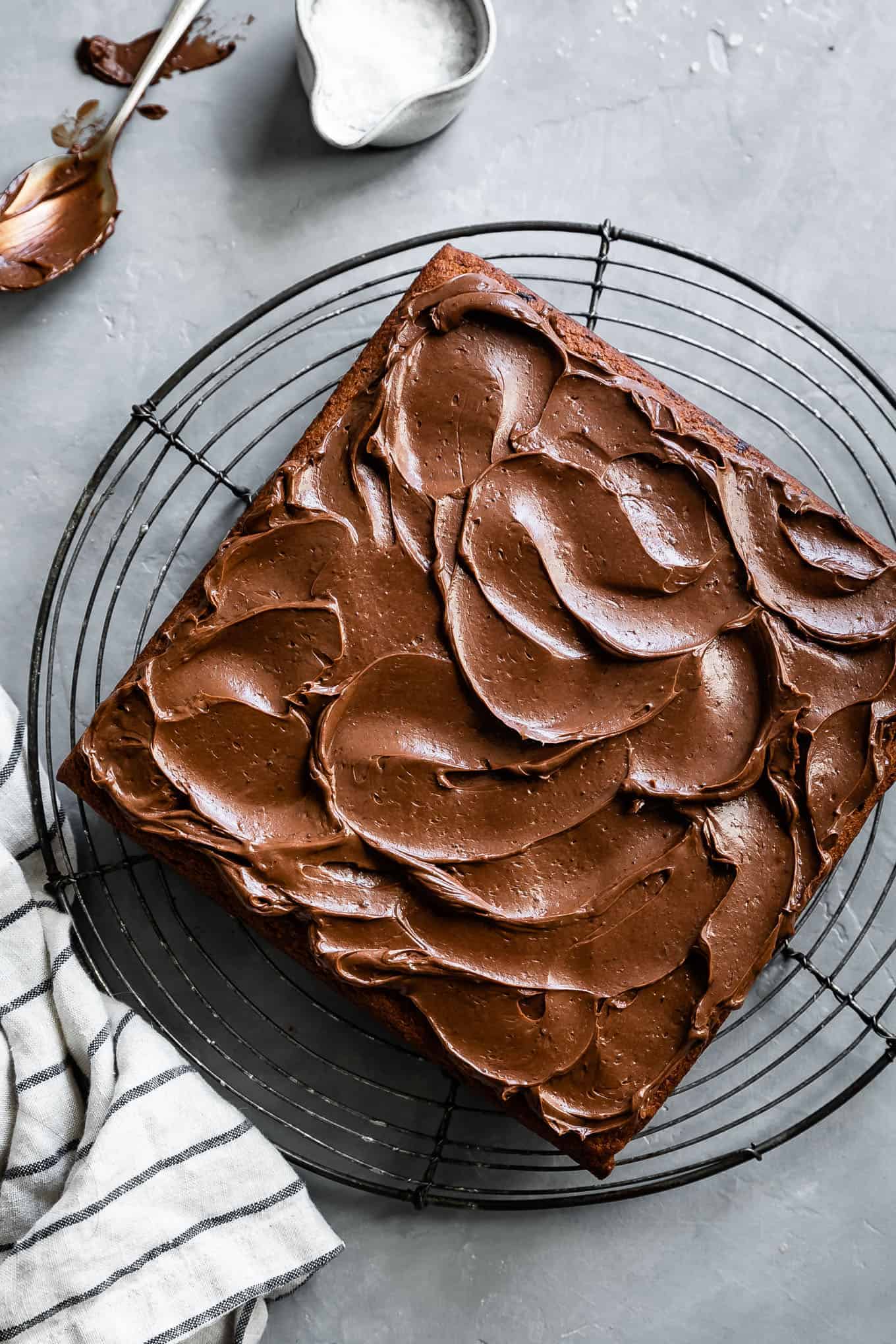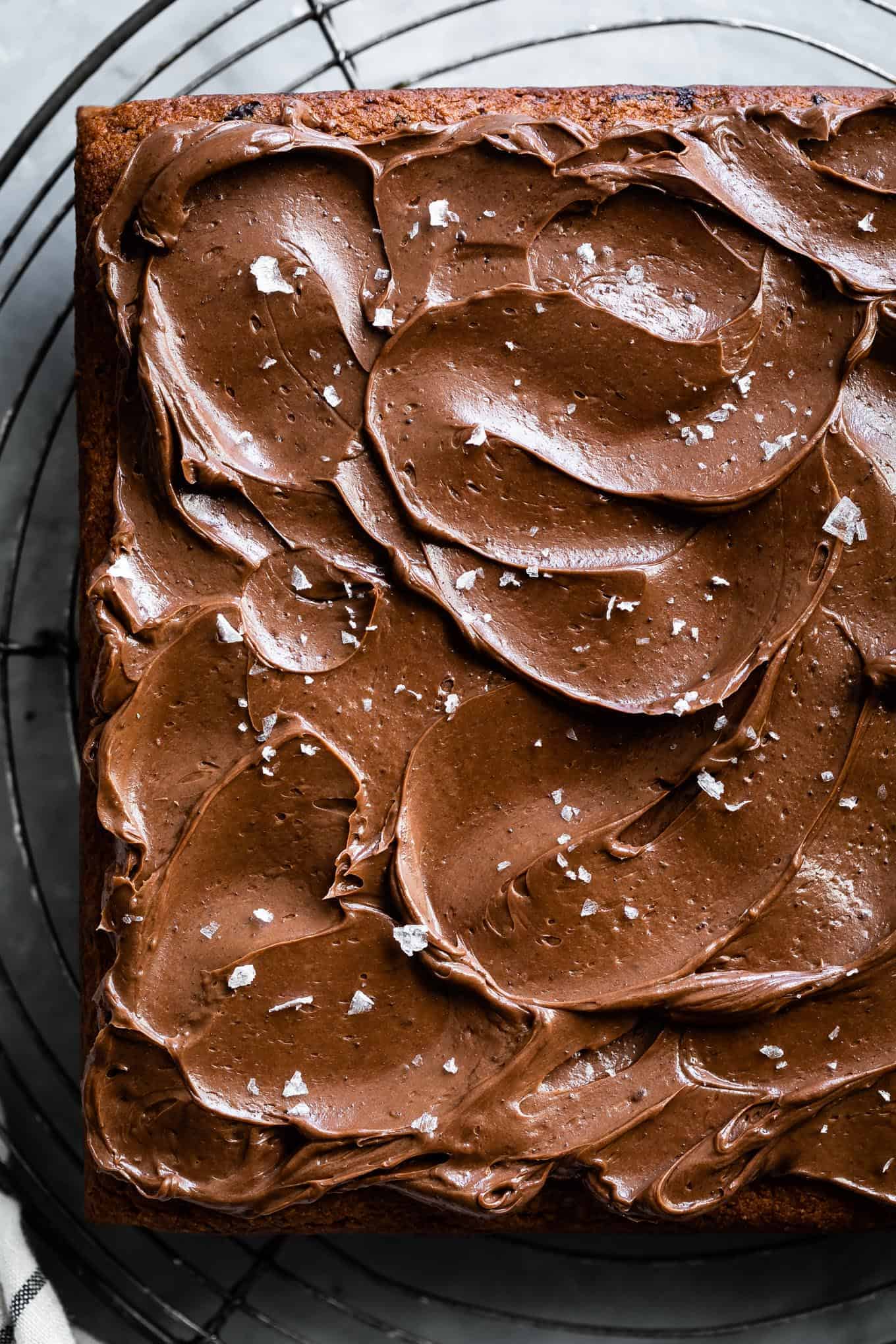 Coconut Sugar Buttercream Frosting Recipe without Powdered Sugar
Rich and flavorful buttercream frosting without powdered sugar can be tricky. Using coconut sugar in its place creates a lusciously sweet frosting. To use coconut sugar in buttercream without suffering from grittiness, dissolve the coconut sugar over heat in a bit of water and maple syrup until smooth. Once cool, pour this coconut sugar caramel right into the frosting, adding cocoa powder, if desired.
This coconut sugar caramel chocolate buttercream has deep roasted caramel notes met with bittersweet cocoa. So delicious I could did eat it with a spoon.
Is Tahini Gluten-Free and Nut-Free?
In its purest form, tahini is made with just ground toasted sesame seeds, making it naturally gluten-free! Tahini is also nut-free, so it's a great substitute for peanut butter in dessert. When making tahini desserts for someone with a nut-allergy, just be sure to confirm they are not also allergic to sesame seeds.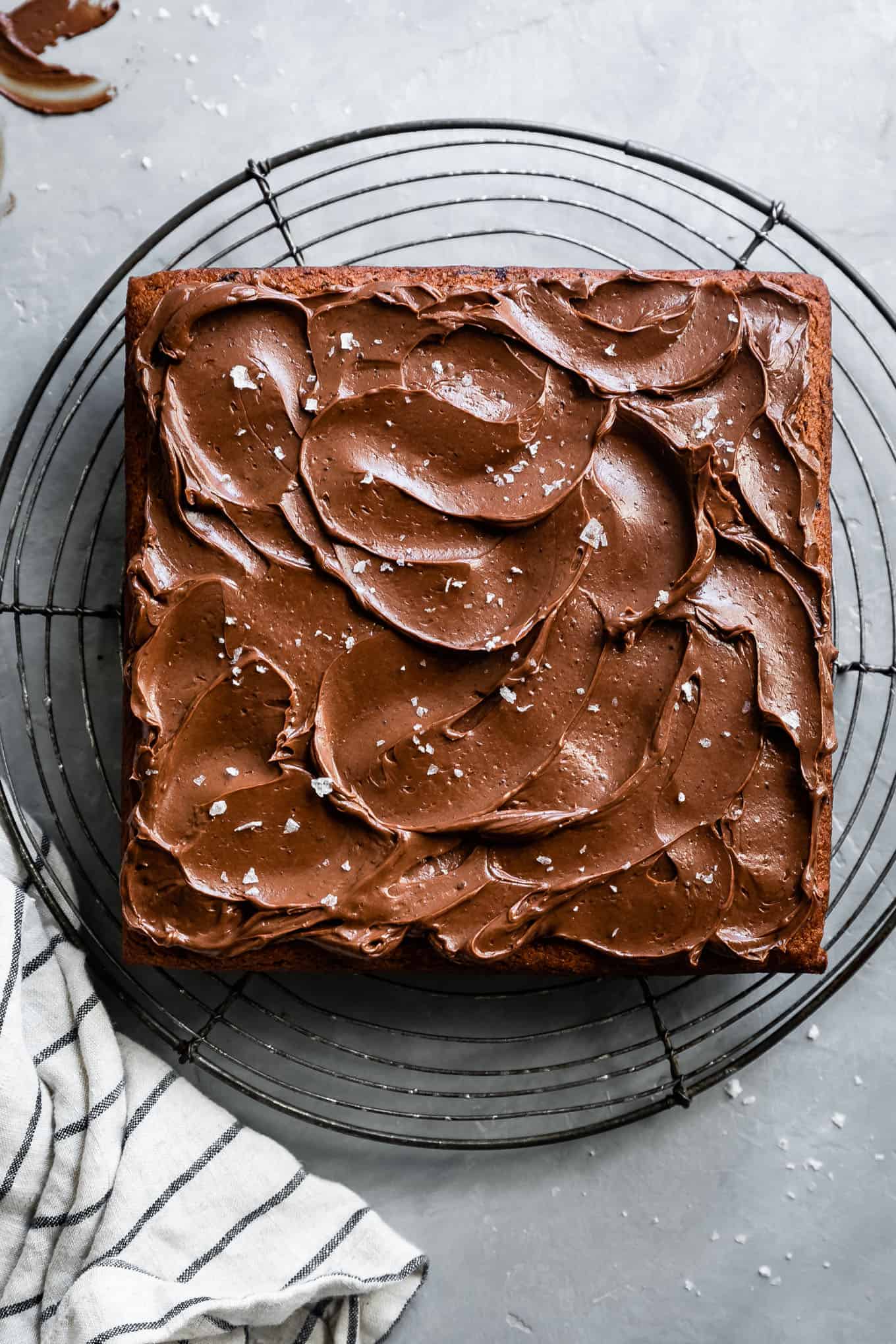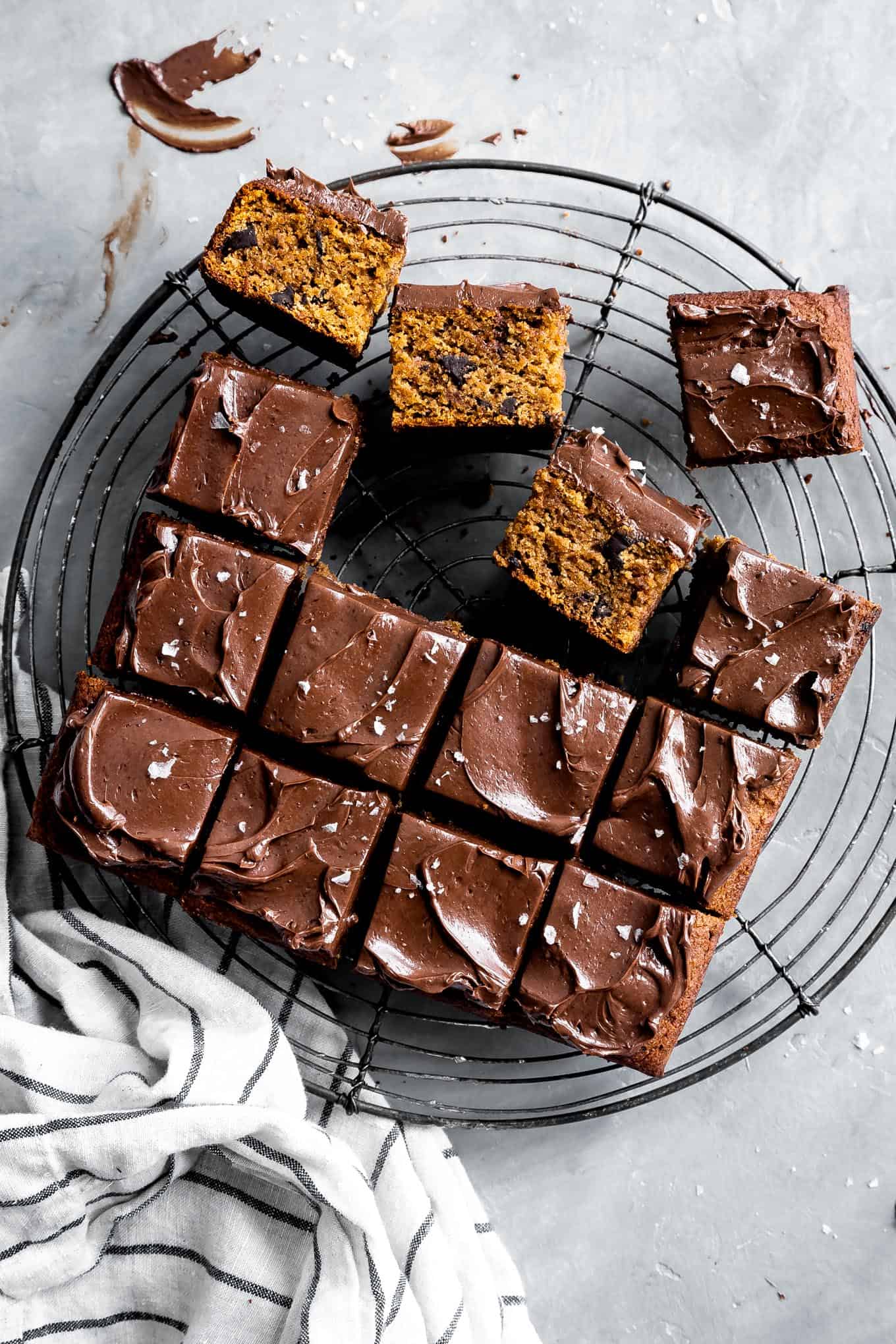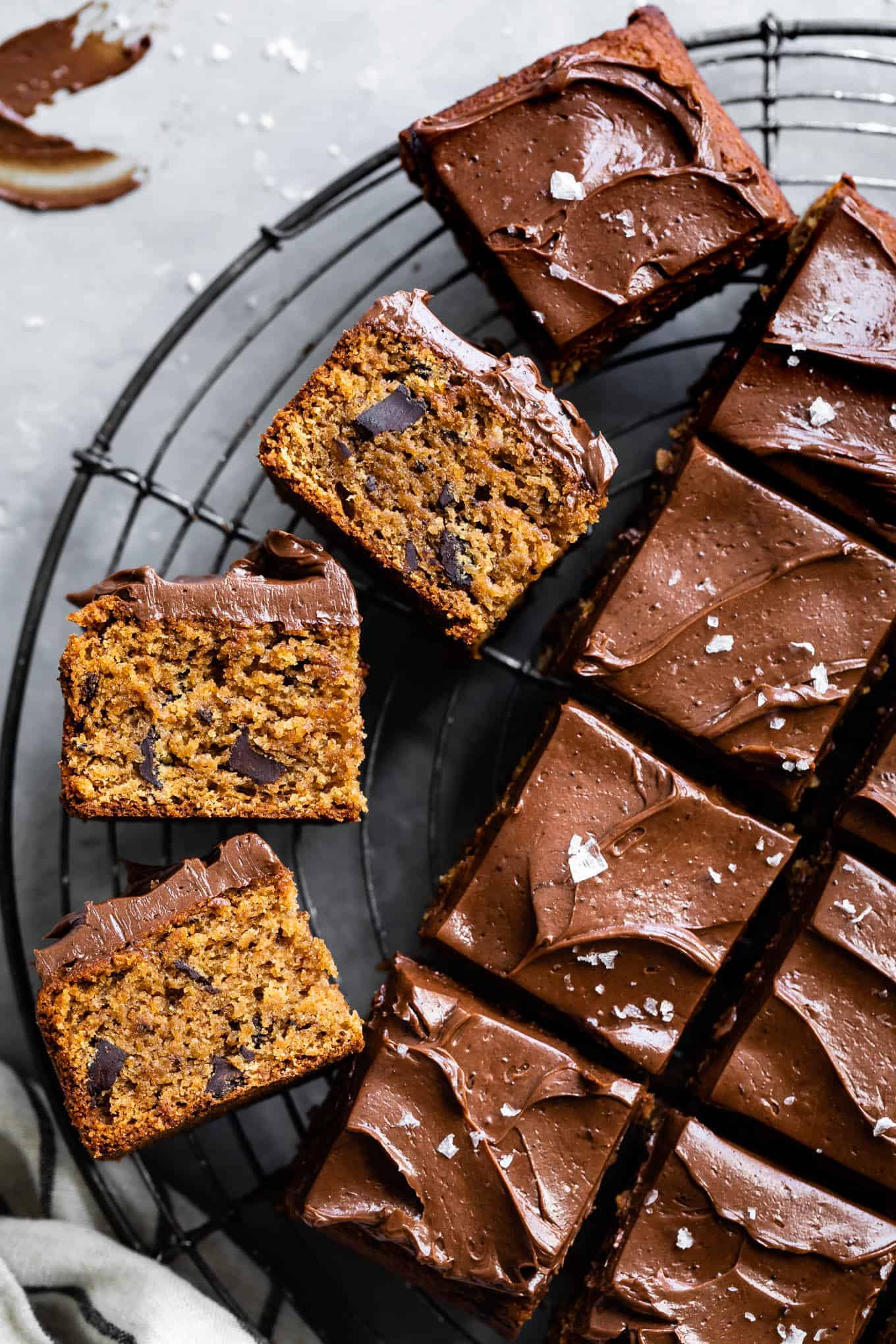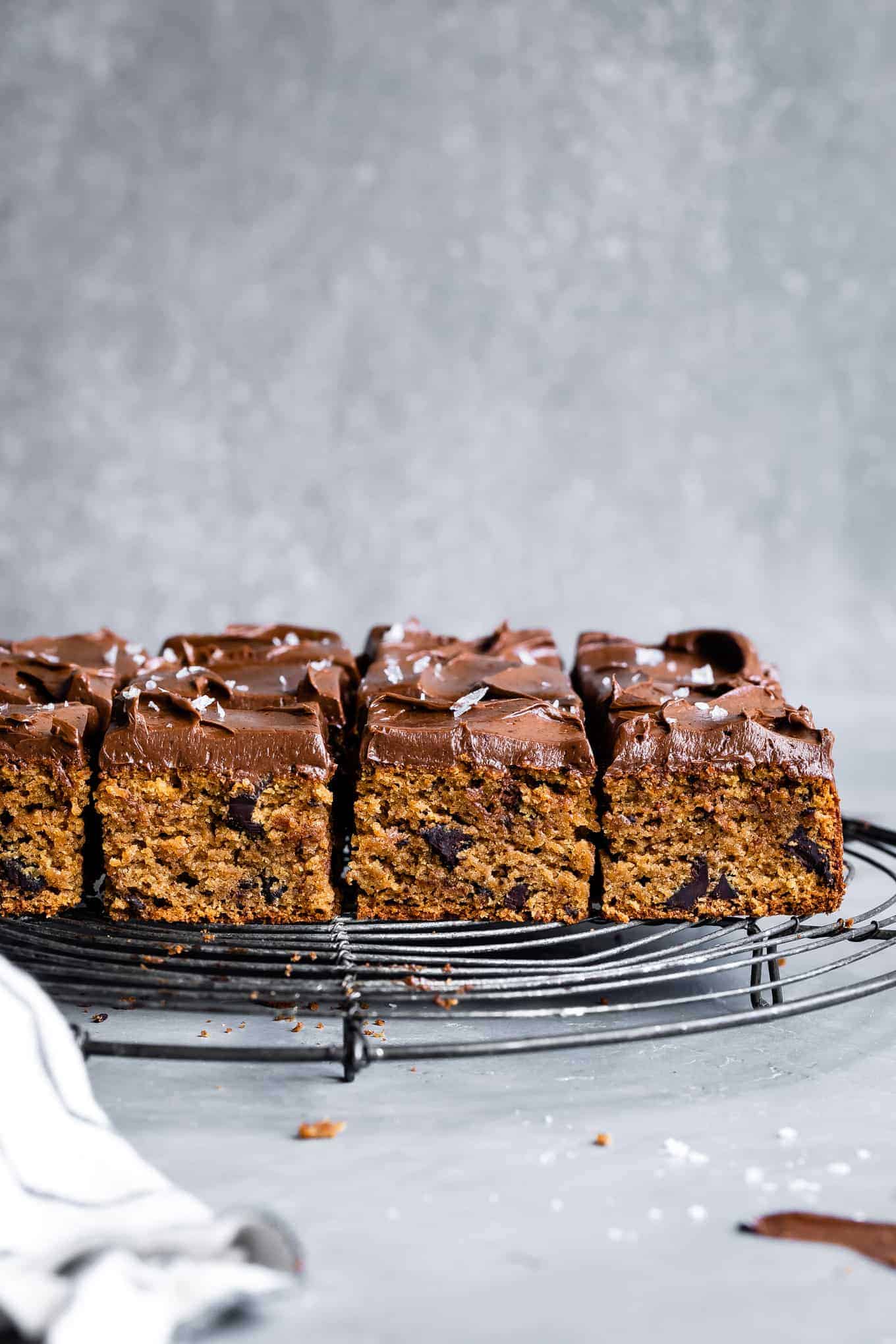 Chocolate Tahini Desserts
While researching chocolate tahini desserts for writing up this list, I stumbled across this tahini chocolate chip cake from Samah Dada, which is also sweetened with just coconut sugar (great minds!)! Her version is grain-free, so if that's what you need, check it out! Here are a few more iconic chocolate tahini recipes!
Chocolate Banana Tahini Popsicles
Tahini swirl brownies from Dessert for Two
Milk Chocolate Tahini Magic Shell from Hummingbird High
Tahini Oreos from My Name is Yeh
Vegan Tahini Homemade Hot Fudge Sauce from The Bojon Gourmet
Rosewater Brownies with Cardamom Tahini Frosting from Kale & Caramel
Salted Tahini Chocolate Pudding from Brewing Happiness
Salted Chocolate Chip Tahini Skillet Cookie from Salted Plains
Flourless Chocolate Tahini Cookies from The Movement Menu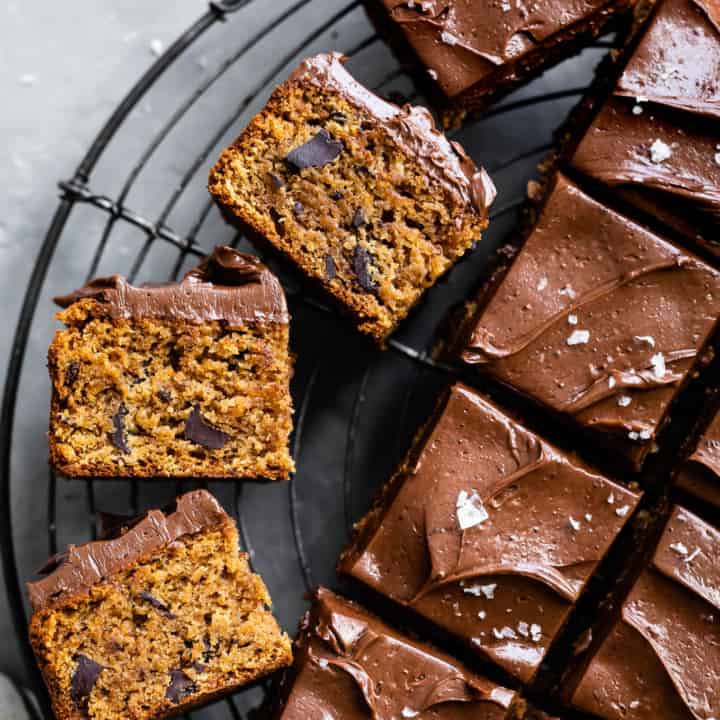 Gluten-Free Tahini Snack Cake with Chocolate Buttercream
Yield:
1 8x8 cake, 16 slices
This tahini coconut flour cake is an easy and healthy refined sugar-free and gluten-free snack cake with chocolate buttercream! Sweetened only with coconut sugar and maple syrup, it's the perfect midday snack cake that tastes indulgent. The chocolate coconut sugar buttercream frosting recipe without powdered sugar uses caramelized coconut sugar as sweetener. 
Ingredients
Gluten-Free Tahini Coconut Flour Cake
3/4 teaspoons baking powder
3/4 teaspoon baking soda
1/2 teaspoon kosher salt
3/4 cup whole milk
1 tablespoon vinegar
1/2 cup tahini
1/4 cup neutral oil (such as sunflower or coconut oil)
3 tablespoons pure maple syrup
1 large egg, room temperature
1 teaspoon vanilla
Coconut Caramel Chocolate Buttercream
1 tablespoon water
1 tablespoon maple syrup
3/4 cup unsalted butter, room temperature
1/4 teaspoon kosher salt
1/2 teaspoon vanilla
Optional: Flaky salt, for sprinkling
Instructions
Gluten-Free Tahini Coconut Flour Cake
Preheat oven to 350°F and lightly oil and line an 8x8 baking pan with parchment paper.
In a medium bowl, whisk together coconut flour, sweet rice flour, oat flour, baking powder, baking soda, and salt. Set aside.
In a measuring cup, combine milk and vinegar and set aside for at least 5 minutes.
In a large mixing bowl or the bowl of a stand mixer, mix together tahini, oil, coconut sugar, and maple syrup. Add egg and vanilla and mix until well combined, scraping down the sides as needed.
Alternate adding half of the dry ingredients, the milk and vinegar mixture, and the remaining dry ingredients, mixing well and scraping down the sides in between each addition.
If using, add the chocolate chunks and fold to combine.
Dump the batter into the prepared baking pan and spread into an even layer with a spatula. Bake for 45-50 minutes, until a toothpick comes out clean and the center bounces back when gently poked. While the cake bakes prepare the coconut caramel for the frosting.
Let cool in the pan for at least 10 minutes before removing from the pan and letting cool completely on a wire rack before frosting (rush this process by placing the cake on a wire rack in the freezer for 15 minutes). Meanwhile prepare the frosting.
Chocolate Buttercream
Combine the coconut sugar, water, and maple syrup in a small saucepan over medium-low heat, mixing until the sugar completely dissolves. Bring to a simmer then remove from heat and let cool completely. Rush this process by transferring to a small bowl and chilling in the fridge while the cake bakes
In a large mixing bowl or the bowl of a stand mixer fitted with the paddle attachment, beat the butter until light and fluffy. 1 tablespoon at a time, beat in the coconut caramel. Add the cocoa powder, salt, and vanilla and beat until smooth and fluffy. Spread over cooled cake and sprinkle with flaky salt, if desired.