It's popsicle week!! Creamy banana tahini popsicles made with frozen bananas whipped up with hazelnut milk, tahini, maple syrup, and a splash of vanilla extract. Healthy popsicles masquerading as dessert with a cloak of dark chocolate and toasted sesame seeds.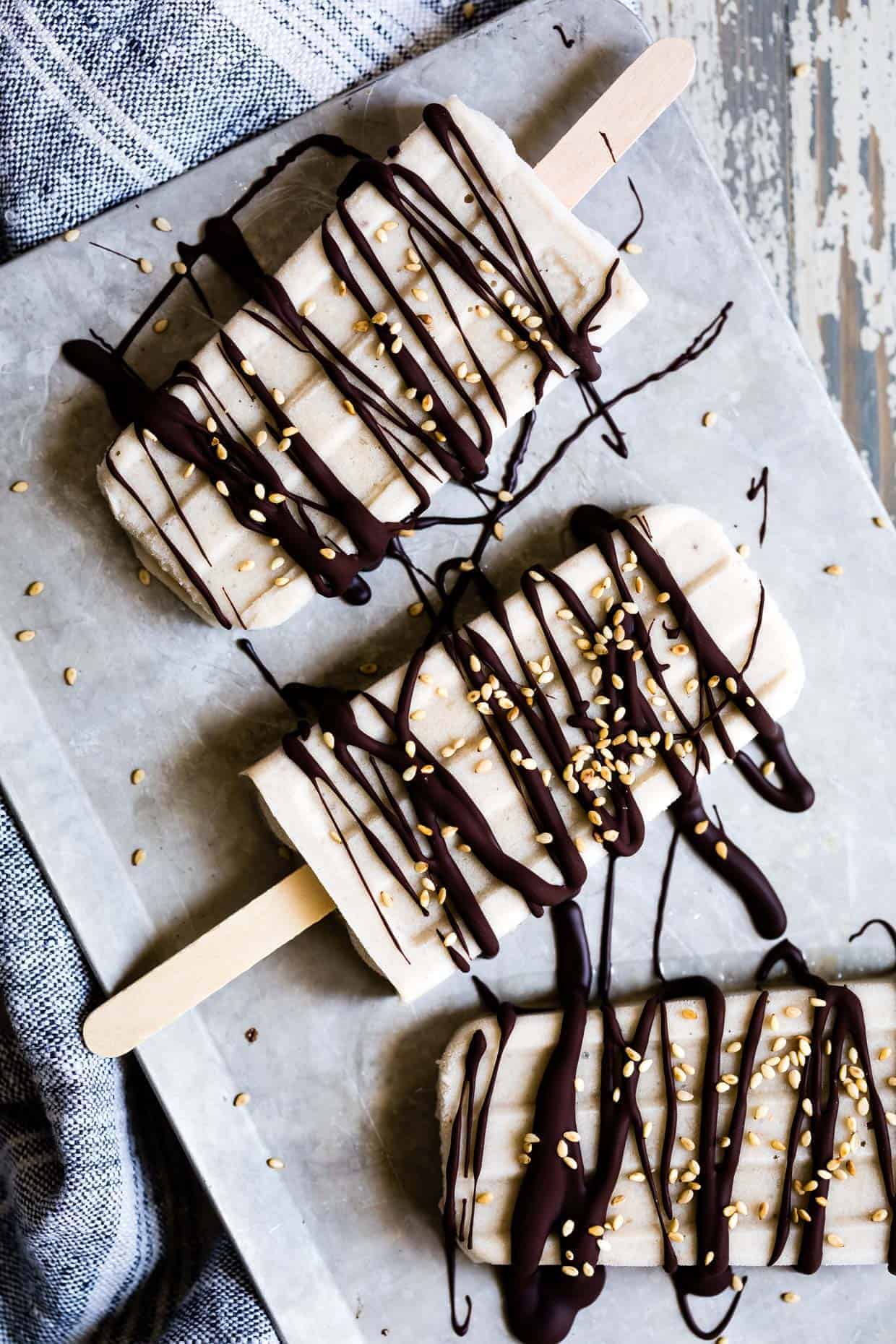 You know those recipes for banana ice cream where you freeze bananas, then purée them until they turn into soft serve, giving you deliciously creamy ice cream that's actually just bananas? I've got one way back in the archives, except I added caramel because: sugar. So probably not as healthy - go figure.
These chocolate banana tahini popsicles start with that base recipe for just banana ice cream. Then I've blended in nut milk, tahini, maple syrup, and vanilla to add a little intrigue and make it pourable into popsicle molds. The chocolate drizzle and toasted sesame seeds allow these healthy popsicles to masquerade as dessert, even though you really are basically just eating bananas and tahini.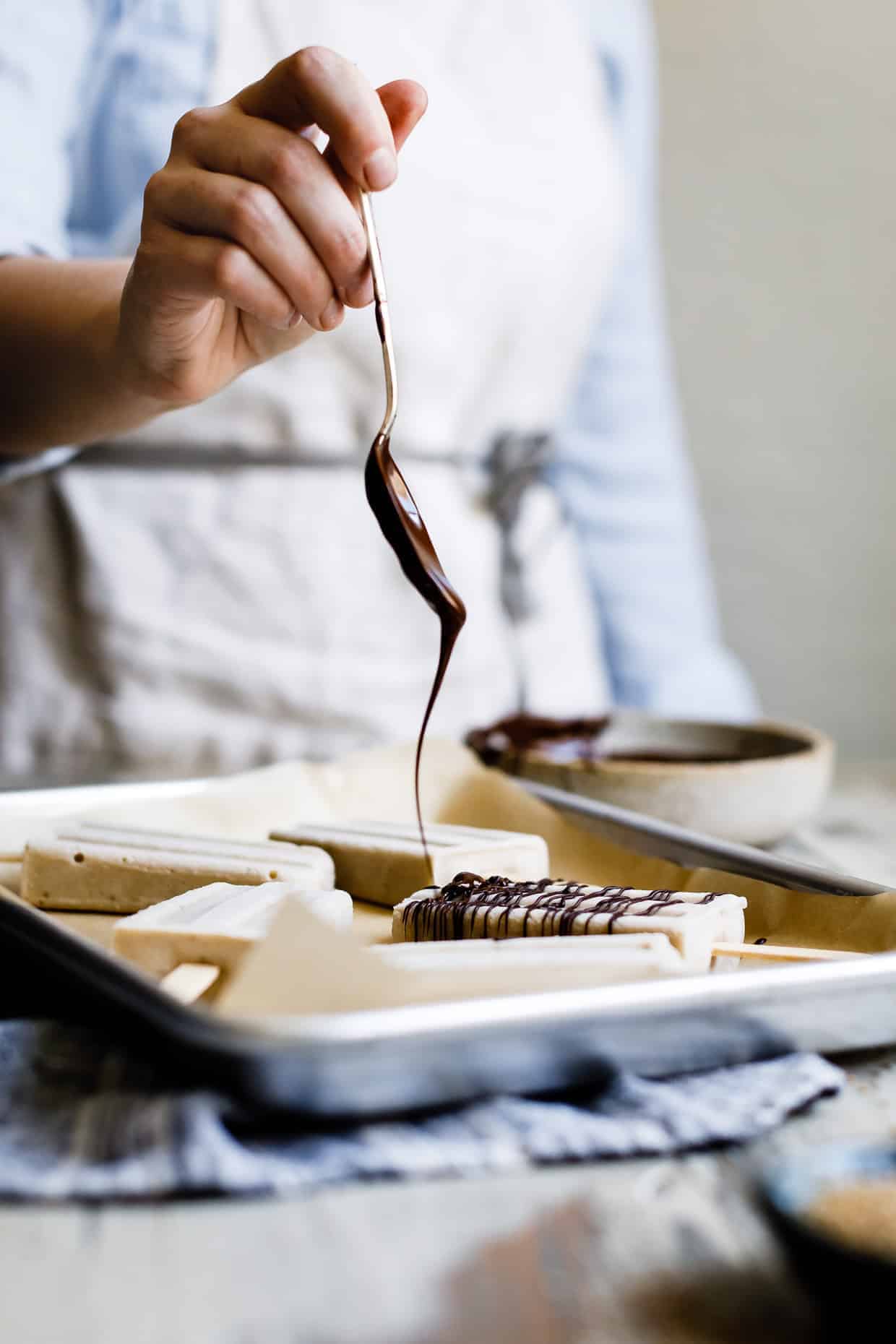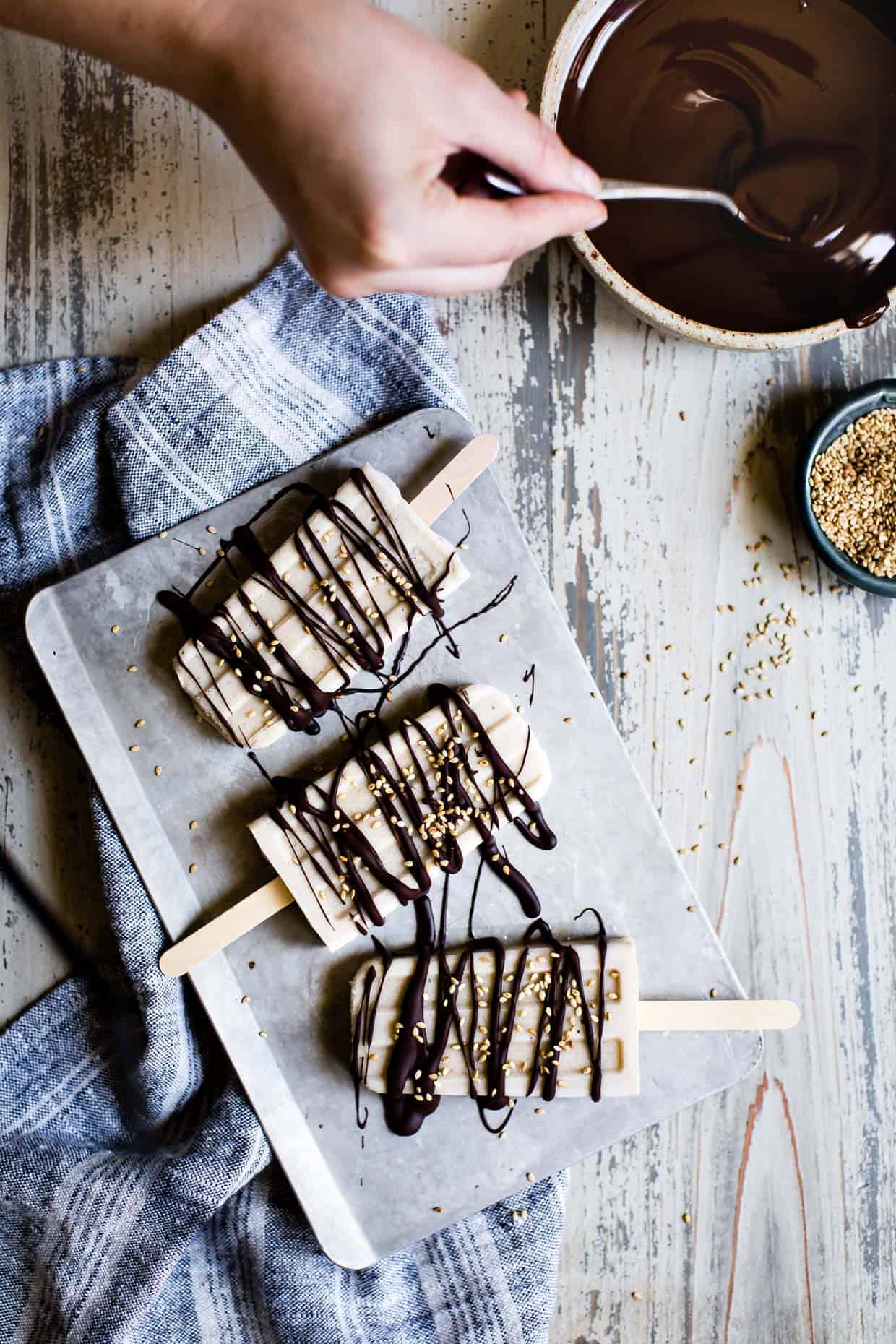 Just as I finished shooting these pops, the doorbell rang. It was the 3 year old next door, who is bound by distance and age to be Zoella's first best friend, B.
B's mom explained, "She's grumpy and refusing to nap - Is Zoella home to play?" She wasn't - she was at school, but I had popsicles to cure the grumps. This exchange - where one of us shows up at the other's house with a grouchy kid, hoping for a playdate distraction - is one of the best bonuses of having neighbors with a kid around the same age as yours.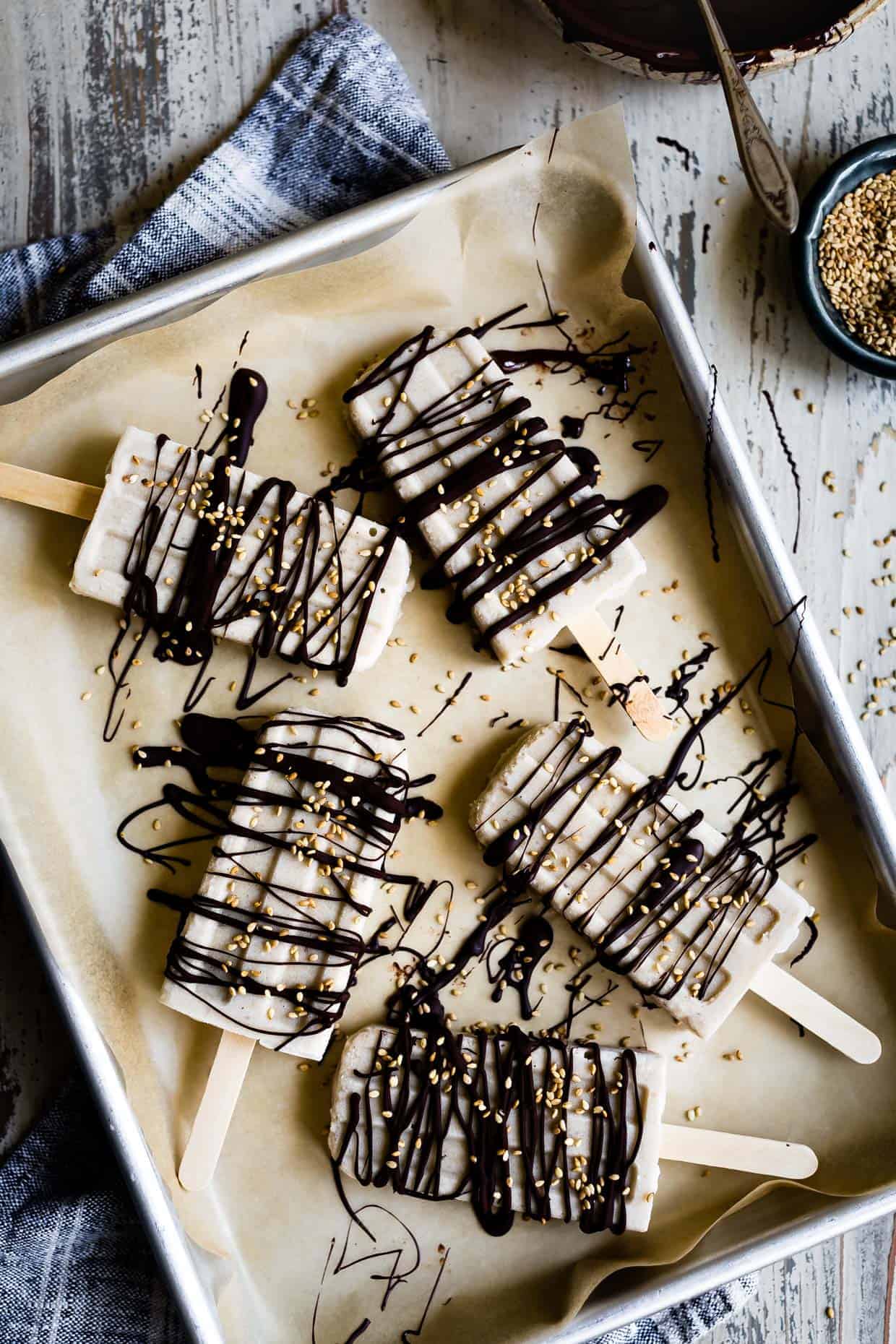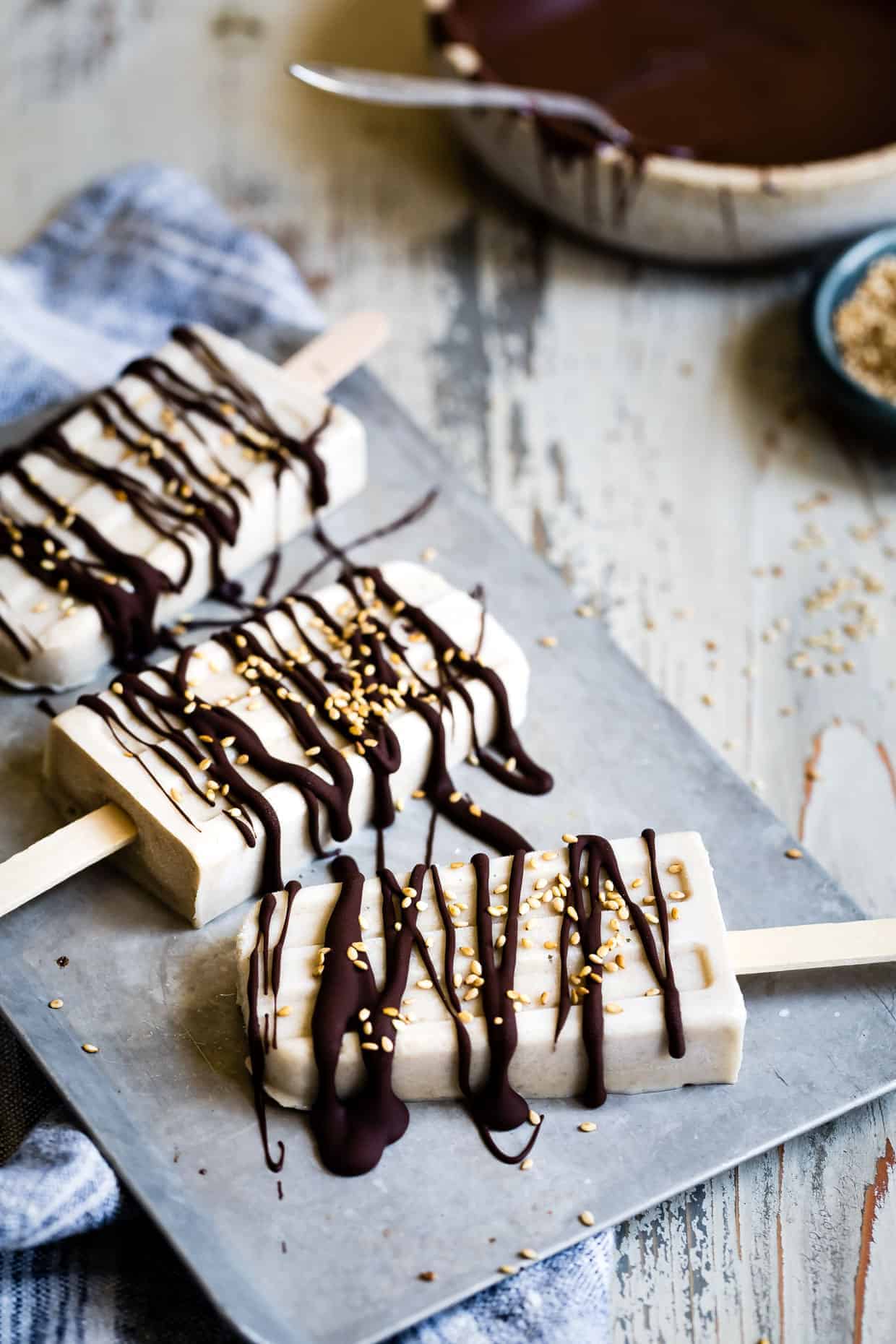 Last week, it was our turn. As we turned the corner down their driveway, B bounced toward us - "Zoella is coming!!" Zo bolted toward my arms, conflicted by her excitement to see her friend and her fear of the unbridled energy of a bigger kid. Without the words to say "please don't tickle me," Zo responds to B's grabby attention with hitting. This somehow doesn't seem to keep B from wanting to tickle just as much.
After lots of "we don't hit our friends" pleas, I sternly asked, "are we going to have to go home?"
Zo quickly quipped with a smile and a wave to her friend, "Yah! Bye bye!"
She apparently understands a lot more than we give her credit for (like probably that she shouldn't be hitting...). She's since learned the phrase "I'm done" and uses it in just about every situation from (not) finishing dinner to daddy hitting a pothole with the stroller to playing with B.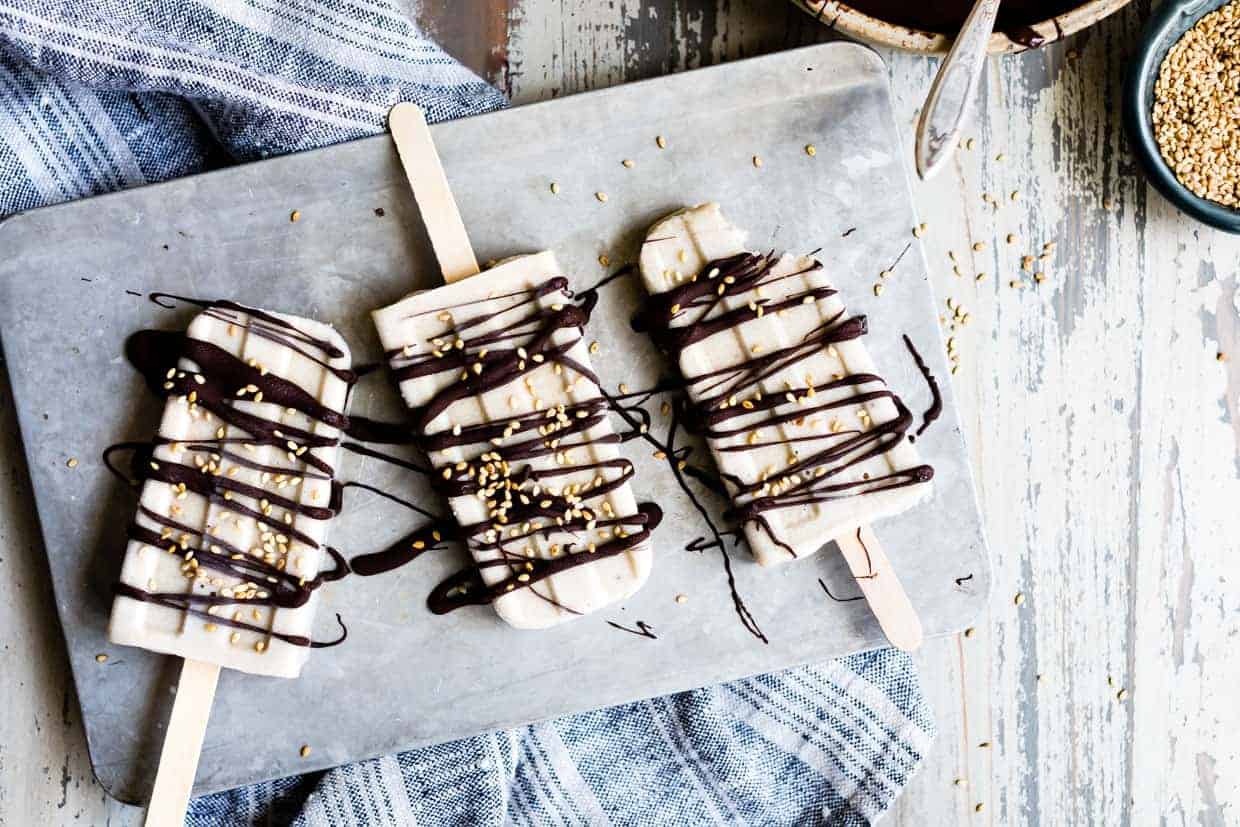 As B finished up her popsicle yesterday - only the second one in her lifetime - she walked toward the door, turning back to say, "It was really so tasty." And she no longer seemed so grumpy.
So if you're having a bad day, it's best to keep a batch of these on hand. And don't even feel one ounce of guilt if you need more than one.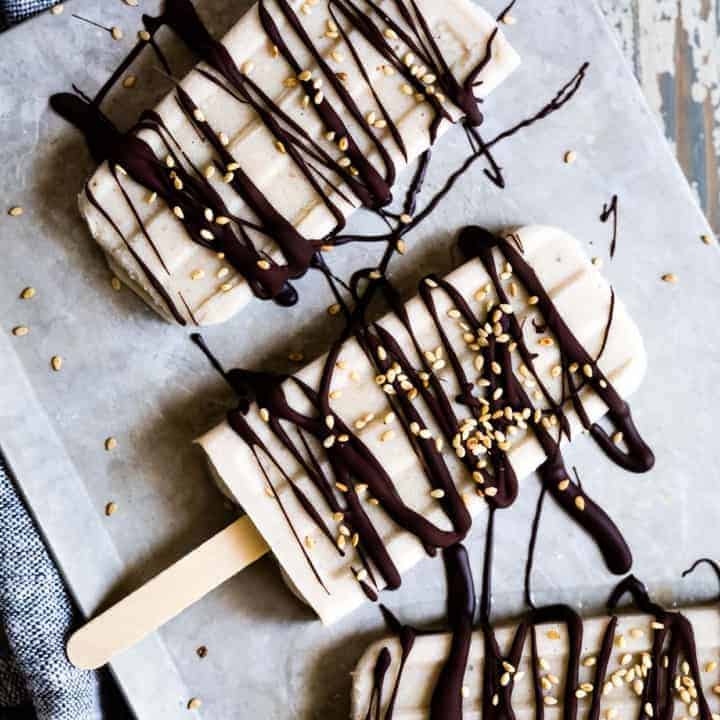 Chocolate Banana Tahini Popsicles
Ingredients
5 peeled frozen bananas
1 cup hazelnut milk
¼ cup tahini
2 tablespoons maple syrup
½ teaspoon vanilla extract
3 ounces dark chocolate
1 tablespoon toasted sesame seeds
Instructions
Place the frozen bananas in a food processor and process until creamy, scraping up the sides as necessary (at first it will get mealy, but eventually it will get creamy). Blend in the milk, tahini, maple syrup, and vanilla extract until smooth.
Divide between 10 popsicle molds, giving it a tap on the counter to release any air bubbles. Place the lid over the mold and insert your popsicle sticks as straight at possible. Freeze for 4-6 hours, or until frozen solid. For best results, freeze over night.
Remove popsicles from molds and place on a baking sheet. To help remove your popsicles from the mold, fill a large bowl with warm water and briefly dunk the bottom part of the mold in the bowl or briefly run the mold under warm water. Chill while you prepare the chocolate.
Melt the chocolate in a double broiler or in the microwave: fill a small saucepan with a few inches of water and set a heat-proof bowl over the top so a large portion of the bowl is touching the water. Being careful not to get any water in your bowl, add the dark chocolate. Cook, undisturbed until a little more than half is melted, then stir until the rest melts. Cook for a few minutes longer until the chocolate stings a little when touched on your wrist or just below your lower lip.
Remove the bowl from the heat (again being careful not to get any water in it) and let sit, stirring occasionally, until the chocolate feels just a bit cooler than your body temperature when touched to your wrist. This will temper the chocolate, but it will also make it less likely to melt your popsicles!
Drizzle chocolate over the frozen popsicles, then sprinkle them with toasted sesame seeds. Freeze until ready to eat!