This spring raspberry rhubarb almond tart is made with a chai-infused almond frangipane cream filling wrapped in a gluten-free almond tart crust and topped with whipped cream.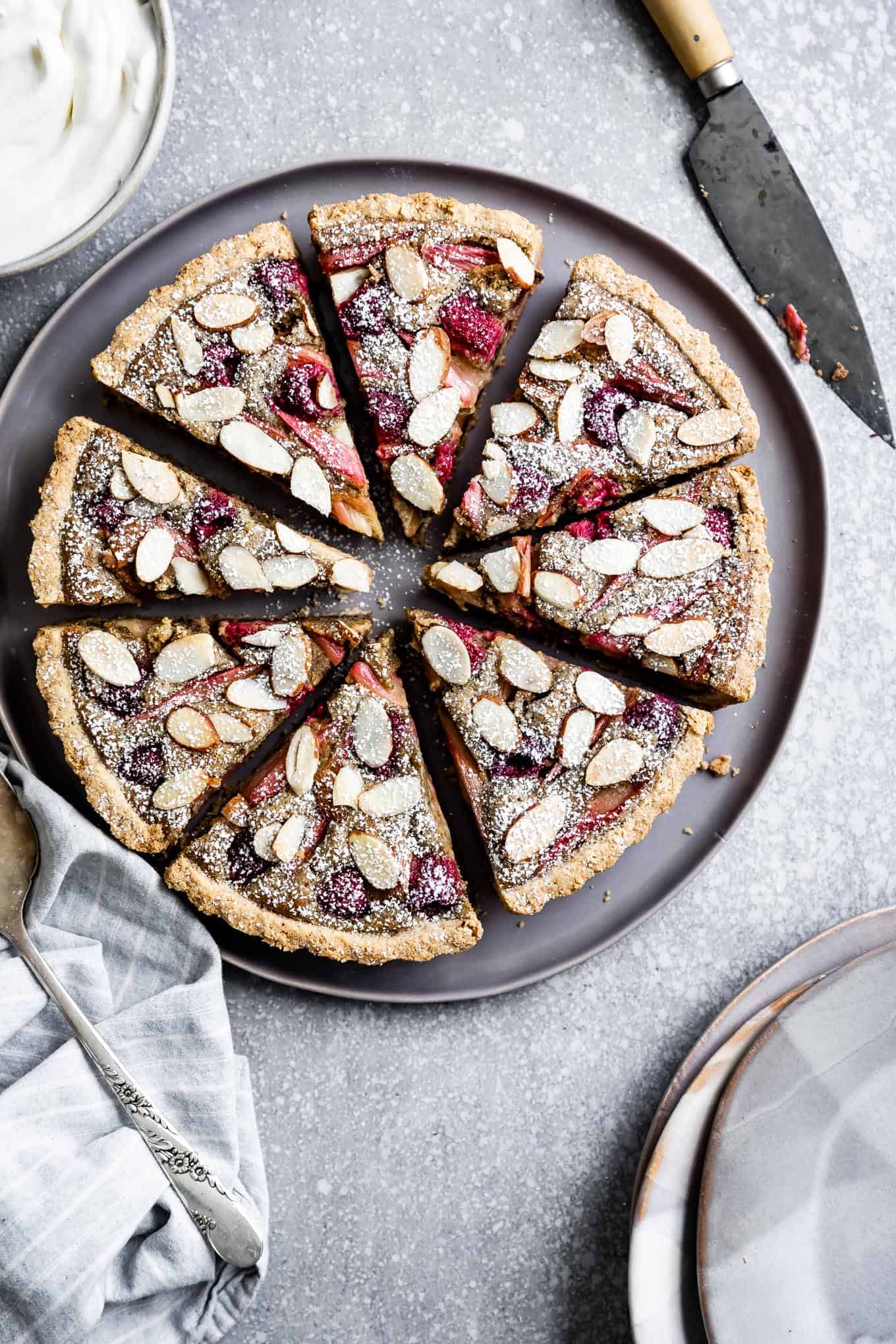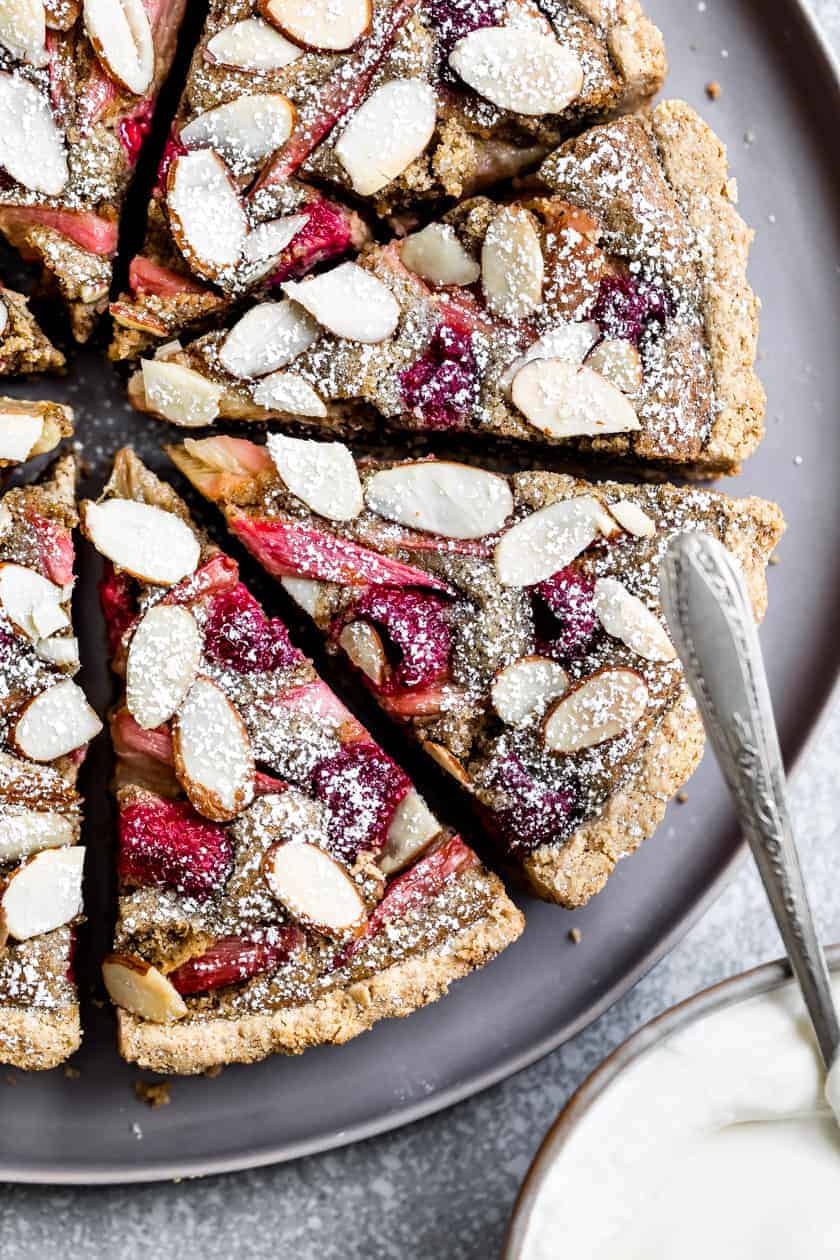 My daughter likes celebrations. I'm sure it mostly has to do with having literally any excuse for dessert (a girl after my own heart), but she's into the whole thing. Giving cards, putting up decorations, serenading you with songs, making presents out of used toilet paper rolls and stickers, and yes, the dessert.
Last week she enthusiastically asked me, "what do you want to do for Mother's Day, mama?!" The question was a bedtime delaying tactic, but I felt the sentiment. For our family celebrations, Mother's Day is next on our calendar and she's brewing plans.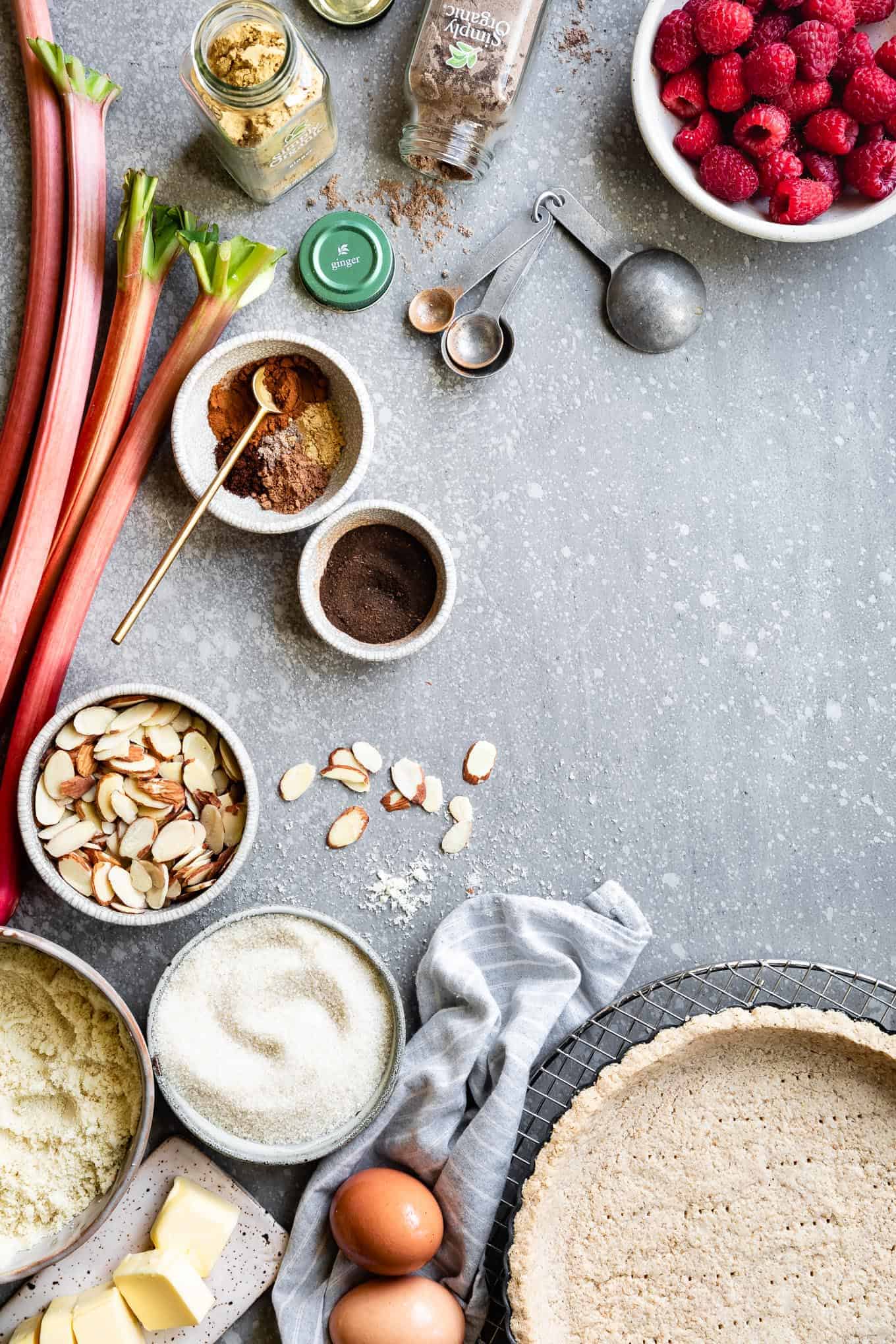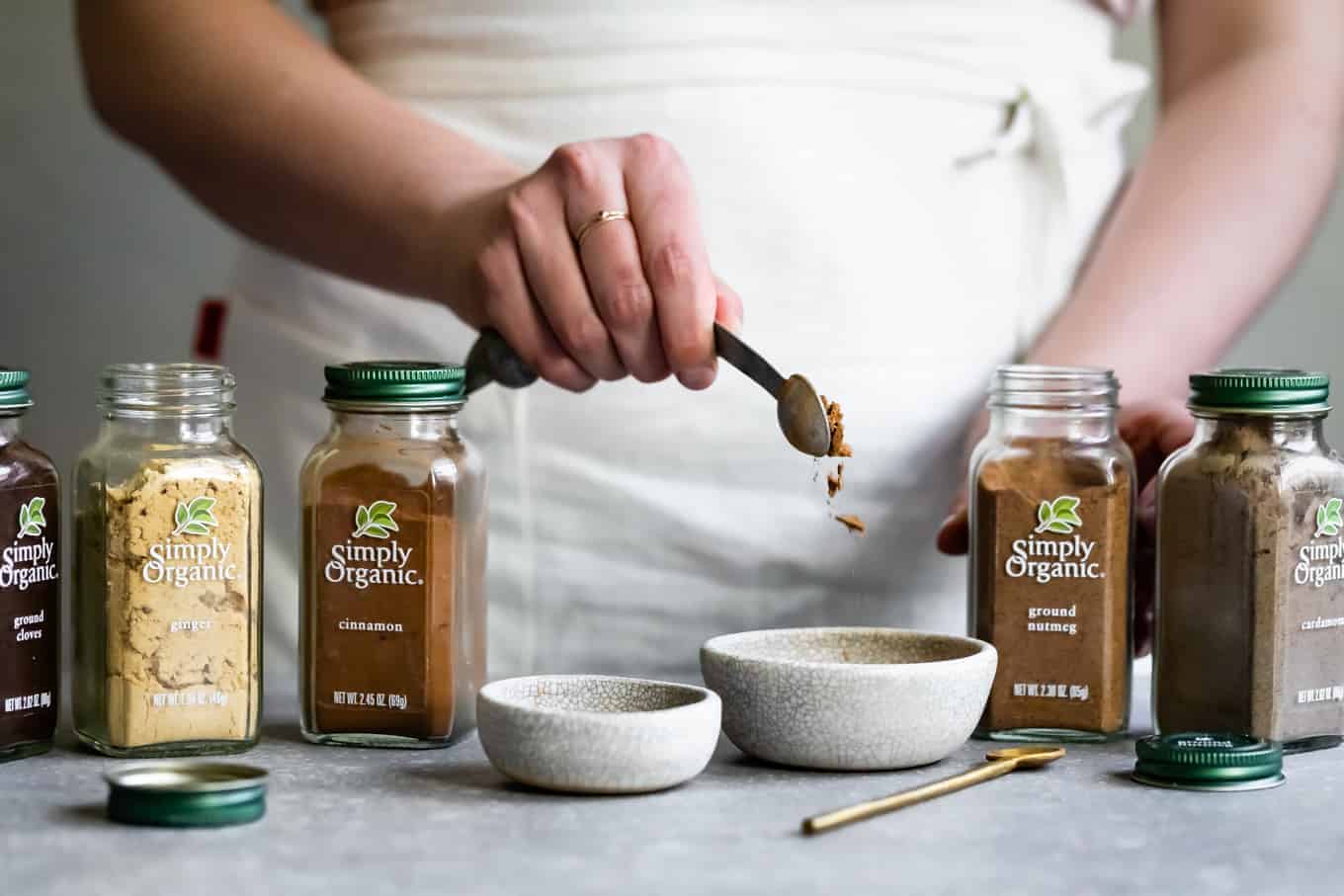 I'd like to do two things for Mother's Day and only one of them is likely to happen: 1. Sleep through the night without anyone waking me up screaming, and 2. Bake something sweet and delicious with my budding sous chef.
This gluten-free raspberry rhubarb almond tart with chai-spices will do the trick. I've made this tart in partnership with Simply Organic and The Feed Feed as the fourth recipe in a series about the joy of cooking with organic herbs, spices, and extracts.
Cook for Joy
Zoella's curiosity is booming in the kitchen. Not just pretend cooking (though her wooden birthday cake sure gets a lot of use), but the real let-me-use-the-knife kind of cooking. "Can I help?" is her latest catchphrase - ever since Erin and I let our 3 & 4 year olds loose in the kitchen to bake a cake on their own without a recipe and it turned out completely edible.
If you're just starting to bring your young child into the kitchen with you, here are my top two tips for baking with toddlers:
Use a kitchen scale to let little ones measure ingredients. Zoella's dexterity with a measuring cup isn't quite precise enough, but she can tare a scale and set it to the proper units. I can keep an eye on the weight from afar and she feels joyfully independent.
Have all your ingredients out and ready to go before inviting them to help. Not quite mis-en-place, but just out and waiting. With the attention span of a goldfish, baking with a toddler can make you want to rip your hair out. I learned the hard way that the moment there's any down time, they get bored, and that's when things go awry. They begin vigorously whisking the flour until the bowl falls off the counter, they grab an entire egg and crack it, shell and all, into the batter, or they dump an entire container of sprinkles into the pancake mix.
For Mother's Day this year, we'll bake together. I'm sure it will be equal parts hair pulling and joyful, but it's 100% worth it to share my love of baking with her. And this tart is exactly what I want to eat. With tangy floral spring flavors contrasting aromatic warm masala chai spices, this chai-spiced gluten-free raspberry rhubarb almond tart is perfect for Mother's Day.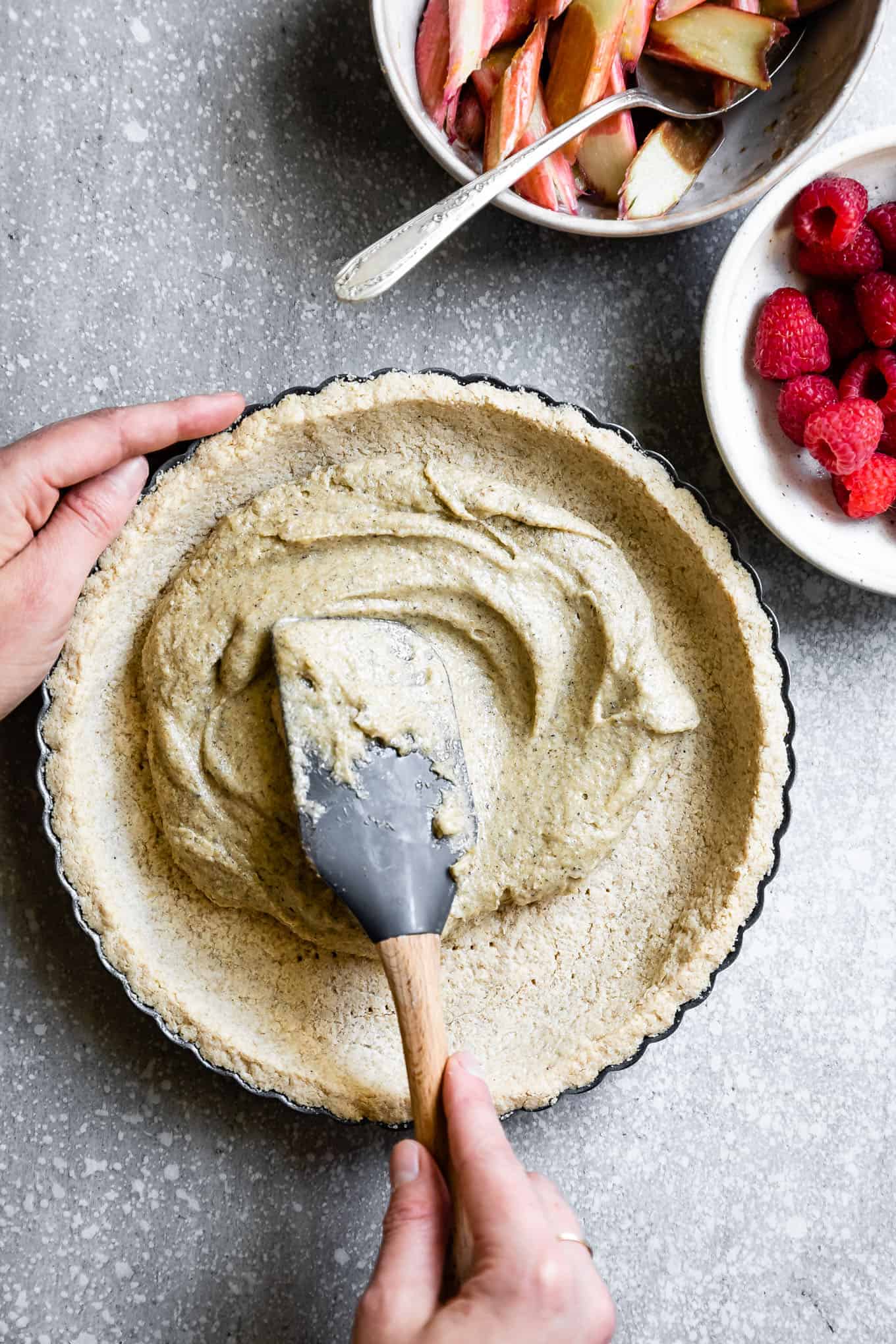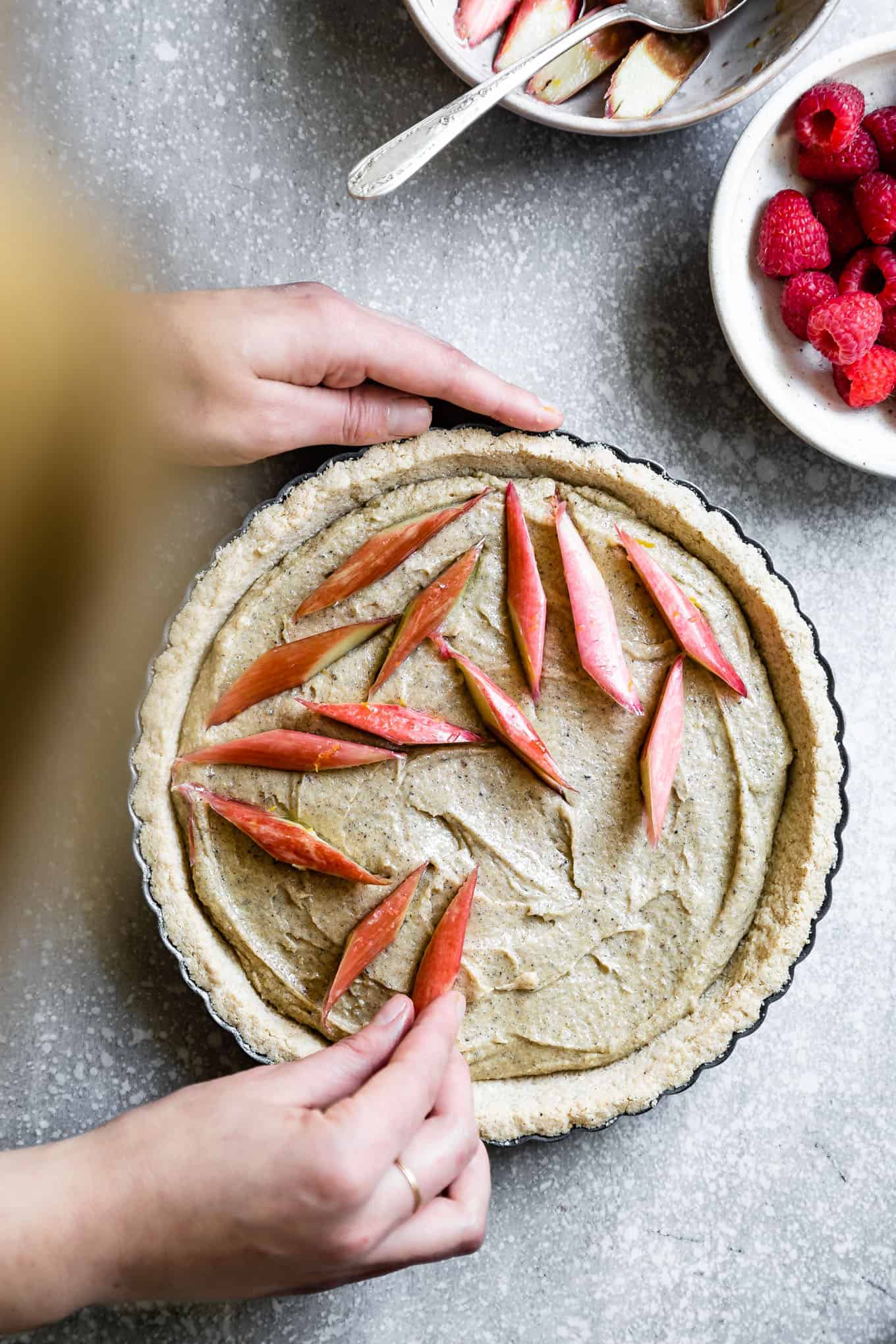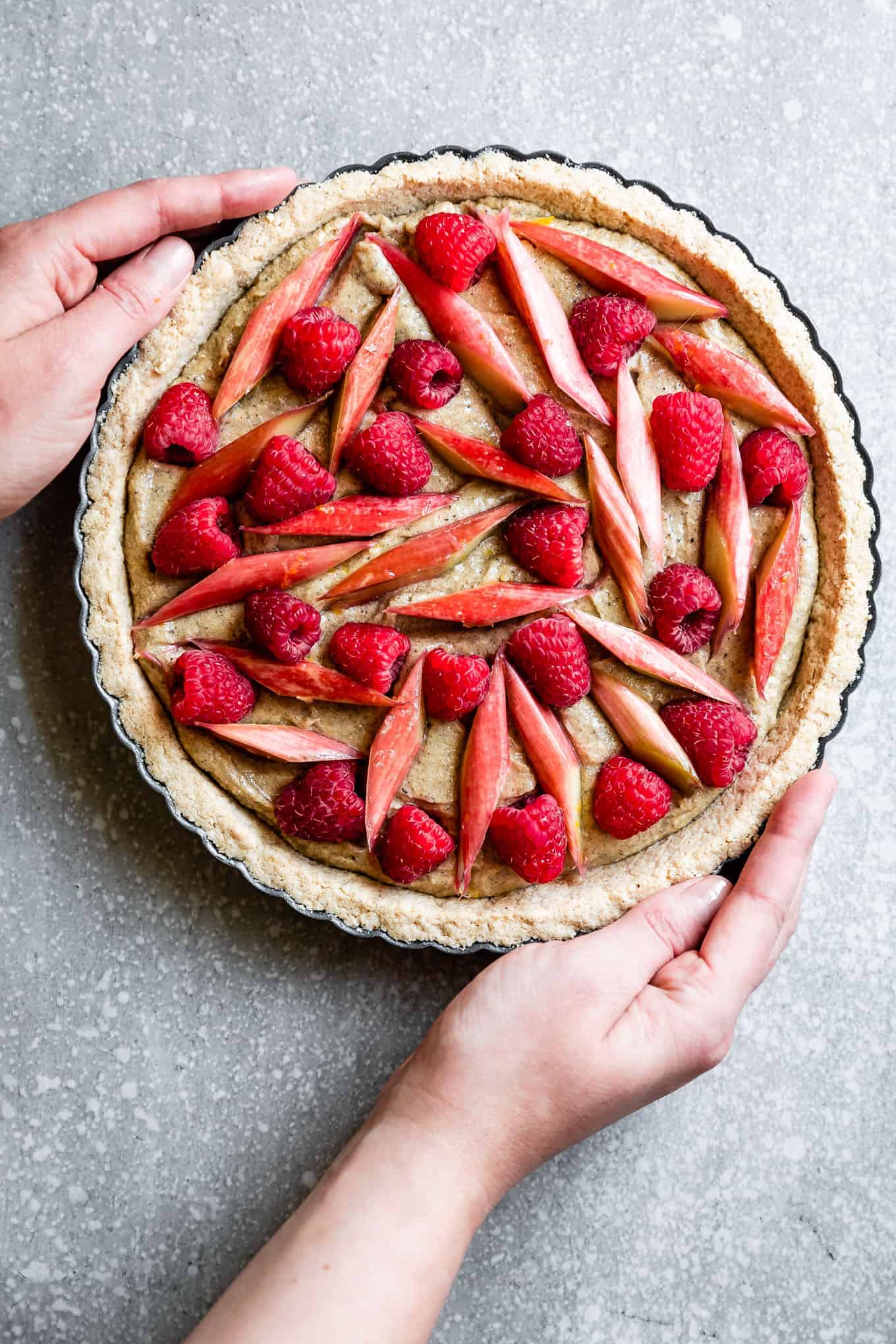 Almond Cream Tart: What is frangipane?
The filling for this tart is an almond frangipane cream made with creamed butter, sugar, egg, and ground almonds. When baked up as a tart filling, frangipane is a sweet cream with a velvety texture.
This gluten-free frangipane recipe uses tapioca starch to thicken and help set the filling instead of all-purpose flour. It also gets a flavor kick from ground black tea and a masala chai spice blend.
How to make a Gluten-Free Fruit Tart
Raspberries and rhubarb make the perfect fruit for a baked cream tart. The tart tanginess of rhubarb complements the sweet jammy raspberries.
First macerate the rhubarb in sugar and lemon zest. This step pulls out the moisture from the rhubarb so it softens easily when baked. Rinse your raspberries early and spread them out on a paper towel so they have time to dry completely.
Gluten-free tart crust
This almond frangipane cream tart is paired with an almond flour tart crust, adapted from my friend Alanna's cookbook Alternative Baker. This gluten-free almond crust uses a blend of almond flour, oat flour, sweet rice flour, and tapioca starch or corn starch. Almond flour gives it the sweet nutty flavors. Oat flour softens it and keeps it from browning too quickly. Sweet rice flour and tapioca starch bind all the ingredients so the crust isn't too delicate.
In this version, I've increased the almond flour ratio to enhance the toasty almond notes and spiced the crust with masala chai spices.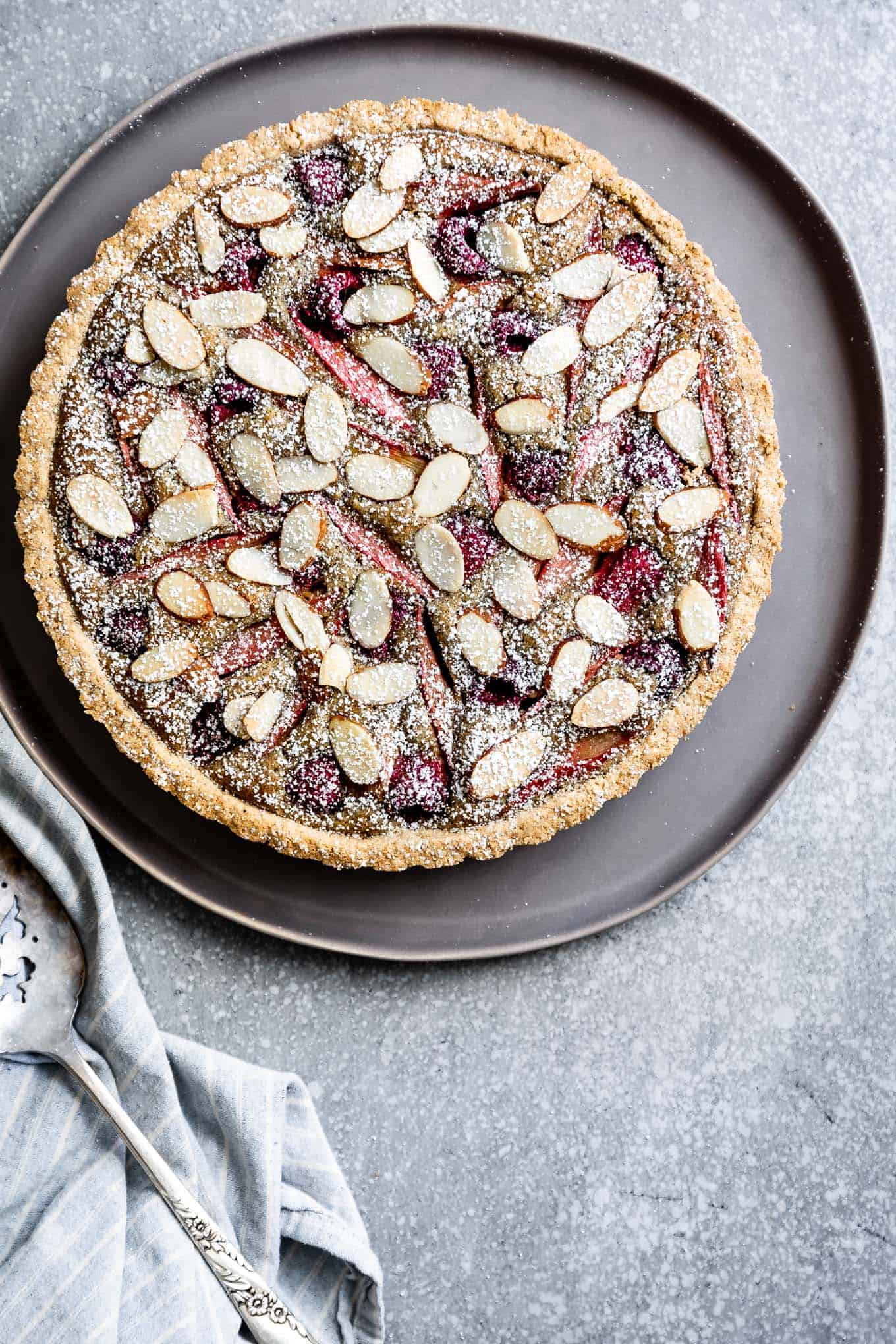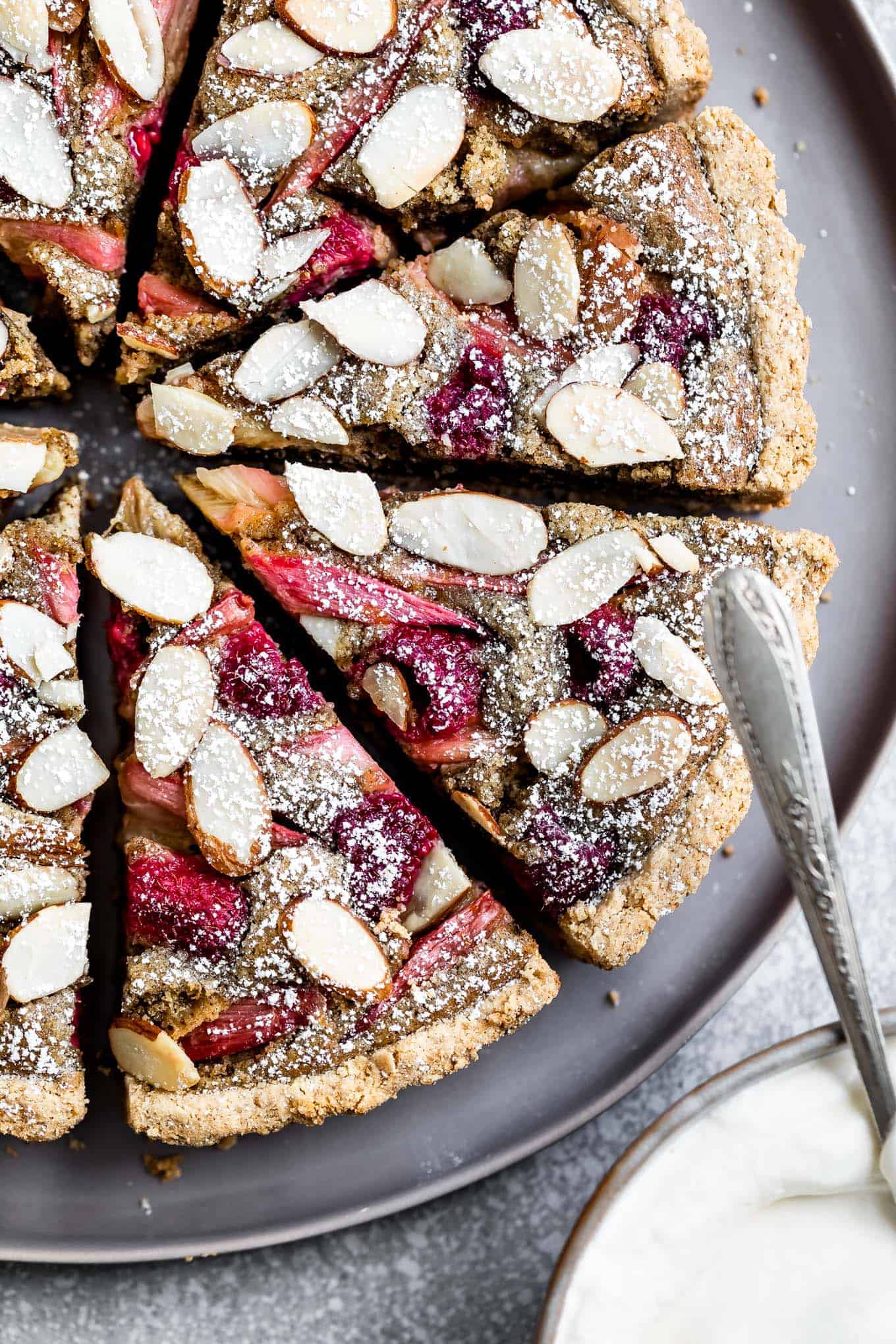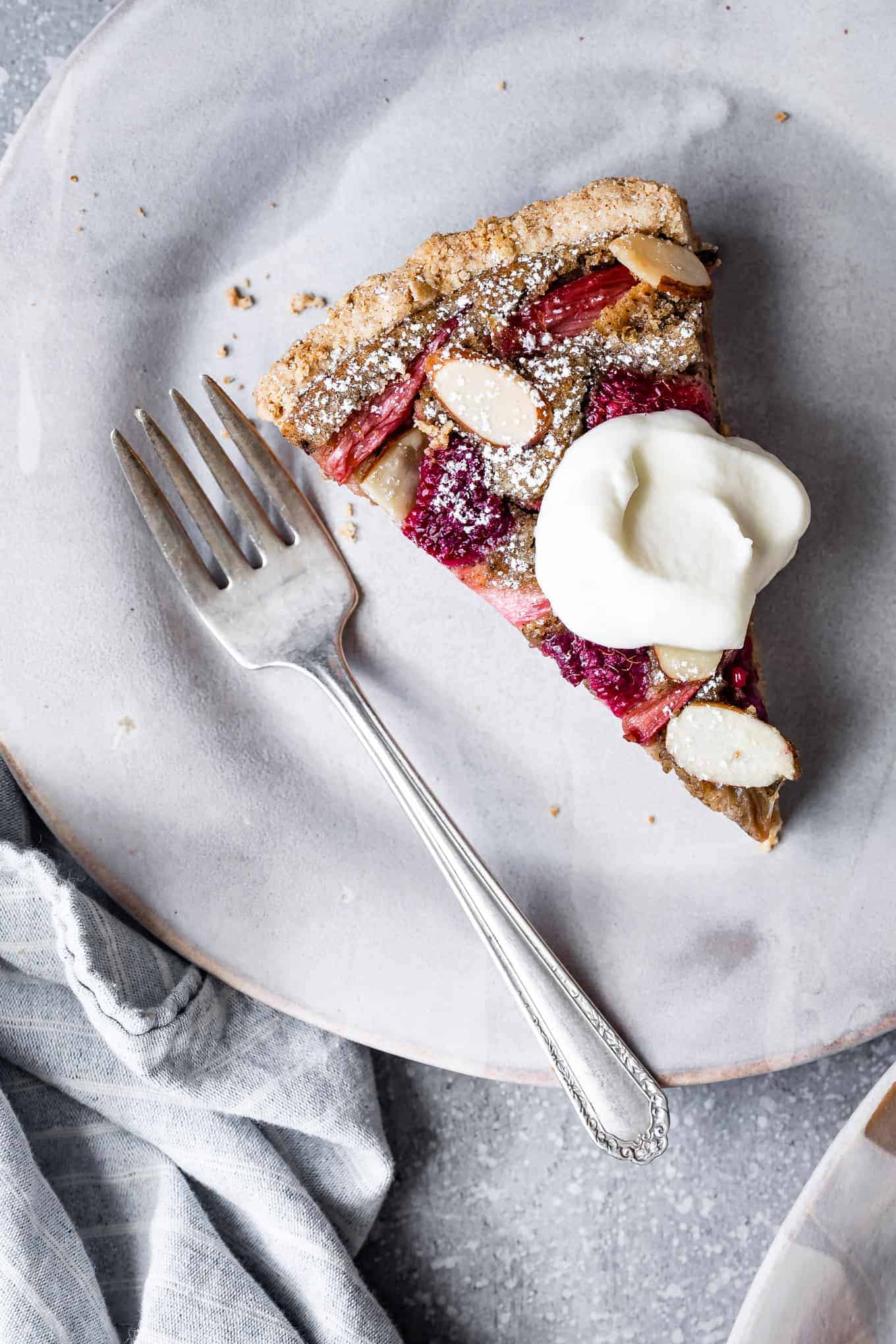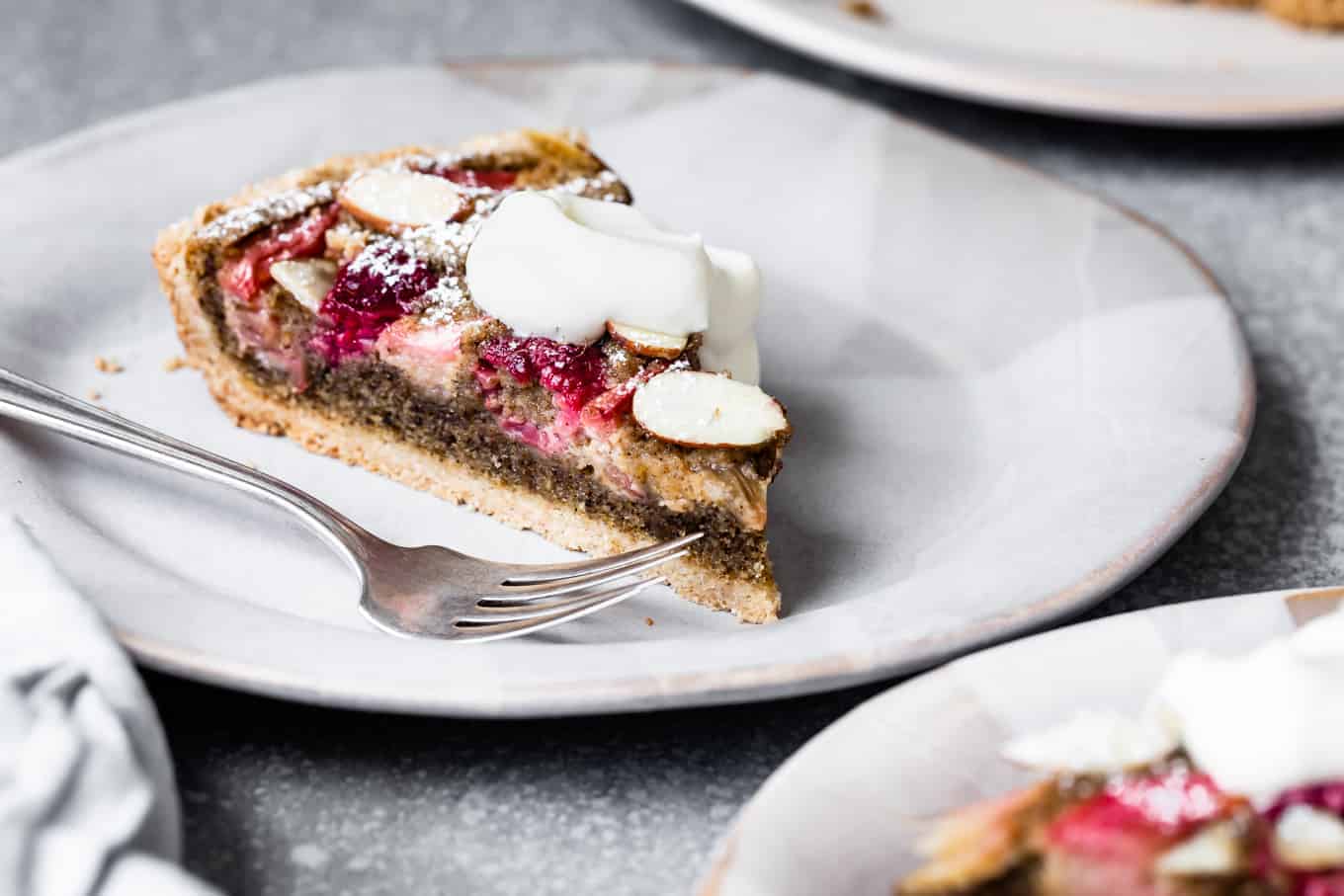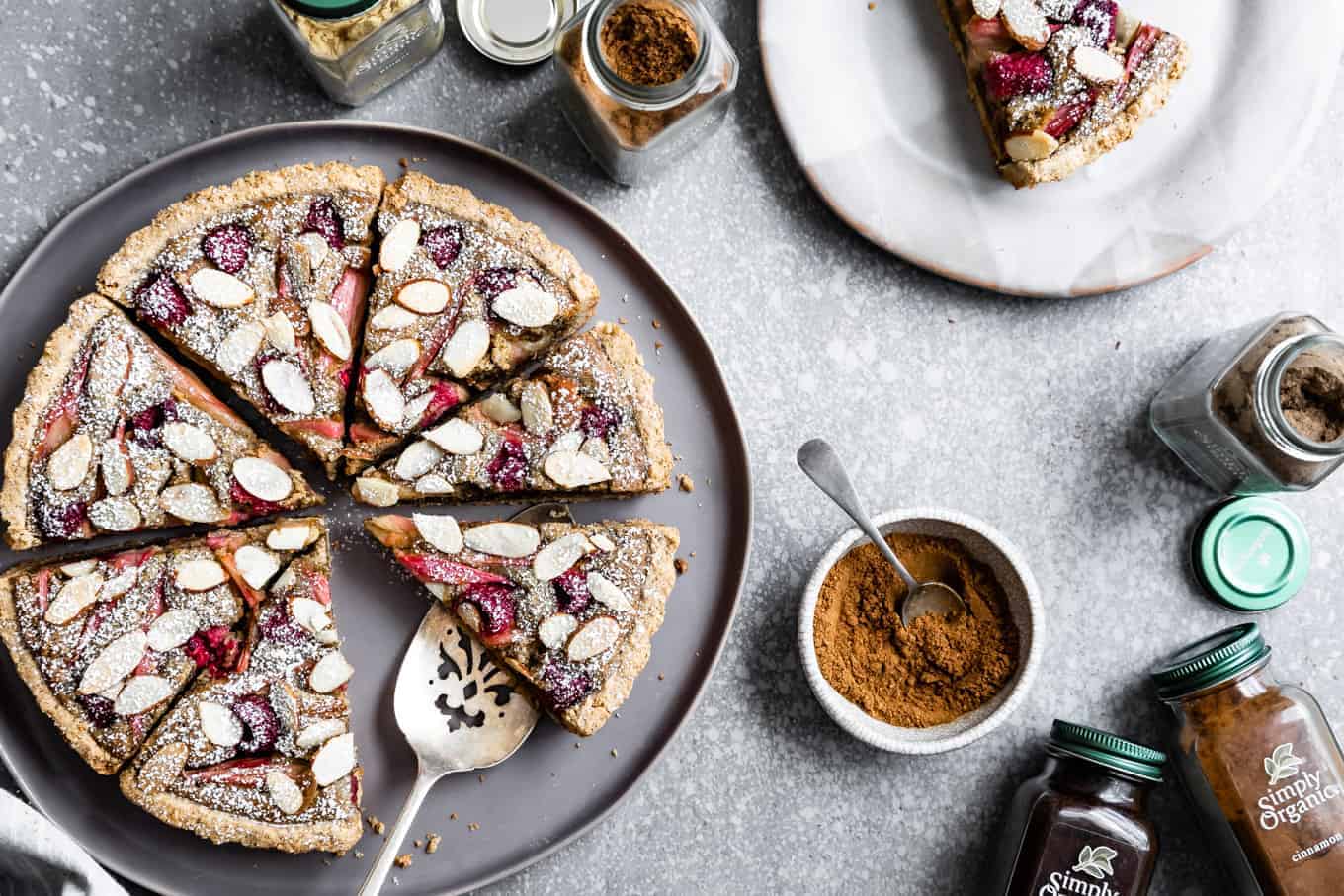 Homemade Chai Spice Blend
Masala Chai is just black tea (chai) infused with a blend of spices (masala). So what spices are in masala chai? Traditional chai spices are cinnamon, ginger, cloves, and cardamom. Sometimes people add other spices like black pepper or cardamom. The result is a black tea that has a spicy kick with earthy notes and a hint of sweetness. It's warm and comforting.
If you're making a homemade chai spice blend for tea, you may start with whole spices steeped or ground up. To add the same warm spiced chai notes to a dessert, I've created a blend with ground organic spices. I always choose organic spices from Simply Organic for their purity and aromatics - when seasoning food, you consume the entire spice so it's important that you can trust the quality and source.
The aromatic high-quality spices from Simply Organic create a robust chai-spice flavor. Along with ground black tea, I mix the homemade spice blend into desserts.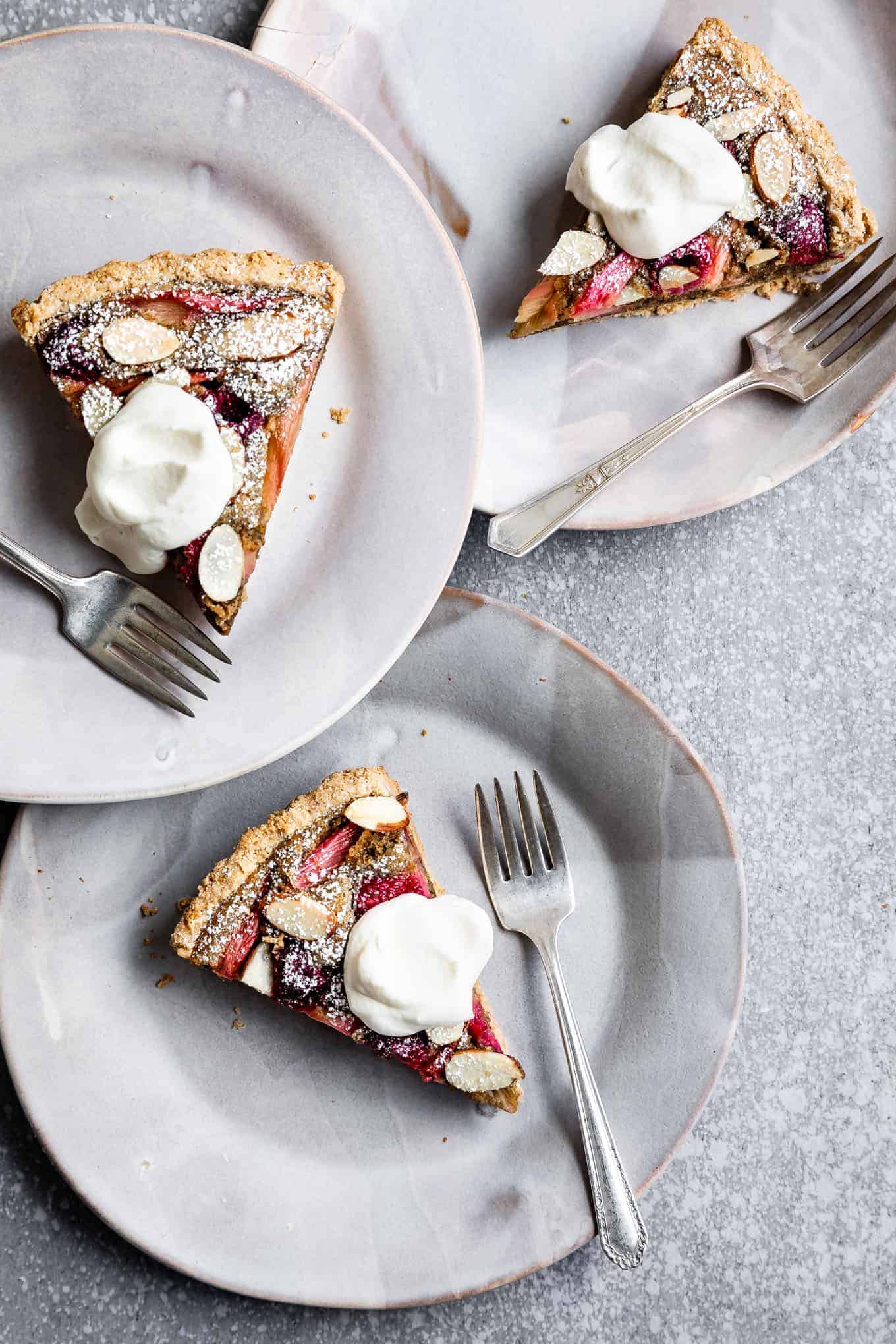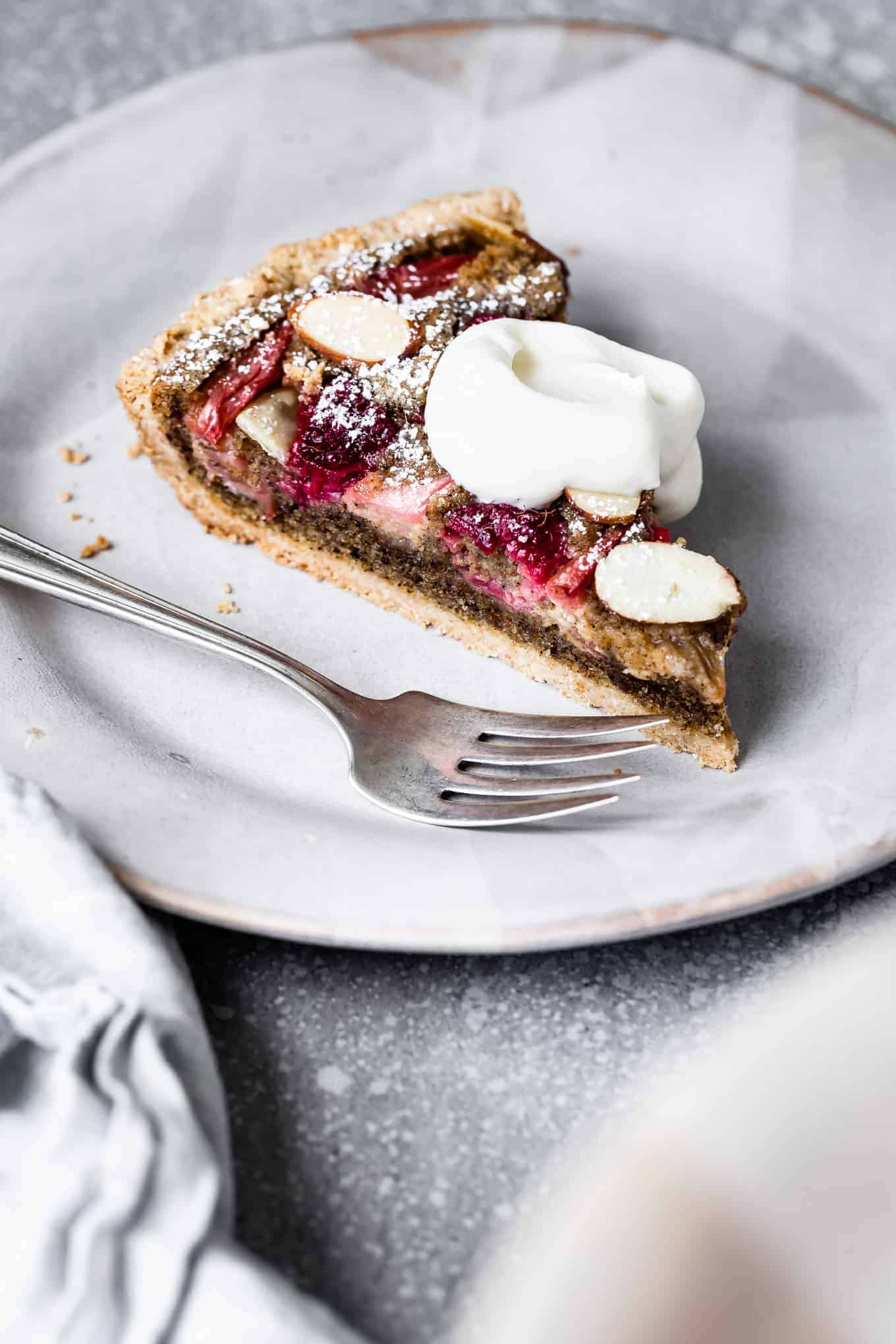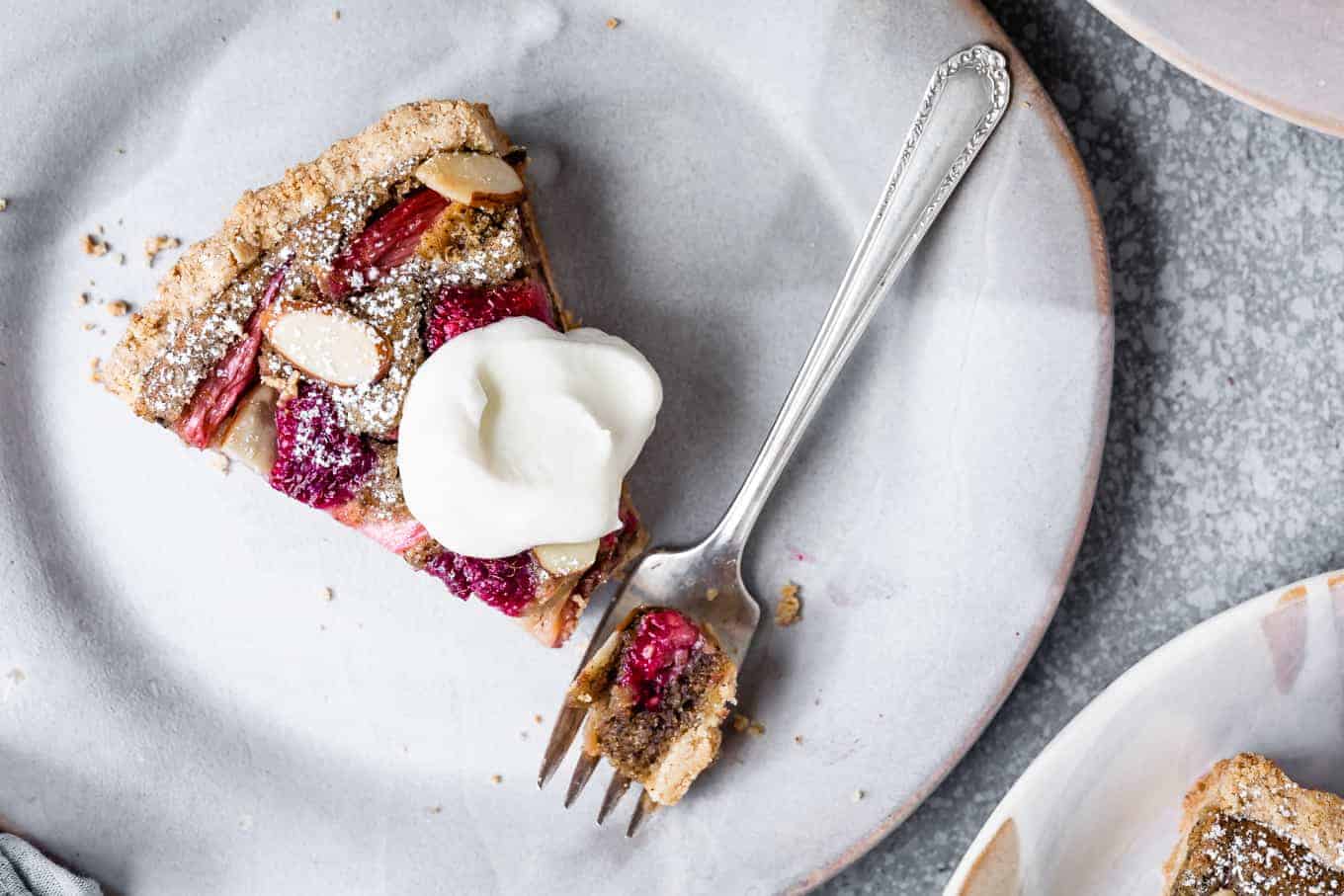 Recipes for Mother's Day
Disclosure: Special thanks to Simply Organic and The Feed Feed for providing the ingredients for this recipe and sponsoring this post! And thanks to you for supporting the companies that keep Snixy Kitchen cooking!
Gluten-Free Raspberry Rhubarb Almond Tart with Chai-Spices
Yield:
1 9-inch tart (8-10 servings)
Additional Time:
10 minutes
Total Time:
1 hour
50 minutes
This spring raspberry rhubarb almond tart is made with a chai-infused almond frangipane cream filling wrapped in a gluten-free almond tart crust and topped with whipped cream.
Ingredients
Masala Chai Spice Blend
Pinch Simply Organic ground cardamom
Gluten-Free Spiced Almond Tart Crust (Adapted from Alternative Baker)
Chai-Spiced Raspberry Rhubarb Frangipane
6 ounces rhubarb, sliced into 1-inch pieces on the diagonal
½ cup (104g) + 2 tablespoons (26g) cane sugar, divided
Zest of half a lemon
6 tablespoons soft unsalted butter
2 large eggs
1½ teaspoon chai spice (from above)
1½ teaspoon ground organic black tea*
1⁄4 teaspoon kosher salt
¾ cup raspberries, washed and spread out on a paper towel to dry
2 tablespoons sliced almonds
Whipped cream and powdered sugar, for serving
Instructions
In a small bowl, mix together all the spices for the organic masala spice blend. Set it aside - you will add some of this to the crust and some to the filling.
First, macerate the rhubarb. Mix the sliced rhubarb in a bowl with 2 tablespoons of sugar and lemon zest. Let sit while you prepare the crust and filling, tossing every so often.
Prepare your tart crust. In the bowl of a stand mixer or food processor, combine the almond flour, sweet rice flour, oat flour, tapioca starch, sugar, 1 teaspoon of chai spice, and salt. Mix to combine. Add the cubed butter and sprinkle in the vanilla extract. Mix, beginning on low and gradually increasing the speed to medium-high until the filling begins to clump together and the butter is fully incorporated. The dough should hold together when gently pinched with your fingers. This might take a few minutes - it will appear dry at first, but it will eventually clump into a coarse meal.
Dump the dough clumps into the bottom of an 9-inch tart pan with a removable bottom. Press the dough evenly into the pan, starting with the sides and then moving to the bottom. Your crust should be between ⅛ and ¼-inch thick with the top edges squared off. Prick the bottom all over with a fork, place on a baking sheet, and chill in the freezer or fridge until firm, 15-30 minutes.
Meanwhile, preheat the oven to 375°F.
When the tart shell is firm, bake on the middle rack for 12-14 minutes, until the crust begins to look cooked and not moist, but not yet browning.
Remove from the oven and while the crust is still hot, use a cup bottom or the back of a spoon to gently press down on the sides and bottom to help hold it together as it cools. Let cool completely before adding the frangipane and fruit.
While the crust cools, make the frangipane. In the bowl of a stand mixer fitted with the paddle attachment or a mixing bowl with a hand mixer, cream together the butter and remaining ½ cup sugar until light and fluffy, 2-3 minutes. Add the eggs, one at a time, mixing until combined after each addition.
In a small bowl, whisk together the almond flour, tapioca starch, chai spice, ground black tea, and salt. Add this to the butter mix, folding until just combined. If the crust is cool, fill the crust with the filling right away. Otherwise, chill until ready to use.
Spread the filling into the par-baked tart crust. Top with rhubarb and raspberries. You can gently press the rhubarb into the frangipane, but no need to do that for the raspberries. Transfer to the oven and bake on the baking sheet for 25 minutes. Open the oven and sprinkle the sliced almonds over the top and continue to bake for 20-30 minutes more, until the filling is set and beginning to turn golden brown.
Remove from oven and let cool at least 15 minutes before removing from the tart pan. Dust with powdered sugar and serve with a dollop of whipped cream.
Notes
*Grind up organic loose-leaf black tea or tea from 3 black tea bags in a coffee grinder. Alternatively, many loose-leaf black tea bags are already ground very fine. Just cut them open and to the filling.