Crispy gluten-free chickpea and butternut squash falafels on a bed of quinoa and arugula with an assortment of flavor-packed salad toppings: Quick-pickled beets, crispy fried shallots, crumbled feta, roasted peanuts, and a drizzle of tahini dressing.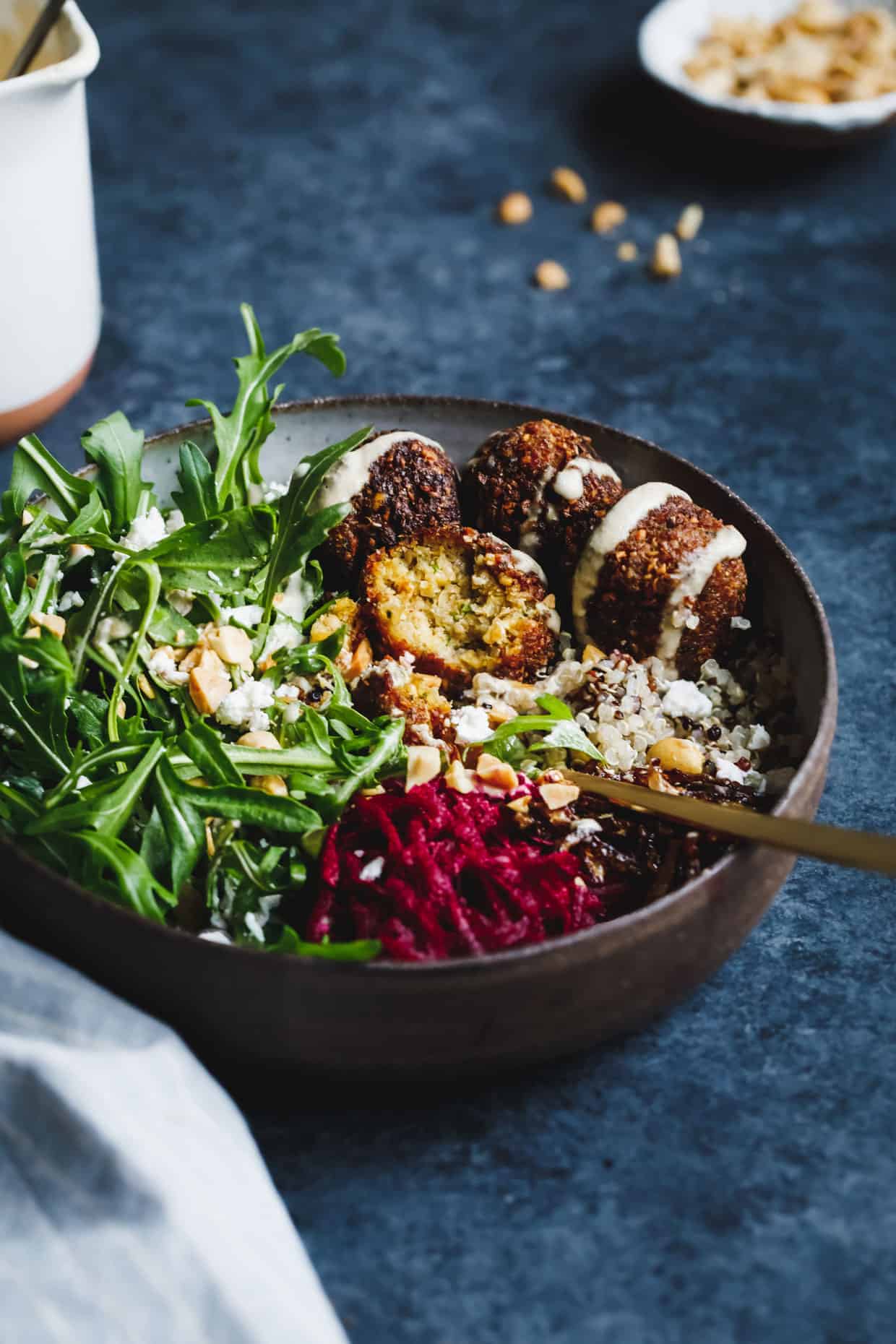 Zoella has suddenly discovered that she has free will. Namely that she can say no by shaking her head. Doesn't she know her mama is the master of strong will though? Game on, Baby Z. My first word was no. Hers was cat. Who do you think will win?
On Monday Zoella LOVED butternut squash falafel. On Tuesday, she decided to test that new found free-will in the face of homemade falafel. She pursed her lips tight with a vigorous "no" head shake, eventually indicating with grabby fingers that she instead wanted to eat what I was eating (go figure).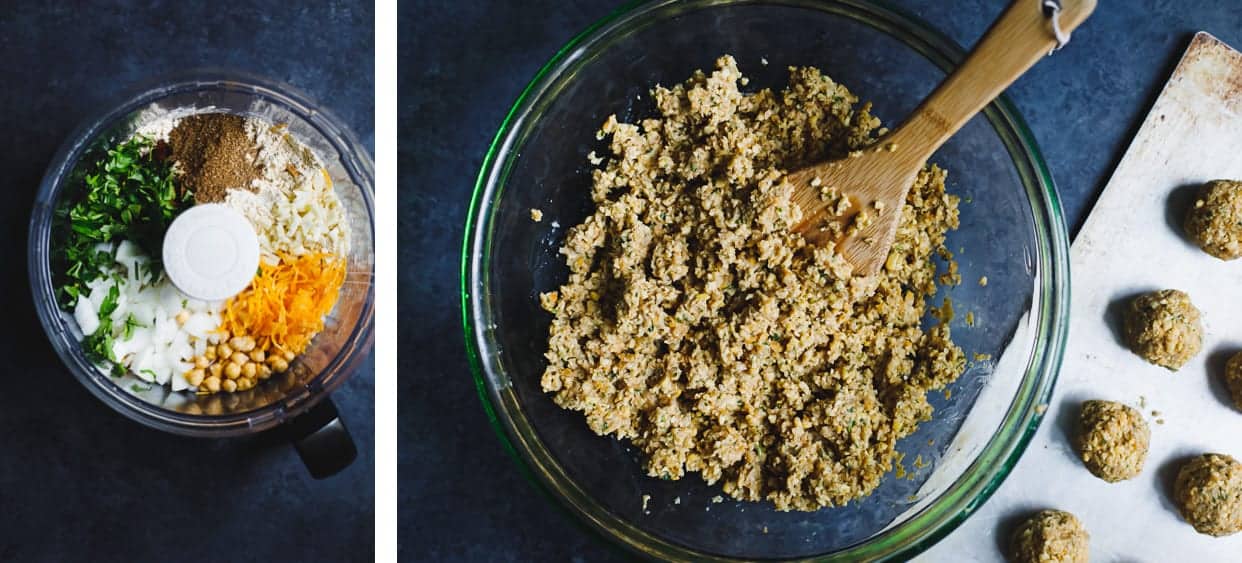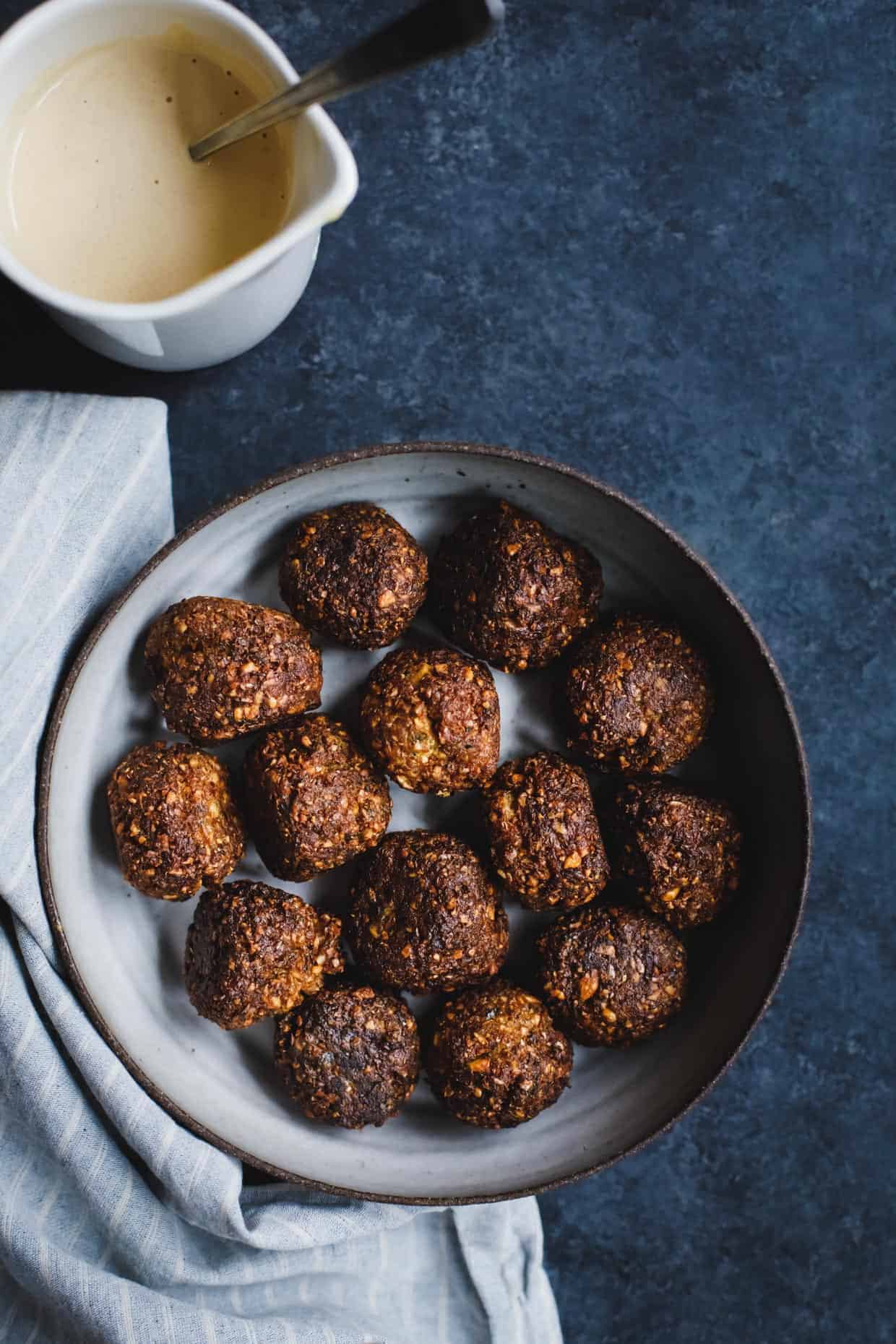 So I outsmarted her and put her falafel bits into my bowl and pretended to feed her exactly what I was eating. And guess what? She loved falafel again. I mean, what's not to love? Falafel is amazing. I TOLD YOU SO, BABY Z.
Sadly she's figured out my tricks and this no longer works. Now she thrusts her arm out to block any incoming spoon, dramatically throwing her whole body in the opposite direction.
Up until now she's been an adventurous eater. This week, though, she's on a free-will hunger strike with cheese being the only exception, so I went ahead and put cheese on the falafels too. I'm not keeping score, but I think I'm losing to an 11-month-old.
But I'm okay as long as there are butternut squash falafels. And cheese.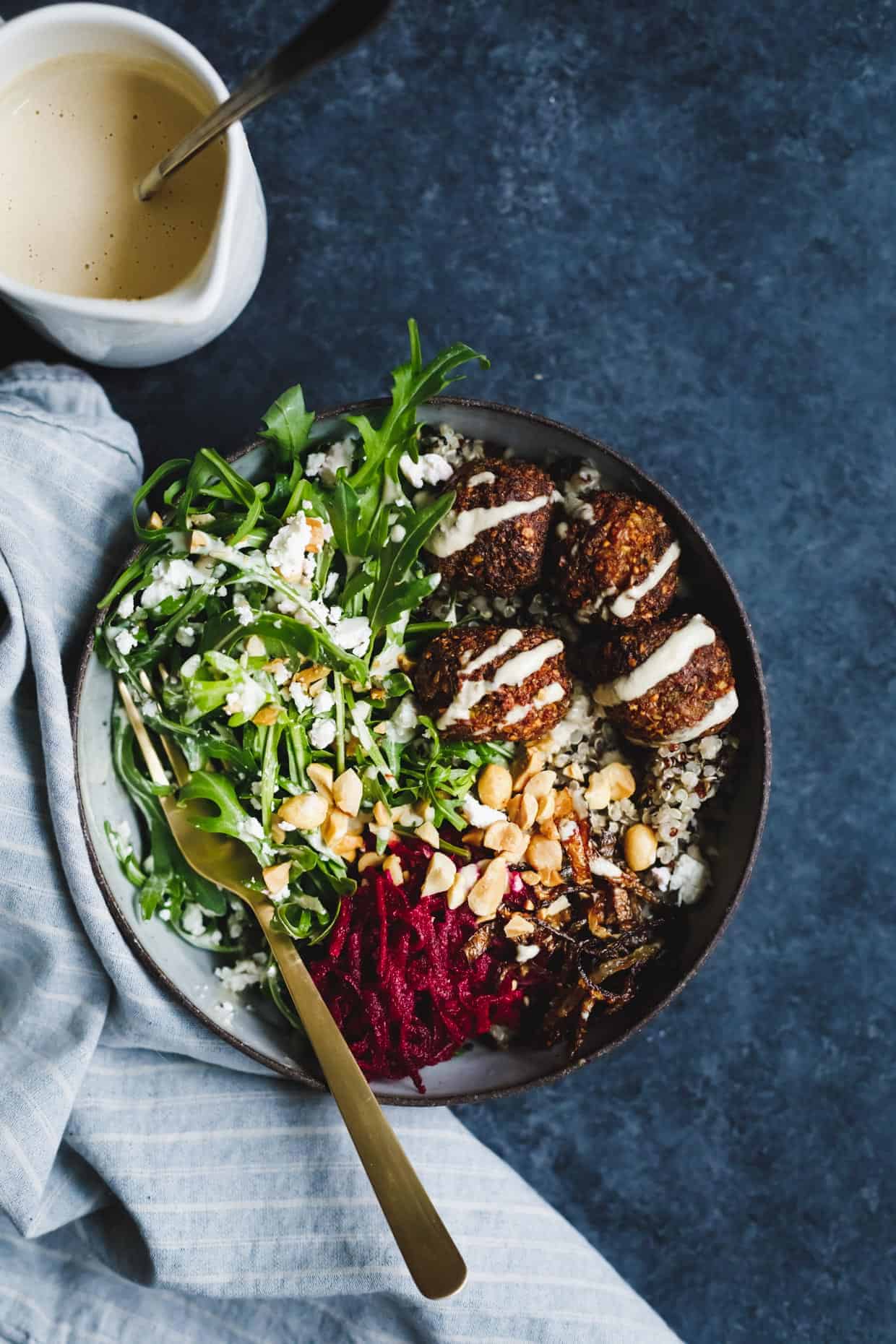 These gluten-free butternut squash falafel salad bowls were inspired by Liba Falafels, my favorite lunch joint in Oakland that's sadly only open M-F and only for lunch. But you must go if ever you're in town. Unless it's a Saturday. Then you should make your own falafel bowl with all the salad fixings. And add butternut squash to the mix to keep things seasonal and spruce up your diet with some extra veggies.
Toasting whole spices and grinding them up - a tip I picked up from the falafel pro herself, Molly Yeh - imparts deeply roasted flavors that layer and layer and layer as you eat them. You definitely don't have to use all the toppings I've added here, but I highly recommend keeping those quick-pickled beets to counter the roasted falafels with something tangy and earthy.
Adding butternut squash and using of chickpea flour instead of all-purpose flour makes the patties a little more moist and delicate than your standard falafel when it comes time to fry. I experimented with a variety of methods: big, small, flattened, round, a lot of oil, a little oil. What I've found works best to give them that pretty crisped shell around a tender fluffy filling is this: fry up firmly packed 1.5-inch balls in ¾-inches of super hot oil, flip, and repeat. Eat. Repeat.
Or make a double batch and freeze half for easy weekday lunch or dinner!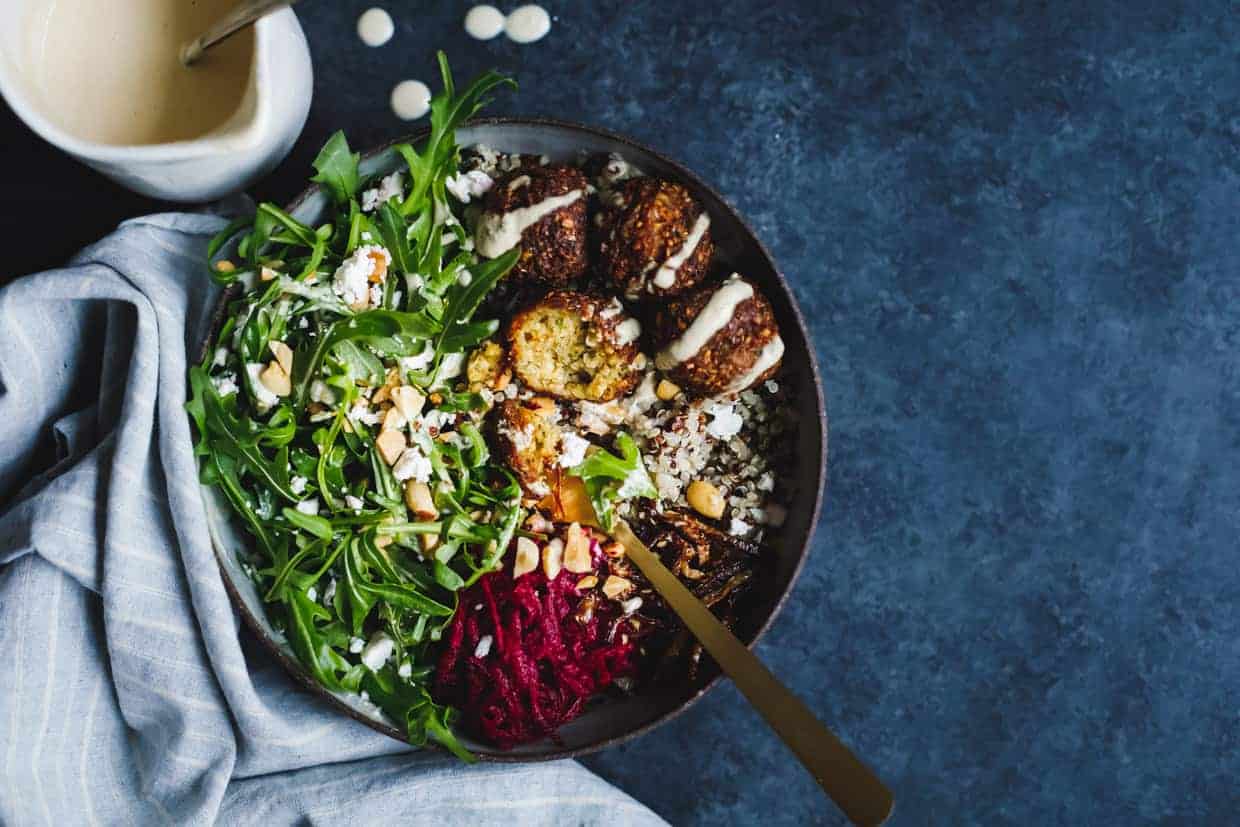 Thanks for reading Snixy Kitchen! To stay up on what's coming out of my kitchen, follow me on Facebook, Instagram, Twitter, Bloglovin', or Pinterest, or subscribe via e-mail to get new recipes right to your inbox.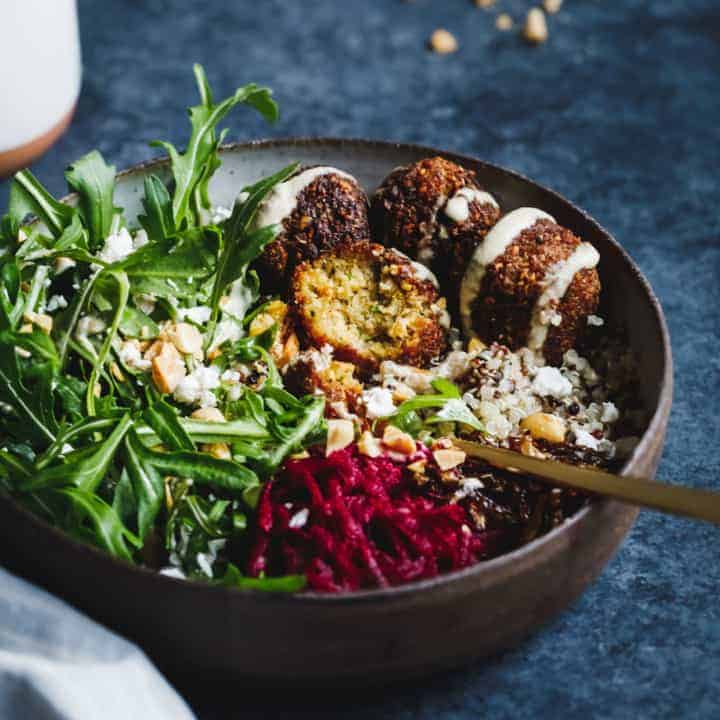 Butternut Squash Falafel Salad Bowls with Pickled Beets
Ingredients
Butternut Squash Falafels
1 cup dried chickpeas, soaked over night and drained (yields 2½ cups)
1½ cups shredded butternut squash (ex. the neck of a 2½lb butternut squash)
1 small yellow onion, coarsely chopped (about 1½ cups)
¼ cup + 2 tablespoons chickpea flour
¼ cup coarsely chopped parsley leaves and stems
4 cloves garlic
1 tablespoon freshly squeezed lemon juice
2 teaspoons each whole cumin seeds and coriander seeds, toasted and ground
1½ teaspoons kosher salt
1 teaspoon paprika
Pinch ground cardamom
1 teaspoon baking soda
1-2 cups oil for cooking (olive oil, safflower oil, vegetable oil)
Quick Pickled Beets
1 medium beet, peeled and shredded
⅓ cup boiling water
1 teaspoon salt
1 teaspoon sugar
¼ cup seasoned rice vinegar
Quinoa
1½ cups quinoa, rinsed
1¾ cups water or broth
Crispy Fried Shallots
2-3 large shallots, peeled and sliced thin
Oil for cooking (I use remaining oil after cooking falafels)
Tahini Dressing
¼ cup tahini
2 tablespoons lemon juice (from 1 large lemon)
2-4 tablespoons water (plus more if needed)
1 tablespoon extra virgin olive oil
Falafel Salad Bowls
3 cups arugula
3 ounces fresh feta, vegan, if needed
⅓ cup dry roasted peanuts, chopped
Instructions
First, prepare the quick-pickled beets. Add the beets to a 16oz mason jar. Pour the boiling water over the sugar and salt and stir to dissolve. Pour the vinegar into the water to cool it off slightly, then pour the entire mixture over the beets. Cover, shake, and refrigerate until ready to serve. Beets can be made several weeks in advance.
Add all of the falafel ingredients (except for the oil) to a food processor and pulse until mixture comes together but is still grainy, about 100-120 times, scraping down the sides as you go.
Form falafel dough into tightly-packed 1.5-inch balls (22-28 balls). if the mixture feels too moist, add a tablespoon or two of chickpea flour or press it in a cheese cloth.
Heat ¾-inch of oil in a large cast-iron skillet over medium heat. When oil is hot, fry falafel balls in batches, cooking 2-3 minutes per side until golden brown. Transfer to a paper-towel lined plate to drain while you cook the rest. Falafels can be prepared in advance and kept in the fridge for a week or frozen for up to 2 months.
Bring quinoa and water to boil in a medium sauce pan. Reduce heat to low and simmer, covered, until the broth has been absorbed, 15-20 minutes. Remove from heat and let rest for 5 minutes. Fluff with a fork.
Meanwhile, prepare the crispy fried shallots. Heat the same oil you used to cook the falafels, or a small skillet with ¼-inch oil over medium heat. Add shallots and cook, stirring, until they turn golden brown, about 5-10 minutes. Use a slotted spoon to remove the shallots to a paper towel-lined plate (they'll crisp up as they cool). Set aside.
Prepare the tahini dressing by mixing all of the ingredients together in a food processor or with a whisk. If the tahini is too thick, add a bit more water until it can be drizzled.
Assemble the bowls. Scoop of quinoa, handful arugula, 4 falafels, scoop of pickled beets, feta, chopped peanuts, and a drizzle of tahini dressing.