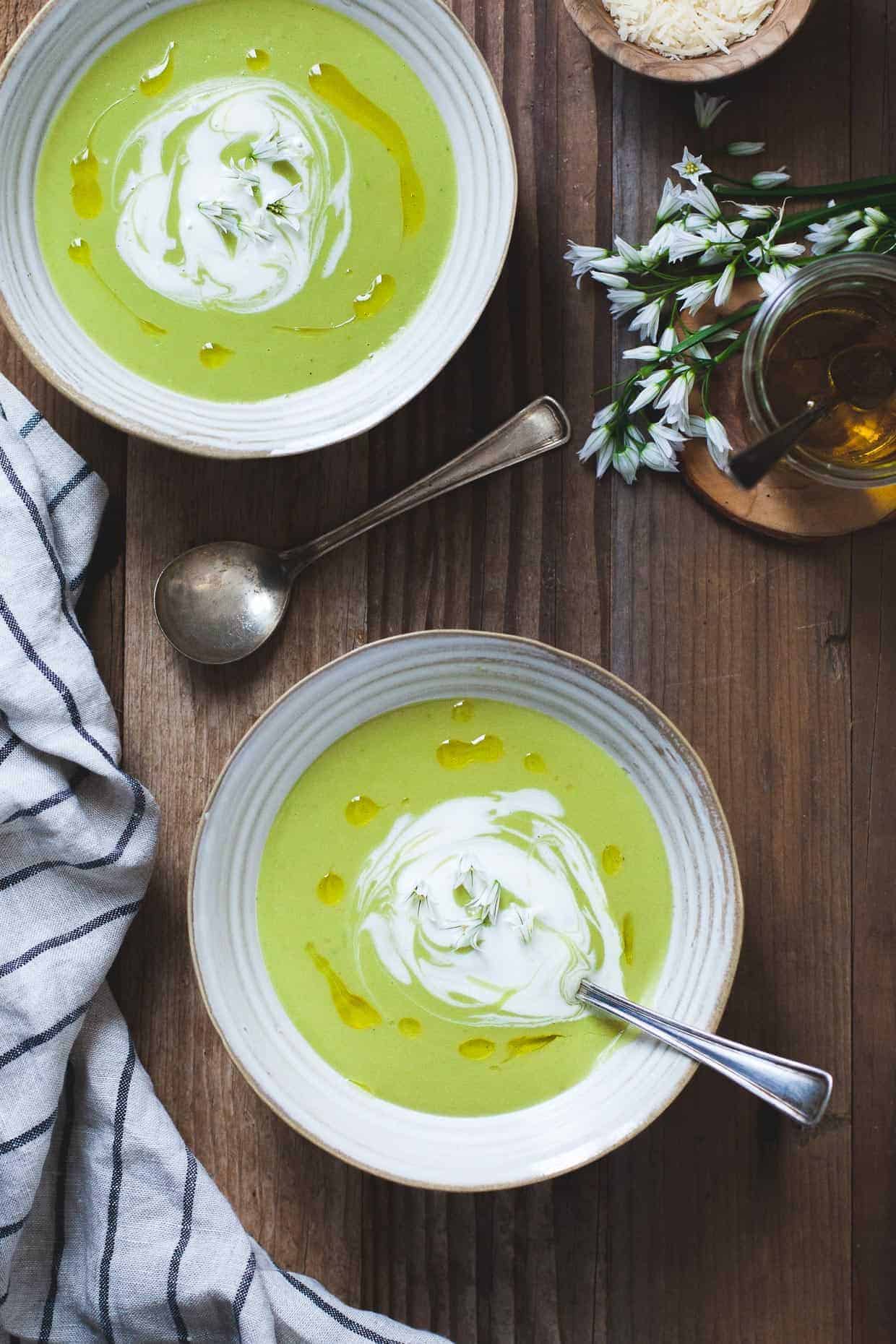 I recently read recipe development instructions that stated: "should not include ingredients that are too obscure or aren't available for the average cook, such as cumin." Cumin! In a pinch, I'm pretty sure I've picked up cumin at 7-11 or the drugstore at midnight (sometimes you need tacos, guys). Living in California with a meyer lemon tree in my yard has probably slanted my perception of what counts as obscure, but surely cumin is common, right?
Earlier that same day, I plucked weeds from my backyard to garnish this fava bean soup.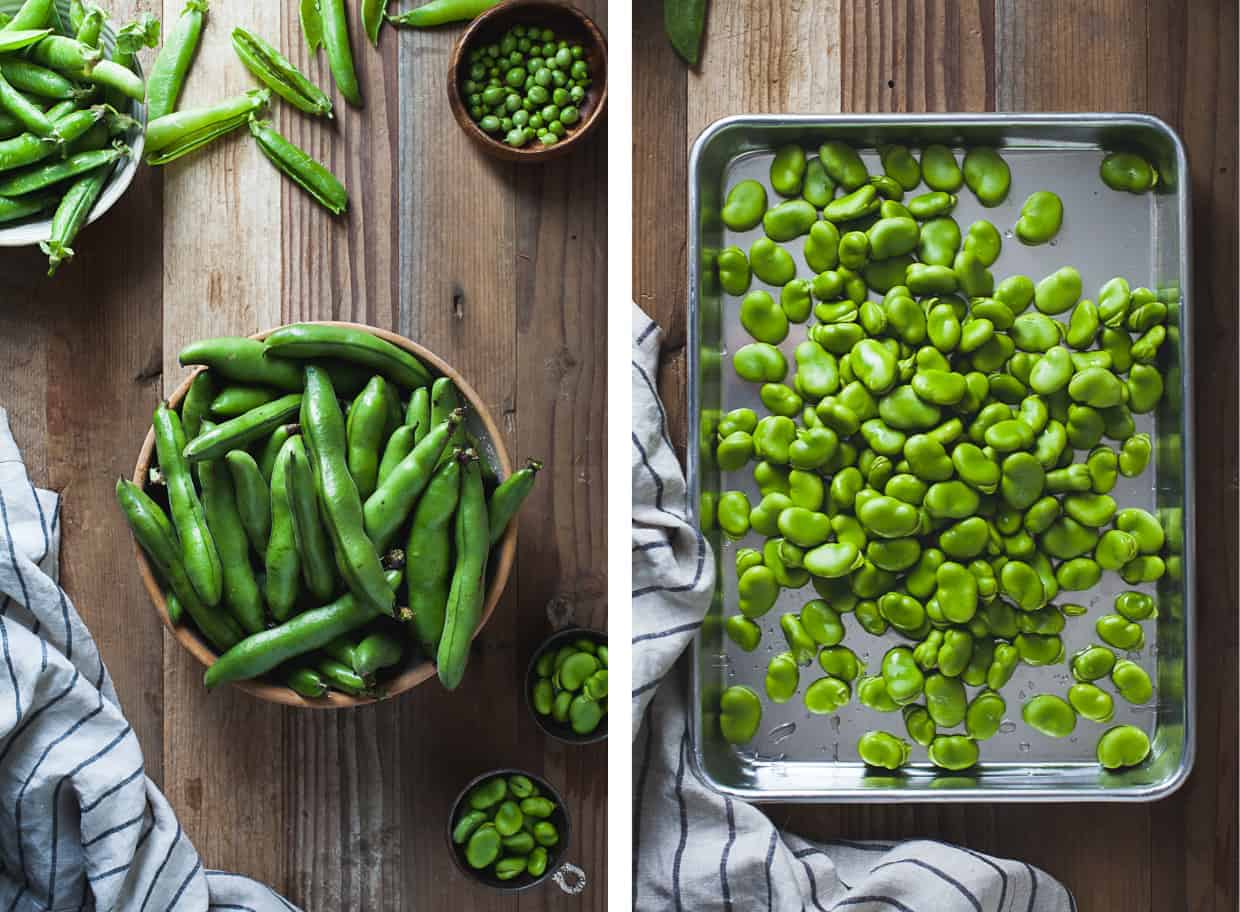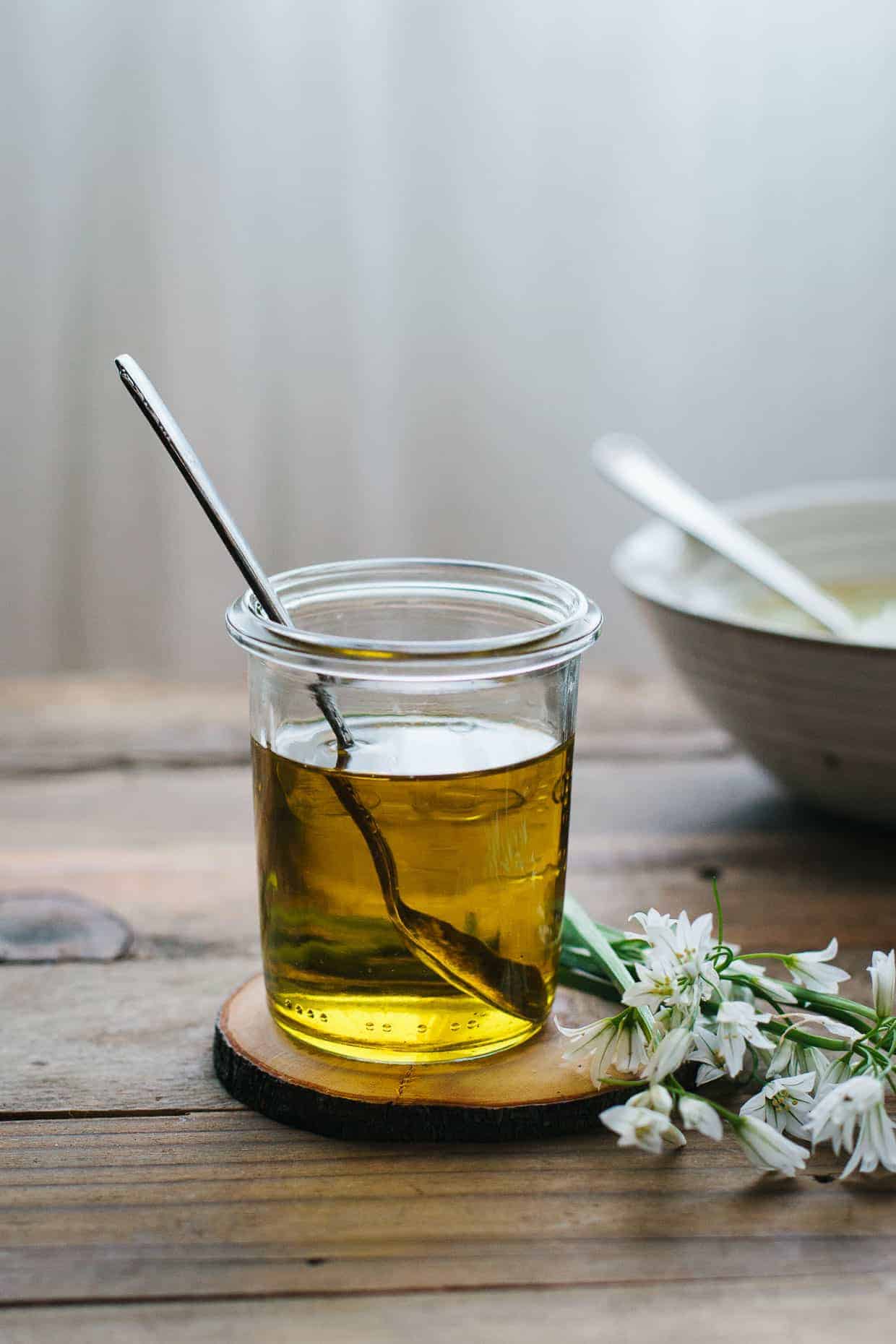 Back when we were rolling crackers the size of our heads, Phi told me in a very convincing way that the dainty white flowers in my yard were edible and picked a few for me to try first - "Truuuuust me." Heck, the deer have been enjoying the flowers all spring, so they're probably safe, right? I didn't hallucinate (darn), and with that (along with some serious internet research on foraging weeds because I'm definitely not as easy-breezy as I pretend), my soup got decked out with weeds wild onion flower pretties.
While they taste faintly like chives, they're really just for looks guys. Soup jewelry. They won't make or break the flavor not one bit, but if you've also got wild onion flowers taking over your backyard, then by all means, dress up your soup.
I knew the oxalis sour grass was safe to gnaw on and have considered turning it into pesto, but wondered if I need also include an open invitation to come pick my weeds for your dinner in the recipe notes (anyone else have this yellow flowered clover taking over their yard?). So that's on hold for now.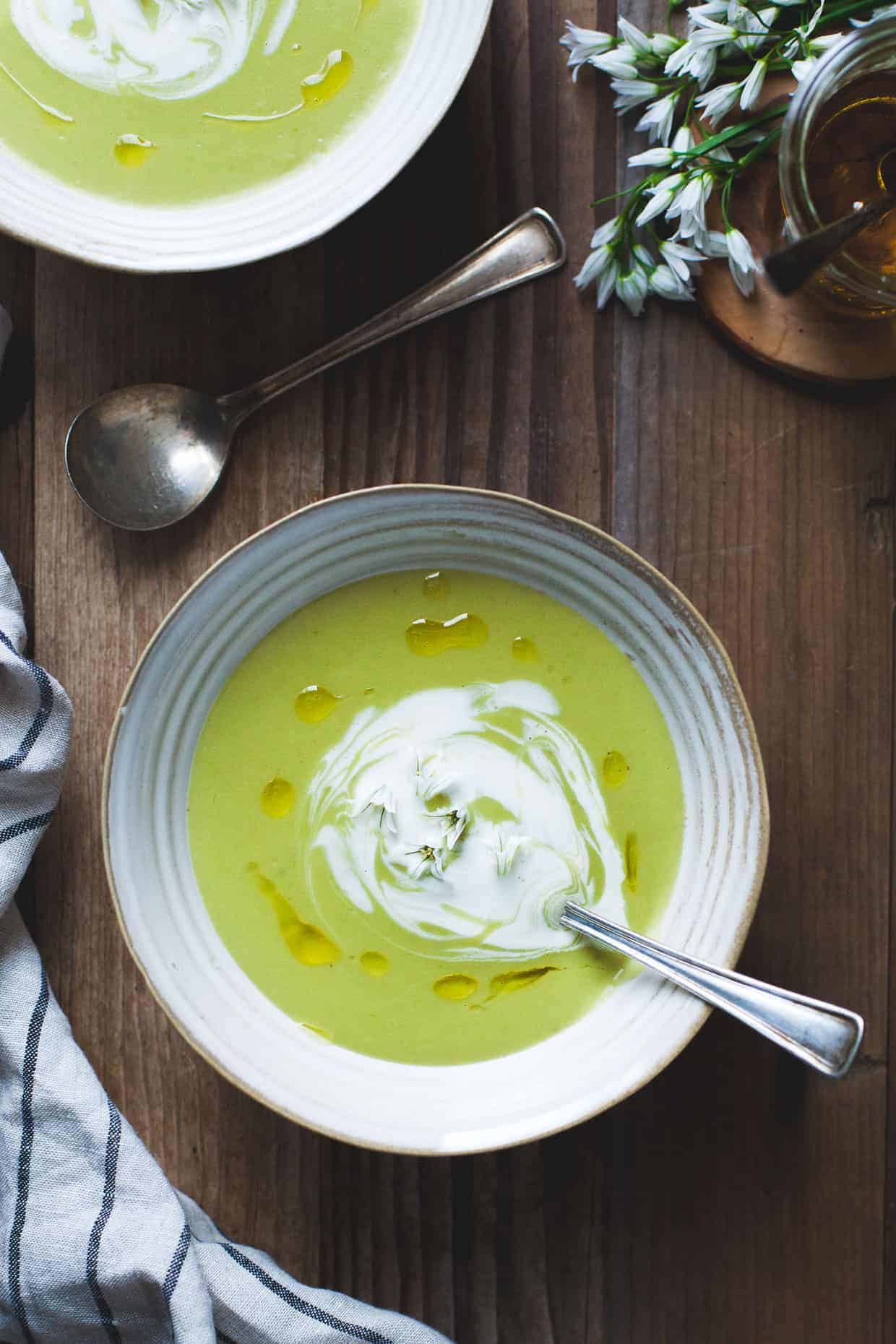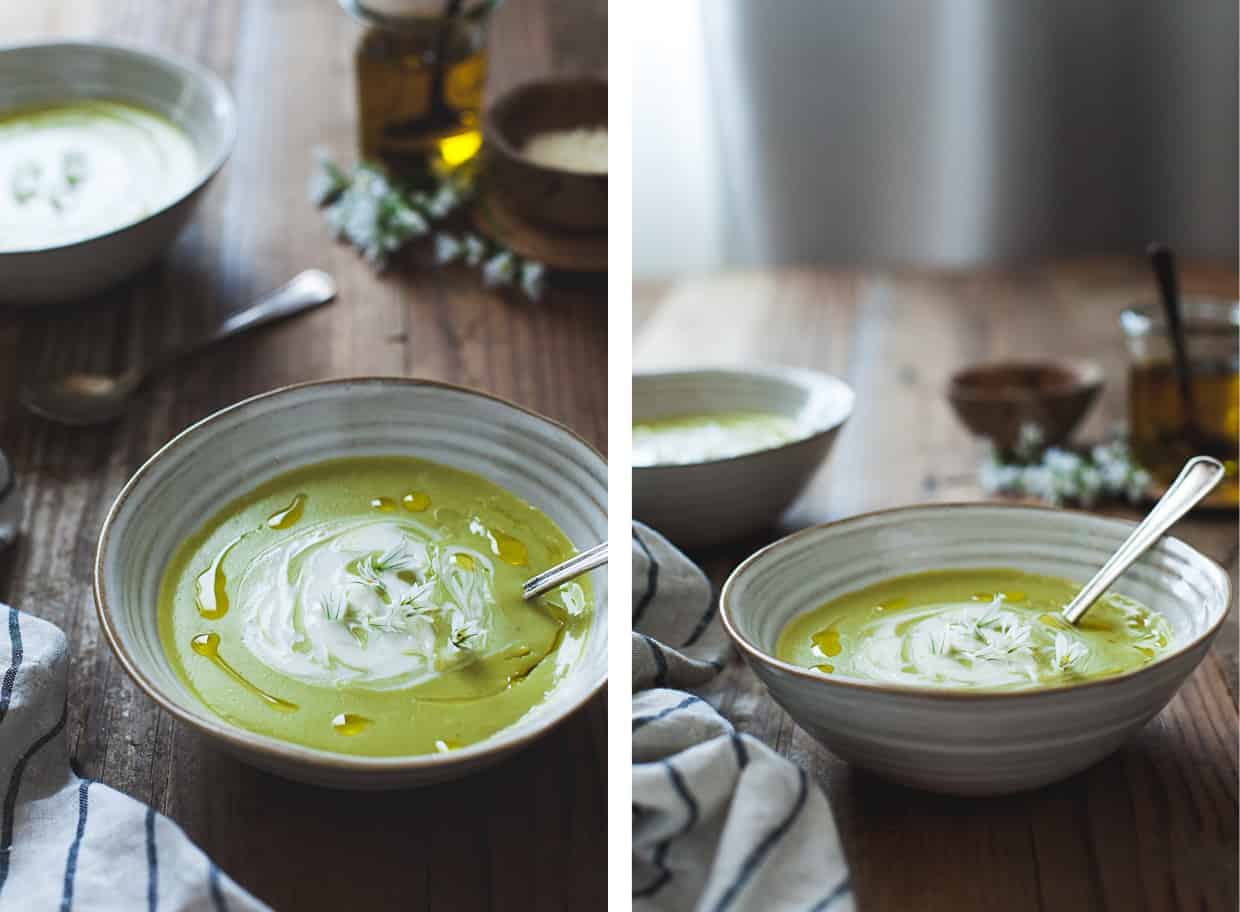 Today's soup comes inspired from a similar starter my mom and I split at Rivoli last Thursday while celebrating finally submitting a full first draft of my dissertation to my advisor (!!). With two of my favorite spring crops - fava beans and english peas - this soup tastes like springtime in a bowl.
There's something therapeutic about shelling fava beans. First you pull the seeds from their cushioned velvety pod, and after a quick blanch, pop the bright green bean out of its papery skin. When cooked up and puréed, fava beans mimic a creamy butter sauce in flavor and texture, but are also dense in nutrients. Vegetable witchcraft.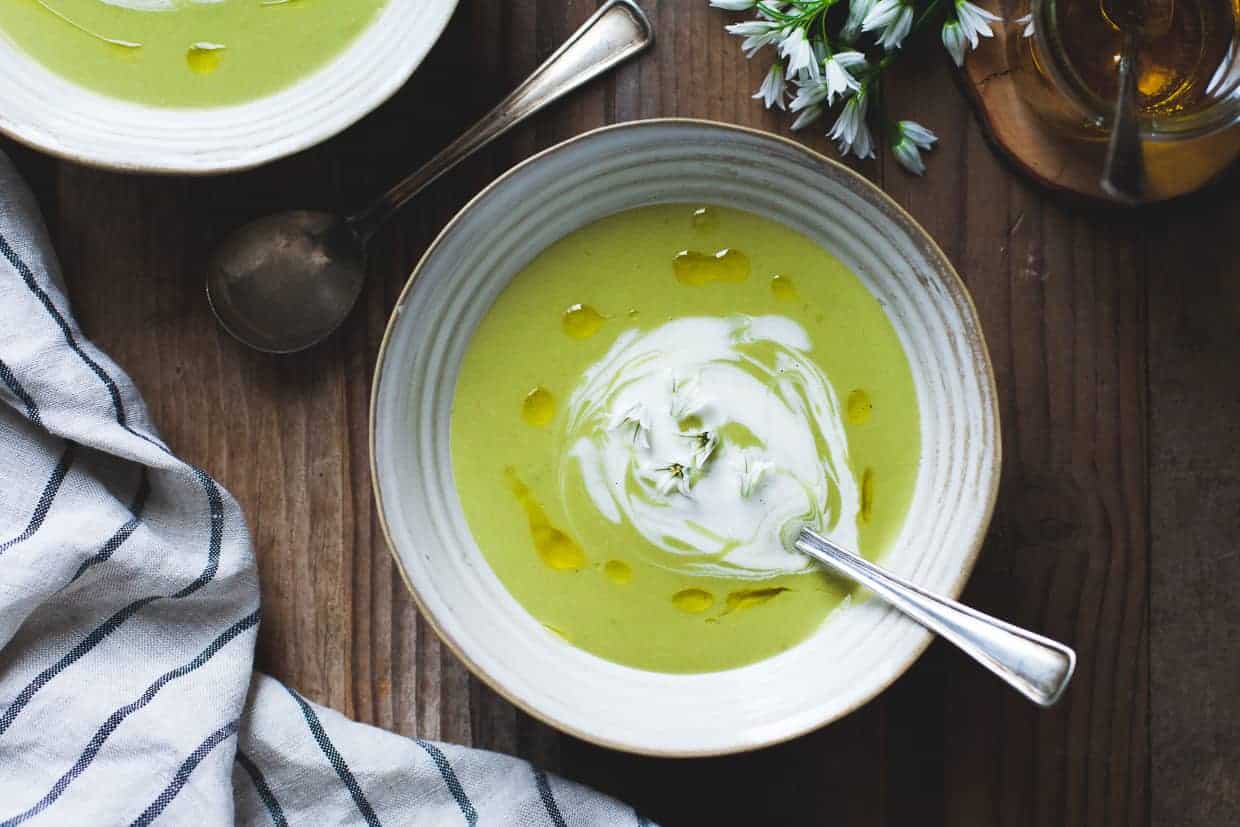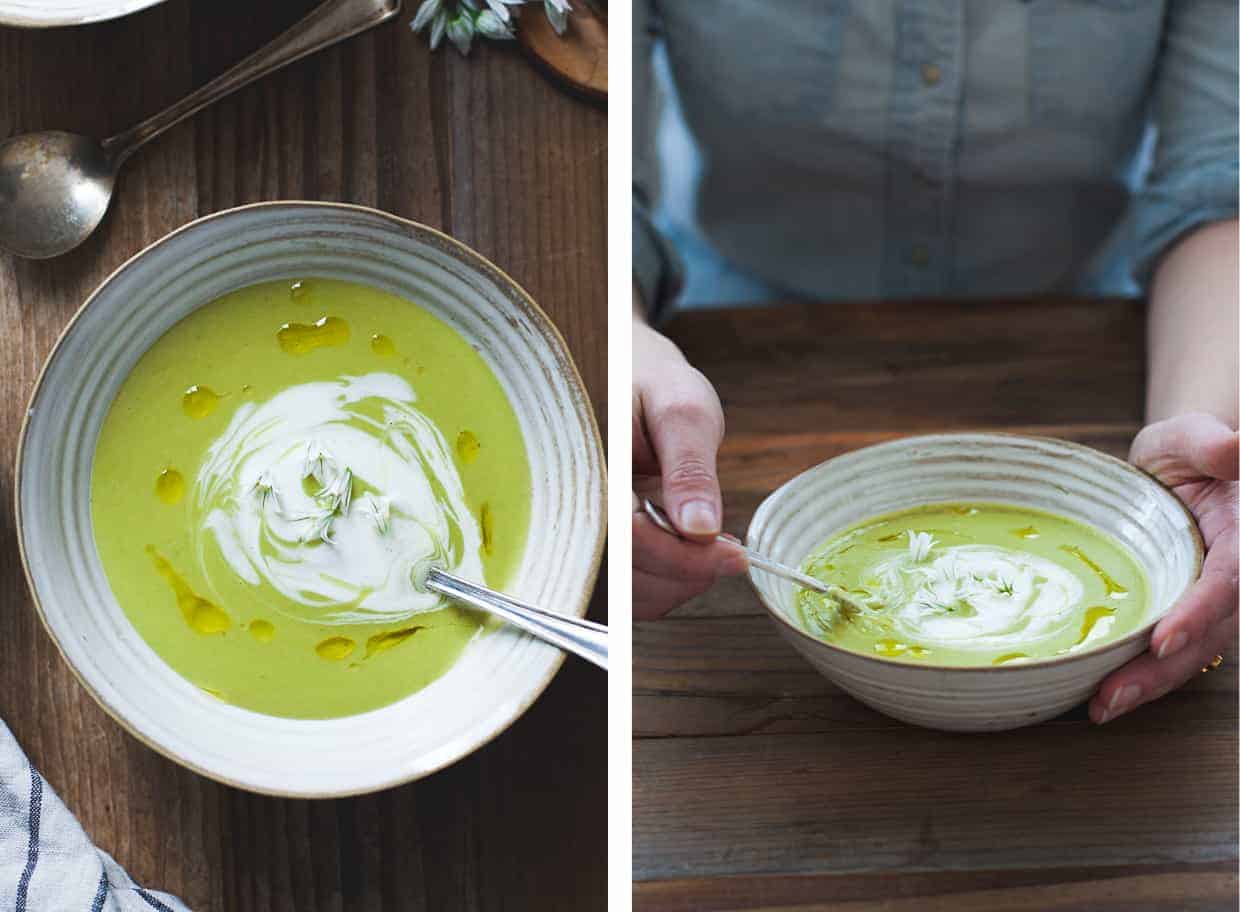 Swirled with a bright lemon crème fraîche and drizzled with an herby thyme-infused olive oil, this soup is creamy, rich, and refreshing all in one bowl. This warm bowl of springtime legumes and fresh herbs bridges the gap between winter and spring as the sun peeks out to melt the snow for the rest of the country.
Thanks for reading Snixy Kitchen! To stay up on what's coming out of my kitchen,  follow me on Facebook, Instagram, Twitter, Bloglovin', or Pinterest, or subscribe via e-mail to get new recipes right to your inbox.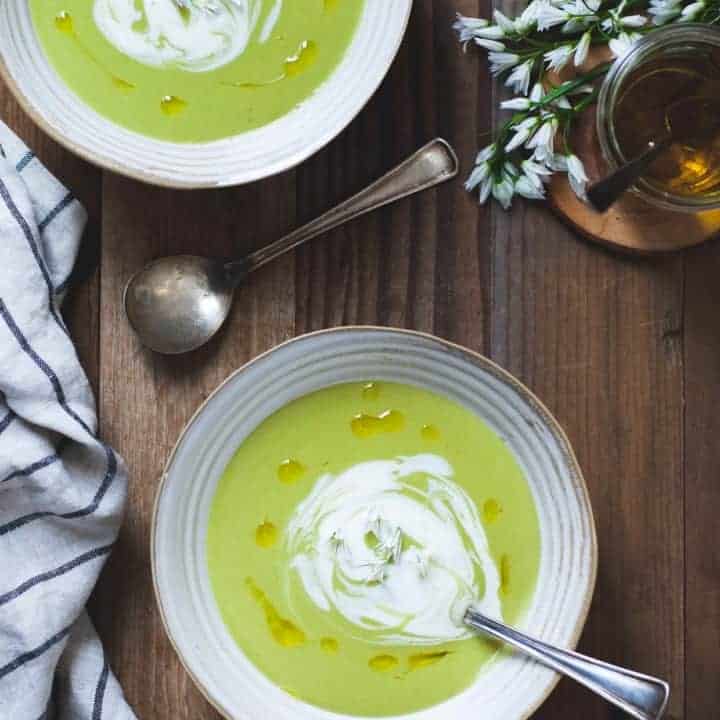 Fava Bean Soup with Lemon Crème Fraîche & Thyme Olive Oil
Yield:
2 main or 4 side servings
Ingredients
Fava Bean Soup
3 tablespoons unsalted butter
½ cup chopped shallot from 1 large or 2 small shallots
2¼ cups shelled and peeled fava beans from 3.5 lbs fava beans in pods (Or 2¼ cups frozen peeled fava beans - available at Trader Joe's). See instructions below on how to shell and peel the beans.
½ cup shelled English peas from ⅓ lb English peas in pods
½ lb new potatoes, peeled and chopped into 1-inch pieces (any small firm potatoes will do!)
3 cups chicken or vegetable broth
4 sprigs fresh thyme
½ cup milk
¼ cup cream
2 tablespoons freshly grated parmesan cheese
1 teaspoon freshly squeezed lemon juice
¼-½ teaspoon salt, to taste
Thyme Olive Oil
¼ cup extra virgin olive oil
4 sprigs fresh thyme
Lemon Crème Fraîche
¼ cup crème fraîche
4 teaspoons freshly squeezed lemon juice
Instructions
Bring a medium pot of water to boil over medium heat. Meanwhile prepare a large bowl of ice water. Remove the fava bean seeds from the pods by splitting the pods open. Blanch the fava bean seeds in boiling water for 2 minutes. Remove the beans with a slotted spoon and transfer the beans to the ice water to cool. Once the beans are cool enough to touch, gently peel off the papery thin green skin, reserving only the bright green fava bean inside.
Prepare the thyme-infused olive oil. Bring the olive oil and 4 sprigs of fresh thyme to simmer in a small pot. Remove from heat and let cool to room temperature while you prepare the soup.
Melt the butter in a medium heavy-bottomed pot over medium heat. Add chopped shallots and cook, stirring occasionally for 4-5 minutes until translucent and fragrant.
Add the shelled fava beans, shelled english peas, chopped potatoes, chicken or vegetable broth, and 4 fresh sprigs of thyme to the pot. Cook, uncovered, stirring occasionally, until potatoes are tender when pierced with a fork, about 15 - 20 minutes.
Meanwhile prepare the lemon crème fraîche. Whisk the crème fraîche and lemon juice until smooth and creamy. Set aside while you finish the soup.
When the soup is ready, remove thyme sprigs. Transfer the soup to a blender or food processor and purée until smooth. Alternatively, use an immersion blender.
Pour the soup back into the pot over medium low heat and add the milk, cream, parmesan cheese, and lemon juice. Stir to combine until the cheese is fully melted. Season with salt to taste.
Ladle the soup into bowls, swirl a small dollop of lemon crème fraîche into the middle, and drizzle with thyme-infused olive oil. Serve and enjoy!